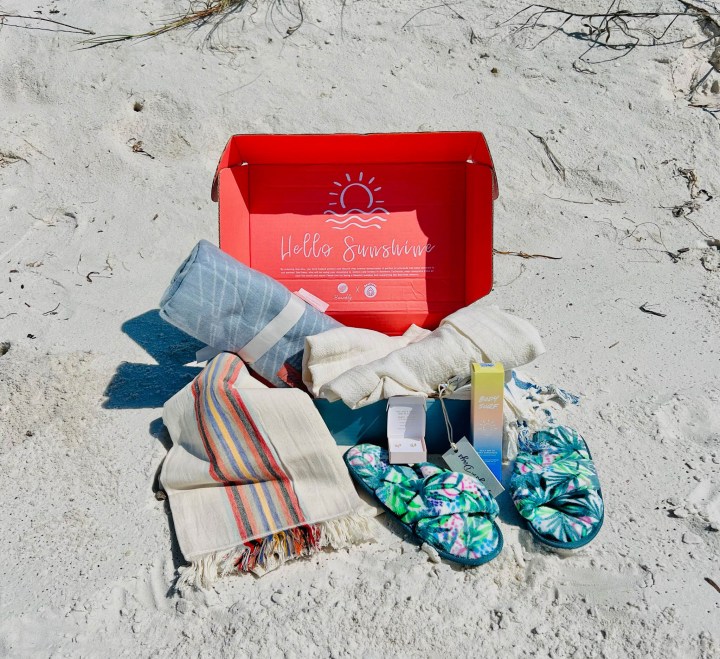 Beachly Women's Box keeps on surprising us every quarter with high-quality lifestyle goods that evoke a fun and laidback beach lifestyle. To keep spreading sunshine and beach vibes, they have recently introduced a fully customizable box exclusively for new members. Called the Beachly Welcome Box, this box promises a retail value of up to $475, which is the highest value they've ever offered! With this perk, new subscribers have the opportunity to choose all the items they receive. The customization feature includes two tiers, with the option to select three products in each tier! Ready to dive in? Scroll down and read our review of the Beachly Welcome Box – it's packed with all the must-have beach goodies for the season!
DEAL: Save $30 on your first box when you use the coupon code SAVE30 OR Get a FREE BONUS BOX with your first box when you use the coupon code BONUSBOX!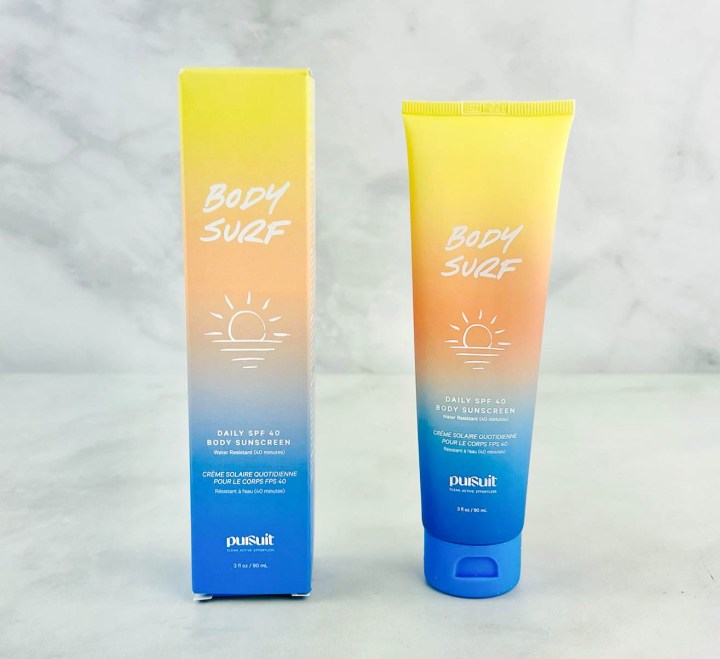 Pursuit Body Surf SPF 40 ($30) is a promising sunscreen that provides hydration along with sun protection! It's exactly what I need to keep my skin in its best condition, whether for ordinary days or during beach days. With a vegan and reef-safe formula, it's the perfect sunscreen choice for any eco-conscious beach lover. The best thing is that it doesn't leave a white cast, so I can just apply and go!
How cute are these Misahi Palm Earrings Shaped like little Monstera leaves, these silver stud earrings add a subtle tropical touch to any outfit. It's the perfect pair of accessories to wear this spring, but honestly, I'd love to wear it no matter the season, whether I'm wearing a dainty sundress or a cozy pullover!
Thula Tula The Bondi Beach Blanket ($129) is perfect for twirling around or wrapping around yourself for a bit of added warmth. The fabric is just the right thickness – not too thin that it feels cheap, but not too thick that it's bulky and difficult to pack. It's the ideal weight to keep you cozy on a cool day, while still being breathable enough to use in the warmer months! The abstract palm tree design is lovely, and it's a great reminder of the ocean even if you're miles away from it. Also, the fringes on opposite sides add a beautiful dimension to the blanket and give it a unique and stylish look!
Island Haus Co. Island Time Slippers ($49) feel incredibly soft on my feet, making them the ultimate in comfort. It's not just the fuzzy fabric that makes these slippers so great. They also have an anti-slip sole, which means you can wear them confidently around the house without worrying about slipping or falling. The visually appealing cross-over top adds a touch of elegance and style, making them more than just your average pair of house slippers.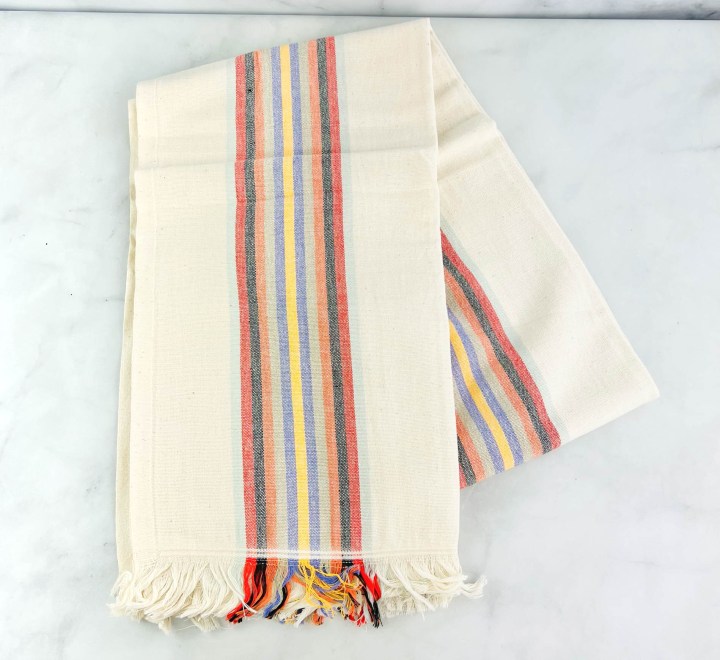 The Loomia Color Pop Turkish Beach Towel ($29) is a sand-proof towel that ensures that sand particles won't stick to the surface, making it easy to shake off any sand or debris. It's also quick-drying, which is especially useful for cutting down laundry time. What's more, this Turkish towel becomes even softer and more absorbent with every wash, providing a luxurious experience each time you use it. You can use it as a beach towel to dry off after a swim, a sarong to wrap around your waist or shoulders, or as a cover-up to block the sun during a hot day!
Rays for Days The Cococabana Coverup in Tide ($95) features a flowy and relaxed fit that flatters any body type. It provides coverage from the sun's harmful rays, and it can also be easily slipped on and off, making it perfect for transitioning from the beach to the boardwalk or a beachside cafe. I like the cream color which makes it versatile, while the blue stripe on the edges adds a nice pop of color!
The Beachly Welcome Box is a beach lover's dream come true! Packed with stylish and practical beach essentials, this box is sure to elevate your beach game to the next level. From the versatile Turkish towel to the cozy sweatshirt, and the flowy coverup, you'll have everything you need for a day of sun, sand, and surf. If you've been looking to try Beachly, this is the perfect chance to do so! What sets the Welcome Box apart is its fully customizable options, allowing you to choose the items that best suit your personal style and needs. With a fun selection of beach essentials, you'll be able to try out new products and discover your favorite beach accessories!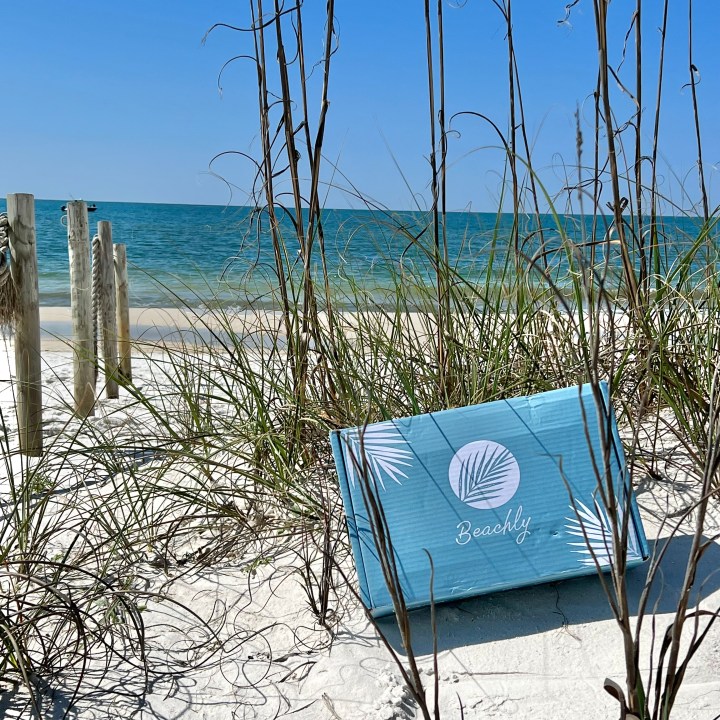 Beachly, formerly Coastal Co., is a quarterly subscription that gives you a dose of the beach lifestyle no matter what season through apparel, accessories, and more. With 6-8 premium items, each box costs $99 and promises a $200+ retail value. Some of the brands they've partnered with include Pura Vida Bracelets, Aloha, Billabong, DIFF Charitable Eyewear, Havaianas, and more. Proceeds from every box sold fund monthly beach cleanups hosted by Heal The Bay. Beachly is included in our list of the best subscription boxes for women!
What was your favorite item from the Beachly Welcome Box? Let me know in the comments!