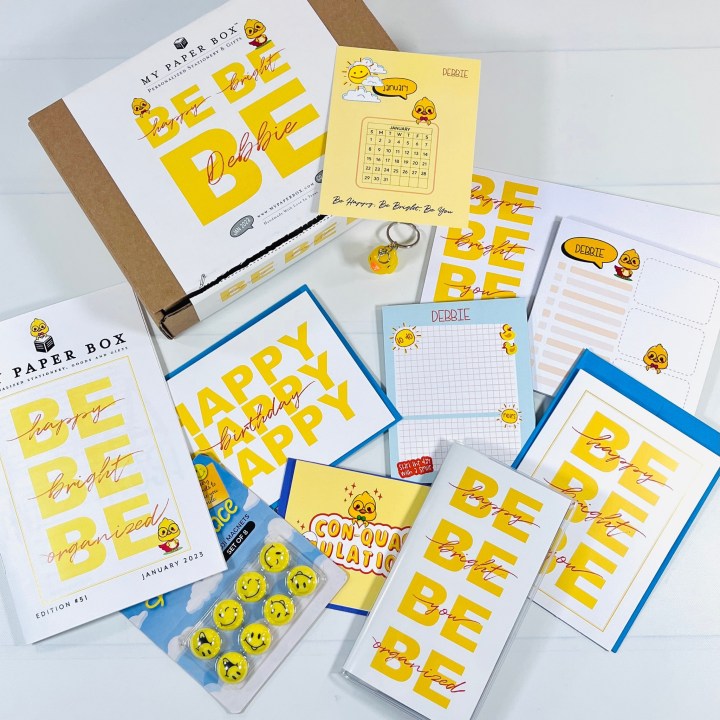 The January 2023 My Paper Box theme was Be Happy Be Bright Be Organized and each item was decorated in sunny yellow with bright pops of blue, and with a cute duck here and there! I received seasonal notepads, greeting cards, and more. See all of it below!
DEAL: Get $5 off your first box. Use the coupon code 5OFFMYBOX.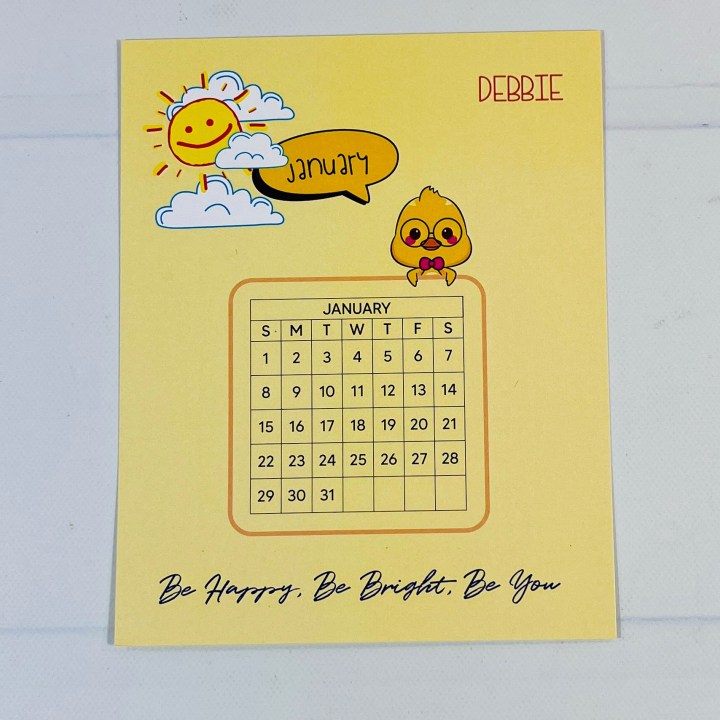 The Desk Calendar is double-sided. One side has the month-at-a-glance while the other side has a list of holidays (some of which are unusual or wacky) that you may wish to celebrate just because. Croissant Day sounds like one I can get behind.
I received a set of three Notepads. These are so good and you can even sign up just to get the notepads every month if you wish (and they are different from the pads found in the Grand level subscription shown here). The pad on top is 8″ x 4.5″ and has lots of room to jot notes. The pad on the left is 5″ x 4″ and has a grid design. The pad on the right is 5″ x 5″ and has space for a to-do list and blocks for notes.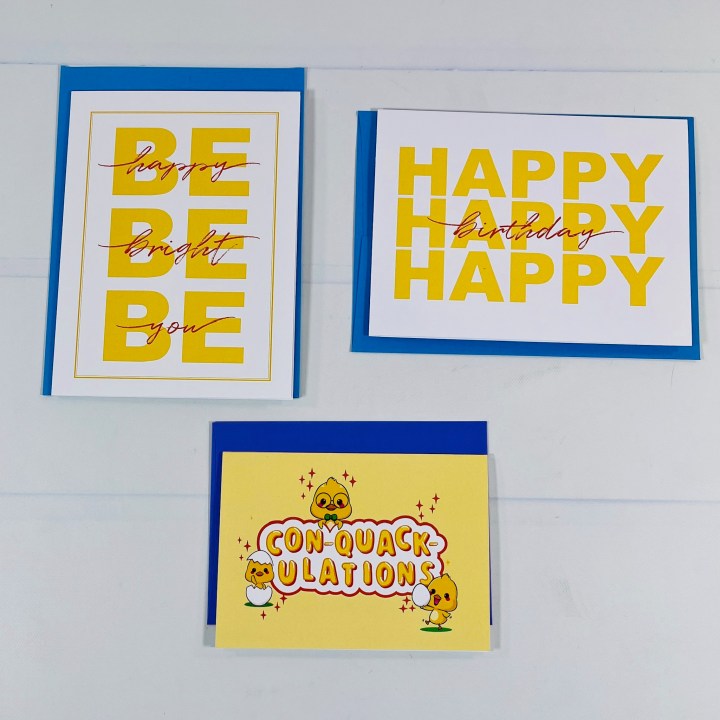 Greeting Cards + Envelopes are ready to be filled in and mailed/handed to a friend or loved one. All three of them are blank on the inside and come with matching envelopes. They are printed on sturdy cardstock.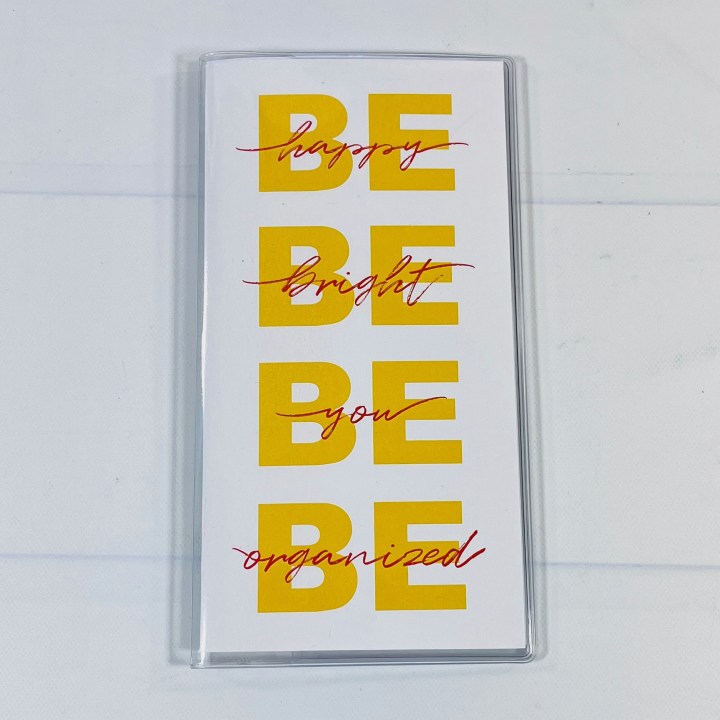 Pocket Planner + Interchangeable Covers is a really cool idea. It comes with a cover already in place but you can remove it and insert one of the pre-made covers, which are dual-sided and shown below. The calendars are blank so you can start it whenever you want, just fill in the month/day/year. Maybe you already have a small calendar for 2023, so you could start this in 2024. This is perfect for carrying in a purse, bag, or backpack when out and about.
I thought this sticker was a cute addition to the box. I have a new water bottle and hot drink bottle that I want to decorate with stickers so this will go on one of them.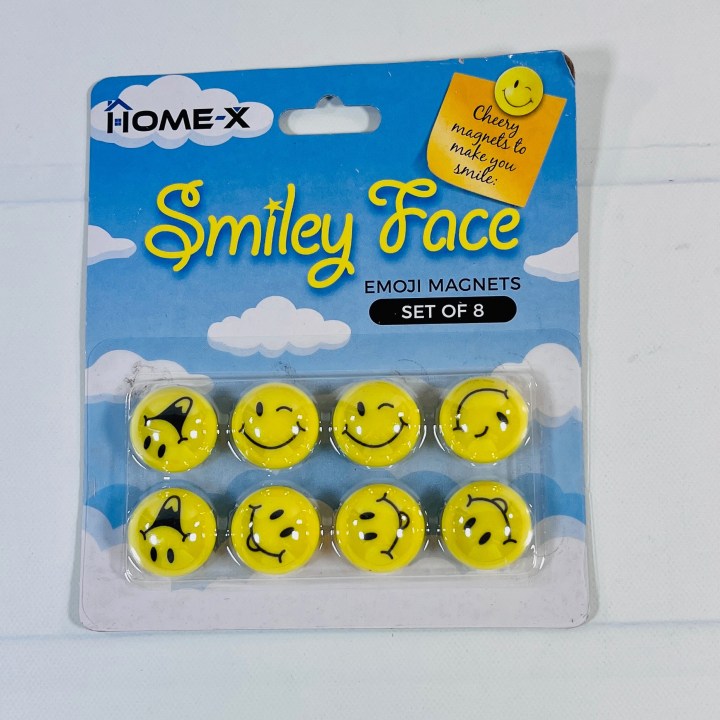 Home-X Smiley Face Emoji Magnets There are eight smiley face magnets in this pack. Place on a fridge or filing cabinet but keep away from small children please.
Keychain Friend This is a rubber ducky keyring so you can have a sunny companion even during the dark days of winter. It's about 1″ high.
This was packaged with the rubber ducky, it's kind of small but might work as a bookmark.
As always the theme from My Paper Box was bright and cheery, ready to help me usher in the new year with a sunny outlook! I especially adored the notepads but the greeting cards were cute too, even the envelopes were upbeat. The travel calendar is especially helpful for me because I get asked to sub while I'm at work and I can pull out my calendar and give an answer immediately. It also helps me book doctor's appointments while I'm still at their office, as I often forget by the time I get home. The interchangeable covers was an awesome touch, I love having options!
Below is an opening picture and below that are a couple of pages from the mini magazine/brochure, which has 19 pages in all!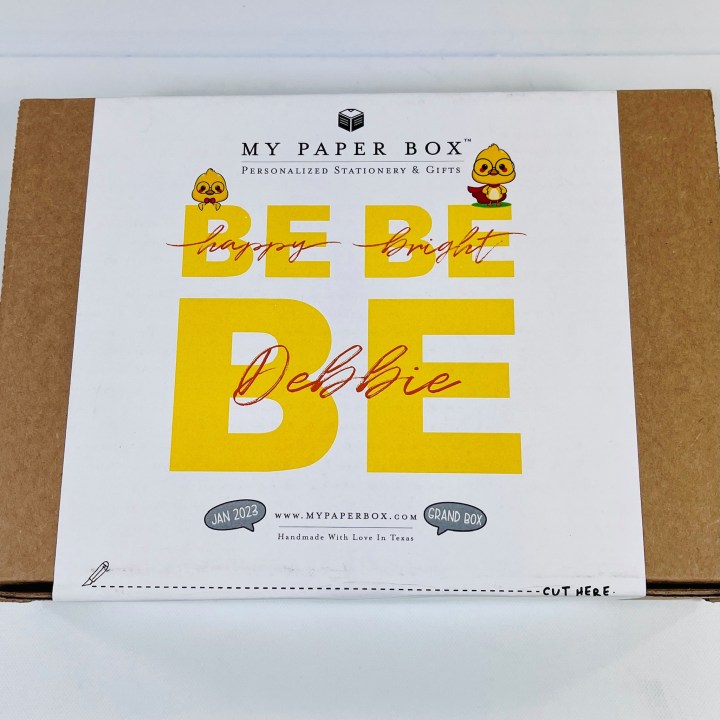 My Paper Box is a monthly subscription box filled with personalized stationery! Each box will be curated to a theme and you can choose from three different levels and price points. The Mini Subscription is a collection of 3 personalized notepads and is $18 a month; The Grand Subscription comes with a Personalized Paper Box and a selection of items such as personalized notepads, cards, planners, and more and is $32 a month; The Greeting Card Subscription comes with 4 cards, envelopes, and USPS Forever stamps and is $15 a month. Each month there will be a new theme and you receive the order for the month before so you will have everything ready to go when the calendar changes. My Paper Box made it to the list of our readers' favorite stationery subscriptions!
What do you think of this month's My Paper Box?