The November Vegancuts Beauty Box theme was GLOWY GIFTS OF GRATITUDE and came with six items to help me get glowing for the busy period ahead. This month I received a hair conditioner, a massage oil, and a bar soap plus a few more items. Vegancuts sends vegan and cruelty-free products and they offer a snack box too! See what I received in this month's box below!
DEAL: Use the coupon code hellosub to get $5 off your first box on any Vegancuts subscription! It can only be used once per customer, but it can be used on multiple subscriptions at once so long as they are in the same transaction.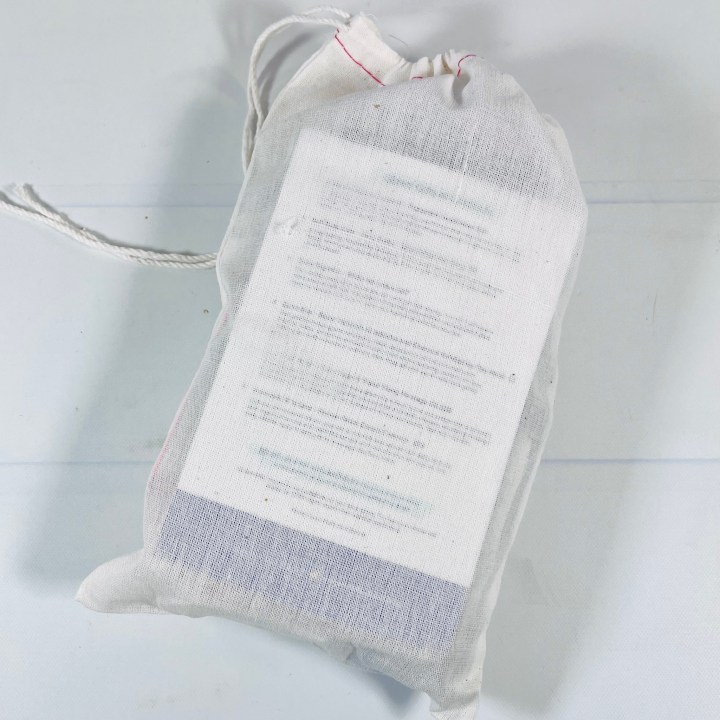 The beauty box ships with the snack box but my beauty items were placed in a linen bag.
Annmarie Skin Care Renew Facial Skin Cleanser ($23, on sale for $10.35) This is a milky type of cleanser that is best for those with oily skin. I thought it did a good job of removing my face makeup but it smelled strongly of citrus oils. Those may be ok occasionally, but I worry about long-term irritation (most beauty ingredient decoders call them potentially irritating).
Southern Butter Clay Sage & Ylang Ylang Massage Oil ($22.39) This is marketed as a massage oil scented with an aphrodisiacal blend of herbs and may be used on your most intimate body parts (although maybe do a patch test first if you have sensitive skin). I simply used it as an after shower body oil and it worked great, with a natural slightly floral herbal scent (I didn't smell ylang ylang but I did notice the clary sage and a hint of lavender). The base is a blend of oils that includes olive, sunflower, and jojoba. My skin stayed soft all day long.
Earth Kiss Super Natural Kombucha and Charcoal Exfoliating Clay Mask ($3) It's been a hectic month and I haven't been able to try this mask yet. I tend to use clay masks in the morning before my shower but I've been busy subbing so I don't have that extra time in the morning, and even the weekends have been busy so I look forward to relaxing with this item once school lets out for winter break. It has clay and walnut shell powder to exfoliate dead cells and kombucha to cleanse and boost hydration.
Authentic Beauty Concept Replenish Conditioner ($10) I generally use only unscented products on my hair but I decided to give this a try and tried to place it on the ends and not my scalp. It smelled really good, and is supposed to be a blend of frangipani, maple, and pecan and is warm and sweet. It is free of silicone. It was hard to get it out of the container, the sides were too hard to squeeze, but eventually it happened and I think I used too much, it took longer than usual to blow dry my hair. My hair is sleek today and it was easy to comb out.
Delia Organics Wake Up Lotion ($27) Hmm, I'm not sure why this is called a lotion when it is clearly a gel, and it dried super quickly. The description says it's a toner so you can use it with another moisturizer and I think that would definitely be in order here. Some of the ingredients include aloe, witch hazel, tea tree, and other plant extracts. It smells like oranges too — again, using citrus oils can be irritating and piling them on top of each other doesn't seem like a good idea.
SoF Body Care Shea Butter Triple Milled Bar Soap ($2) This bar has parfum/added fragrance so while I won't use it on my body, I don't mind using it to wash my hands. It smells like classic bar soap and is made with ingredients like shea butter and olive oil.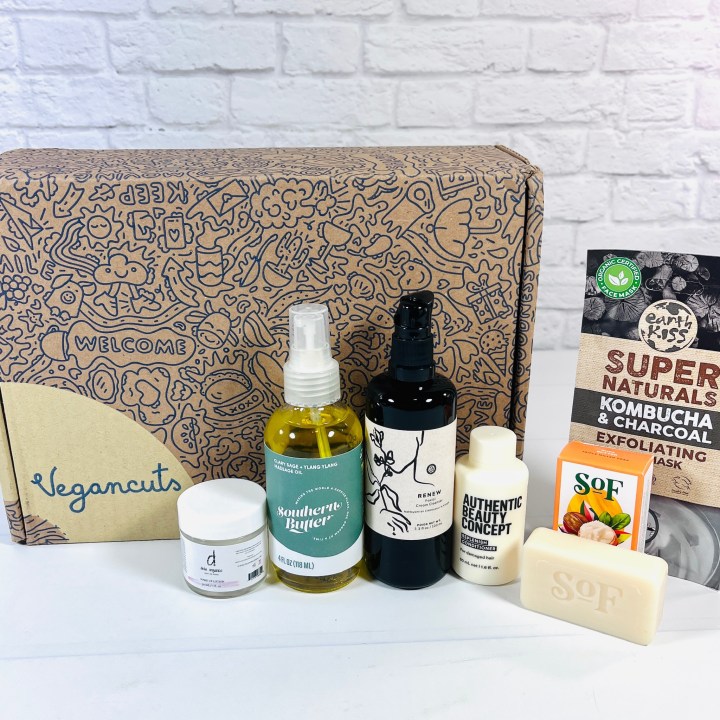 I thought this was a good assortment of products for November and there's something for my face, body, and hair. I especially liked the massage/body oil, it smelled good and felt great on my skin. I enjoyed using the cleanser but wish it didn't have citrus essential oils (my sensitive skin would prefer not to have them). I thought the conditioner did a great job and while I would prefer that it not have fragrance, I didn't have a reaction after one use. The value for this box was around $81.64.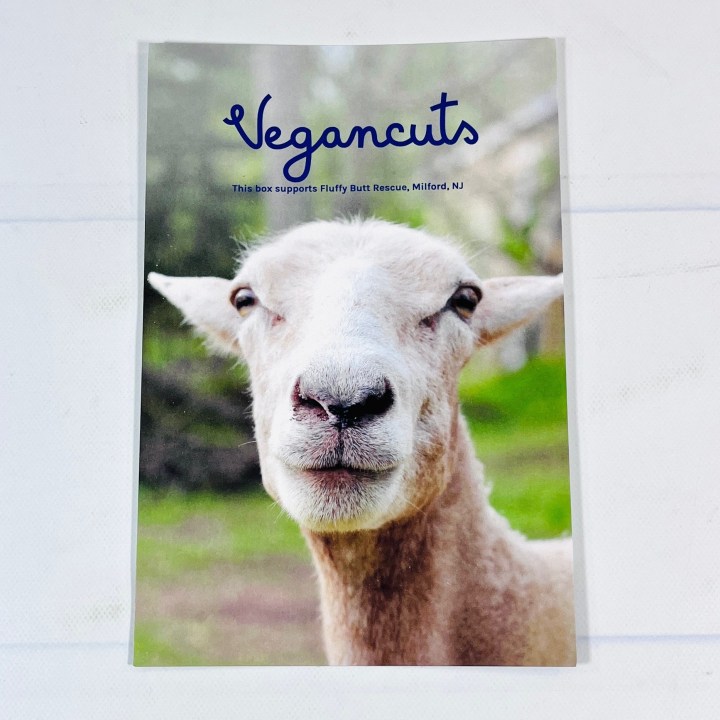 Here's the product info card!
Vegancuts Beauty Box is a monthly beauty subscription service that sends 4 or more items ranging from unique cosmetics to luxurious skincare. Best of all, they are 100% cruelty-free and vegan, plus most items are natural and non-toxic! Monthly recurring shipments are $24.95 with free shipping in the USA (there is an additional charge for other countries). This sub is also available in 6 or 12-month terms that do not renew but that do earn you a discount.
What do you think of this month's Vegancuts Beauty Box? Let me know which product you're loving in the comments!