Tokyo Treat brings happiness to Japanese snack lovers monthly. For November 2022, this snack subscription brought us to a fun Akiba Adventure! Akiba is a place in Japan where you'll find huge electronics shops, maid cafes, and anime and manga stores. Inspired by the vibrant culture in Akiba, the box included 15 unique snacks that you can enjoy on your own or share with friends and family. Scroll down to see all the delicious Japanese snacks in our box!
DEAL: Use this link and use the coupon code TOUR22 to get limited edition TRIP TO TOKYO Bonus! Ends 11/15 JST.
Sign up for a 12-month subscription and get a FREE Pokemon Tote Bag & Chocolate Corn Puffs!
Sign up for a 6-month subscription and get a FREE Tokyo Island Lemon KitKat!
Sign up for a 3-month subscription and get a FREE Sumikko Gurashi Wafer Sandwiches!
Sign up for a monthly subscription and get a FREE Spy Family Gum!
KitKat Autumn Chestnut. The mild and nutty flavour of chestnut is the perfect winter snack! This bag contains 10 mini KitKats to share!
Yamayoshi Spicy Green Onion Potato Chips. I love green onion so I was super excited about these chips. They were quite spicy but I liked them a lot!
Mystery Flavor Fanta. I had trouble figuring out what kind of Fanta this was! It tasted a bit like blueberry and a bit like raspberry! It was carbonated and fizzy and overall very tasty!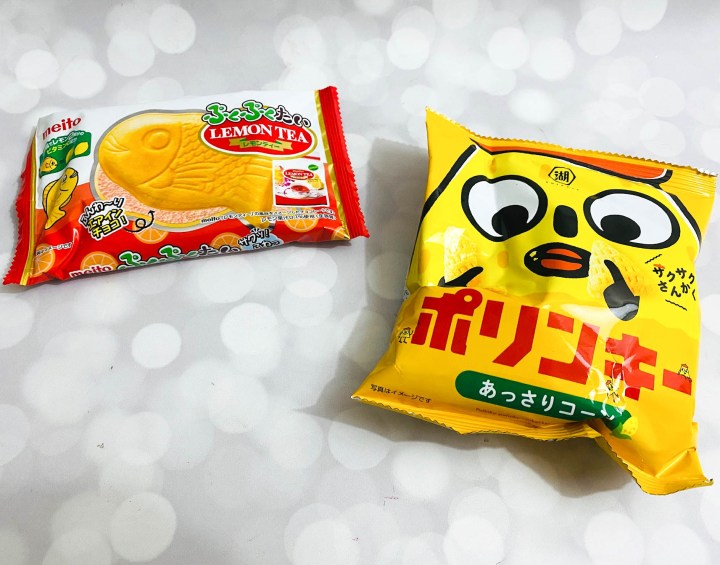 Puku Puku Tai Lemon Tea Taiyaki. Taiyaki, or sea bream, is a popular type of cookie! It has an aerated chocolate filling inside a wafer shell. Soooo yummy!
Polinky Lightly Seasoned Corn Snack. A lightly salted corn snack that has a lot of crunch. These were kind of boring but they were still enjoyable!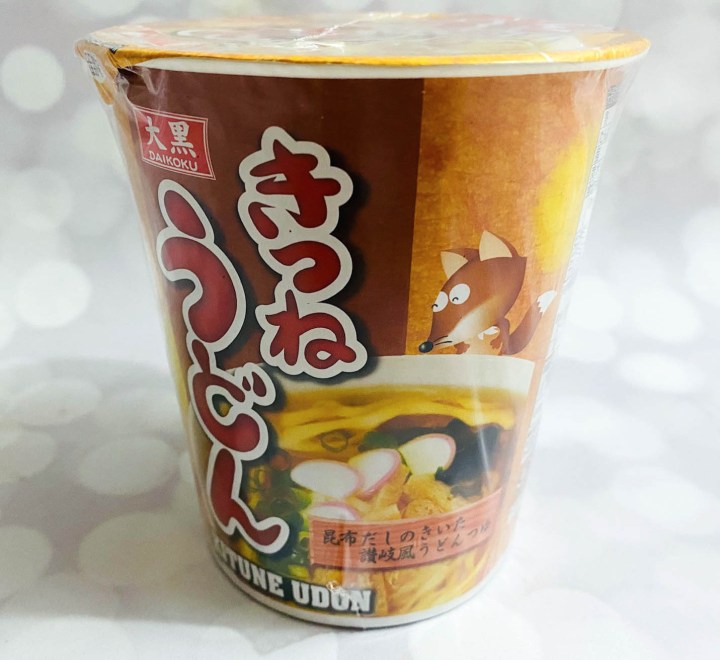 Daikoku Kitsune Udon Noodles. Kitsune Udon gets its name from the tofu cakes which peek out and look like fox ears. Unfortunately for me, kitsune udon almost always has a fish base, and I don't enjoy fish based noodle dishes so this one I didn't sample myself. Udon is a nice thick style of noodle!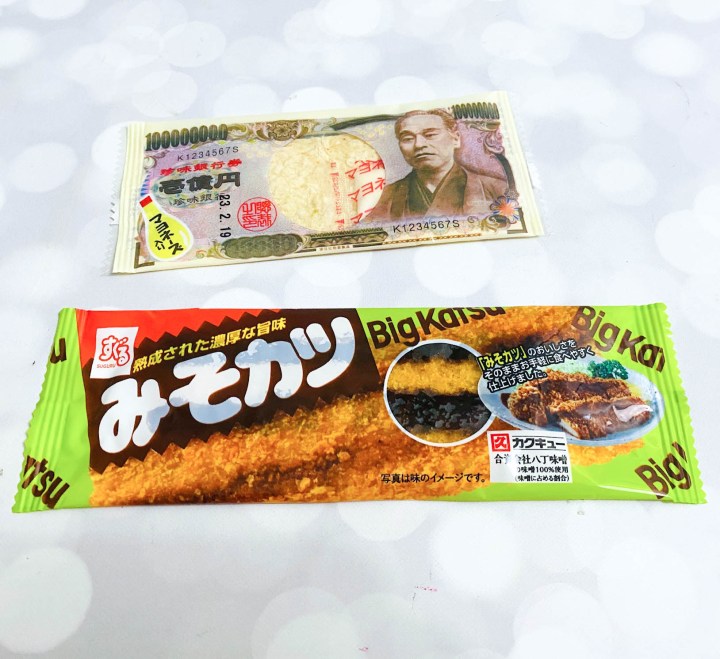 Fish Jerky. Seasoned fish dried into jerky. I don't like fish things so I didn't eat this myself, but I think the design is cool! The packaging looks like money!
Big Katsu. Another fish snack, this time with a savoury katsu seasoning.
Gudetama Custard Treats. These are small custard flavoured cookies. I thought maybe they would have custard or cream inside them but they don't! They are just a sweet crunchy cookie.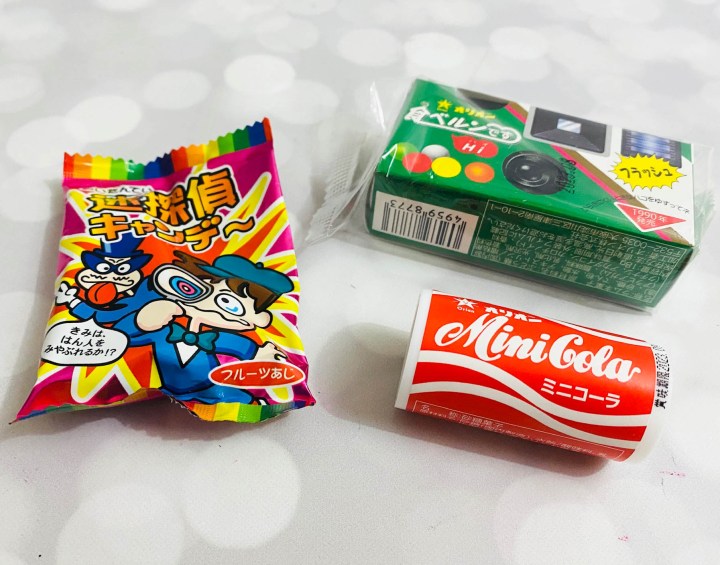 Lost Detective Candy. These are super sour candies!
Retro Camera Candy. This cute old fashioned disposable camera package contains ramune flavoured candies inside!
Mini Cola. And finally more candies, this time a fun cola flavour!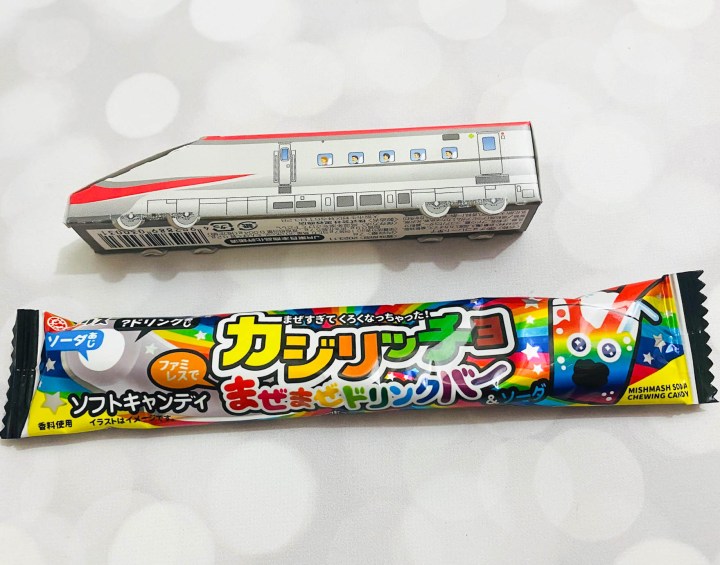 Train Chocolate. More cute packaging! Love this! This is a JR Express train and there were other variations sent including the shinkansen (bullet train) and the classic train too!
Soda Fountain Candy. This is a nice chewy taffy with ramune flavour.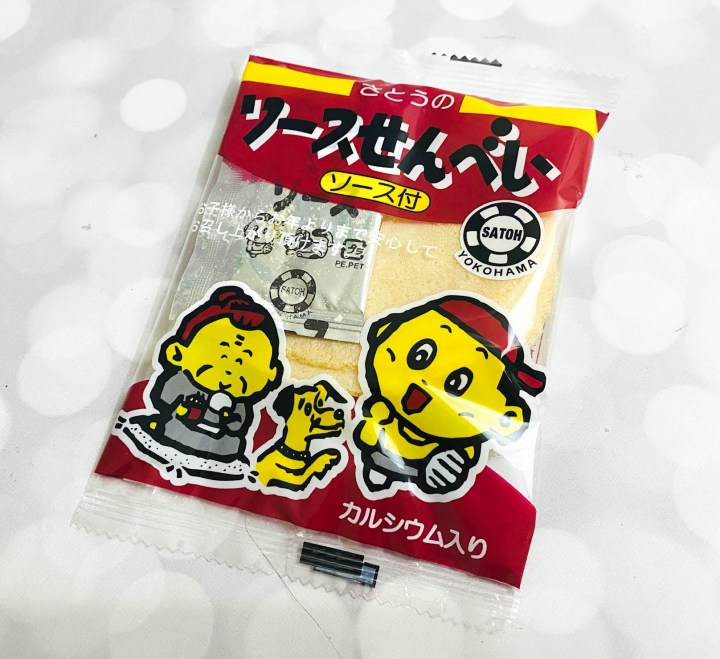 Saucy Senbei. This senbei (rice cracker) looks plain at first, but it comes with a packet of sauce to drizzle over them!
The November box had soooo many tasty snacks! I really loved the savoury snacks (with the exception of the fish snacks…) but it was also great to try a Mystery Fanta. There were also candies and cookies to keep our holidays sweet. Overall, it was a fun adventure to Akiba through our taste buds!
Tokyo Treat is a monthly Japanese snack and candy subscription box that is shipped directly from Japan. Tokyo Treat's Japanese snack and candy subscription box is a reader fave and made the list in our 2022 readers' choice picks of best snack and candy subscription boxes!
ICYMI, Tokyo Treat boxes just got bigger and better! Starting December 1, they removed the Classic option to ensure all TokyoTreat subscribers received the full Japanese snacking experience. Tokyo Treat boxes are now $37.50 per month. Some of the yummy things you can expect in this new version include ramen, udon, soba, jelly, purin, and Japanese desserts. There will still be a Culture Guide, but it will now have 24 pages – which means more articles and cultural information about Japan!
What did you think of this month's Tokyo Treat?