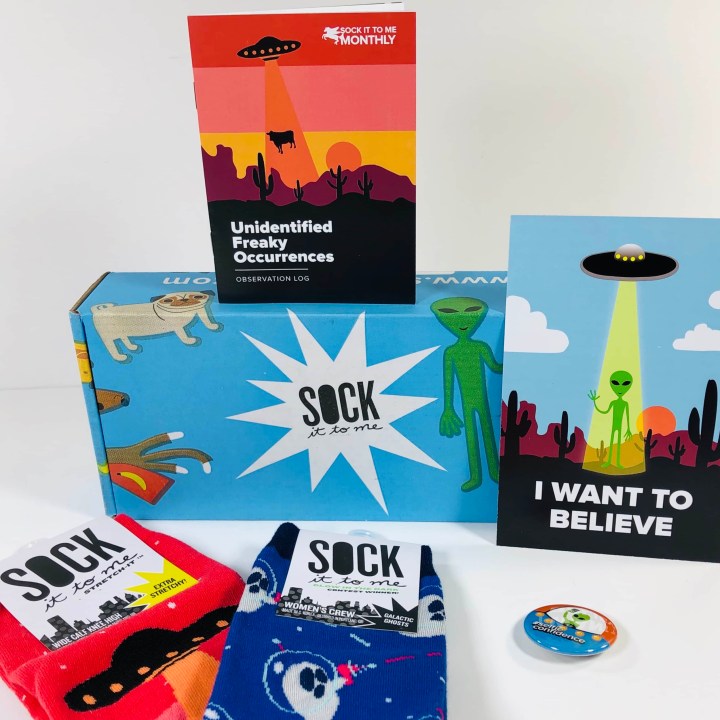 Here's everything you need to know about this sock subscription
Sock It to Me Subscription Box Review
Socks are wardrobe staples. Although small, you constantly look for a pair whenever you need to wear shoes or just want to keep your feet comfy and warm. This little piece of wearable cradles the feet and keeps them comfortably cushioned while wearing your favorite footwear. It also helps prevent blisters! And with that, there are different socks offered in the market – ankle, quarter, crew, mid-calf, knee-high, and more.
Believe it or not, socks sometimes do wonders for making first impressions! The pair of socks you wear says a lot about who you are. Geeky? Bold? Simple? Playful? That reflects on your sock choices too! Gladly, a subscription like Sock It to Me sends pairs of socks to kick the hassle out of your way of shopping for them.
Believing that the ordinary can be extraordinary, they send out awesomely designed socks you can wear whenever! They're always into making awesome things to wear that defy the world's expectations – unicorns, sasquatch, and other whimsical & magical stuff you could ever think of!
Of course, socks don't suck! So to give you more information about this cool sock-scription, check out our review. We've included FAQs below to help you get a good grasp of what this brand is all about!
Sock It To Me Benefits & Drawbacks
To start, here's a list of advantages and disadvantages of Sock It To Me:
Sock It To Me Benefits
Whimsical, quirky, colorful, fun sock designs
Socks available for kids, men, and women
Comfortable to wear
Provides good fit to heel and toes
Uses combed cotton threads certified by OEKO-TEX Standard 100
Monthly subscription available
Offers international shipping
Sock It To Me Drawbacks
Some say the socks are thin
Other reviews say the socks don't last long
No plain socks if you want to keep it simple
Sock It To Me Review
Summary
Sock It To Me is a sock subscription offering funny and funky socks to let you show off the authentic you! Each month, they'll send a box with two pairs of differently designed socks so you can be your best self. Designs and prints vary from month to month, giving you something to cheer for while keeping your feet cozy, like unicorns, dinosaurs, robots, sloths, ninjas, and more!
My Sock It To Me Review
Sock It to Me Monthly is a subscription that sends two pairs of silly and unique socks that you won't find in most stores, plus a fun extra just because. You can choose from three offerings: Small/Medium Crew Socks, Medium/Large Crew Socks, and Knee-High Socks. Get ready to knock your socks off in spectacular fashion! Subscriptions start at $19 a month and drop for longer terms. Postage is already included!
Sock It to Me Monthly is happiness delivered to doorsteps monthly. Every sock lover will fall head over heels month after month for surprise styles & extra goodies we can't even talk about here. And all you have to do is press a button.
I was already wowed just by finding a bold box in my mail! This is my first box from Sock It to Me, and I was already giddy just spying on the fun shipping container. This is a review of the October 2019 box.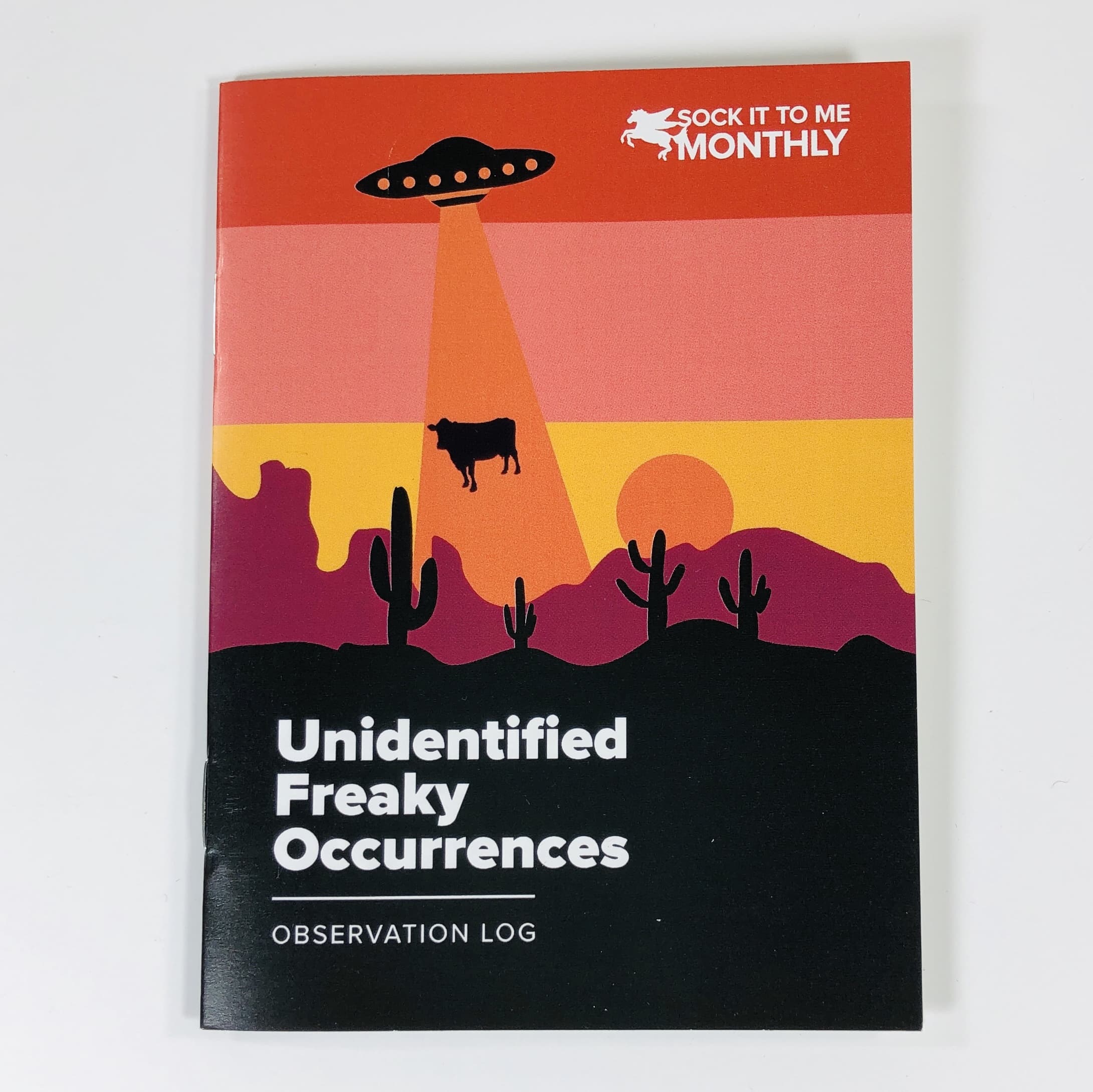 I even discovered a mini booklet inside the box. It has 6 pages and says I can record any freaky sightings I may encounter.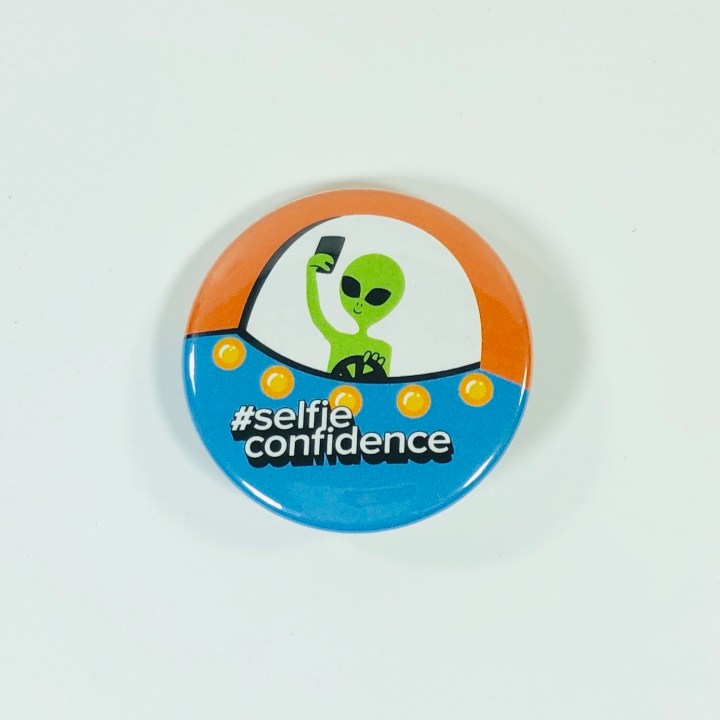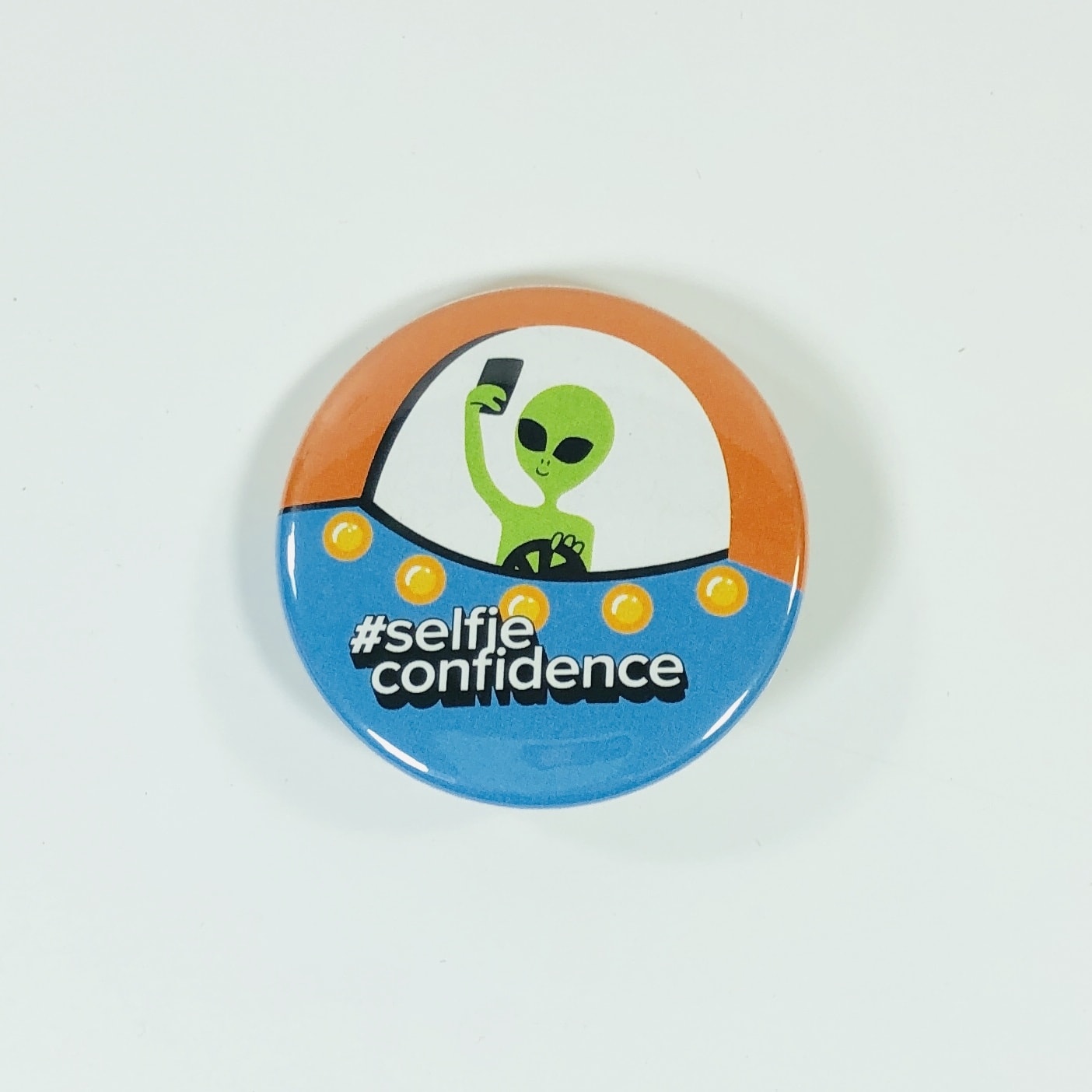 I also found a cute button featuring a freaking cool alien having a selfie inside his spaceship! #selfieconfidence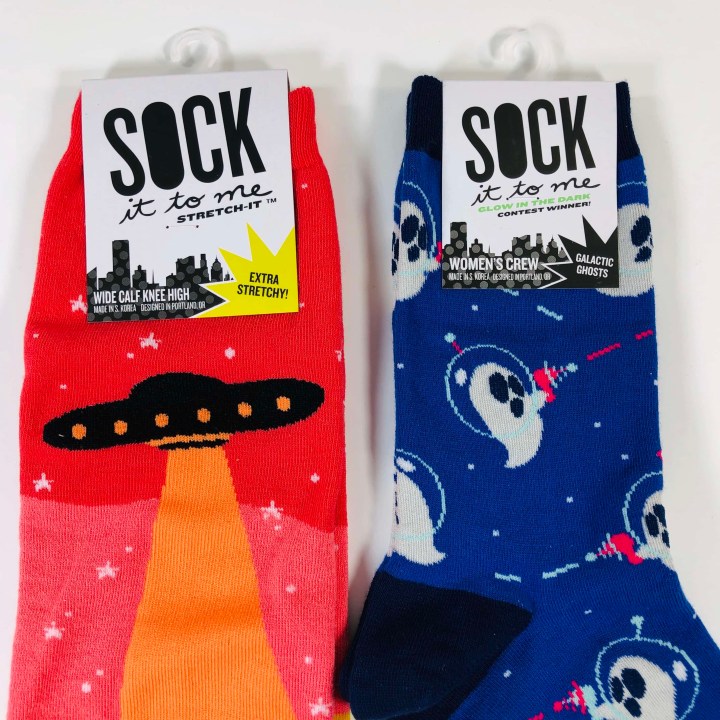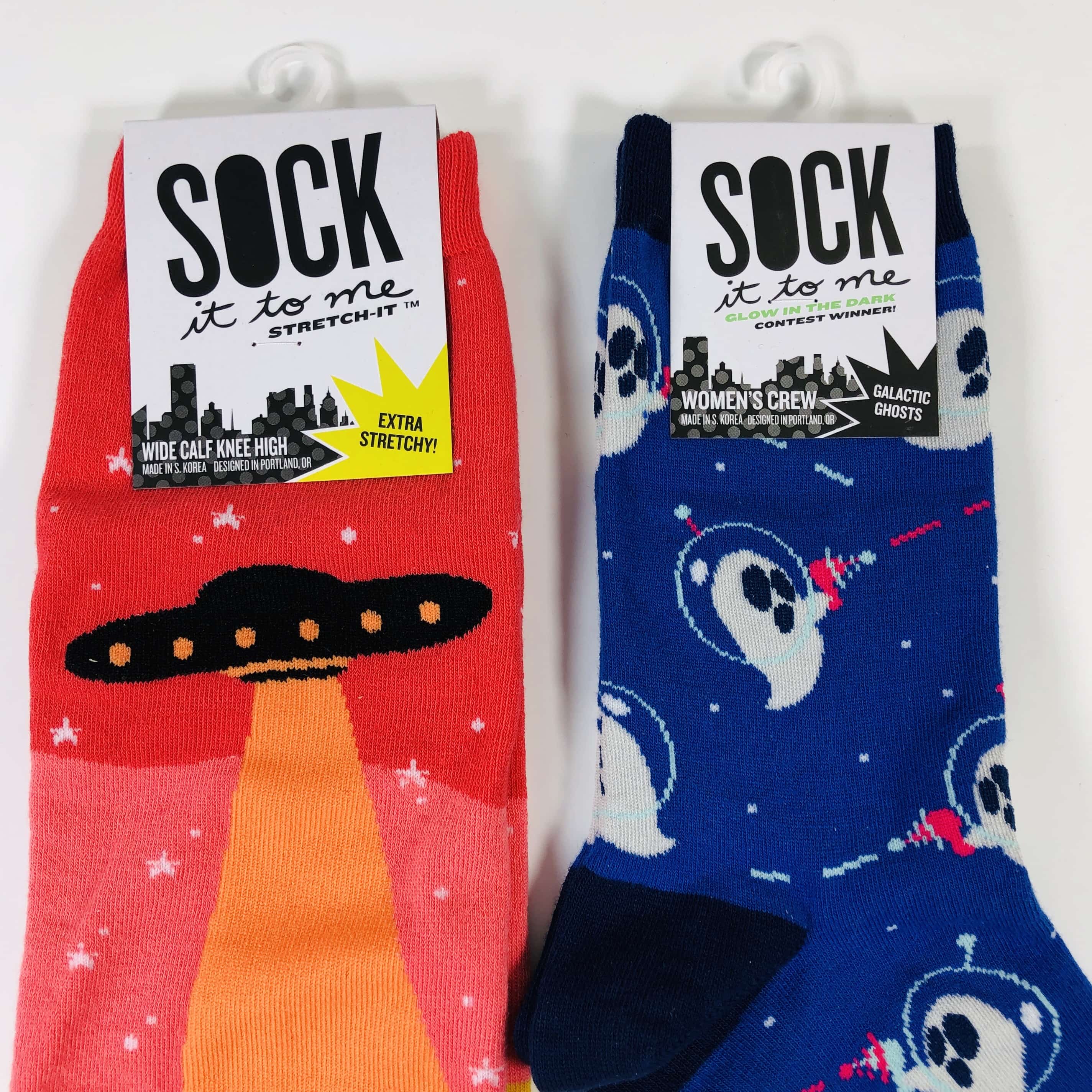 Next up are my two pairs of socks for this month. I'm excited!
Sock It to Me Galactic Ghosts Women's Crew Socks ($11) I gave this a value based on the selling price for similar items.
The socks are made of a blend of cotton, polyester, and spandex. They fit women's shoe sizes 5-10 and men's sizes 3.5-8.5. The design features white ghosts shooting at some unknown attacker, while the lasers are pink. They are royal blue with navy toes, heels, and cuffs.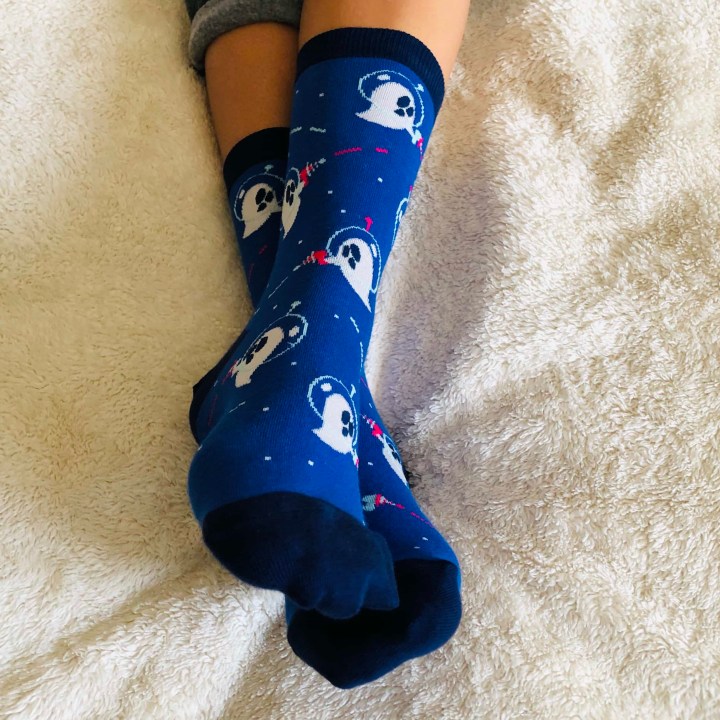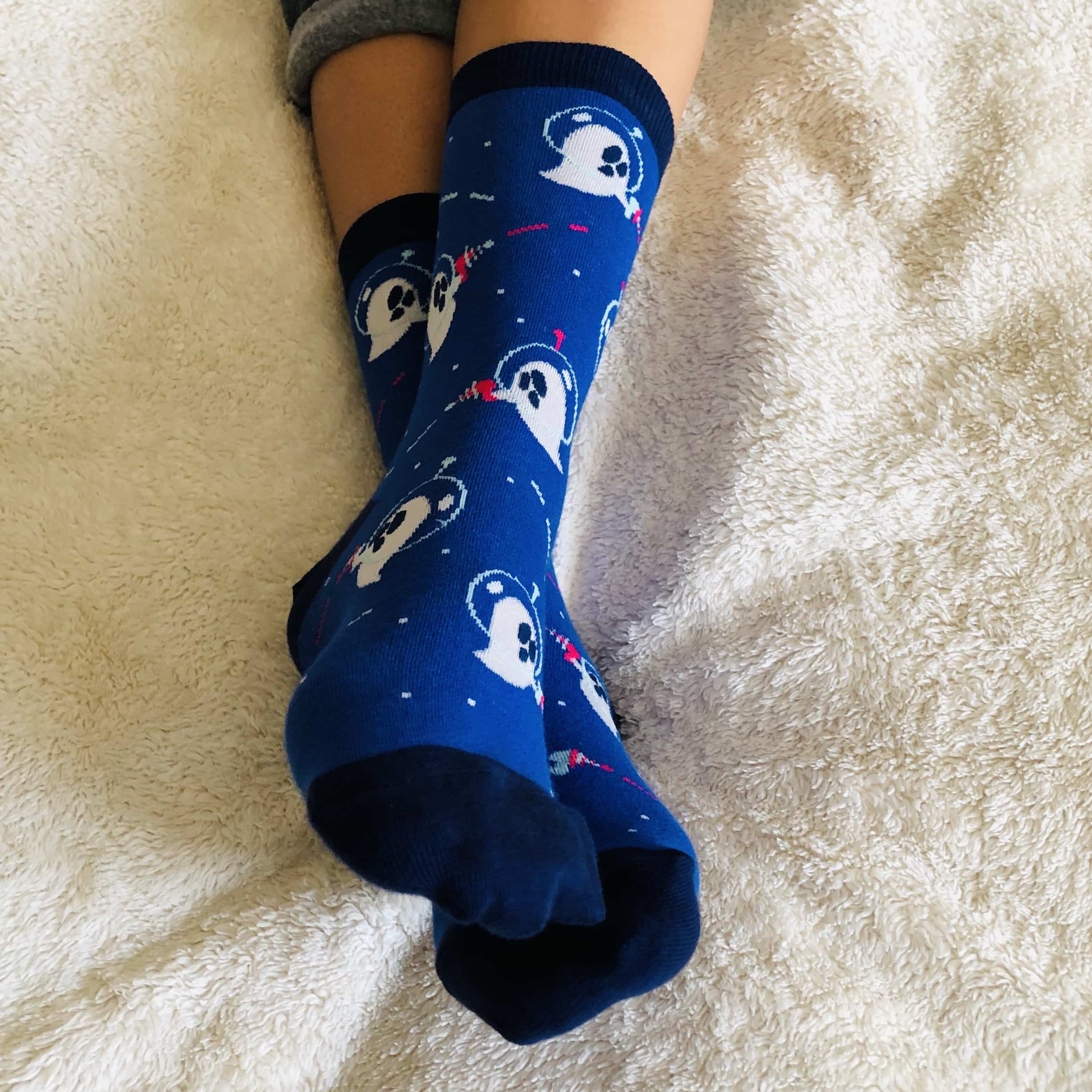 My daughter immediately asked if she could keep these, she loves kooky socks!
Sock It to Me Area 51 Wide Calf Knee High Socks ($12) Again, I priced these according to similar socks.
These are meant for those who have wide calves, which means I am going to keep them for myself! Just like the other pair, they are a blend of cotton, polyester, and spandex. They are called Area 51, but I prefer the name "Where's The Beef?". Area 51 doesn't have saguaro cacti as far as I know, but I digress.
They show a cow being abducted by an alien spaceship. Saguaros are all around, as are stars, while the sun is setting low in the sky. They are supposed to fit women's shoe sizes 8.5-14.5 and men's shoe sizes 7-13. The design is on both sides. They have the colors of a southwestern sunset and are a hoot!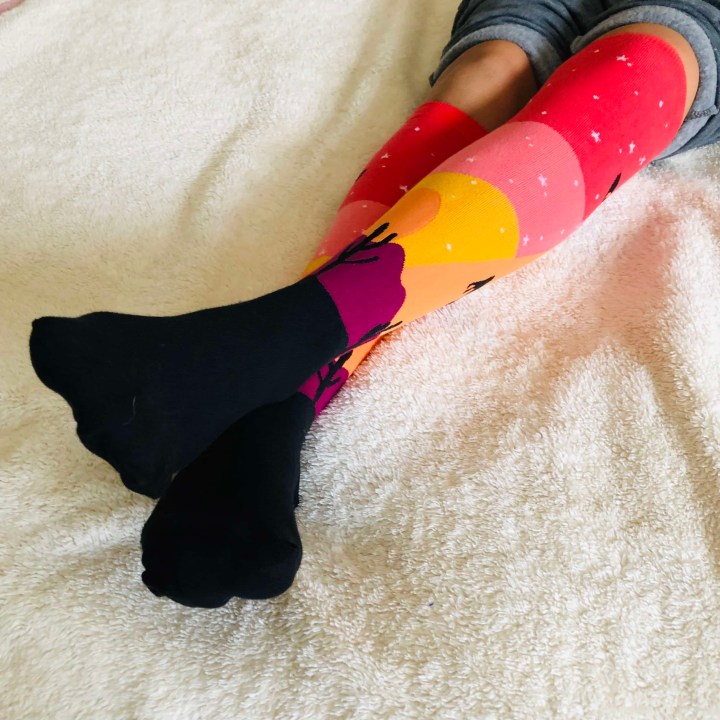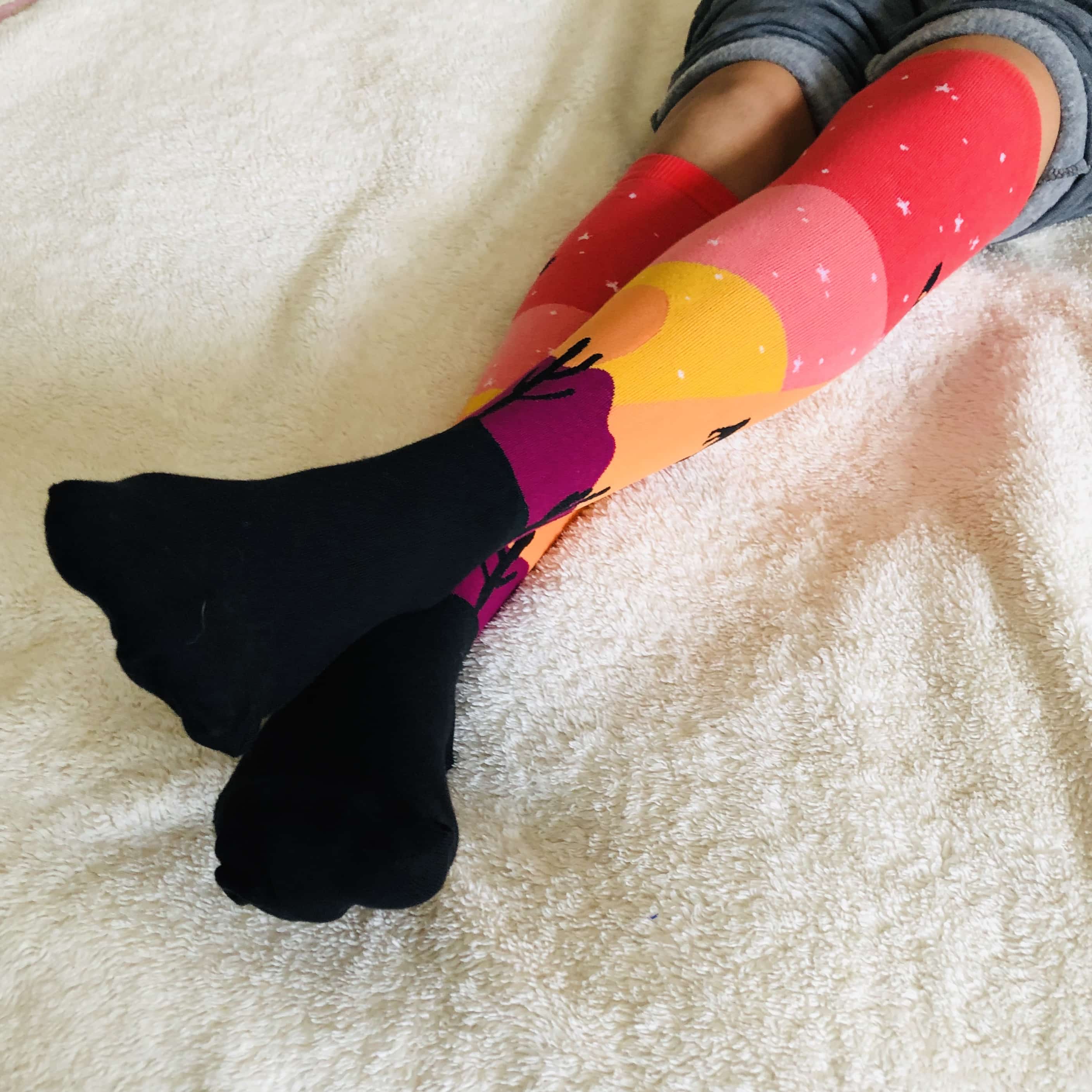 They are being modeled by my kid, and they are very long on her. I can't wait to wear them myself, but I need the temperature to drop. I'm still wearing sandals here in Texas!
Is Sock It To Me Worth It?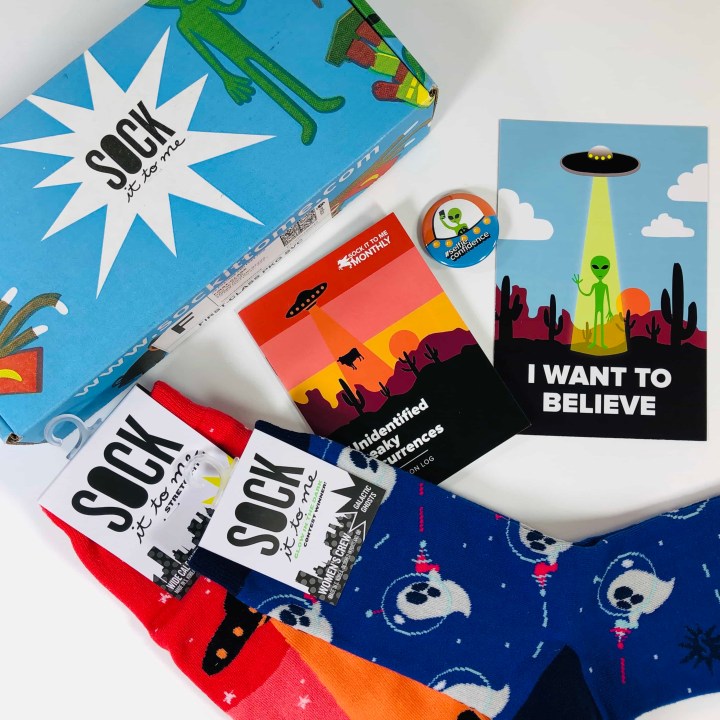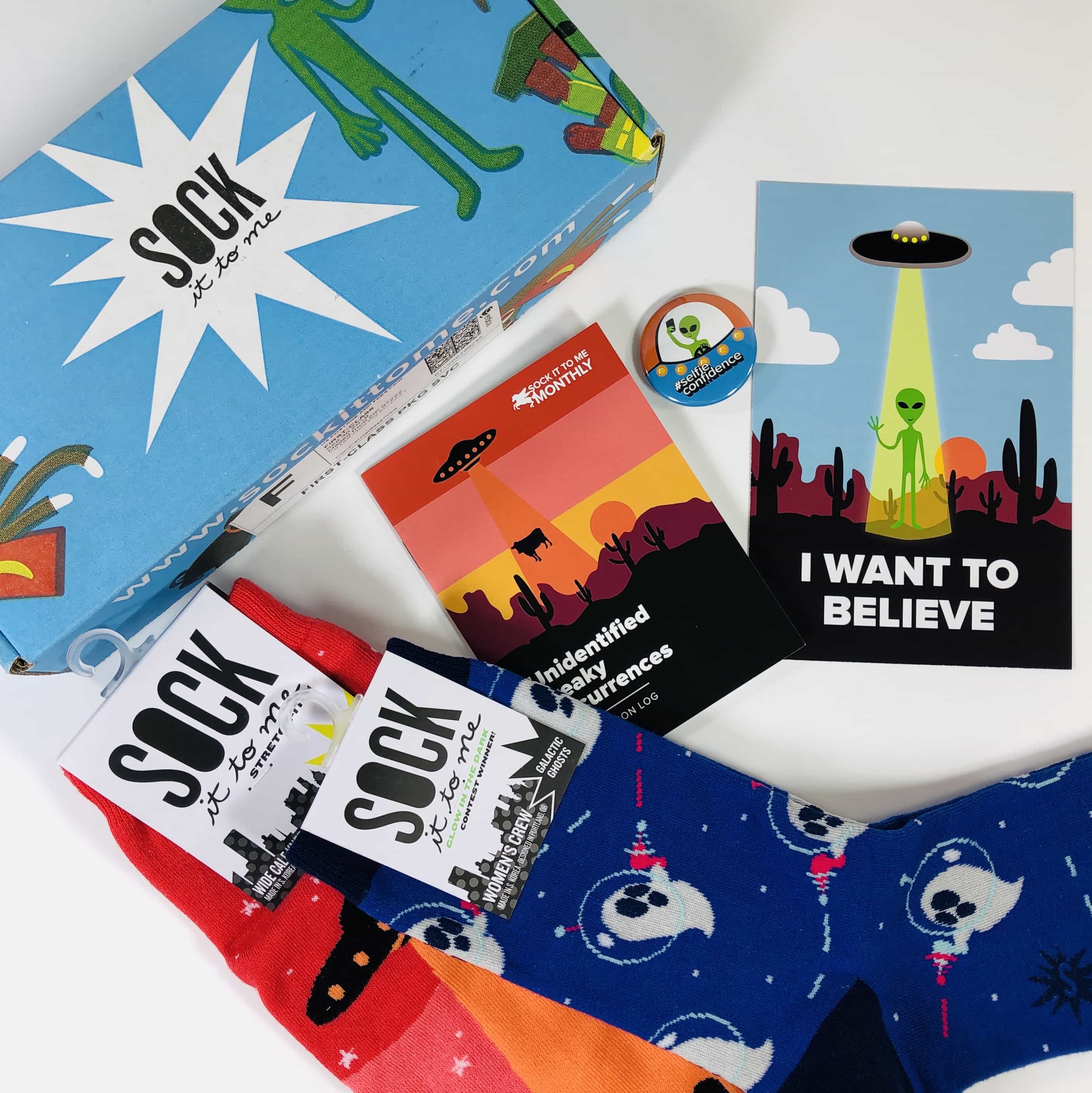 I have to say that my very first Sock It to Me box really knocked my socks off! They sent two pairs that are out of this world, and I love them to the moon and back. They really went all out with this theme, and my daughter thought it was pretty cool that the alien ghost socks also work well for a month that includes Halloween. What a stellar subscription!
In terms of surprise and convenience, this sock-scription rocks! The designs they include in monthly boxes are exclusive or sneak peeks and are not readily available in their shop. There's always something to look forward to! You also don't need to drop by department stores and peek at available designs to get what your heart and sole (yup!) want. They deliver your fresh pairs of socks (which are as awesome as you are) straight to your door, so you can just get comfy at home or wherever wearing your magical new socks.
All About Sock It To Me
Be your unique self wearing crazy socks every step of the day! Sock It To Me brings pairs of socks as awesome as you straight to your door every month – they're definitely your sole mate!
How does Sock It To Me work?
Getting a sock subscription to be uniquely you is pretty easy with Sock It To Me! They have a neat and straightforward user interface, which makes it easy for anyone to navigate their website. All you have to do is head to the Sock Subscriptions tab to set up your subscription. There are three subscription choices, which tell them the size and type of socks you want in your box.
Small/Medium Crew Socks – with sizes US Men's Shoe 3.5-8.5 or US Women's Shoe 5-10
Medium/Large Crew Socks – with sizes US Men's Shoe 7-13 or US Women's Shoe 8.5-14.5
Knee High Socks – with sizes US Men's Shoe 3.5-8.5 or US Women's Shoe 5-10
Once you click on your sock choice, a pop-up screen will show. It asks about your location, the length of subscription you want (1, 3, 6, or 12 months), and if it is a gift. After setting it all up, your subscription is ready to check out!
If you're already a subscriber, you can log in to your account. But if you're a new subscriber, they'll ask you to create a Sock It To Me account to make things easier. And like other subscriptions, they'll ask for your shipping, billing, and payment details to get on with the checkout process.
Monthly boxes include two fresh pairs of socks with exclusive designs not available elsewhere, just for the subscription. Each is constructed using a combination of cotton, polyester, and spandex/elastane. They're made with combed cotton threads certified by OEKO-TEX Standard 100, which means they leave out harmful chemicals to keep your skin safe and happy.
Sock It To Me also has a return policy (available on their website). If you're not enjoying the socks in your subscription, you can reach out to them. Cancellation of your subscription before the end of the term is also possible. They'll refund any remaining months on your subscription that has not been processed or shipped yet.
The brand also has a giving back program, where they donate time and socks to different foundations. Some of their recent charity partners include Soles 4 Souls, Portland Rescue Mission, and Janus Youth Programs.
How much does Sock It To Me cost?
For as low as $15.42 a month, you'll get two pairs of sock surprises in each box. You can choose from 1, 3, 6, or 12 months of socks to kick it off your way. The longer you subscribe, the more you save. Also, all subscription orders ship free!
For Small/Medium Crew Socks, a month's subscription costs $19. A 3-month subscription is $18.33 a month, while a 6-month subscription costs $17.50 a month. The 12-month subscription is also available for $15.42 a month.
Now, here's the price breakdown for the Medium/Large Crew Socks subscription: 1 month is $24, a 3-month plan is $23.33 per month, a 6-month plan is $22.50 per month, and a 12-month plan is $19.58 per month.
The Knee High Socks subscription costs $26 for the monthly plan, $25 a month for the 3-month subscription, $24 a month for the 6-month subscription, and $21.25 a month for the 12-month subscription.
Where can I buy Sock It To Me?
To receive a monthly sock surprise, you can subscribe via the Sock It To Me official website. Go to the Sock Subscriptions tab, choose your subscription, set it up, add it to your cart, and check out! Fill out your shipping info, billing address, and payment details to put your best foot forward wearing crazily awesome socks!
Where and how does Sock It To Me ship?
Sock It To Me extends outside the US to deliver whimsical socks for your soles and soul! So aside from processing orders made within the United States, they also ship to international locations but with a few exceptions. They used to ship to the UK as well, but due to new regulations at the UK border, they are currently unable to ship orders to the UK and hope to resume real soon.
They only ship from Mondays to Fridays. US orders are packed and shipped within 1-4 business days. For international shipments, they typically process and ship orders within 1-8 business days. And to ship orders fast, Sock It To Me works with USPS for shipping orders. It usually takes 2-7 days for domestic orders to arrive, while it can take between 2-6 weeks for international orders depending on the exact location.
How is Sock It To Me packaged?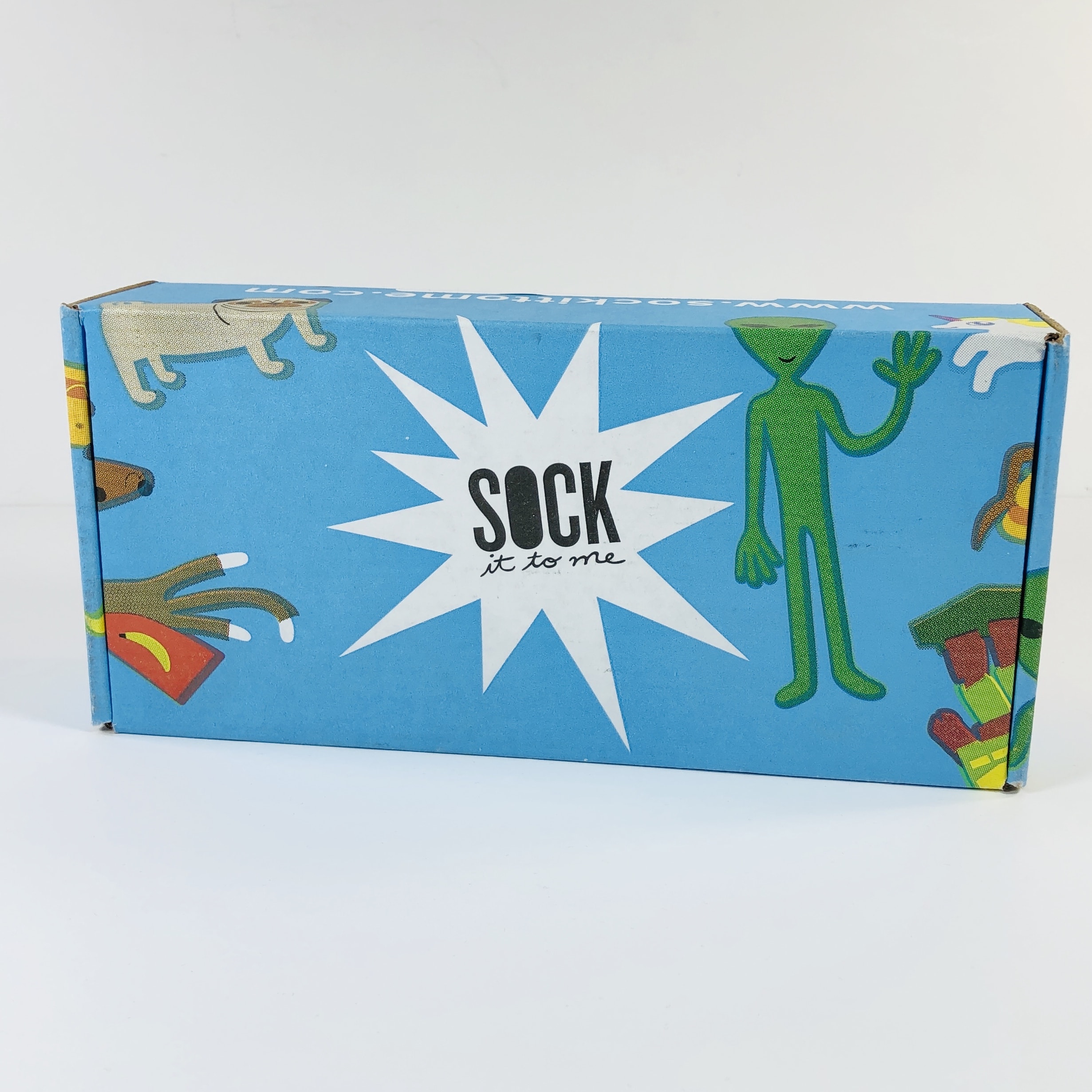 All subscription orders are packed in a blue mailer box with Sock It To Me branding printed out front. It features cool and quirky stuff like aliens, dwarves, unicorns, and more! The socks are then neatly arranged inside. Suggestions for reusing the box were listed on the inner part. You can reuse the box and put a cat in it, wear it as a hat, regift something in it, store donut receipts, place it upon a shelf, or put everything back in and experience the fun all over again!
WARNING: AWESOME INSIDE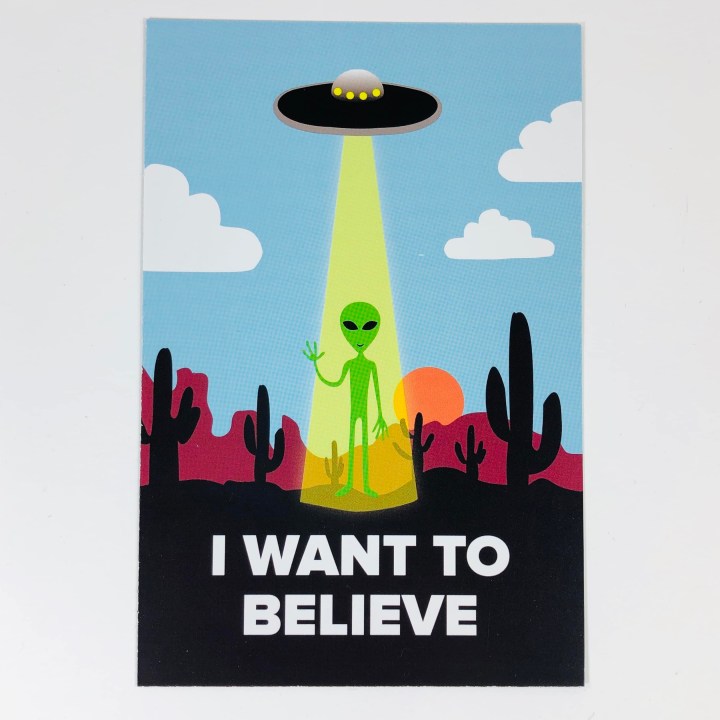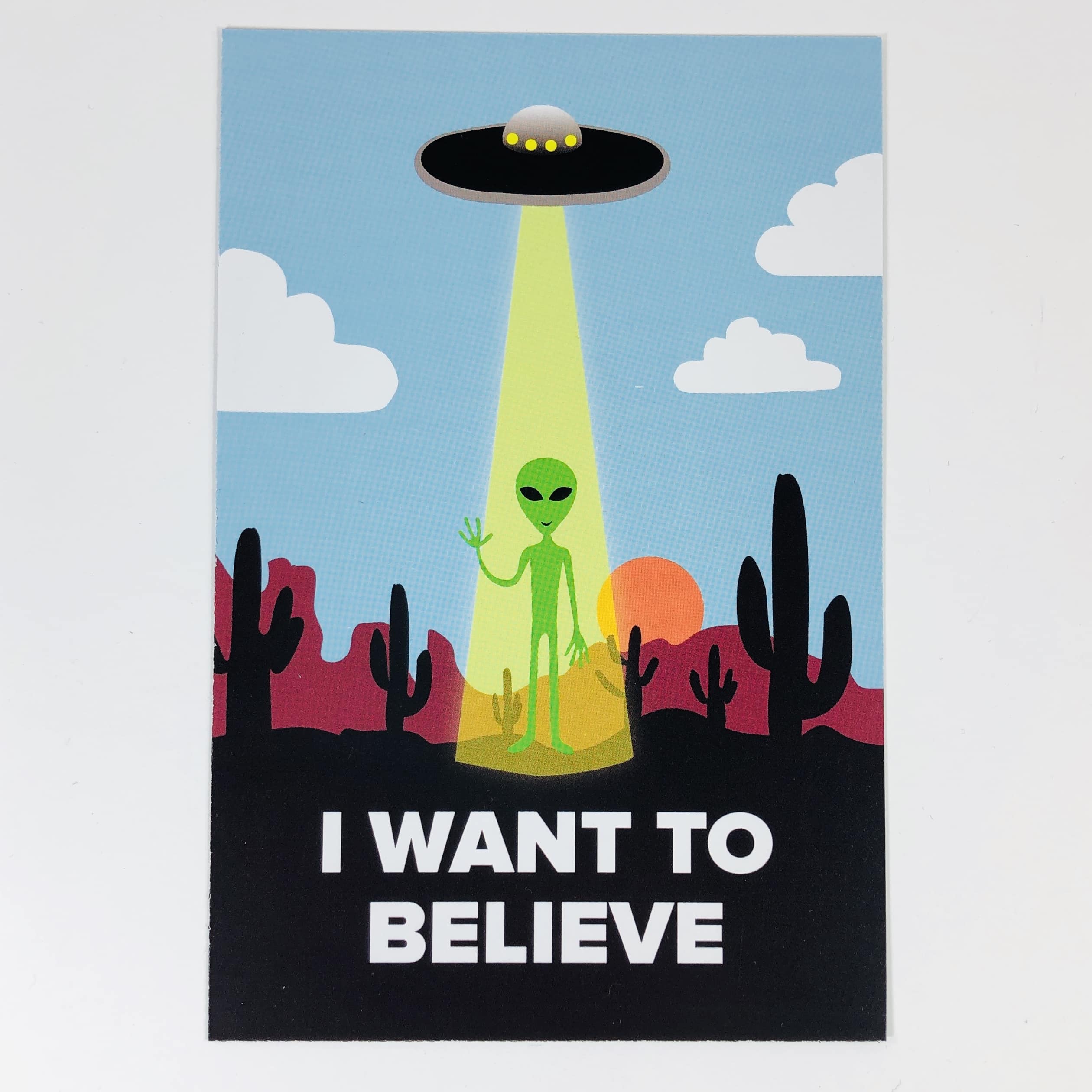 There's also a card in the box. It talks about the styles you have in your shipment. They're exclusive or sneak peeks and are not yet available on the website. Everything seemed so funny and funky!
What products does Sock It To Me sell?
Sock It To Me is a brand known for offering whimsical, crazy, cool, nerdy, funky, fun, colorful, and quirky socks for everyone. Aside from the sock subscription, they also sell ankle, crew, knee-high, no-show, and turn-cuff socks for kids, men, and women outside the box. If you're interested in getting more socks without the subscription, you can easily do so. Just go to the sock shop on their site.
The brand also has underwear offered for men and women. You can choose from bikini underwear, hipster underwear, or boxer briefs, all made with soft yet stretchy blended cotton for a plush feel, ideal fit, and breathability. Of course, with geeky, nerdy, and awesome prints too!
Can I send Sock It To Me as a gift?
Gifting Sock It To Me is possible! You only need to choose the subscription you want to gift and pick the subscription length, then click on the Yes button under the "is it a gift?" section on the setup page. Gifters have the option to add a personal gift message to let the lucky recipient know that a sock surprise is on the way. That way, you can give the gift of sock-scription to loved ones!
Don't know your gift recipient's size? They also offer gift cards with amounts ranging from $5 to $100.
Are you getting the Sock It To Me box too? Let me know your thoughts in the comments!