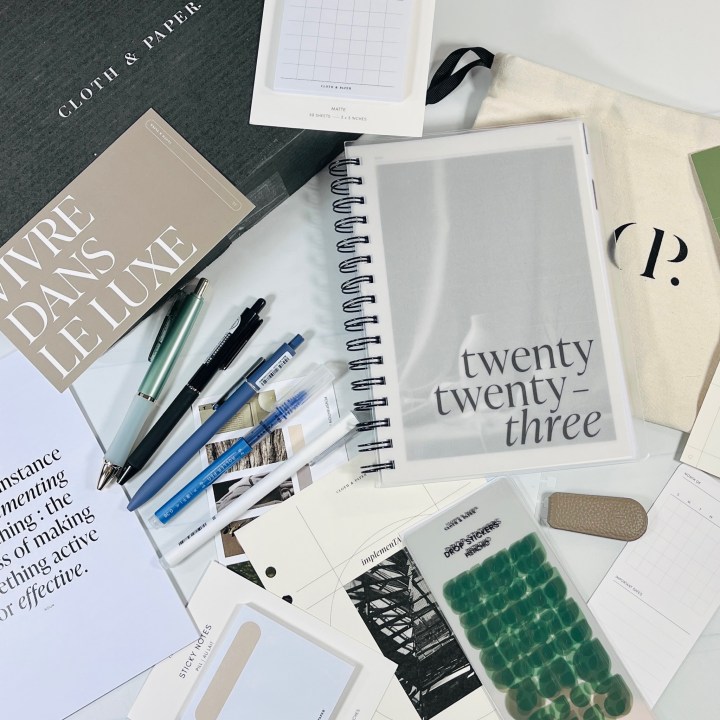 The December 2022 Cloth & Paper theme was Reflection and featured a brand new planner for the year ahead! If you are new to this box then know that they have a few different subscription options, and you can choose planner sizes based on the planner you use at home or work. This is a review of their Penspiration AND Planning + Stationery combo, which is $54.99 a month and drops to as low as $49.99 a month when you choose the 6-month term. This is the December box, and they send calendar cards etc. two months in advance, so you're never behind or have to worry about getting those supplies late. (Please note that the picture above is of BOTH boxes combined!)
DEAL: Want to try Penspiration Box, Planning + Stationery Box, OR Penspiration & Planning + Stationery Box? Get 10% off your first box! Use the coupon code HELLOSUB10 at checkout!
Planning + Stationery Box
The card shows all of the items in the Planning + Stationery Box and has a picture of the items on the other side. The items were tucked into a reusable planner protector pouch with a drawstring closure (so it would work well as a makeup or toiletries bag, or maybe as a jewelry pouch).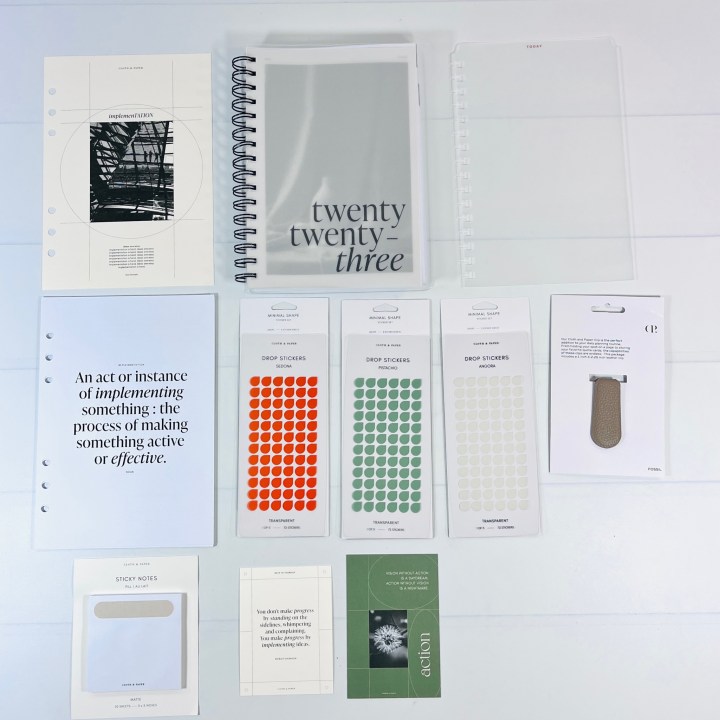 Here's all the items in the Planning + Stationery Box!
2023 Spiral Bound Planner It's here — a spiral-bound planner ready for the new year! It has space for jotting down monthly goals and intentions, month-at-a-glance, and horizontal weekly pages. There's space in the back for passwords and contacts. The planner is A5 in size (a little bigger than 8″ x 5″).
Implementation Dashboard Of course, we're still in 2022 so we received a dashboard to dress up our current planners.
Today Dry Erase Tab Divider This is a frosted clear divider that can be used as a dry erase board and will fit into a spiral bound planner. The only wording is a tiny "TODAY" at the very top, but I had to use something as a background color to make it show up so please excuse the branding showing through the middle from the box lid.
Drop Stickers I received three sets of drop stickers in colors that are autumnal in feel. There are lots of stickers in each set and each color has three different sizes.
Implementation Bundle Insert There are 10 pages in this bundle and the first page has a personal development plan to get started. Begin now and add to it in the new year!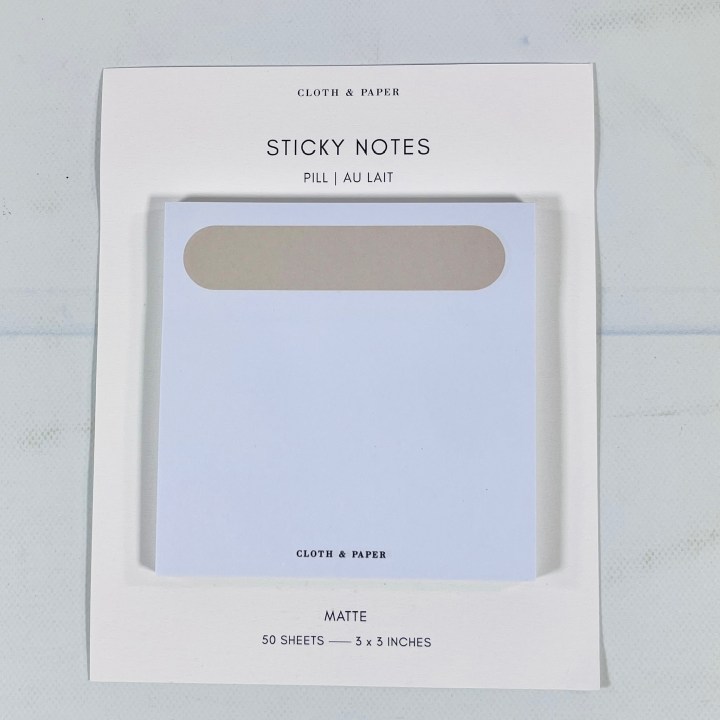 Pill Sticky Note This set of sticky notes has a pill-shaped header for noting the main idea, then list to-do's below.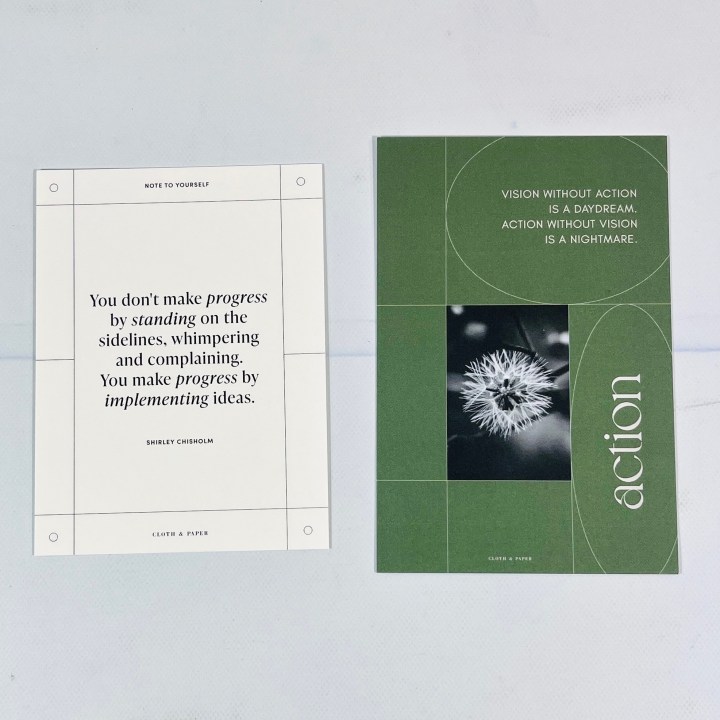 Note To Yourself Quote Card and Action Journaling Card are small cards that help dress up the planner and can be clipped inside or you can buy an insert to hold them in place.
Cloth & Paper Clip is made of leather and has a magnet inside to hold it closed. It works great as a page marker in a book or of course in the planner.
Penspiration Box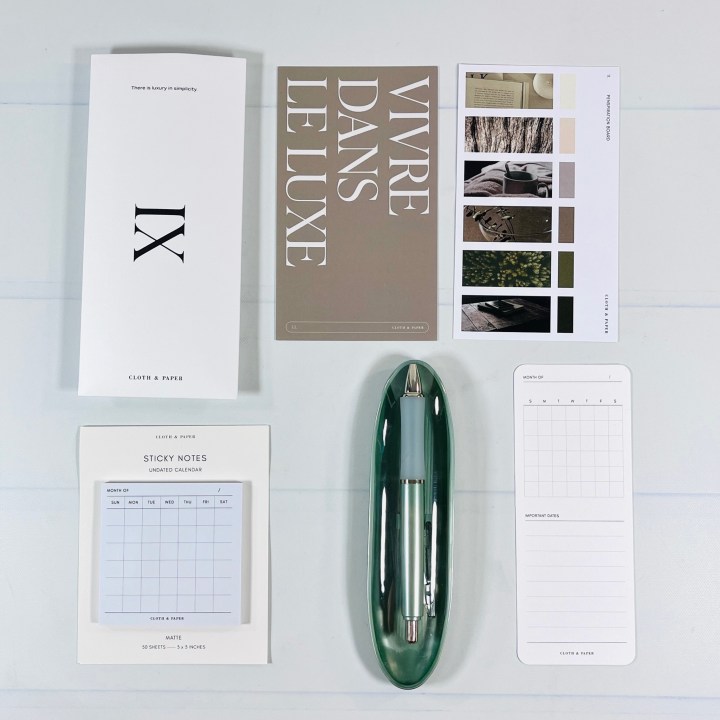 Here's everything in the Penspiration Box!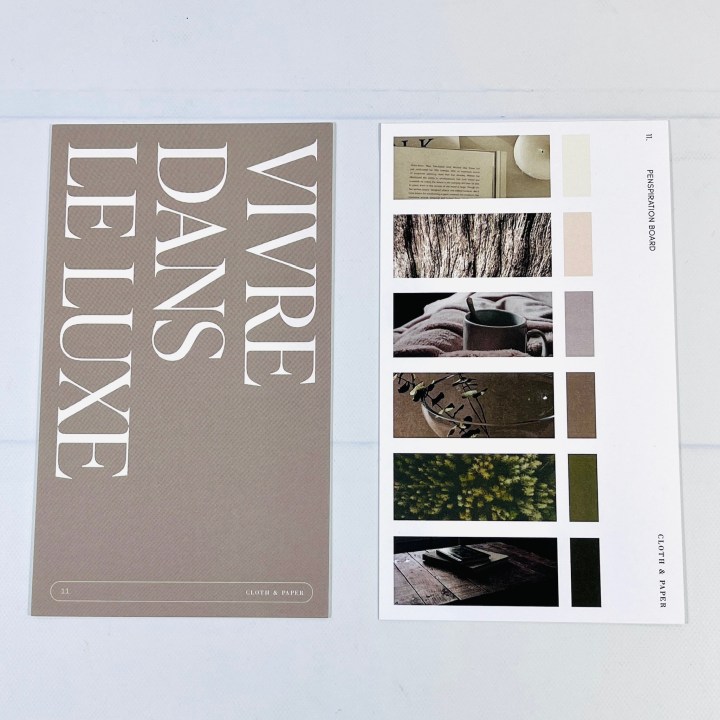 There's a journaling Prompt Card on the left with a suggestion to list small changes to make now to work towards our personal goals. The card on the right is a Pen Test Sheet and you can see it in use below.
Next we have an Undated Calendar Card to be filled in when you like.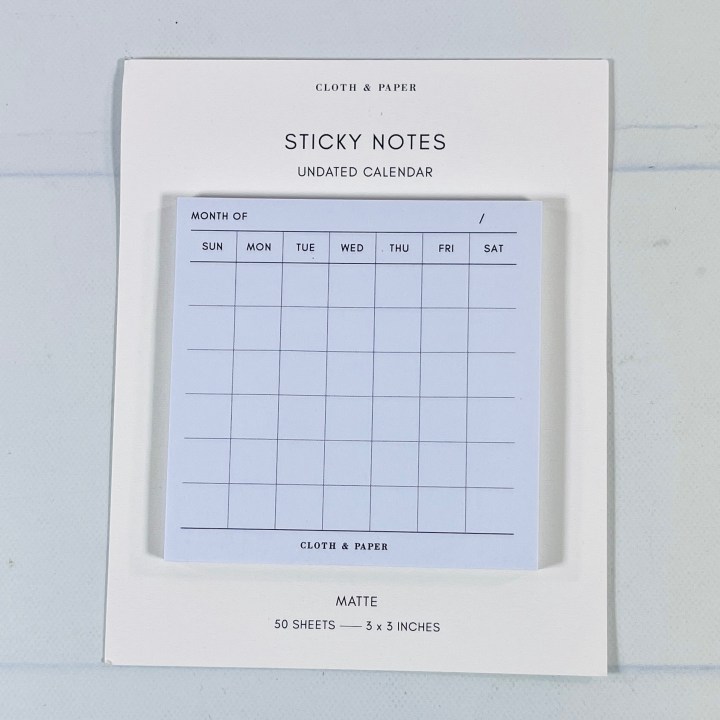 Undated Calendar Sticky Notes This is a sticky note version of the card shown above and can be used as a habit tracker or however you see fit.
Set of Pens The pens came in their own box and there were four inside, while a fifth pen came in its own holder. Most of the pens held black ink, although one writes in blue. The nib sizes vary but you can find the brand names and more precise info at the Cloth & Paper unboxing blog section on their website.
The star of the November box by Cloth & Paper was the 2023 yearly planner! Time to get those important dates listed for next year — it's always such an exciting time putting pen to paper! Speaking of pens, the Pensipiration box has amazing writing implements, I use them all the time. They are sleek and write smoothly and make writing notes feel like something special. Of course, I also received stickers and helpful sticky note pads plus a cool paperclip and an insert for personal growth. The dry erase board was neat, I can use it now and then move it to my new planner January 1st. Now I'm intrigued to see what we're going to get in the December box!
Below you will find some more box opening pictures!
Cloth & Paper offers a monthly subscription box of their planner supplies, inserts, and writing instruments. The items look sleek and Cloth & Paper believes "there is luxury in simplicity". The Planning + Stationery box is $39.99 a month but drops to as low as $36.99 a month when you sign up for a 6-month term. The Penspiration box is $21.99 a month but drops to $19.99 a month for the 3-month plan. The Penspiration AND Planning + Stationery combo is $54.99 a month and drops to as low as $49.99 a month when you choose the 6-month term. Our readers love this subscription – Cloth & Paper was voted as the top pick for the best stationery subscription this year!
Visit CLOTH & PAPER to subscribe and find out more about this subscription!