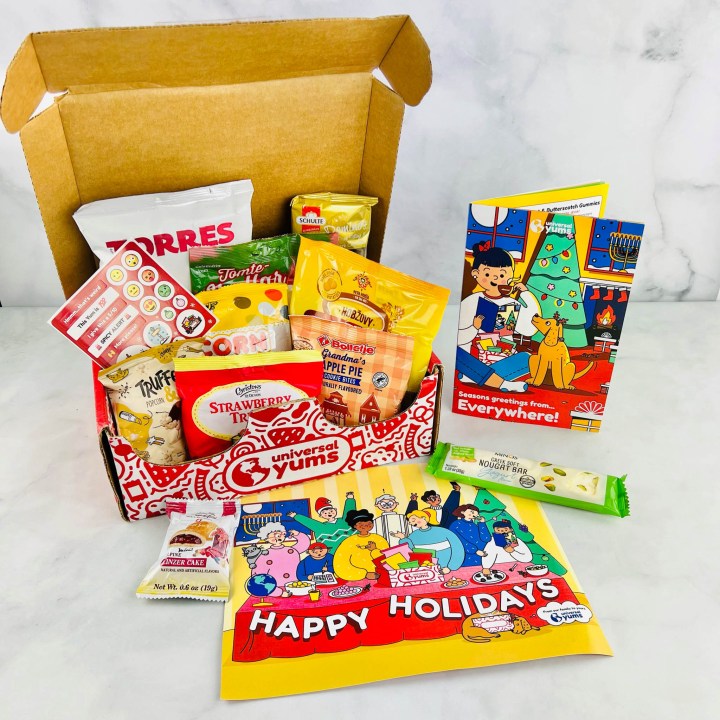 There's no better way to celebrate the holidays than by enjoying a snack-filled box from Universal Yums! This time around, they let us in on a festive adventure around the world. Get ready to take the holidays up a notch with a fantastic assortment of snacks from across the globe backed by Christmas cheer. It's the gift of unique and delicious snacks that any adventurous snacker will love!
DEAL: Save 10% on a 6+months Universal Yums subscription!! No coupon code needed, just use this link to sign up!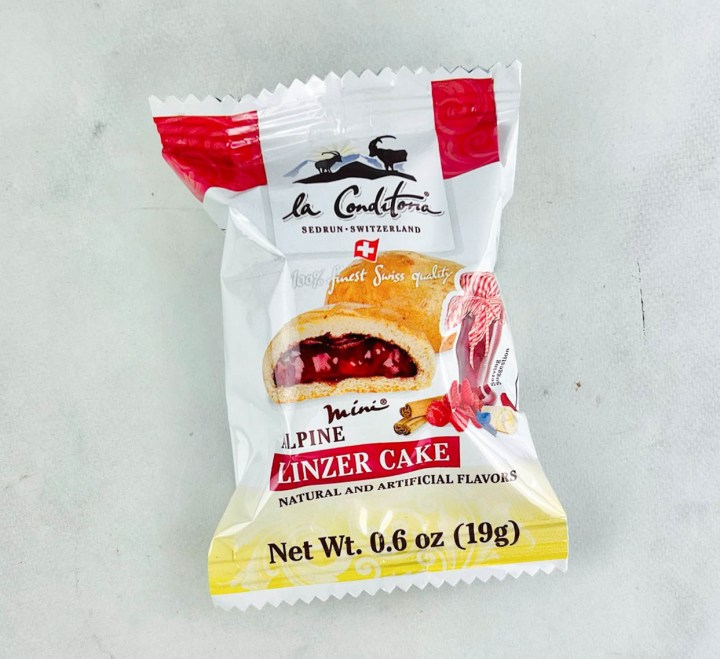 Our first stop for this year's holiday snacking is Switzerland. This Mini Raspberry Linzer Cake is decadent and tasty. The cake is nutty with an almond and hazelnut hint, while the center filling tastes heavenly with spiced raspberry jam. It's a good combination! This is said to be the favorite holiday cake in Switzerland, and I totally understand why. It's tasty and bursting with flavor from the inside with a sweet and tangy flavor profile.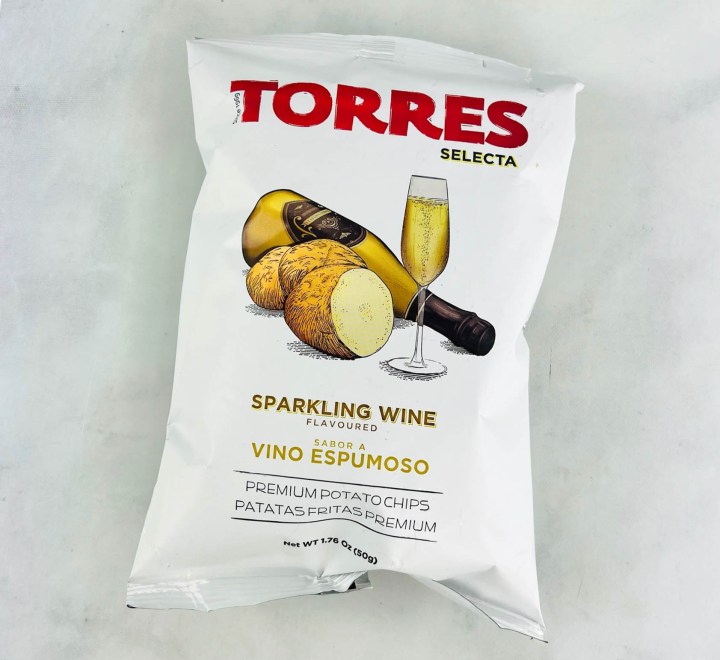 The next destination? Spain! And the unique Spanish snack we tried out was Sparkling Wine Flavored Potato Chips! Sparkling wine and potato chips are two entirely different flavors, and when combined, they taste familiar yet so unique. You'll definitely experience a fruity and bubbly taste with every crunchy bite of the potato chips. With lightly popping, it's evidently Spanish sparkling wine incorporated into a yummy potato chip! It just tastes amazing!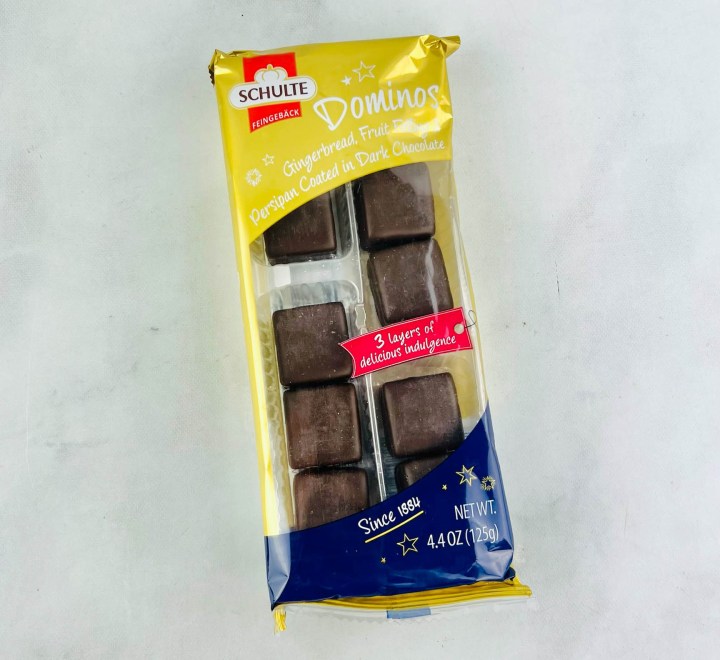 These Dark Chocolate Gingerbread Bites took us to Germany! There are 10 bites in total, and I'm glad it's more than just one because it tastes inexplicably indulgent. You'll taste not just one flavor but four in all. The bottom layer is spicy gingerbread, followed by soft fruity jam, topped with delicious apricot persipan, then covered with rich dark chocolate. The sweet taste inside perfectly harmonizes with the nice coating of dark chocolate outside. It's the perfect Christmas treat with all these amazing flavors combined in one delicious snack!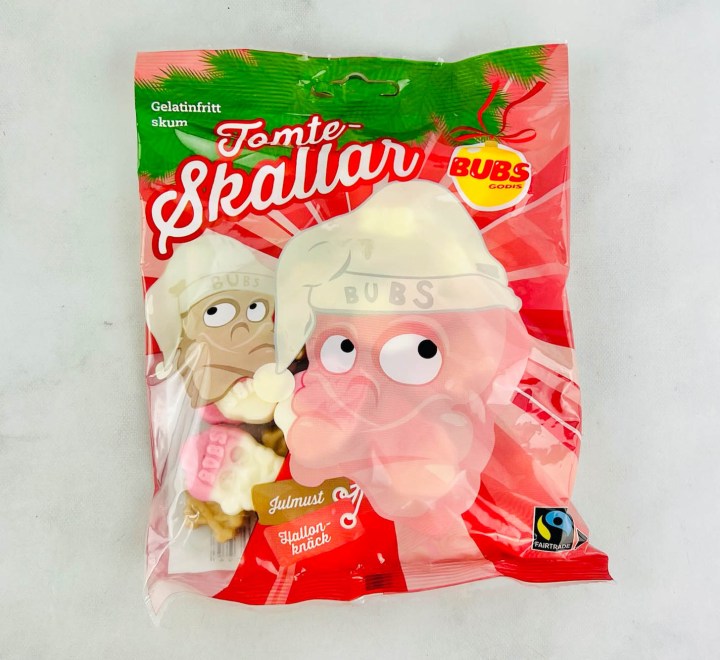 Now, let's fly to Sweden and try their most popular holiday drink but in gummy form. Julmust and Butterscotch Gummies taste like cola, root beer, and butterscotch mixed all together, with the side flavor of raspberries. Each piece is shaped like a Santa skull, and they're chewy and sweet as well! Although they're gummies, these sweet treats are free from gelatin and other animal additives. A guilt-free way to enjoy a Swedish delight this holiday season!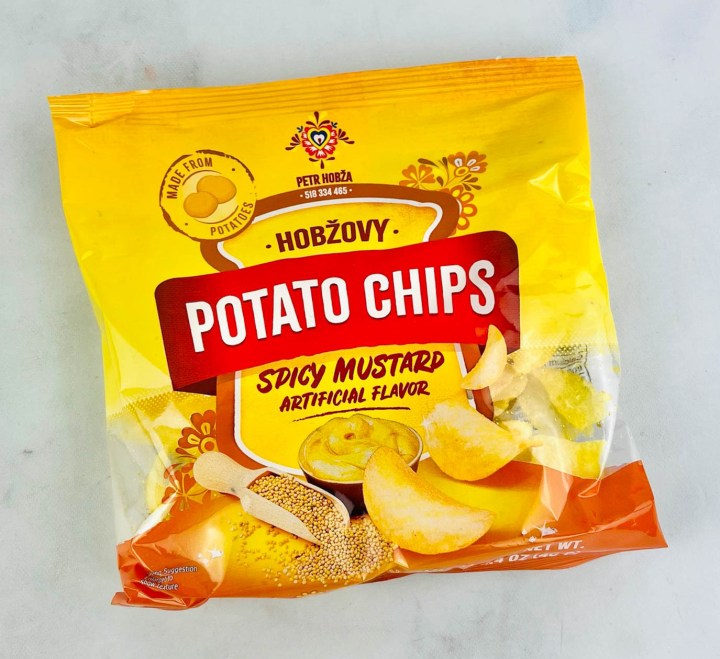 We have another pack of potato chips in the box, and this time, it's from the Czech Republic! If you love the taste of mustard, you'll probably like Spicy Mustard Flavored Chips. With potato crisps enveloped by punchy mustard seed flavor, this snack is surprisingly delicious. They're not salty but definitely got the kick! I even think they're better paired with a cold can of beer. You'll love it at first crunch!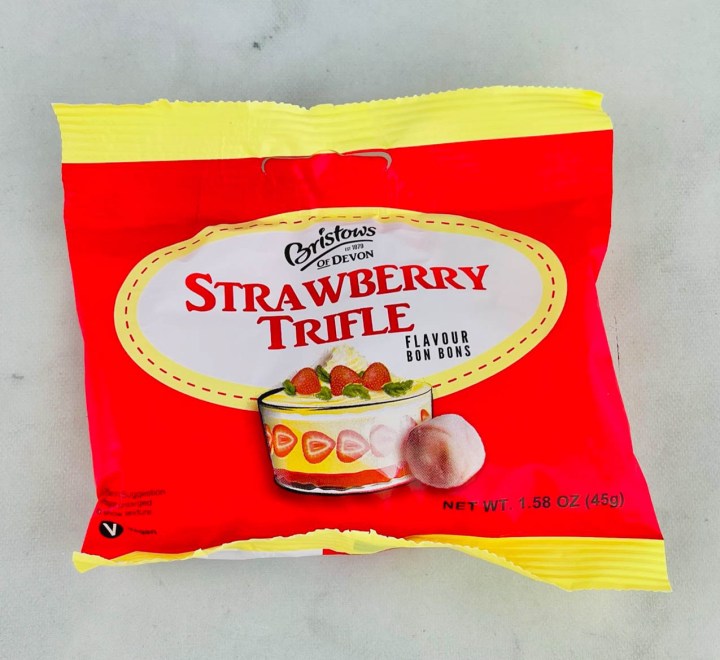 Whenever I hear of bonbons, all I can ever think of is the British holiday spirit. And these Strawberry Trifle Flavored Bonbons took my heart away! This chewy treat is everything I could ask for. They're sweet, sour, and creamy. The sprinkle of powder sugar coating is just really good. It's the crazily delicious dessert you would always want on holidays!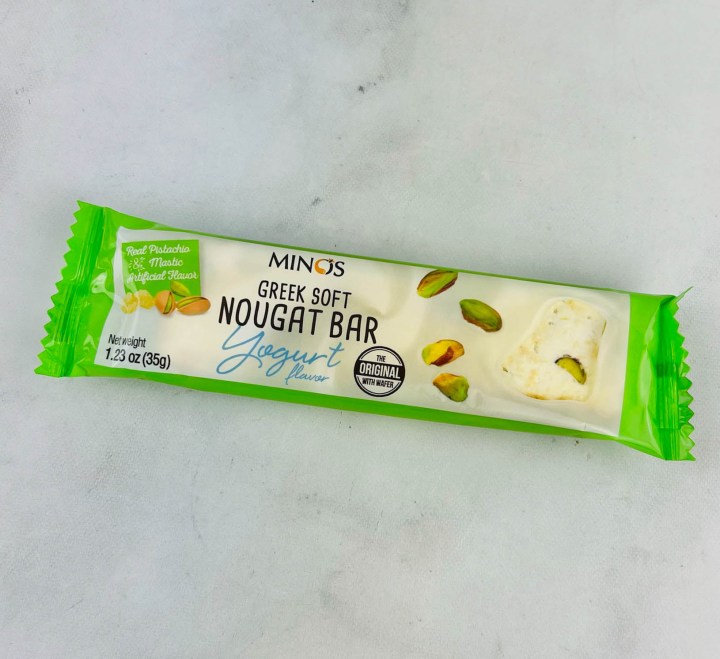 Greece is known for its yogurt, and Universal Yums made sure to bring it to us this holiday season. Nutty Yogurt Flavored Nougat Bar is both crispy and chewy! The candy bar screams perfection with its soft and chewy texture, topped with creamy yogurt. The bits of pistachio and mastic added crunch and nutty flavor, which I like too! Every bite delightfully combines all flavors, and it's one unique treat for the holidays.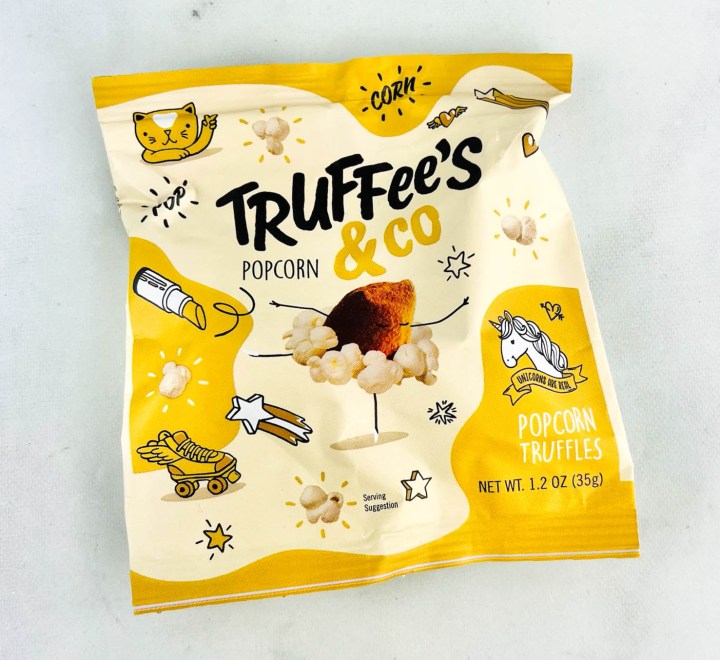 For the next stop, we experienced France with these Popcorn Flavored Truffles. It may look like regular truffles, but there's a surprising twist. The rich French cocoa truffles are added with bits of caramelized popcorn that give each bite a satisfying crunch. It delivers the right balance of sweetness and saltiness. With a unique flavor, it will surely wake your taste buds!
Apple Pie Cookies relive memories! This fresh-from-the-oven delight is a proud product of the Netherlands. With the same warm taste as Dutch apple pie, this snack is incredibly tasty with its white chocolate coating. It has dried apple pieces and fruity currants. It's very flavorful, which is reminiscent of grandma's baked treats! Also, the dash of cinnamon made this snack a purely delightful Christmas treat.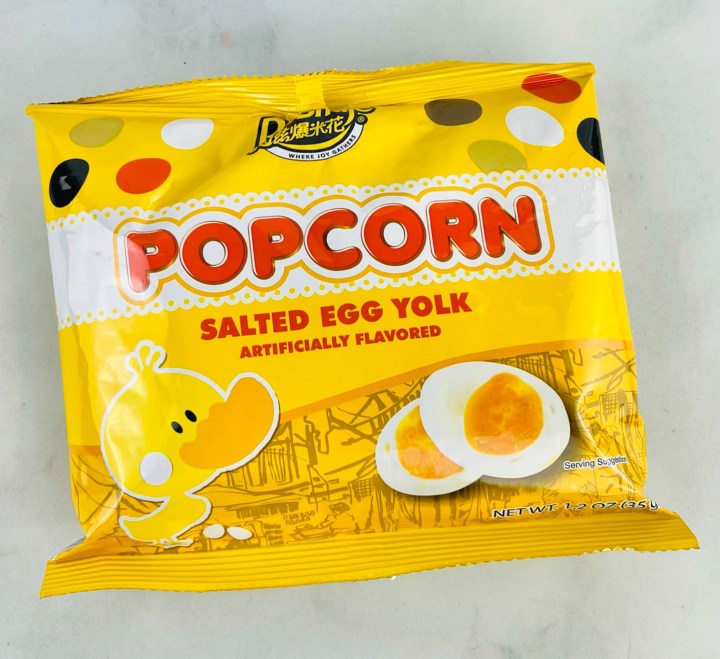 Popcorn is everybody's favorite snack anytime, whether it's holidays or just ordinary days, and this Salted Egg Yolk Popcorn took it to the next level. Sourced from Taiwan, it has the perfect combination of eggy, salty, and savory flavors. When you open the bag, you'll be welcomed by an egg smell. This snack has a very unique flavor profile, which I think is interesting for my taste buds. If you're not familiar with the taste of salted eggs, you may find it weird and unusual.
This holiday box from Universal Yums is a compilation of different holiday treats from all over the world. I get to try new stuff and learn about each country's most-priced Christmas treats. There's one too many, and it's all I care about! Everything tasted great, and I enjoyed most of it. The sparkling wine-flavored potato chips and the gingerbread bites tasted amazing, while the popcorn-flavored truffles and apple pie cookies tasted familiar. The spicy mustard chips and strawberry bonbons are delightful as well. The rest are just as delicious! It's a fantastic gift for adventurous snackers like me, as I get to try different snacks and treats mixed with holiday flair.
Each snack box also includes an interactive guidebook with fun facts, brief descriptions of the products in the box, a local recipe, and more! See it here: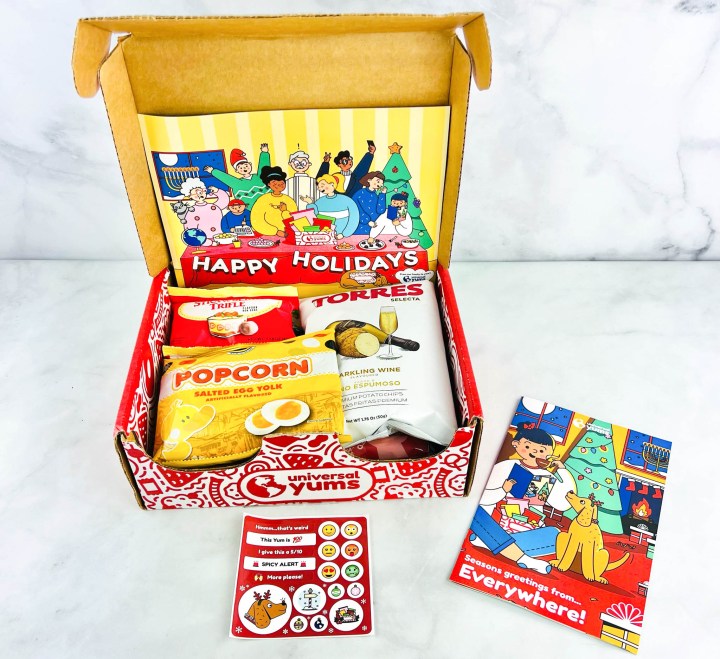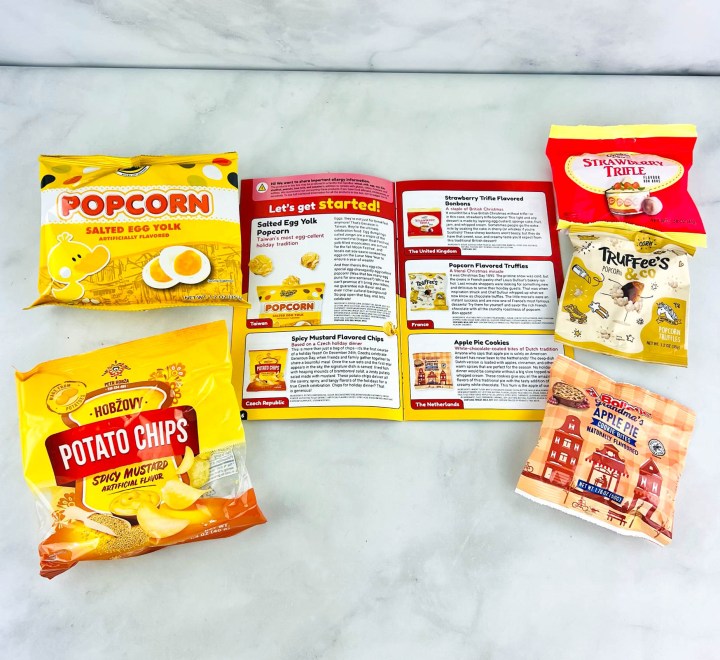 Universal Yums is an international snack subscription! Featuring a new country each month, the box contains unique and delicious snacks that are either difficult or impossible to find in US stores. They promise to always include a variety of sweet and savory snacks, all with the featured country's distinct flavors and spices. Each box also comes with an interactive guidebook containing an explanation of why they chose each snack, as well as trivia, games, recipes, and other cultural features! This monthly snack subscription is a reader favorite – it's taken top honors 3 years in a row in our reader's selections for the best snack subscription box!
There are three available box sizes:
Yum Box – 5-7 snacks plus a 12-page booklet for $17 a month
Yum Yum – 10-12 snacks plus a 16-page booklet and other bonus content for $28 a month
Super Yum Box – 19-20 snacks plus a 16-page booklet and other bonus content for $42 a month
Have you tried Universal Yums? What do you think of their snacks? Let me know your thoughts in the comments!