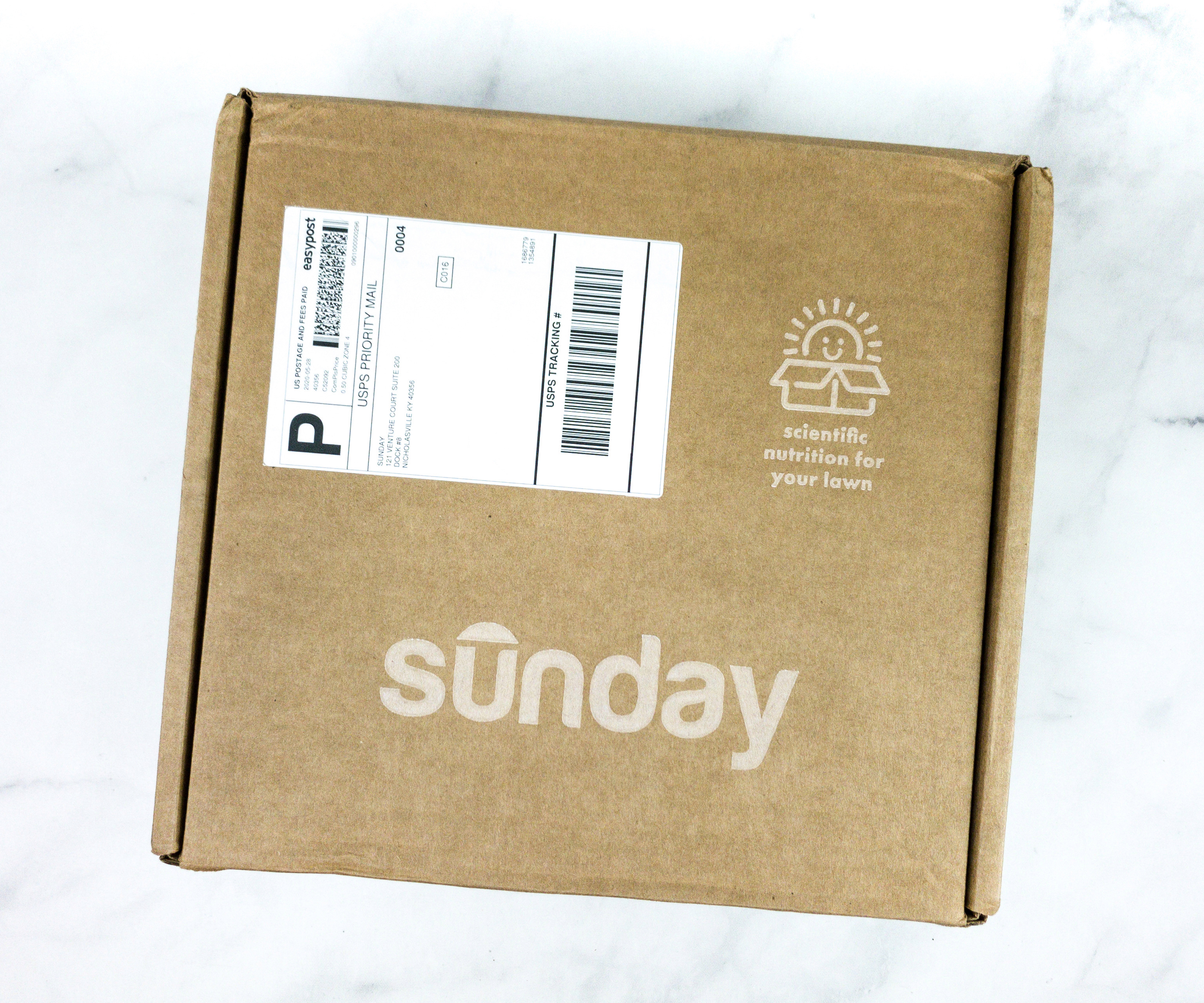 Everything you need to know about this lawn care subscription
Sunday Smart Lawn Care Review
Most (or all) homeowners dream of a beautiful lawn. They always look for ways to improve its appearance and make it healthy and vibrant. Because why not? A lush green lawn reflects abundance and a healthy environment. This space is an ideal natural haven for relaxation and recreation. So to achieve a thick turf, homeowners should know what exactly is needed for their type of lawn (soil, climate, grass, etc.).
A subscription like Sunday Smart Lawn Plan gives you the chance to say goodbye to bald spots and thinning grass. This subscription helps you get through the problems of brown patches, bare spots, thatch, and more by supplying you with a smart lawn care plan without the toxic stuff.
They send everything you need and customize the products based on location and season. Sunday lawn care does all the job, so no more guessing! You'll be guaranteed to get a pretty lawn and healthier at that!
This is the second shipment in our Sunday lawn plan subscription for the year. Check out our first Sunday lawn review to find out everything you'll receive and the entire process! To learn more, continue reading our review.
Get $20 off your order + a FREE Soil Test! Use this link to sign up and the coupon code HELLOSUBSCRIPTION20 at checkout.
Sunday Benefits & Drawbacks
First, here's a list of advantages and disadvantages of Sunday:
Sunday Benefits
Customized nutrient formulations for your lawn
Uses natural ingredients like seaweed and molasses
Sends the best lawn treatments at the best time
Provides a convenient process to take care of your lawn – less yard work, more yard play!
They're transparent about what the nutrient packs are made of
Pet and child-safe
Sunday Drawbacks
Not ideal for bigger lawns sized 13,500 sq. ft. up
You have to do it yourself
Only available within the US
Sunday Review
Summary
Sunday Lawn Care takes care of your lawn so you don't have to! This subscription sends nutrient pouches tailored to your climate, soil, grass type, etc. The custom made formulations based on these factors ensure you'll have a thriving yard! The best thing? These pouches are made with natural ingredients like seaweed and molasses. Simply attach the pouch to a hose sprayer and watch as your lawn grows and becomes healthy and beautiful. Bid goodbye to brown patches, bald spots, and thinning grass!

All About Sunday
Your dream of having a lush, health, and greener lawn is granted with Sunday! It is a lawn care subscription service that sends nutrient filled pouches to spray onto your grass, all tailored to your soil, climate, and grass type!
How does Sunday work?
Starting your lawn care journey is easy with Sunday Lawn Care. Simply type in your home address and click start lawn analysis. Then they'll show you a satellite image of your property and it's estimated size. You only need to confirm if it's the right size or not.
New subscribers' first box will include the sprayer and the soil test kit, along with the first batch of nutrient pouches. This will help them determine your lawn's soil condition and what exactly it needs. Based on the soil sample, Sunday will further customize formulas to help you tweak your lawn and help it thrive. They'll figure out what your lawn needs, so you don't have to.
They have four different plans offered:
Basic Plan – soil testing kit + customized nutrient pouches
Keep & Protect – basic plan + postemergence weed control
Grow & Renew – keep & protect + grass seed or additional nutrient pouch(es)
Lawn & Paws – keep & protect + assortment of pet-centered offerings
Sunday will send you a full year's worth of lawn essentials. You can also add on what you need and get everything delivered when you need it. Once the products arrive at your doorstep, you can attach the pouches to a hose and spray! Sunday also has a team of lawn advisors to help you reach your lawn goals and answer any of your questions. The brand donates a portion of every sale to help preserve wildlife habitats across the country.
In case you want to stop the subscription, you can cancel your smart lawn plan at any time.
How much does Sunday cost?
A Sunday smart lawn plan may cost between $129 and $330, and the price varies depending on your lawn needs and its size. Aside from the Smart Lawn Care Plan, the brand offers individual products such as fertilizer and nutrients starting at $30, pet lawn treatments starting at $18, grass seed and tools starting at $19, weed control for $22, mowers and equipment starting at $159, and watering and irrigation starting at $55. Shipping included.
If you misplaced your sprayer, you can purchase 2-pack replacement sprayers for $5. They also have live plants and trees starting at $40, garden essentials starting at $8, and pest control starting at $22.
Where can I buy Sunday?
You can purchase a Smart Lawn Care Plan on Sunday's official website. Get started by typing in your home address, so they can satellite map it and learn about your property's location, current climate, and soil profile. Once confirmed, they'll send you the tools and a soil test kit for an accurate analysis of the soil condition on your lawn. Send it back to them using the box and return label included in the kit so they can send you more tailored nutrient pouches.
Where and how does Sunday ship?
As of right now, Sunday Lawn Care only ships to the continental Unites States, Alaska, and Hawaii. Orders ship within 3-5 business days.
How is Sunday packaged?
The first box ships in a carton mailer box with a simple Sunday branding. It includes the sprayer, the soil test kit, and nutrient pouches. On top of the items is an info sheet that lists all the items in the box and instructions on how to use the lawn treatments. The flip side shows your Sunday Lawn Care Plan and your lawn's assessment. The packs are even secured with custom carton packaging to ensure they arrive in good condition and without leaks.
Nutrient pouches are made with 60% less plastic than traditional plastic bottles. Although they're not yet recyclable and compostable, Sunday is actively looking for more recycling solutions for nutrient pouches. The brand is also looking into biodegradable and minimal packaging for non-liquid products.
What products does Sunday sell?
Aside from the lawn care plan, Sunday also offers add-ons like live plants and trees and garden care (seeds & bulbs, fertilizer & soils, garden tools, and garden pests). They also have a variety of lawn care items, including grass seed, weed control, watering & irrigation, pet, mowers & equipment, and fertilizer & nutrients. In addition, the brand also includes pest control in its product line.
My Sunday Review
Sunday Smart Lawn Plan is a lawn care subscription, that is custom-made based on your lawn's soil health and local climate. Your first box will come with starter tools and a soil testing kit to help them learn what nutrients your soil needs. For the boxes that follow, you will receive a customized shipment of nutrients packed in pouches. Full-season Smart Lawn Plans start at $129. Sunday also offers a variety of lawn care products in their shop that you can add on to your box or check out any time! This is our review of the Summer box.
NOTE: Starting 9/1 and effective to 12/31, Sunday will change its Smart Lawn Plan to only one shipment (the winter box). With that change, ALL Smart Lawn Plans drop in price to $69-$169 depending on the size of the lawn. The regular seasonal price starts at $129.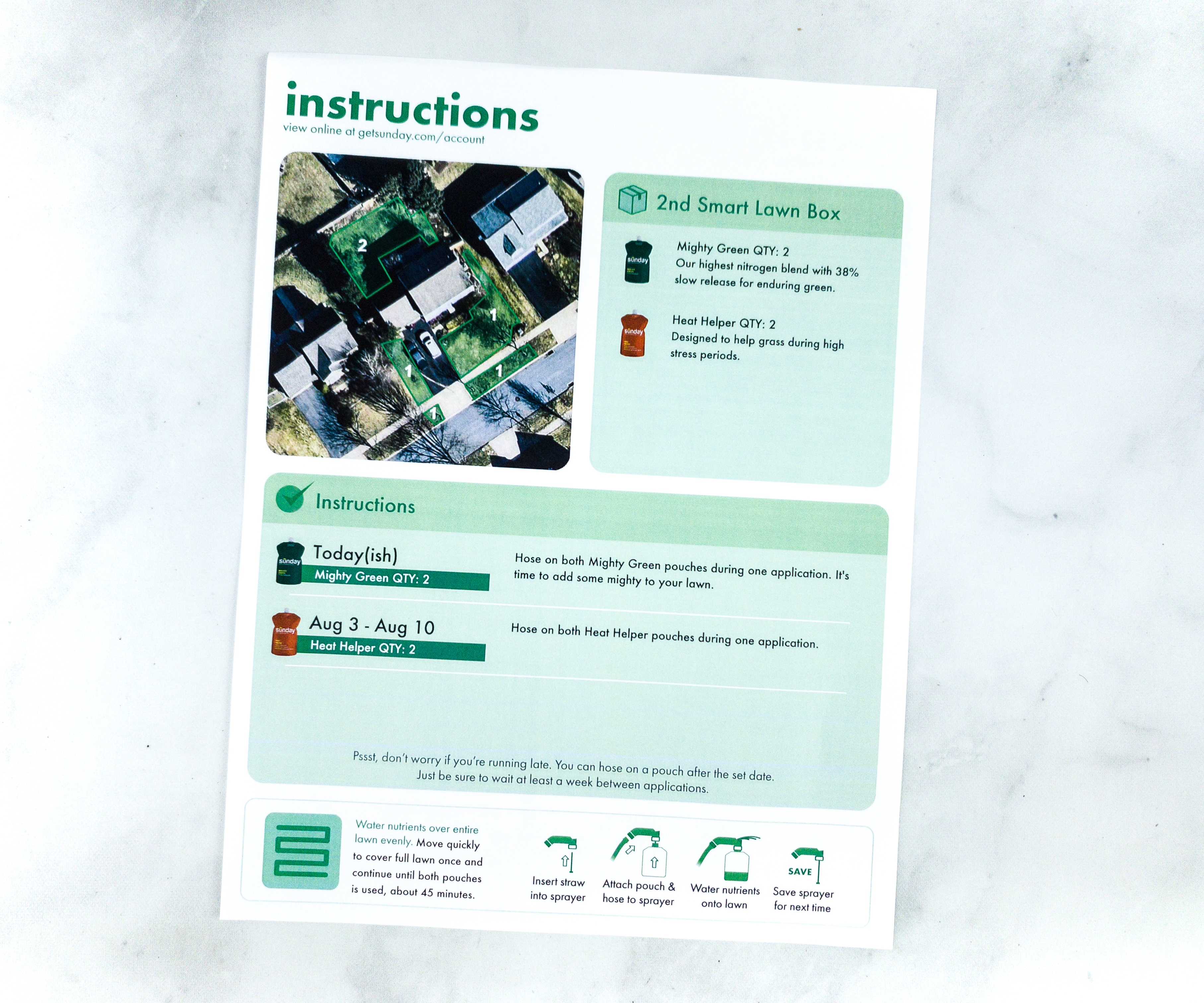 Sunday provides an information sheet with instructions on how to properly use the contents of the Smart Lawn box, so it's hard to go wrong.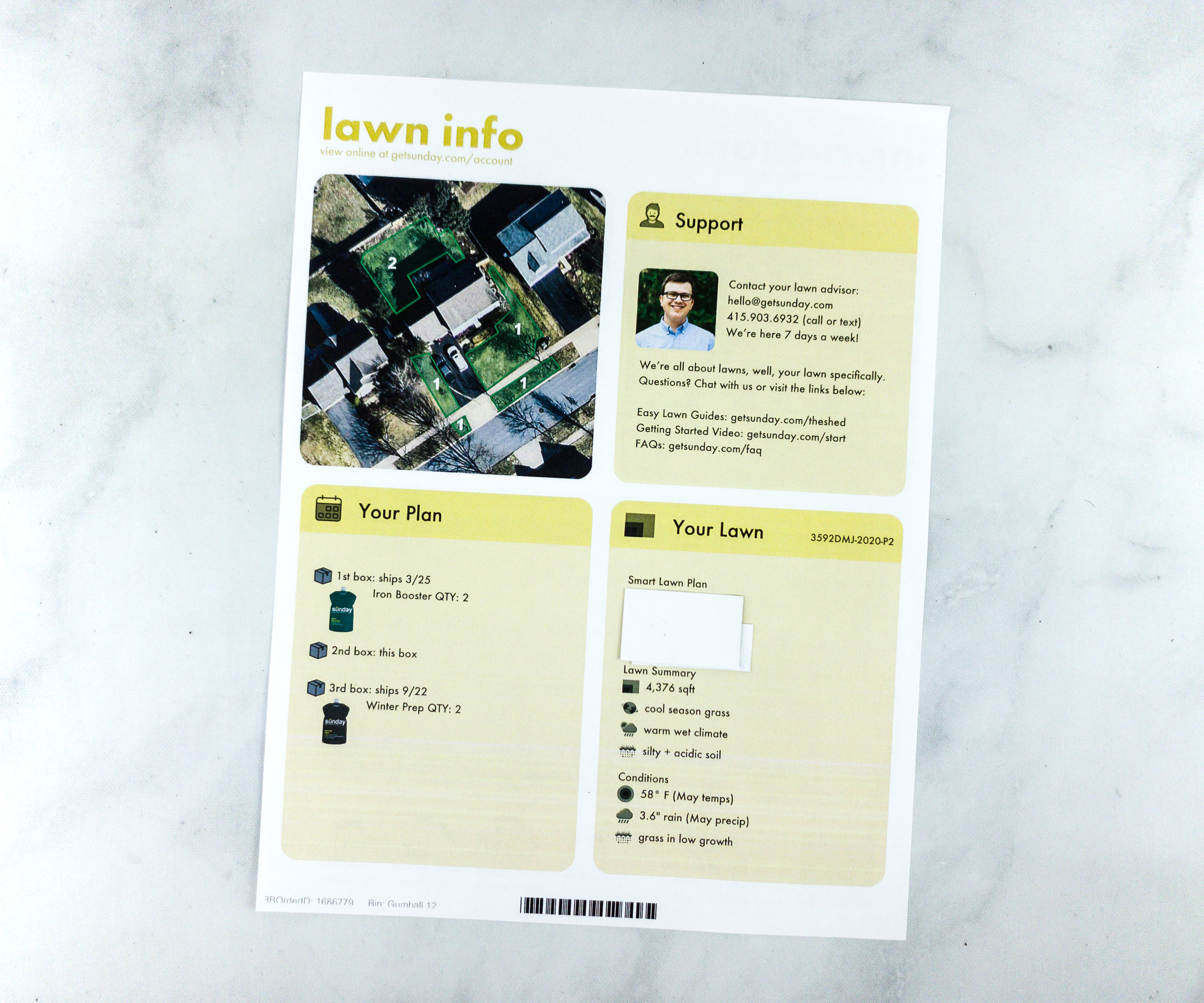 There are more details about our plan on the back of the sheet, as well as our lawn's assessment.
They even listed when the next box will ship and what items it will contain.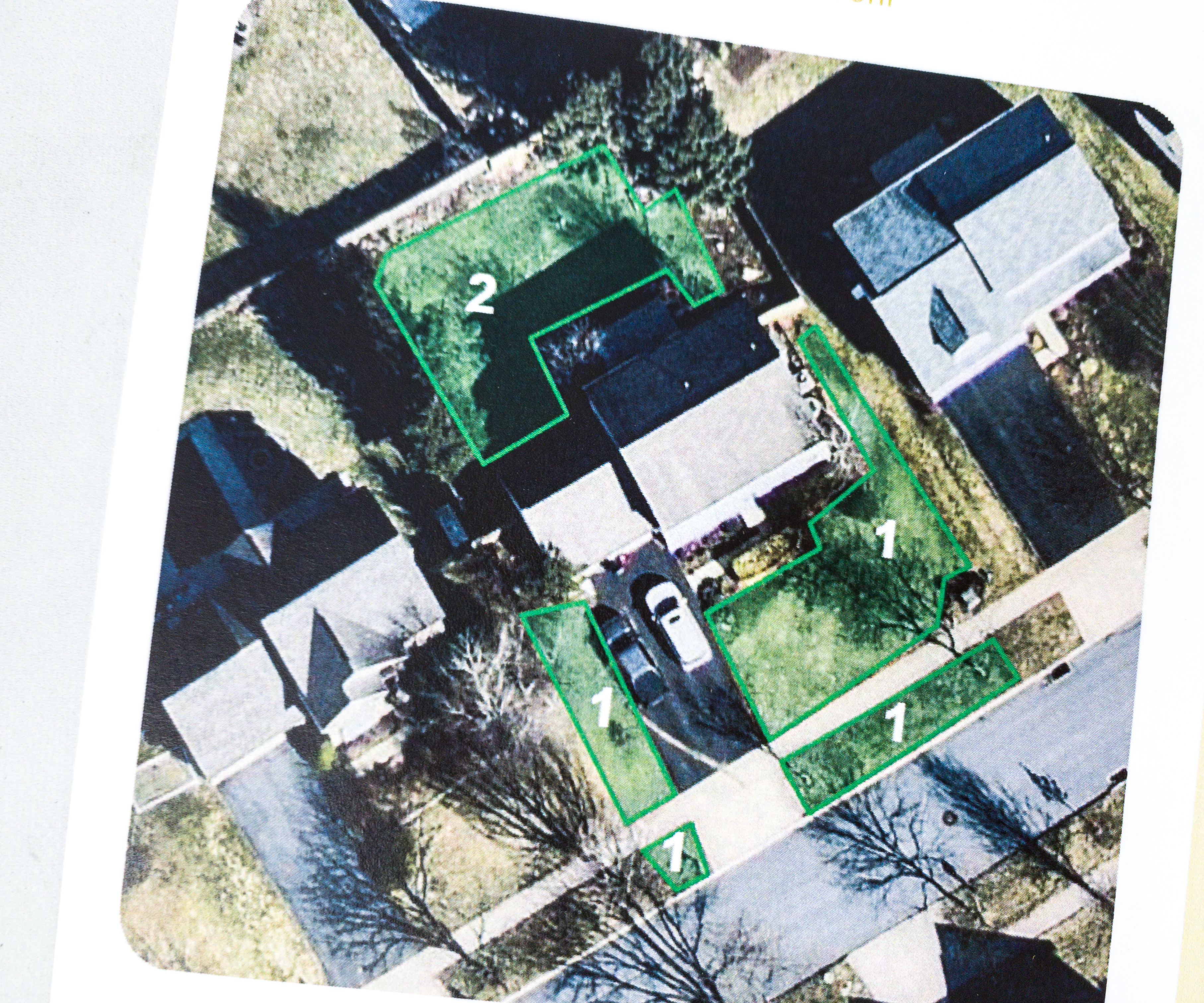 If you're a new subscriber, you can look at a quick assessment of your lawn on their website prior to sending soil samples. Find out more information about that from our first Sunday Smart Lawn Plan review. Their system automatically estimates the square footage of your lawn!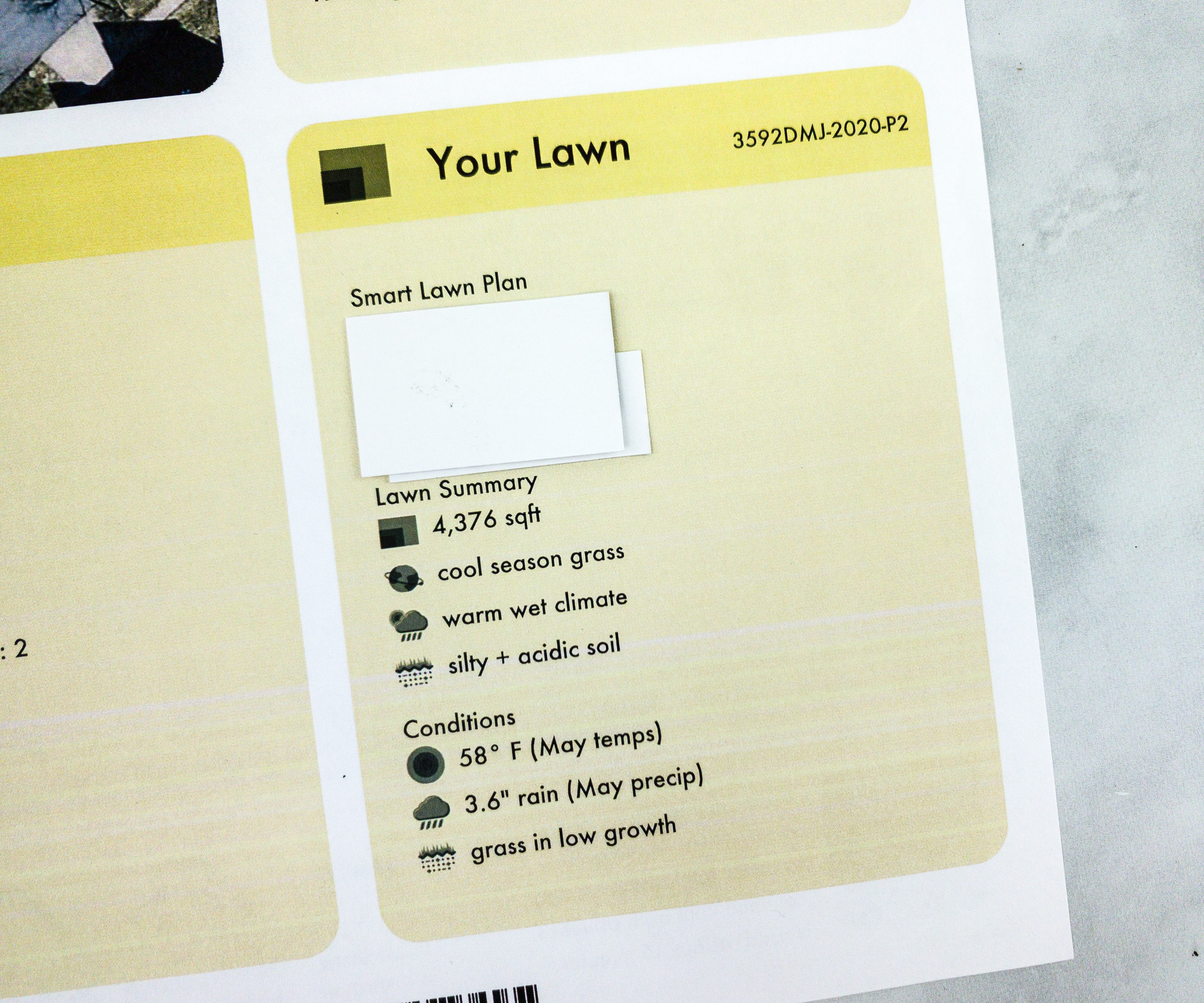 The lawn analysis includes the regional soil profile, growth potential, temperature, and rainfall.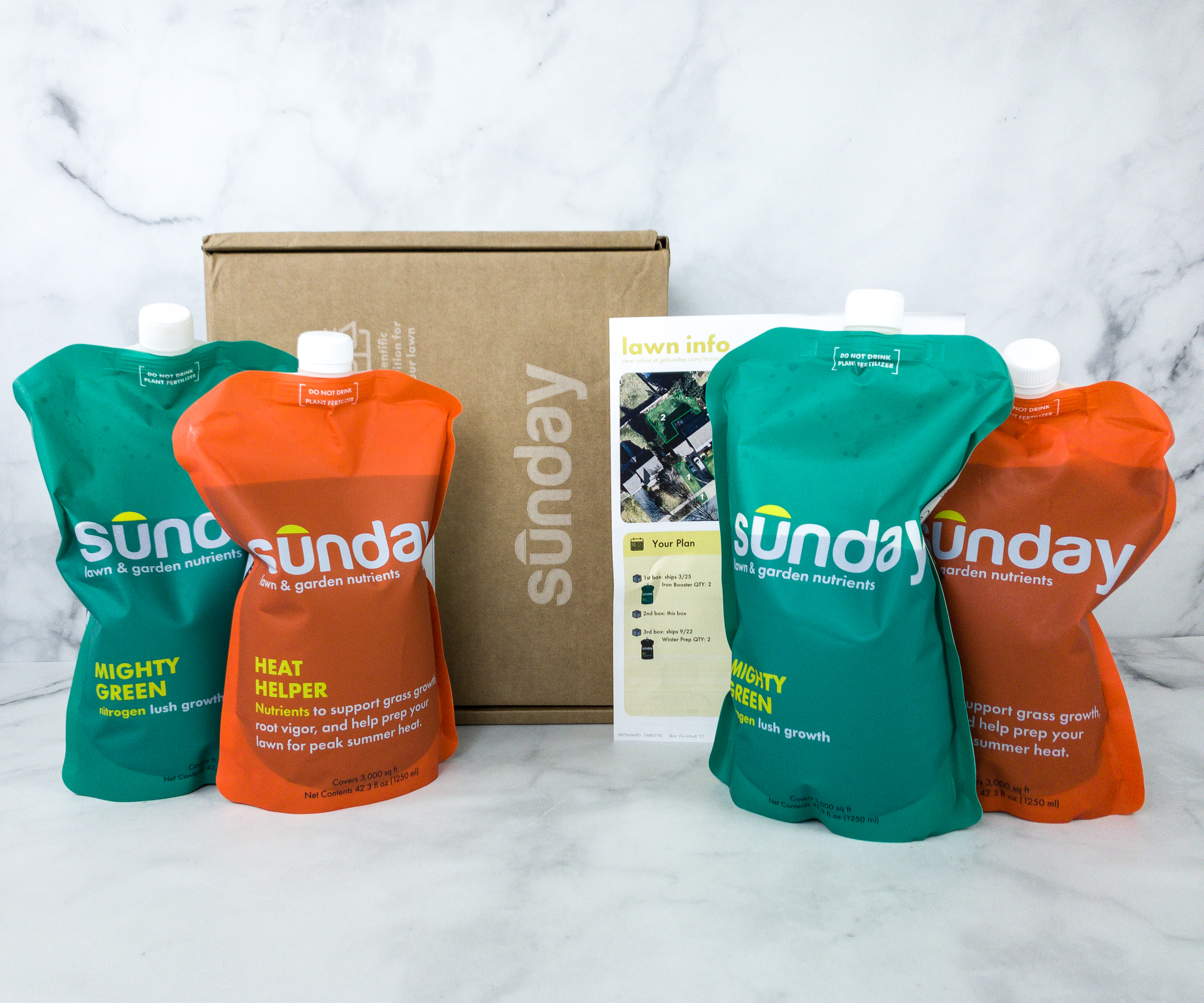 Everything in my Summer Sunday box!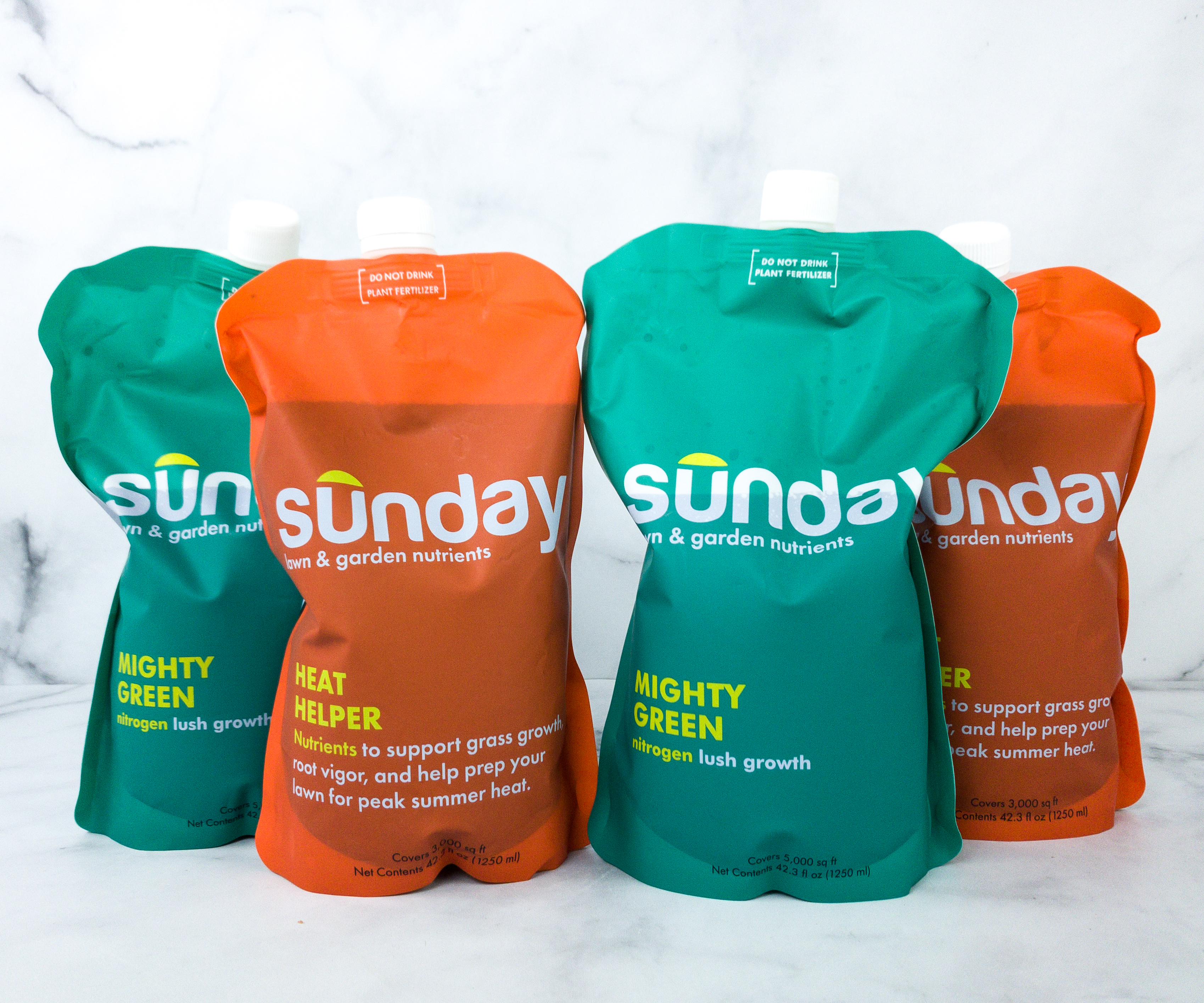 We have 2 pouches of Mighty Green and Heat Helper!
Sunday Mighty Green. Mighty Green is a uniquely formulated liquid fertilizer made with urea, urea ammonium nitrate, urea-triazone, and muriate.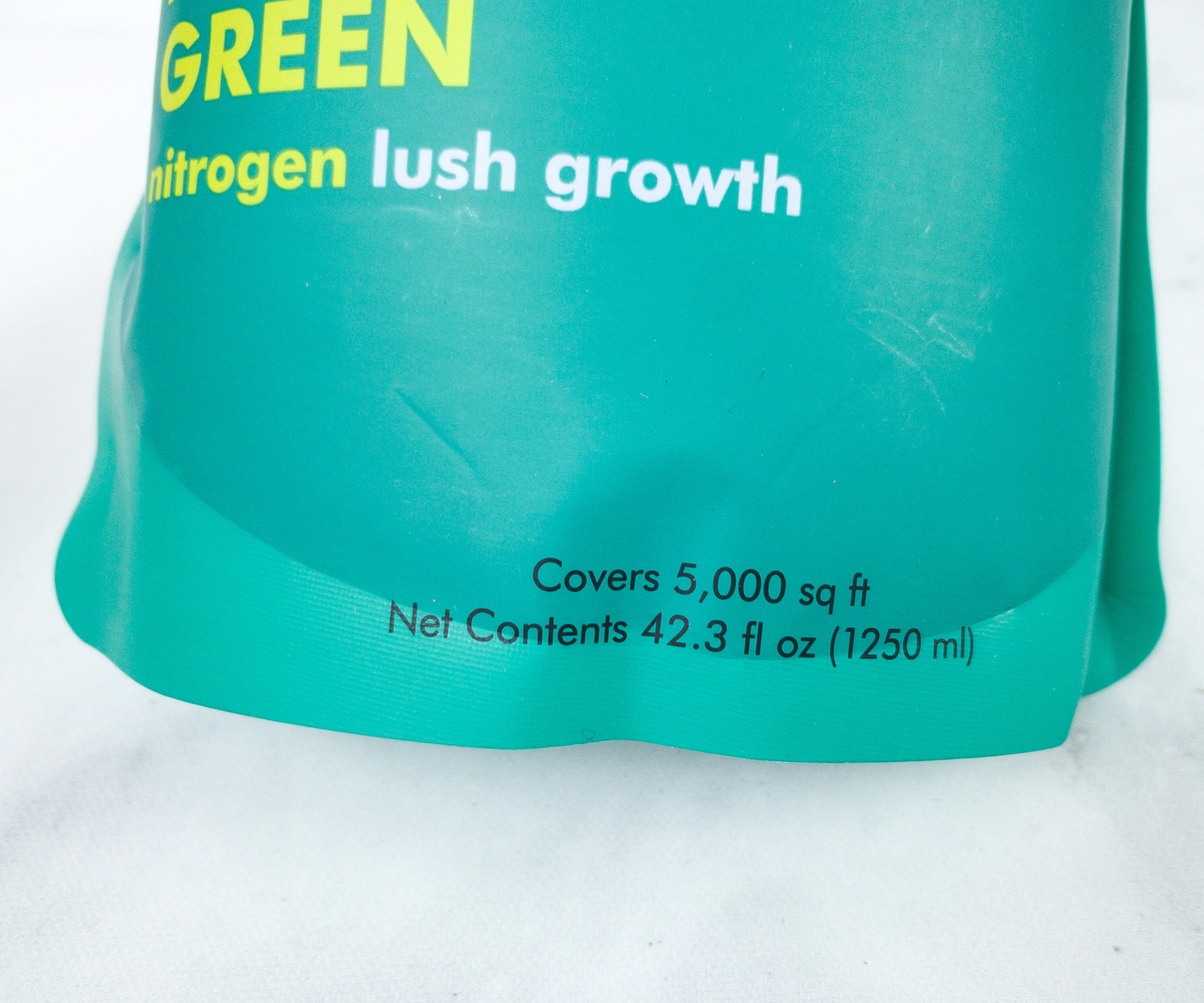 This pack contains 1,250 ml of liquid plant fertilizer, which can cover an area of up to 5,000 sq ft.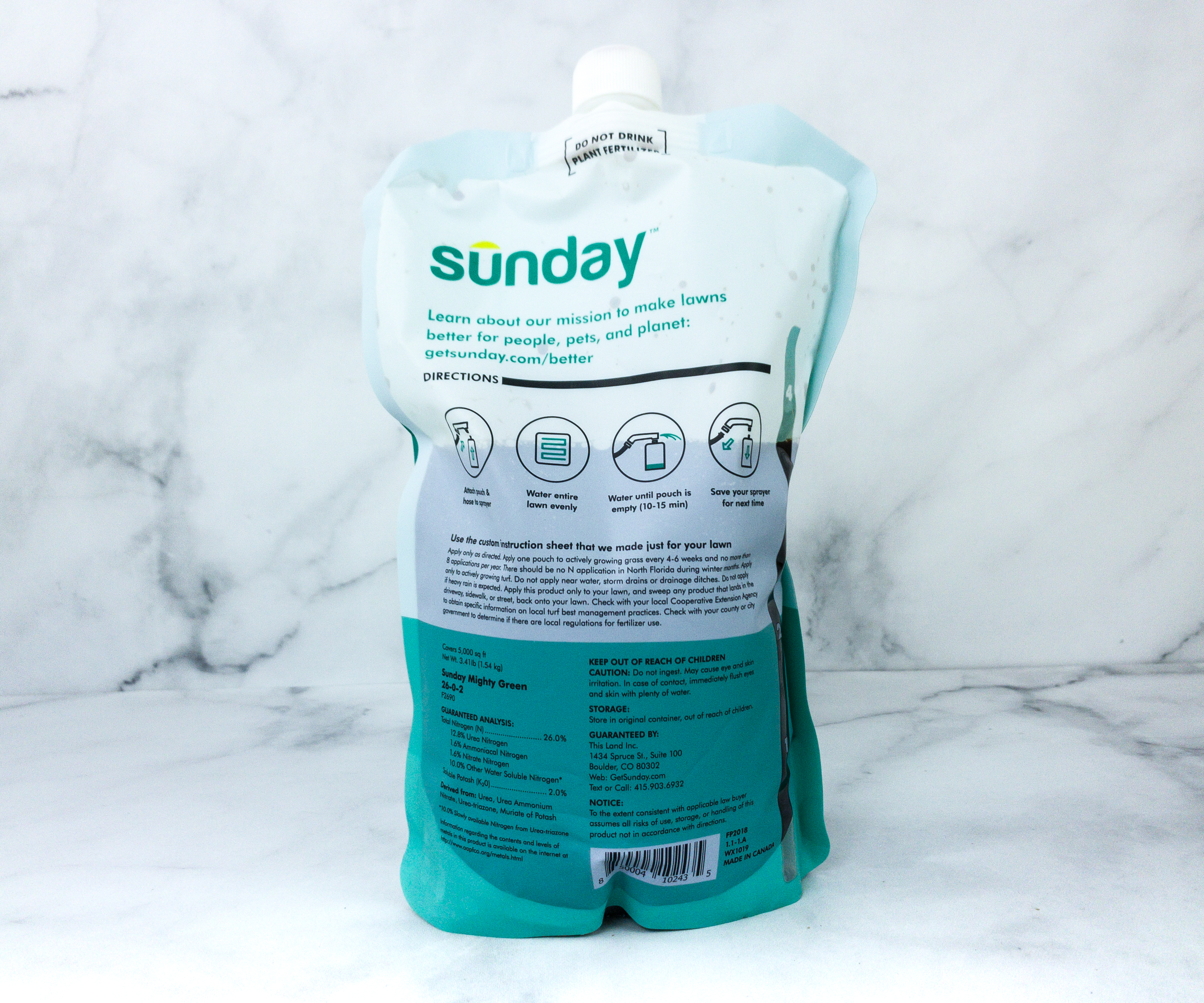 The back of the pack includes instructions on how to use this. First, you have to attach the pouch and hose to the sprayer. Then, water your entire lawn evenly!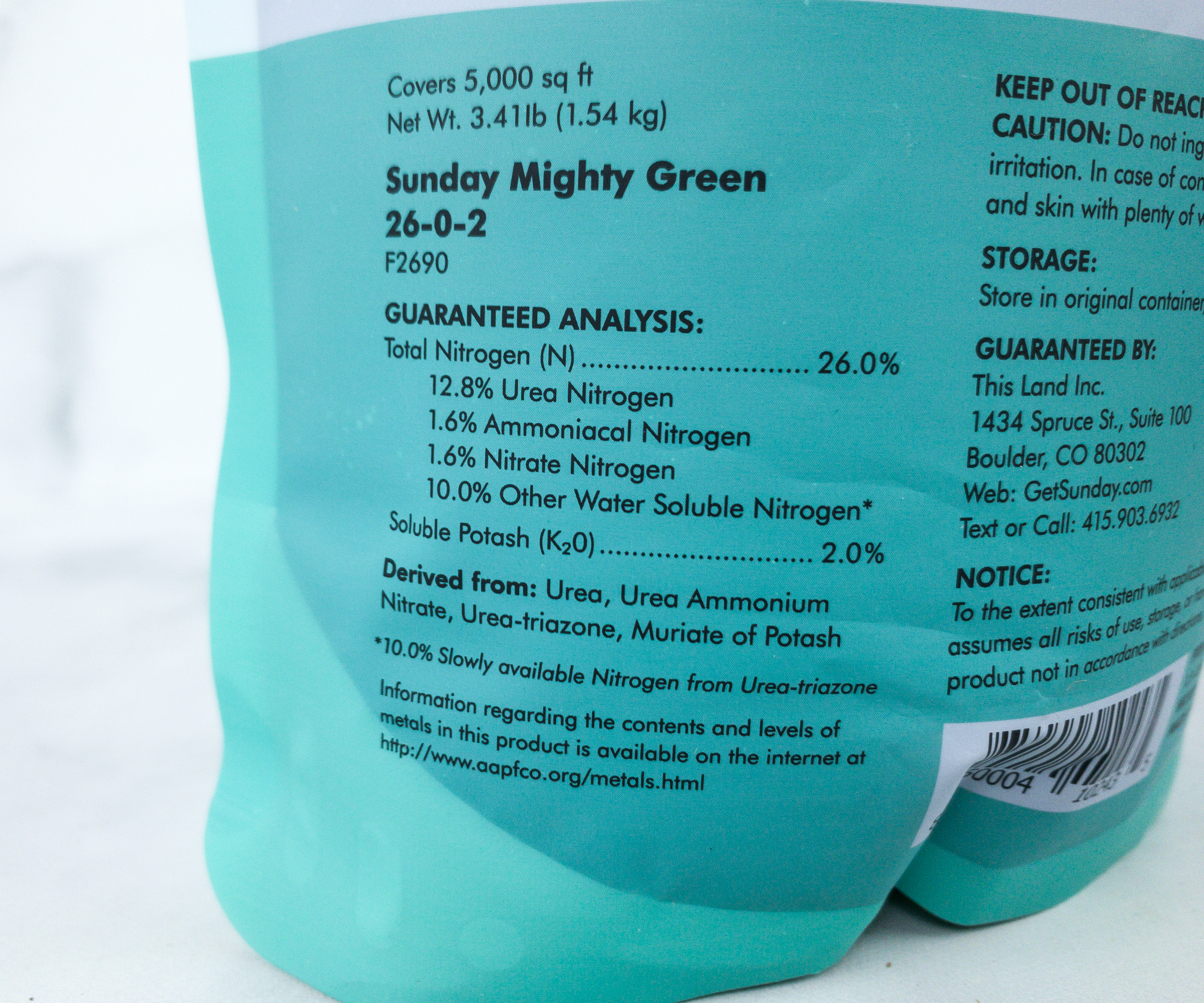 This mixture contains a total of 26% nitrogen and 2% of soluble potash, which promotes grass growth!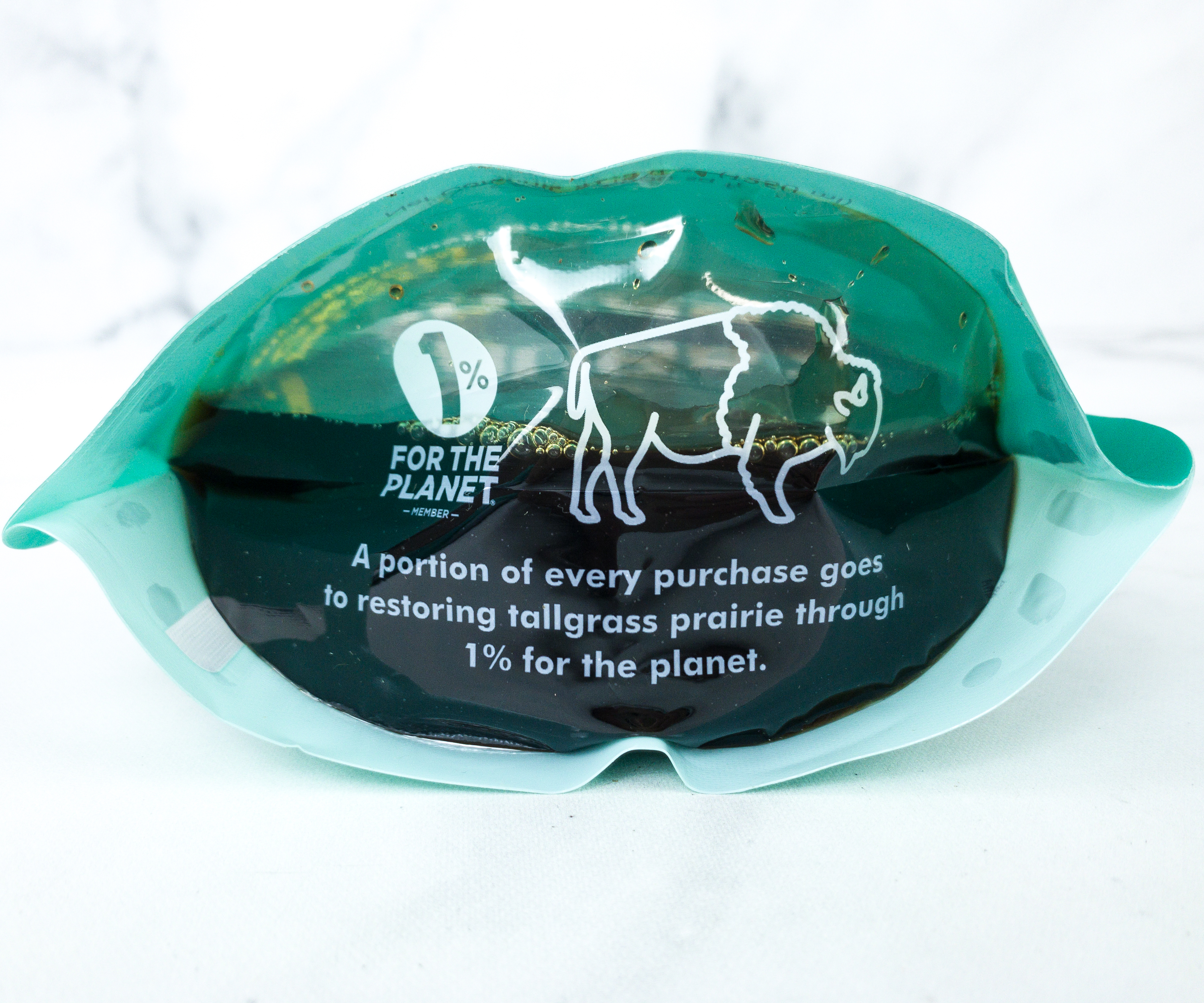 According to the bottom of the pack, a portion of every purchase goes to restoring tallgrass prairie!
Sunday Heat Helper. The second variant of liquid fertilizers in our box is Heat Helper! It supports grass growth, root vigor, and also helps prepare your lawn for the summer heat.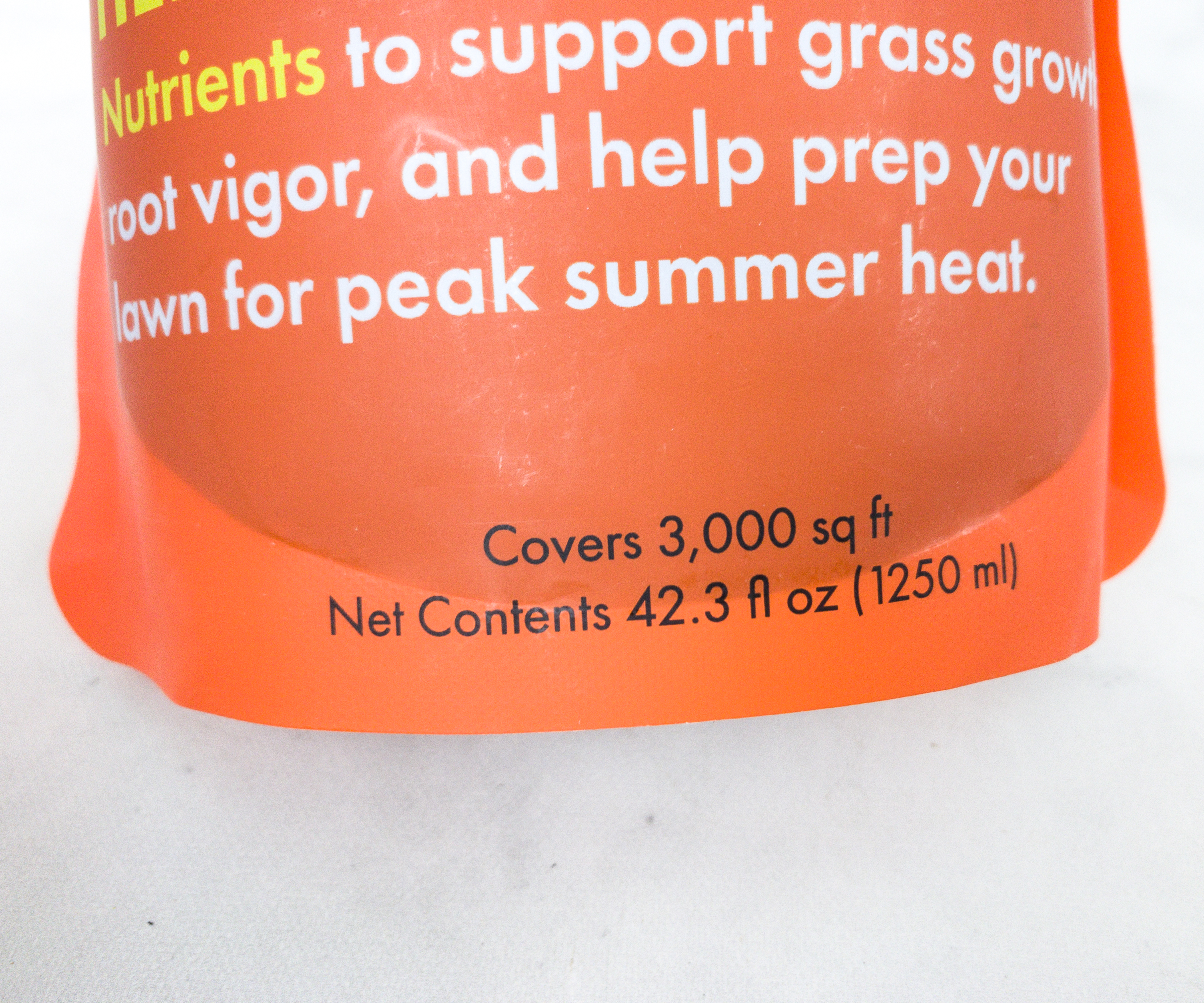 This pack contains 1,250 ml of liquid fertilizer, which can cover an area of up to 3,000 sq ft.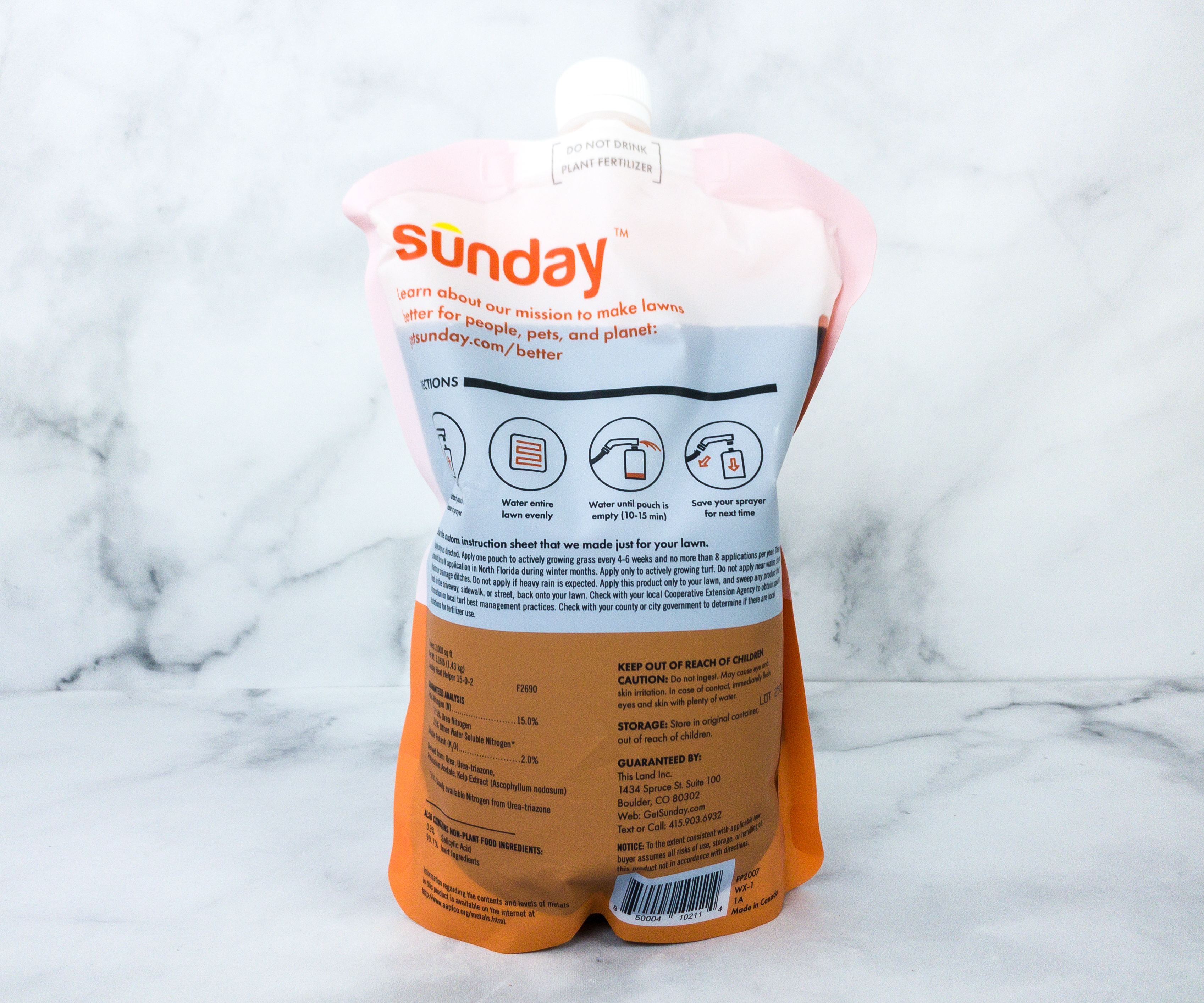 Same with the first bag of fertilizer, this is easy to use! Just attach the pouch and hose to the sprayer and then distribute it to your lawn evenly.
This mixture consists of 15% nitrogen with 2% of soluble potash. It also contains non-plant food ingredients such as salicylic acid and inert ingredients.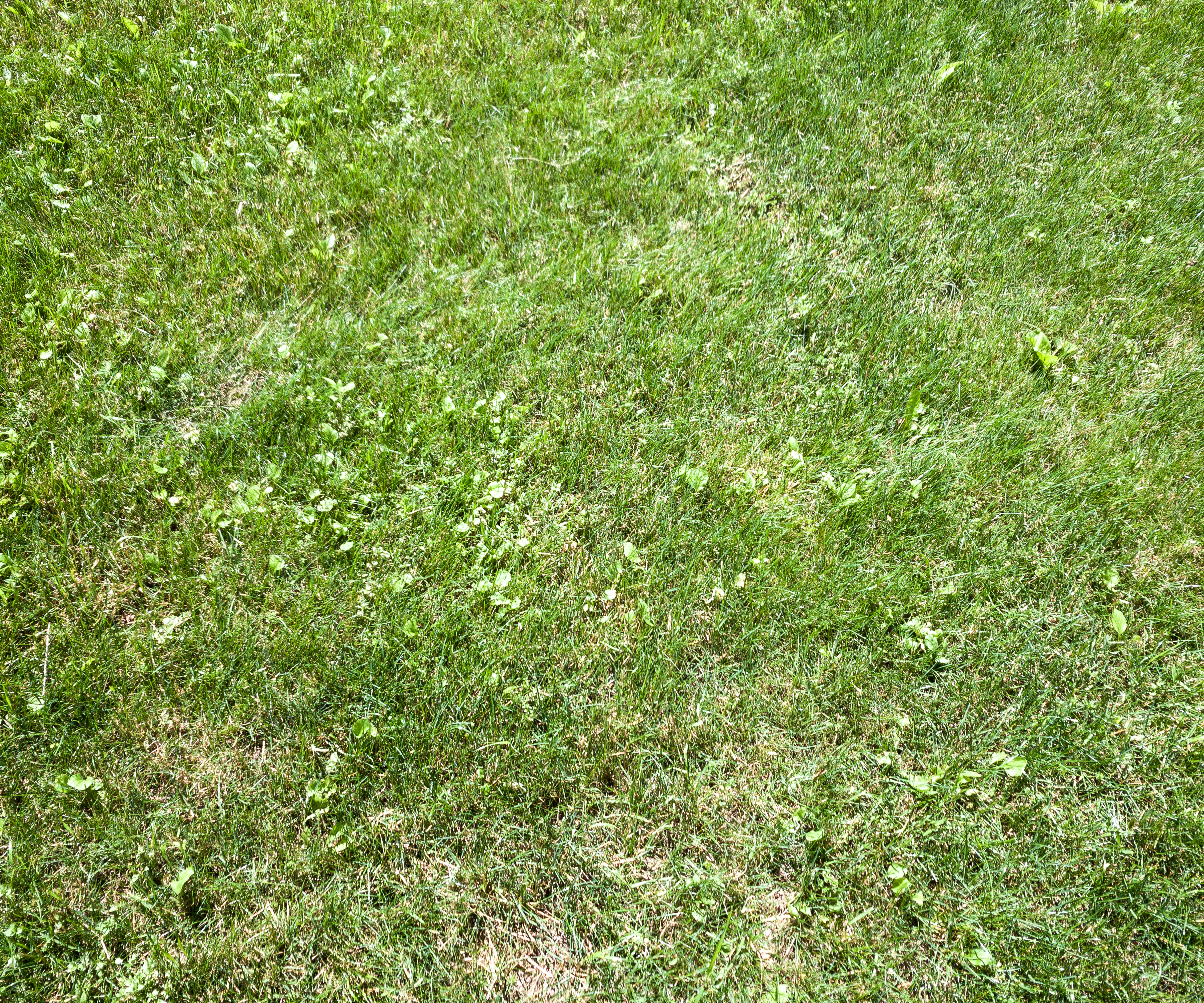 I started by surveying around our lawn – here's what it's looking like after the first treatment.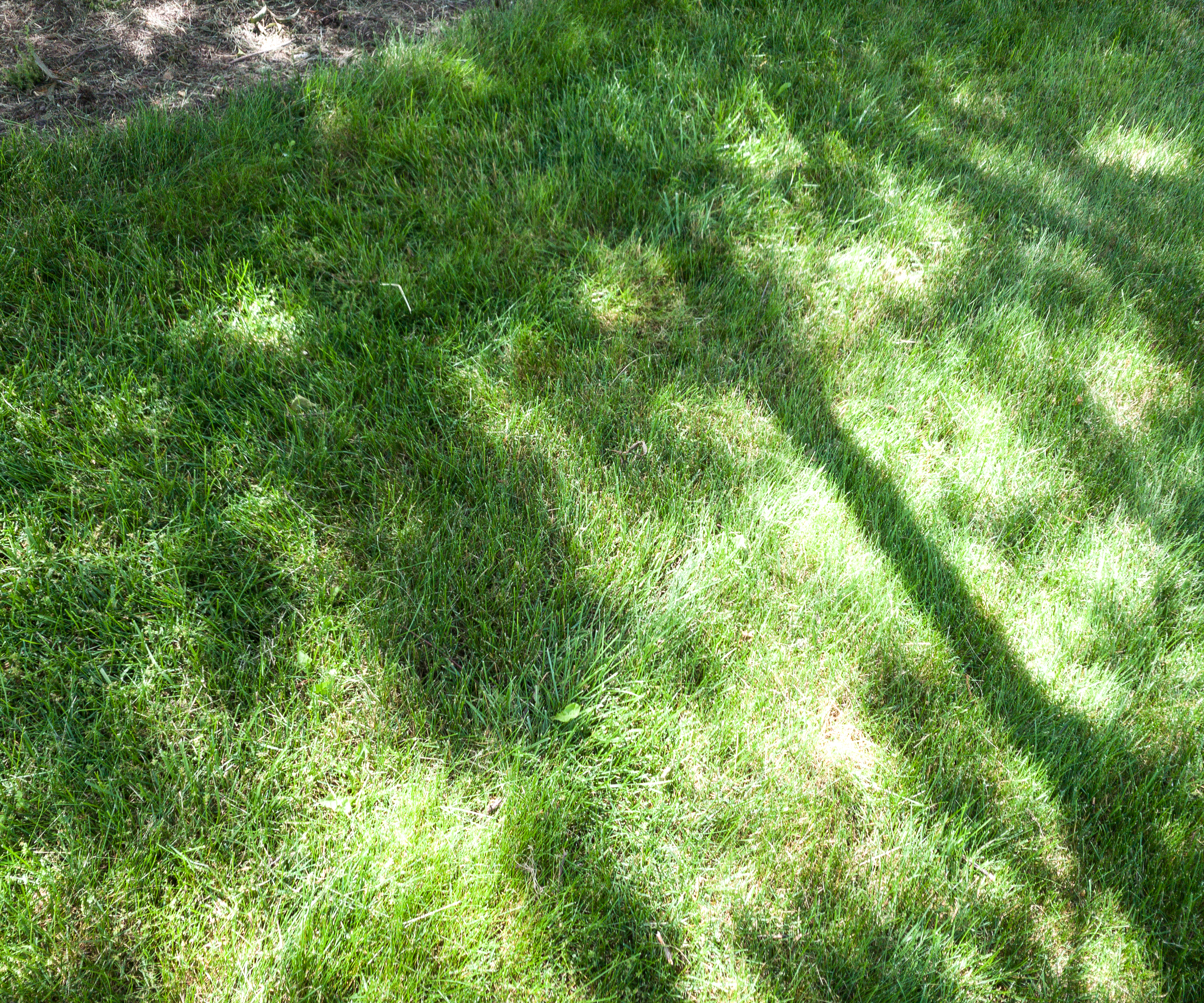 What's great about Sunday Lawn products is that they don't have a weird or off-putting smell. Also, as long as the spray has dried, people and pets can enter the treated area.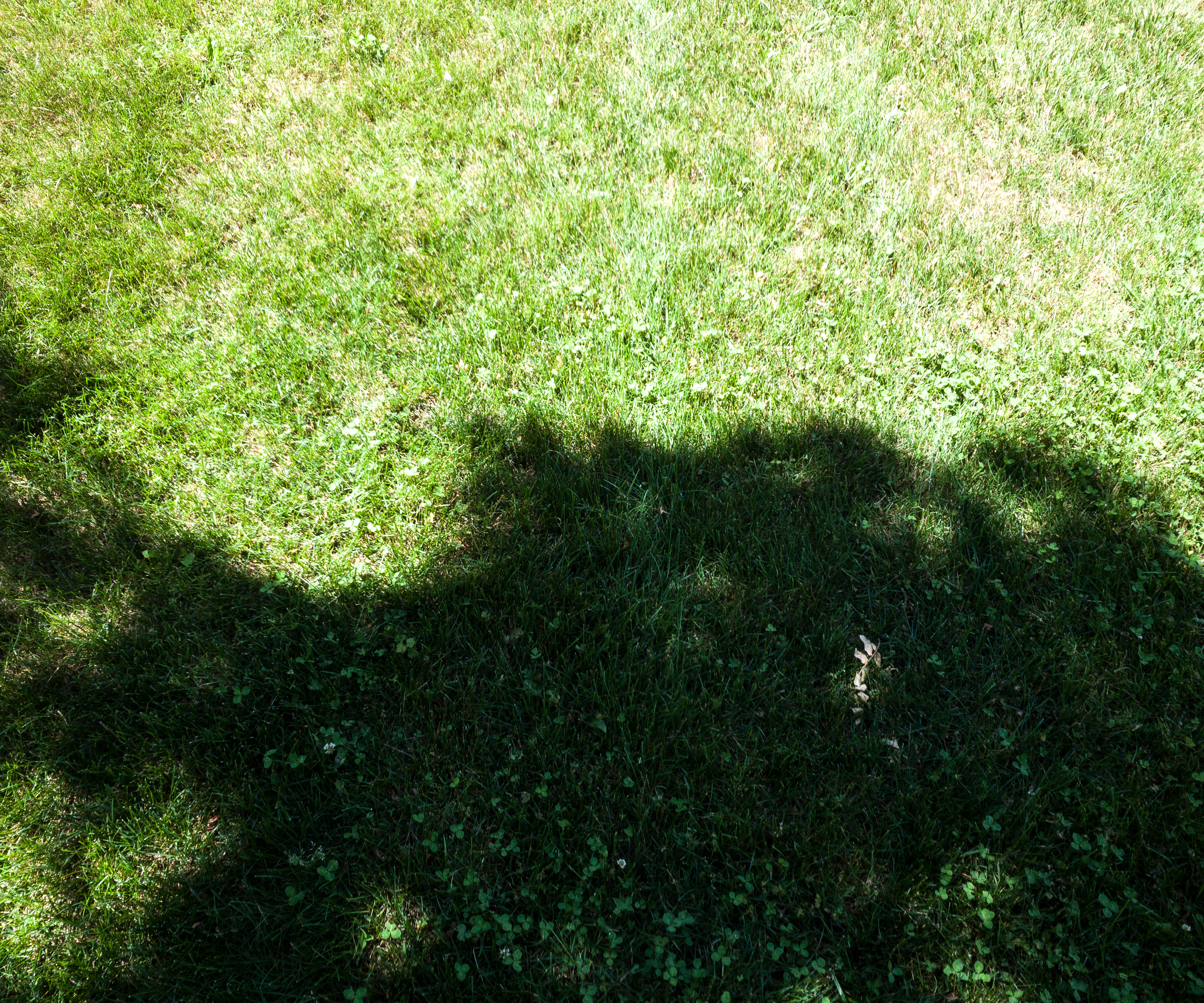 This part of our lawn has grass that really needs some nourishment.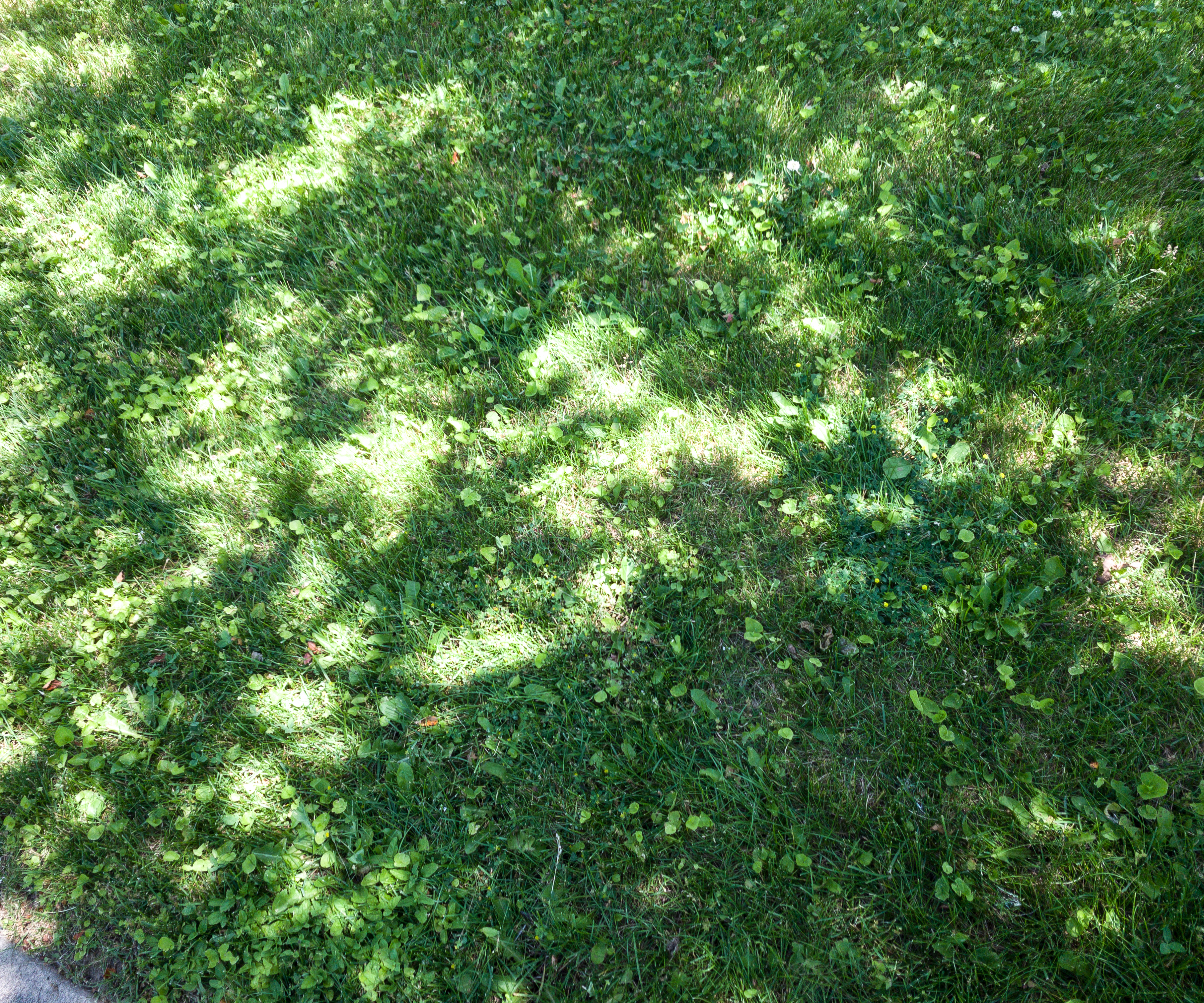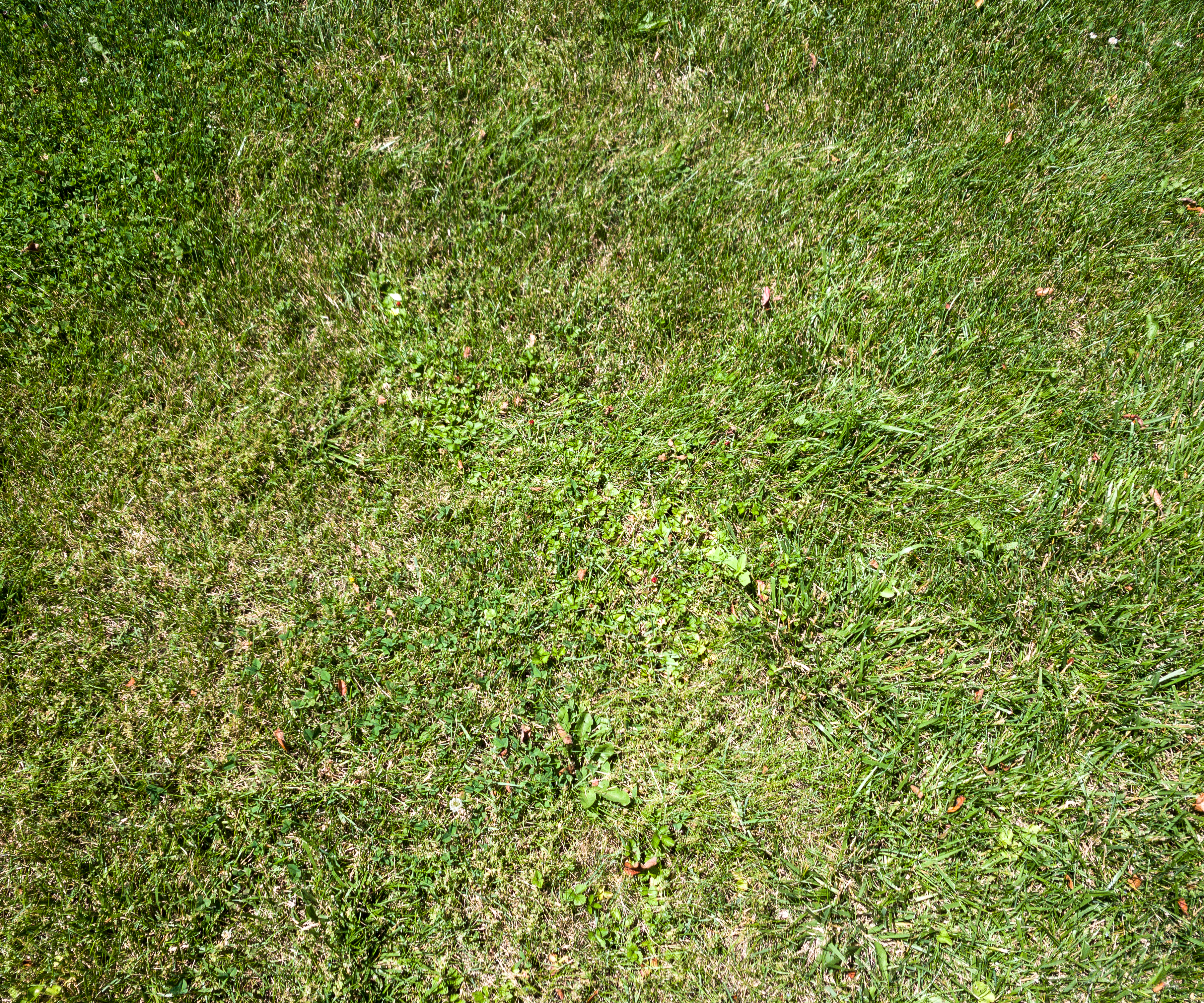 This is the first year we've ever tried to do anything with our lawn!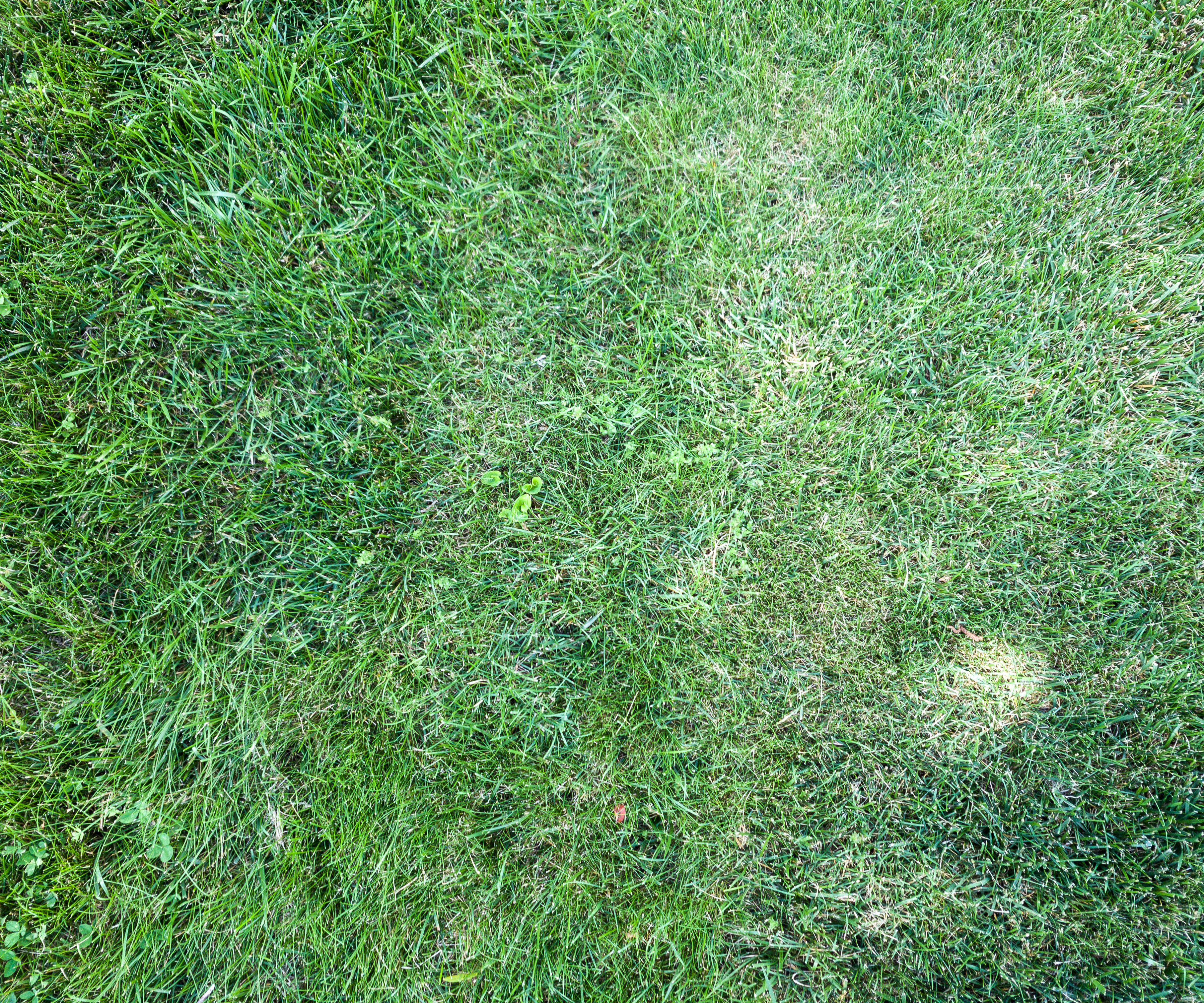 I think we might need to get a bottle of Pet Patch, which helps repair lawn areas damaged by pet urine.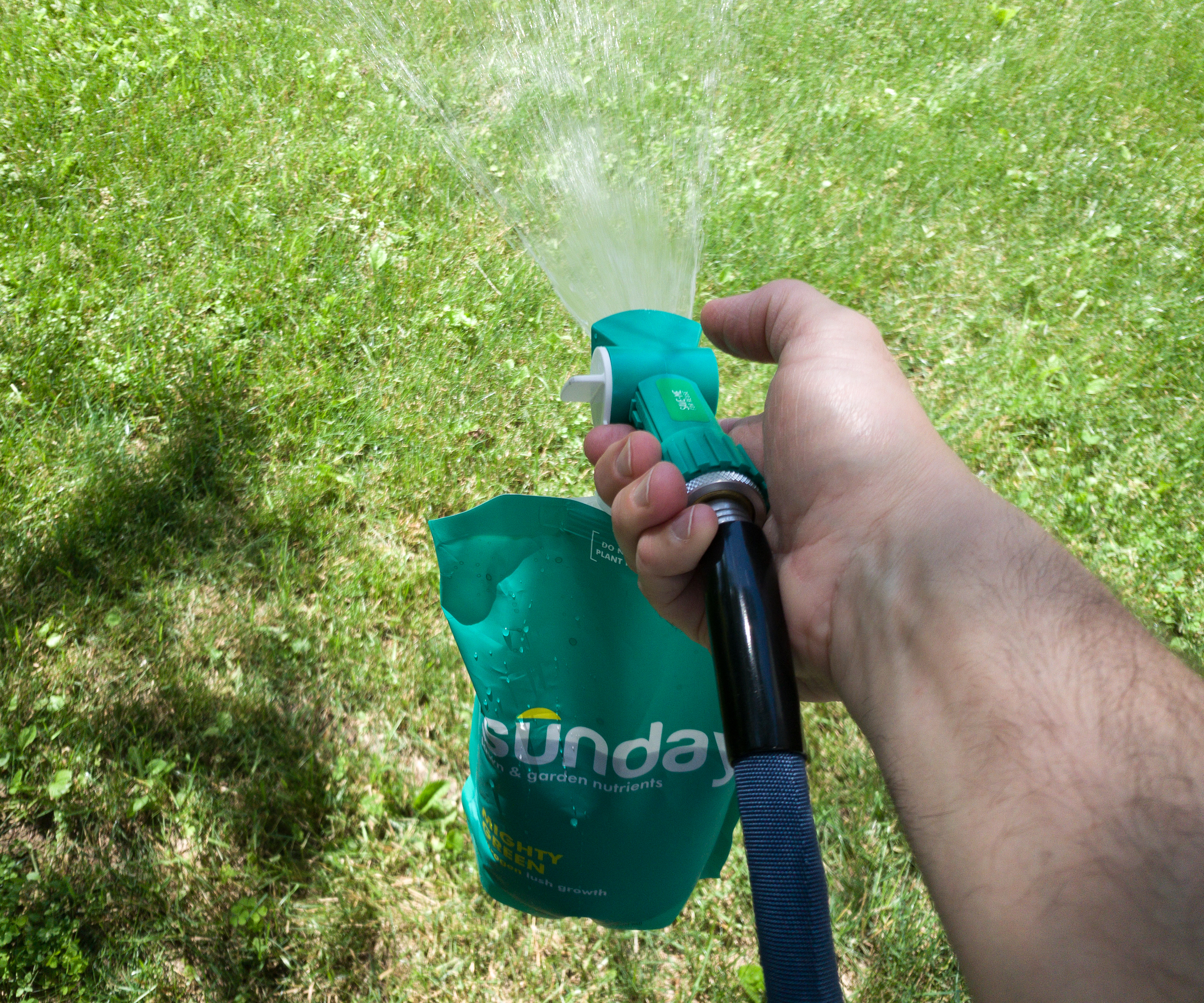 I opted to start on the area where the soil looks a bit dry and the grass color looks a bit lighter but there's more than enough fertilizer/treatment to cover our entire lawn.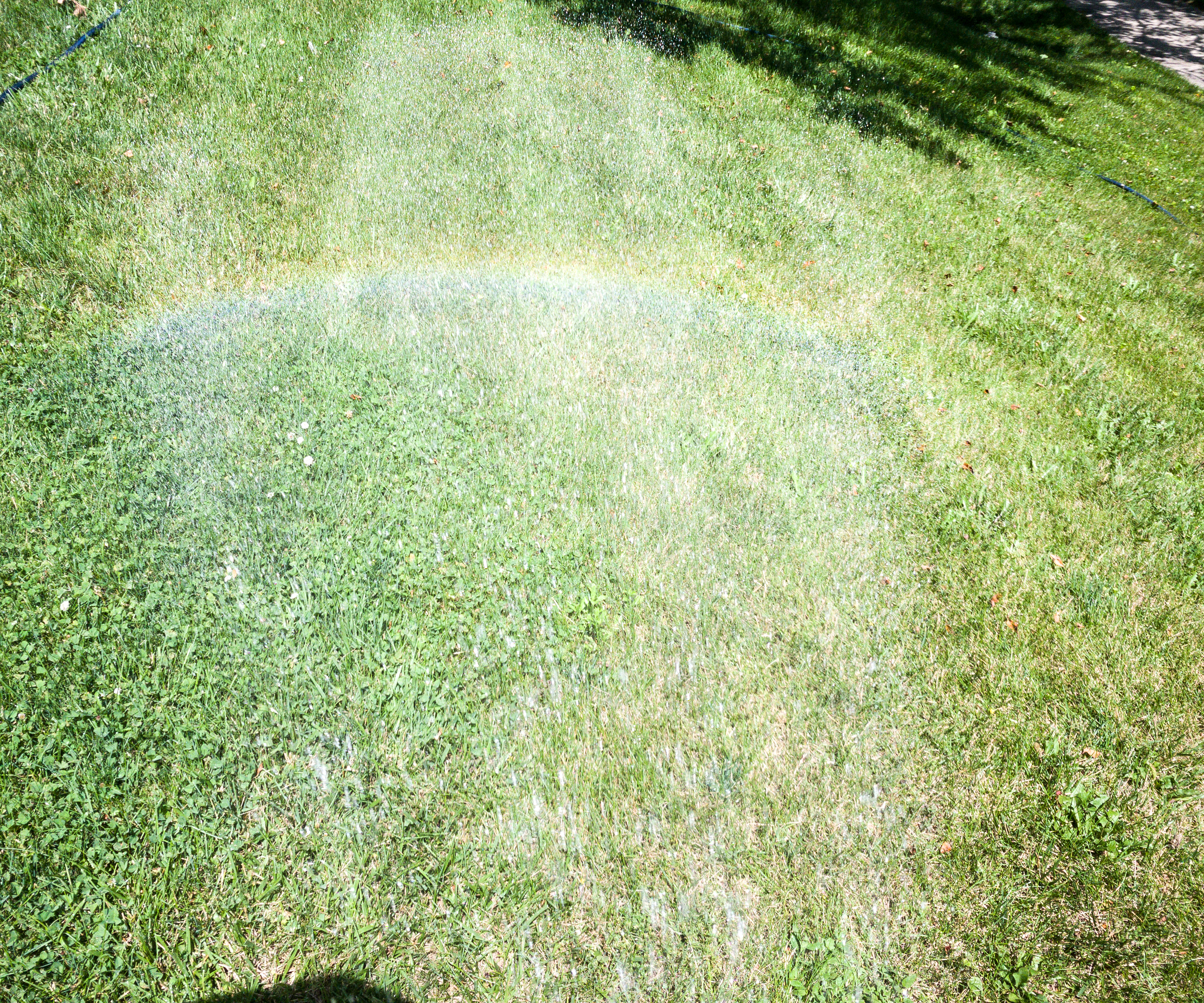 The pouch is easy to use: simply connect the back part of the sprayer to your water hose and attach it to the fertilizer bag.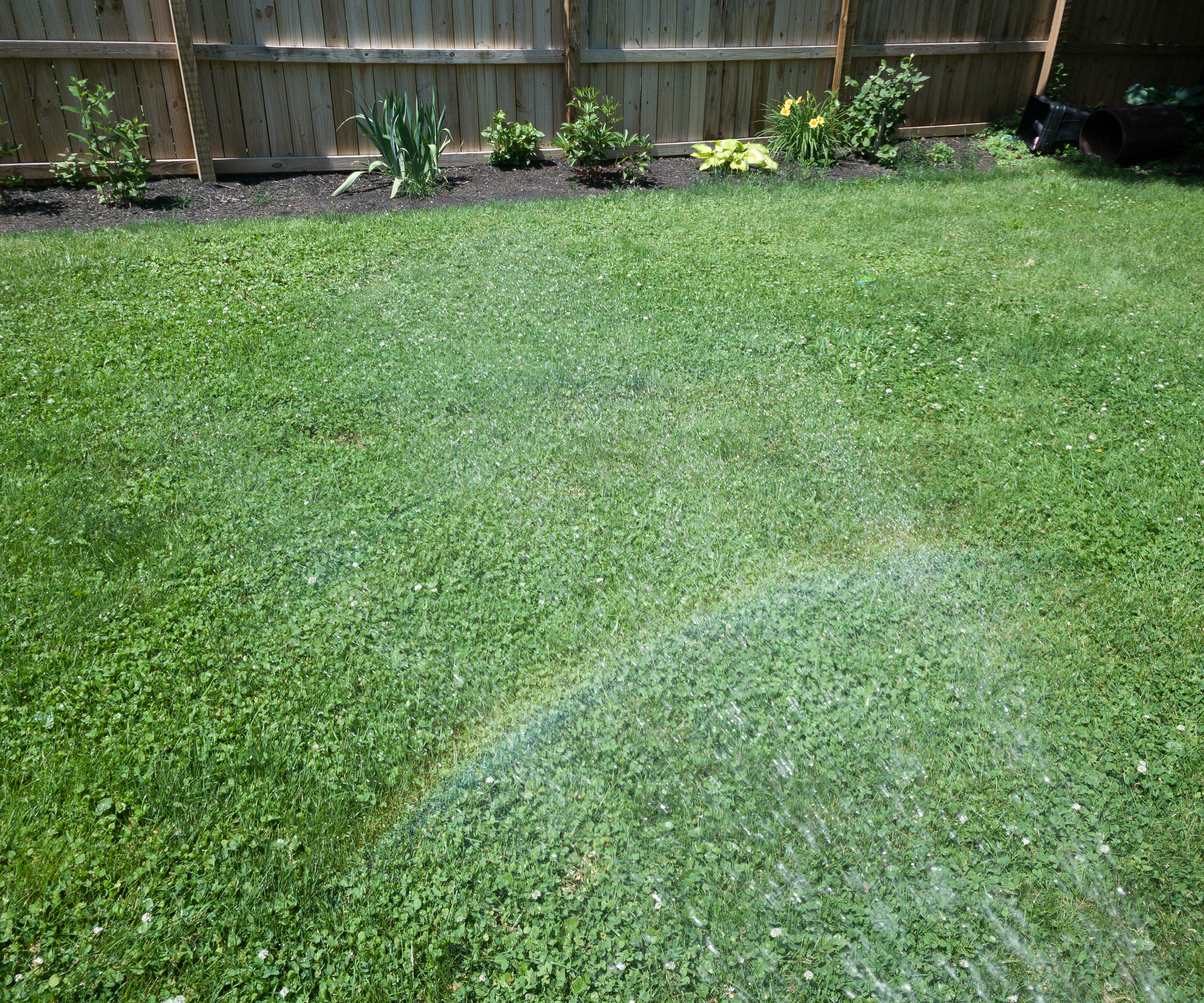 Open the hose and spray it all over your lawn area.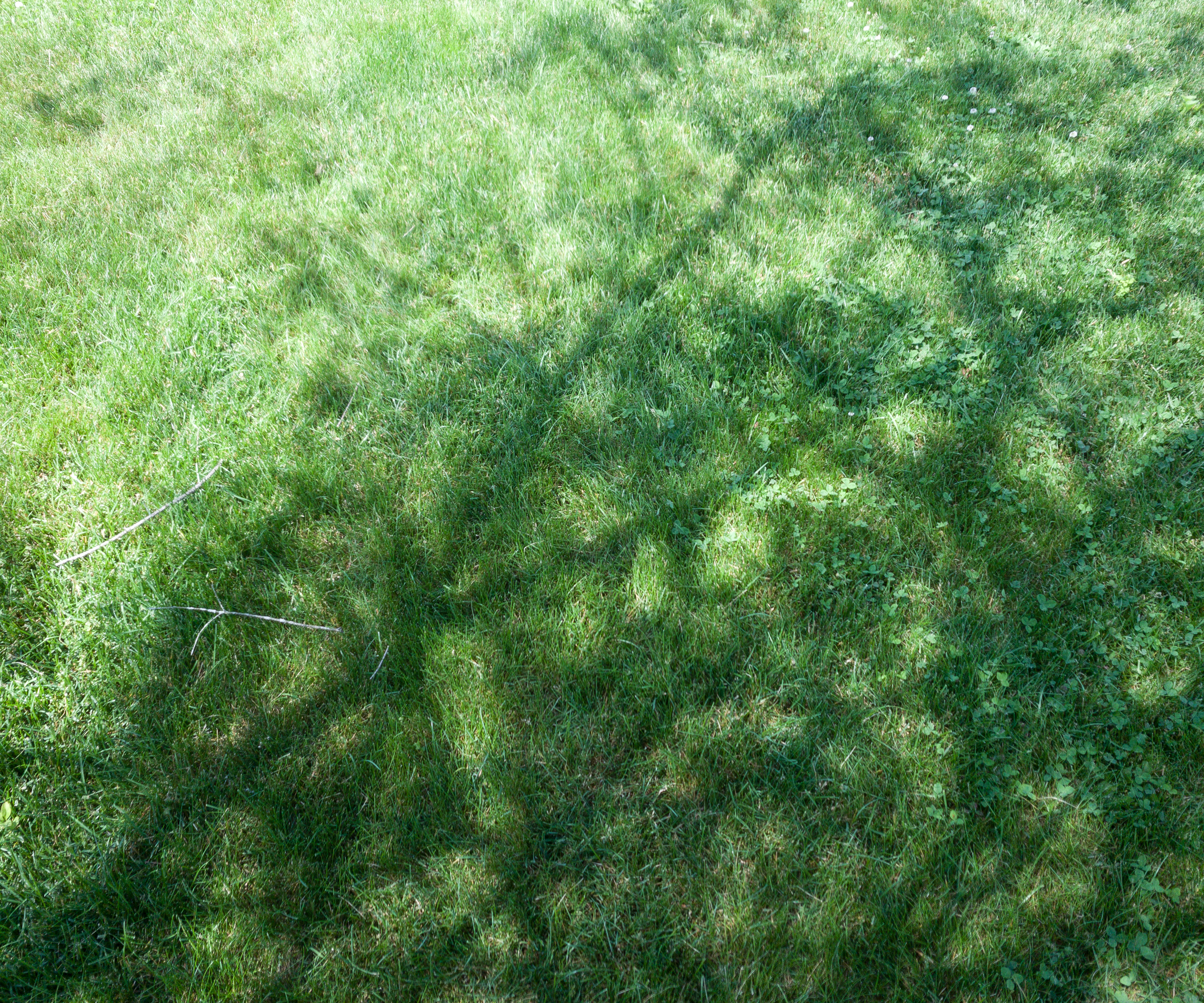 The liquid fertilizer mixed easily with the water and it sprays equally on the lawn.
I really love the sprayer! It's handy and easy to use. Remember to save it from your first box.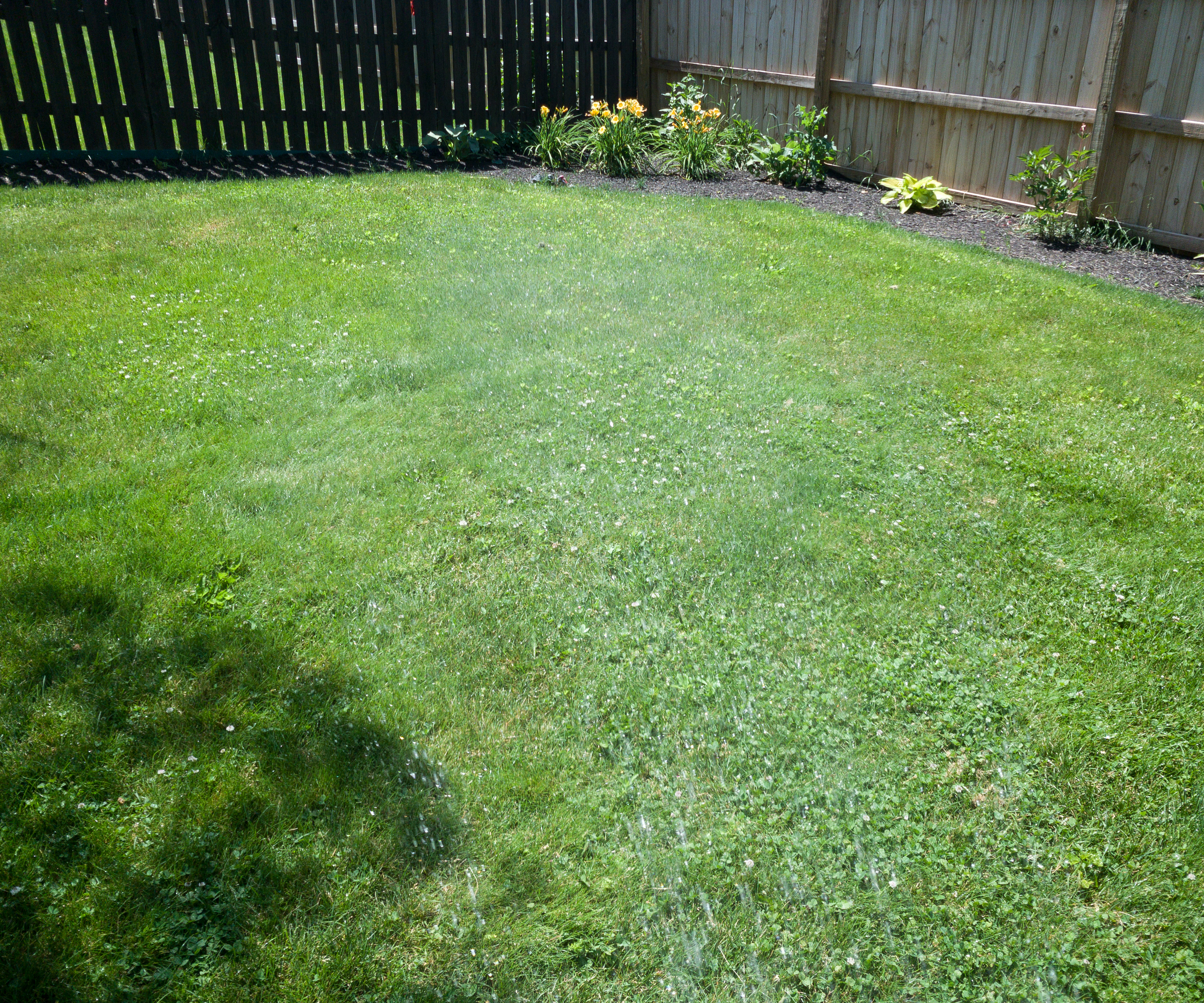 I sprayed more fertilizer on this part of our lawn since we had bigger plants that need more nutrition.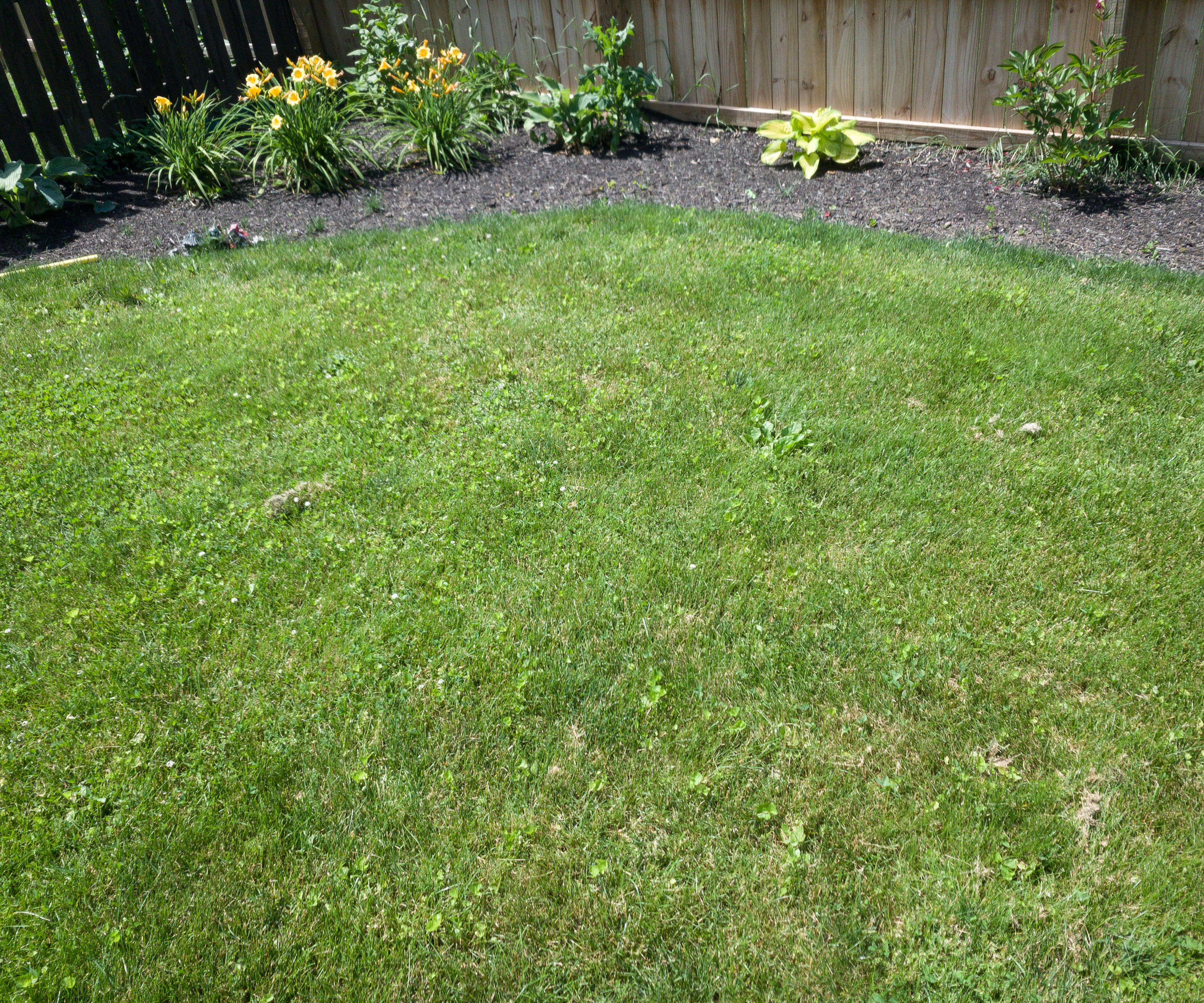 This is how it looks before spraying.
This is how the grass looks because of Sunday's natural fertilizer. It's darker, thicker, and greener! All of this is our existing lawn.
Is Sunday Worth It?
Sunday offers an easy, non-toxic way to take care of our lawn. This is our second box, and already the results are great! After removing unwanted weeds from our lawn using the mixtures in our first box, now we put on fertilizers to keep the grass green and healthy. This subscription ships right on schedule, just when our lawn needs it. It's perfect because as soon as we receive the box, we can start spraying them. Another thing I like about their products is that they are backed by science with no harmful ingredients in the treatments! If you think caring for your lawn is a daunting task, Sunday might change your mind. They eliminate the need to go to the hardware store because everything will be sent to your door and customized for your lawn already!
What do you think of Sunday's lawn care plan?