Sunday Smart Lawn Plan is a lawn care subscription custom-made based on your lawn's soil health and your local climate. Your first box will come with starter tools and a soil testing kit to help them know what nutrients your soil needs. For the next boxes, you will receive a customized shipment of nutrients packed in pouches. Full-season Smart Lawn Plans start at $129. Sunday also offers a variety of lawn care products in their shop that you can add on to your box or check out any time!
NOTE: Starting 9/1 and effective to 12/31, Sunday will change its Smart Lawn Plan to only one shipment (the winter box). With that change, ALL Smart Lawn Plans drop in price to $69-$169 depending on the size of the lawn. The regular seasonal price starts at $129.
Get $20 off your order + a FREE Soil Test! Use this link to sign up and the coupon code HELLOSUBSCRIPTION20 at checkout.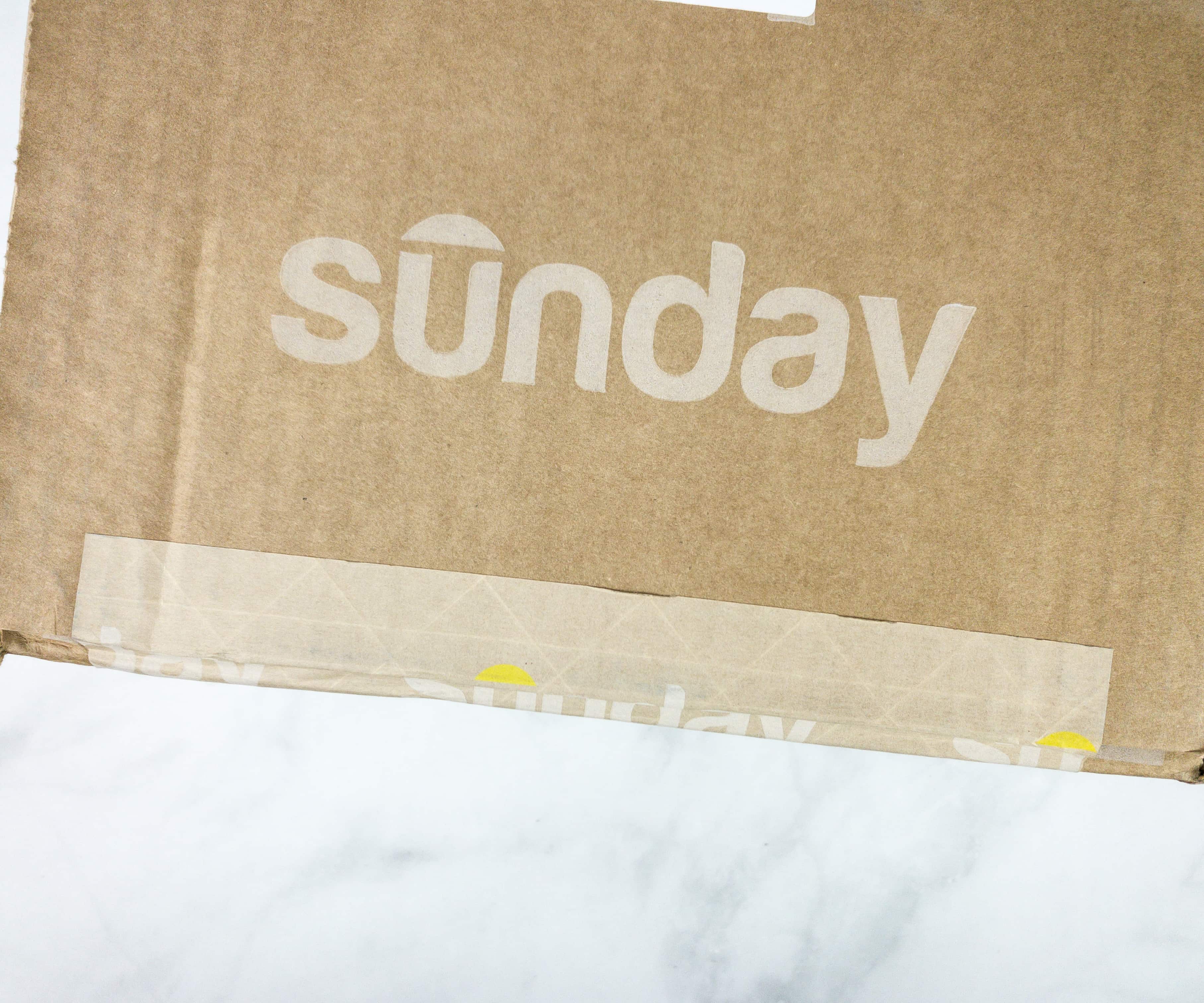 The box was well-sealed!
The contents of the box are recommended to be stored at room temperature.
custom built for your lawn
We're about to find out why Sunday's lawn care plan is smart, easy, and green!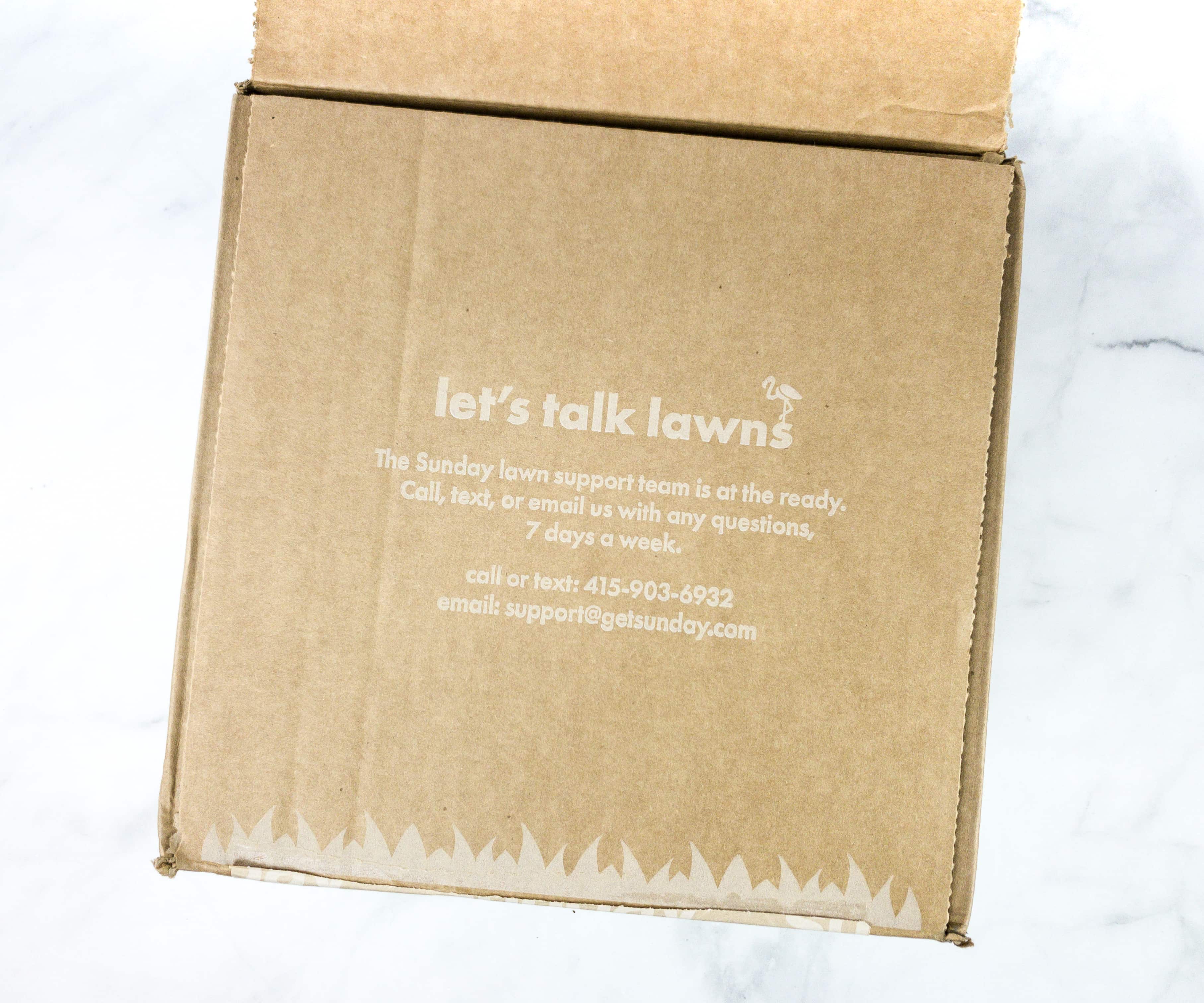 The subscription comes with unlimited lawn support. Their support team is ready to serve 7 days a week.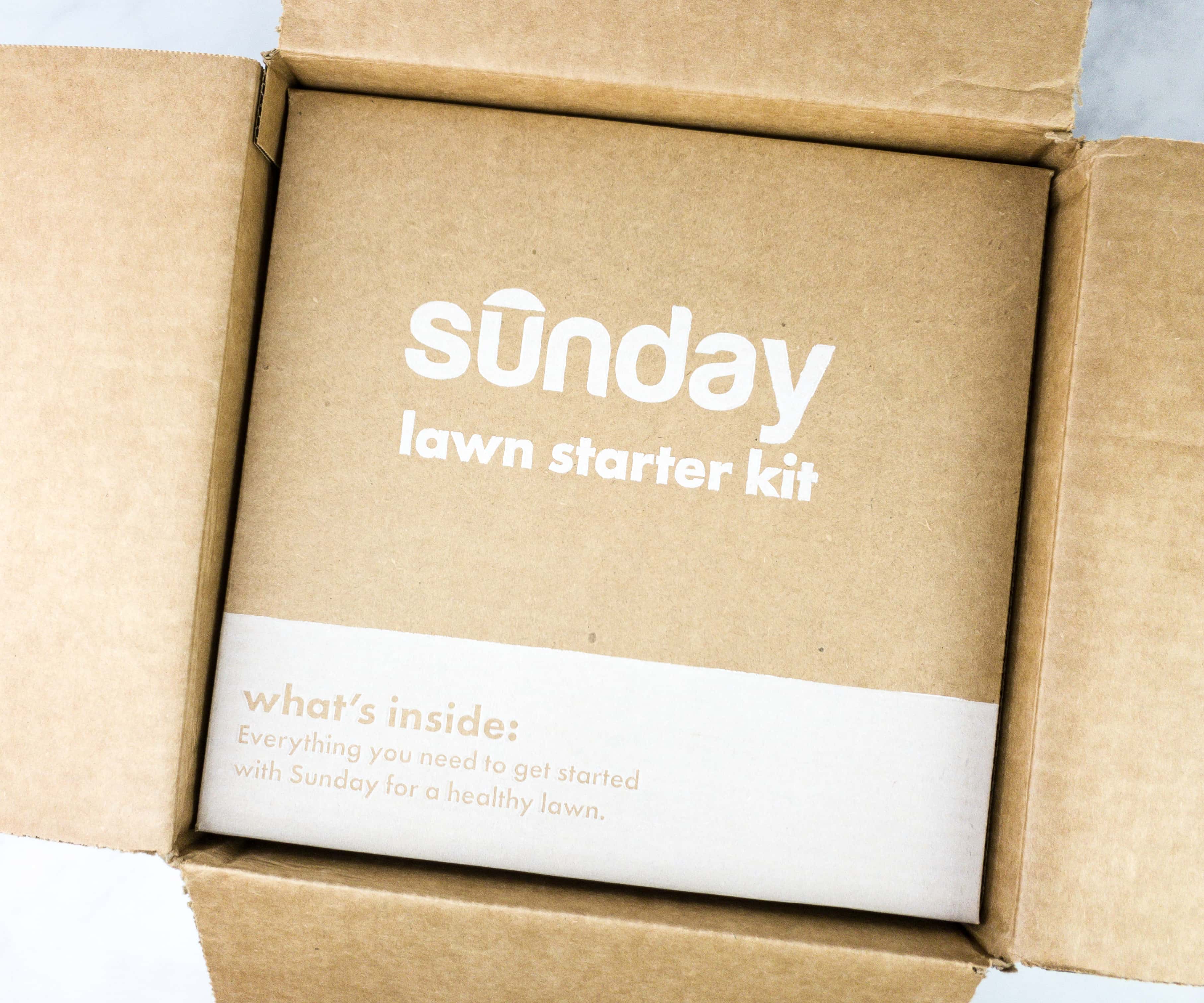 Under this cover is our lawn starter kit and it has the basic things we need to make our lawn healthy!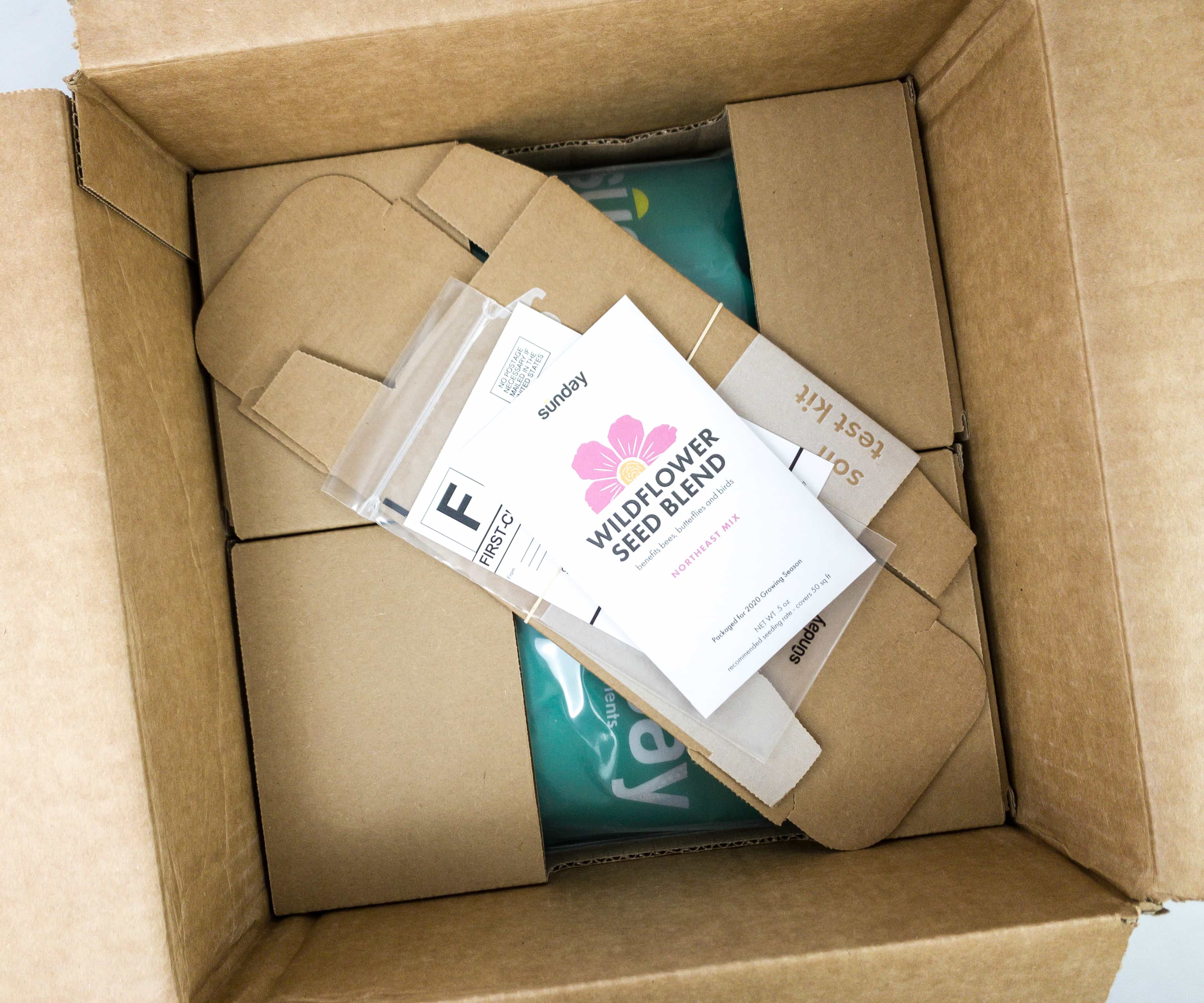 All the items are placed at the bottom part of the box and topped with the exclusive Sunday information sheets.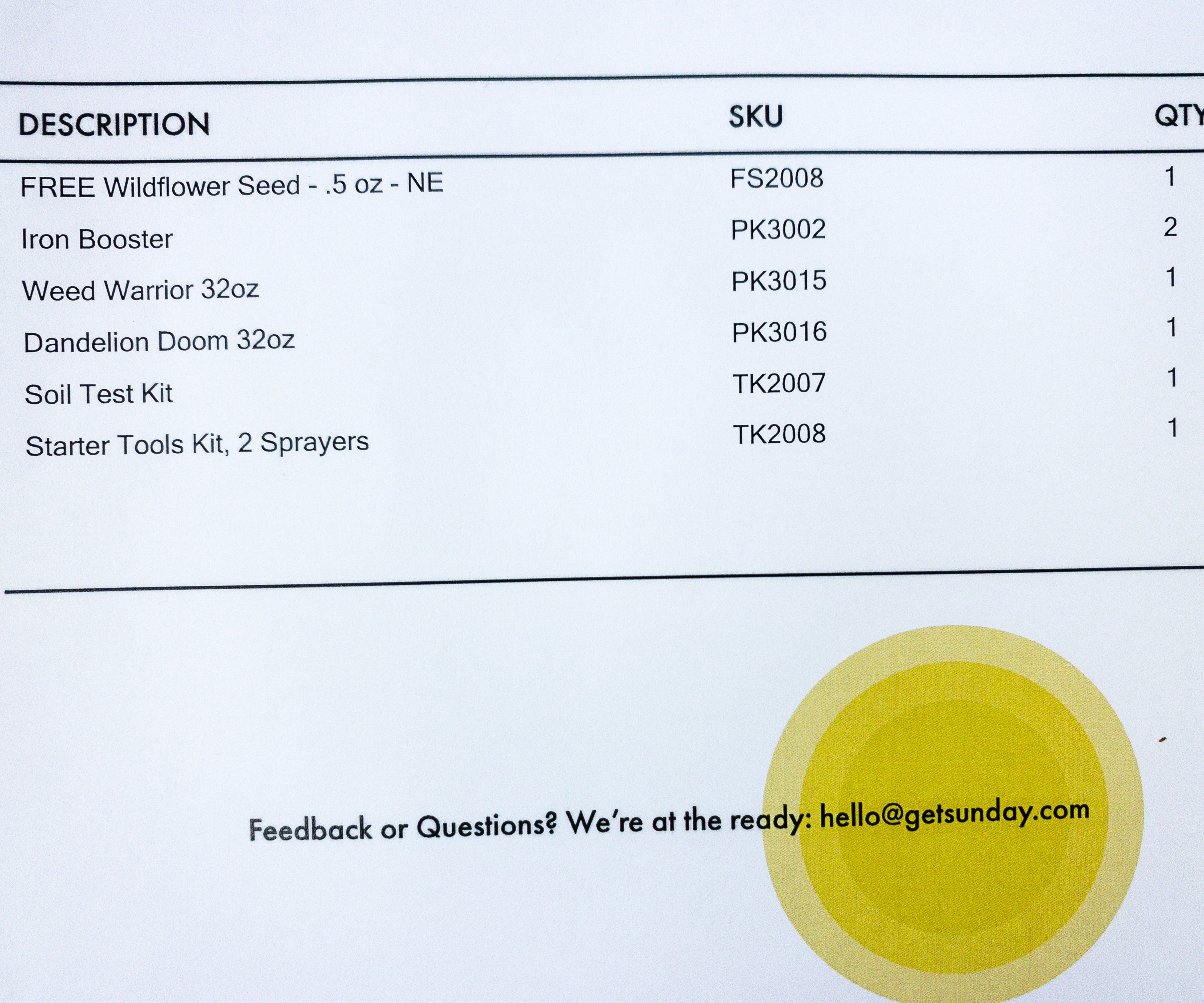 Here's a list of what we're getting for our first treatment!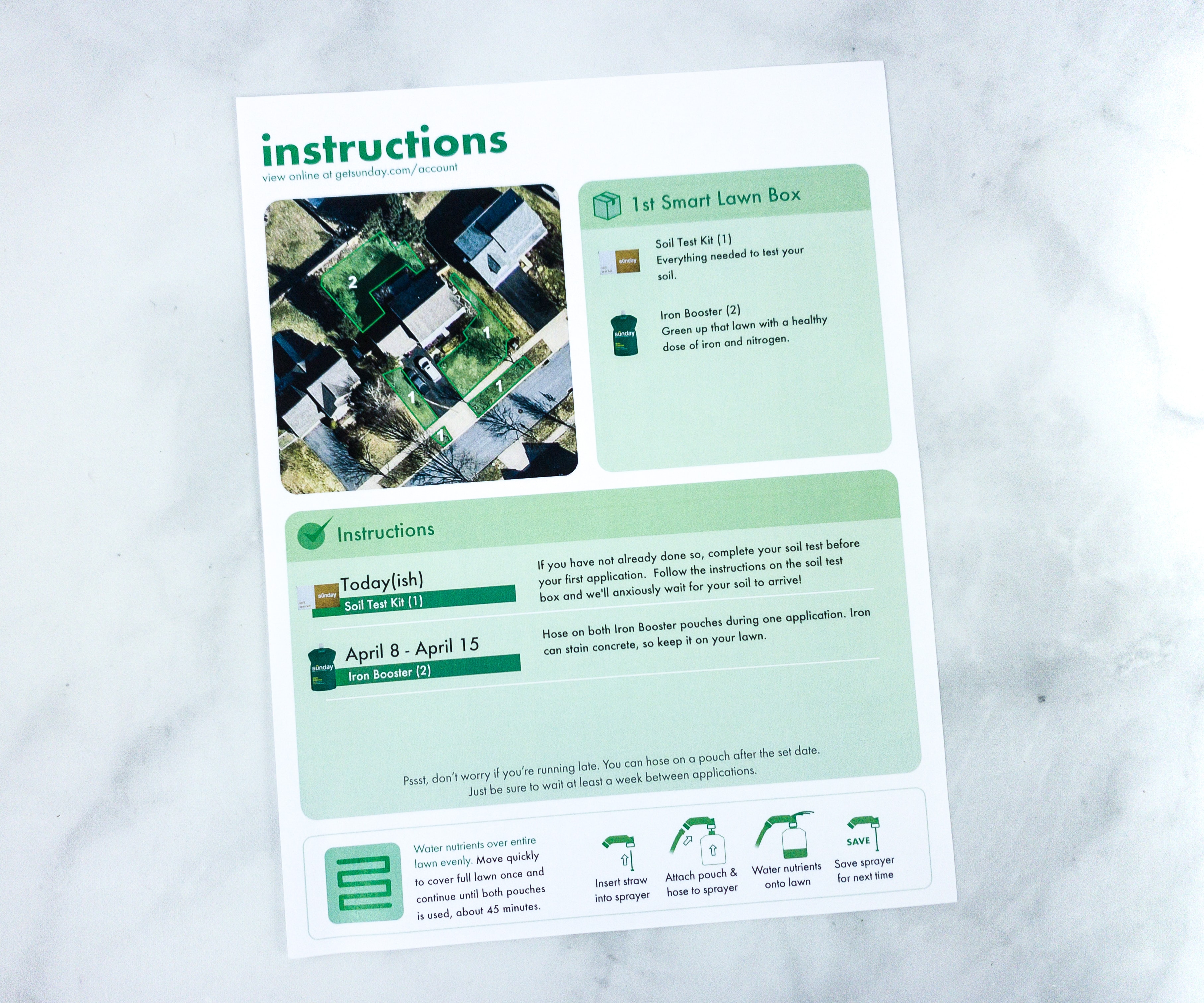 This sheet contains an instruction on how to properly use the contents of our first Smart Lawn box.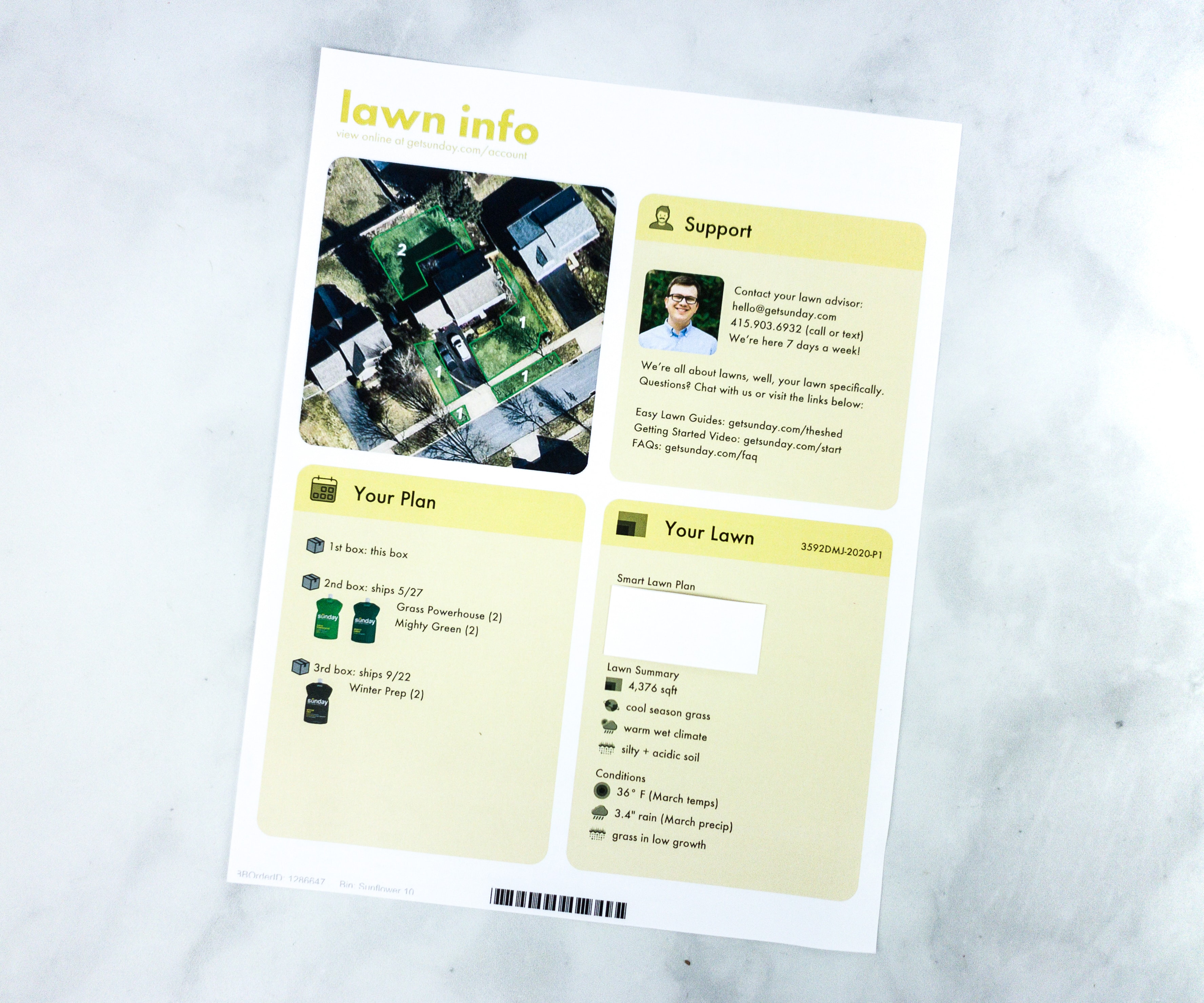 There are more details about our plan at the back of the sheet, as well as our lawn's initial assessment. They even listed when our 2nd and 3rd box will ship and what items they will contain.
Also included in this month's box is an exclusive booklet from Sunday. It's an informative booklet that discusses everything you need to know to achieve a greener and healthier lawn.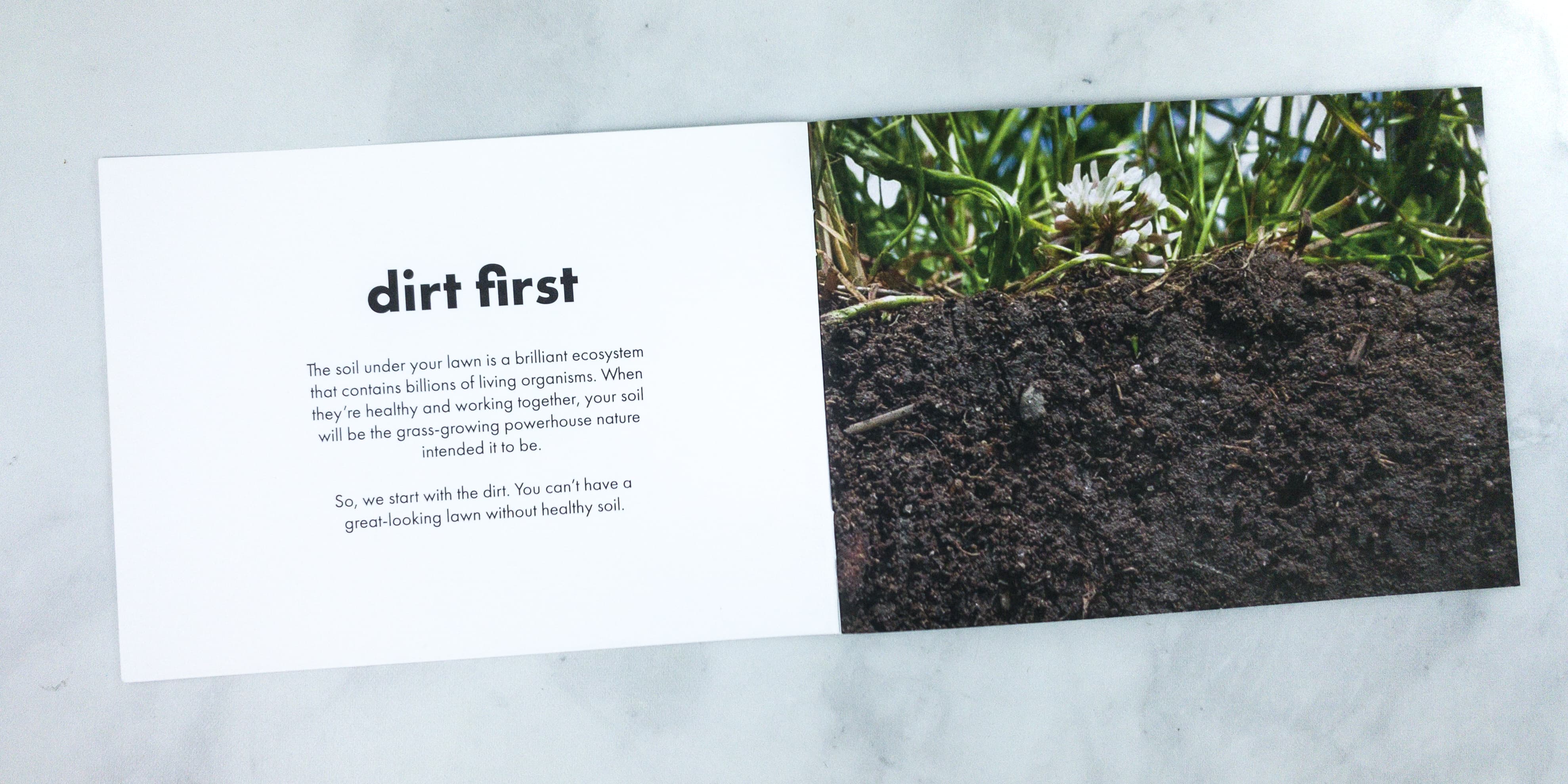 This part of the booklet shares the importance of dirt to make soil healthy.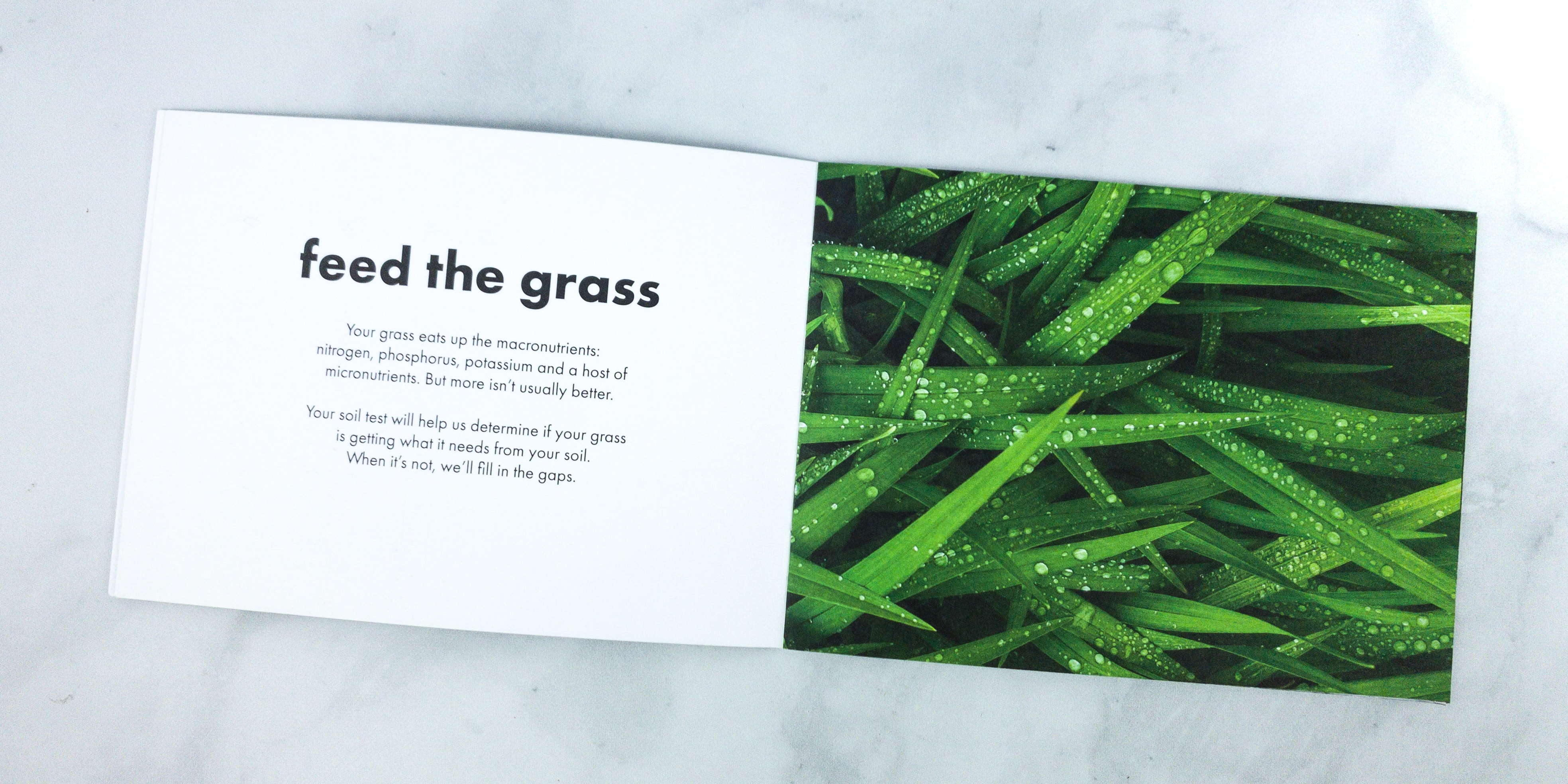 According to the booklet, the soil needs to have enough minerals to provide sufficient nutrients for greener and healthier grass.
They also shared that a lawn needs an inch level of watering each week and it is more ideal to water them deeper in lesser frequency to build heartier and healthier roots.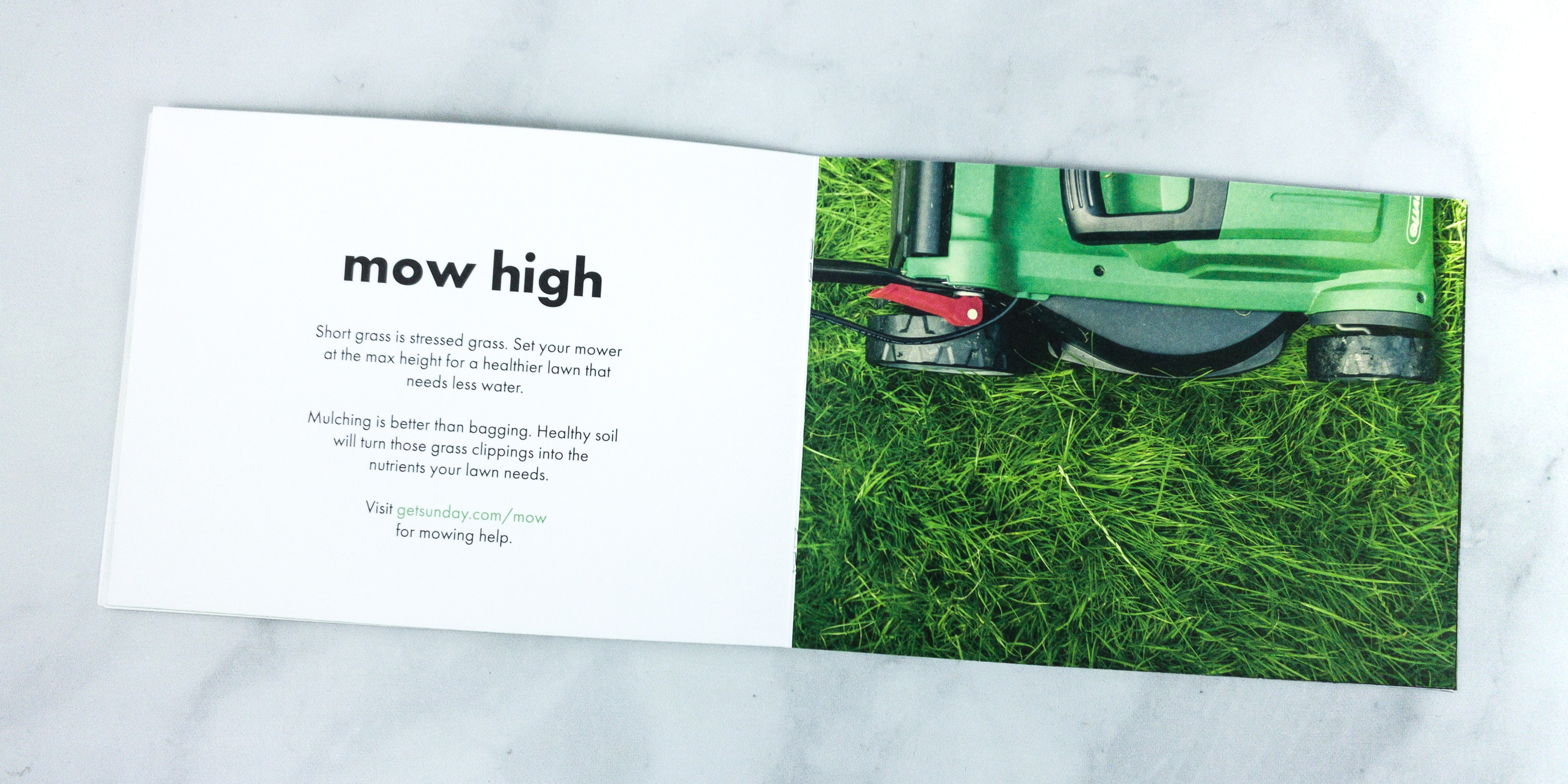 We also found out that short grass is stressed grass. They recommend setting the mower at the max height for best results.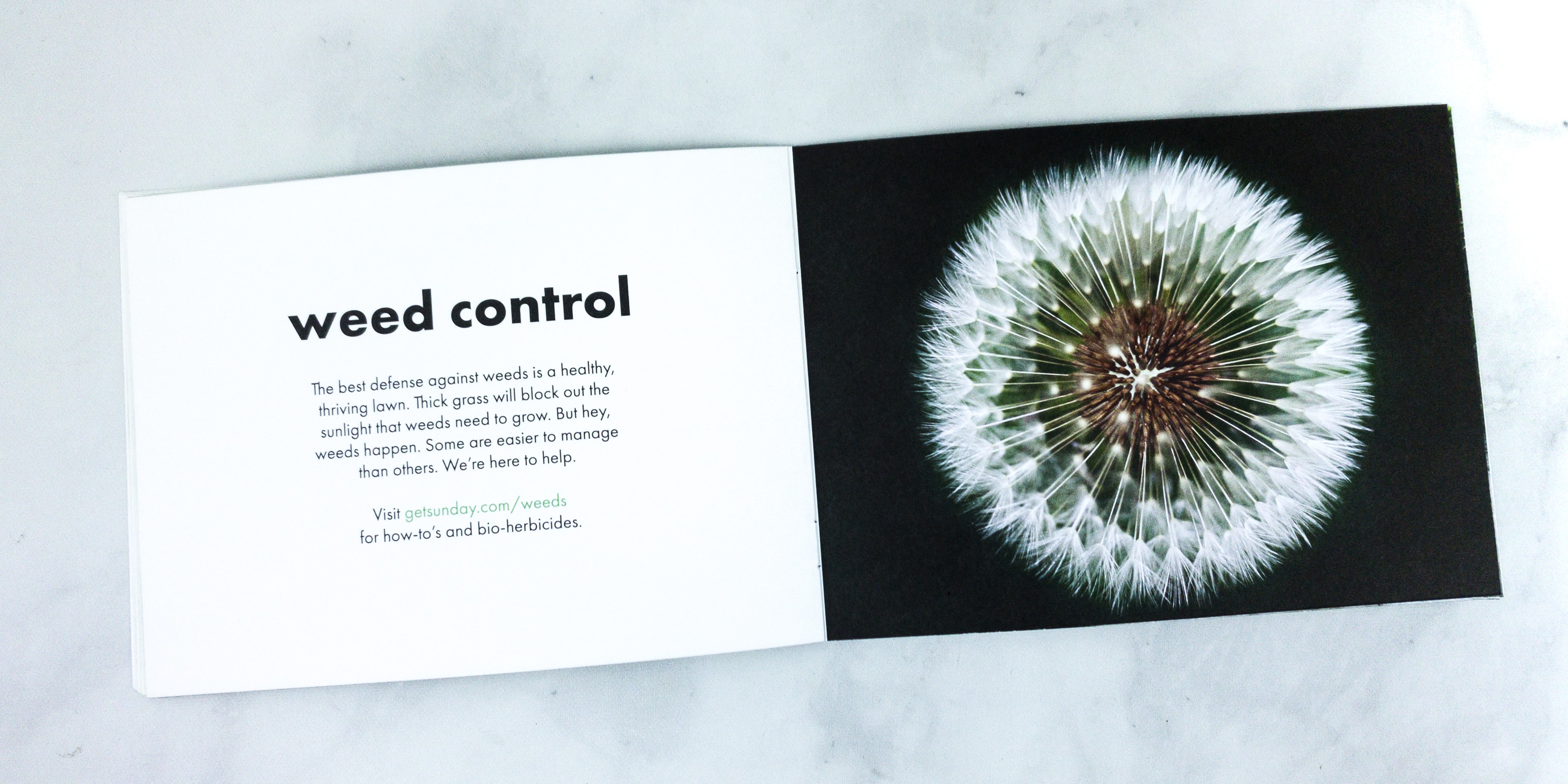 One of the best way to control weeds is to grow a healthy thick grass. It will block out the sunlight that the weeds need to grow.
We also got a thank you message from Coulter and Trent Lewis, the founders of Sunday!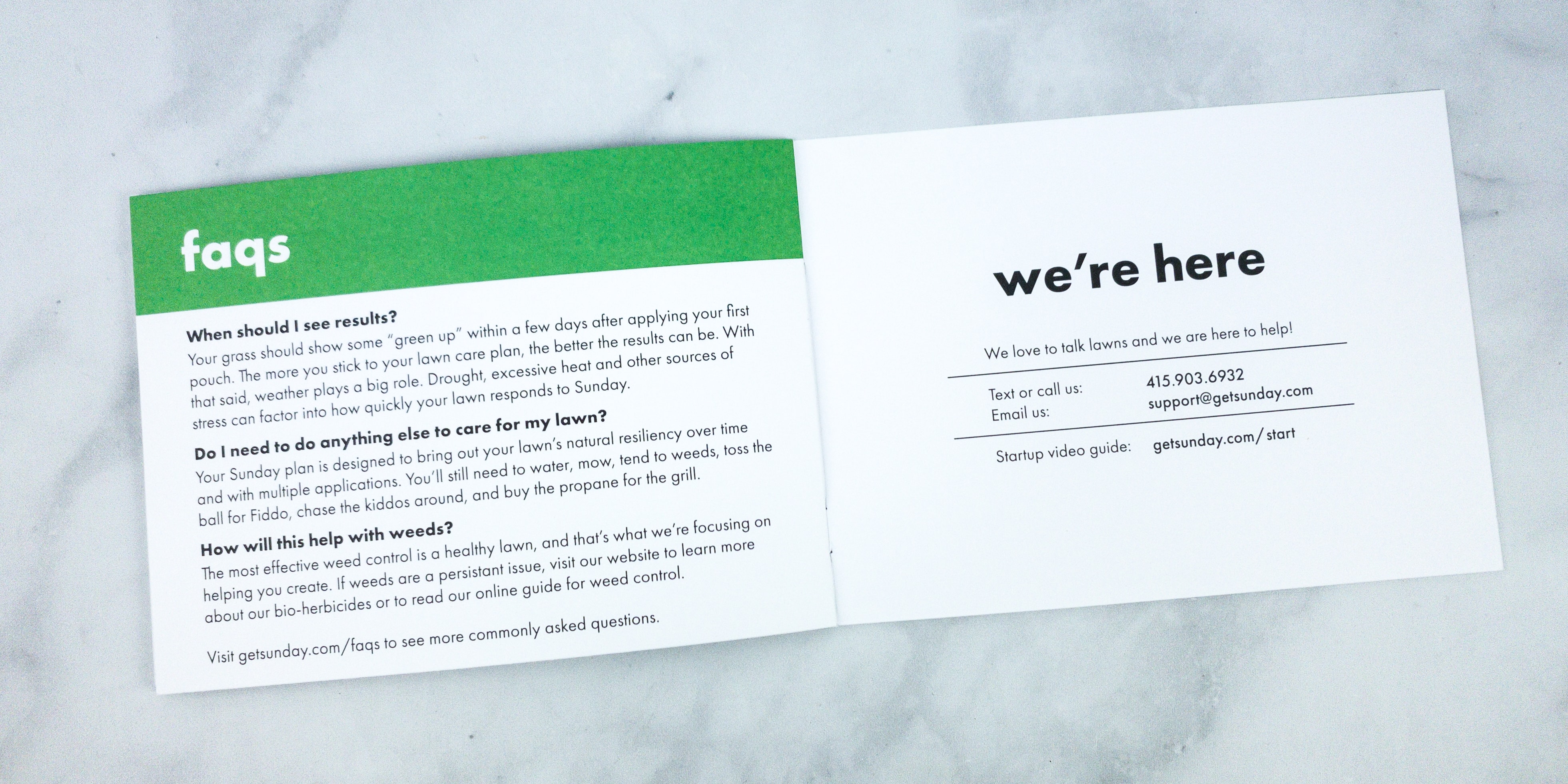 Featured on this part of the booklet are some of the frequently asked questions for this subscription.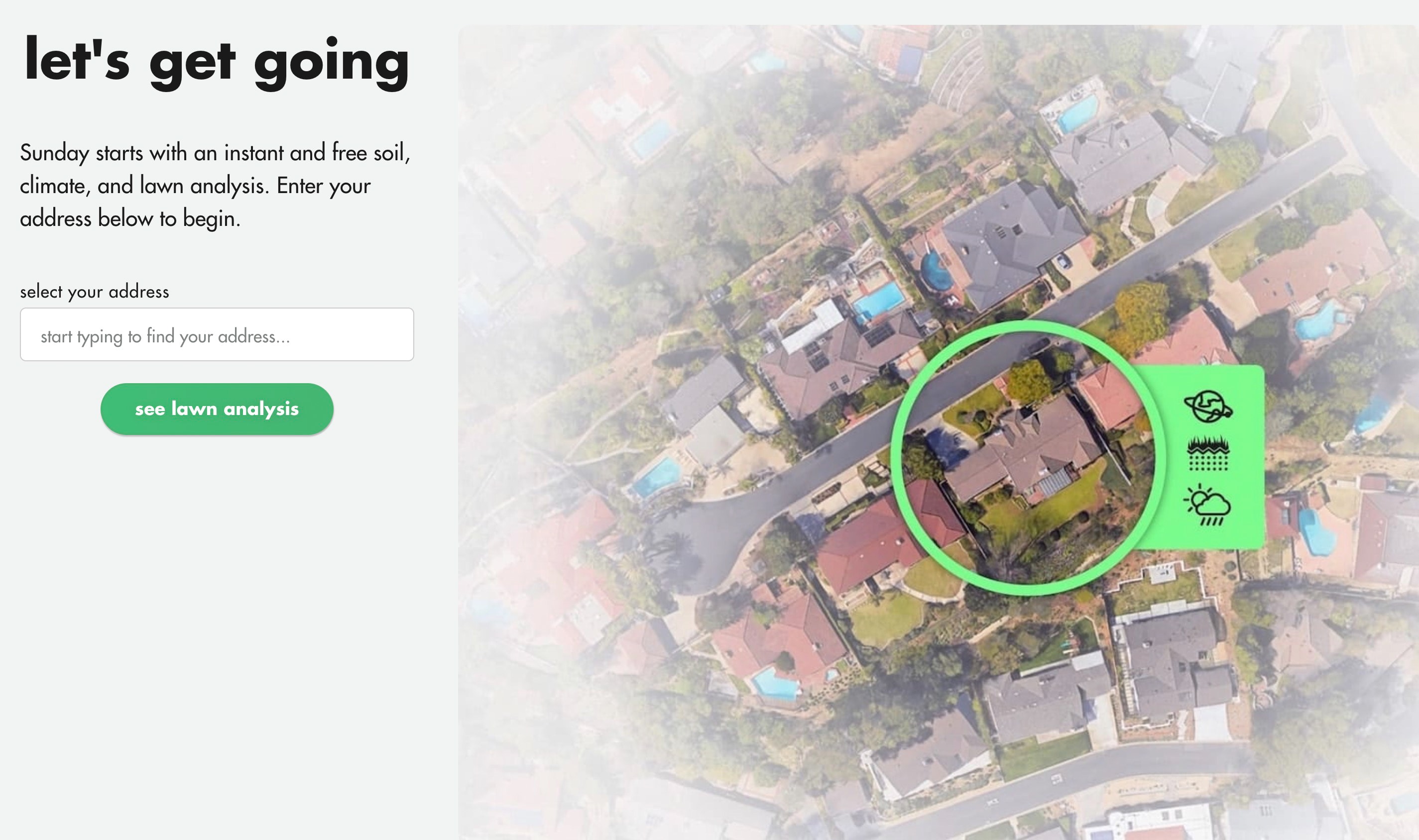 Prior to sending soil samples, you can already have a quick assessment of your lawn on their website! You just need to select your address to begin.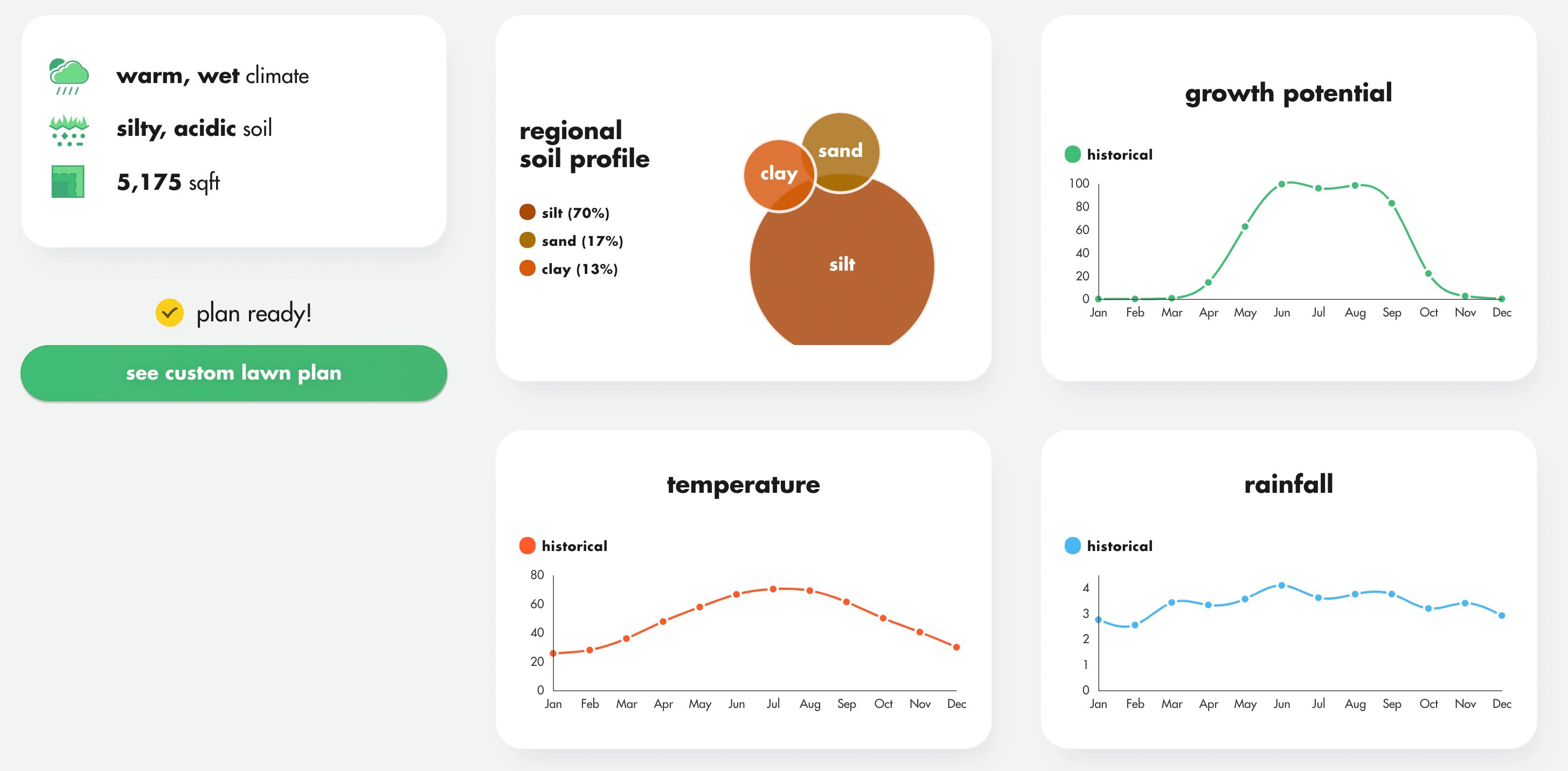 The initial lawn analysis includes the regional soil profile, growth potential, temperature, and rainfall. After checking these out, you can now view your custom lawn plan!
Here's our custom plan! It includes the dates when our boxes will ship as well as the items we will receive. This is great because we know what to expect and we can also schedule our lawn care schedules accordingly!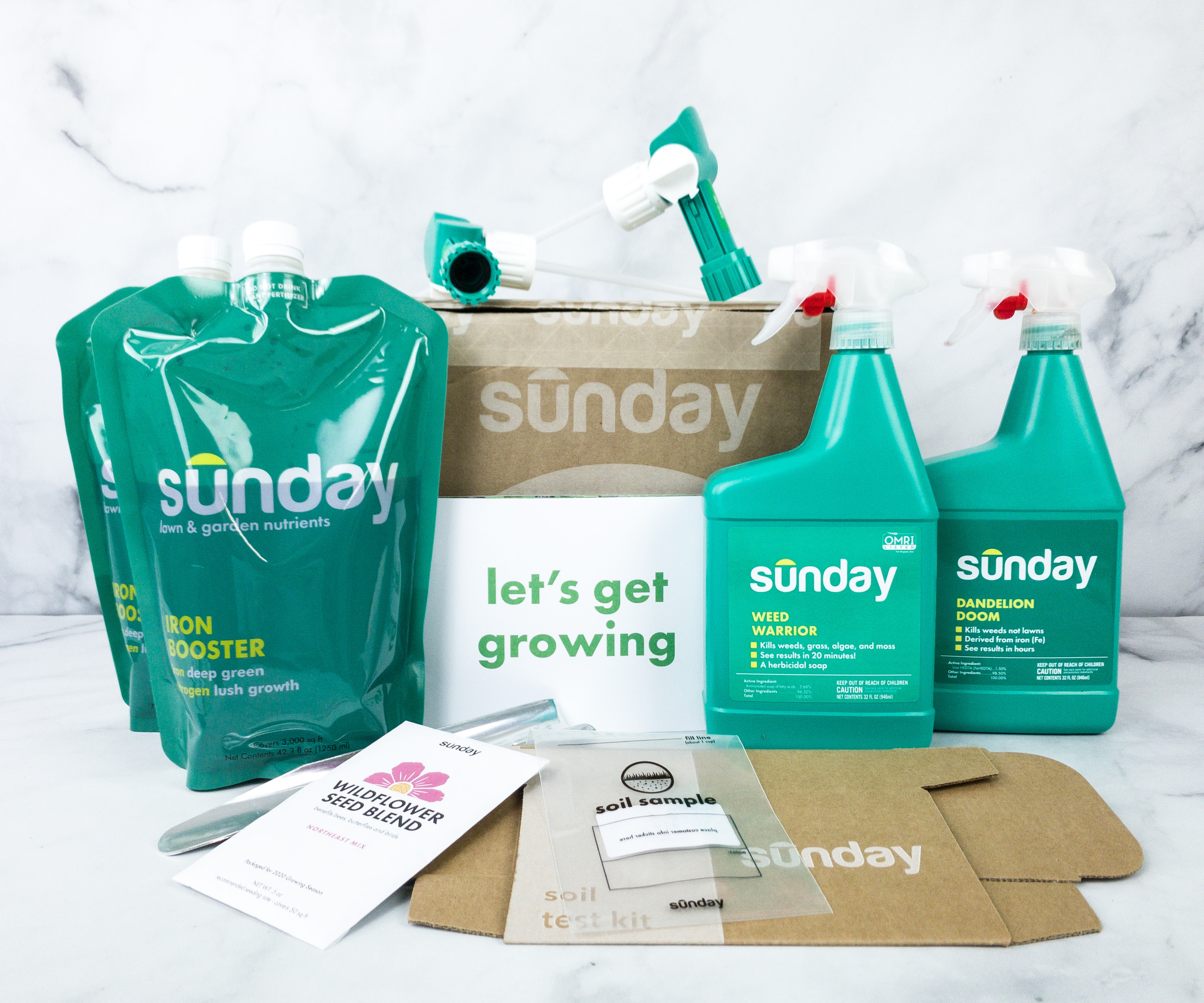 Everything in my box! This is the initial treatment along with additional weed control that we added to our box.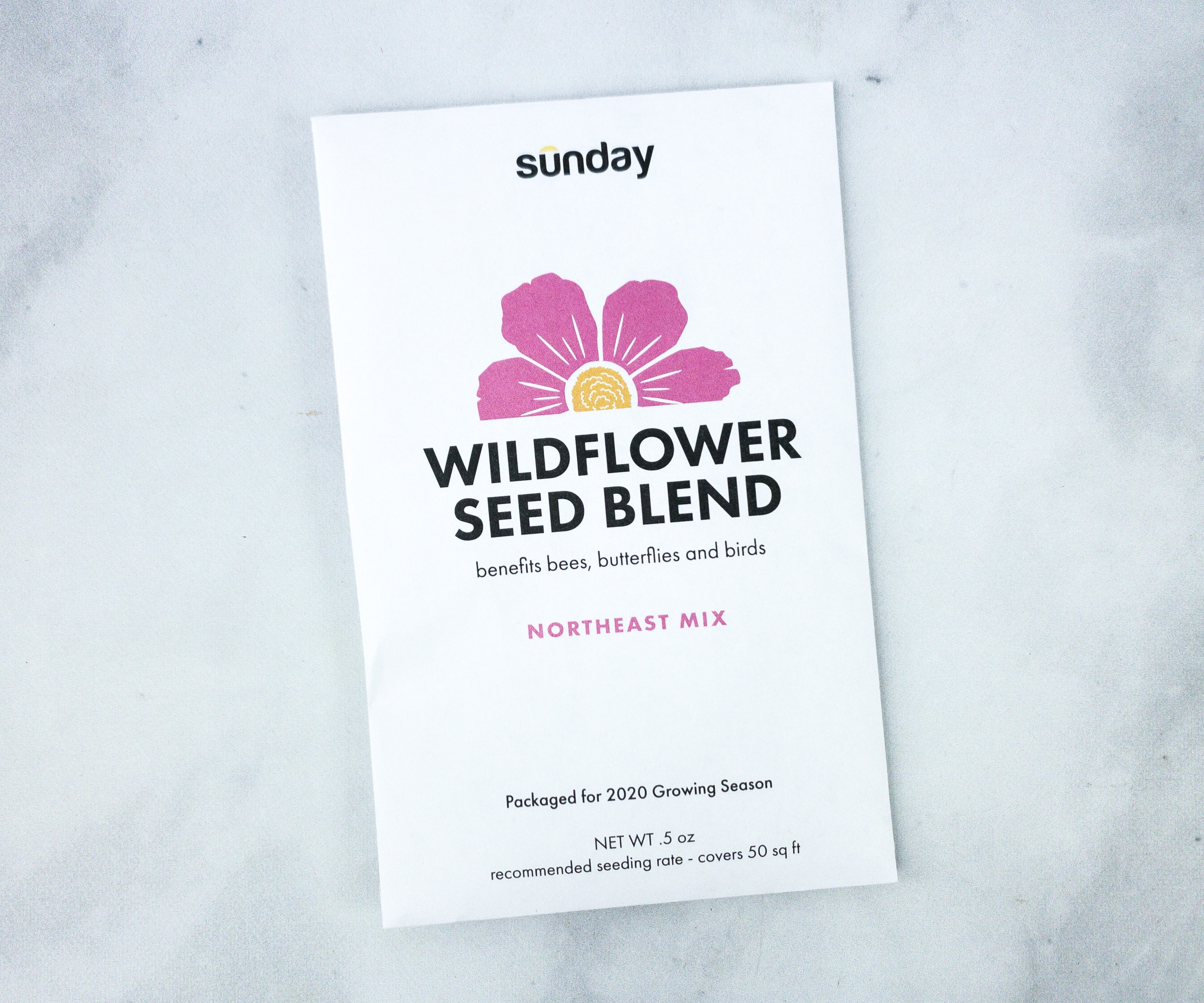 Wildflower Seed Blend – BONUS. These are easy-to-grow, low maintenance seed blends that produce a great pollinator plant.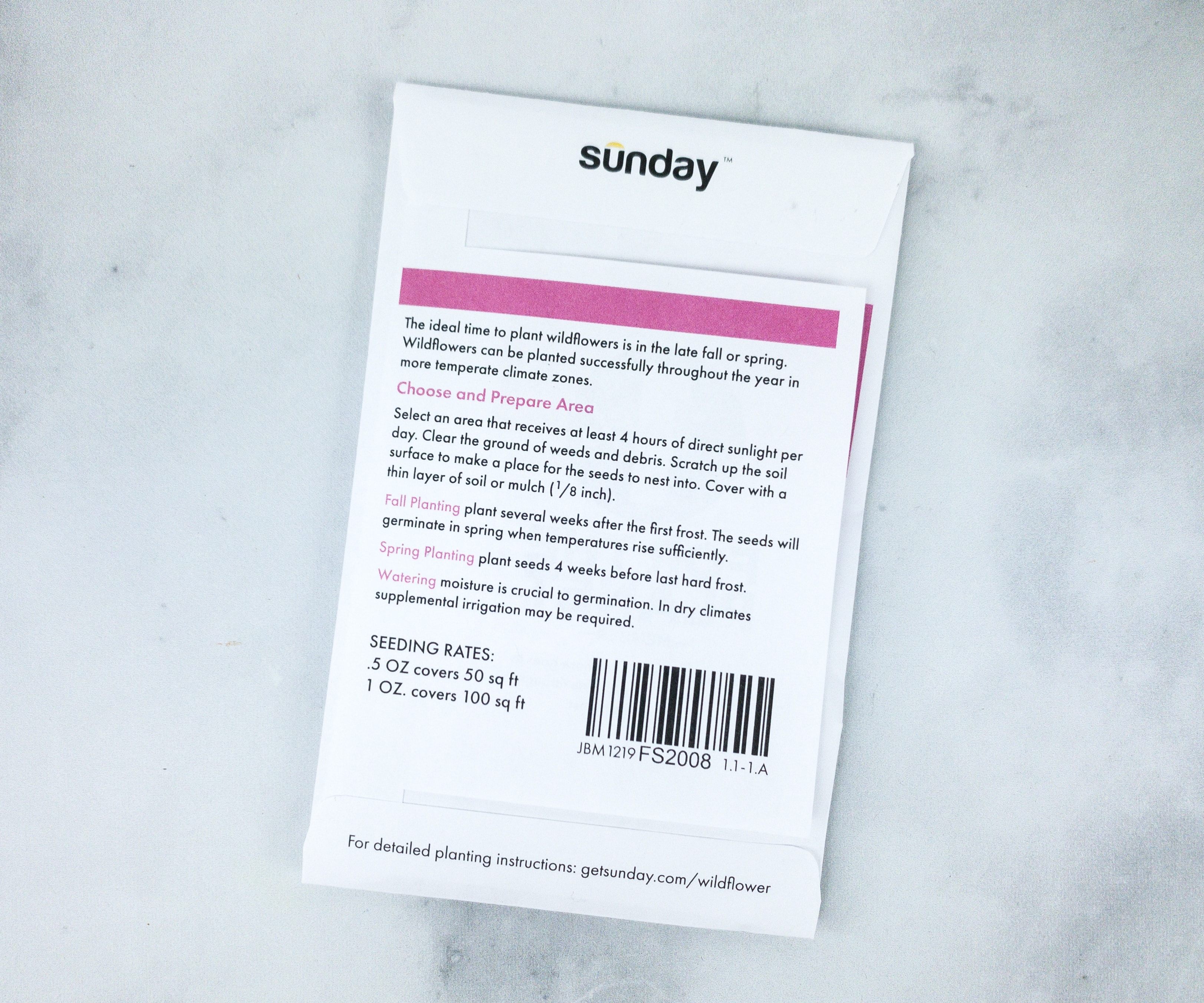 According to the back of the packaging, the ideal time to plant the wildflowers is in late fall or spring, as they can grow more successful on high temperate climate zone.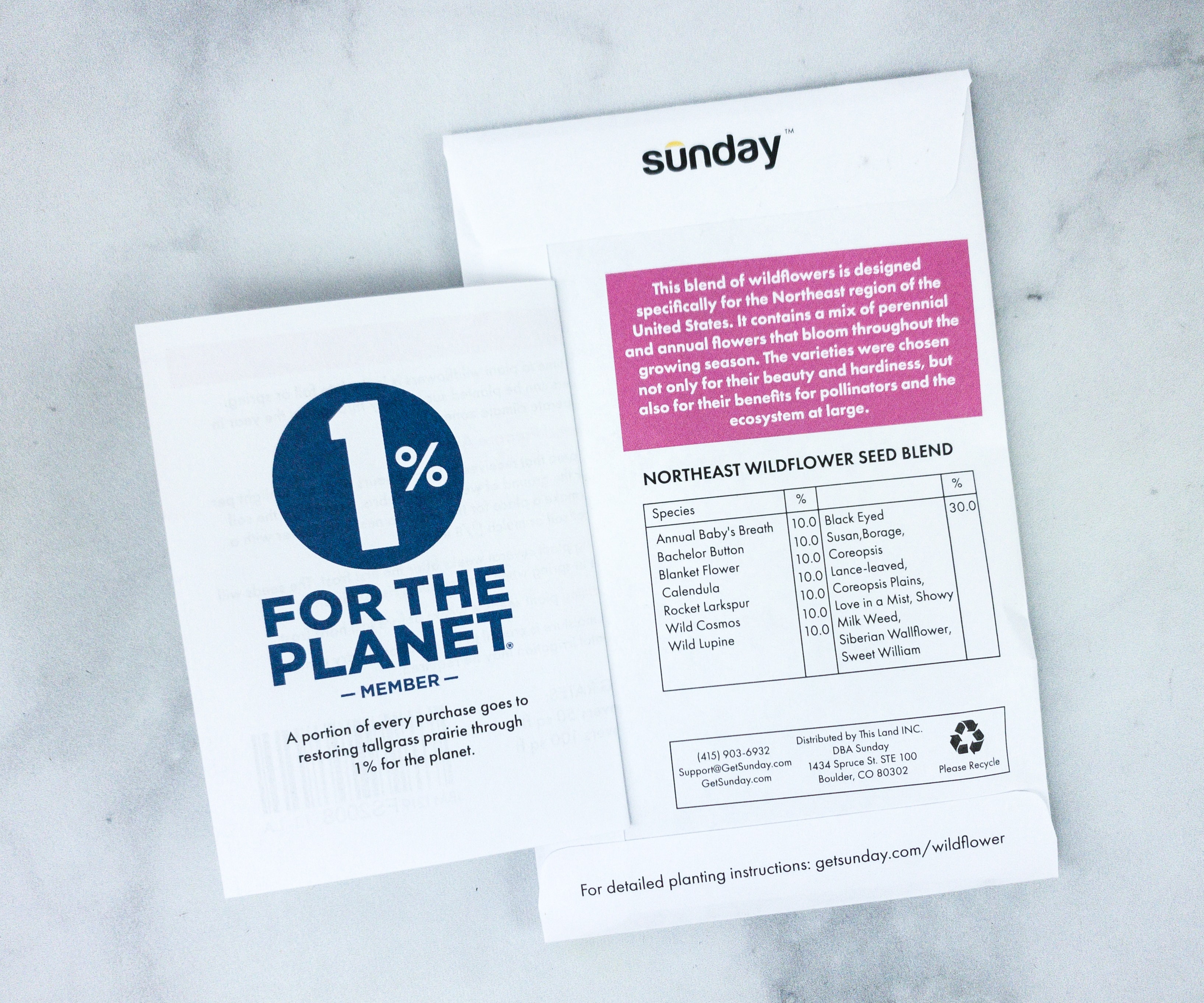 This blend of wildflowers is designed specifically for Northeast region of the United State. It contains a mix of perennial and annual flowers that bloom throughout the growing season. The varieties were chosen not only for their beauty and hardiness, but also for their benefits for pollinators and the ecosystem at large.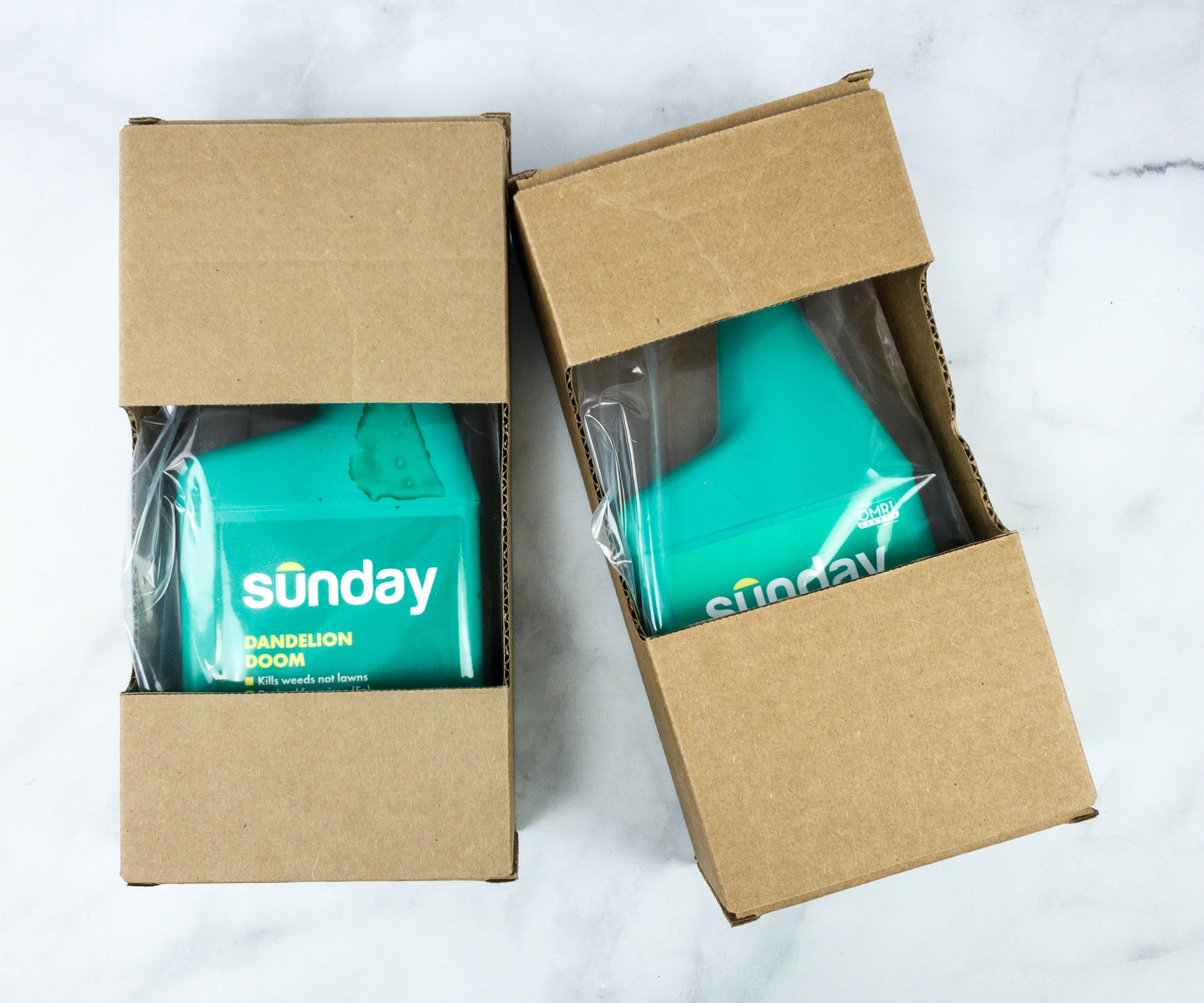 We grabbed two of Sunday's Weed Control products, Weed Warrior and Dandelion Doom!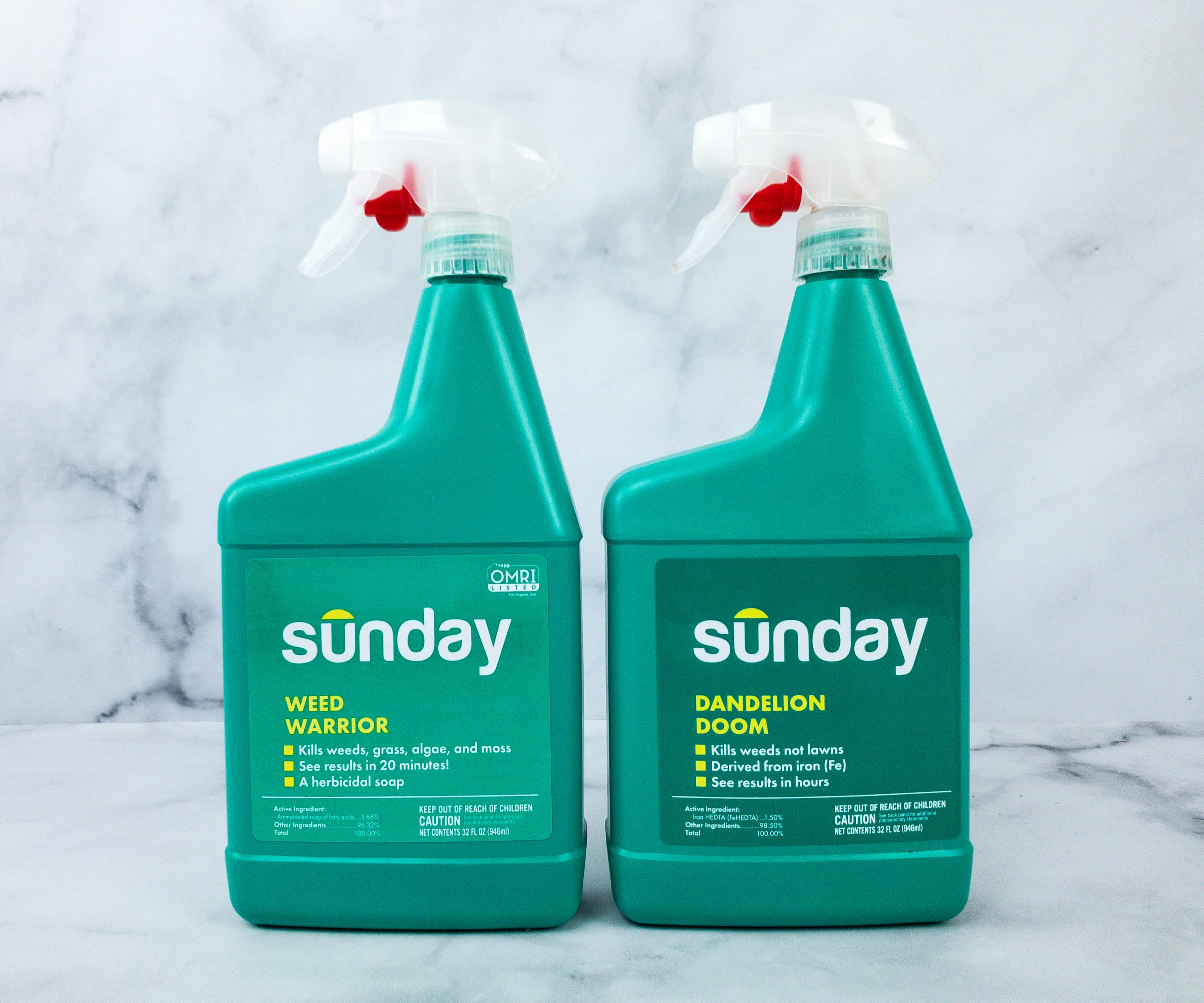 Sunday Weed Warrior. It's a herbicidal soap made from ammoniated soap and fatty acids that rapidly eliminates unwanted vegetation, weed, grass, algae, and moss. It can be used at any time of the day.
Sunday Dandelion Doom. This mixture is made from an iron chelate solution that is designed to kill the broadleaf weeds and not the lawns. It's a selective moss and weed eliminator that slays the weeds down to the root.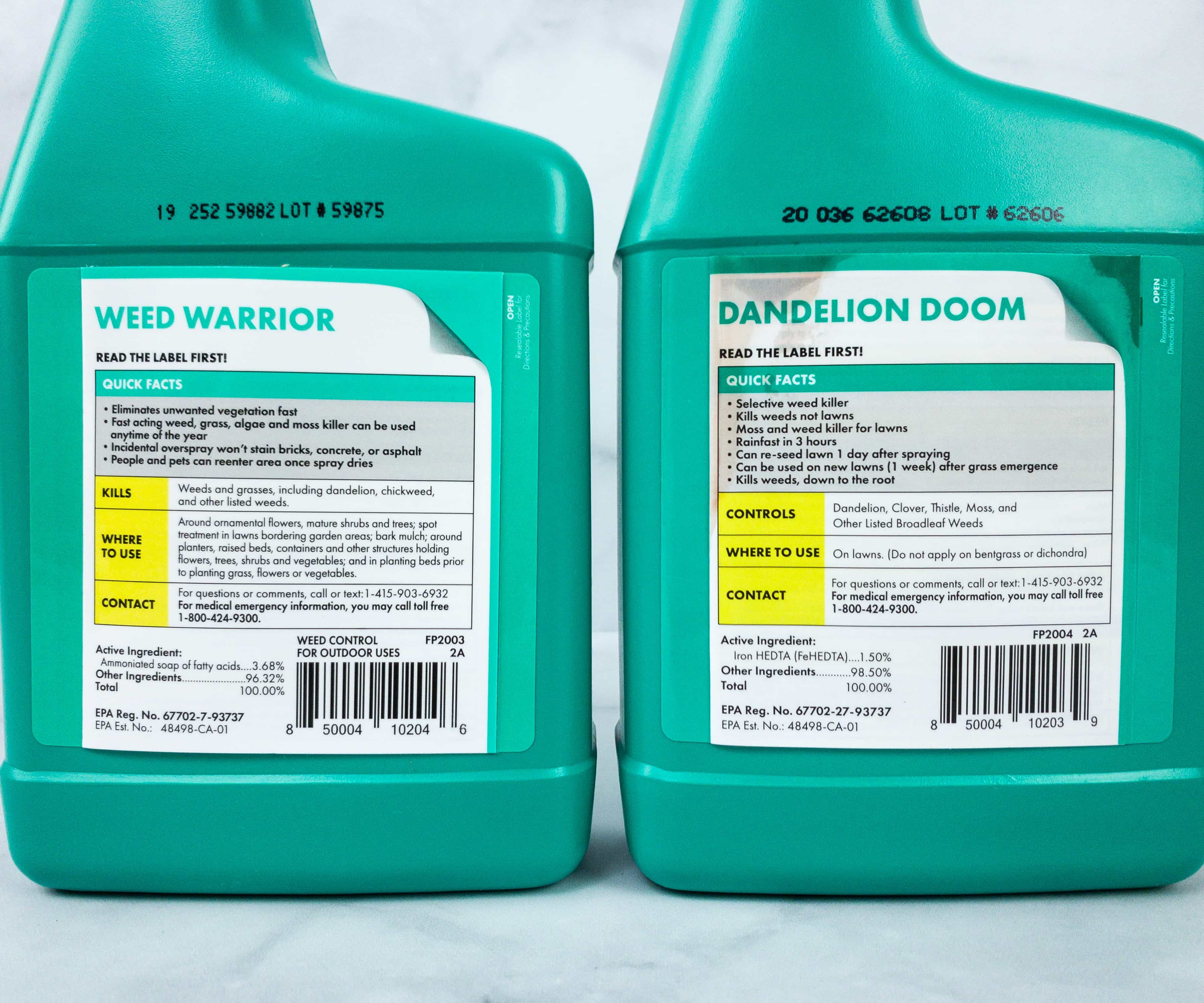 The containers are well-labeled! The labels even include quick facts and other tips!
Another sheet contains instructions on how to control and kill the unwanted weeds that grow in our lawn.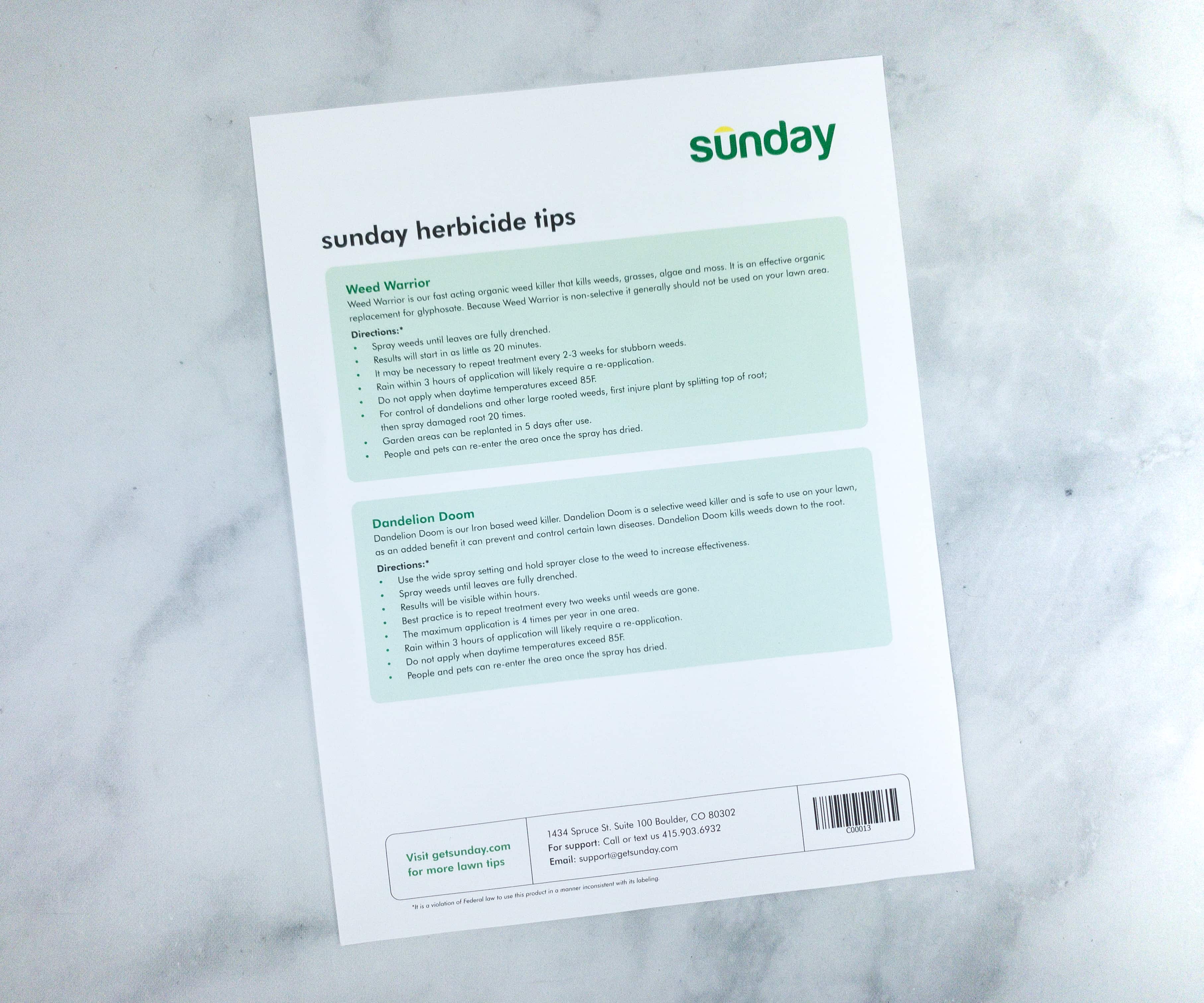 At the back, there are herbicide tips featuring the two variants of their Weed Control line: Weed Warrior and Dandelion Doom. You can purchase these as add-ons to your lawn plan if you need them!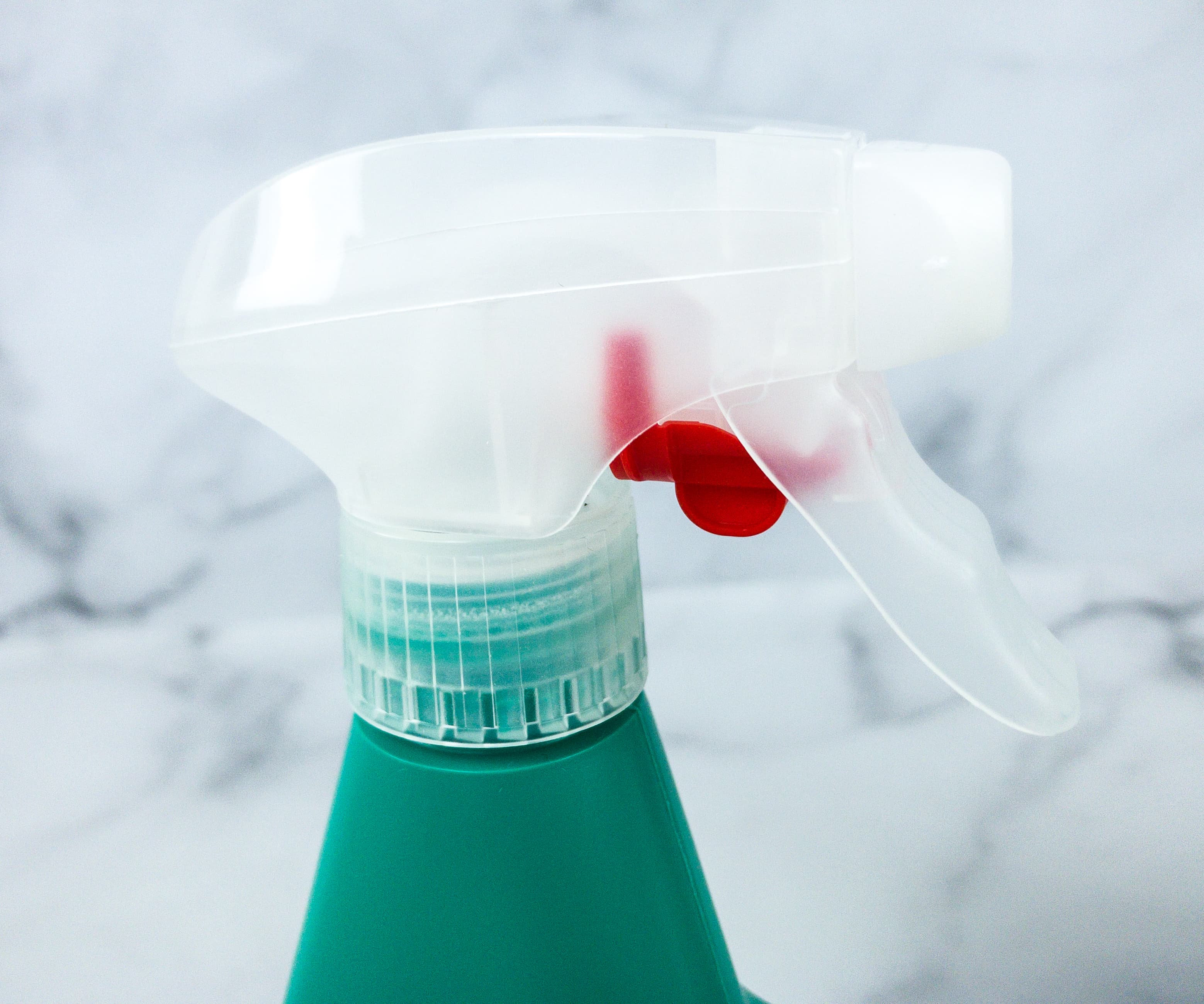 These bottles also come with an easy squeak spray head.
We tried Dandelion Doom first! It's so easy to use, all you need to do is spray it all over your lawn and wait for it dry.
Dandelion Doom doesn't have any unpleasant or chemical-like odor, unlike regular weed control formulas. Also, as long as the spray has dried, people and even pets can enter the treated area.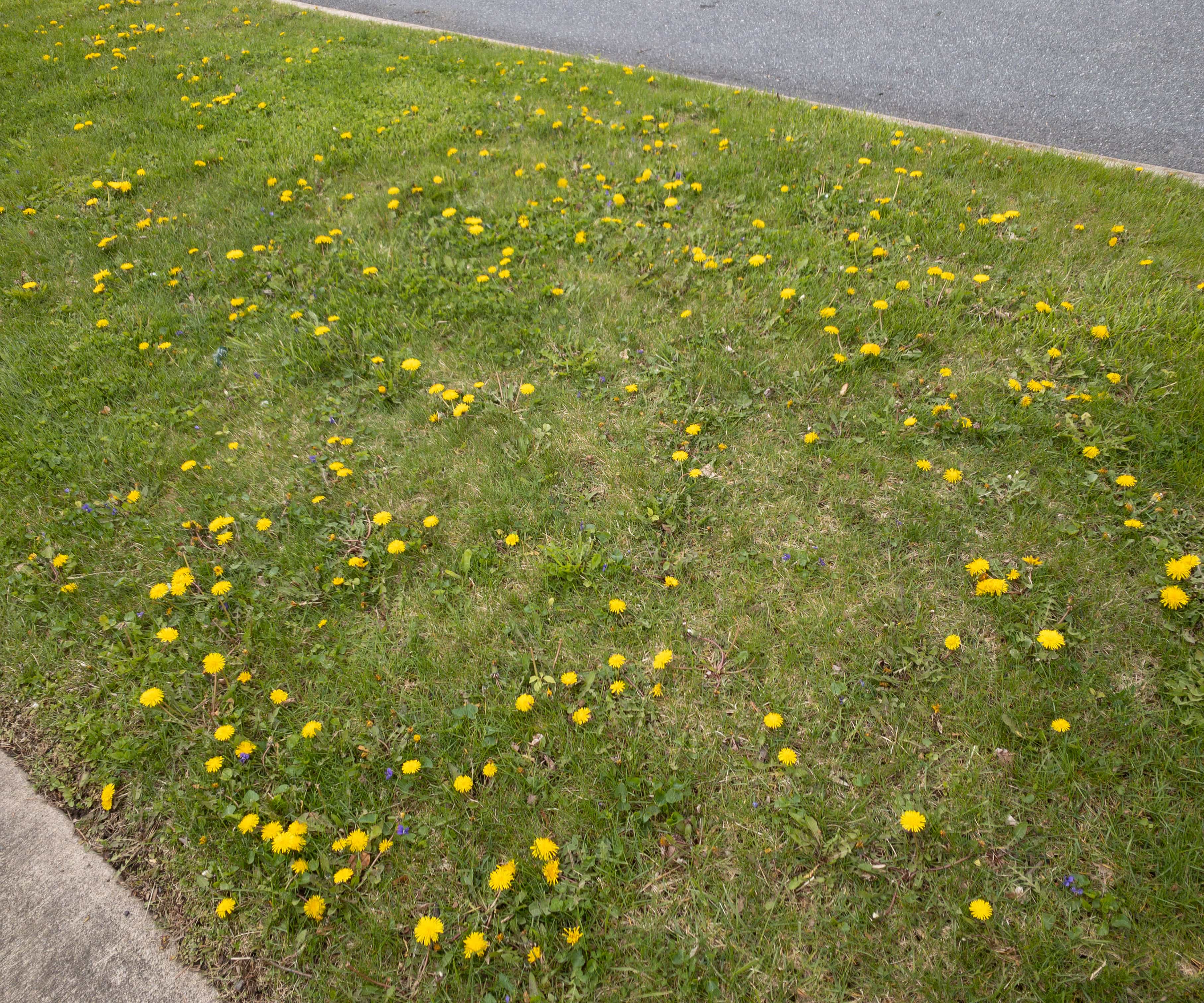 After spraying, we waited for a couple of hours to see if the unwanted weeds expire.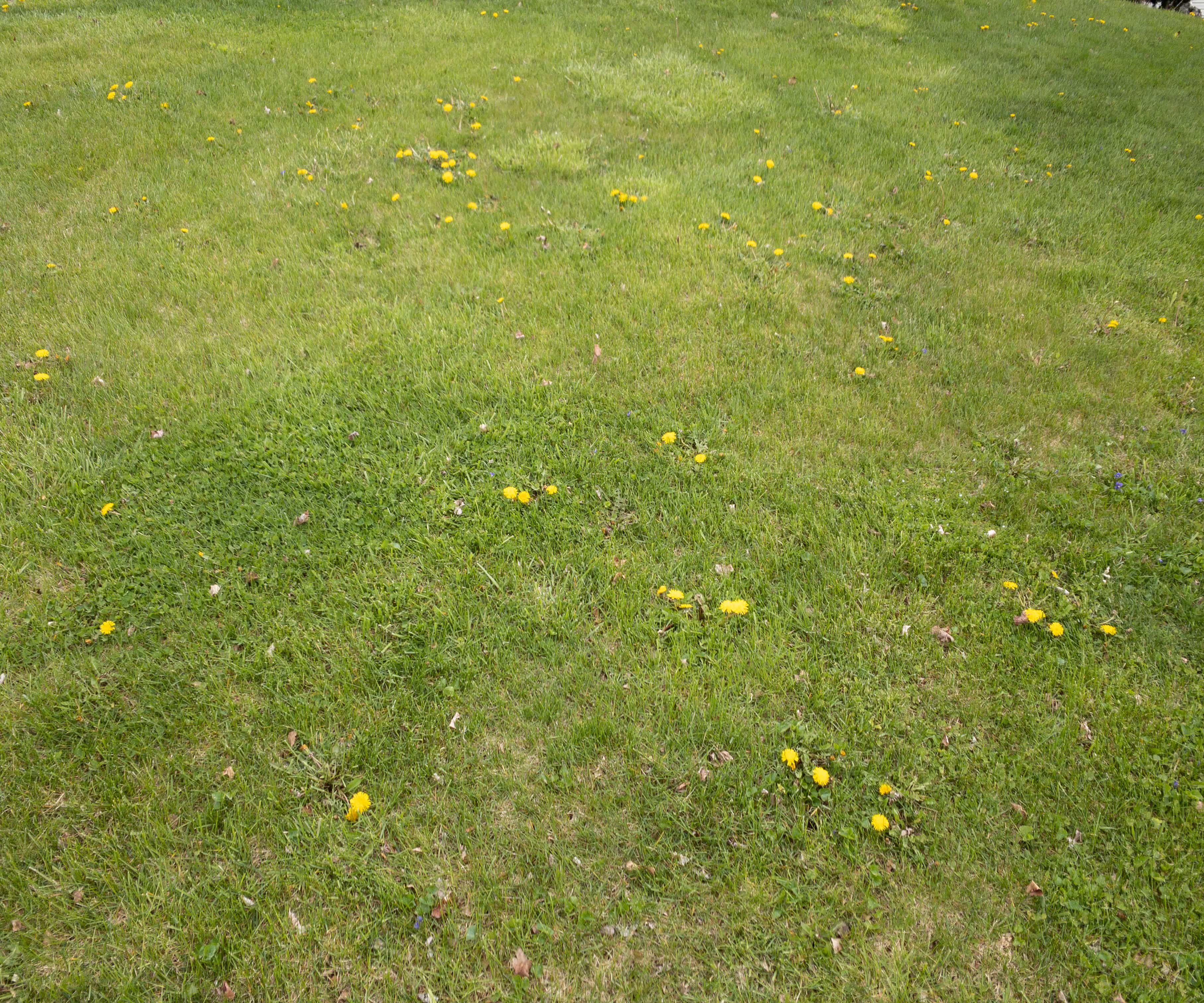 Here's how our lawn looks after spraying it with Dandelion Doom! Most of the weeds are gone and the grass looks greener! I guarantee you that our garden and neighborhood is full of pollinator plants, so we're not concerned with removing the dandelions.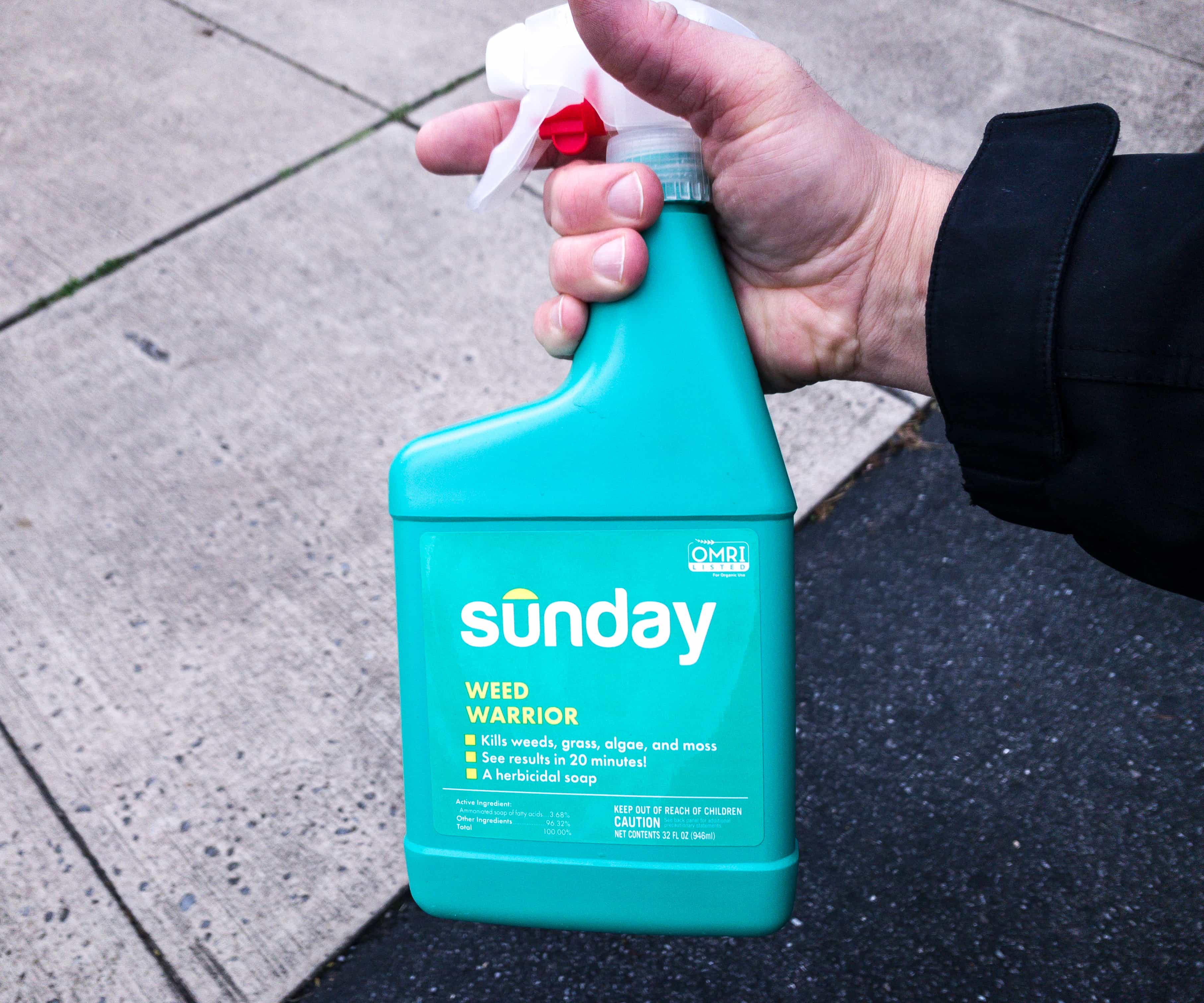 We used Weed Warrior on our concrete flooring. Our goal is to remove all the weeds growing in between them!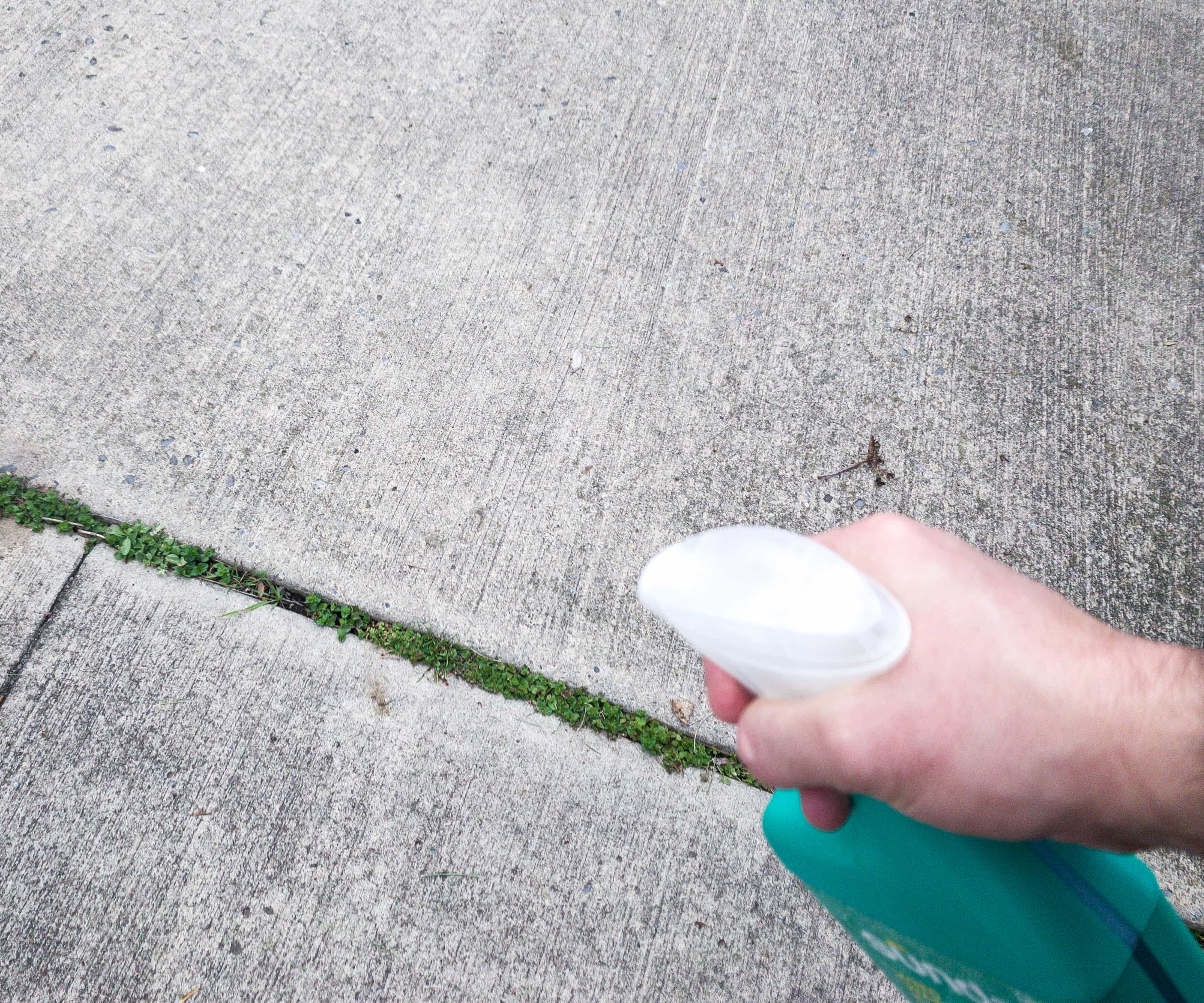 Another great thing about Weed Warrior is that it doesn't leave any residue or stain. There's no weird smell either. Just like the Dandelion Doom, people and pets can re-enter the area after the spray dries.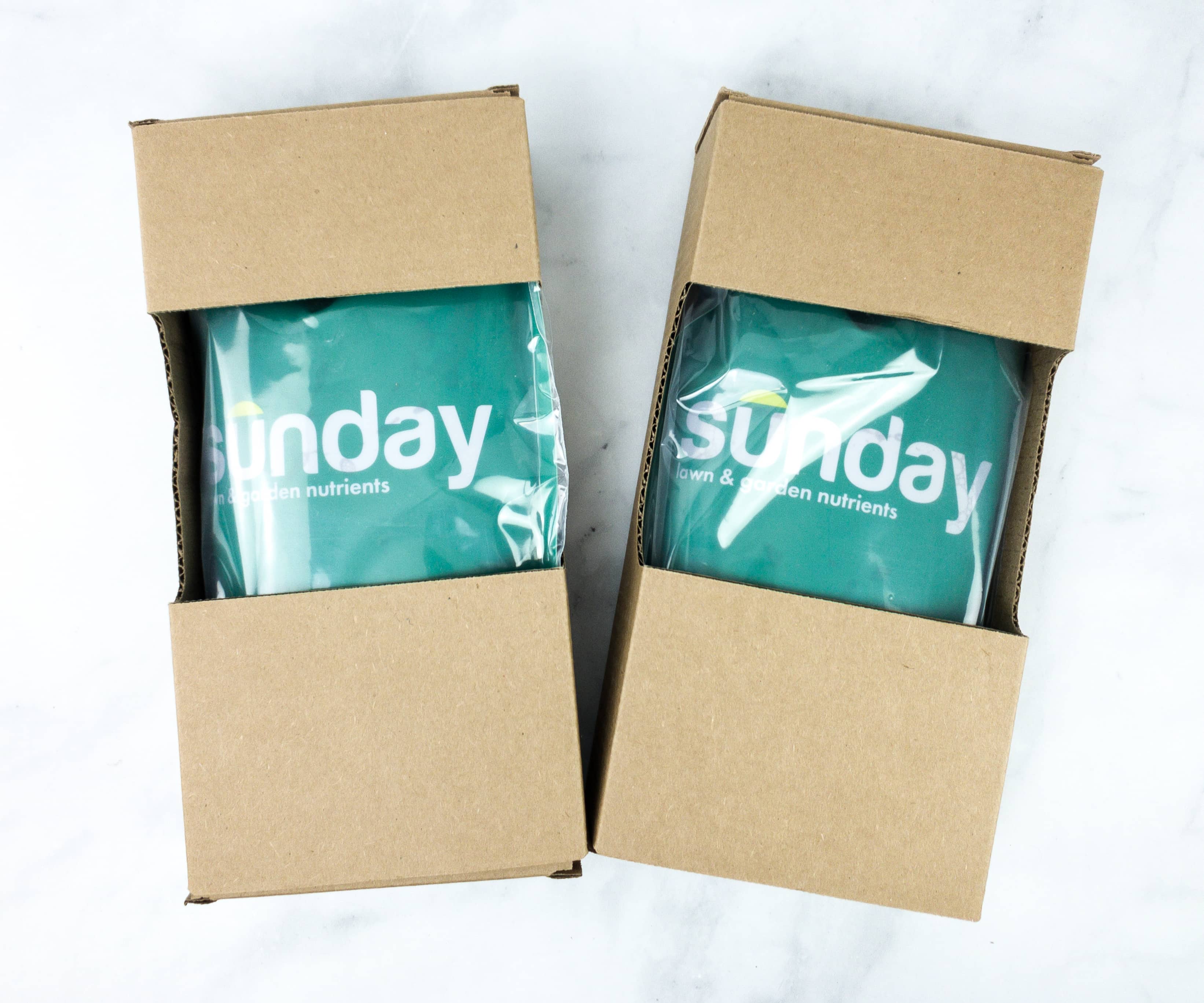 Also included in our starter kit is a pair of Sunday's Iron Booster lawn and garden nutrients!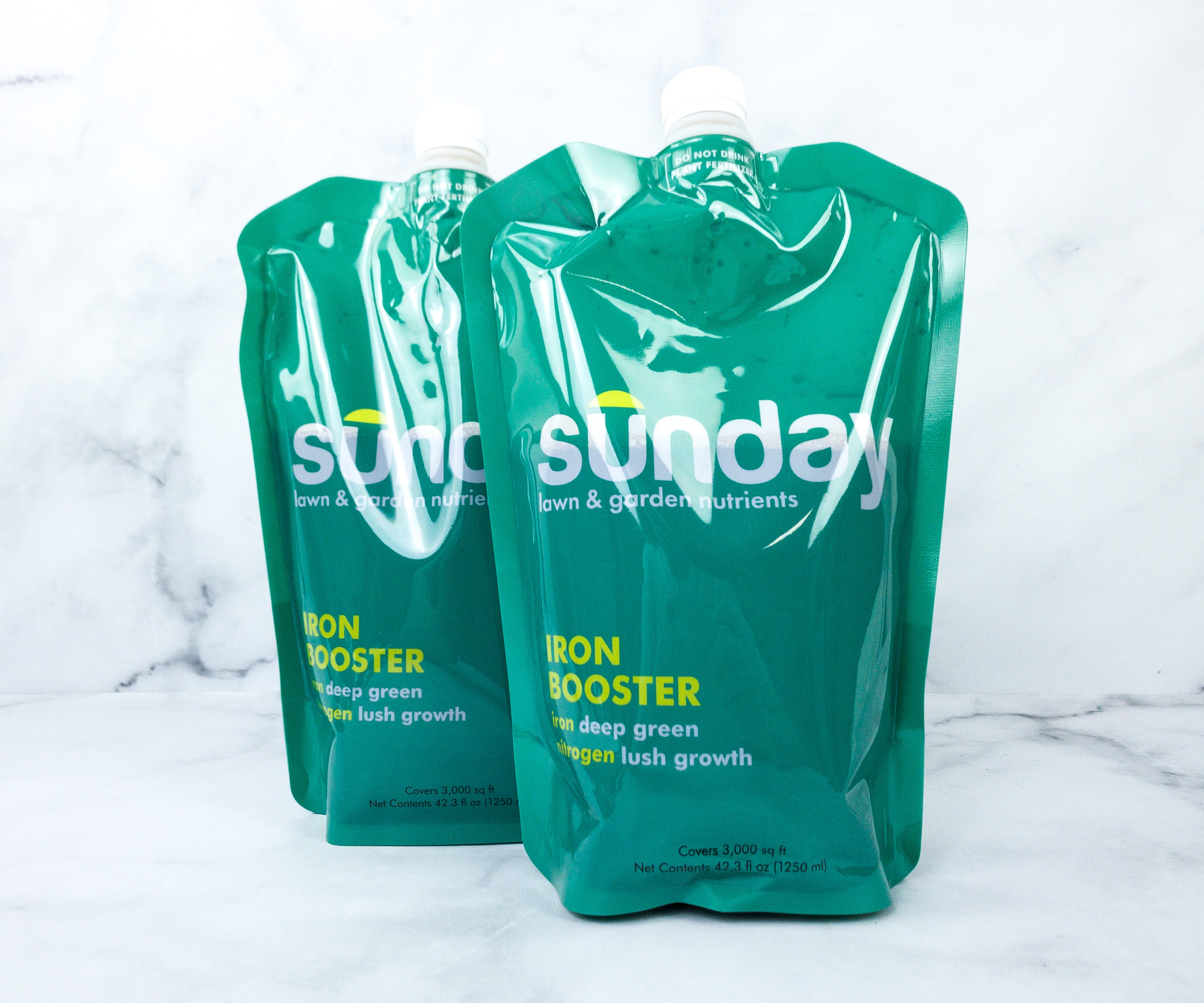 Sunday Iron Booster. It's a liquid fertilizer made from non-hazardous ingredients that include water, urea, EDTA-Fe, seaweed, and humic acid.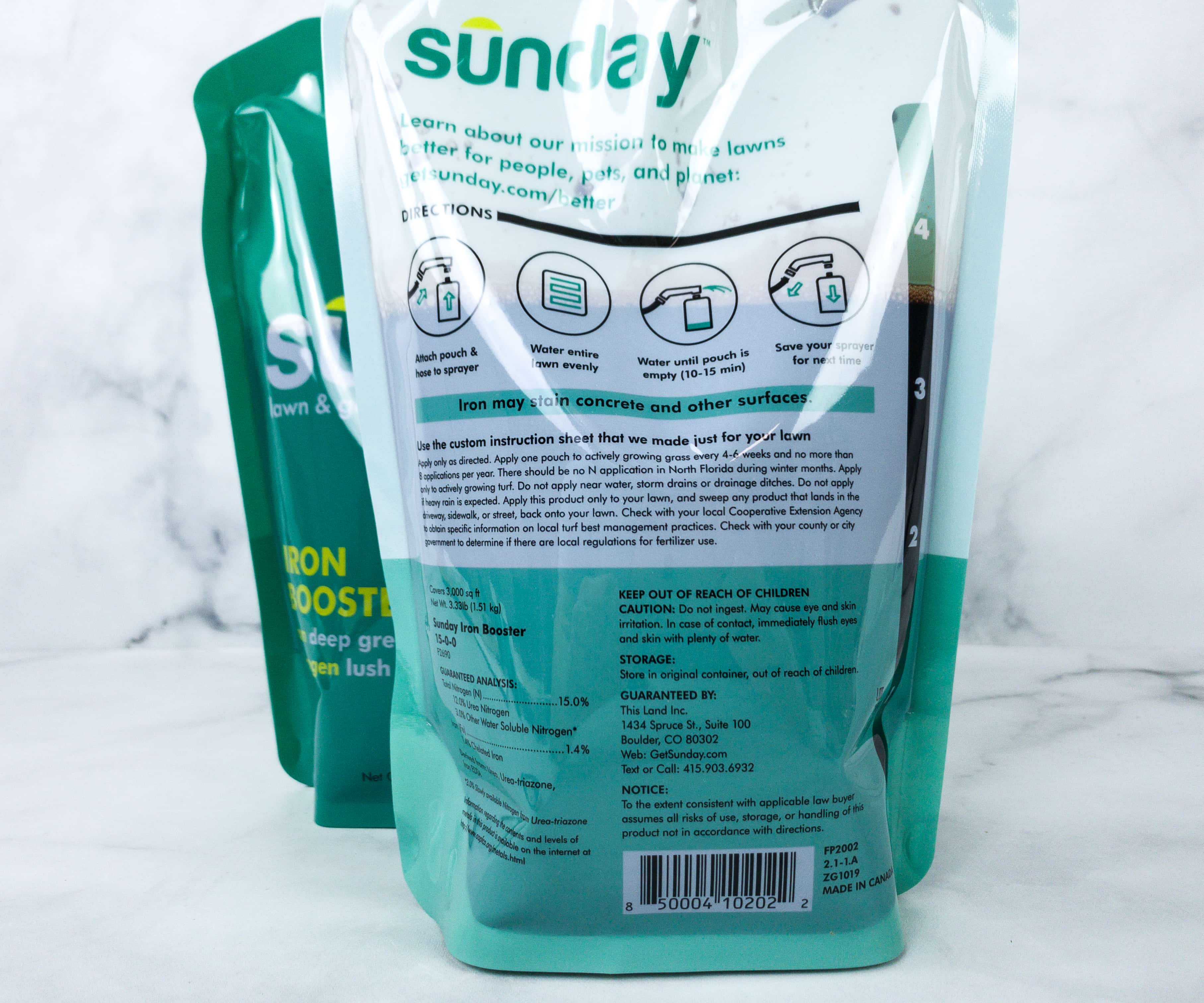 Each pack contains 1.25 liter of pure iron booster fertilizer. The seaweed they use in their products comes from the coast of Maine. Just an FYI, there's a notice on the back that this could stain concrete.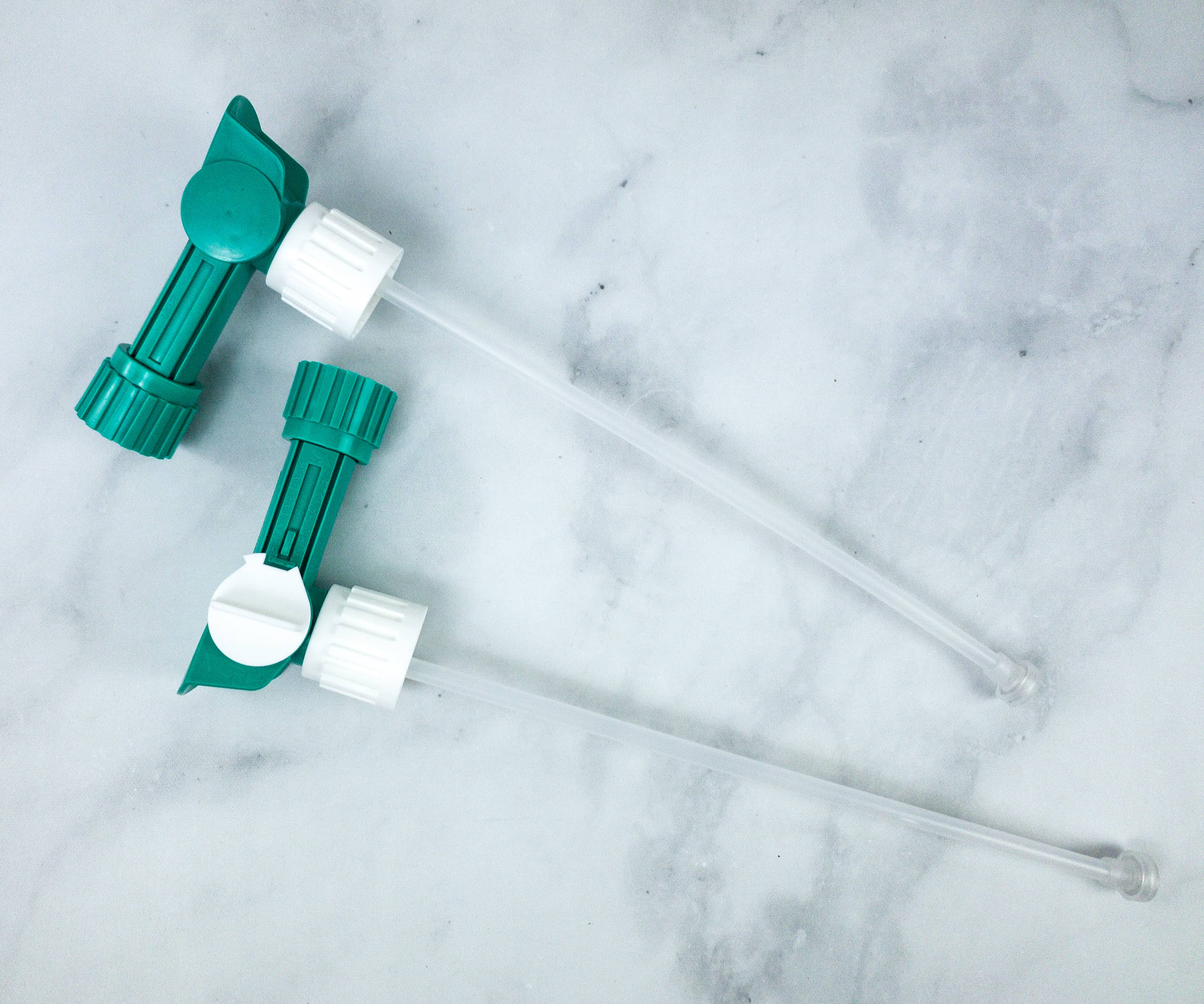 Starter Tools Kit 2 Sprayers. We also got a pair of exclusive portable sprayers from Sunday!
NOTE: Save these from your first application for future ones!
It's a well-designed sprayer made from high-quality plastic material that features an on/off switch and pressure adjuster on the spray head.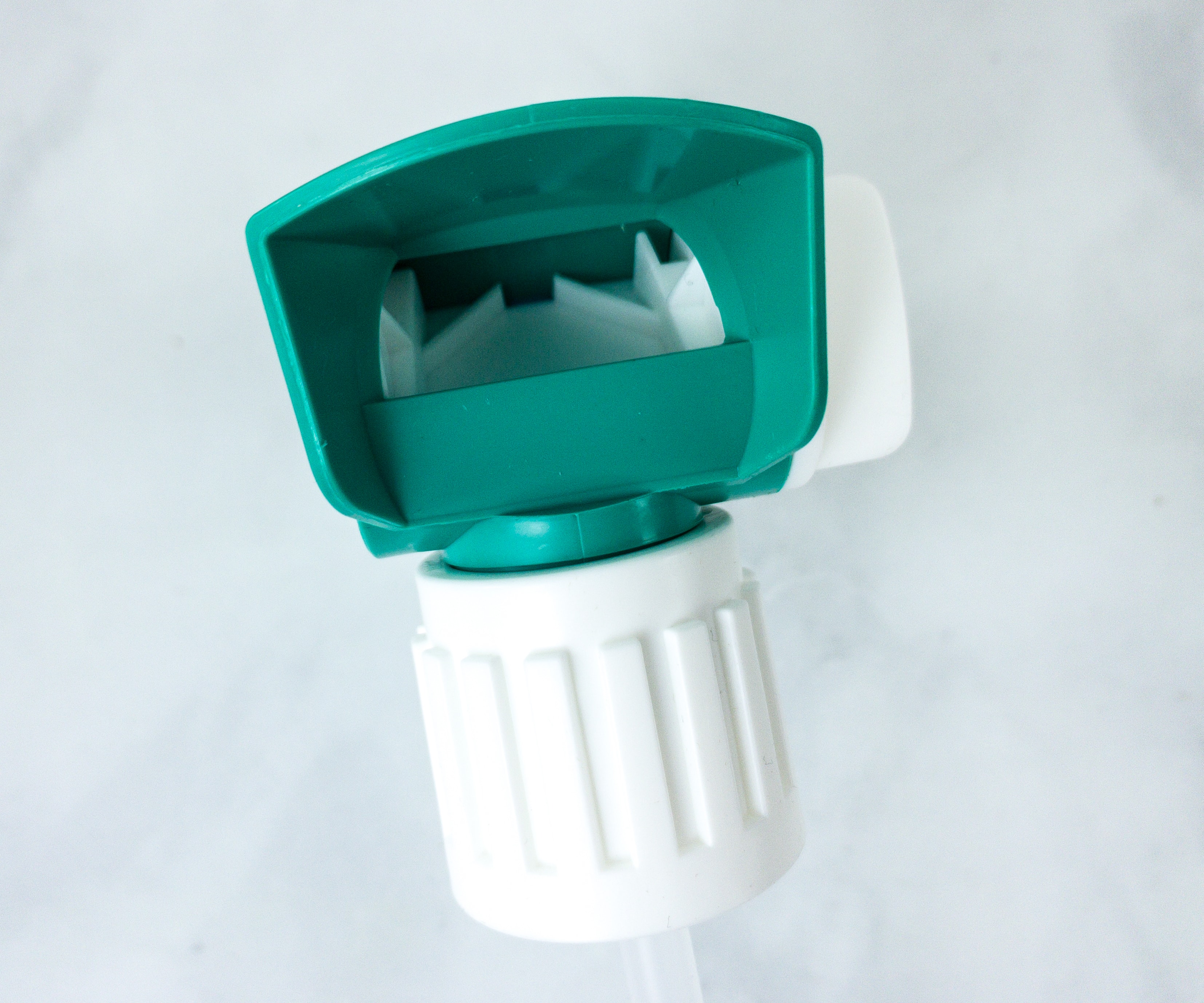 The head features a huge wide opening and unique sprinkler design inside.
It's so easy to use, simply connect the back part of the sprayer to your water hose and attach it to your bag of Iron Booster mixture.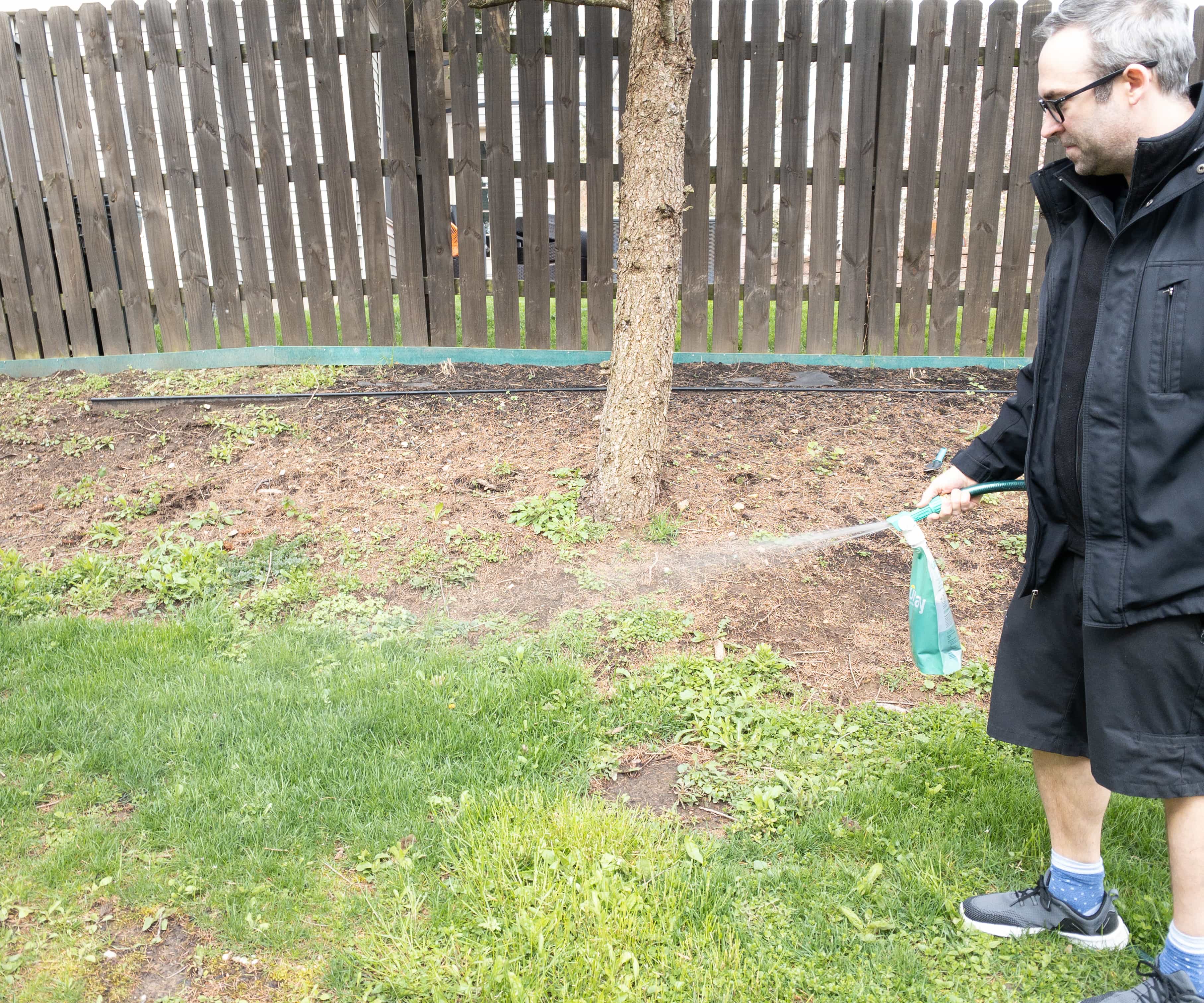 Open the hose and simply spray it all over your lawn area.
This sprayer's unique design lets you automatically blend the iron booster to the water.
The liquid sprays equally!
Here's how our lawn looks a few minutes after we sprayed it with the iron booster mix. Our lawn is OK, but we haven't really paid too much attention to it.
Soil Test Kit. This is the kit for collecting soil samples! This will help Sunday to further analyze your soil conditions and give you better recommendations. After collecting the sample soil from your lawn, all you have to do is to send it back to Sunday using the provided box and return label.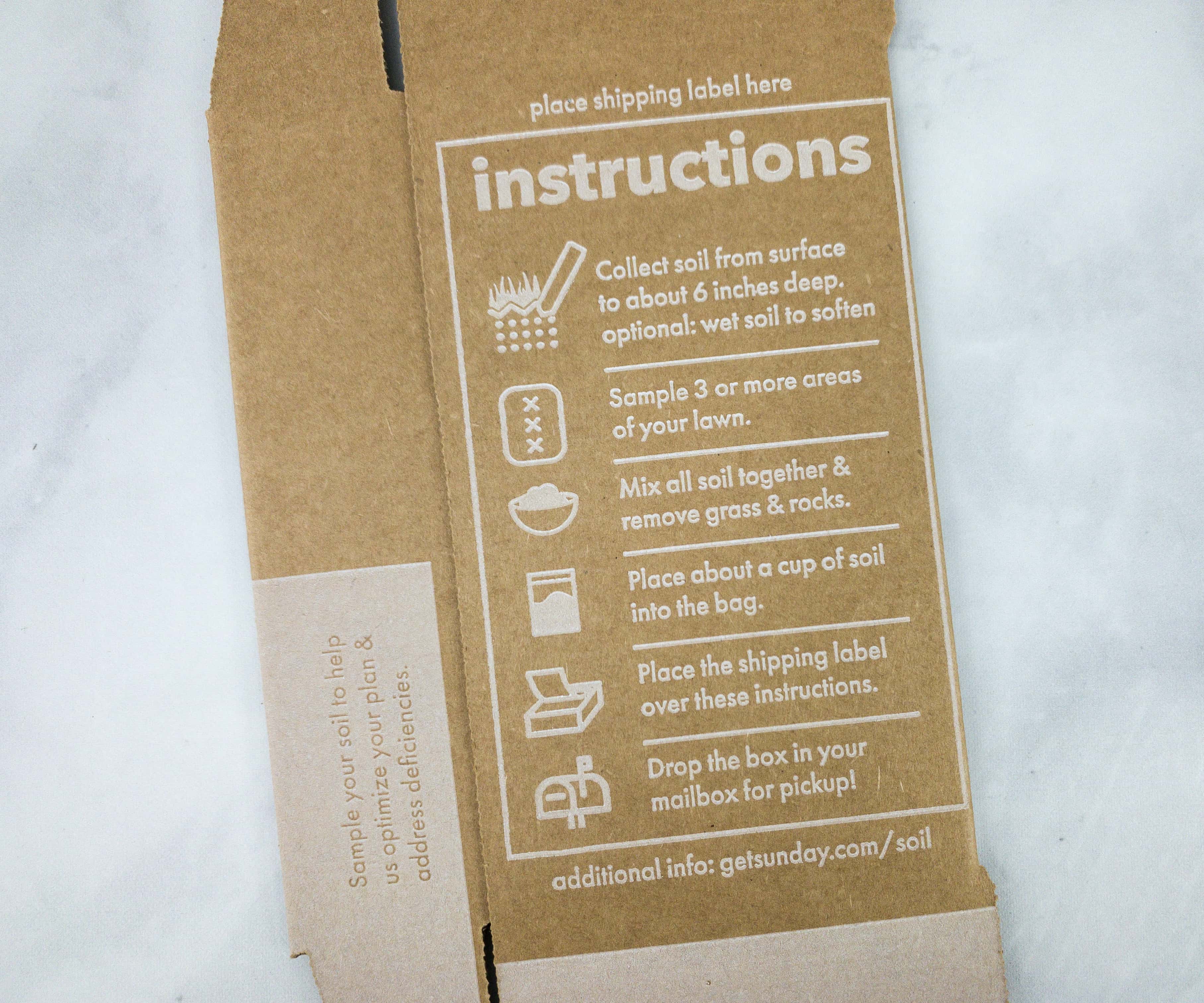 The back of the box features a detailed instruction on how to return the sample.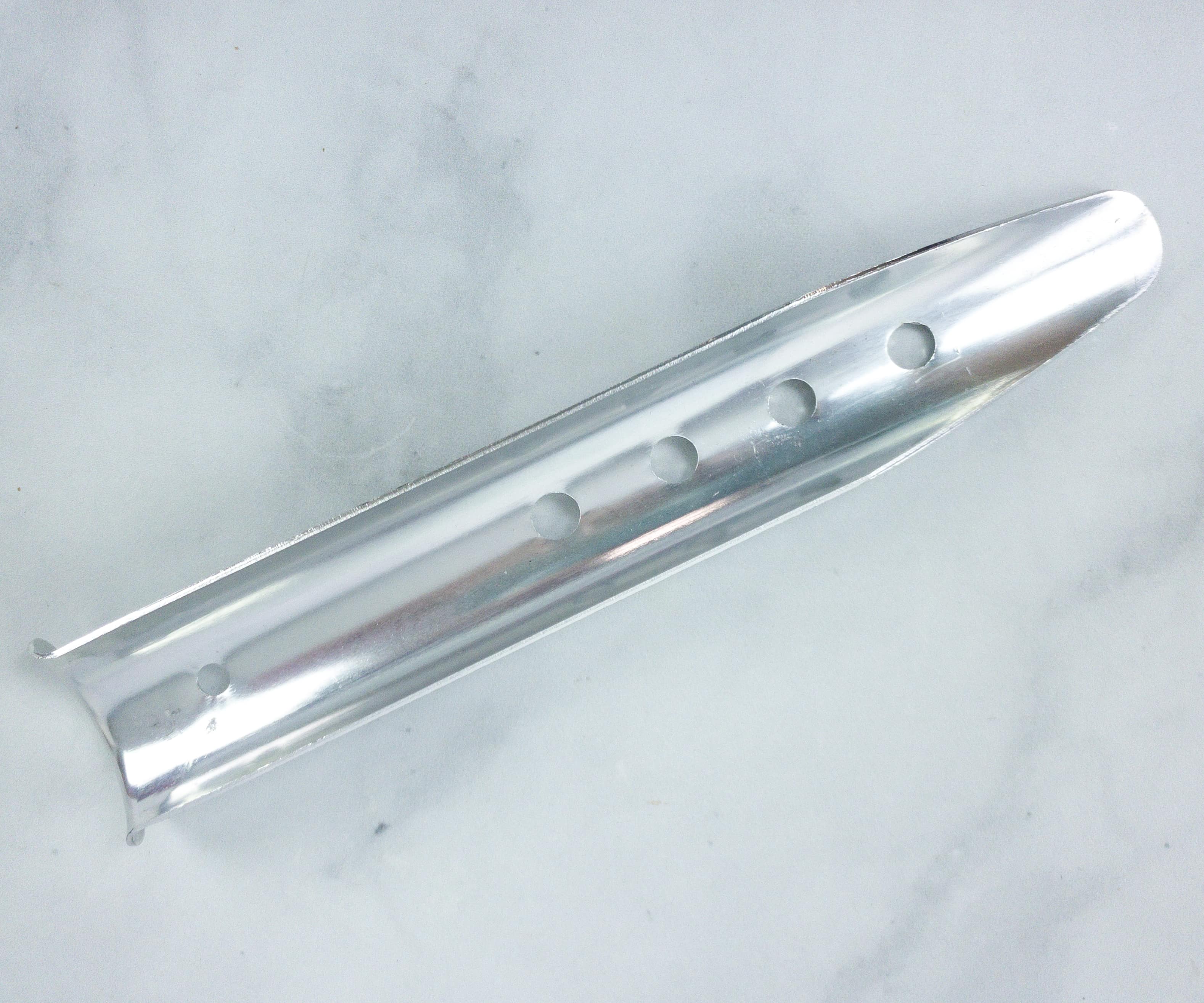 Included in the soil test kit is a 10″ long stainless steel trowel. This tool is lightweight and handy, it makes digging soil easier. First, I located 3 places in our lawn.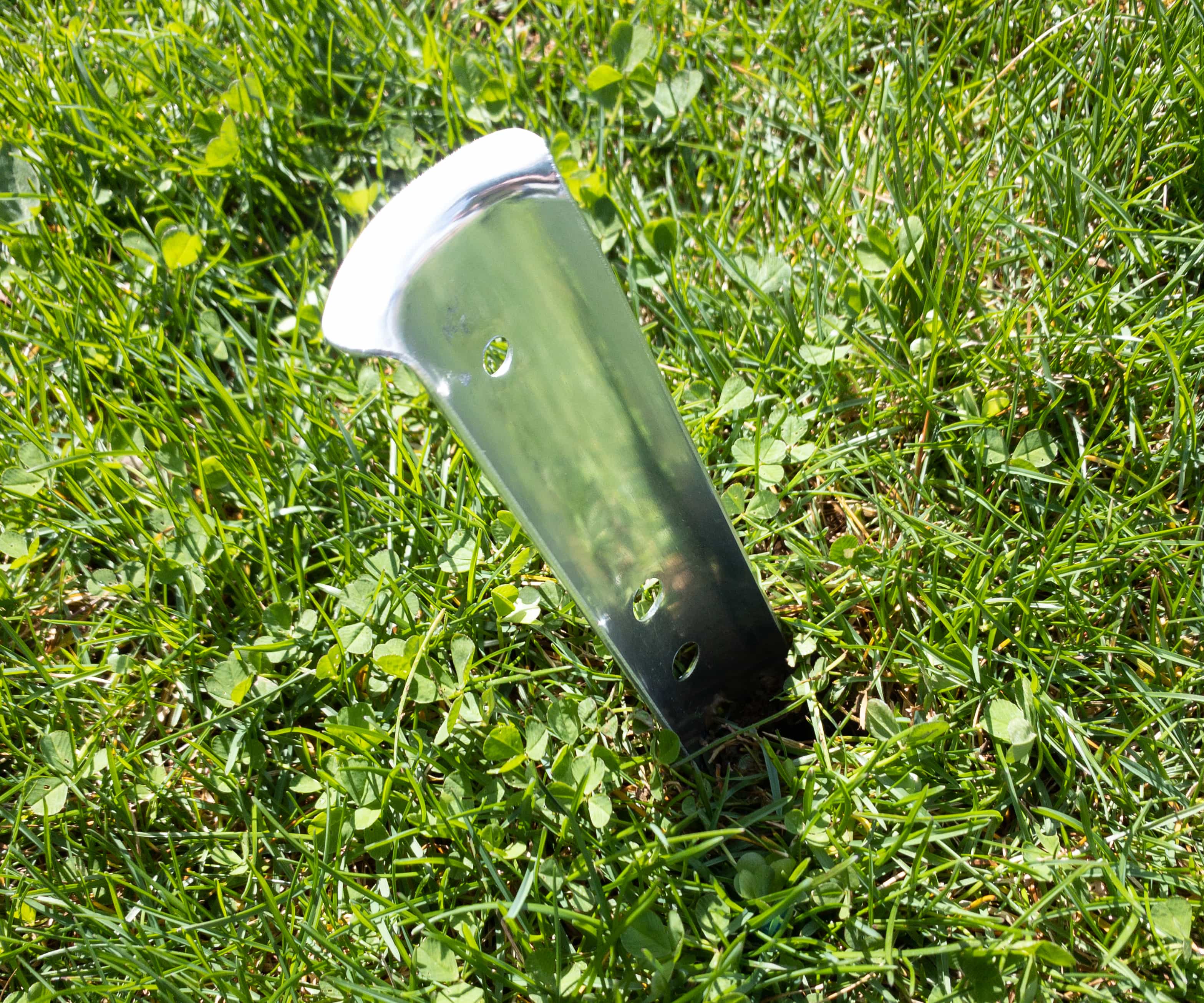 When I found the perfect area, I poked the tube trowel to the soil, twisted, and removed!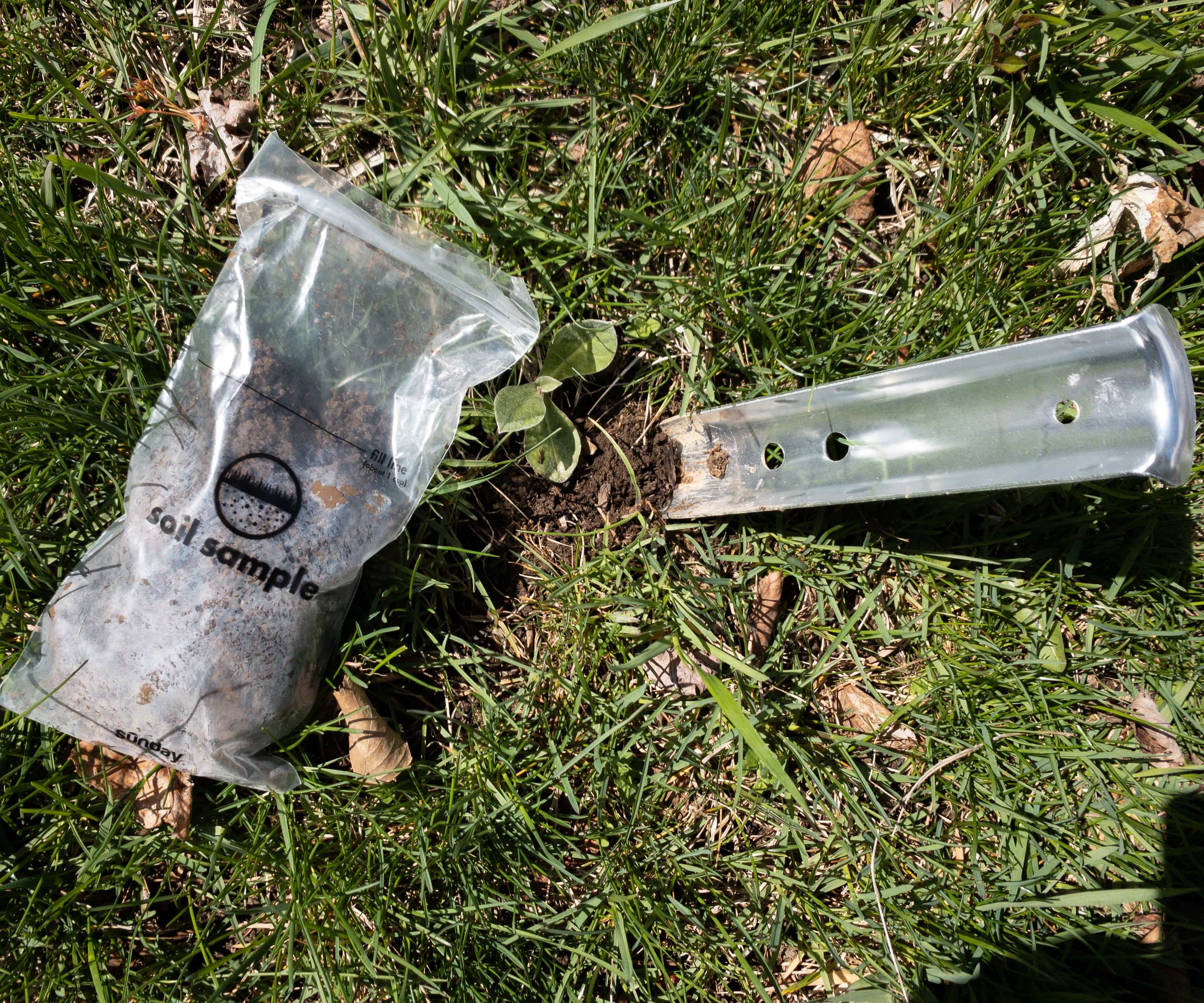 Then, I filled the resealable plastic bag with the soil I dug up!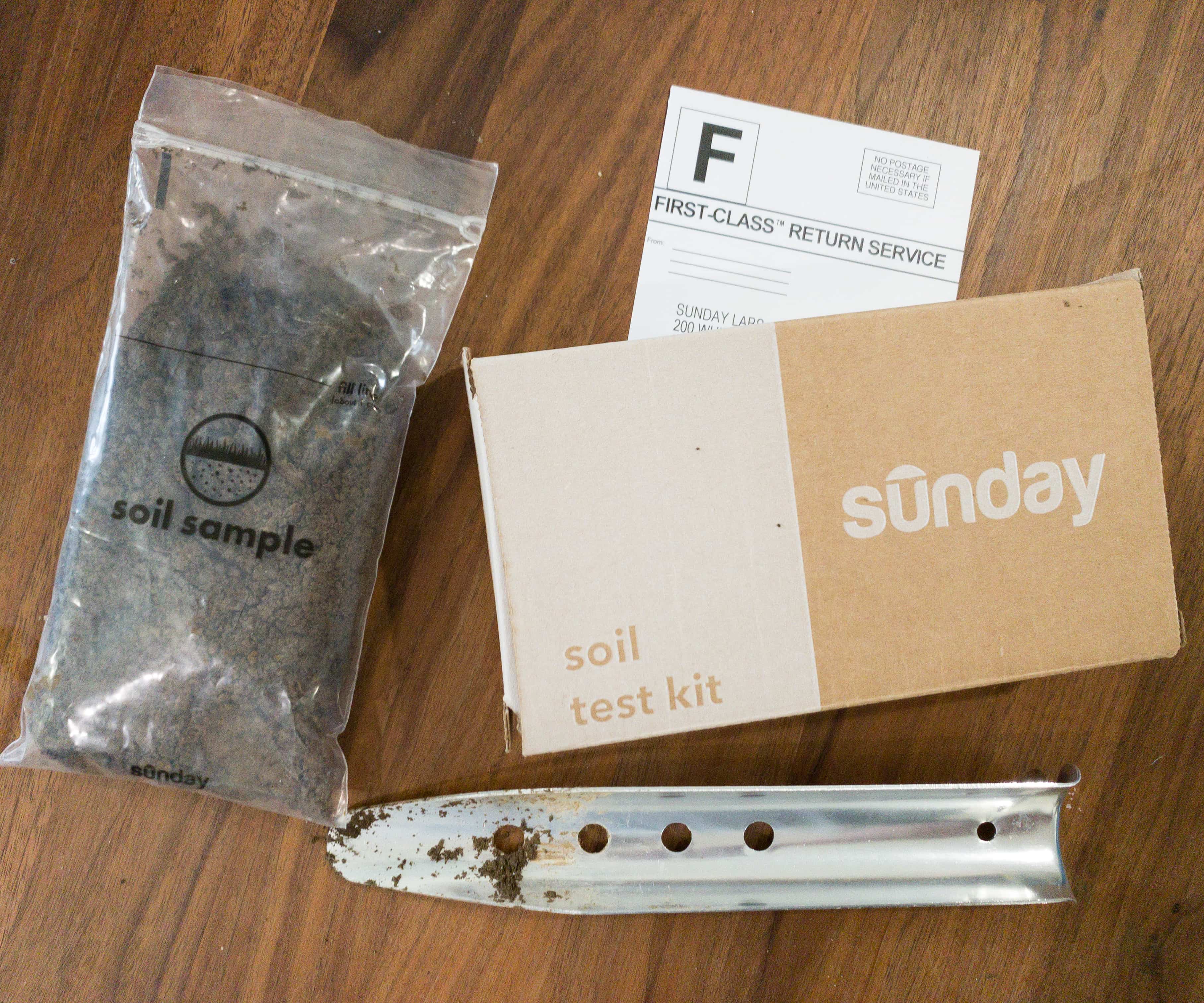 Now, it's time to put the bag of soil inside the shipping box and place the label on.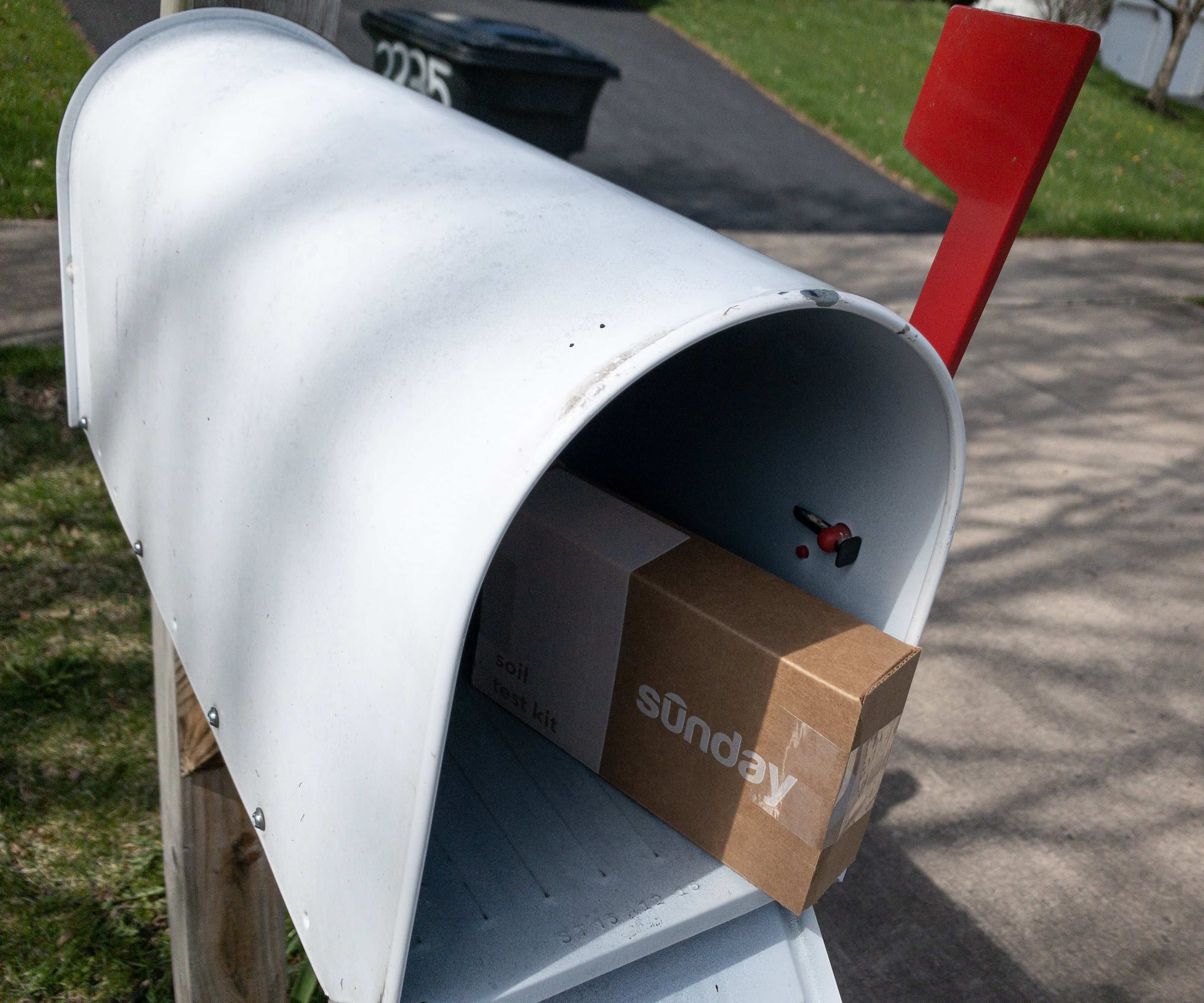 Our soil test kit is ready for pickup!
They send the comprehensive soil test result via email. Here's ours! The first part is pretty similar to the online assessment, as it has data on regional soil profile, growth potential, temperature, and rainfall.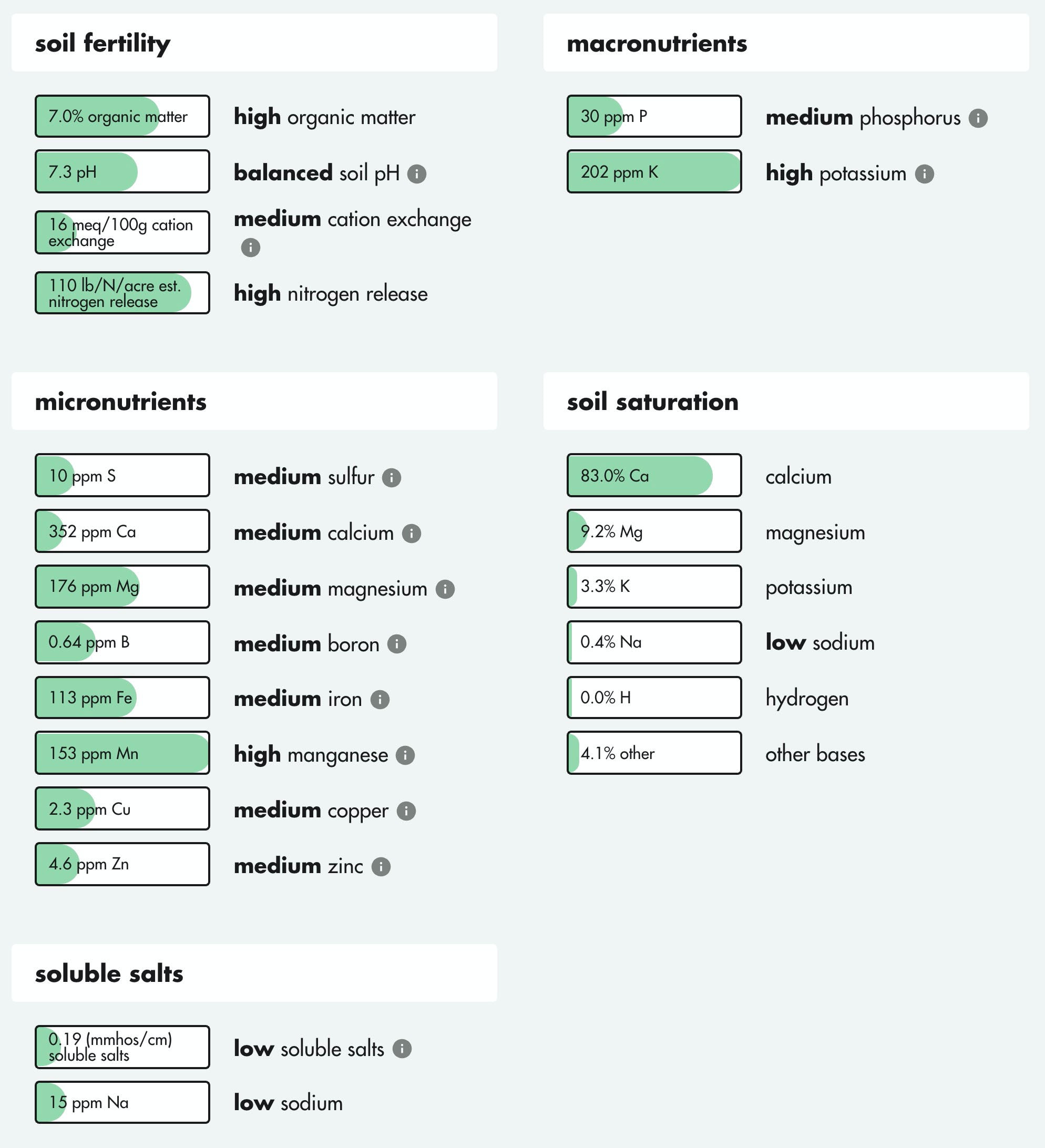 Apparently, the soil in our lawn has high levels of organic matter, potassium, and manganese. It also has a high amount of nitrogen release.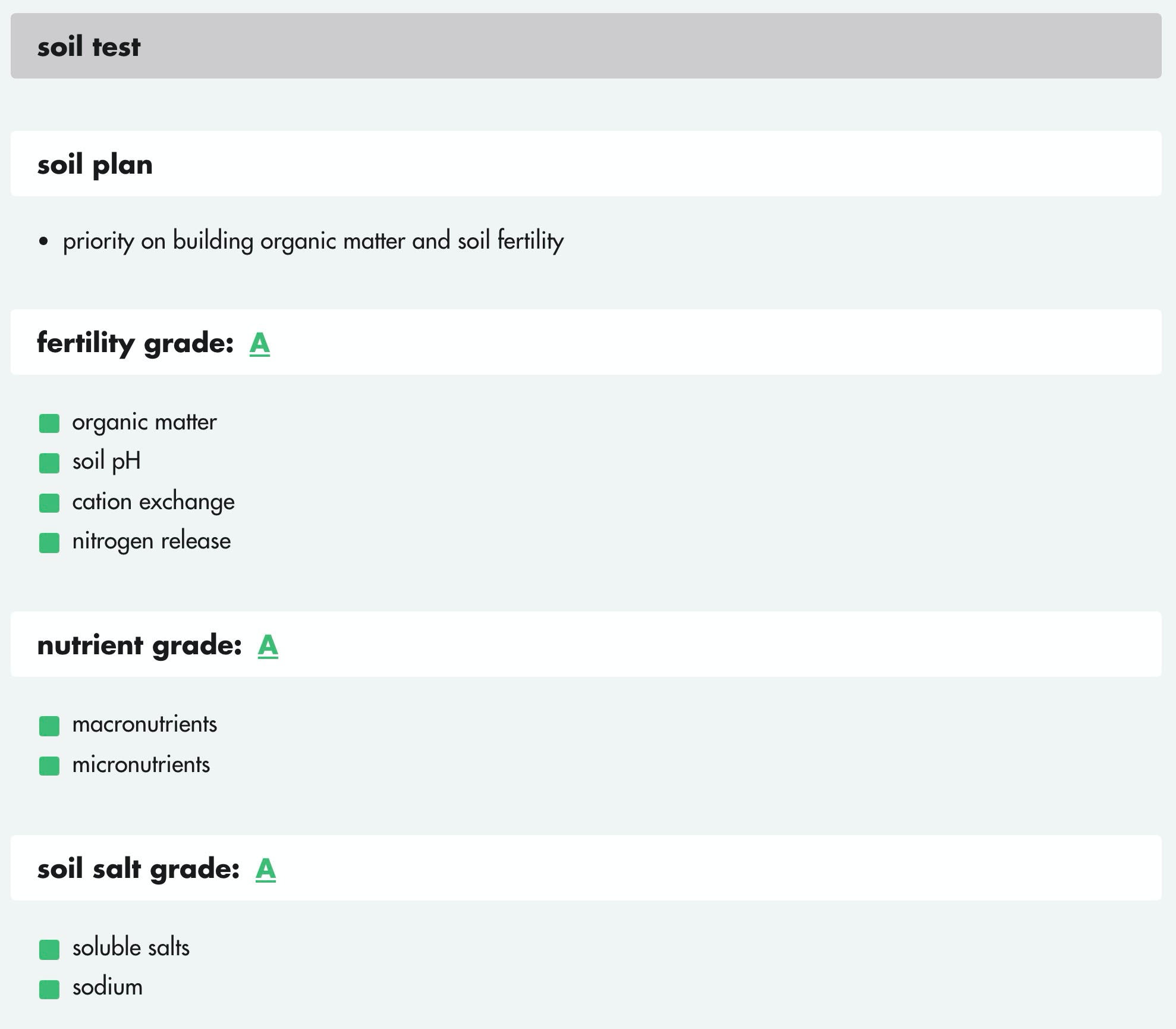 Because of the results of our soil test, they customized our plan to prioritize building organic matter and soil fertility.
We're happy that such a lawn care subscription exists, and a customized one at that! It's totally amazing because you can have your soil tested through sending samples in the mail, so you don't have to figure which products you should use because they already do that for you. Their products are backed by science, and there are also no harmful ingredients in it. Everything in our starter kit is easy to use and so far I've had no problems using them on our lawn. We've seen progress already! Caring for the lawn is definitely made fun and more exciting by this subscription, and it's so much easier than trying to figure out what to get at a hardware store – too many choices for people who need something easy and customized.
We will be taking extra pics of our lawn and doing a review of the second and third boxes too. Are you working on your lawn right now too?
What do you think of Sunday's lawn care plan?