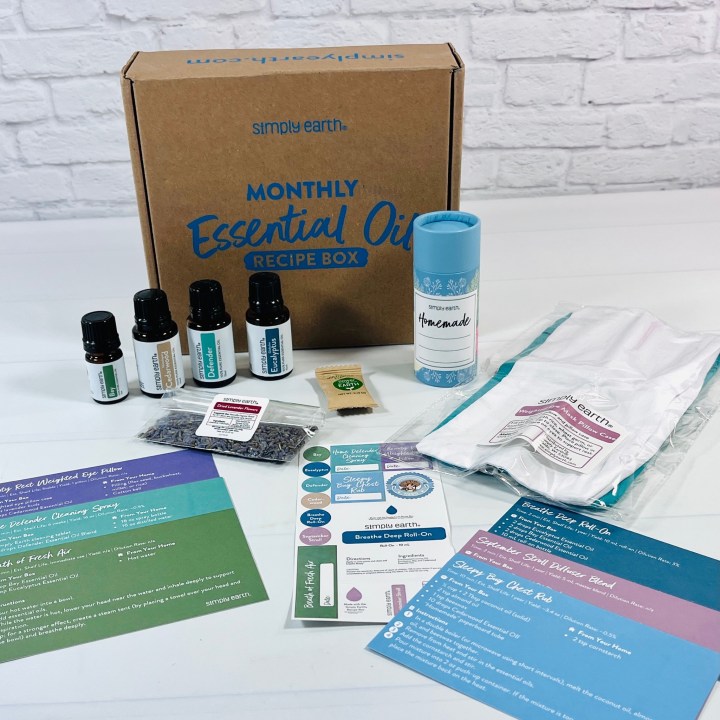 Simply Earth September 2022 essential oil box had recipes and oils that are supposed to help keep the immune system strong (because flu season is coming). They also sent 3 single oils and one blend to add to my collection (which I mainly use for diffusing). See what we got below!
DEALS: Receive a FREE Big Bonus Box with your first box. Deal applies automatically, just use this link to subscribe. Plus, get a $40 gift card you can use for your next box or future purchases!
Bay Essential Oil ($11.99) Bay leaves are something I often put in my spaghetti sauce but here it smells so different than the dried leaf. In fact, for some reason it reminds me of nutmeg with a hint of eucalyptus! It can help promote circulation, help with digestion, and support the immune system.
Himalayan Cedarwood Essential Oil ($7.99) This oil smells somewhat woody, which is to be expected. It may repel insects and help you get a good night's sleep.
Defender Essential Oil ($14.99) Defender has the same oils as a popular MLM brand out there. It's supposed to support the immune system and is commonly used to make cleaning sprays. It is a blend of cinnamon leaf, rosemary, lemon, eucalyptus, and clove bud.
Eucalyptus Globulus Essential Oil ($10.99) There are several different eucalyptus plants that we can obtain oils from and this variety is supposed to boost the immune system, help ease breathing problems, and may relax muscles.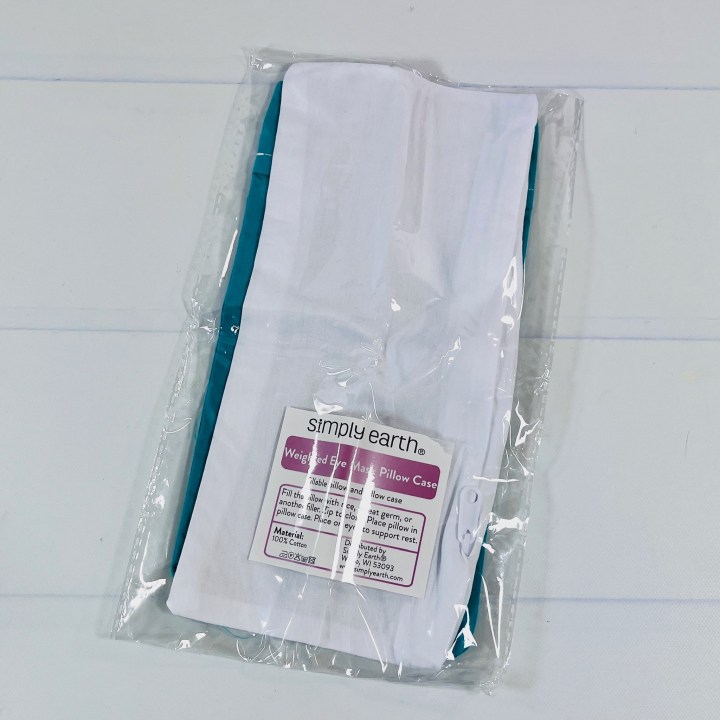 Weighted Eye Mask Pillow Case will be used to make a relaxing eye mask. It's made of 100% cotton.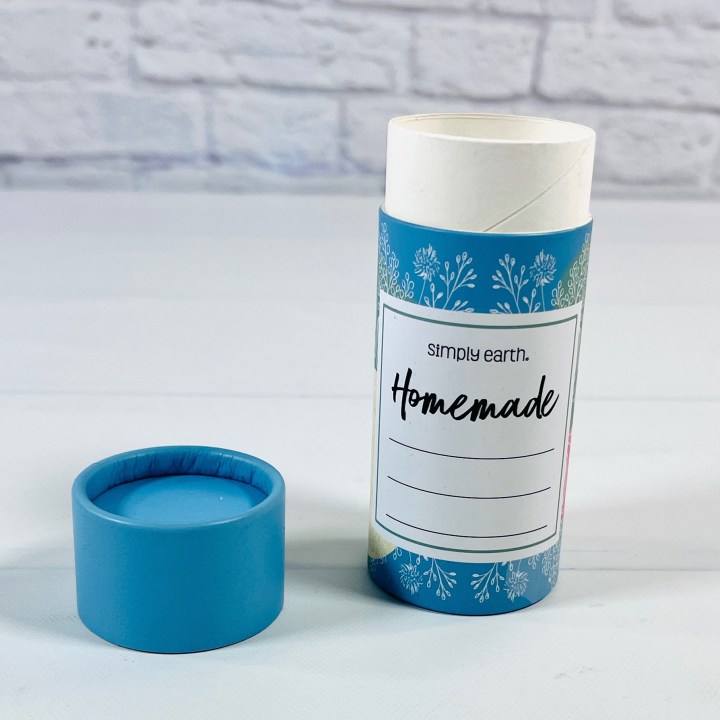 Paperboard Tube ($3.99) This tube is meant to be used for a chest rub from this box, but it could also be used to make a muscle roll-on, body lotion bar, or deodorant.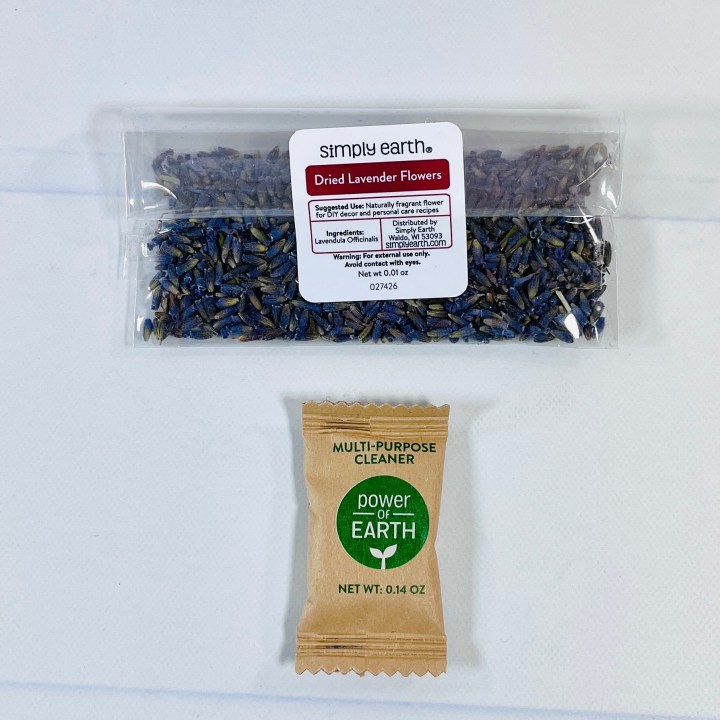 Dried Lavender Flowers ($3.99) These smell like natural lavender and will be used in the eye pillow below. Lavender has a clean scent (the word launder comes from lavender!) and is also known to help one relax.
Multi-Purpose Cleaner ($6.99 for 5 tabs) We received one tab to make our own cleaning spray!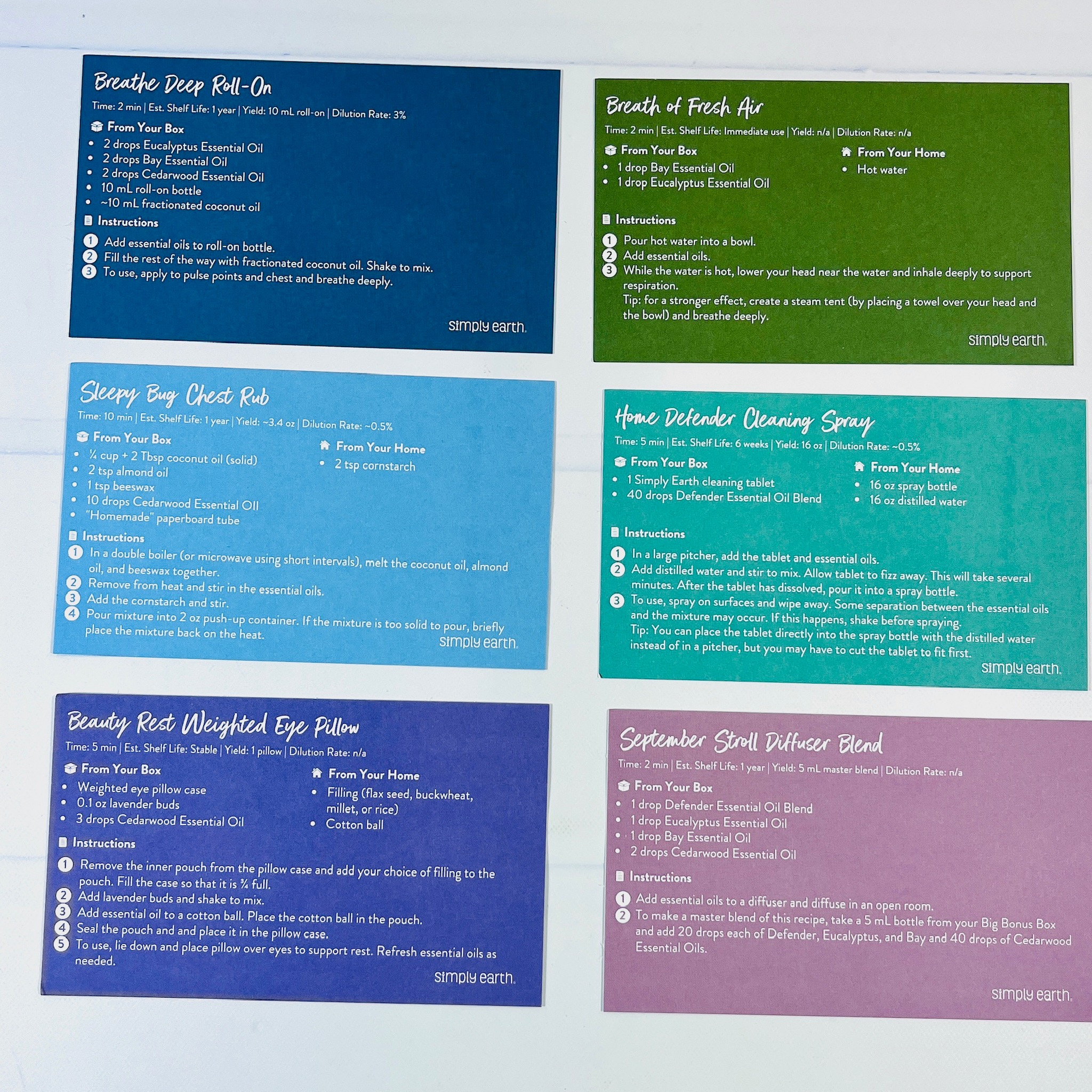 I received six recipe cards. Some of the cards have a continuation of the recipe on the back while others have useful information about the subscription.
Please keep in mind that essential oils should be diluted before using and you may need to do some extra research on what is safe to use or avoid using around young children, infants, those who are pregnant or nursing, or pets. When in doubt, check with your doctor or nurse for advice.
Below are a few of the projects I completed with this month's recipe box and supplies!
I placed drops in my diffuser according to the recipe card, topped it with water, and then turned it on. It was super easy and it made my house have an uplifting scent thanks to the Vick's-like aroma from the eucalyptus and bay. It's a clean scent so I like it!
Here's my Home Defender Cleaning Spray! I needed a spray bottle and distilled water from my own supplies. The instructions say to mix this up in a bowl and then pour into the container but I broke up the cleaning tablet into pieces and dropped them into the bottle, followed by 40 drops of the Defender essential oil blend. Next I poured in 16 ounces of distilled water and it got to work, fizzing until it was all dissolved. I gave it a good shake and then used it to wipe my counters and it smelled really good and was easy to wipe off and didn't smell like harsh chemicals.
Here's the eye pillow. It called for an item like rice or millet, but I had some brown rice that I used to fill up the white inner sleeve. I poured the lavender inside and then zipped it up to mix the ingredients. I opened it back up to place the cotton ball, which I'd dabbed with cedarwood oil, on top of the rice and lavender. I zipped it again and then placed it inside the teal cover and now I have a weighted eye pillow. I didn't see anything that said the pillow could be heated in the microwave so I'm not sure of the use, I guess it's a combo of pressure and aromatherapy?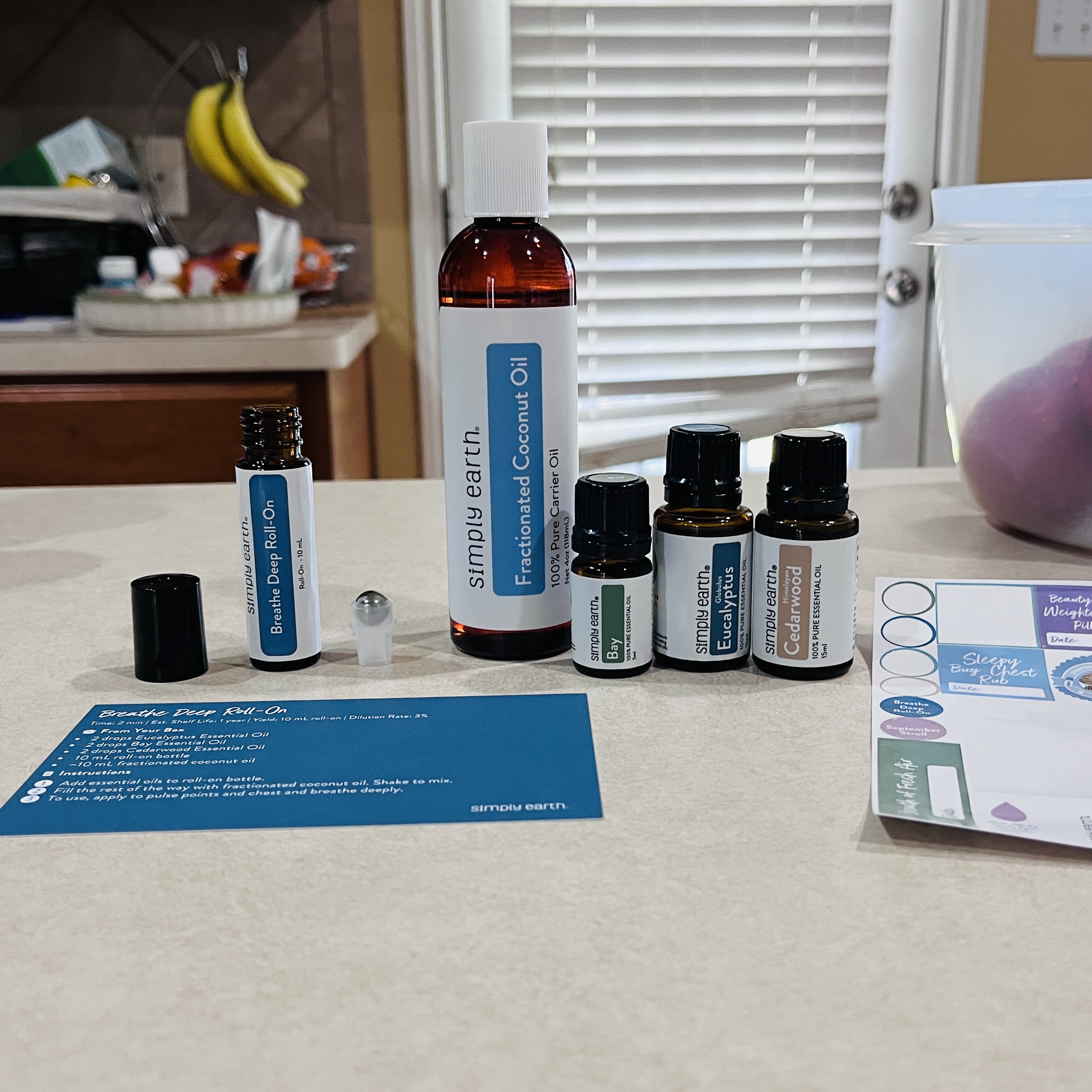 Finally, I made the Breathe Deep Roll-On. I added the required amount of drops to a rollerball bottle and topped it with fractionated coconut oil (both of those items came in my Big Bonus Box). I usually put the label on first in case I spill the oil, this way it's on there pretty good. Make sure to push down on the rollerball, there shouldn't be a gap or it may spill or leak. This was an especially nice scent!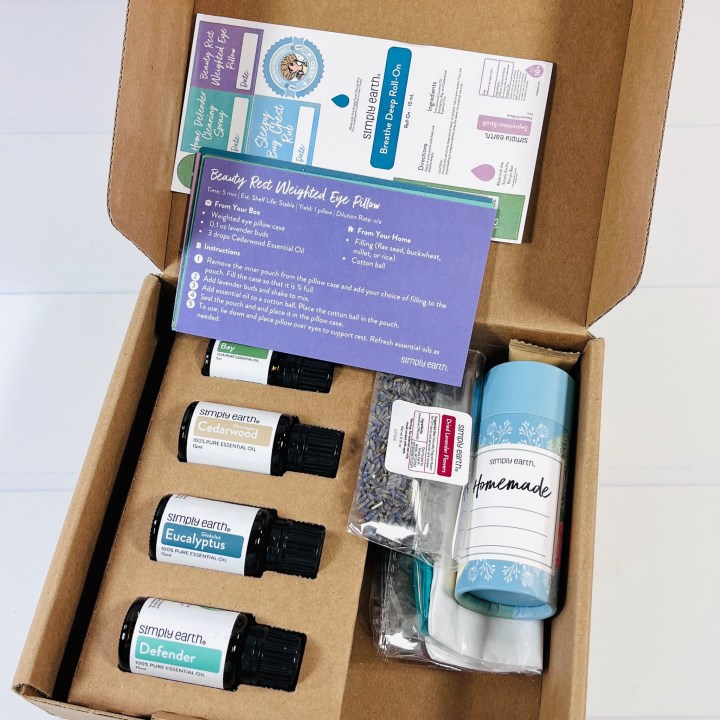 I love how easy it is to make the recipes in my monthly box from Simply Earth. Sometimes I need a few things from home (like distilled water or a spray bottle for a project) but I usually have whatever's needed on hand. I also enjoy diffusing the oils, and I mix and match them throughout the month using oils I've received in previous boxes. I've been putting the spray cleaner to work and I approve of how good it smells and it seems to clean really well. The roll-on was another particular favorite of mine, it smells uplifting and warm.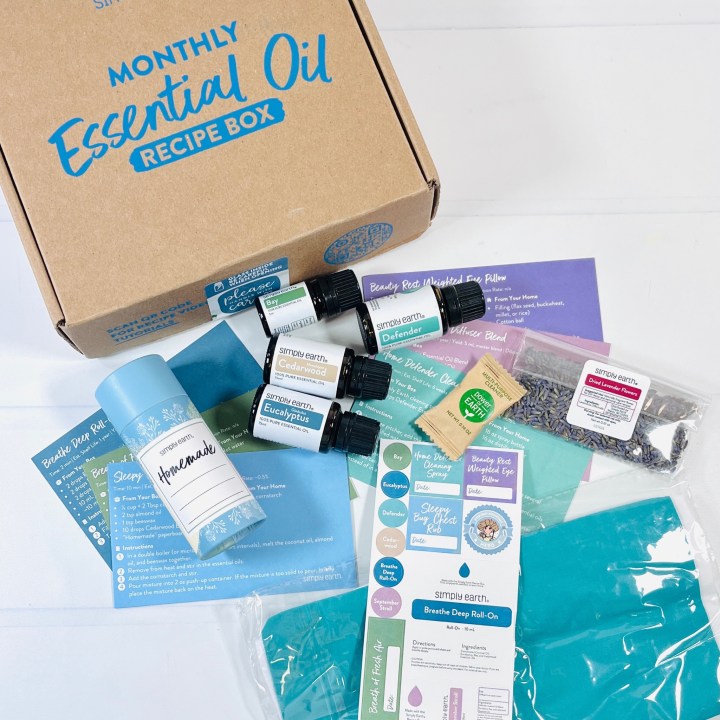 Simply Earth is a monthly subscription that sends high-quality essential oils along with recipes and ingredients to make natural beauty and home products! Each box comes with 4 essential oils, containers, extra ingredients to make the recipes, and 5 – 7 recipes on recipe cards. When you sign up (and every 6 months thereafter) you will receive a free Big Bonus Box full of extra containers and ingredients needed for the recipes, such as carrier oils and bottles. Simply Earth is $39 a month. They feel strongly about giving back and donate 13% of all profits to help end human trafficking.
Simply Earth's essential oil subscription made the list in our 2022 readers' choice best green & eco-friendly subscription list!
What do you think of the Simply Earth box?