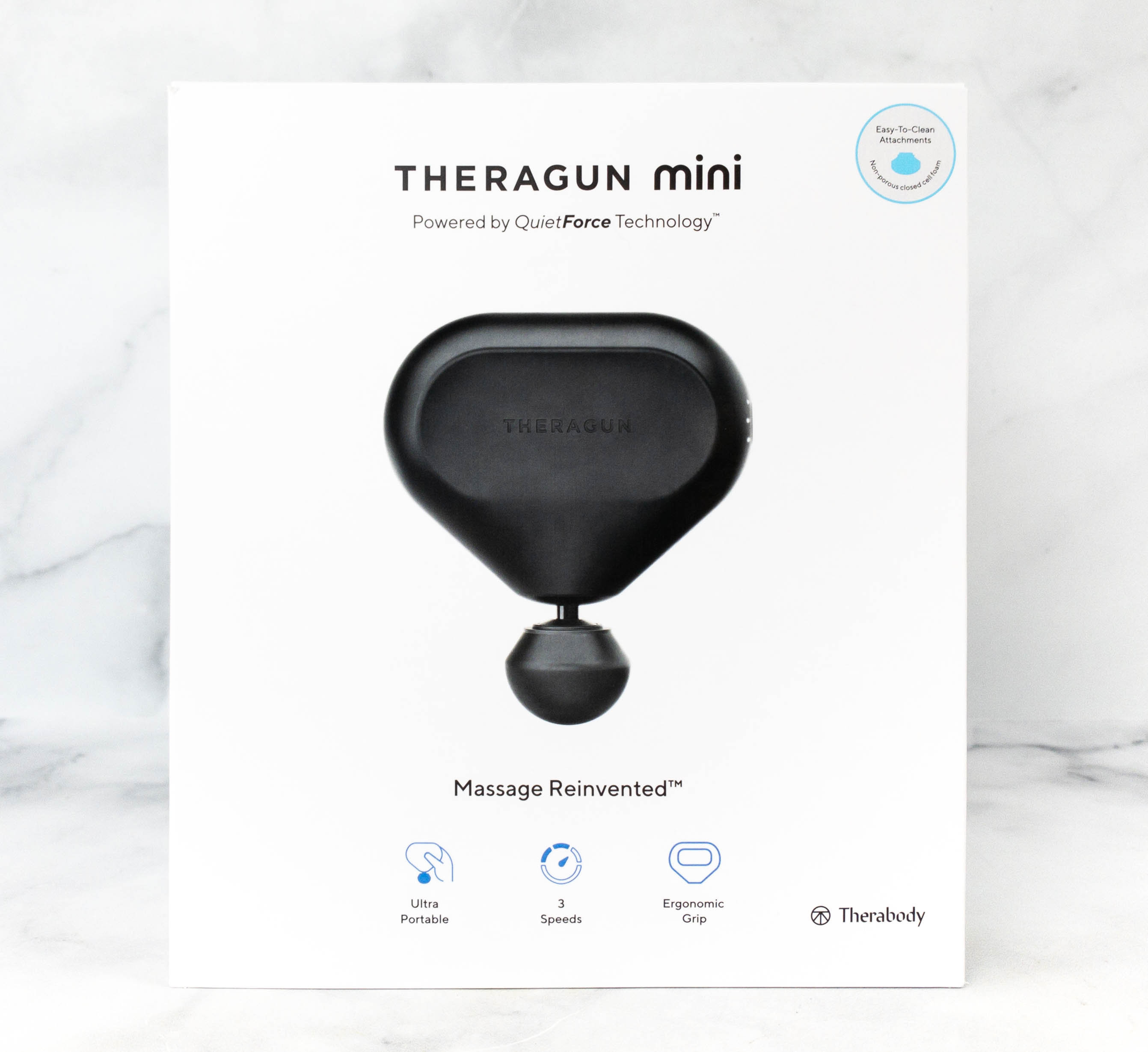 Here's everything you need to know about this massage gun device
Theragun Mini by Therabody Review
With all the hard work we have to deal with day in and day out, a deep massage can melt away cramps, tension, and stress. While it's good to have experts that can do the job instantly, we might find comfort in doing it at home after a long day. Fortunately, you don't need at-home services or a massage spa to relieve muscle tension.
Therabody, a brand focused on wellness solutions, offers Theragun. It's a percussive therapy device you can take anywhere and use at anytime! They've combined education, innovation, and a decade of pioneering within the wellness technology world to make wellness more accessible for everybody.
Founder Dr. Jason Wersland used his traumatic motorcycle incident as a stepping stone in discovering a tool that provides a solution to his debilitating pain, thus, the Theragun was born. Since the device is big and bulky to carry, they've come up with the Theragun Mini for easier portability!
A small device, with big performance – that's what it is! Continue reading to learn more about this percussive device.
If you've scrolled down your feed and seen Peloton's Cody Rigsby using Theragun and wondered if it's worth it, then keep reading! If you own one, we'd love it if you shared your personal experience in the comments.
Guide to our Theragun Review
Theragun Mini Benefits & Drawbacks
But before anything else, here's a list of advantages and disadvantages of Theragun Mini:
Theragun Mini Benefits
Extremely portable and compact
Unique ergonomic design
Although small, it gives a powerful massage
Easy to operate
Three-speed settings
Payment plans available
60-day full refund policy
Free shipping on all orders
Theragun Mini Drawbacks
It is expensive
Can't swap out batteries
Theragun Review
Summary
With Theragun Mini by Therabody, you can have a good massage whenever, wherever! It targets deep muscles to dissipate tension, soreness, and stress within seconds. It has three calibrated speeds, so you can choose between 1750, 2100, and 2400 percussions per minute, and a QuietForce Technology for a near silent operation. This percussive therapy device is ergonomically-designed, portable, and compact, making it easy to slide into your bags everywhere you go!
My Theragun Mini Review
Theragun by Therabody is a smart device for percussive massage therapy, which helps relieve pain and treat muscle soreness. This is the review of the Theragun Mini. It's designed to be an on-the-go percussion massager, and it's shockingly powerful.
We received this gun as a bonus item when we purchased our Tonal. Tonal has some guided sessions on the device you can use before or after your workout. You can also use Theragun with the Therabody app, which connects to Apple Health and Google Fit. It suggests guided routines depending on your activities. Theragun is said to help accelerate muscle recovery, repair, and stiffness, activate the nervous system and muscles, and provide stress relief and myofascial release.
There are different kinds of Theragun massage guns: PRO with 6 attachments ($599), Elite with 5 attachments ($399), and Prime with 4 attachments ($299). There's also the Theragun Mini ($199), the portable version.
Cheapest Therabody Theragun device
Wickedly strong, we can't imagine the average person needing more
Great step-up from a generic device – it's powerful and easy to hold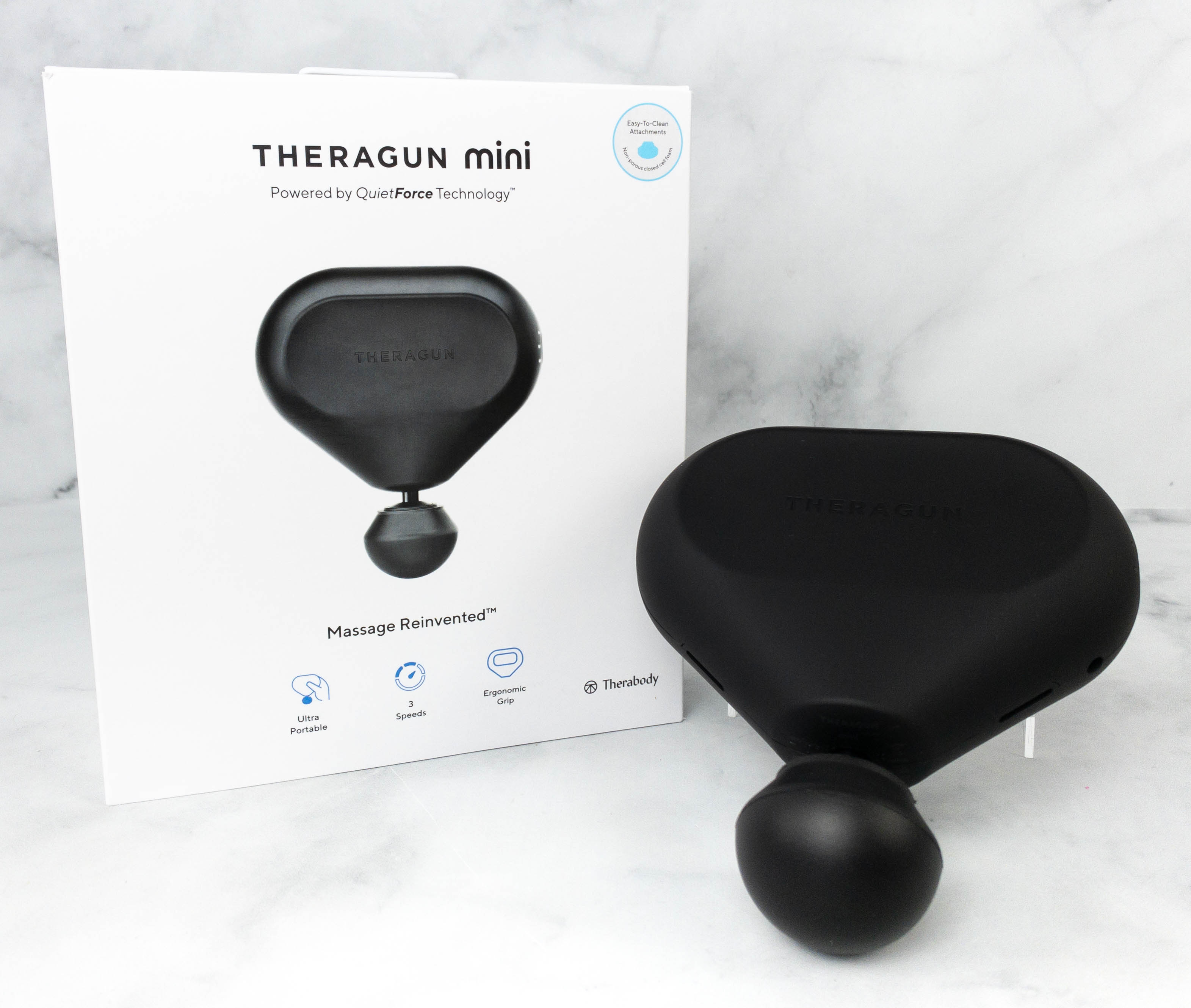 Portable Massager Theragun Mini ($199). Theragun Mini is a compact yet powerful muscle treatment. It uses a QX35 Motor with QuietForce Technology for a more relaxing, quiet massage. Using its 3-speed settings, it can provide an intense, super intense, or only be used under physician supervision intense. This thing is insanely powerful, and I cannot imagine wanting to get a harder, more powerful massage gun. It's not super loud – you can hear it, of course – but it's a quiet experience except for the vibrations going up to your brain.
Here's a list of everything that's included in the box: Theragun Mini, soft case, standard ball attachment, and power adapter. Mine is black, but it's also available in white, red, and desert rose.
Aside from being compact, the shape of the device provides a fairly good grip, making it a very agile and efficient massager for on the go. There's a little button to turn it on and off and to change intensities. Nobody in my household will use anything but the lowest intensity, which is very strong. It's difficult to reach knotty areas of the back, so you may need a partner to reach those.
The Theragun Mini features a simple but stylish design. It also has a non-porous foam attachment that's easy to clean and sanitize. We all wonder how a softer massage head might do with this – it might take some of the intensity away from it. Many of the Theragun promotional images show the SuperSoft attachment on the mini. This is something we need to try because we think it will make Theragun Mini a more versatile device.
To use, simply turn on the device by holding the power/speed button for 2 seconds. Then, float the Theragun on your desired area. You can apply light to moderate pressure when needed. If you want to toggle between 3 speeds, you just press the power/speed button again.
It also comes with a pouch that can be used as a storage or carrying bag when traveling.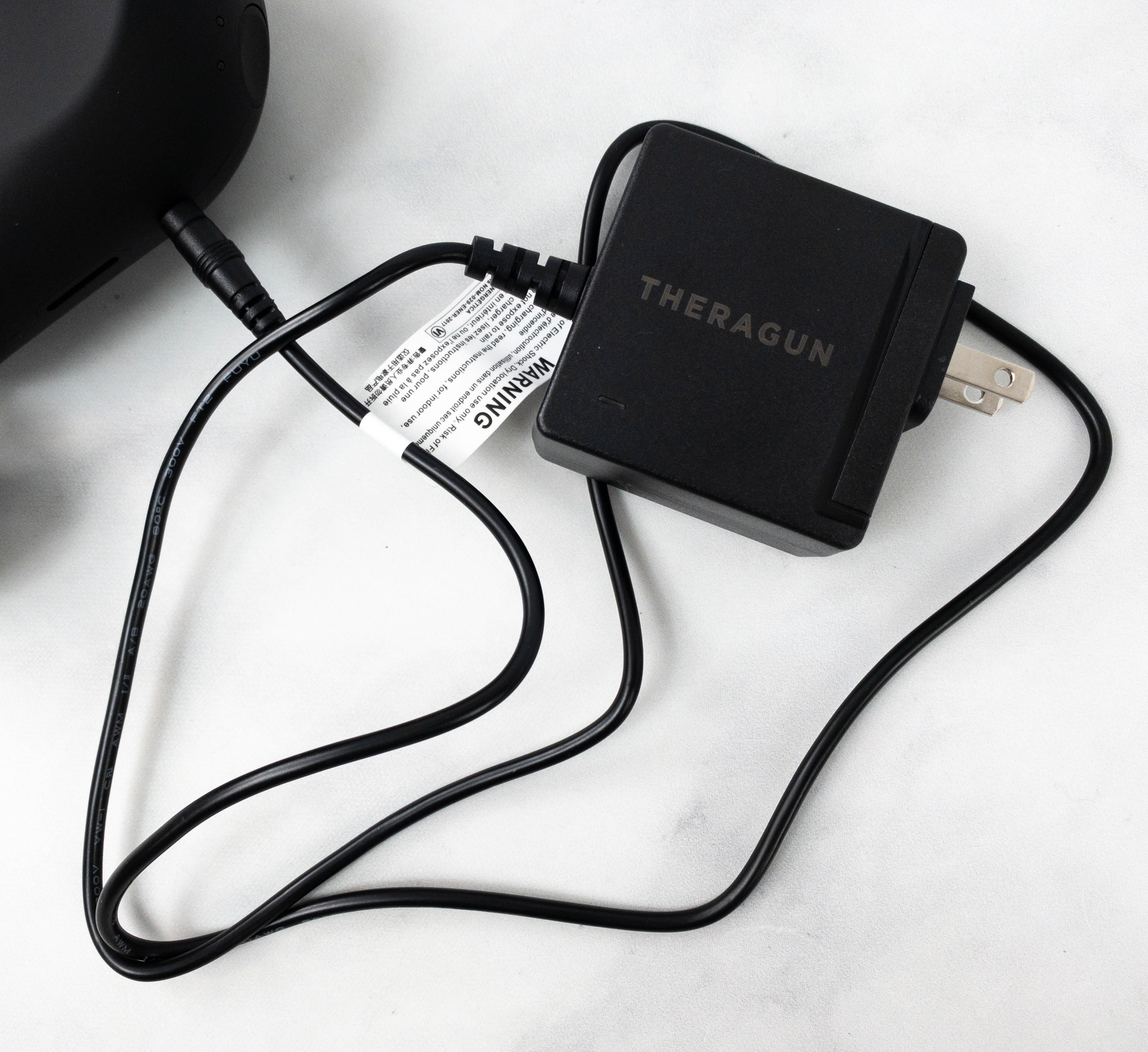 Each full charge can provide as much as 150 minutes of relief and can be recharged by using the adapter that also comes with the kit. The power button blinks red when charging and stays green when fully charged.
Is The Theragun Mini Worth It?
Theragun, Therabody's signature product, is a useful device that can be used by anyone who needs muscle pain relief. This mini version is great for people who are always on the go or simply for those who don't want a device that takes up too much space. It's absolutely great to grab for your neck or back when you've been sitting for too long and your muscles need a bit of release. What it's really perfect for is muscle recovery post-workout or loosening up beforehand. Theragun Mini is compact and stylish, and easy to use. I was amazed by how powerful it is considering the size. It's also nice that there's a Therabody app that offers quick and personalized routines that I can do with my Theragun, although we think it's really an introductory benefit for novice users and not something you might use over time.
What the Theragun isn't designed for is a relaxing massage-type experience. Theragun will be digging into your muscles, over and over, at 1750, 2100, or 2400 percussions per minute. If you think about this versus an in-person massage, you can understand how fast and effective it can be – and how intense it is. No pain, no gain – it really helps with muscle recovery, which is nice for weekend warriors.
Theragun is available on Therabody, along with the other, larger devices. You can get a stand for your mini or even a colored skin for it to provide a bit more grip. We recommend it for people looking for muscle therapy – not massage – and if you're prepared for the intensity of this device! It may be too strong for the average person and not enough for athletes and trainers, who will definitely want to advance up to the Elite or the Pro for extra, maximum downward pressure. You can pick up the Theragun at Amazon, too.
All About Theragun
Do you experience muscle tension, soreness, or stress? Then you need a deep muscle massage, and Theragun is a wellness solution! This therapy device aids in recovery and increases blood circulation, allowing more oxygen to reach the muscles, and stimulates nerves. No more spa visits when you can do it yourself in the convenience of your own home!
How does Theragun work?
Getting your own Theragun is as easy as 1, 2, 3. No complicated sign-up process! Simply choose Theragun Mini on their shop listings, choose a color, include add-ons (if you want), and add it to your cart. Type in your payment and shipping information, and you're done! That's how easy it is to own a Theragun!
The colors available are white, black, red, and desert rose. Upon purchasing a Theragun, you are entitled to a 60-day, risk-free trial to see if it works for you. Should you decide to return it, it should be returned in its original packaging and complete with all the accessories within the time frame, for a full refund of the product via your original form of payment. The product is also tied to a 1-year, limited warranty to have the device or a part of the device be repaired or replaced when damaged, as long as it applies to the warranty terms and conditions.
If you wish to cancel your order or make changes to it, you can contact their customer experience team to acknowledge and process your request.
How much does the Theragun Mini cost?
The Theragun Mini costs $199 per unit + free shipping. You can also choose the 'Buy Now, Pay Over Time' payment plan through Affirm. They offer 6 week, 6 month, or 12 month payment plan options with 0% APR and zero interest.
For the 6 week payment option, you need to pay $49.75 every two weeks. The 6 month payment option requires a payment of $33.17 every month for six months, while with the 12 month payment option, you only need to pay $16.58 every month for a year.
The accessories for the Theragun Mini start at $19 for the skin. They also offer a Mini Booster Bundle for $329, which comes with the Theragun Mini, Supersoft, dampener, large ball, standard ball, thumb, cone, and wedge attachments. Shipping is always free on all orders!
They offer 20% discounts off regularly priced products (except TheraFace) for military, medical, and first responders. Students and teachers can also save 10% off of products, excluding TheraFace.
Where can I buy the Theragun Mini?
You can purchase a Theragun Mini on Therabody's official website. The site has an easy-to-use interface, and you only need to navigate to their shop to see the available products. Choose the Theragun Mini, select a color, add it to your cart, apply promo codes for discounts, then check out. Provide them with your shipping address and payment information to process the order, and wait for the delivery! That's it!
Where and how does Theragun ship?
Therabody offers domestic and international shipping. They process orders placed within North America, Europe, Australia & New Zealand, and Asia.
North America: the United States & Canada
Europe: the United Kingdom, Germany, Netherlands, France, Spain, Italy, Portugal, Poland, Austria, Belgium, Bosnia & Herzegovina, Croatia, Czech Republic, Denmark, Estonia, Finland, Greece, Hungary, Ireland, Latvia, Liechtenstein, Lithuania, Luxemberg, Macedonia, Norway, Romania, Slovakia, Slovenia, Sweden, and Switzerland
Australia and New Zealand
Asia: China and Japan
In general, orders are processed and shipped within 2-3 business days, and it takes about 4-6 business days for orders to arrive. The brand also delivers to PO boxes and military addresses via USPS. GU, PR, VI, and AS orders are shipped via FedEx International Economy. Shipments to these addresses usually take up to 28 business days. You can track your order via the tracking link included in the confirmation email they send you after you place your order.
How is the Theragun packaged?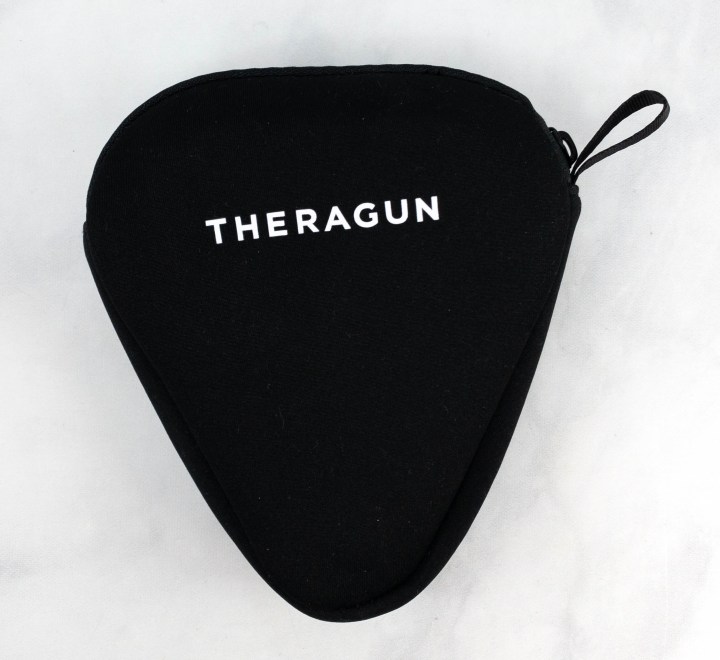 Your percussive therapy device will arrive in its original Theragun box with a pull-out sleeve that includes the information about the brand and the Theragun. The device itself is packed in its pouch and securely tucked inside the box. Under it is where you'll find the manual and the charger.
What other products does Theragun sell?
Aside from the Theragun Mini, Therabody also offers other sizes and variations of the Theragun for daily wellness and recovery. There is Theragun PRO (professional-grade, powerfully quiet), Theragun Elite (ultra quiet, Theragun quality relief for the best value), and Theragun Prime (percussive therapy, simplified).
Therabody, the brand that carries Theragun, offers facial health devices too! It is called TheraFace and only has one variation – the TheraFace PRO (8 facial treatments in 1). Both facial devices are available in the colors white or black. Included also in their product line is RecoveryAir (pneumatic compression systems), Wave Series (vibrating rollers), PowerDot (muscle stimulators), and TheraOne (topicals and ingestibles; available in subscriptions).
Of course, they also offer accessories for every device they sell, including attachments, batteries, chargers and stands, device care, garments, and pads.
Is it possible to gift a Theragun?
Yes! The process is as simple as buying your own Theragun. It makes one of the best gift choices for someone who needs muscle therapy or daily massages. You can shop for individual products or bundles to give the gift of wellness and recovery. Your gift will be delivered in a beautifully presented gift box for an extra fee of $4.99 per item. It also comes with a gift card where you can add your own personal message.
What do you think of our review of the Theragun Mini? Let us know in the comments!