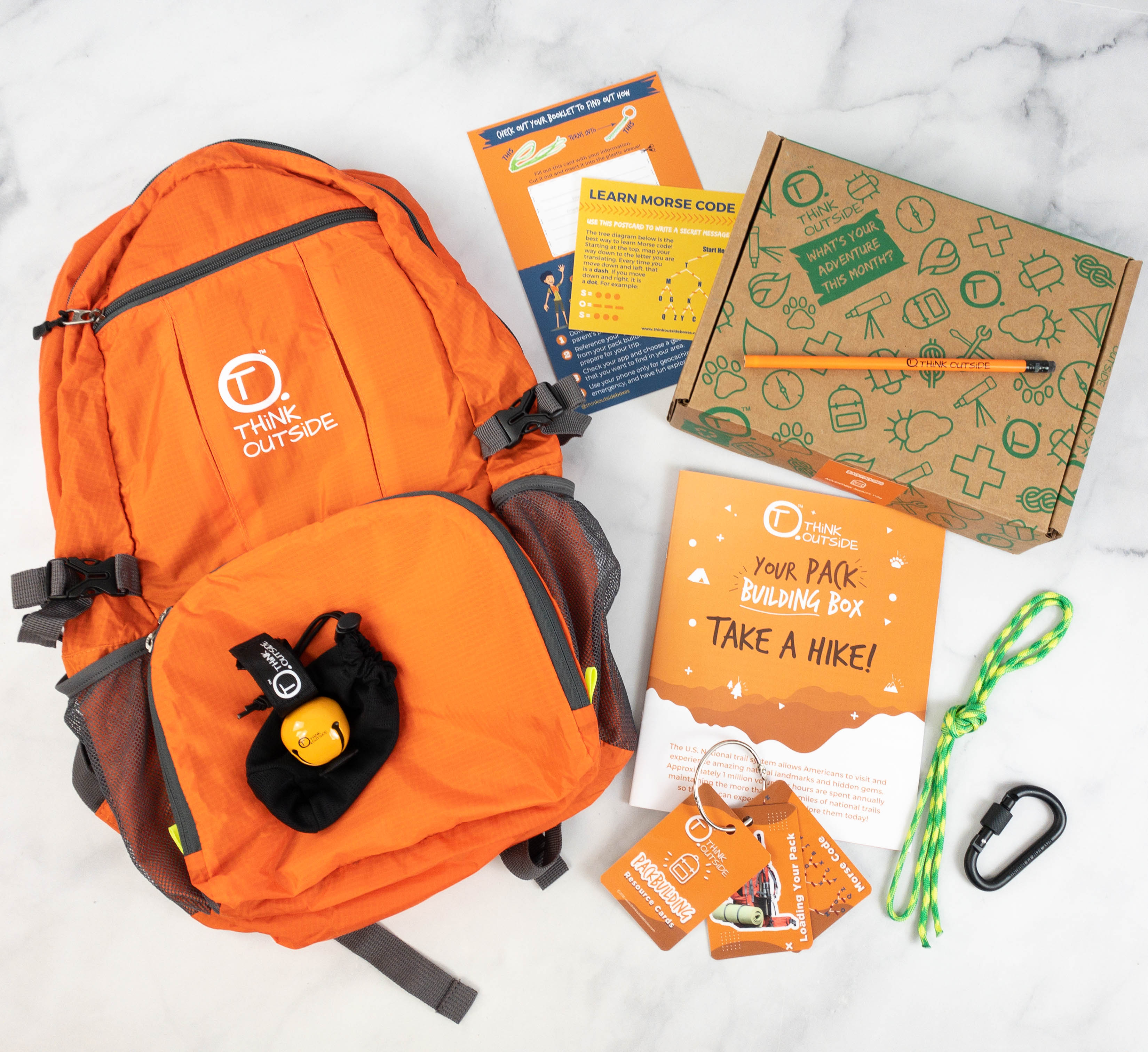 To help kids get prepared for outdoor adventures, THiNK OUTSiDE BOXES sends out an Intro Box called TAKE A HIKE. It encourages young adventurers to explore the great outdoors in a safe manner by sending a box stuffed with all the needed knowledge for survival and basic outdoor gear. It's a great way to help reconnect kids with nature and take them away from screens!
All subscriptions start with this box before advancing to the themed boxes.
DEAL: Get $10 off on any subscription order! Use coupon code HELLO10.
The educational and activity booklet is an important part of every THiNK OUTSiDE BOX. It contains all kinds of informative articles that are very useful for your kids' outdoor adventures. For the TAKE A HIKE box, there are tips on how and what to pack in their bag, skill tests, cracking morse code, and how to make a DIY paracord key chain. There is also a puzzle to test their memory, a list of hiking etiquette that kids can follow through when on the trail, and some pages highlighting National Parks!
Carabiner. It's a great tool for exploring the outdoors! It has a lot of different uses and can be paired with a paracord to use for climbing while on a hike.
Paracord. A carabiner with a paracord goes a long way, especially in emergency situations. It's strong and versatile, so adventurers always carry one. My kids did what the instructions suggested and turned it into a keychain.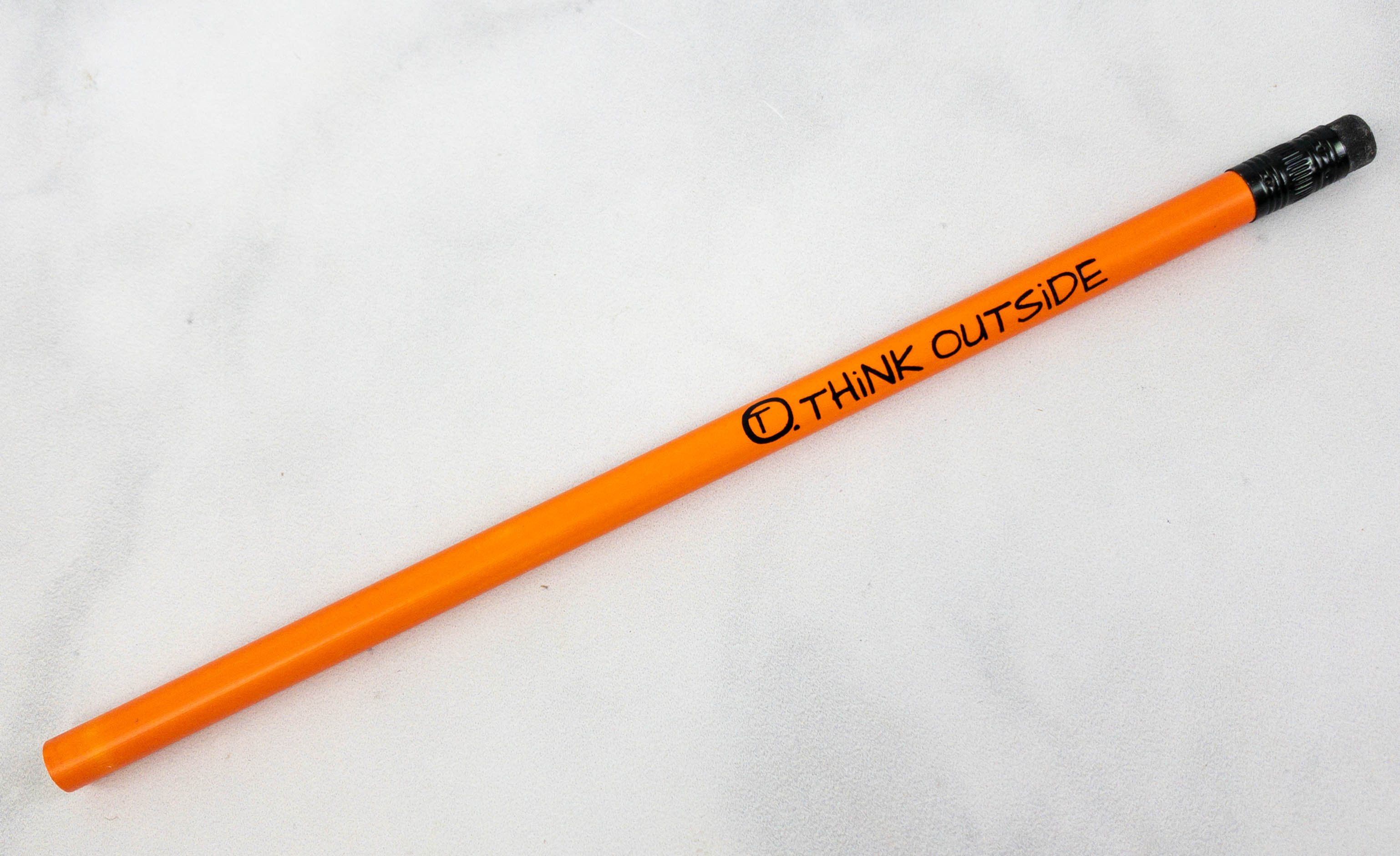 Pencil. To help kids jot down important notes while on their adventures, a pencil is included in the pack. The cool thing about it is the pencil changes color with heat!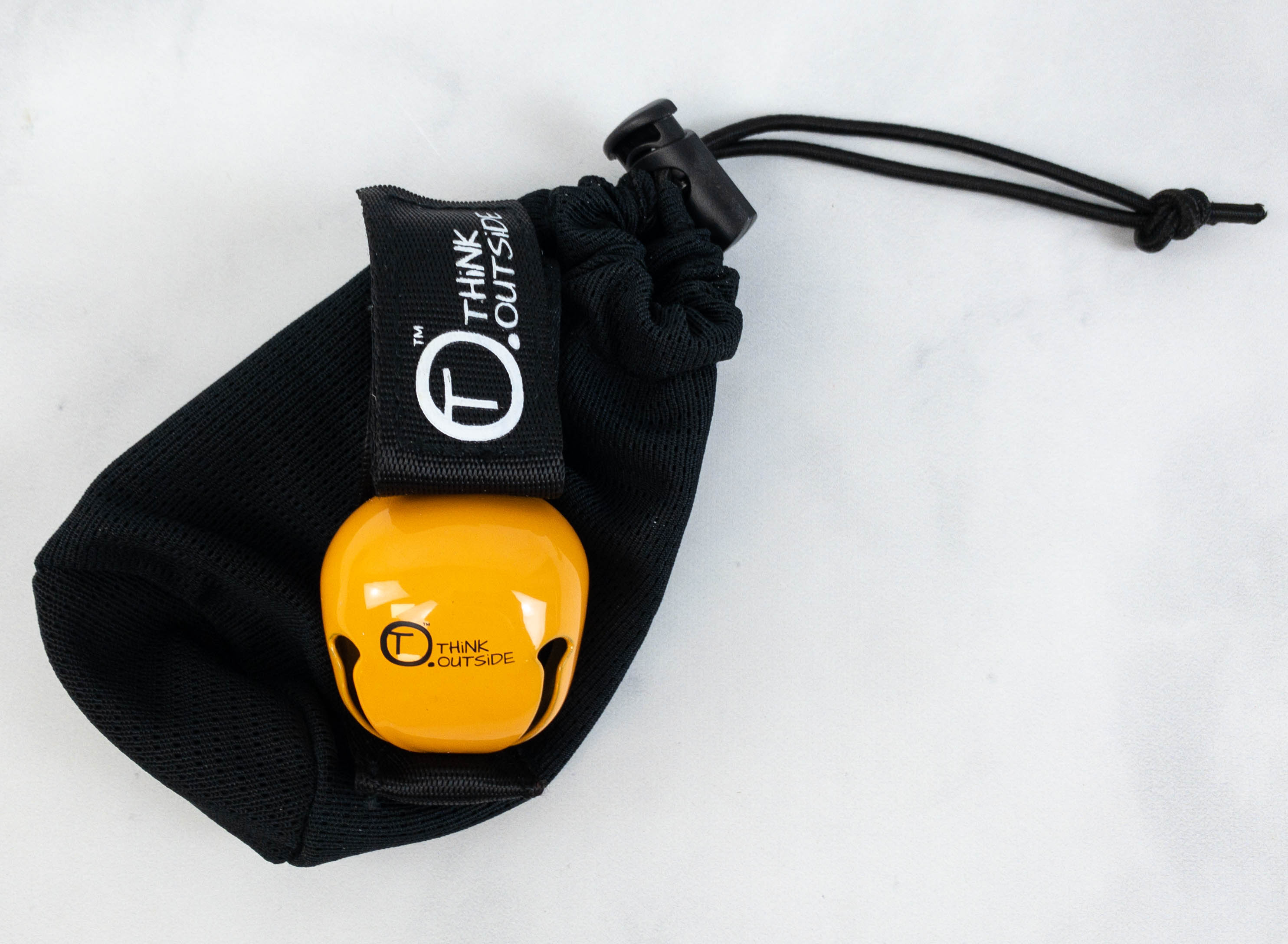 Bear Bell. The box also included a bear bell, which will surely come in handy outdoors! Such an item produces a sound that warns animals of your presence. It also came with a pouch for storage.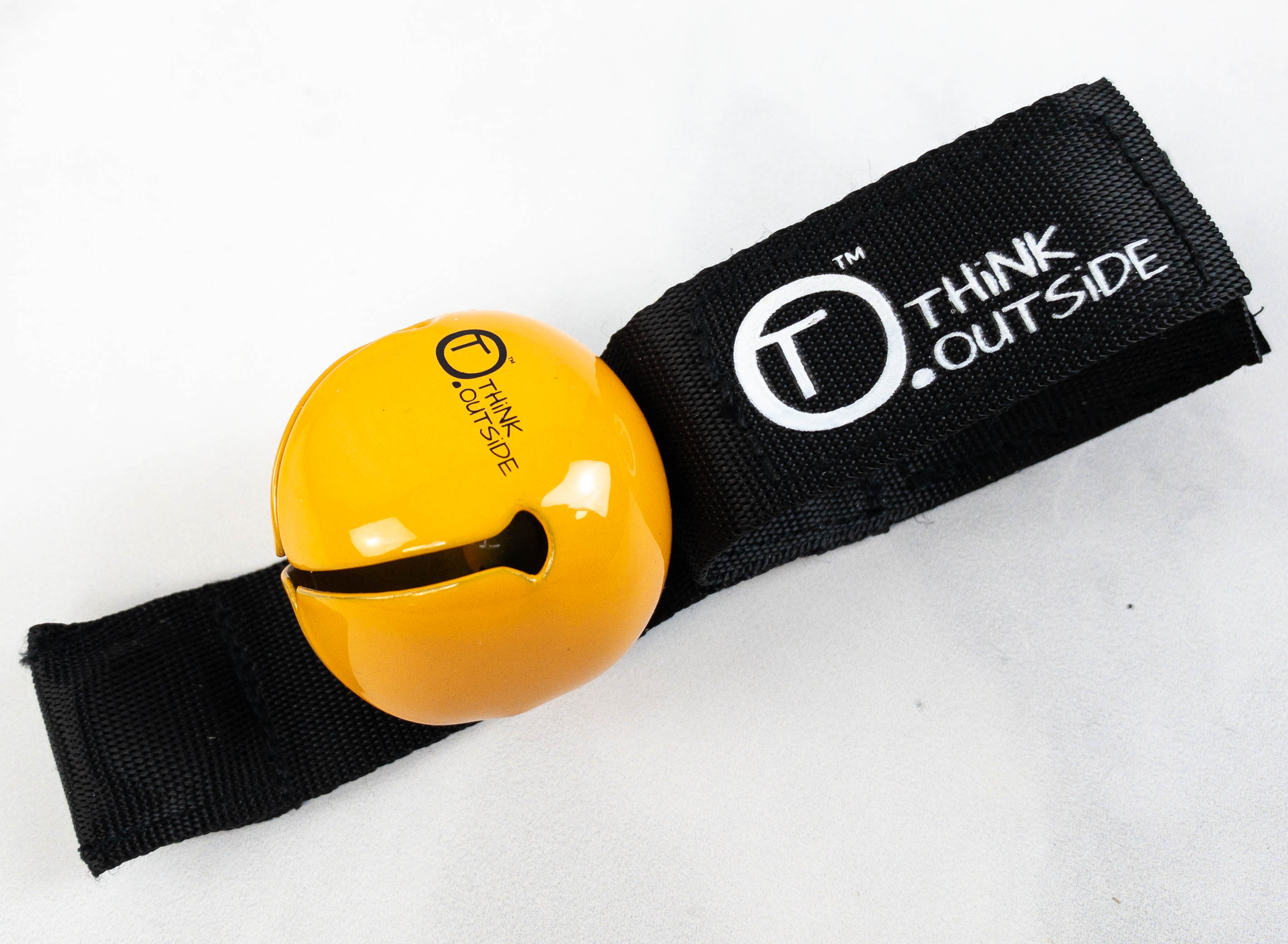 Attached to the band is a magnet to make the sound stop when not needed. The velcro straps make it easy to attach to kids' clothing or bag.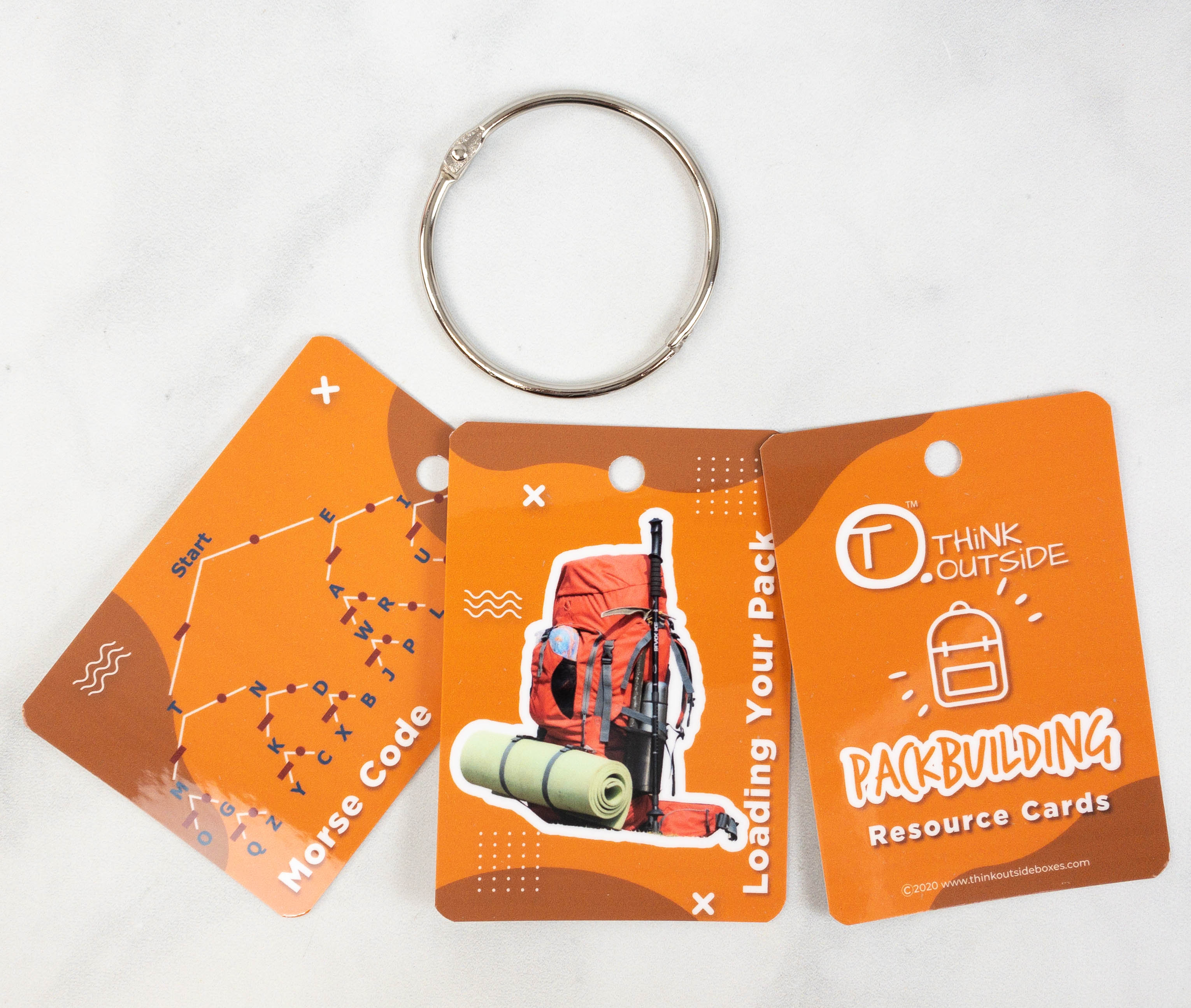 Metal Ring. Next up is a metal ring. This item can be used to keep the cards in the box organized. It binds them together, so it's easy to look back on the guides.
Resource Cards. For kids' safe adventures, these resource cards serve as a guide. They contain pieces of information that are very useful when planning a trip.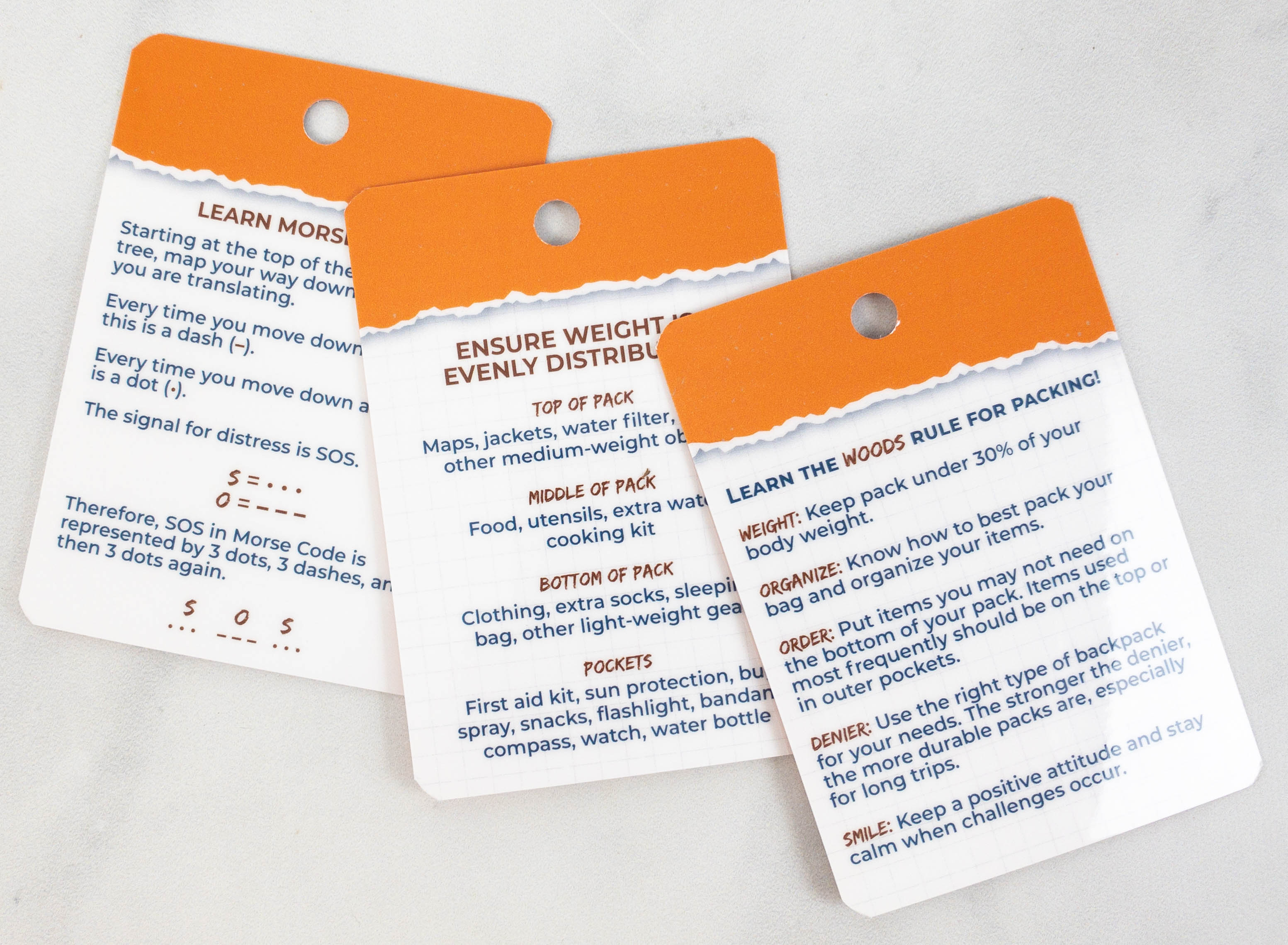 These cards have holes on the upper part, making it easy for kids to attach them to the metal ring. There's a card about morse code, a card about rules for packing, and the other card includes tips on how to evenly distribute the weight of your belongings inside your bag.
Foldable Bag. Subscribers can choose the color of the foldable bag in their Intro Box: blue or orange. We received the orange one! It has a net compartment that is easy to access, plus it's spacious and has lots of compartments. The straps are durable and comfortable on the shoulders. There is also a chest strap for steady carrying and to ensure it doesn't slip off the shoulders. The plastic sleeve inside is where kids can place their cards containing personal information like name, contact person, and medical information. Since it's foldable, it saves space when not in use!
THiNK OUTSiDE BOXES inspires kids to venture into the outdoors and we're all for it! The Intro Box has everything they need to get set up with their first few adventures, including a cute bag. Of course, the booklet is also helpful as it's packed with tips and trivia. My kids enjoyed doing the activities on the booklet and refreshed their knowledge about morse code as well. The subscription runs along a 1-year course, and the kids couldn't wait to get each month's boxes.
Each box they send out comes sealed with a sticker. Everything was packed inside the orange bag and tucked inside the box neatly. There's also an information card that shows the programs kids can learn for the span of one year. See them here: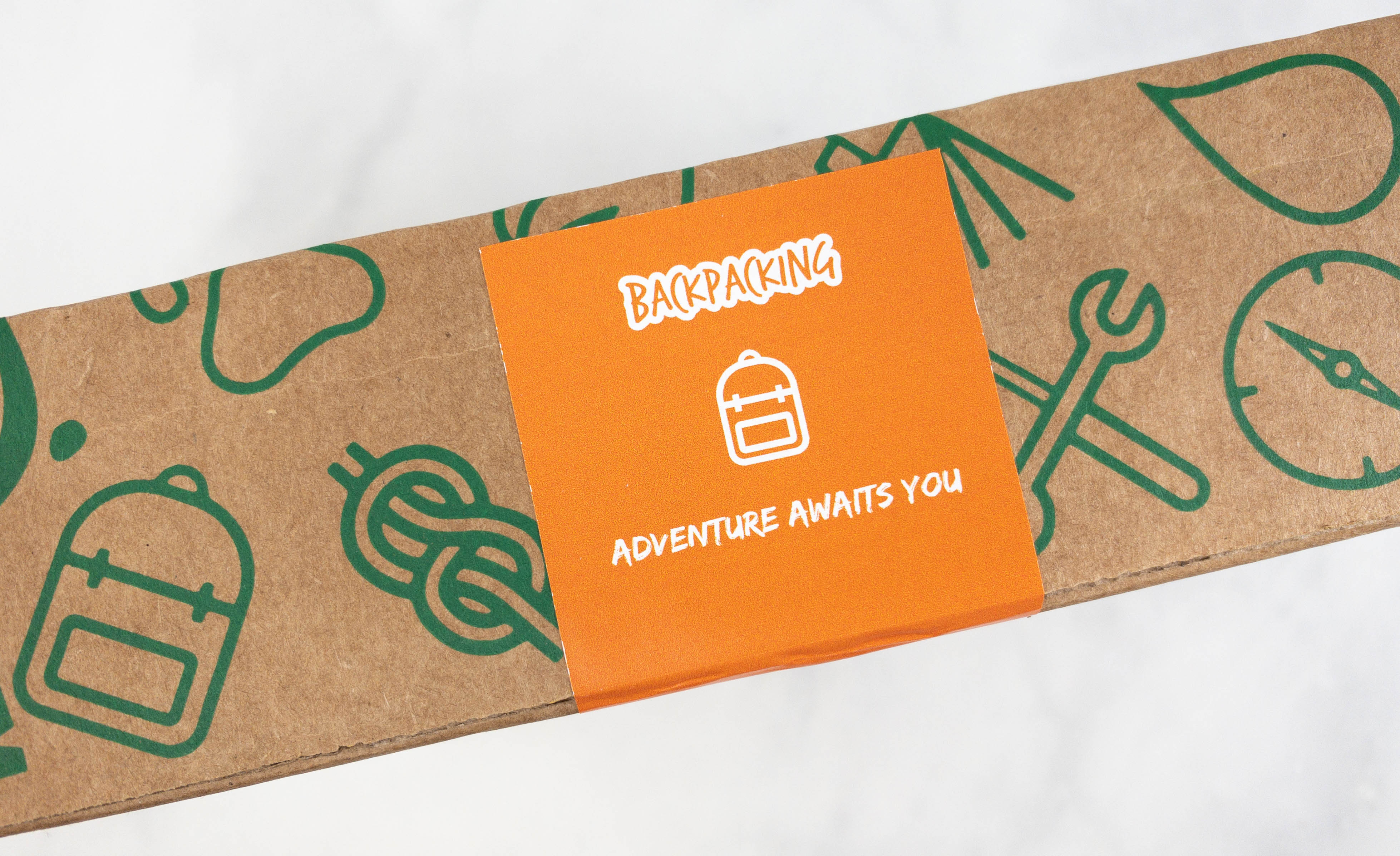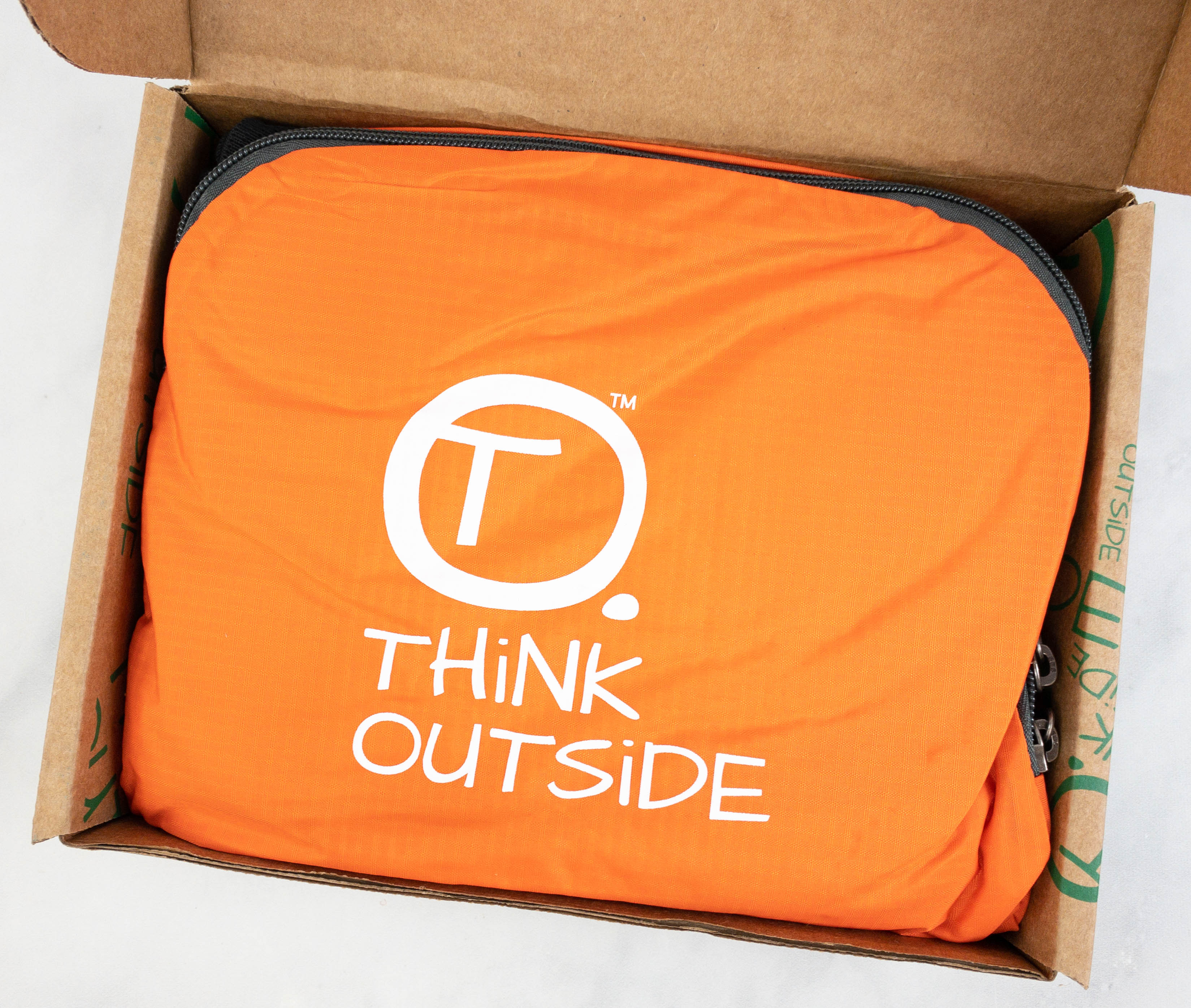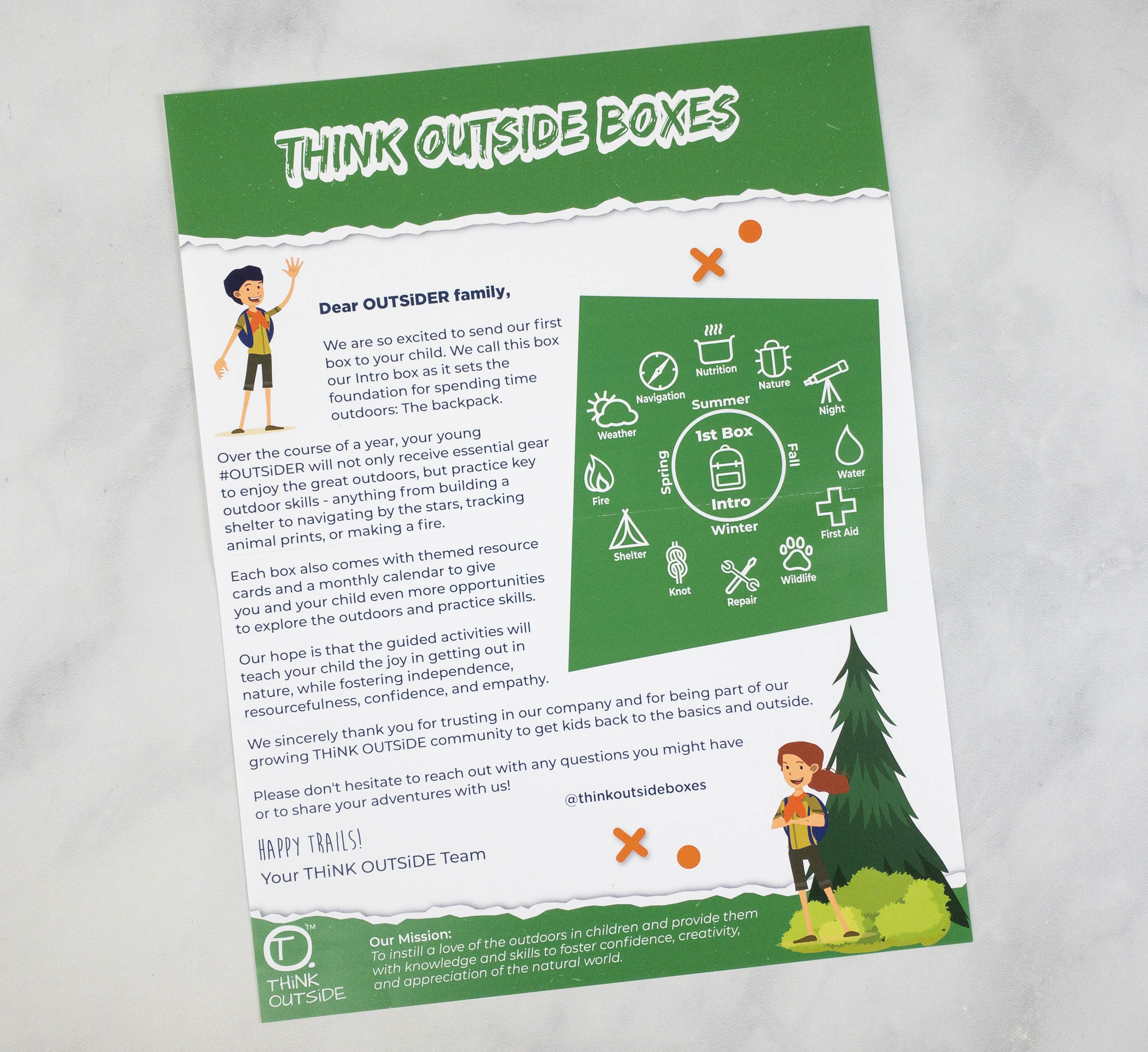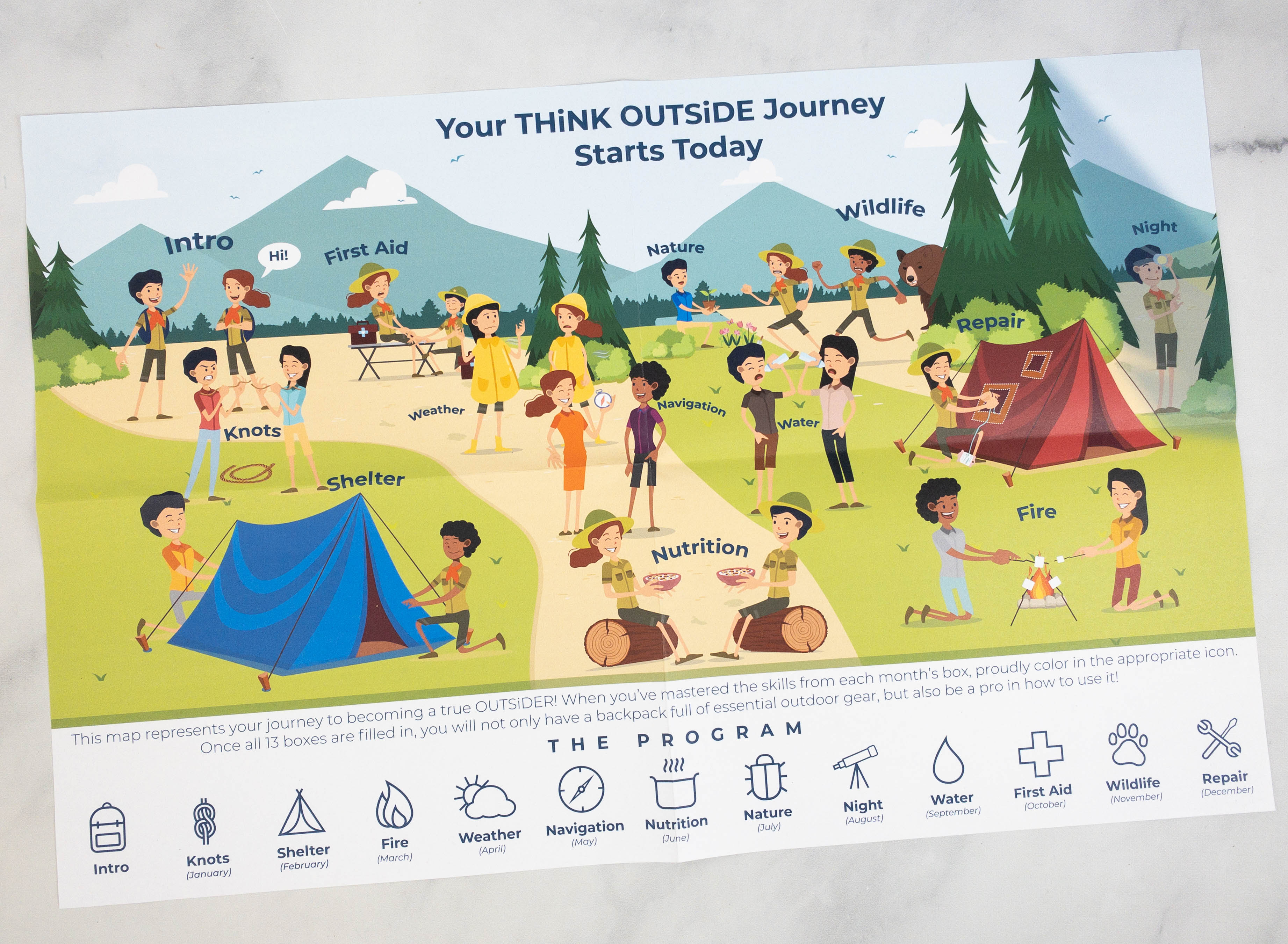 THiNK OUTSiDE BOXES is a monthly subscription for children ages 7 and up that promotes exploration and survival in the great outdoors, along with the whole family. The box costs $39.95 per month + free shipping within the US. Each month, they will send out a themed box that includes outdoor gear, water-resistant resource cards, a 16+ page educational & activity booklet, as well as an outdoor challenge to do as a family. Your first box will also include a lightweight packable daypack, and you can choose the color! The box aims to supply kids with the gear they need and help them grow more confident in exploring the great outdoors!
What do you think of the THiNK OUTSiDE BOXES?
Visit THiNK OUTSiDE BOXES to find out more about this subscription!