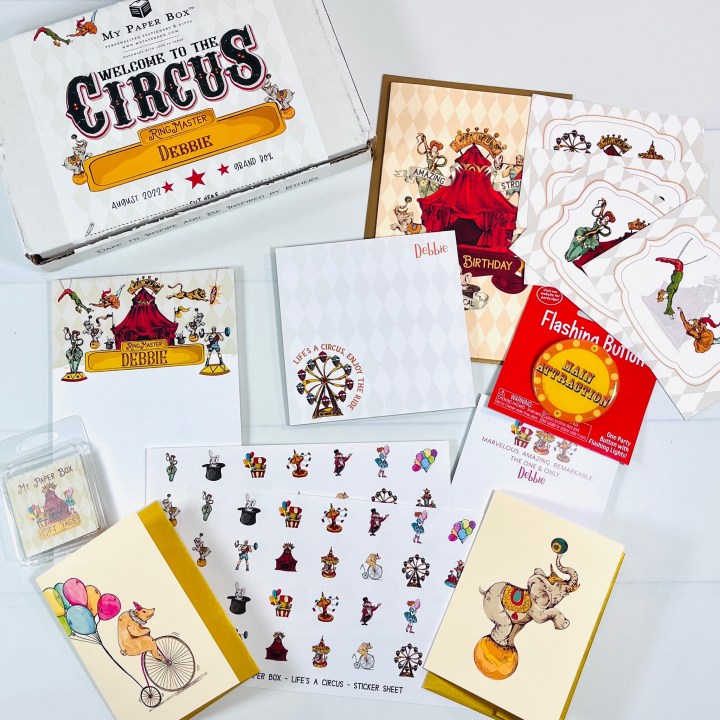 The August 2022 My Paper Box theme was Life's A Circus and had beautifully illustrated stationery and, I must say this with a sigh of relief, I didn't spy any clowns (see more about that at the end of this post)! I received notepads, gift tags, and more. See all of it below!
DEAL: Get $5 off your first box. Use the coupon code 5OFFMYBOX.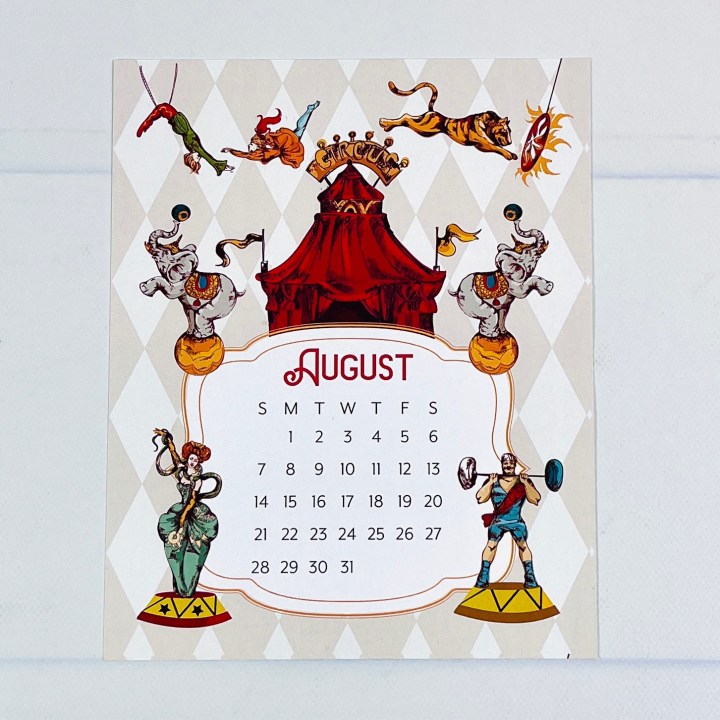 Desk Calendar The desk calendar needs a stand of some sort but I love having it nearby so I can see the date immediately, and this one doubles as art, it's so neat to look at! The back has those holidays that are kind of offbeat, like National Clown Day or Hangover Day (which happen to fall on the same date!).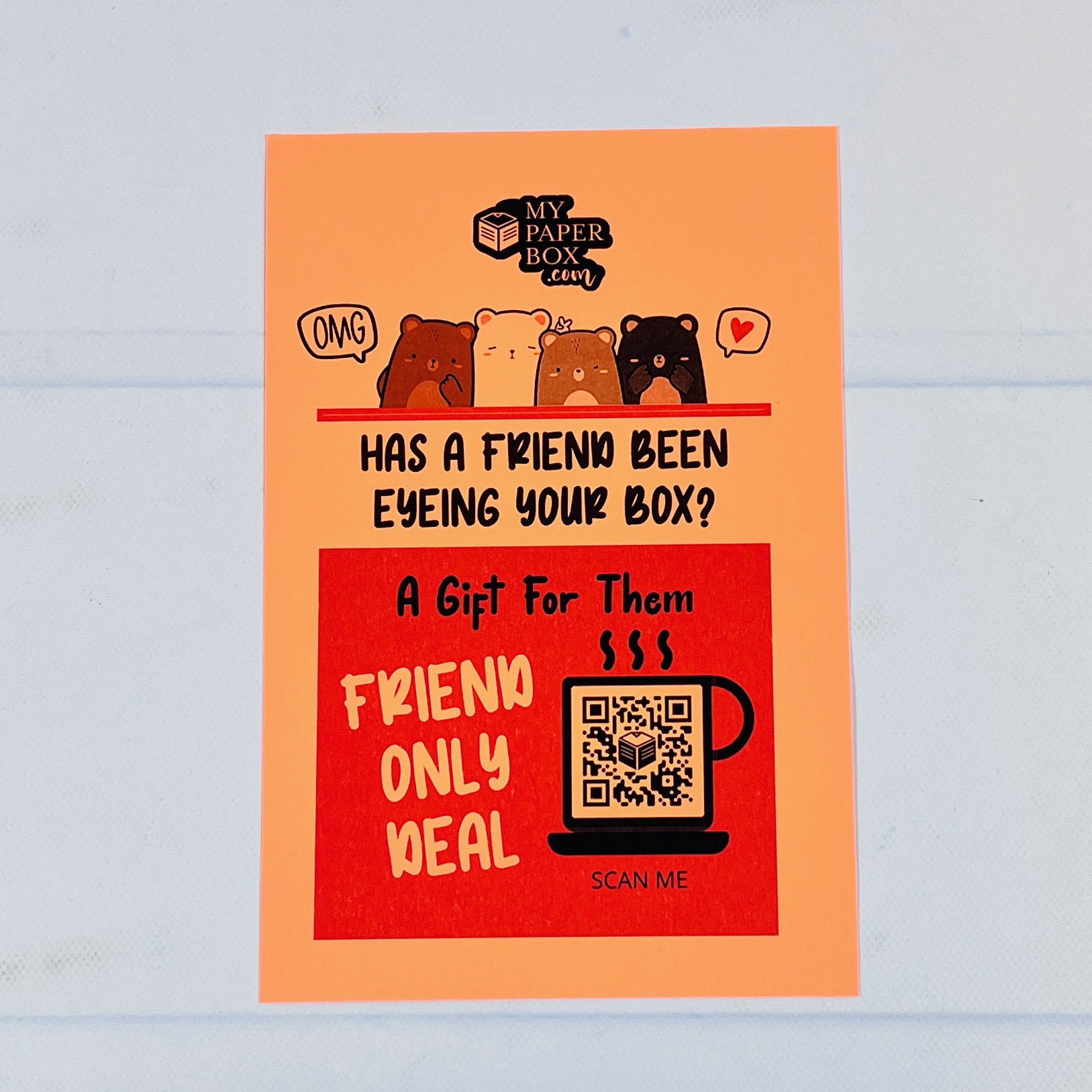 Have a friend who loves your stationery? Have them scan the card for a discount! Have a few too many items to use up and want to gift your next box to a friend? You can contact MPB and have them change the name and you can deliver to someone who you think would appreciate it.
Button Pin I found this item online but it was for a huge bulk amount, but if you really need it you can get them from Amazon. It says "MAIN ATTRACTION" and there's a button on the back that you can push and then it flashes. I tried it out and it works!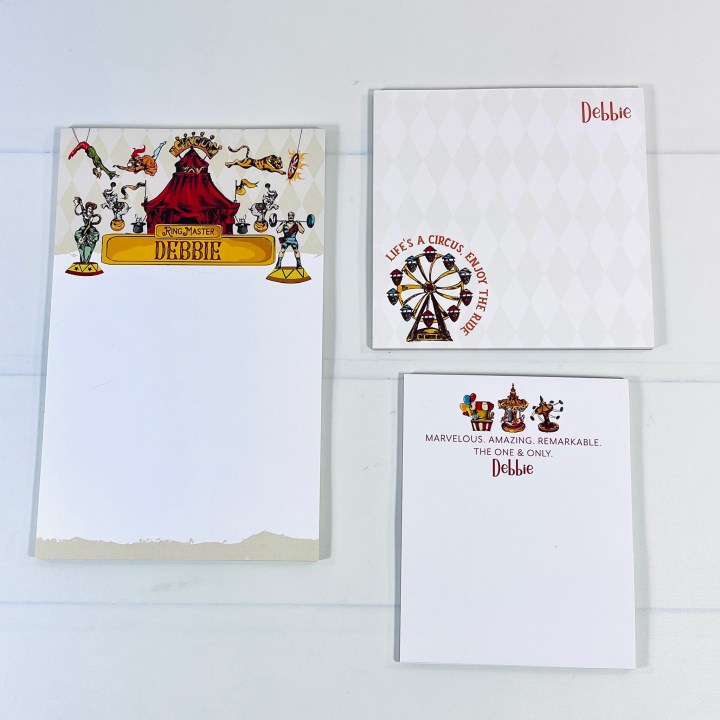 Notepads Yes, I love these notepads! The pad on the left is 8″ x 5″; the pad on the top right is 5″ x 5″; and the pad on the bottom right is 5″ x 4″. Sometimes the pads are kind of seasonal but these will look awesome all year round!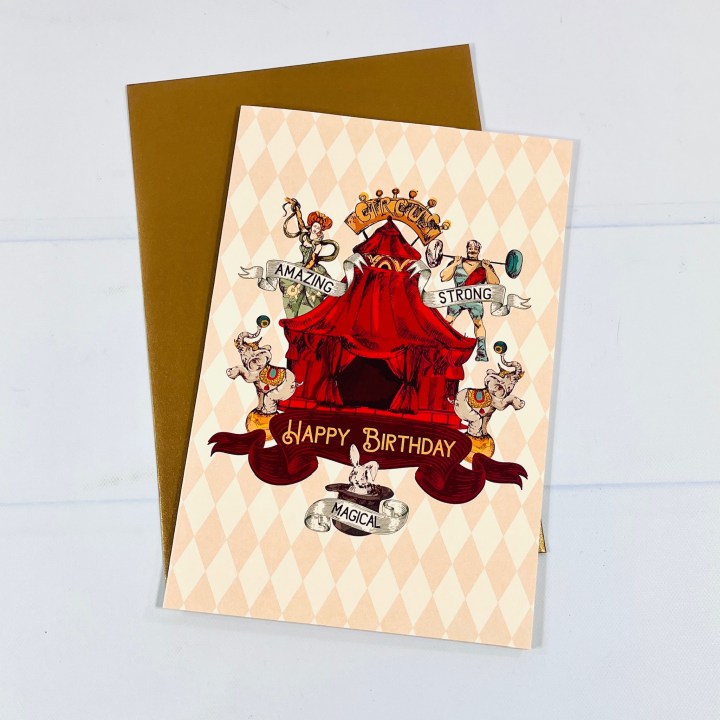 Birthday Card This card is roughly 7″ x 5″ and comes with a metallic gold envelope, which is really attractive on its own. This card is blank on the inside.
Greeting Cards These are just precious, the illustrations look so retro, and the envelopes are gold metallic (and not as yellow as shown in my picture). These are 5″ x 3.5″ and the card on the left reads "LIFE'S A CIRCUS ENJOY THE RIDE" on the inside. The card on the right says "THINKING OF YOU" on the inside.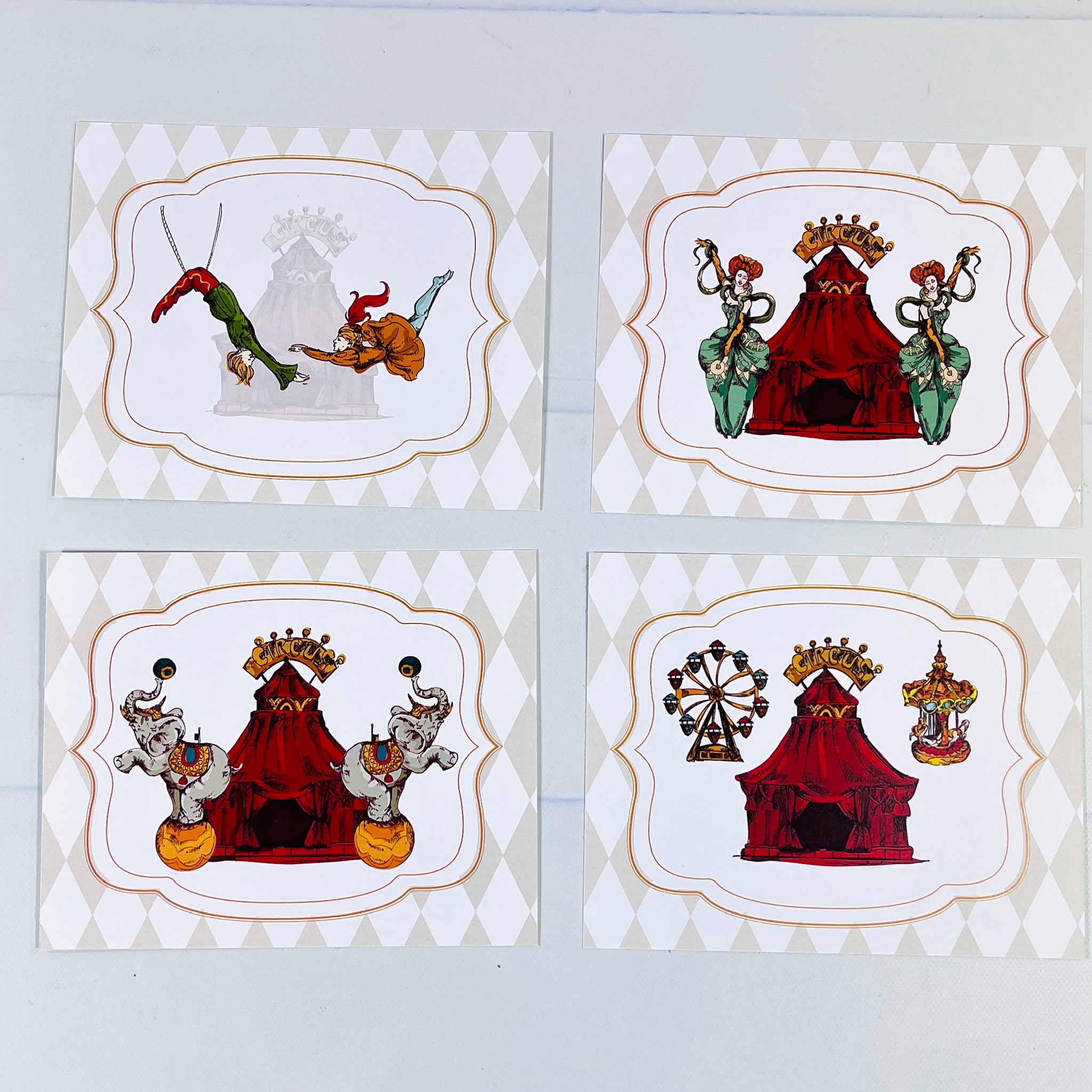 Note Cards This set of 4 cards can be used in a variety of ways. You could use them as postcards, desk art, or for journaling. They all have my name on the back along with a big top tent.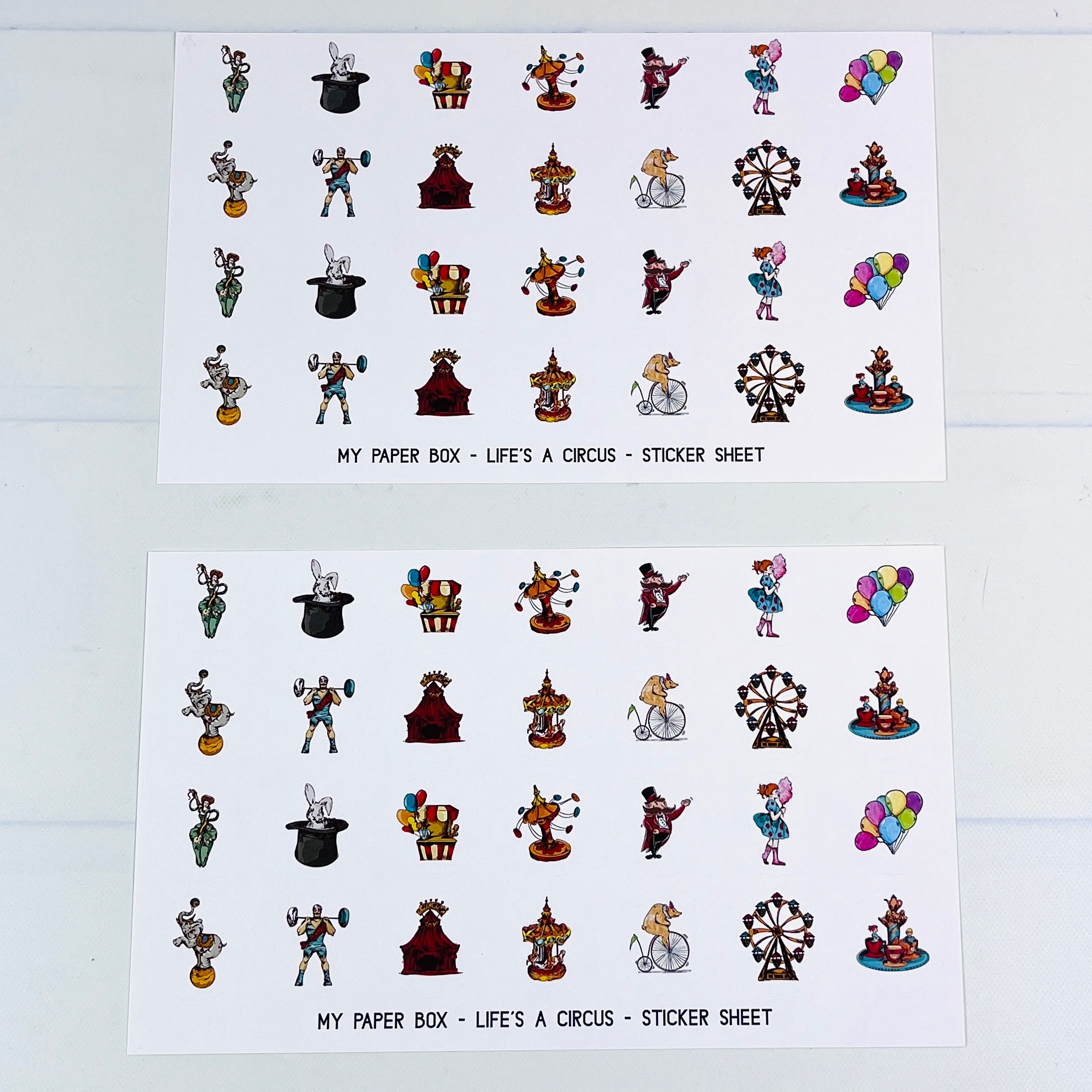 Sticker Sheets Oh my gosh, the beautiful illustrations continue on this set of two sticker sheets. These stickers are round and about an inch across.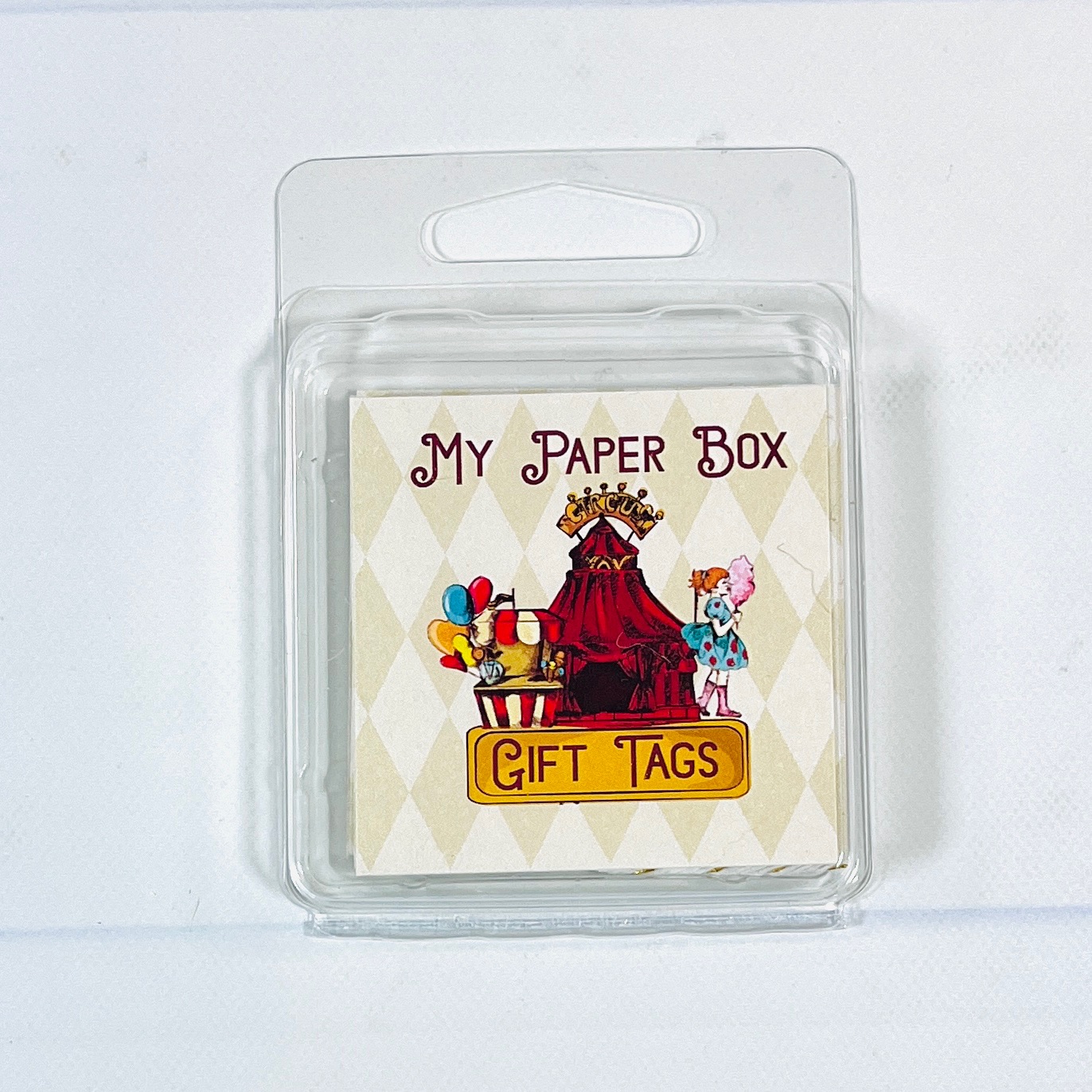 Gift Tags Last but not least is this set of 15 gift tags that can be attached to packages with the string that was included or you could tape one on the outside of a gift if you prefer. These are 2″ x 2″ and while all have an additional illustration on the back, only some of them say To/From, so they can be used in other ways if you like.
I think that Life's A Circus may have been my most favorite box yet from My Paper Box! I loved the illustrations, which were old timey and adorable. I don't know that I attended the circus much as a child, but I remember going at least once and for some reason this theme reminded me of simpler days. One thing I am not a fan of is clowns, I guess it had to do with a clown picture in my childhood bedroom, and I know some people are scared when they see them, but I didn't see any in the items and I appreciate that.
Below is an opening picture and below that is a couple of pages from the mini magazine/brochure, which has 23 pages in all!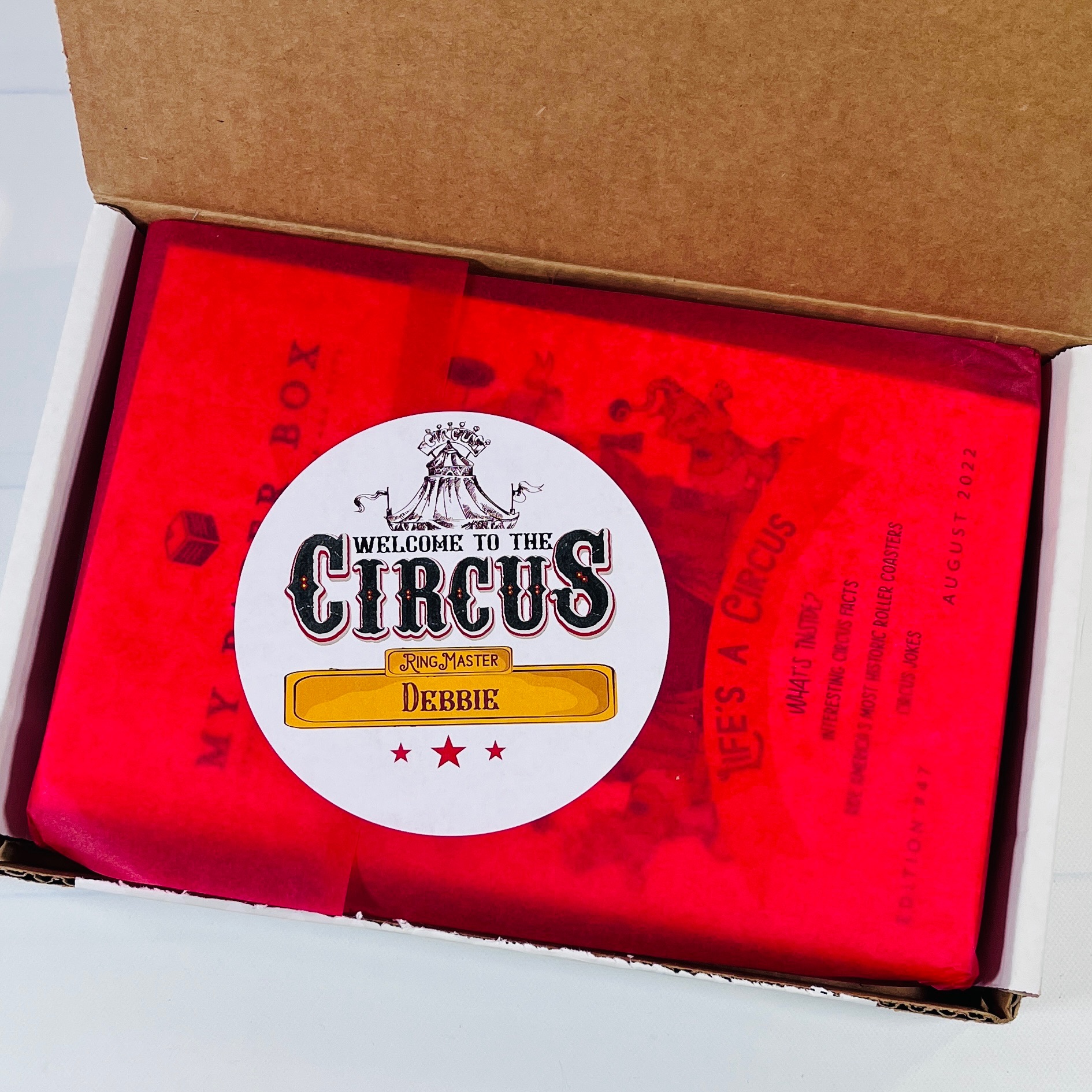 My Paper Box is a monthly subscription box filled with personalized stationery! Each box will be curated to a theme and you can choose from three different levels and price points. The Mini Subscription is a collection of 3 personalized notepads and is $18 a month; The Grand Subscription comes with a Personalized Paper Box and a selection of items such as personalized notepads, cards, planners, and more and is $32 a month; The Greeting Card Subscription comes with 4 cards, envelopes, and USPS Forever stamps and is $15 a month. Each month there will be a new theme and you receive the order for the month before so you will have everything ready to go when the calendar changes. My Paper Box made it to the list of our readers' favorite stationery subscriptions!
What do you think of this month's box?