It's time to see what came in my Loti Wellness box for this month! July's theme was PLAY and had the goal of helping me have some fun this summer, to help me remember what I liked to do when I was a kid and capture that feeling again. Inside I found a workbook, some self-care items, and an incense that sent me back in time to my childhood! Read on to see the full review of the July Loti Wellness box plus grab a coupon!
DEAL: Save 10% on your first box! Just use this link and coupon code SUBSCRIBE10.
Play Workbook This month's theme is PLAY which sounds fitting for summer. There's sections on what is considered play, why it's important for adults, getting in touch with your childhood self, and bringing that sense of fun into the present. There are 10 pages total.
Sandalwood Natural Incense & Wood Pine Holder ($18) There were 18 sticks of incense in the box along with a pine holder. For comparison purposes, a box of 180 sticks of a similar stick (not including the holder) is $12.42 USD on Amazon, so this seems really pricey but then again, I don't need or want 180 sticks. Despite having a stand, you will also need a tray of some sort underneath because there will be ash. No instructions were given but I did the following: I placed the stick in the pine and then placed it on a cookie sheet. I lit the stick and as soon as it caught on fire I blew it out. It smelled warm and exotic and like a trip back to the 1970's. Maybe I really do need 180 sticks of this stuff.
Seoul Kleen Probiotics Balancing Cleanser ($32) There's not much info on this cleanser but the brand's website says it is hydrating, nourishing, and non-sticky. It has glycerin and probiotics, which according to the container helps improve skin's softness. It didn't take much to create a lot of creamy lather, although the parfum/fragrance was too strong for my nose.
Cammellatte Camel Milk Soap ($9) I have heard of goat's milk before but this is the first time I have ever considered that milk might come from a camel! This rosette has camel milk as the second ingredient and there's also stuff like saponified coconut and olive oils. It's also highly fragranced and although it says the scent is an "essential oil blend" it smells like floral perfume.
Mata Natural Herbal Inhaler ($11) This inhaler was different from the usual. I have received several that have essential oils dropped on a wick inside the case, but this one has dried spices and that can be unsafe if you were to inhale a piece and get it embedded in your nostril, and in fact I had a piece go in through my nose and then down my esophagus! You can see some of the spice pieces on the case if you toggle through my pictures above. If you choose to use it, I would suggest shacking it to get any loose pieces out, then tap it on a table to make the pieces inside settle, and don't breathe in too deeply. It smells most like menthol and cloves. It lists the ingredient "logusticum root" and I was unable to find that on Google, only links back to this product. I have messaged the brand and will update if/when they get back to me. UPDATE: The brand got back to me quickly and provided info on "ligusticum", also known as Sichuan lovage root. I pointed out that both their website and product are labeled incorrectly so they can get it fixed.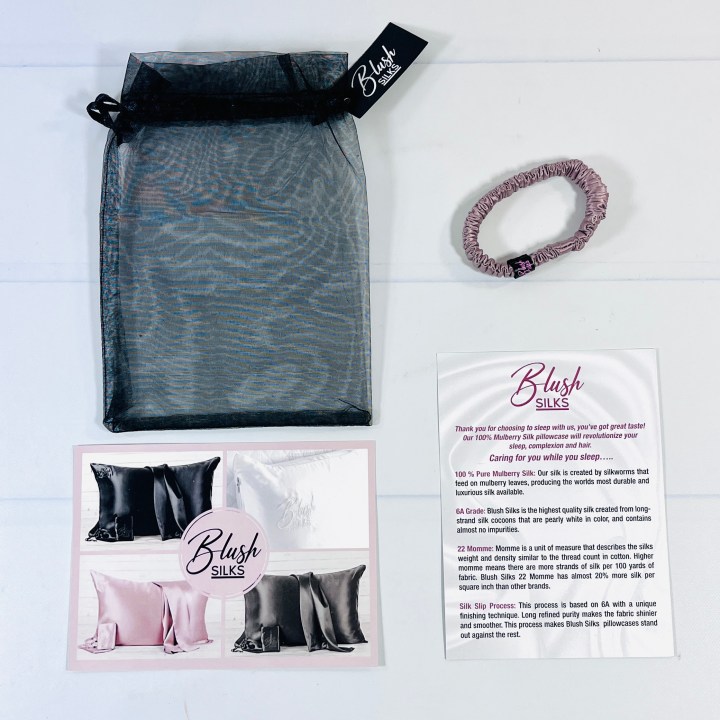 Blush Silks Scrunchie ($5 value, buy a set of 4 for $20) My hair is too short and too fine to wear it up or in a scrunchie so I will pass this item along but wanted to let you know what it is. It's smaller than the usual hair bands and is covered in mulberry silk, which comes from caterpillars and is therefore not vegan (in case that matters to you). There were a couple of cards included that describe what benefits can be had by silk and they included a code to save on a purchase at the brand's website.
Curiosity Cards: Garden Of Your Mind ($19.95) I feel like we get a set of some sort of cards each month nowadays. This is a set of 9 journaling cards that you can write on and then you can fit them all together like a picture, and of course it's unique to you! This set is supposed to help you discover new insights into yourself and apparently you can share with others since it says they can be used as conversation starters and as a group activity.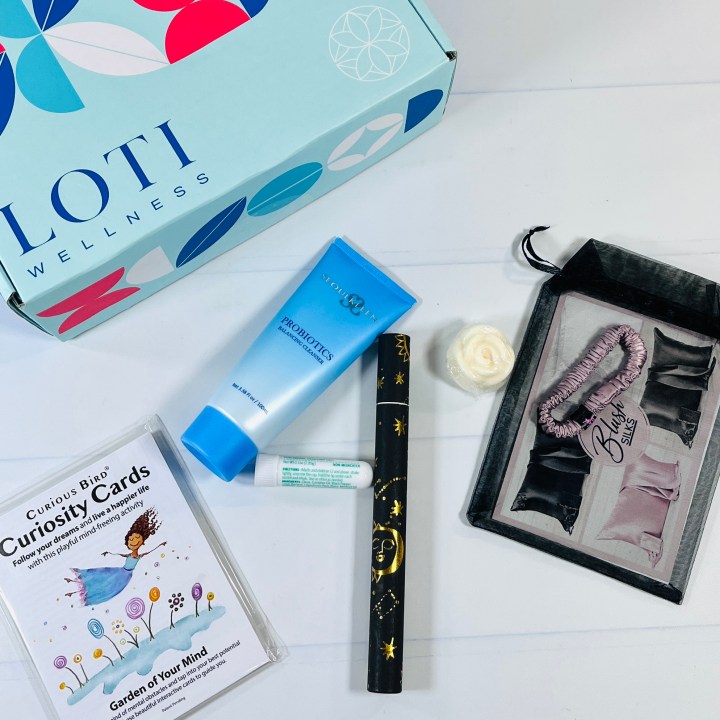 The latest Loti had some items to help me get in touch with my playful side with fun items such as camel milk soap and incense, and that incense definitely takes me back to my childhood. I also liked the nasal inhaler but of course I now know that I must be careful when using it so I don't get spices in my nostrils. The cards look interesting and the workbook will help me put some play in my day.
Below you will find the product info pamphlet!
DEAL: Save 10% on your first box! Just use this link and coupon code SUBSCRIBE10.
Loti Wellness is a subscription box with a focus on self-care. The box has a monthly theme curated by therapists to focus on items and rituals to promote positivity and improve one's self. Loti Wellness works with local brands and small businesses whenever they can, and choose cruelty-free and natural products. The box will have 5-7 products for self-care and wellness. The box is $45.95 USD with lower prices on multi-month subscriptions and drops to as low as $37.95 USD when you sign up for 12 months. Shipping is $10.95 USD.
What do you think of this self-care subscription?