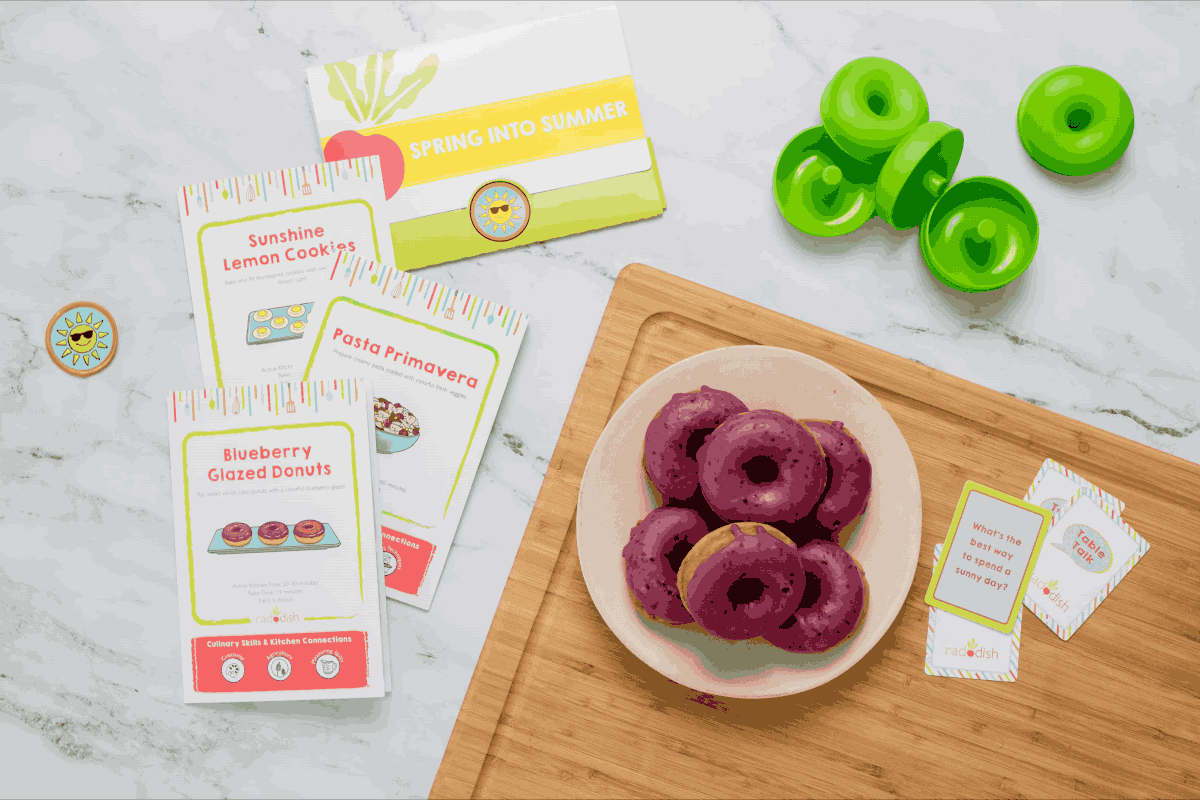 Raddish Kids has revealed the June 2022 kit theme spoilers for their monthly cooking subscription for kids! The theme is SPRING INTO SUMMER! 
Are you ready for the warmer months ahead? June's kit will get you right in the mood to jumpstart your way into summer! Join Raddish to cook and bake sweet treats with fresh summer fruits and veggies. These staple recipes will be used all summer long!
DEALS: Get $20 off when you sign up for a 12 month subscription! Just use this link and use the coupon code CHEF20 OR 20RAD22 at checkout.
Check out all our Raddish Kids reviews to find out more about this subscription box! Here is this month's menu:
Sunshine Lemon Cookies Bake and fill thumbprint cookies with sweet and tangy lemon curd.
Pasta Primavera Prepare creamy pasta loaded with colorful fresh veggies.
Blueberry Glazed Donuts Top sweet vanilla cake donuts with a colorful blueberry glaze!
Inside the box this month – what you'll add to your cooking collection, and the essential cooking skills to learn:
Table Cards
Apron Patch
Donut Mold
This month's bonus bites:
Chicken Waldorf Salad
Spring Into Summer Playlist
Dietary Modifications
Spring Into Summer Homeschool Lesson Plan
Raddish is a monthly cooking kit for kids ages 4-14+, created with the mission to deliver culinary experiences that nurture kids' confidence in the kitchen and beyond. Raddish is a winning recipe for education, family-time and fun! Kids are encouraged to explore and experience new foods while they learn to chop, sauté, whisk, and measure!
Every Raddish Kit Includes:
3 Recipe Guides
Quality Kitchen Tool
Collectibles — a colorful apron patch and 4 table talk cards.
Creative Kitchen Project
3 Culinary Skill Lessons
Complete Grocery List
Visit Raddish Kids to find out more about this subscription!