The Spring 2022 Merkaela Deluxe Box came with lots of natural products to be used during me-time, whether that means bathing or taking a few moments to just sit quietly and breathe. Merkaela products always feel luxurious and the simple labels and glass jars look lovely in my bathroom (and pay close attention to the labels, they have affirmations directly on the jars!). See what I received for this season below!
DEAL: Use code NEWMOON to save 22% on all subscription plans.
Merkaela Spring 2022 Review
Herbal Milk Salt Bath ($14) I'm not one for soaking my body in the tub but soaking my feet is another story. This bath salt has coconut milk plus four different salts and is scented with ylang ylang and vanilla and that along with the coconut is a lovely scent.
Stardust Clay Mask ($18) I don't usually wear clay masks because I kind of need the oil now that I'm, ahem, mature but I guess this could be mixed with yogurt instead of water to keep it from possibly drying all the way. I made it with water and it has an earthy sweet scent and didn't bother my skin. It has rose kaolin and betonite clays plus a couple of other natural ingredients. I fanned a paper in front of my face and did experience some cooling that way, plus the mask dried really quickly. I rinsed it off in the shower because I don't want to mess with this stuff in my sink or have it stain my washcloths.
Golden Liquid Body Oil ($48) I use body oils about 1-2 times a week, and always right after I get out of the shower, while my skin is still damp. This one has a base of jojoba, rice, avocado, moringa, and hemp oils plus herbal extracts and "palmarosa blend" essential oils, which smells warm and mossy. The scent lingered for a while and smells unisex.
Love Potion Meditation Elixir ($18.50) The meditation elixirs are meant to be sprayed around your body or your personal space, and the idea is that they may help deepen your meditation session. It's not listed on the label but I think water is the first ingredient, along with alcohol and an essential oil blend. This scent smells sweet and fruity, like bubblegum to my nose, and the scent fades quickly. Spritz, sniff deeply, and relax.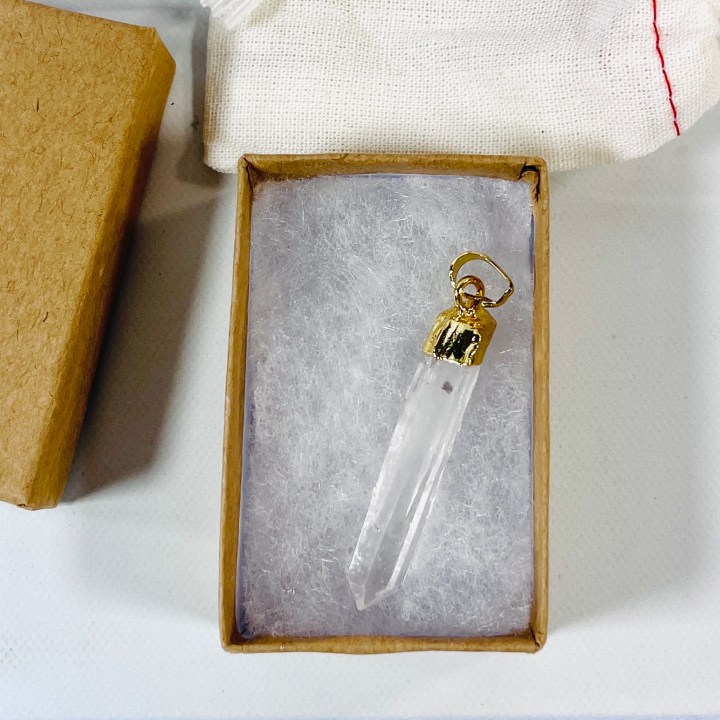 Clear Quartz Crystal Pendant ($11) You can find similar items by searching on Google or Amazon. This is just the pendant, and it didn't come on a chain. It is said to clear the mind, spirit, and body and provide focus. You can look up tutorials on how to use the quartz if you feel like it's something you want to know better, while I will ponder how pretty it is to look at.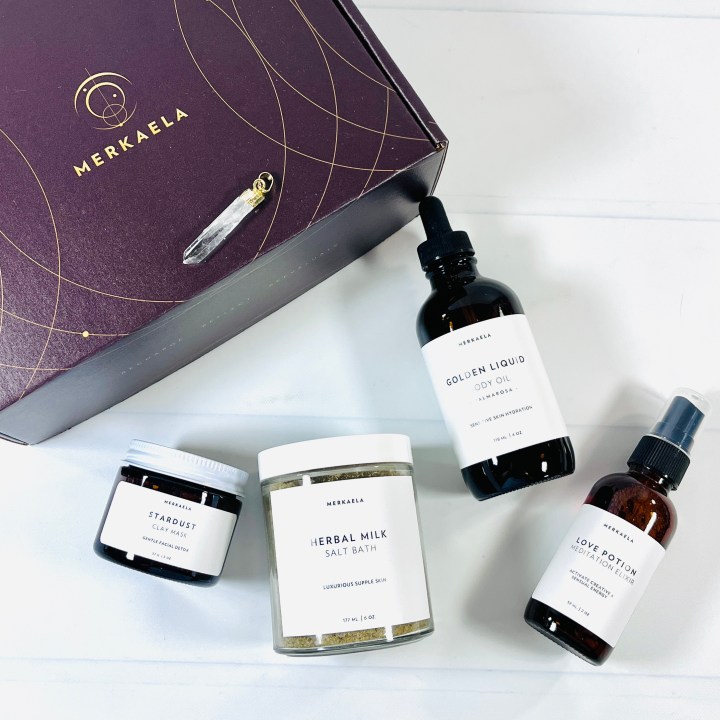 Merkaela sent some pretty cool self-care items that included a meditation mist, a face mask, and a body oil. They used to include a tea and bar of soap every time but maybe they are mixing it up and sending them every other time, I'm not really sure so I guess we will have to wait and see. My favorite item was the body oil, it felt great, smelled great, and put a smile on my face first thing in the morning. The salt bath smelled nicest out of all of the items, I love anything with ylang ylang. The products were all of wonderful quality and there is plenty to last until my next quarterly box arrives.
Below are a couple more box opening pictures plus the product info card, mantra card, and music playlist.
Merkaela is a quarterly box that sends natural bath, beauty, and meditation products curated to the season. Merkaela's items are made in-house although they may occasionally send a product from high-quality collaborators. All of the items are cruelty-free and there is a vegan option that you can choose at sign up. The ingredients are clean and in some cases organic. You can feel good about putting these items on your skin! Our readers agree – they voted it as one of the best bath and body subscription boxes for 2022! The box as shown is the Deluxe version and is $96 a quarter.
What do you think of the Merkaela Winter Box? Let me know if it helps you connect your mind, body, and soul in the comments!