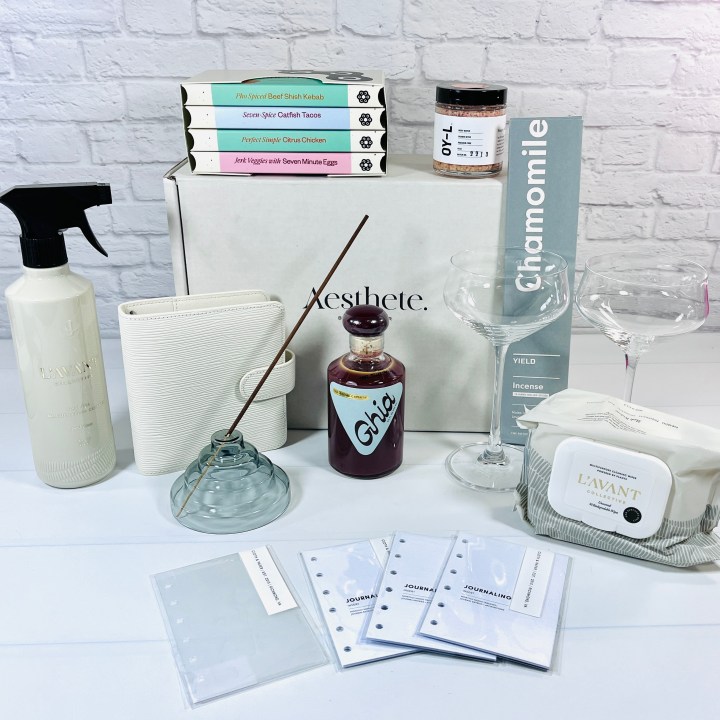 Aesthete Box by CLOTH & PAPER had a self-love theme this season (Amour de Soi) and sent all kinds of items that are enjoyable to use, smell, and look at, and of course they follow the Cloth & Paper minimalistic vibe and low-key neutral color palette of mostly black, white, and lots of shades of grey. This is a quarterly box, only the second one they've had, and I really looked forward to it as the first one was pretty special and it didn't disappoint! See what I received below!
DEAL: Want to try Penspiration Box, Planning + Stationery Box, OR Penspiration & Planning + Stationery Box? Get 10% off your first box! Use the coupon code HELLOSUB10 at checkout!
C&P Contoured 6-Ring Agenda | Pocket | White Leather | Silver Rings ($119.99 list price) with 3 Journaling Inserts ($10.99 each) and Frosted Document Protector ($2.99) According to the card this is made of leather, although the type of leather isn't mentioned. It kind of looks like a pocketbook and it has 6 rings inside. It measures 5″ x 5.75 and if you were to order inserts from the Cloth & Paper website (or their monthly Planning & Stationery box) you would choose the pocket-sized inserts (3.2″ x 4.7″, which is the size of the included inserts, and I measured to be sure). There's space inside for 4 cards and a loop to hold a pen. The planner is kind of stiff, I would think it would loosen up over time. It came with a cloth cover and storage box.
OCCO 4-Pack Recipe Card Deck ($20) I love to cook and thought this collection of spice cards was a neat idea. Inside the "book" are individual spice pods that are perfectly portioned for the recipe indicated. You will need to scan the code on the back or go online to find the full recipe but they also list substitutions (I plan on making the fish tacos with cod). Some of the recipes make 2 servings, one makes 4 servings, and one makes either 2 servings for four or 1 serving for eight.
Yield Meso Incense Holder in Grey ($28) I don't currently own an incense holder and this one looks like a piece of art, and is inspired by Mesopotamian architecture! This piece is made of borosilicate glass and you stick the incense inside and then place somewhere where it's ok for ash to fall. PS: When you light the incense, make sure to blow it out immediately and then let the stick smoke for a bit – I forgot that step and it quickly burned up with no scent output.
Yield Incense Sticks in Chamomile ($18) These incense sticks smell different from the kind my grandmother would burn. This comes from a collection inspired by botanical scents and Chamomile has scent notes of apple blossom, lavender, and white tea. Ashley, the owner of Aesthete Box, chose this scent because she doesn't care for the traditional scent of incense and thought this one smelled like a candle, and I think she's right!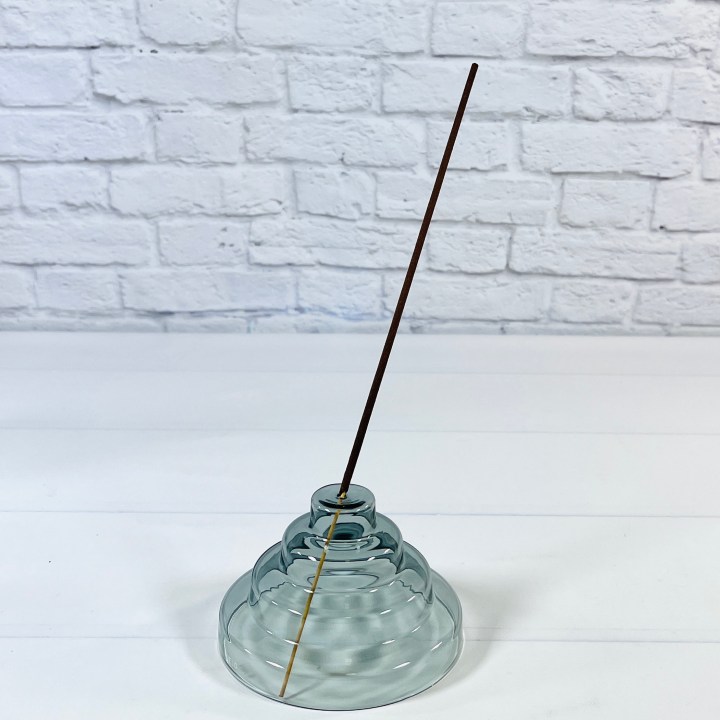 This is how the holder should look when the incense is in place. I placed mine on a baking sheet to catch the falling ash.
L'AVANT Collective Cleaning Essentials Bundle ($24) This set comes in grey containers to fit in with the Aesthete Box look. It came with a plant-based cleaning spray and cleaning wipes. The spray has a light floral scent called Linen while the wipes are unscented. It came in a carrying bag that can be repurposed. I have been spraying down my kitchen countertops and enjoying the light fragrance from the spray, which can be used on multiple surfaces. The wipes are handy in a pinch and again, can be used on multiple surfaces.
OY-L Body Scrub | Orange Rose ($30) I am 100% team shower so any product that can be used in there to pep up my morning is ok by me! This is a salt-based body scrub that is scented with orange and rose essential oils for a natural fragrance that you can smell on your skin briefly before it fades away. I scooped out a bit and applied it to my arms and gave them a good scrub before rinsing it off and it left my skin smooth and soft afterward.
Ghia Non-Alcoholic Apéritif ($15.31) This is my first time trying an aperitif so I have nothing to compare it to. This version is alcohol-free and is "soothing and stimulating". Just mix it with equal parts of a bubbly drink such as sparkling water (I'm thinking 7-UP or Sprite might be better for those of us who like sweeter sips). It's made with "potent extracts of natural nervines" and the list includes grape juice concentrate, yuzu, gentian, elderflower, and more. You can use this as a base for other drinks and there are several serving suggestions on the brand's website.
JoyJolt Martini Glasses ($56.99) These glasses are used for serving martinis but of course, you can use them for your aperitif and other drinks, either with alcohol or not. Personally, I plan on using them for ice cream or other spoonable desserts! These are made with lead-free glass and hold 9.2 ounces and are dishwasher safe.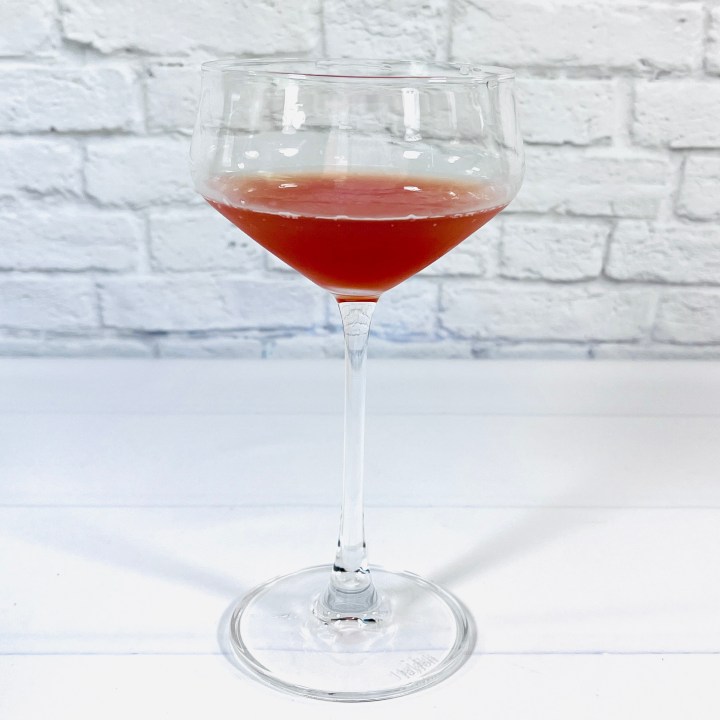 Here is the aperitif in the snazzy coupe glass. I mixed it with Topo Chico but I also tasted it by itself and knew I wouldn't be able to sip it as-is because it's bitter, like spices mixed with grapefruit pith. I don't do bitter, as evidenced by some of my food choices: my tea has sugar and milk, if I drink coffee it is Frappuccino-ed into dessert, and I eat pink grapefruit. I added some Black Cherry Cranberry juice and some more Topo Chico and I enjoyed my mocktail. In fact, I felt kind of fancy sipping it in the middle of the day, and the glass really made it seem extra special.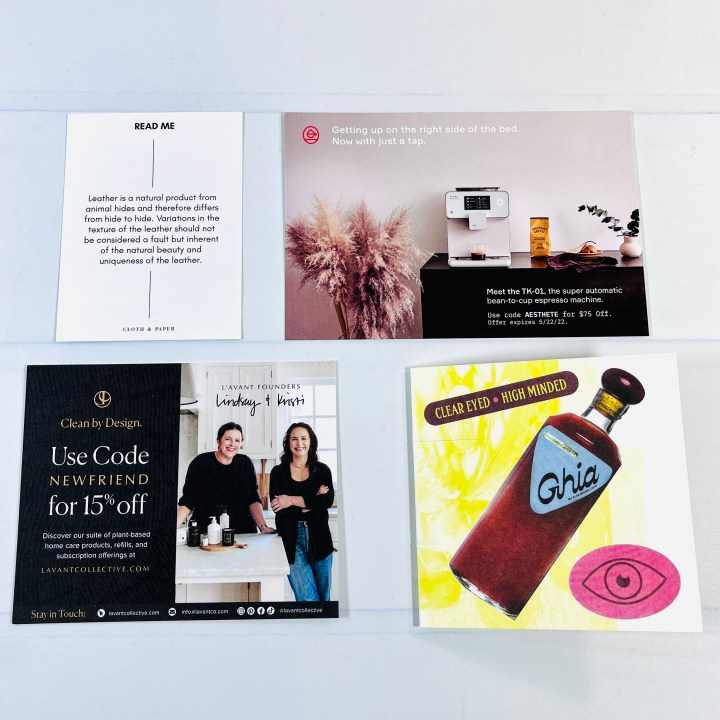 There were several inserts with instructions for taking care of the planner and coupon codes for some of the vendors.
Once again, I thought the Aesthete Box was full of remarkable items that I never knew I needed but that I have enjoyed using since they arrived. I thought the incense holder looked like a piece of art and the sticks that it came with smell unlike any incense I've ever smelled before. I appreciated the alcohol-free aperitif and beautiful glasses, they have certainly turned my late-afternoon/before dinner sips into something special. I've been using the cleaning spray in the kitchen and am looking forward to making meals with the spice kits. The mini planner is very different from my current one and while I personally prefer a bigger version I can see how some people might like to have a compact item for convenience. Finally, the body scrub also smelled wonderful and worked well, I prefer to take showers so this fits seamlessly into my routine.
Below you will find the product info card plus some more box opening pictures.
Aesthete Box by CLOTH & PAPER is a brand new deluxe quarterly lifestyle subscription from the same brand that offers a monthly pen and stationery box for those who prefer a minimalist style in subdued yet classic colors. The Aesthete Box will include a deluxe Cloth & Paper exclusive product plus 6 or more items from other brands that range from beauty to home goods. Each box will have a $300+ value and ship quarterly. Aesthete Box is $149.99 a shipment (this initial box was $129.99 and that price is locked in until the subscriber cancels).
What do you think of Aesthete Box? Are you subscribing?