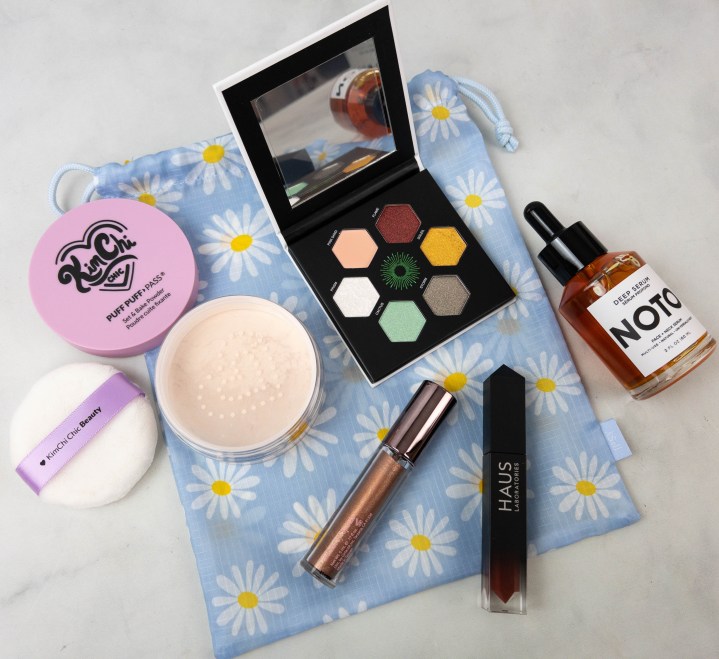 Ipsy Glam Bag Plus encourages beauty enthusiasts to KEEP GROWING like how the flowers bloom this springtime! Included in the April 2022 Glam Bag are five full-sized beauty products to make you feel renewed this blissful season.
Ipsy Glambag Plus subscribers choose three items for their bag – Ipsy selects two!
Ipsy Picks
Kimchi Chic Beauty Puff Puff Pass Set & Bake Setting Powder ($18) comes in the shade 03 Translucent and works great for fair to medium skin tones. It contains rice powder, which is known to have natural anti-aging properties. The formula helps absorbs oil on the skin, leaving it with a flawless finish all day! It also has Vitamin E, which creates a natural barrier to keep moisture in the skin.
This set and bake powder also comes with a soft puff and a custom heart sifter that dispenses the right amount of product for even application. It's the perfect setting powder to use, minus smears and smudges! Just press it lightly onto the skin for an all-day even-makeup glam look. The powder is also nicely packaged, with a Kim Chi tissue paper wrapped around it and a sticker to seal it. I'd give it additional points for that!
To give the lips a shiny look, they sent Haus Laboratories Le Riot Lip Gloss in Attitude ($18)! Its terracotta shade with a golden pearl hue looks stunning. This lip product can be worn alone or layered with your favorite lip color. It has a creamy, gel-like feel that gives the lips a basic gloss without the weight. Also, the angled applicator makes it easier to apply the product to the lips. Just brush one swipe for a simple yet elegant and fuller-looking finish!
My Choices
Moving on to my personal picks, here's Sandbar Beauty The Oasis Palette ($26) that brightens up the lids! Whether you go for a simple matte look or a bold, playful shimmer, this palette will help you do so. There are six earthy shades in the palette with a mix of matte, shimmer, and sparkle. You can see all the Oasis-inspired hues here! Use the matte shades as a base and tap off with shimmering shades for extra glitz and glam. Although I find some of the colors falling out, it's still good to use. The palette also has a mirror and a magnetic closure.
To give the eye some lowkey shine, included in the box is Girlactik Metallic Eye Sparkle in Cleopatra ($20). It's a creme eyeshadow formula with a metallic sheen. The product is housed in a tube with an applicator, making it easy to apply. It blends well and leaves a velvety finish. It looks great on the lids (I find it hard to resist copper eyeshadow), doesn't crease, and stays put all day! There are so many ways to wear this eyeshadow, and it can even be used as a base for other shades to provide an extra pop of color. It's amazingly lightweight as well!
Noto Botanics Deep Serum ($56) contains a blend of botanical oils from grape seed, marula, rosehip seed, and grapefruit that gives the skin hydration and locks it in. This unisex serum oil also has sea buckthorn and carrot seed oil that heals and prevents stubborn acne, along with green coffee oil that naturally builds the skin's collagen for a firmer and plump texture. It's great stuff from earth, providing everything good for the skin!
I love the products that Ipsy chose for me this month, and I enjoyed my personal picks as well. My top three products are setting powder, lip gloss, and metallic eye sparkle. They're all perfect to use for an everyday make-up look. Everything is full-sized, and all product picks were 100% vegan! I think it's fair to say that I enjoyed this month's glam bag. The total retail value of the box is $138!
The April 2022 Glam Bag was made from recycled plastic bottles. It's so pretty with white-yellow daises printed over a sky blue base, although Ipsy had some shipping issues and not everyone received the April print. Here's a look: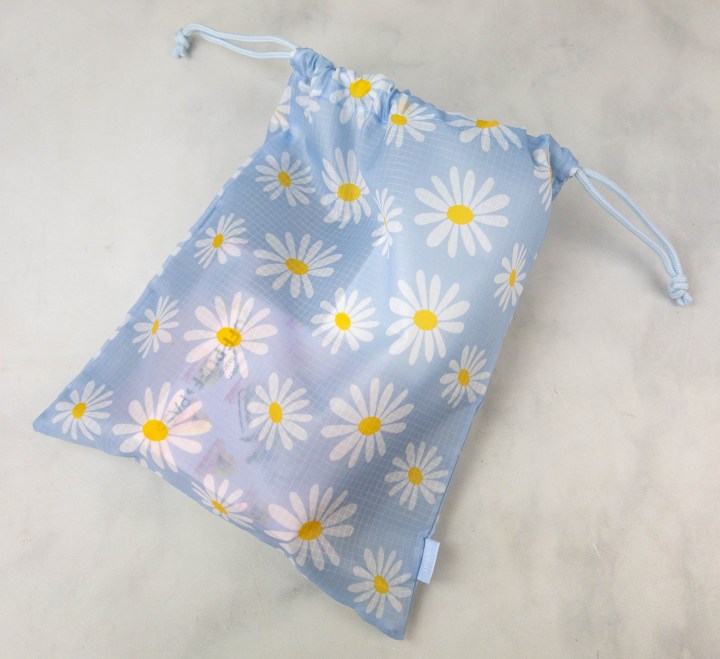 Also, the package includes a card with ways to upcycle your glam bags. Here's a closer look: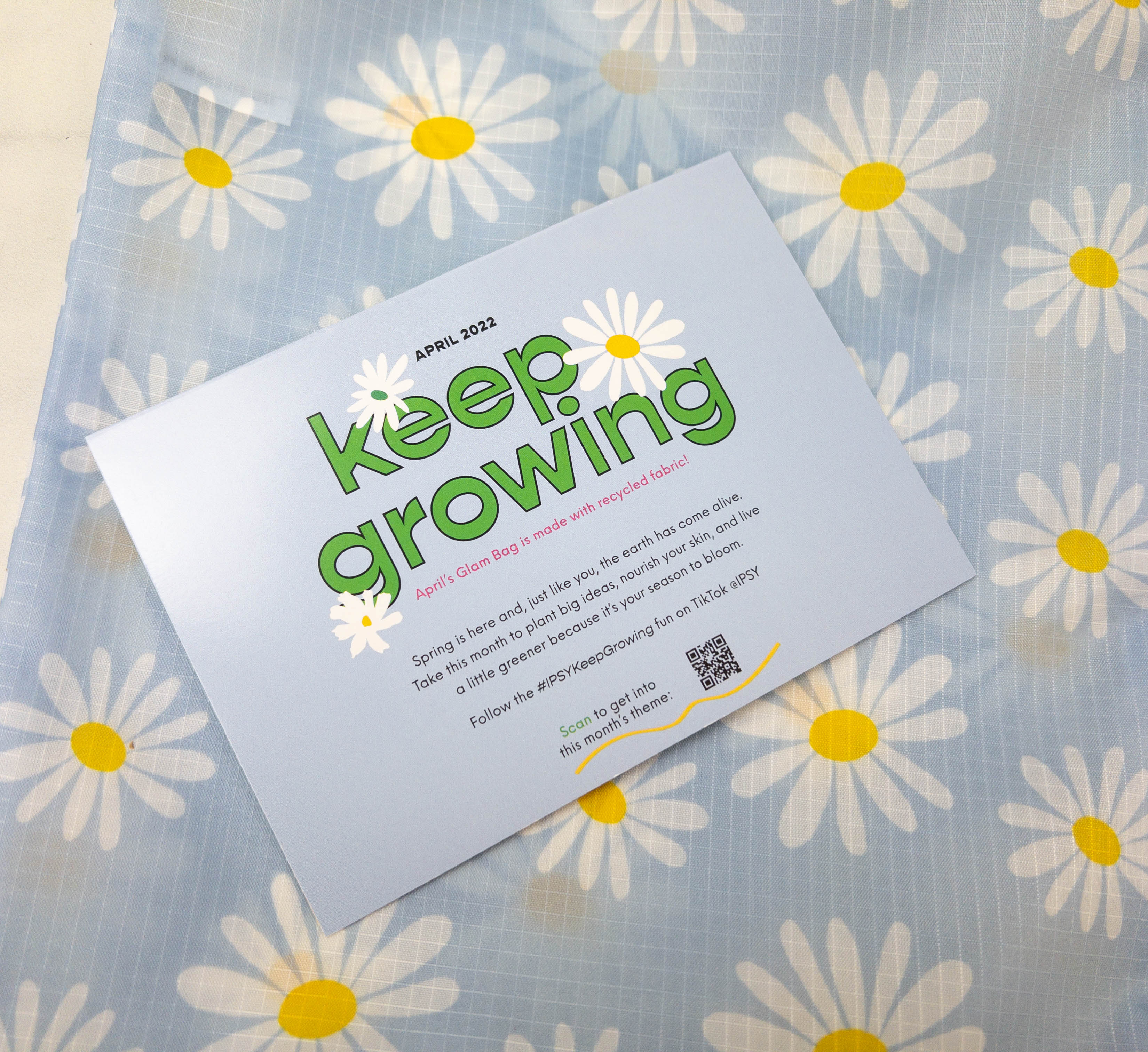 Ipsy Glambag Plus is the upgraded version of the monthly Ipsy Glam Bag. For $28 a month, it contains 5 full-size products from brands you love, plus a deluxe makeup bag with every shipment. The promised value of each box is $120 worth of products. It will contain variations, but there are far fewer compared to the regular Ipsy Glam Bag. Be sure to continue to rate and review your bag to help personalize it to your needs. Check out our Ipsy Glam Bag Plus explainer to find out every detail of this subscription! Glam Bag Plus is definitely a Hello Subscription reader fave – it's in five different lists in our readers' selections for the best subscription boxes!
What do you think of this month's Ipsy Glambag Plus?