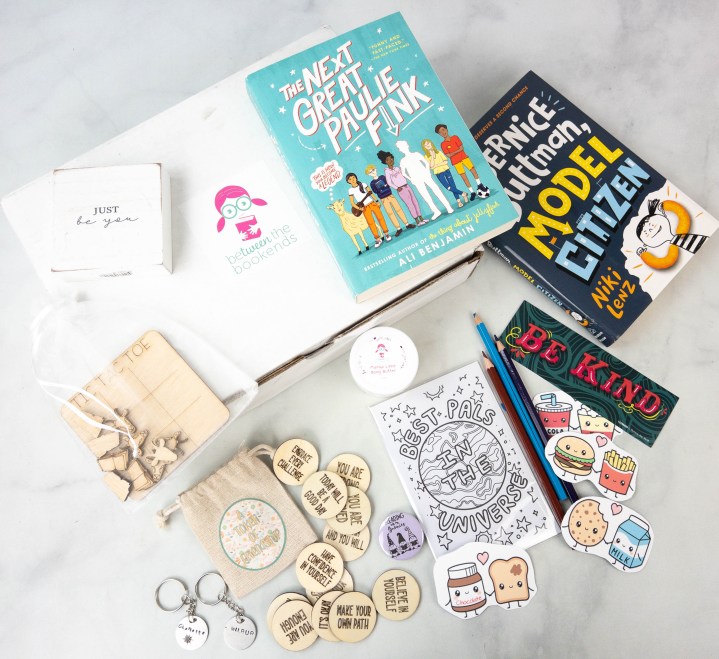 For tweens who love reading, here's something to feed their bookworm minds – beTWEEN the Bookends! April 2022 Tween Box was themed BOOKS AND BESTIES. It includes two swoon-worthy, friendship-centered books and best pals-inspired lifestyle items that your tween can share with their bestie!
DEAL: Get 15% off on your first month on any subscription plans! Use the coupon code HELLO15.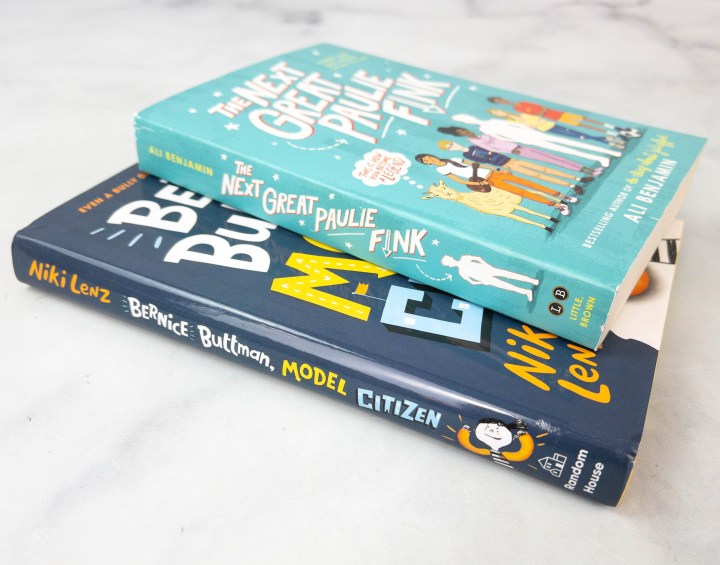 Here are the two books we received this month: The Next Great Paulie Fink by Ali Benjamin and Bernice Buttman, Model Citizen by Niki Lenz. These books cover topics about friendship and discovering one's self.
The Next Great Paulie Fink by Ali Benjamin ($9.99) is a humorous, witty, and engaging middle-grade novel. It revolves around finding the next Paulie Fink (a legendary kid in Mitchell School where they take care of real live goats). Paulie's exit from the school is the entrance of Caitlyn Breen, the main character of the story. There she was chosen to be the arbiter of the search. She gets to know her classmates more and her own strengths during the process. The story is fast-paced and easy to read, with topics about friendship and accepting changes. It had equal parts of humor, cleverness, and heartwarming scenarios. My daughter enjoyed how it was told from multiple viewpoints.
Bernice Buttman, Model Citizen by Niki Lenz ($9.89) is the next book for tweens to curl up in bed with! This tale is about Bernice Buttman, a bully looking for a true friend. The story takes a turn when Bernice decides to do good and be a model citizen. It makes reading much fun for tweens, with bits of humor and a slight kick of drama, and makes you want to root for Bernice up until the last moment. The whole novel is pretty much enjoyable. It's unique in a way, and you'll learn a lesson or two as well!
Now, we're headed to the lifestyle items included in the box: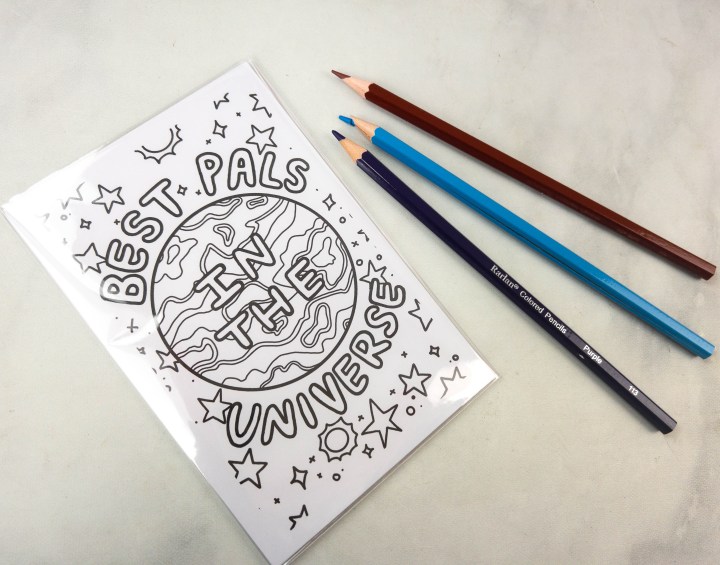 The first surprise in the box allows tweens to play with colors! The Colorable Postcard Set by Handicraft Market TX includes four postcards with either bookish or friendship-themed illustrations. The set also came with three color pencils in purple, blue, and brown. Once done with coloring, tweens can write a message and send the cute postcard to their best pal.
Salem's Bows & More Monthly Sticker Pack, and they're all in line with the theme! As usual, there are four pieces in the set. Each sticker features a good food pairing that anyone loves. There is soda & popcorn, burger & fries, chocolate spread & bread, and cookie & milk – the best pairings that tweens love to munch on! They look so cute, hand in hand, with those adorable little smiley faces!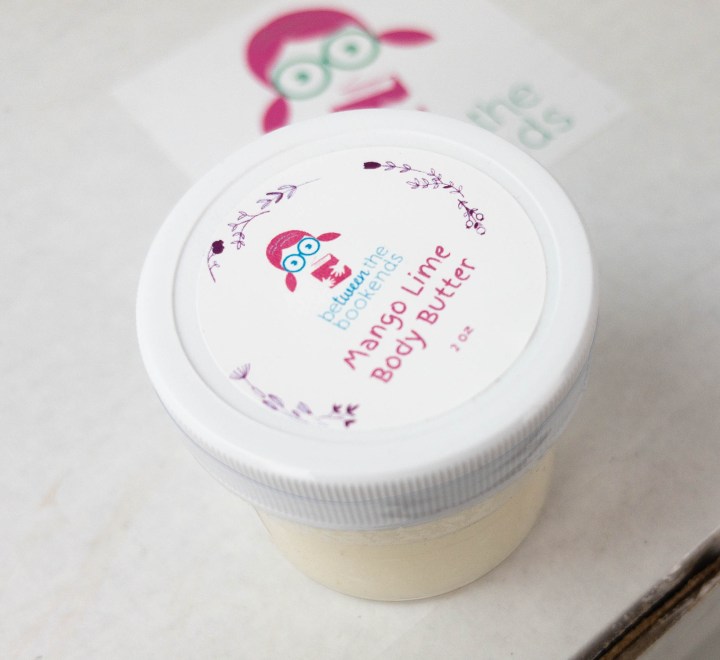 For a more relaxed vibe, here's a tub of body butter ideally used after a bath! The Mango Lime Body Butter contains shea butter, coconut oil, grape seed oil, essential oils, beeswax, and witch hazel, which help nourish and moisturize the skin. This product has a refreshing tropical scent, thanks to mango and lime. It's fast-absorbing and does not leave a sticky residue.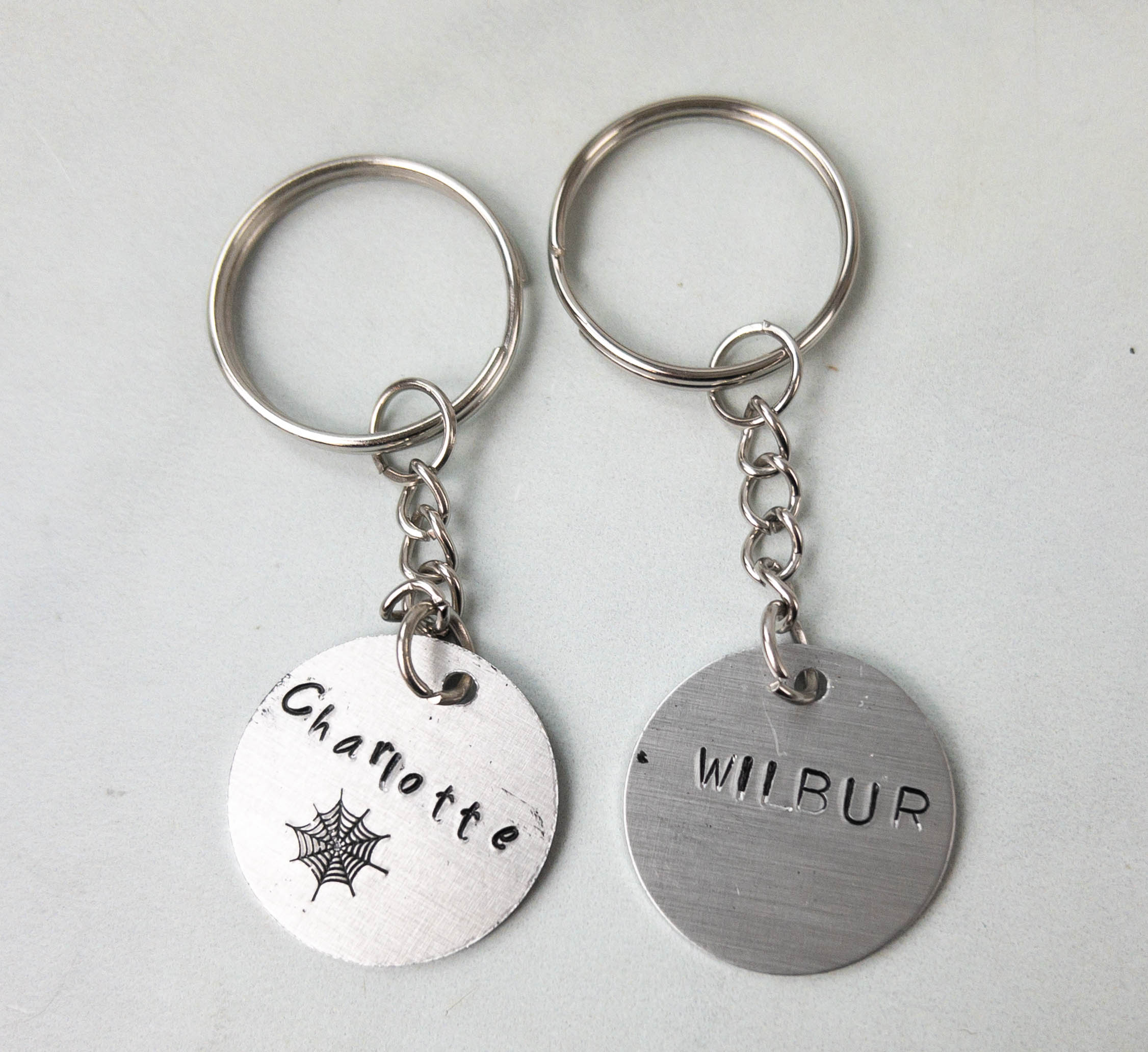 "Charlotte's Web" Inspired Keychain Duo by Slight Edge Creations is a meaningful yet simple gift for tweens! These metal keychains were inspired by a classic children's novel about loyalty and friendship. One has Charlotte's name with a web design below it, and the other has Wilbur's name. On the flip side of each keychain, there's an engraved illustration of a stack of books. It's a cute item that your pre-teen can share with their best friend!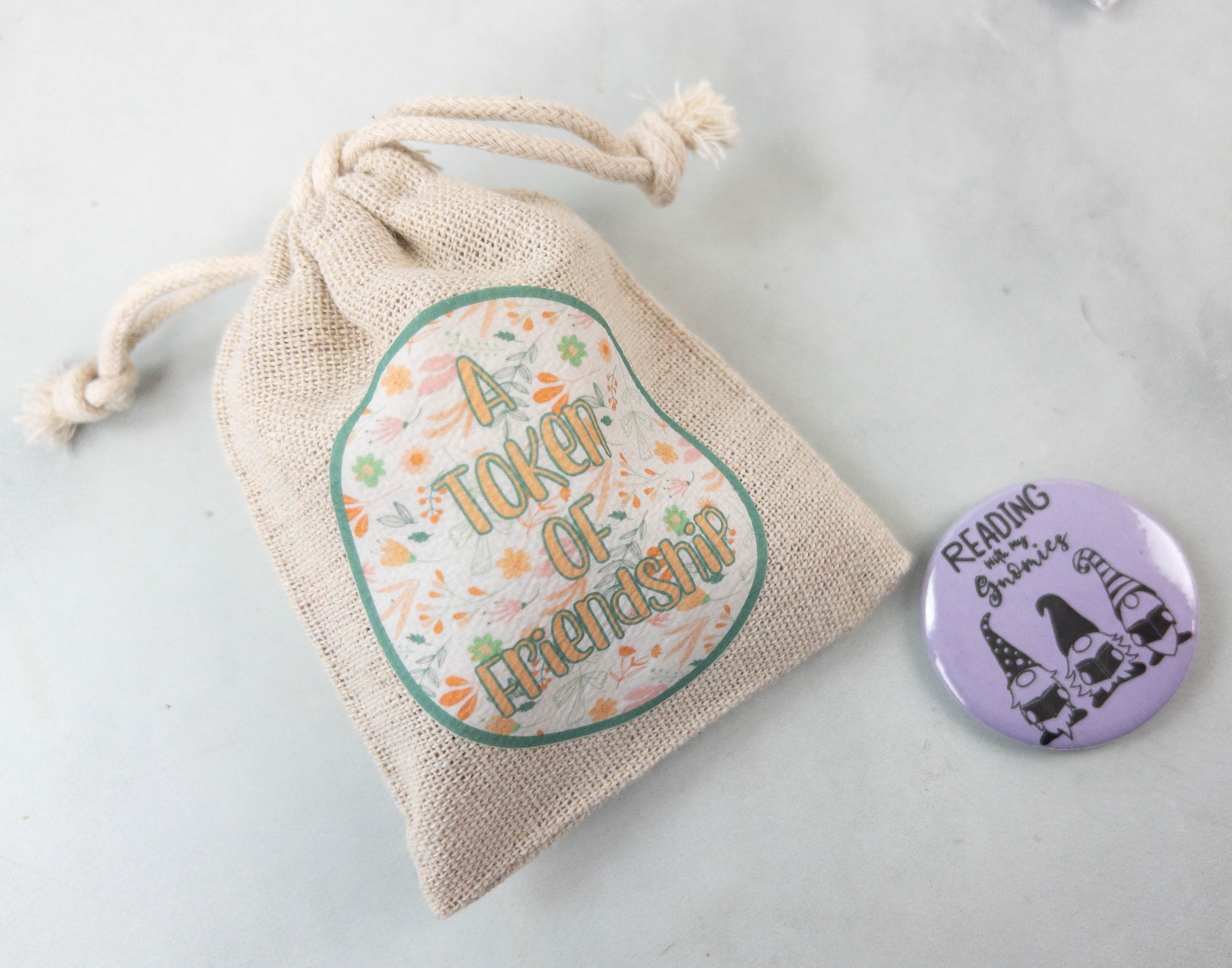 Another bookish item in the box is the Reading With My Gnomies button from Slight Edge Creations. It looks pretty simple with an illustration of three gnomes, each reading a book over a purple base. Tweens can add this item to their collection stash or attach it to their go-to bags!
Positive Affirmation Tokens from The Works Custom Gifts are the perfect way to encourage tweens! There are 12 different wood tokens, each carrying a positive message. They came in a burlap drawstring pouch with the text "A Token Of Friendship" printed in front. It also looks cute with a floral design! Tweens can draw out one token when feeling down for a little encouragement or give one to a buddy might need it.
For adding a bit of spice to any space, they've sent a "Be You" Table Top Plaque. This item can be displayed where it can easily be seen to remind tweens to be just themselves. It has the text "Just Be You" printed on it, which makes it look minimalist but cute! The wash-off white paint gives it a boho-chic aura or Nordic vibe.
Tic-Tac-Toe Game With Themed Pieces by Bold Outlook Creations is a fun game pre-teens can bring on the go! It has the same wood style as the affirmation tokens and looks cute with a wood-burning text effect. Along with the Tic-Tac-Toe board, there are ten themed pieces in place of O's and X's: five goat heads and five open books. All of the game pieces came in a plain white organza bag.
This month's theme is a mix of two fun things – books and besties! My daughter approved of the book picks this month, which are all about friendship and self-discovery. She also adored the stickers and had fun playing with the Tic-Tac-Toe game, which was her favorite from the box. Some of the items are also meant to be shared with friends, which made it more exciting. BeTWEEN the Bookends is a great subscription for tweens, and they never run out of fun themes that tweens can look forward to!
Boxes include a card with this month's theme on it. There's also a peek at the next month's theme, plus a "Be Kind" bookmark. Here's a look: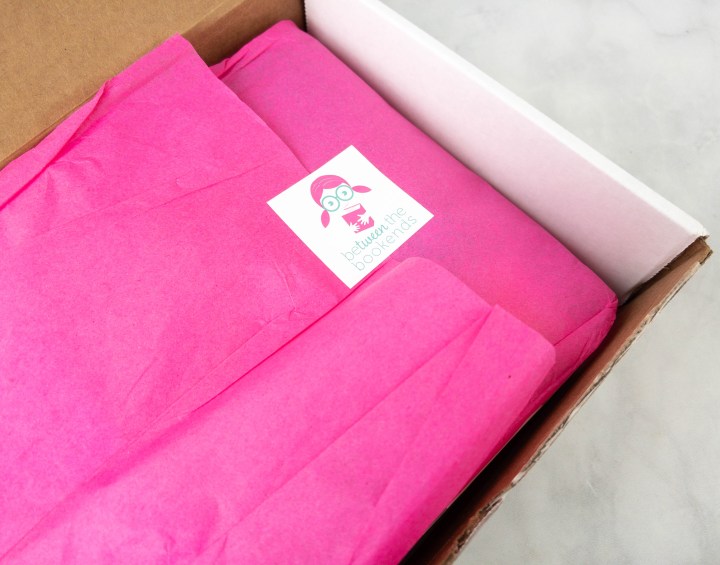 beTWEEN the Bookends is a monthly book and lifestyle box for tweens. There are 6 subscriptions available – the Tween Box for kids age 9-13 ($45) that includes 2-3 books plus 6-8 age-appropriate beauty and lifestyle items, the Mini Box ($30) that includes 1 book and 3-4 beauty and lifestyle items, the Early Readers Box for kids age 6-8 ($45) that comes with 2-3 books plus 6-8 age-appropriate beauty and lifestyle items, the Read to Me Box that comes with 2-3 picture + activity books plus 6-8 lifestyle items, the Just the Books Box ($20), and the Just the Stuff Box ($30). Shipping is FREE to the US, and $15 to Canada. This subscription box is curated by Jillian, who came up with the idea of a book subscription for tweens when she was 12. She created the box in hopes to keep girls reading for fun!
They also now offer Gender Neutral Boxes for each age group. These boxes are $37.50 each, and they will include all books from the full-size boxes, along with 3-5 of the same items (but no jewelry or beauty items). Boxes will be wrapped in green tissue paper and sealed with the alternate logo.
What do you think of the beTWEEN the Bookends box?