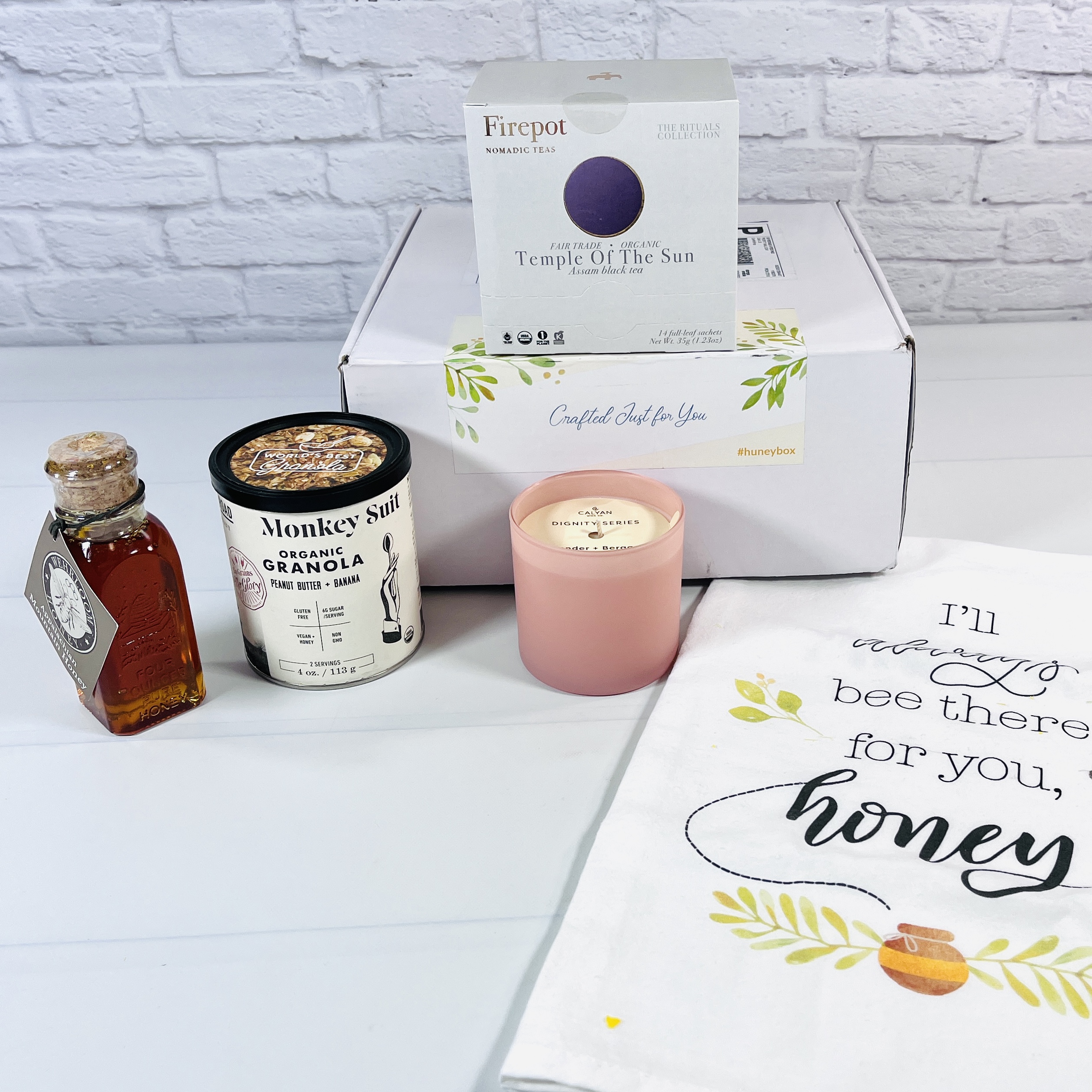 Huneybox is the perfect way to send someone a curated gift box and you won't even have to leave your home to search several stores for the perfect gift – you can choose directly from the Huneybox website! They take care of the wrapping and shipping and they even send a unique personal picture of your choice taped inside the box. See the wonderful gift my friend Brandy sent to me that brought a smile to my face!
DEAL: Save $5 off on every order! Use coupon code PAYITFWD.
I thought this was such a cool idea – after you place your order, Huneybox will send you a picture of your box so you will know exactly what your friend will see when they open it up (and you will see an almost identical picture at the end of this post that I took when the box arrived)!
Huneybox has a few different gifting boxes to choose from such as For Her, For Him, Afternoon Tea, or Coffee Addict and there's a few more. The prices start at $12 for the box, Huneypic, and service, and each item you choose is added to that base price. A Huneypic is a picture of your choice that is printed and glued to the inside of the box (mine is a generic "for you" shown above). It noted that there was a message on the back and I discovered that this box was sent to me by my friend Brandy. Brandy knows me really well and she chose items she knew I would love, like black tea, honey, and a bee-themed hand towel, plus a candle and granola, it was really the perfect gift box! Some of the other items available for you to choose from are coffee, clay masks, socks, lotion, or a journal, and there were ready-made boxes available too.
Kitchen Towel I couldn't find this towel anywhere but it is so cute! It's made of 100% cotton in India and has a loop so it can hang from a hook if you like. I tend to put this type of towel on my oven or dishwasher handle. It measures 27″ x 27″ and I would expect some shrinkage after washing. Fun fact: The name "Debbie" (and all of its kin) means honey bee so I love things with bees on them!
Firepot Nomadic Teas Temple of the Sun ($9.49) I start every morning with a cup of strong black tea and this is exactly what I want to sip! It was bold with a subtle floral note and I added a bit of sugar and milk and blissed out for a few moments to start my day. It is also refreshing in the afternoon!
Calyan Wax Co. Lavender + Bergamot Soy Wax ($10.60) I have an impressive candle collection but I am always adding more, after all, it's a collection! This candle came in a soft pink frosted glass that will be perfect for holding trinkets once the candle is gone. The candle is made of American-grown soy wax and is scented with phthalate-free fragrance oils infused with essential oils of lemon, lavender, and cedar. This size candle should burn for around 35 hours and will scent a small to medium room. I burned it in my living room and for the first hour there wasn't much scent but the second hour I could smell it and loved that this was a natural type of scent, it really smelled like essential oils and not perfume.
Banner Road Monkey Suit Organic Granola ($6) I have always loved granola, and my mom even made it from scratch when I was a kid. This version has a base of gluten-free oats along with honey, peanuts, pumpkin seeds, peanut butter, and even banana powder. The tube makes this perfect for stashing in a desk to nibble on as a snack, or for pouring onto a parfait made with yogurt and fresh bananas. Of course, you could always top it with milk for breakfast too! The banana flavor isn't strong and certainly isn't artificial, this doesn't taste like banana candy, but I think peanut butter in granola is a new experience for me and I like it!
Wehrloom Honey Appalachian Mountain Honey ($7) This honey came in a cute little jar that is old-fashioned looking. This honey is raw and unpasteurized and comes from bees that gather pollen and nectar from spring trees in Appalachia. I loved how sweet this was, it was so tasty, although the lid was hard to remove once it had honey all over it, so I found a different cover for it.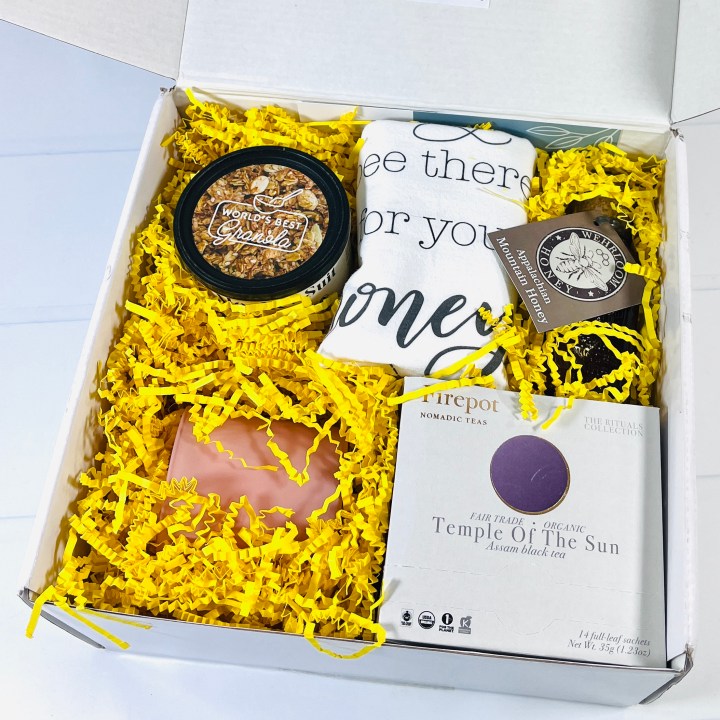 I truly enjoyed the items I received in my Huneybox, and Brandy obviously knows what I like, she chose products that made me feel good, and they especially enhanced my afternoon tea time ritual. The items were high quality and from American-based companies, they even have a bio about them on the Huneybox website.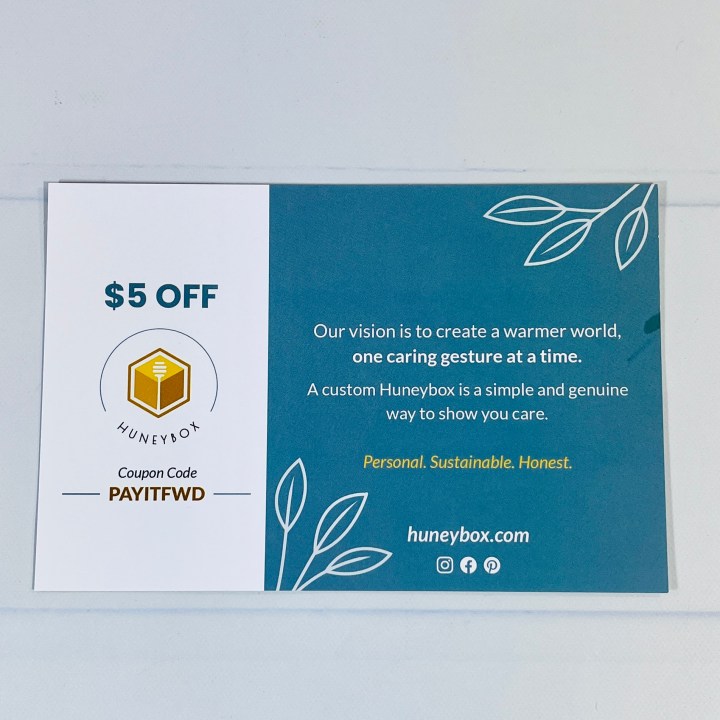 Huneybox provides a simple and genuine way to show you care. They've launched a fun and convenient way to create your own personalized care packages. They use high-quality products from sustainable businesses that give back and even have pre-curated boxes to choose from if you are stuck on what to gift. They include a Huneypic to personalize the experience and you can leave a note to let your recipient know you care.
Are you getting Huneybox?