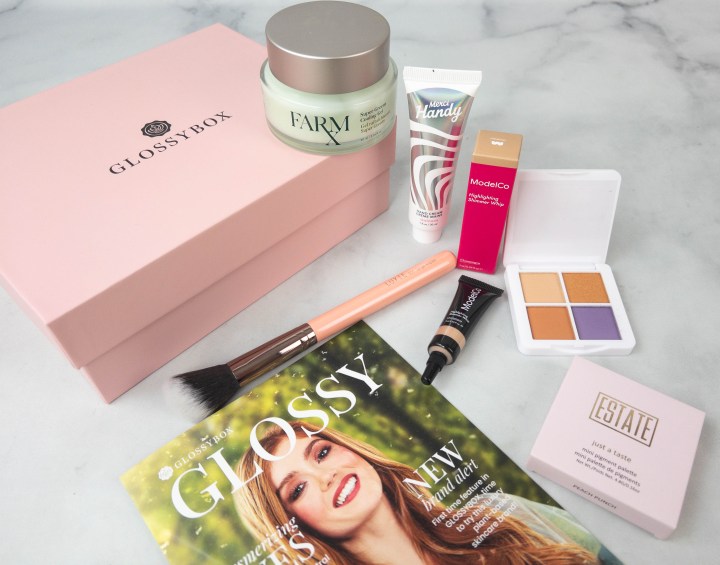 GLOSSYBOX March 2022 opened the road to a GLOSSY WONDERLAND with five full-sized products that give the skin a touch of color and shimmer. This collection includes new brands which are not yet previously featured in GLOSSYBOX!
DEAL: For a limited time only, save $5 on this month's box – just pay $16, instead of $21! Follow this link to subscribe and the coupon code TREAT16 at checkout OR Get 35% off on a 6-month prepaid subscription! Use this link and use the coupon code GET35 at checkout!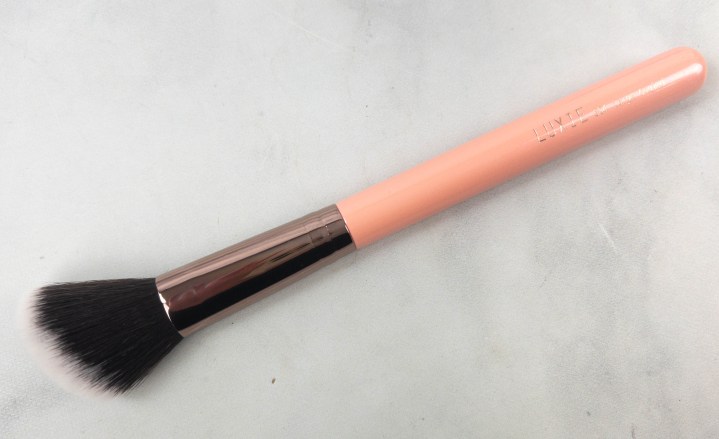 We're starting the journey to Glossy Wonderland with a makeup tool! This brush is a part of the Luxie Rose Gold collection, featuring premium soft, synthetic bristles encased in a rose gold ferrule with a pink handle. The booklet stated that should be a Luxie 205 Tapered Blending Brush ($15), but the one I received is Luxie 504 Large Angled Face Brush ($21). I was surprised because I was expecting it to be the blending brush. Nevertheless, it's useful and smoothly sweeps across the face!
Hand creams are a necessity when my hands feel rough and dry. In this box, I received Merci Handy Hand Cream in Unicorn ($7), which is made with skin-friendly ingredients including a blend of sweet almond oil and shea butter that moisturizes and softens the skin. It's lightweight, with a whipped texture that feels nice when applied. What does unicorn smell like? scent has oriental, floral, and gourmet notes, but it's not overpowering. Other scent possibilities for the hand cream are Hello Sunshine, Cherie Cherry, Namaste, and Dolce Vita.
To add a bit of glow to everyday looks, here's Model Co Highlighting Shimmer Whip ($15)! It can be worn alone, over makeup, or mixed with your favorite foundation for an all-over radiance. This liquid highlighter leaves a subtle hint of champagne color and a dazzling, illuminating finish. It's also blendable, easily adding a warm glow to the cheekbones, brow bones, or cupid's bow.
Whether feeling simply darling or a little mischievous, this Estate Cosmetics Just A Taste Eyeshadow Palette ($56) helps you achieve your desired look for the day that reflects your mood! Subscribers will get 1 of 2 palettes: Merbabe or Peach Punch. I received the latter, which has three peachy shades and one pop of playful lavender. All colors are well pigmented and have a buttery texture that's easy to blend. They're buildable and long-lasting as well. The packaging is compact and easy to toss into a pouch.
For the finale, here's Avon Farm RX Super Greens Cooling Gel ($29.99), made with plant-based ingredients that nourish the skin. It contains super nutrients like broccoli sprouts, brussels sprouts, moringa oil, and green tea, giving the skin a softer, brighter, and healthier look. This cooling gel also helps repair damaged skin and protects the skin's moisture barrier. Use it as you would a moisturizer to soothe and cool skin. It feels lightweight when applied and can also be used as a mask to hydrate the skin while sleeping! This is a really big container, but some subscribers might be bummed that it's from an MLM.
This month's curation mostly delivered a feeling of enchantment. Product choices were meant to give a pop of color and add shimmer, and overall it was a nice mix. Not to mention, they are full-sized! The cooling gel feels great on the skin, the eyeshadow palette is stunning, and the hand cream left my hand feeling soft. The liquid highlighter is also pretty great if you want to level up your everyday makeup looks. It was odd that the brush is not the one indicated in the booklet. Still, it's a great box all in all! The retail value of the items came to about $128.
As always, GLOSSYBOX's packaging looks luxurious! There's also a booklet in each box detailing all the items included. Here's a look: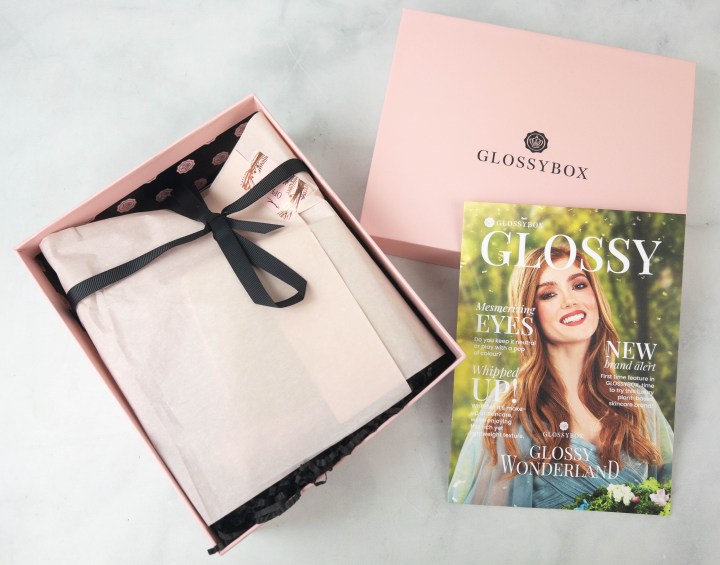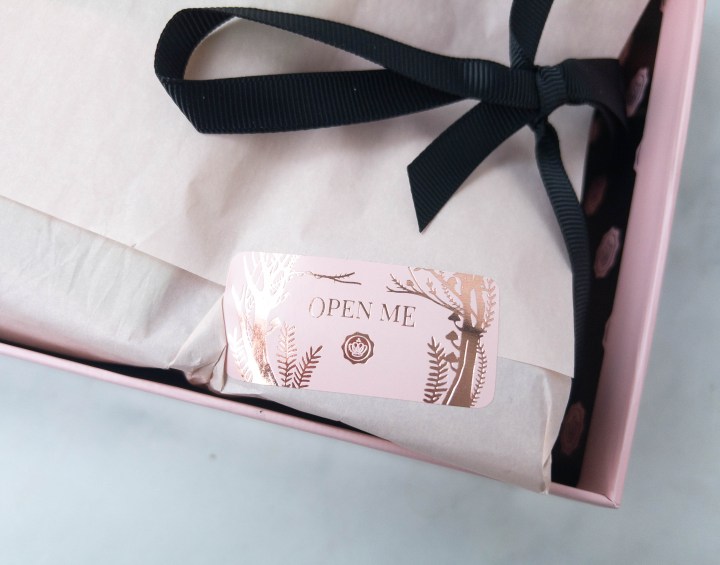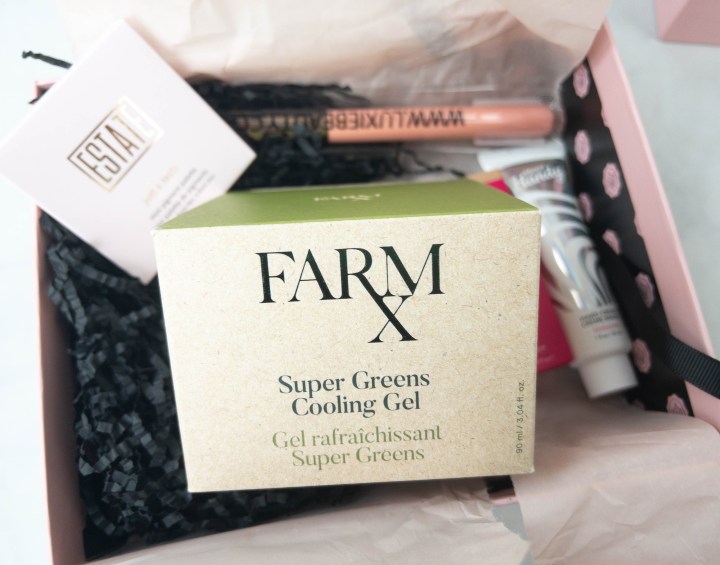 GLOSSYBOX is a monthly beauty subscription box with at least 5-6 luxury samples – many full sizes – per month for $21.
GLOSSYBOX is a reader fave and near the top of the readers' choice best beauty subscription box awards list!
NOTE: If you choose to subscribe to a recurring Monthly Plan between the 15th to the end of the month, you automatically agree to the following month's charge.
What did you think of this month's GLOSSYBOX?