Pipsticks January 2022 Kids Club Classic includes shiny and colorful stickers, some of which are Valentine's Day themed so kids can decorate their journals, cards, and other craft projects in advance! Aside from the cute stickers, the pack also includes a postcard and a booklet. A sticker subscription for kids like this one is a perfect way for them to have fun and be creative!
DEAL: Get 50% off your first month of Pro or Kids Club Classic Pack! Use the coupon code STICKER50.
Every box comes with a reusable holographic pouch that you can use to keep your stickers or organize your sticker collection. Also, there is always a booklet entitled Little Pippy that has different activities for kids and tweens to try!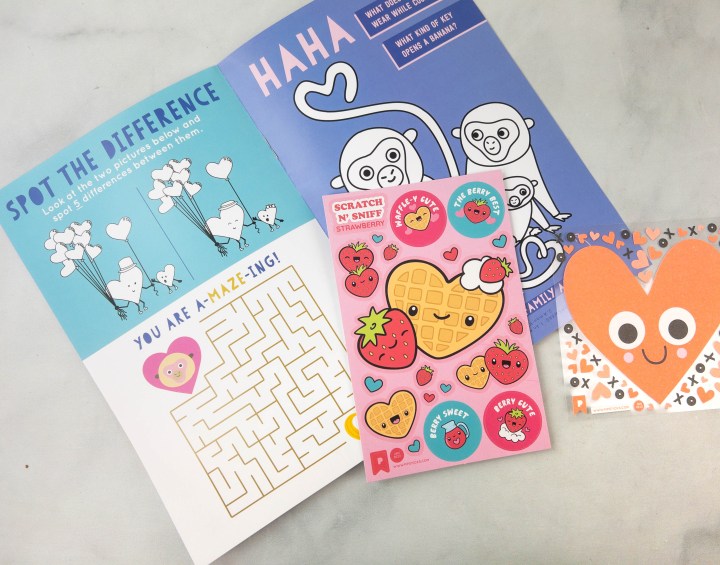 This month's Scratch 'n Sniff Pipstickers come in a fruity scent! They are heart-shaped strawberries and waffles, which were the perfect addition to Valentine's cards to make them berry sweet!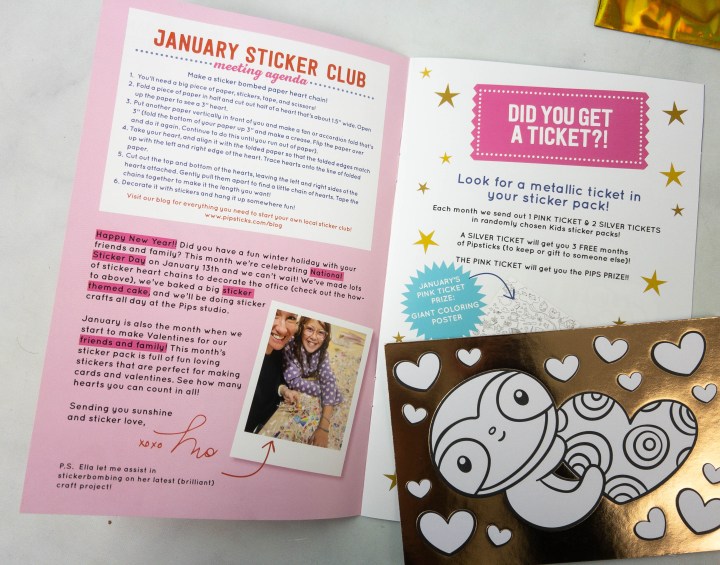 Another staple in every Pipsticks package is a postcard! This month, the postcard features a sloth that kids can color if they wish. It also has a beautiful gold foil background!
If you received a metallic ticket in your sticker pack, it means you won a prize. A pink ticket is equivalent to a Pips Prize and a silver ticket will give you free 3 months of Pipsticks, which you can either keep or send as a gift. We didn't receive a ticket, but my kids were absolutely happy with their new sticker sheets.
This month's featured collaborator is Kitiya Palaskas, an Australian artist. Her sticker sheet design is filled with bright colors and abstract shapes, which are a great way to add a pop of color to any journal spread or craft project.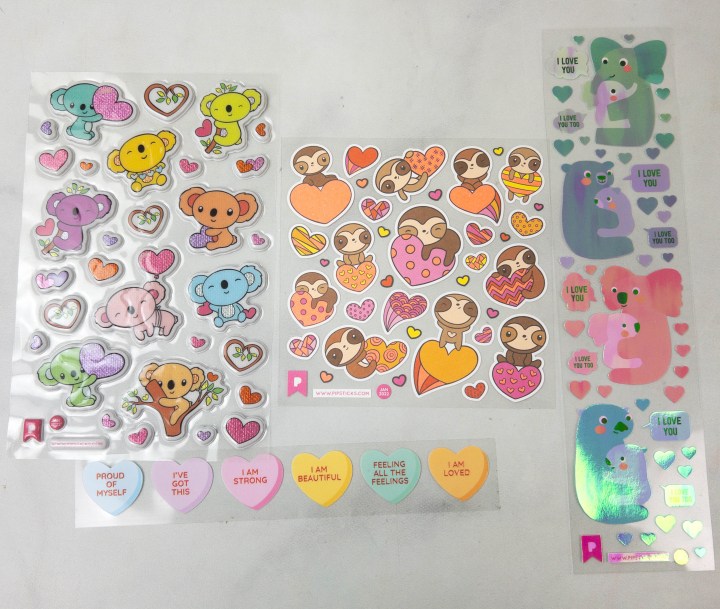 Let's look at the other stickers in the pack! One lovely sticker sheet features simple positive affirmations on heart candies, and there are also animal-themed stickers for animal lovers, including puffed koala stickers, adorable sloths with hearts, and more.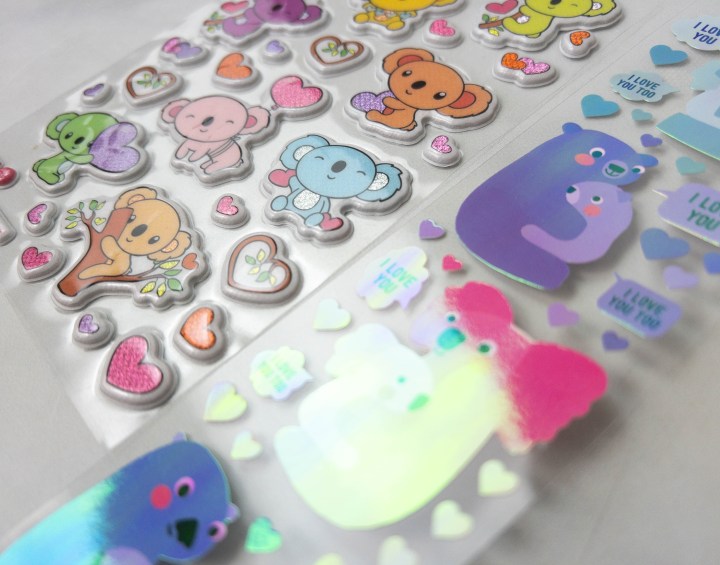 The koala stickers are puffed and they easily stand out anywhere you put them!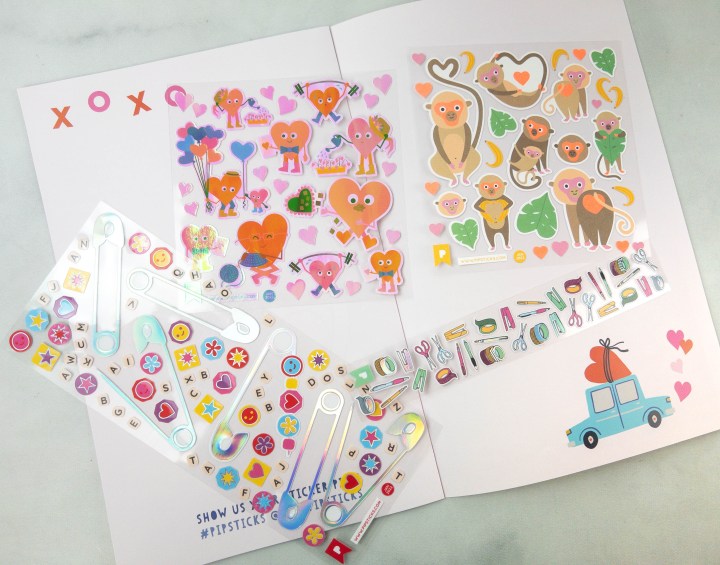 The rest of the stickers feature art materials, alphabet and safety pins, hearts, and monkeys. Even tweens would love these, as they can customize their phone case or laptop with these cute stickers and achieve that bubble gum pop aesthetic!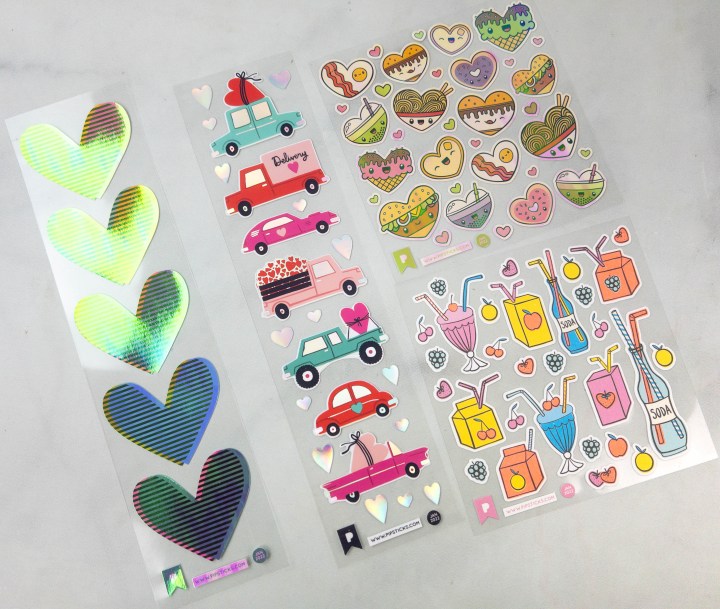 Here are more Valentine-themed stickers! There are hearts with stripes, cars that are ready to deliver love this season of hearts, heart-shaped food, and fruits and refreshments with straws for two.
This month's sticker sheets are so cute and colorful! They also feature unique designs, especially the scratch n' sniff strawberry stickers. I also loved the idea that it is Valentine's Day-themed so my kids were able to design cards and other items in advance. My kids and I loved everything that is included in this month's pack! We simply can't get enough of this sticker subscription!
Pipsticks is a monthly sticker subscription that sends new designs from their collection in a super shiny holographic pack every month! The stickers come in a reusable sparkly pouch and include sticker sheets, paper products, and Little Pippy, an exclusive sticker magazine. You also get 5% savings in the online store and more. You can choose to get stickers for adults (Pro Club) or kids (Kids Club). Both clubs come in Classic (15 sheets for $17.95 a month) or Petite (7 sheets for $11.95 a month). Shipping is free to the U.S., and Pipsticks can even be shipped worldwide for a fee.
Pipsticks Kids sticker subscription made the list in our 2021 readers' choice list of best subscriptions for kids! They also topped the list of best stationery subscriptions for the year!
NOTE: You should be able to find the items in this month's pack in the Pipsticks online shop around mid-month. They usually have previous packs available too.
Are you getting any of Pipsticks subscriptions?