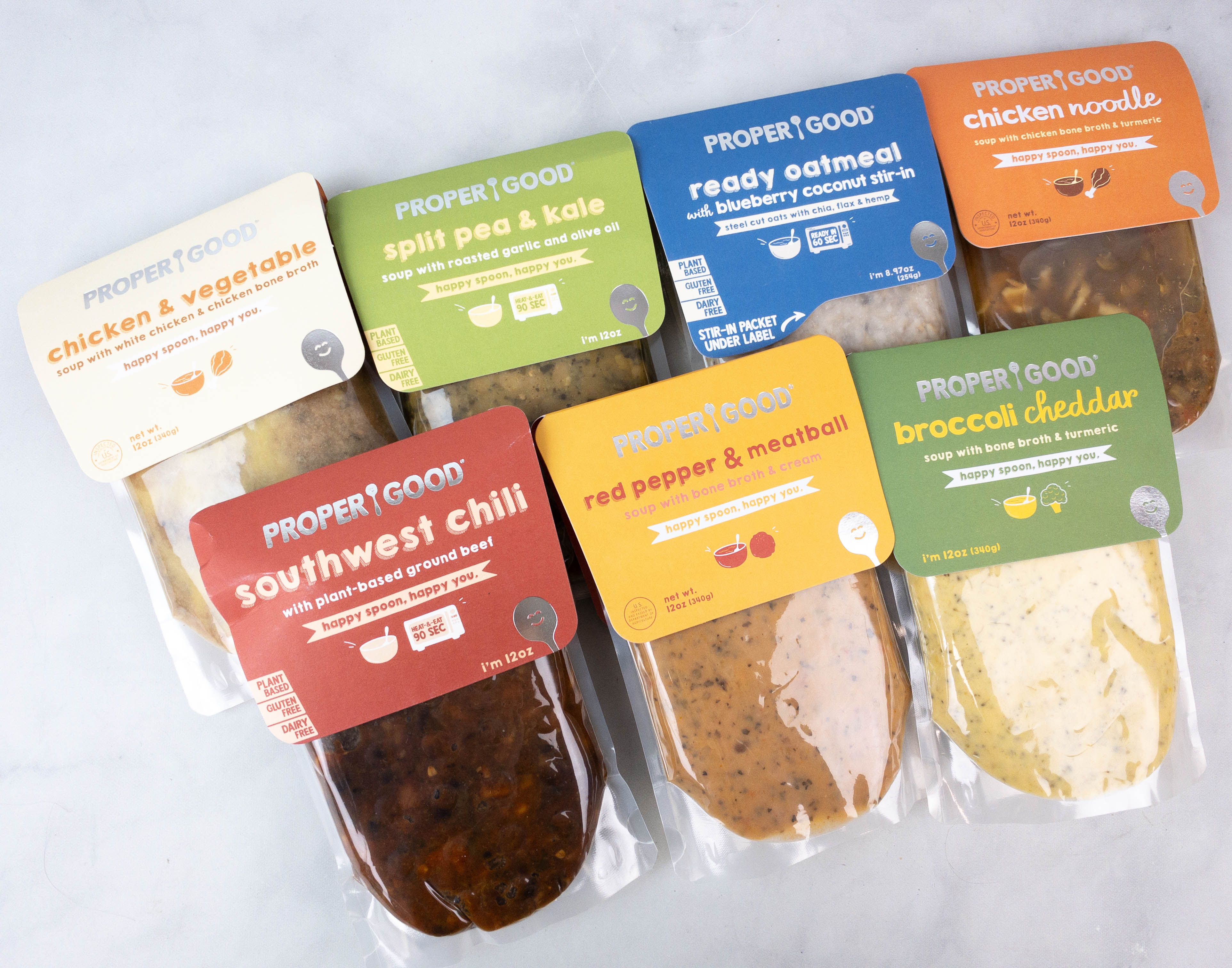 For busy individuals who want hearty and healthy meals three times a day, Proper Good is the way to go. This subscription offers nutritious soups in handy packs, so you can enjoy them whether at home, at work, or even outdoors. The best thing about them is that they're shelf-stable – no need to refrigerate!
You can either grab a pack of their 6 bestselling flavors or build your own box (minimum order is just one item!). We built our own box with 7 flavors: Split Pea & Kale, Chicken Noodle, Red Pepper & Meatball, Broccolli Cheddar, Southwest Chili, Chicken & Vegetable, and Blueberry Oatmeal.
DEAL: Get 10% off your first order! Use coupon code HAPPYSPOON10.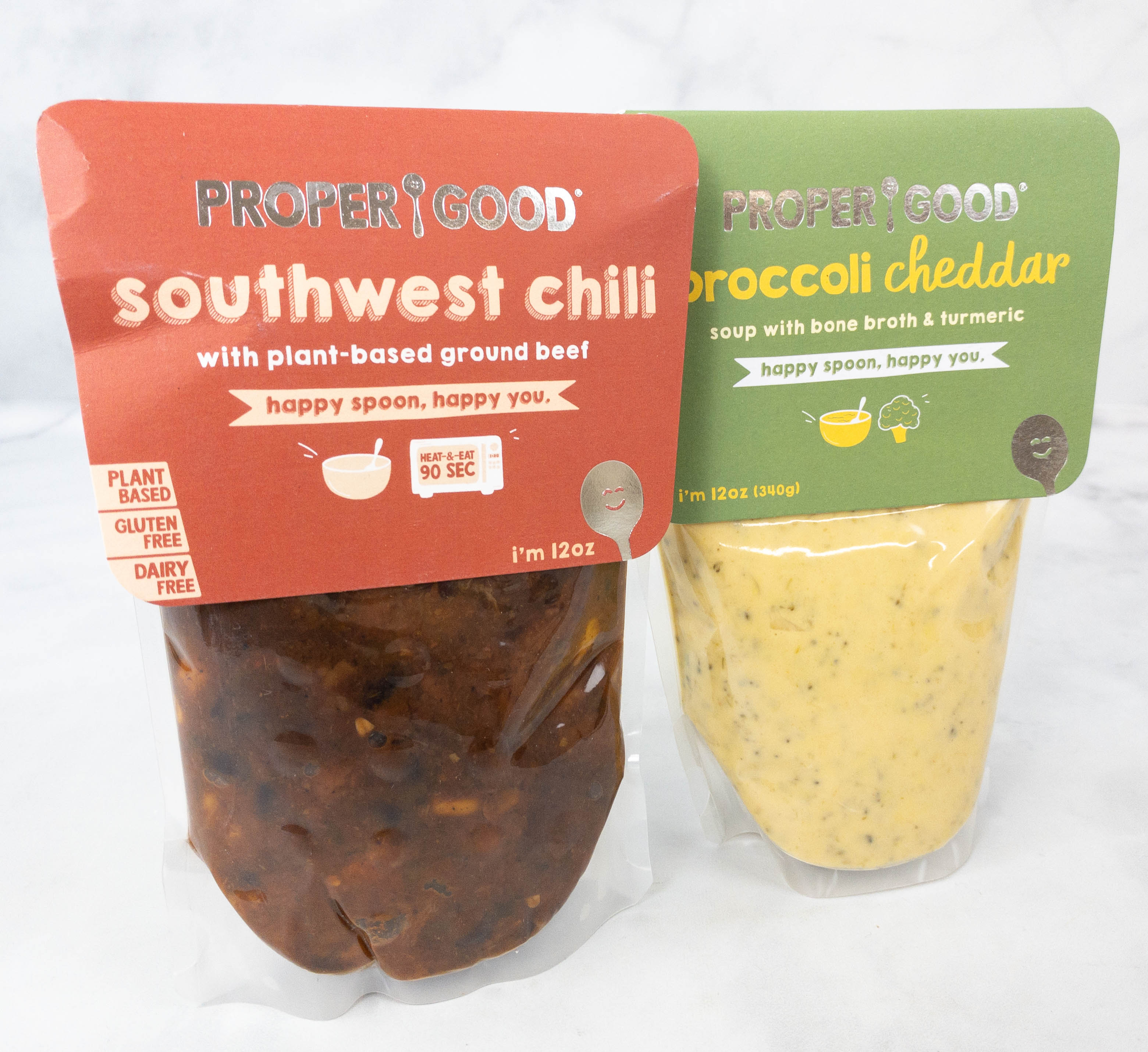 Each BPA-free pouch contains 12 oz (or 340g) of soup, a full serving that can already fill an average size of soup bowl.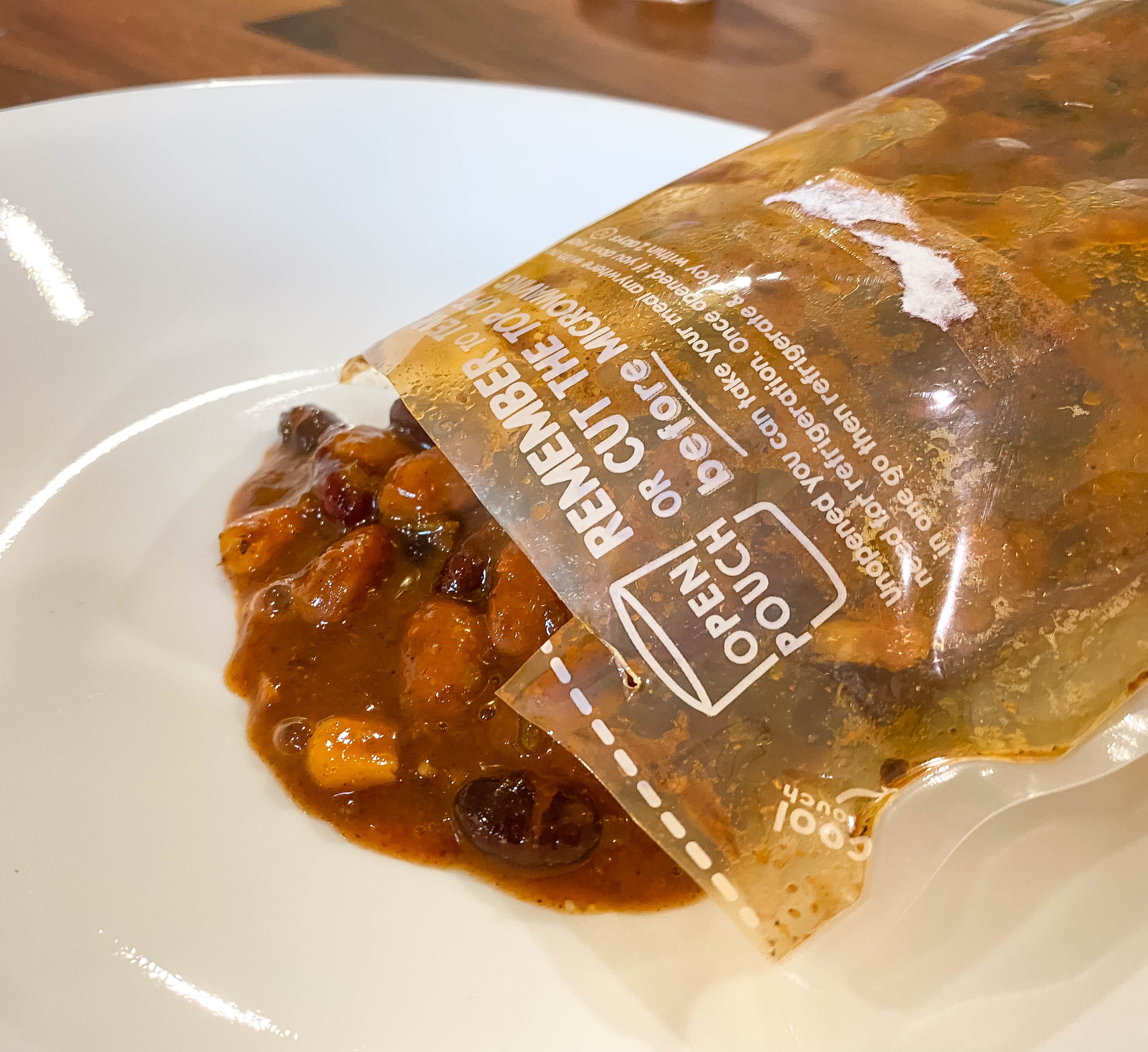 There are 3 ways to heat up the soups. You can either microwave them, use the stovetop, or use the boil-in-bag method. From our experience, the soups needed an extra minute to heat even in our powerful microwave, but admittedly I like my food really hot.
The first flavor we've tried is the Split Pea & Kale. This is a plant-based soup, and it's really good and filling! It contains protein and fiber-rich green split peas and kale, along with roasted garlic, oregano, and smoked paprika that gave it depth. This one was my favorite!
Next up is Chicken Noodle! Proper Good's version of the classic chicken noodle soup is good. It contains white chicken breast and egg noodles, with a rich and collagen-packed bone broth base complemented by turmeric and ginger. Sipping this very bone brothy soup is a great way to keep yourself warm on cold days!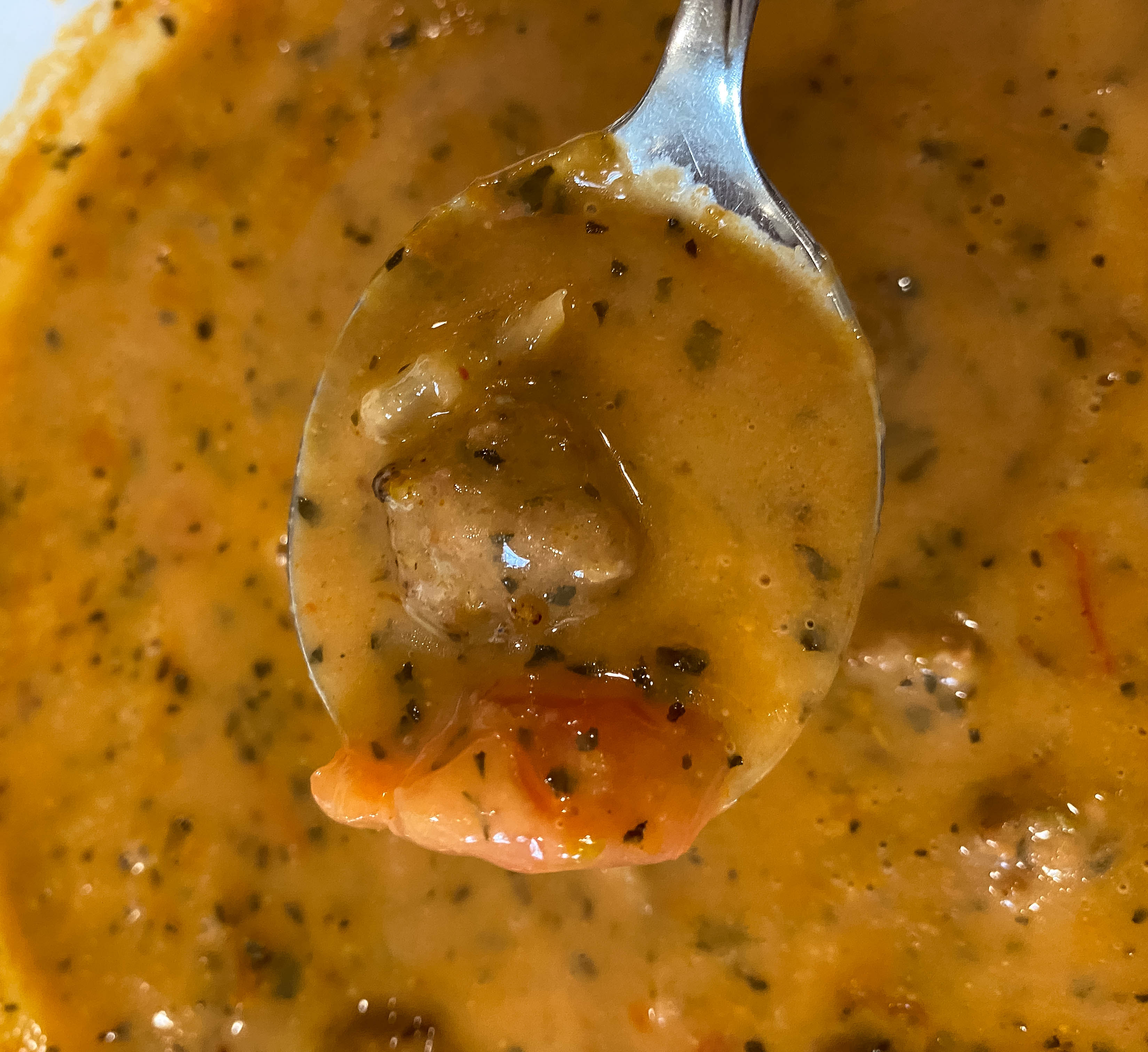 Hooray for a keto-friendly meatball soup! Red Pepper & Meatball is thick and textured, with meatballs made with both pork and beef, sweet red bell pepper, and a base made with beef bone broth. It's so good, hearty, and satisfying!
Cheesy and creamy, it's hard to resist finishing a whole bowl of the Broccoli Cheddar soup in one sitting. It's also made with a very brothy base and with added turmeric for a unique twist. They also have a plant-based meal for spicy food lovers! Southwest Chili is like a homemade simmered chili, only that it's ready to eat and made without meat. They used three types of beans for this one, plus ancho chili, poblano, and smoked paprika. This is super intense, but not really spicy.
Not in the photos, but we also tried Chicken & Vegetable soup! Packed with protein-rich chicken breast and nutrient-rich vegetables in a collagen-rich bone broth base, this soup makes a great comfort food. It also contains parsley, garlic, and chives. We also had the Blueberry & Coconut Oatmeal. It's a pack of fully-cooked, ready-to-eat oatmeal that can be enjoyed whether hot or cold. It's made with steel-cut oats, chia, flax, hemp seeds, and coconut oil, and it also comes with a stir-in topping packet that includes blueberries, toasted coconut flakes, pumpkin seeds, maple syrup powder, and butterfly pea powder.
I like the variety Proper Good has to offer! There's something for every taste preference, including spicy soups, creamy soups, and even classics like chicken noodles and meatballs. They even have oatmeal for people who love having it for breakfast instead of soups! Proper Good meals may be a bit more expensive than others, but if you're particular with what you eat and you only want wholesome ingredients in your food (plus the convenience of not having to prepare anything or to work in the kitchen), this would be worth a try.
Among the packaging material Proper Good uses, only the pouch is not widely recyclable in most local areas but they will include a pre-paid return envelope with each shipment so you can send your pouches back to them for recycling. Here's a closer look at Proper Good's packaging: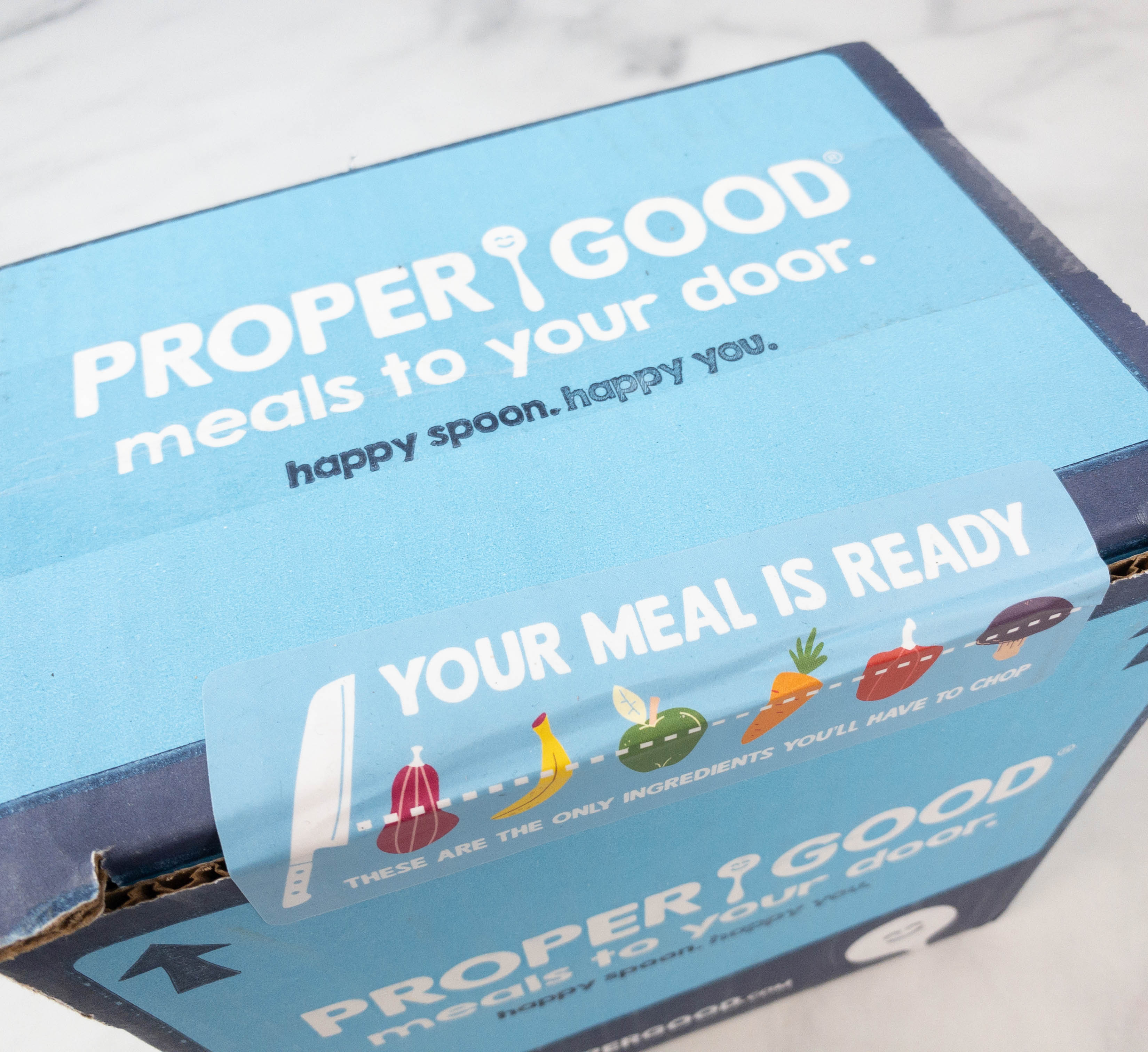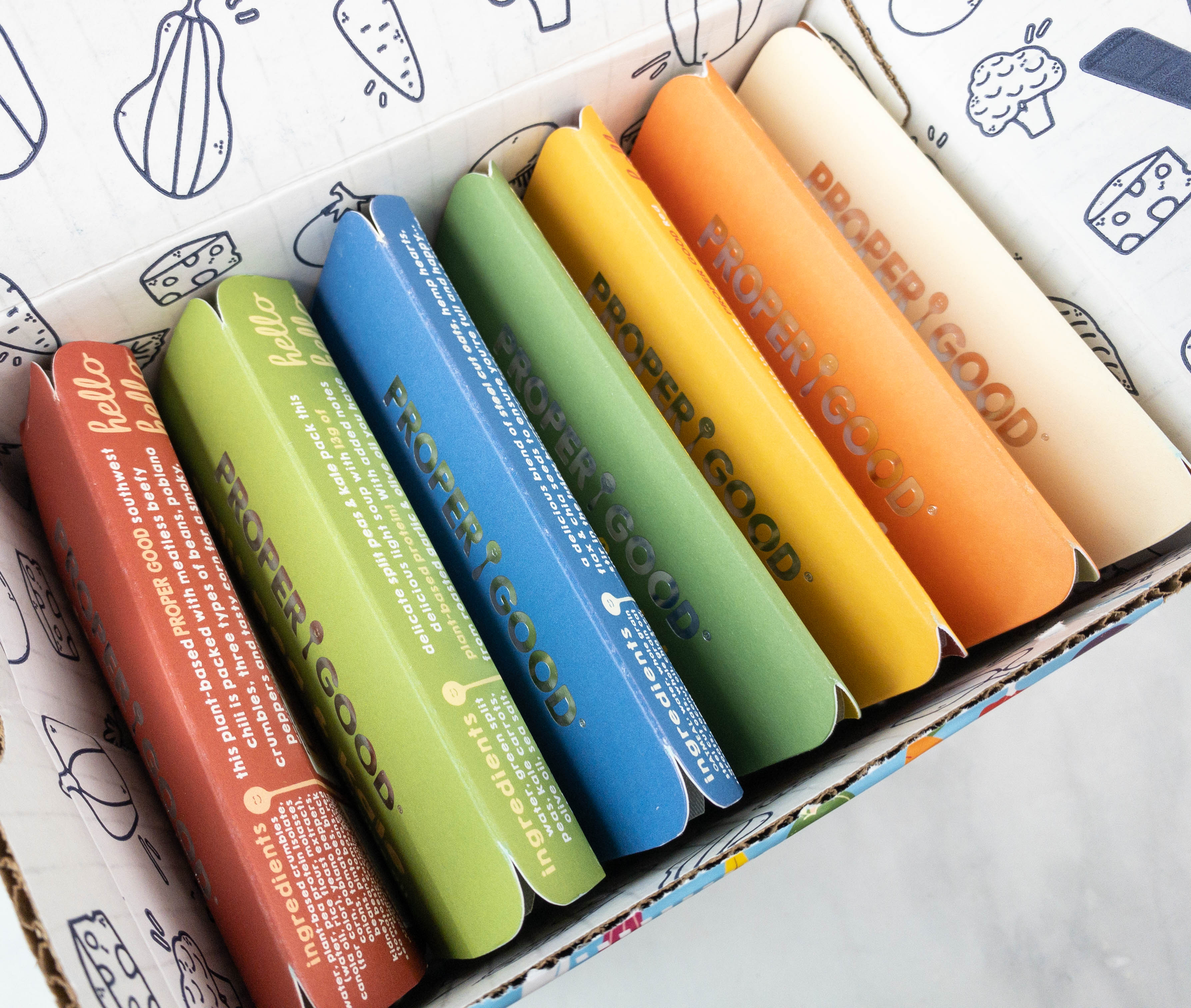 Proper Good is a subscription with a selection of at least 20 shelf-stable, ready-to-go healthy meals. They are made with clean and high-quality ingredients, with keto, plant-based, gluten-free, and dairy-free options. You can either get a pre-selected Best Sellers Pack ($36.49) composed of six of the most popular Proper Good flavors, or build your own box with individual packs starting at $5. Shipping is free within the continental United States on orders above $30. Also, you can have your healthy food delivered every 1, 2, 3, or 4 weeks, depending on your needs. Proper Good has a Happy Spoon Guarantee, which means that if you aren't happy with your Proper Good meals, they will refund your order in full!
What do you think of Proper Good?