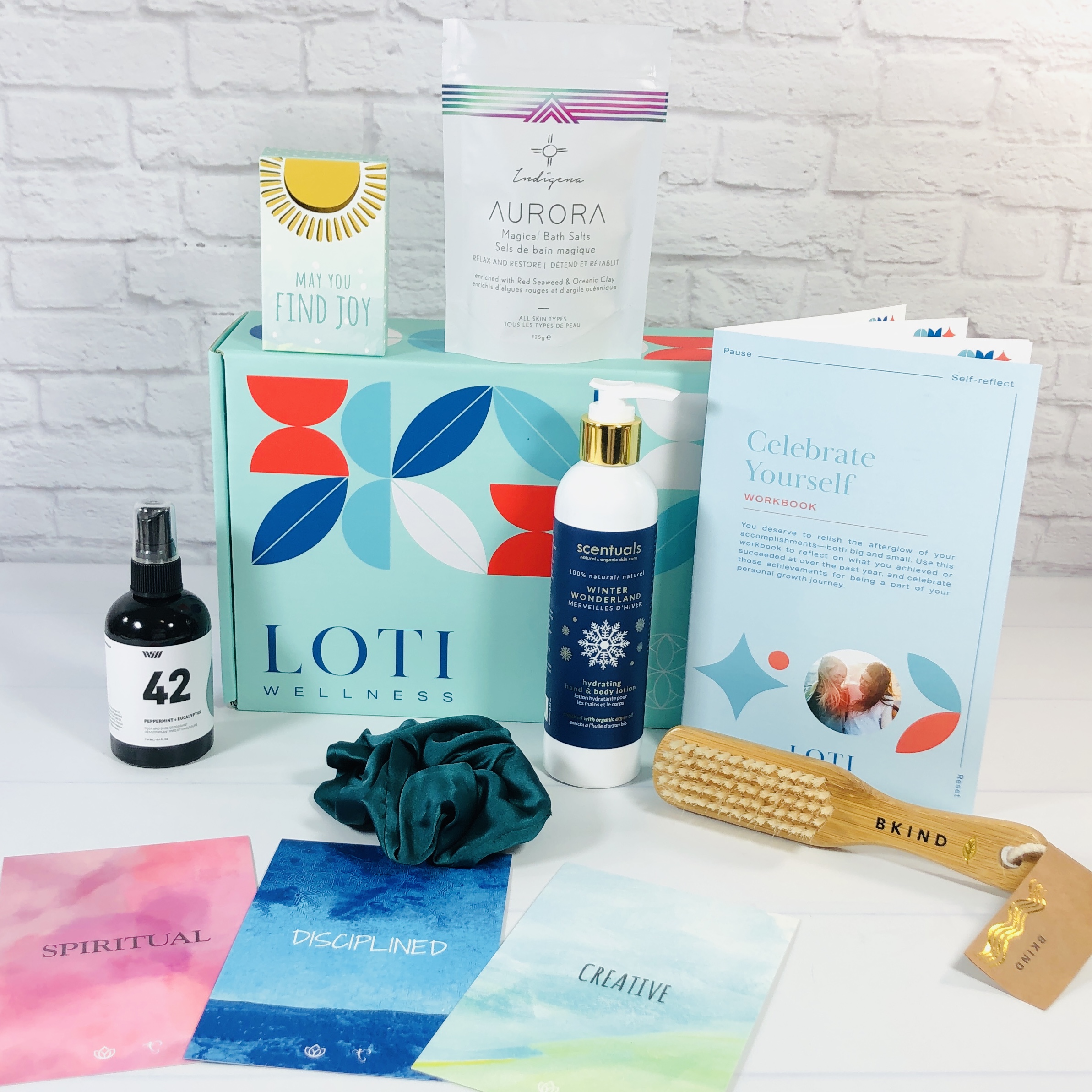 My November Loti Wellness box is here and just in time, I need some soothing self-care after all of the holiday rush that has been happening around my home lately! The theme was Celebrate Yourself and I will do just that! I plan on spending some time on self-care after the rush is over and I have some amazing items to help me achieve that goal, see what I received below!
DEAL: Save 10% on your first box! Just use this link and coupon code SUBSCRIBE10.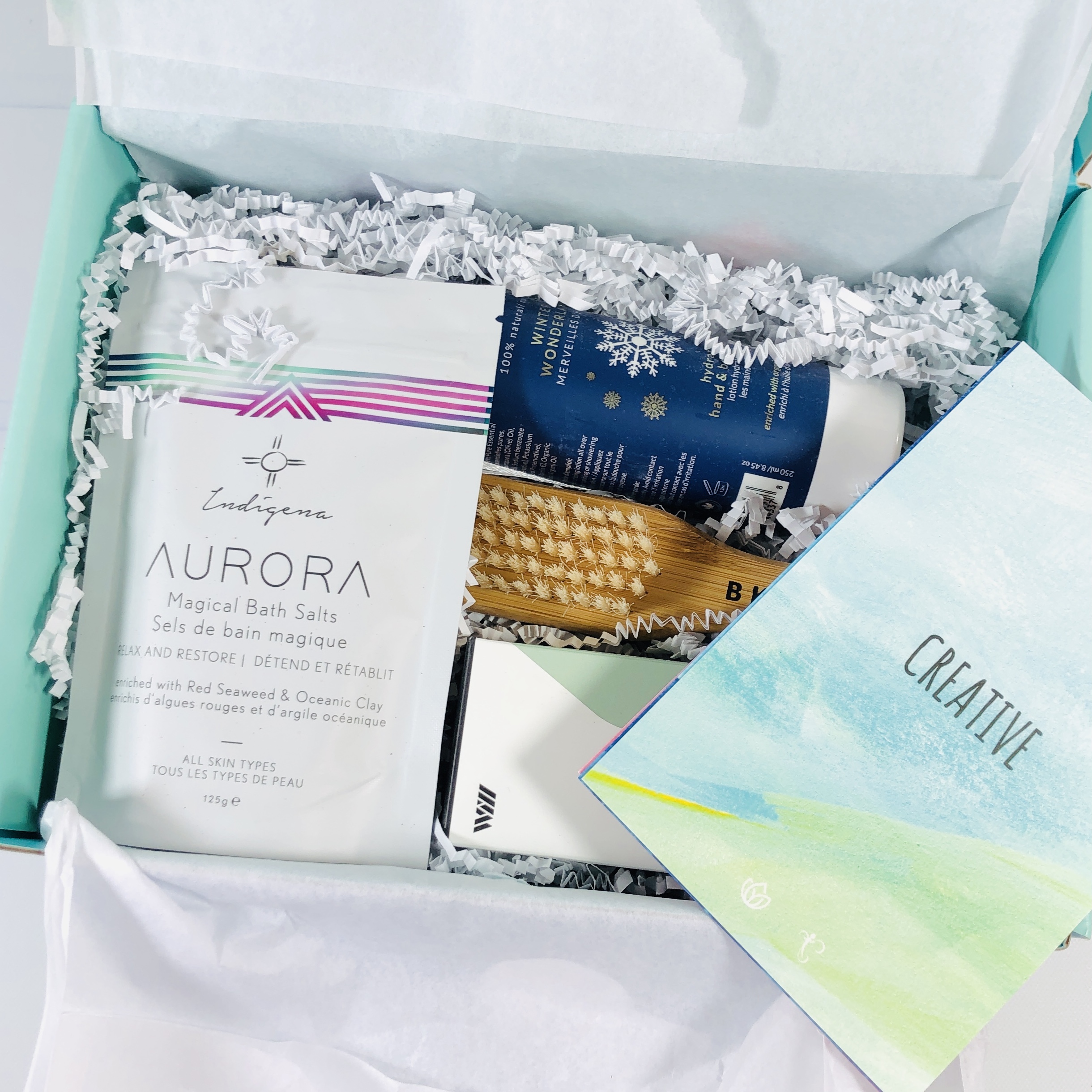 Loti sends interesting and helpful items each month.
I received a brochure with the theme for November: CELEBRATE YOURSELF! (Yes, it is the November box. This box ships late in the month.)
The inside of the brochure listed each item, MSRP, and website so you can stock up on more wonderful items from these brands. I believe all of these values are in Canadian dollars.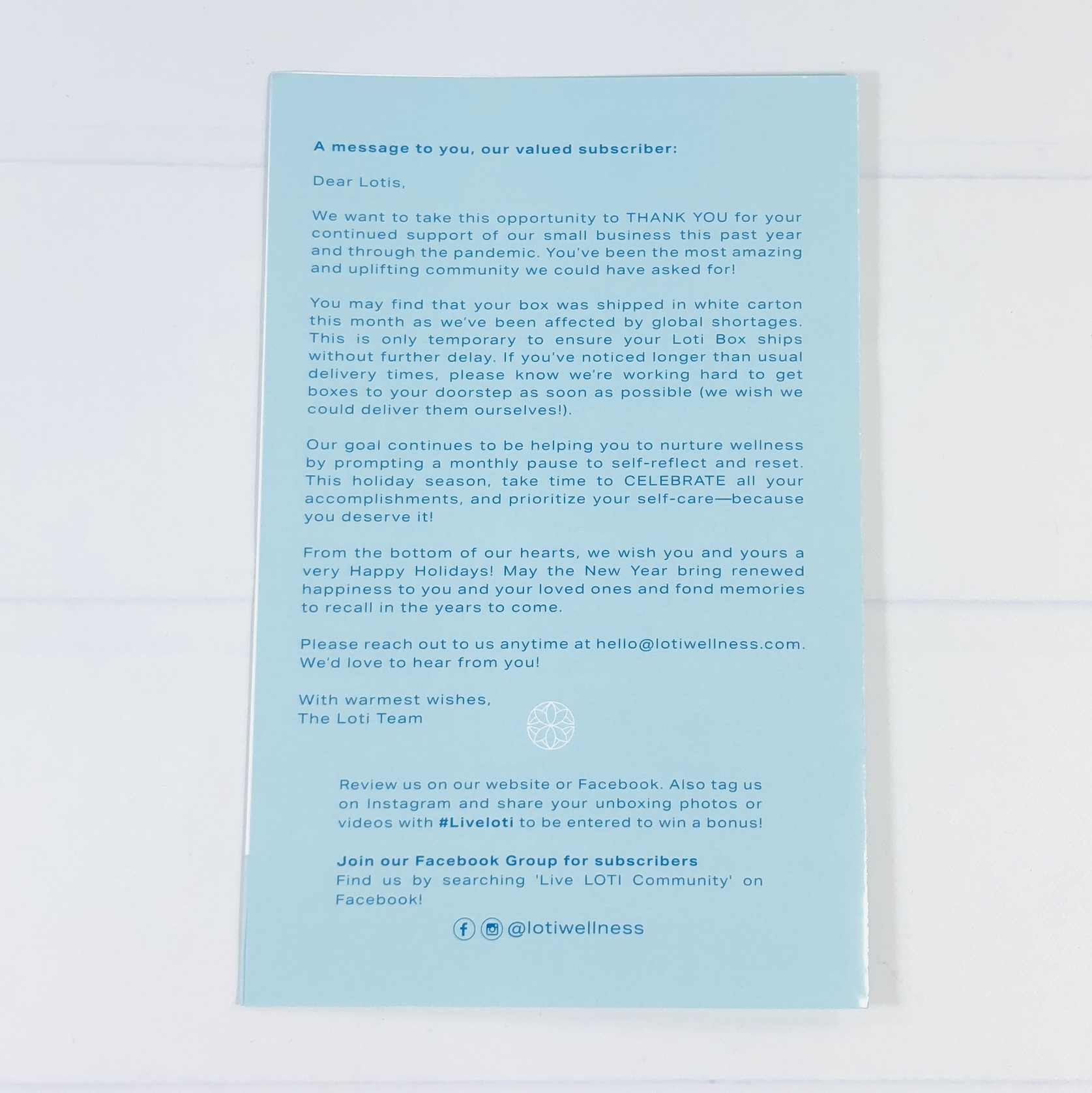 The back of the brochure showed on which social media sites Loti can be found.
Next up was a CELEBRATE YOURSELF Workbook.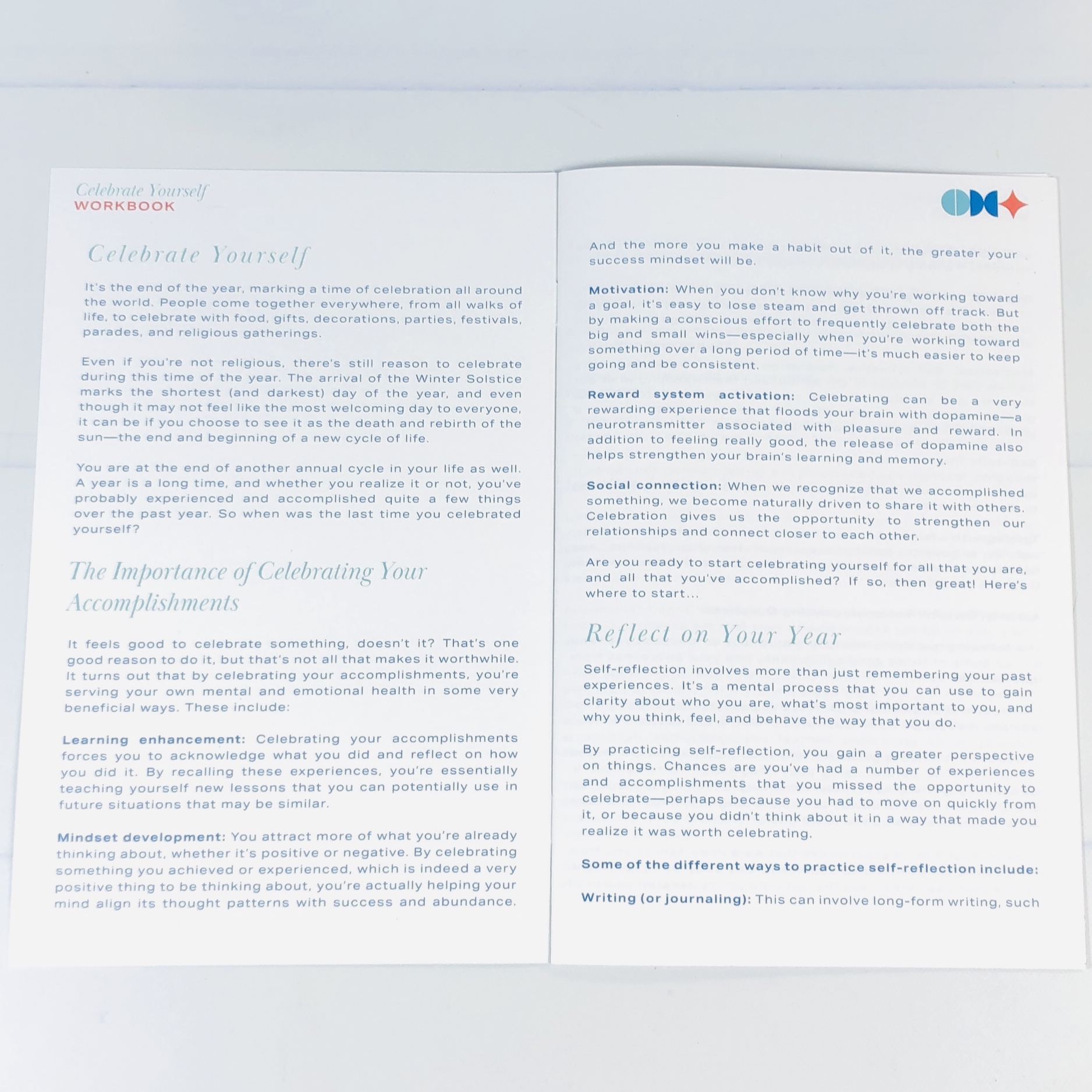 It's the time of the year where there are all kinds of celebrations happening but Loti wants you to make sure to celebrate yourself!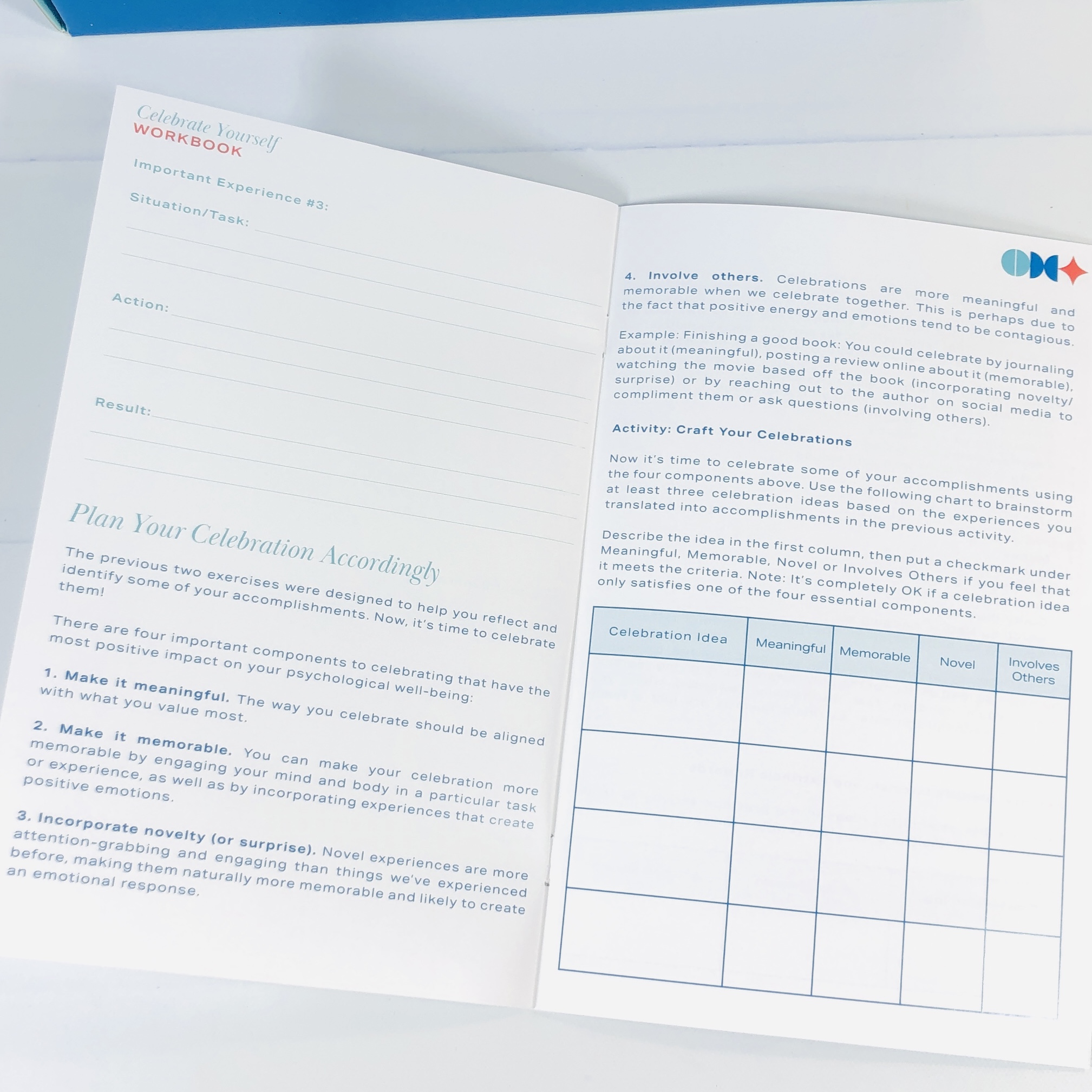 There are activities and tips to follow. There were 10 pages total in this booklet.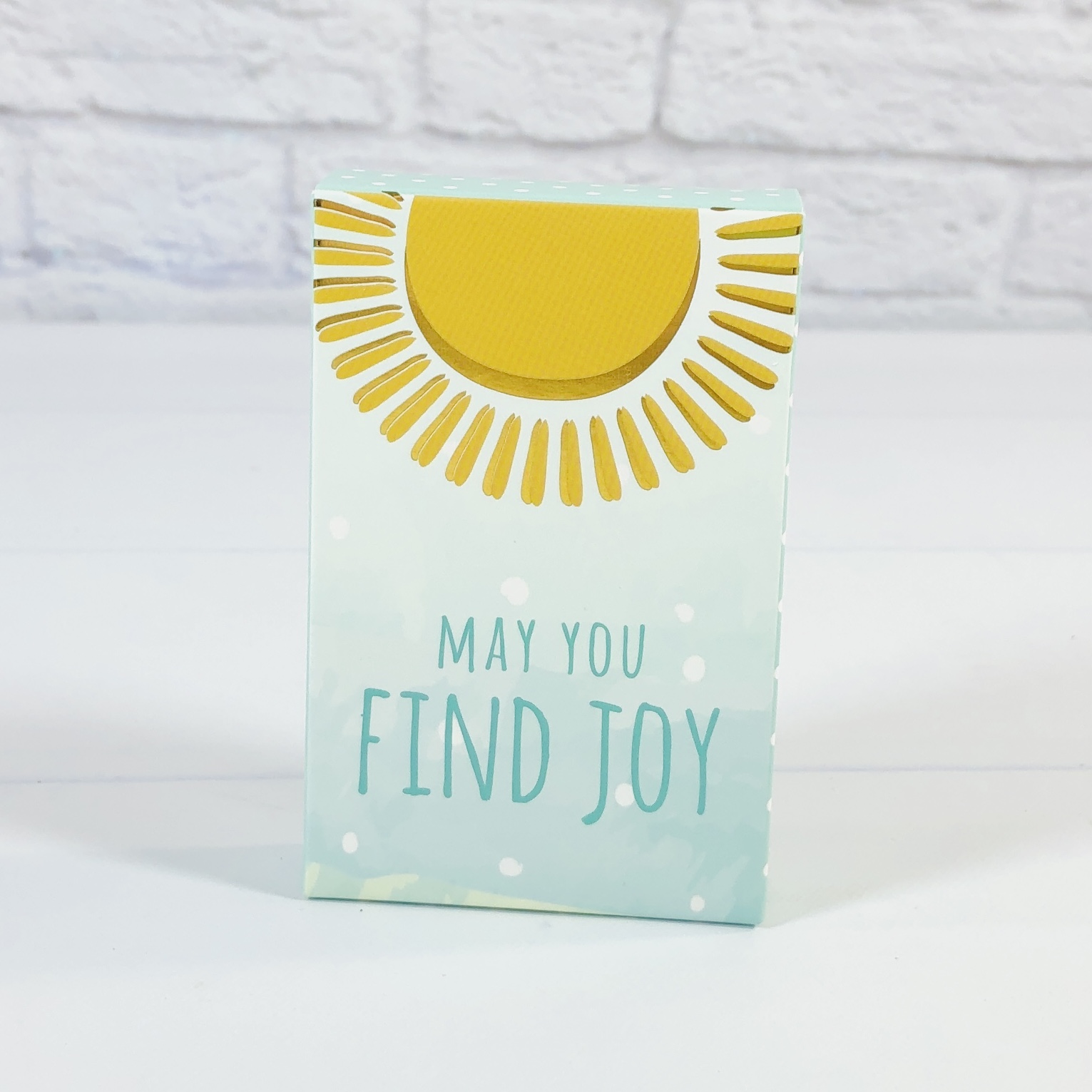 May You Find Joy Intention Card Deck ($18 CAD, around $14 USD) One word we hear a lot at this time of year is "joy". Sometimes it can be tough to find joy when stress shows up but there are ways to cultivate that feeling, and this deck aims to help.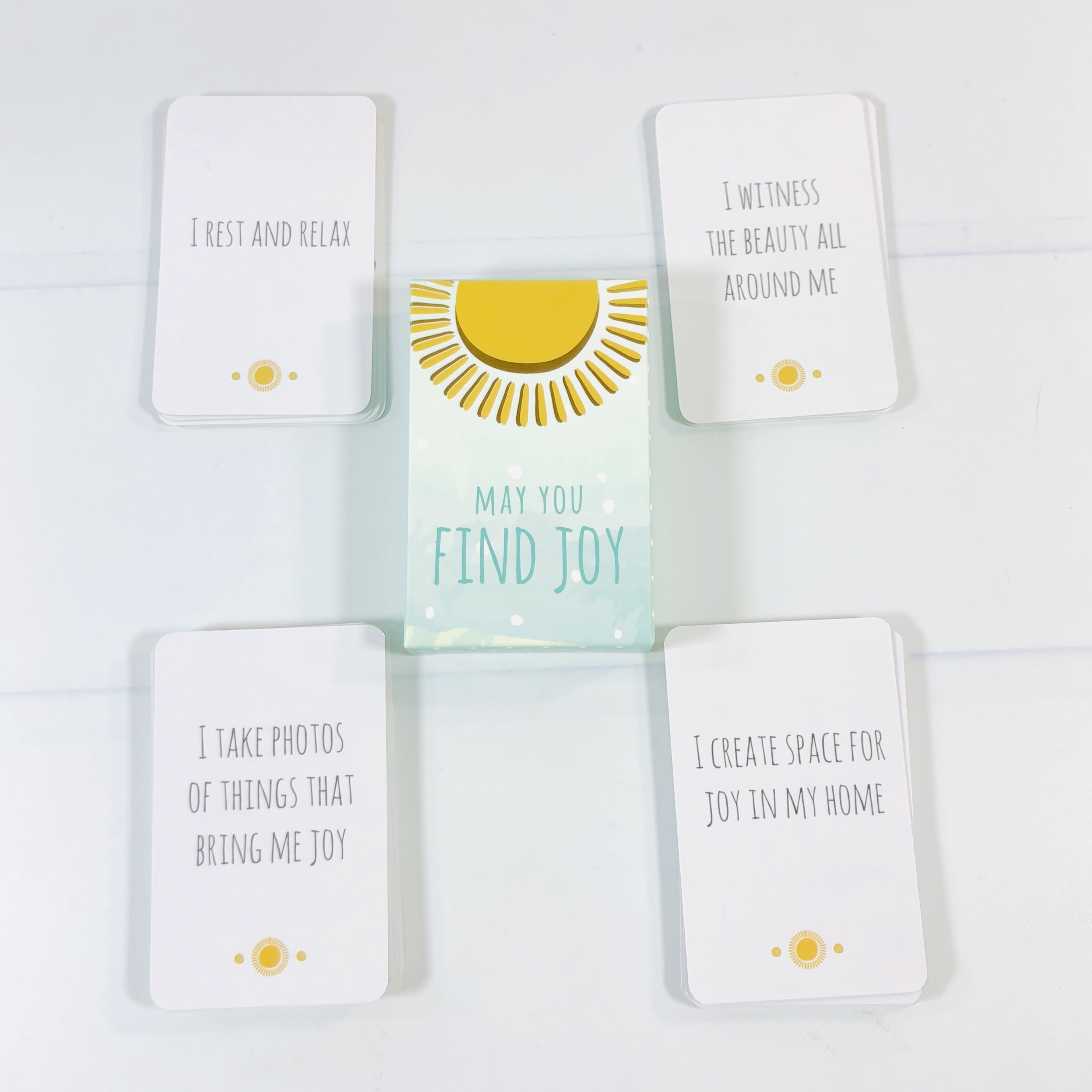 There are 42 cards in the deck with simple tasks or statements — just pick one a day and do your best to do what's on the card.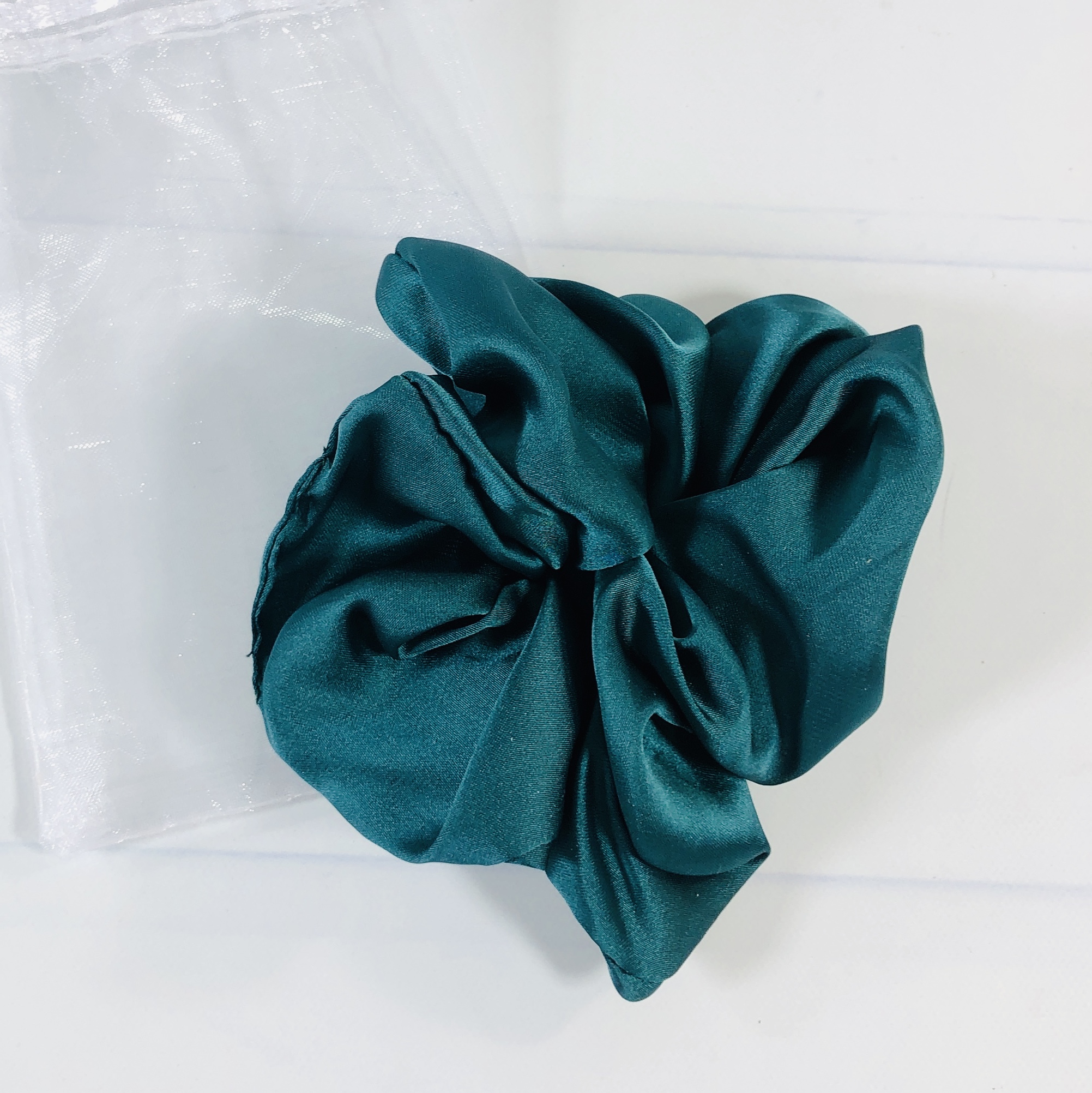 Loti x Kawa Satin Scrunchie ($9) I always have to give away scrunchies because my hair is too short and thin to wear them but this one is such a beautiful color, like jade or forest green, and it feels silky to the touch.
Way Of Will Foot and Shoe Deodorant Spray ($19.50) Peppermint is such an amazing scent and while I love its refreshing coolness most in summer, it tends to be popular in winter too. This is a peppermint and tea tree oil spritz that you spray into shoes or on feet to help fight odors caused by bacteria that feed on sweat. I haven't tried it yet, my shoes and feet seem to be odor-free at the moment, but I did test it out on some paper and the scent is wonderfully uplifting.
Bkind Pumice Bamboo Brush ($9) Another way to help feet is to use this brush in the shower or bath. It has a bamboo handle and one side has polypropylene bristles while the other has volcanic pumice.
Use on wet, soapy feet and store in a place where the handle will dry between uses.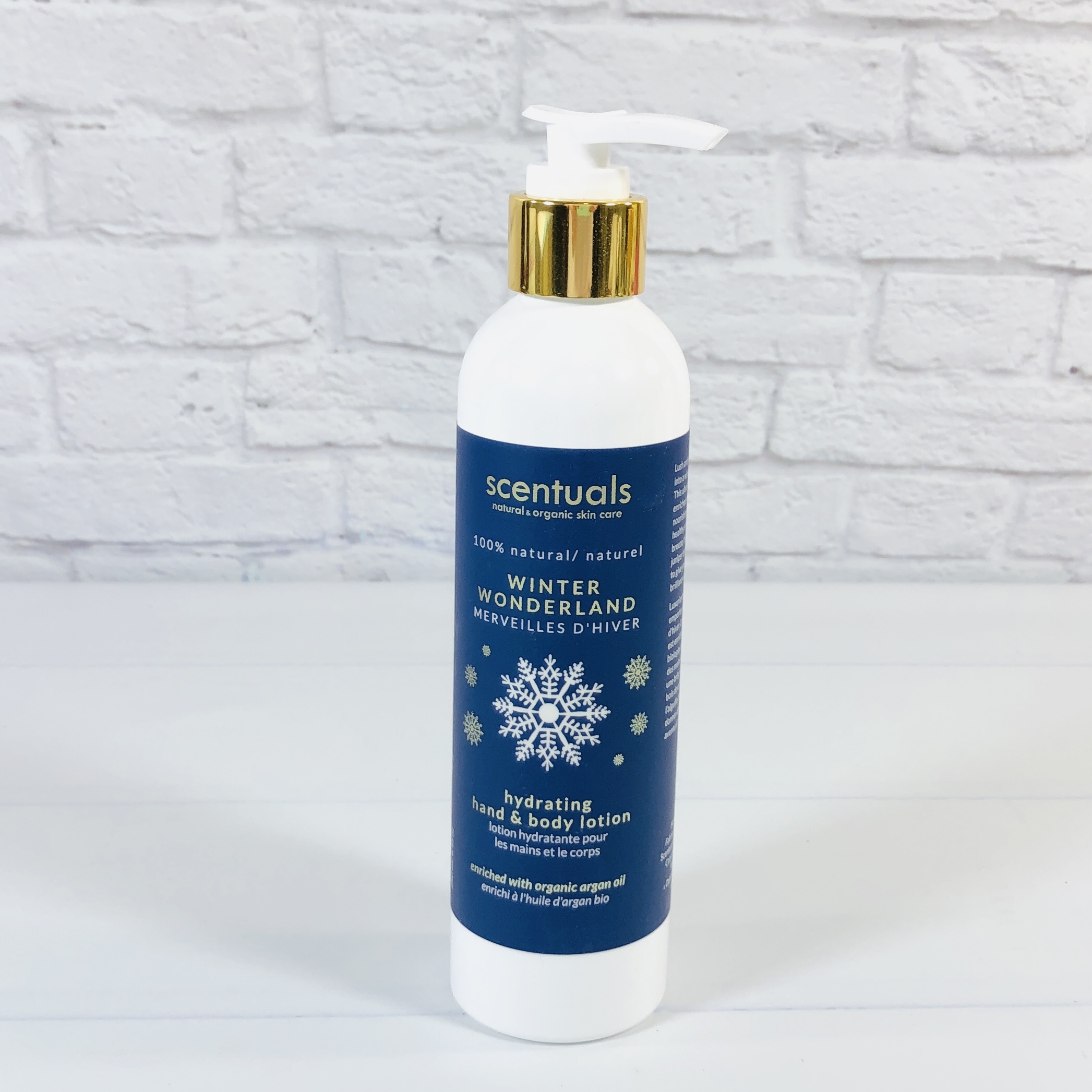 Scentuals Winter Wonderland Hand & Body Lotion ($14 USD) Oh my goodness I am loving the feel and scent of this lotion! I've been using it as a body lotion, I think it's similar in feel to my usual daily product and not too heavy. The scent speaks to my inner hippie and while they say it has forest notes of cedarwood, juniper, fir, and cypress I actually smell fir, orange, ylang ylang, and patchouli (the oils aren't listed individually in the ingredients though). I have been using it every morning and I think it smells wonderful, what a great way to start the day!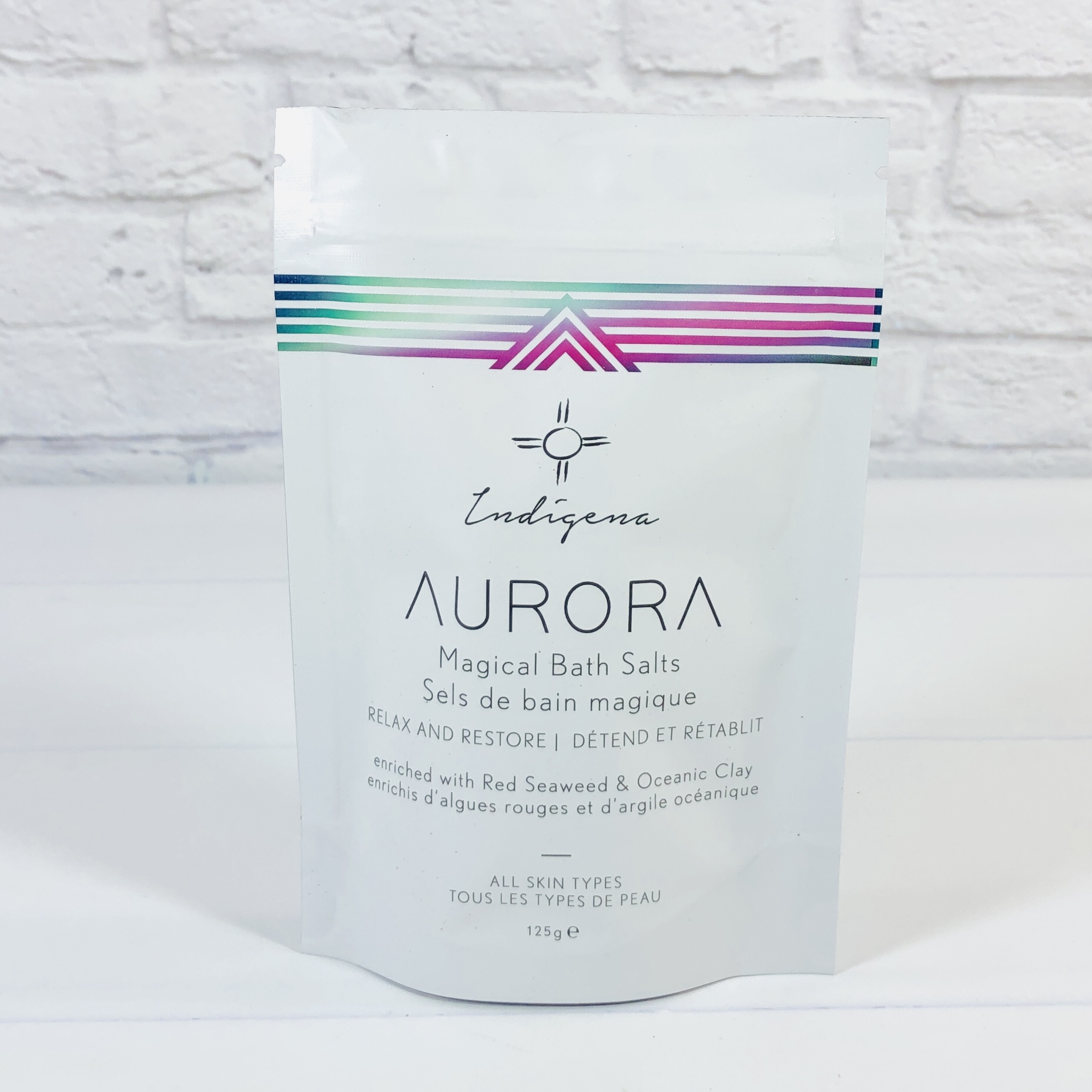 Indigena Aurora Magical Bath Salts ($7.12) What a beautiful bag of bath salts, it is supposed to turn the water pink and has sea salt, baking soda, citric acid, clay, seaweed, and beets for that rosy color.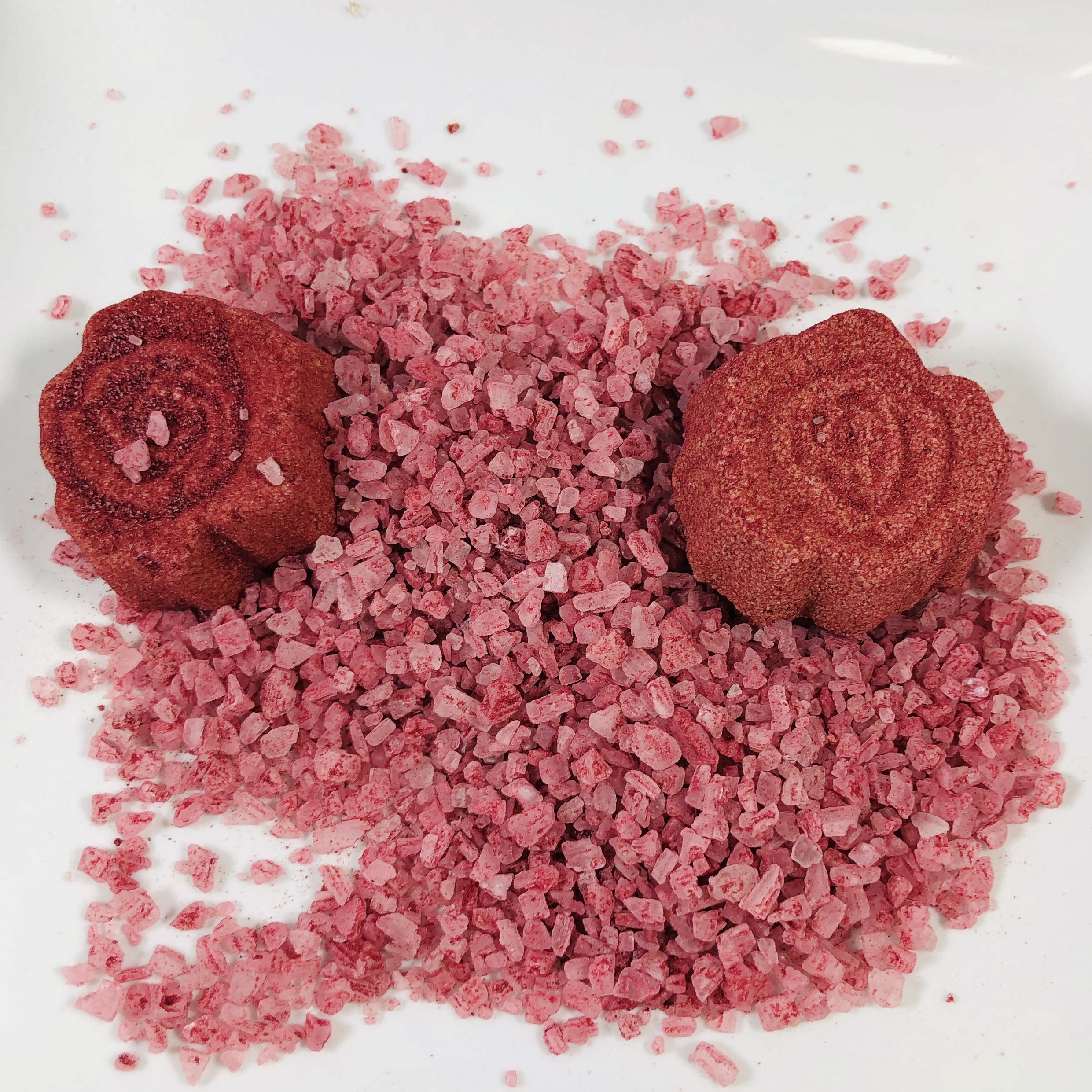 I was surprised to find it had a couple of rose-shaped bath bombs inside! It smells mainly of roses and is so pretty to look at!
BONUS: Holiday Activity There were three 4″ x 6″ cards included that have a word on the front…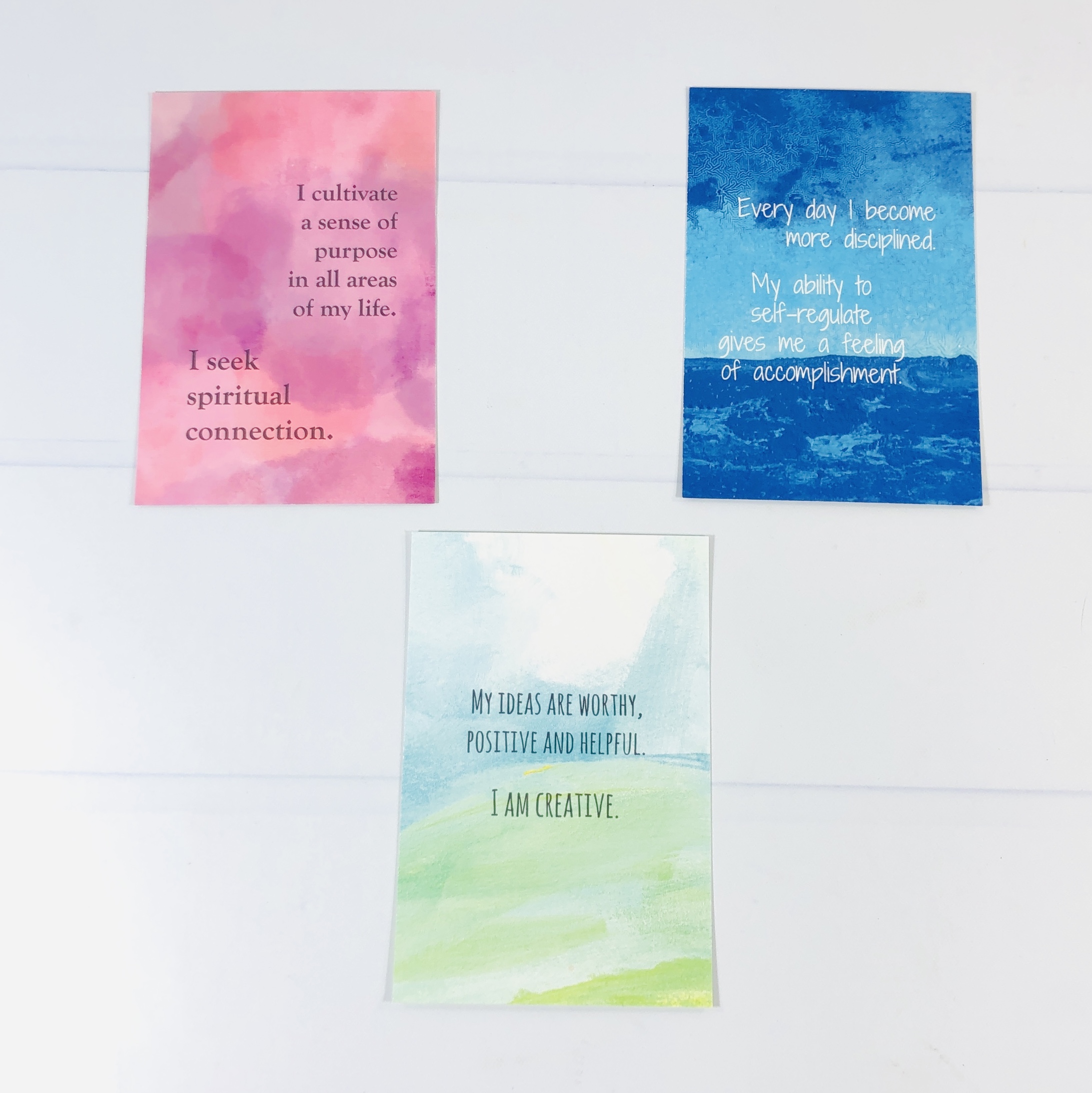 …and a mantra on the back!
DEAL: Save 10% on your first box! Just use this link and coupon code SUBSCRIBE10.
Loti Wellness is a subscription box with a focus on self-care. The box has a monthly theme curated by therapists to focus on items and rituals to promote positivity and improving one's self. Loti Wellness works with local brands and small businesses whenever they can, and choose cruelty-free and natural products. The box will have 5-7 products for self-care and wellness. The box is $45.95 USD with lower prices on multi-month subscriptions, and drops to as low as $37.95 USD when you sign up for 12 months. Shipping is $10.95 USD.
What do you think of this self-care subscription?