We have some spoilers for the January 2022 Ipsy Glam Bag!
It's officially 2022(!) and we're so stoked to welcome the new year and all its beautiful possibilities. We're kicking it off with all the things that make us beam with joy—from spending time with friends and fam to indulging in our favorite makeup and skincare. Need a little inspo? Your Glam Bag is packed with products to bring all the happy vibes. We're talking glow-boosting highlighters, shimmering shadows, super satisfying serums, and more.
First, the Bag Reveal: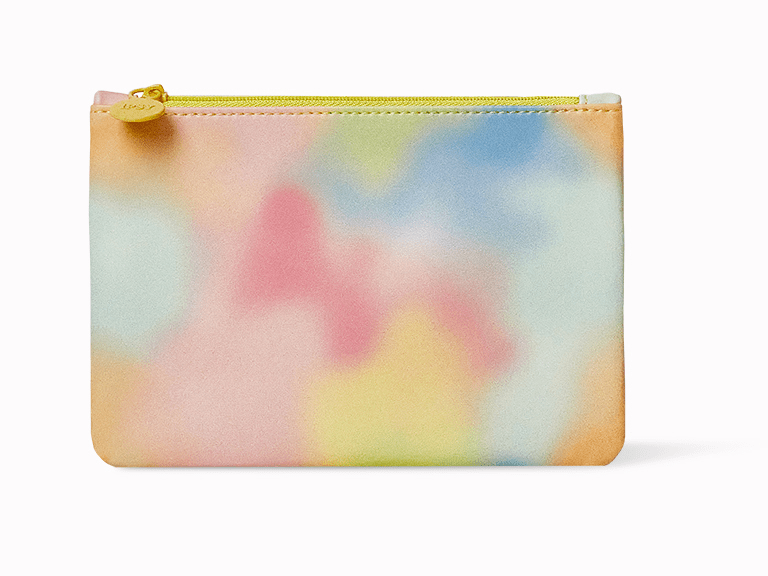 Pastel pinks and purples, soft yellow and orange, wisps of white, peeks of blue—January's multicolor motif is inspired by the colors of a beautiful sunrise. "There are a lot of beautiful things and people around us that can brighten our days and make us smile," says Wong, explaining that the bright yellow smiley face is more than just a cute addition, it's a reminder. "I wanted to design a bag that will remind people to always remember to look up to the sky and the people around you."

January's Glam Bag, which totes your five deluxe-size beauty samples, can also be used as a catch-all for the things that make you smile—stash it in your purse, desk, glove compartment, or wherever you might need a positive pick me up while you're on the go. "I love to put the little things that make me smile in this January glam bag—my clear quartz healing crystals, my favorite lavender essential oil roll-on, a picture of my dogs, and, of course, my favorite lip balm and hand cream that I use every day," says Wong.
Ipsters signed up to receive a Glam Bag this January 2022 might receive:
1. AMOREPACIFIC The Essential Crème Fluid
If you could bottle a luxe vacay, it would look like one of AMOREPACIFIC's skin-loving, chic-looking products. The Essential Créme Fluid is no exception with its light, milky formula that hydrates like a rich cream and feels so good on your skin. It also delivers antioxidant protection with green tea leaves (each bottle contains 150!) and helps relieve dryness, even out skin tone, and combat loss of firmness and elasticity.
2. BENEFIT COSMETICS Porefessional Lite Primer
This Ipster-fave brand consistently creates formulas that go on to become holy grails. This skin-smoothing primer creates a barrier between your skin and makeup to prevent your skin's natural oils from wearing down your look (aka it'll stay fresh for hours on-end). It also helps blur fine lines and imperfections, and the oil-free formula won't clog your pores.
3. COMPLEX CULTURE Eyeshadow Quad in Neutral Tone
When you need to be out the door and feeling gorgeous in 5, COMPLEX CULTURE's fuss-free makeup has got your back. With 4 buttery smooth, highly blendable eyeshadows, this palette is perfect for creating everything from subtle daytime looks to building a base for your best smoky eye.
4. FIRST AID BEAUTY Ultra Repair Cream
We always know we can count on FIRST AID BEAUTY to make our skin feel amazing on the driest, chilliest days. If your complexion needs a pick-me-up this winter, reach for this fast-absorbing, rich moisturizer that quenches your skin with a trio of hydrating ingredients: colloidal oatmeal, shea butter, and allantoin. Bonus: It's great for soothing skin conditions like eczema, too!
5. PURLISSE BEAUTY Ageless Glow Serum BB Cream SPF 40
Fact: Your skin needs SPF in every season. Want an easy way to make sure you're protected? This hydrating serum-BB-sunscreen hybrid from one of our Ipster-fave brands, PURLISSE. The multitasking formula uses bakuchiol, algae collagen, and vitamin C to firm, brighten, improve elasticity, and hydrate (to really boost your glow), and provides SPF 40 protection every time you apply.
6. TARTE COSMETICS Shape Tape Ultra Creamy Concealer
We can't get enough of TARTE's innovative formulas—from their lash-boosting mascaras to this amazing concealer. The full-coverage formula covers up dark circles and blemishes with ease, and it's crease-proof so skin looks nice and smooth. Skin feeling dry? The cushiony formula moisturizes for up to 24 hours with prickly pear and never settles into fine lines and wrinkles.
7. TATCHA The Deep Cleanse Gentle Exfoliating Cleanser
Another brand that'll wow on your vanity? TATCHA. Every product looks gorgeous and feels like a treat for your skin. If you're looking to get rid of that winter dullness, this gentle exfoliator will do the trick. It uses natural luffa fruit and wild rose to lift away dirt and makeup, unclog and tighten pores, minimize excess oil, and get your skin soft and smooth. There's not much this multitasker can't do.
8. ORIGINS GINZING™Oil-Free Energy Boosting Gel Moisturizer
If your skin needs to refresh and reset after the hustle and bustle of the holiday season, this lightweight gel formula is just the boost you need. The oil-free hydrator is made with caffeine from coffee to recharge a tired complexion, ginseng to energize, and the brand's Hydra Hug™ Technology that bridges the gaps between skin cells to prevent moisture loss. Consider it your new secret for a healthy glow.
What do you think of the Ipsy spoilers this month? Ipsy is a monthly beauty subscription that's just $12 per month! See our monthly Ipsy reviews to get the deets on the most popular beauty subscription box there is!