A new month means a new beauty discovery from Beauty Heroes! The December 2021 featured brand is Arcana, a clean beauty brand that utilizes sustainably-sourced botanical ingredients to create holistic products. It's founded by Erin Hammond, a historian and a lover of plant lore and rituals.
This month's Hero item is the Arcana Lightwave Enzyme Cleansing Balm ($55)! Ideal for most skin types, this cleansing balm removes grime just like regular cleansing oils except that it's gentler and less drying. The plant-based formula uses botanical Alpha Hydroxy Acids (AHA's) and papaya fruit enzymes for deep exfoliation, as well as organic turmeric extract packed with antioxidants that help brighten the skin. When you apply the balm to your skin and massage it with wet hands, it emulsifies into milk. You just have to rinse it with warm water or a damp washcloth and you're good to go.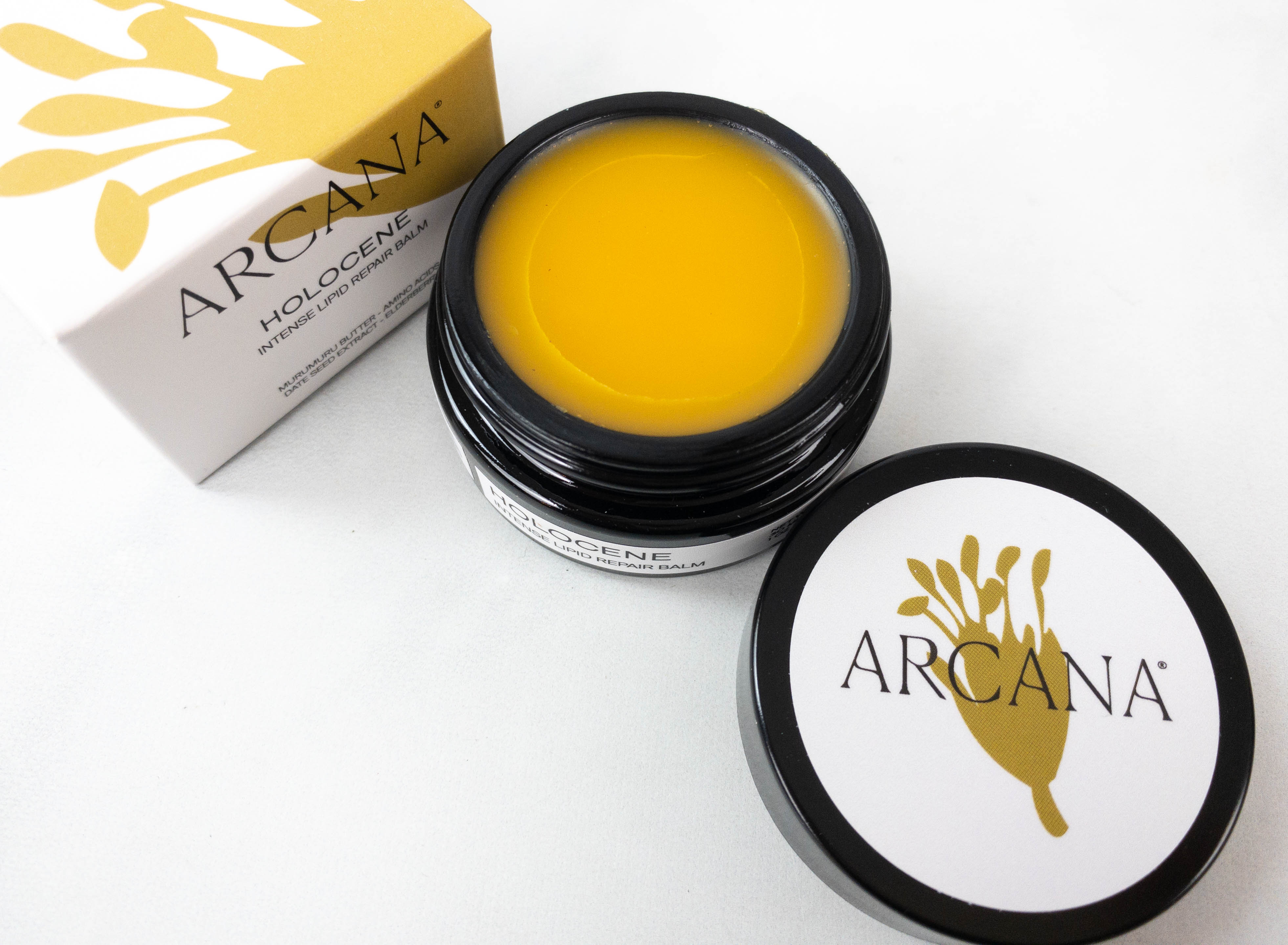 After cleansing the skin, it's time to manage dry and damaged skin with this month's Sidekick item, Arcana Holocene Intense Lipid Repair Balm ($90). It's a treatment balm that helps repair the skin and protect it from environmental stressors, with the help of sustainably-harvested murumuru butter, ucuuba butter, and amino acids. The formula is hydrating and gentle enough for those who have blemish-prone skin. It's also recommended for scar and wound healing.
This was another great Beauty Heroes box! For December, they introduced us to Arcana's well-crafted, plant-focused skincare. The cleansing balm and the treatment balm use high-quality ingredients which are either wild-harvested or grown using biodynamic farming. Both of them are also easy to use. They are perfect together if you prefer a less complicated yet powerful skincare routine! Staying true to its core values, Arcana also uses low-impact packaging and avoids using plastic as much as possible.
Usually, Beauty Heroes incorporates products from previous months to provide a customized beauty ritual. Your ritual can change monthly with the seasons and with new products – I absolutely love this feature. The box also includes a mini booklet. Inside, it contains more information about each product. Take a look here: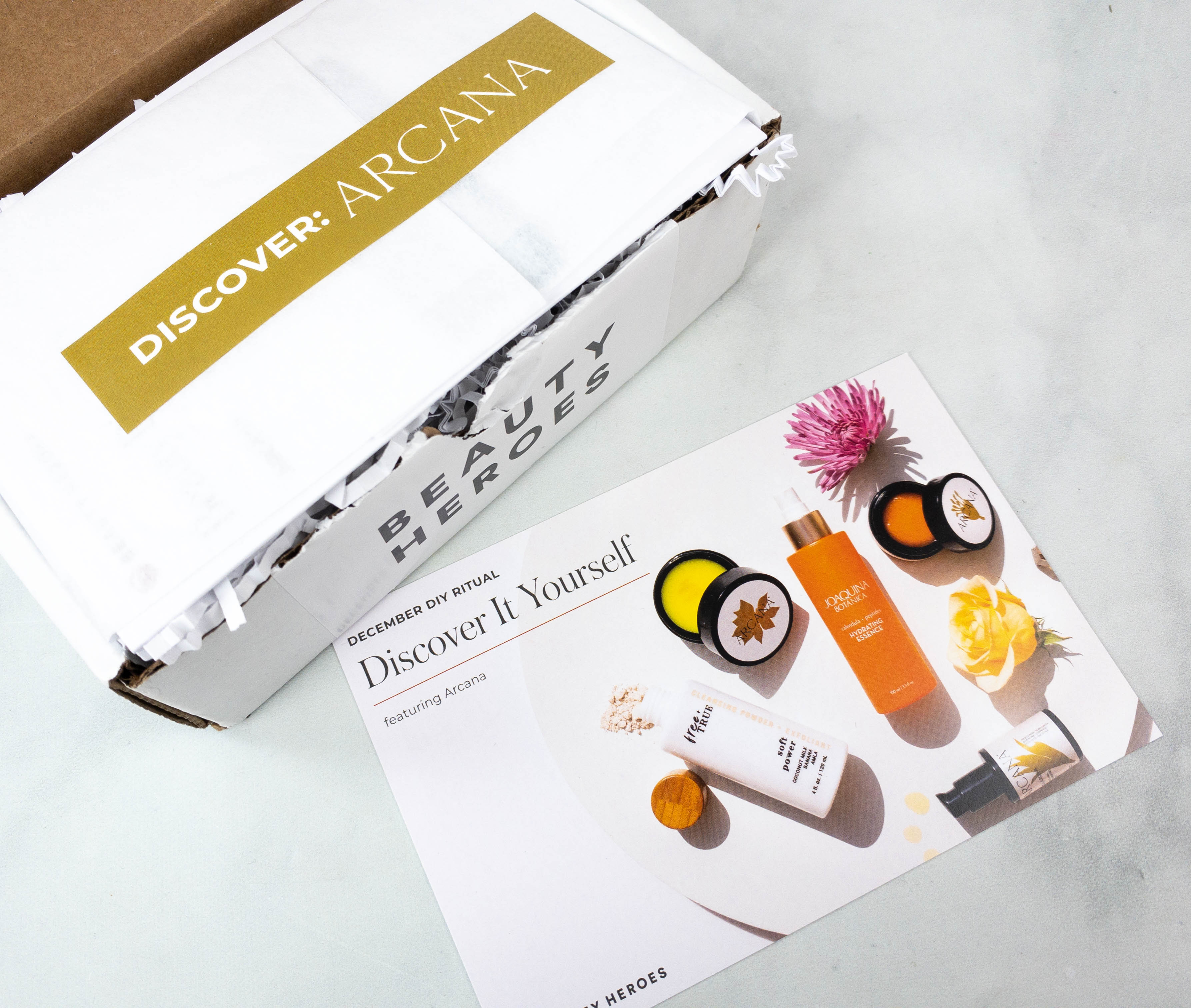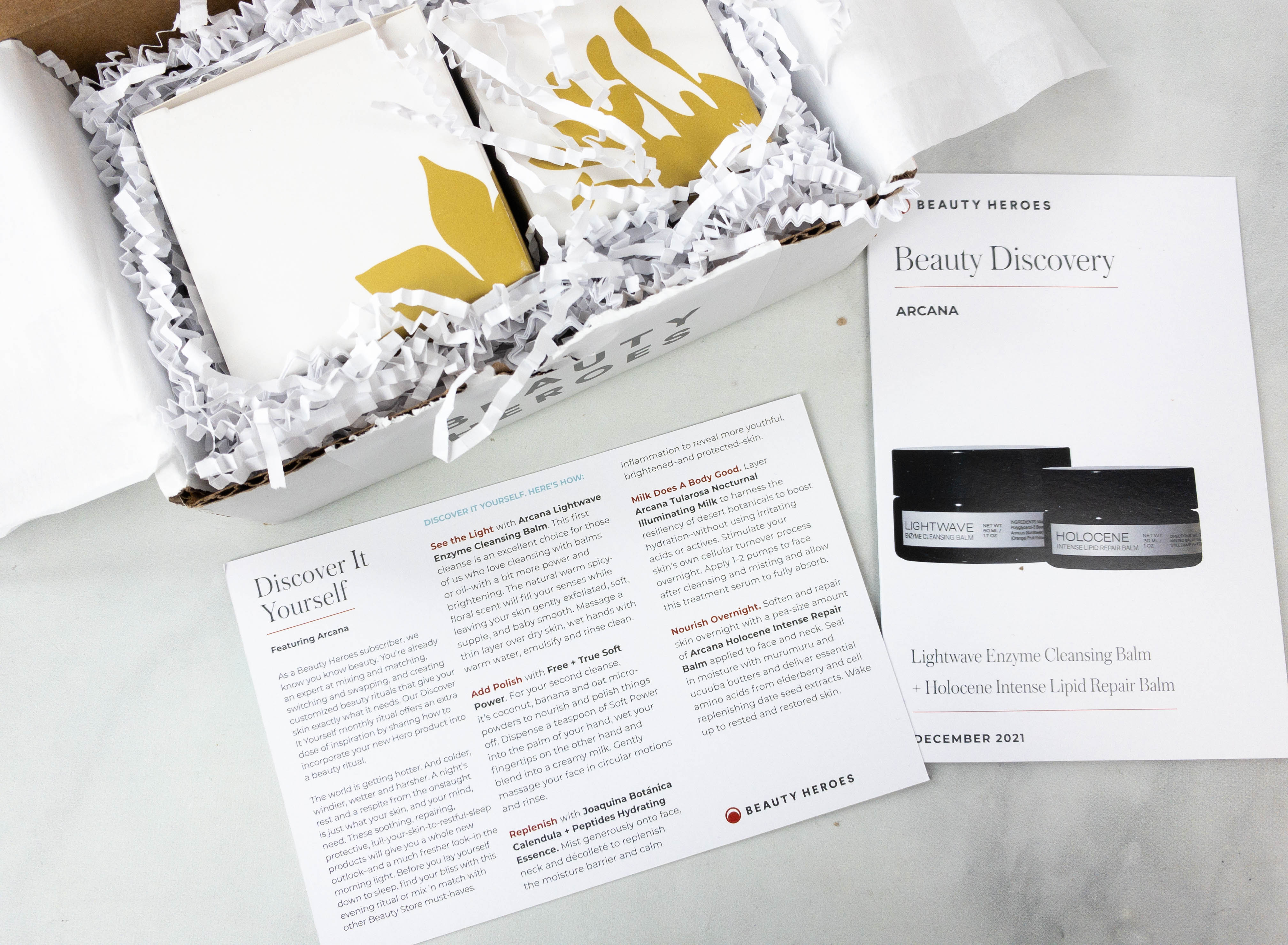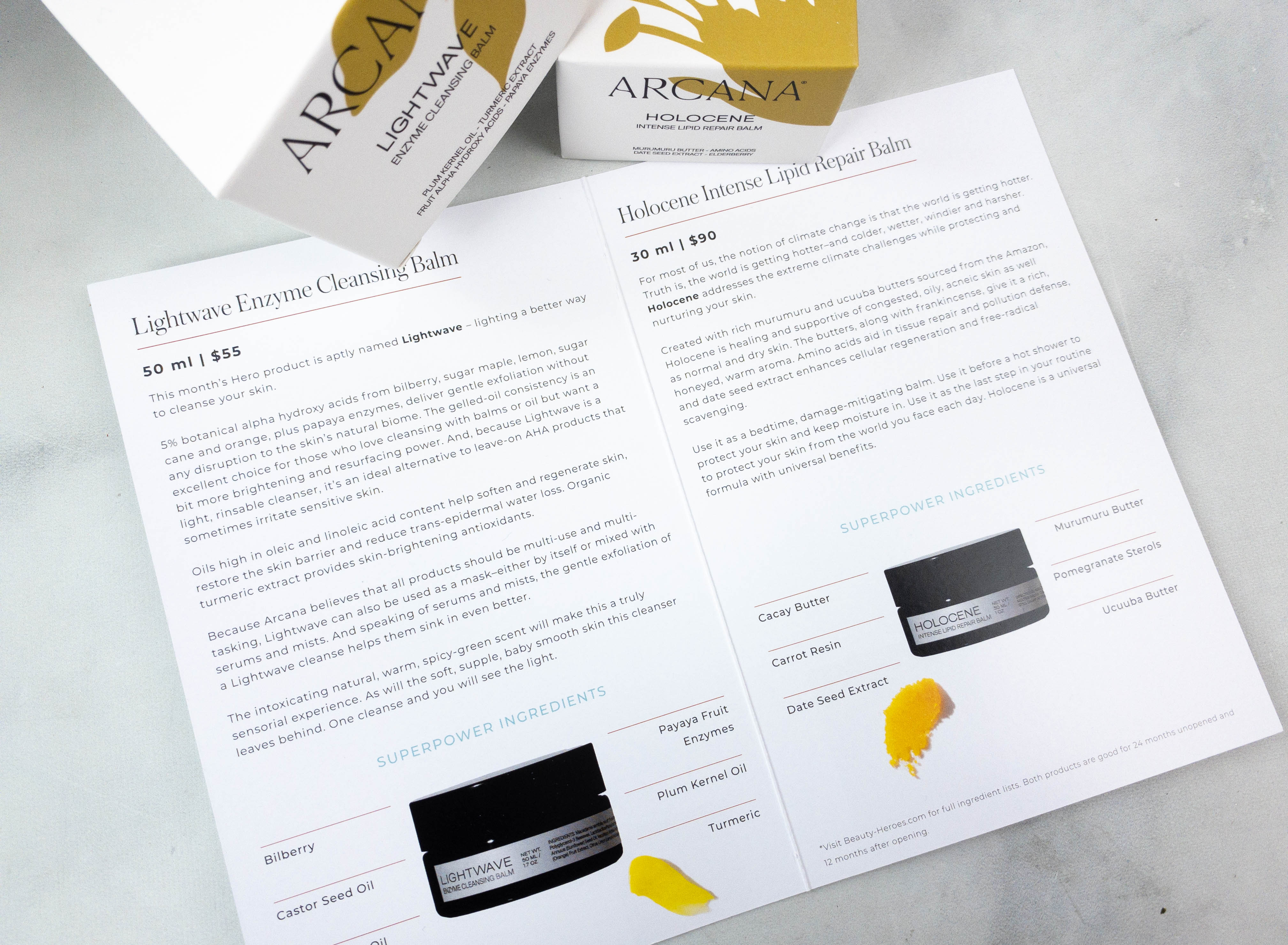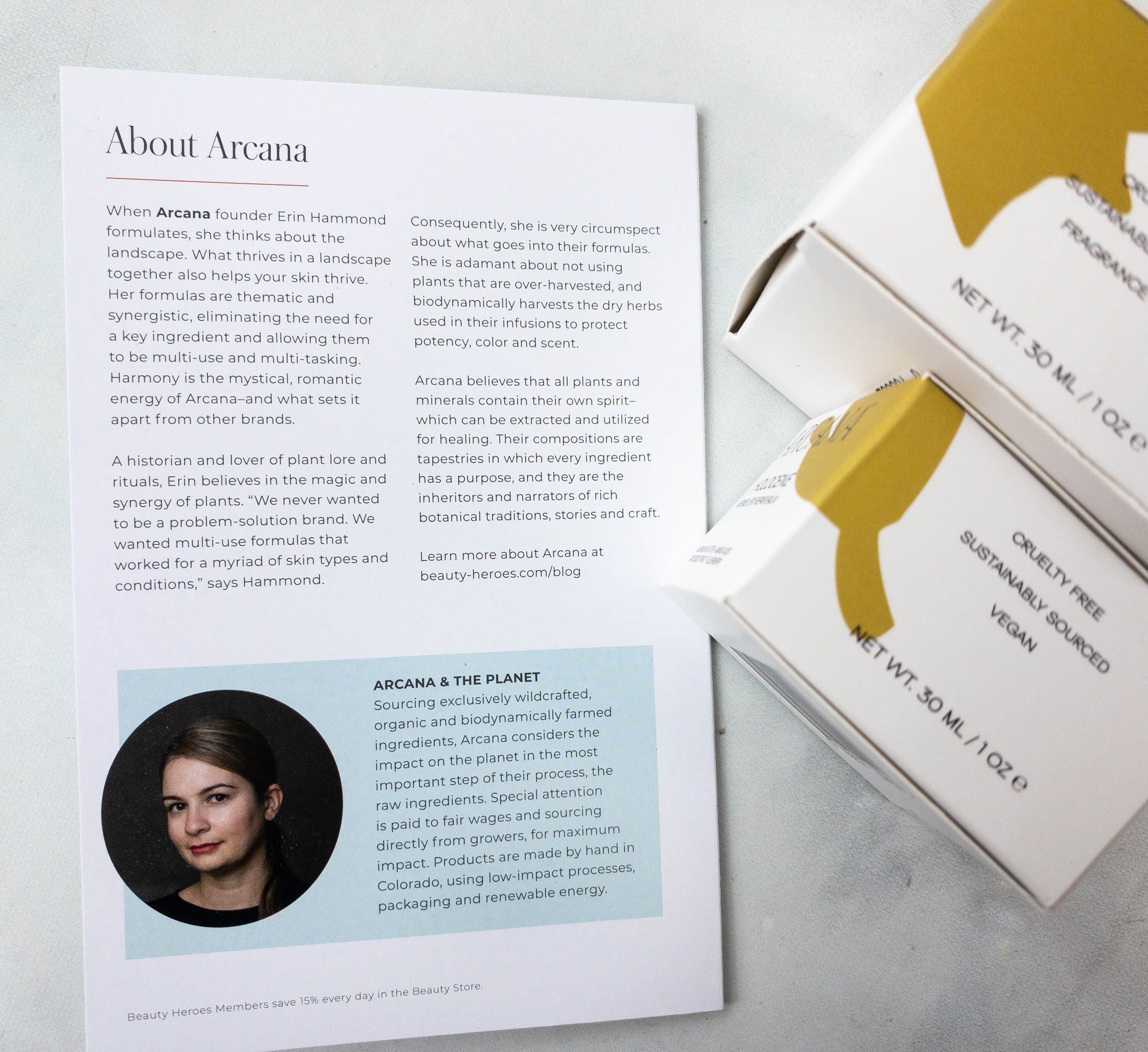 Beauty Heroes is a healthy beauty discovery service featuring one clean beauty brand each month. They send a full-size Hero product in every box, plus a deluxe size Sidekick. Sometimes, they send more than one Hero or Sidekick, depending on the featured brand. Boxes are always $100+ in total value. Beauty Heroes members also receive a 15% discount in the Beauty Heroes Beauty Store, insider exclusives, and early access to new product launches. They currently offer 1-, 3-, 6-, and 12-month membership subscriptions. Here are the prices: 1-month – $58.95 ($58.95/month), 3-months – $137.85 ($45.95/month), 6-months – $251.70 ($41.95/month), 12-months – $479.40 ($39.95/month).
What do you think of this month's Beauty Heroes box?