A great surprise for our beloved dogs, the December 2021 BarkBox is Rudolph Red-Nosed Reindeer themed! It comes with two festive treats, two holiday-ready toys, and one tasty chew. This fun curation definitely makes the perfect howliday gift and my pups gave it a sign of approval – when they saw the goodies, their tails wagged in an instant!
DEAL: Get a FREE month on a 6 or 12-month subscription when you sign up for BarkBox with this link! OR, check for the latest special offer here!
When you sign up, you select the size of your dog. This Barkbox is for small dogs like our miniature schnauzers, Buffy and Dean, but you can get them for medium and large dogs too. Plus, they also offer Barkbox SUPER CHEWER – the heavy chewer box! Our readers voted Barkbox as the best dog subscription box!
Here's Dean fitting his head through the hole in the card, which is designed with reindeer's antlers and some lights. He's now a rein-dog and he looks undeniably cute!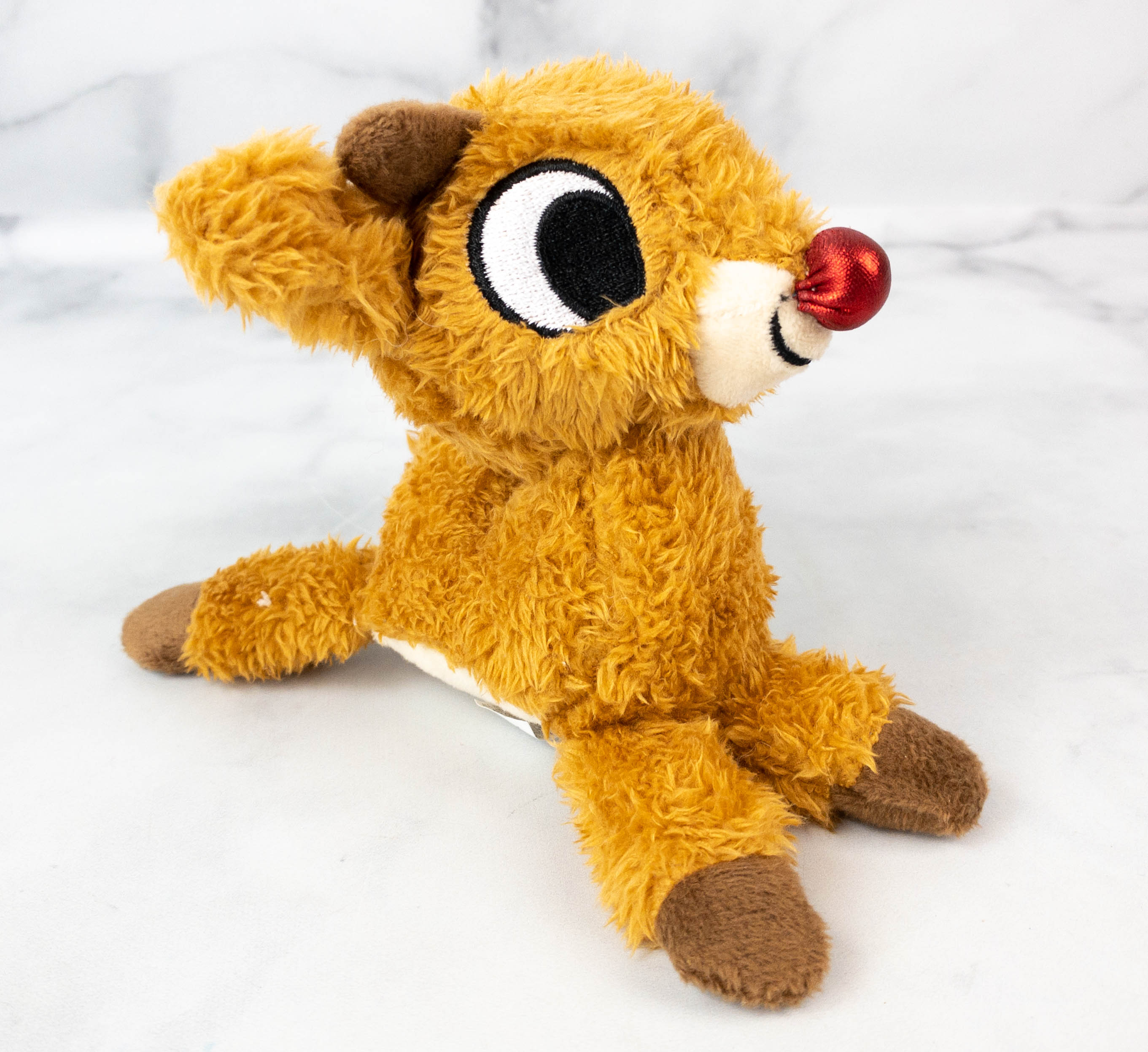 Let's start the fun with this Rudolph the Red-Nosed Reindeer Toy! It's small but really cute, and my dogs were so excited to play with it. The toy is also soft, making it ideal whether for cuddling or playing fetch. Of course, this Rudolph plushie has a shiny red nose!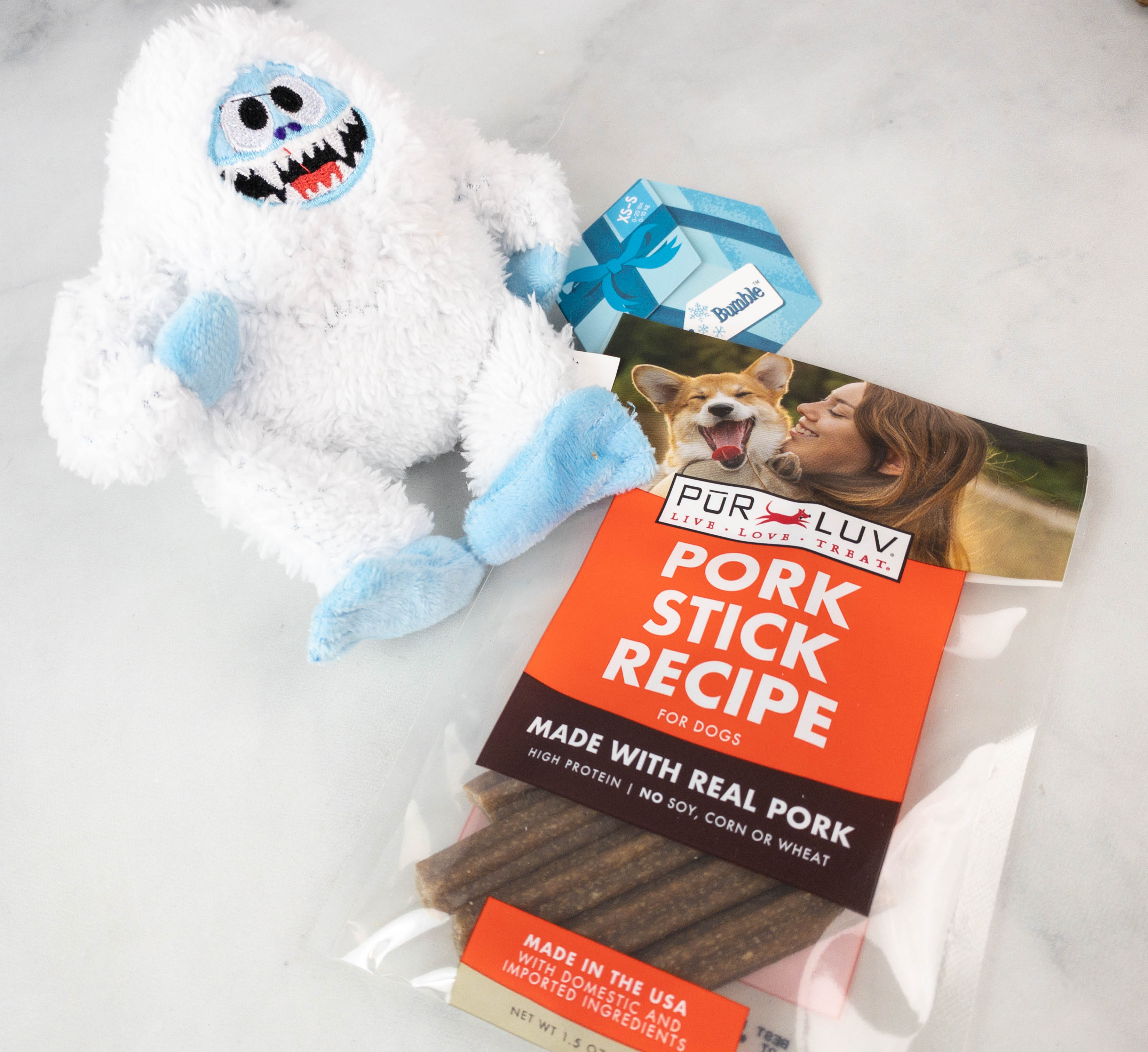 The second toy is a snowy white Yeti Plushie! It's not just adorable, it's also fuzzy and cuddly. It reminds me of The Abominable Snowman from the animated film Monsters Inc.!
After playing, it's time for the treats! Pūr Luv Pork Stick Recipe is a delicious snack stick for dogs, made with healthy and flavorful ingredients. It's high in protein and contains no soy, corn, or wheat. My schnauzers appreciate the chewy feel of these sticks, which come in a pack of five.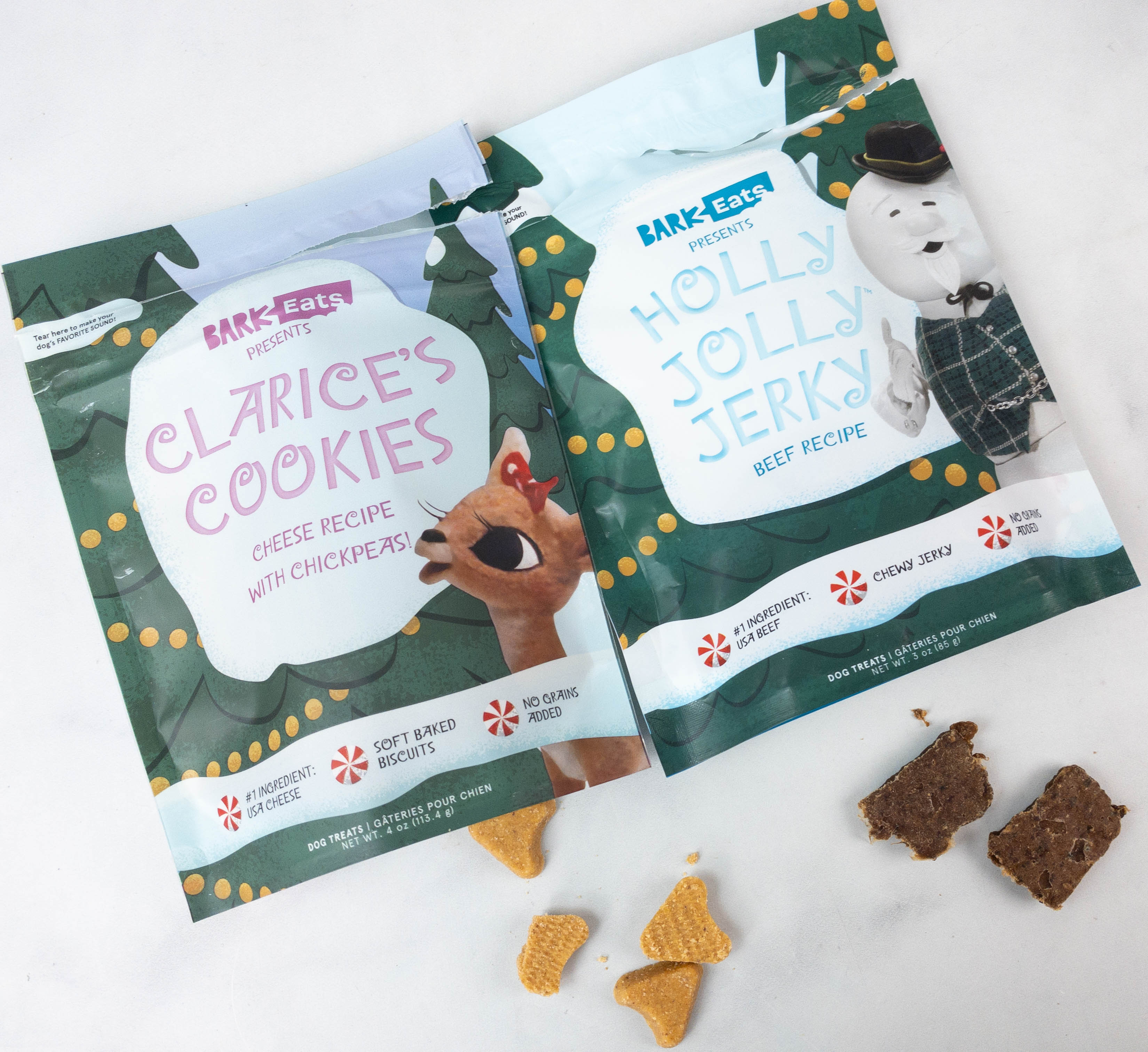 Clarice's Cookies Cheese Recipe with Chickpeas is another surprise for hungry dogs. They are soft-baked biscuits made with USA cheese and chickpeas. My pups enjoyed munching on them! Also from Bark Eats, the box includes Holly Jolly Jerky Beef Recipe. This one is a chewy jerky, and because the main ingredient is beef, it's rich in protein! Both snacks have zero grains and are in resealable packaging to maintain freshness.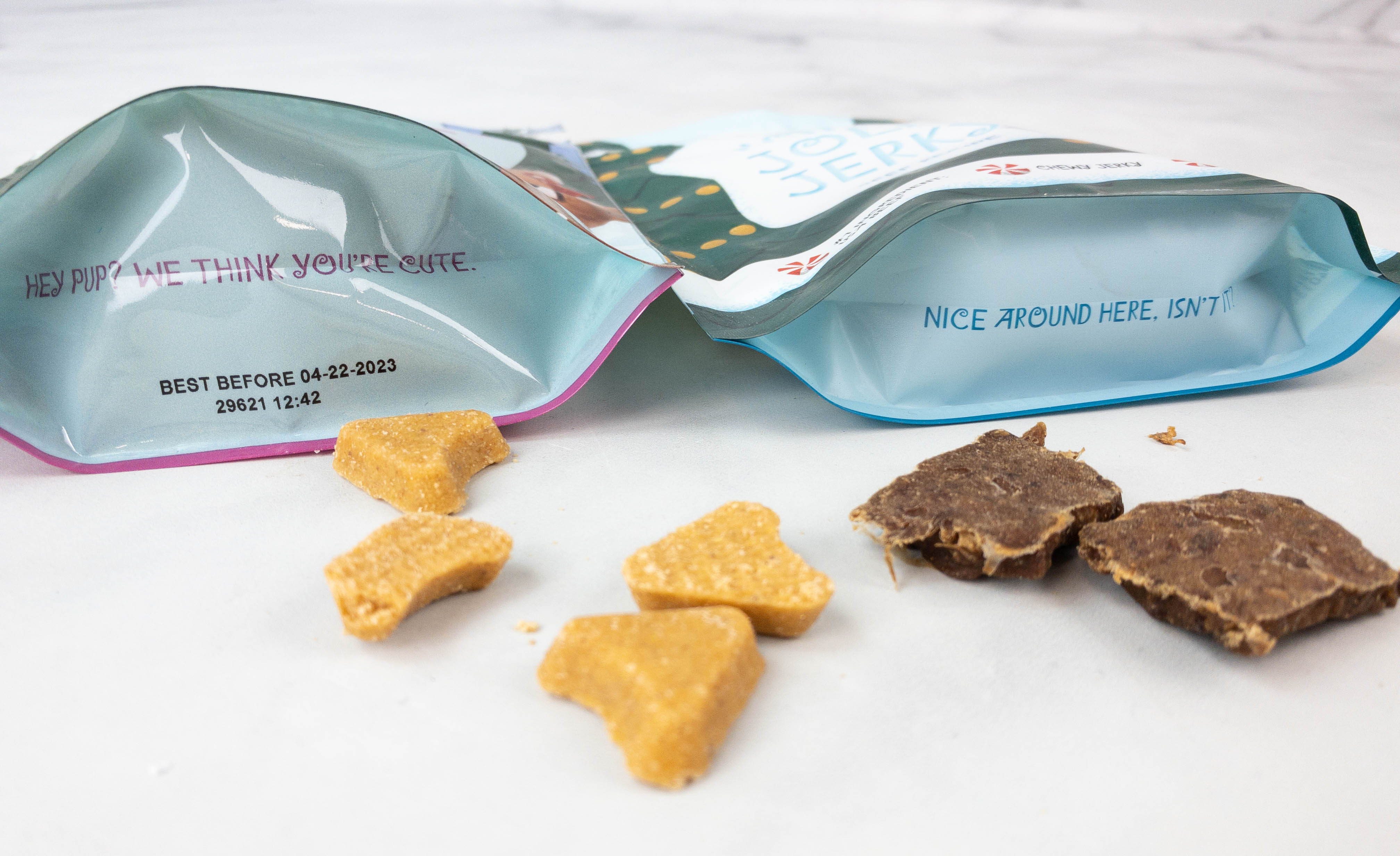 Pouches have little messages at the bottom! One says "Hey Pup? We Think You're Cute" and the other says "Nice Around Here? Isn't It?"
This holiday-themed Barkbox is thoughtfully curated! My dogs loved every single item, from the toys to the treats. The highlight of the box is Rudolph the red-nosed reindeer, but my pups loved playing with the yeti plushie as well. They also like dragging the toys wherever they go, even in their beds. It's not a problem though because the toys are durable! Dogs deserve nice holiday gifts, but if you want to reward them year-round, it's a great idea to get a monthly dog subscription just for them!
Barkbox is a monthly subscription box created just for dogs! Each box is themed and includes toys, treats, and photo-worthy props. The classic assortment is composed of 2 toys, 2 treats, and 1 chew, but you can also customize a box to fit your dog's needs. A monthly plan costs $35 and there are discounts if you get a longer plan. The best deal is the 12-month plan, which reduces the monthly cost of the box to $23. Shipping is free in the contiguous United States.
What do you think of Barkbox? If your dog is a serious chewer, check out Barkbox Super Chewer!