We have some spoilers for the November 2021 Ipsy Glam Bag Plus!
Family. Friends. Feasts. November gives us plenty to be thankful for, even if your festive gatherings look a little different this year. So this month, dress yourself in an attitude of gratitude and let yourself indulge in the smaller things that bring you joy—like a fresh harvest of must-try beauty products (more on that below!). And remember: All of us at Team IPSY are so grateful for you today and all year long.
First, the Bag Reveal: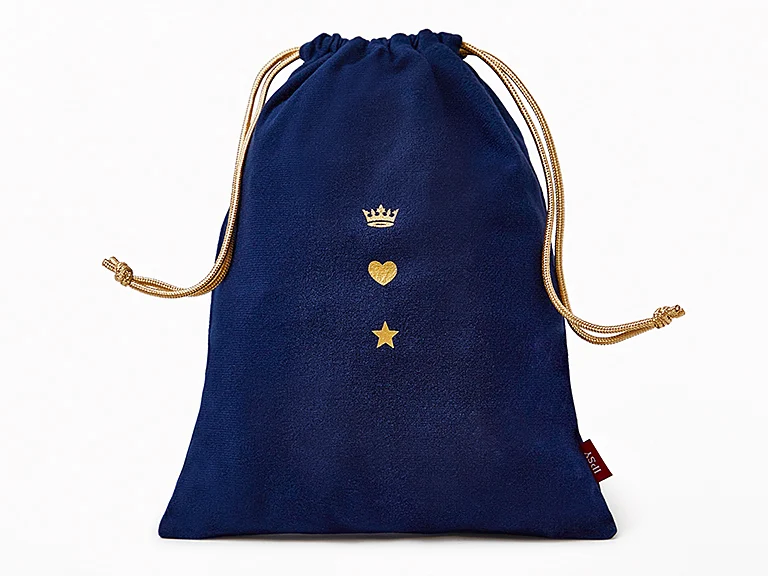 Curious about the petit gold icons on the front of the bag? They all have their own meanings! The crown symbolizes life, the heart signals love, and the star is added for good luck—all wonderful intentions to take with you into the holiday season.
Ipsters signed up to receive a Glam Bag Plus this November 2021 might receive:
COMPLEX CULTURE Vegan Boar Bristle Oval Paddle Brush
Quick Q: When was the last time you replaced your hair brush? Been a while? Yeaaah, we're with you. But newsflash—it helps to have a high-quality brush, no matter what hair type you have. So if you're on the market for an untangling tool, try this one from COMPLEX CULTURE. Designed to minimize breakage, the combination bristles gently detangle your hair for silky-smooth styling sans tugging, pulling, or pain. These bristles also happen to be anti-static, so they'll gently brush out knots and tangles while eliminating frizz.
IL MAKIAGE Dirty Talk Matte Lip Color in Elwa
Think "matte lipsticks," and "drying" might be the next word that pops up. Not the case with this luxurious, ultra-creamy formula from IL MAKIAGE. Comfortable and lightweight, this lipstick contains a blend of hydrating emollients and nourishing oils to condition your lips while adding a rich wash of pigment. Plus, Elwa is a wearable rosy shade that complements any fall makeup look you pair it with.
NOMAD COSMETICS Venice-Simplon Express Intense Eyeshadow Palette
Sure, it might be the season of chocolate-y browns and vampy crimsons, but who says you can't add some color? This nine-shade palette features gorgeous shades ranging from an aqua blue to a shimmery olive, making it the perfect contrast to a gloomy autumn day. And since each velvety shade is infused with organic grape seed oil, you'll get vibrant payoff with extra-long wear.
 RODIAL Glass Primer
We'd all love to achieve the glass skin look at some point—but few of us want to go through the many skincare steps to get there. Luckily, this primer is the perfect shortcut to creating that coveted flawless finish. The formula uses light-scattering technology to give you the look of a filtered complexion, squalane to help lock in moisture, and menthol to cool and soothe your skin. It's skincare and beauty luxury all in one package.
THRIVE CAUSEMETICS Liquid Lash Extensions Mascara™ in Brynn
Raise your hand if this mascara is one of your holy grails. Haven't tried it yet? Then get ready to meet your new fave. This award-winning, Ipster-loved mascara gives you the look of extensions without the trip to the salon. The tubing technology transforms your lashes by adding major length, and the rich black pigment that coats your hairs from root to tip makes us love it even more.
YENSA BEAUTY Pumpkin Turmeric 2-in-1 Radiance Polishing Mask
What better time than autumn to introduce pumpkin to your skincare routine? This gentle mask polishes and resurfaces your complexion, using pumpkin to help boost collagen and turmeric to soothe. Simply apply a thin layer on clean, damp skin, and leave it on for up to 10 minutes. Then gently massage it in circular motions for 30 seconds before rinsing it off to reveal radiant-looking skin.
BEST FACE FORWARD Balancing Serum
One user described this product as a "miracle serum"—and that pretty much tells you everything you need to know. This fact-acting formula was made to support acne-prone skin, helping to hydrate, protect, and balance your complexion without clogging your pores. What you're left with is happy skin that gets the nourishment it needs, so you really can put your best face forward.
What do you think of the Ipsy Glam Bag Plus spoilers this month? Ipsy Glam Bag Plus is a monthly beauty subscription that's $25 per month! See our monthly Ipsy Glam Bag reviews to know more about this upgraded beauty subscription with full-size items (5 per month)!