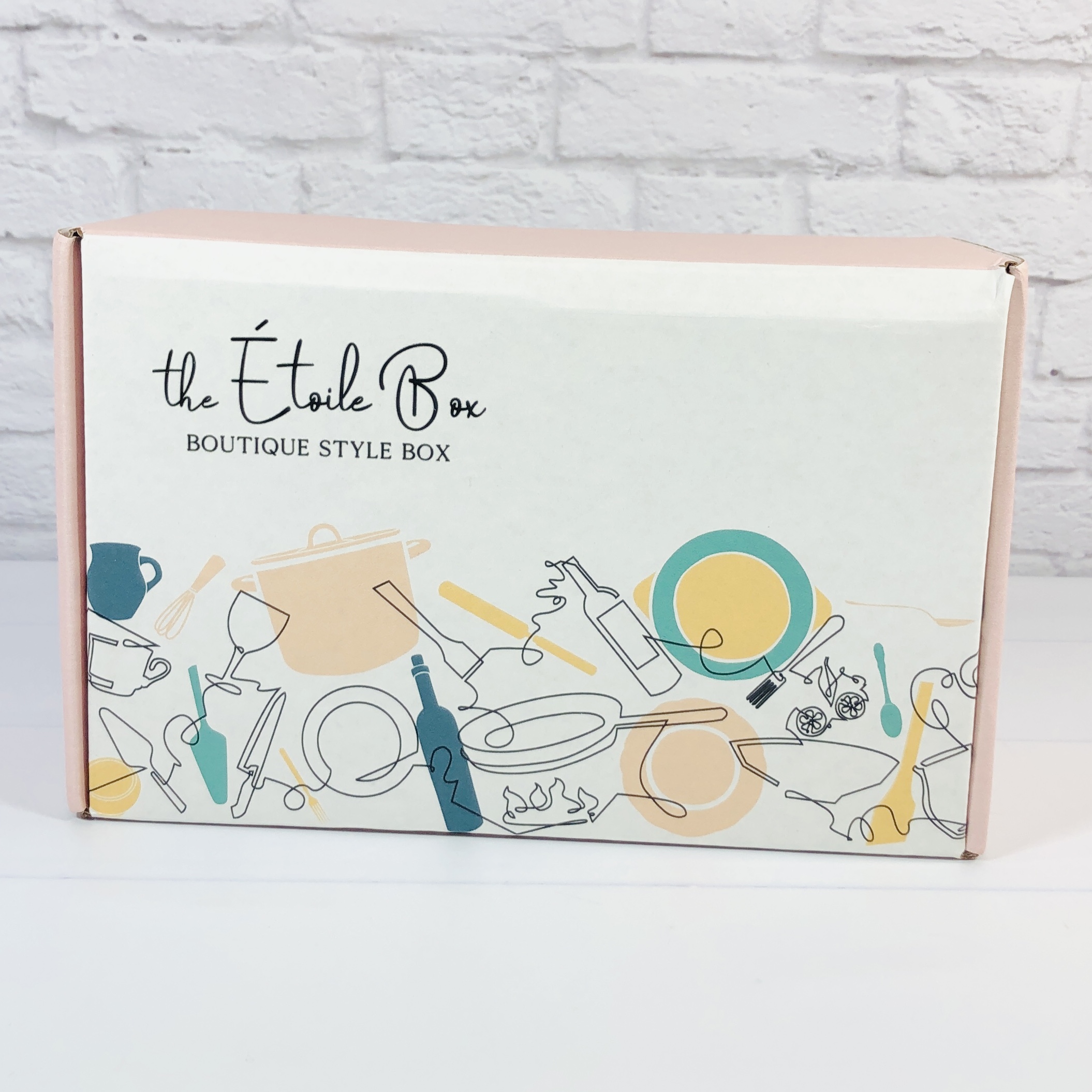 Étoile Box is a monthly boutique lifestyle, beauty and wellness box with a new theme and style each month! The products sent come from women run businesses and all beauty and body products are organic, eco-friendly, and all natural. Not only does this box want you to feel happy when you open it up, they want you to know you are supporting small businesses. Étoile Box is $39.99 a month.
 DEAL: Get 20% off on your first box! Use coupon code HELLO20.
The front of this box changes from month to month (see previous picture)! My items were wrapped in pretty tissue paper and were sealed with a thank you sticker.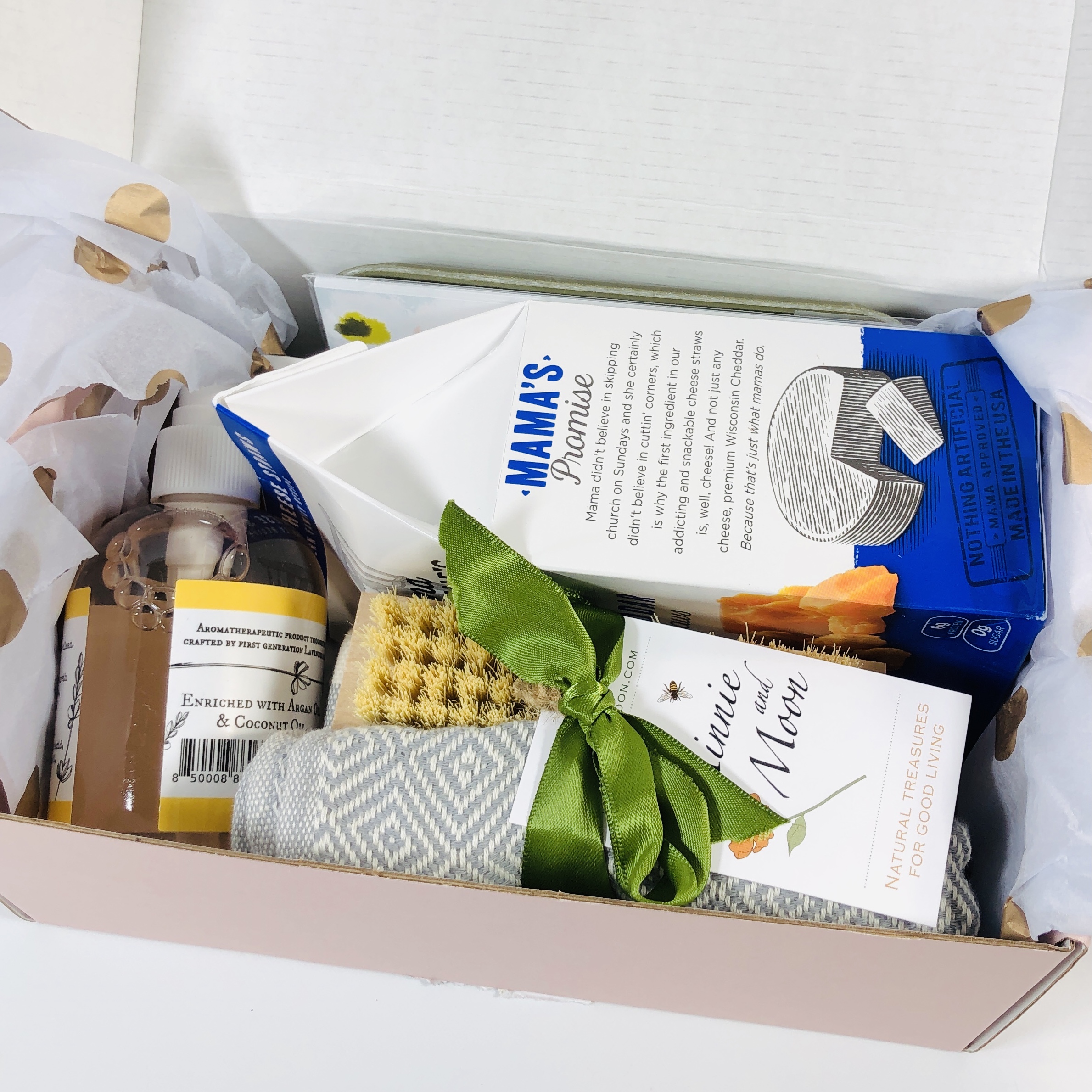 Everything was packed really well inside the box!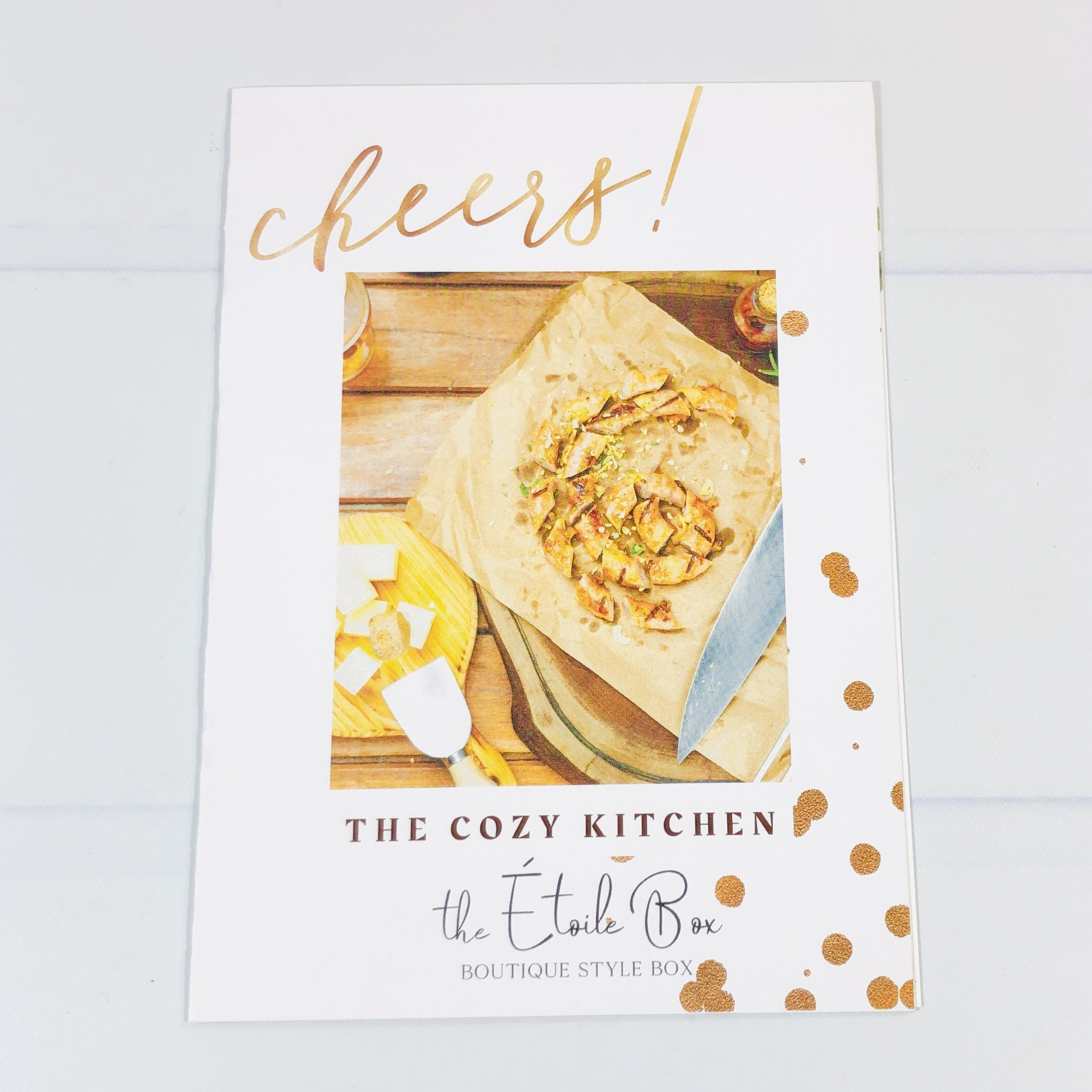 Inside I found a product info card with descriptions of the items in the July "The Cozy Kitchen" box!
I want you to know that this box didn't show up until August, but it could be because they were waiting on a product (see below).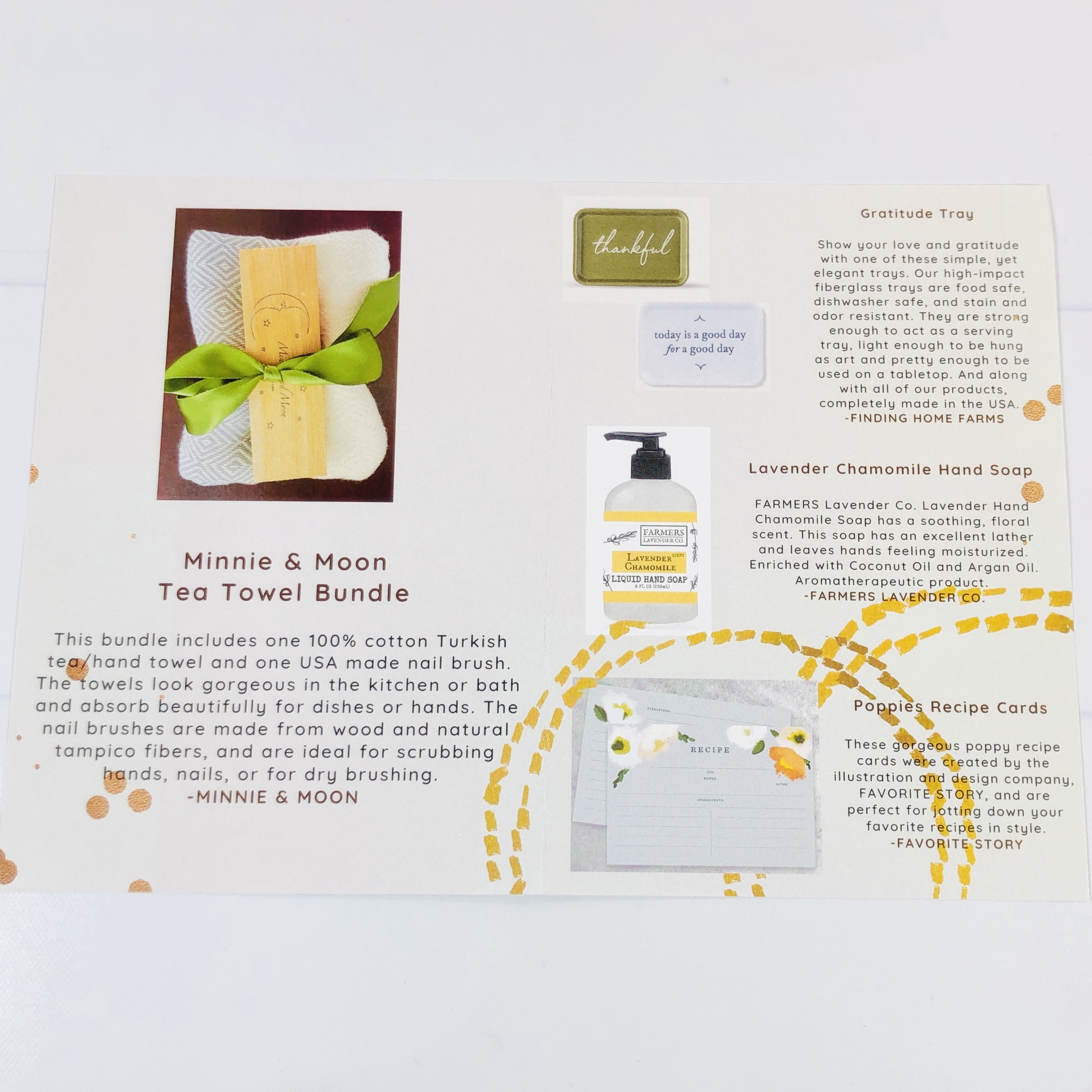 The inside listed the products, gave a description, and named the maker.
The back of the card had a couple more products. Please note that the top  product was replaced (more info below).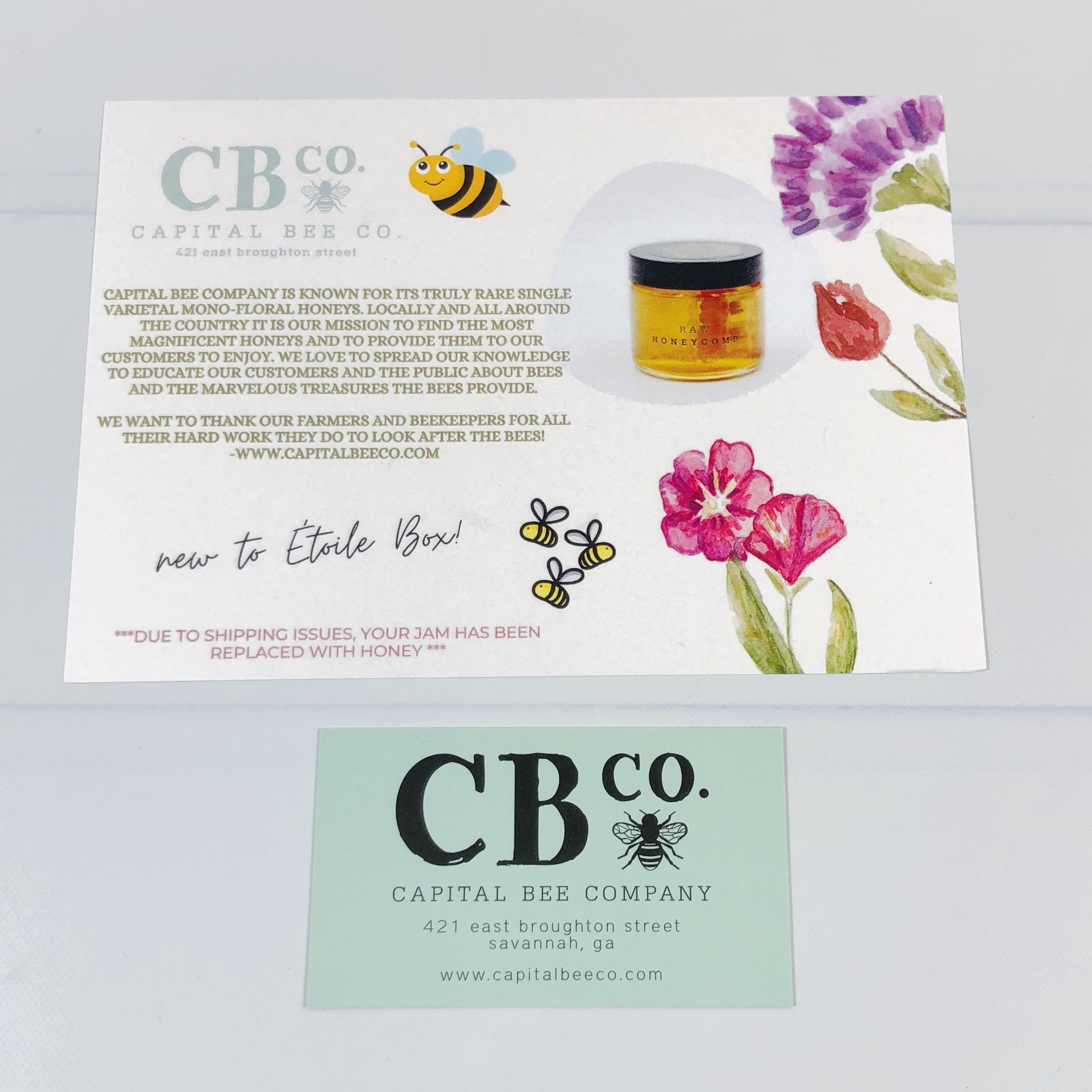 There were a couple of cards from Capital Bee Company and includes a 10% off coupon code. We were sent a jar of their honey to replace the jam that was shown in the booklet.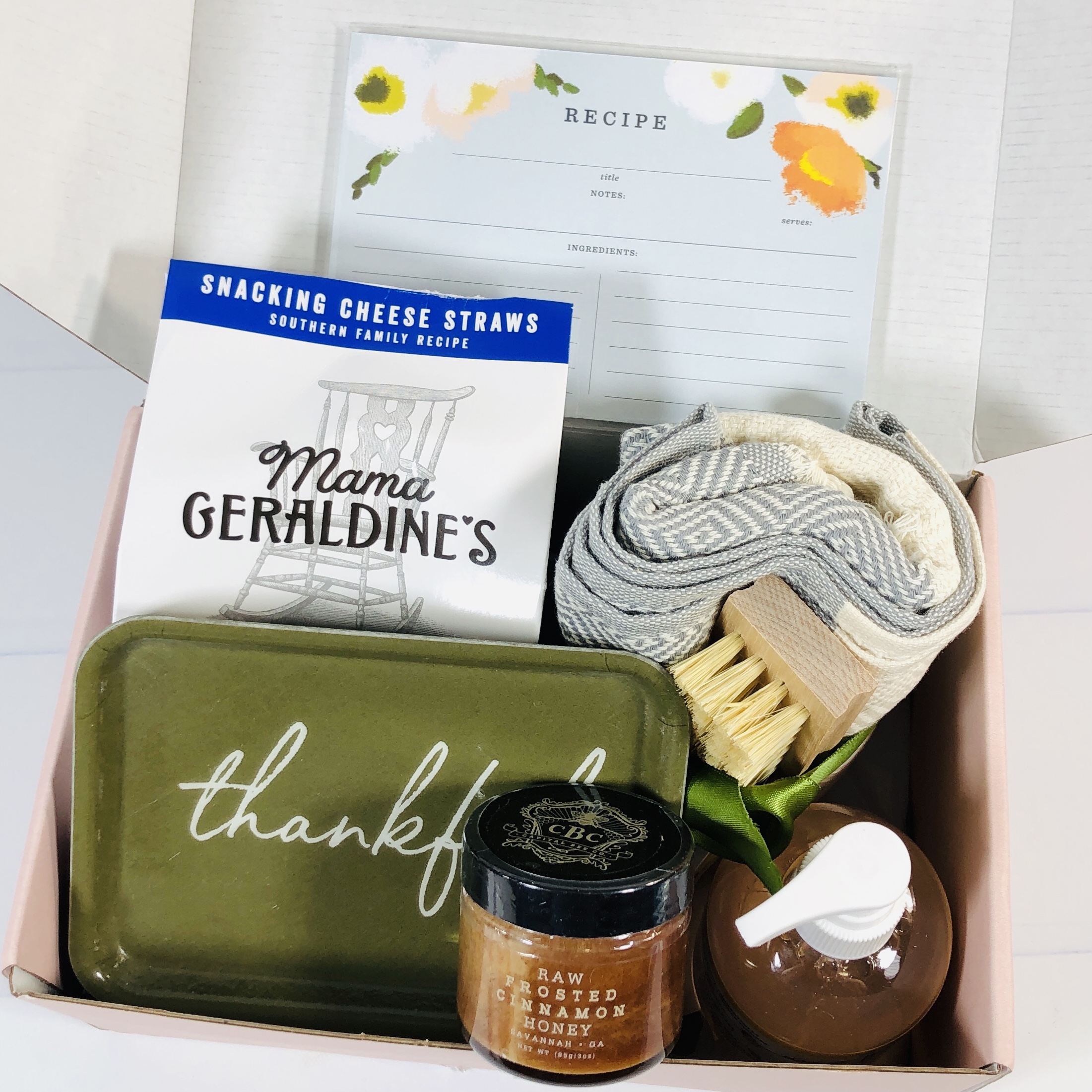 Looking good!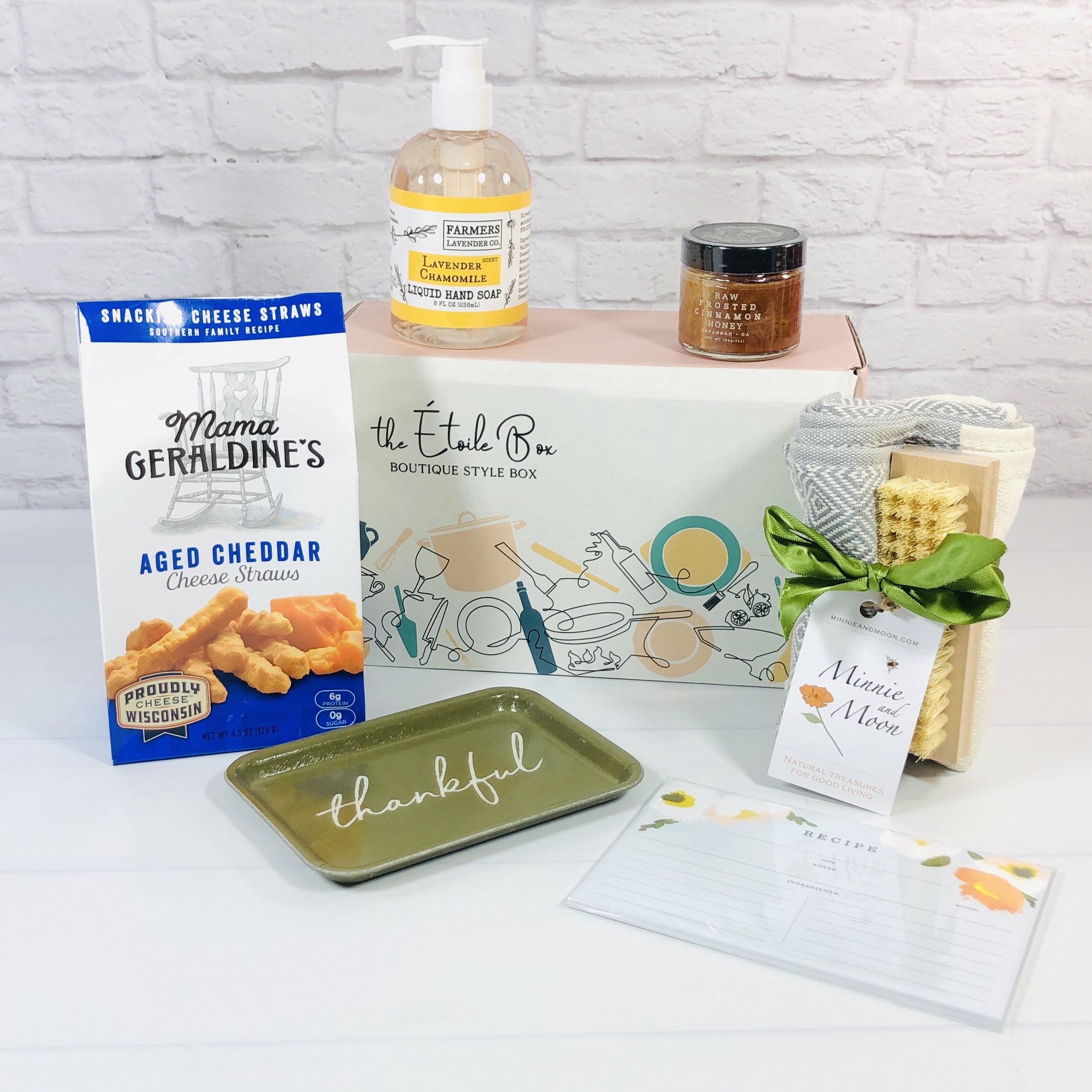 Everything in my box!
Minnie & Moon Tea Towel Bundle (Approximately $16 value) I valued these based on the prices of the towel (two for $20) and the scrub brush ($6).
Here's some info on both items that were in the bundle.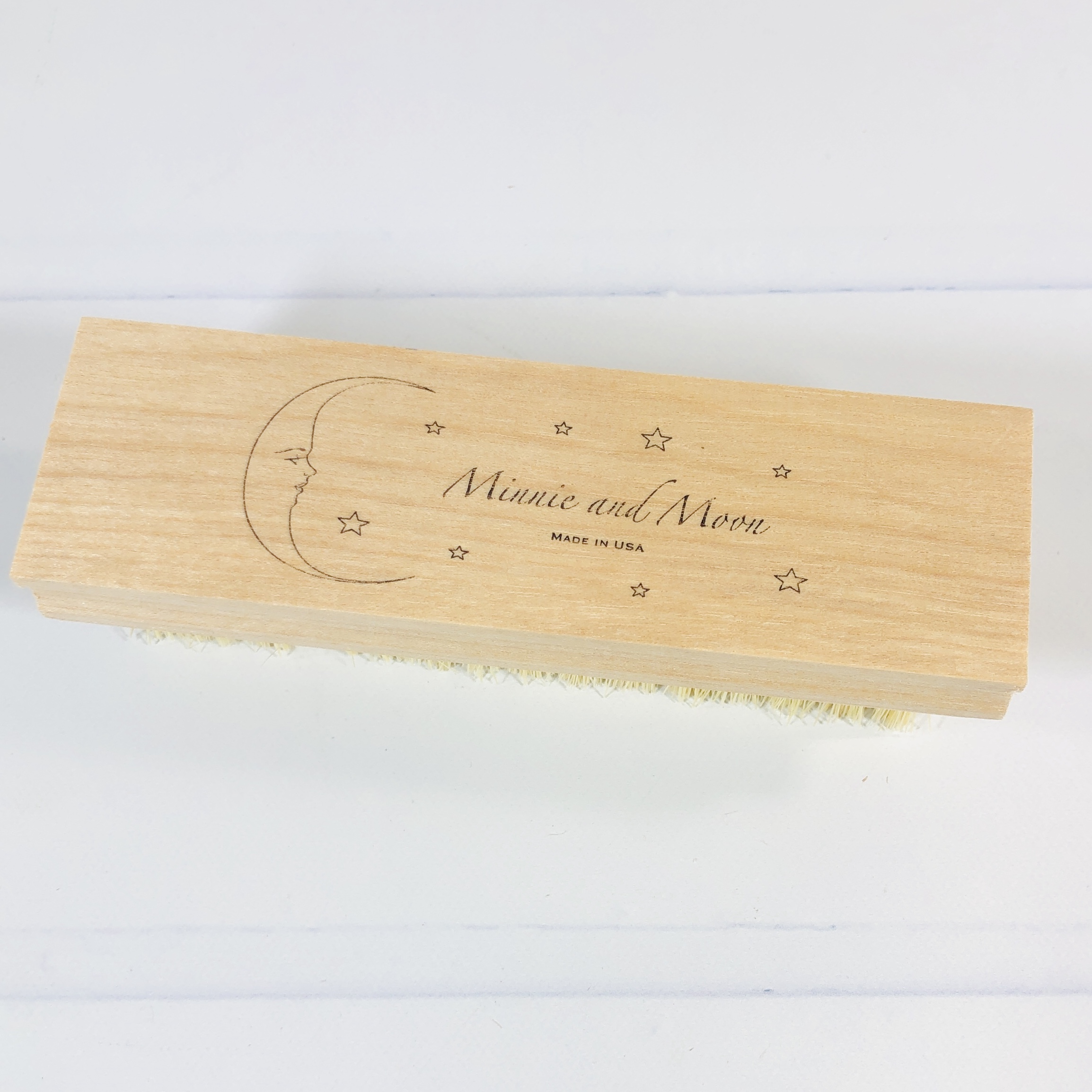 The scrub brush is larger than the typical nail brush. The base is made of maple wood and it's 5″ long.
It can be used on nails or hands, for small cleaning tasks around the home, or for scrubbing fruits and vegetables.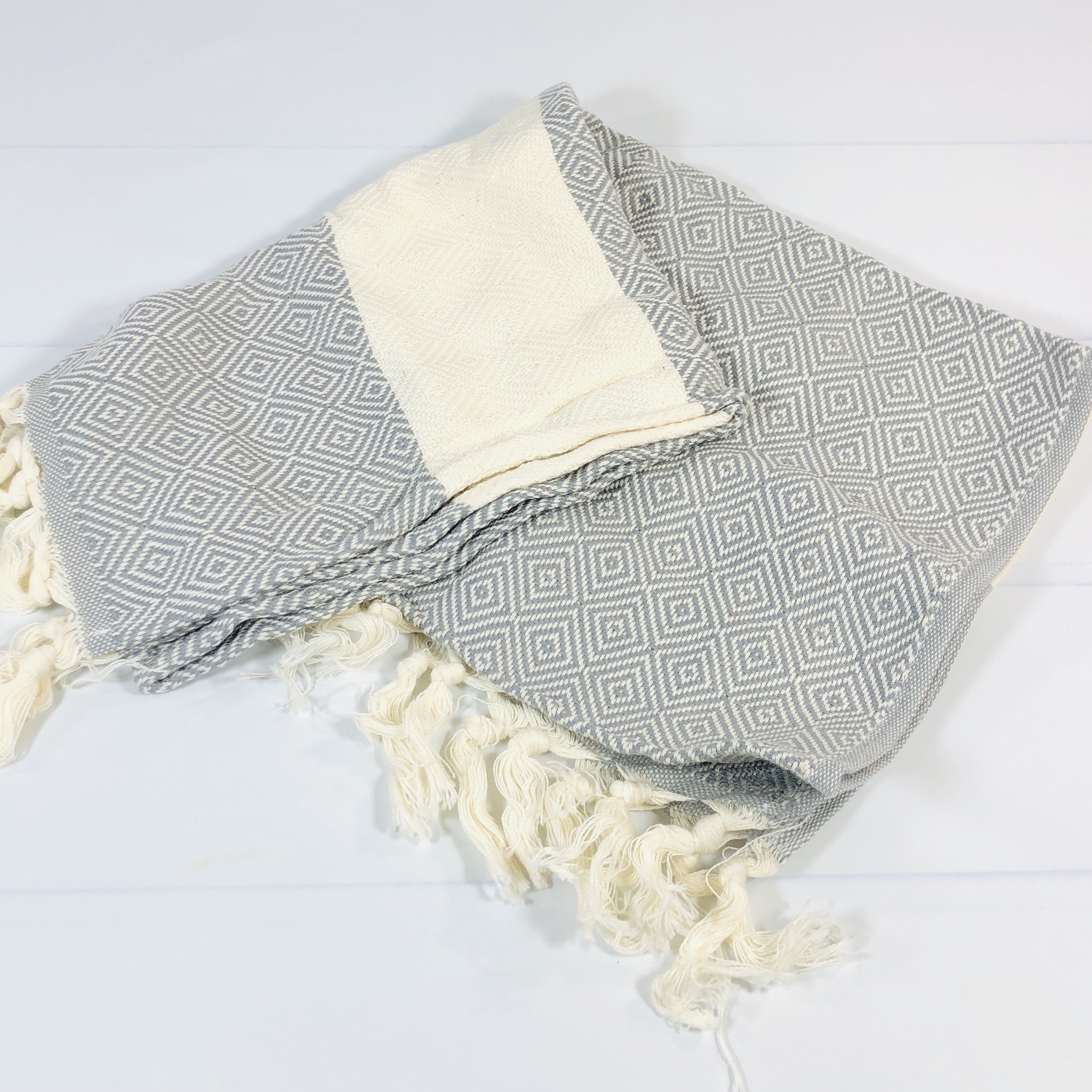 The second item in the bundle is this Turkish-made hand towel. I believe this shade is called Grey Fog and it has tassels on the ends. It's about 38″ x 18″ and I'm sure it will shrink somewhat when I put it through the wash. It's probably the prettiest in my kitchen towel collection and I am going to have a talk with my husband about not using my pretty towels underneath his coffee maker. Sure, I'm glad it's not my counters getting stained but this towel is off limits.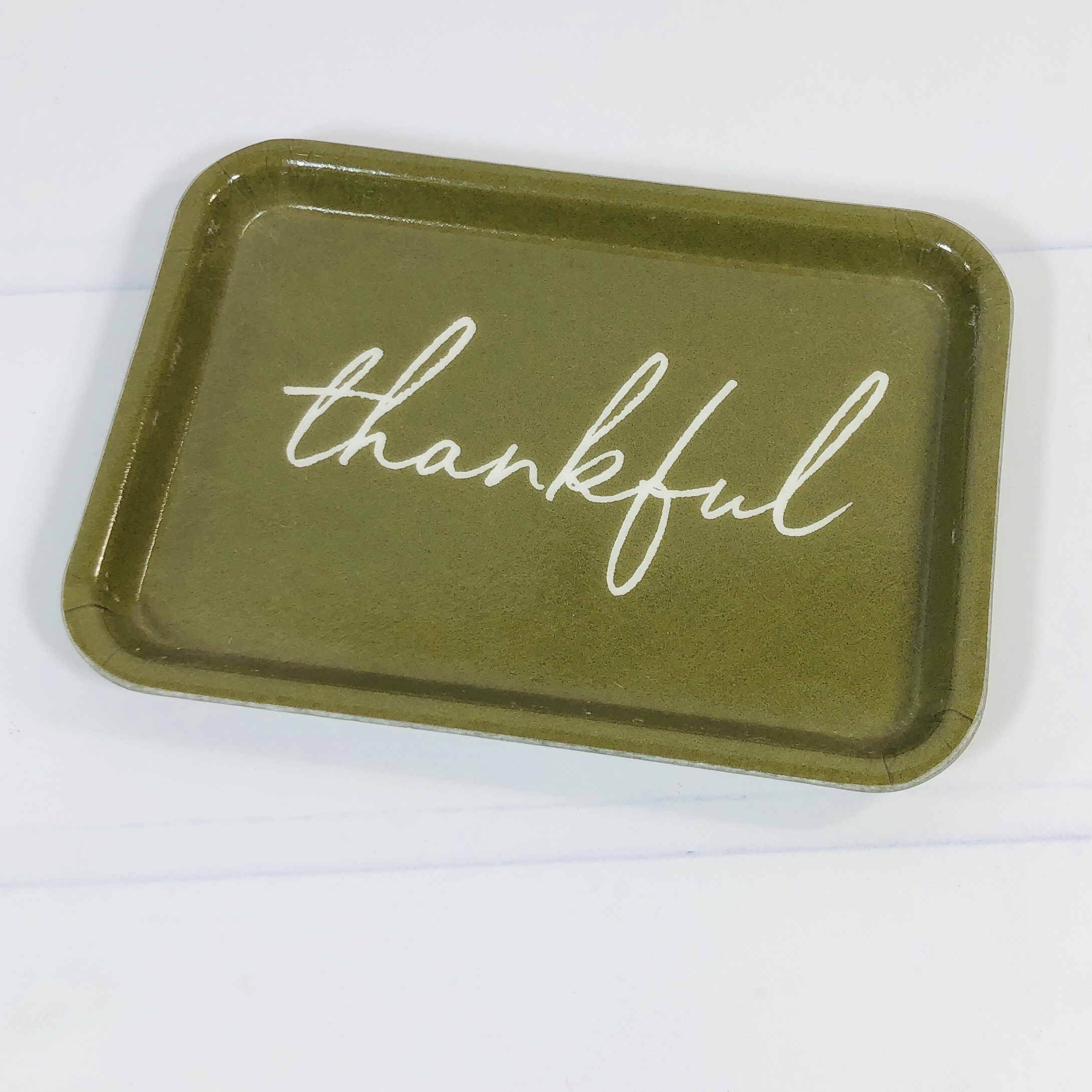 Finding Home Farms Gratitude Tray (CURRENTLY UNAVAILABLE) I think this tray is sweet and it reminds me to be thankful all year round. It is food safe, can be placed in the dishwasher, and is stain resistant. It is rather small, about 4″ x 6″, the size of a postcard.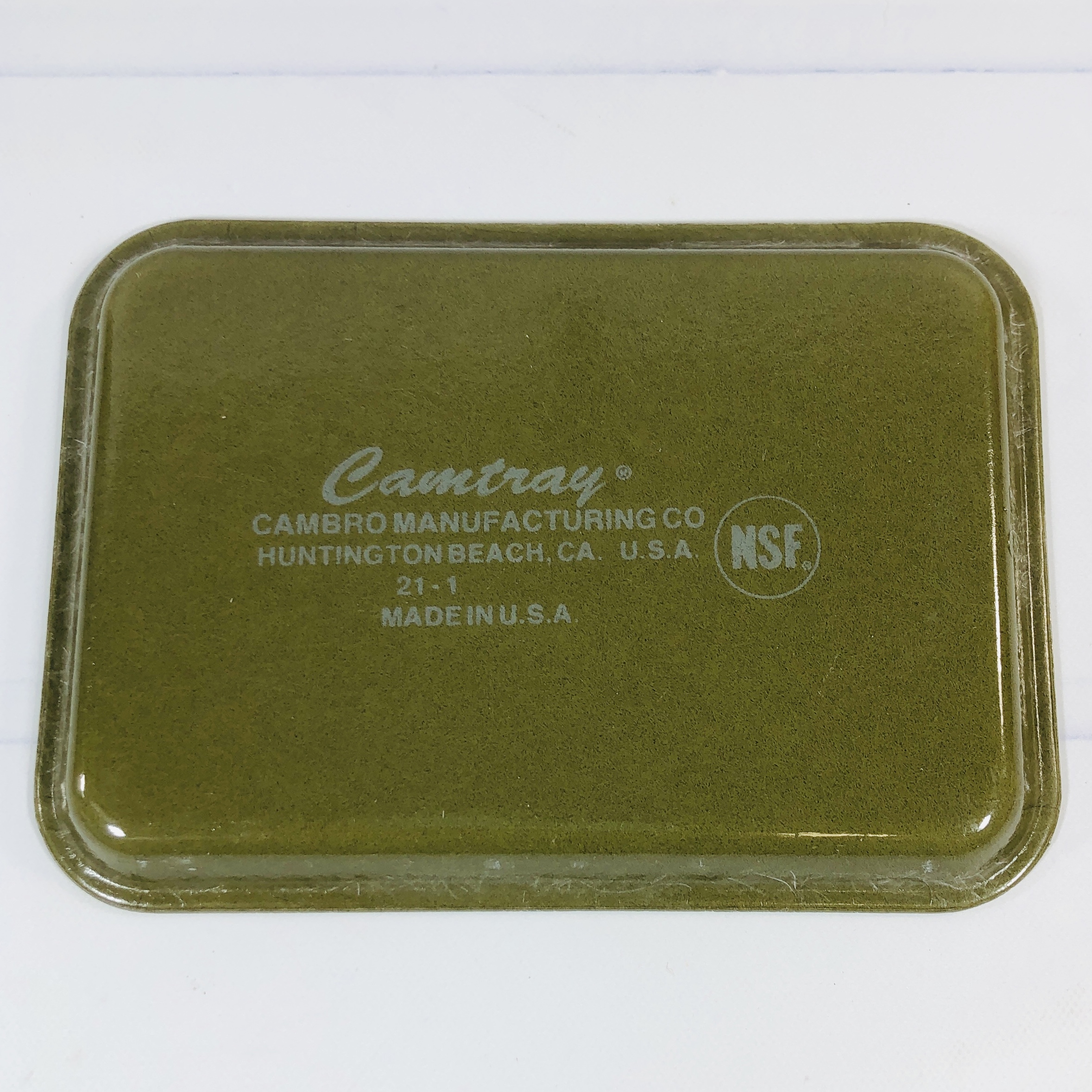 It is made in the USA of fiberglass.
Favorite Story Icelandic Poppies Recipe Card ($8) I received a set of 10 high-quality recipe cards with a pretty illustration of Icelandic poppies! The cards are 4″ x 6″ and are printed on sturdy card stock.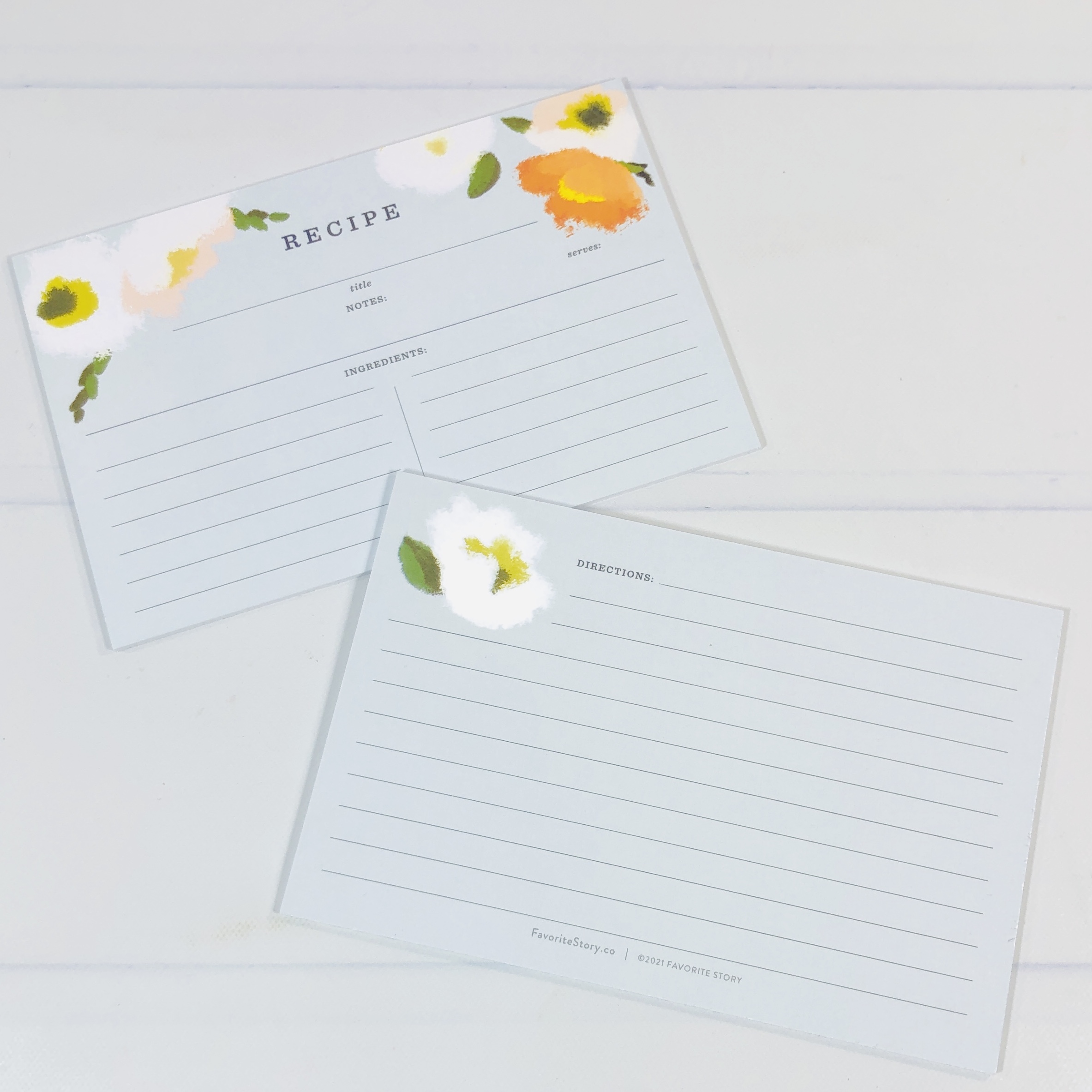 The back of the cards have a poppy too and I love the blue tint that is on both sides.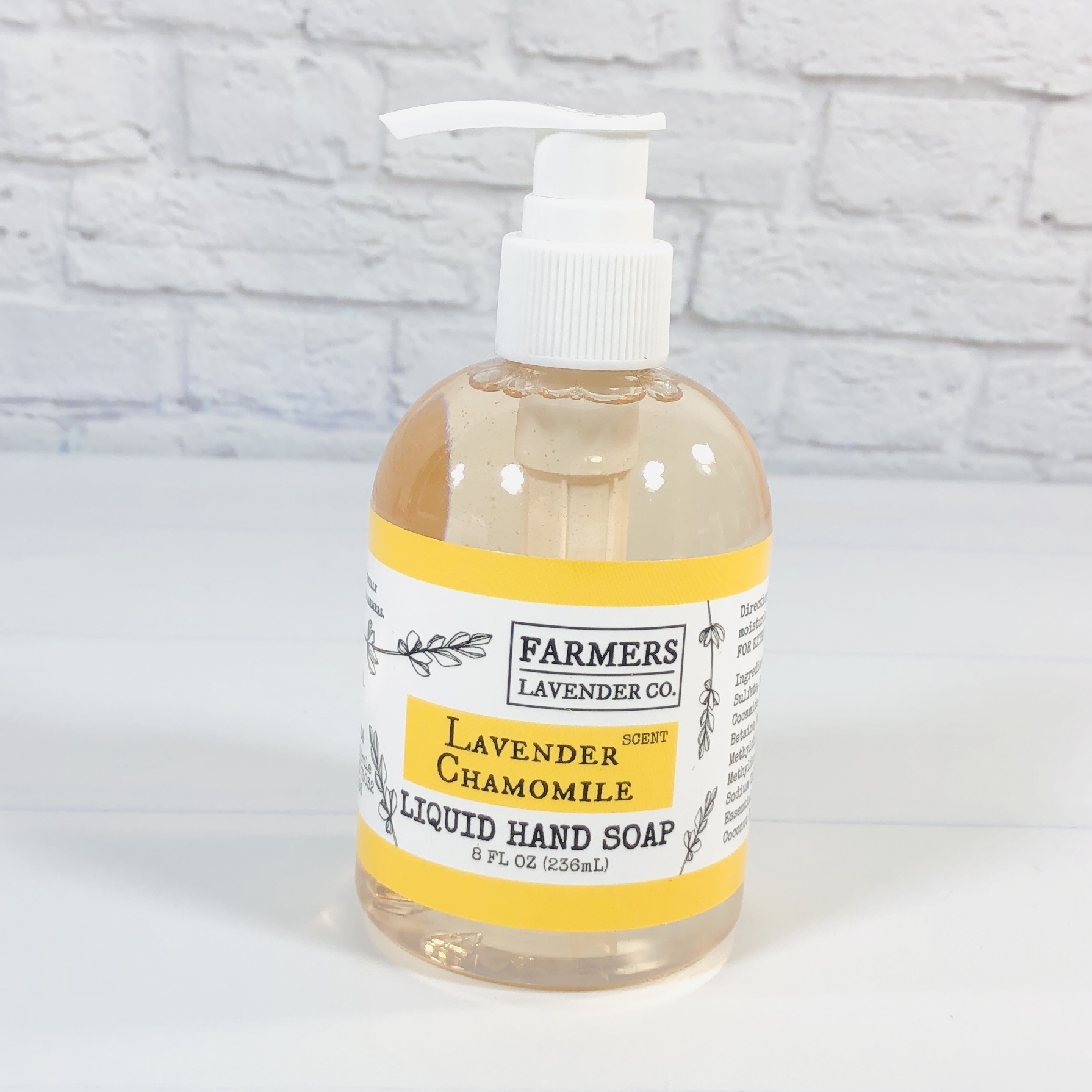 Farmers Lavender Co. Lavender Chamomile Hand Soap ($7.50) I tend to buy whatever hand soap is on sale or default to Softsoap because it's so inexpensive. The scent is described as "soft & relaxing with notes of Lavender, apple and powder" and it leaves my hands smelling like perfume for a while after washing. I have placed this in my guest bathroom so the only time I use it is after moving my laundry from the washer to dryer, since it's close to my appliances.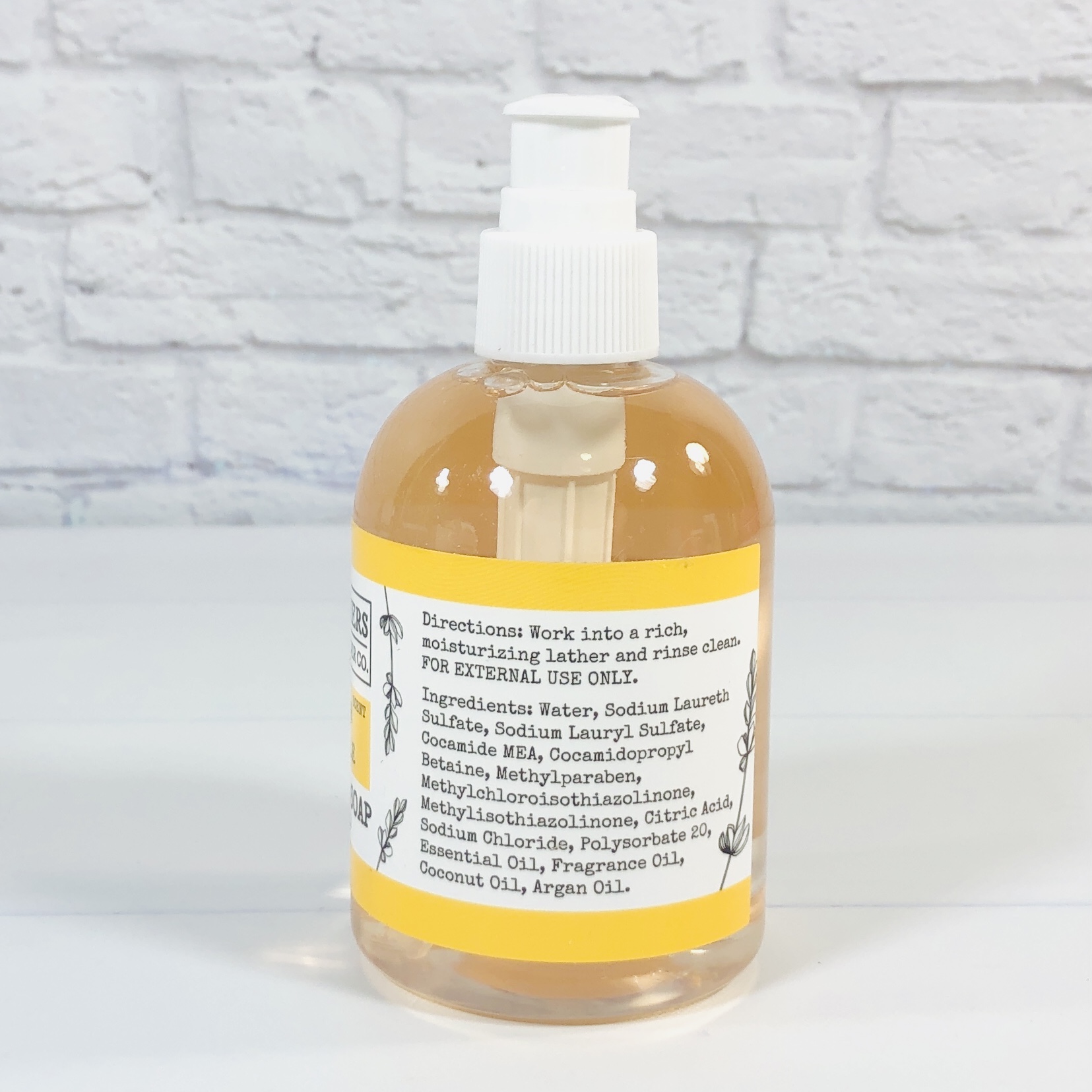 For the price of this soap, I was expecting it to be more natural, but it has two preservatives I tend to avoid (due to allergies) and even has methylparaben, which isn't in my drugstore pump soap. I'm sure that most people have no problems with these ingredients but I usually avoid them due to the chance of a reaction but parabens are usually on the "no" list when describing a "natural" product (and all three of those ingredients are banned at Whole Foods).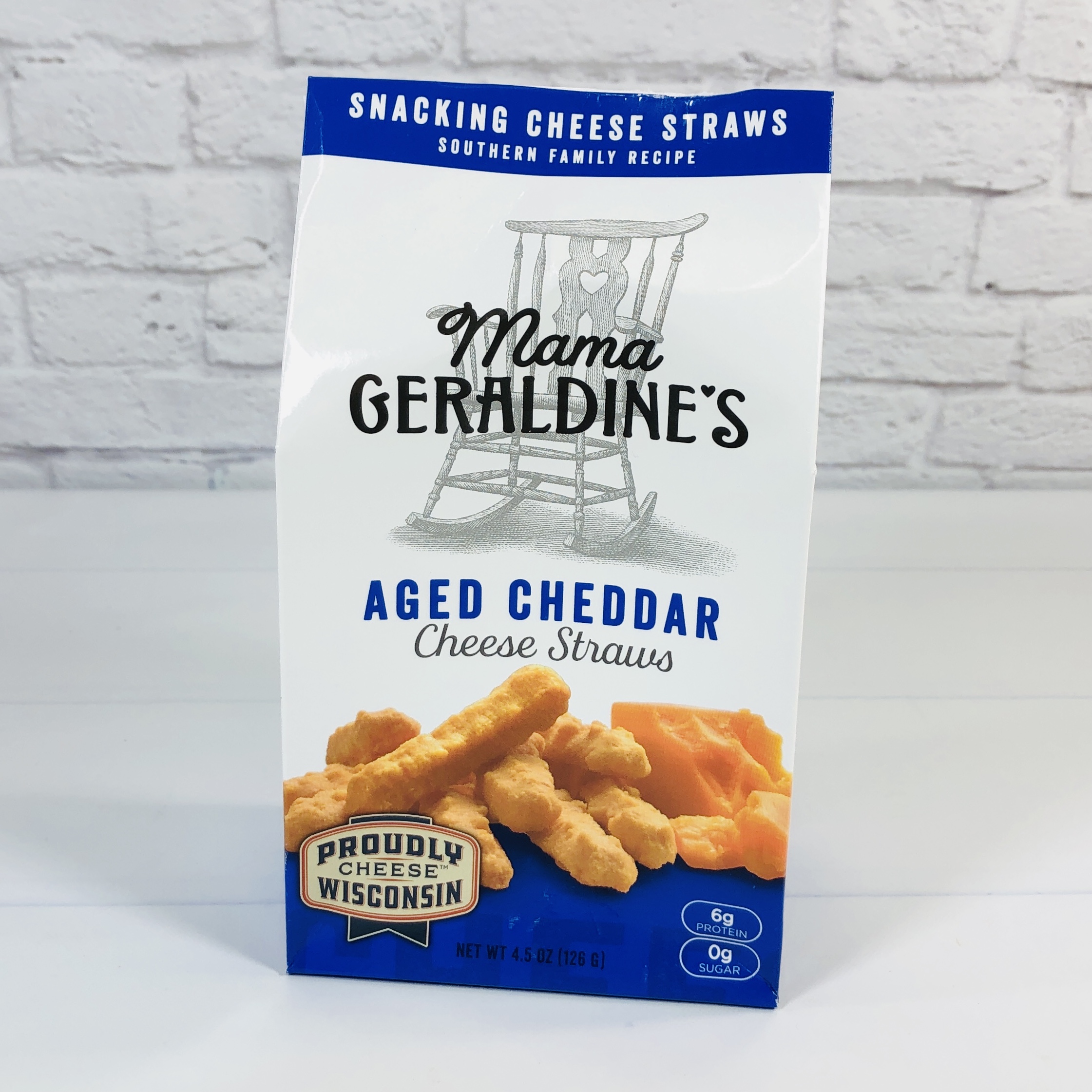 Mama Geraldine's Aged Cheddar Cheese Straws ($5.37) I feel like cheese straws are a classic southern party food or snack item and while they are probably easy to make, do I ever make them? Nope.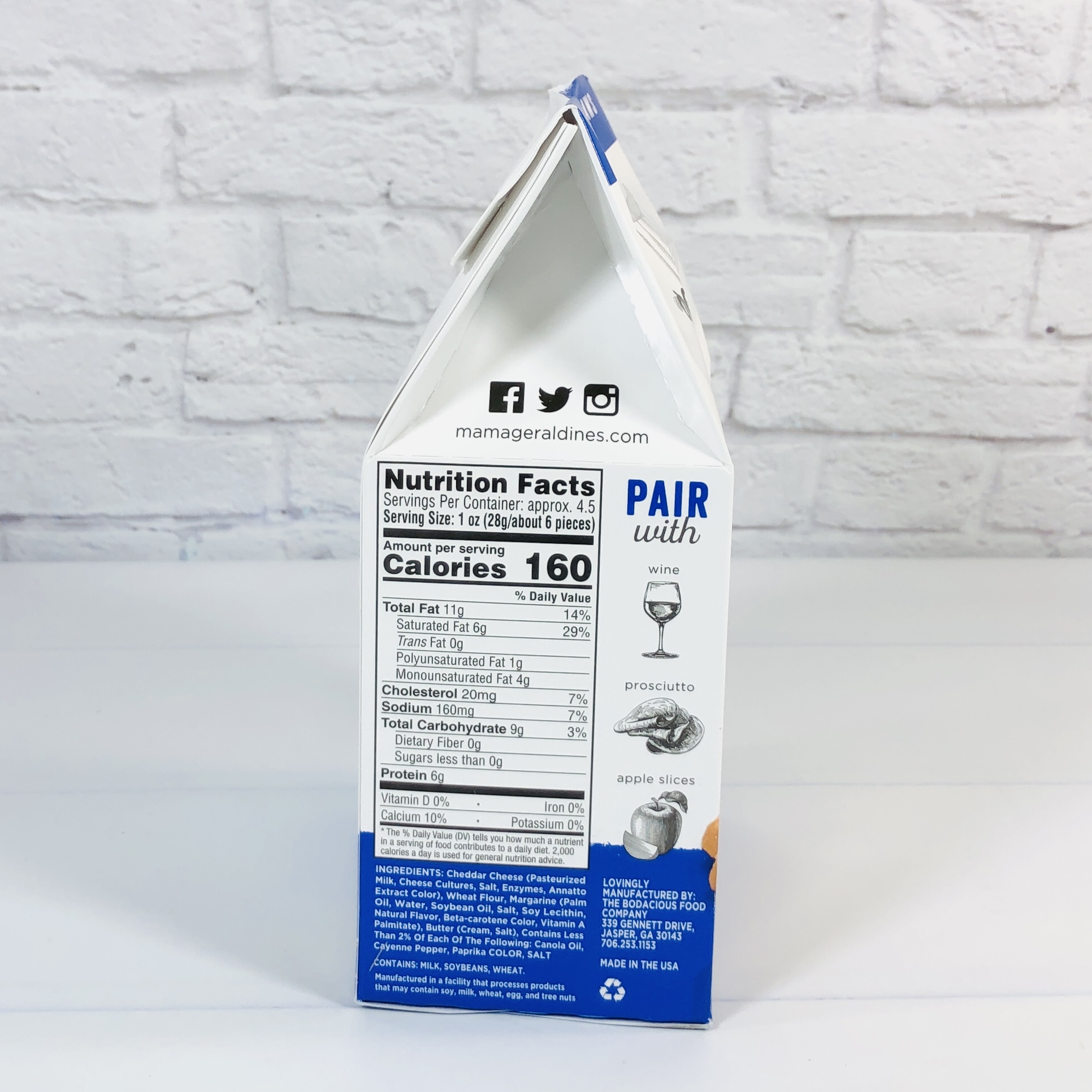 Here's the ingredients and the first thing in there is cheddar cheese.
These have the texture of a shortbread cookie but with a cheesy flavor and it isn't hard to gobble them up, they are quite tasty. There's a hint of spice from the paprika and if you are looking for serving suggestions the box says they can be paired with wine, prosciutto, and apple slices.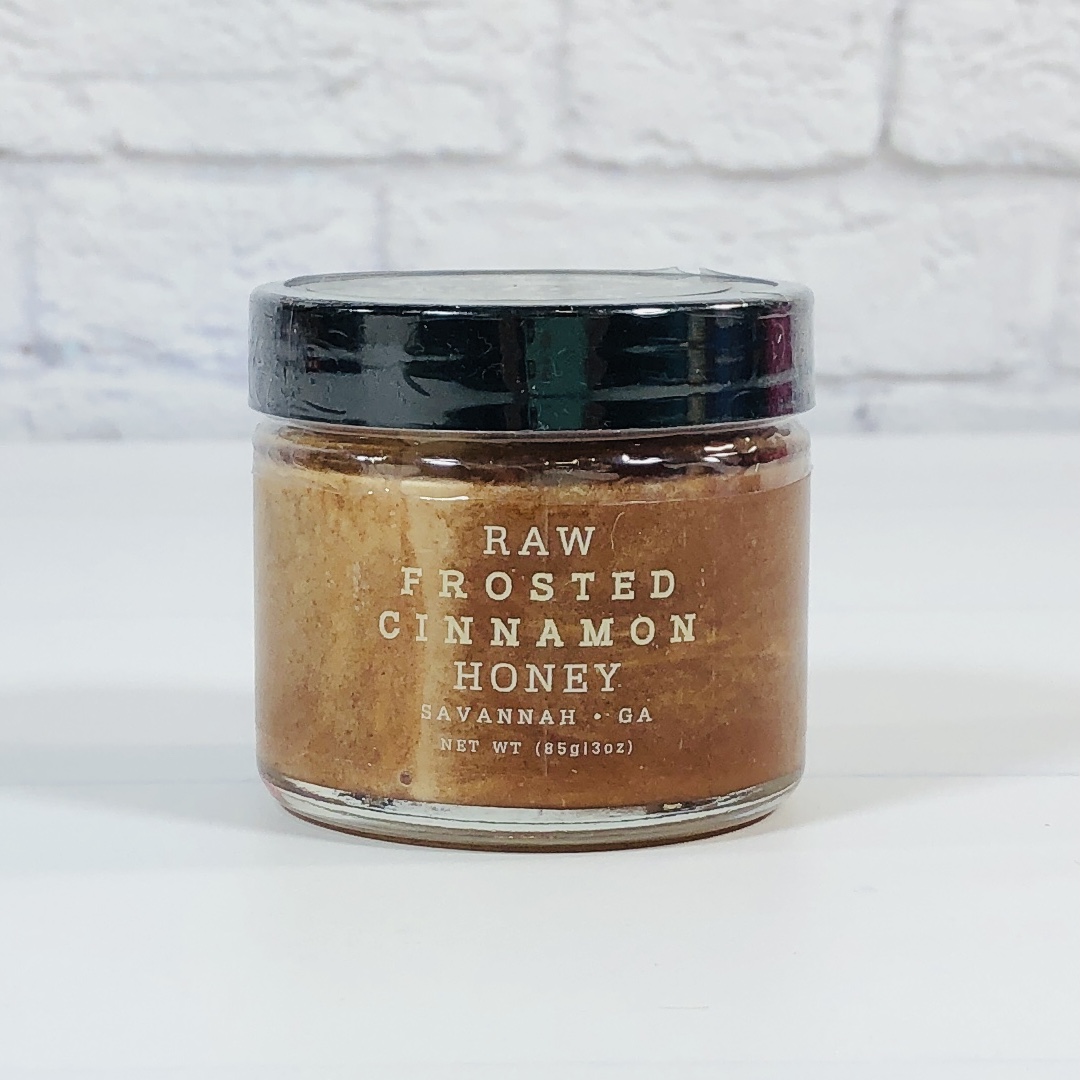 Capital Bee Co. Raw Frosted Cinnamon Honey ($8) This honey was a substitute for the jam that didn't make it in time and that is fine with me, I love honey and it's very versatile. The brand suggests using it on sweet potatoes and carrots and those both sound like excellent suggestions!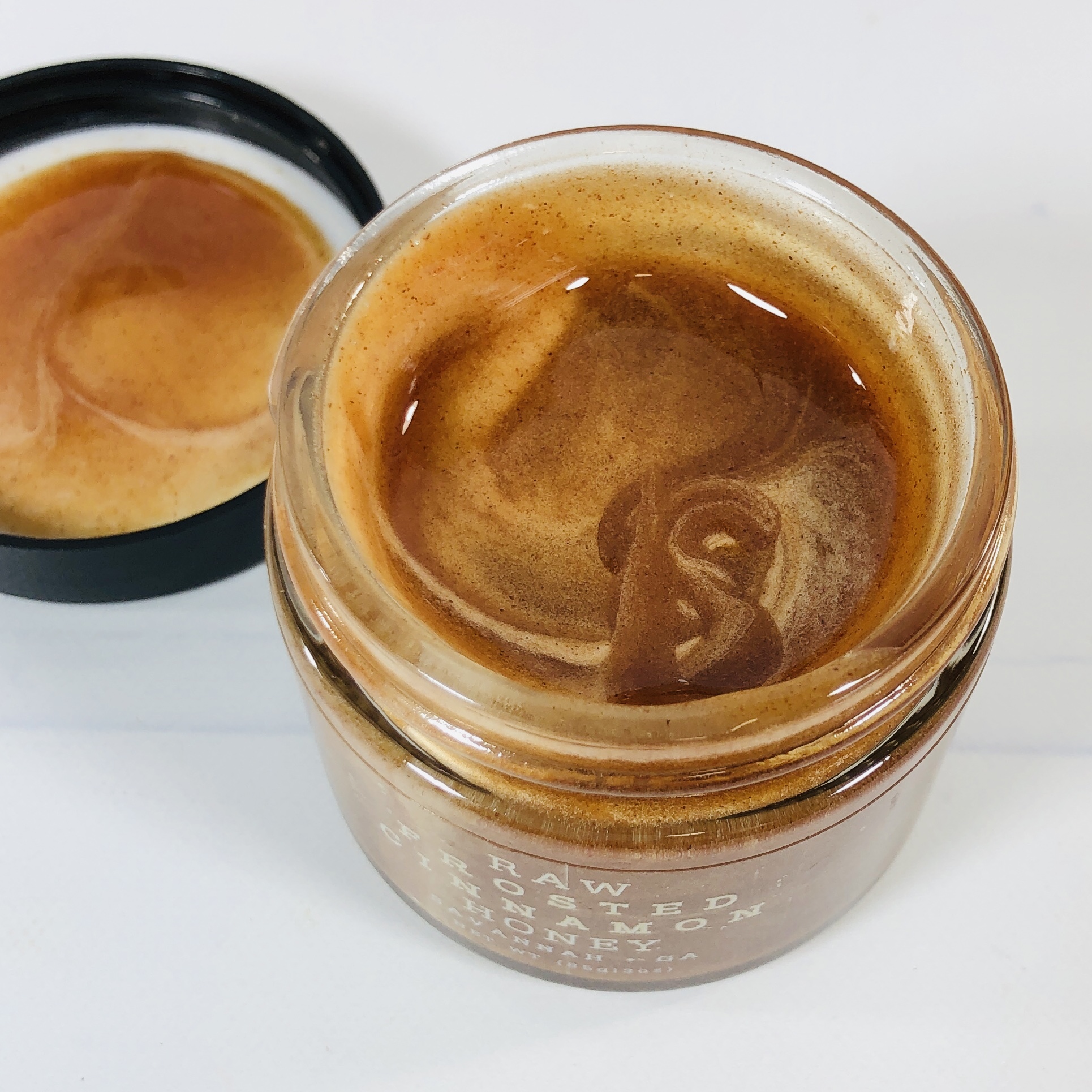 I have never heard of frosted honey before! It gets its name due to the fact that it looks similar to frosting.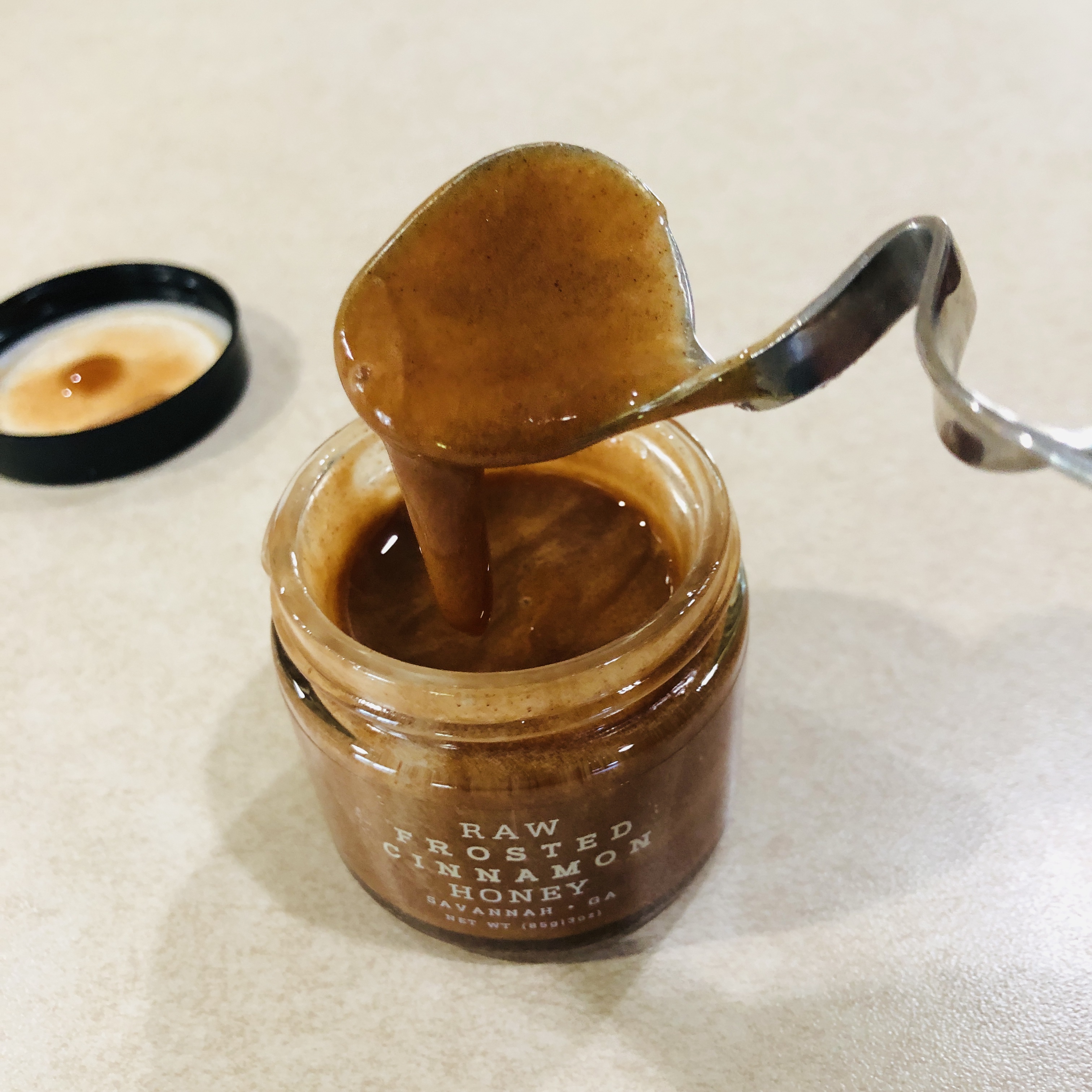 I think it closely resembles caramel, the consistency is very similar. The cinnamon is very strong so I think I will use this as suggested on vegetables.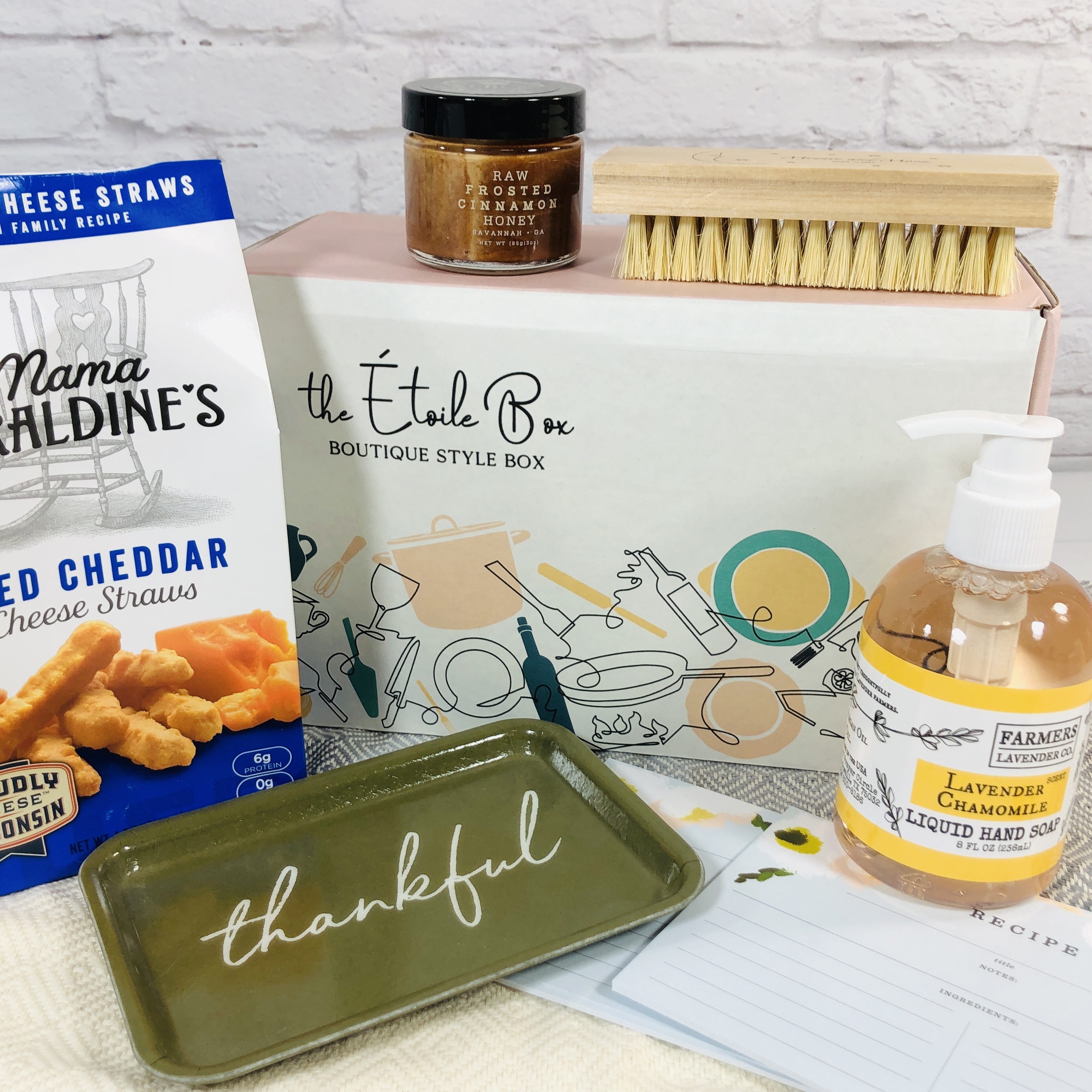 I thought the July Cozy Kitchen theme was a great one, and there were so many adorable items to help it become reality. The cheese straws and honey were tasty, they will be gone in no time. I also think the tray, brush, and towel are of very nice quality. The cards are perfect for jotting down recipes and would also look nice when presenting a baked good to a friend (because I'm sure they're going to want the recipe to whatever you make!). The hand soap will get used but I went ahead and placed mine near a sink that is used less often to avoid irritating my hands. All of these seem like things I might find in a boutique on Main Street USA, and since I don't get out shopping much lately, it's nice to have the items chosen for me and shipped to my mailbox!
What do you think of this box?