Cute & Fun? Sparkle & Glitz? Trendy Vibes? Claire's has a new subscription box, Cdrop, with three options available: GlitzyDrop, BitsyDrop, and VibeyDrop! Each box is $30 per quarter + FREE Shipping (or $32 for individual drops), and will include a fun box filled with Claire's accessories! Even better, they've curated boxes with recommended age ranges, so from little kids to tweens to teens, it's easy to select the right box!
Meet Cdrop – it's Claire's in a box! Like surprises? We do too. So, we pulled some together just for you. Each new box brings you the best of Claire's. Style, fun, & good vibes.
Meet GlitzyDrop! Our fave earrings in every drop. Get your sparkle on!
Say hi to BitsyDrop! From style to toys, a whole box of cute & fun.
Introducing VibeyDrop! The trends before they trend! New drip in each drop.
Here are the Cdrop boxes in detail: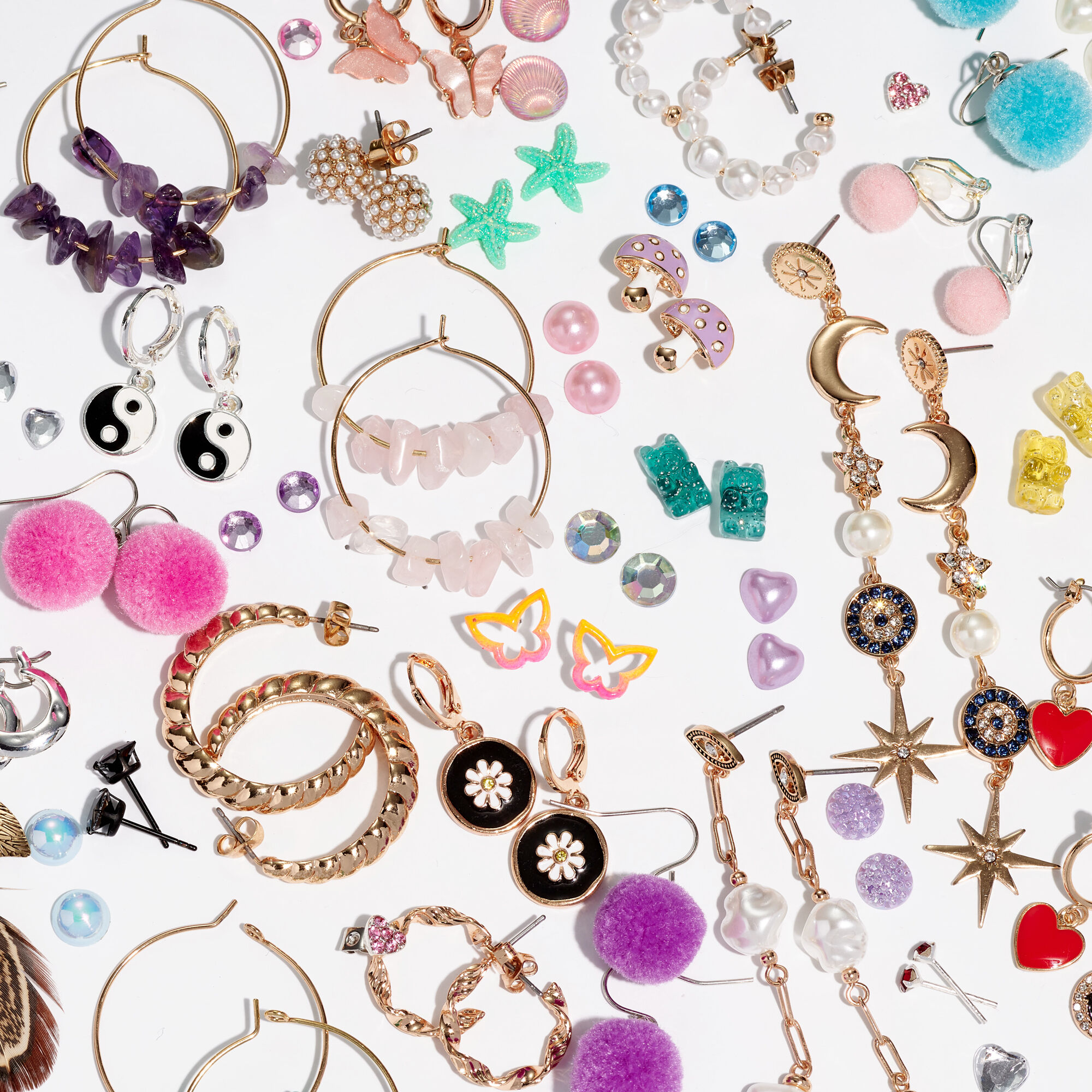 GlitzyDrop ($30 per quarter): Teens
Into hoops, studs, dangles, drops, & cuffs? Same! So, we collected our most-loved styles just for you. It's an earring party in a box!
Up to 12 sets of our fave earring looks: hoops, dangles, drops, studs, & cuffs.
Subscribe quarterly & get Cdrop every 3 months!
Reco'd age: 12+
BitsyDrop ($30 per quarter): Littles & Kids
Are smiles your thing? We're keeping it giggly with a box of plushies, fidgets, toys, & fun — just for you!
5–7 of the funnest hair, jewelry, fidgets, & toys we could find!
Subscribe quarterly & get Cdrop every 3 months!
Reco'd age: 3–8
VibeyDrop ($30 per quarter): Tweens
If rocking it first is your vibe, this is the box for you. All the looks that make them look!
5–7 of the trendiest trends across hair, jewelry, makeup, tech, & more.
Subscribe quarterly to get Cdrop every 3 months!
Reco'd age: 9+
How it works:
Switch. Want to try a different Cdrop? Sure! Nothing will change but your box choice.
Skip. Need a box-break? Just press pause and your Cdrop charges will freeze until you un-pause.
Cancel. We'll miss you, but you can end your subscription anytime. No more boxes or charges. Period.
Restart. Welcome back! Restart your Cdrop and you won't be charged until your first box ships.
About Claire's:

Claire's is a global brand powerhouse for self-expression, creating exclusive, curated and fun fashionable jewelry and accessories, and offering world-leading piercing services.
What do you think of Cdrop by Claire's?