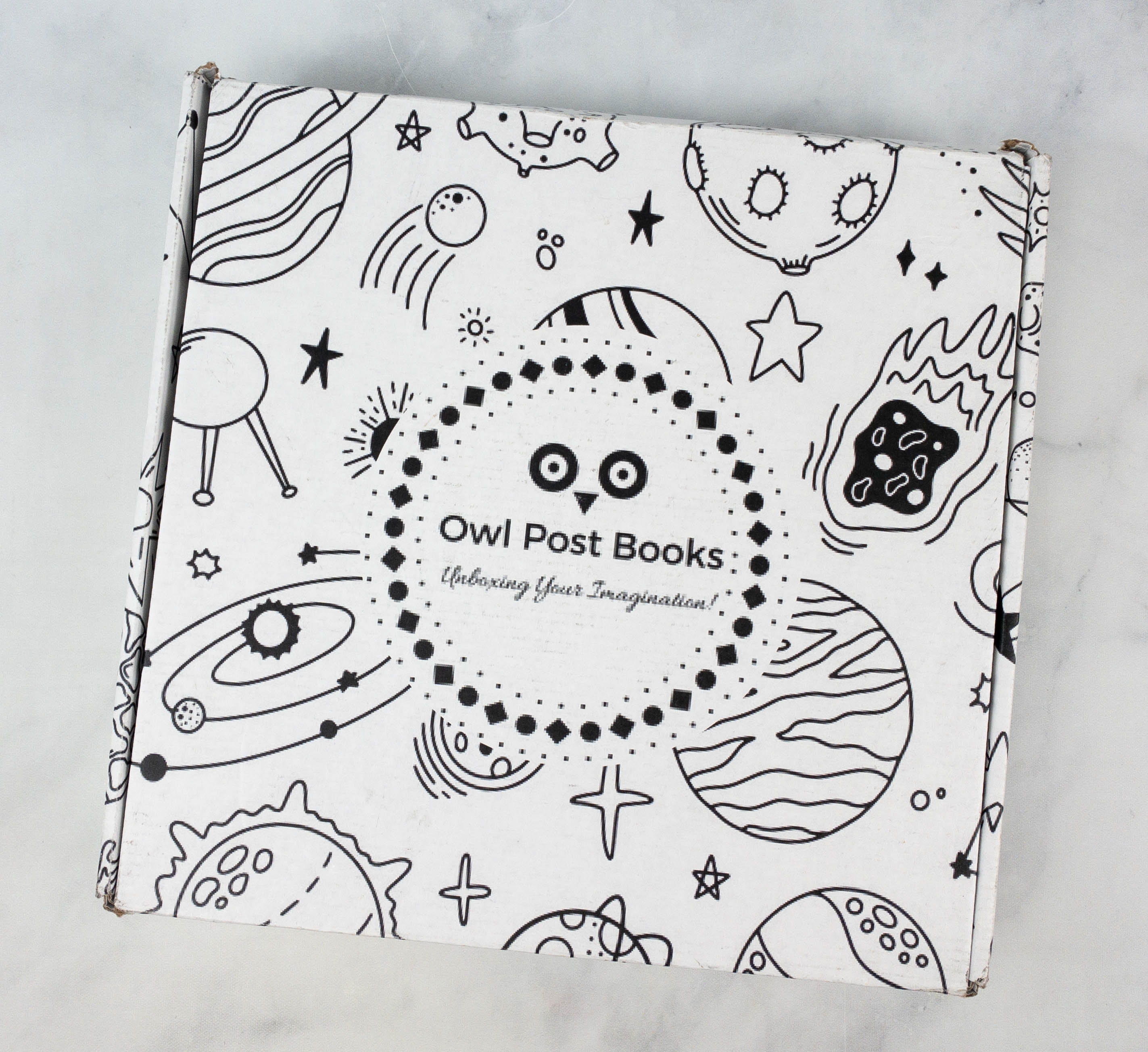 Owl Post Books is a fun and interactive monthly book subscription for kids. Each month, subscribers will receive an Imagination Box with 3 books that fit into their age range in a fun monthly theme; the box includes a small craft and a theme card! A reader favorite, Owl Post Books is a top kids book subscription box!
Owl Post Books has Imagination boxes for ages 0-3, 4-7, 8-10, Tween 11-13, and YA.  This is the Imagination Box for 0-3 years old. They also have an Imagination Mini subscription and a monthly YA Fantasy Fiction subscription.
DEAL: Get 20% off your entire subscription! Use coupon code NEW20.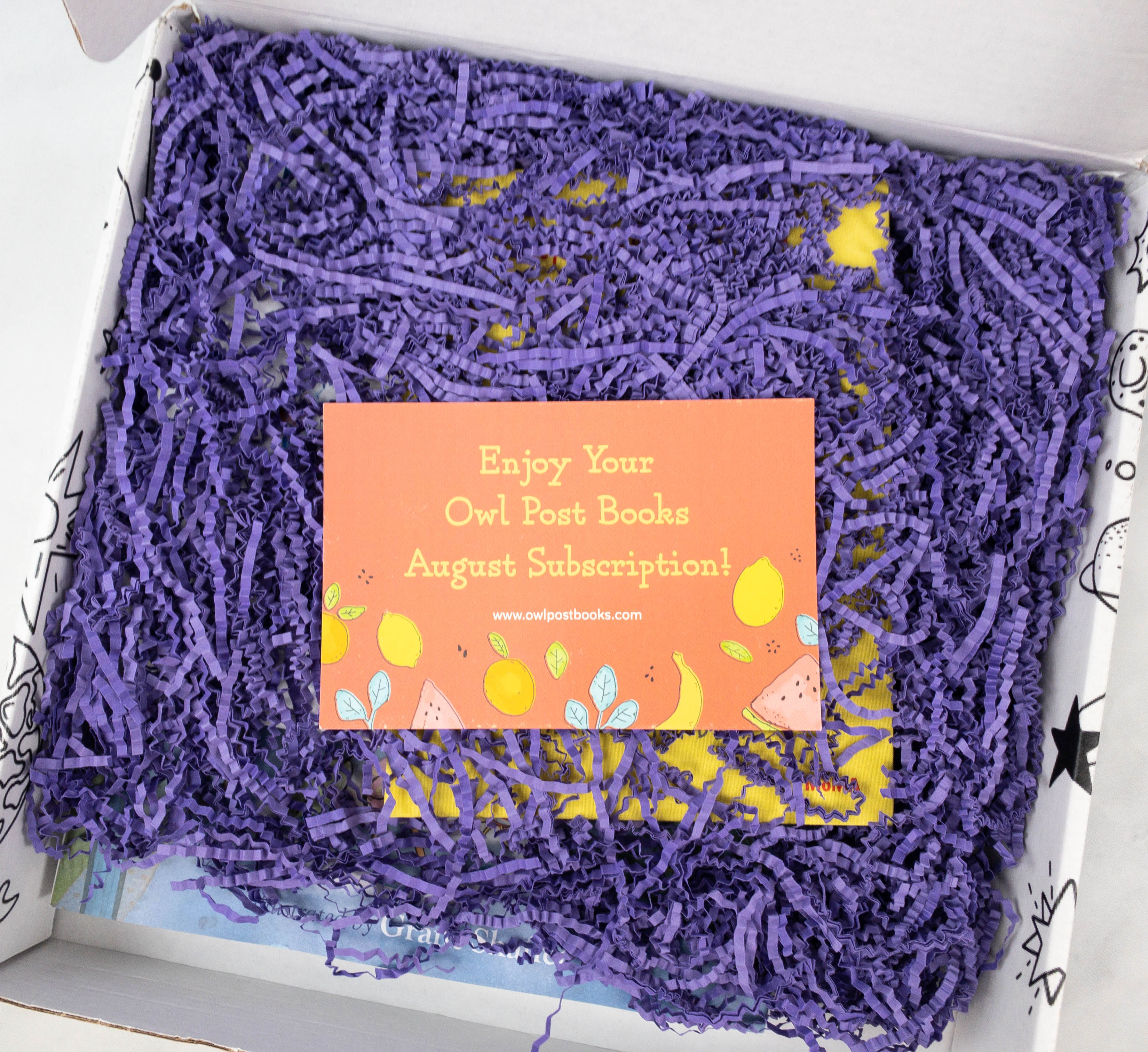 All the books arrived in great condition and they were nestled in purple squiggles!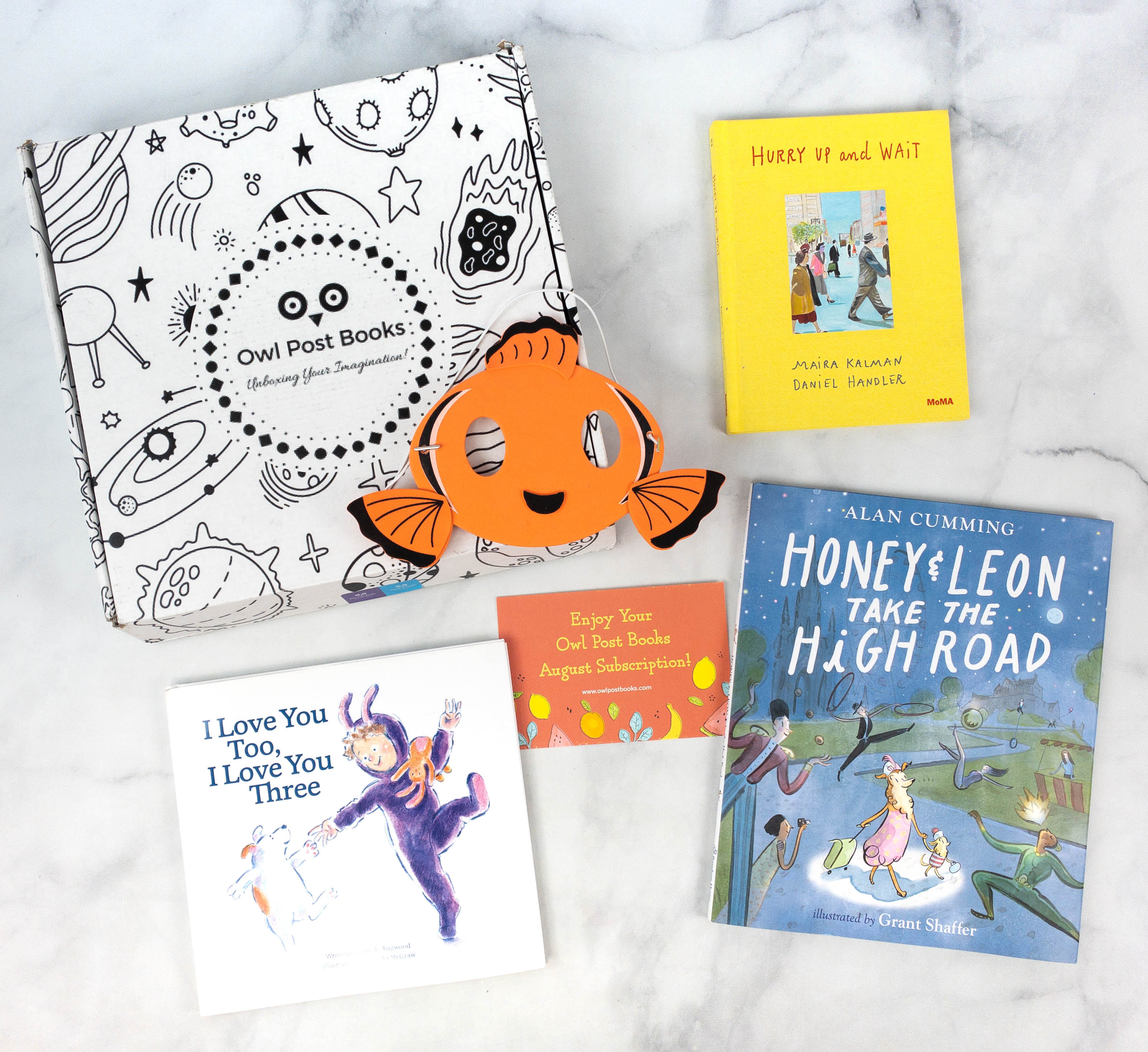 Everything in my box!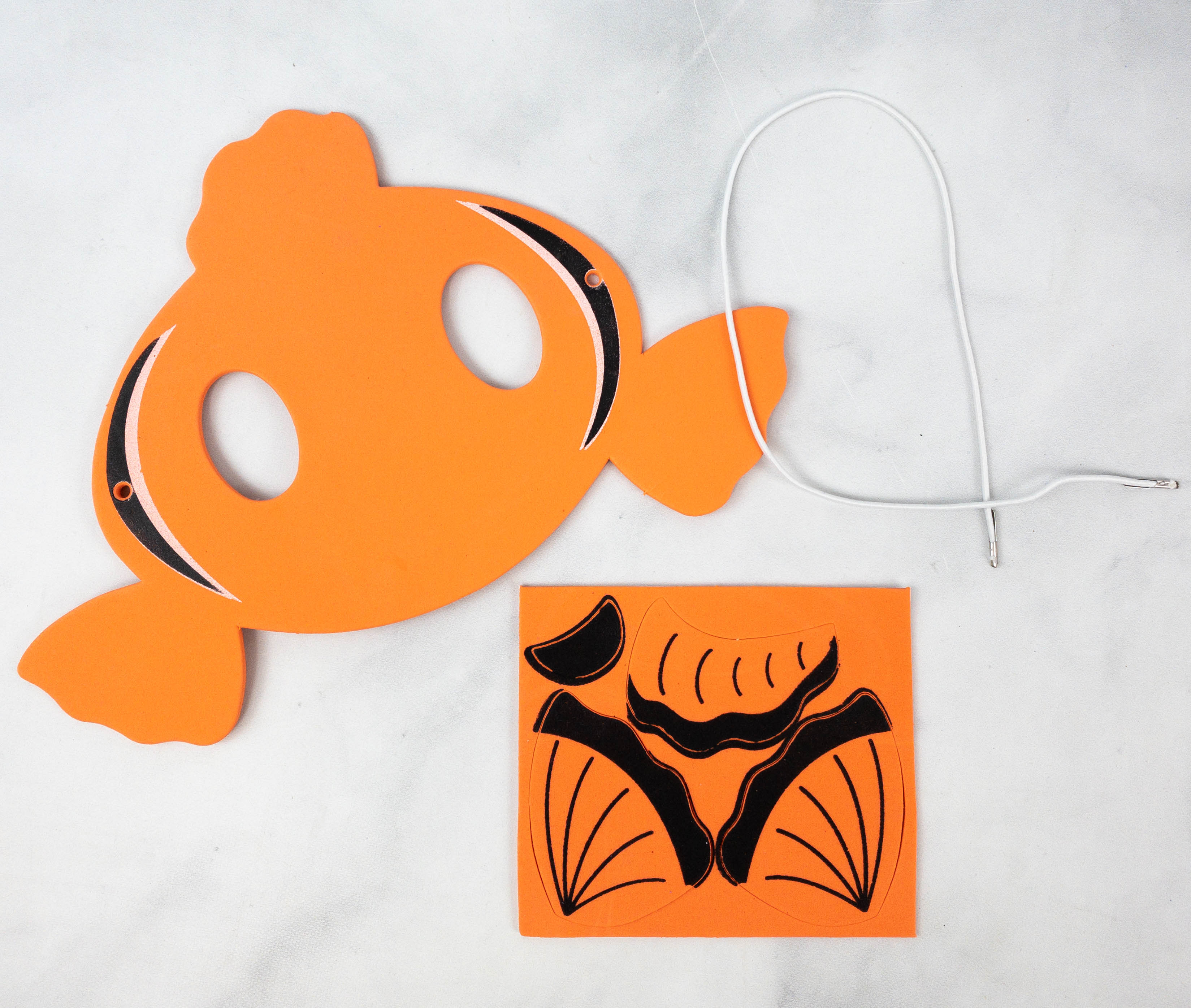 Each box includes a toy or item in line with the book's theme.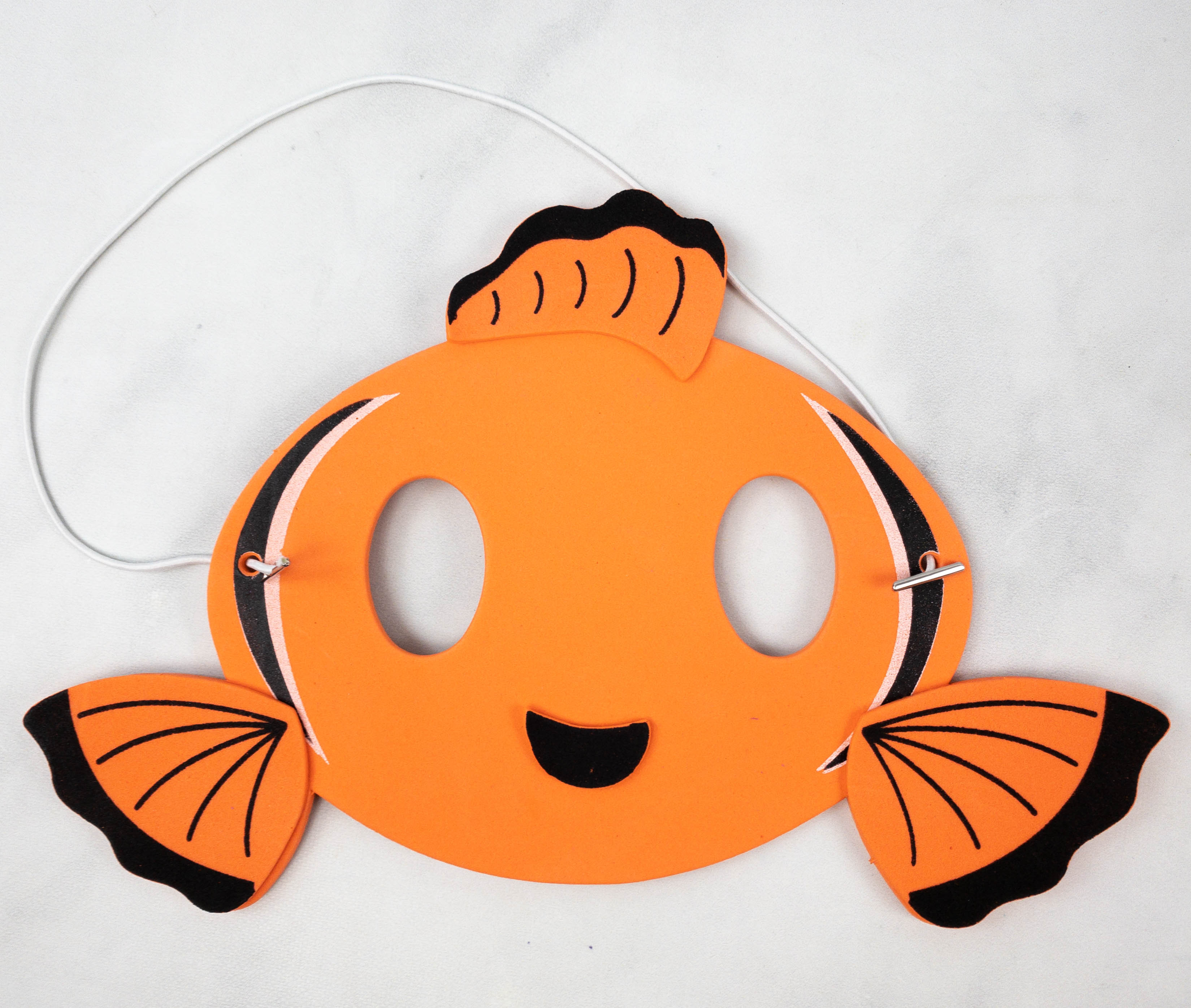 This month, they sent this DIY mask kit and my kids liked it!
Hurry Up and Wait by Maira Kalman & Daniel Handler ($14.96)
You're supposed to stop and smell the roses
but truth be told it doesn't take that long
to smell them. You hardly have to stop.
You can smell the roses and still have time to
run all those errands before the sun goes
down and it's dinner time.

Hurry Up and Wait is the second volume in a new series of collaborations between renowned artist and bestselling author Maira Kalman, New York Times bestselling writer Daniel Handler (a.k.a. Lemony Snicket), and The Museum of Modern Art, New York. This time a whimsical collection of images captures people in motion—or not. In snapshots by some of the world's most celebrated photographers, some people stride forth, dash across streets, race on bicycles, and jump over puddles, while others form snaking lines, daydream on park benches, and linger on sidewalks with friends. So what's the rush? With 11 vibrant new illustrations by Kalman inspired by the photographs, and thought-provoking prose by Handler that ponders the merits of action, Hurry Up and Wait will charm readers of all ages.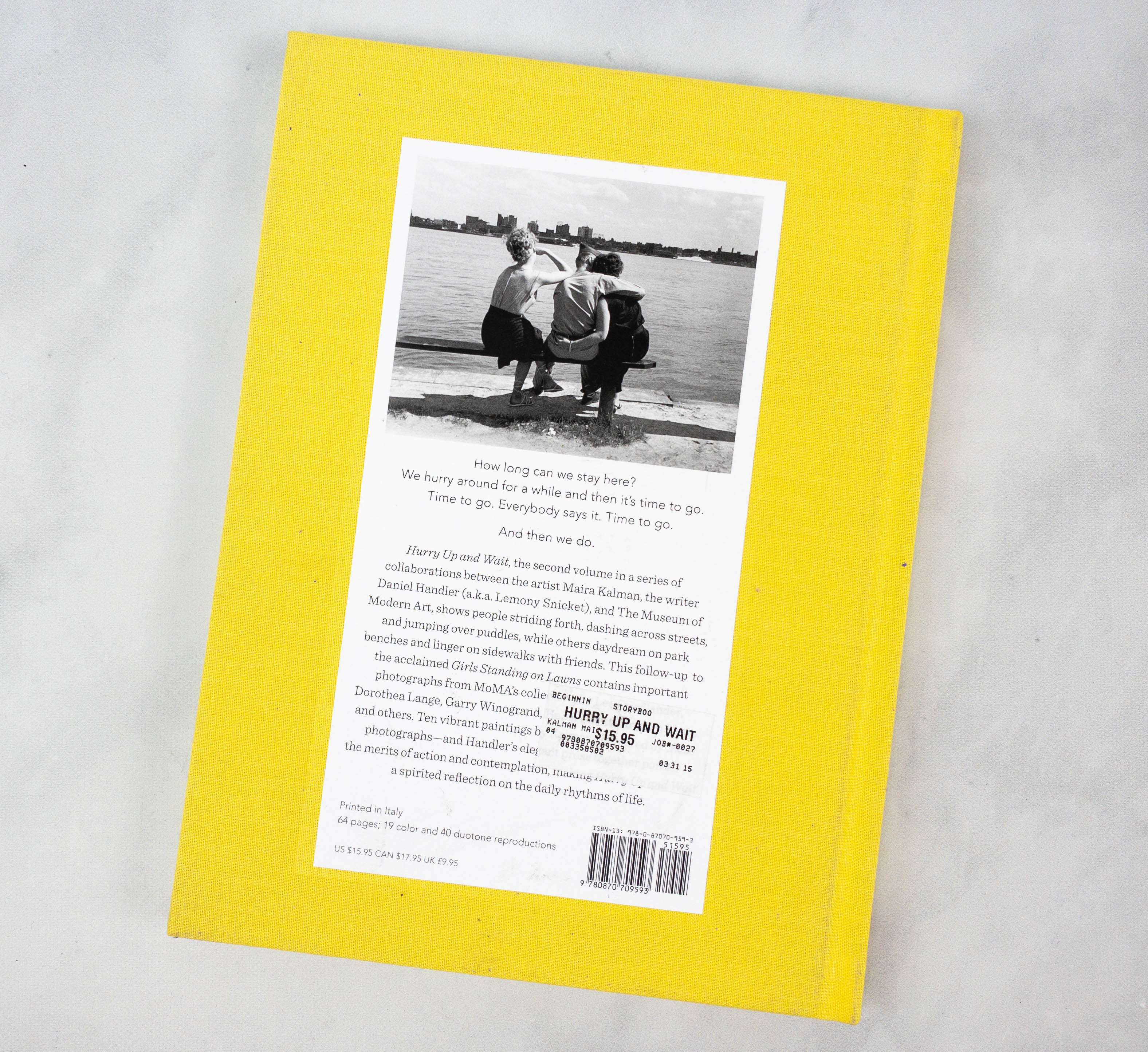 This book is filled with beautiful photos and paintings, accompanied by short reflections about life.
Most of the photos show people going about their daily life, including children playing and adults walking on busy streets. The photos are candid so it's a journey on its own while browsing the pages!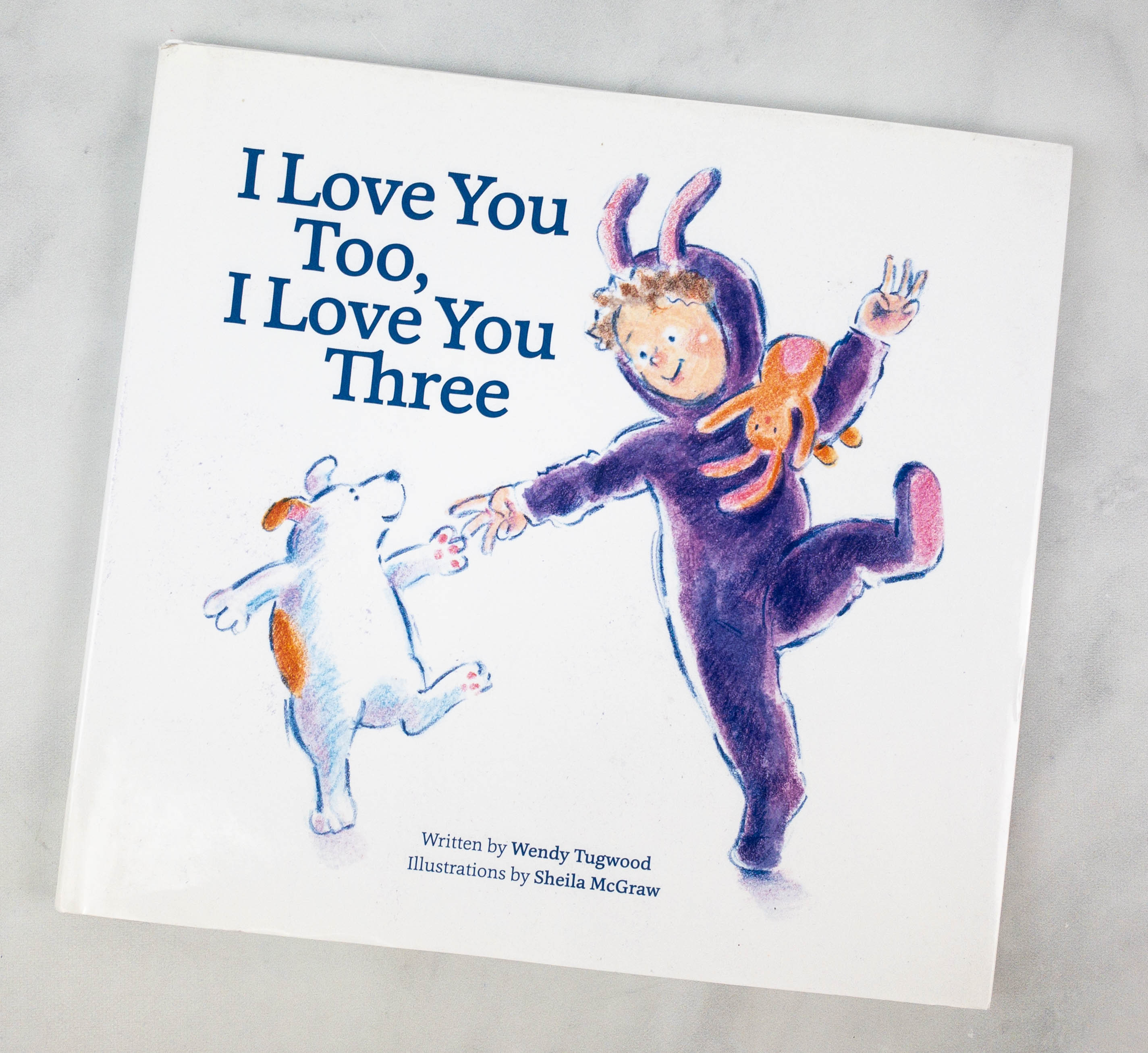 I Love You Too, I Love You Three by Wendy Tugwood ($12.16)
As every parent knows, there is nothing more stressful than being away from a child even if it's only for a few days. In this heartwarming book, Wendy Tugwood captures perfectly how the love between a mother and child copes with separation.

When we're apart I miss you so
I wish I didn't have to go
I miss your face, your touch, your smell,
Your silliness I know so well.

I think of how you sing to me,
"I love you too… I love you three!"
On goes our love and counting game
A game that always ends the same.

Needing to express how much they love each other, parent and child play the old familiar counting game. The child says "I love you," the parent replies "I love you too," and the child, gleefully, replies "I love you three!" From there they continue counting until they reach "I love you ten."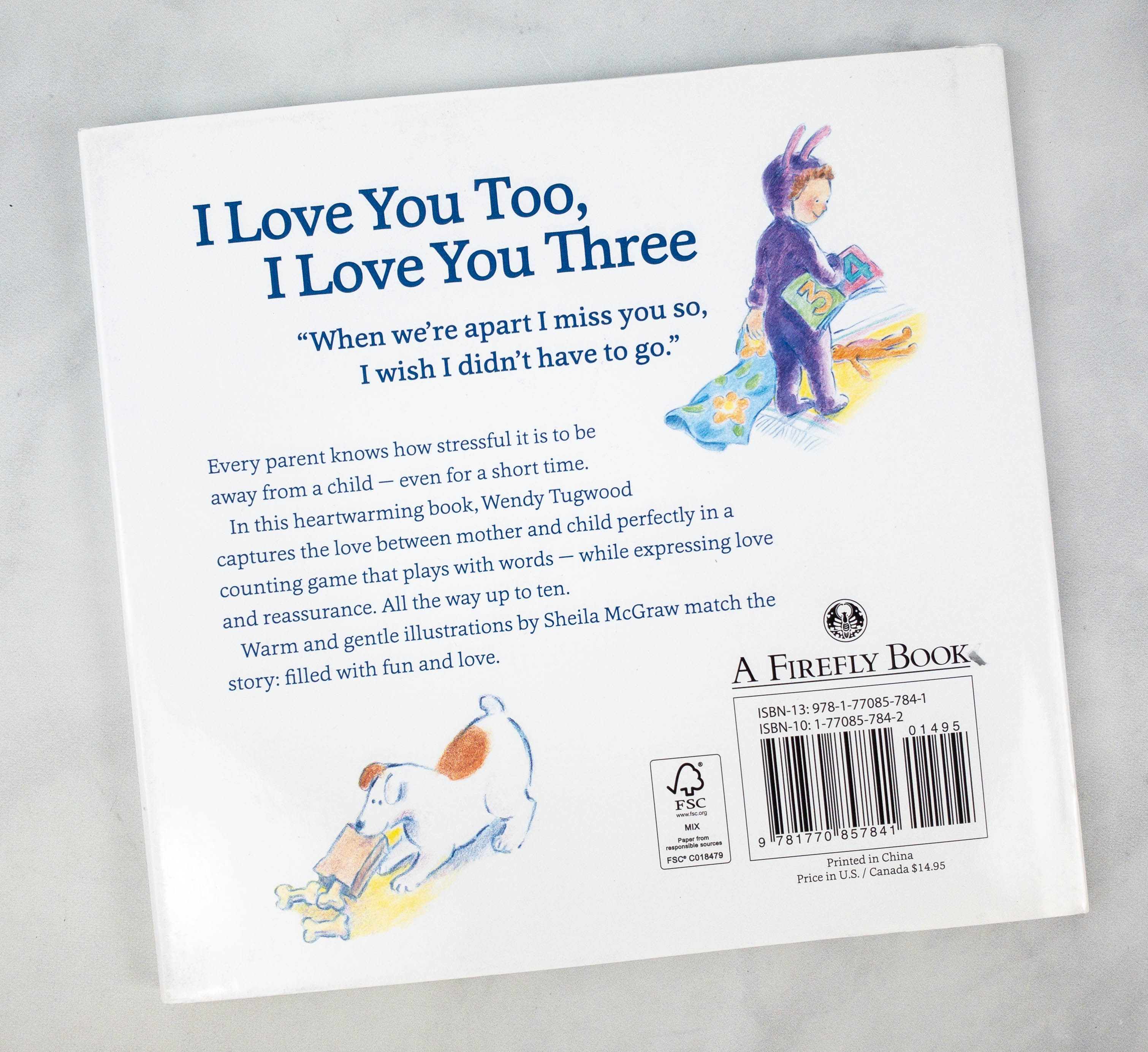 The book cover features an adorable illustration of a dog and a kid dancing happily together.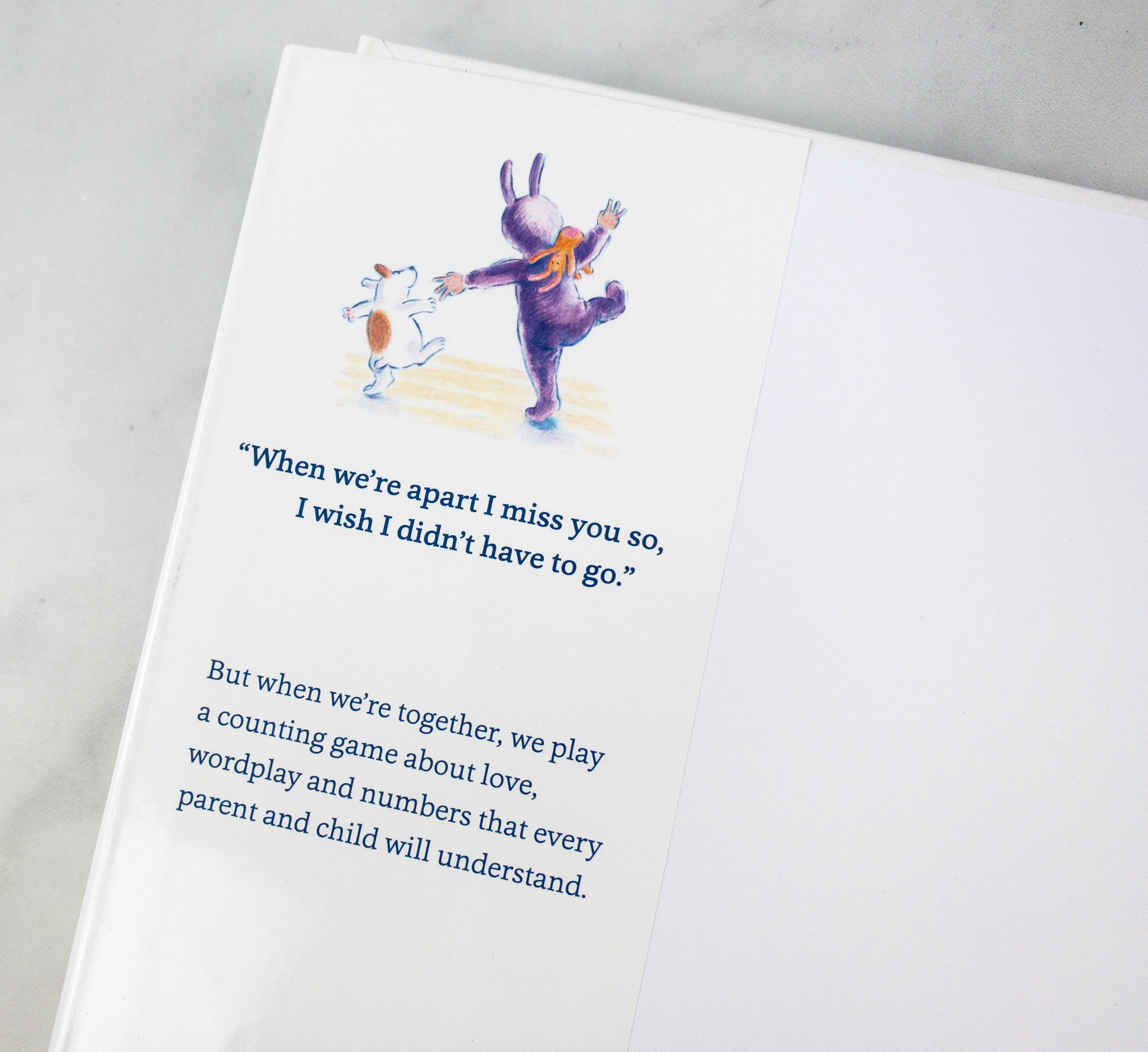 This is a very heartwarming story that shows love between a mother and child, which doesn't end even when they have to be away from each other.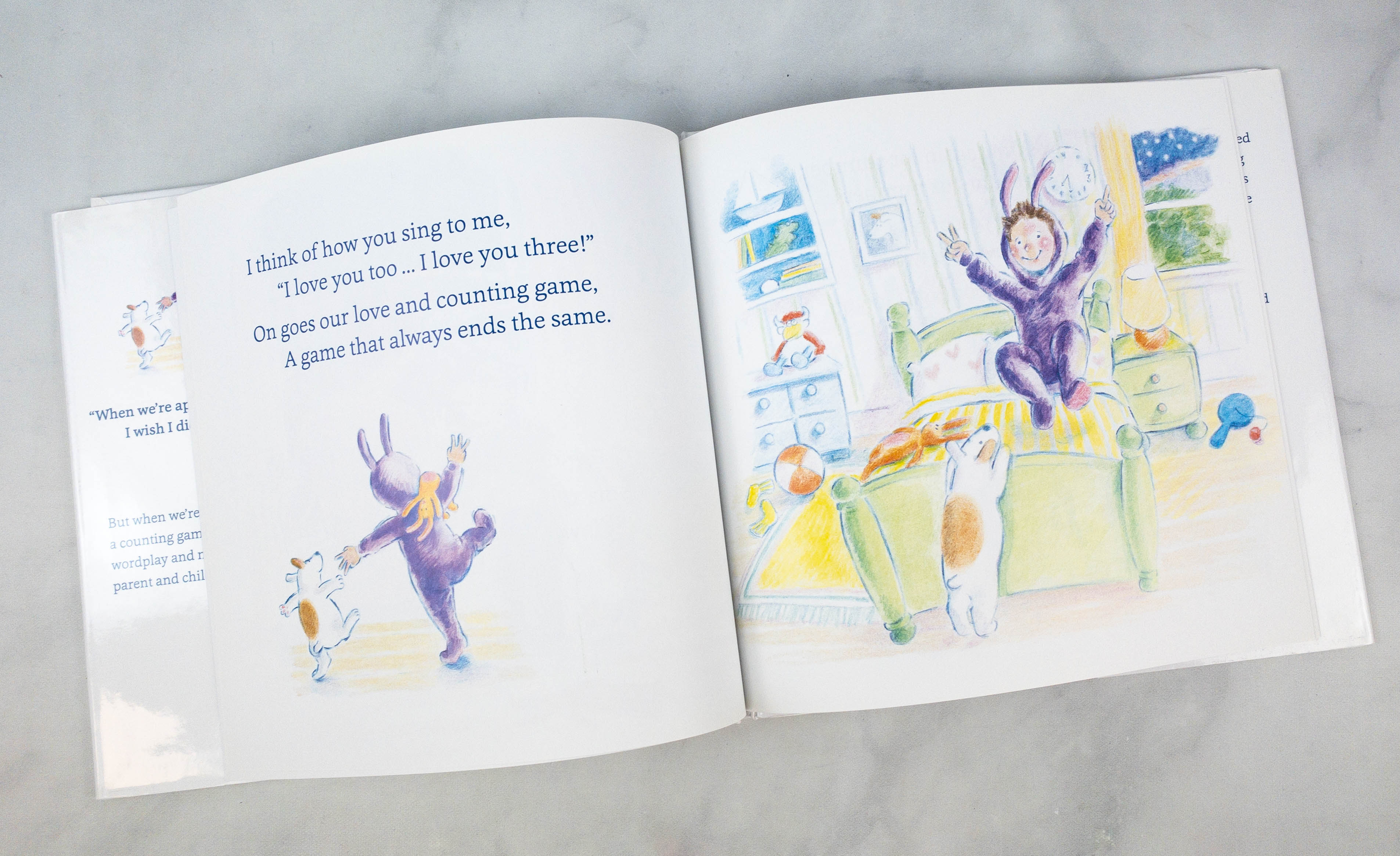 This book is also a good way to introduce kids to numbers and counting. Plus, the illustrations are simple but fun and colorful! This was a heartstrings-tugger!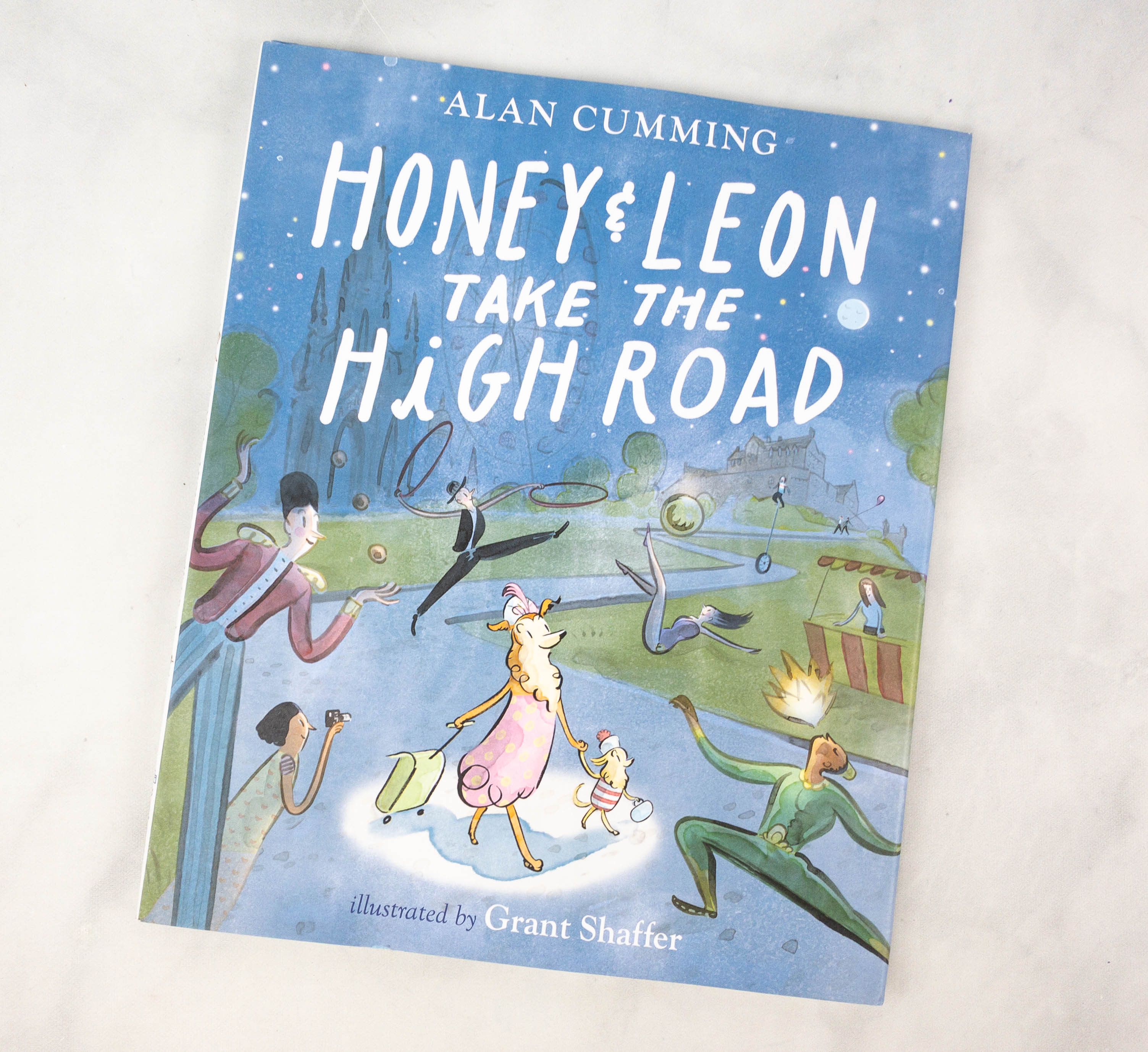 Honey & Leon Take the High Road by Alan Cumming ($17.38) How exciting is this?! A book by Alan Cumming!
Alan Cumming and Grant Shaffer's world-traveling dogs are back…and off to Scotland! When Honey falls in love with a handsome Scottish pup, will Leon be able to protect their dads on his own?

Honey and Leon have done a very good job of keeping their dads safe–but now the dads have decided to travel again! So the two loyal dogs pack up their disguises and secretly follow them all the way to Europe on a Scottish Highland adventure.

All is going according to plan…until Honey becomes besotted with a charming Scottish dog named Coll! Can Leon manage to keep their dads out of trouble on his own while Honey is gallivanting with her new beau?

Actor Alan Cumming and artist Grant Shaffer bring to life the imagined secret identities of the two dogs they once owned. Hilarious, sassy dialogue and wild escapades make this an unmissable read-aloud, perfect for families who love to put on a show!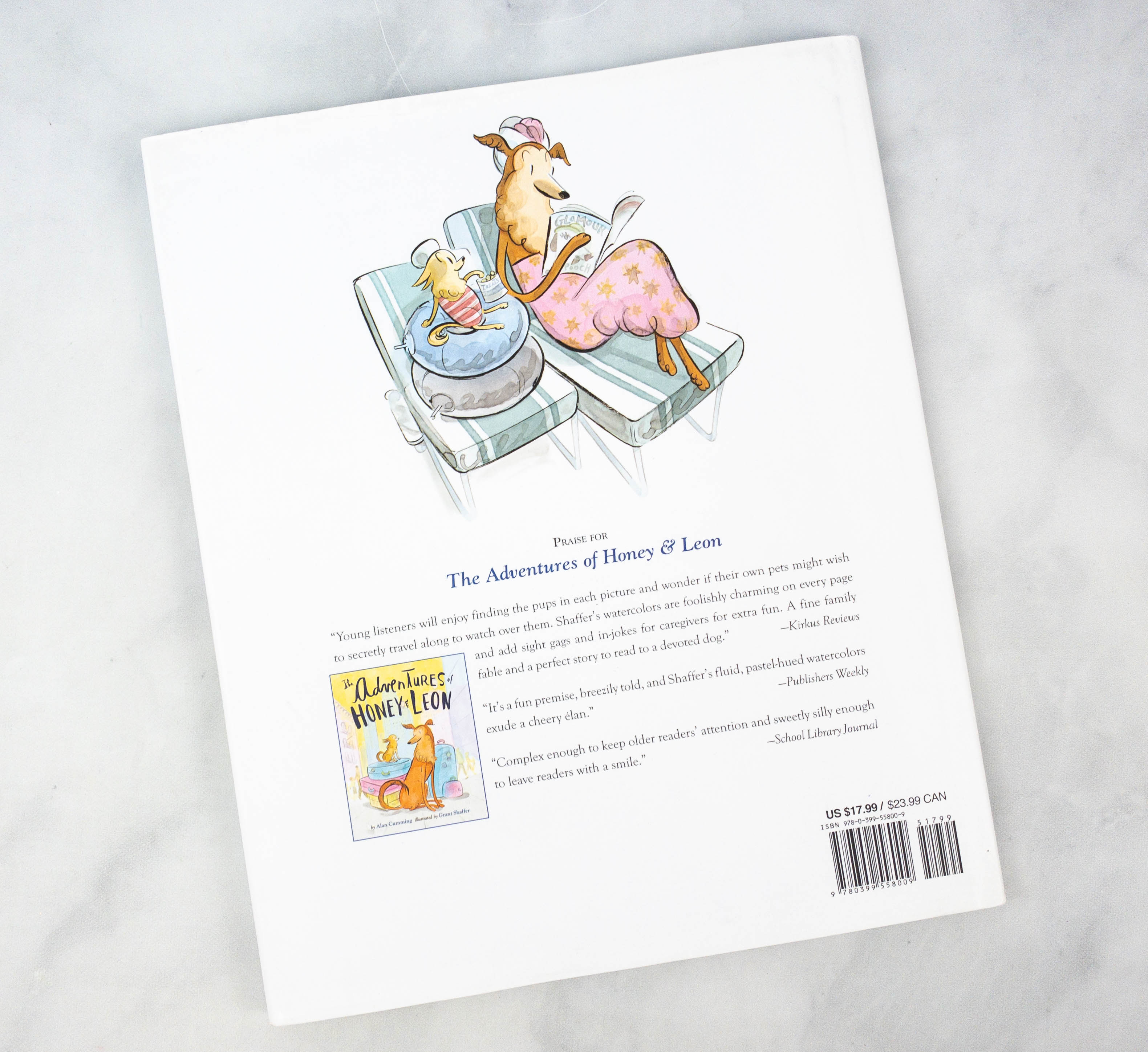 My kids love stories with dogs as the main characters, and this one fits the bill. It's about the dogs named Honey and Leon, it follows their travel adventures with their two dads.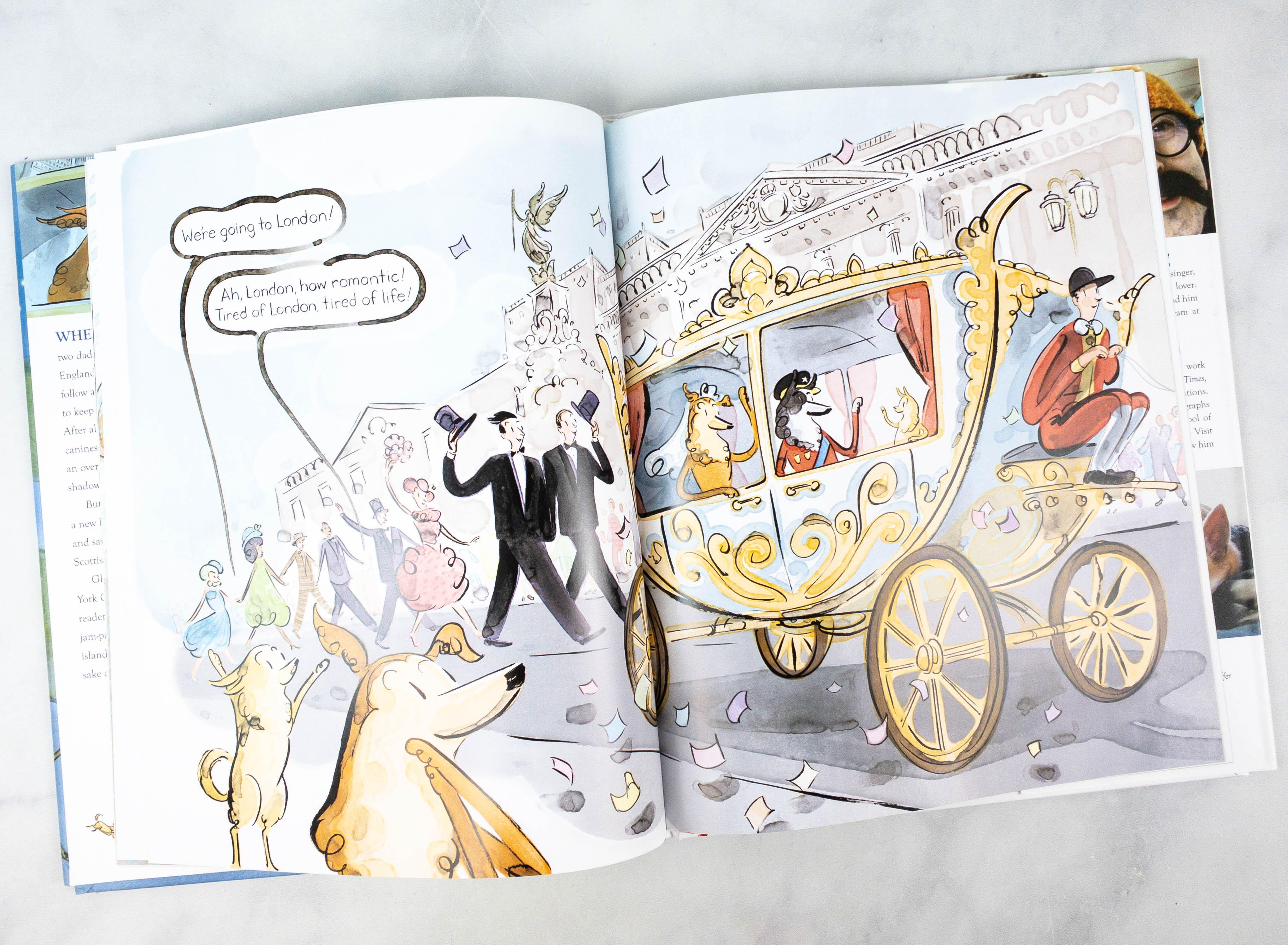 This book is filled with full-page watercolor illustrations! The dialogues were simple and easy to understand. They are also great for reading aloud. This one was also a fast favorite.
This month's book picks from Owl Post Books are a hit with my kids! There's a book filled with beautiful photos of people, a book that teaches kids how to count through a heartwarming story, and a book with dogs as the main characters. The included craft adds fun to the box as well. In this box, they sent a fish mask which looks a bit like Nemo! Whether you're building a mini home library for kids or you just want to encourage them to read more, this subscription is worth every penny!
What do you think of this month's box? Let us know your comments!
Visit Owl Post Books Imagination Box to subscribe or find out more!