We have complete spoilers for the July 2021 Facetory sheet mask subscriptions. There are 2 Facetory Subscriptions available: The Seven Lux and The Lux Plus Box!
Reminder! Take a few minutes out of your day for a self-care routine! This month's products are ultra-nourishing and smoothing for a perfect sheet mask and chill vibe. Thank you!
DEAL: Get 20% off your FaceTory order! Use coupon code HELLO20. OR, Get 4 free masks with your Lux Plus Subscription! Code: LUXPLUS4
Mediheal Line Friends NMF Aquaring Ampoule Mask (Retail Price: $2.50)
Generex Malgeum Soothing Mask (Retail Price: $4.00)
Needly Desertica Calming Mask (Retail Price: $4.00)
Orjena Moisture Green Tea Mask (Retail Price: $1.50)
Faith in Face Micro Hyaluron Ampoule Mask (Retail Price: $4.00)
Lohasys Skin Full Recovery Ampoule Mask (Retail Price: $2.00)
FaceTory Dream Garden Lotus (Retail Price: $4.00)
Bonus: Farm Skin Fresh Food for the Skin – Fig (Retail Price: $1.75)
Bonus: Dr. Althea Blackhead Zero 2-Step Nose Patch (Retail Price: $15.00)
Summer 2021 Lux Plus box: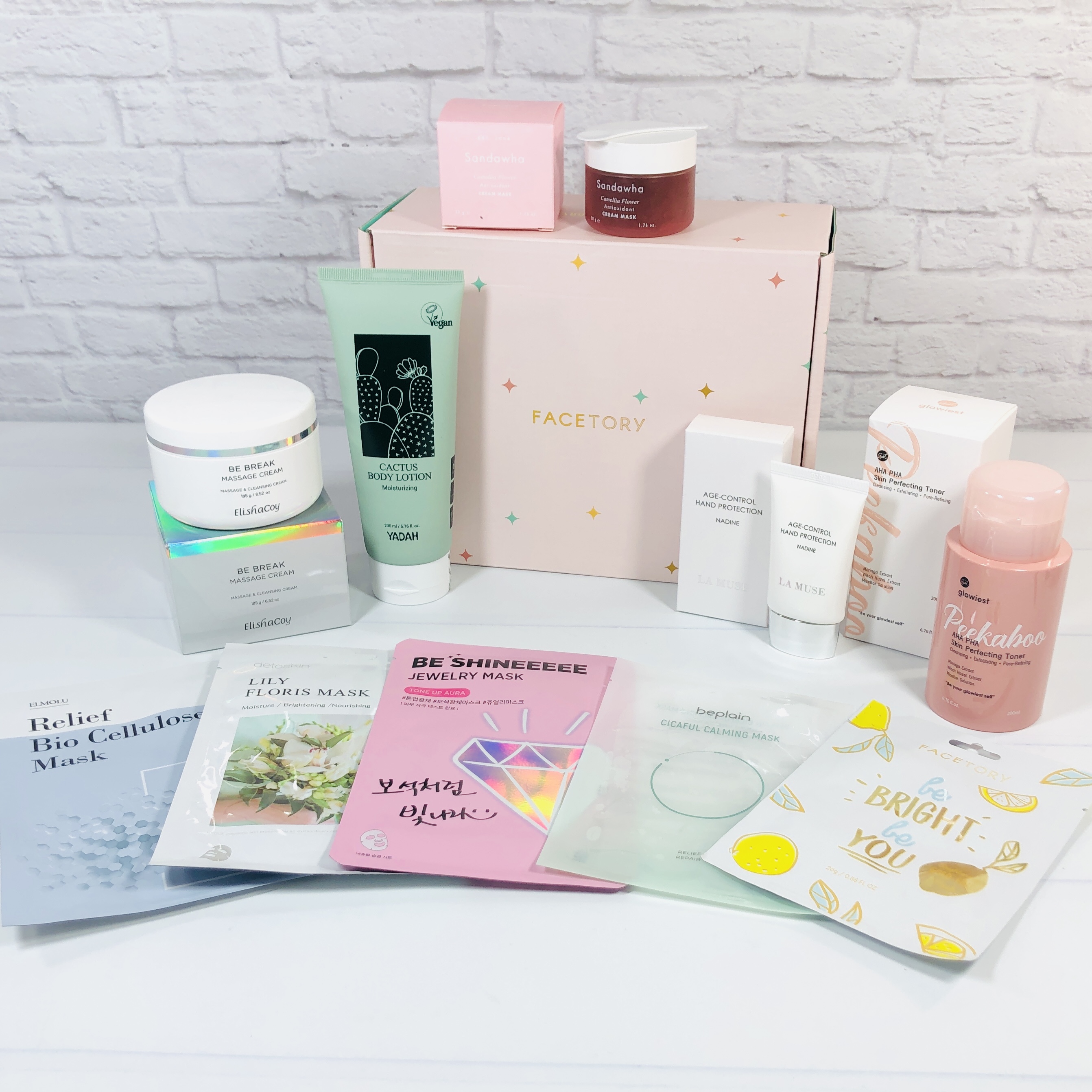 Yadah Cactus Body Lotion $17
Glowiest Peekaboo AHA PHA Skin Perfecting Toner $30
Sandawha Camellia Flower Antioxidant Cream Mask $19
Elishacoy Be Break Massage Cream $32
La Muse Hand Cream $18
Elmolu Relief Bio-Cellulose Mask – Pore Care $6
Detoskin Lily Floris Mask $2
Be Plain Cicaful Calming Mask $4
Lassie'el Be Shine Jewelry Mask – Aura $3
Facetory Be Bright Be You – New Formulation $3.50
Are you getting Facetory?