EatTiamo is an authentic Italian food subscription delivered to you monthly for $79 per box. The price drops to as low as $59 a box with a 6-month term and shipping is free to the continental U.S. You'll get full-size products, enough to feed four people an Italian dinner at home!
Are you an Italian Food Lovers? EatTiamo is the Box for you! Each Month you'll receive a Box coming from a different Italian region with 7 full-size gourmet food products to cook a full meal for 4 people and all the instructions you need to discover the chef inside you in an easy and funny way!
My box shipped from Italy and there was pretty patterned paper sealed with a sticker when I opened it up.
DEAL: Get your first Italian gourmet box for 20% off + free shipping anywhere in the US! Use coupon code HELLO.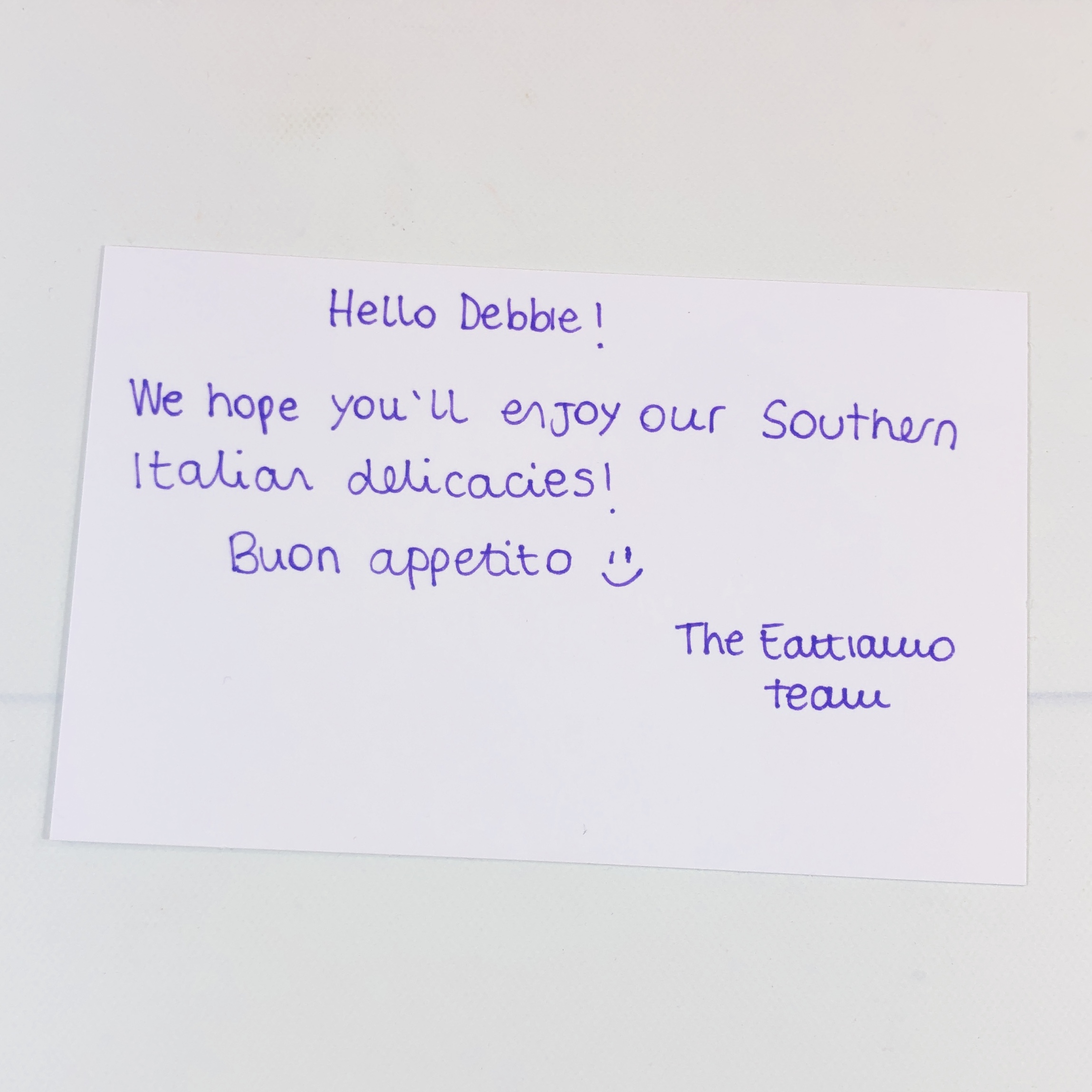 I received a hand written note, always nice to find in a box! This is my very first time trying EatTiamo!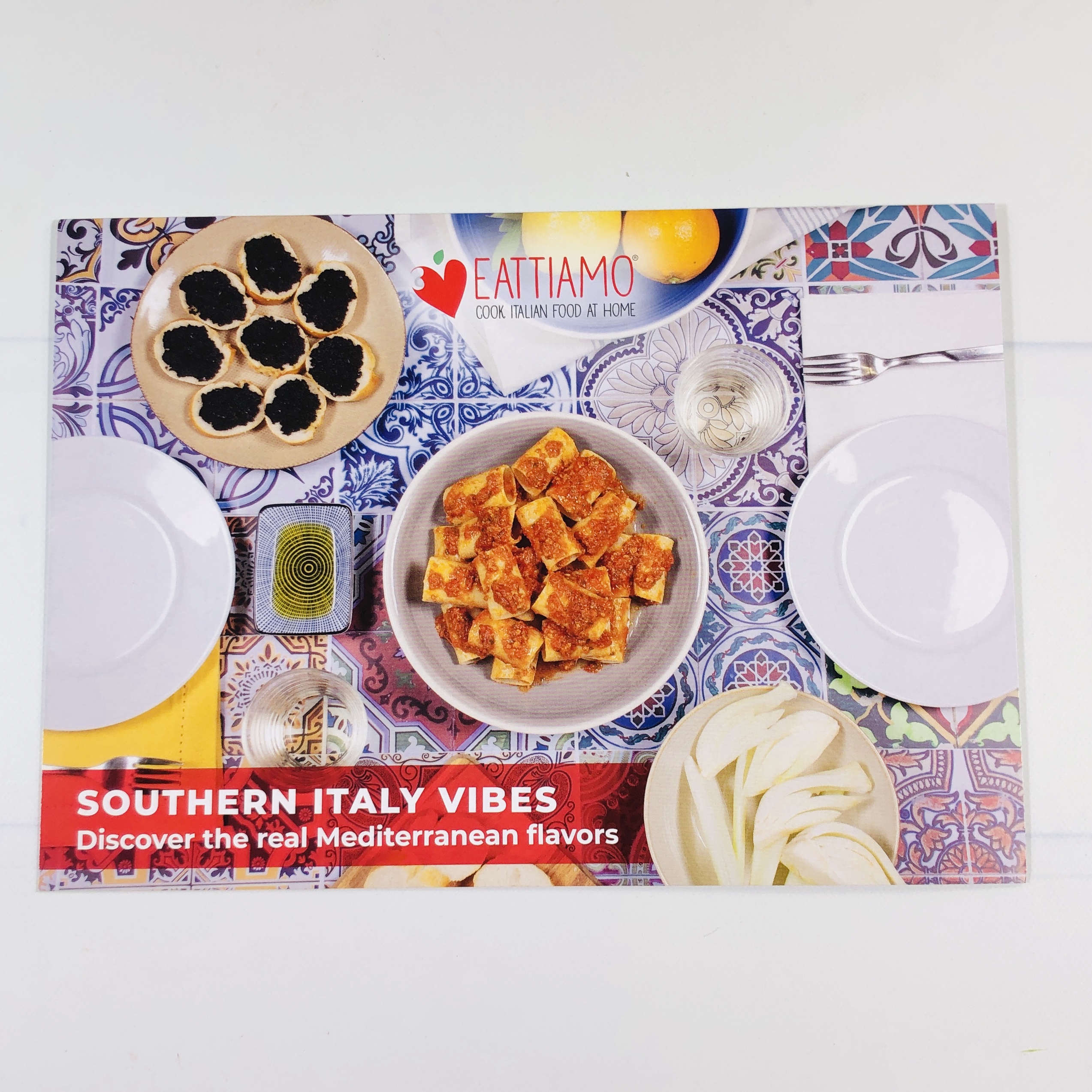 The theme for July is Southern Italy Vibes.
The inside of the card showed all of the items in the box on top and listed the three courses that I will be making. Looks like this is going to be easy peasy.
The back of the card had some more info and a coupon code.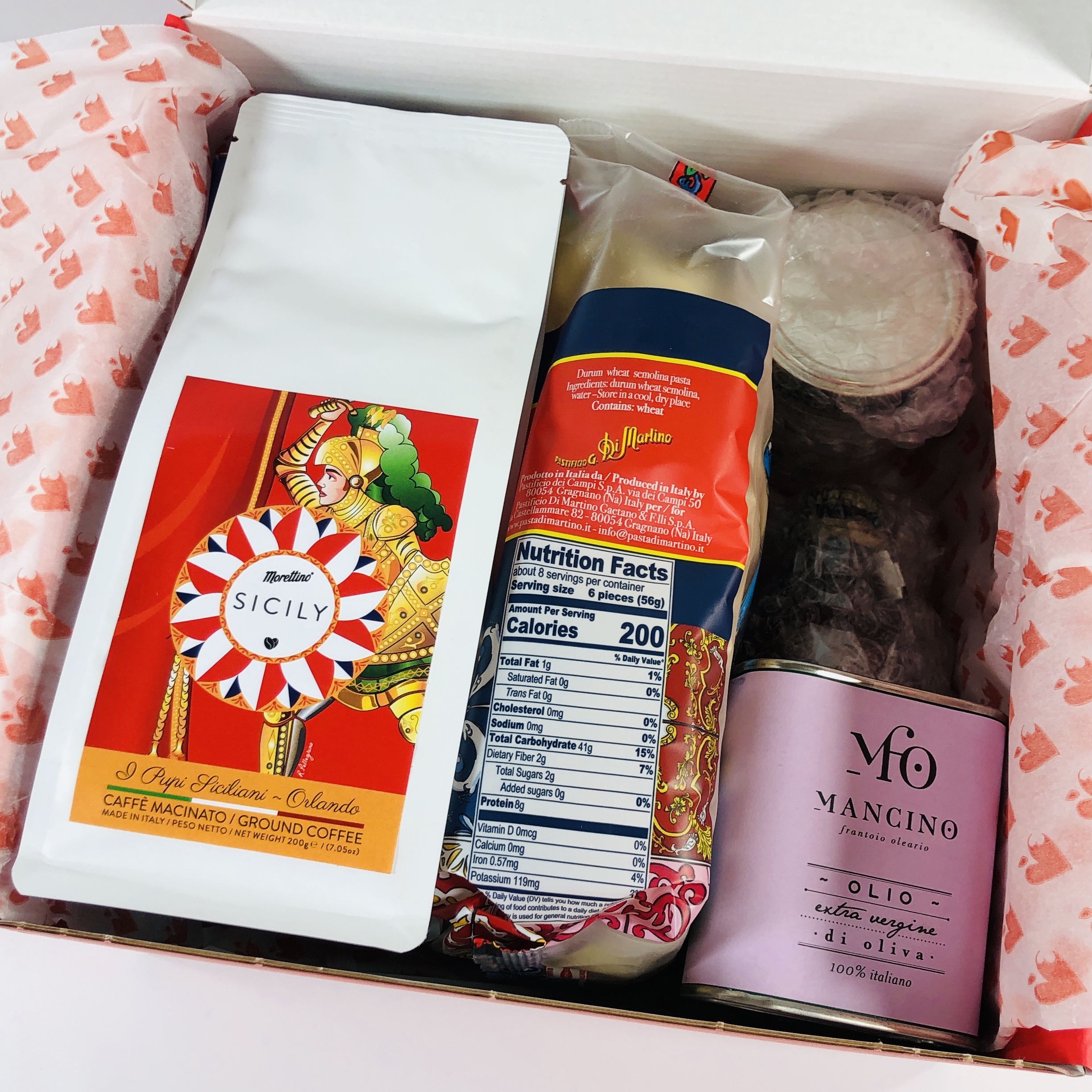 The box items were secure and the two breakable items were wrapped in bubbles.
Everything in my July EatTiamo box!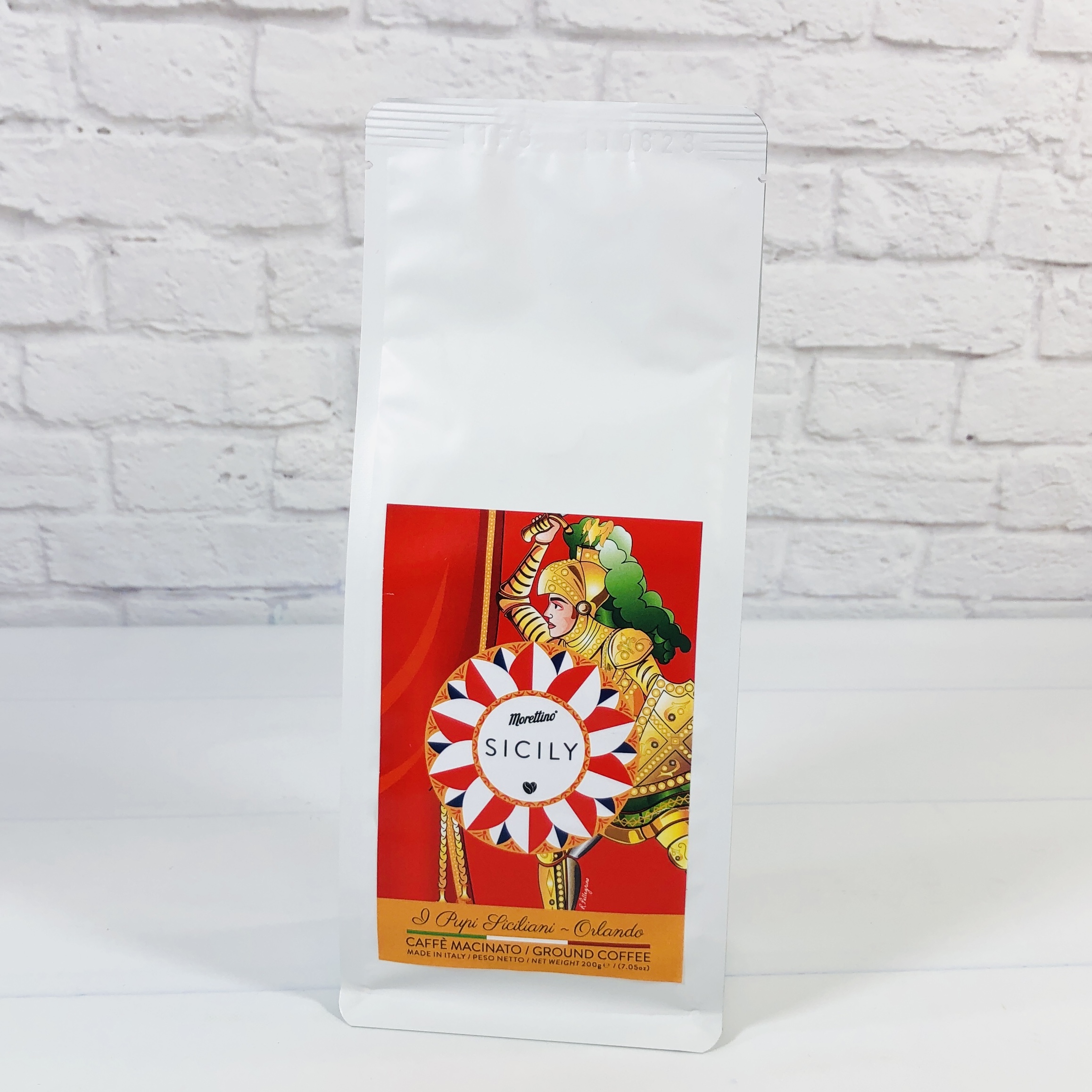 Caffé Morettino Fresh Ground Coffee – Orlando (On sale for €5.60, around $6.59) I will tell you right now I am not a coffee drinker and am passing this along to a family member to enjoy. This is finely ground coffee and even though I am no expert, I will tell you it smells amazing.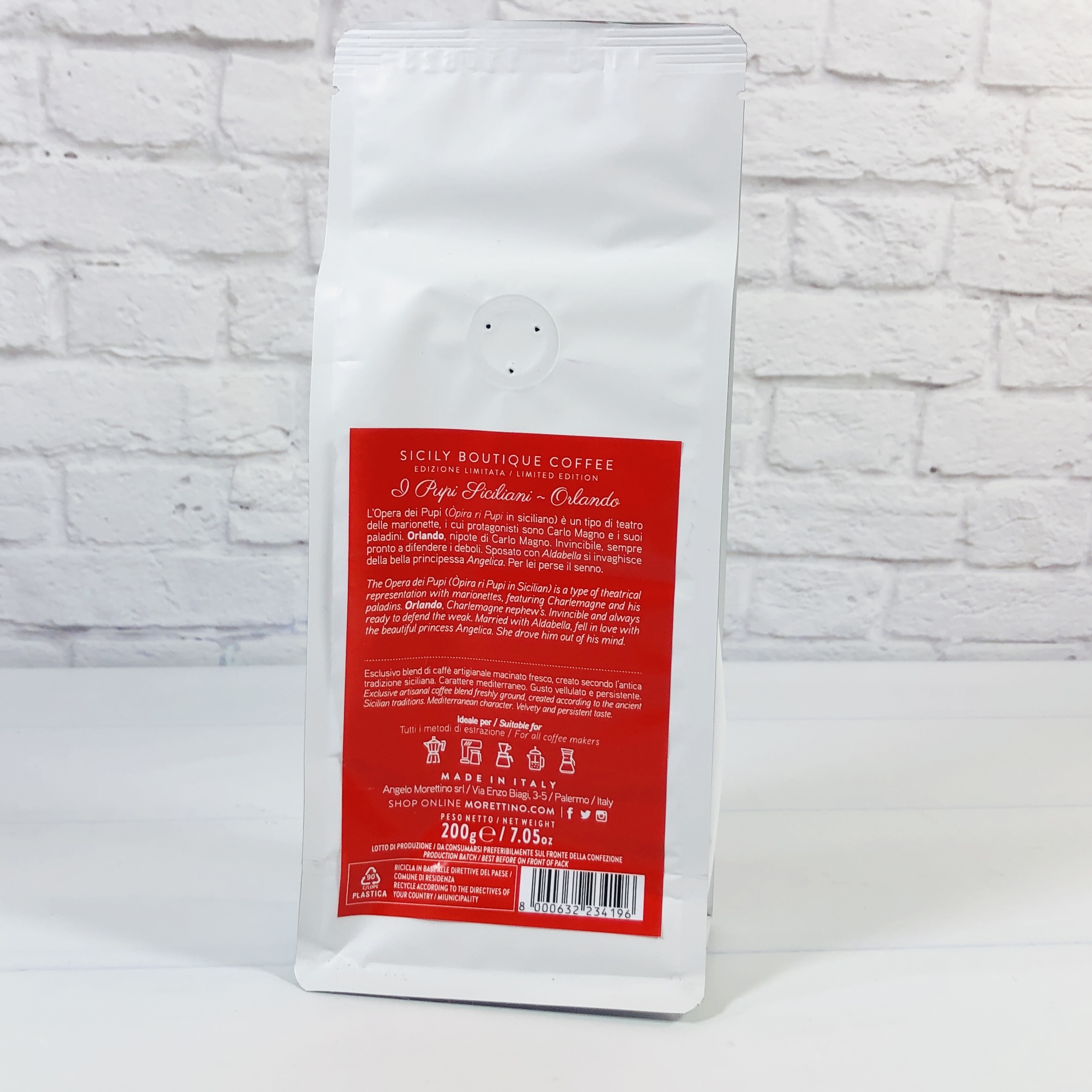 The back of the bag tells me this can be used in all coffee makers and it also describes Orlando, after whom this coffee is named. According to the brand's website, this is a blend of Arabica and Robusta beans.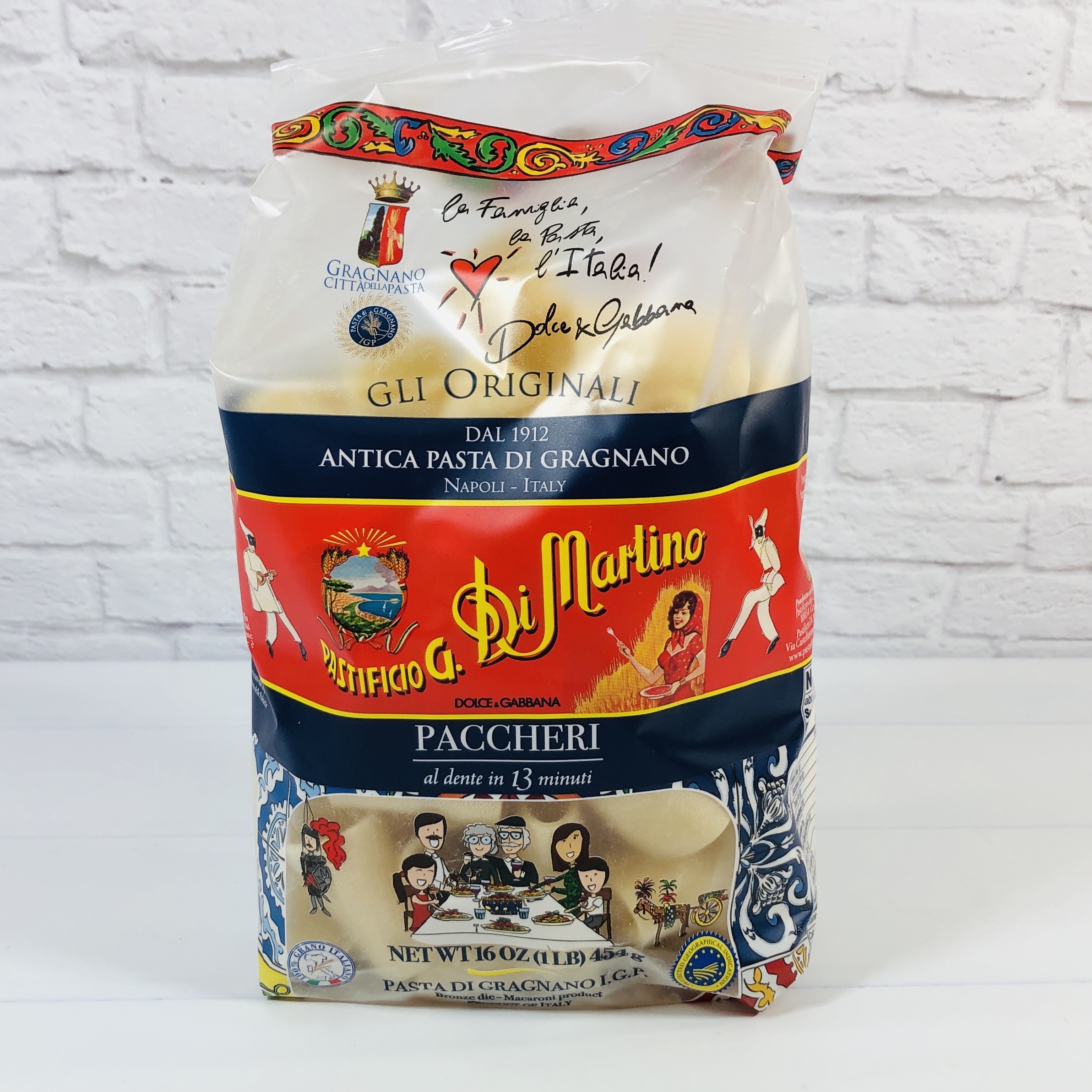 Pastificio Di Martino Paccheri Pasta ($3.95) Amazon had this item listed for over $30, so I found somewhere else to get it for much less. This is a tube-shaped pasta and it's named after the sound it makes when it hits the plate, a kind of slap! This bag has enough pasta to make 8 servings, so I will have some left over after preparing the meal.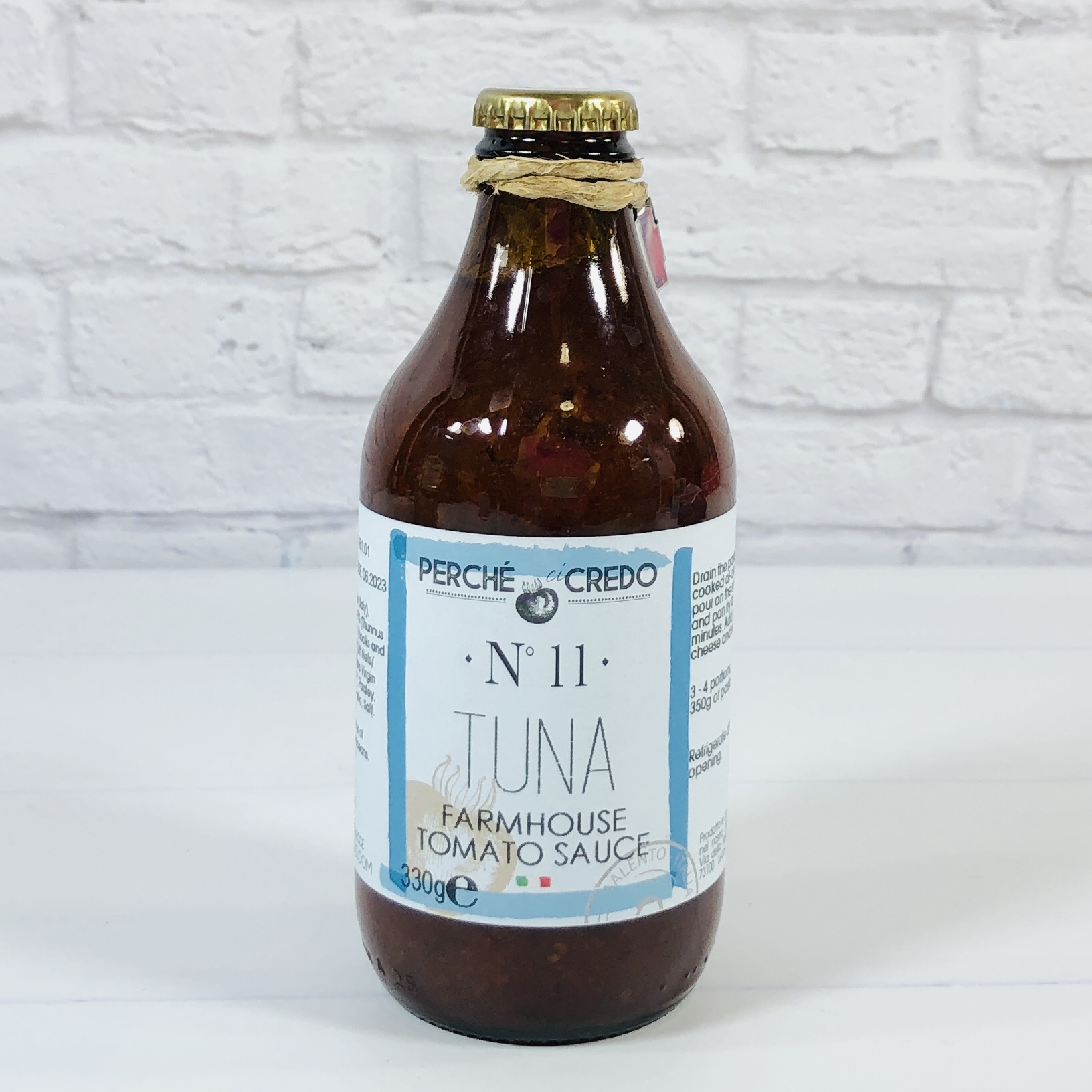 Perché Ci Credo Tomato Sauce With Tuna I've never encountered a bottle with twine at the top but the idea is that you can "hang up in the pantry, as in old times" according to the brand. It's basically a ready to heat sauce that you toss with cooked pasta. It's made with tomatoes, tuna, extra virgin olive oil, red wine, parsley, wine vinegar, garlic, and salt. This is enough sauce to mix with 3-4 servings of pasta.
Perché Ci Credo Black Olive Spread Here is another ready-to-eat item and the jar suggests using it as a "spread for antipasto or to season pizza". It is made with Celline and Leccine black olives, extra virgin olive oil, garlic, lemon juice, parsley, oregano, and salt. The card suggests serving it as bruschetta so I will toast up some bread, place this on top, and drizzle with EVOO.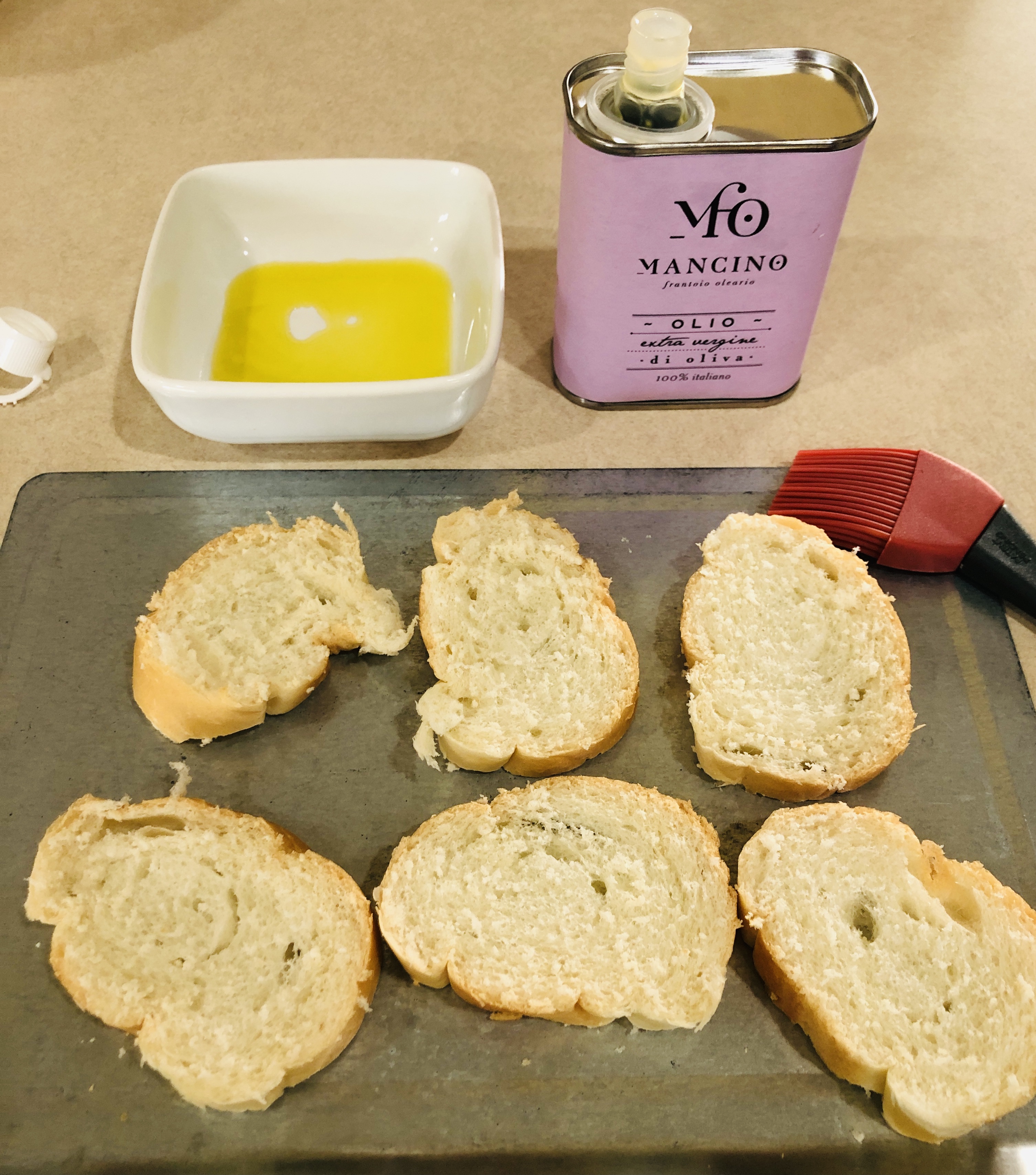 I had submarine rolls so I sliced them and then brushed some of the olive oil on both sides.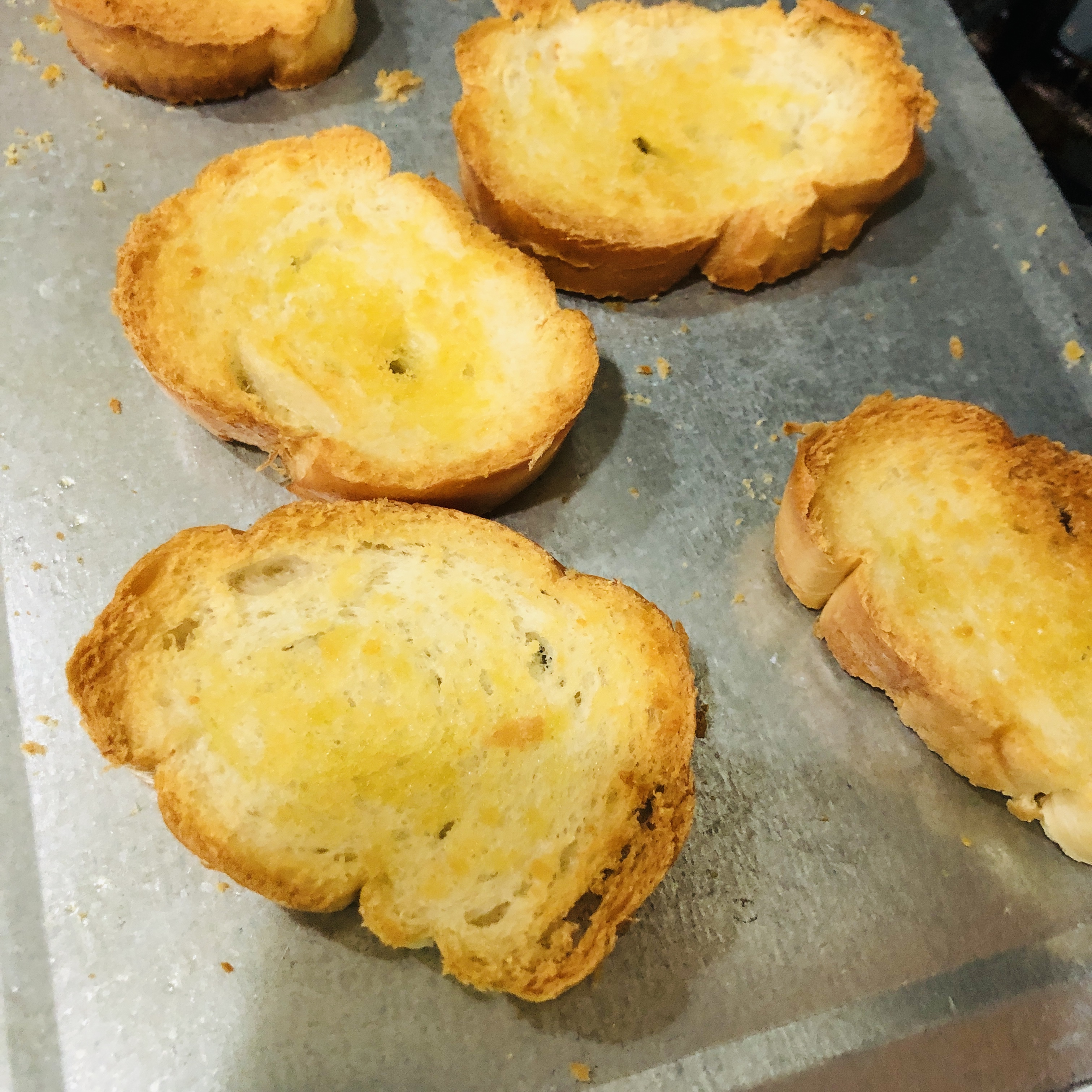 It's super hot here so I toasted the bread in my toaster oven and flipped them to get both sides crispy.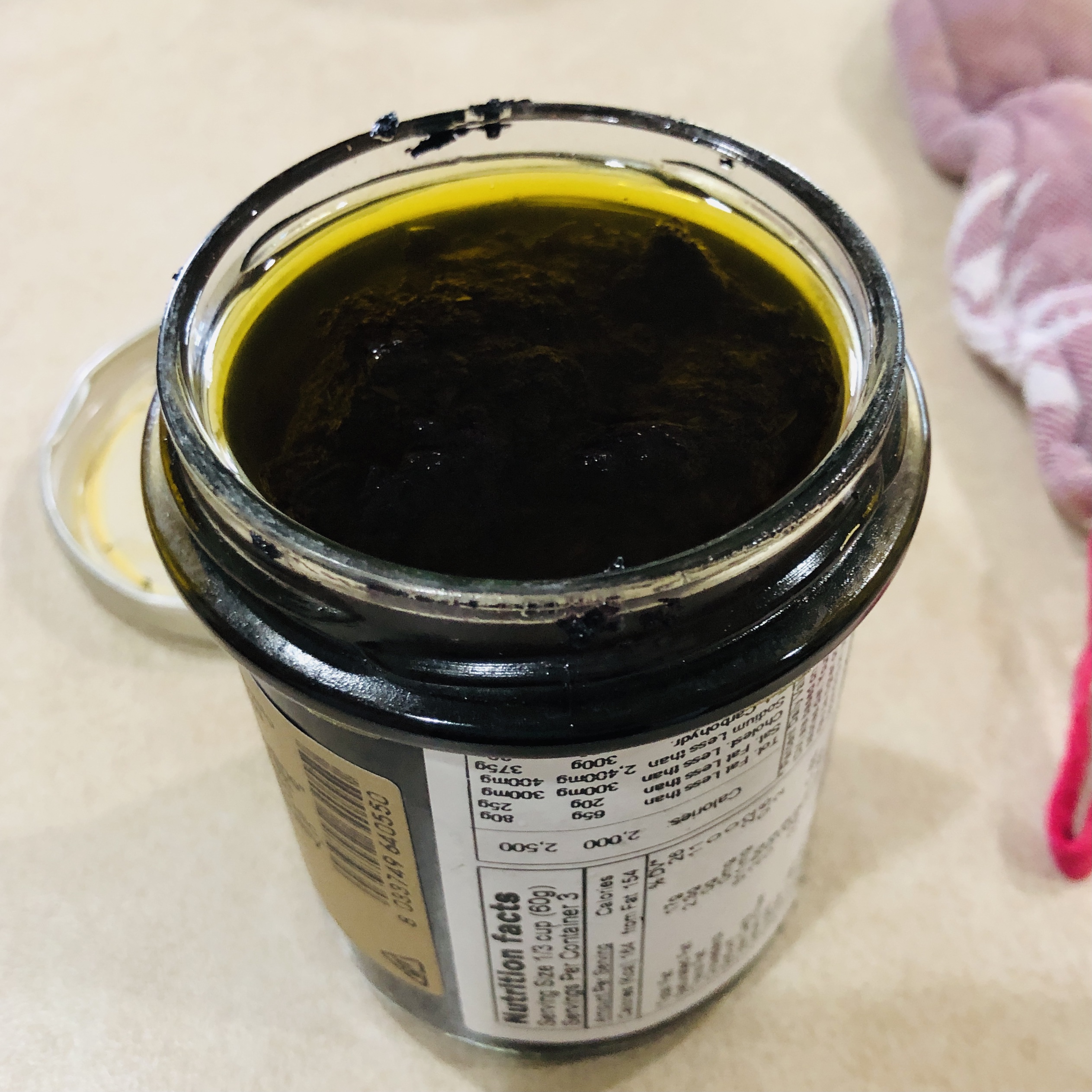 A layer of olive oil was sitting on top so I gave it a good stir before using.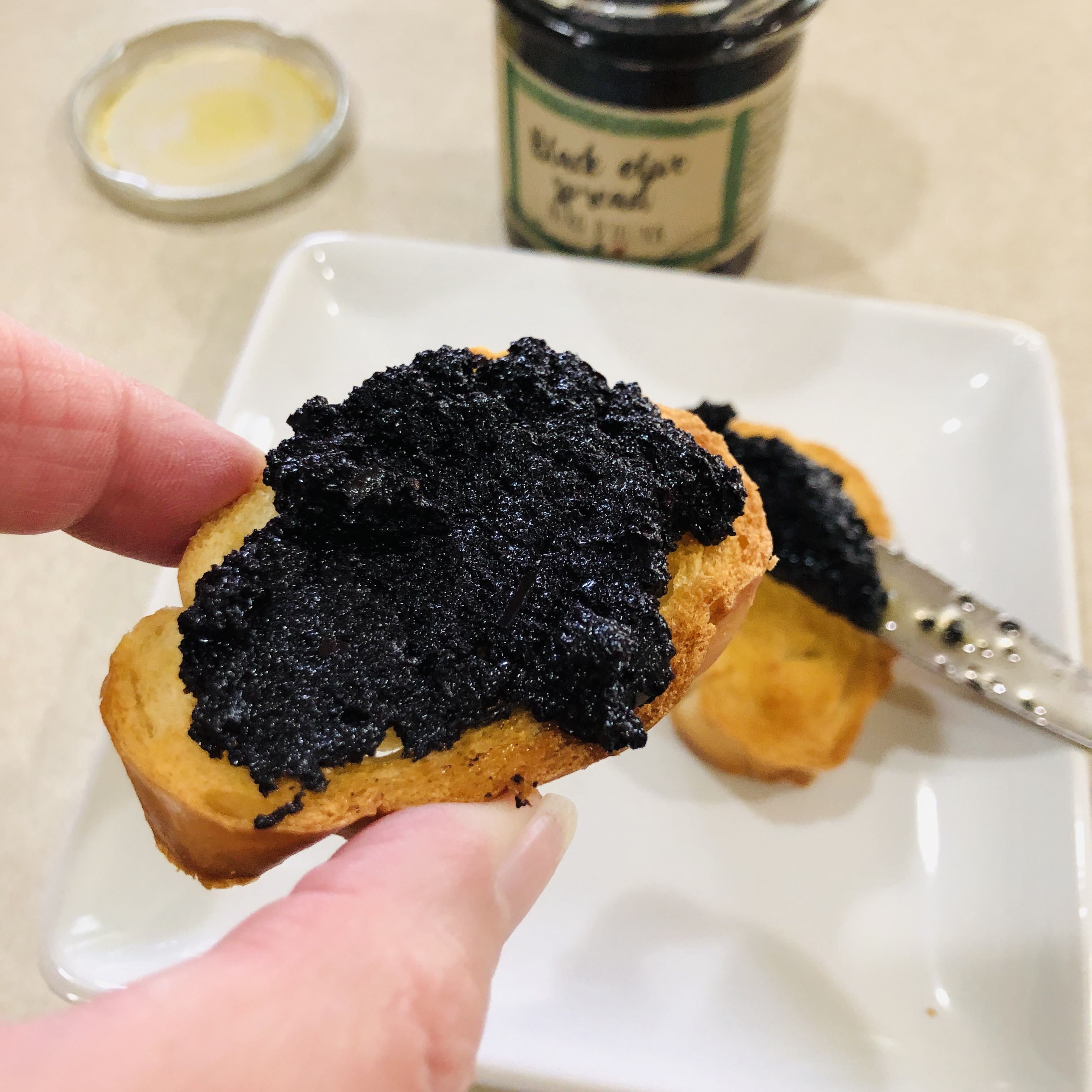 I am always amazed when something that has no meat tastes like it does, I guess that means it has an umami flavor to it. It tasted very much like the Greek olives I use in salads and such but with some extra flavor thanks to the olive oil and seasonings. It was briny and needed no extra salt. I forgot to drizzle with more olive oil but it really wasn't needed.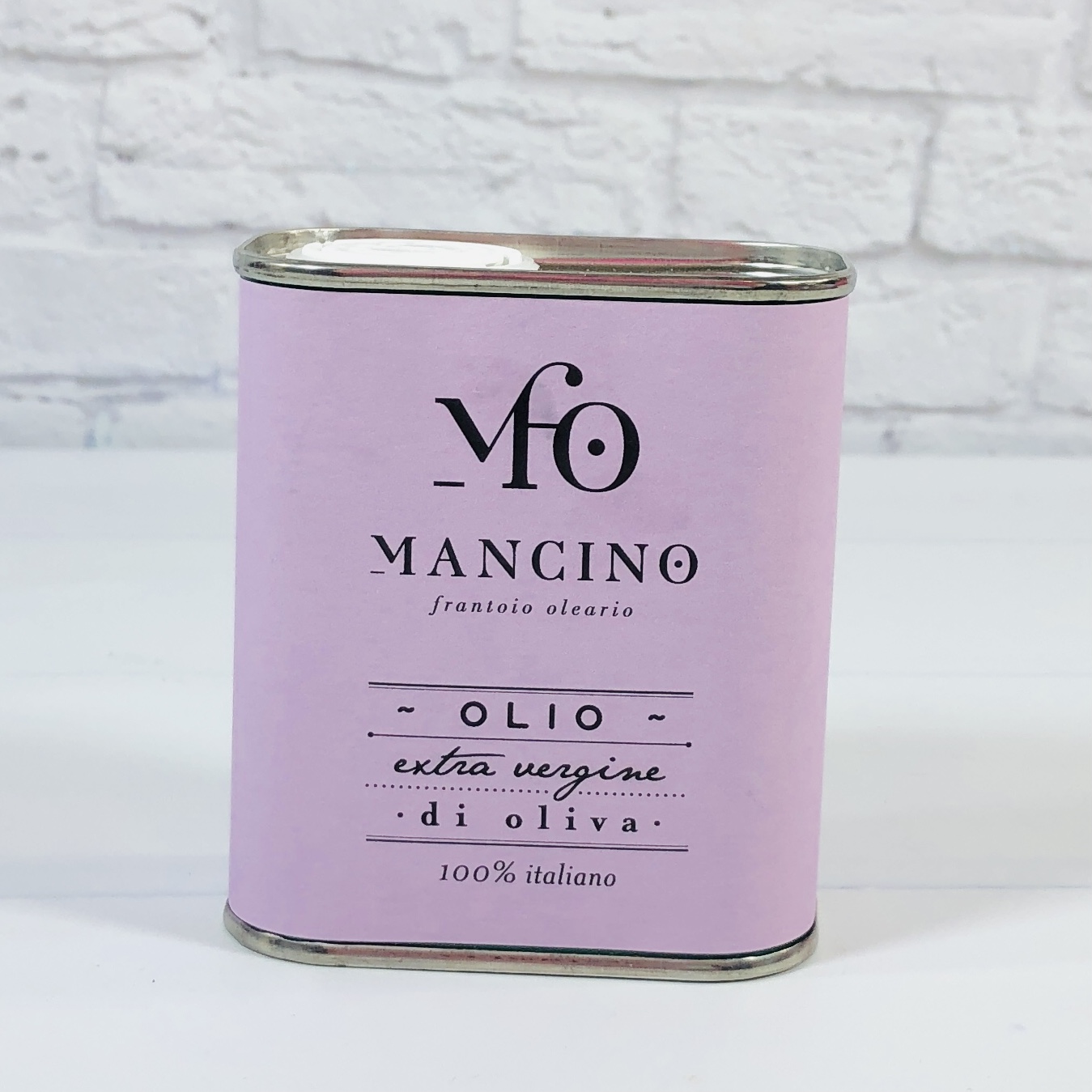 Mancino Frantoio Oleario Extra Virgin Olive Oil How handy is that, the box came with its own EVOO! The catalog showed a light blue bottle but mine is lilac in color and I am pretty sure it is the same oil, just in different colored cans to coordinate with decor (for realz!).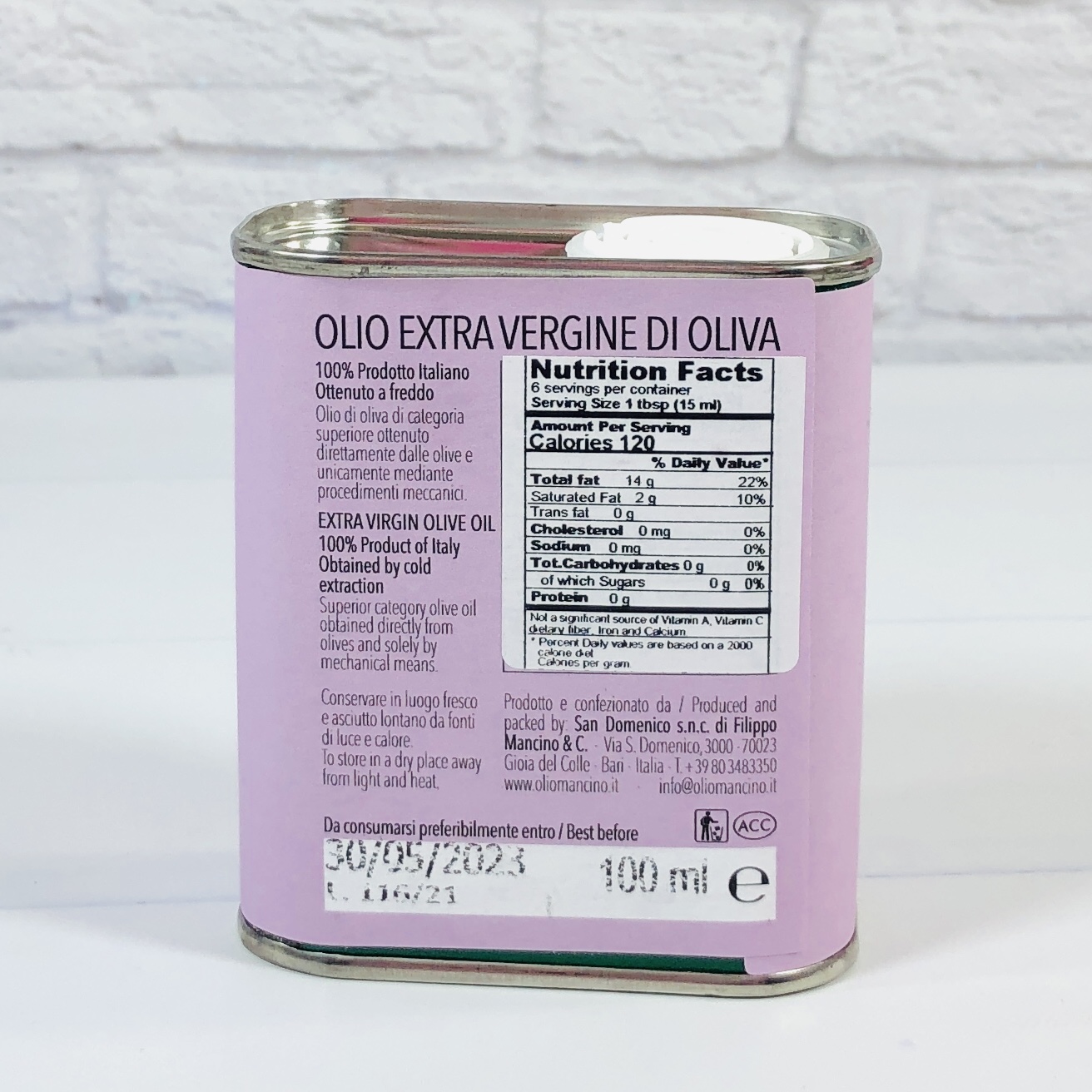 It is cold pressed from olives in Italy. If you use it by the tablespoon then it will be gone pretty soon but if you use it by the teaspoon then it will last much longer. Keep in mind that EVOO usually has a bit of bitterness to it thanks to the polyphenols in the olives but it should never smell rancid. This one was tasty!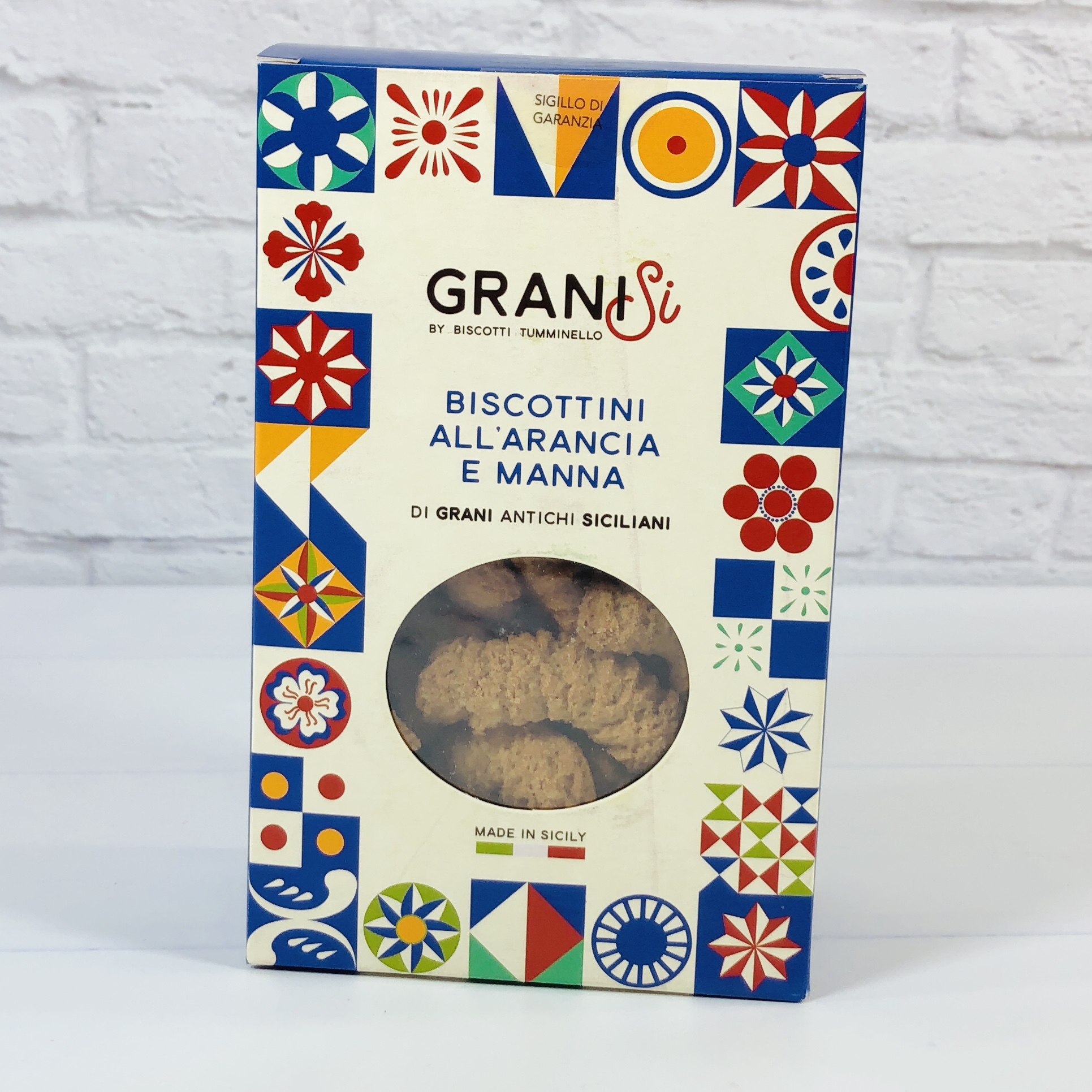 Biscottificio Tumminello Orange and Manna Flavored Cookies (€4.20, around $4.94 USD) These cookies are made with an ingredient called manna, and rather than falling from the sky (like it does in Exodus) it is a resin gathered from ash trees! Here it is made into a cookie that includes orange peel and olive oil.
The cookies are denser than shortbread, I'm not quite sure what to compare them too. Maybe like a crispy oatmeal cookie but smoother? They aren't too sweet and they have a glorious orange note and while they suggest serving it with the coffee for dessert, these would also be great with a cup of tea.
Get ready for a few pictures of the main dish!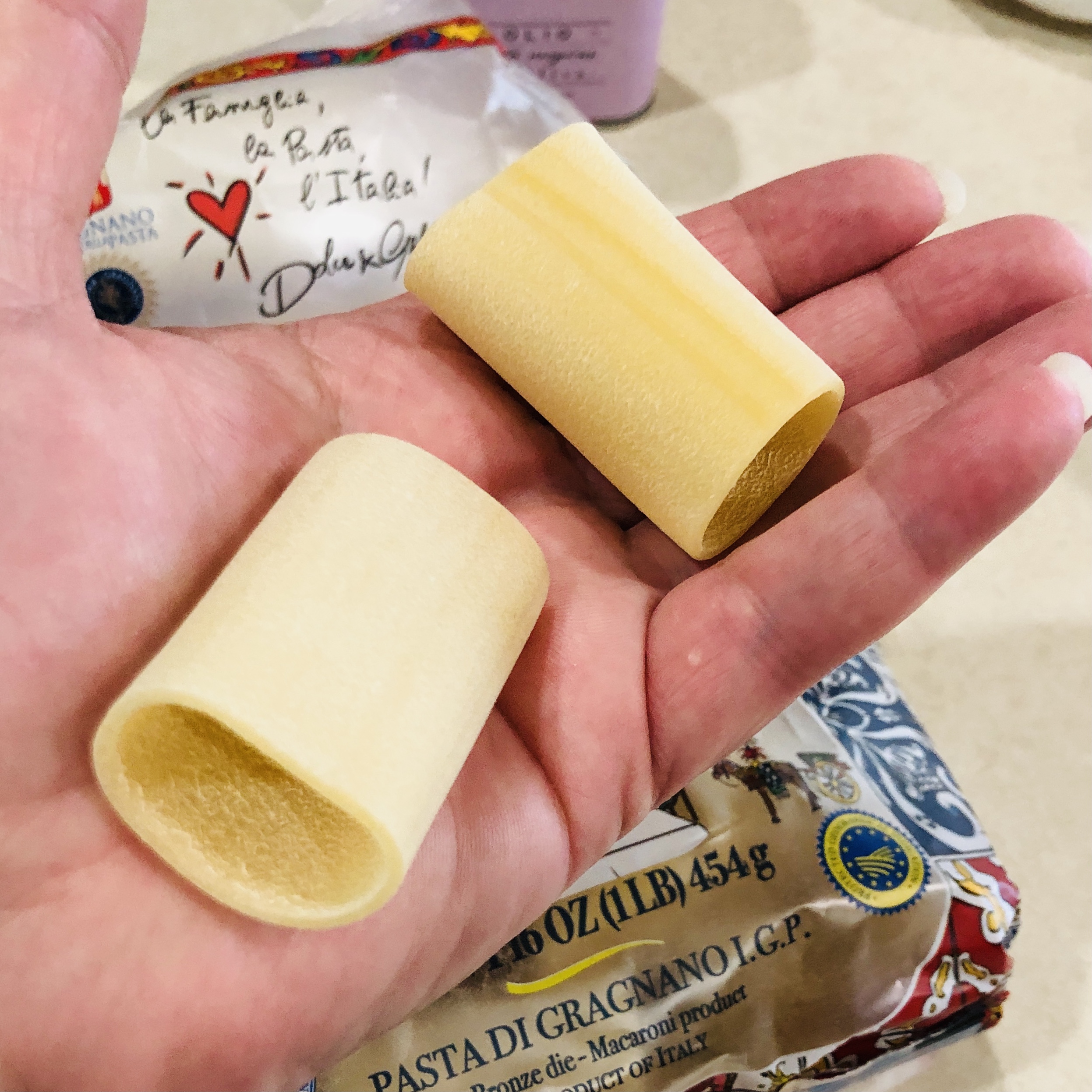 I set a big pot of water on to boil and noticed that a serving is 6 pieces of pasta, so I measured out enough for three servings. The bag says that the pasta should cook in 13 minutes but I checked it, set the timer for another 5 minutes and rechecked, then set the timer for another 5 minutes before I decided it was al dente as I know it to be.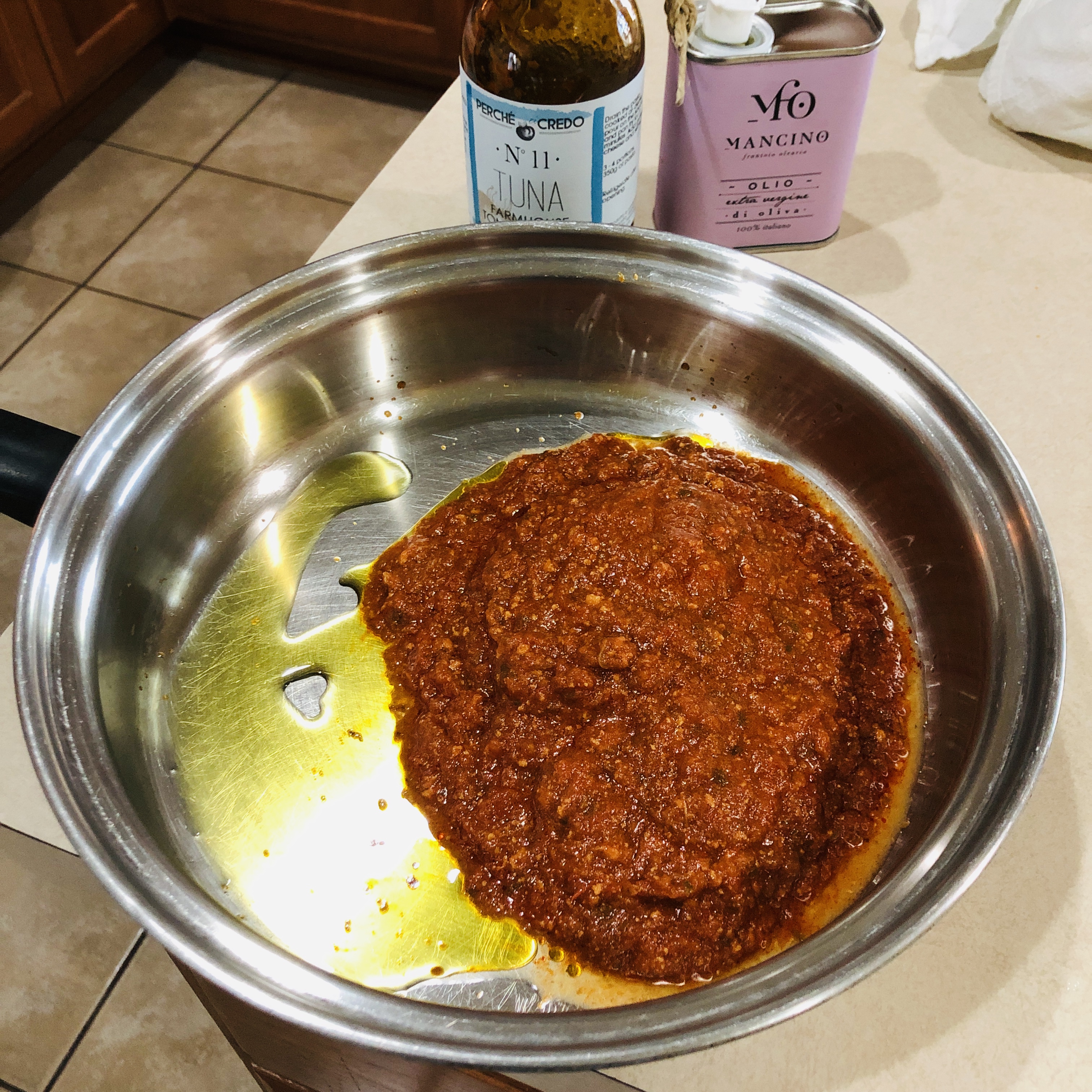 In the meantime I added some of the olive oil to a pan and added the entire bottle of sauce. I heated them together until the water mostly evaporated. After the pasta finished cooking I drained it and added it directly to the skillet and tossed to coat.
We had mixed feelings about this in my house. It was only my husband and myself trying it and I really enjoyed it. I liked the texture, it reminded me of very fine bolognaise, or meat sauce. The flavor certainly didn't taste like the jarred sauces I usually find at the supermarket, it was almost fresh! I could taste the wine (which is something I put in my own homemade spaghetti sauce too) and the sauce didn't have a strong fish flavor like I anticipated. I added a bit of salt and topped with a blend of mozzarella and parmesan. The sauce stuck well to the pasta and the pasta itself tasted like lasagna noodles, nothing odd or different, it's pasta. The serving was hearty and there was enough for three servings. My husband said he didn't care for the texture but he thanked me for making something new.
I really enjoyed my trip to southern Italy with the July EatTiamo box! I've never been to Italy so it was very exciting to try something that can't be found in my local Italian restaurants, of which Olive Garden is arguably the best (no joke, and I actually love their lasagna). I wasn't sure what to think of a tomato and tuna pasta sauce but I enjoyed it, and of course olives are a no brainer for me, I knew I would love the spread. While the pasta tastes just like every other pasta out there it was fun to try a new shape. The cookies were delicious, I have almost used up the whole container of olive oil, and the coffee will go to someone who can enjoy its virtues.