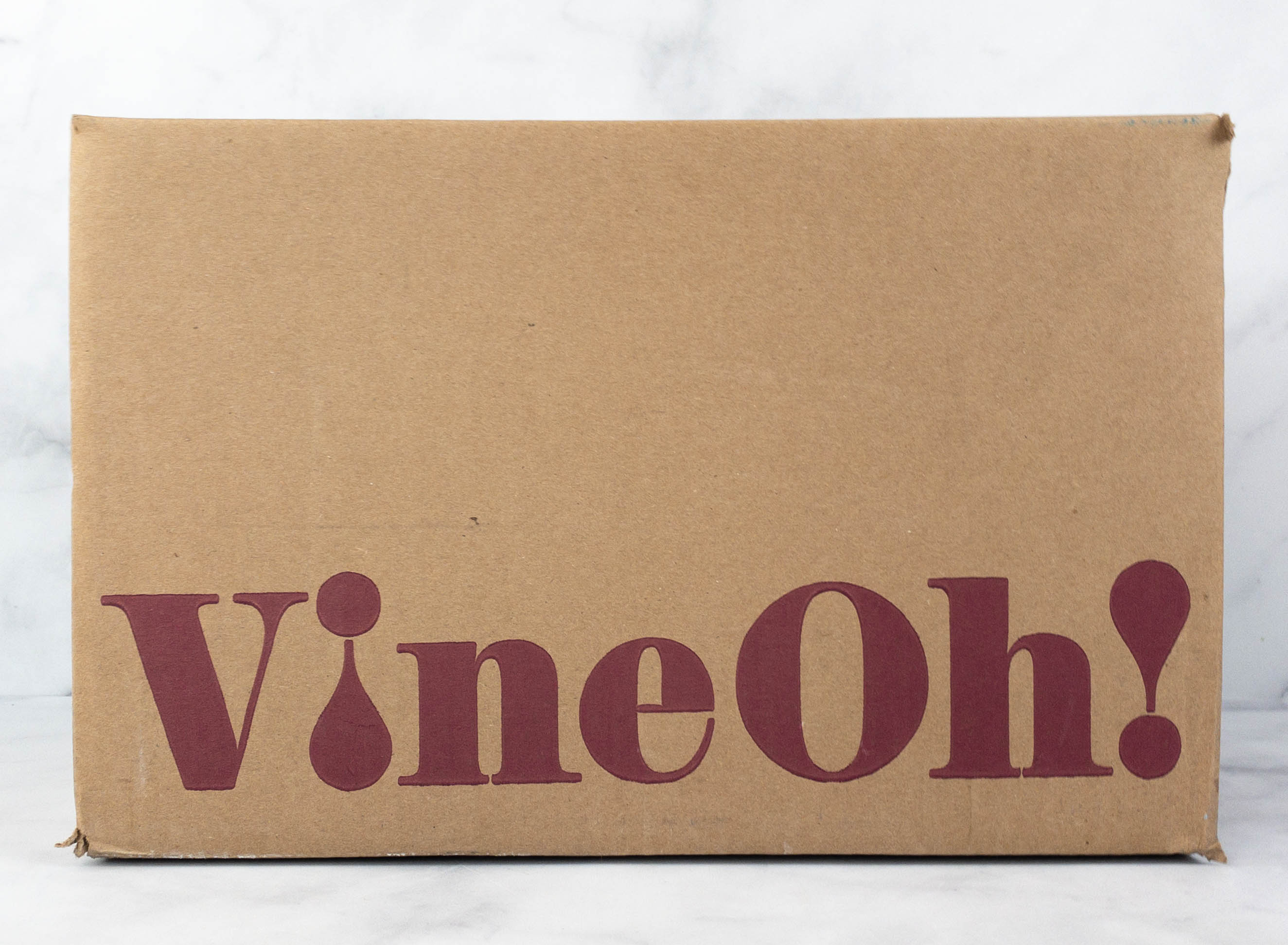 Vine Oh! is a quarterly subscription box and one of the first wine subscription boxes to include lifestyle items for women. Each seasonal box includes 2 bottles of premium wine, plus 5-6 full-size items that are fun, rejuvenating, and delicious. Subscribers can choose their wine type preference: white wine, red wine, red & white wine, or sweet wine. Every box will have a retail value of $120 or more!
This is the review of the OH! SUMMER FUN! BOX. It's still currently available!
DEAL: Save $10 off + FREE extra bottle of wine + FREE shipping on your first box with coupon code HELLOWINE. For a limited time, use this same code to get an extra free bottle FOR LIFE!
VineOh's wine and lifestyle subscription box made our readers' choice list of best wine subscription boxes for 2021!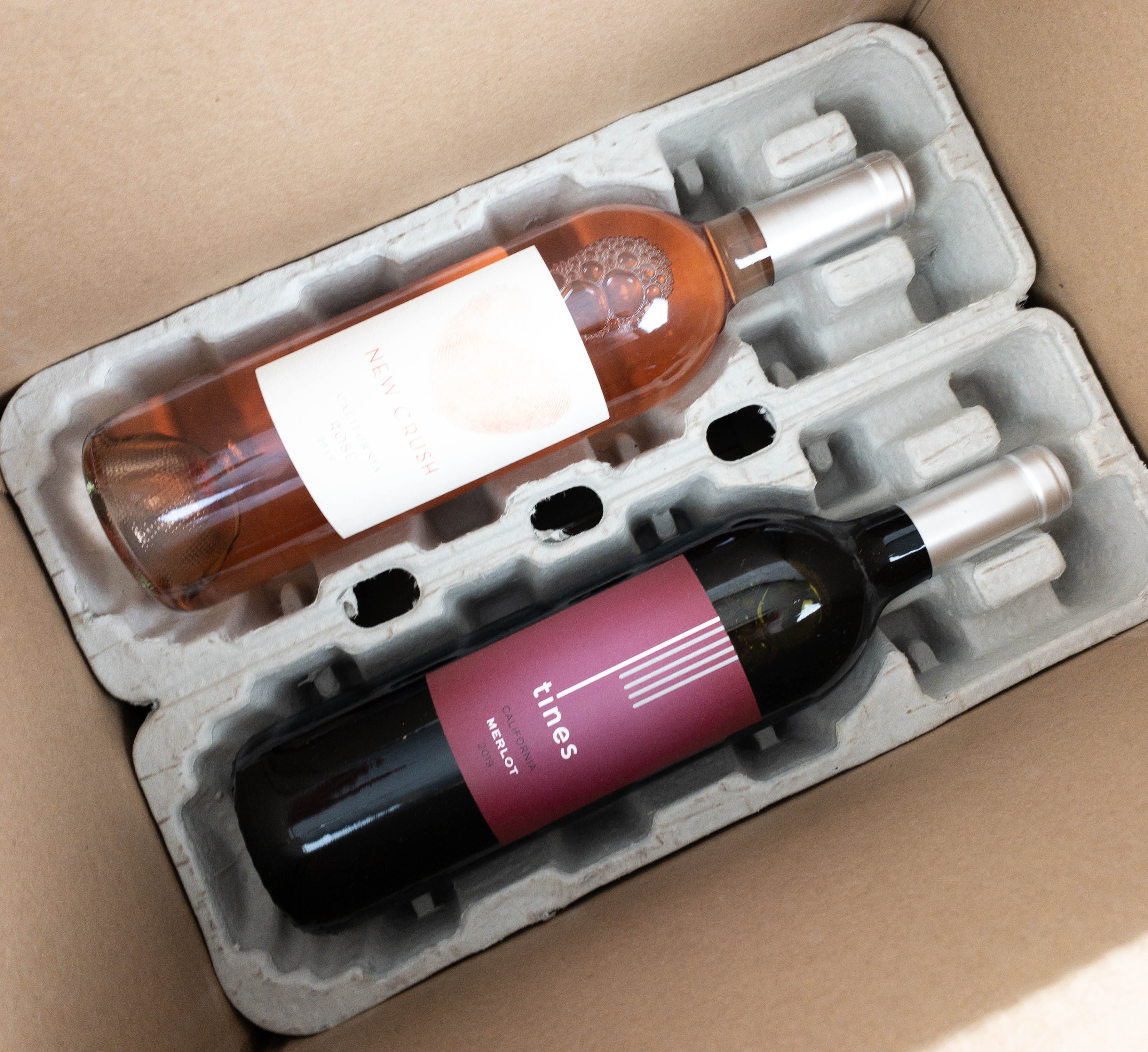 The wine bottles come in a custom packaging to keep them safe and secure during transit.
This box is also great for gifting! You can change the shipping address each quarter, so you can keep the first one for yourself, and then send the next boxes to friends or loved ones.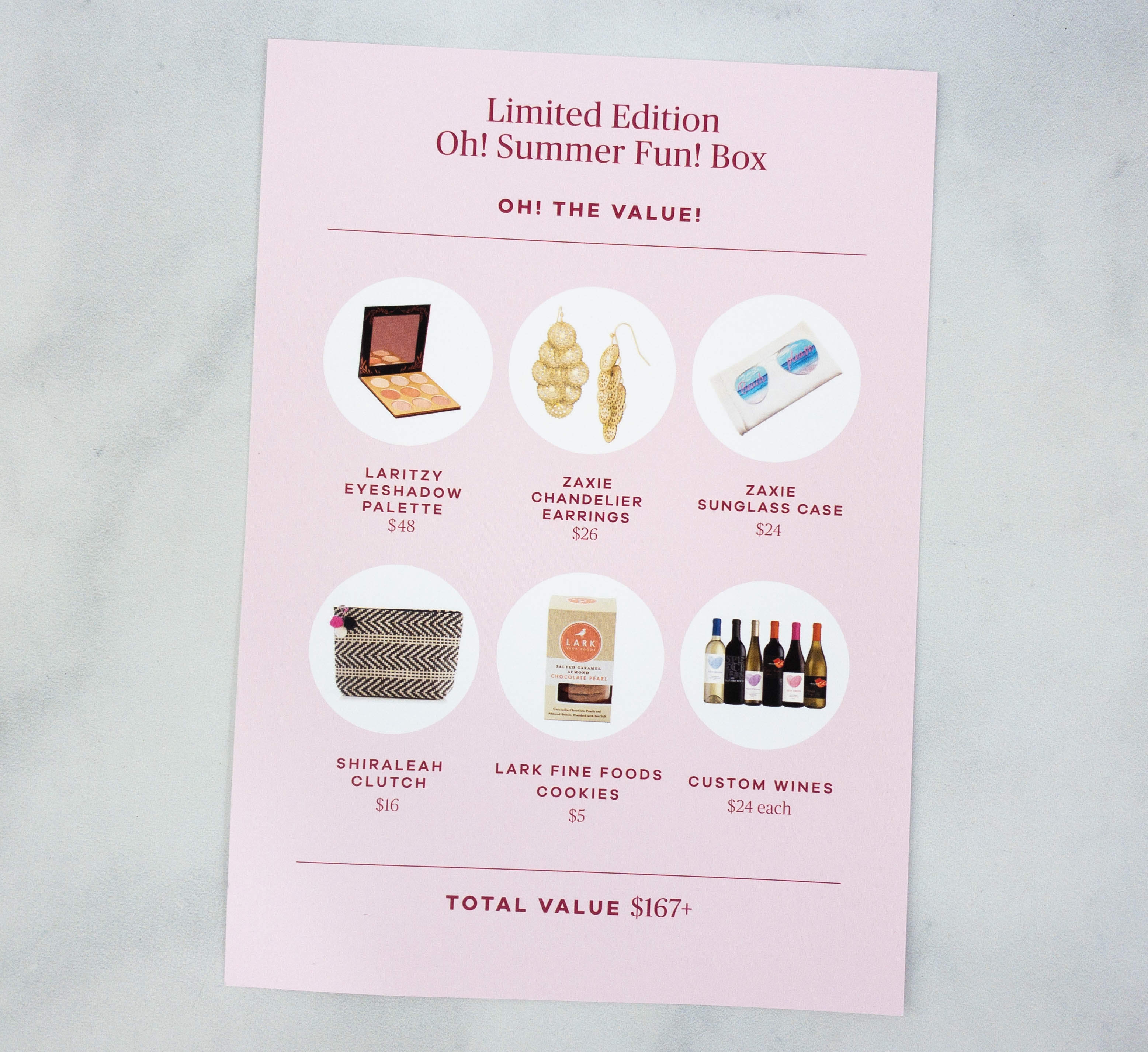 Here's a list of all the items in the box. This box's theme is Oh! Summer Fun!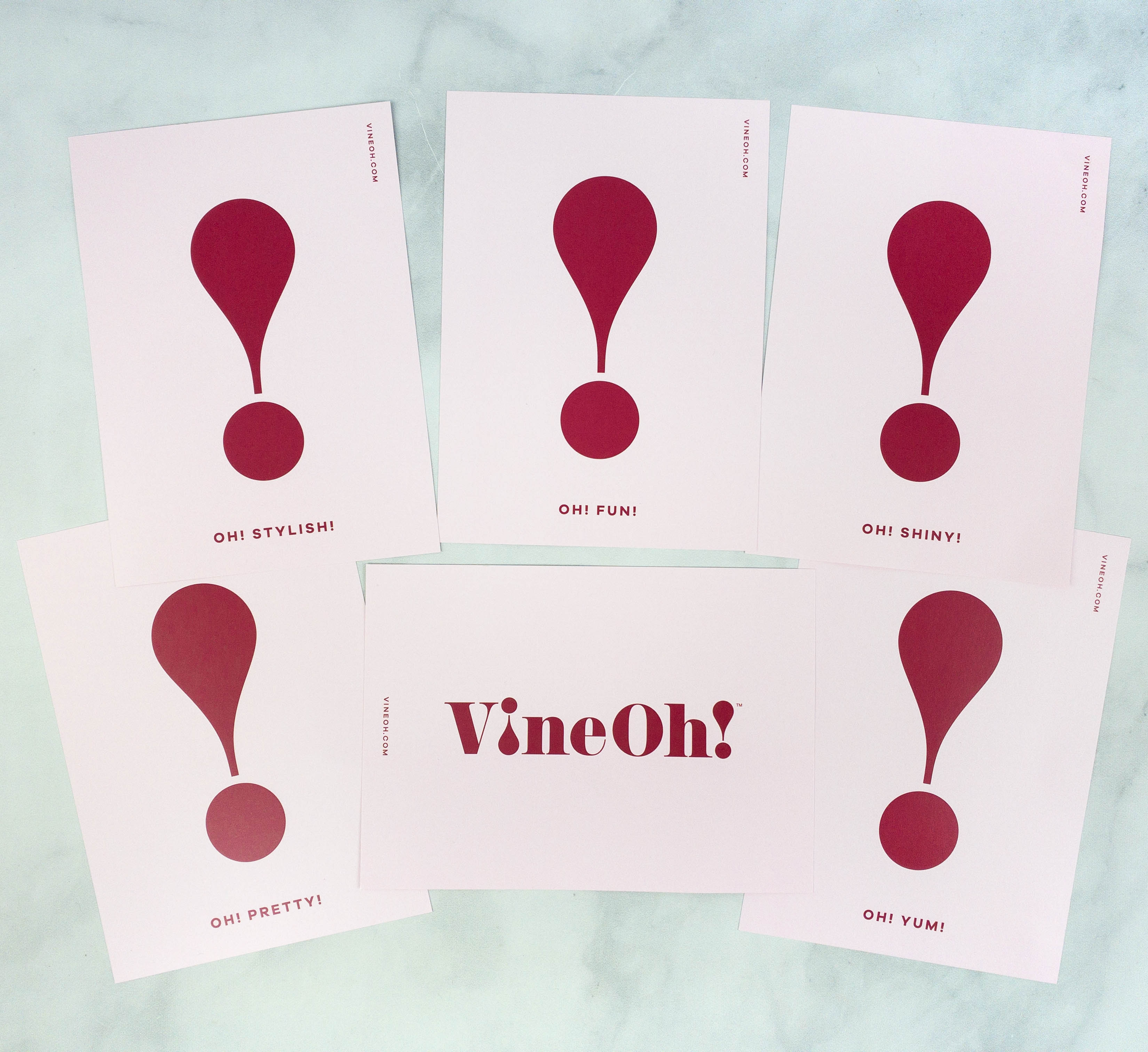 The cards look so appealing with the loud pink exclamation point as the brand signature.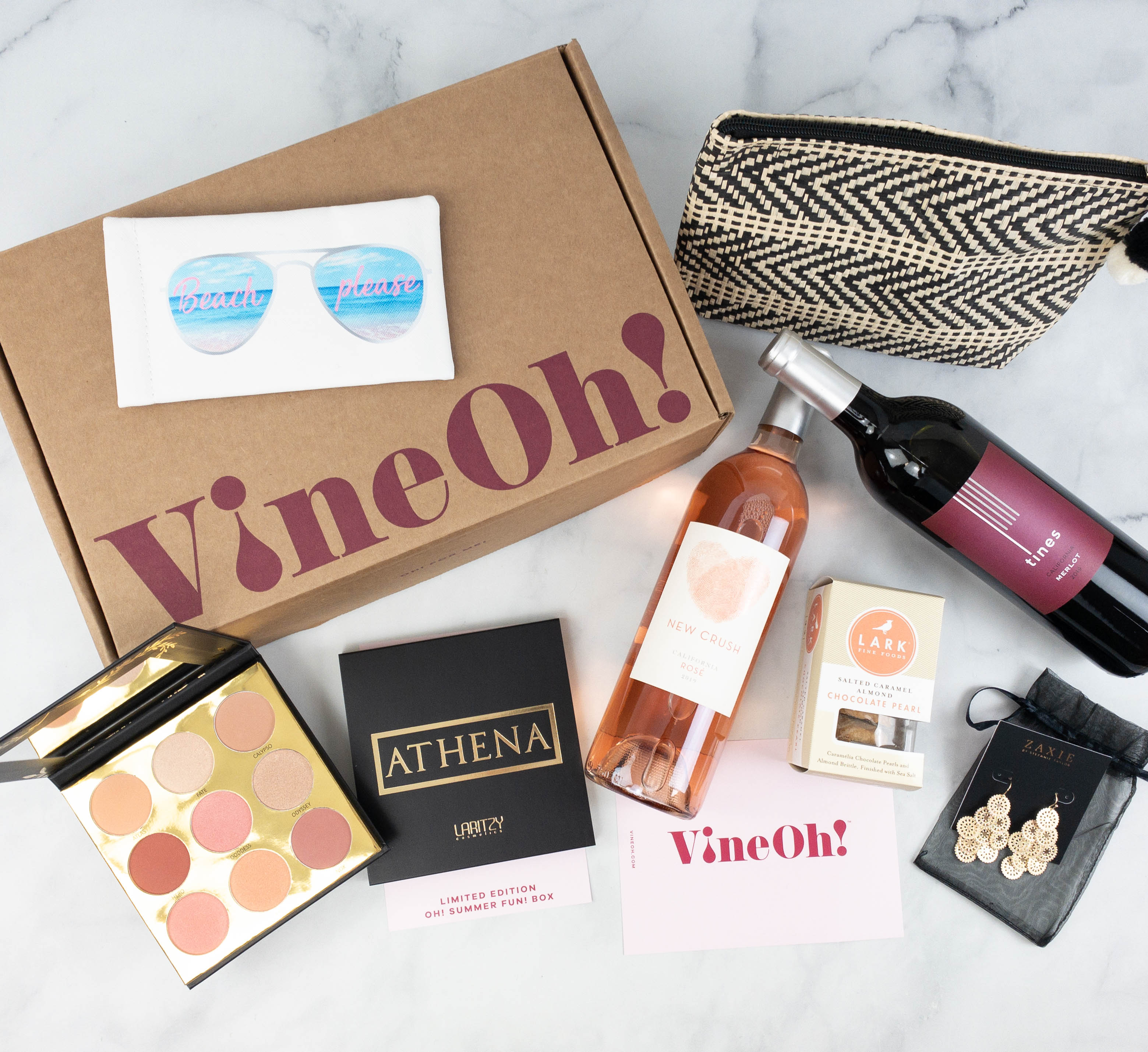 Everything in my box!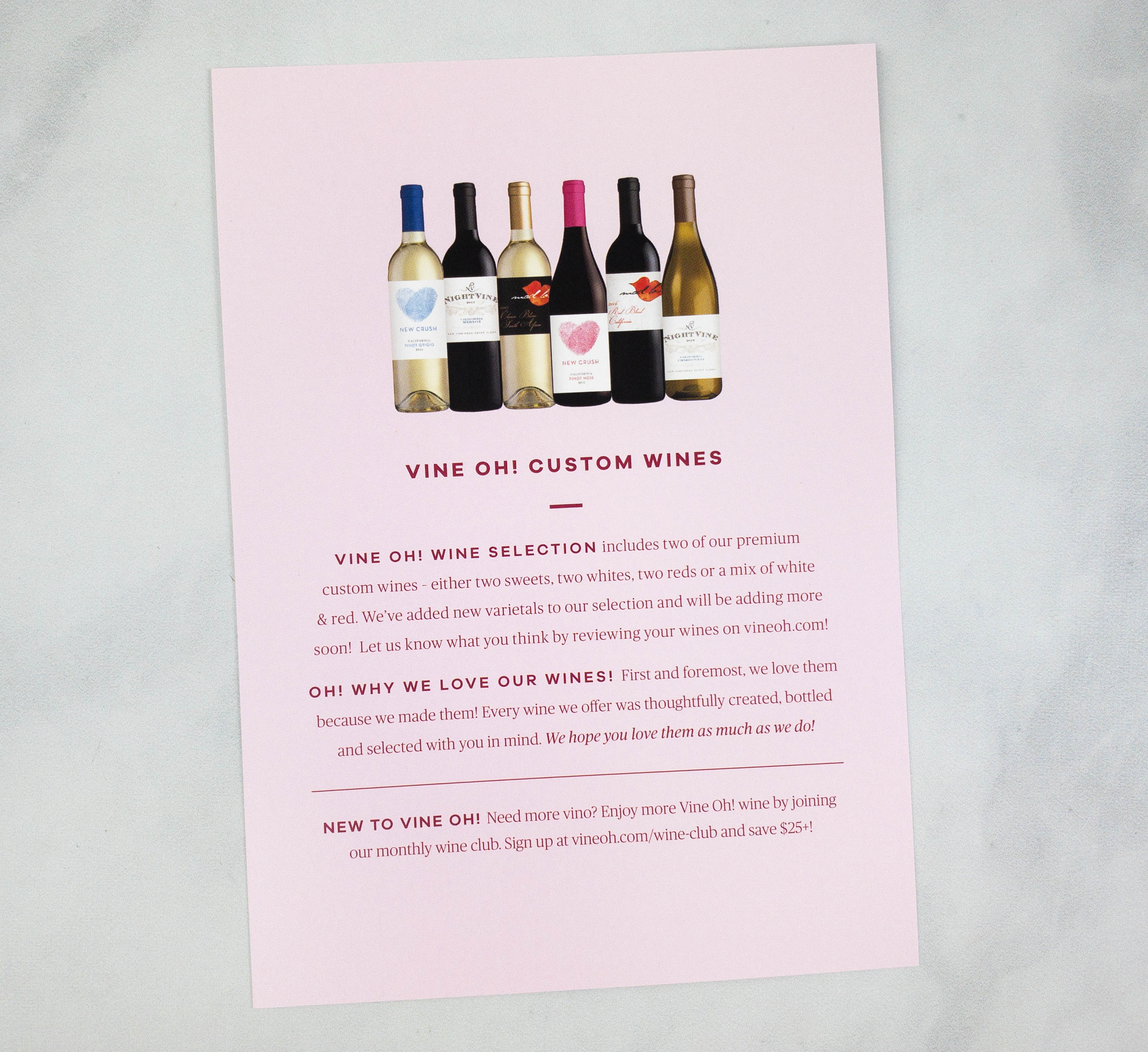 Here's a card that tells us more about VineOh's custom wines.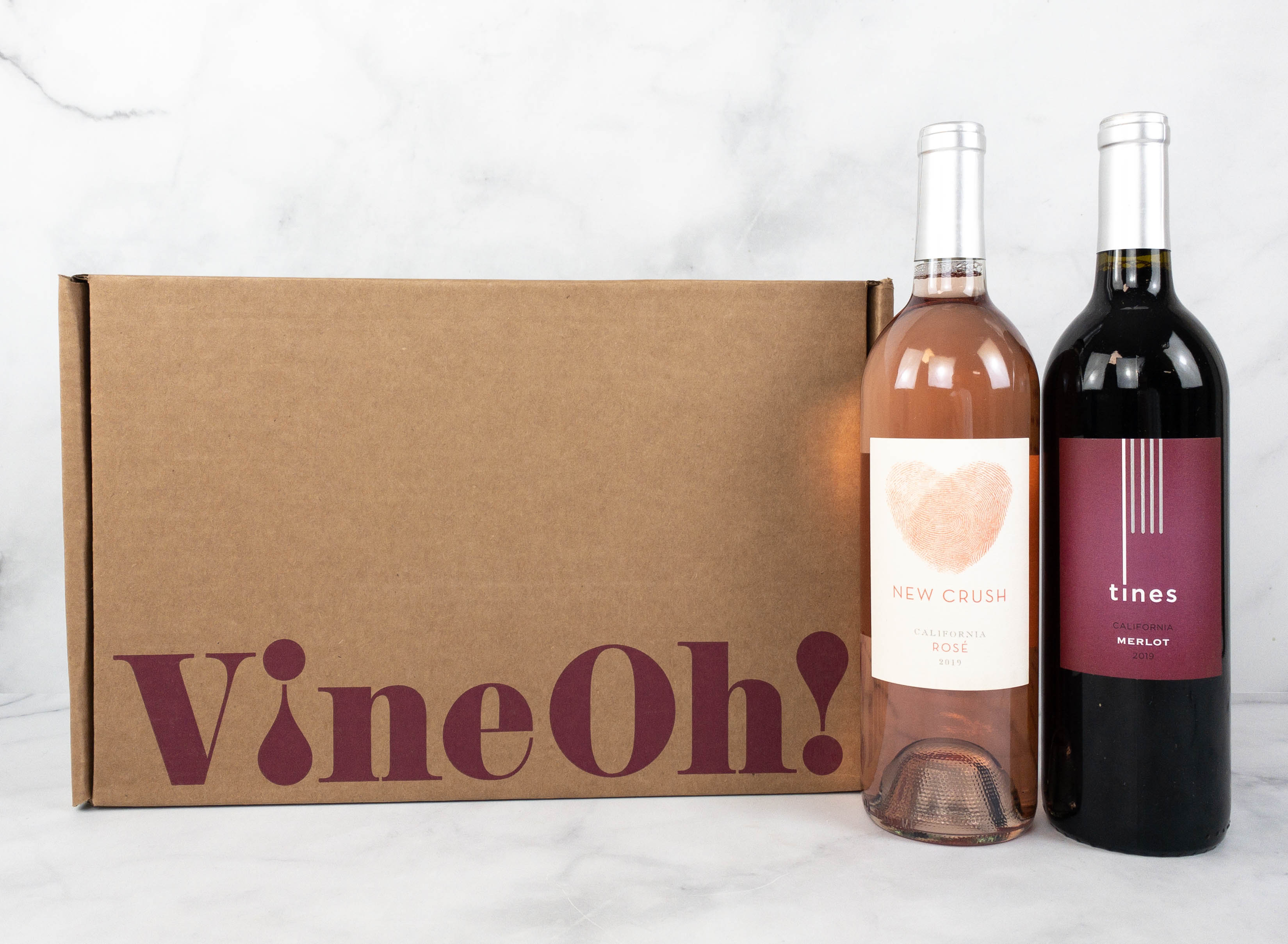 These wines look great and I can't wait to try them!
This month, I received a bottle of rosé and a bottle of red wine.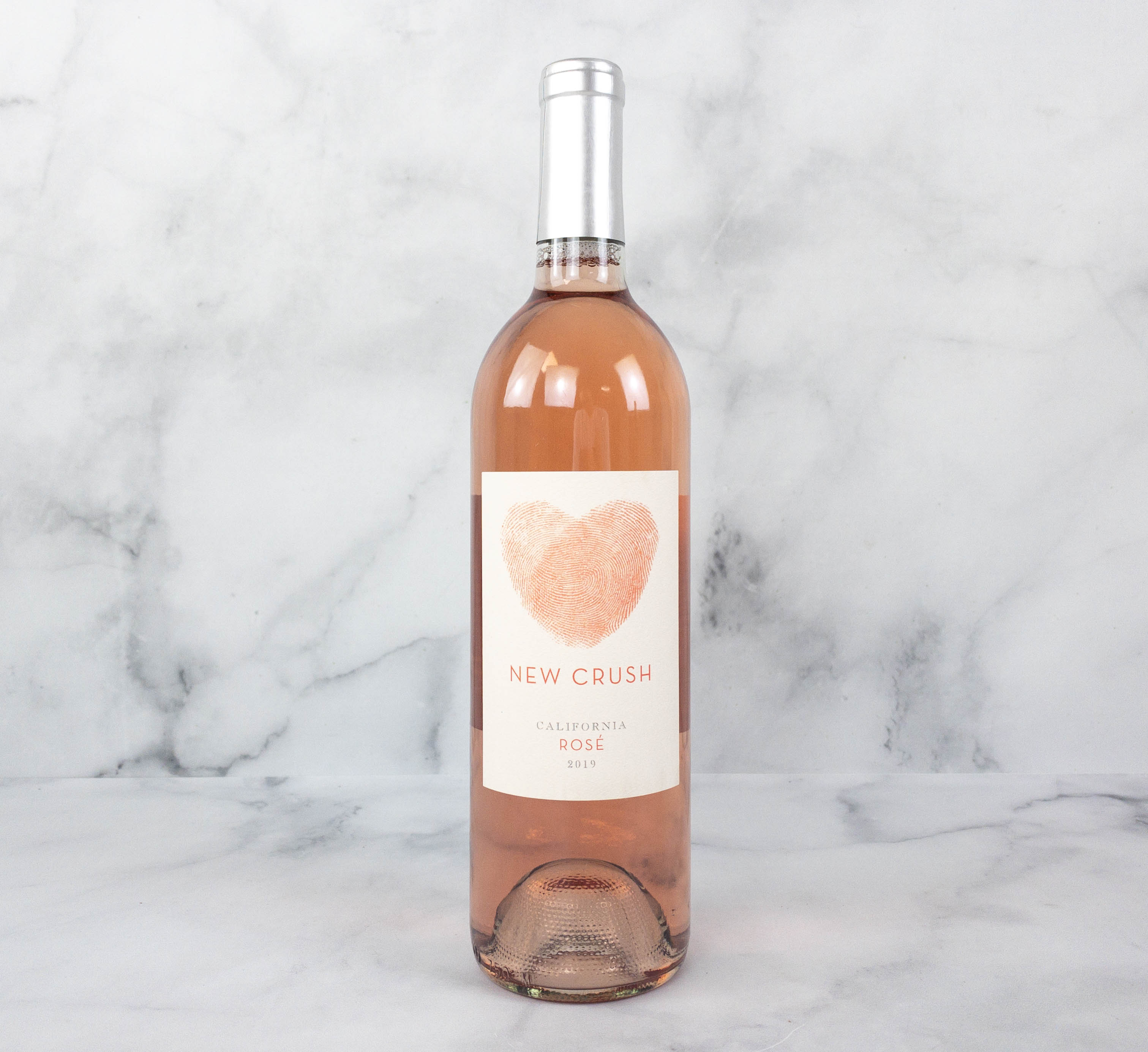 New Crush California Rosé 2019 ($24) Rosé is known for its sweet and light character. This one has fruity notes and I can really taste the berries on each sip. It's also best served cold!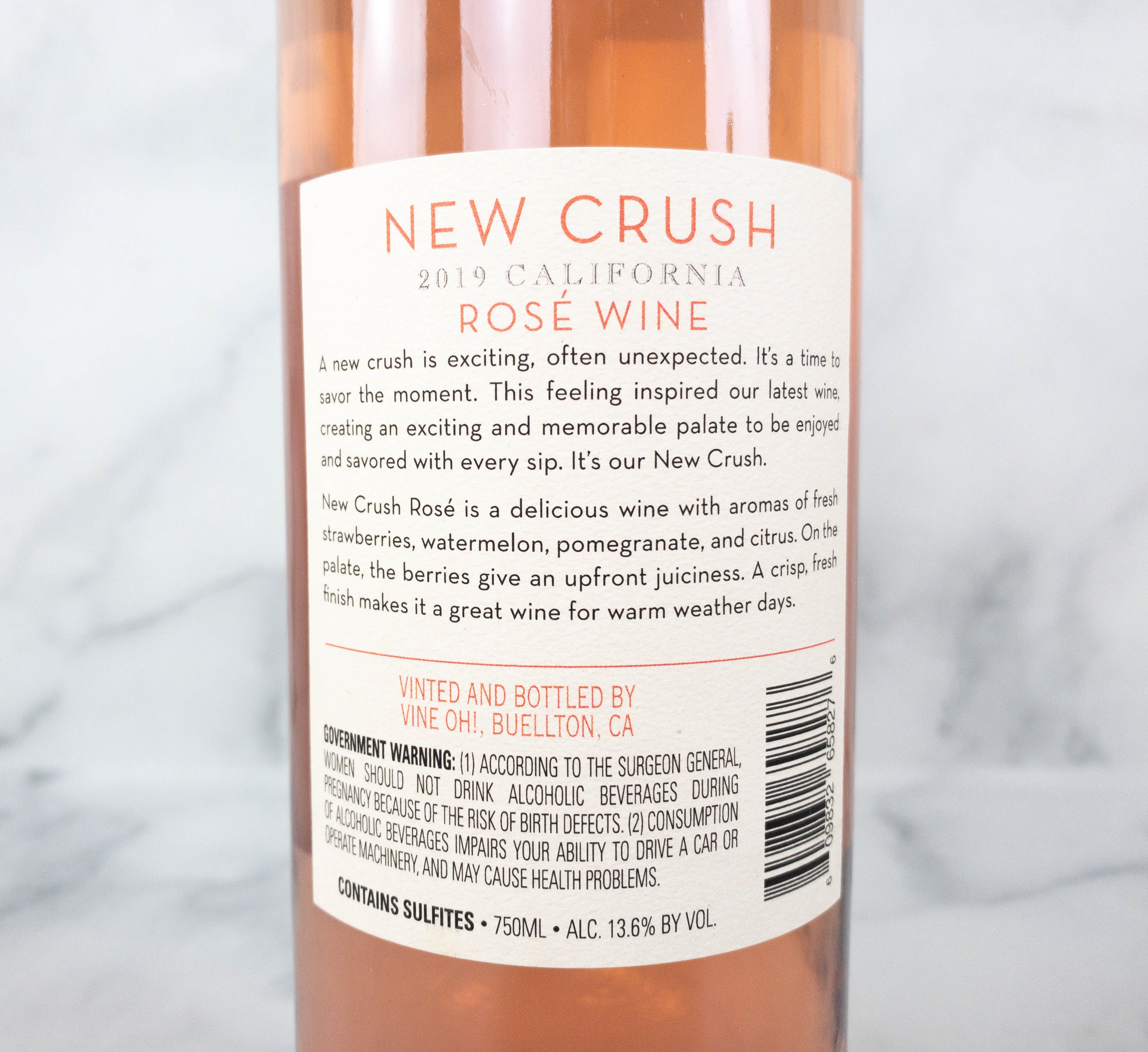 This will pair well with salads or even light snacks!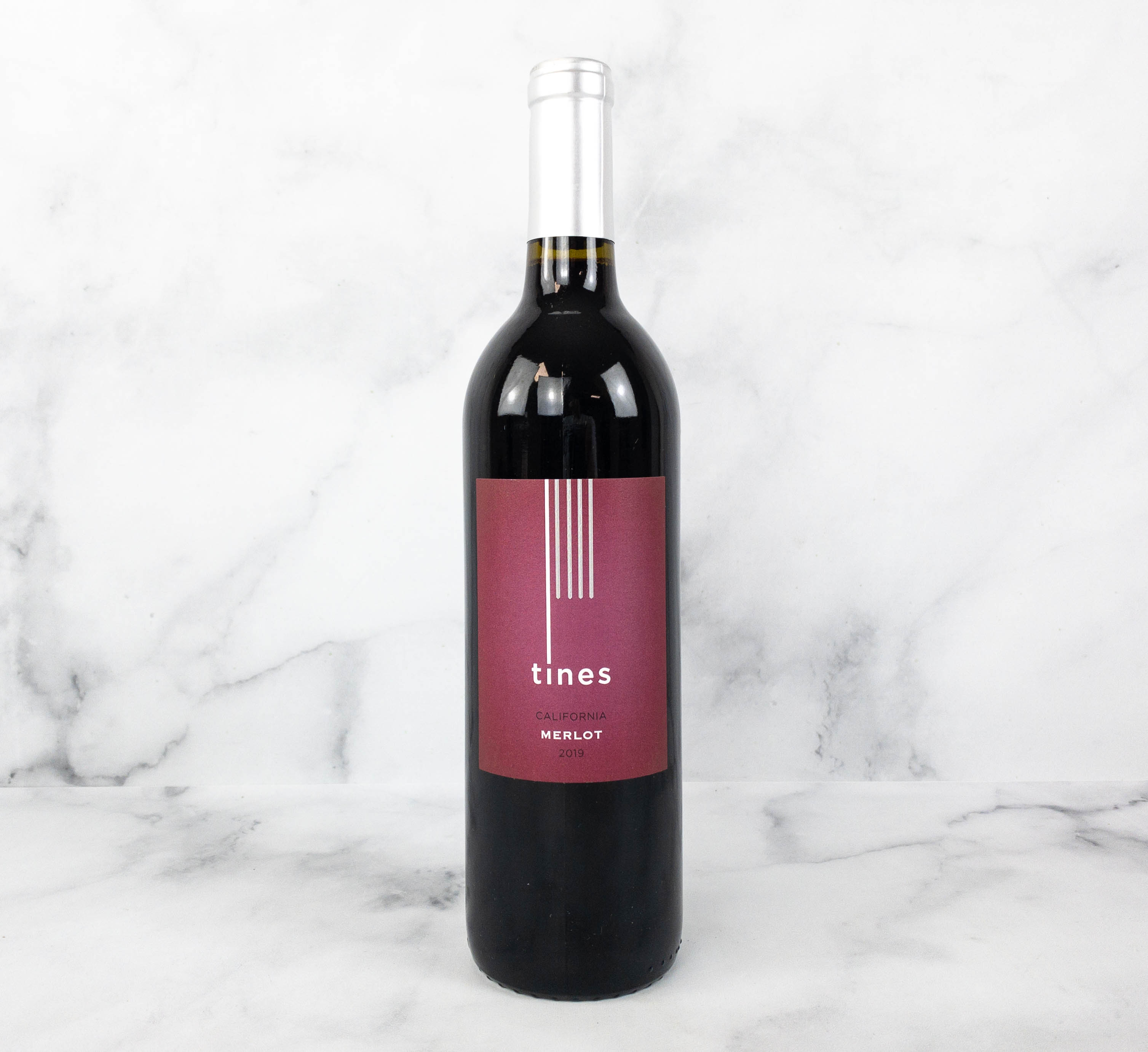 Tines California Merlot 2019. This wine from California is a real treat for red wine lovers! It's aromatic and the flavor is bold and full. It has notes of black currant and cinnamon, which I find very delicious.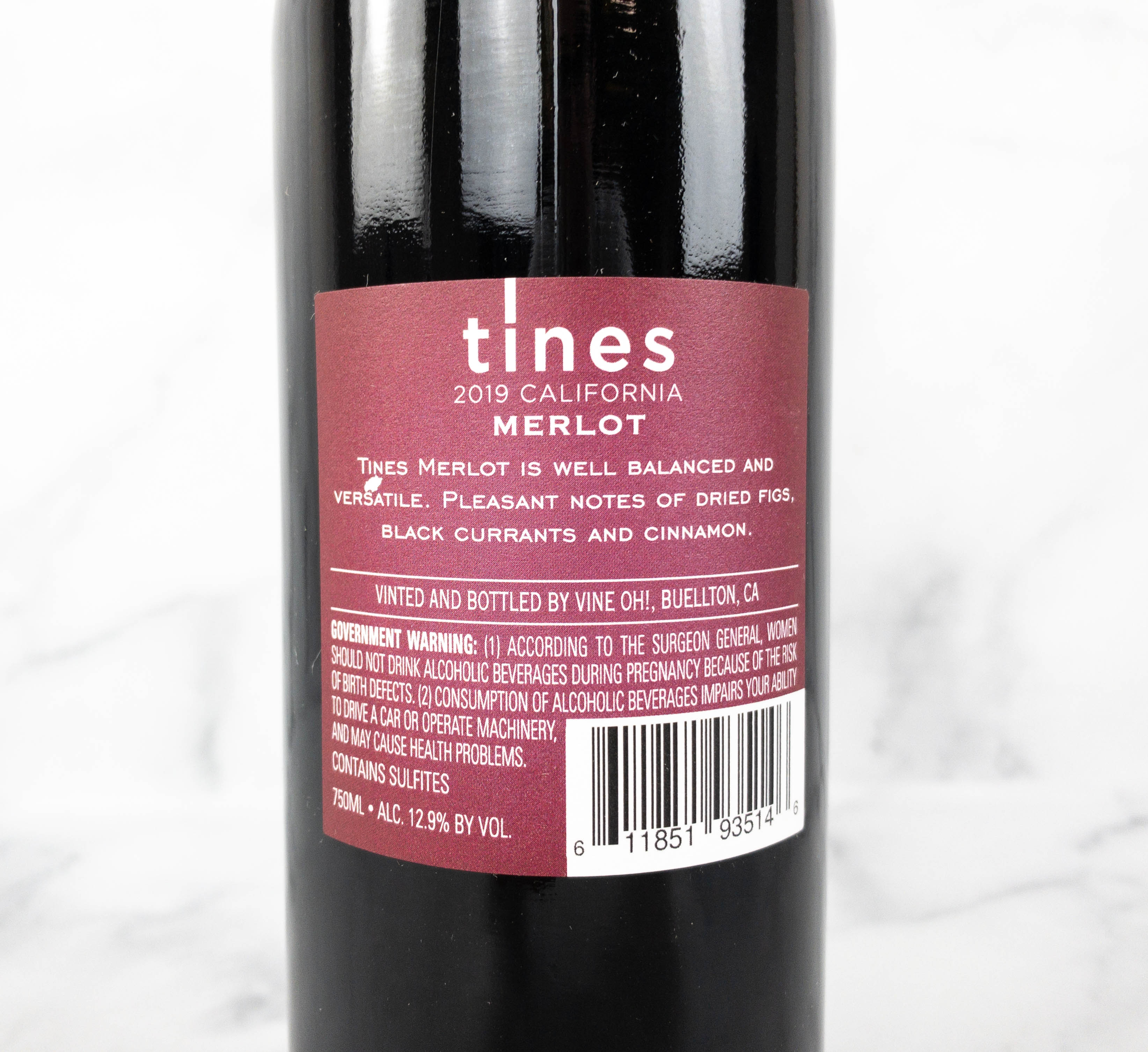 This will pair well with seafood and red meat. It's the perfect wine for a romantic date night at home!
Let's move on to the lifestyle items!
Laritzy Eyeshadow Palette ($48) This goddess-inspired palette contains 4 matte shades and 5 shimmer shades that can be mixed and matched with each other.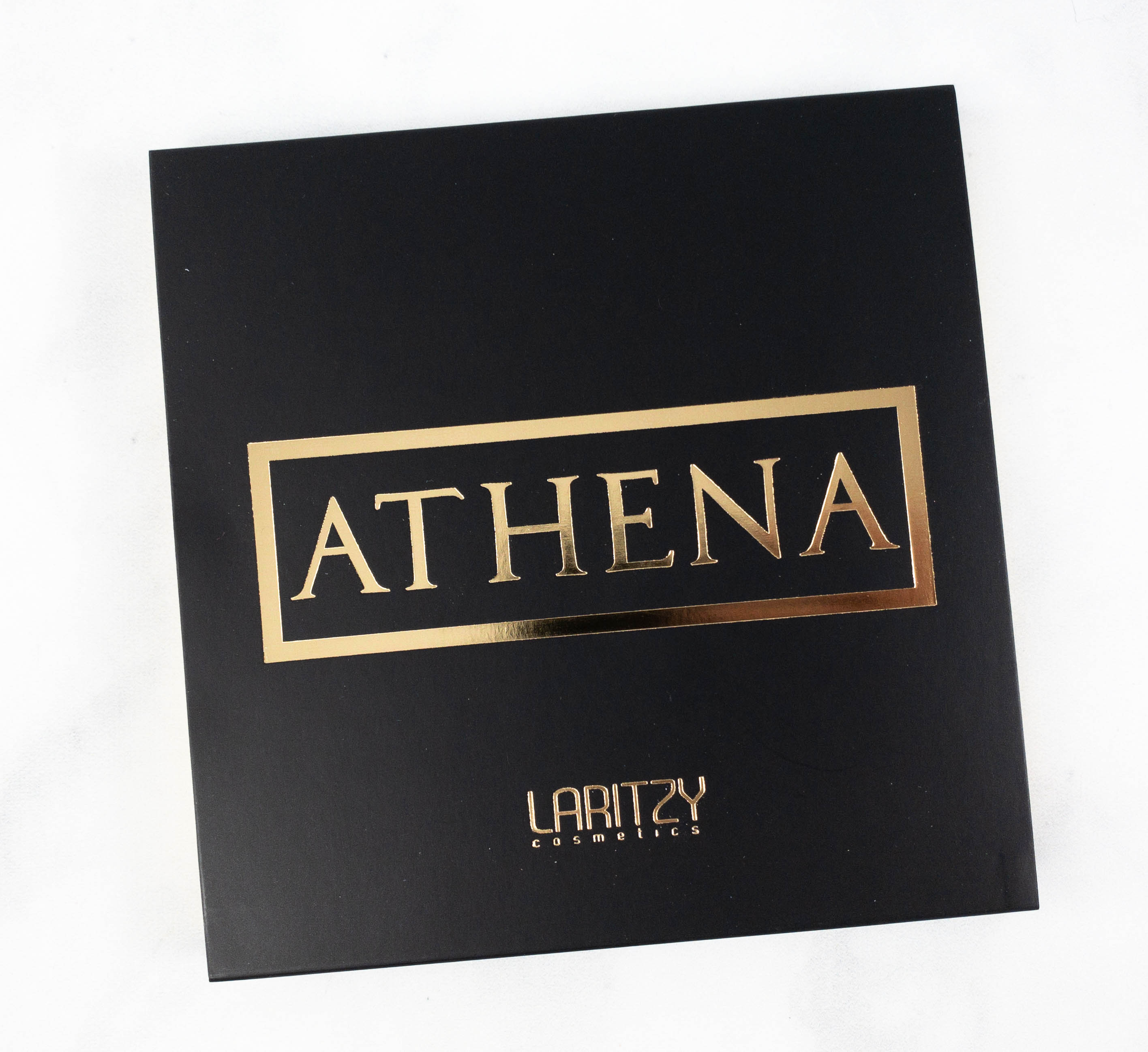 It came in a lovely packaging with a foiled label.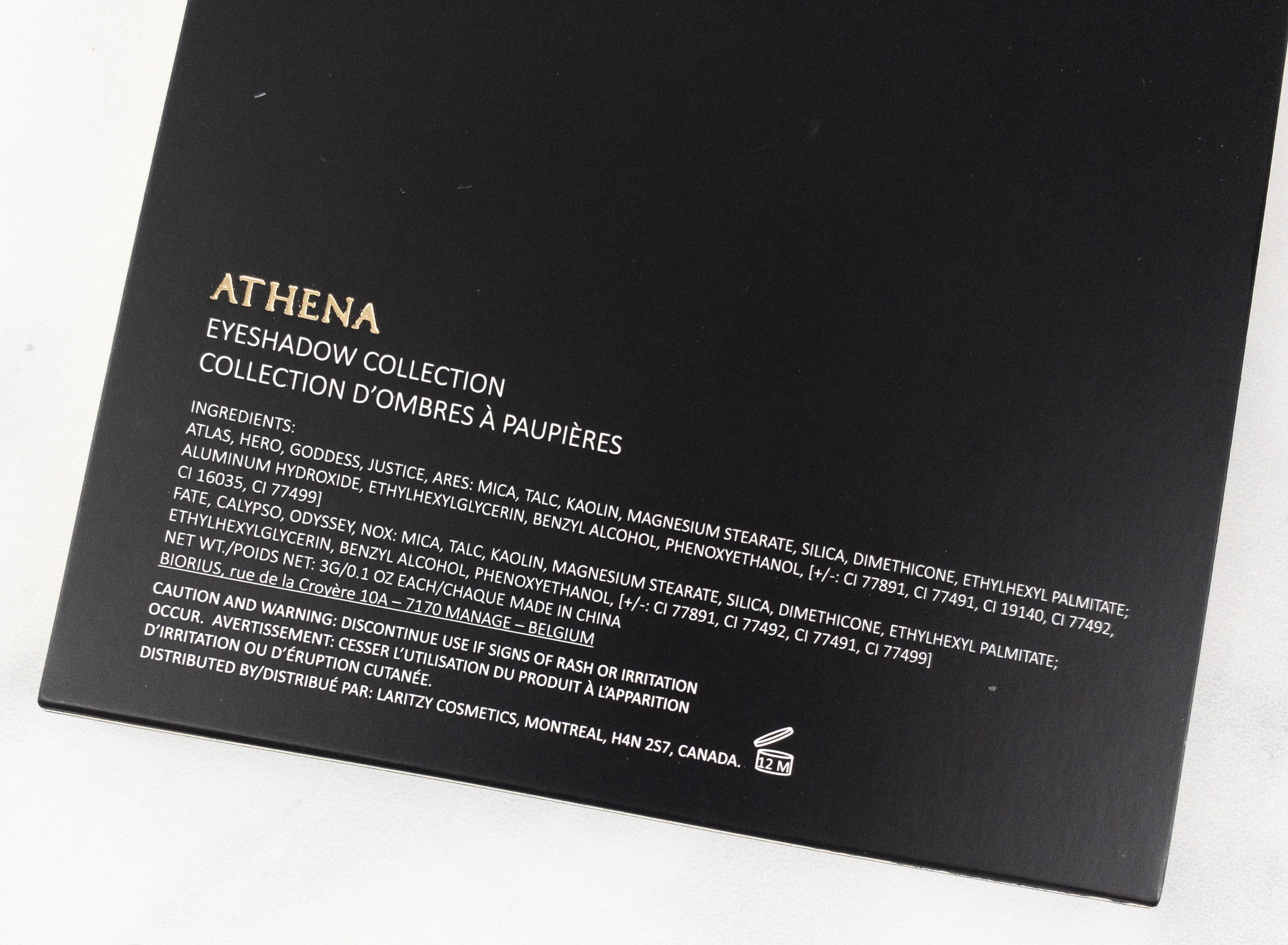 At the back of the box are more information about the product, including ingredients.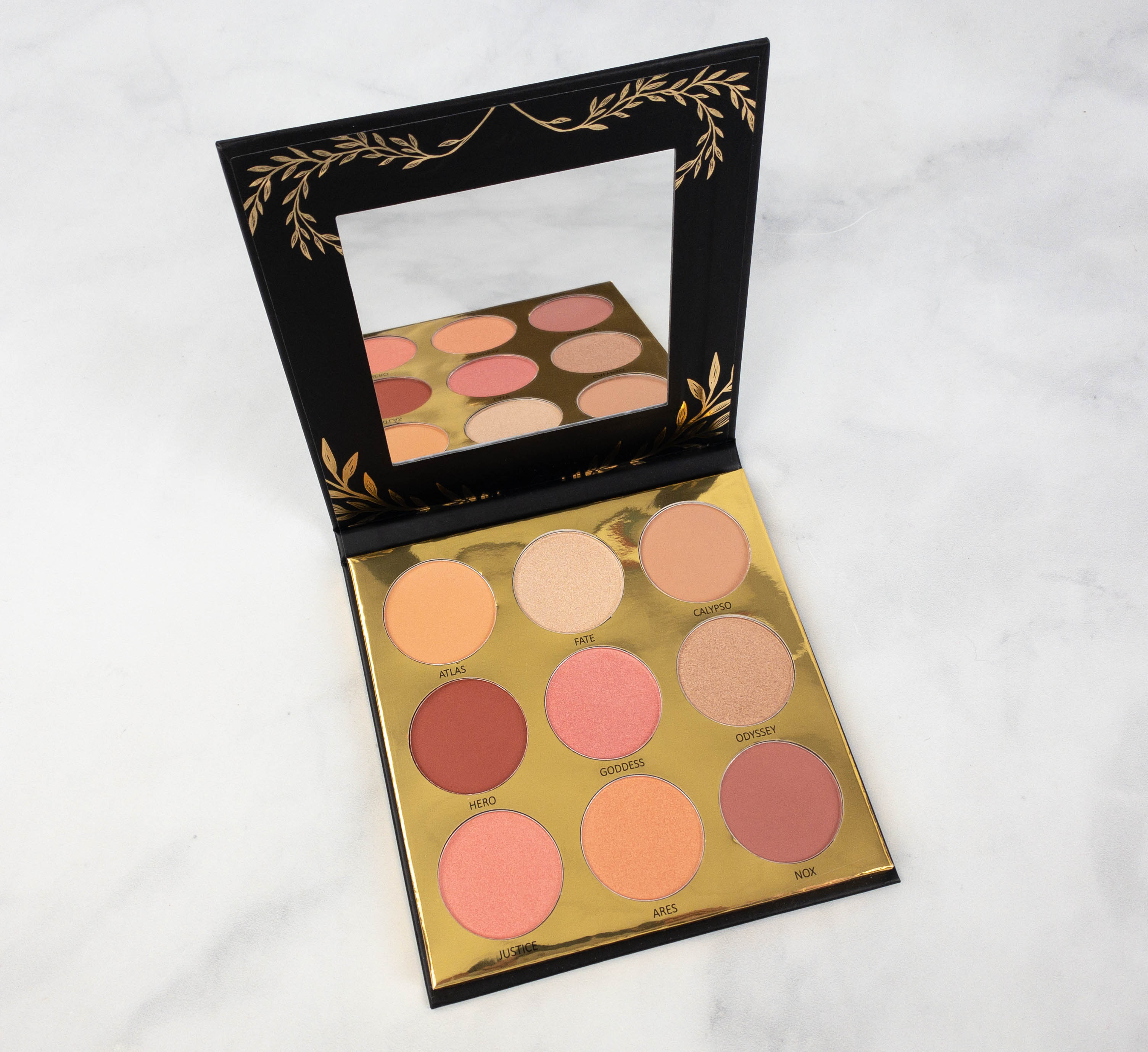 It's compact and perfect for when you're on the go. It comes with a mirror as well.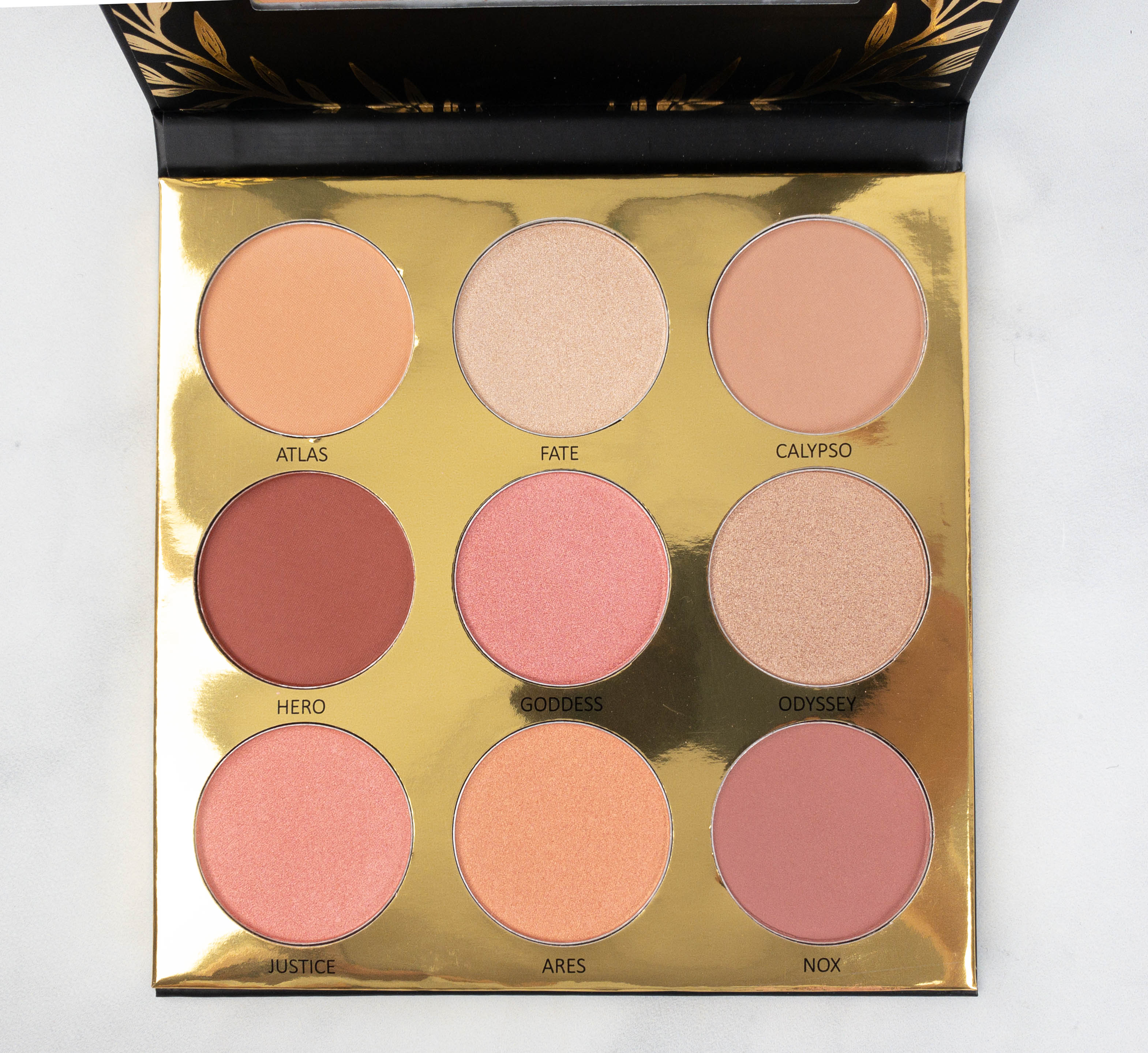 The shade selection is good. It has 9 neutral shades with a light and buttery formula, perfect for creating versatile daytime looks. They're easy to blend and I love their natural finish as well.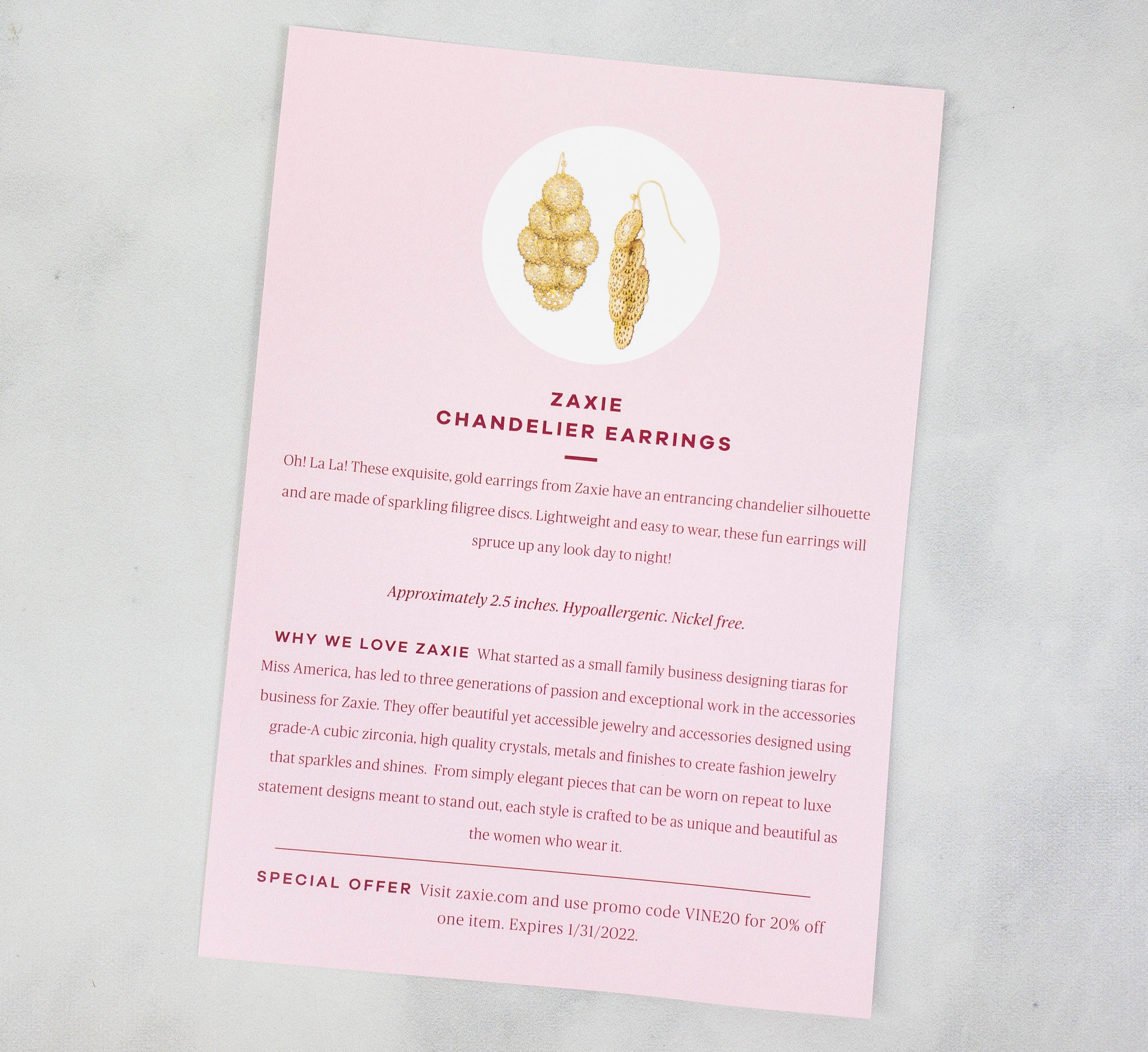 Zaxie Chandelier Earrings ($26) Here's a pretty accessory to wear this summer, a pair of chandelier earrings!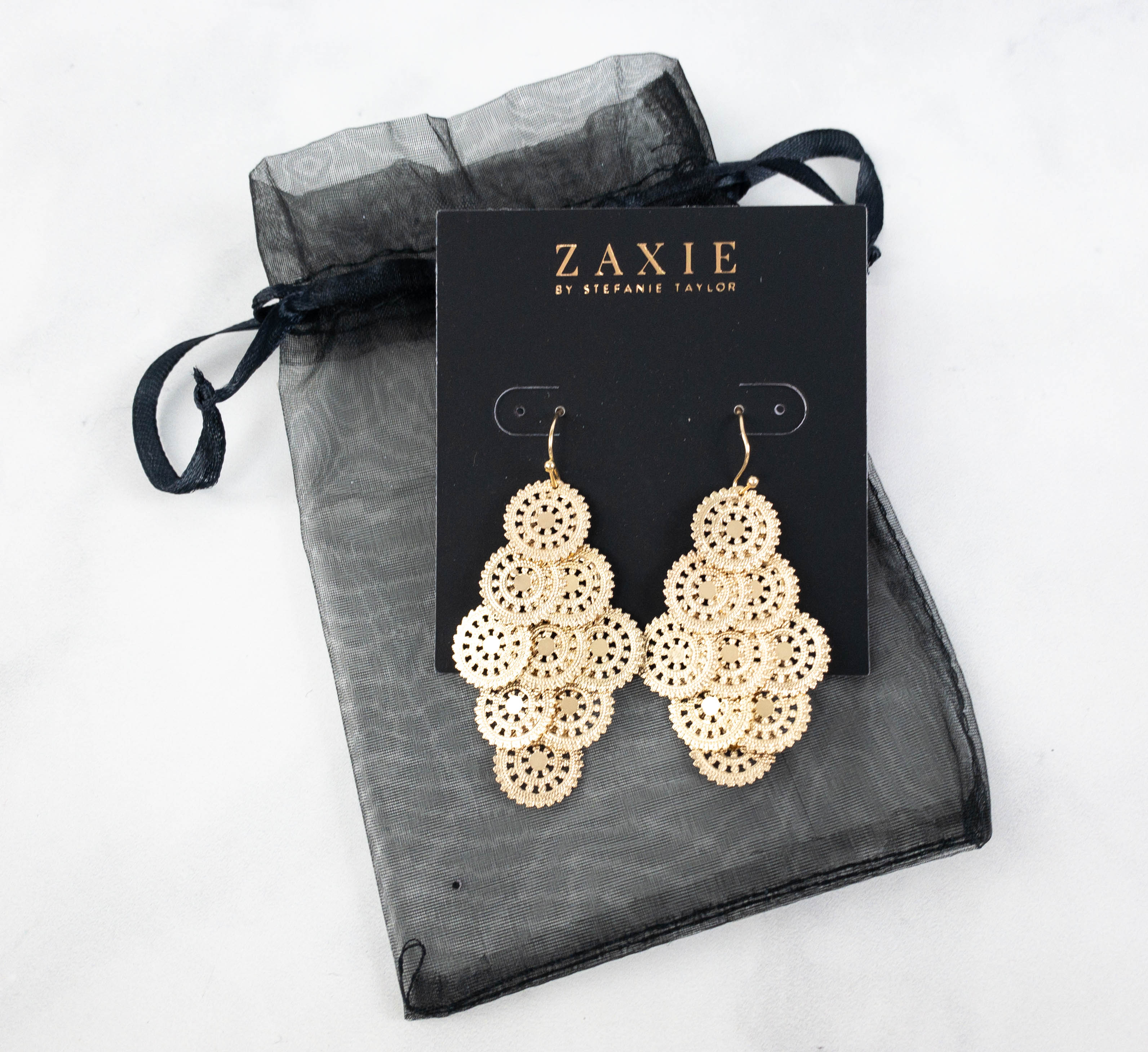 The earrings were packed in a black drawstring pouch. According to the card, the earrings are hypoallergenic and nickel free.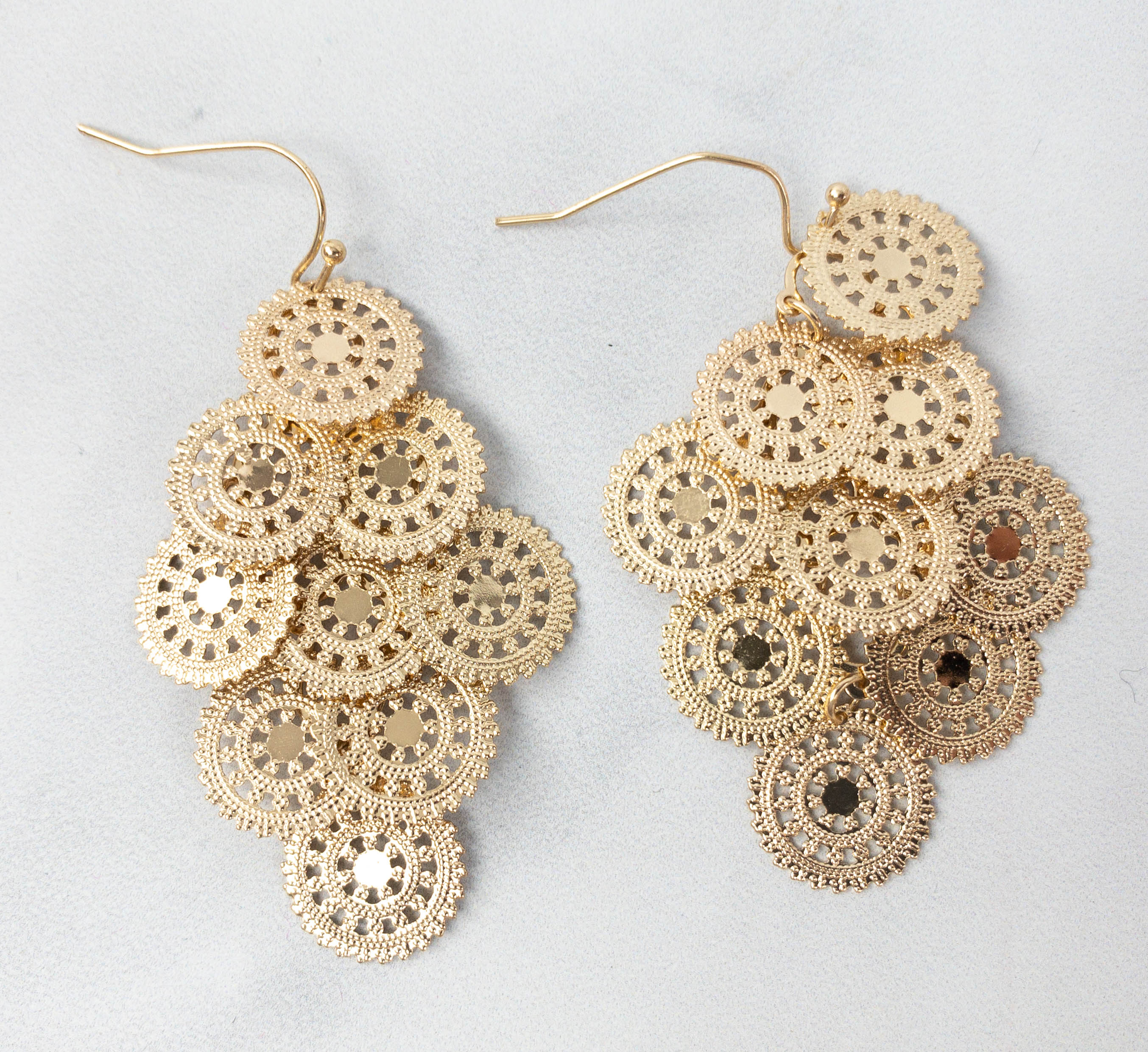 The earrings are fun and bold. I love the detailing on each piece because they're so intricate and wonderfully done.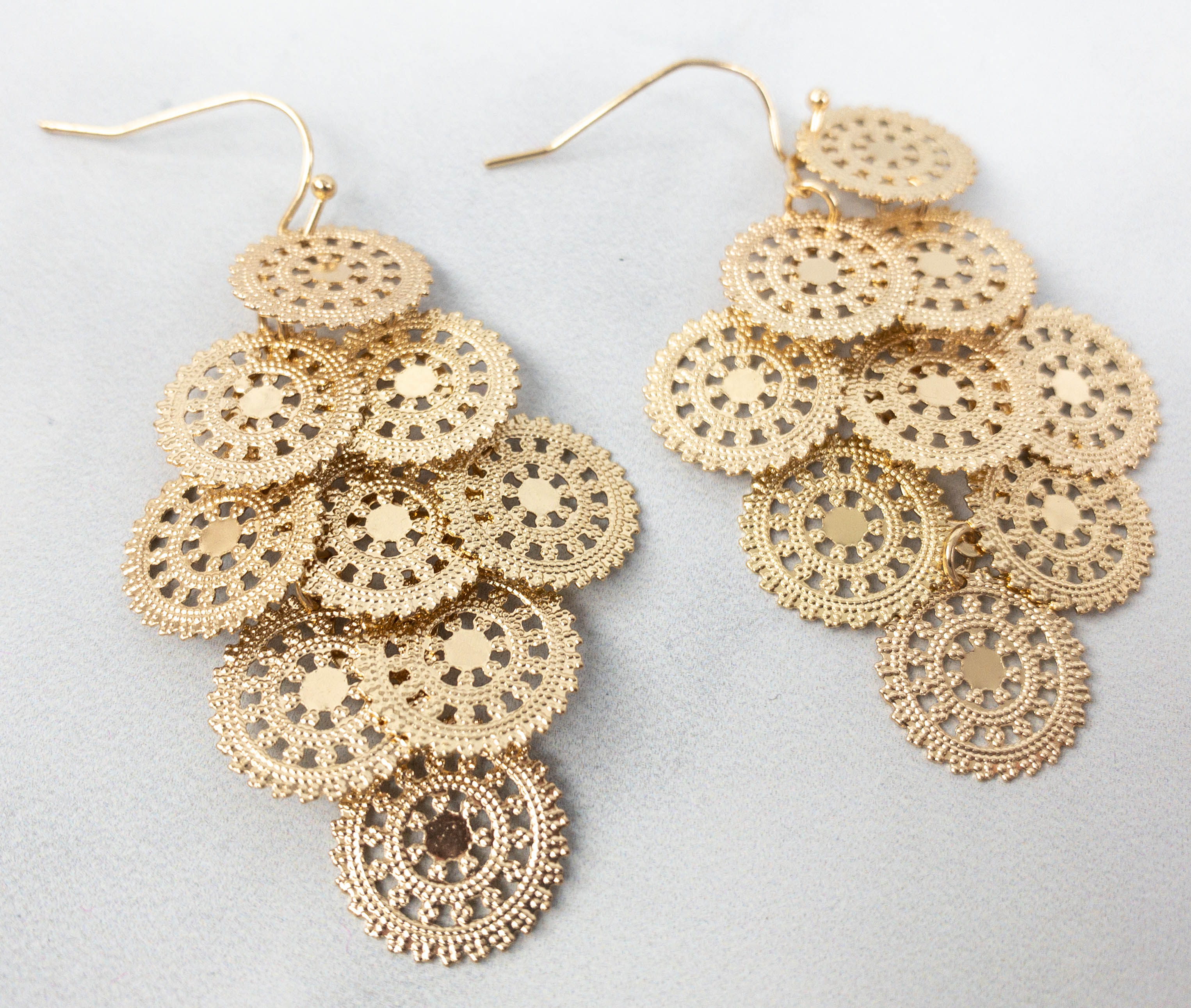 This pair is a statement on its own so you can wear it even with the simplest and plainest of clothes. They are also perfect with summer dresses!
Zaxie Sunglass Case ($24) It's a pouch for my sunglasses, so you I keep them nice and safe when not in use. I absolutely adore this item – I need prescription sunglasses, so I'd rather have this any day over a pair of sunnies in a box.
I like the quirky design featuring aviator sunglasses. It also says "Beach pleas" and reflects a nice view of the ocean.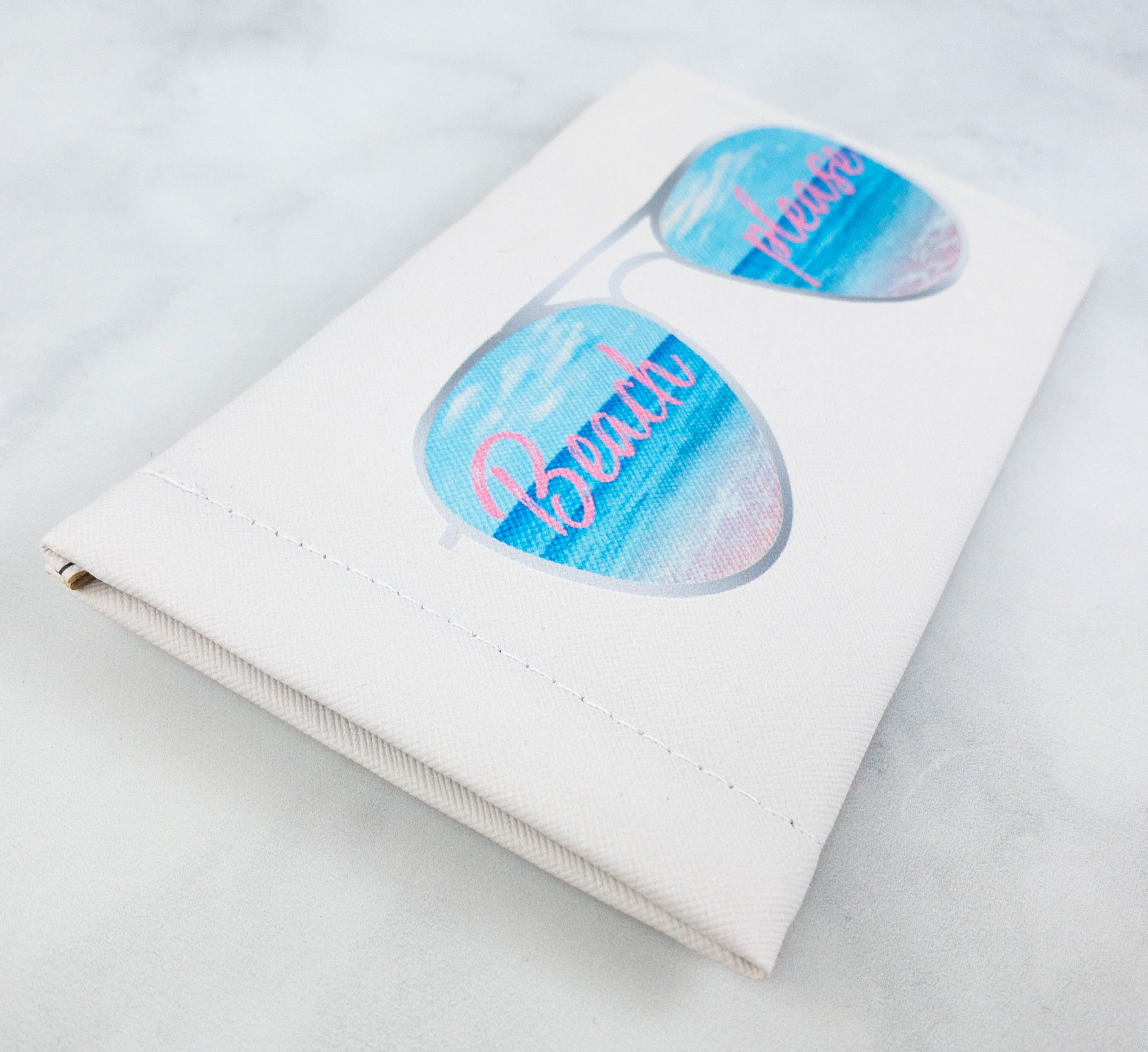 The pouch is made with PVC material. It also has a magnetic enclosure to keep the glasses safe inside.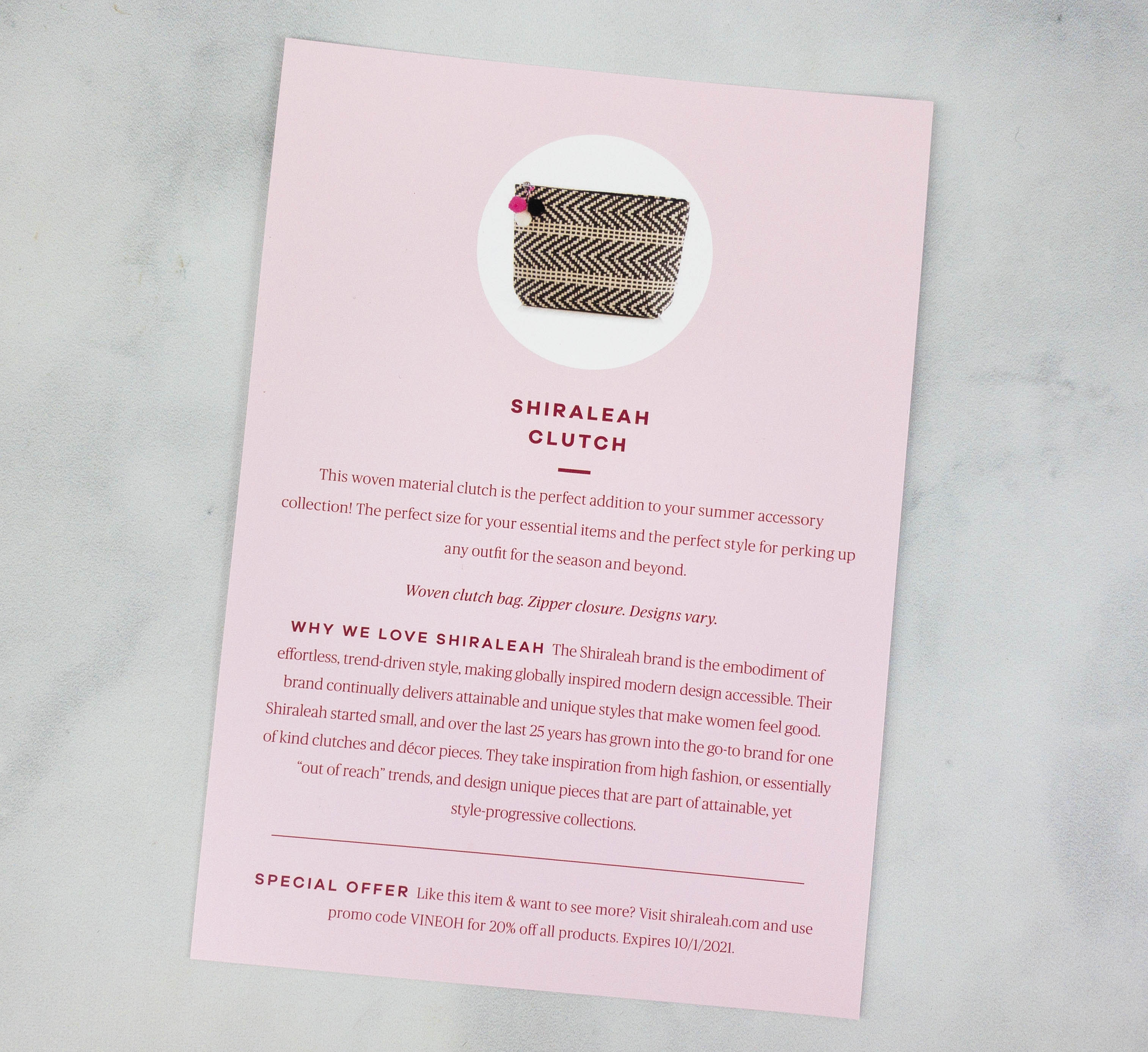 Shiraleah Clutch ($16) Here's another fun summer item, a clutch for my trinkets!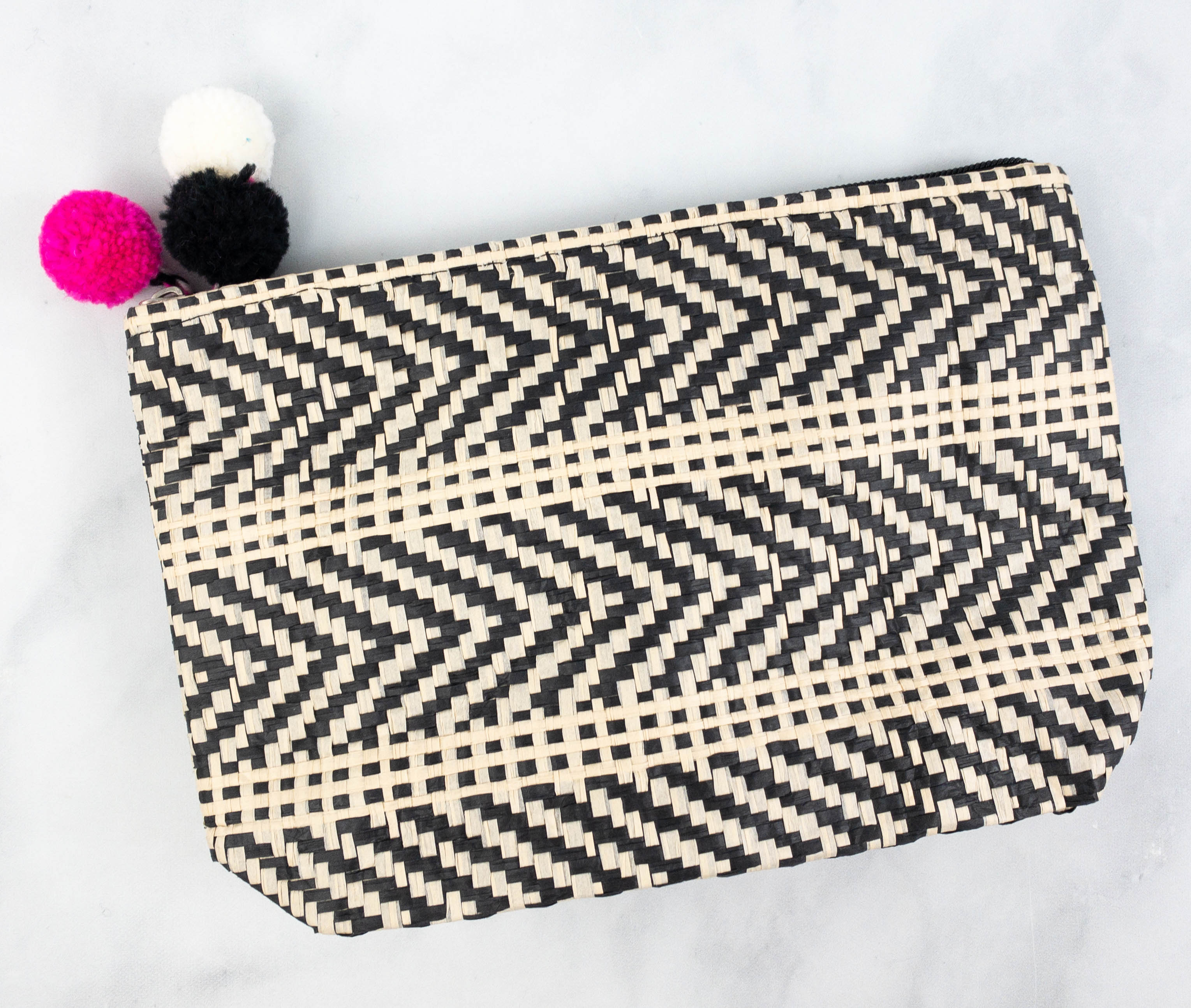 I love the woven design of this clutch. It's made with raffia straw so it's durable and flexible. The black, pink, and white pompoms at the zipper pull add a touch of cuteness!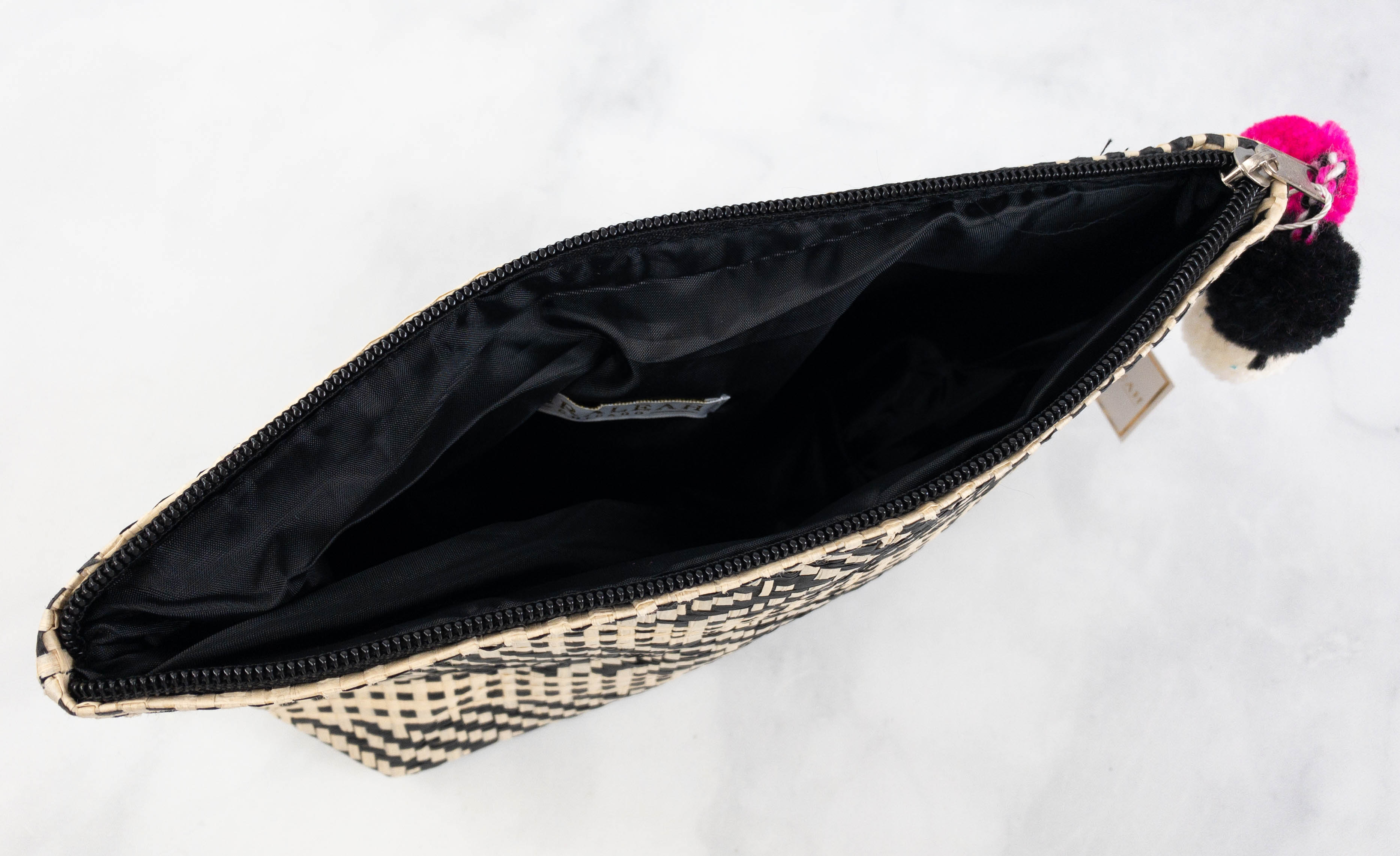 This is a nice pouch for a few makeup items I need on-the-go. It also has a black cloth lining so it's easy to clean as well.
Lark Fine Foods Cookies ($7) Whether paired with the wines or enjoyed as is, these cookies are really good!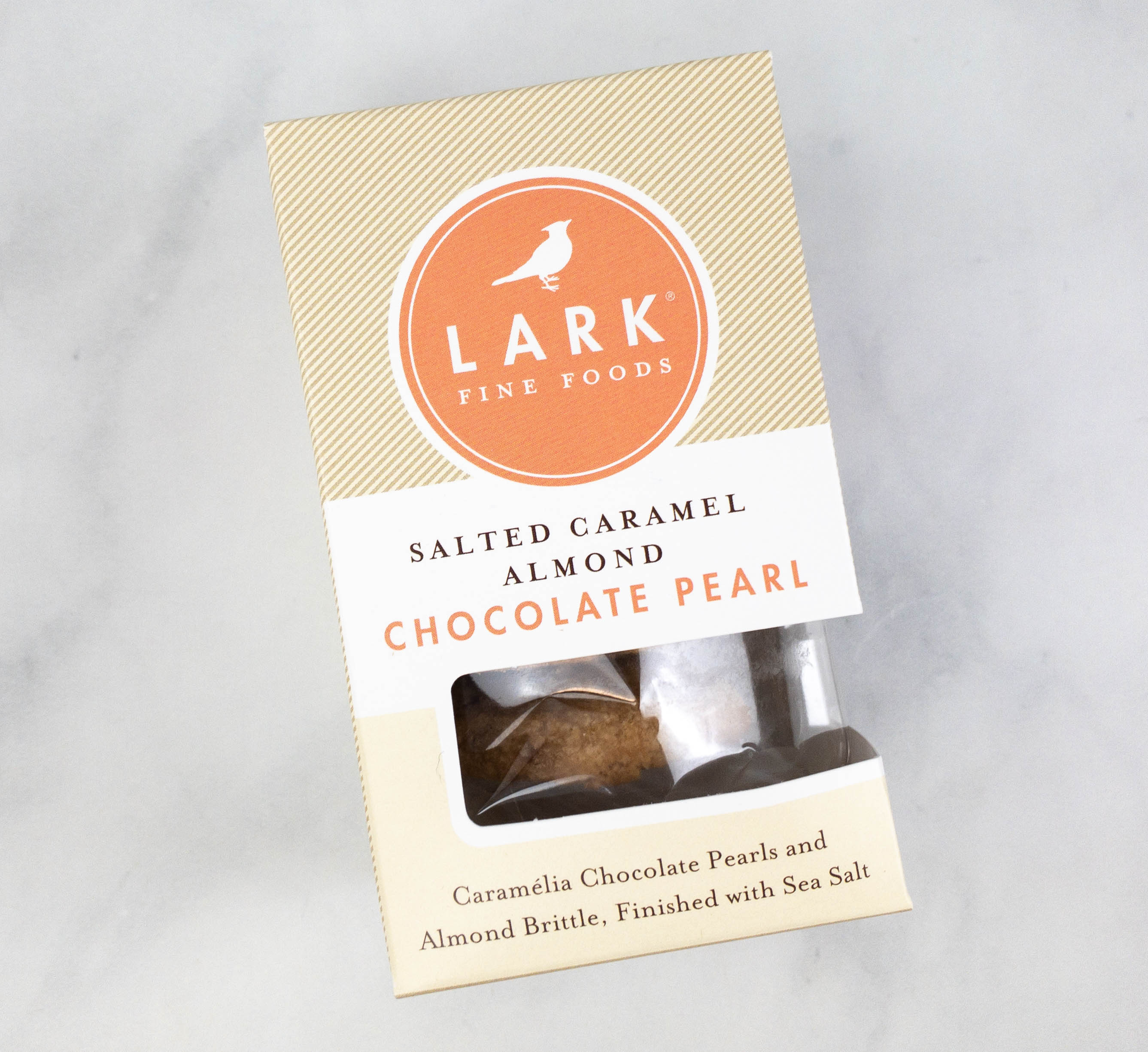 This version of chocolate chip cookies use Belgian chocolate. Yum!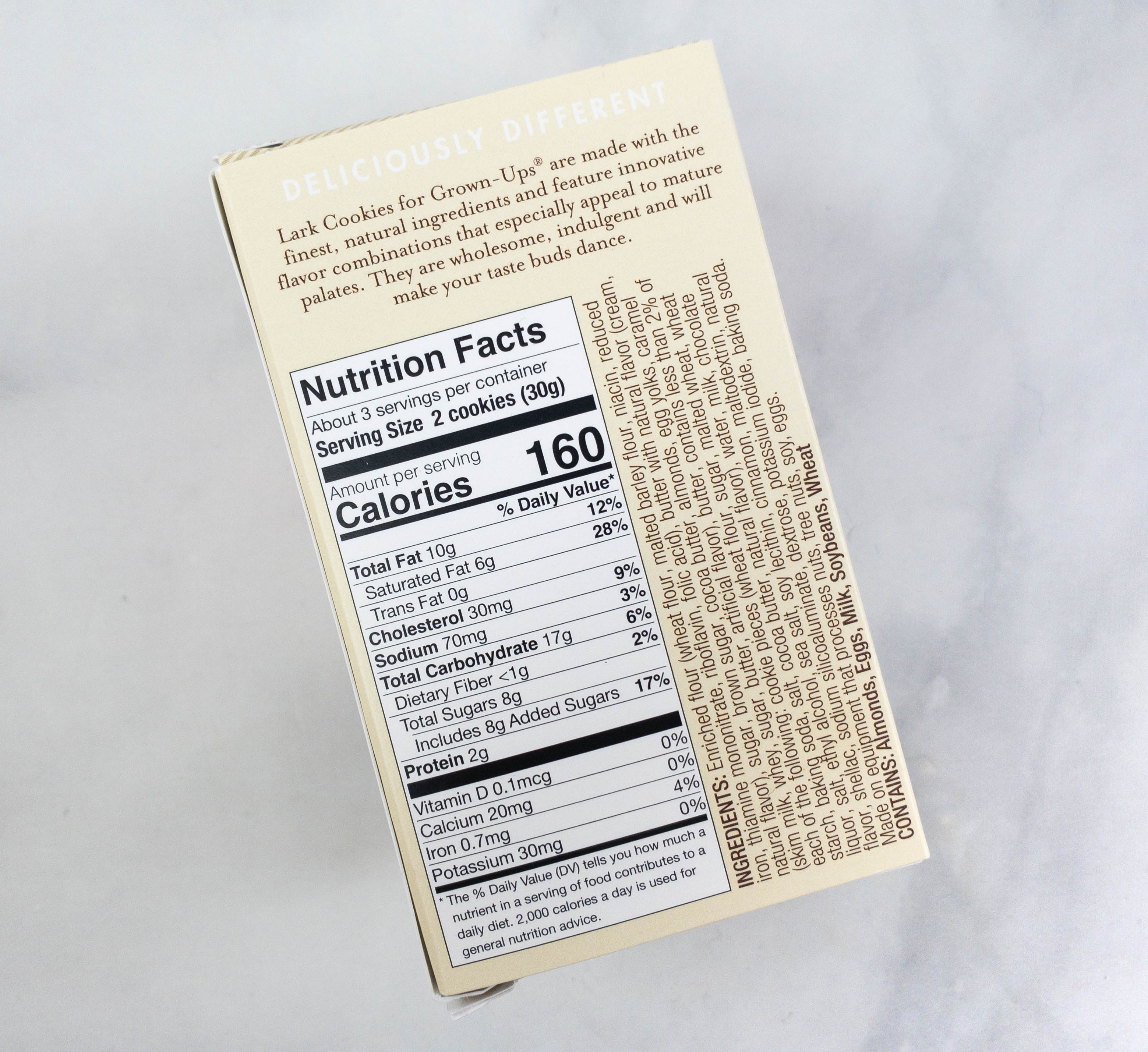 Other ingredients are enriched flour, butter with natural flavor, cocoa butter, sugar, brown sugar, caramel, almonds, and sea salt.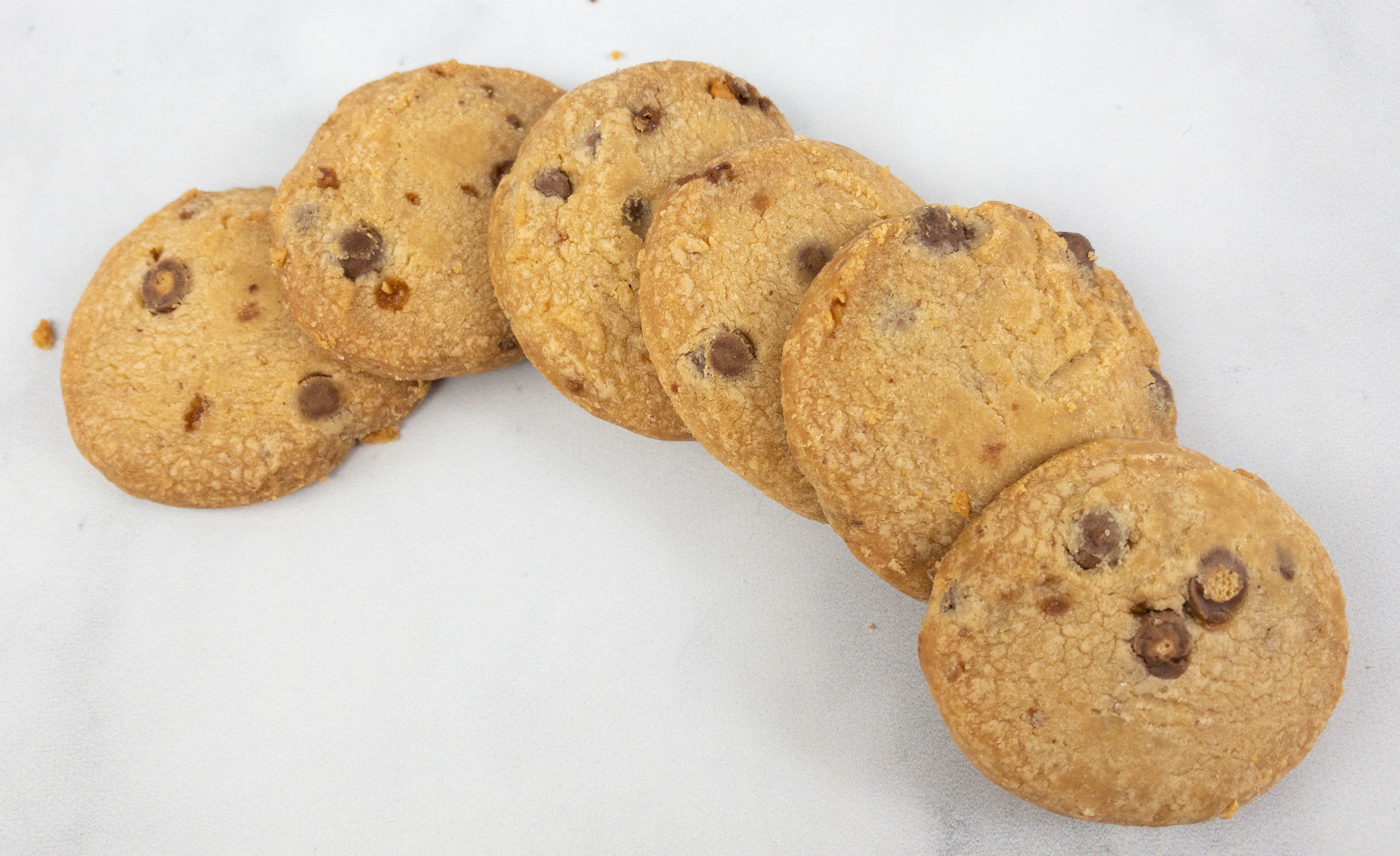 There are 6 cookies inside. They smelled so good as I was taking them out of the box and when I took a bite, they did not disappoint. Each bite has a lovely crisp and is filled with chocolaty flavor. You can pair them with wine, or eat as a separate treat!
I received another box full of fun goodies from Vine Oh! I love my wine selection this quarter, especially the rosé. With summer coming up, a fruity and refreshing wine is a must. Among the lifestyle goodies in the box, my favorite is the earrings. The filigree discs were arranged in such a way that they form a chandelier silhouette and despite the layers, they're pretty light and easy to wear. The woven clutch is also useful for me, as well as the palette. Of course, let's not forget the indulgent chocolate chip cookies! I love receiving snacks to pair with my wine, and this one is not an exception. Overall, this is another jampacked and well-thought-out box that I loved. If you're looking for a wine subscription that sends bonus lifestyle items and goodies, you should check this subscription out! It's also perfect to give as a gift.
What did you think of Vine Oh?