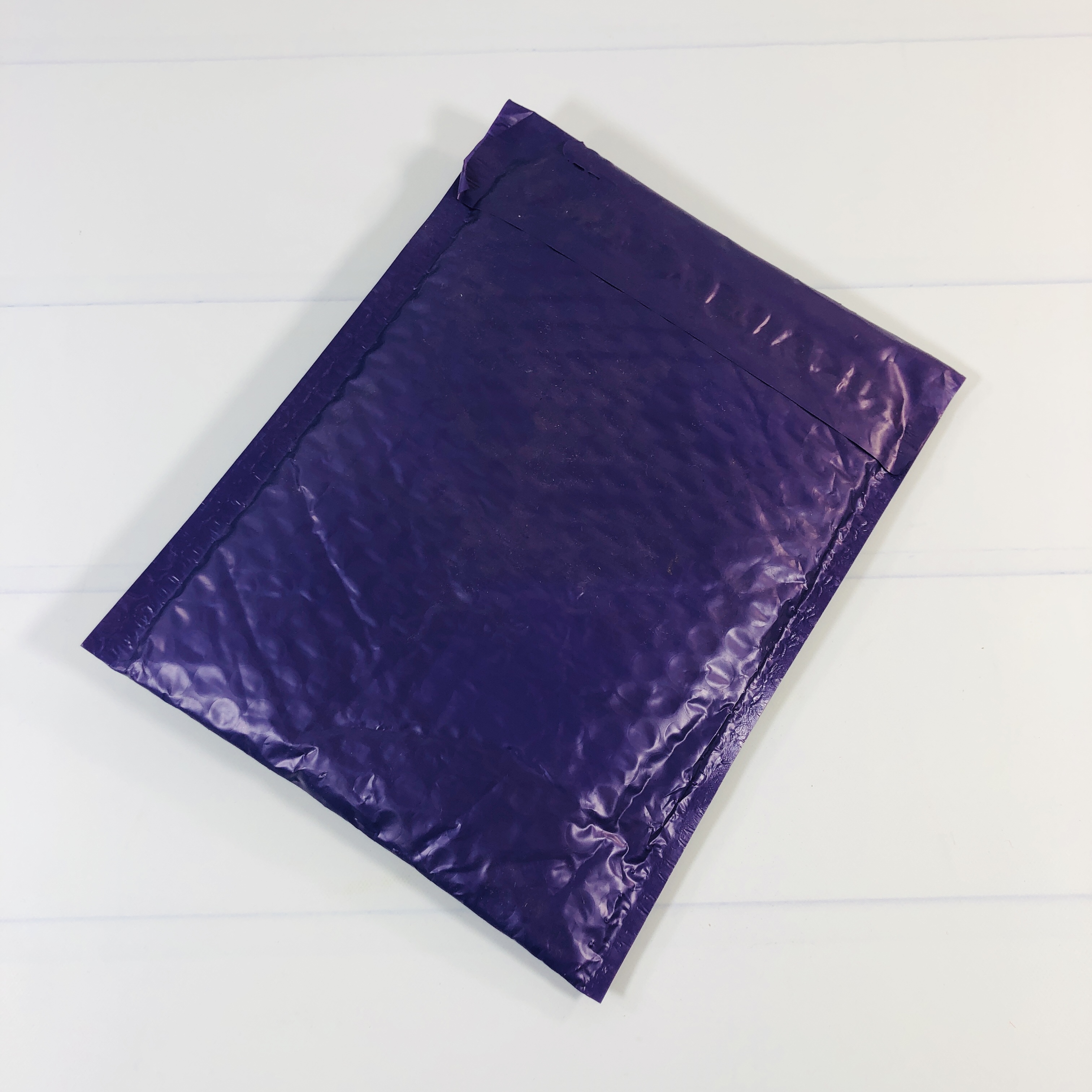 Plum Deluxe is a monthly tea subscription that sends unique blends that they create in-house at their Oregon-based studio. There are a few different levels of membership. You can get 1 tea per month for $12 on a month to month plan, $11 per month on a quarterly plan, or $10 per month on an annual plan. If you want 2 teas per month, it's $17 on a month to month plan, $16 per month on a quarterly plan, or $15 per month on an annual plan.
You can also scope some of their offerings out in their online shop if you want to just buy some pretty cool tea. Once you become a member, you get to join a special community where members plan meetups, ask each other questions, and make suggestions about future limited-edition blends. Members also receive discounts on extra teas and supplies and may receive other specials throughout the year.
Our artisan, handcrafted blends are free from hidden sugars, sulfites, GMOs, and artificial anything (we are also vegan, dairy free, and gluten free).

While each month's blend is a surprise, some of our recent blends have included Mint with a Hint of Coconut, Pears and Cinnamon, Chestnut Chai, and Raspberry Earl Grey. We'd tell you the next one, but… it's a surprise!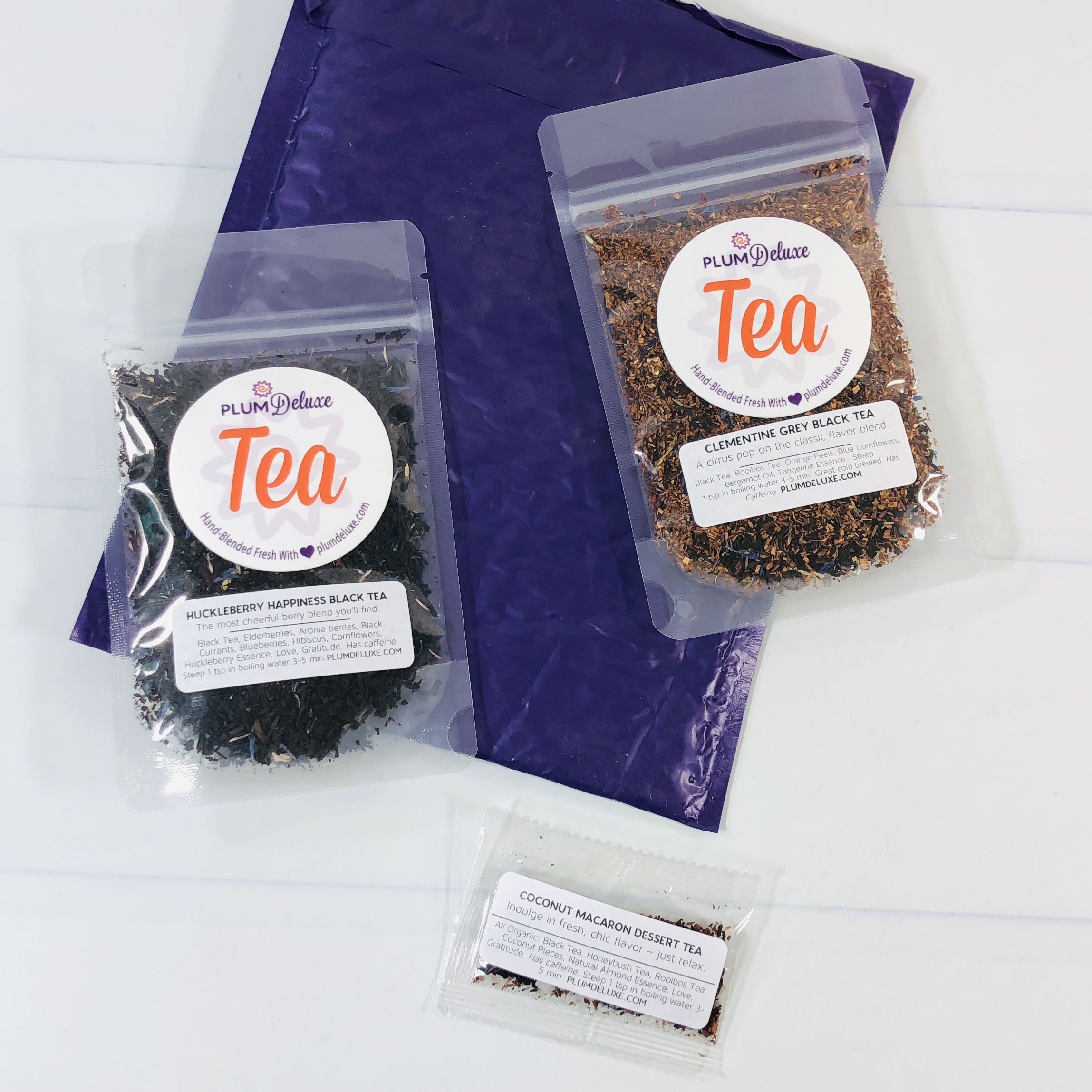 Everything in my box!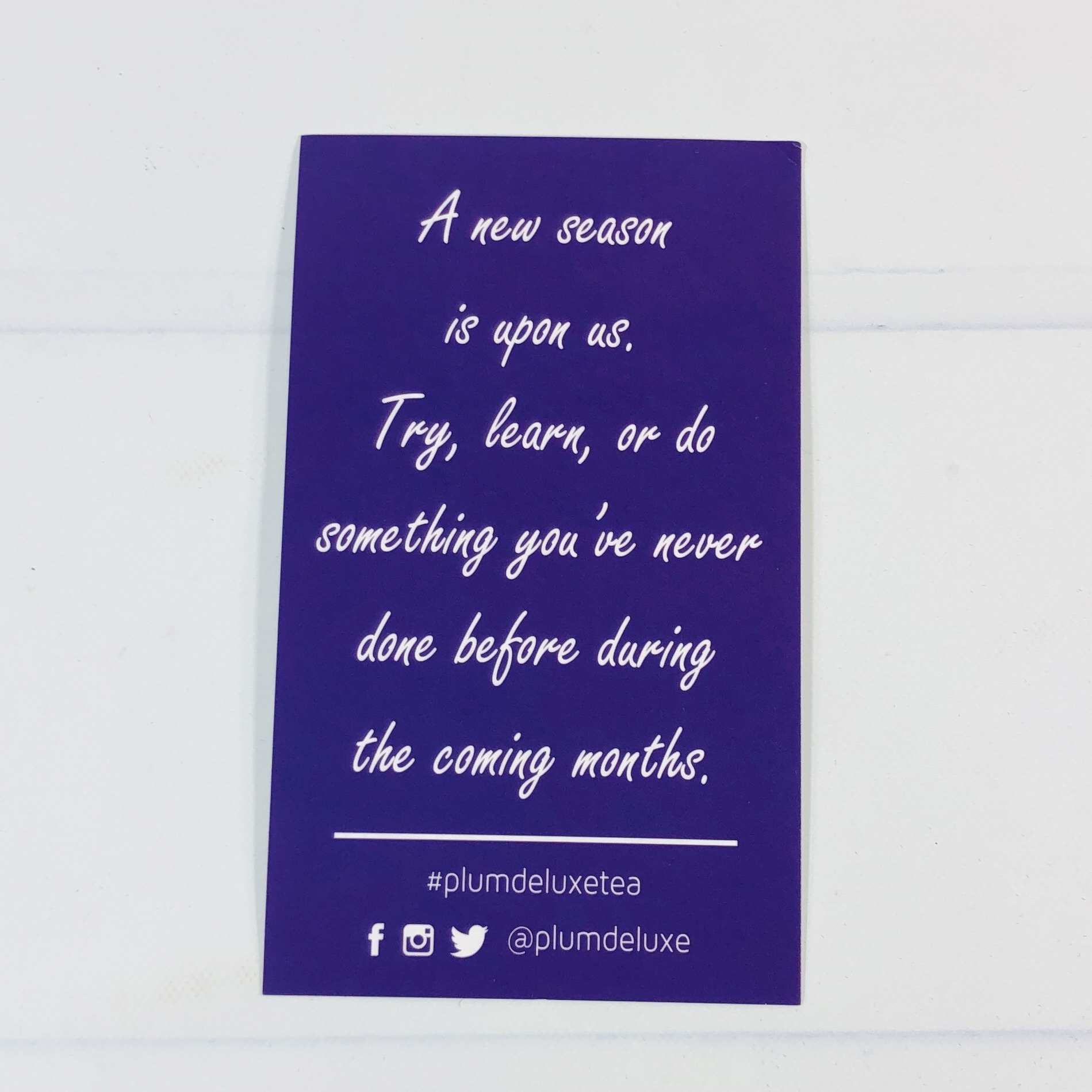 I received a card that would double as a bookmark. I don't always read while drinking tea, um, well, ok I guess I actually do now that I think about it.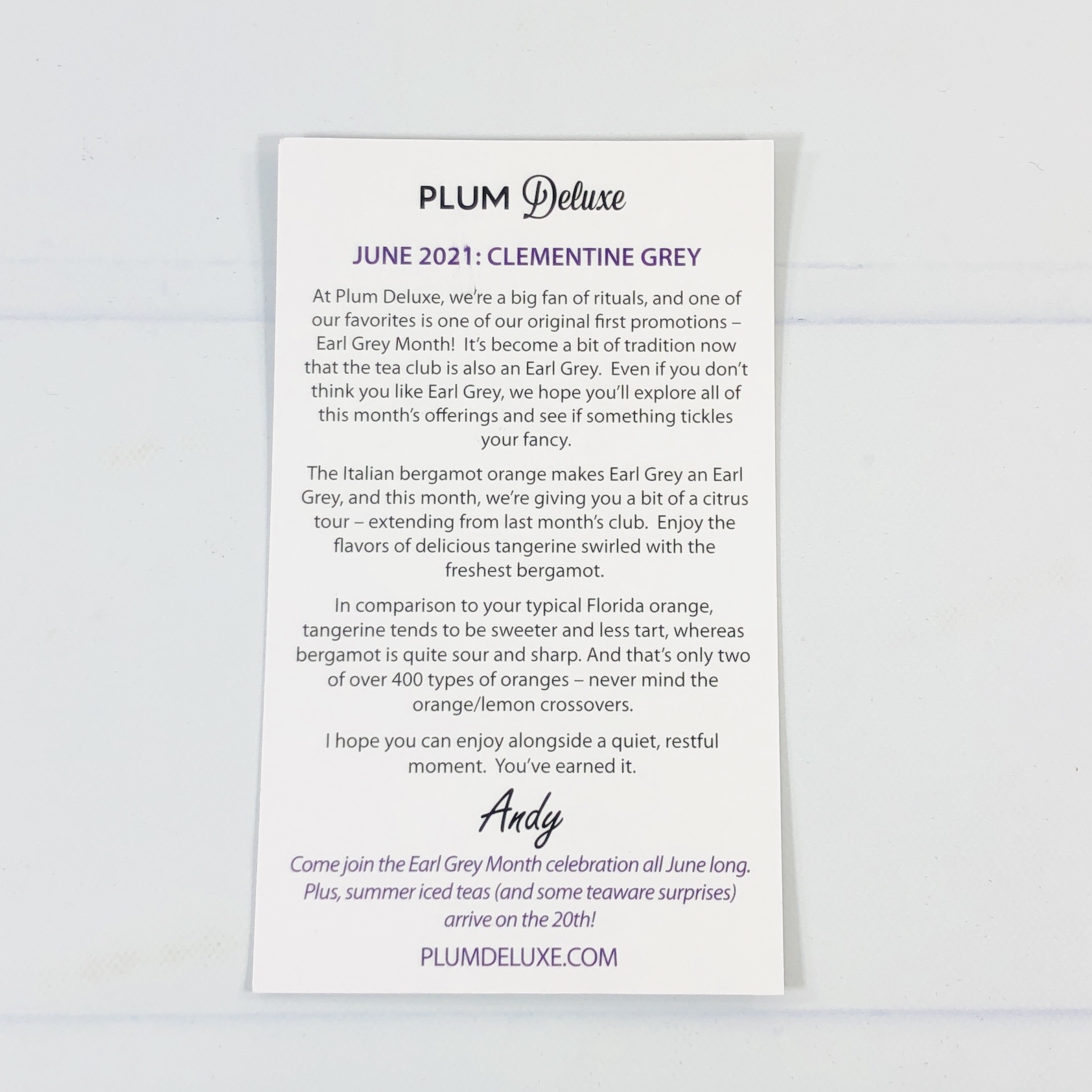 The back of the card discussed the exclusive tea for June! We were able to link to it below, and while I thought the tea was exclusive to subscribers, I think it's just a limited edition so anyone can buy it, but only for a few more months.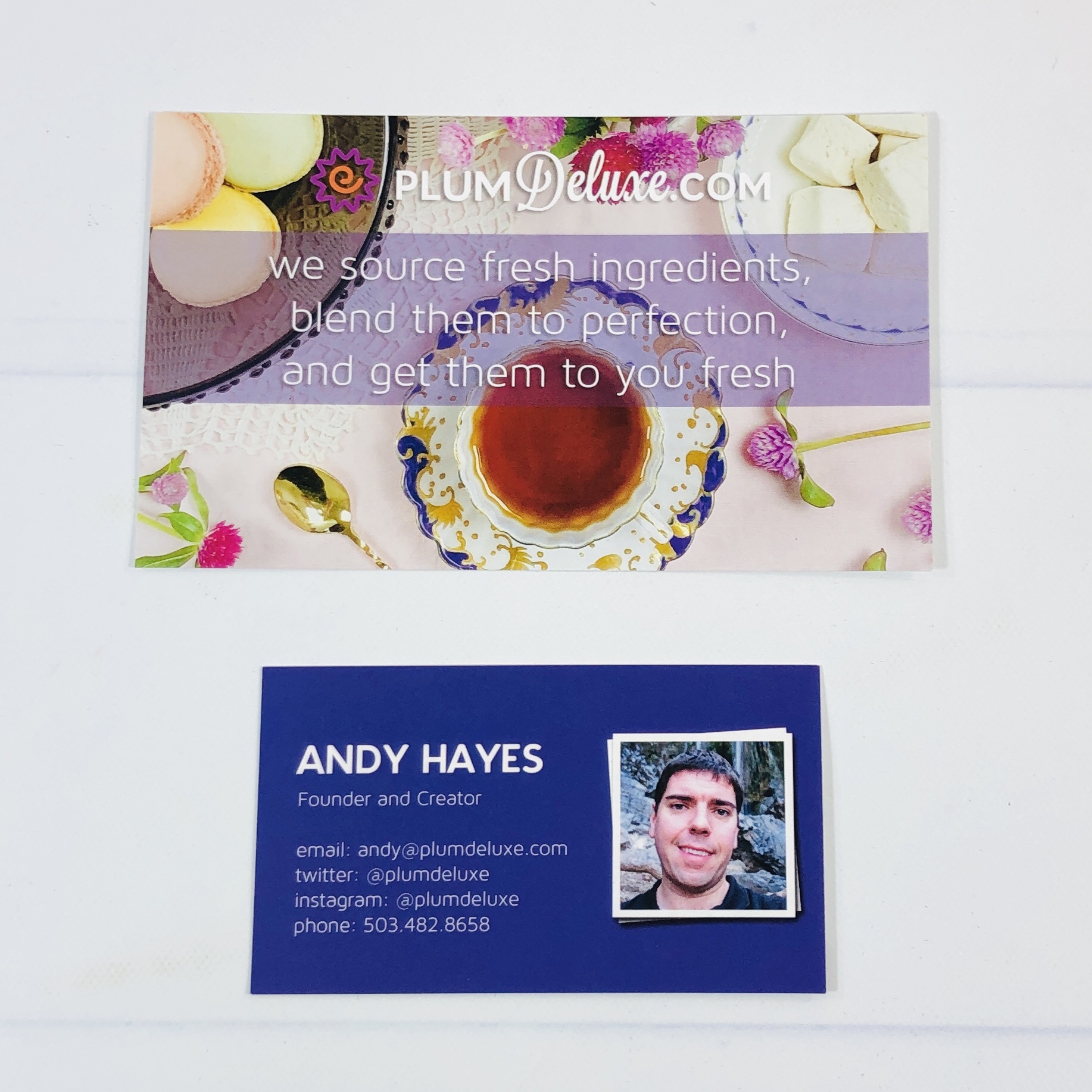 Two more cards were included. The card on top reminds me that Plum Deluxe uses fresh ingredients to make their blends. The card on the bottom has the owner of Plum Deluxe and his contact info.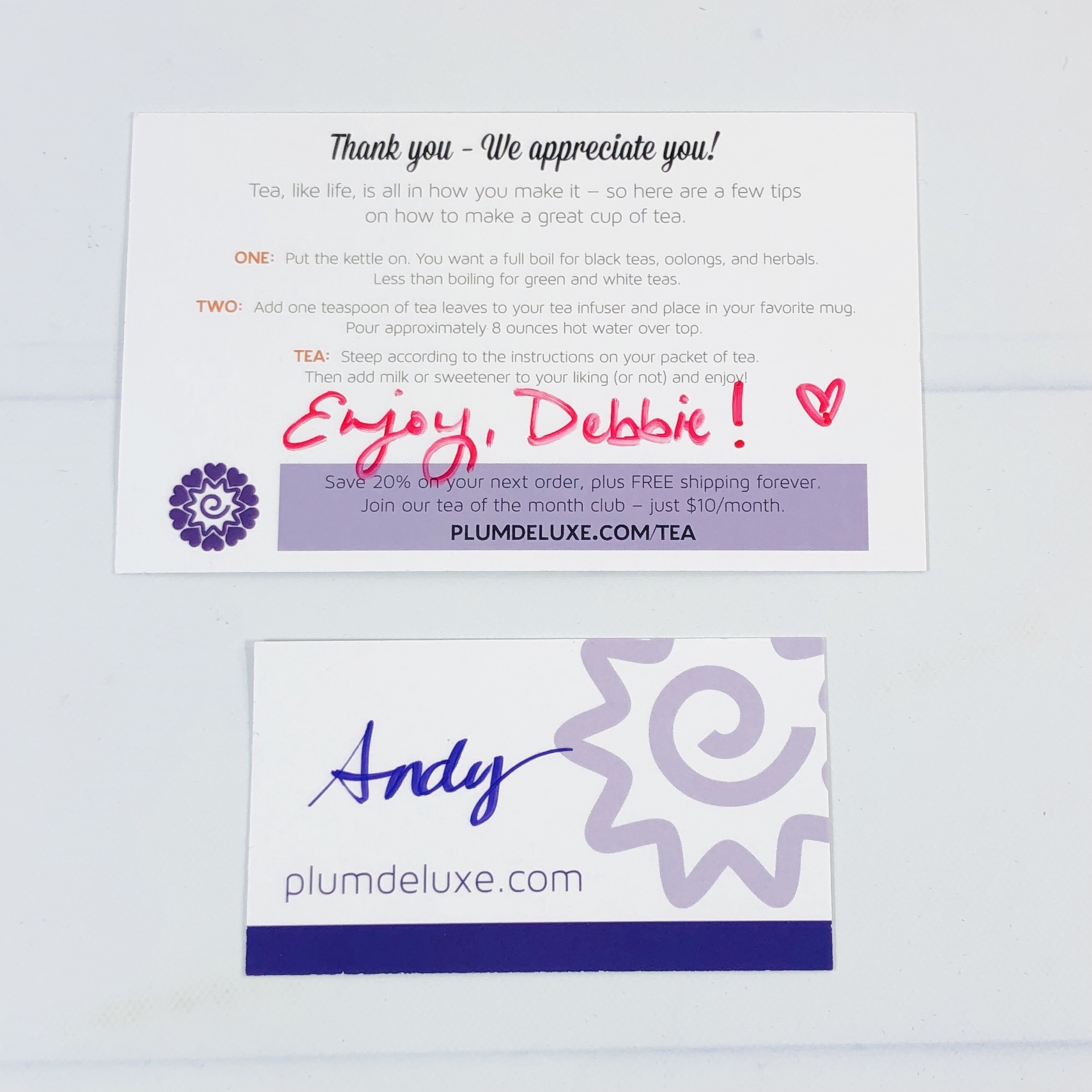 Here are the backs of those cards.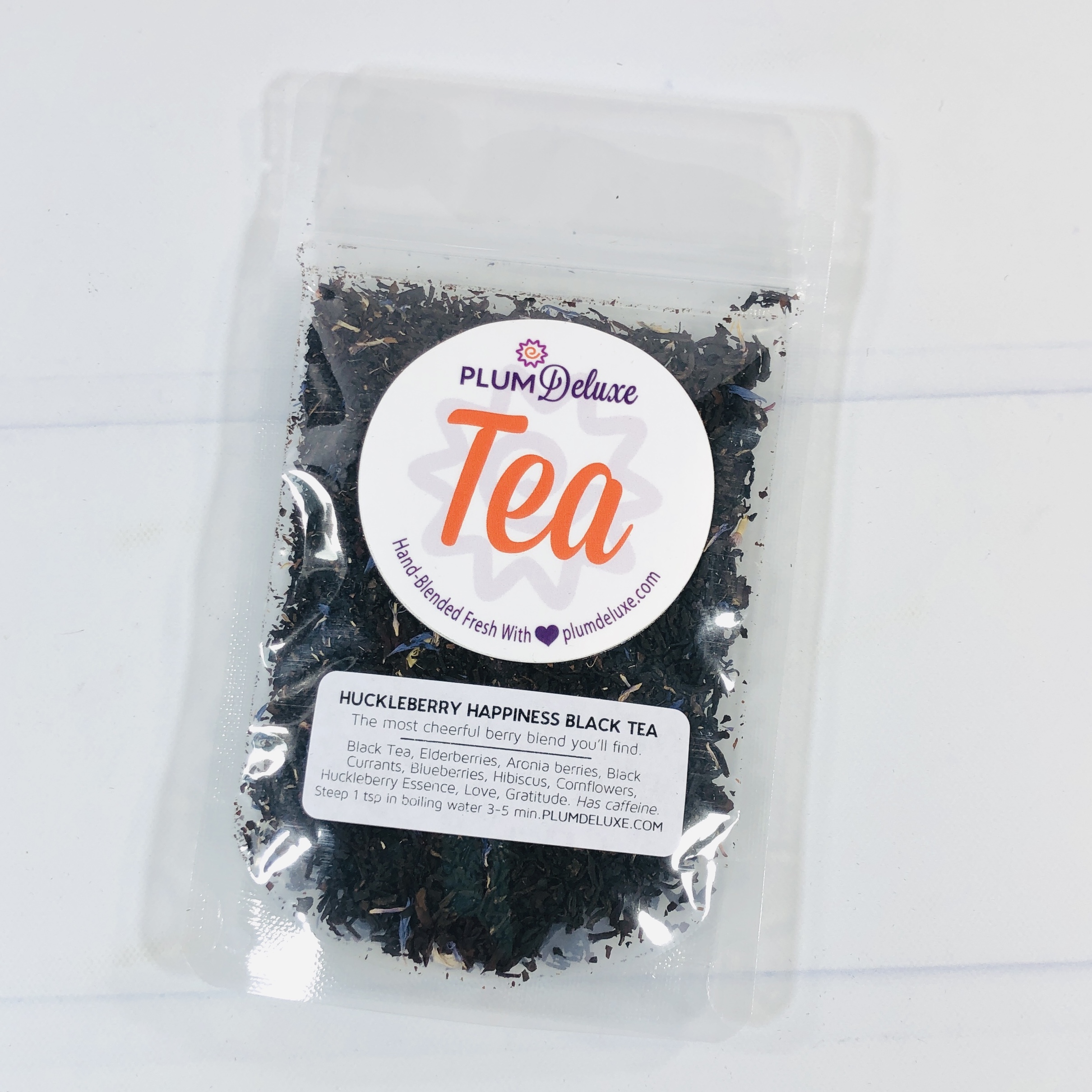 Huckleberry Happiness Black Tea I love a nice berry-flavored tea and this hit the spot! The base is black tea from Ceylon and there are fruity additions like elderberries, currants, blueberries, and hibiscus. It is flavored with "huckleberry essence" and it turns out a huckleberry is a type of blueberry.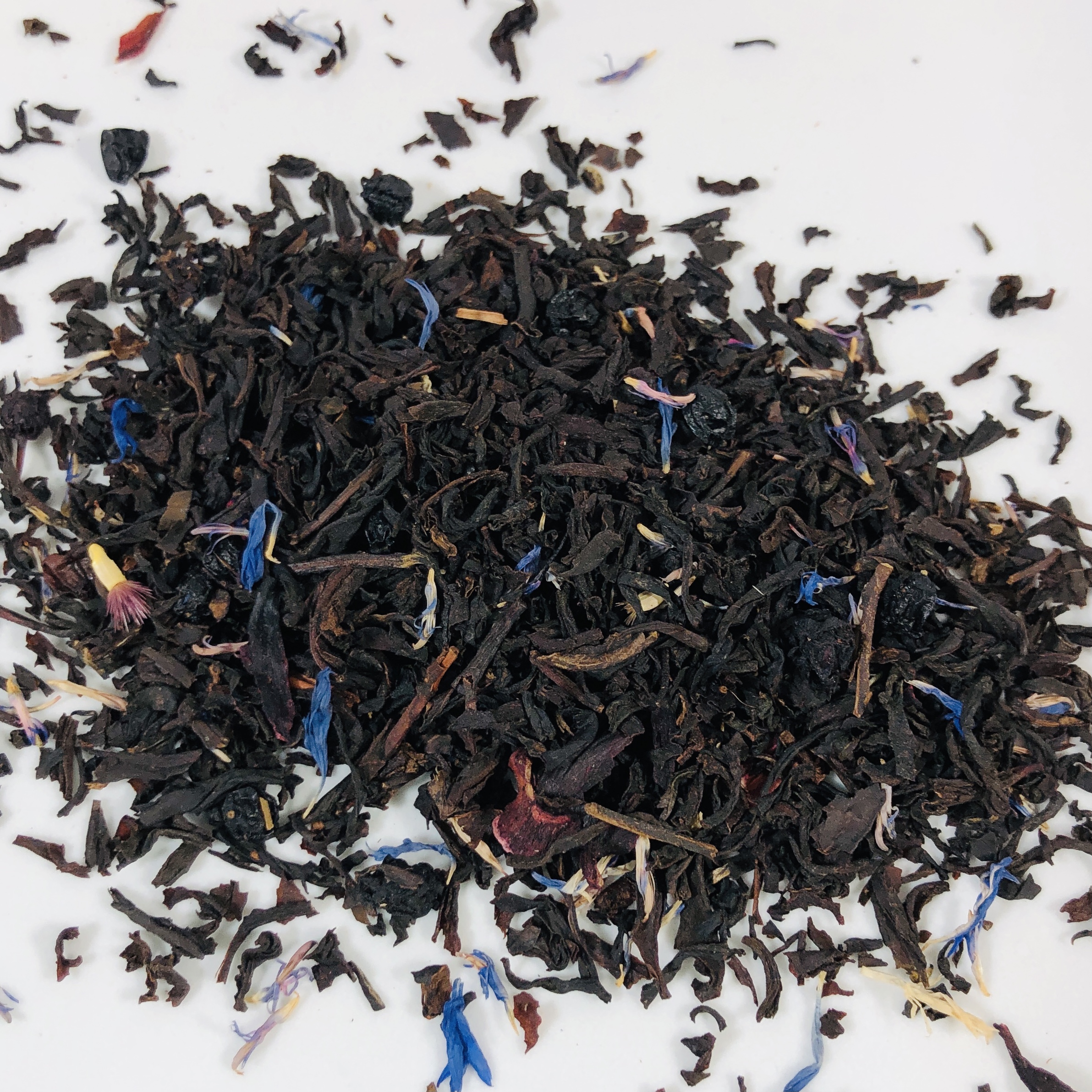 There are pretty pops of blue thanks to cornflower petals. I took a sip after steeping and thought it could use some sugar and wanted to add milk, which isn't usually a good combo when a tea has hibiscus (which will cause the milk to curdle). The website said it wouldn't curdle because the amount of hibiscus wasn't heavy and they were correct, so I had a lovely afternoon fruity tea. The Ceylon tea stands out here and the fruity flavors enhance but don't compete with or cover up that black tea goodness. This would also be wonderful iced and that is how I will prepare the rest of my bag since summer lasts forever here in Central Texas.
Clementine Grey Black Tea I love a good Earl Grey and while this tea is similar, it's also very different and I liked it too! Classic Earl Grey is usually just black tea and bergamot oil, which gives it that unmistakable flavor. This version has all of that plus rooibos, orange peel, blue cornflower petals, and tangerine essence. It is also a limited edition flavor that is only here until September 1st, and you can opt to have Plum Deluxe leave the black tea out if you prefer a caffeine-free herbal.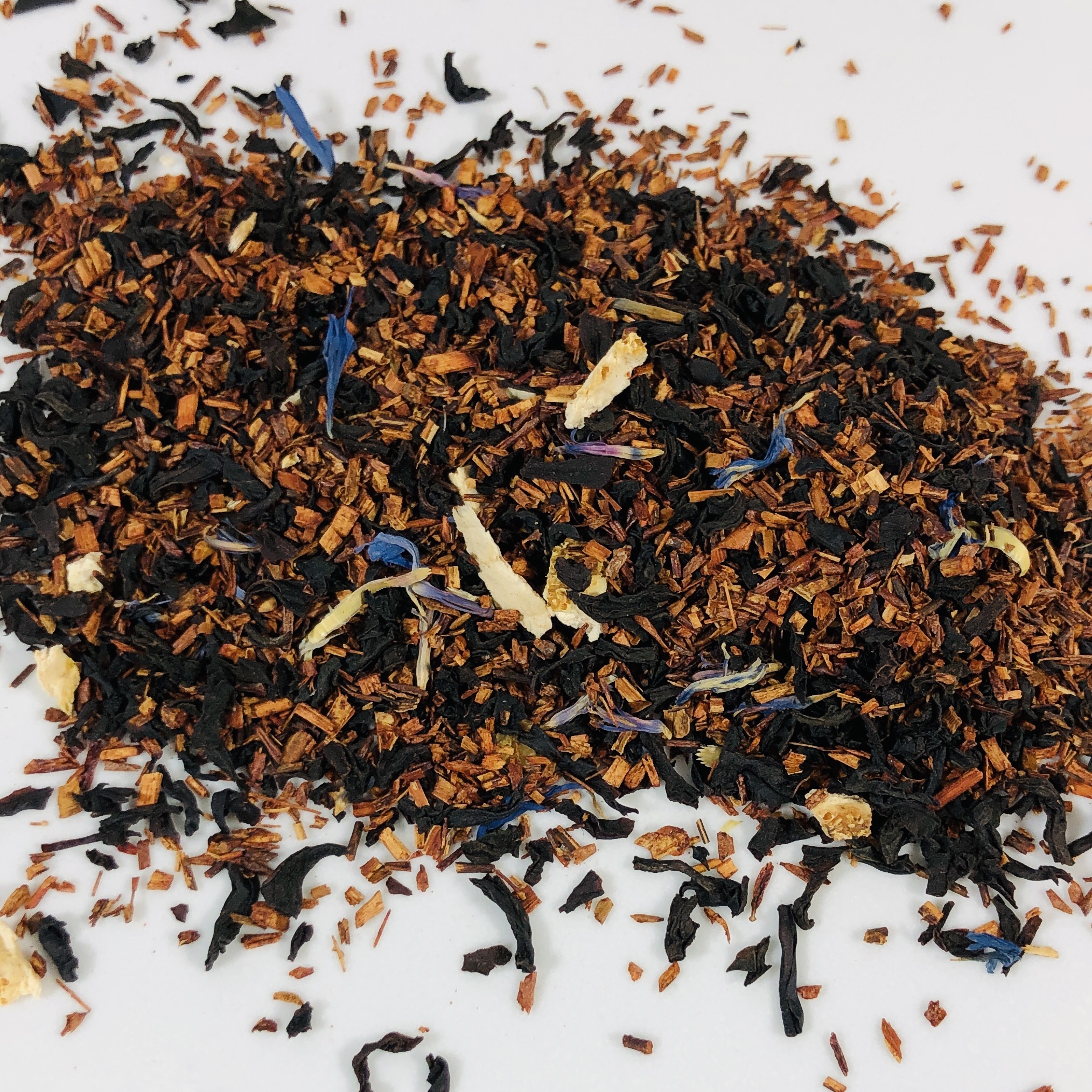 It looks so pretty with those flower petals! I used 1.5 teaspoons and was surprised at how robust this tea was, although it wasn't bitter. I still added sugar and a little milk and found that the flavor was fruity but also perfumey, and the orange and tangerine are more prominent here than the bergamot. The rooibos is also noticeable. Overall I felt like this made for a lovely afternoon tea option.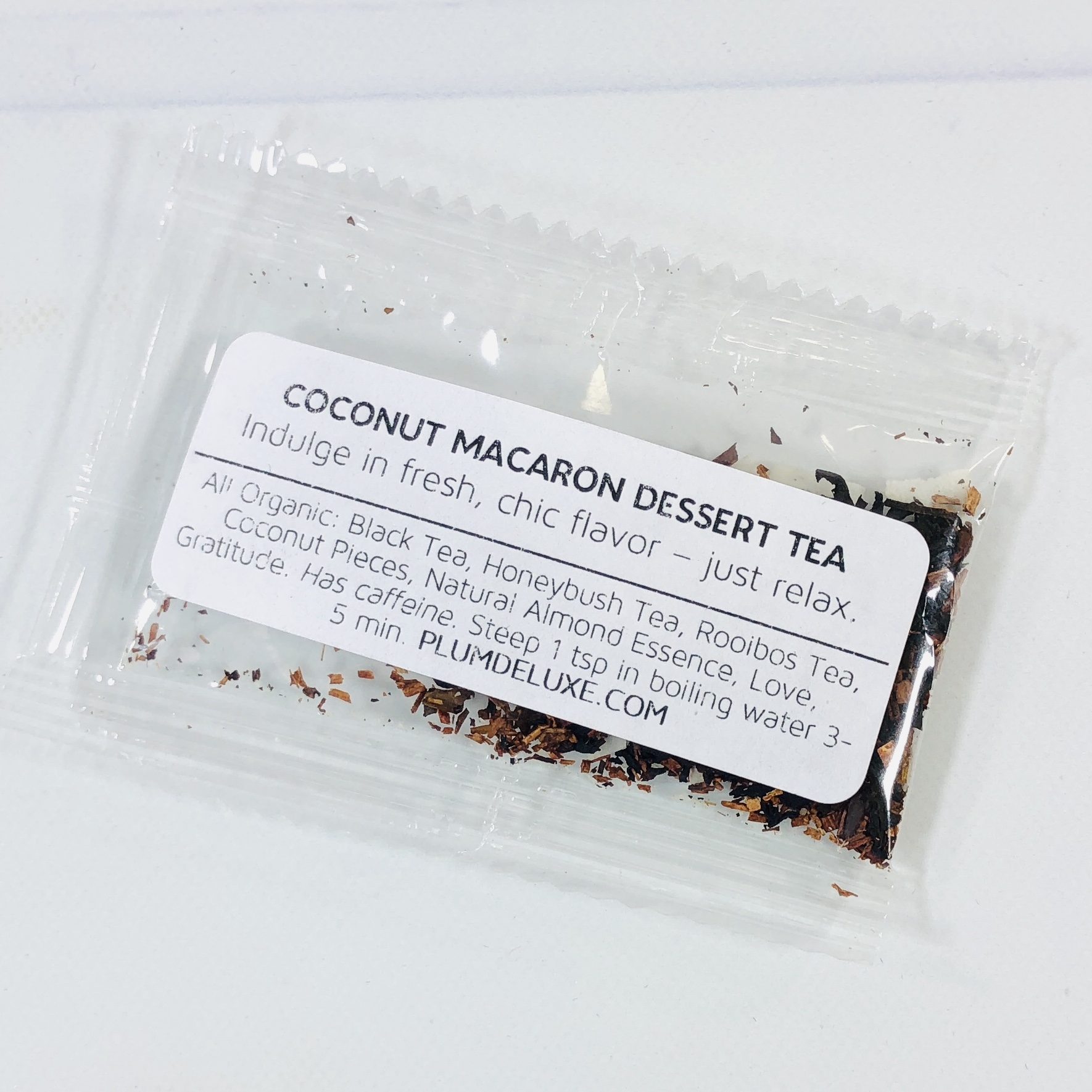 Coconut Macaron Dessert Tea I received a single serving sample size of this tasty dessert tea that sounds like one of my favorite candy bars, minus the chocolate.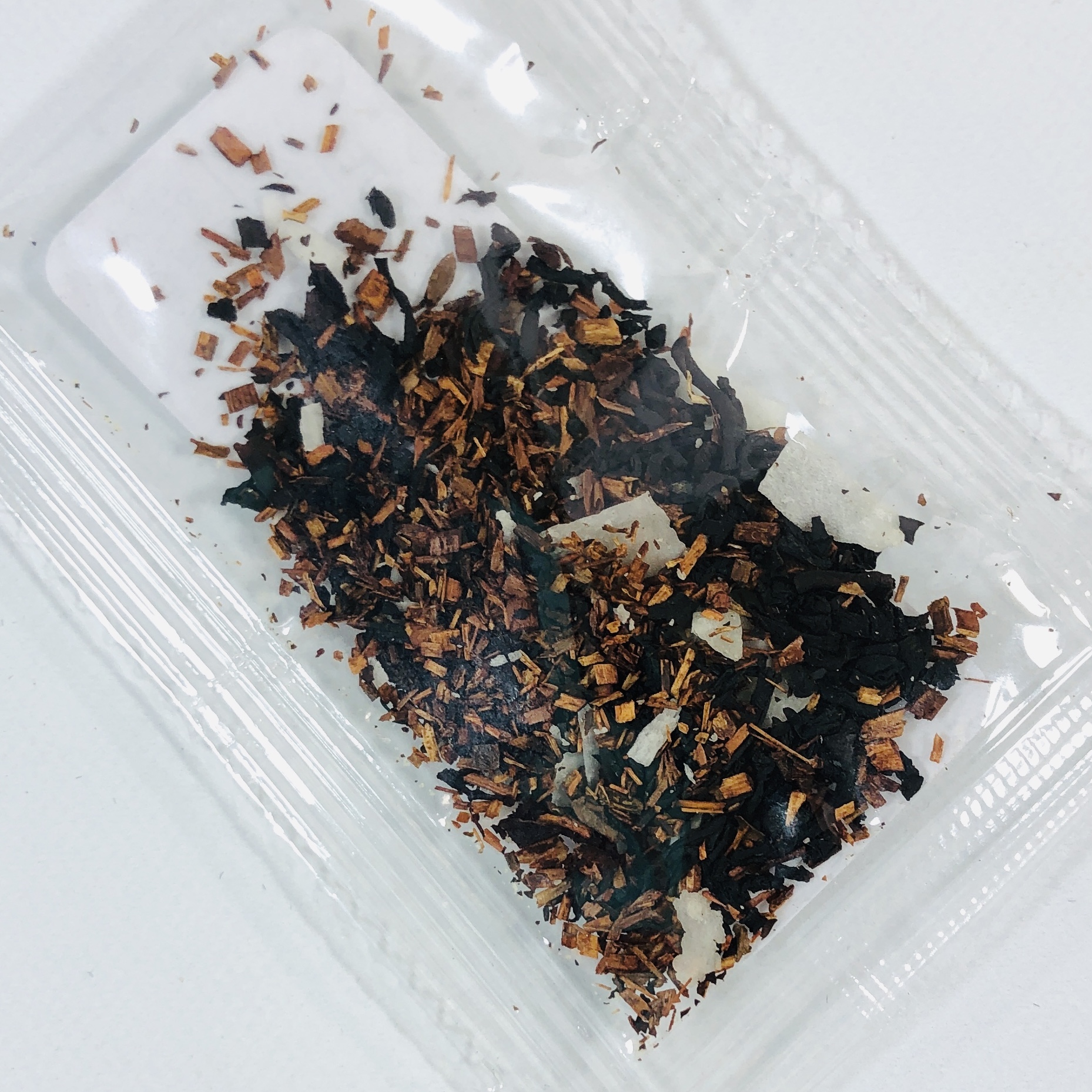 Black tea, rooibos, coconut pieces, and almond essence steeped into a not too strong black tea that had wonderful tropical notes and the first few sips reminded me of coconut for sure. I added sugar but not milk but that would probably make it even more decadent.
I love tea and the blends I tried in the June box from Plum Deluxe were absolutely tea-licious! The coconut sample was one and done but there is plenty of the other two teas to keep me in tasty sips for a while longer. The twist on Earl Grey was exciting and a far cry from the usual offerings in that flavor profile. Huckleberry Happiness really did make me feel happy and I will be trying it out iced next time I steep it up. I can't wait to see what the featured flavor is for July!
What do you think of this month's Plum Deluxe?