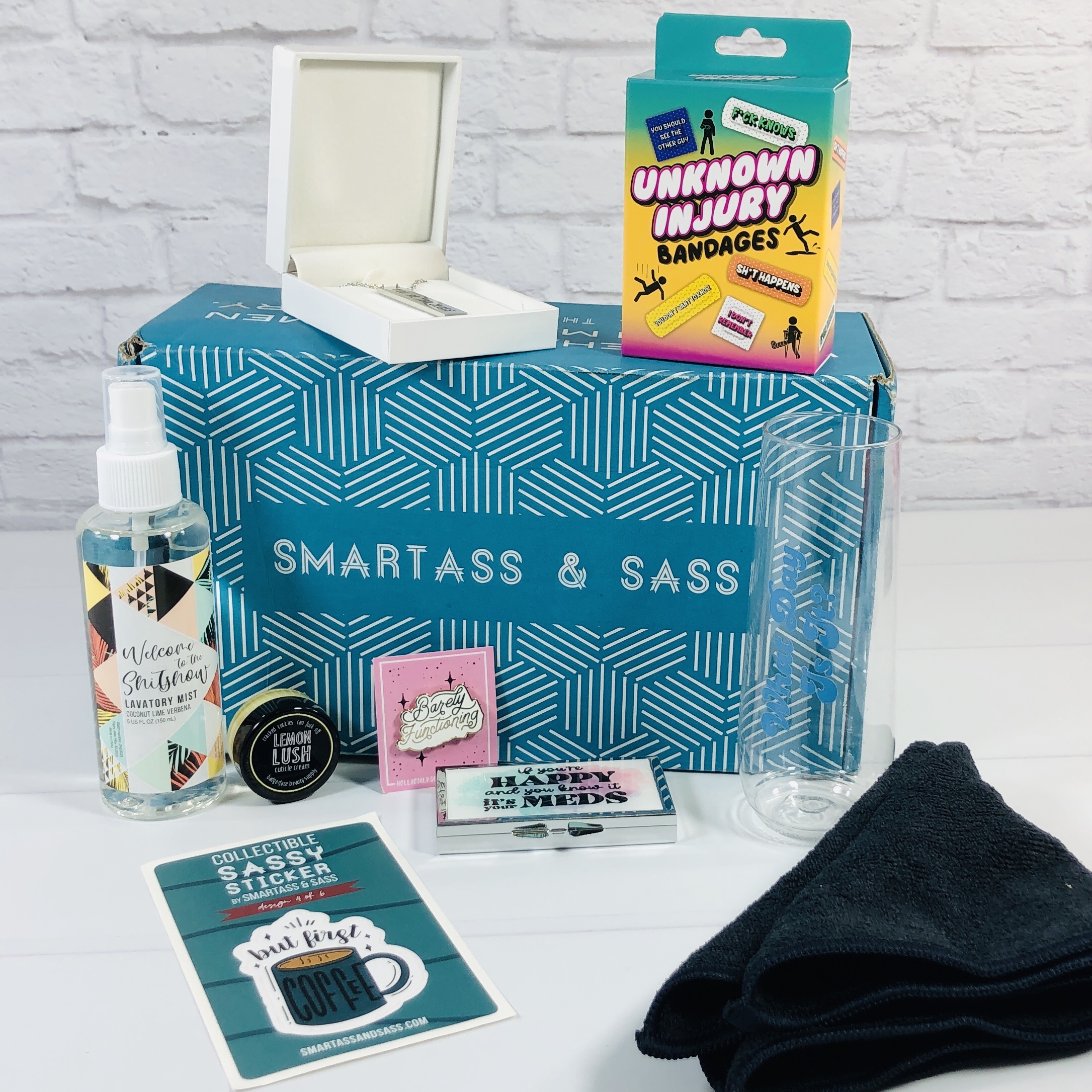 Smartass & Sass Box, a fun women's subscription box that sends the sassiest products, has a great deal this July!
There's still time to get your favorite grad a gift they won't forget! Tons of new shop items have been added recently! From coffee mugs and wine glasses to jewelry and t-shirts…perfect gifts for the hard-working graduate.
Save 25% on all new subscription box order! Use this link to subscribe and use the coupon code FIREWORKS25 at checkout. Ends 7/31. Works on full-length of subscription!
Get 25% off at Smartass & Sass!
Check out all our Smartass & Sass Box reviews to find out more about this subscription box!
Smartass & Sass Box is a monthly lifestyle subscription box for for snarky ladies. For $34.95 per month, you'll get 4-8 hilarious, handpicked and usable items from artists and small businesses.
We also have the spoilers for the July 2021 box!
The theme is KEEP KICKING ASS!
This month's subscription is a reminder to never stop the grind. Kicking ass turns from a hobby into a lifestyle after a while– and that's what we aim for. July is all about grabbing the day by its balls and seizing it to the highest level.
Each box includes:
Keep Going Notepad!
Original Oracle Deck by Rebel Deck
Box subscribers will be getting:
The Original Oracle w/ Attitude (SPOILER)
* Trinket tray
Thought-jotter*
Temp-controlled drink holder
Custom headband*
Greeting card
Eye mask (beauty product)
Writing utensil*
AND a sassy themed shirt for BIG box subscribers!
*These items contain profanity
See all our Smartass & Sass reviews to find out more!
About Smartass & Sass:
Smartass & Sass is a gift and subscription service with snark. We have a monthly subscription, an online shop, and one-time theme boxes—perfect for anyone who loves to laugh.
Smartass & Sass has three subscription options!
Shirt Only Subscription ($15.95 per month) Get a soft-blend, locally printed unisex tee.
Box Subscription ($34.95 per month) Get a monthly dose of sass! 5-8 hilarious and usable items to make you laugh your a** off.
BIG Box Subscription ($49.95 per month) Includes the same 5-8 snarky goods as the regular-sized box plus a soft, locally-printed unisex shirt each month (sizes XS-3XL).