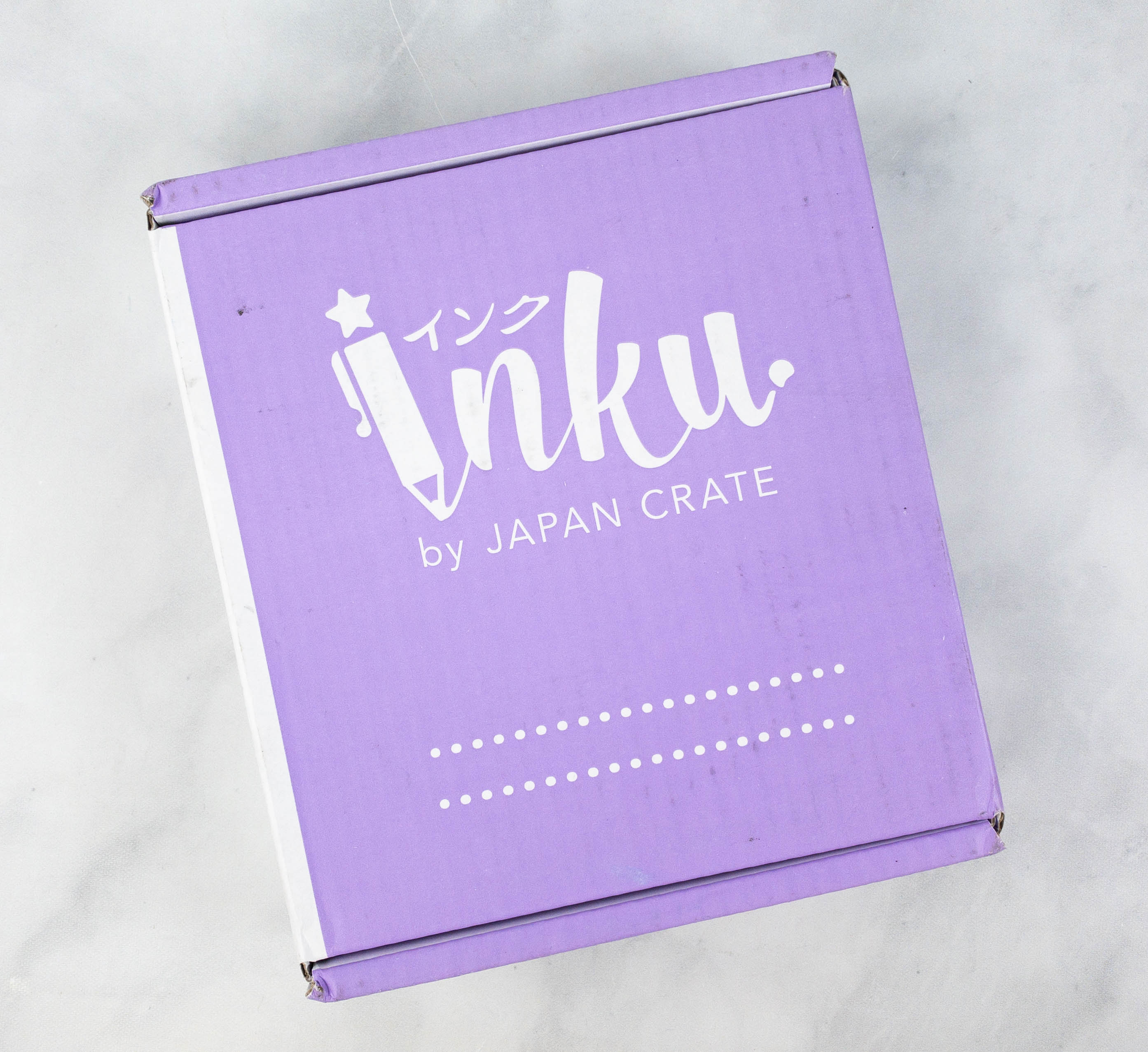 Inku Crate is a monthly paper and stationery subscription box from Japan Crate. You can get this cute kawaii box for $35.95 per month, and there's also an option to get a 3-month, 6-month, or 12-month prepaid subscription. Each month, the box includes a selection of 6-8 Japanese stationery items like notebooks, planners,  pencils, pens, markers, stickers, office supplies, and even origami paper and other fun accessories. Inku Crate's kawaii stationery box made the list in our 2021 readers' choice picks of best paper and stationery subscription boxes!
DEAL: Get $3 off on your first box! Use this link and coupon code HELLO.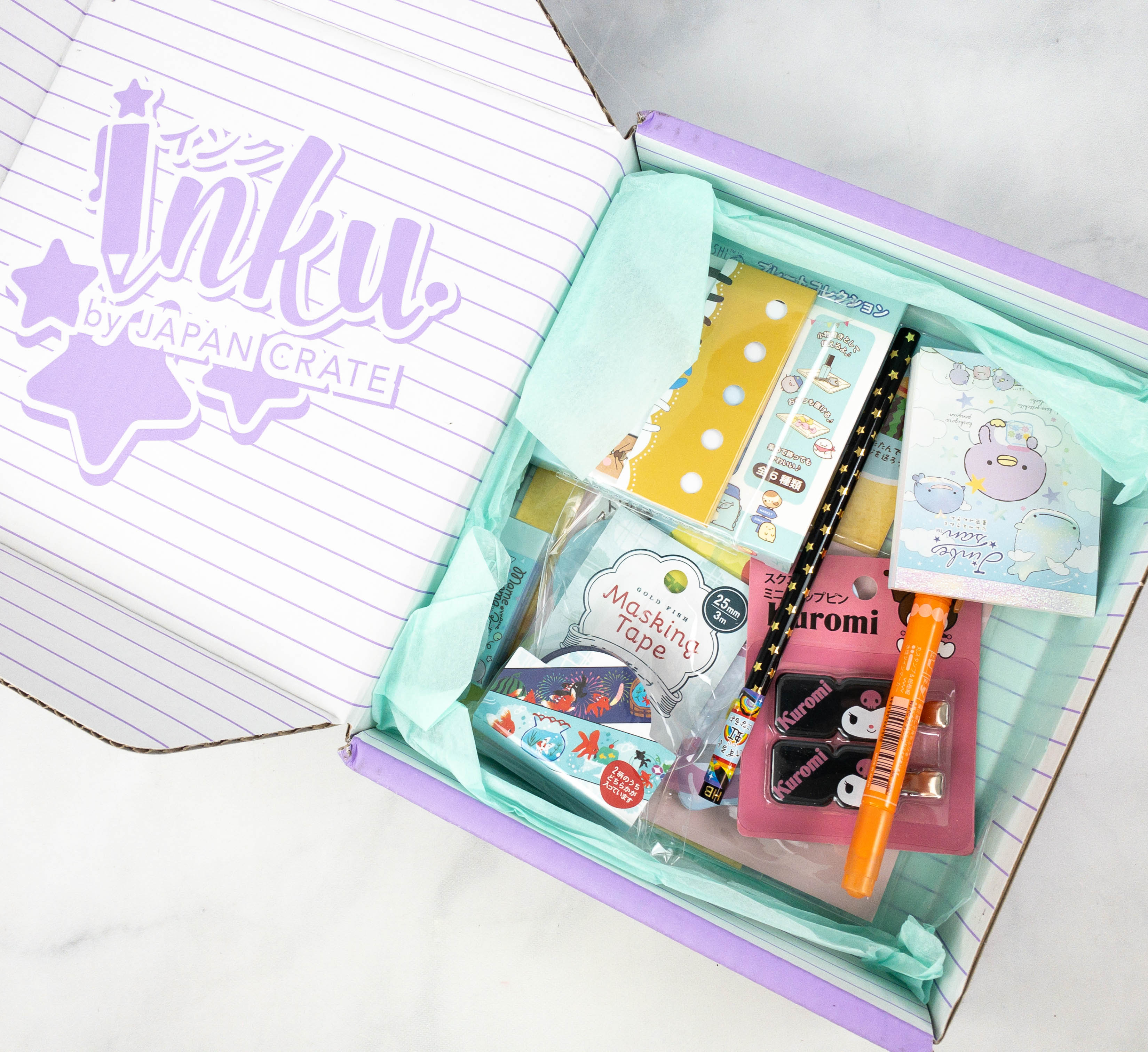 The stationery items were wrapped in tissue paper. Some even came in their original packaging.
The box also includes a booklet.
Inside the booklet is a list of all the items in the box, plus a brief description for each of them.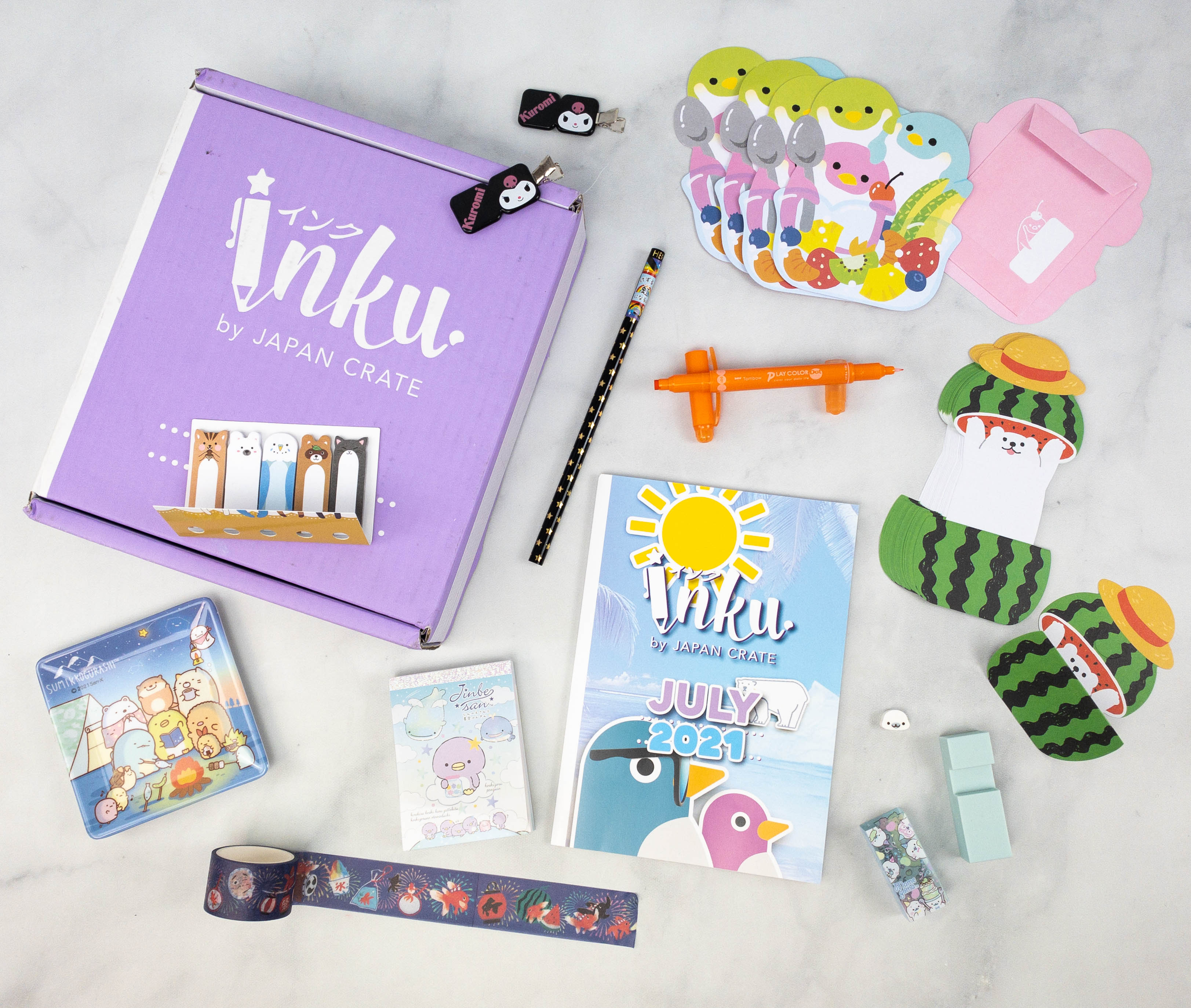 Everything in my box!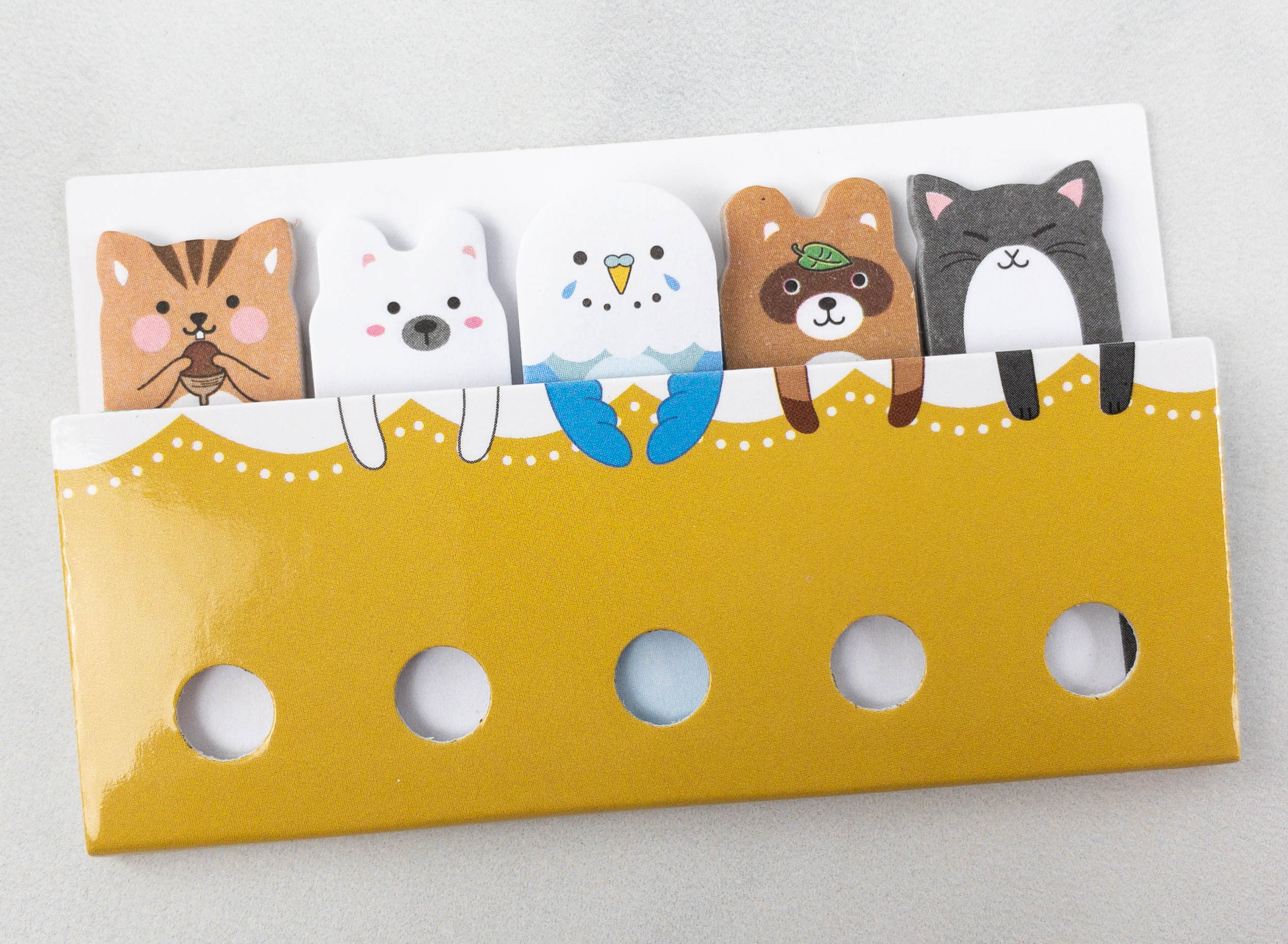 Animal Tab Sticky Note Set. These cute sticky note strips are great for marking journals or books! Subscribers will receive 1 out of 3 designed sets.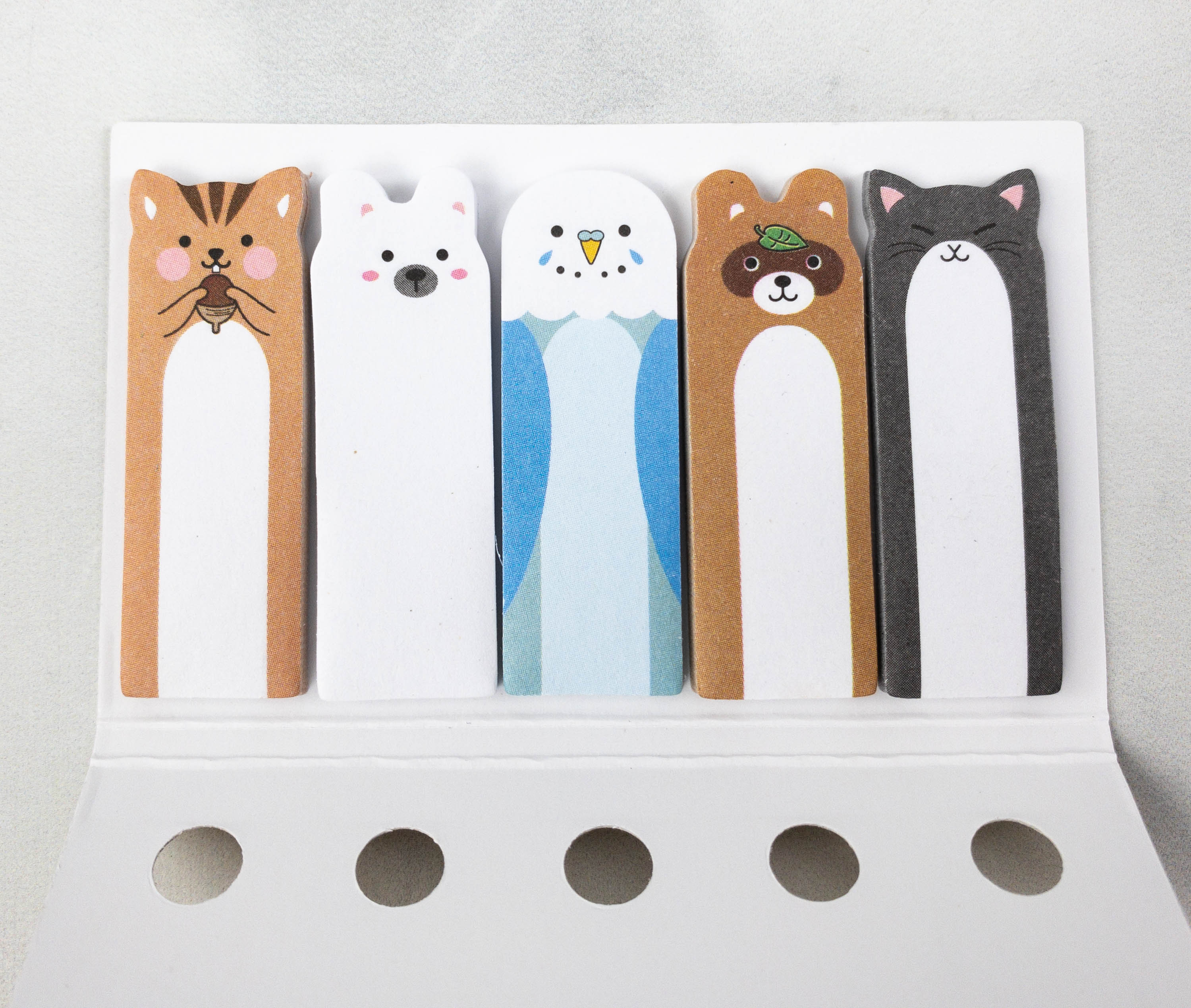 The set I received features a squirrel, alpaca, bird, raccoon, and cat. They are attached to a cardstock packaging so they look really organized.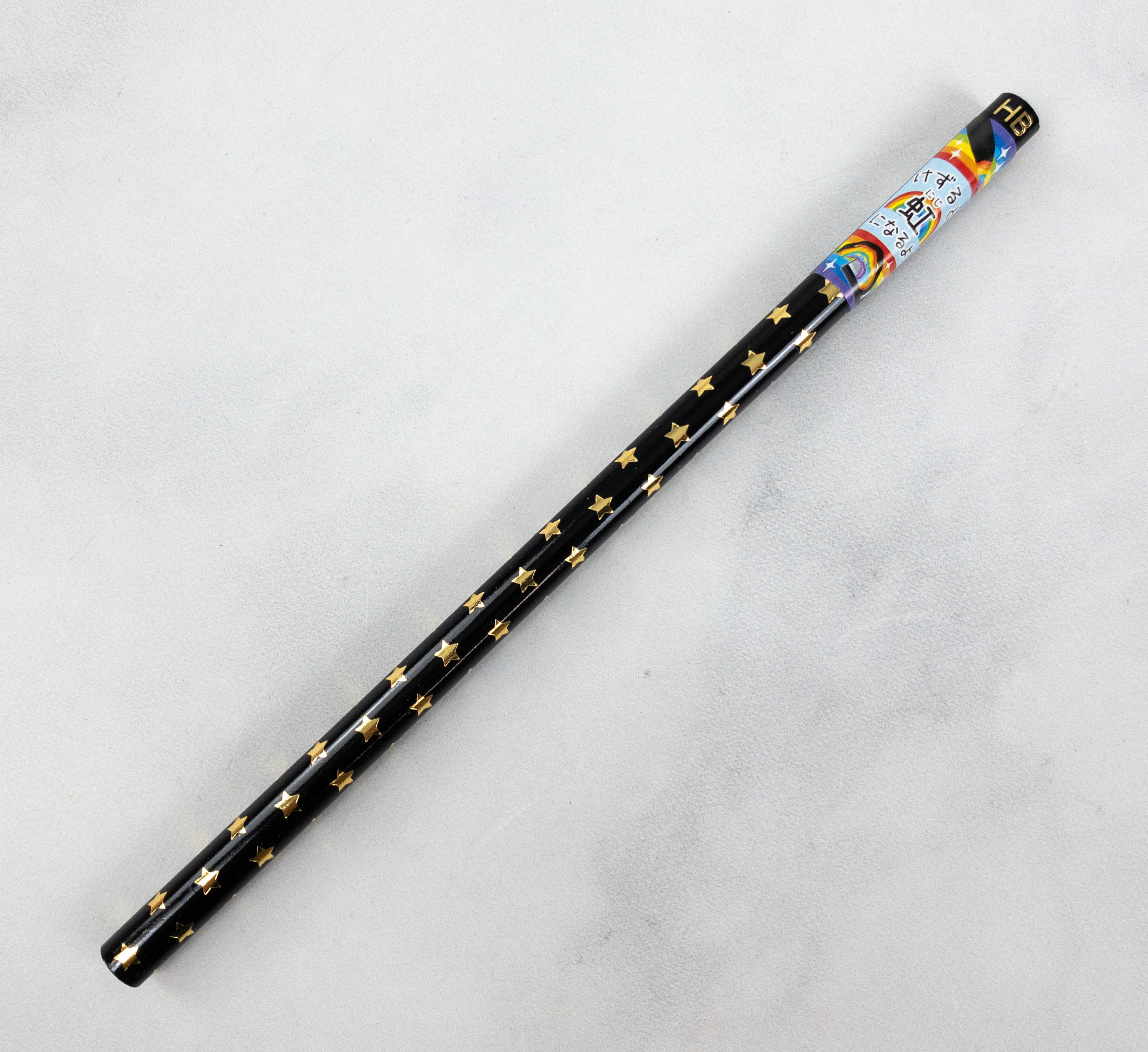 Rainbow Pencil. Whether for drawing or taking notes, this pencil is perfect to use. It's also pretty unique because it features different colors, thus its name. Subscribers will receive 1 out of 4 designs. Mine is a black pencil with gold colored stars all over!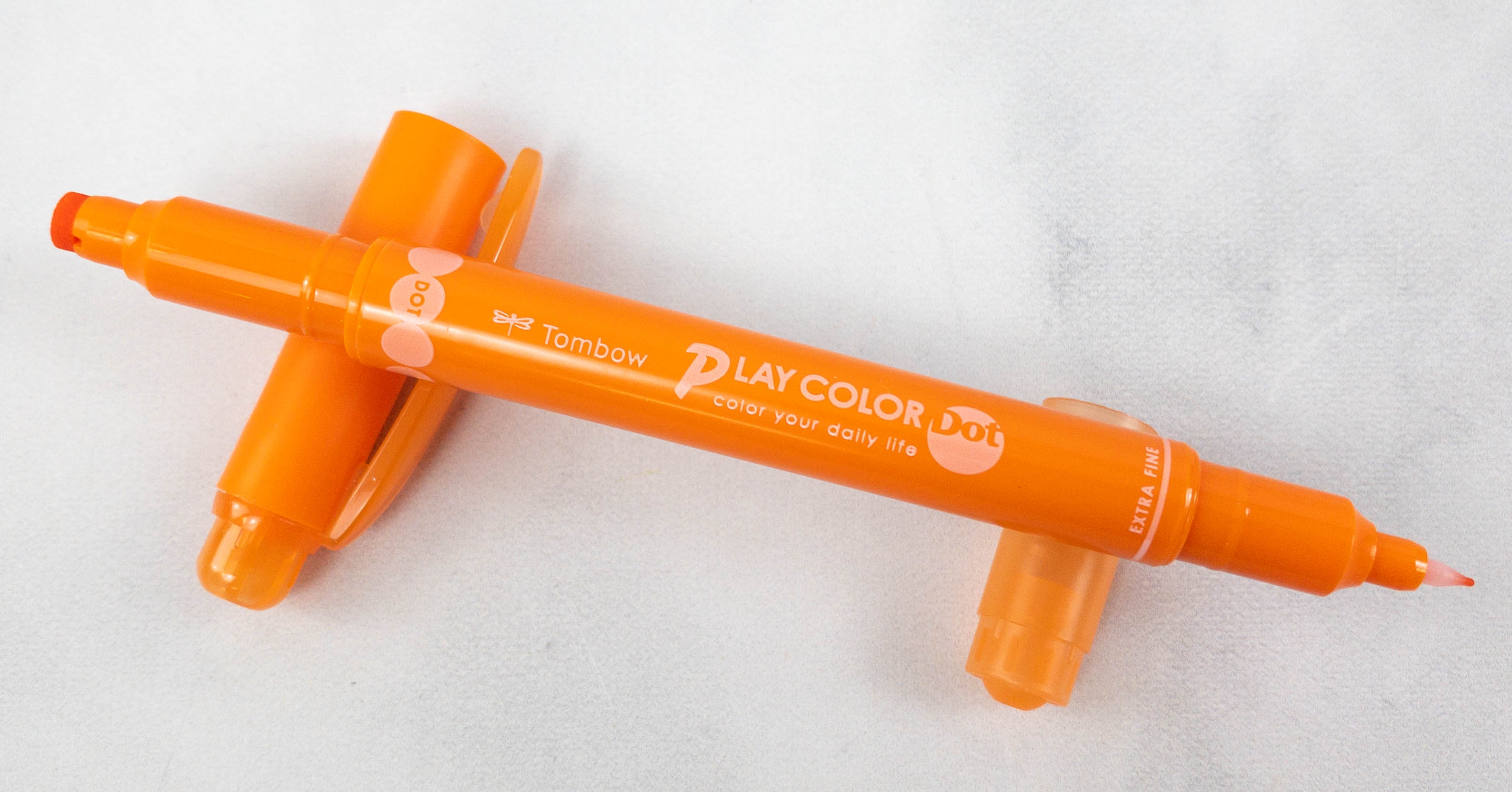 Play Color Dot. Another writing instrument is this dual-ended pen. Subscribers will receive 1 out of 10 colors. Mine is orange! The thicker end can be used to create big dots and design a page on your notebook or journal. The other end has a fine tip, so it can be used to write notes or create doodles.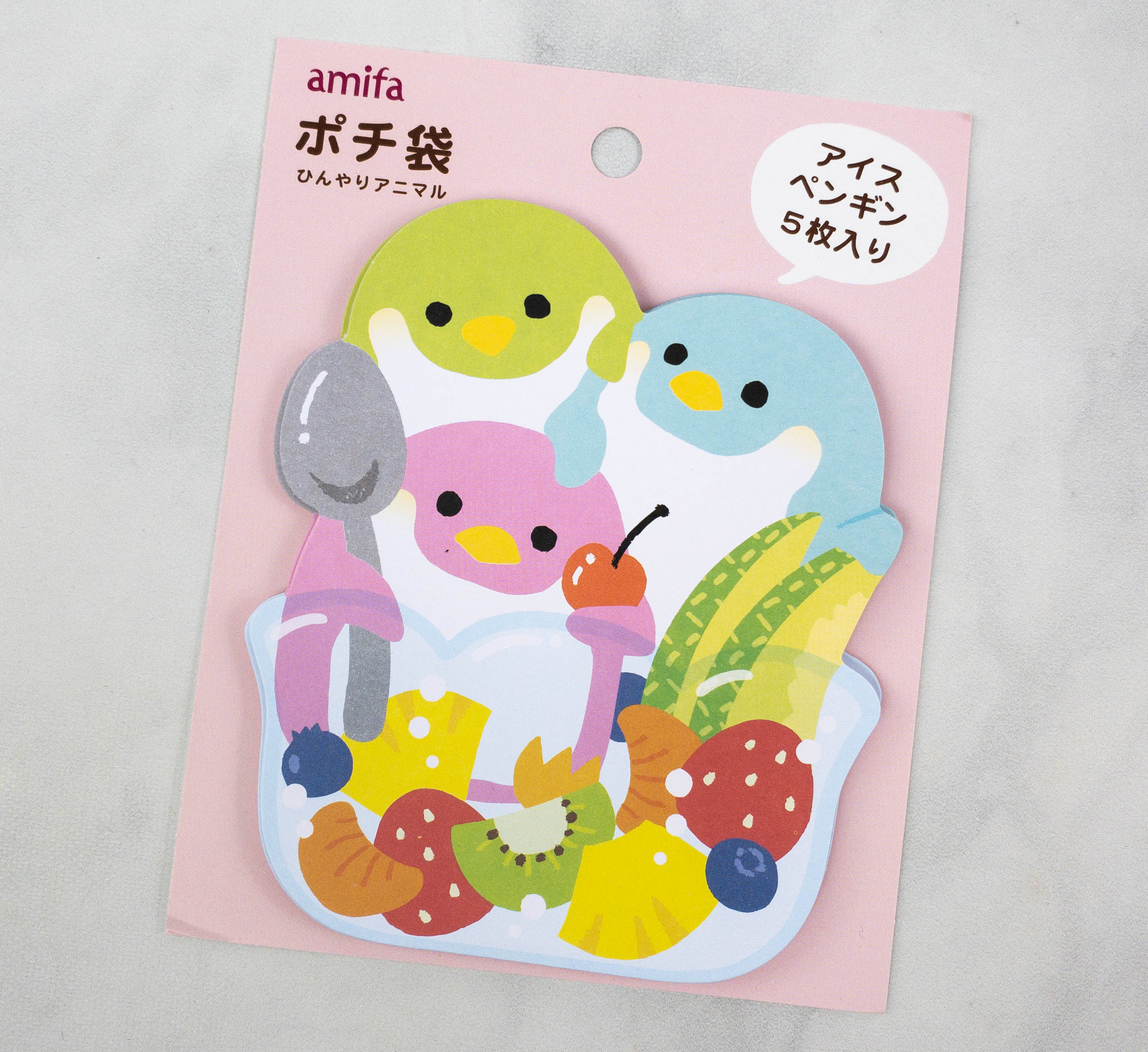 Polar Bear & Penguin Memos and Envelopes. This stationery set makes a cute way of sending a message to friends or family. Subscribers will receive 1 out of 2 adorable stationery designs. Mine has colorful penguins!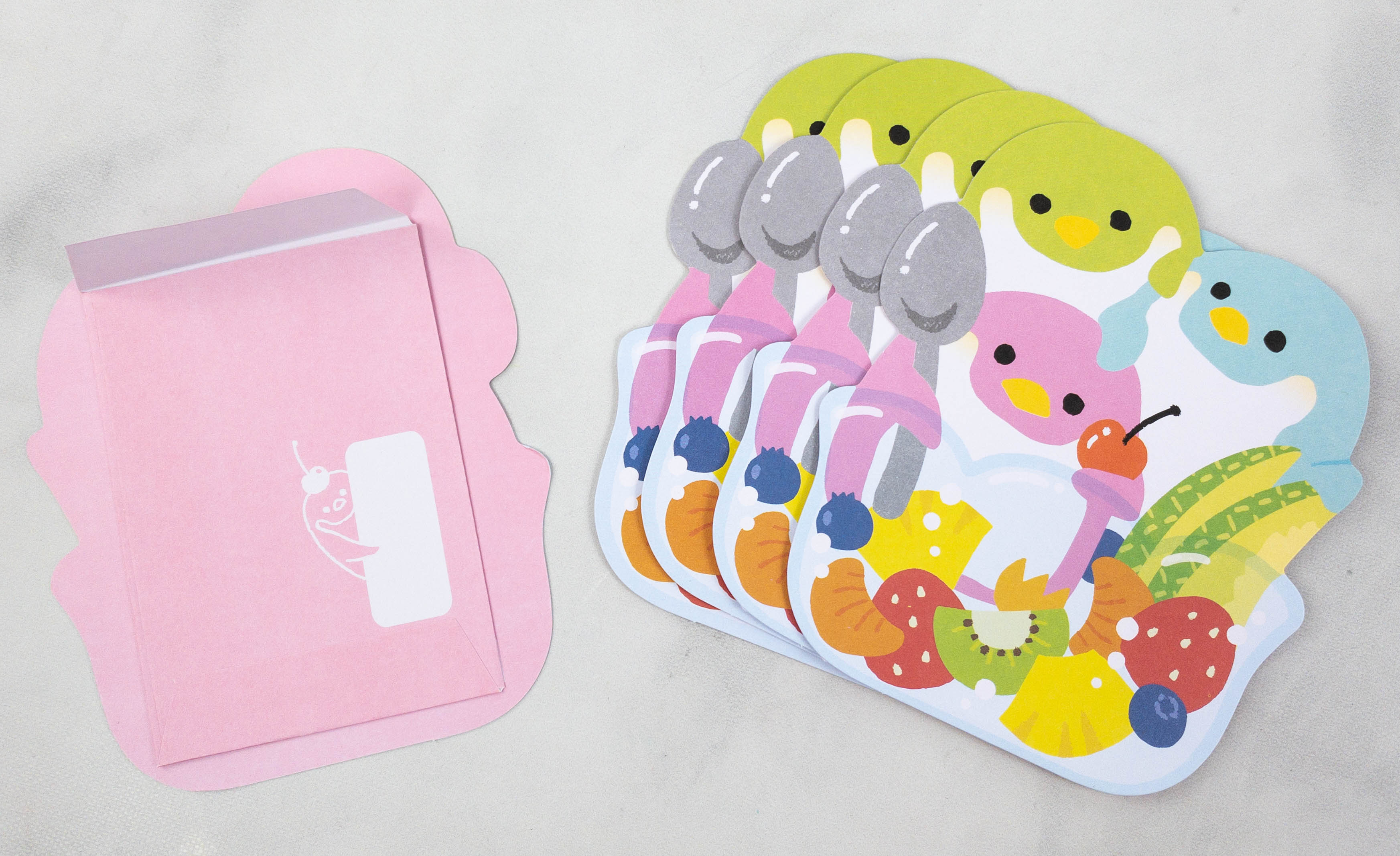 Each memo sheet comes with a pink envelope so you can easily send it out once you're done writing your message!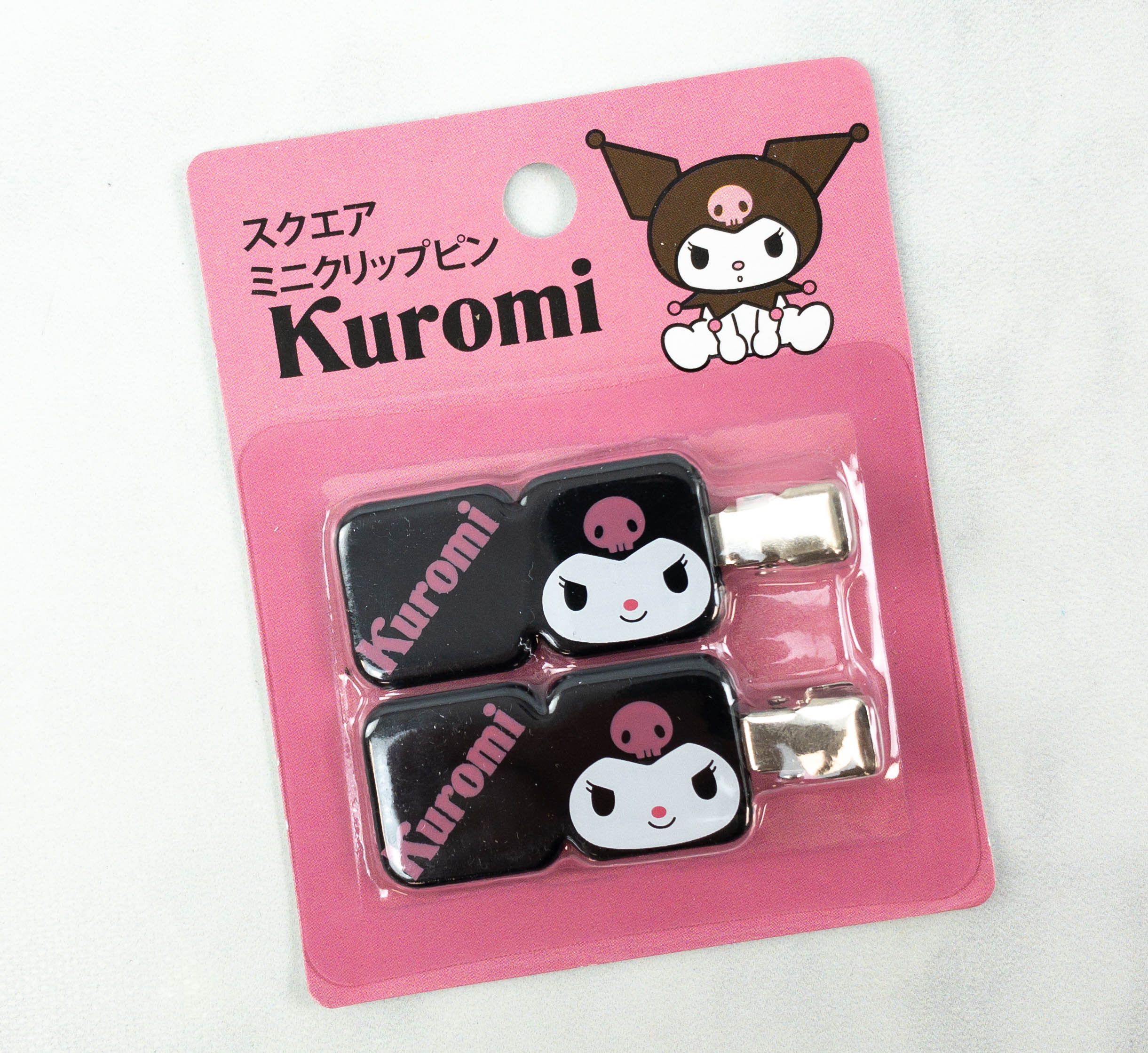 Sanrio Clips. I also received these cute hair clips! Subscribers will receive 1 out of 5 Sanrio characters, and mine is Kuromi.
They are easy to clip on and they don't tug on the hair either. You can use this just to add extra cuteness to your look or when you need to keep your hair away from your face.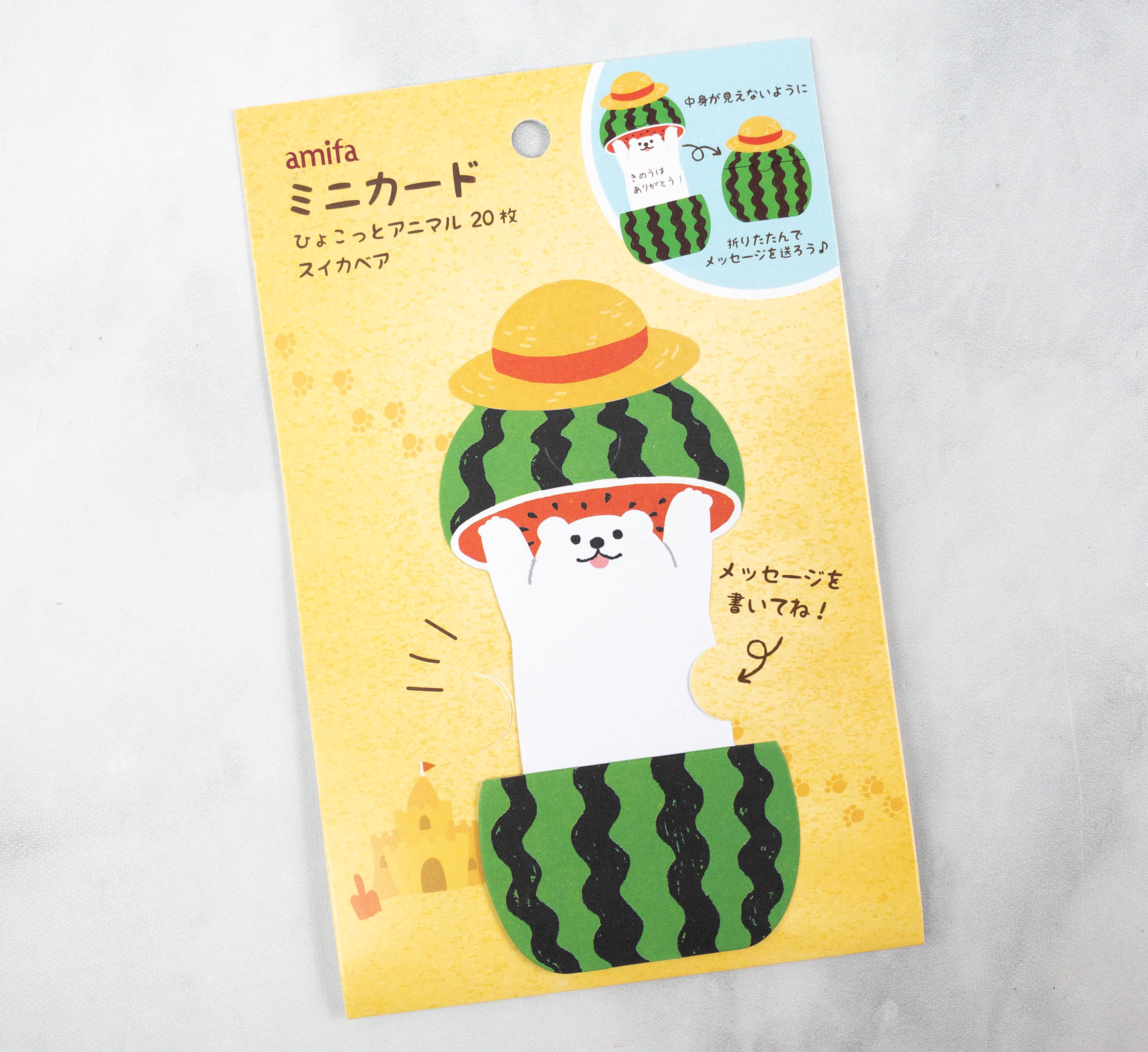 Mini Card: Polar Bear. Next up is a set of mini cards. Just like the stationery set, you can use this to send greetings to loved ones, whether there's an occasion or not. Subscribers will get 1 out of 2 designs. The one I received features a polar bear inside a watermelon!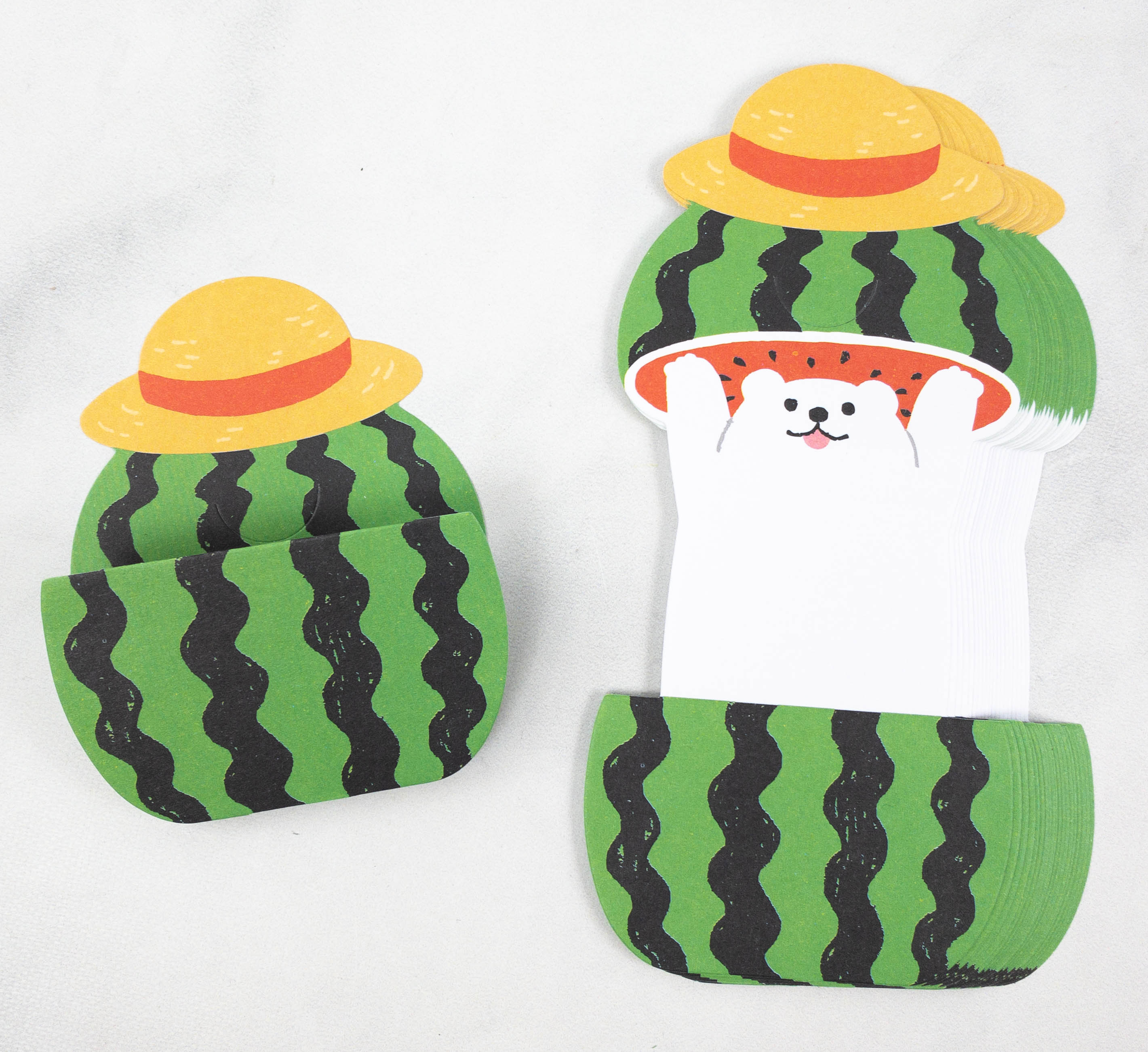 This is so kawaii! You can write your message on the polar bear's tummy and then fold it like how the packaging says, so it will appear like a full watermelon.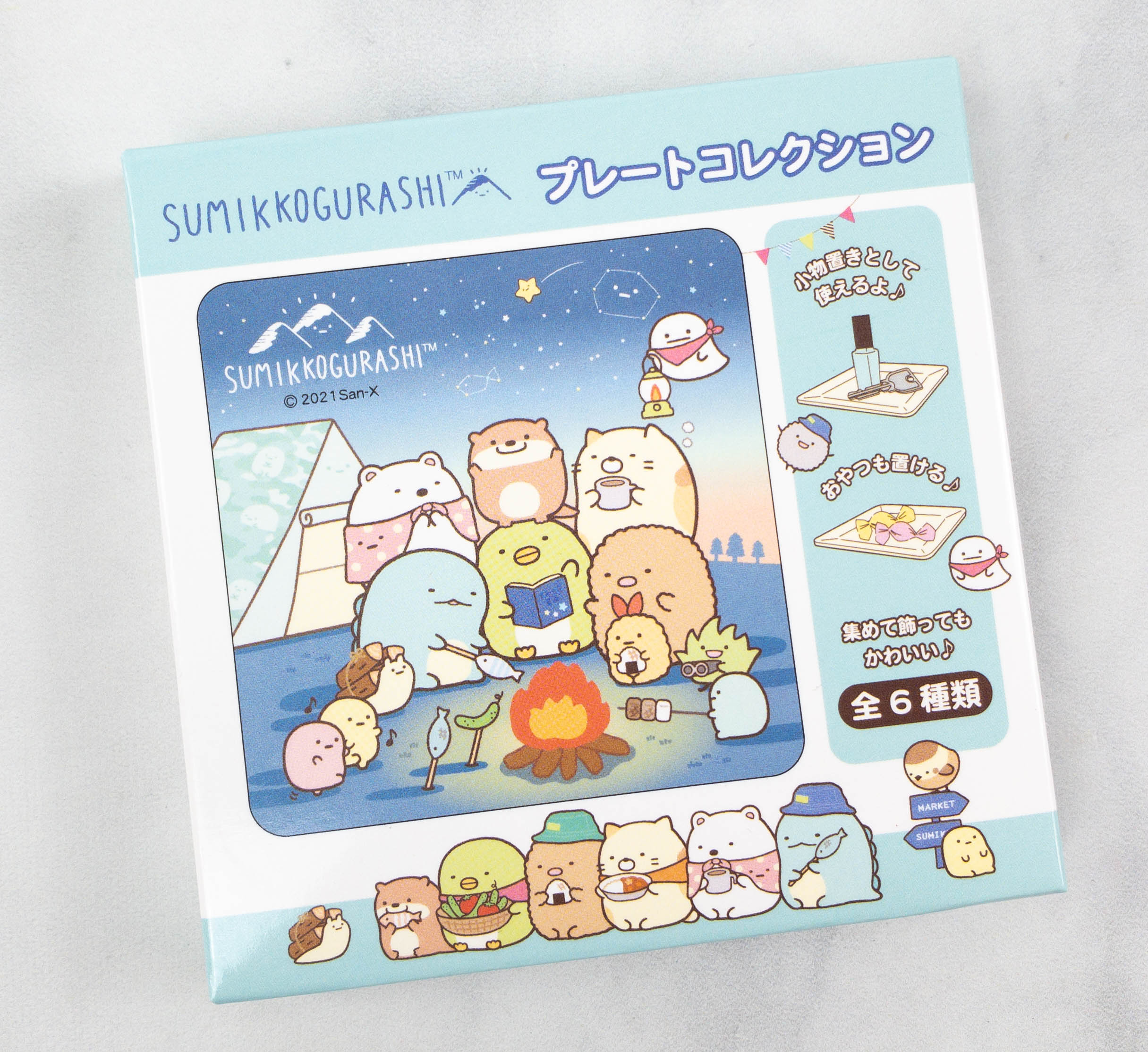 Sumikko Gurashi Mini Plate. The mini plate came in its own box to make sure that it's safe during transit. Subscribers will receive 1 out of 2 designs.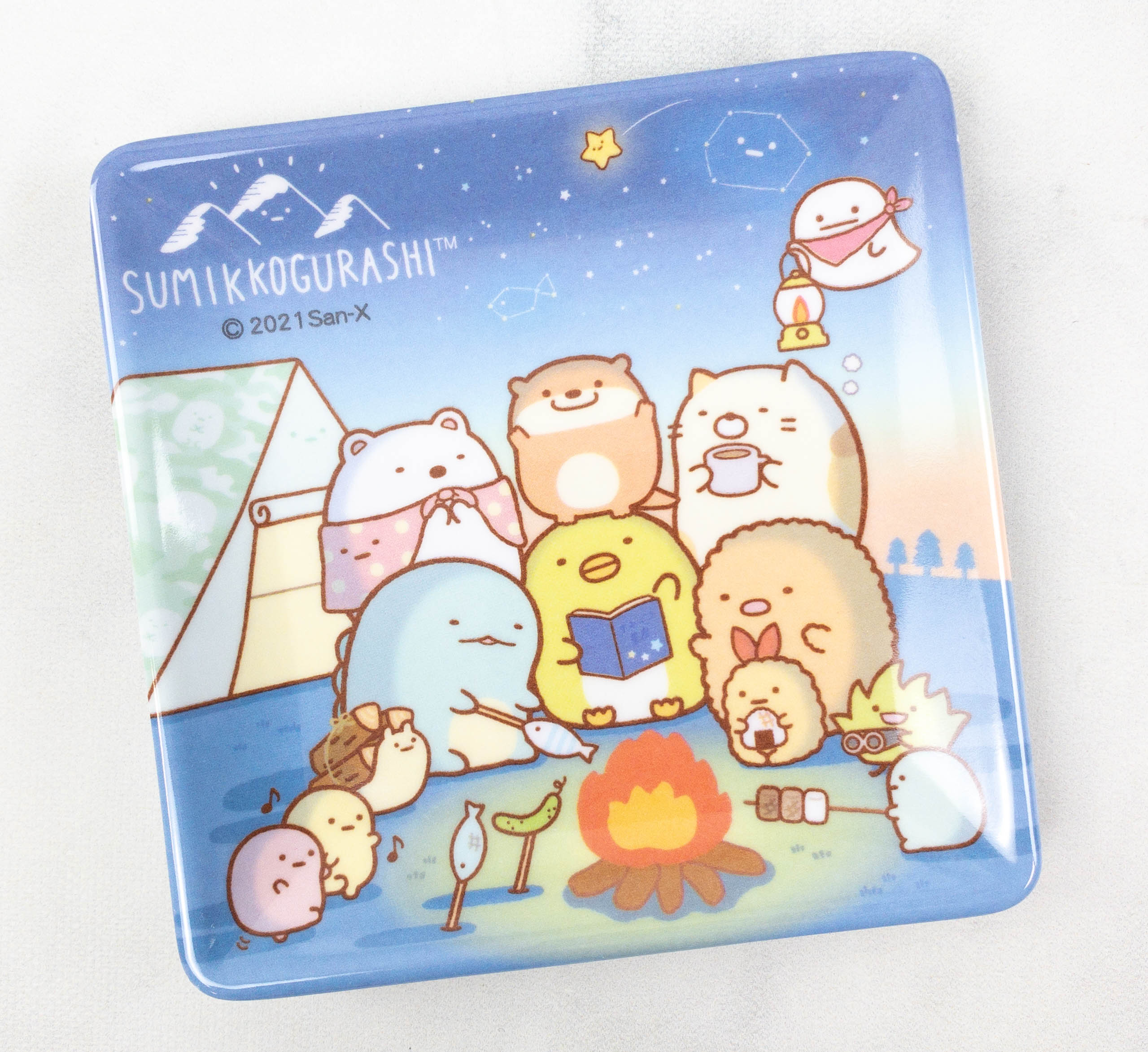 It's a mini plate that you can use both for your food or even as a decorative piece at home! The design features Sumikkogurashi gang huddled over a bonfire. It looks like they're camping and they're in the middle of reading some stories! How adorable!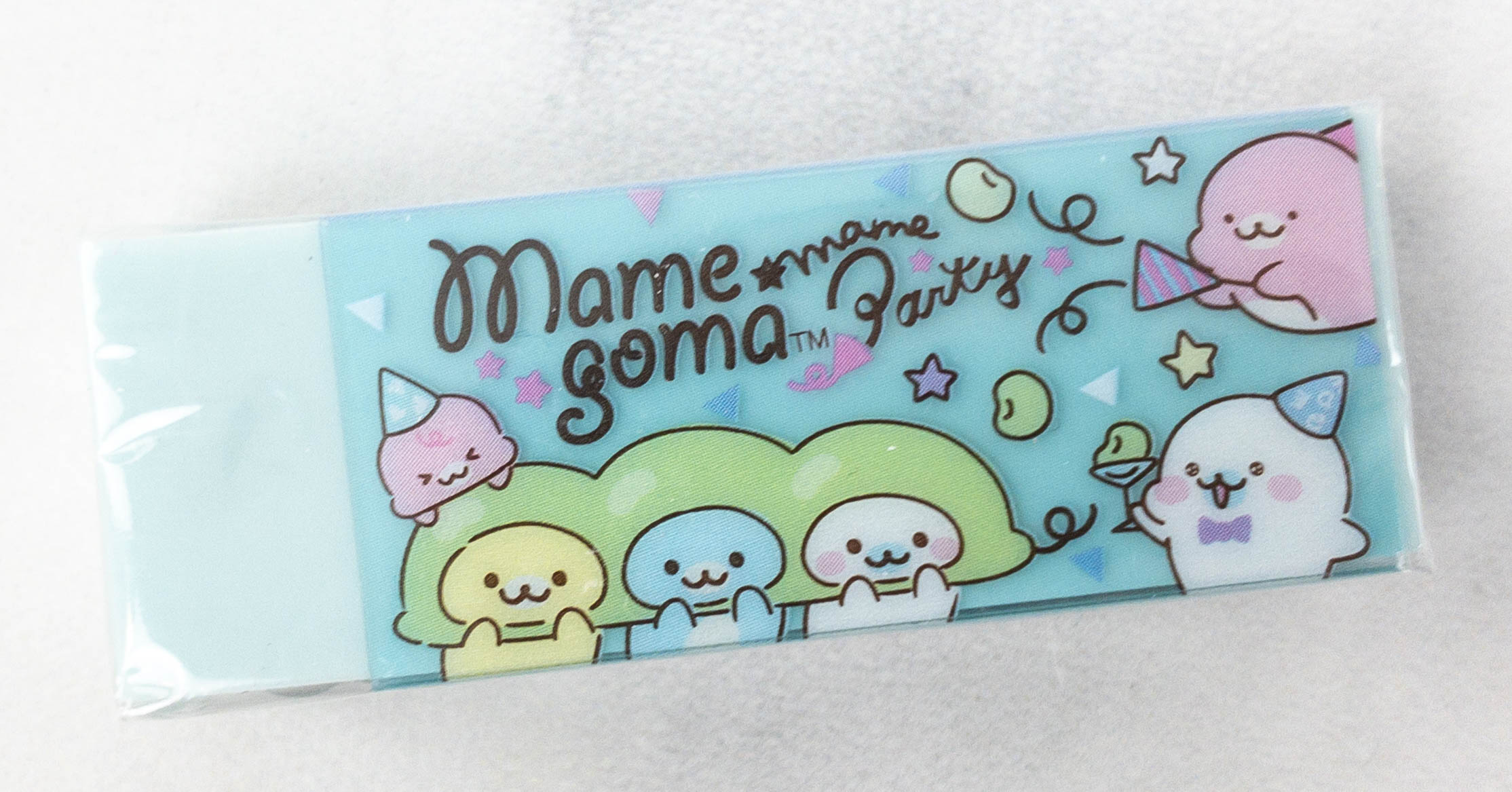 Mamegoma Eraser. To pair with the pencil, I also received an eraser that features adorable seals from Mamegoma, a group of characters by San-X.
Subscribers will get 1 out of 2 designs. I received it in blue! This eraser also has a detachable part, making it quite unique.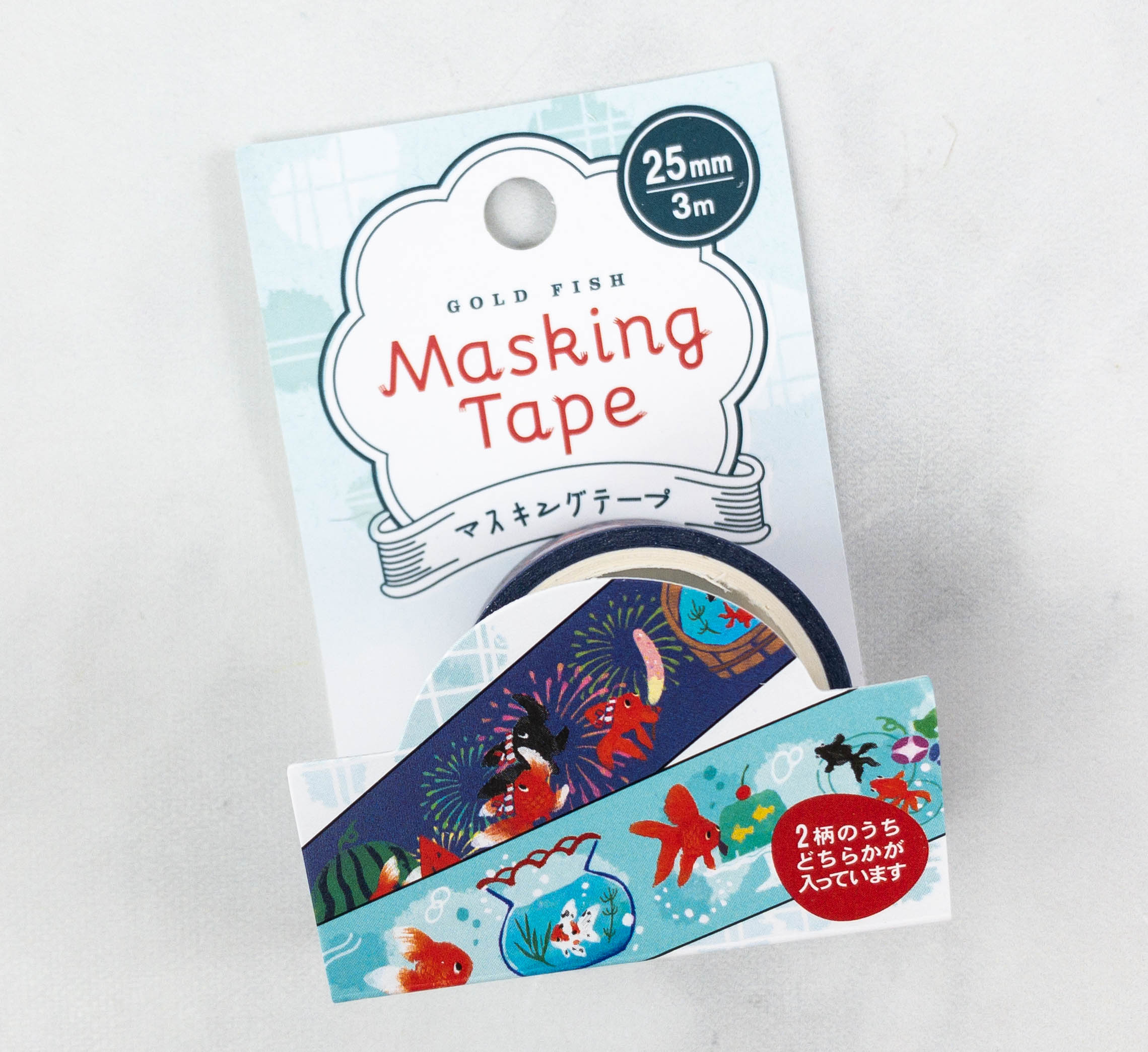 Masking Tape. Subscribers will receive either the fireworks or koi fish washi tape. I have the fireworks version, which features a dark blue background and colorful fireworks with different things you can see in a Japanese festival.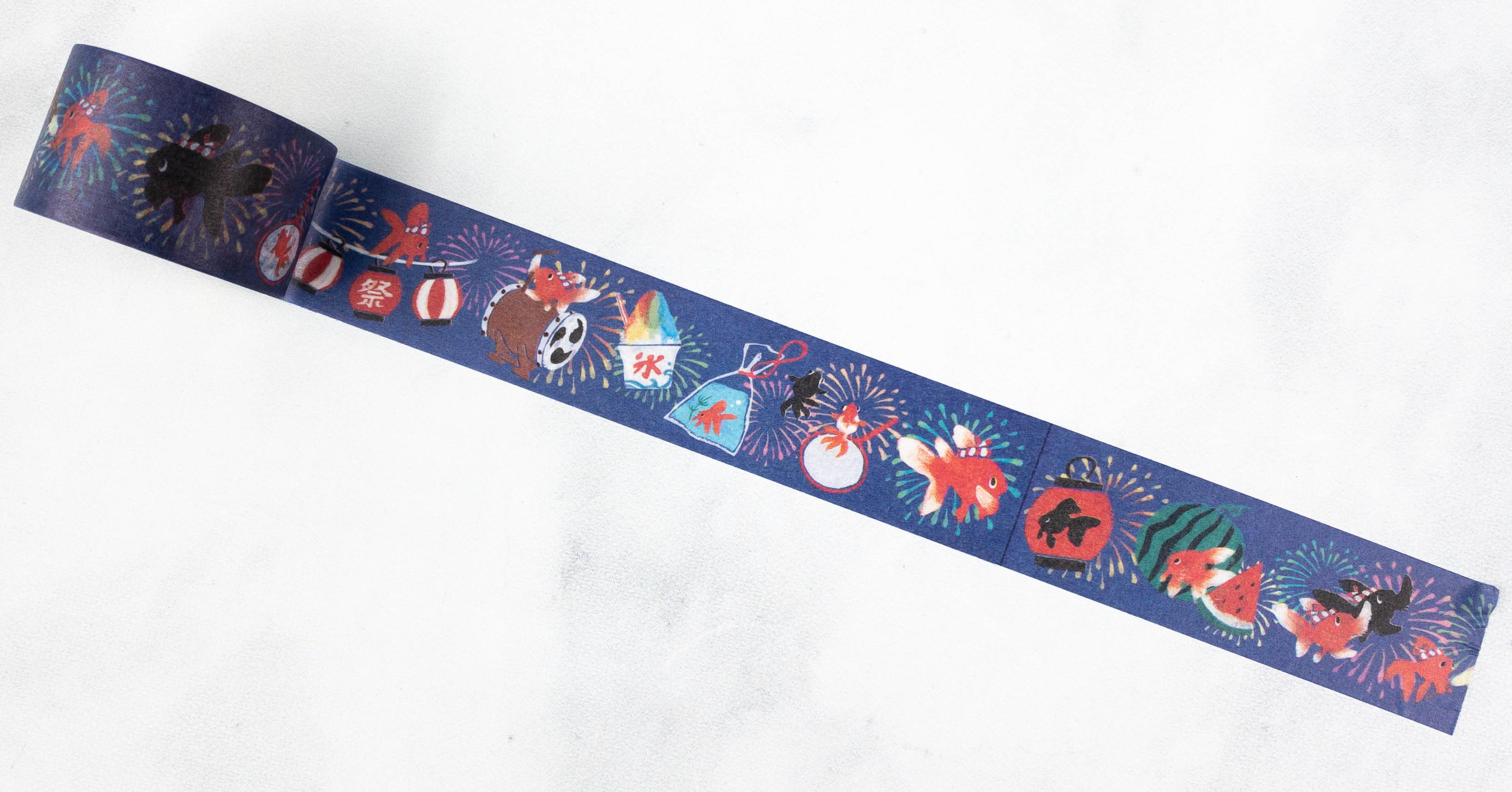 This is great to use for decorating journals and scrapbooks. It's wider than regular washi tapes, but I like it!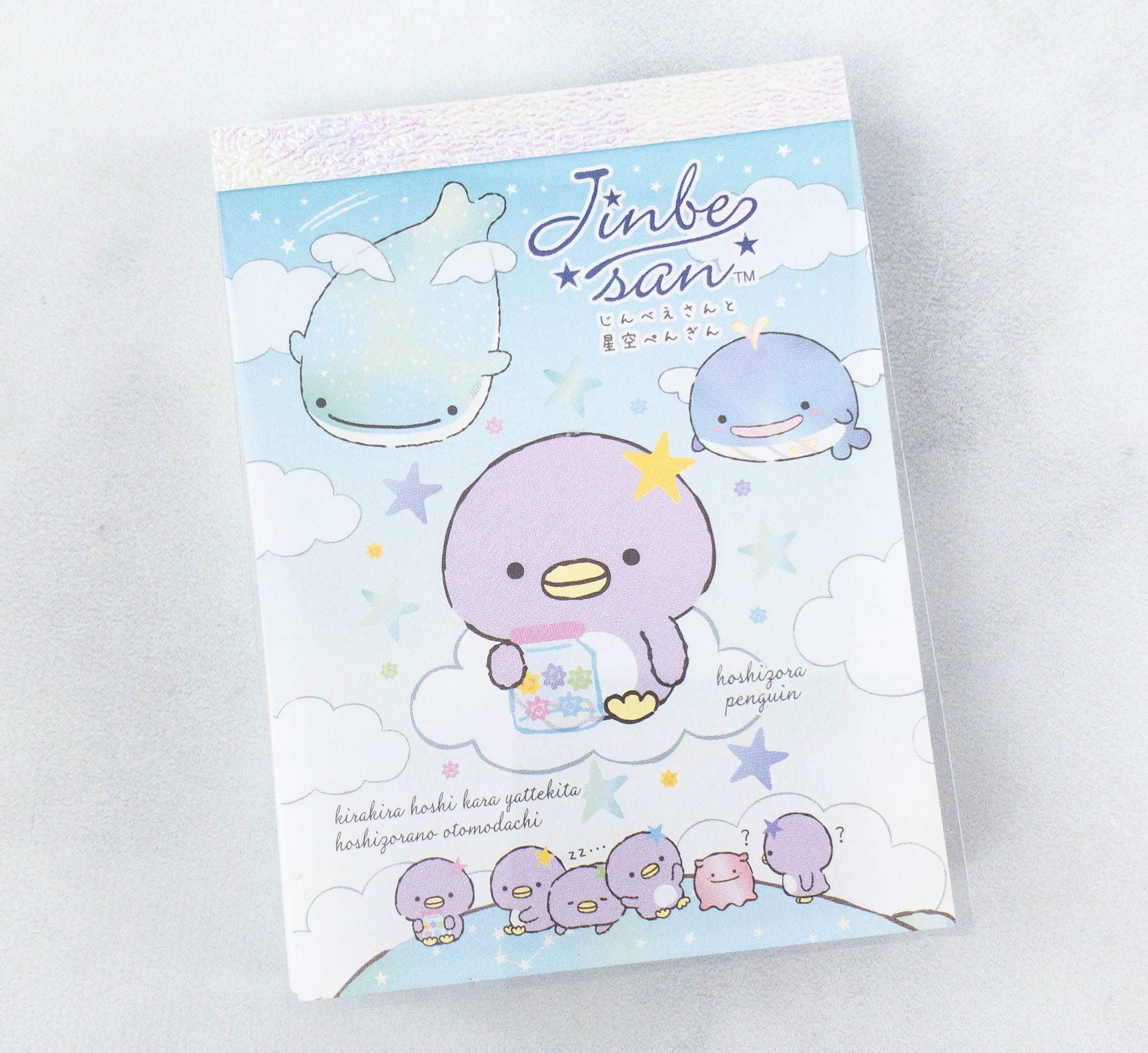 Jinbe-san Memo Pad. It's always great to have a memo pad in handy. I can use it for note taking or simply for jotting down thoughts or reminders. Subscribers will receive 1 out of 4 designs. I received the one with a light blue cover.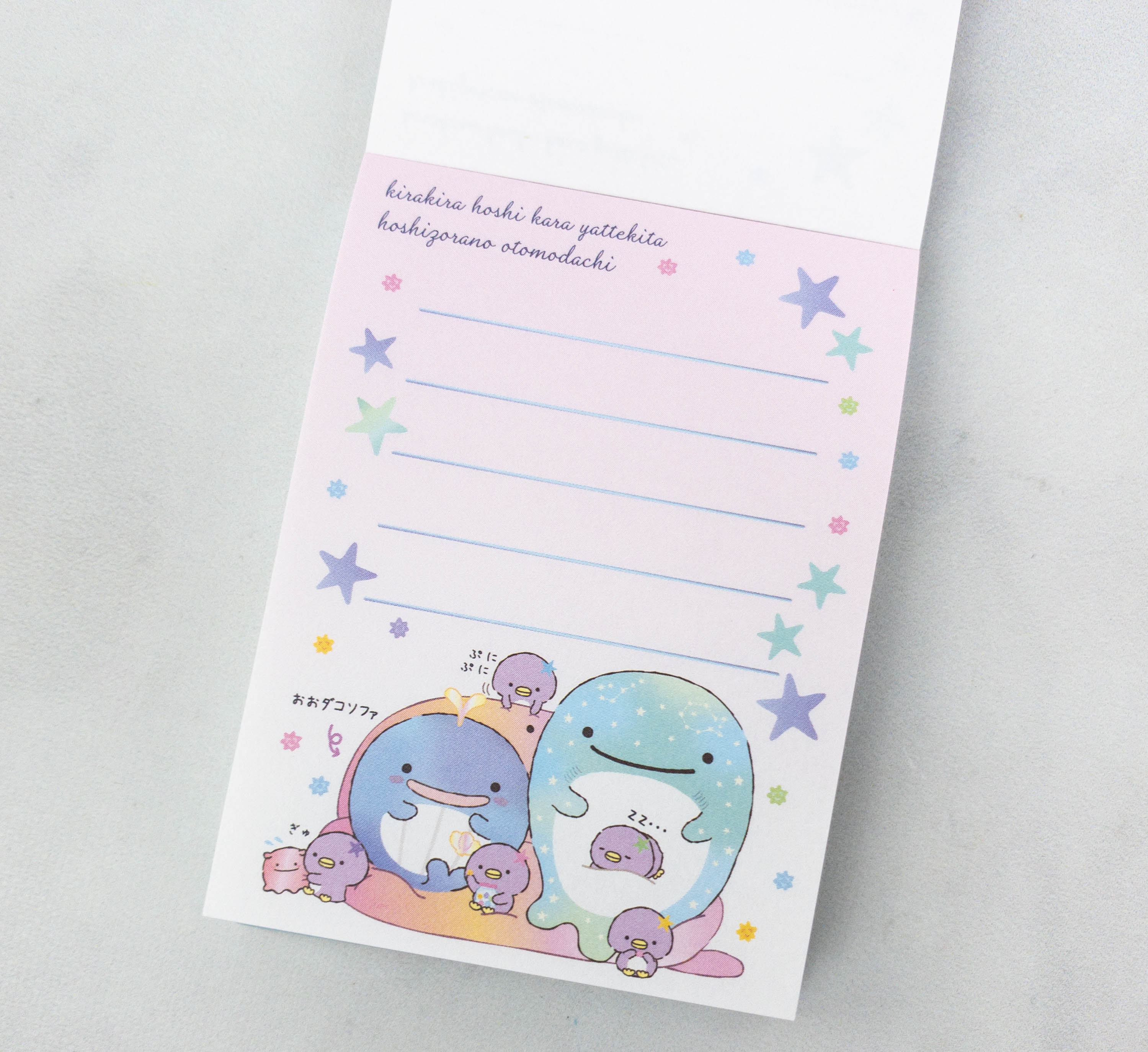 It features different layouts, but all of them feature Jinbe-san, a whale shark who is also created by San-X!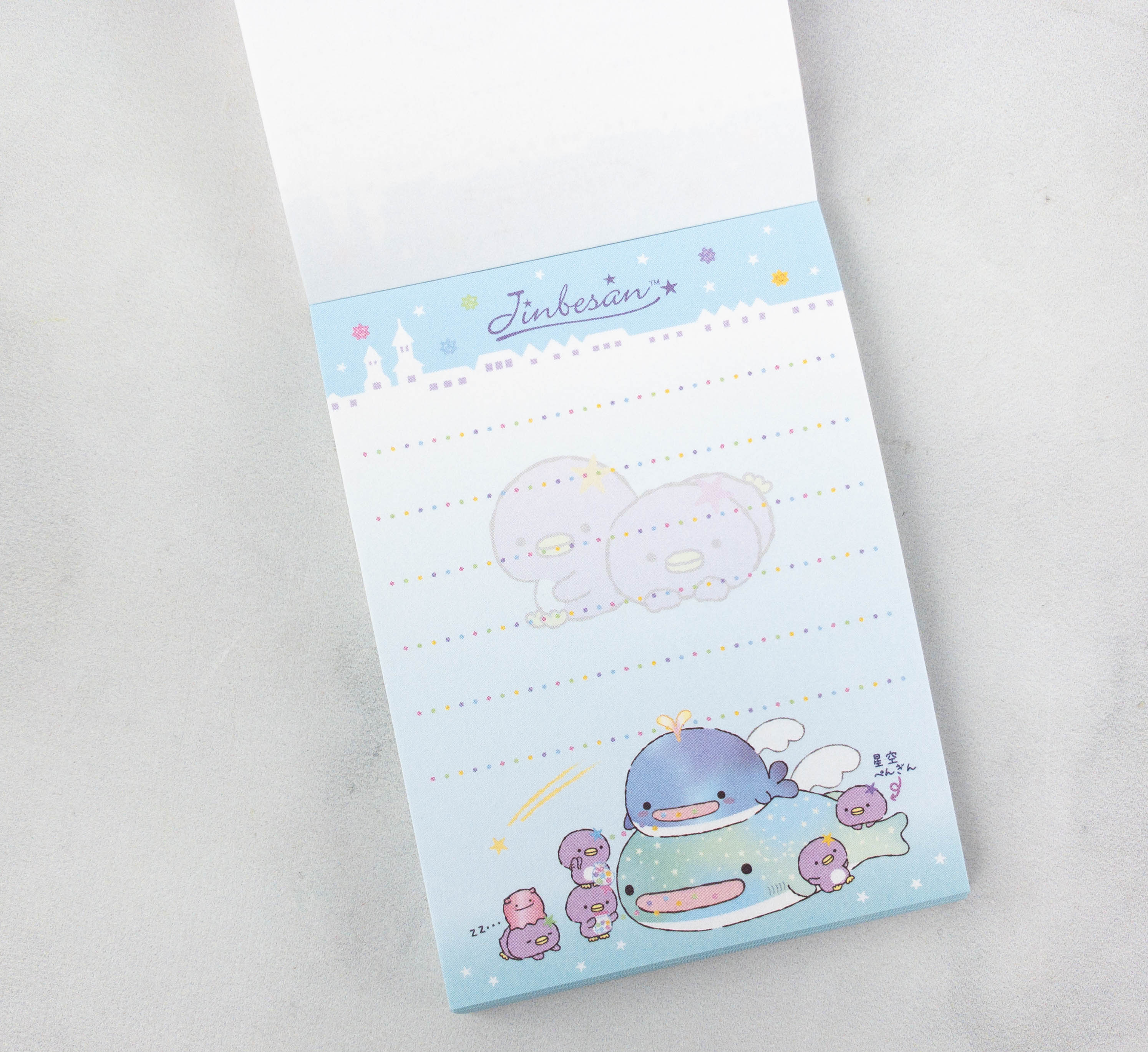 Some pages have borders and some are also lined for easier note taking.
I love this month's kawaii items from Inku Crate! There's a stationery set and a card set for sending messages to loved ones, plus a note pad and sticky notes which are helpful in journaling, note taking, and even for annotating books for fun. They also didn't forget to send an item I can display, like the plate featuring Sumikkogurashi. Another item I like is the washi tape! I love the colors used on it as well as the illustrations that remind me of a Japanese summer festival. Japan is surely a haven for stationery lovers, and if you want to get your hands on cute Japanese stationery, this box is for you!
What do you think of Inku Crate?
Visit Inku Crate by Japan Crate to subscribe or find out more!