Boxwalla Beauty Box is a bi-monthly beauty subscription box that contains non-toxic and cruelty-free luxury plant-based skincare and beauty products. The box is curated that so over a year's subscription you will experience products across different categories that complement each other, empowering you to build an effective skincare routine.
Boxwalla is a subscription box company that offers three themes – natural beauty, international film, or books! With Boxwalla, you'll be able to discover great artisans and artists from across the globe.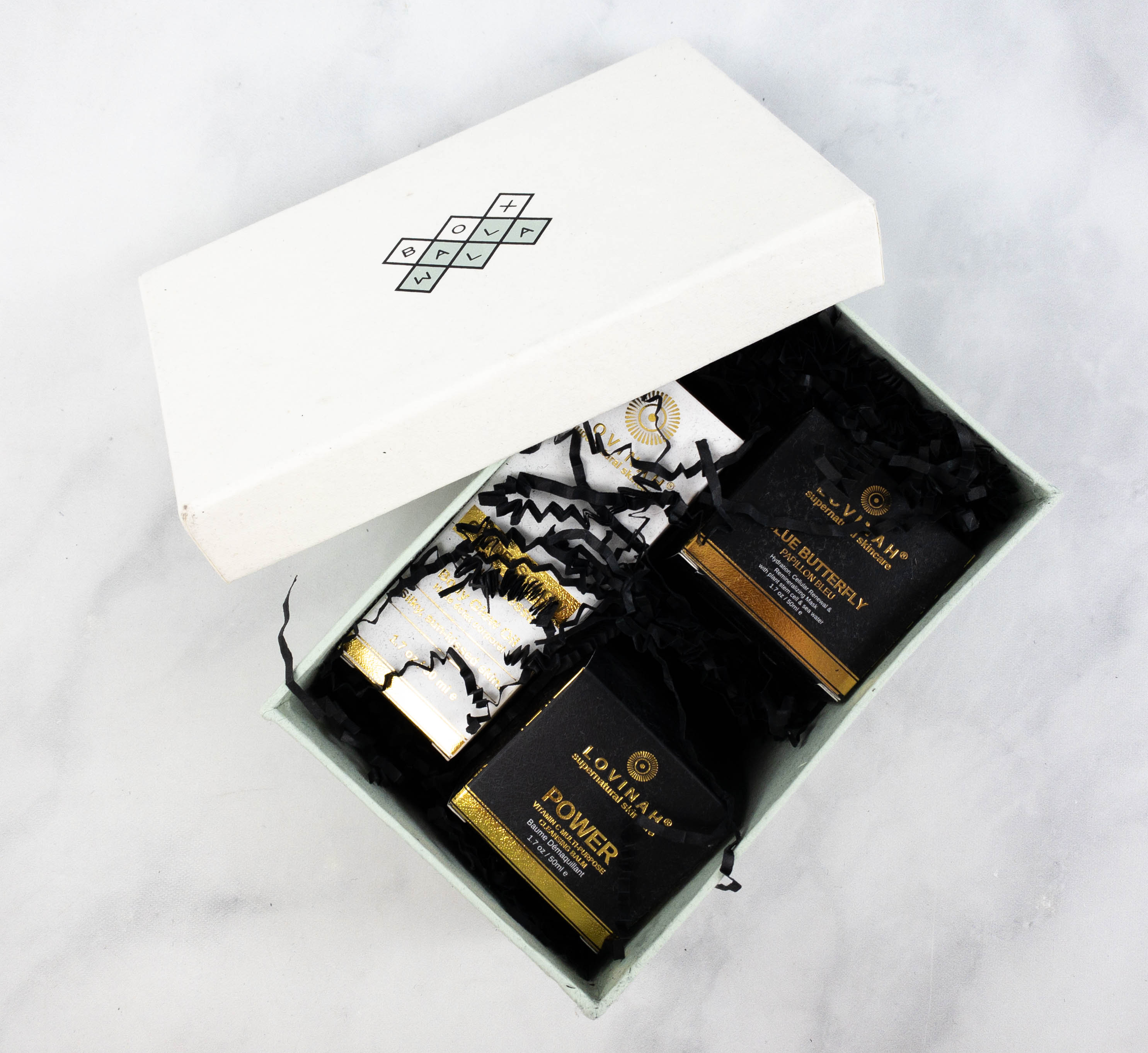 I love the minimalist aesthetic of this box! The items were nestled inside the box with black squiggles to prevent them from moving about during transit.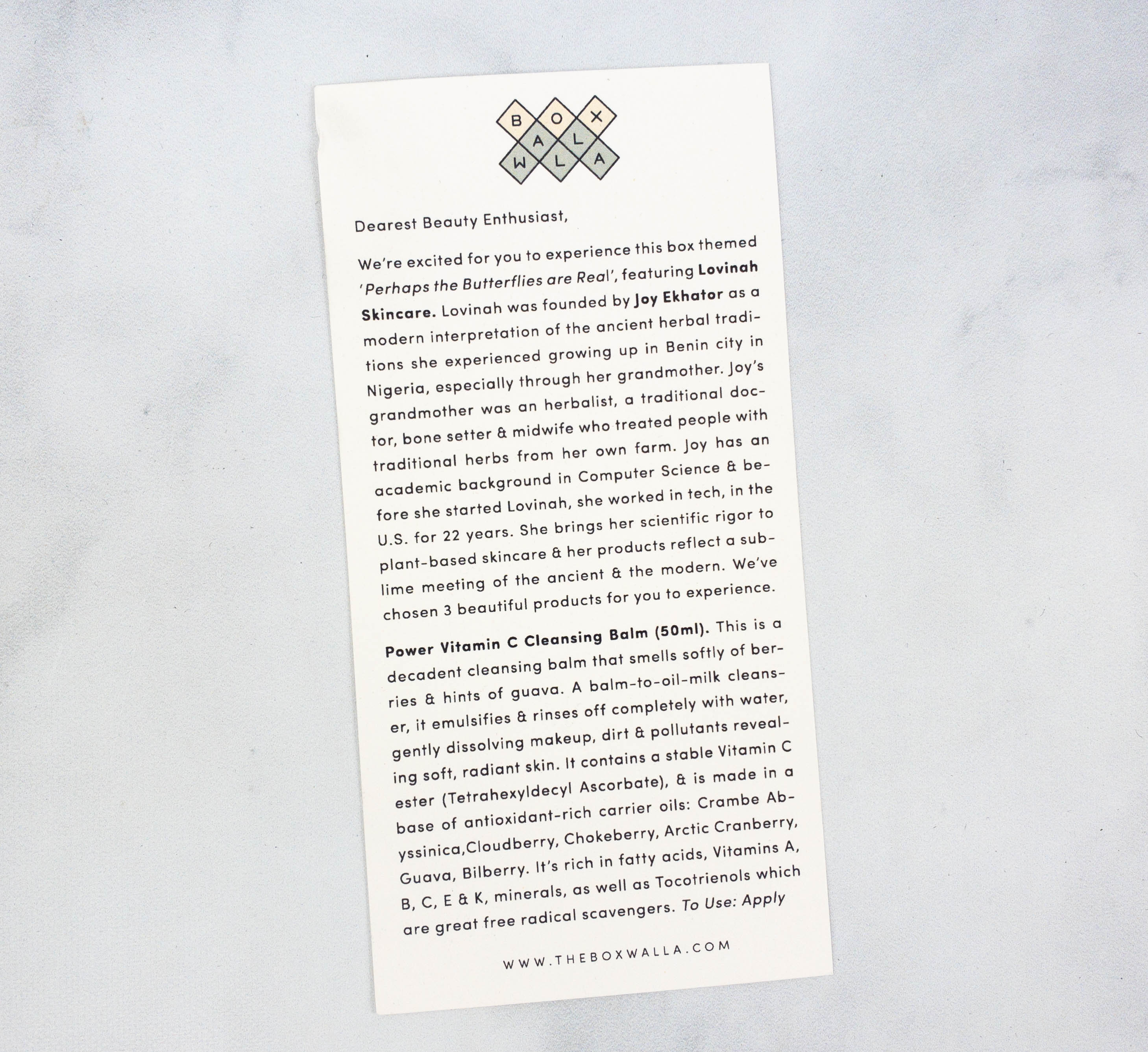 This month, the theme is Perhaps The Butterflies Are Real!
This month is a single-brand drop, featuring Lovinah Skincare! Joy Ekhator, the founder, blends modern skincare with ancient herbal traditions.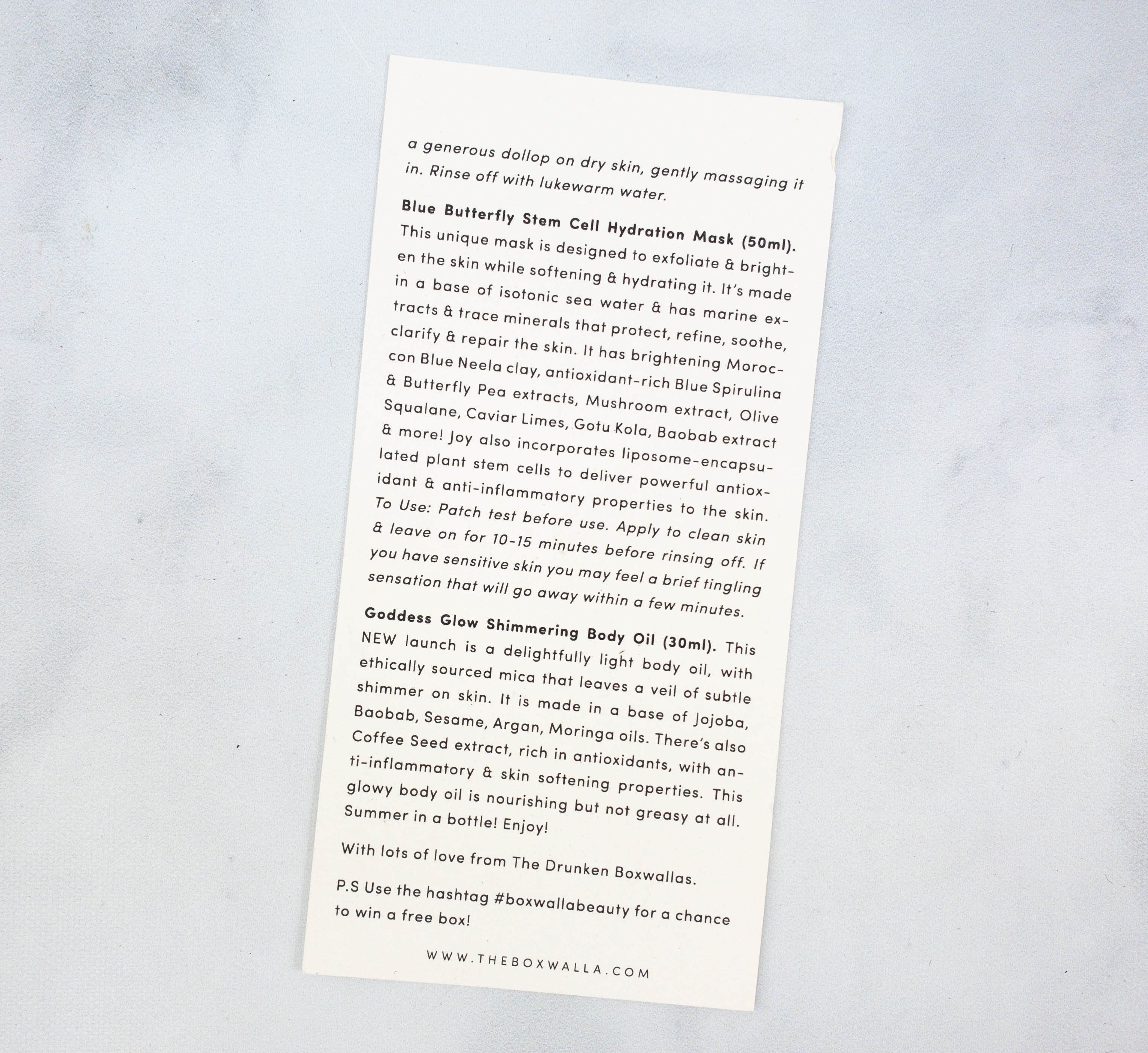 There's also a message from The Drunken Boxwallas.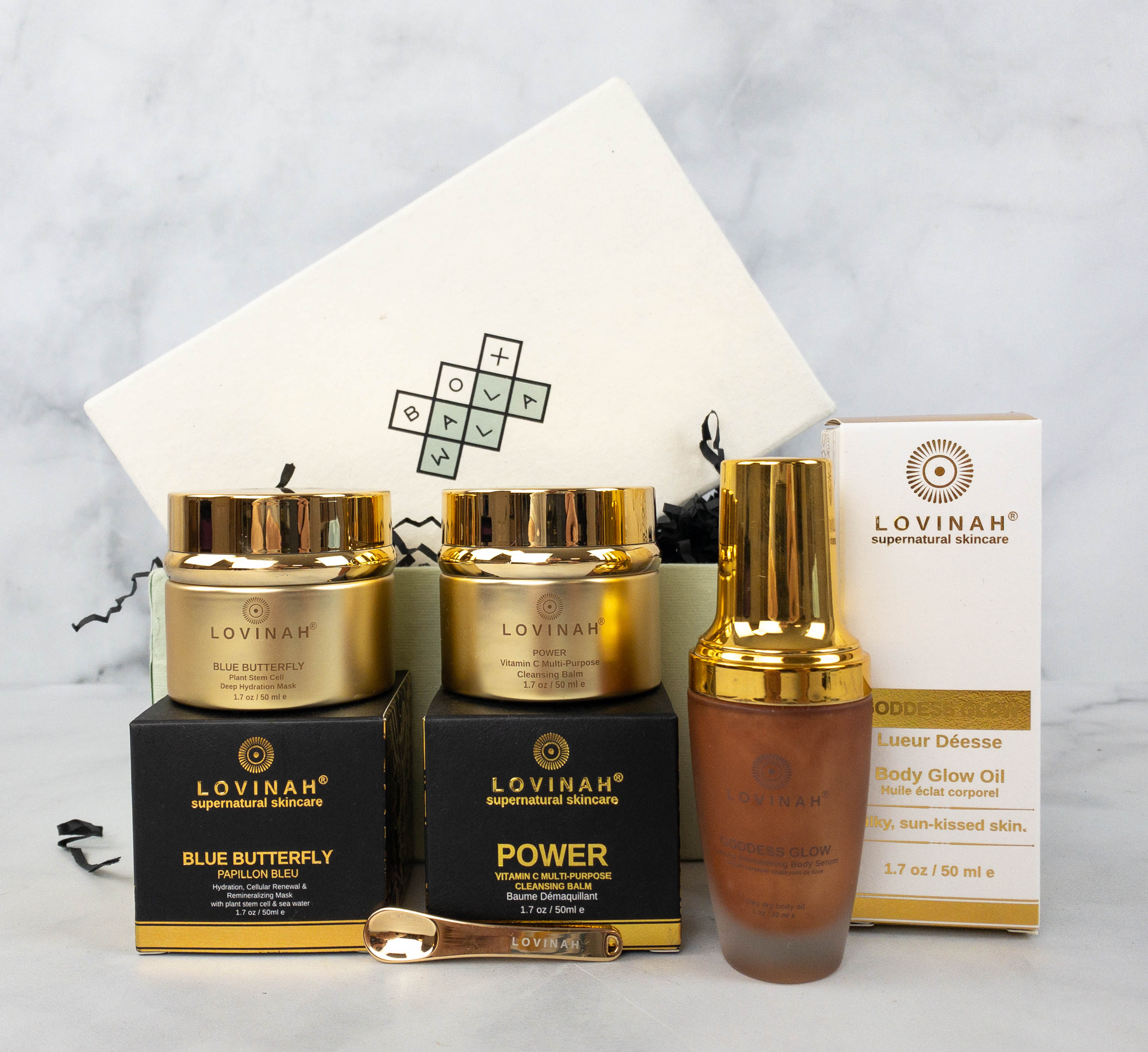 Everything in my box!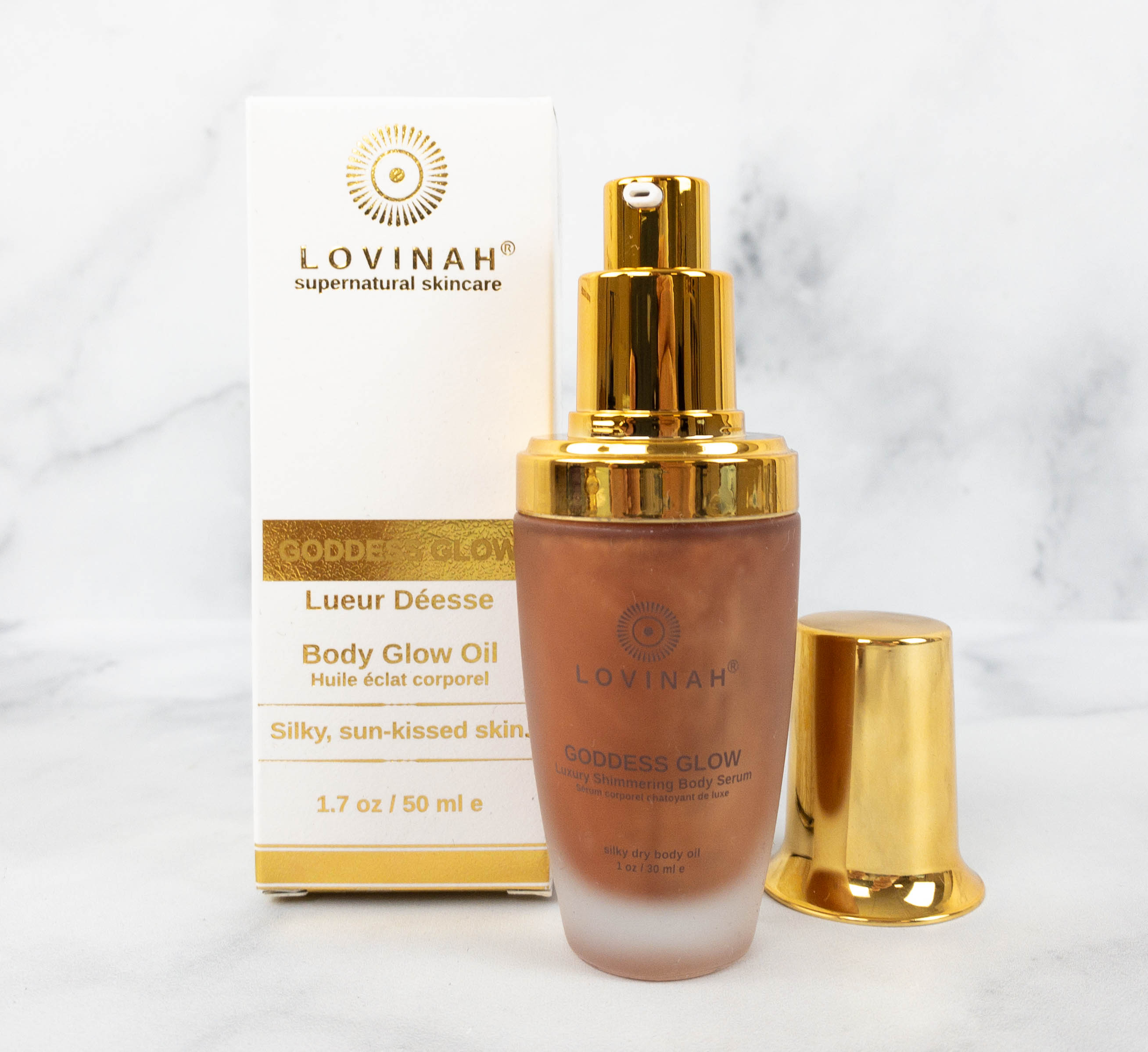 Lovinah Supernatural Skincare Goddess Glow Body Glow Oil.  This is a brand new product (so brand new it wasn't even manufactured until April 16)! This body glow oil came just right in time for summer. It's made from natural ingredients including jojoba seed oil, rice oil, sesame oil, argan oil, and moringa oil. It's fast absorbing and aside from the skin, it can be applied to dry hair as well. The coffee seed extract in this product is packed with soothing and softening antioxidants.
I love how this feels luxurious during application and it does make my skin look glowing with all the tiny specks of shimmer (ethically sourced mica!). It's also super nourishing, so it left my skin soft and supple for a long time. The result is more like a glow rather than a shimmer (and definitely not glittery). In the light you'll see a couple specks here and there.  Scentwise, the ingredients say essential oils and absolutes, which there is just a faint hint of. The main smell for me at first was Vitamin E (tocopherols) but this dissipates – then there's an undertone of something like myrrh. My husband (the one with the great sniffer) says it's some sort of incense smell. It is extremely light and hard to pinpoint! It's also warm and inviting.
Lovinah Supernatural Skincare Blue Butterfly ($85) Here's a hydration mask, which came in a sleek and classy tub packaging. It's ideal for all skin types, including sensitive skin. The formula helps exfoliate dead skin cells from the skin's surface, and continued use promises to boost and stimulate collagen production and also to protect the skin from environmental damage.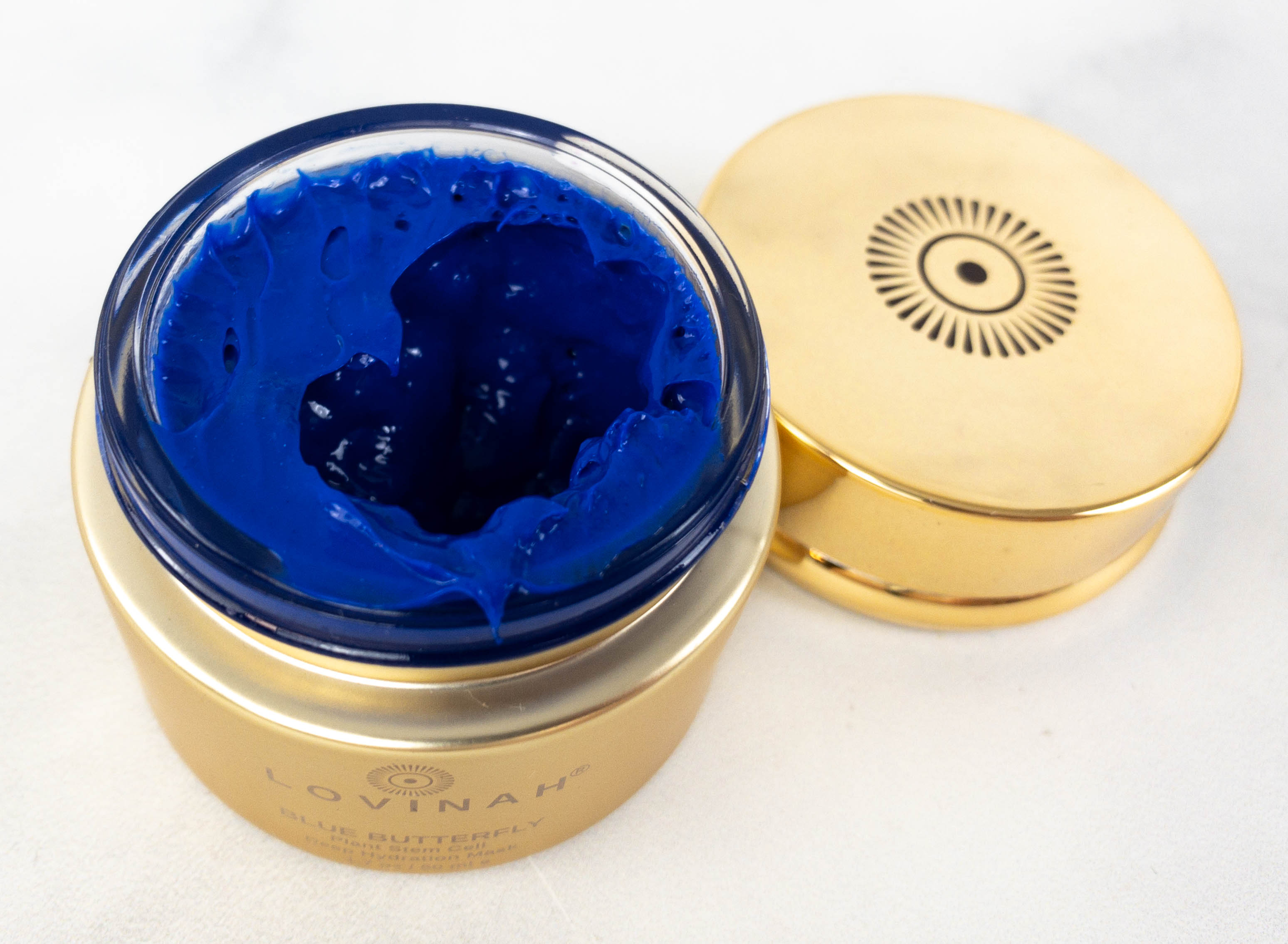 The mask is blue because of Moroccan blue Neela clay and blue spirulina, which is also known for its anti-inflammatory benefits and skin toning properties. It's so heavily pigmented that it looks almost like a paint concentrate. It doesn't have a bad smell, but it's not my favorite smell. Maybe even a little paint-y! You apply it to clean skin and rinse off after 10-15 minutes, when all those marine extracts get to work. It also includes butterfly pea extract, blue mushroom extract, blue yarrow, olive squalane, caviar lime, gotu kola, and baobab extract.  This is maybe the wildest colored beauty item I've ever received.
Another key ingredient is sea water, packed with vitamins, minerals, trace elements, amino acids and antioxidants. It's a refreshing mask that also contains liposome-encapsulated plant stem cells.
Lovinah Supernatural Skincare Power Vitamin C Multi-Purpose Cleansing Balm ($45) To complete this month's skincare items, here's a cleansing balm which helps remove makeup and impurities. It came in a tub, and it also has its own golden scooper. The formula is great for those who have acne-prone and oily skin.
It contains vitamin C to brighten and to calm the skin, a blend of natural ingredients including lingonberry, chokeberry, cloudberry, blackcurrant, arctic cranberry, and bilberry. It has a slight berry smell too!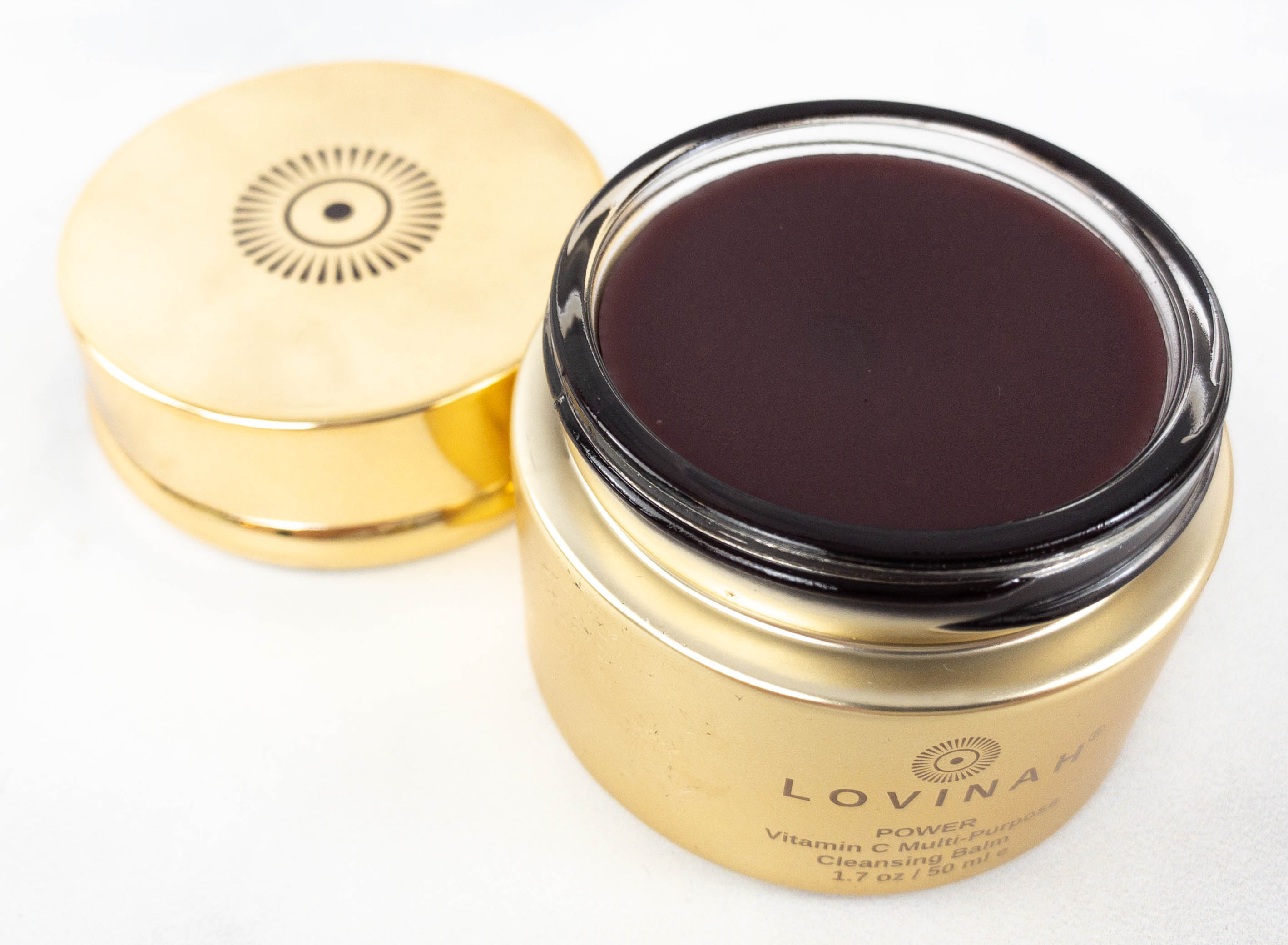 To use, just scoop a generous amount and apply on your skin using your fingertips. The balm will transform into a silky oil. Then, splash your face with lukewarm water to turn the oil into a milky emulsion and then rinse. I really like this style of cleanser – something that heals as it cleanses – and it worked great!
Boxwalla Beauty focuses on natural skincare products, making it an ideal subscription for any ingredient conscious person. I'm happy to discover new cruelty-free and non-toxic products in each box, like this month's body oil, mask, and cleansing balm from Lovinah. My favorite among them is the body oil, which is perfect to use in the summer because it leaves a nice, shimmery glow. It's hydrating and it doesn't feel heavy either. The mask is nice to use a couple of days a week to help rejuvenate the skin. Meanwhile, the cleansing balm would be ideal for a nighttime routine. It helps melt away makeup and impurities, and it's also great for double cleansing. This bi-monthly beauty box gives great value for money because the retail value is always more than the cost of the box. Even without the cost of the body oil, the retail value is already at $130, it's really impressive!
What did you think of this month's Boxwalla Beauty box?