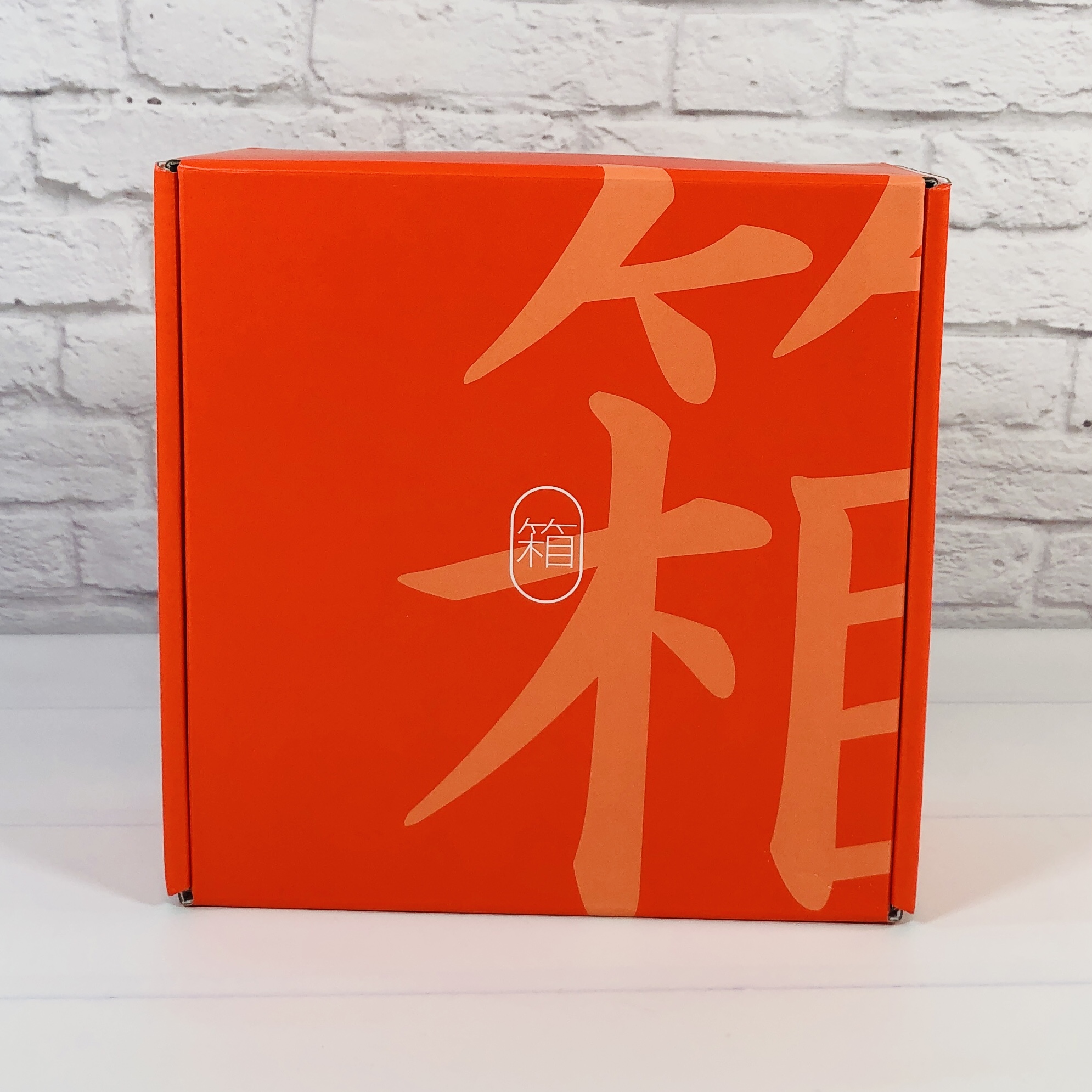 Bokksu is a premium snack box that features authentic Japanese snacks, as well as a tea pairing to go with it. There are two levels to choose from: Classic Bokksu ($44.99 USD) includes an assortment of 20-25 premium Japanese snacks and a tea pairing; Tasting Bokksu ($29.99 USD) includes 10-14 premium Japanese snacks and a tea pairing. Both boxes offer a discount for longer terms. The snacks sent are not easily found outside of Japan and this subscription ships internationally from Japan. Shipping is already included in the price.
Other Japanese snack subscription services use mass-produced mainstream snacks that can be readily found in most Asian markets outside of Japan. Bokksu directly sources its artisanal snacks from local snack makers in Japan (some of whom have been around for over 200 years!). We only curate high quality and gourmet snacks, never filler items. We are also the ONLY service that handselects a tea pairing for each box to complement that month's flavors.
DEAL: Save $5 on your first box with coupon code HELLO.
Bokksu's authentic Japanese snack subscription box was voted as a top subscription in the 2021 list of our readers' favorite snack subscription boxes!
Your first box will be the Seasons Of Japan box. I am reviewing the Classic Bokksu.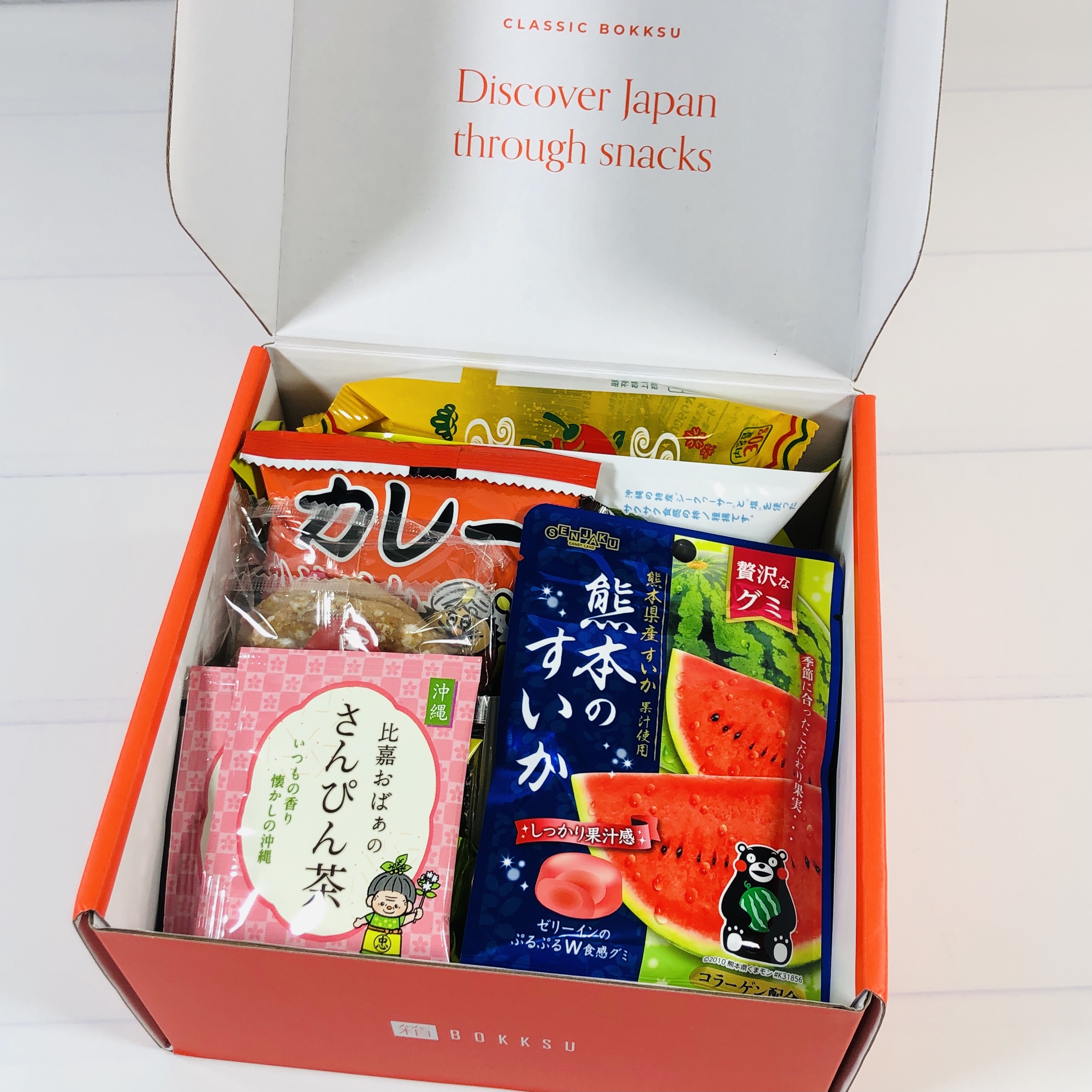 As always the snacks are packed in there so nicely.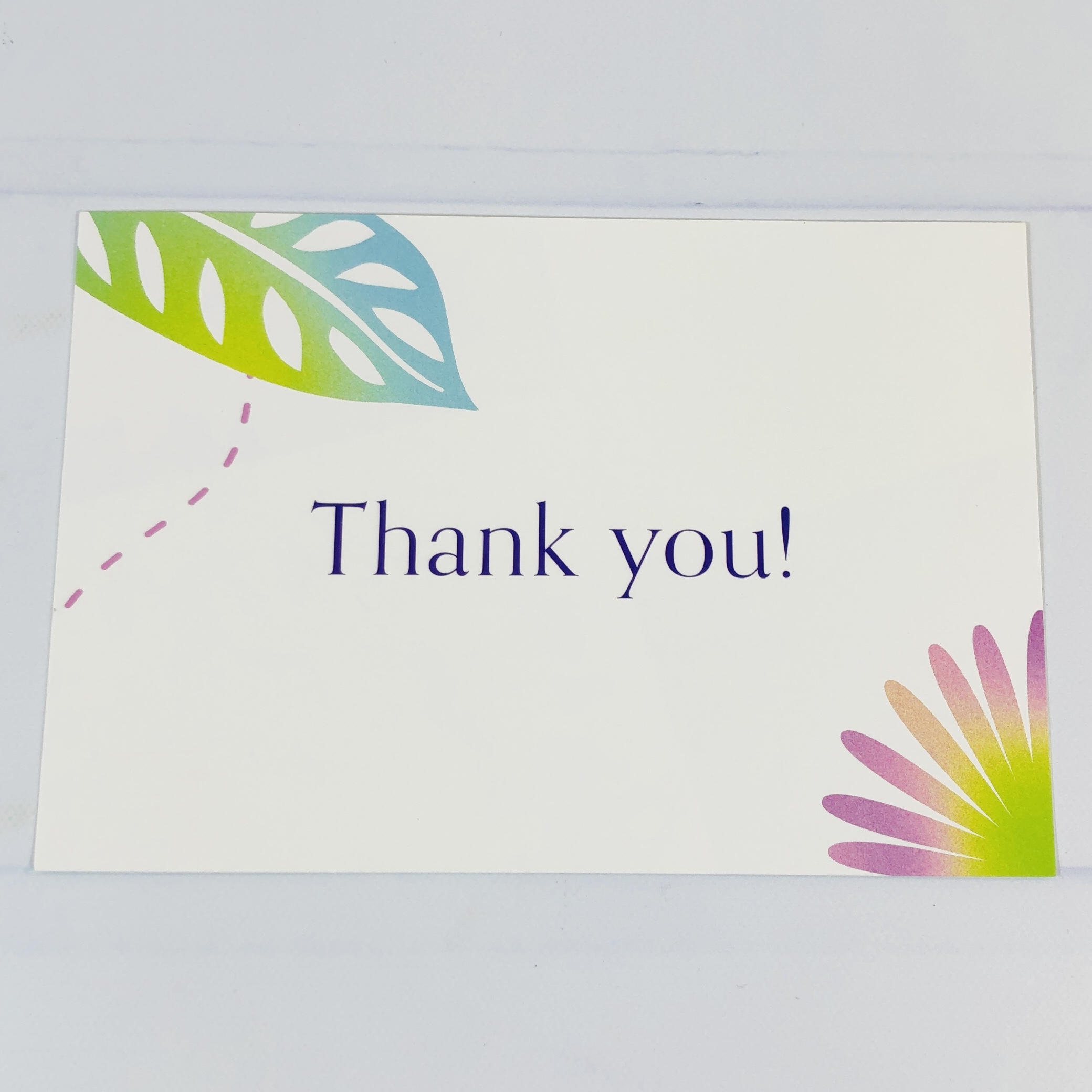 I received a thank you card.
The back of the card told me we're visiting the islands of Japan this month!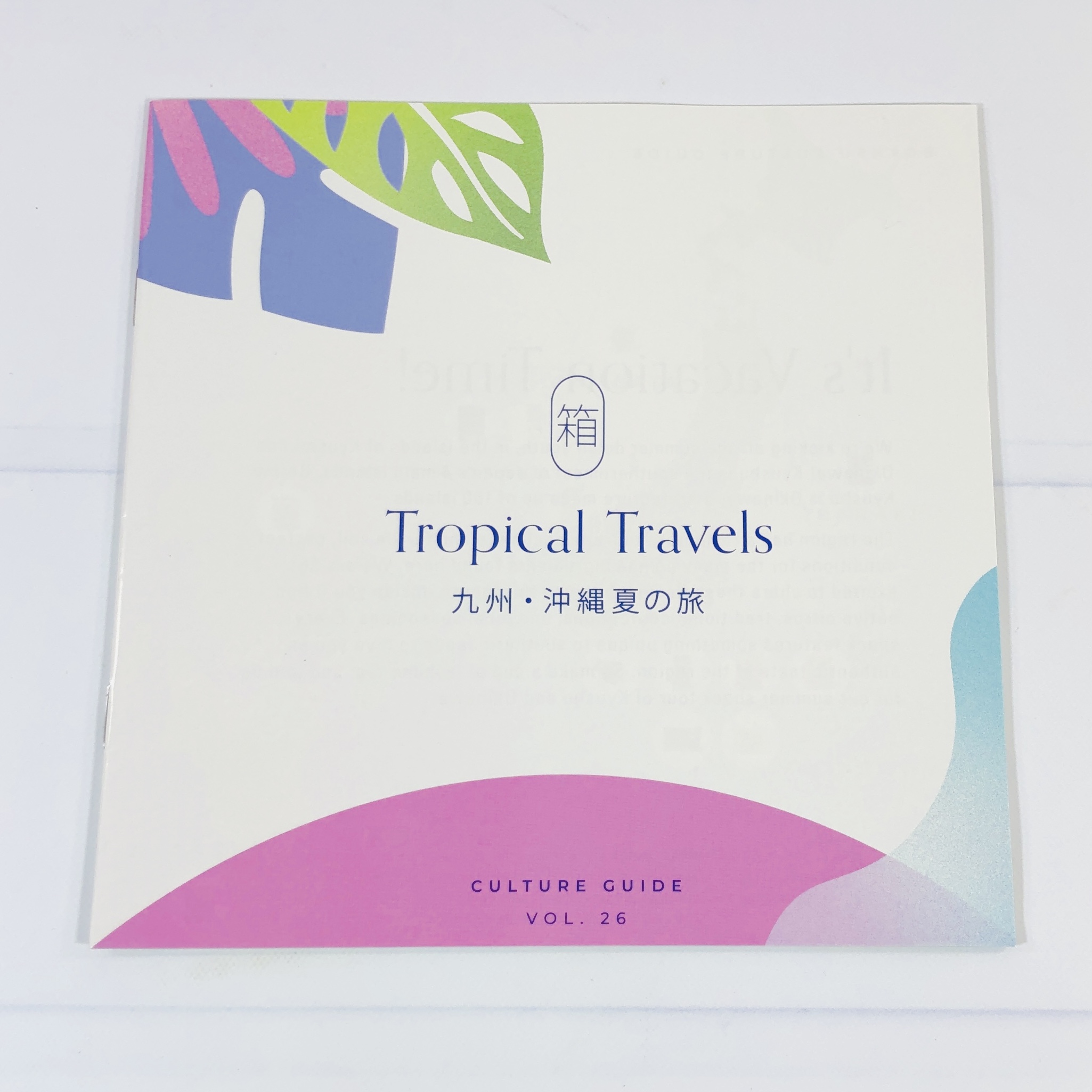 Bokksu provides a beautiful full-color info guide in every box.
June's theme is Tropical Travels! The box features snacks that are from a couple of the islands off Japan's coast. There's a map showing where in Japan each snack originated.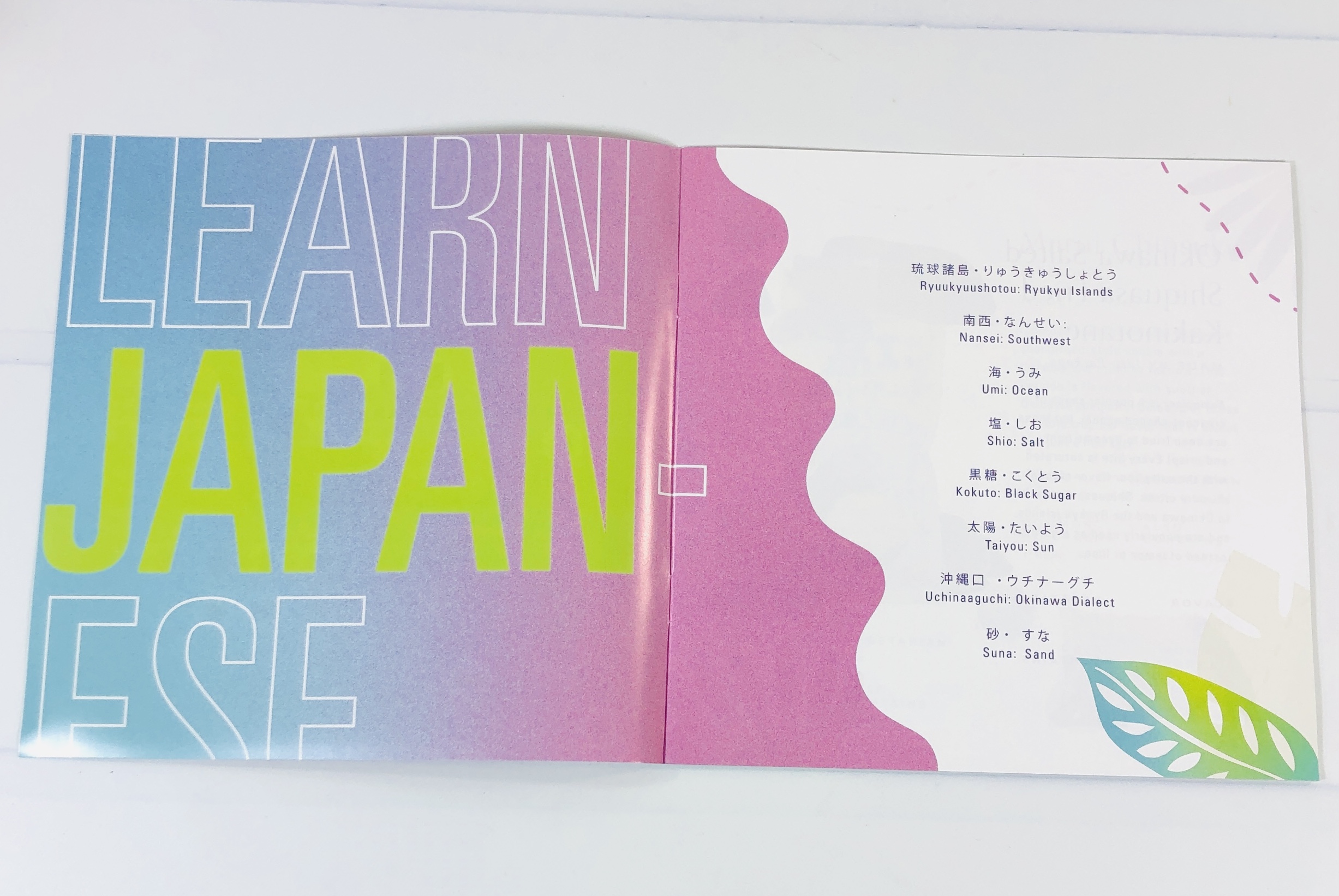 Here are a few words in Japanese.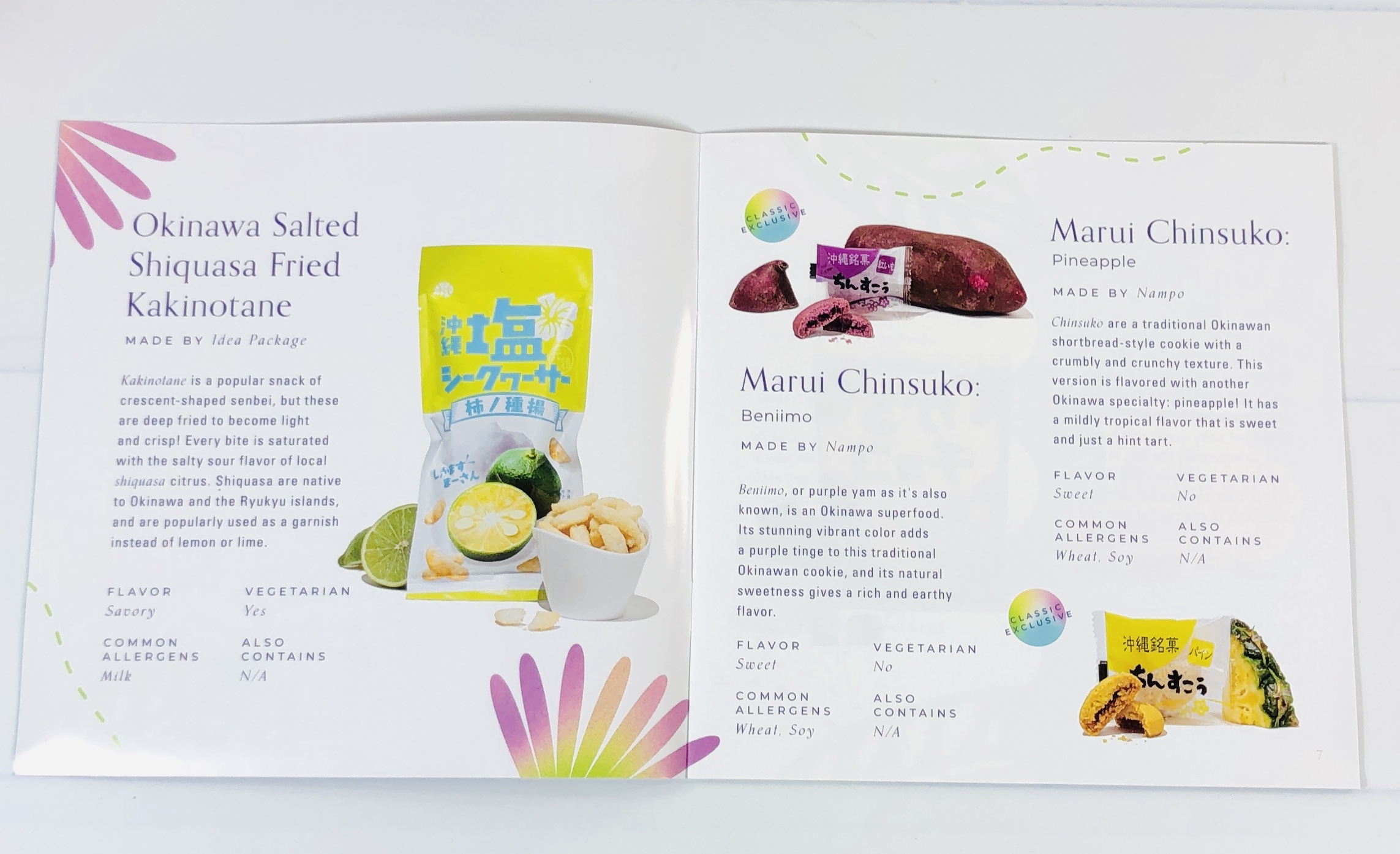 There is a picture and description of all of the snacks. You will find the brand name, common allergens, and a description.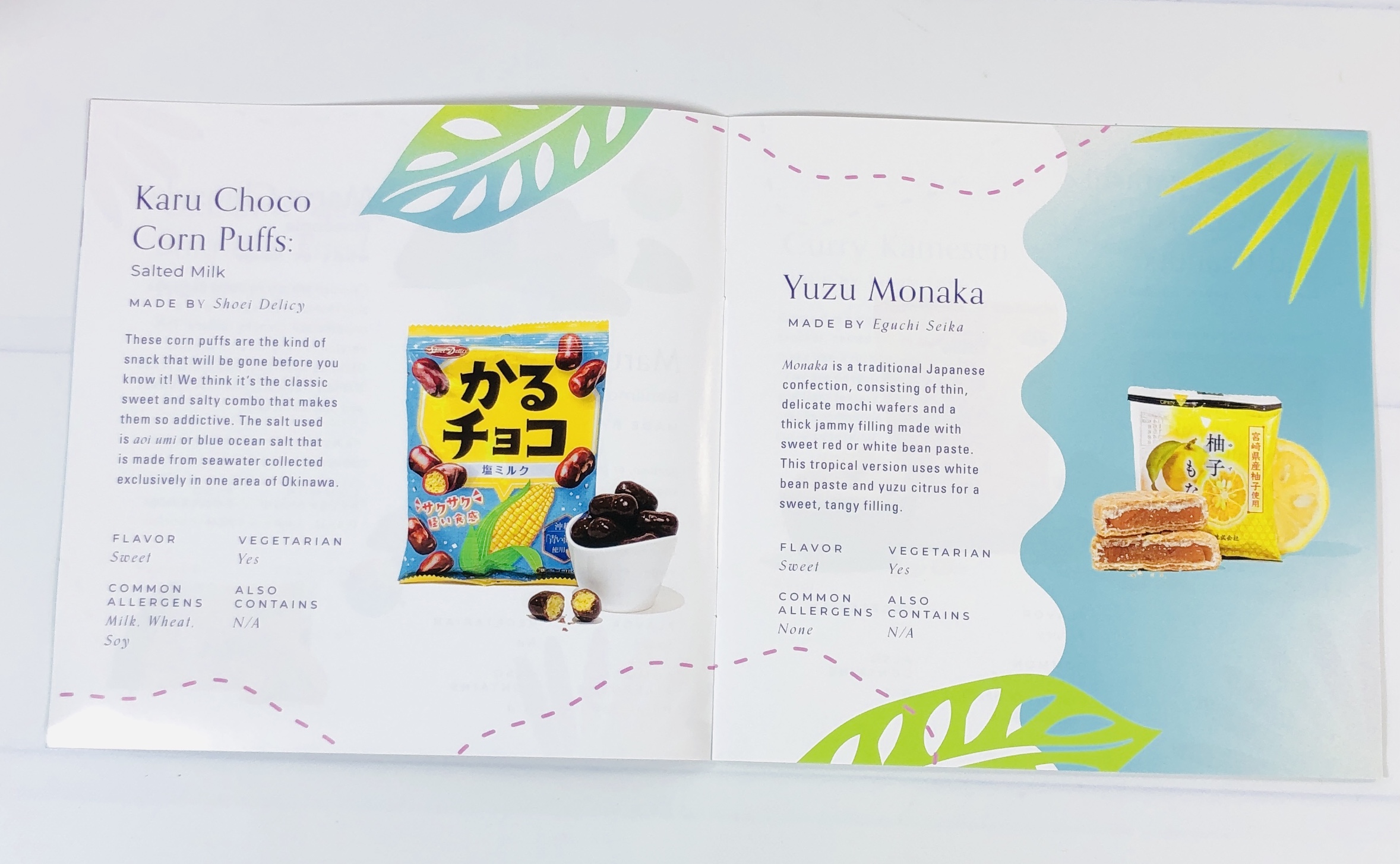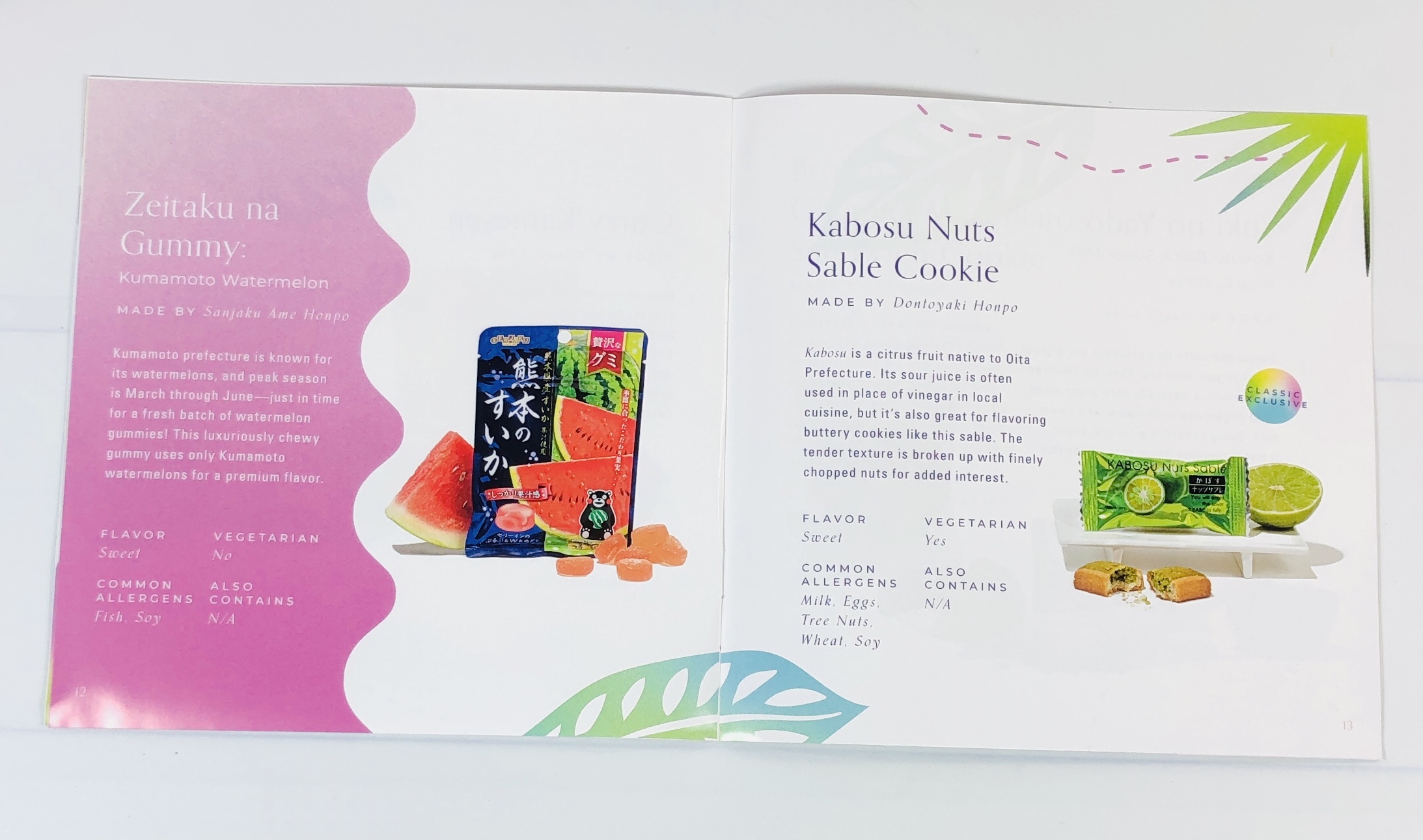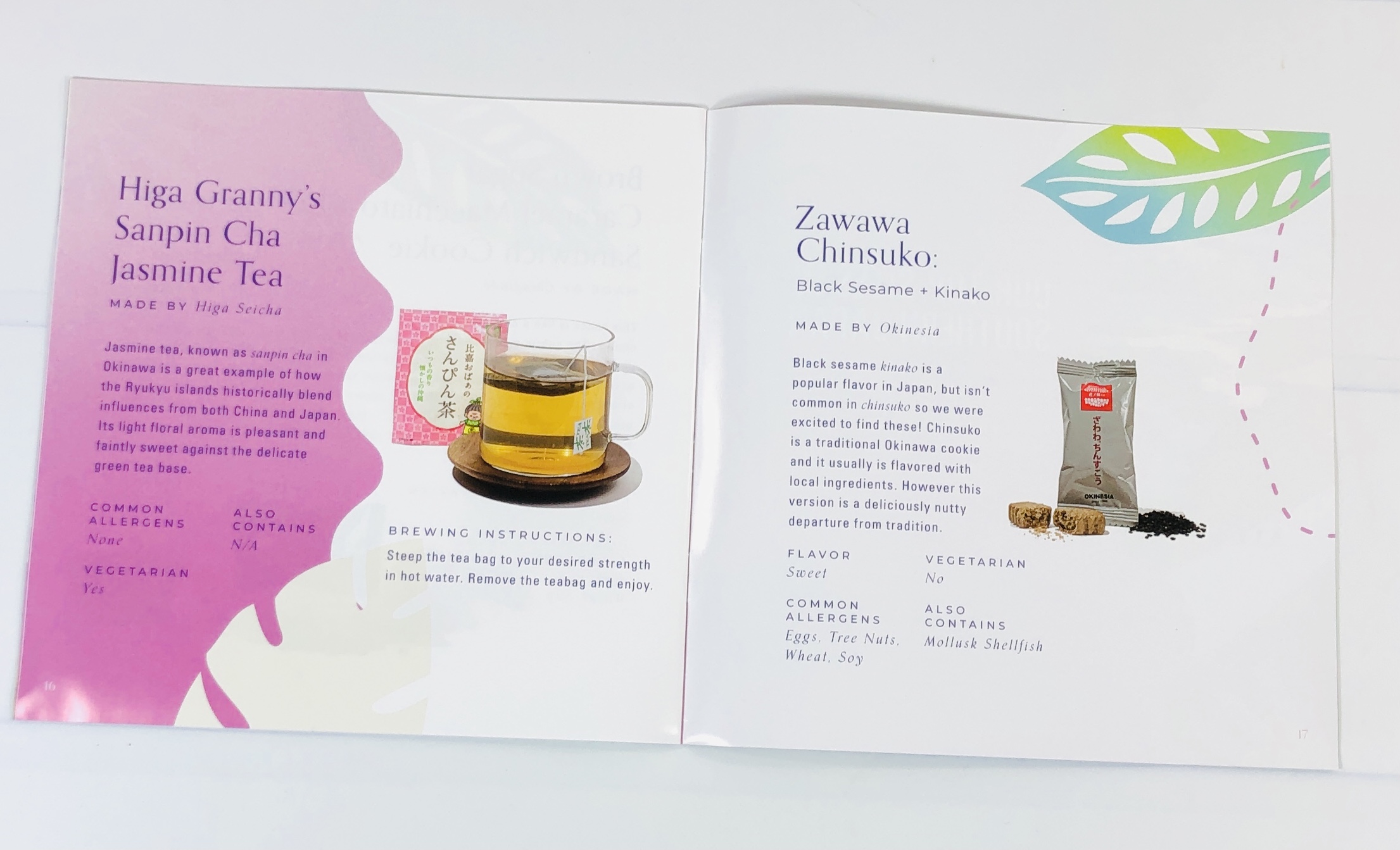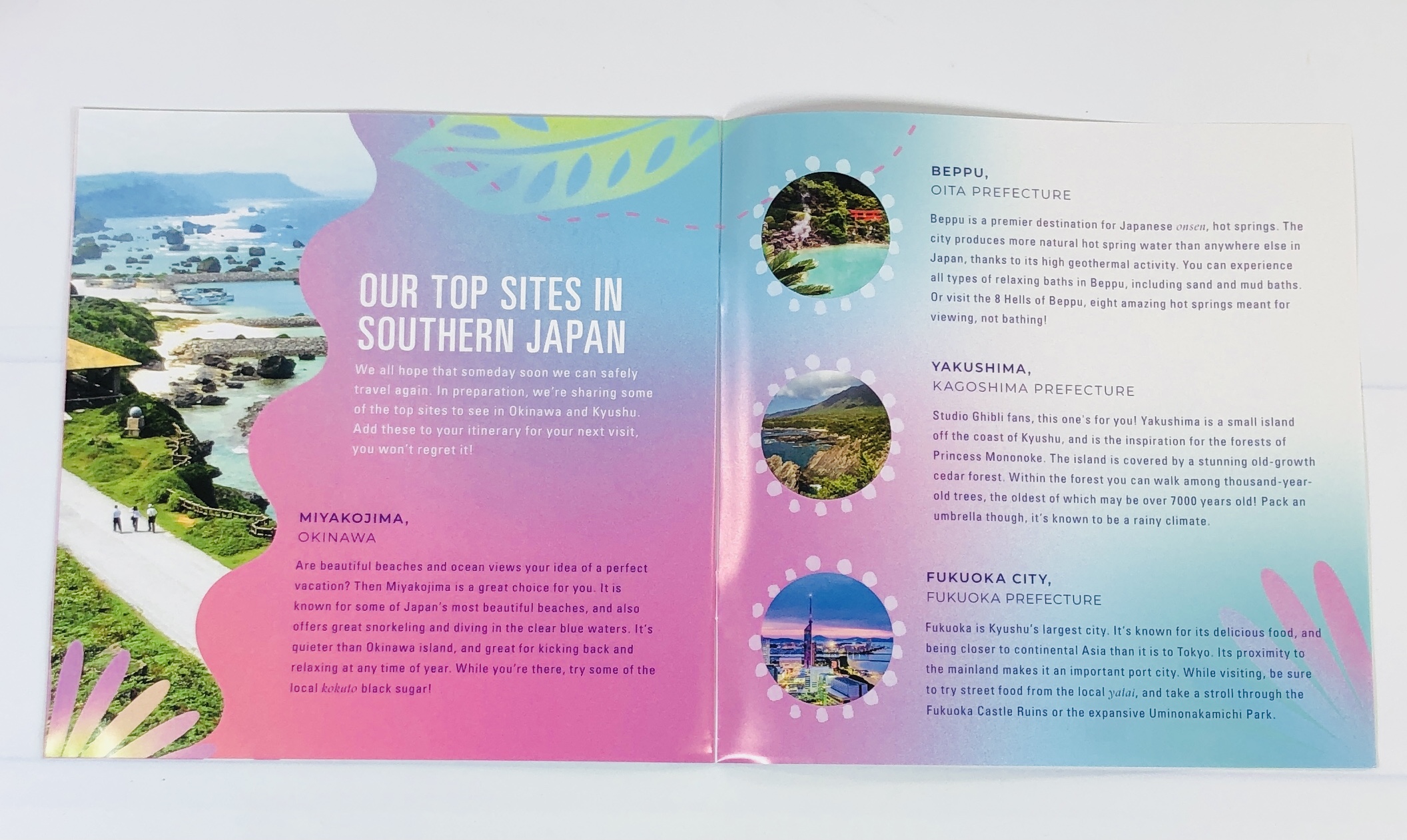 We learned about some places that are found in Southern Japan.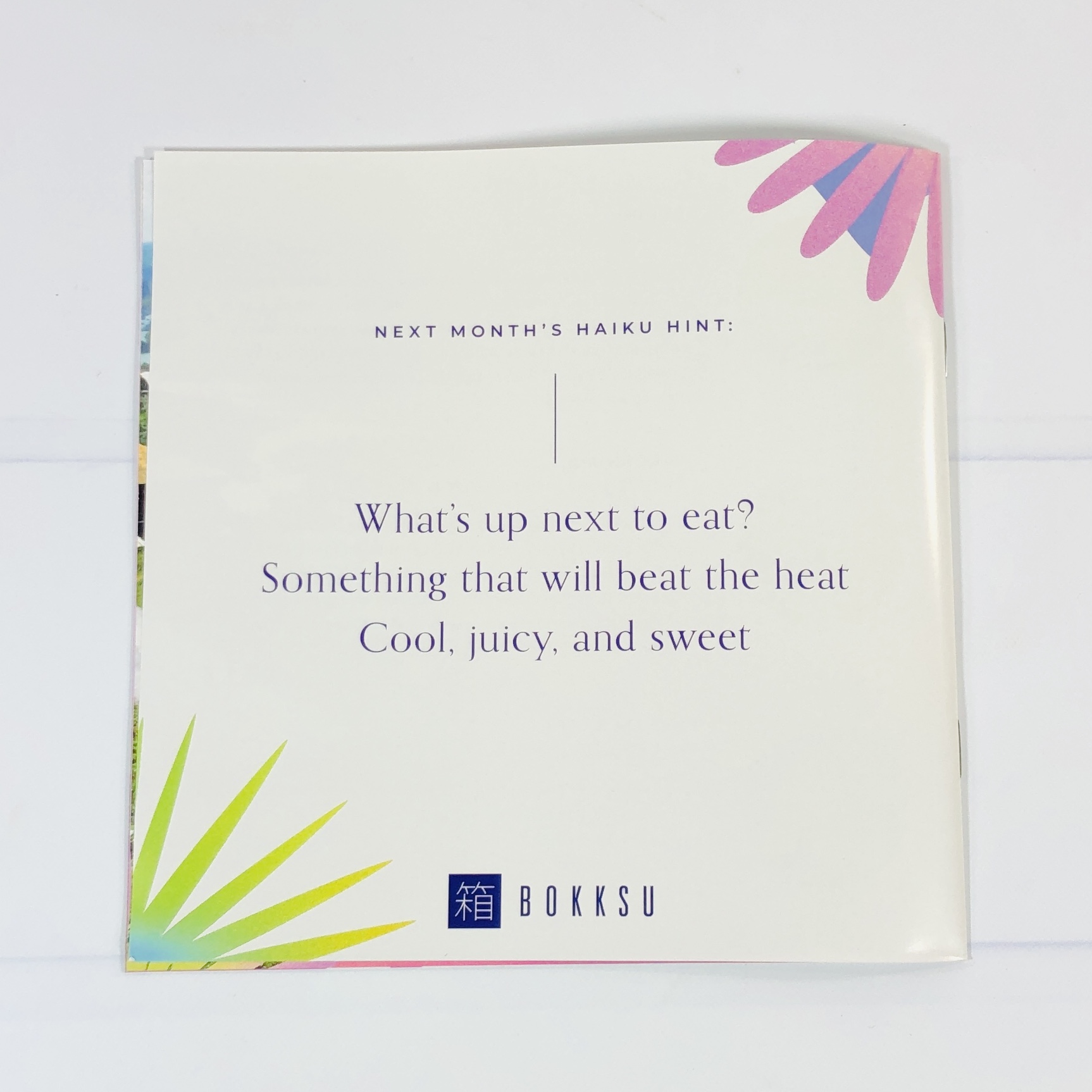 The back of the mag had a glimpse at the next box theme!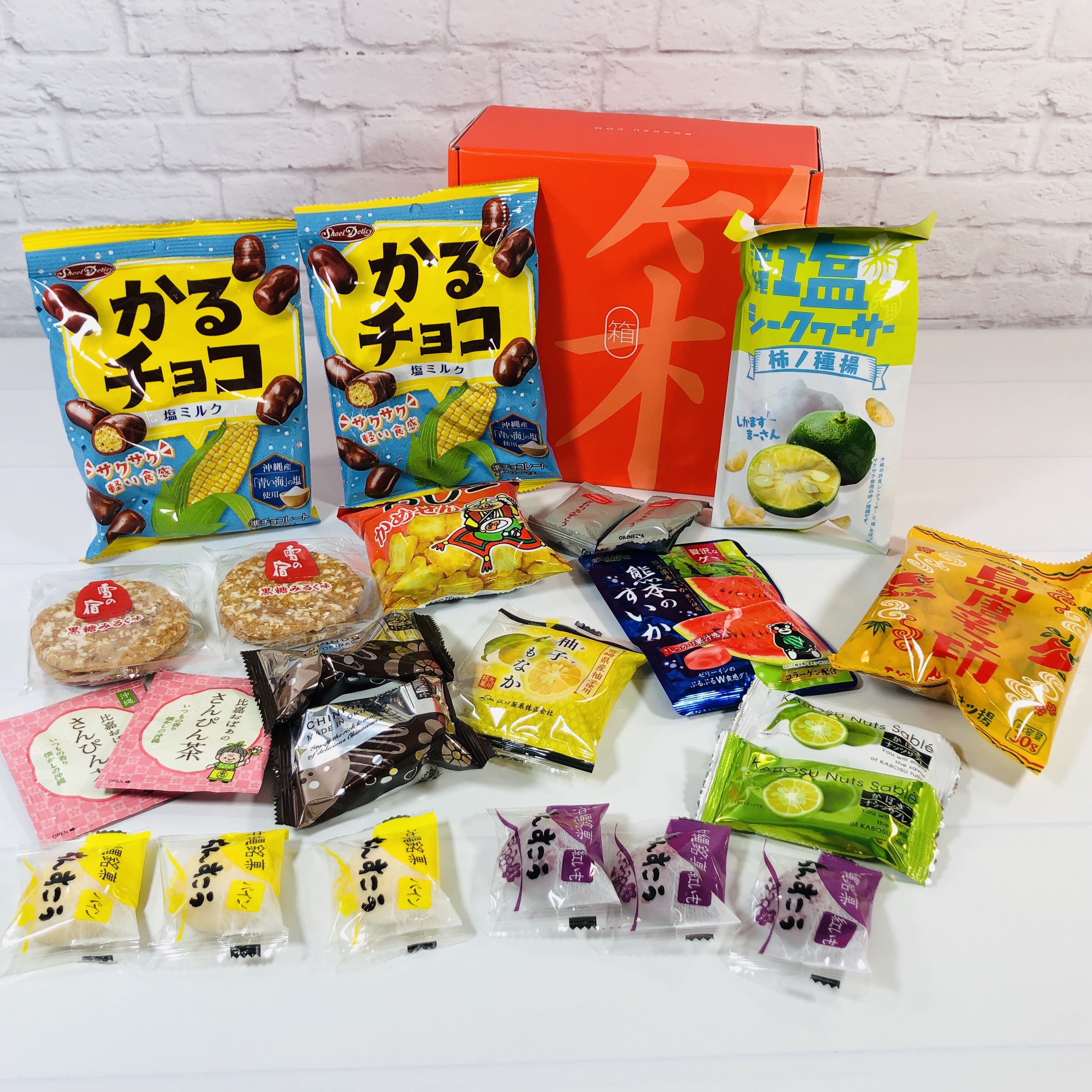 Everything in the June 2021 Classic Bokksu!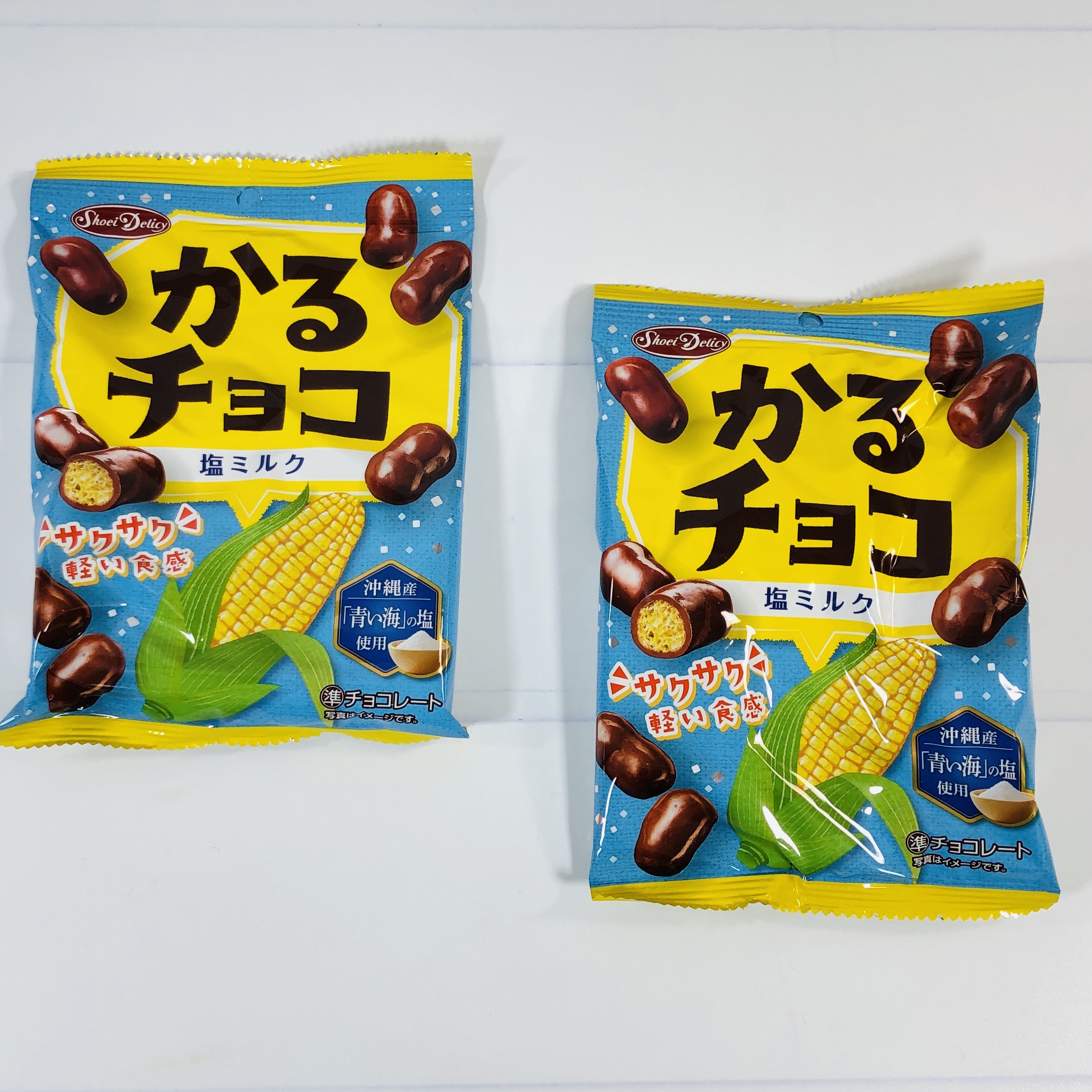 Karu Choco Corn Puffs These arrived melted together in a big blob but they still taste good. It's a puffed corn snack covered with salted milk chocolate. The salt comes from the ocean off of Okinawa!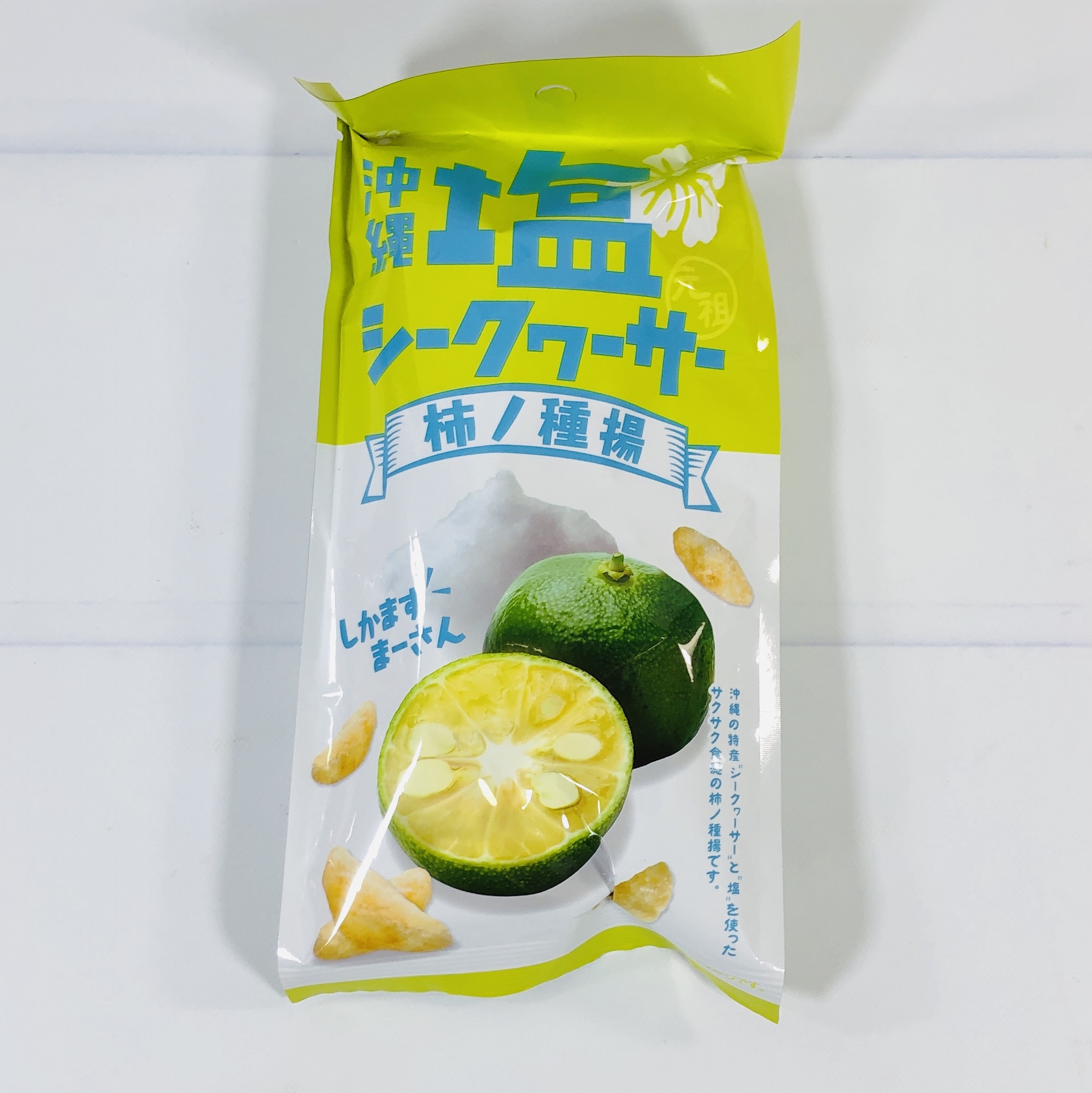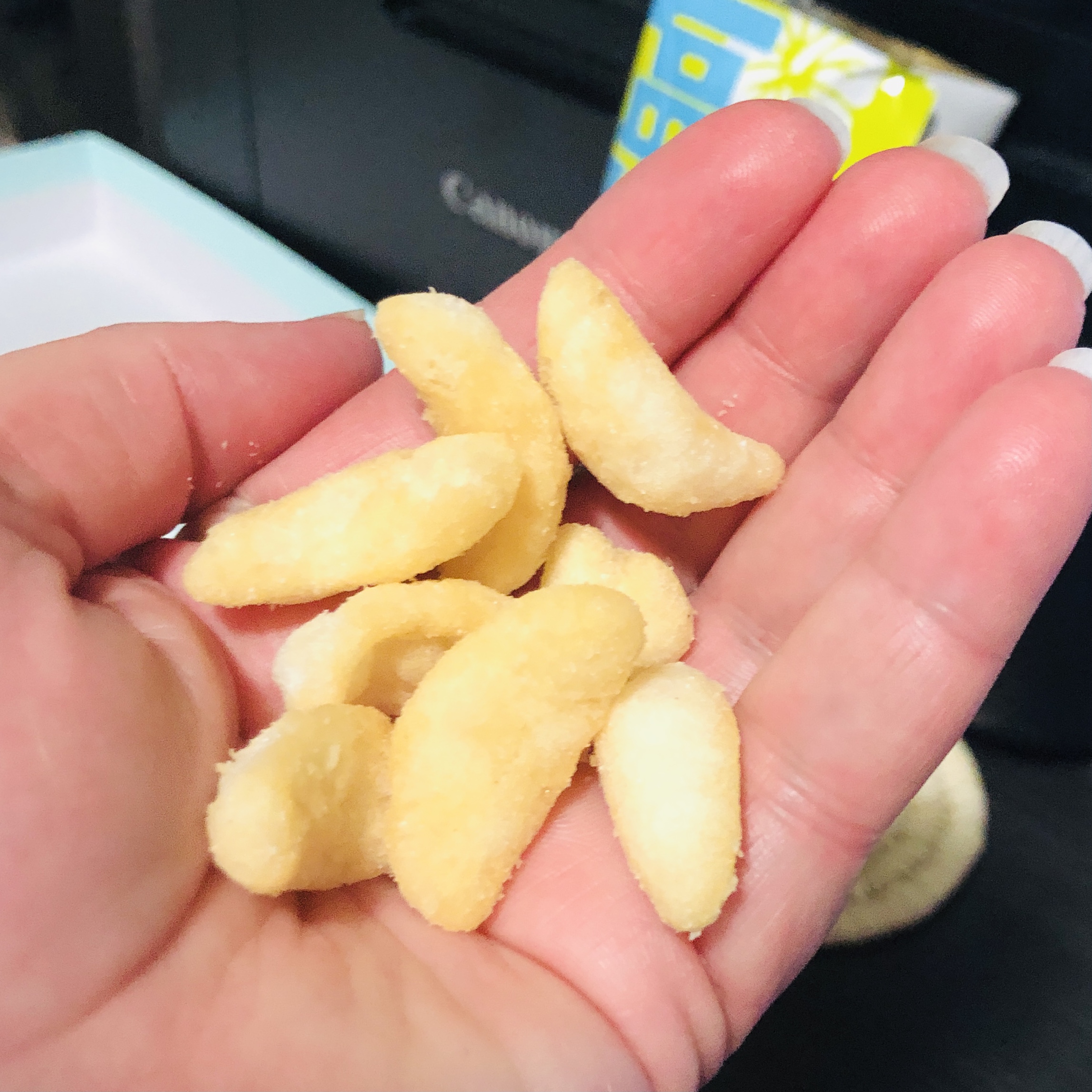 Okinawa Salted Shiquasa Fried Kakinotane are crispy fried chips, similar to a Cheeto, but that have a salty citrus flavor. I think the flavor was similar to lime but not as strong.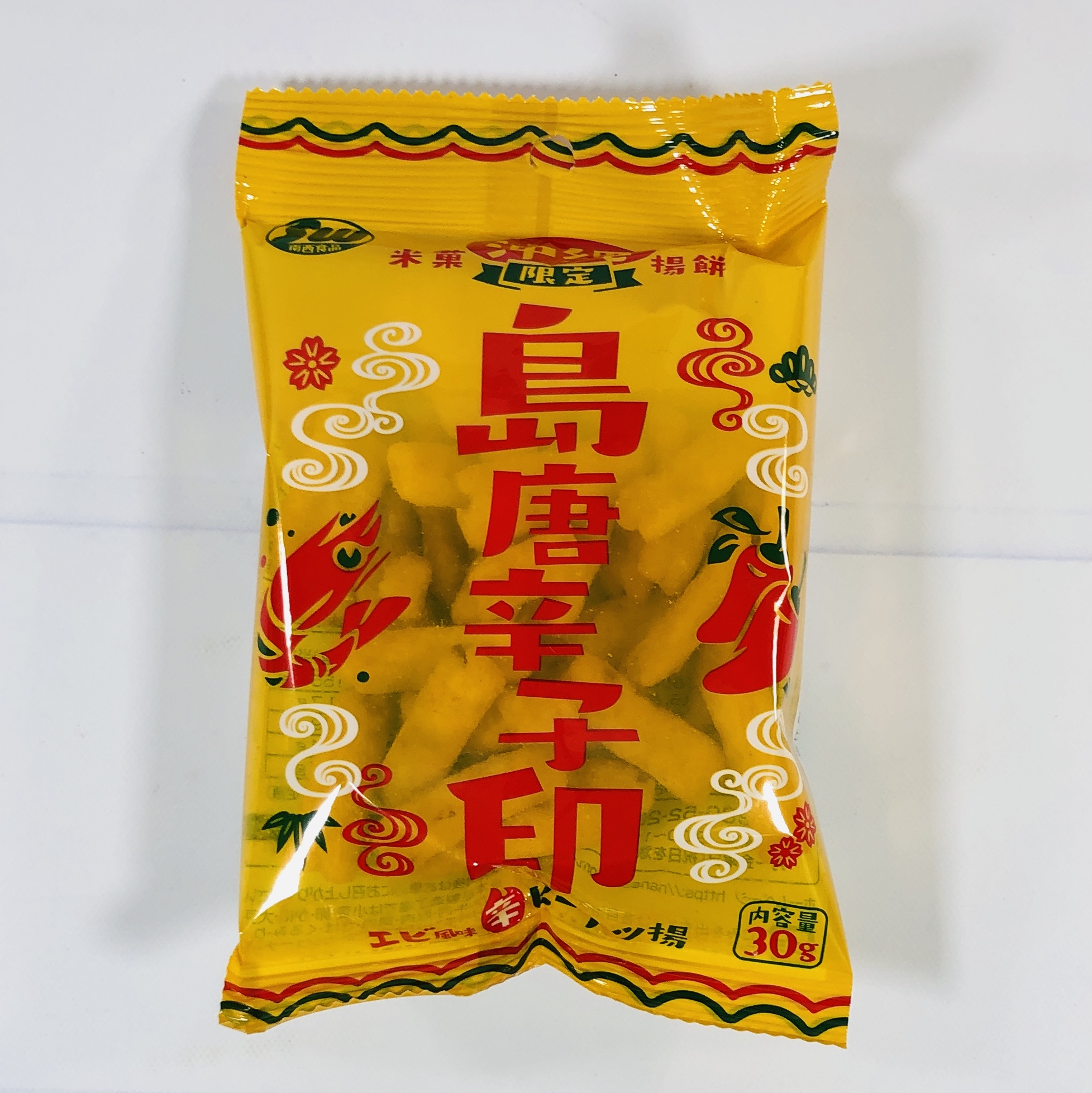 Shima Togarashi Rice Crackers and Peanuts At first I thought this was a nice crunchy snack, kinda salty and maybe even buttery. I saw a pepper on the bag and was sad that they weren't spicy, and then the heat showed up and I wished I had a glass of milk nearby (ok, maybe not quite that hot). I'm almost done with the bag but haven't found a peanut yet, maybe they are ground up and on the cracker itself. There was a hint of shrimp flavor.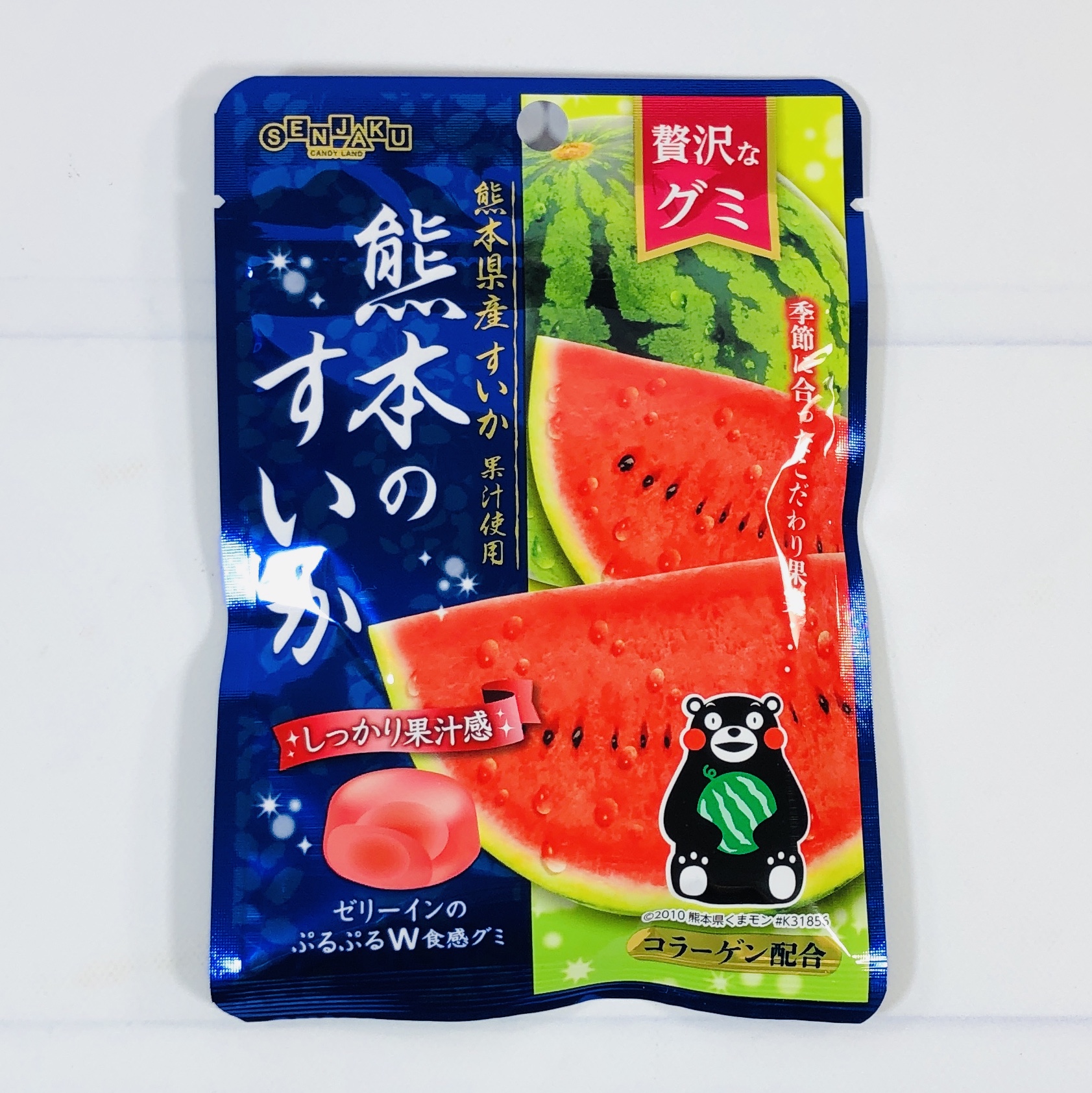 Zeitaku Na Gummy are watermelon flavored gummy candies with a jelly center. The flavor reminds me of honeydew melon candy rather than watermelon and these are mostly sweet, there's not much sour.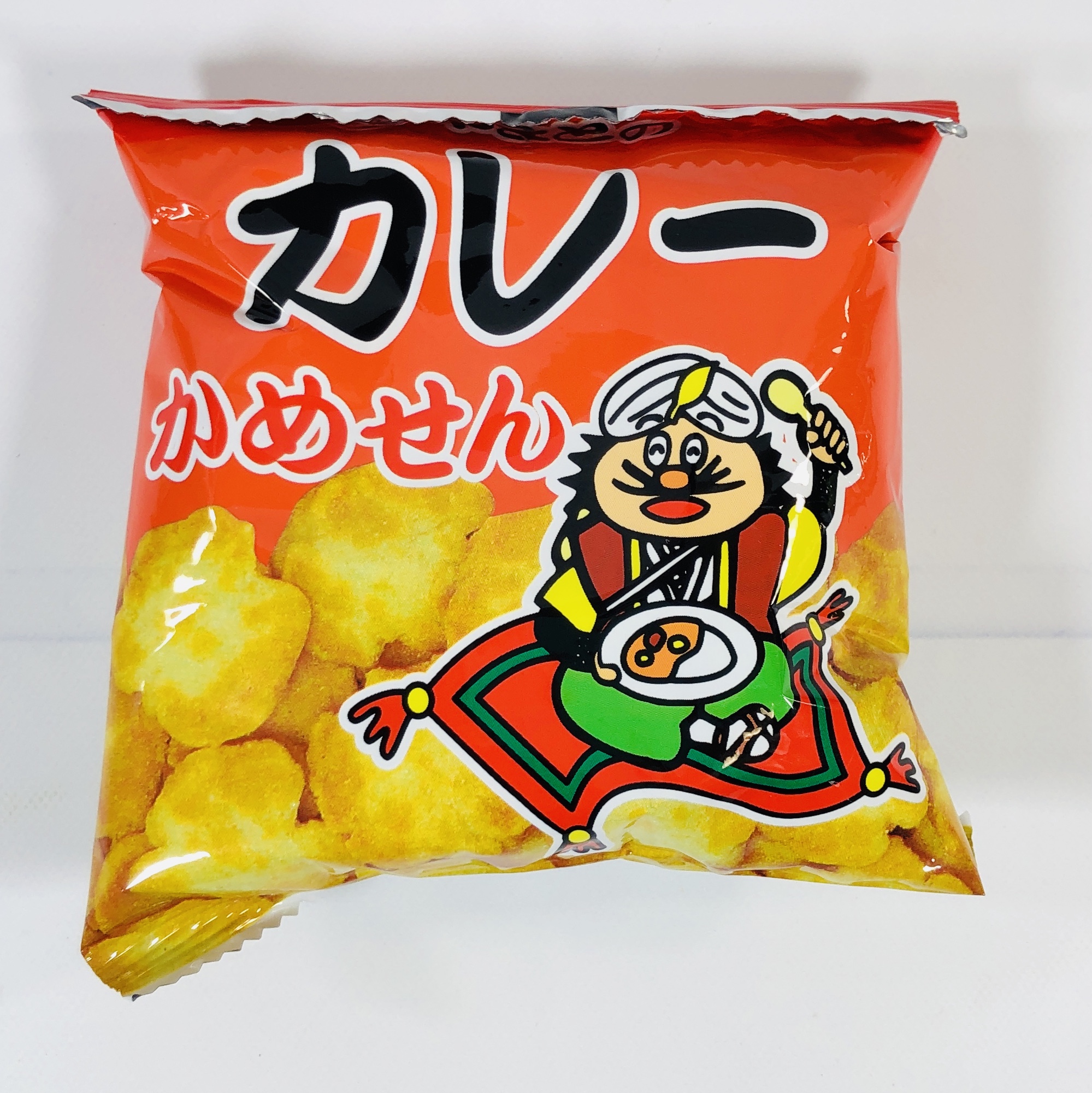 Curry Kamesen is a fried rice cracker but it isn't as greasy as a similar snack that I've tried from Bokksu before. The curry flavor isn't very hot or strong, and the crackers are very crunchy. It kind of reminds me of curry flavored cracklins.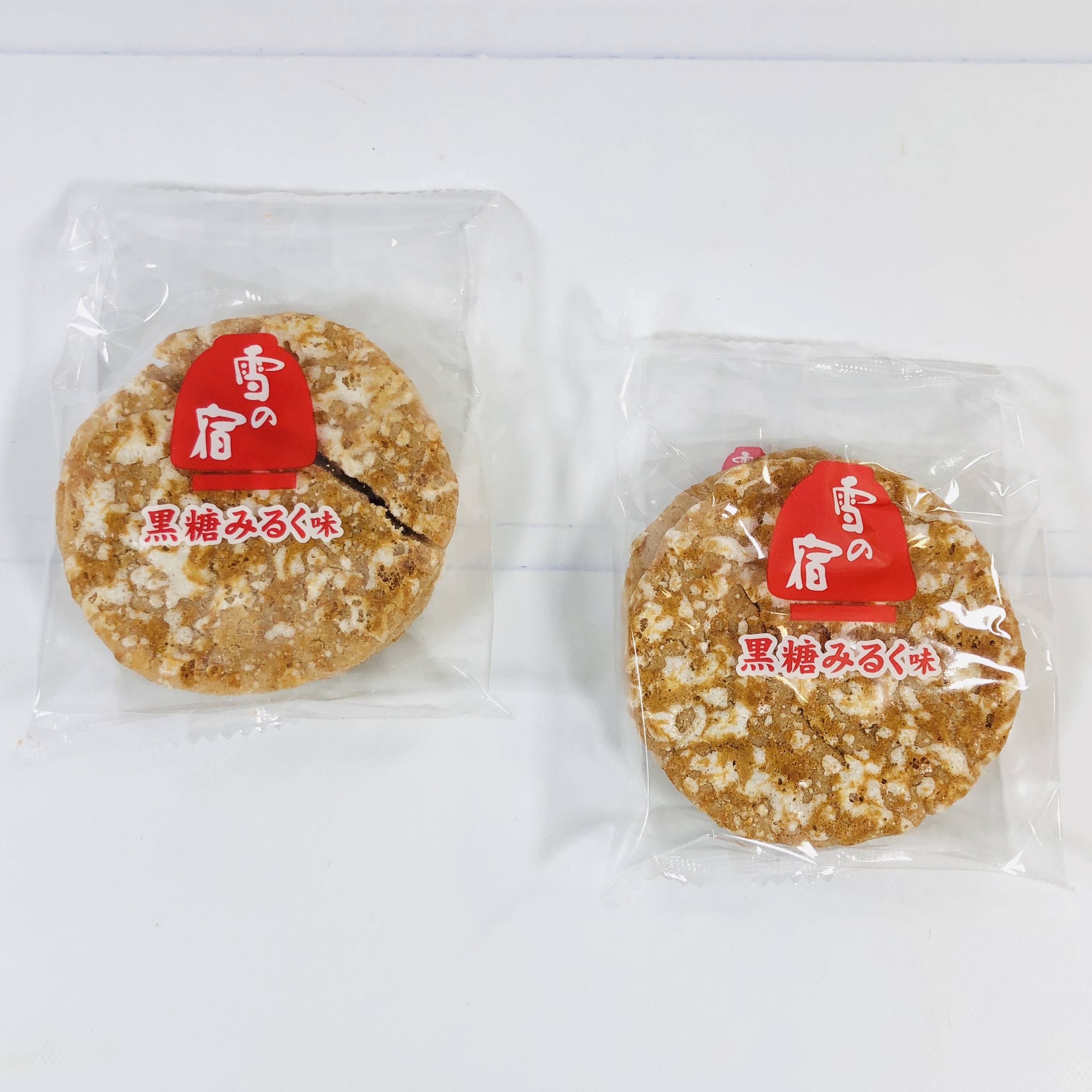 Yuki No Yado is a "black sugar milk cracker" that's also salty. The texture is different, kind of like a cross between a wafer cookie and a rice cracker, an oddly textured senbei. As for the flavor, it sort of reminds me of maple syrup and combined with the salt it's like eating a butter-topped pancake!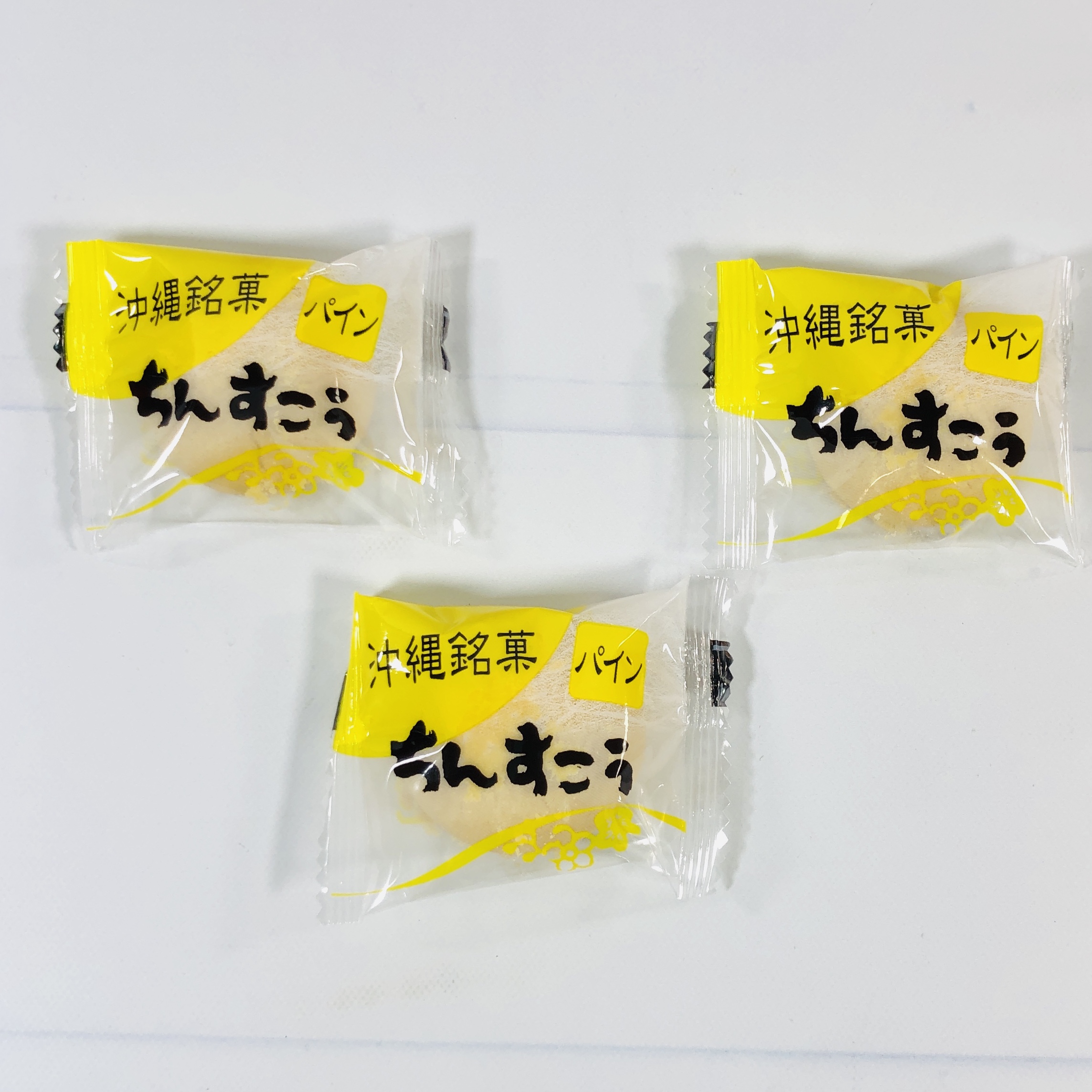 Marui Chinsoku: Pineapple is very simple — it's a pineapple flavored shortbread cookie! It is mild and sweet and crispy, a nice treat with tea.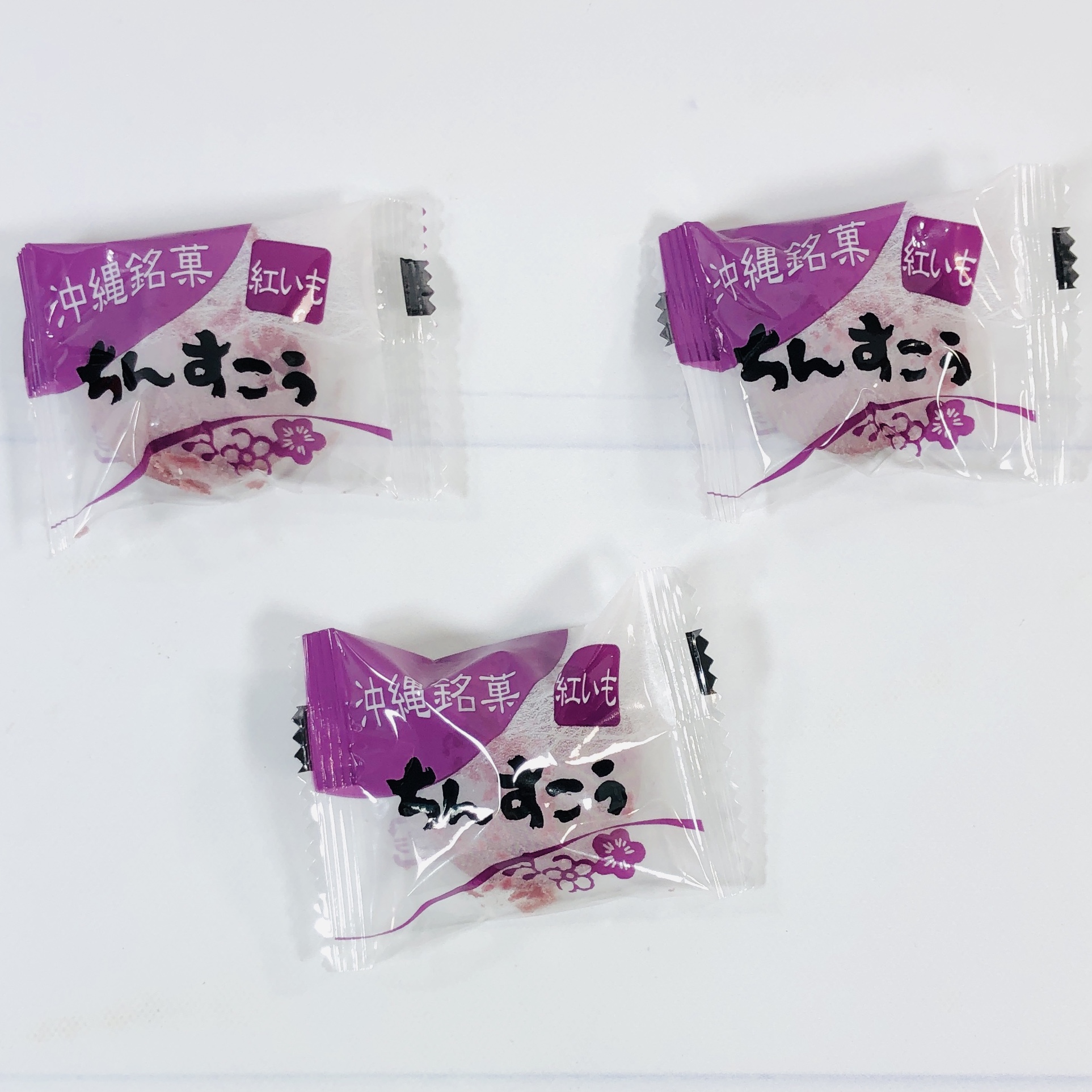 Marui Chinsoku: Beniimo is made with purple yam but I couldn't taste that at all. This reminded me of a buttery shortbread cookie except it was purple.
Higa Granny's Sanpin Cha Jasmine Tea When I reach for green tea, it's usually a genmaicha or jasmine, so I was thrilled to get two jasmine tea bags! Make sure to keep the water under the boil when steeping and keep the bag in for no more than 3 minutes to avoid bitter tea. It has a delicate floral flavor and is perfect for an afternoon sip.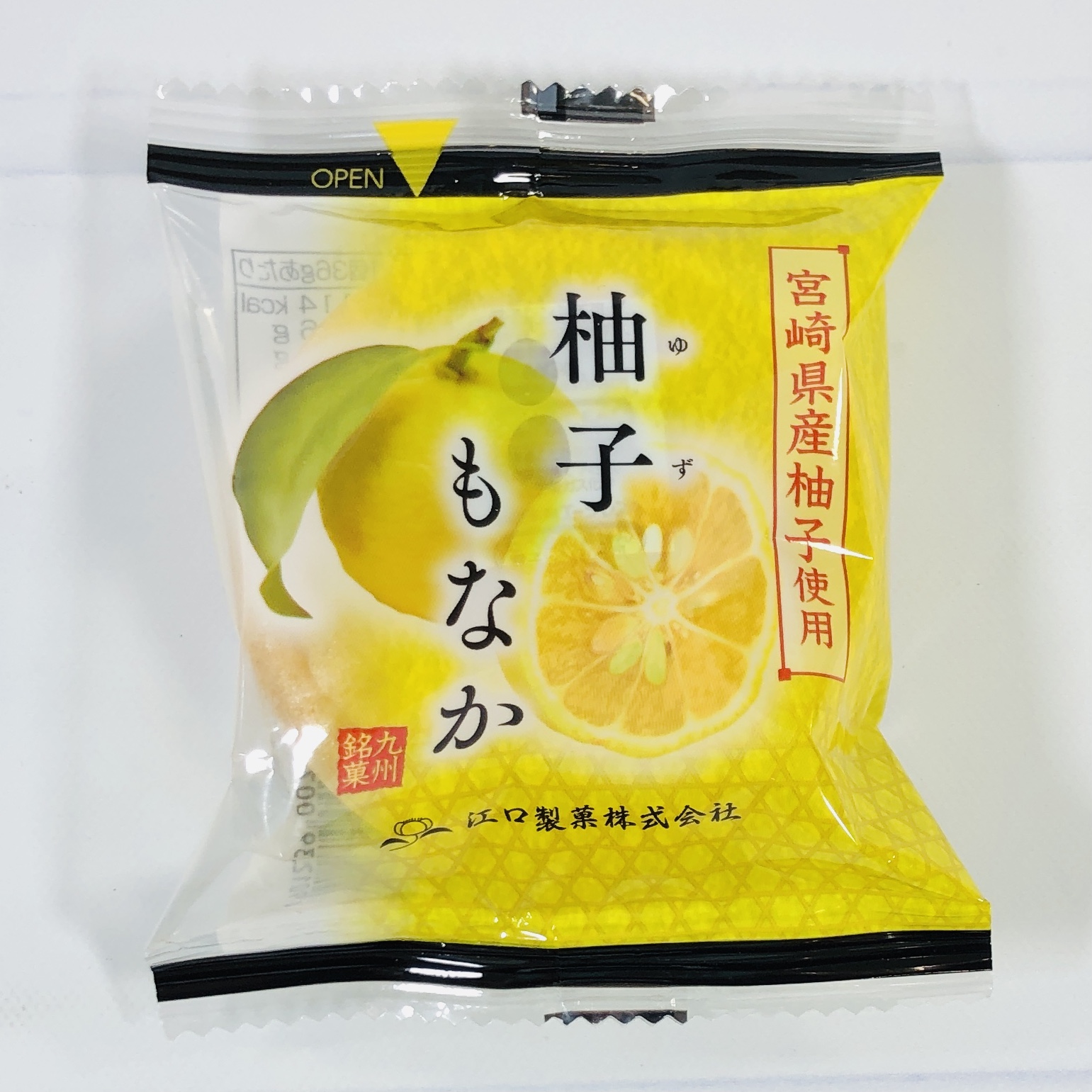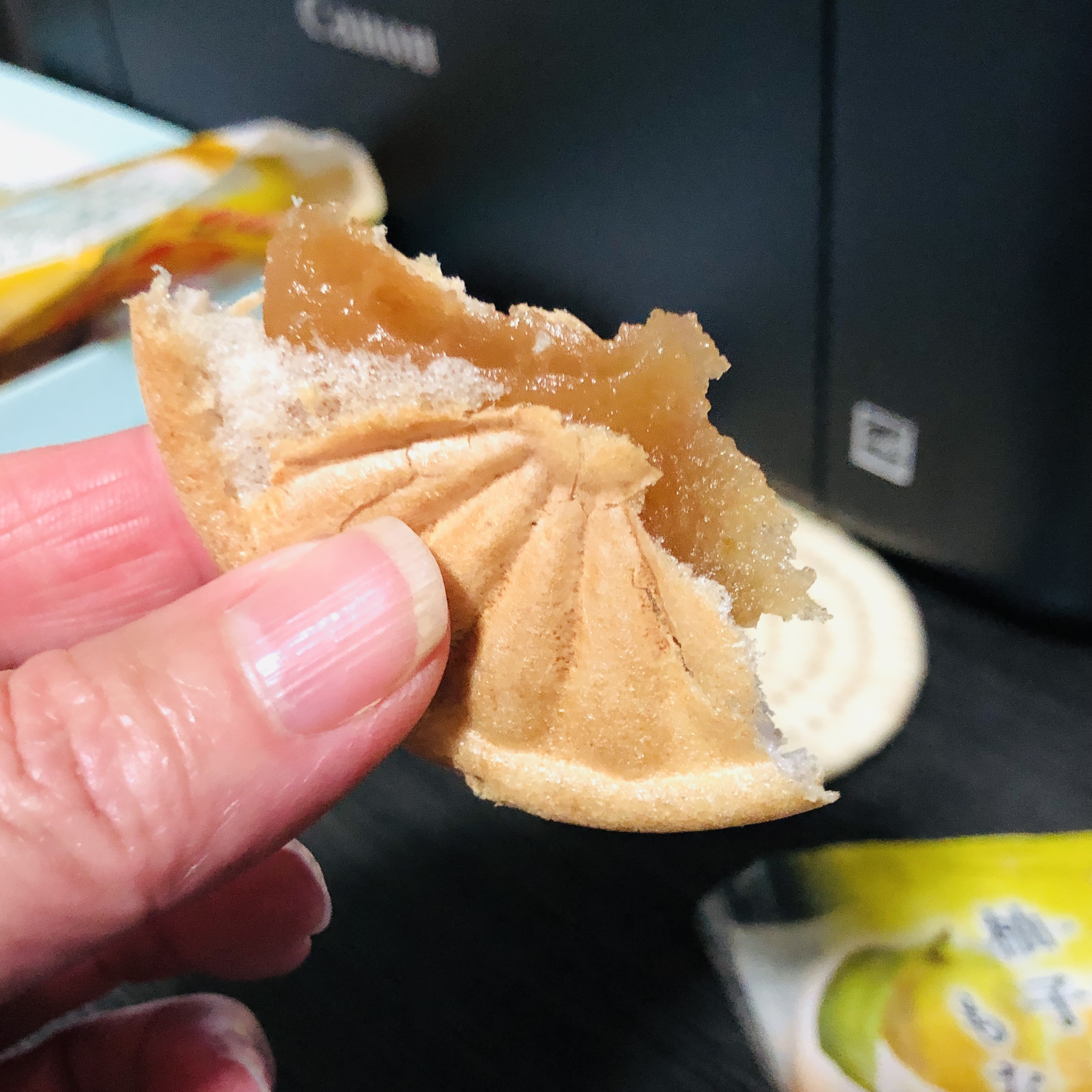 Yuzu Monaka is a wafer cookie with a citrus-flavored bean paste in the middle. I was expecting something like lemon curd, as it was described as jammy, but it was similar in texture to other bean paste filled snacks, and although it wasn't super sweet, the yuzu flavor was on point.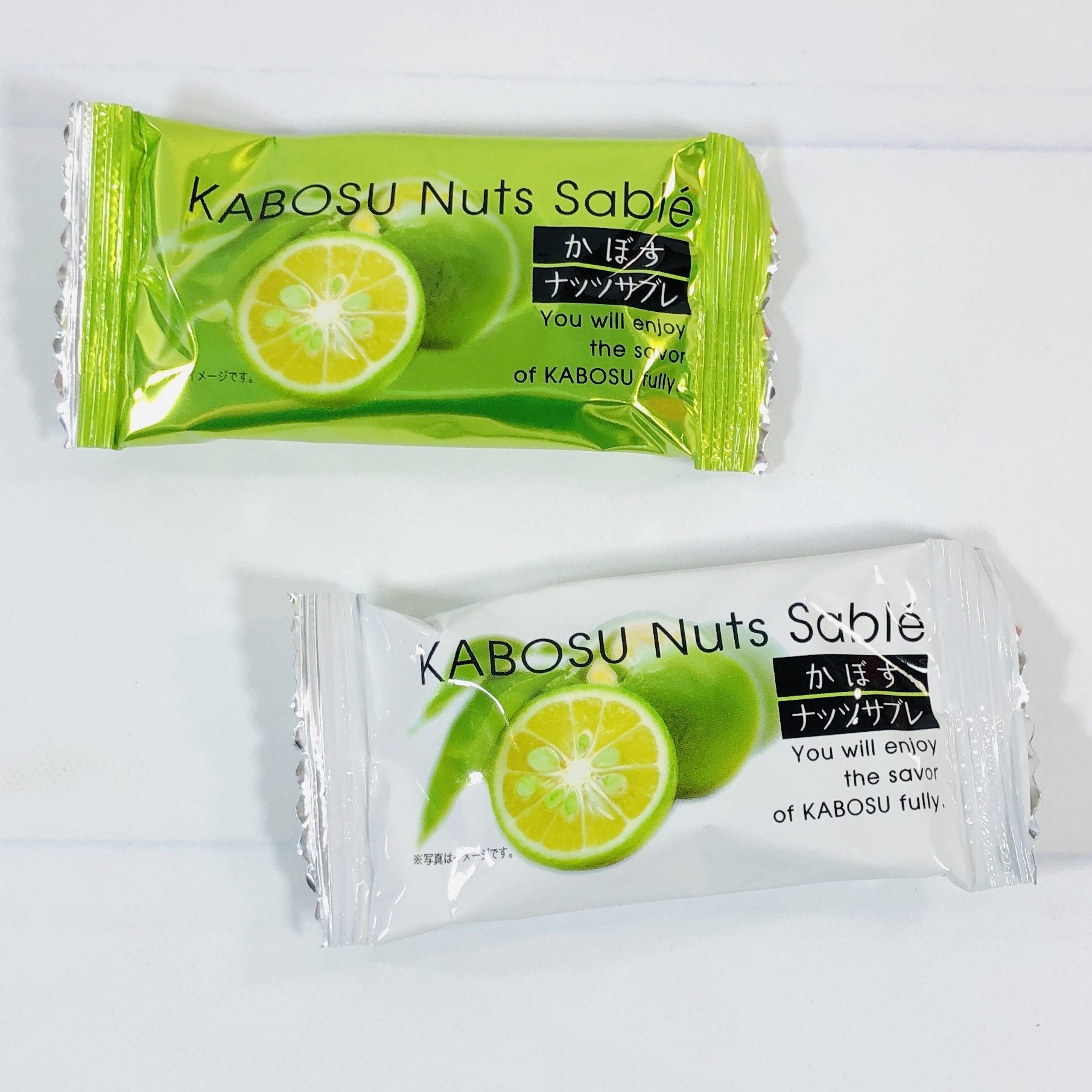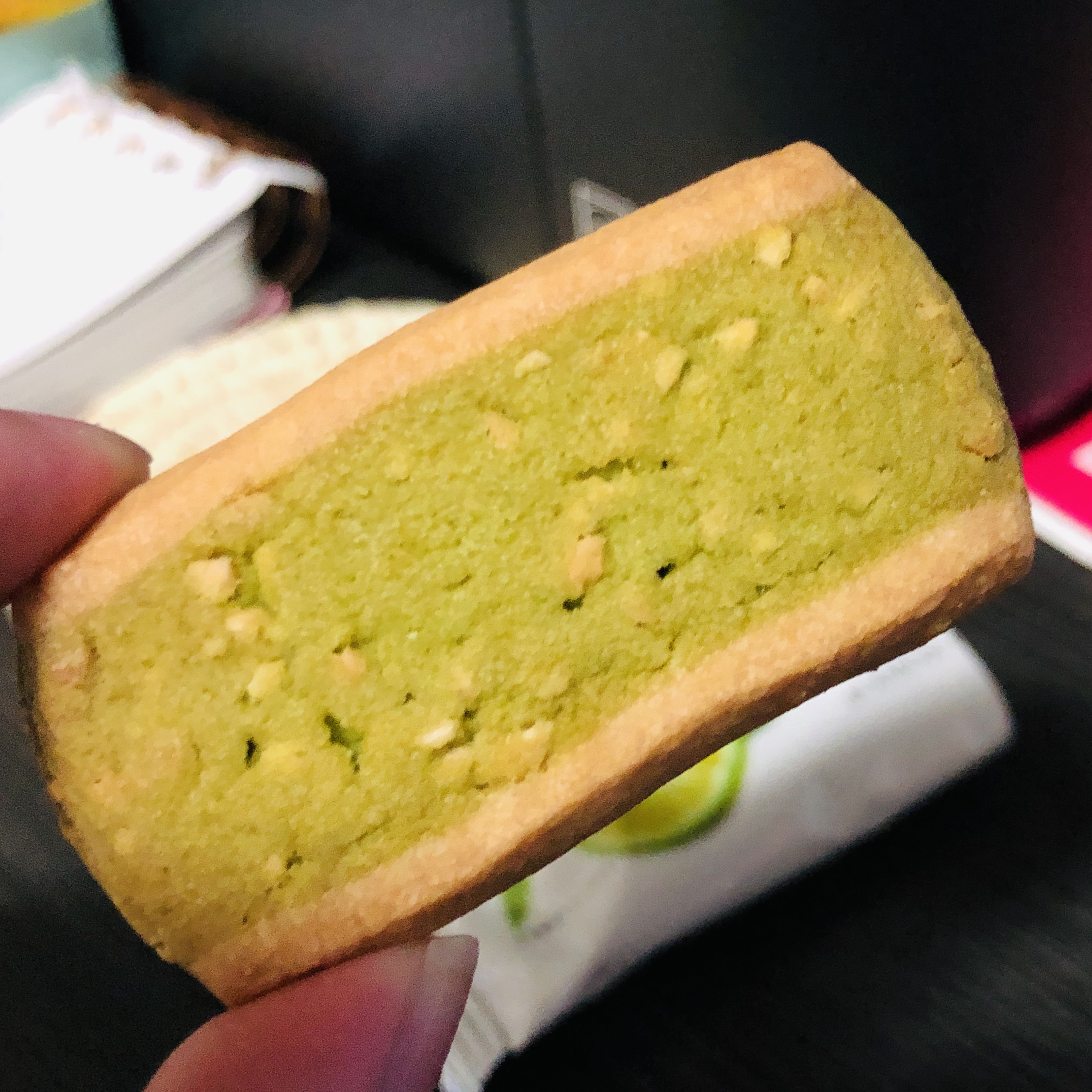 Kabosu Nuts Sable Cookies are a not-too-sweet shortbread cookie with a hint of citrus flavor that reminds me of lime. The middle part has nuts and the type isn't mentioned, but the website lists tree nuts.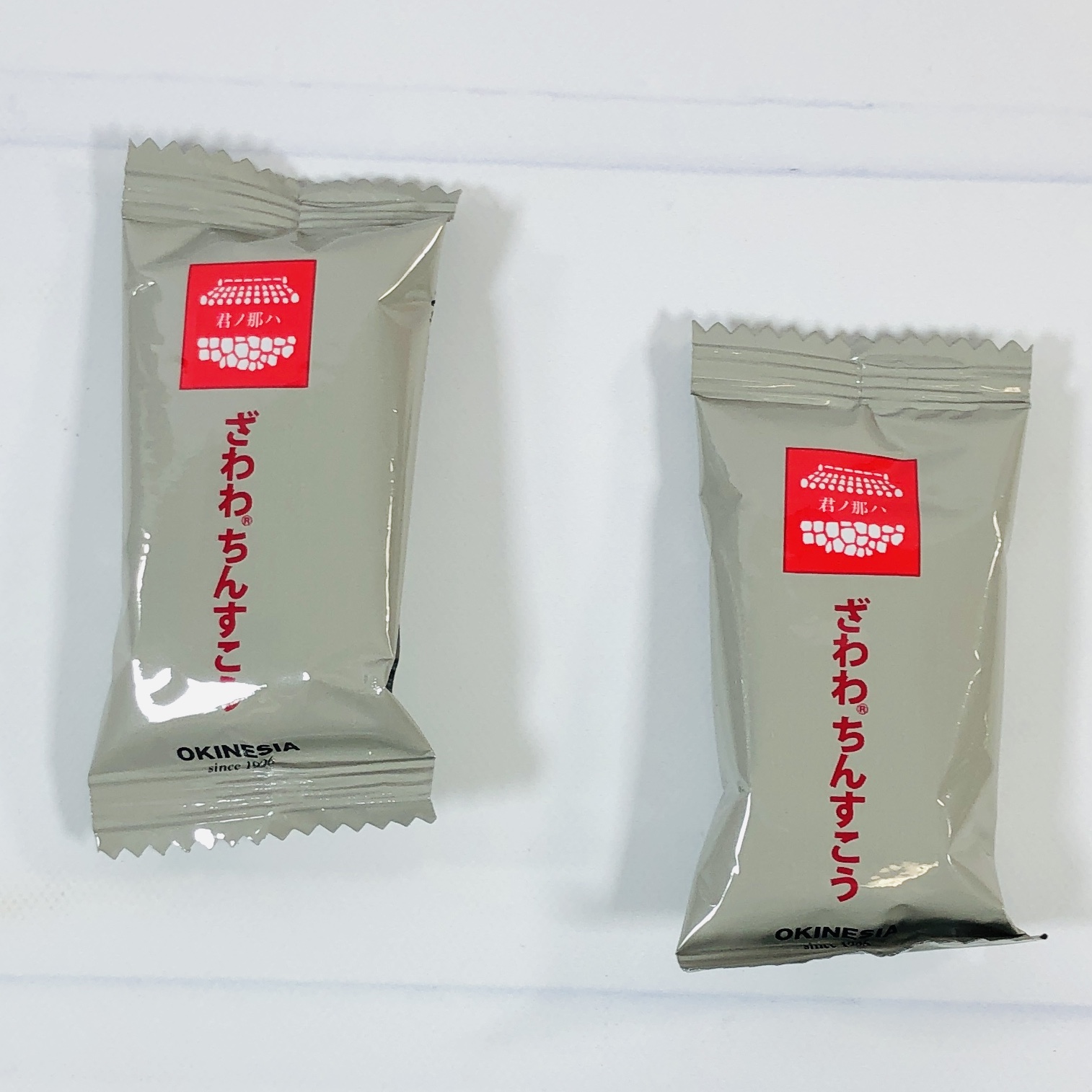 Zawawa Chinsoku: Black Sesame + Kinaku Tis the season for shortbread cookies I think, since they ship well in the heat. This one is flavored with sesame, which gives it a nutty note, and it was gone in a heartbeat.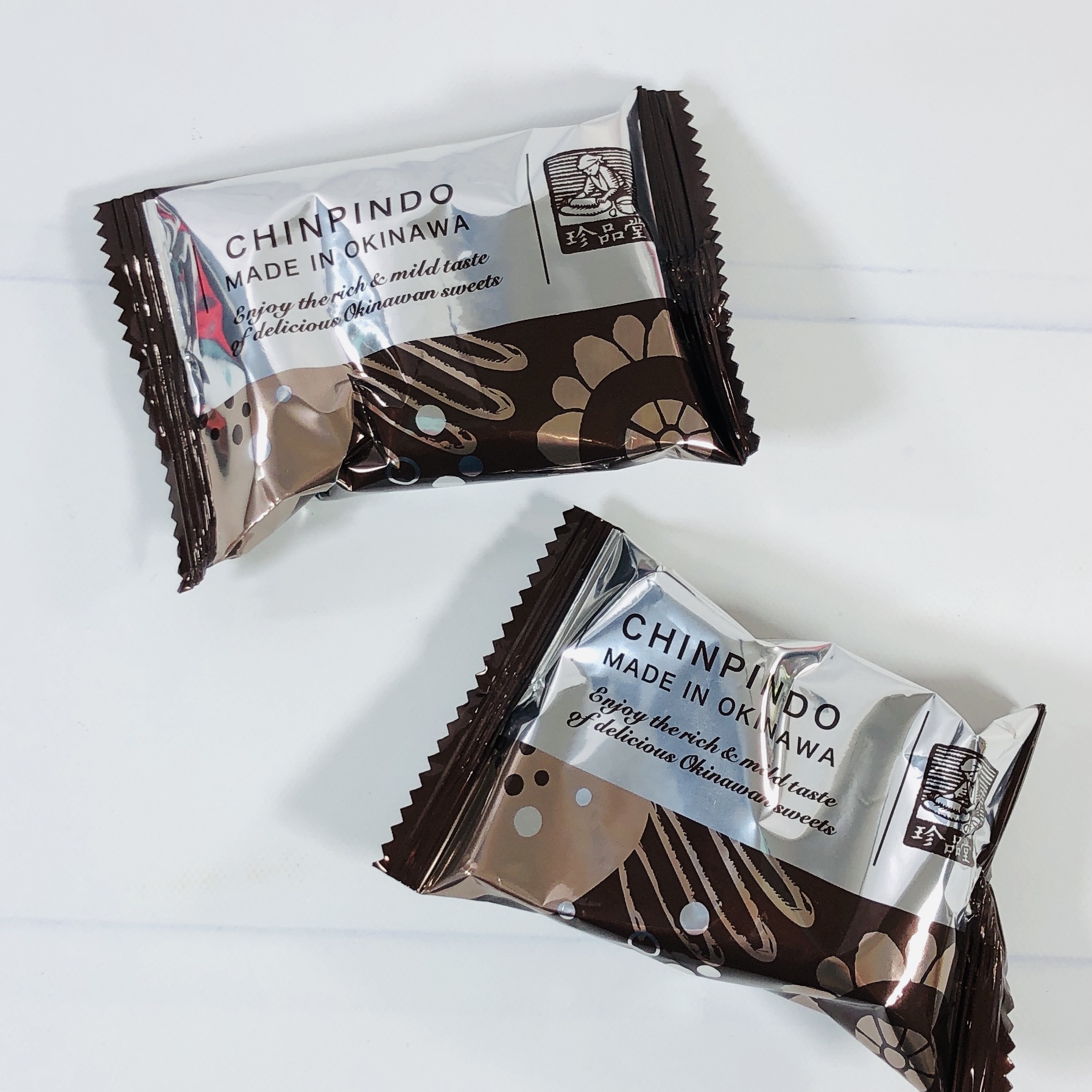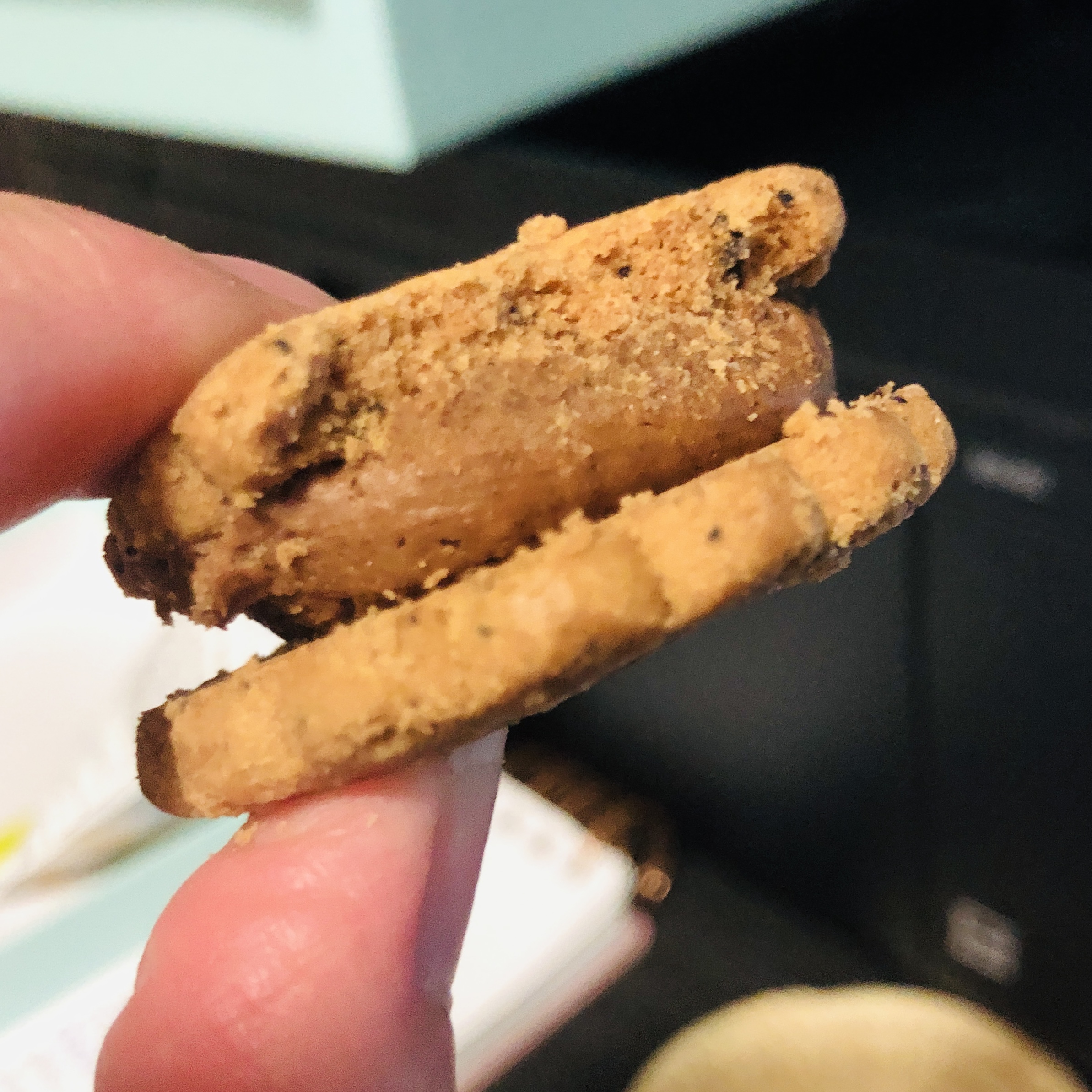 Brown Sugar Caramel Macchiato Sandwich Cookie is like a Starbucks Frappuccino in cookie form! I think the shortbread cookies on the outside have ground up coffee beans while the middle is a thick creamy dollop of, well, I'm not sure what but the whole thing together is decadent.
Bokksu sent several shortbread-type cookies this month, about five different flavors, but they did give us a break from mochi, which might not ship well during the hotter months. I appreciated all of the various flavors, and always, I received a combo of both sweet and salty snacks. I love sharing the snacks with my family and they give me feedback, sometimes they love something I didn't or don't care for something I raved about. The booklet is helpful and I like that Bokksu introduced us to another part of Japan.
What's your favorite snack from this month's box?