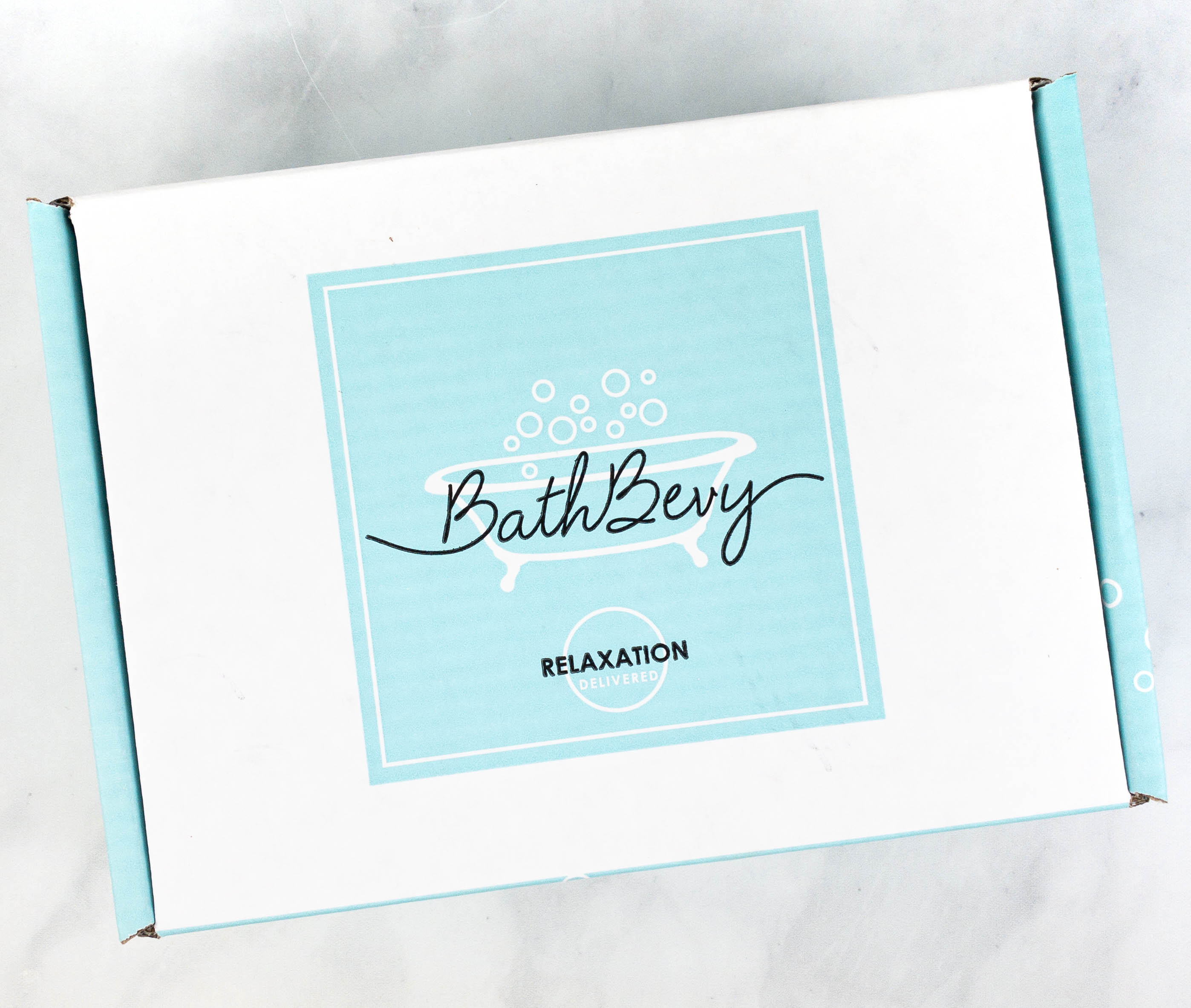 Bath Bevy curates boxes for bath lovers! Each themed box has 6-10 bath items, which may include bath bombs, bubble bars, bath salts, body scrubs, handmade soaps, and more! Most of these items are from indie bath and body brands. A monthly subscription is $34.95 per box and a quarterly subscription is $36.95 per box. A new option is the Tubless subscription which sends bath and body products but no items for the bathtub like bath bombs and bath soaks. It's $37.50 per month. Some of the items you can expect from this option are body washes, whipped soaps, sugar scrubs, lotions, and shower steamers.
DEAL: Save $4 on your first box! Use coupon code HELLO10.
Bath Bevy's bath subscription box topped the list in our 2021 readers' choice picks of best bath subscription boxes!
The items were wrapped in a colorful tissue paper, sealed by a Bath & Bevy sticker.
There were also paper squiggles to cushion the items.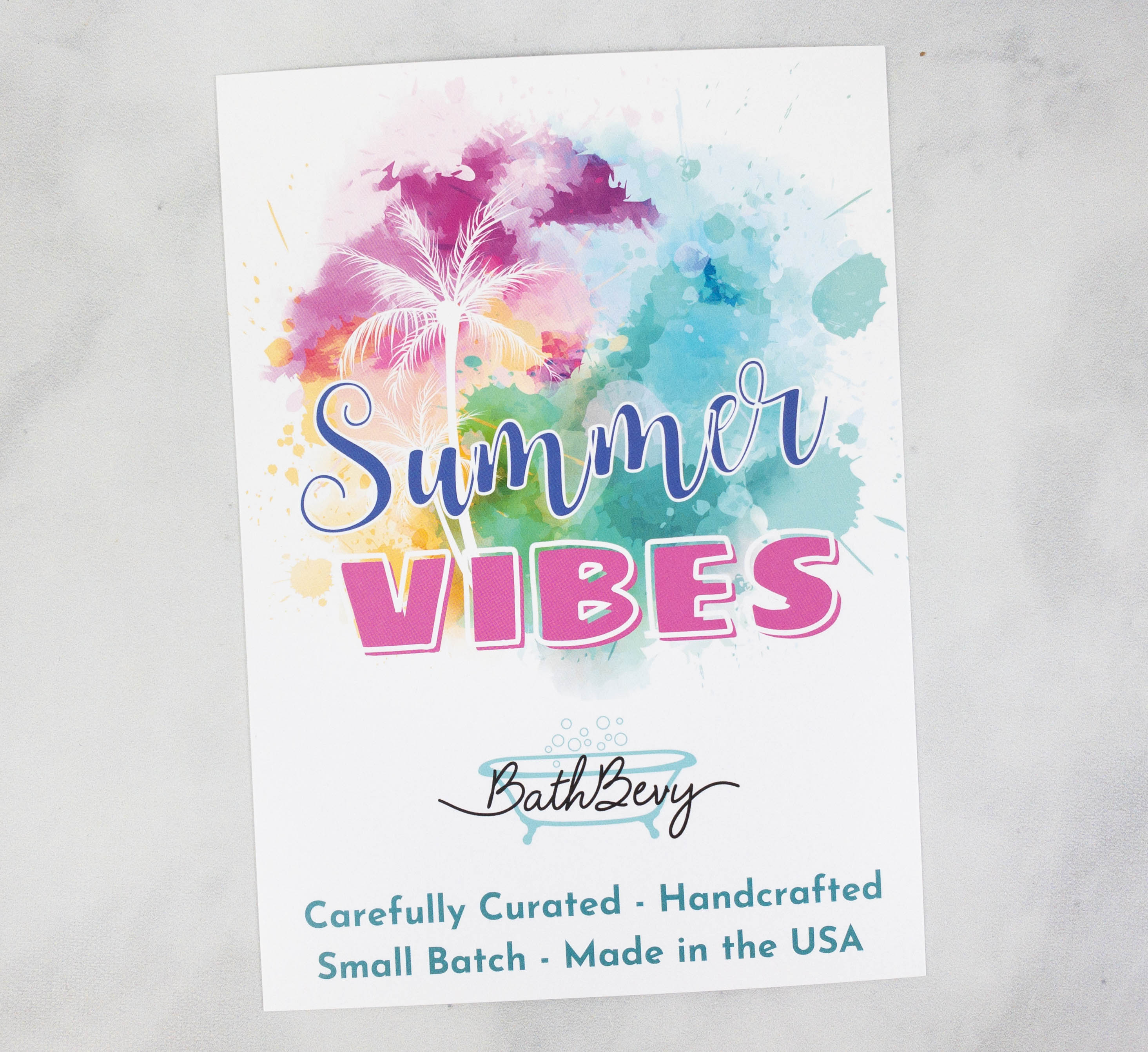 This month's theme is Summer Vibes!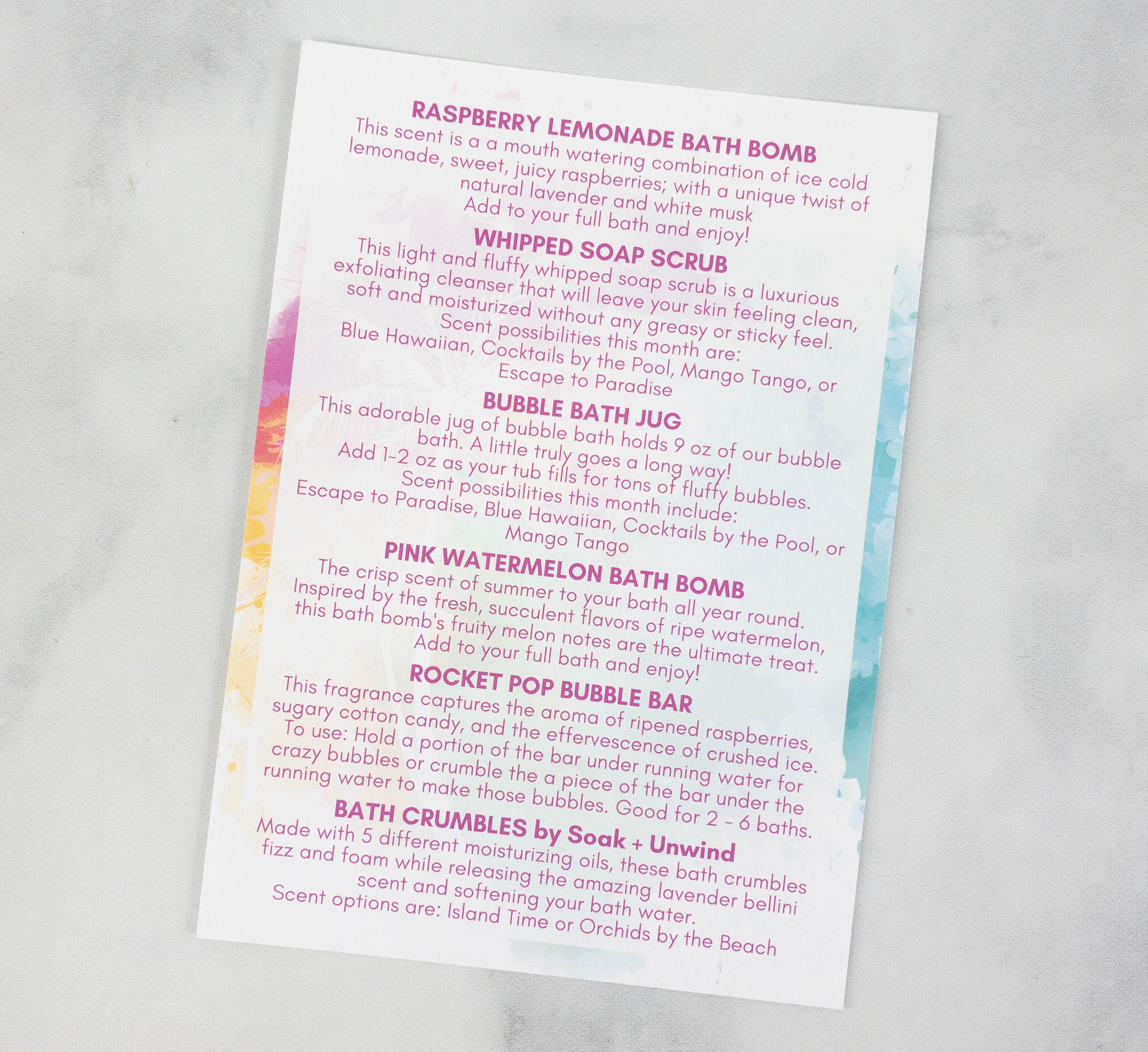 The card lists all the products along with a short description for each one.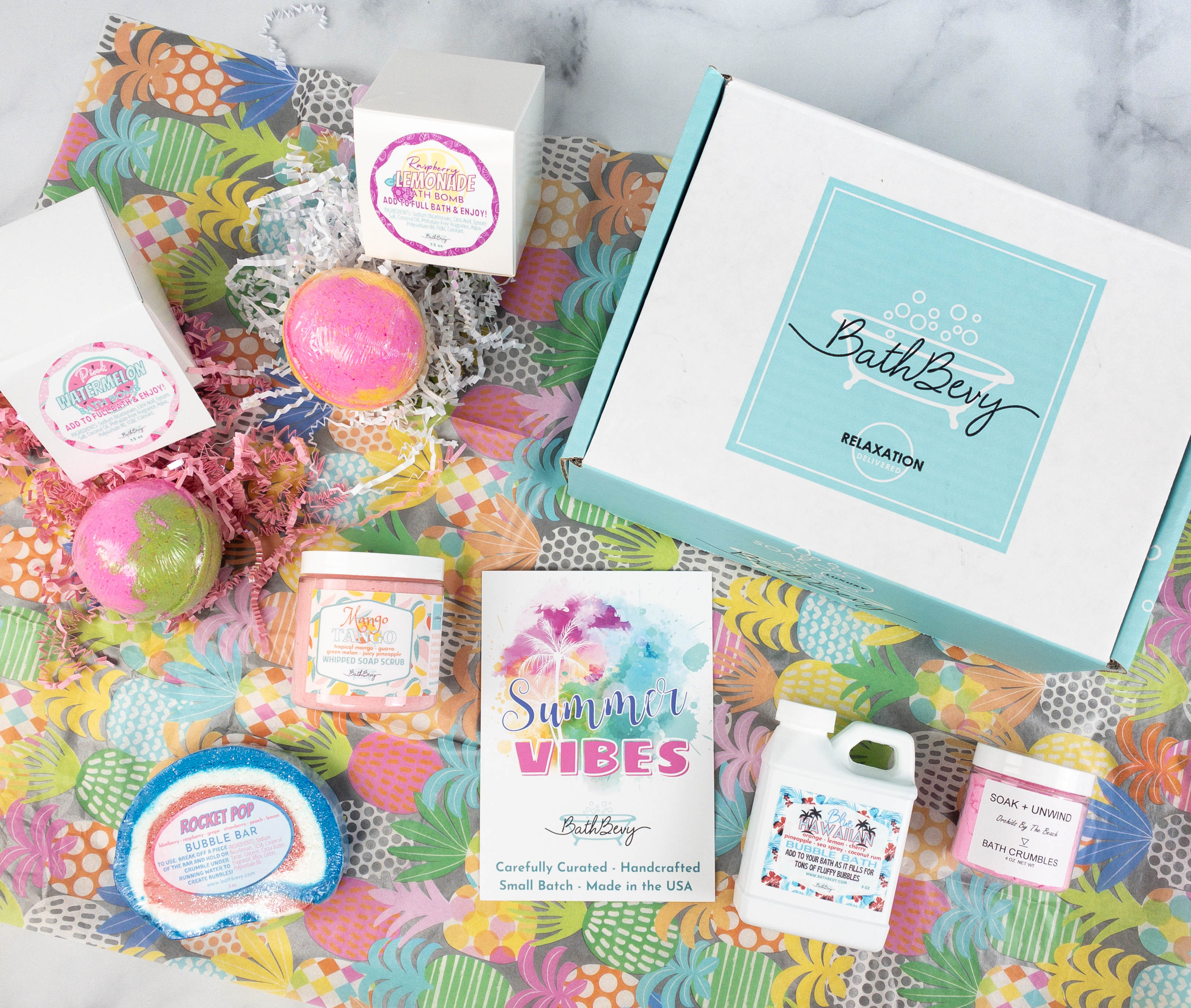 Everything in my box!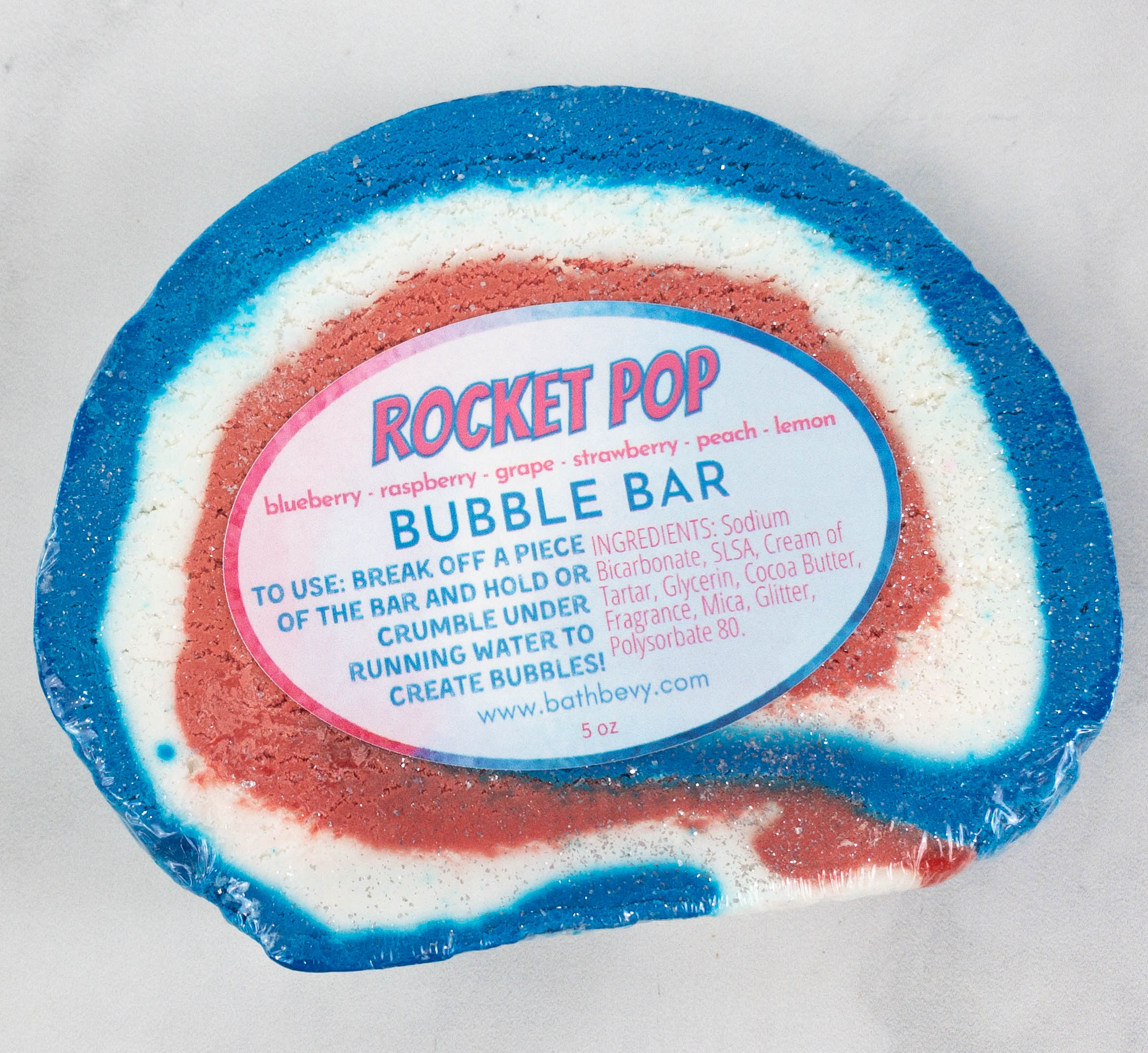 Rocket Pop Bubble Bar. This bubble bar has a fruity scent that includes notes of blueberry, raspberry, grape, strawberry, peach, and lemon. It also comes in blue, red, and white, with some glitter in it.
To use, simply break a chunk and hold it under running water while rubbing to get those bubbles. According to the card, this bar is good for 2-6 baths. Love this summery color theme!
Raspberry Lemonade Bath Bomb. The bath bomb is packed in its own box to keep it safe!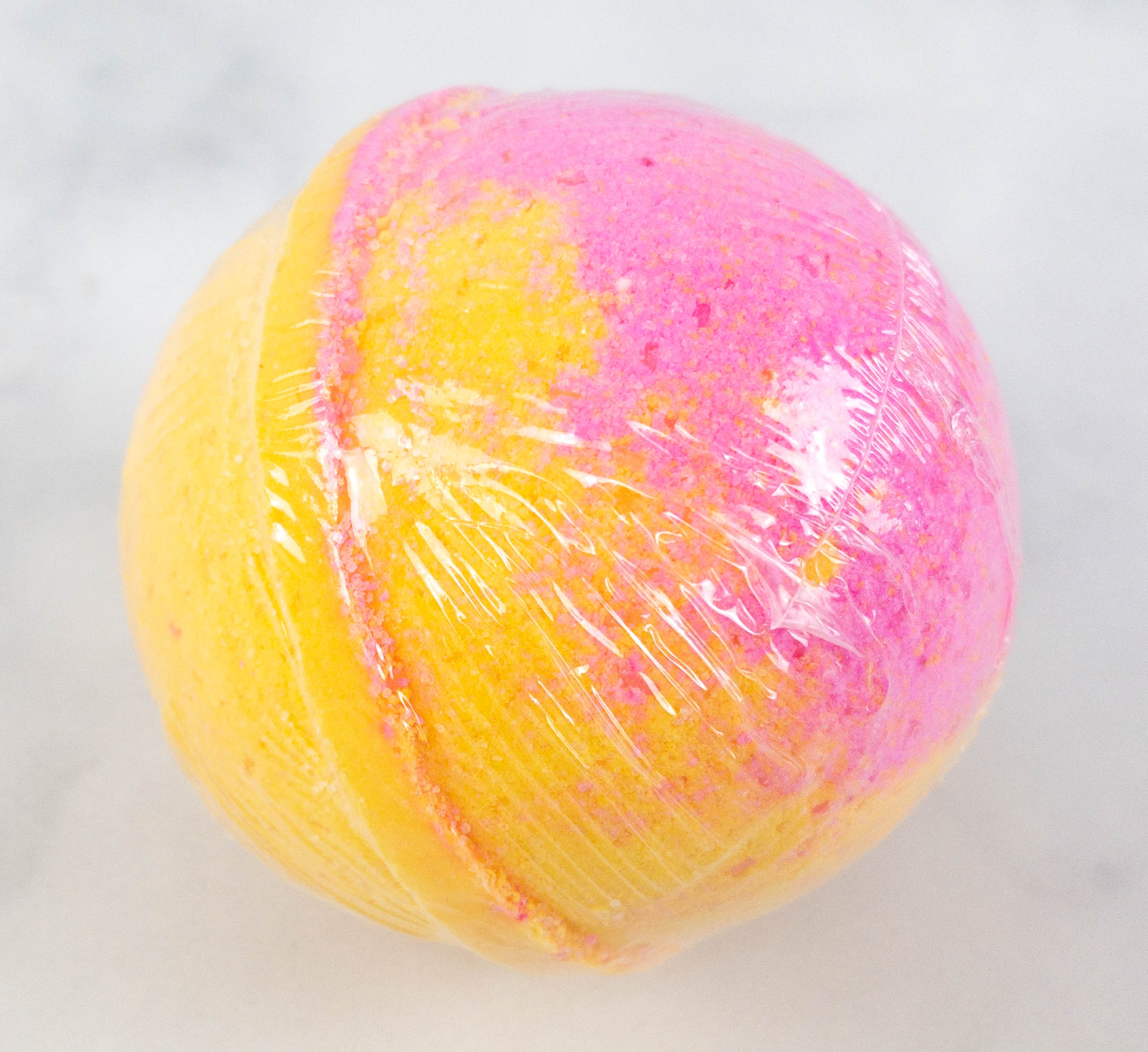 It has a vibrant yellow and pink color that fizzes away in the water and makes lovely, colorful swirls in the bathtub. It also smells a lot like summer, with its scent notes of lemonade, raspberries, lavender, and white musk.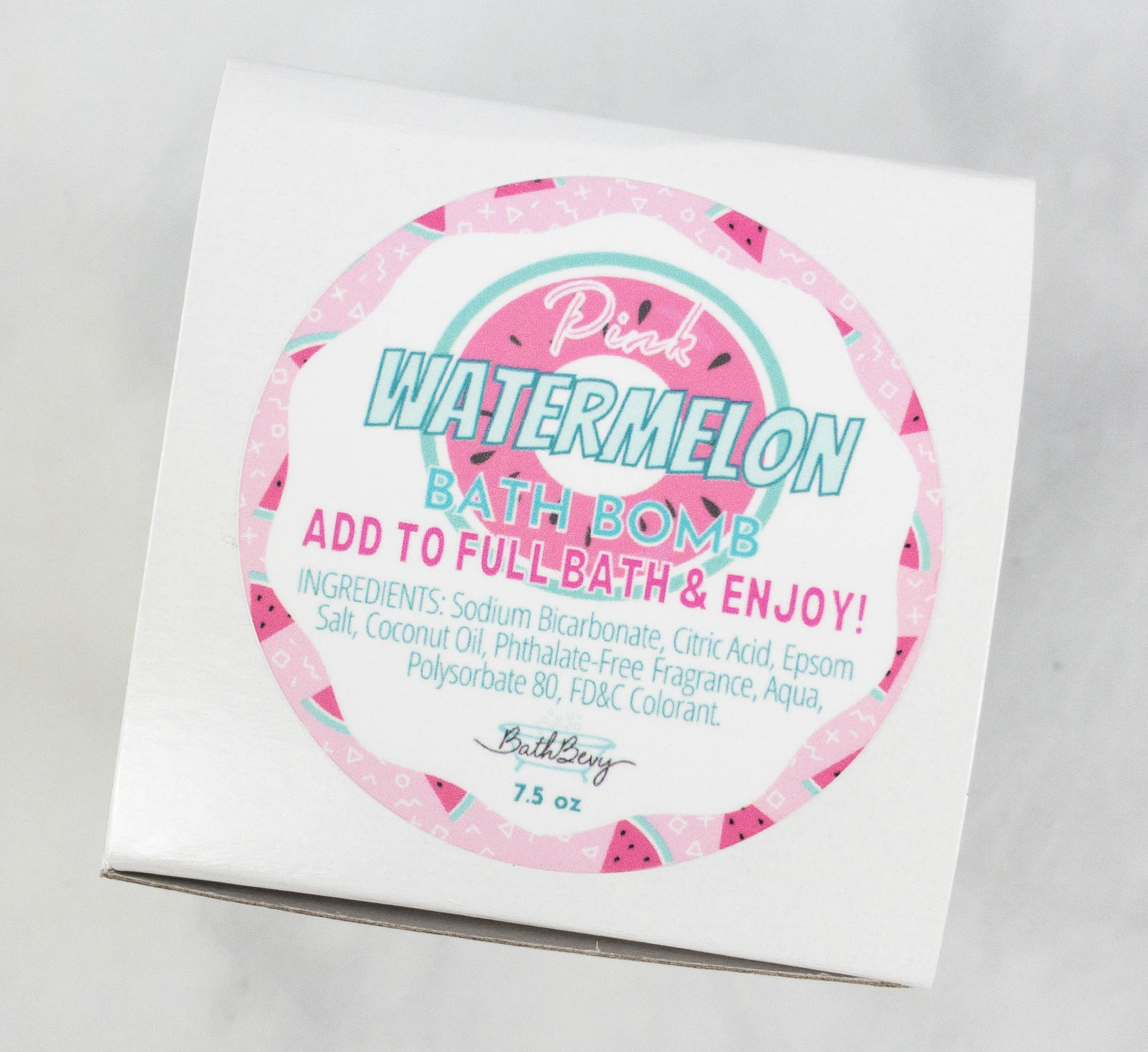 Pink Watermelon Bath Bomb. Here's another bath bomb and it was also packed in its own box for protection during shipping. It smells light and refreshing!
This one smells like ripe and juicy watermelons! It also has a nice color combination of pink and light green.
Bubble Bath Jug. Bath Bevy's bubble bath formula is really nice. It easily makes my bath water bubbly and more relaxing. To use, just pour this while filling the tub with water and watch as it creates lots of bubbly goodness. I received it in Blue Hawaiian! It's a tropical scent with notes of orange, lemon, cherry, pineapple, sea spray, and coconut rum. Other scent possibilities are Escape to Paradise, Cocktails by the Pool, or Mango Tango.
Soak + Unwind Bath Crumbles. Another unique bath product from this month's box is this jar of bath crumbles! It's made with 5 moisturizing oils and fizzy powder.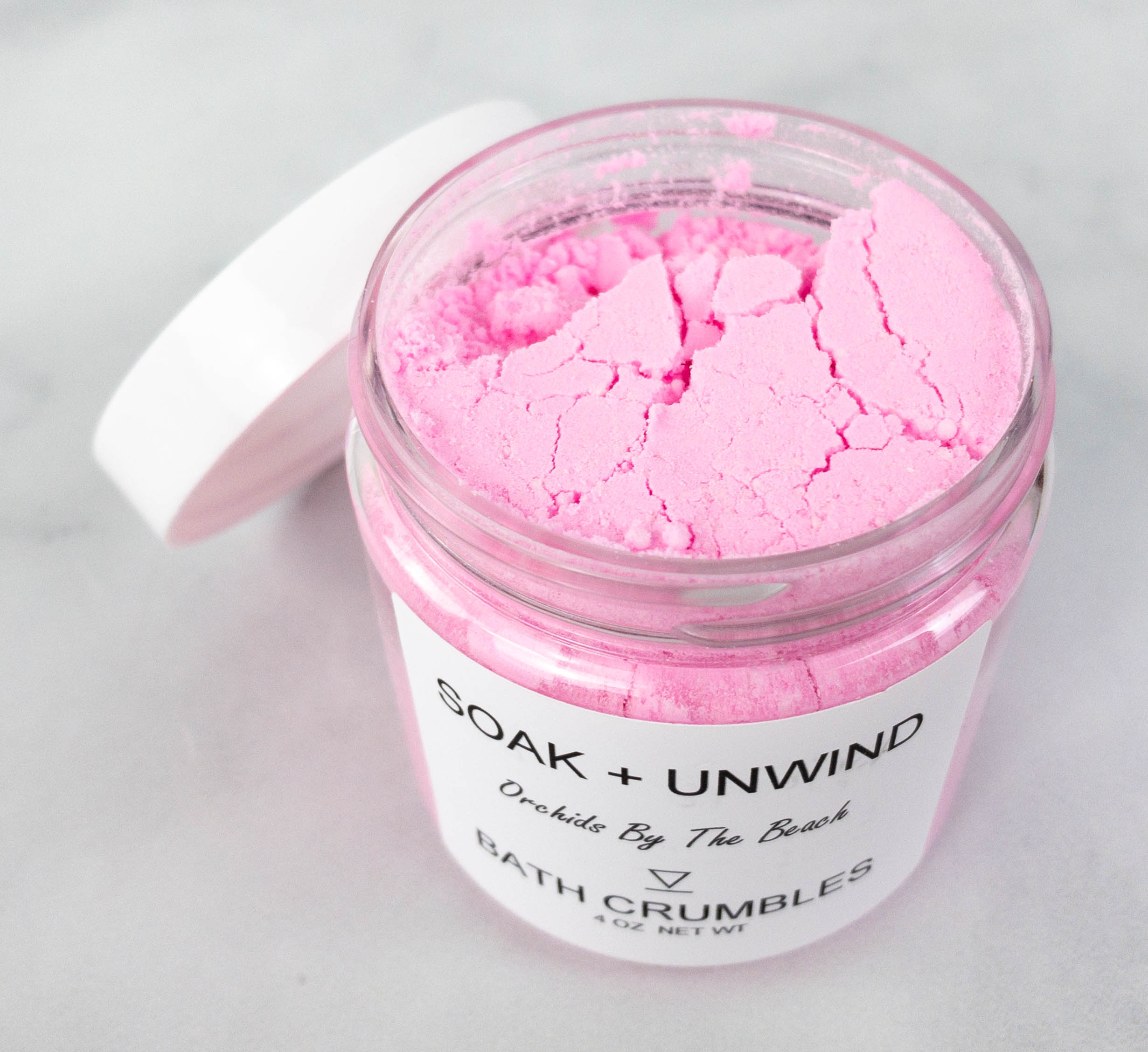 It is similar to a bath bomb because when you sprinkle it into a tub, it foams, fizzes, and gives the water a relaxing scent and a nice color. Subscribers will receive either Orchids By The Beach or Island Time. I received the latter, which has a spicy floral-like fragrance that I like. It also gives my bath water a lovely pink hue.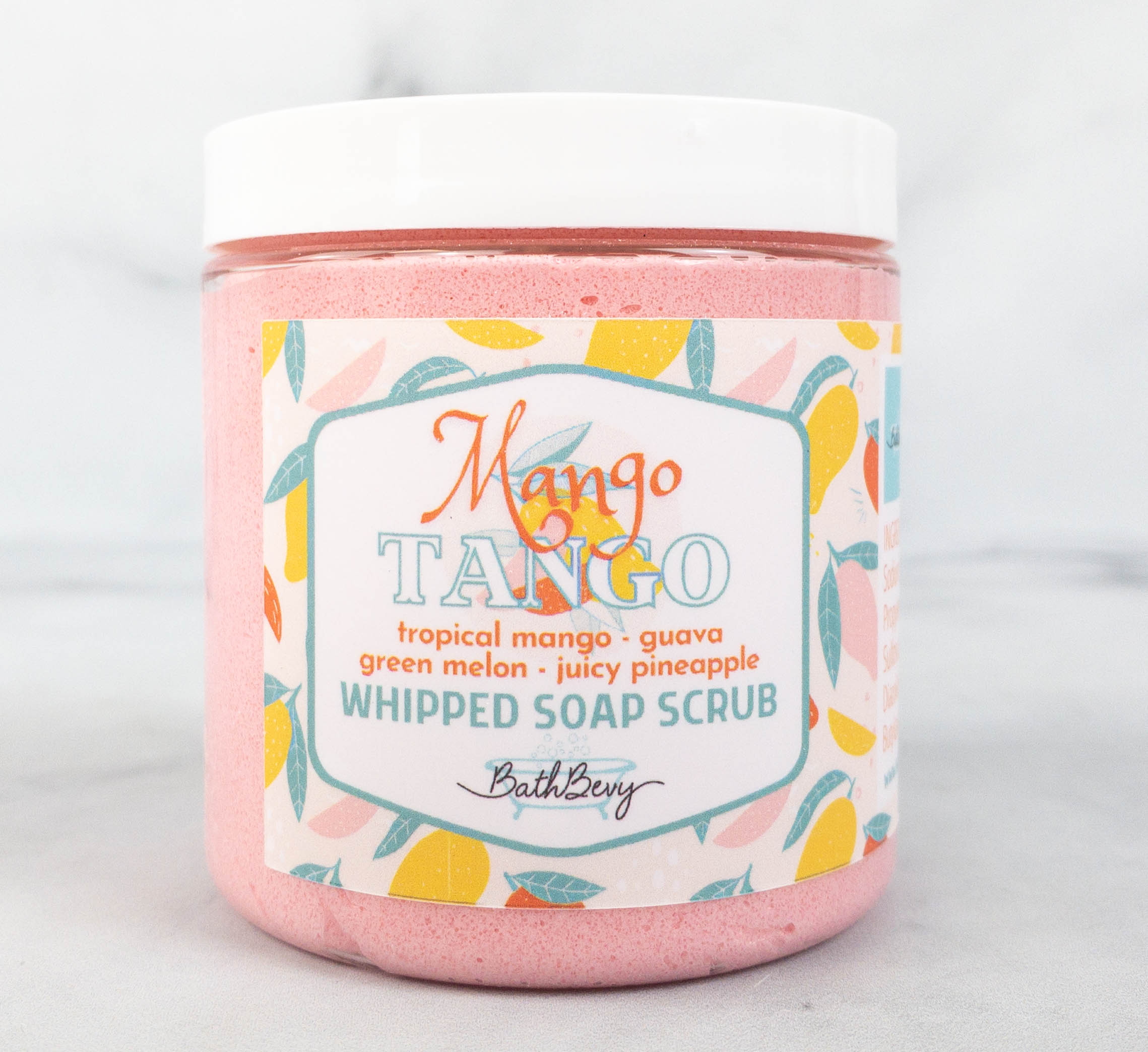 Whipped Soap Scrub. This soap scrub is light and fluffy. It can exfoliate and remove dead and dry skin cells without being harsh on the skin. Subscribers will receive 1 out of 4 scent possibilities: Blue Hawaiian, Cocktails by the Pool, Mango Tango, or Escape to Paradise. I received Mango Tango, with scent notes of tropical mango, guava, green melon, and juicy pineapple.
It's also moisturizing, unlike regular scrubs that tend to be drying and irritating on the skin. I love the tropical scent and it lasts for a long time!
I'm loving this summer-themed Bath Bevy box! It includes 2 bath bombs, a bubble bath jug, a whipped soap scrub, a bubble bar, and a bath crumble. They all smell wonderful! If I have to choose a favorite, it would be the watermelon bath bomb. It has a fruity, tropical scent that I really like, and it just puts me in a good mood. This subscription is a good monthly treat for bath lovers or for anyone in need of relaxing items for a me-time. Can confirm – the scents always last past the bath, too! (This is a big deal for me for scented bath items!) If you don't have a tub, no worries because they offer a Tubless box as well!
What do you think of this month's Bath Bevy box?