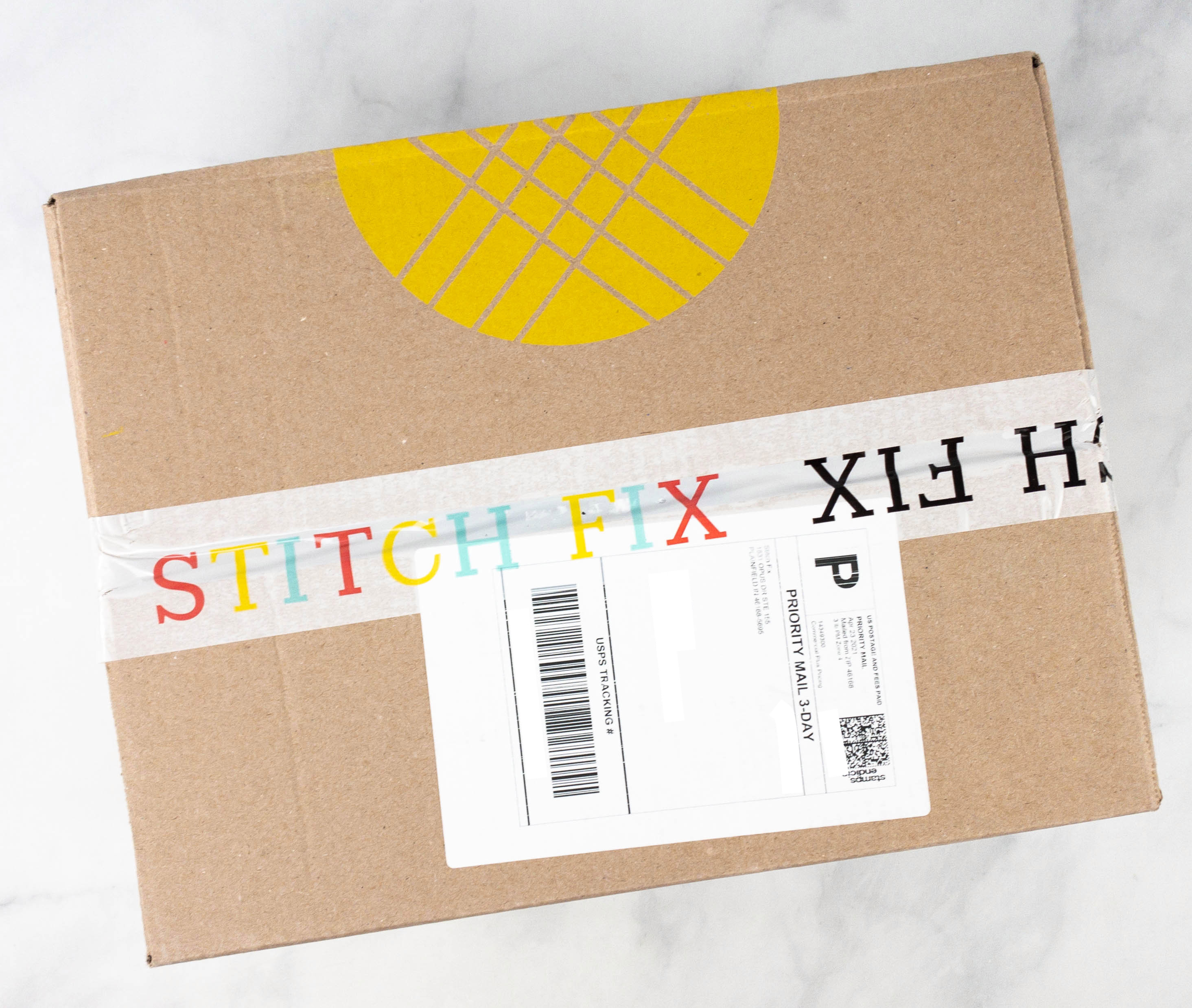 Stitch Fix Kids is a personal styling service for kids clothing ranging from sizes 2T to 14. At $20 styling fee for each box, you'll get 8 to 12 items with retail price ranging from $10 to $35 when it is shipped to you. You will be asked to share some styling preferences first when you sign up for this box so that the items included will be curated accordingly. If there are clothes that don't fit your child, you can always return them by the return envelope included in the box. If you do decide to keep all of the items, you will get 25% off on the whole box. The Stitch Fix kid's styling service made the list in our 2021 readers' choice picks of best clothing subscription boxes for kids!
This is the review of Stitch Fix Kids for Little Girls.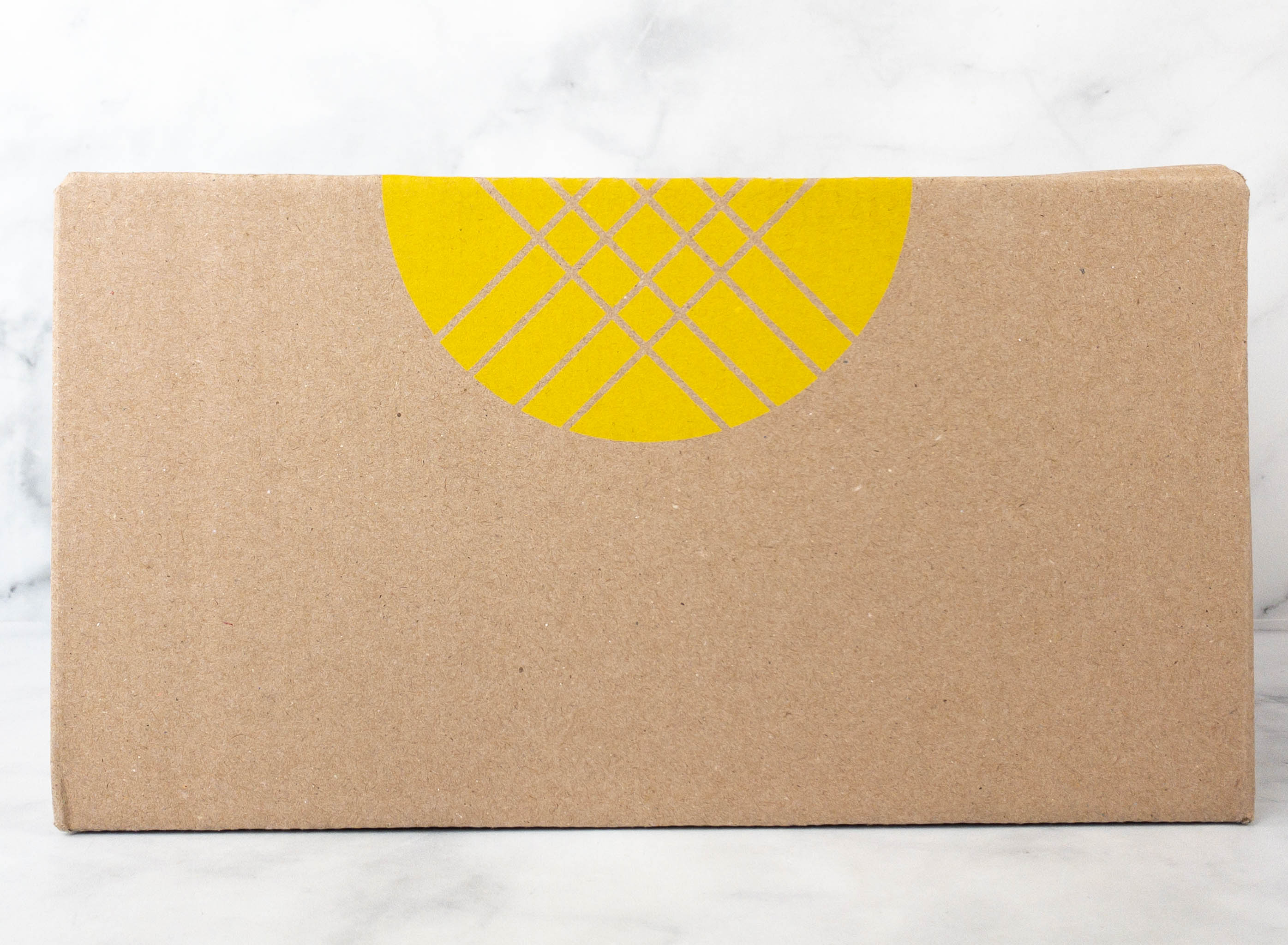 Everything arrived in great condition.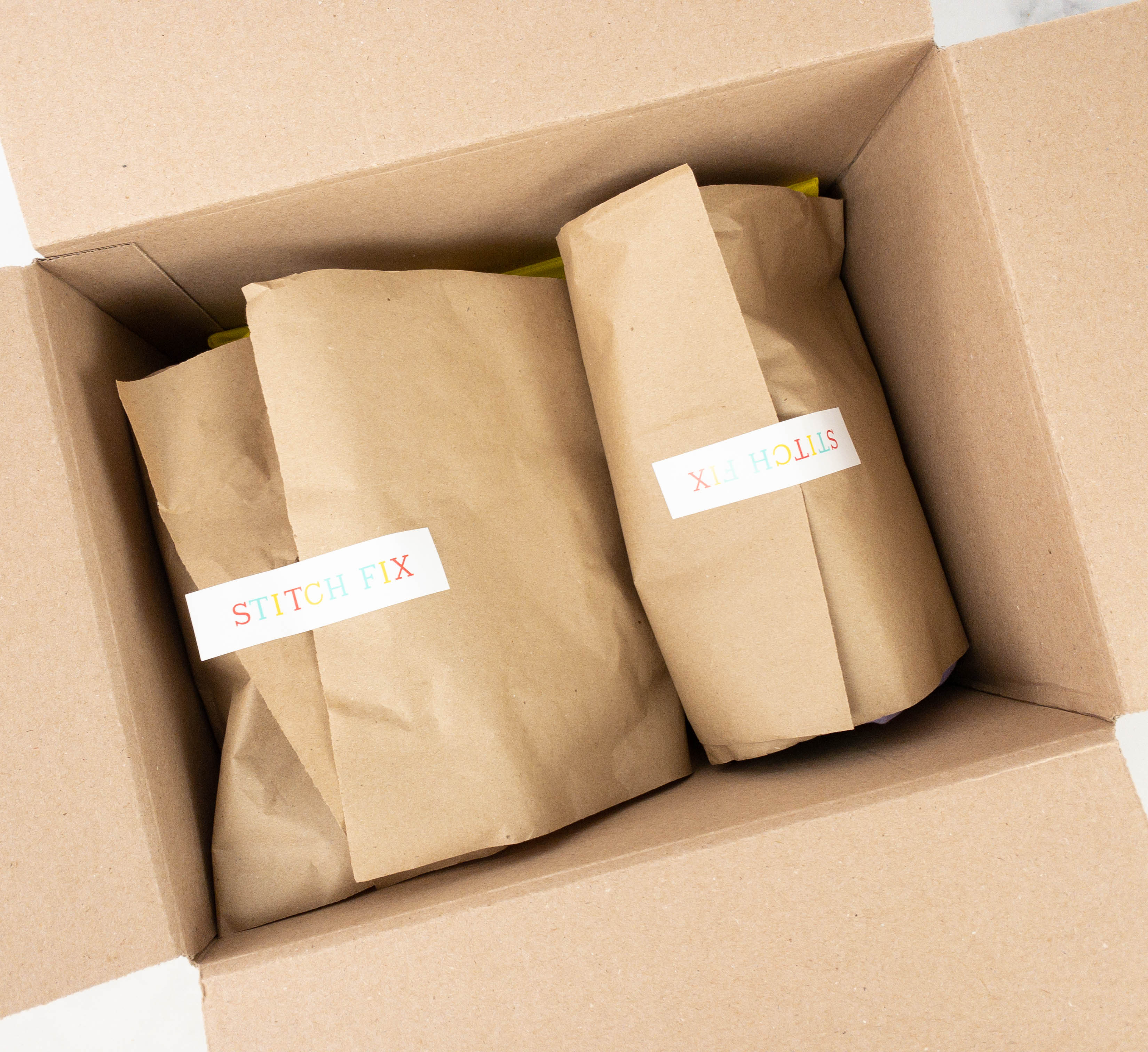 The fix arrived in a brown box!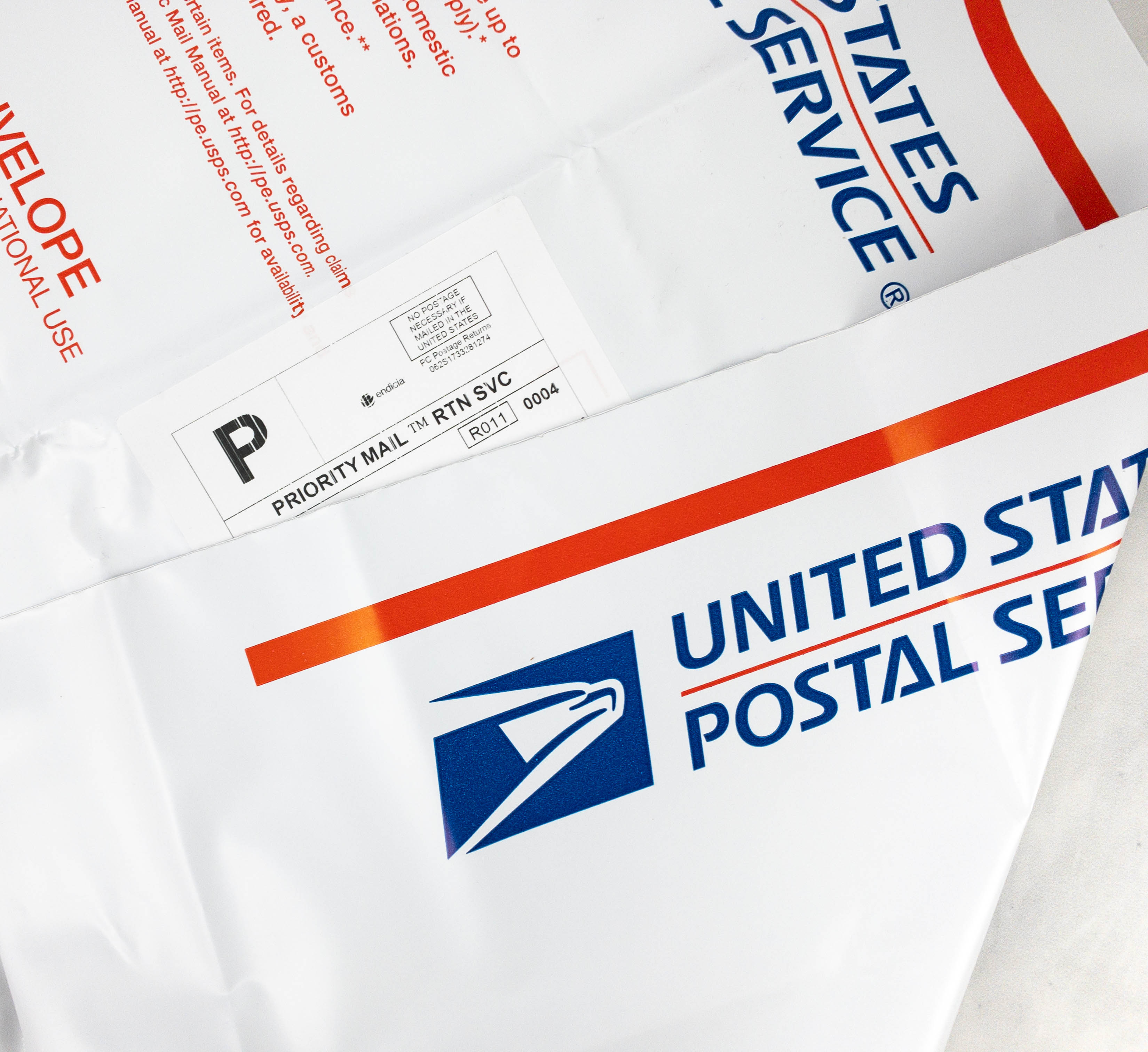 The return envelope is already included in the box so you can return what you don't like/doesn't fit easily.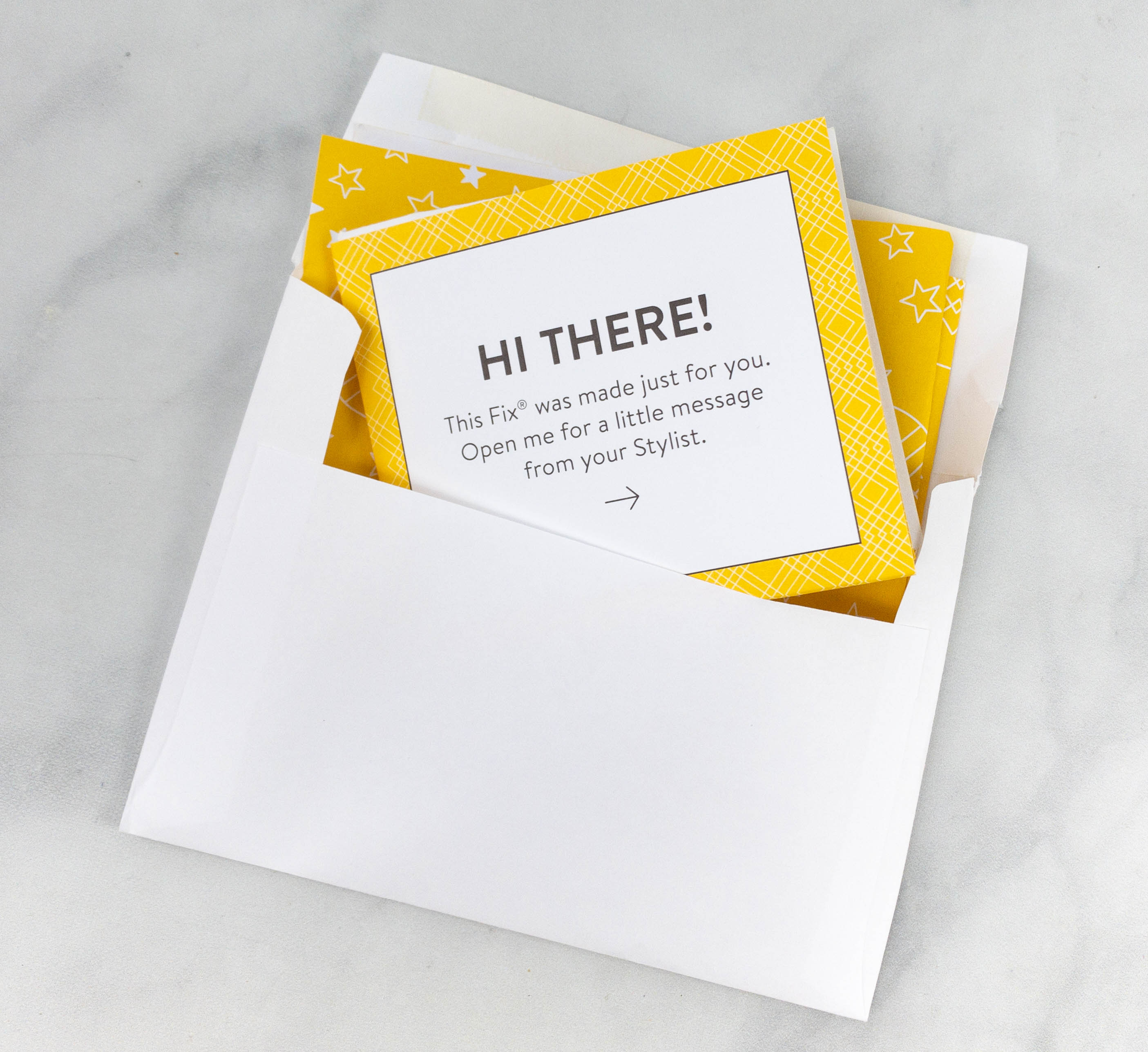 Another envelope contains a greeting from Stitch Fix.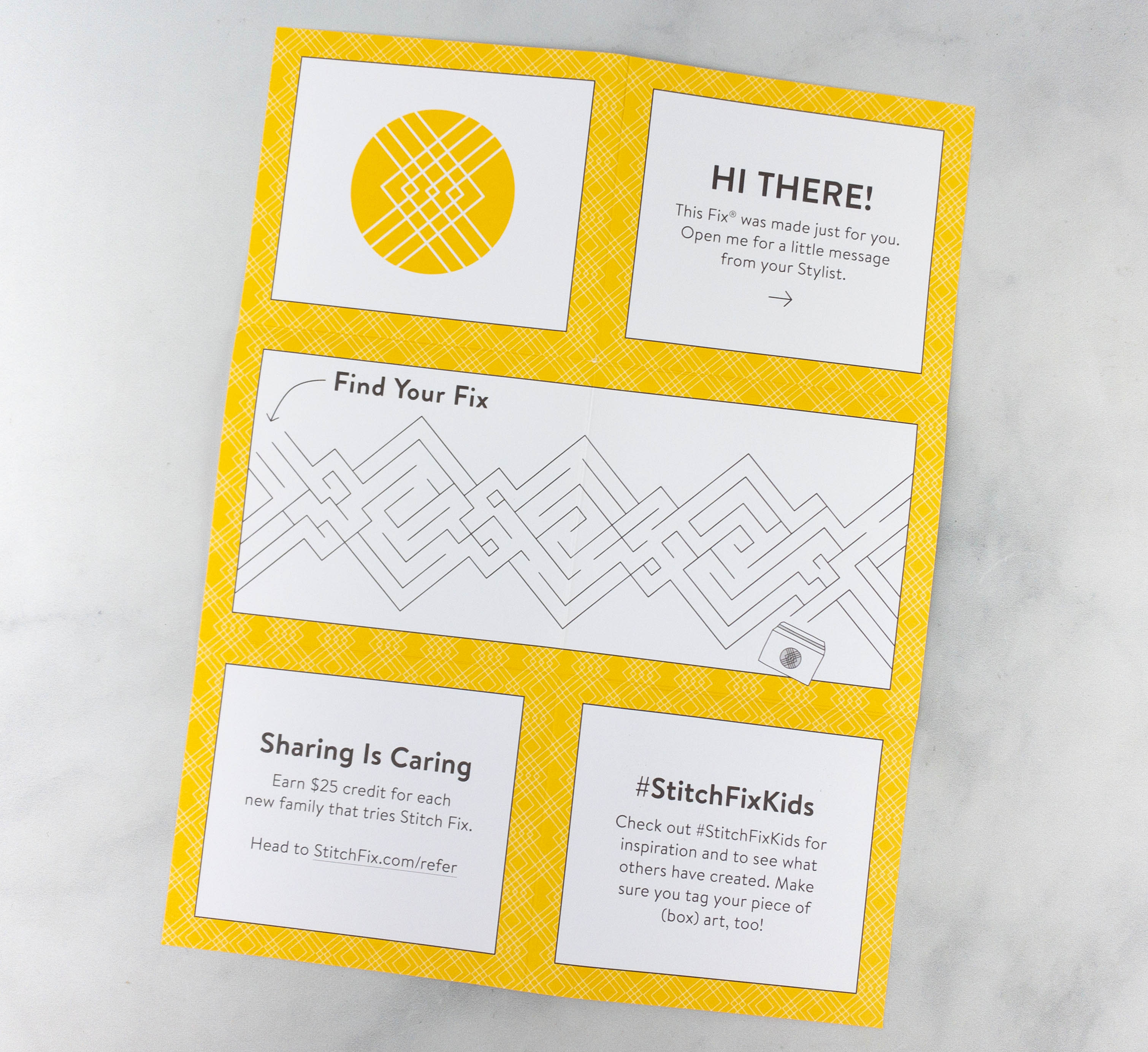 There's even a mini-game for the kids!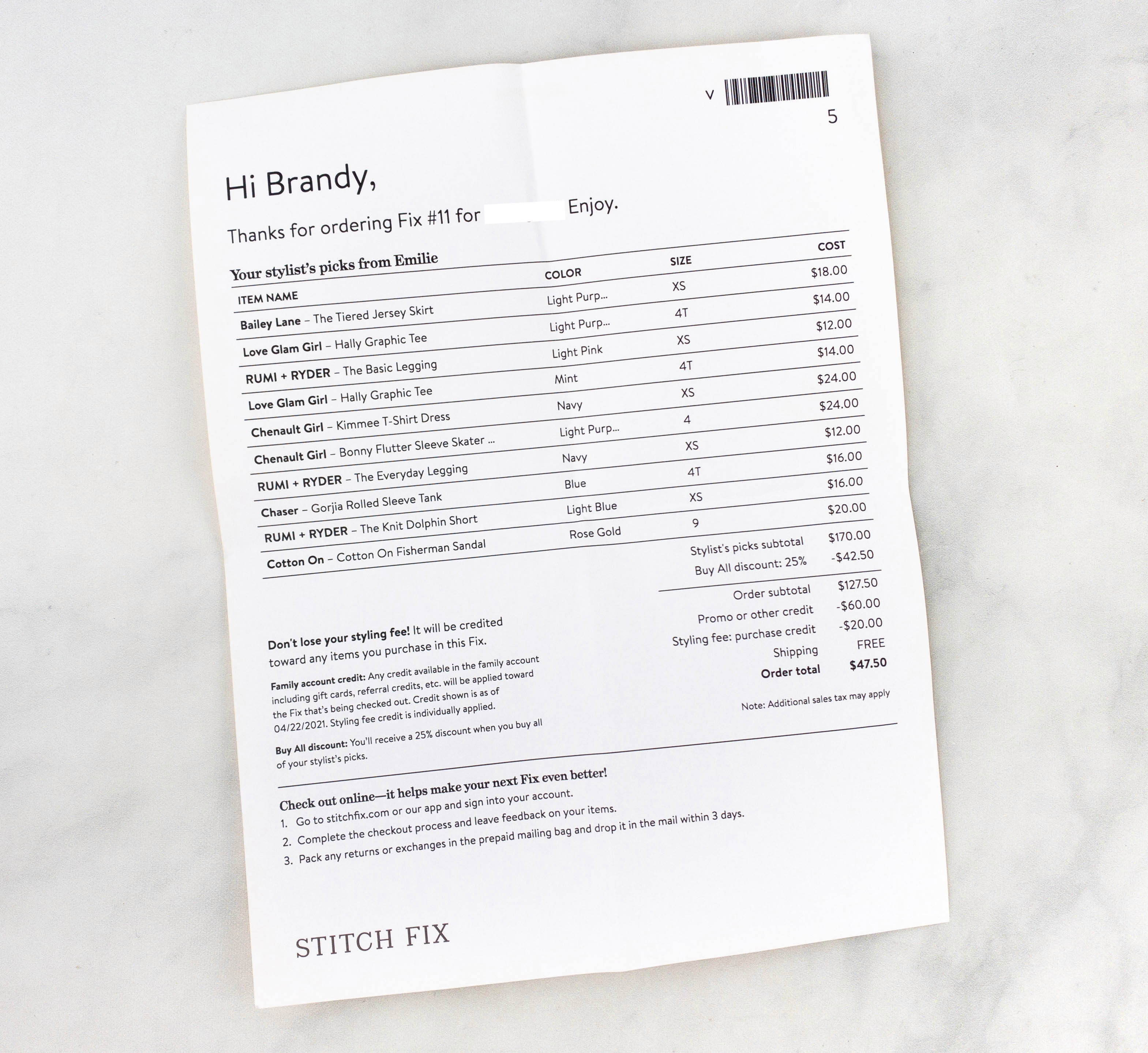 Here's a list of all the items' size and price. This way, it will be easier for you to compute how much you'll be paying if you'll get individual items.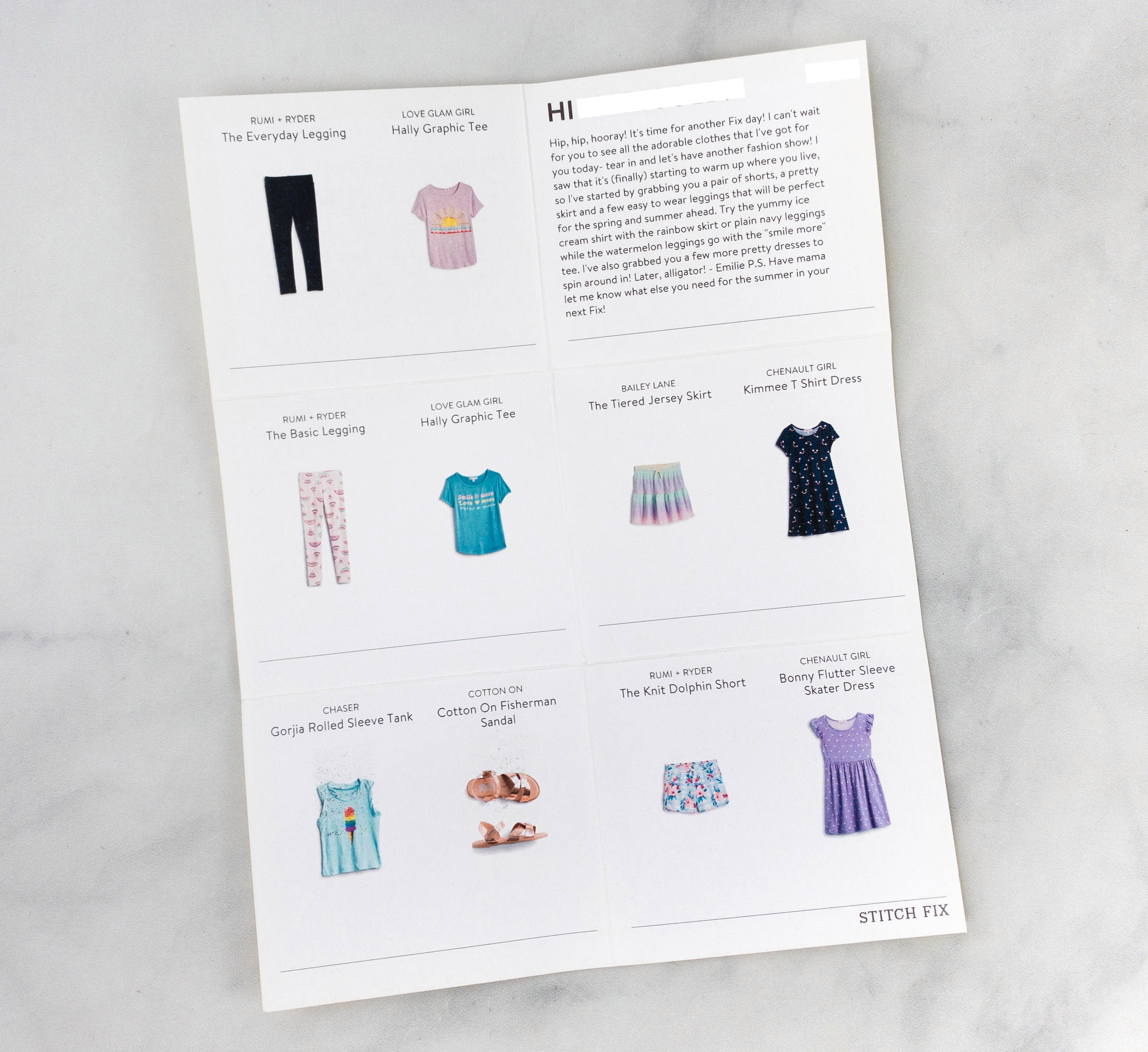 Here are photos of the items inside!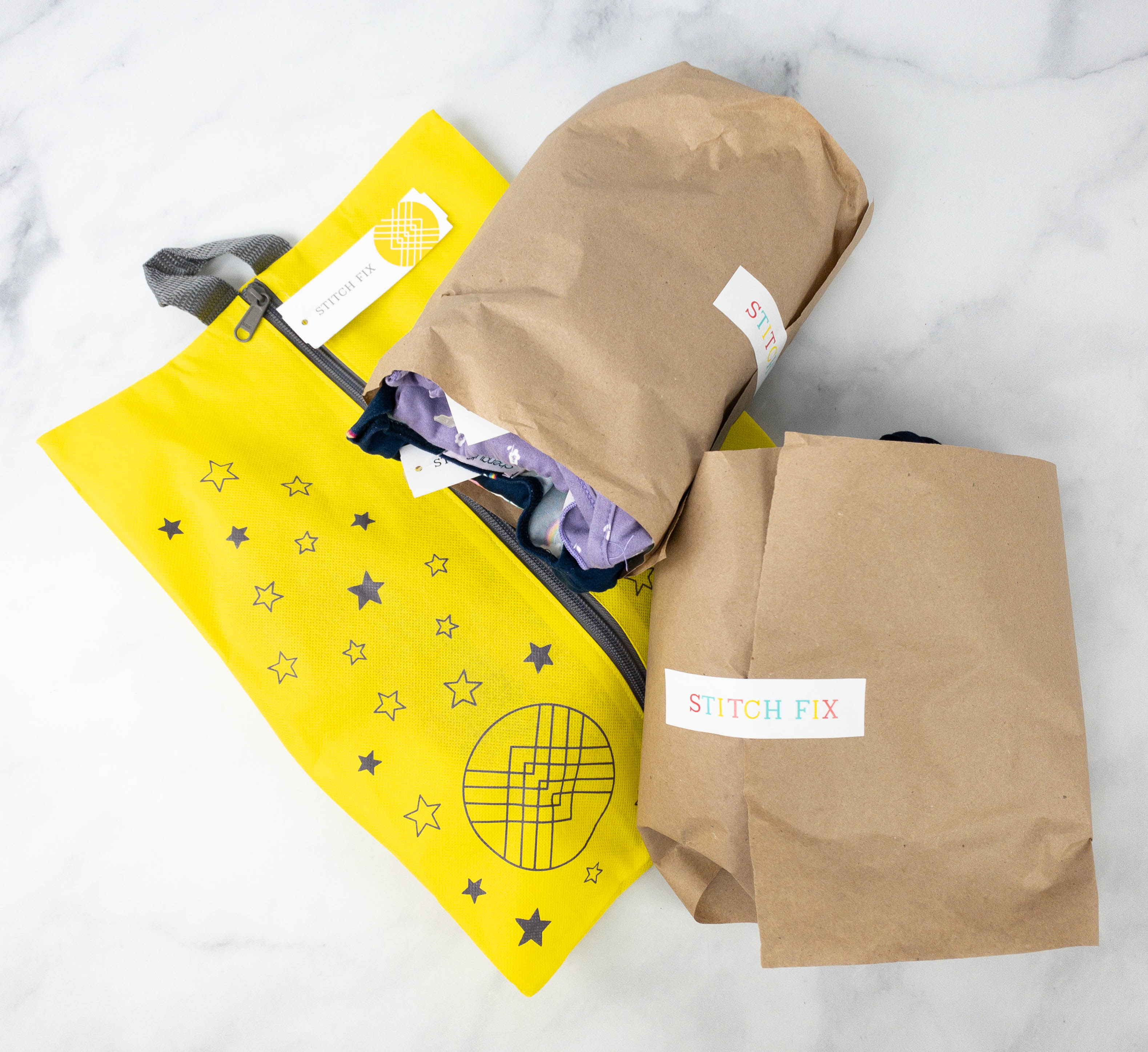 All the items are wrapped in brown paper with a colorful Stitch Fix sticker. This month, there's also an item in a reusable pouch.
Everything in my box!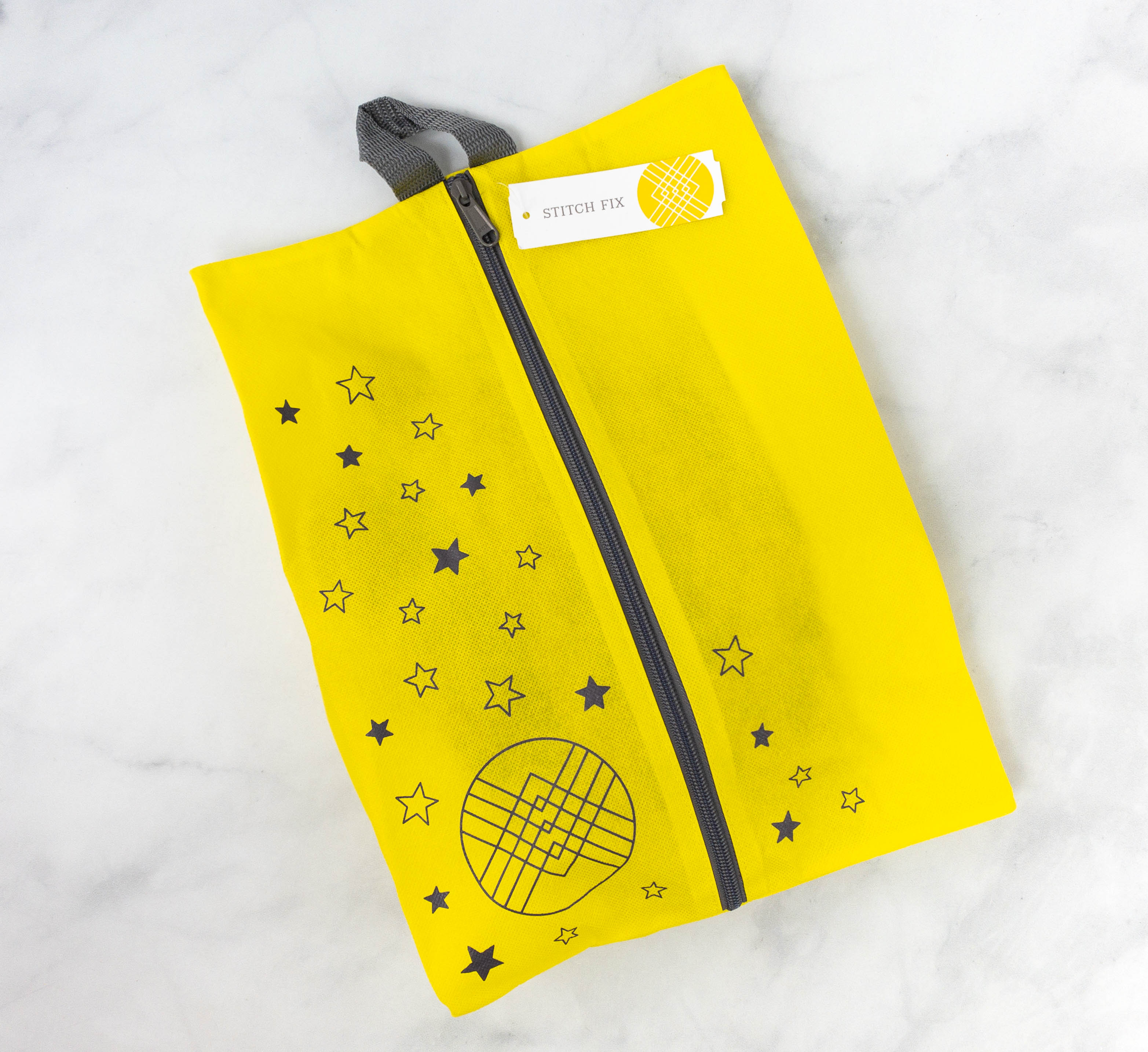 Cotton On Fisherman Sandal ($20) All the footwear from Stitch Fix are packed in a reusable yellow pouch, which is nice because it can also double as a carrying case.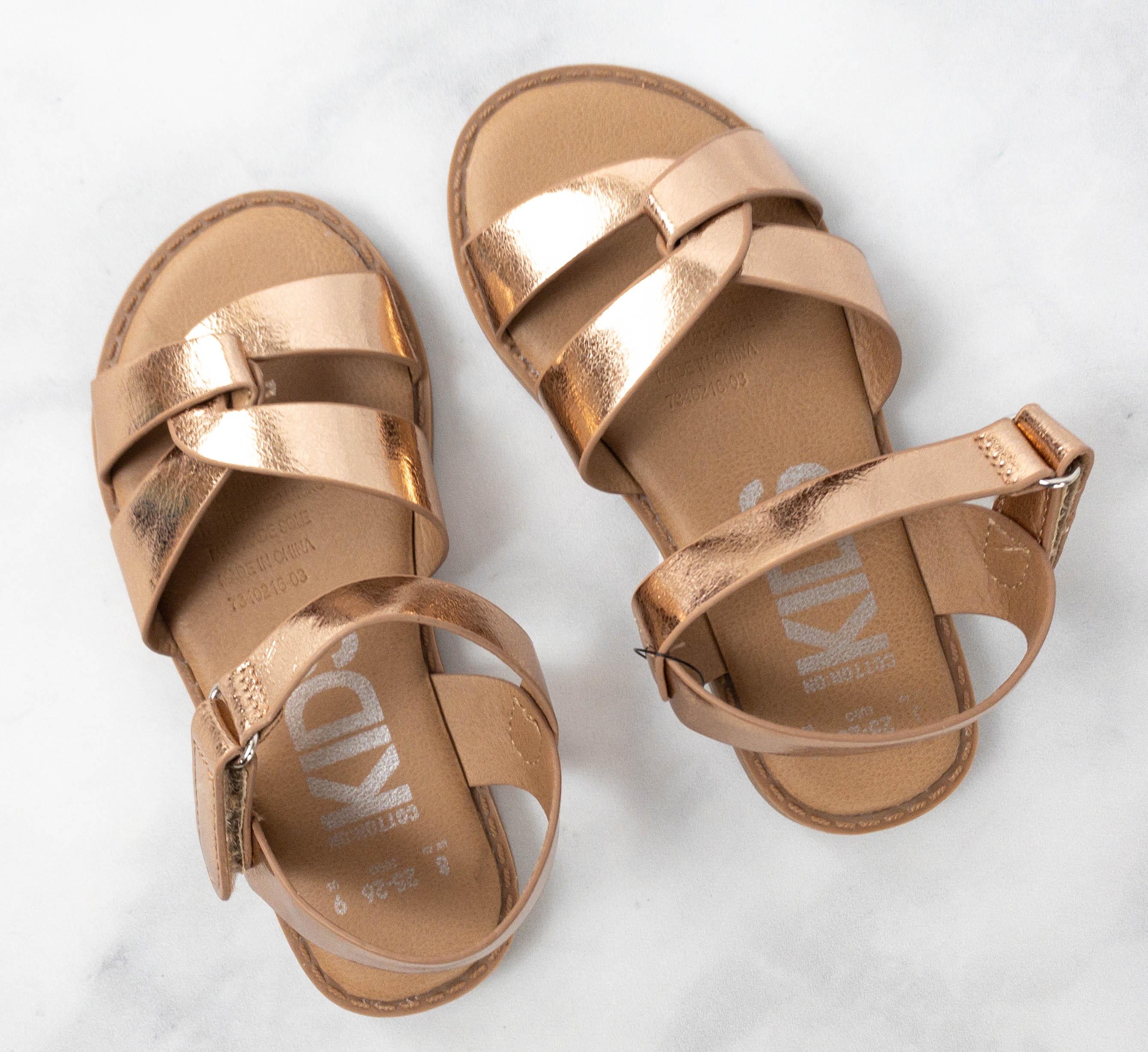 My daughter's fix includes a pair of sandals, which is ideal for wearing in summer!
The straps have a rose gold chrome color. They look lovely and they are also easy to pair with different kinds of summer outfits, whether shorts, skirts, or even leggings.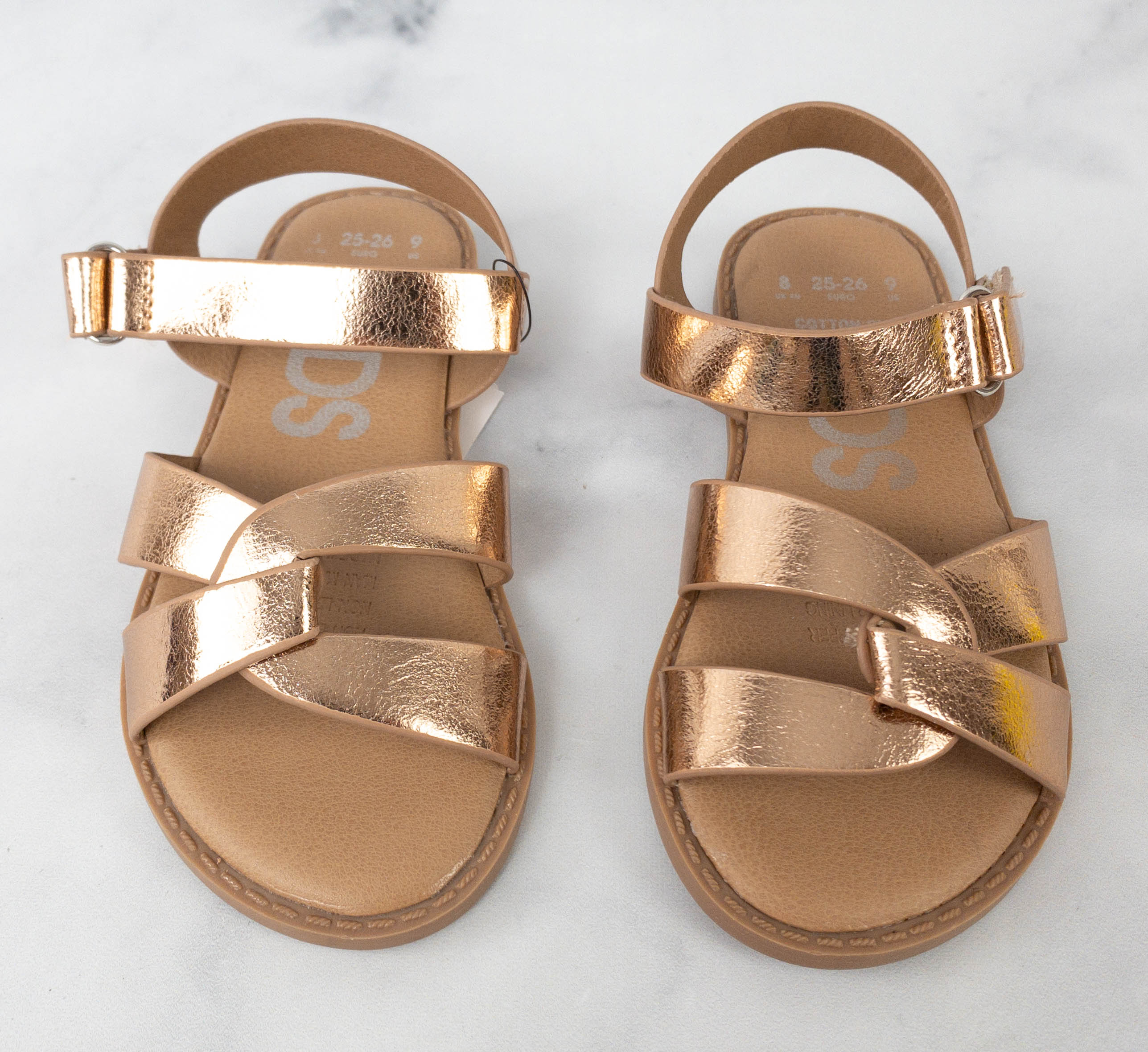 It's easy to wear since it can be secured with a Velcro on the side straps.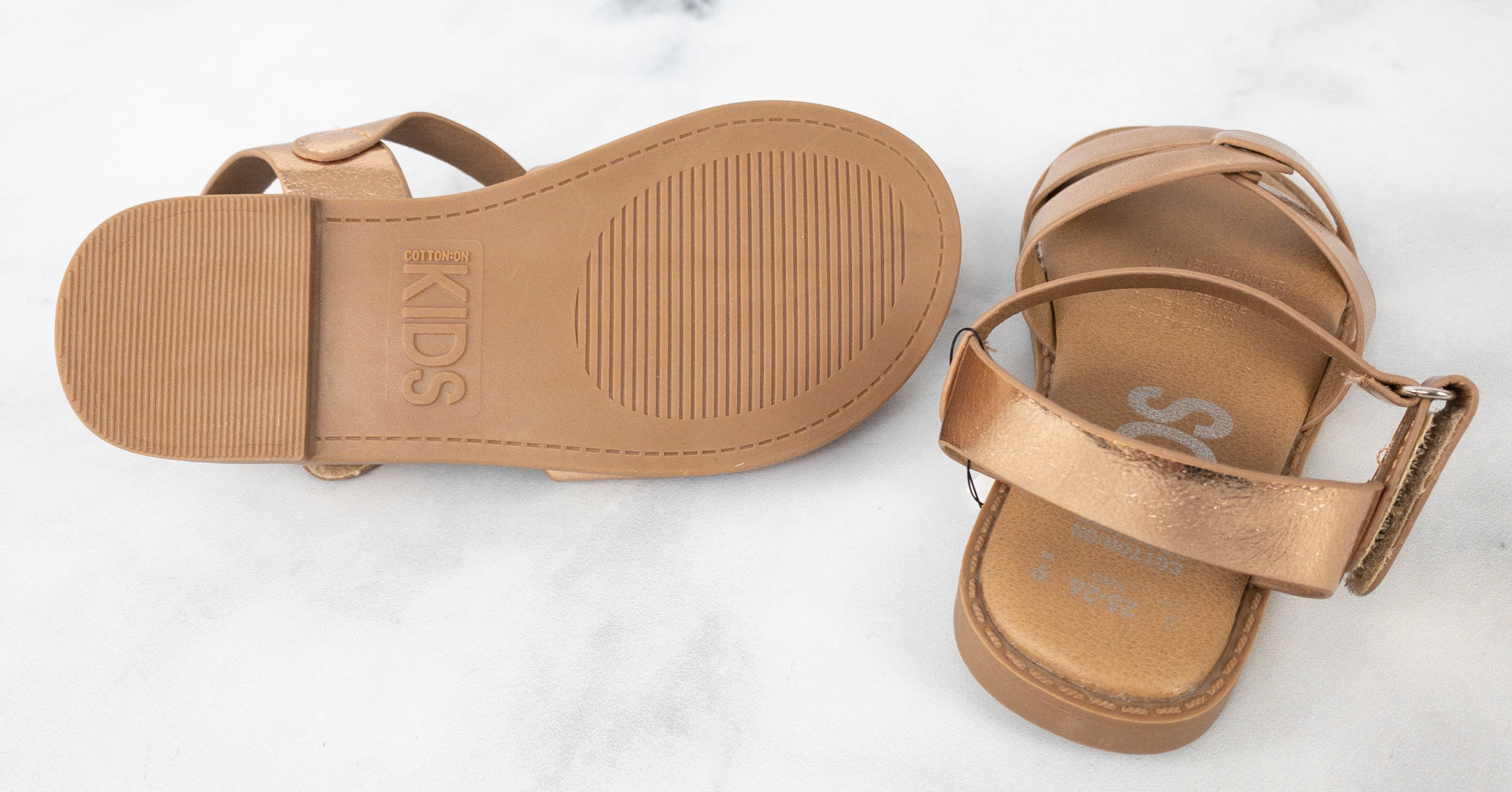 My daughter loves this pair because it feels comfy on her feet. Plus, the outsoles are not slippery!
Chenault Girl Bonny Flutter Sleeve Skater Dress ($24) This is such a dainty dress! It's in purple and it also has small flower prints all over.
The flutter sleeves add flair to the overall look. This is great to wear even on a hot summer day because the fabric is soft and breathable!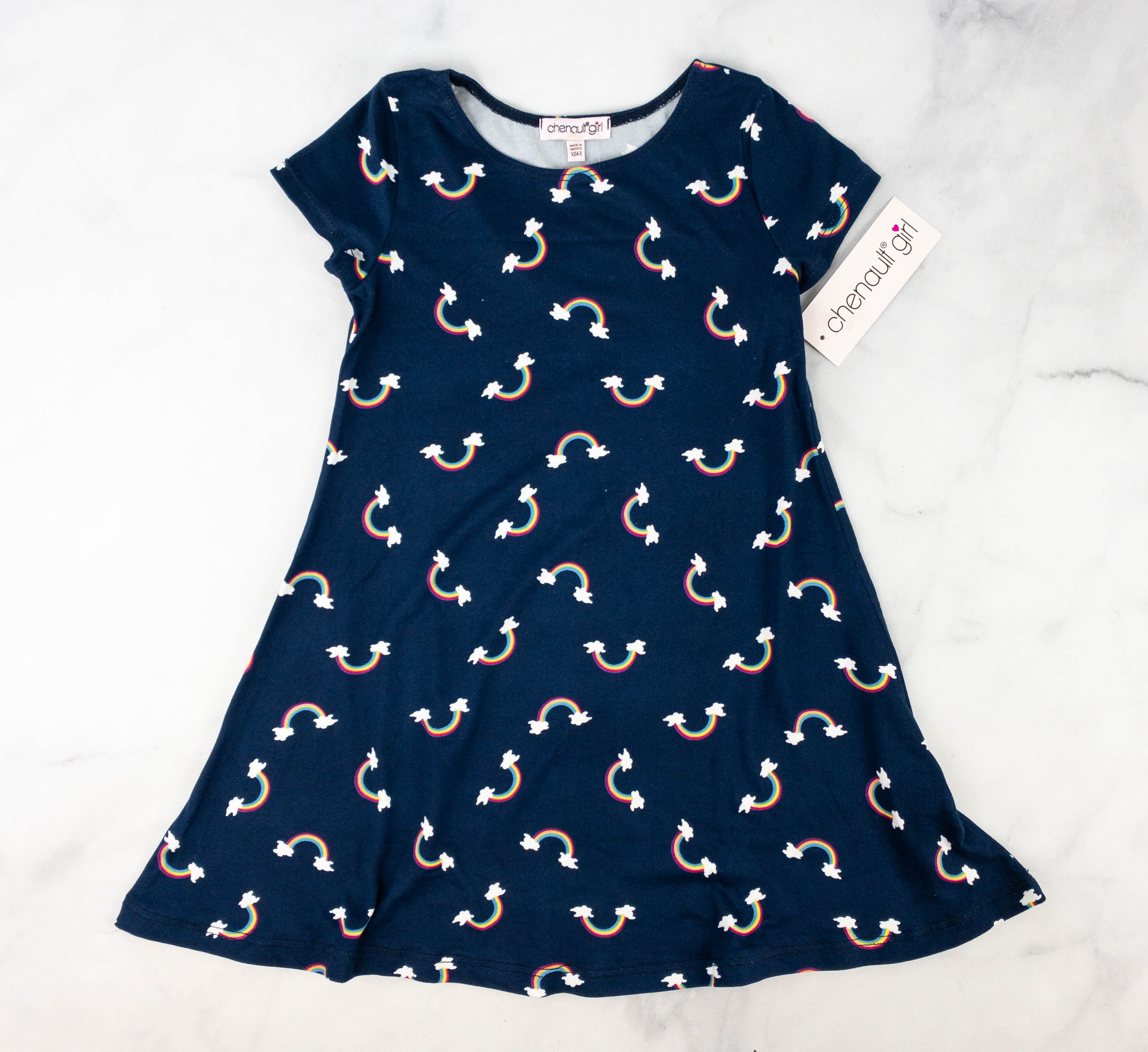 Chenault Girl Kimmee T-Shirt Dress ($24) Here's another cute dress, and this time, it has rainbow prints all over!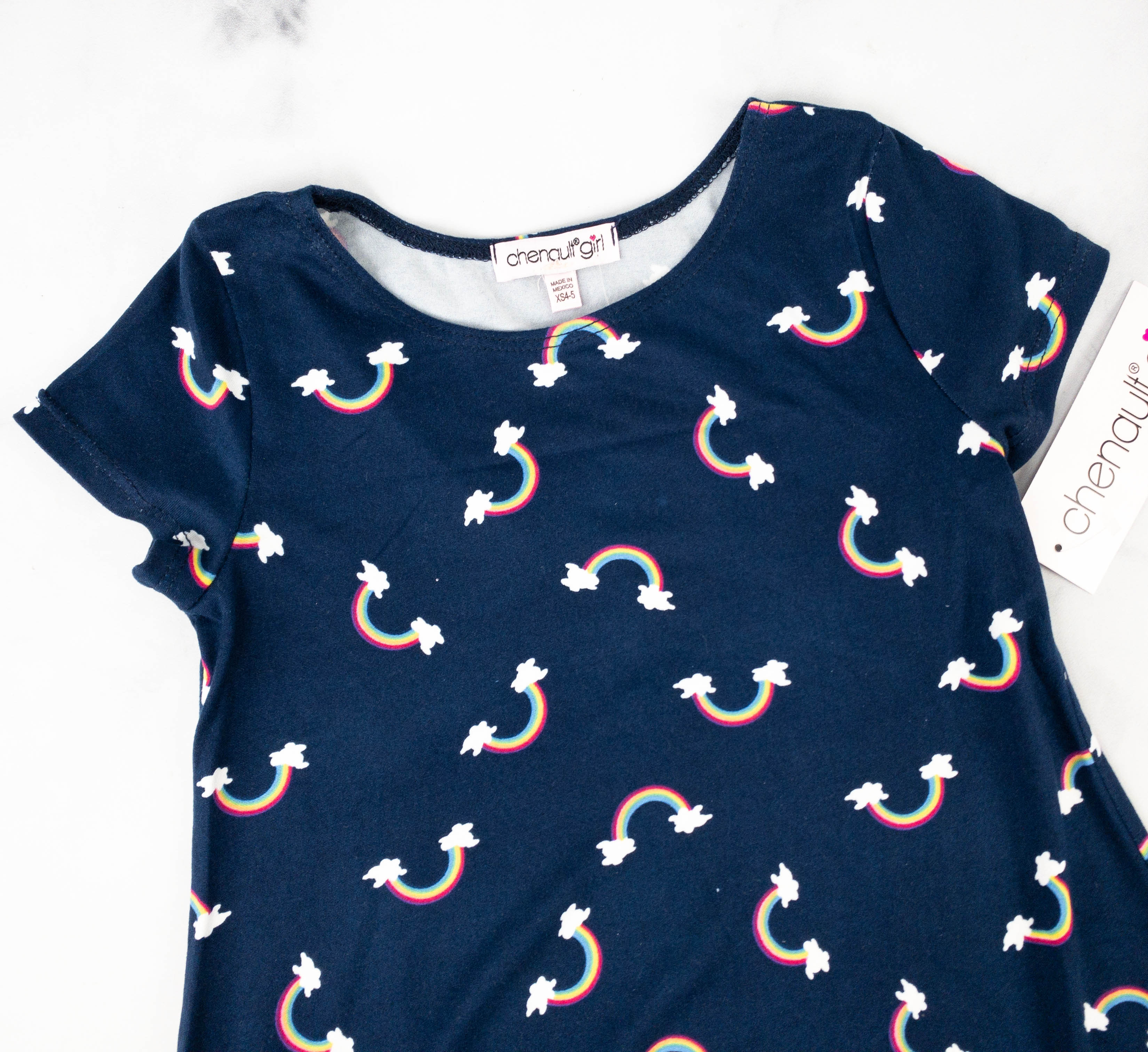 The base color is navy blue, which makes the rainbow prints stand out. Just like the first dress, this one is made with breathable materials, so it's really comfortable to wear.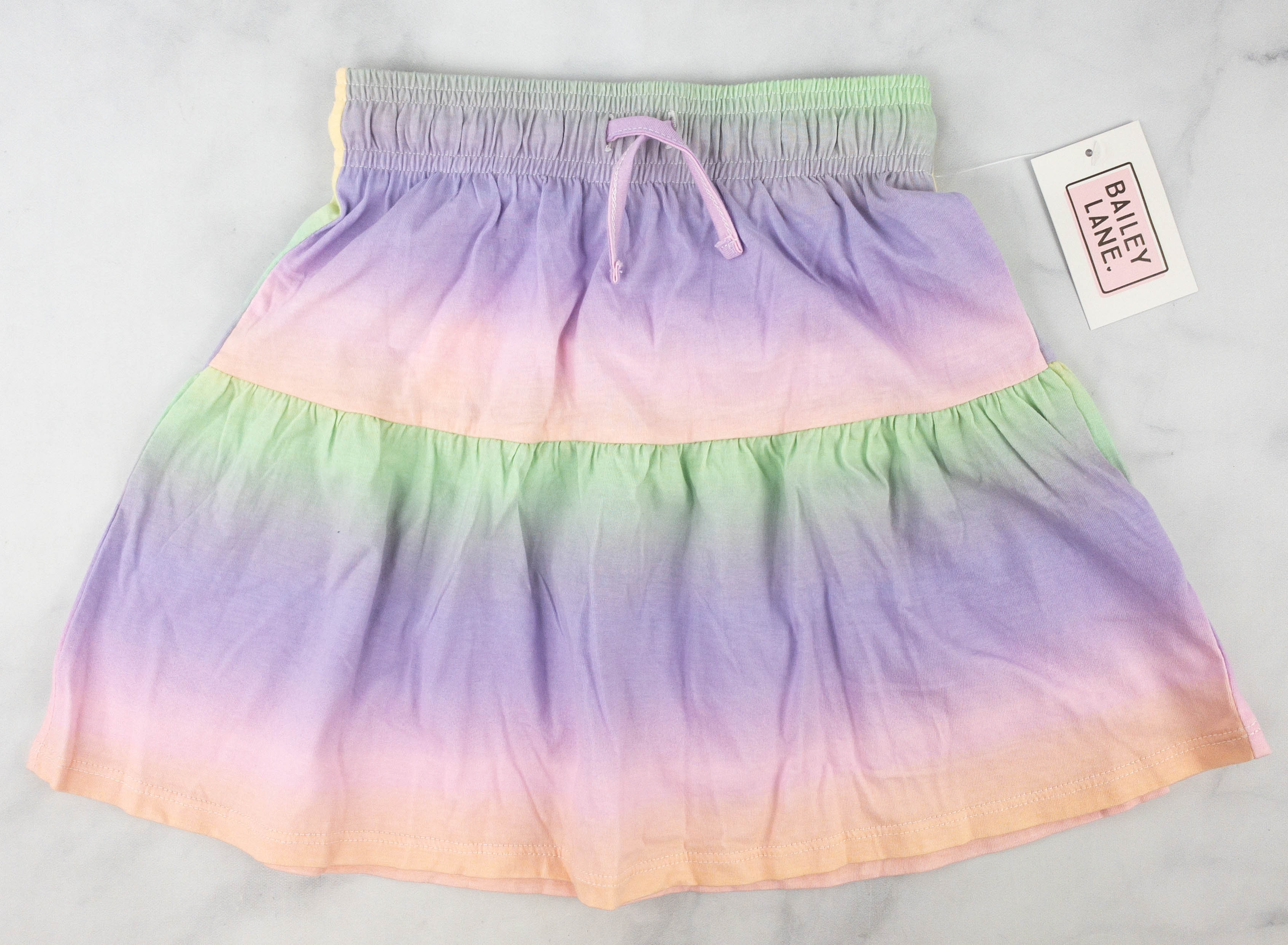 Bailey Lane The Tiered Jersey Skirt ($18) The ombre colors on this jersey skirt is really pretty! Plus, it has an elastic waist, so it's easy to wear. This would look great with a plain top and a pair of sneakers for a sporty summer look.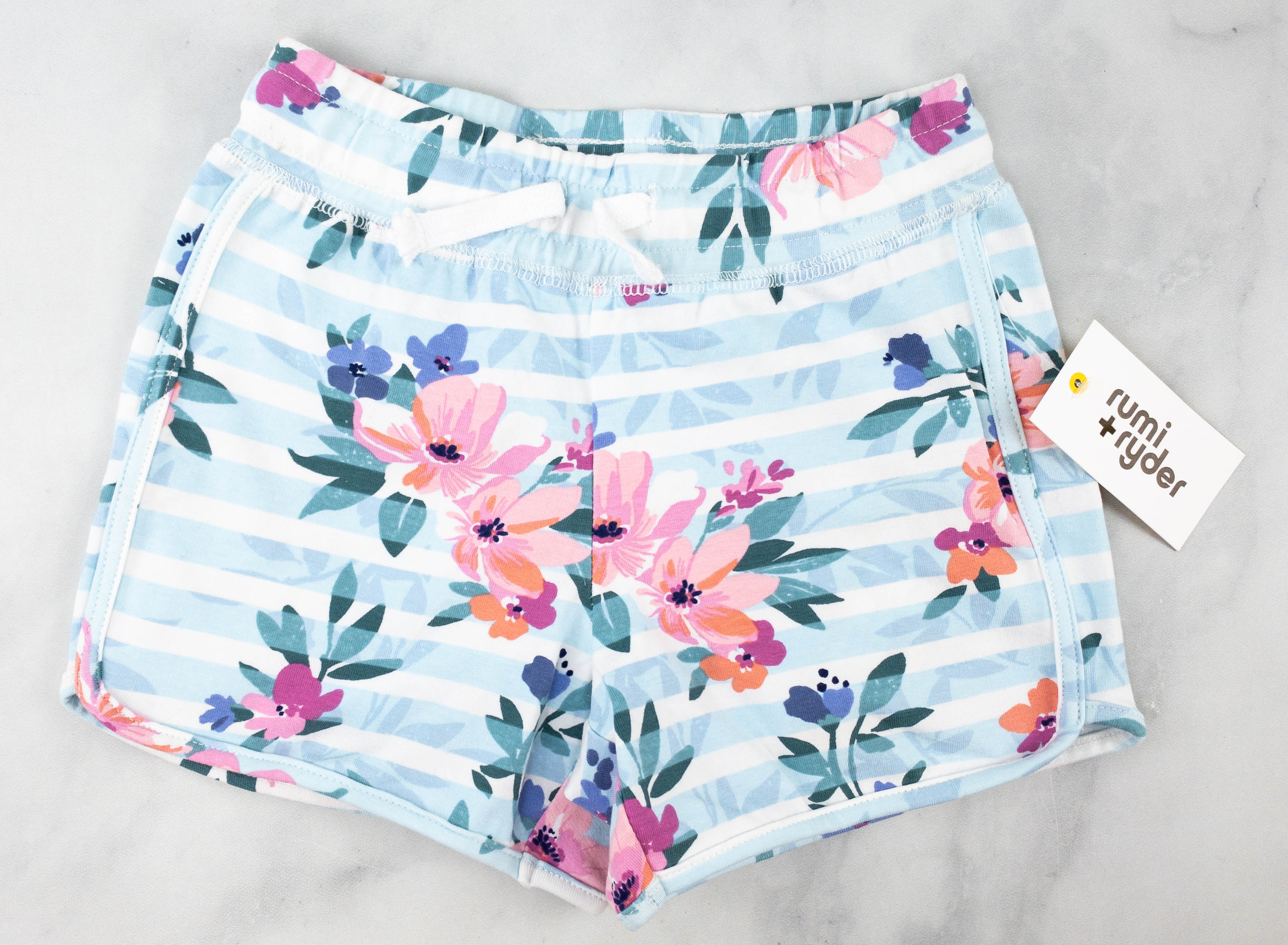 Rumi + Ryder The Knit Dolphin Short ($16) This cute dolphin short is another summer must-have. It features white and light blue stripes with colorful floral prints, and it also has a drawstring waist that makes it easy to adjust. Just pair it with a tee or a tank top and it'll be a nice outfit for any casual day.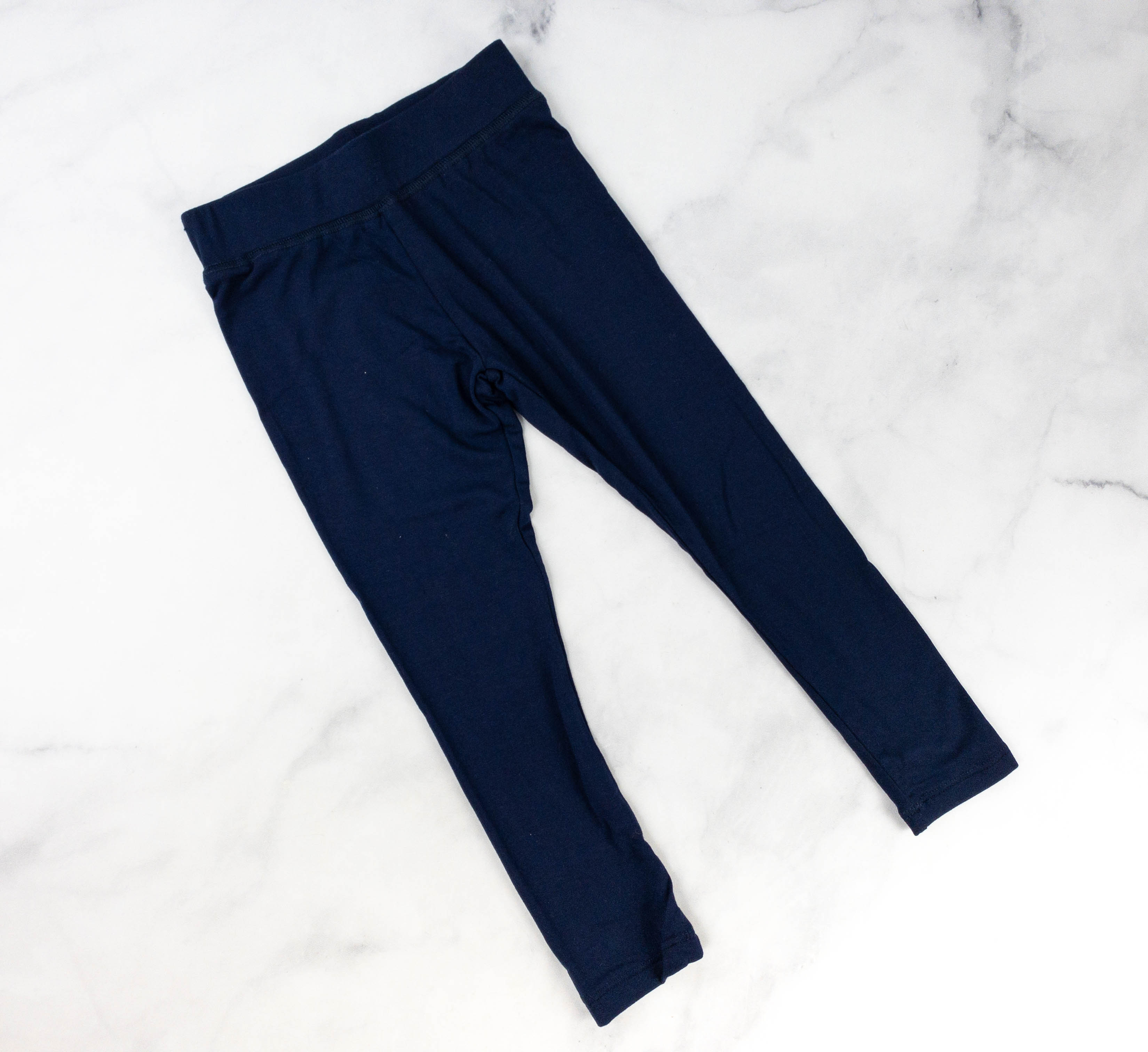 Rumi + Ryder The Everyday Legging ($12) My daughter's fix also includes a couple of leggings. The first one is a plain legging in navy blue. It's versatile and easy to pair with existing items from my daughter's wardrobe.
This feels nice and soft to the touch. It's super stretchy as well!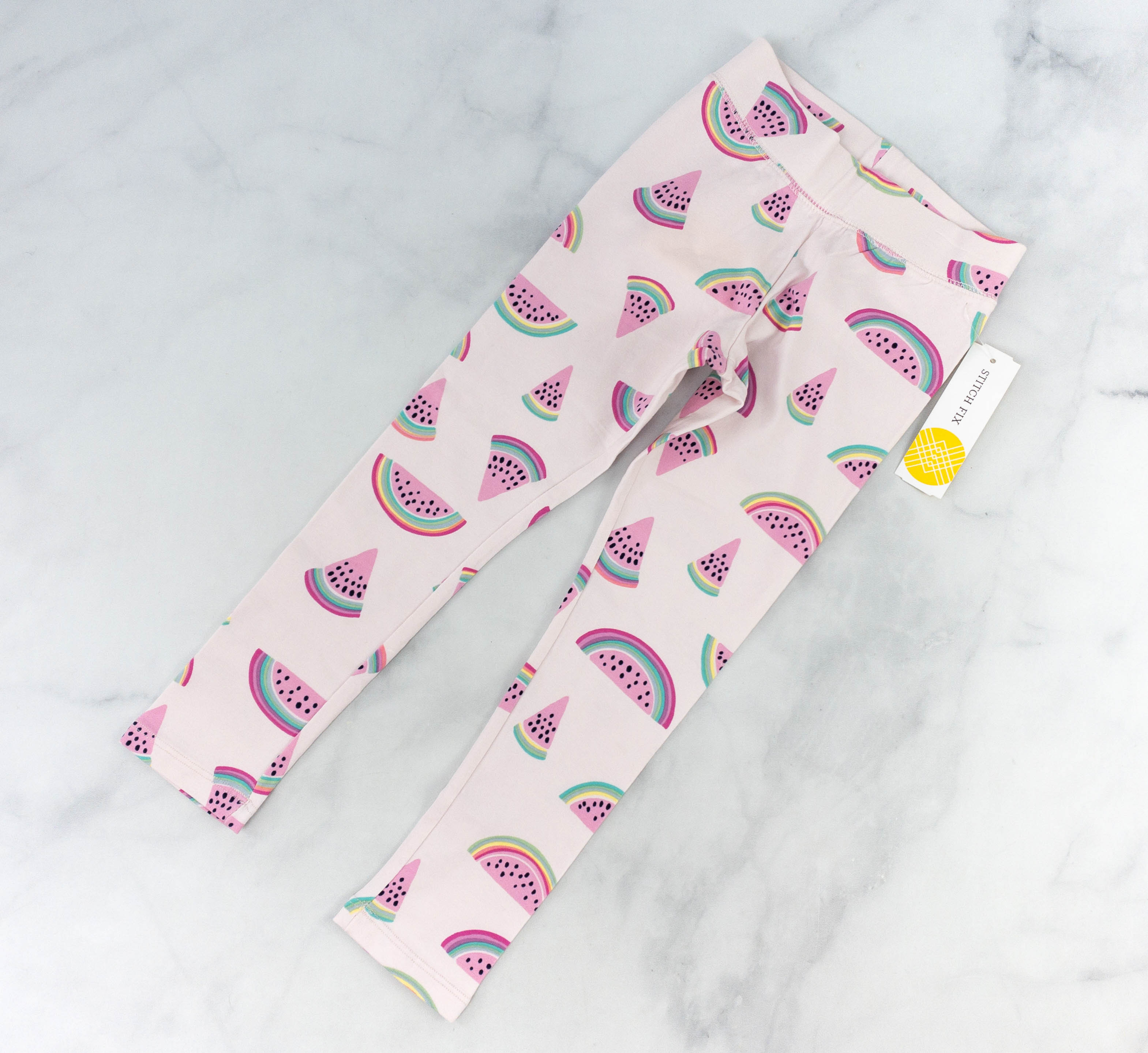 Rumi + Ryder The Basic Legging ($12) The second legging has a lighter color. It also features watermelon slices all over! So lovely!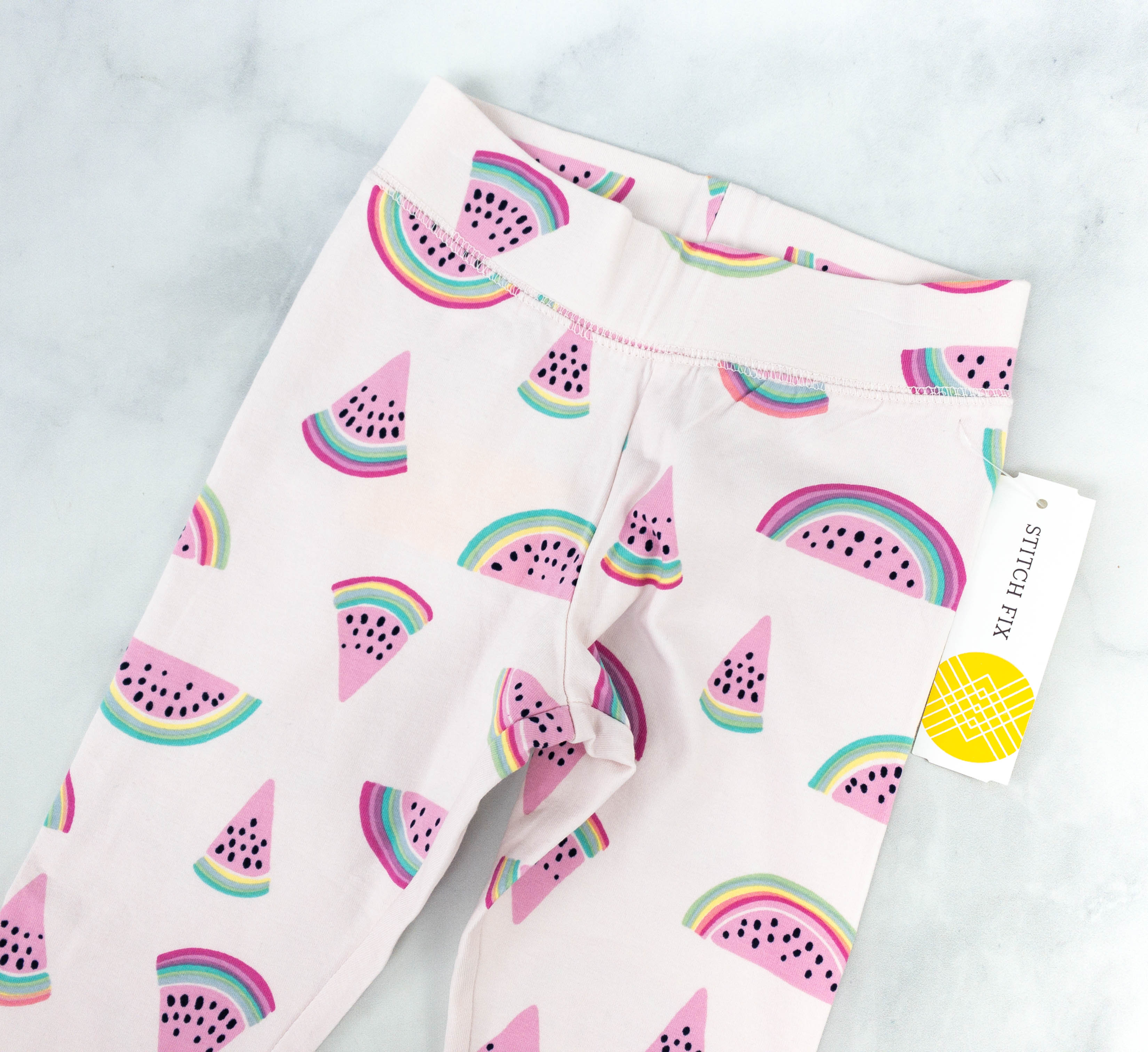 This legging fits my daughter well and its waistband doesn't slip down easily, so she's comfortable wearing it even when she moves around a lot.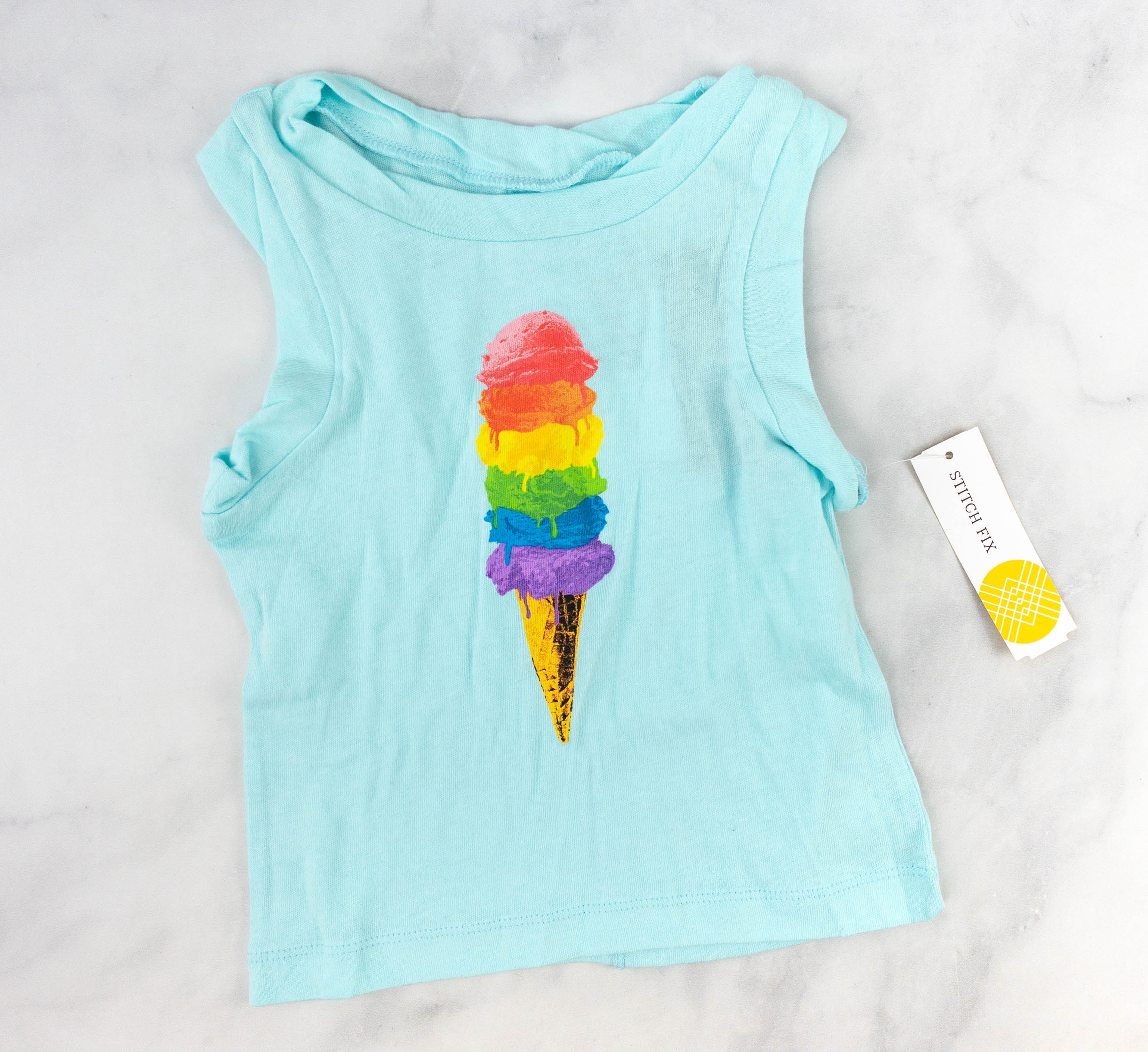 Chaser Gorjia Rolled Sleeve Tank ($16) Adding to the list of cute clothing pieces from this fix is a sky blue tank top!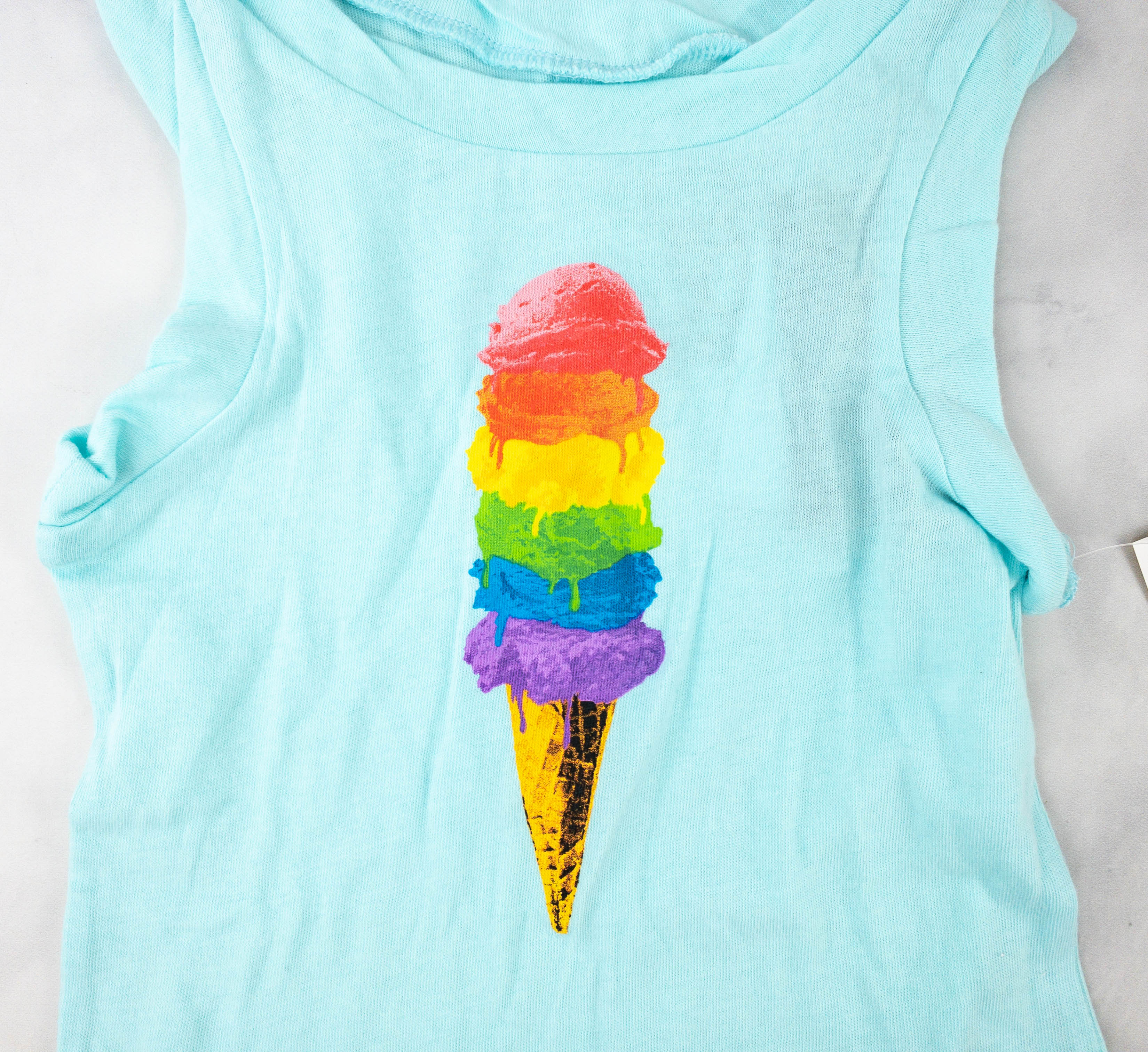 Look at the colorful ice cream print in the middle! Whether paired with the floral short or the leggings, this would make such an adorable summer outfit.
Love Glam Girl Hally Graphic Tee ($14) Summer calls for light and cute tees! This one is a lavender graphic tee, which my daughter really likes.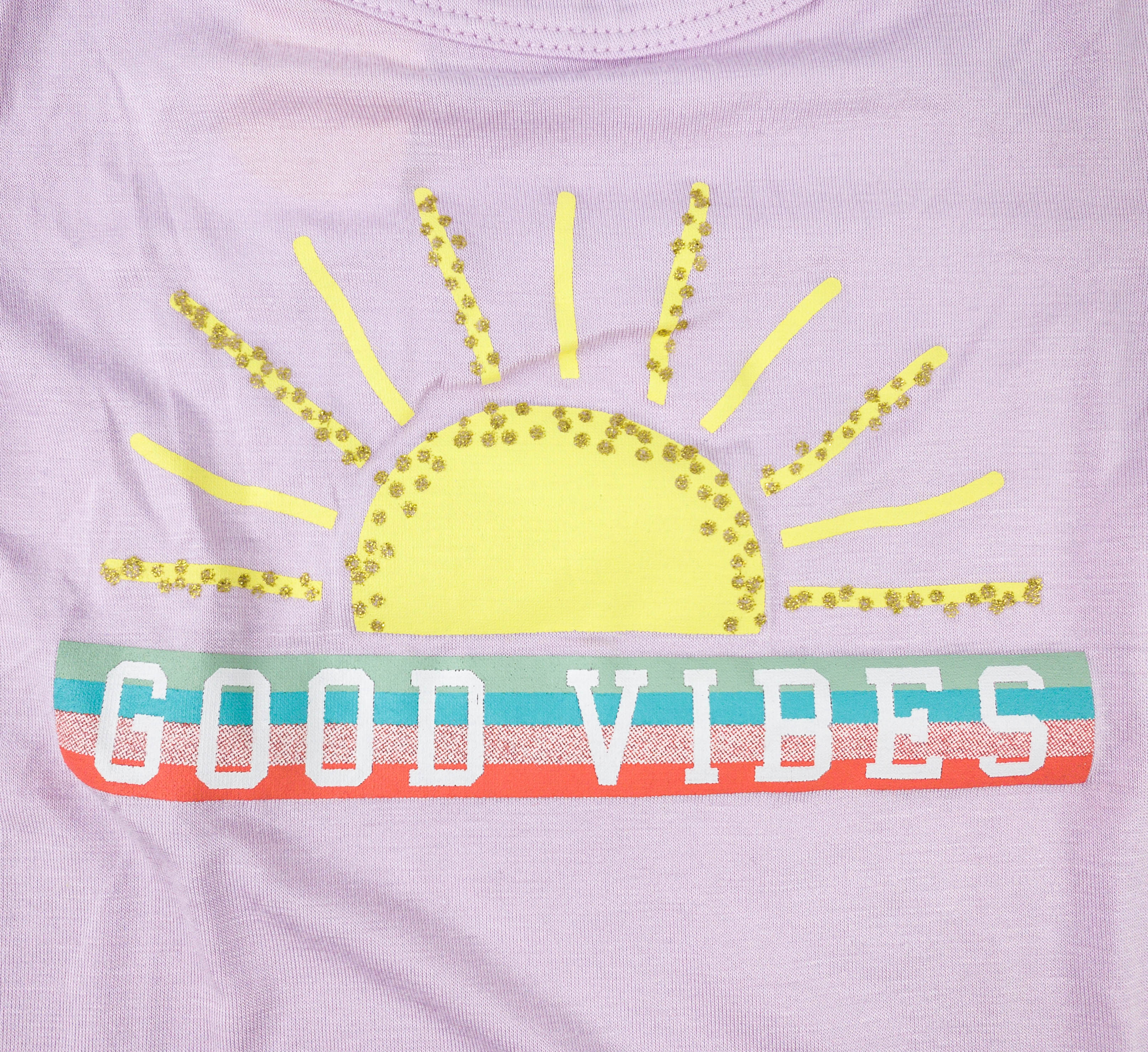 The print in the middle says GOOD VIBES, and on top of it is a sun peeking through. There are also some glittery accents that draw attention to the sun!
Love Glam Girl Hally Graphic Tee ($14) This tee is in blue-green and with its light and soft fabric, there's no doubt it would be a summer staple for my daughter.
The print says "smile more, love more, shine more". The words are printed with an ombre effect for an added flair.
This whole fix is overflowing with summer vibes! My daughter loves everything, especially the cute tees and leggings which can be mixed and matched with each other. The dresses are also adorable, as well as the ombre skirt! Since they are made with light materials, my daughter stays cool and comfortable when wearing them. Her fix for this month also includes footwear, which is a pair of rose gold chrome sandals. They are so pretty and versatile! Stitch Fix is such a convenient way of getting new clothing pieces for my kids. They have flexible terms and it's so easy to return the items using the mailer they provide. They have a styling service for boys as well!
What do you think of Stitch Fix Kids?