Scentbird is a monthly perfume and fragrance decanting subscription that has branched out into skincare, makeup, and even candles. With Scentbird, you get a thirty-day supply of perfume every month – Scentbird takes authentic perfumes and decants them into travel sprayers. There are over 450 fragrances to choose from and Scentbird adds new ones every month! You can save when you purchase a multi-month subscription, or even arrange to receive perfume every other month. Keep in mind that some fragrances and other items may have an upcharge of up to $15 in addition to the subscription cost. 
DEAL: Get 50% off your first month! No coupon needed, just use this link to subscribe.
NOTE: As of May 11, 2021, the price for the one product a month plan will increase to $15.95 a month, an increase of $1.
Scentbird is about the fun and magic of fragrance. We designed Scentbird for the pickiest girl- or boy- to let you date luxury perfumes before marrying them.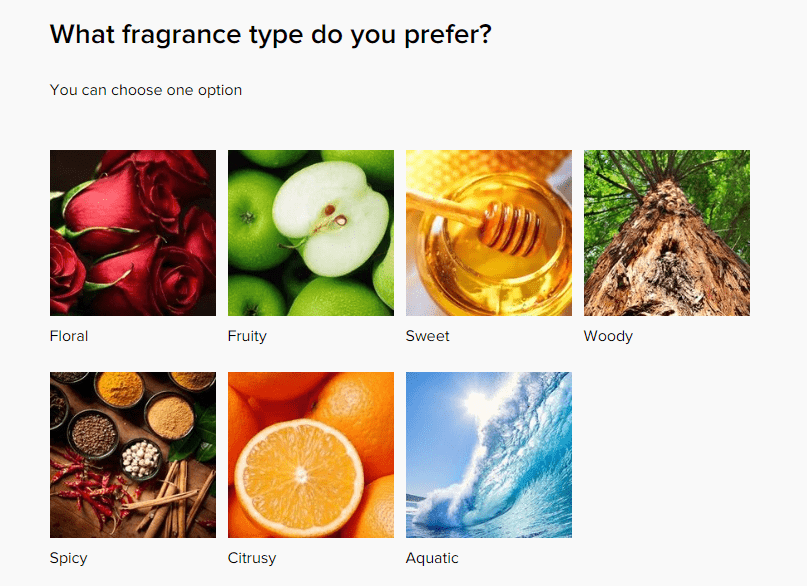 When you sign up, you can fill out a quiz so Scentbird can provide you with some suggestions. There are only 5 questions and you can take the quiz as often as you like. You can place both men's and women's scents in your queue too and of course there are lots of unisex scents available. You can also fill the queue with whichever fragrances you prefer and keep in mind that if your queue is empty, you will receive the Fragrance of the Month. The Perfume of the Month for May is briliante VINCE CAMUTO:
briliante VINCE CAMUTO is a unique mix of jasmine sambac, fresh freesia, refreshing pear and cashmere woods, blended to create an intoxicating, unforgettable scent experience.

The jasmine sambac is prominently featured for its ability to inspire feelings of sensuality, relaxation and comfort. Sweetly seductive, this delightful white floral fragrance is reimagined with a refreshing and effervescent appeal.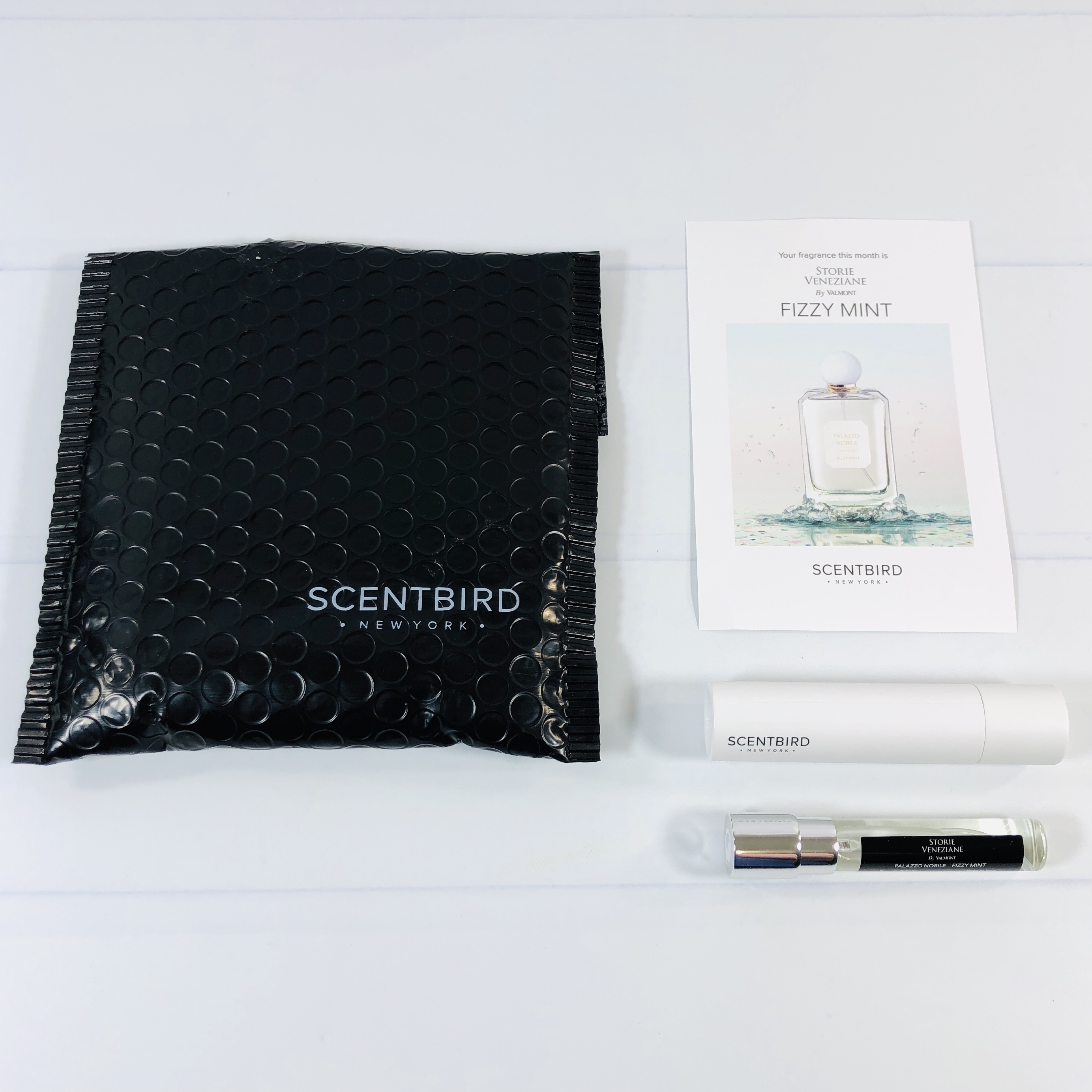 Everything in my box!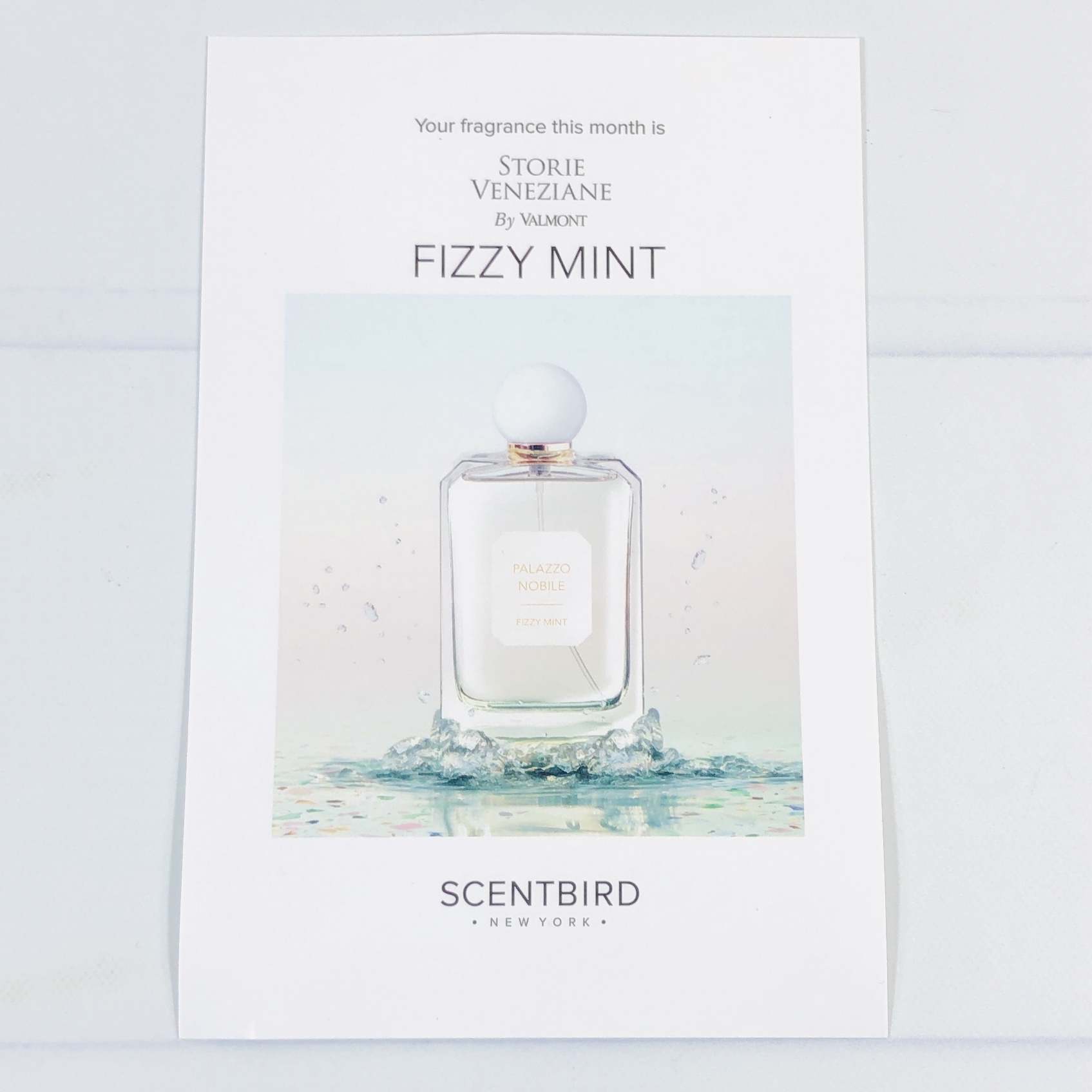 I received a card showing my chosen scent.
The back of the card listed the fragrance notes, ingredients, and country of origin.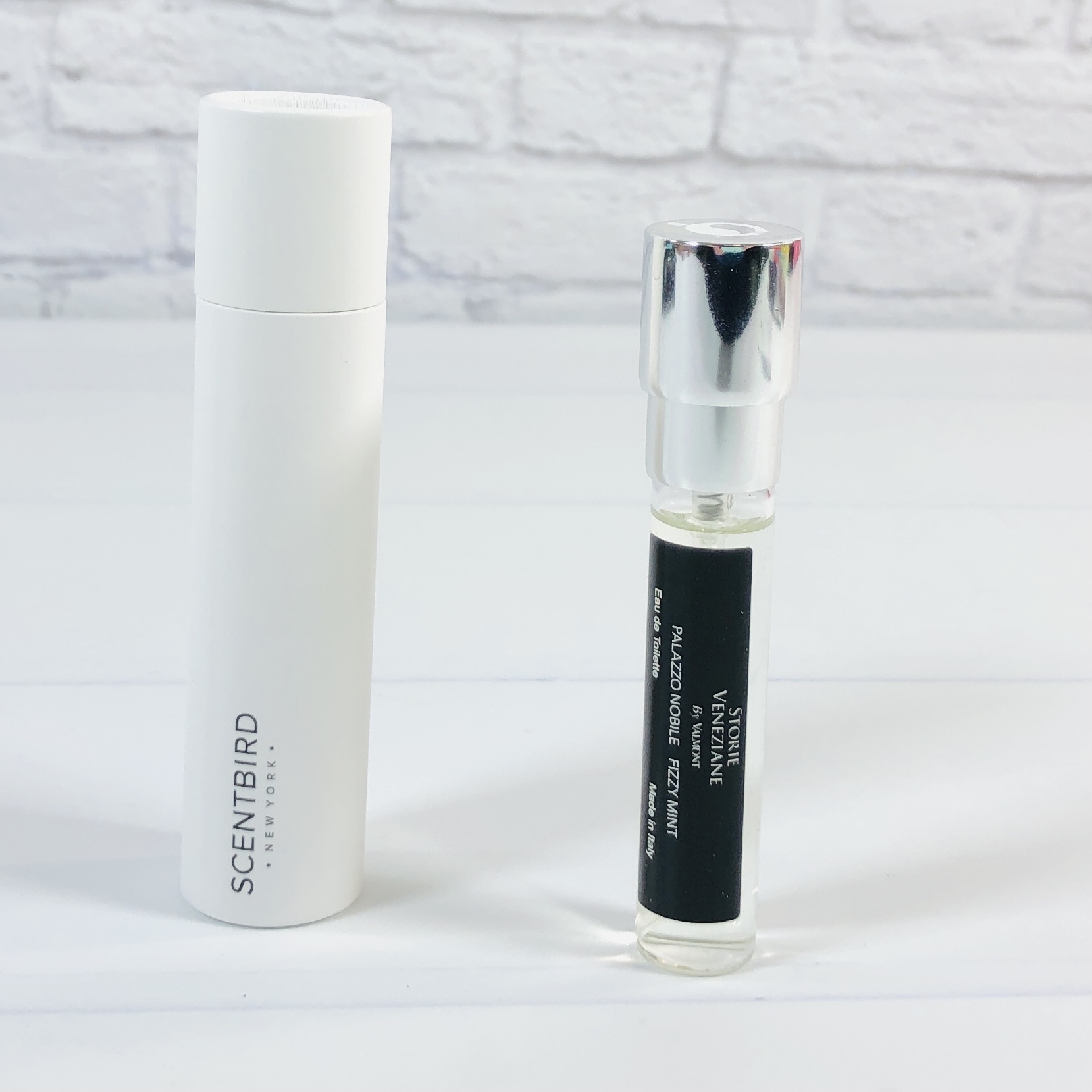 Storie Veneziane by Valmont – Palazzo Nobile Fizzy Mint Eau De Parfum ($180 for 3.38 ounces) I chose a new-to-me brand and scent from Italy. I was intrigued because it mentioned mint in the scent notes and I like a clean burst of citrus any time of year.
The scent notes include bergamot, verbena, and crushed mint. Scentbird said this was a citrus scent and I agree, it is like a burst of rind, super fresh, and very refreshing. I really didn't detect much of a minty note though, but lemon verbena is a good descriptor. At one point I sniffed it really close and it reminded me of a favorite from back in the '80's, Jean Nate.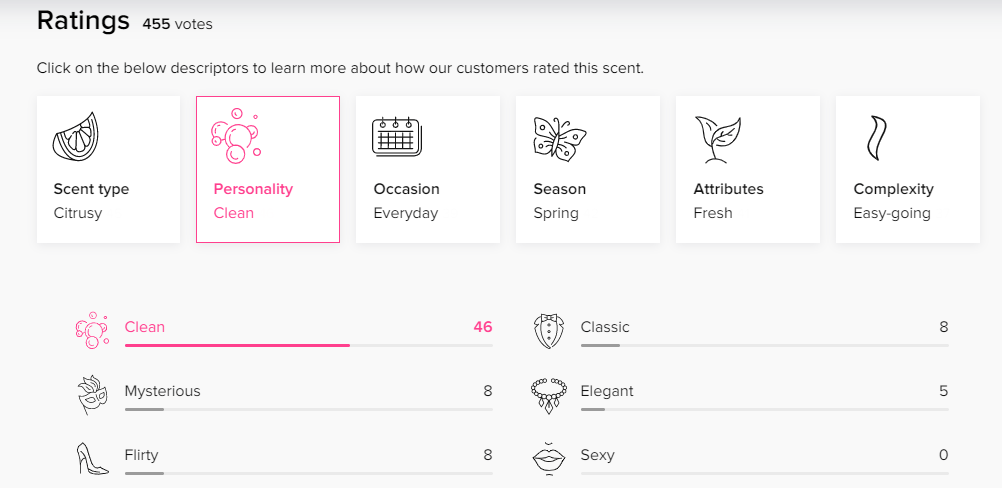 Scentbird lets its users rate their fragrances so you can get an idea of what you might be in for before you place a scent in your queue. I was expecting a citrusy scent with a clean vibe that is perfect for everyday wear and is fresh. When you click on the different boxes you can see how many people voted for each attribute. I thought the scent was just as I expected, a clear winner for me!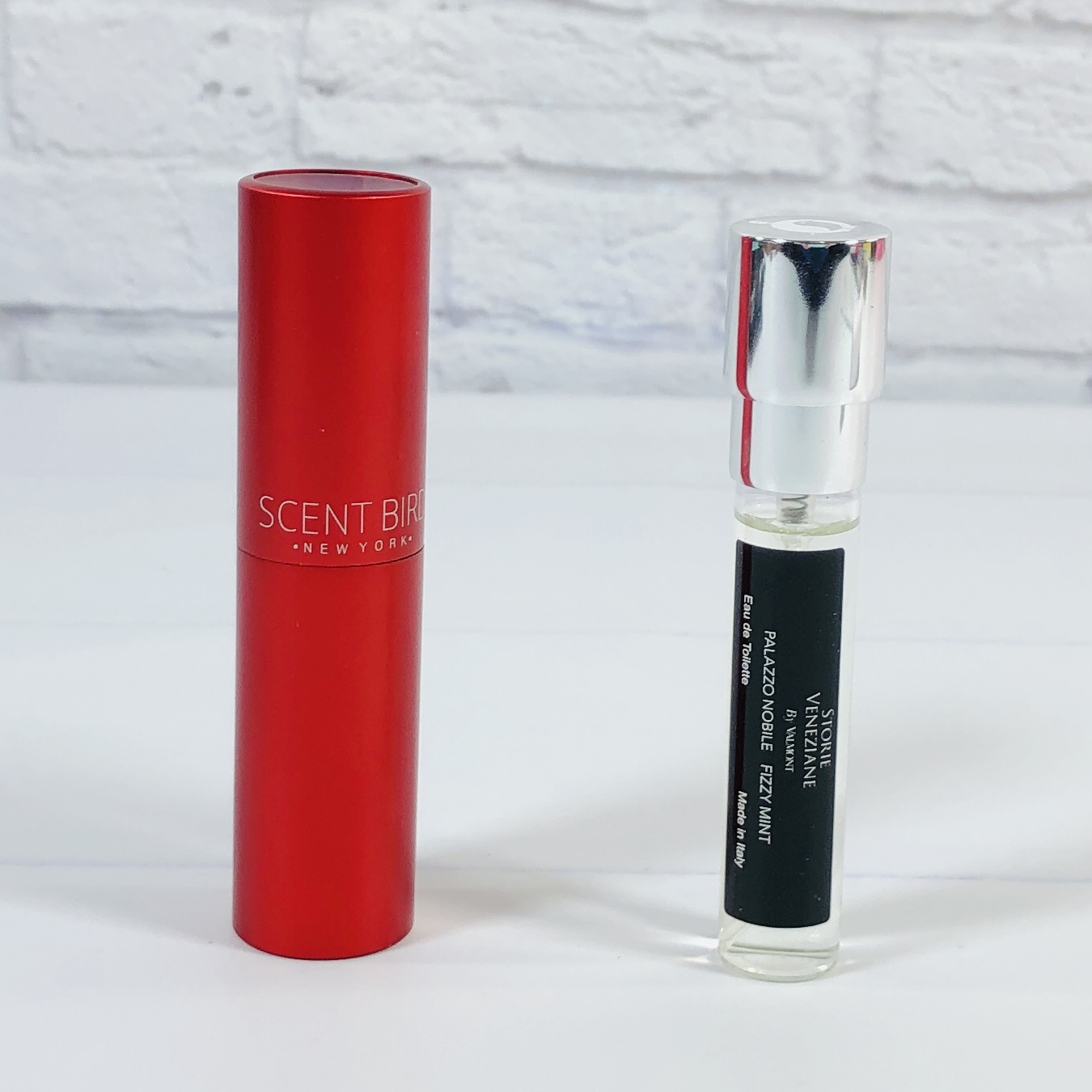 Your first shipment will come with a holding case but you can also purchase additional cases on the Scentbird site. My favorite case is this cheery red number.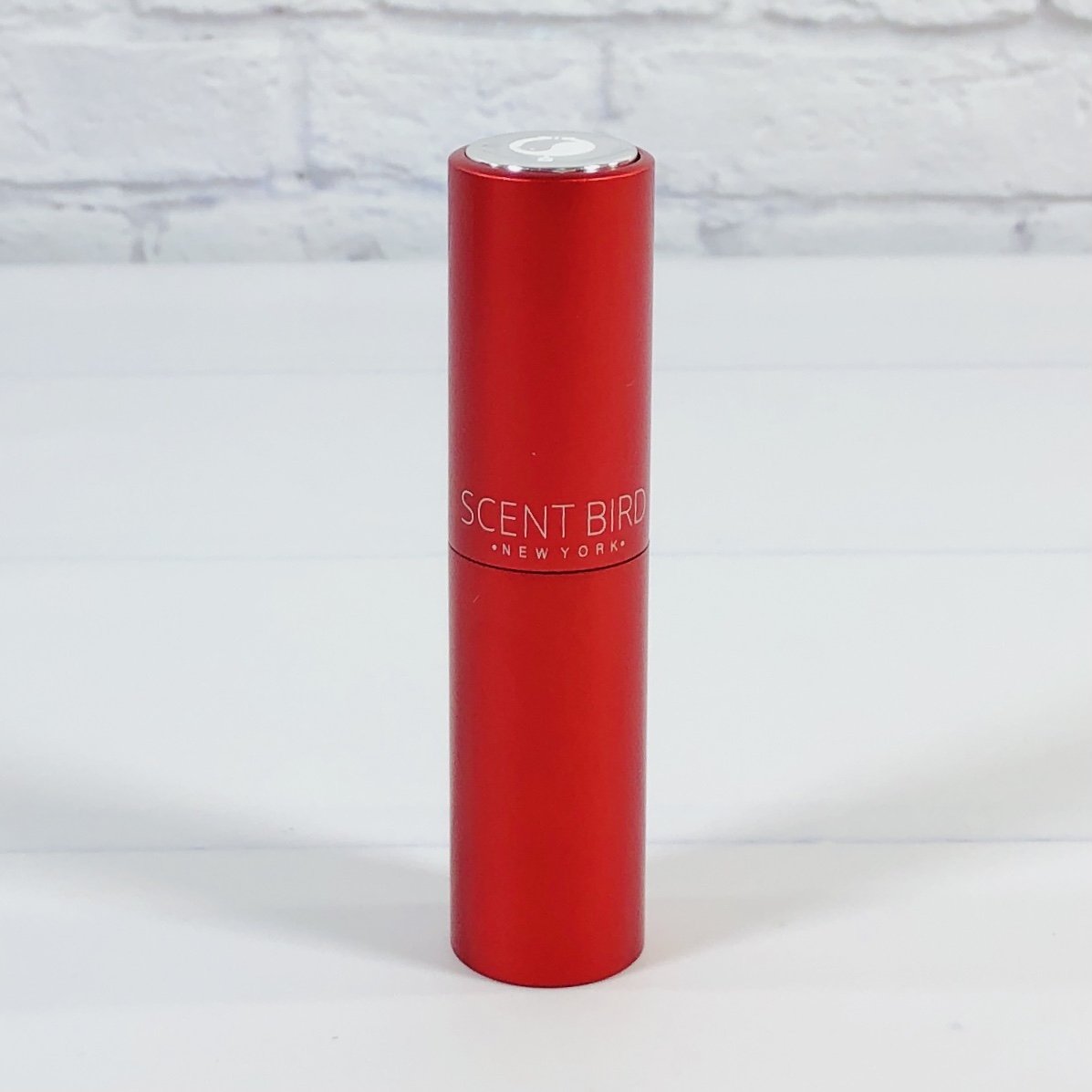 Place your scent vial in the case and twist and push down until the sprayer is hidden.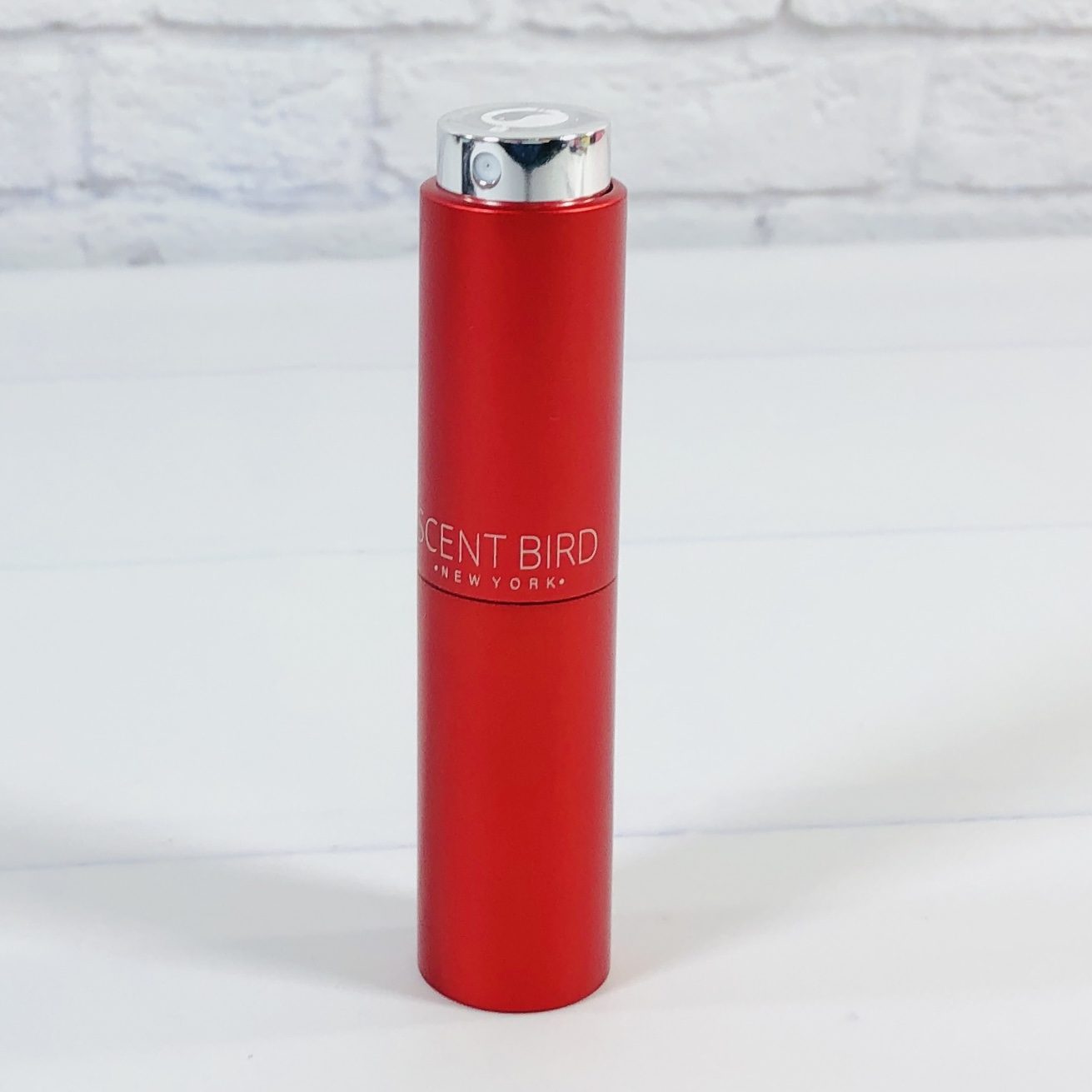 Then twist the opposite way to reveal the nozzle and spray away. There should be enough product for several sprays a day, and it should last throughout the month. The vial holds 8ml or 0.27 ounces.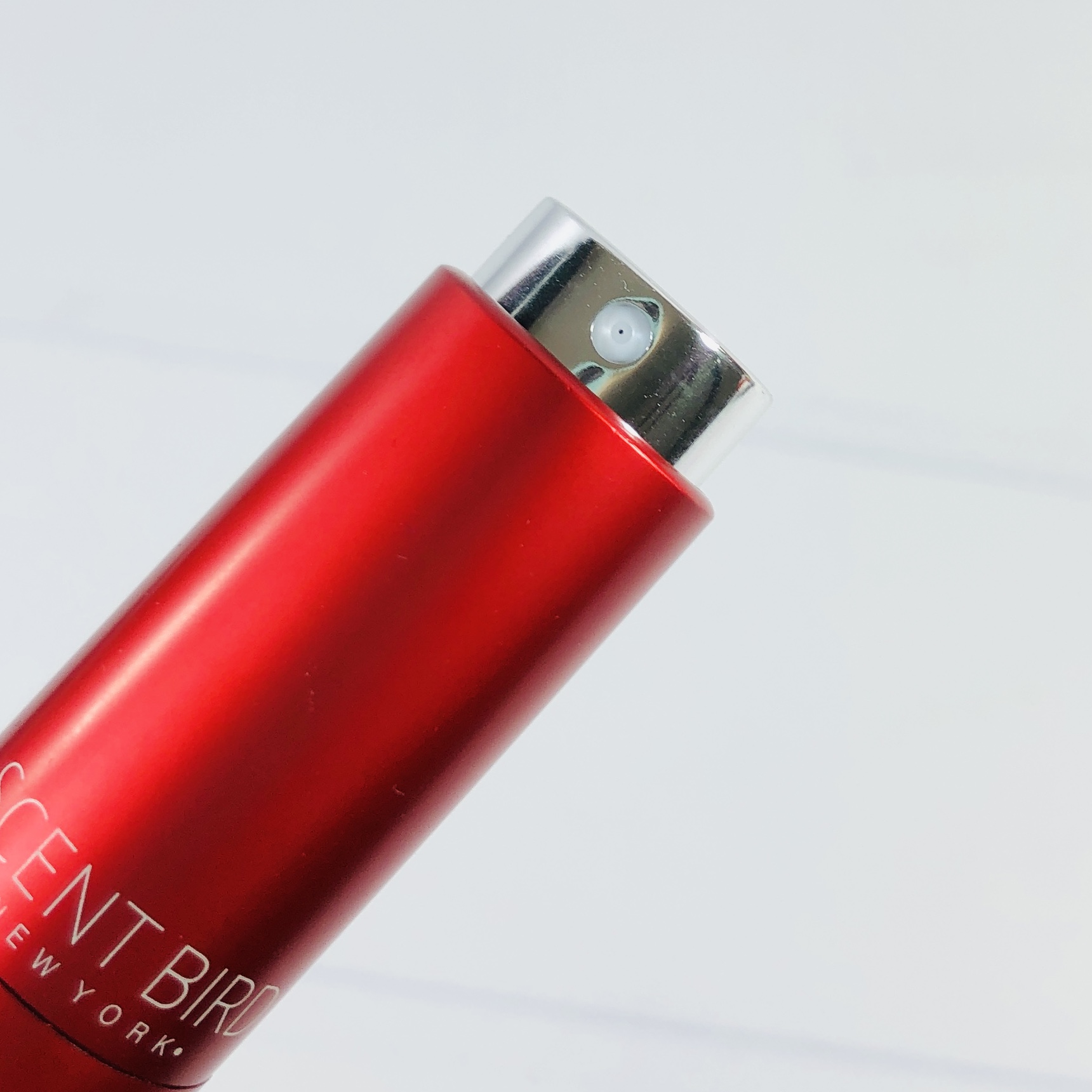 I was exceedingly pleased with my April fragrance choice from Scentbird! I adore citrus scents, they help perk me up when the weather turns warm. This one was bright and green and not too sweet, not too warm. It smells a little different every time I wear it, and today the bergamot is projecting. I thought the longevity was decent and the scent wasn't super powerful yet I could tell it was there for several hours after applying. I will get a lot of use out of this scent! My favorite part about this subscription is the chance to try an amazing selection of fragrances and brands that I might not have heard of otherwise, or that I might not be able to afford (full bottles can be expensive). I also think it's cool that Scentbird offers other products so if you want to try skincare or wellness items, you can opt for those in your shipment instead.
What's in your Scentbird queue? Let me know what scent you're wearing now in the comments!