Inku Crate is a monthly paper and stationery subscription box from Japan Crate. You can get this cute kawaii box for $35.95 per month, and there's also an option to get a 3-month, 6-month, or 12-month prepaid subscription. Each month, the box includes a selection of 6-8 Japanese stationery items like notebooks, planners,  pencils, pens, markers, stickers, office supplies, and even origami paper and other fun accessories. Inku Crate's kawaii stationery box made the list in our 2021 readers' choice picks of best paper and stationery subscription boxes!
DEAL: Get $3 off on your first box! Use this link and coupon code HELLO.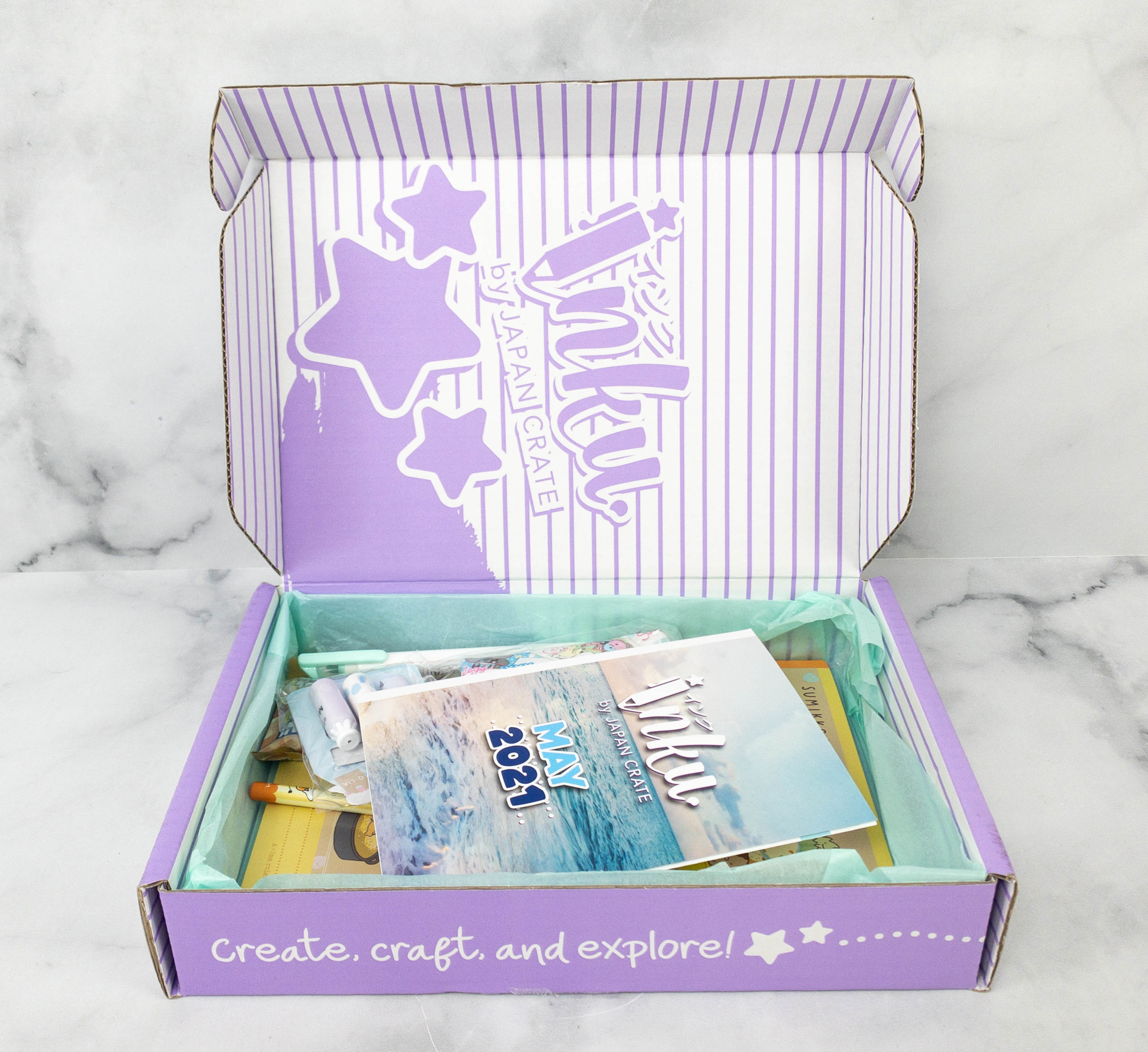 Everything fits in this small box!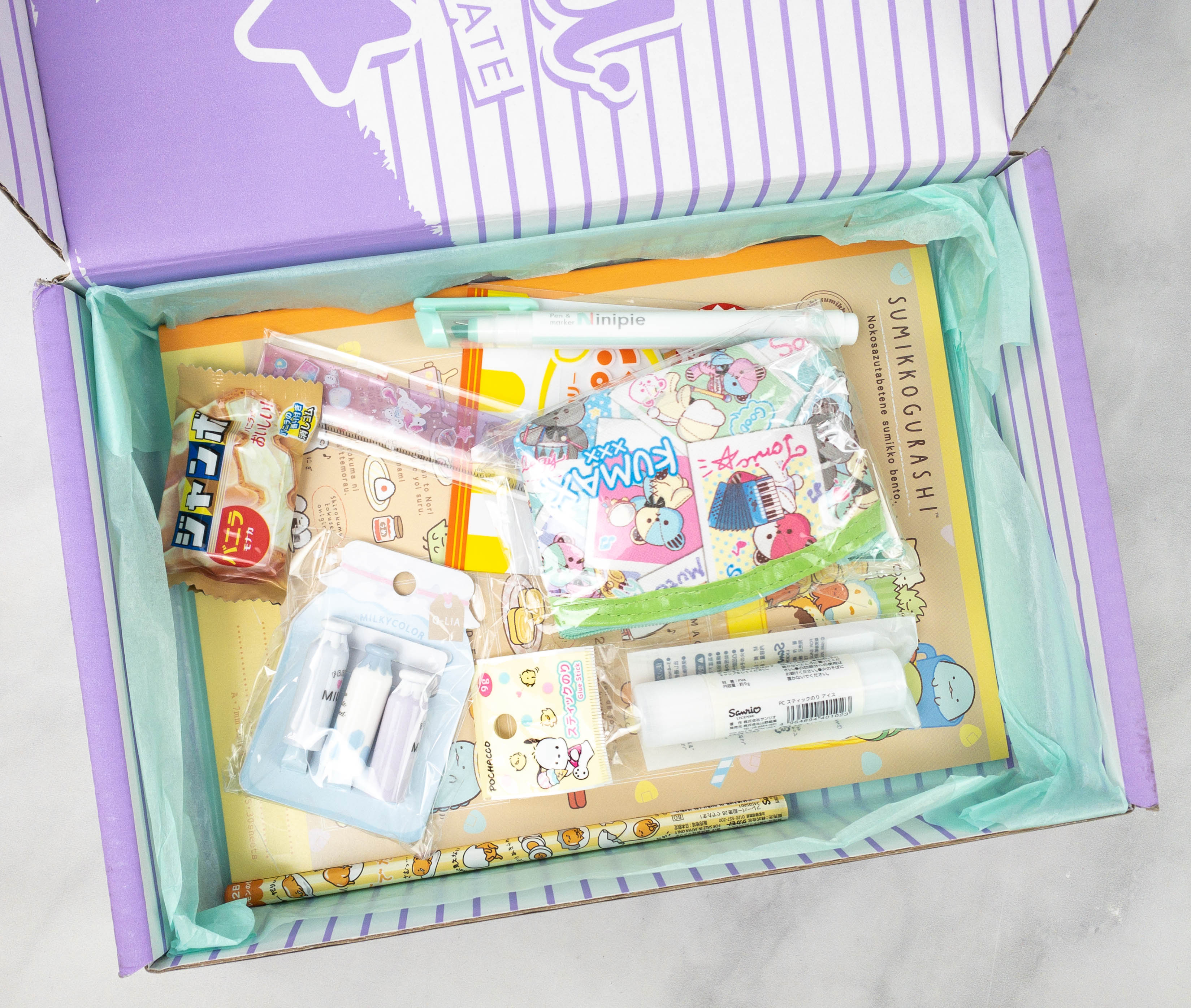 The stationery items were wrapped in tissue paper. Some even came in their original packaging.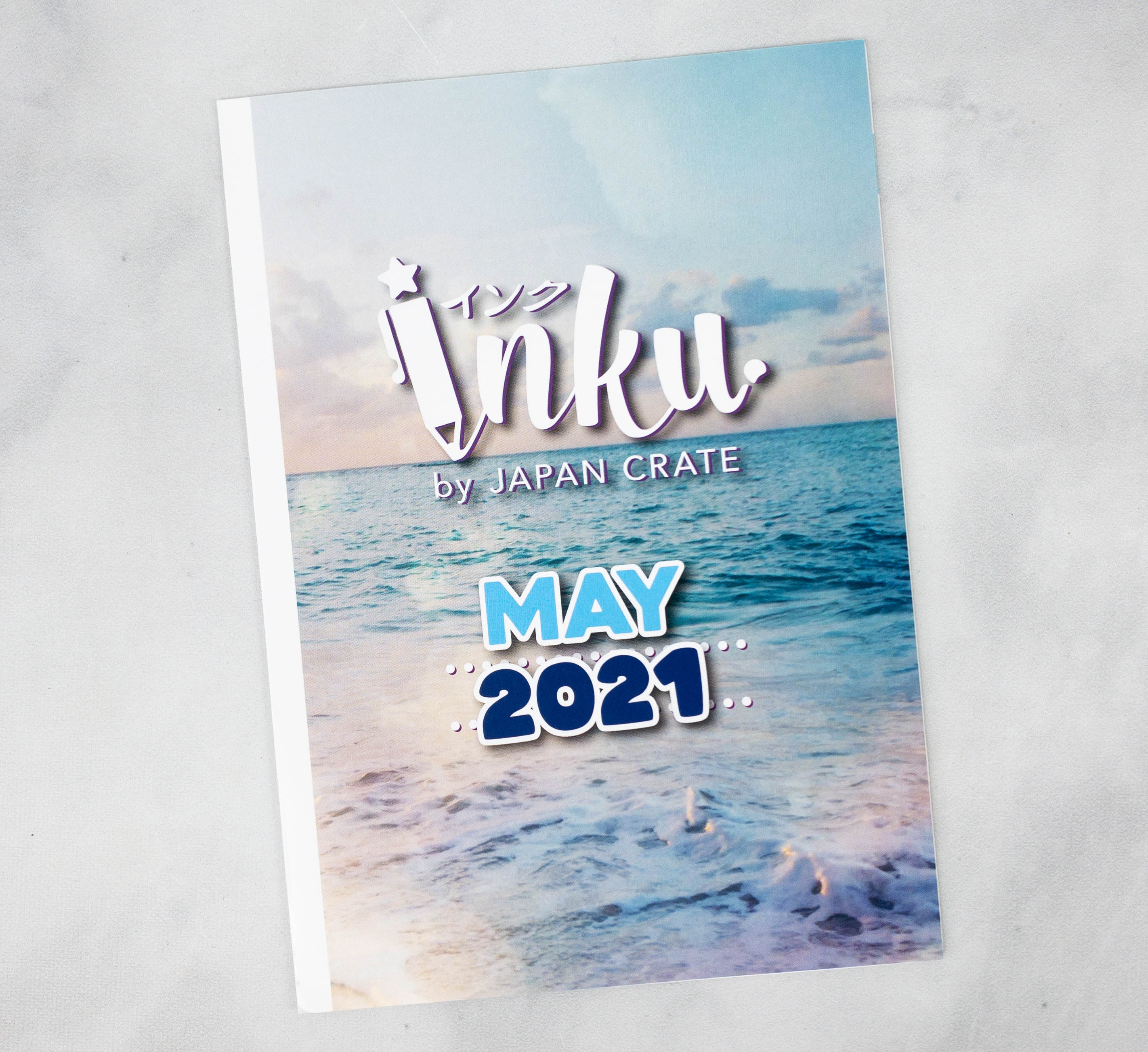 The box also includes a booklet.
At the back is an ad for Sugoi Mart!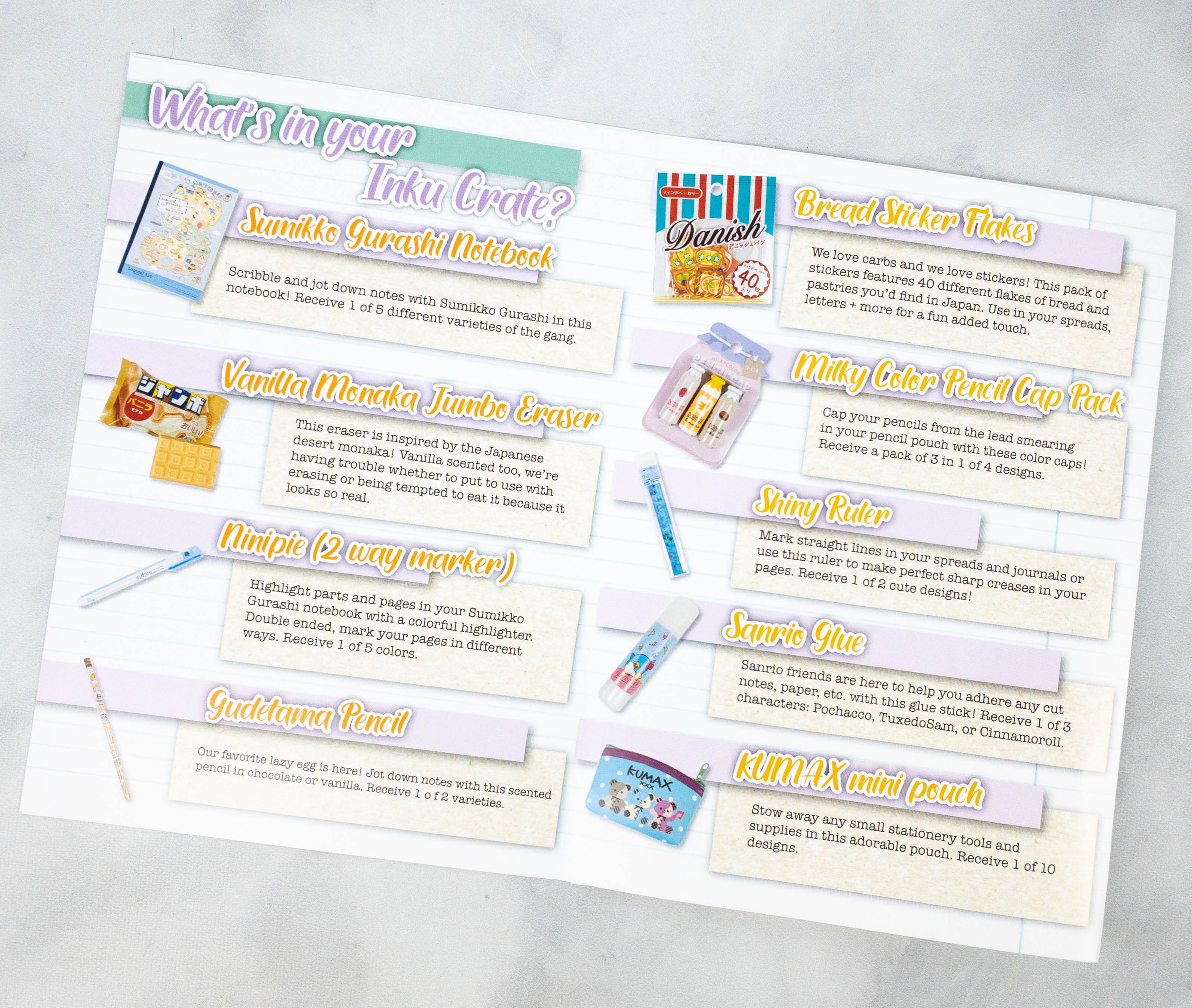 Inside the booklet is a list of all the items in the box, plus a brief description for each of them.
Everything in my box!
Sumikko Gurashi Notebook. This notebook features Sumikko Gurashi characters! Subscribers will receive 1 out of 5 designs. Mine is the pink notebook with a yellow spine. It's food themed, with recipes for tako wiener, onigiri, tamagoyaki, and fried fish. I love the illustrations, they're so kawaii!
The back even features the Sumikko Gurashi characters preparing dishes!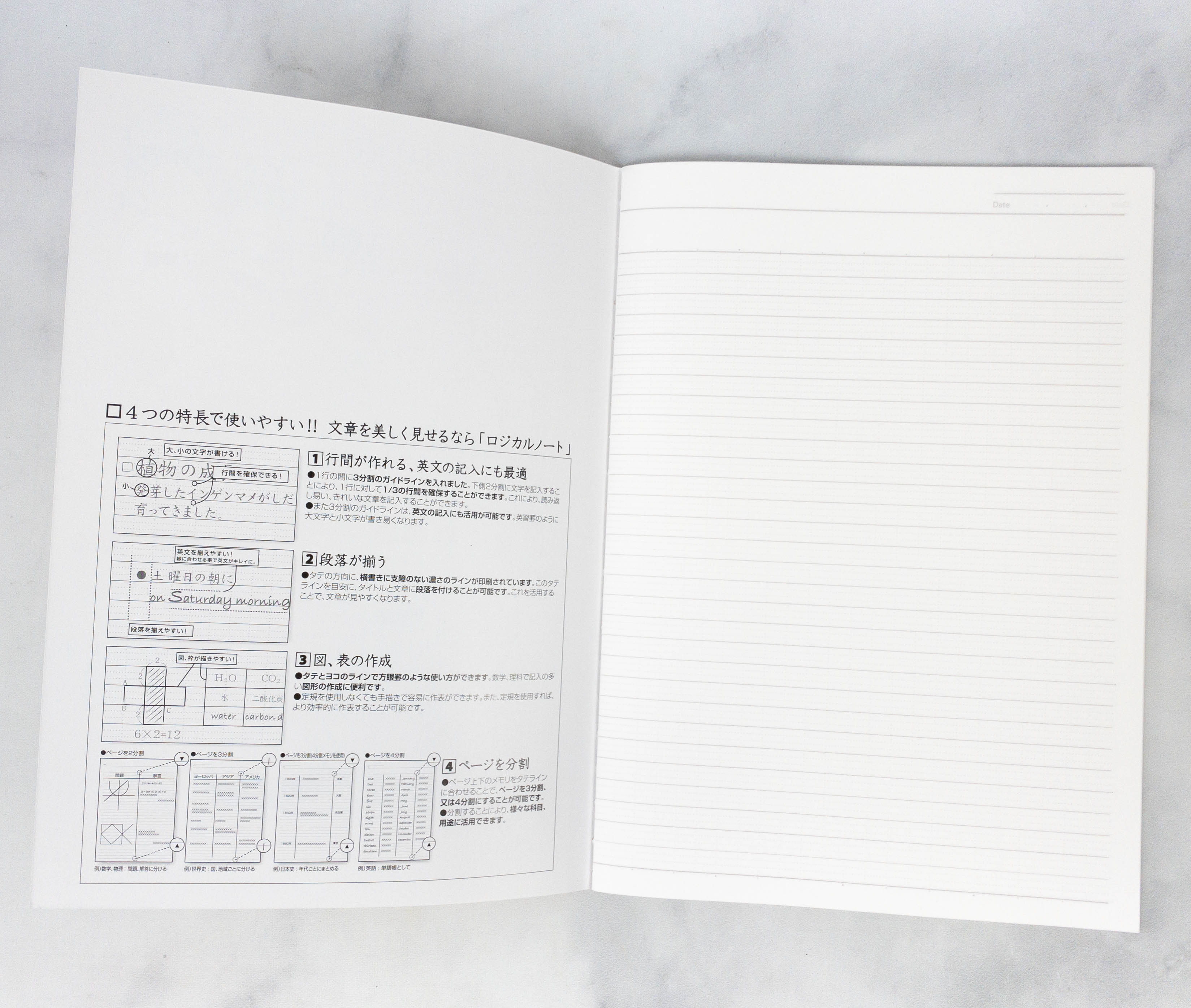 Here's what the paper inside looks like. They are lined and they are ideal for jotting down notes or scribbling down your thoughts.
Vanilla Monaka Jumbo Eraser. This looks like a candy in a wrapper but don't be fooled, it's actually an eraser!
The back of the packaging shows a photo of the eraser.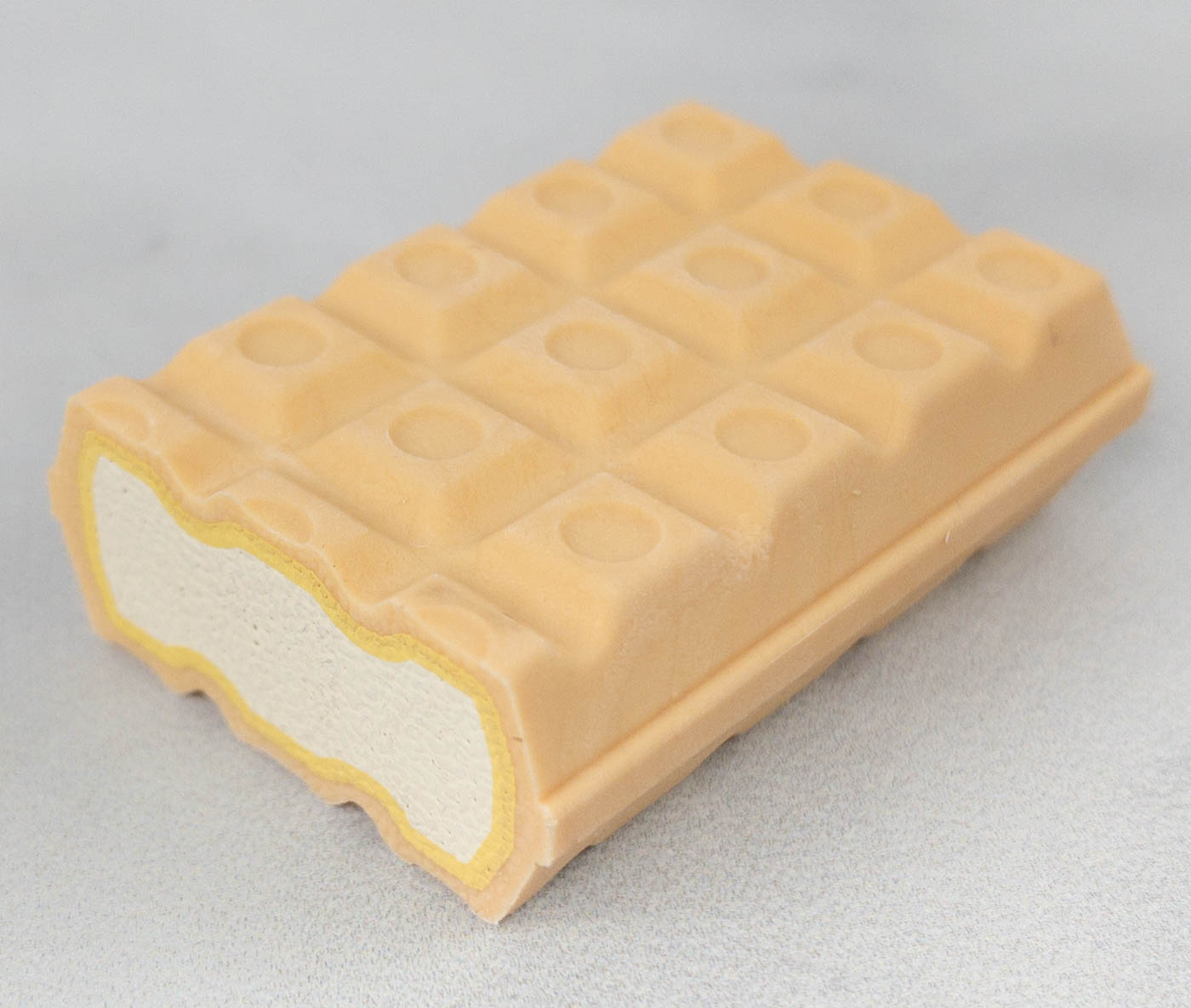 It does look like a nougat candy bar. It's well-detailed and one side even shows the "filling"!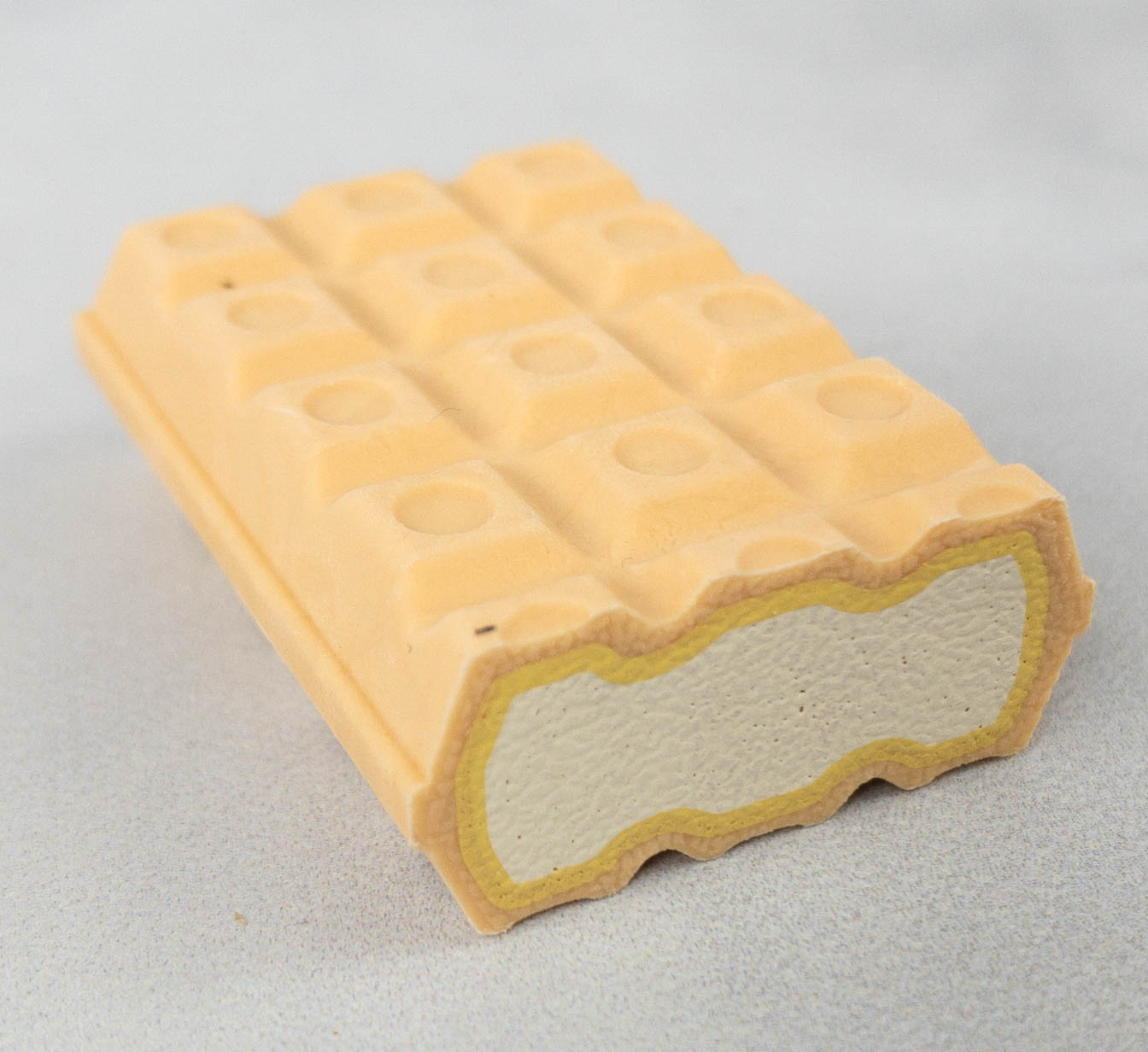 It's super cute and it smells really good as well!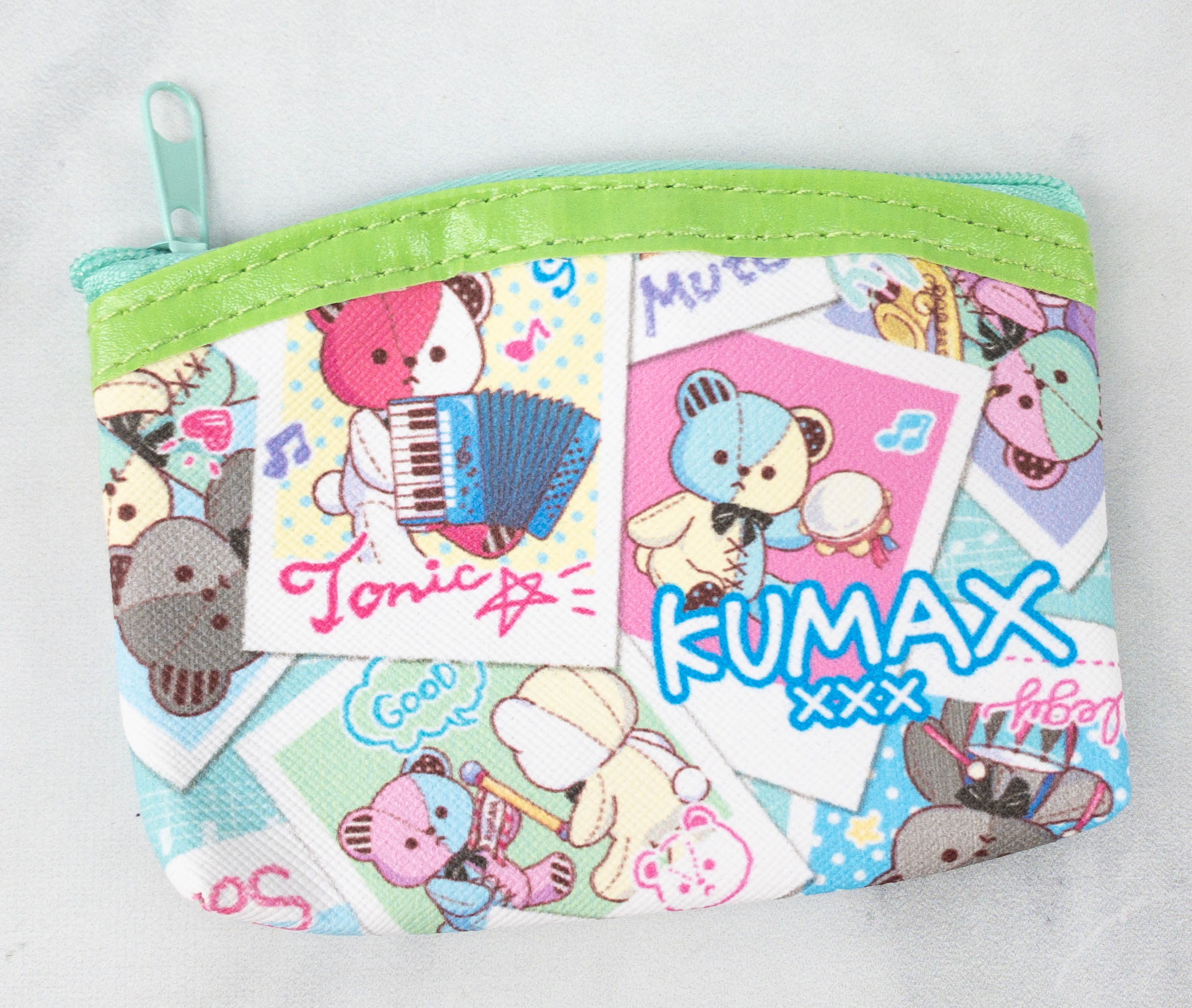 Kumax Bear Pouch. I also received this little pouch! It's so colorful and I like the polaroid photo design. Subscribers will receive 1 out of 10 varieties.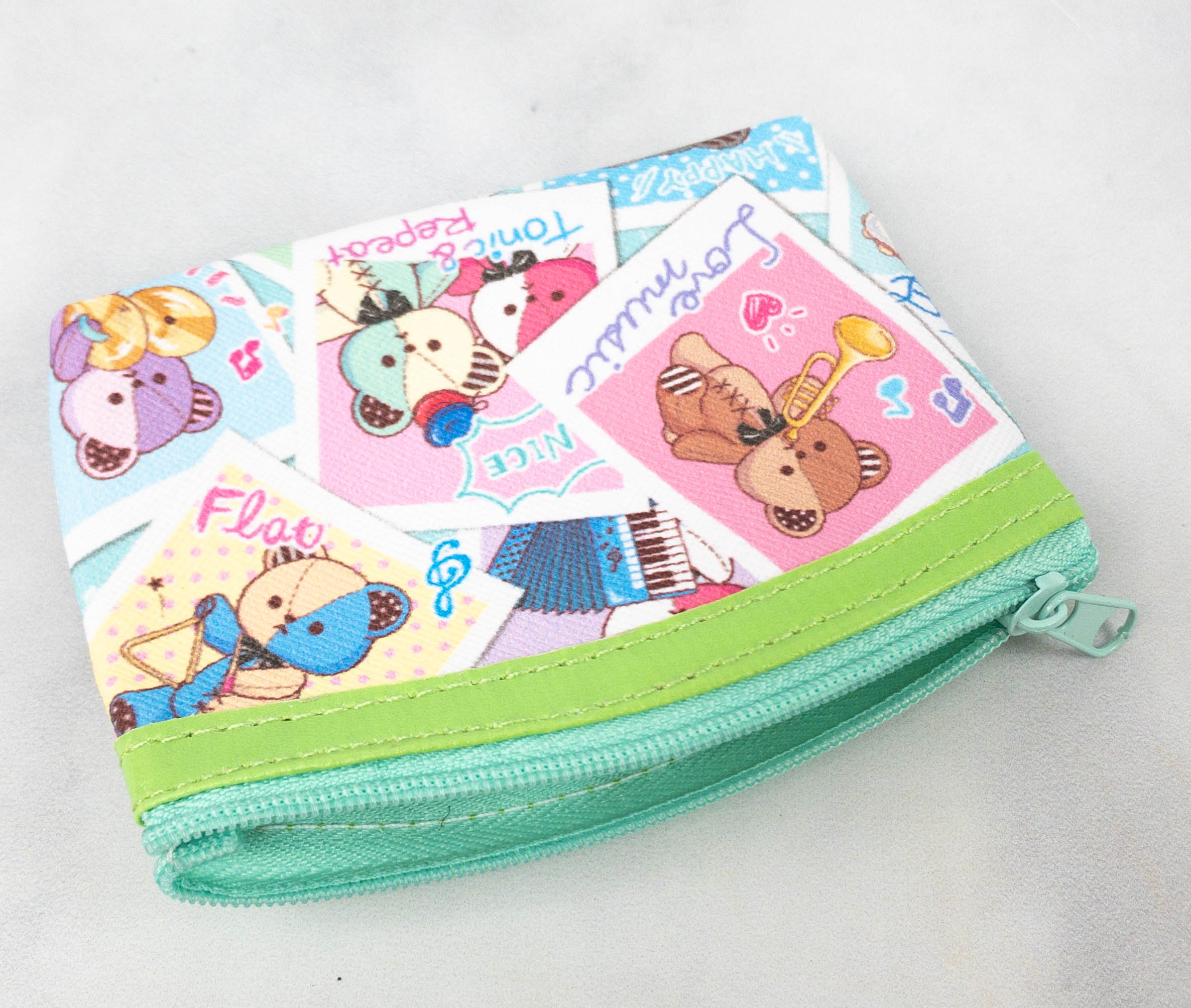 It's quite small so you can't really fit much but it will make a good coin purse!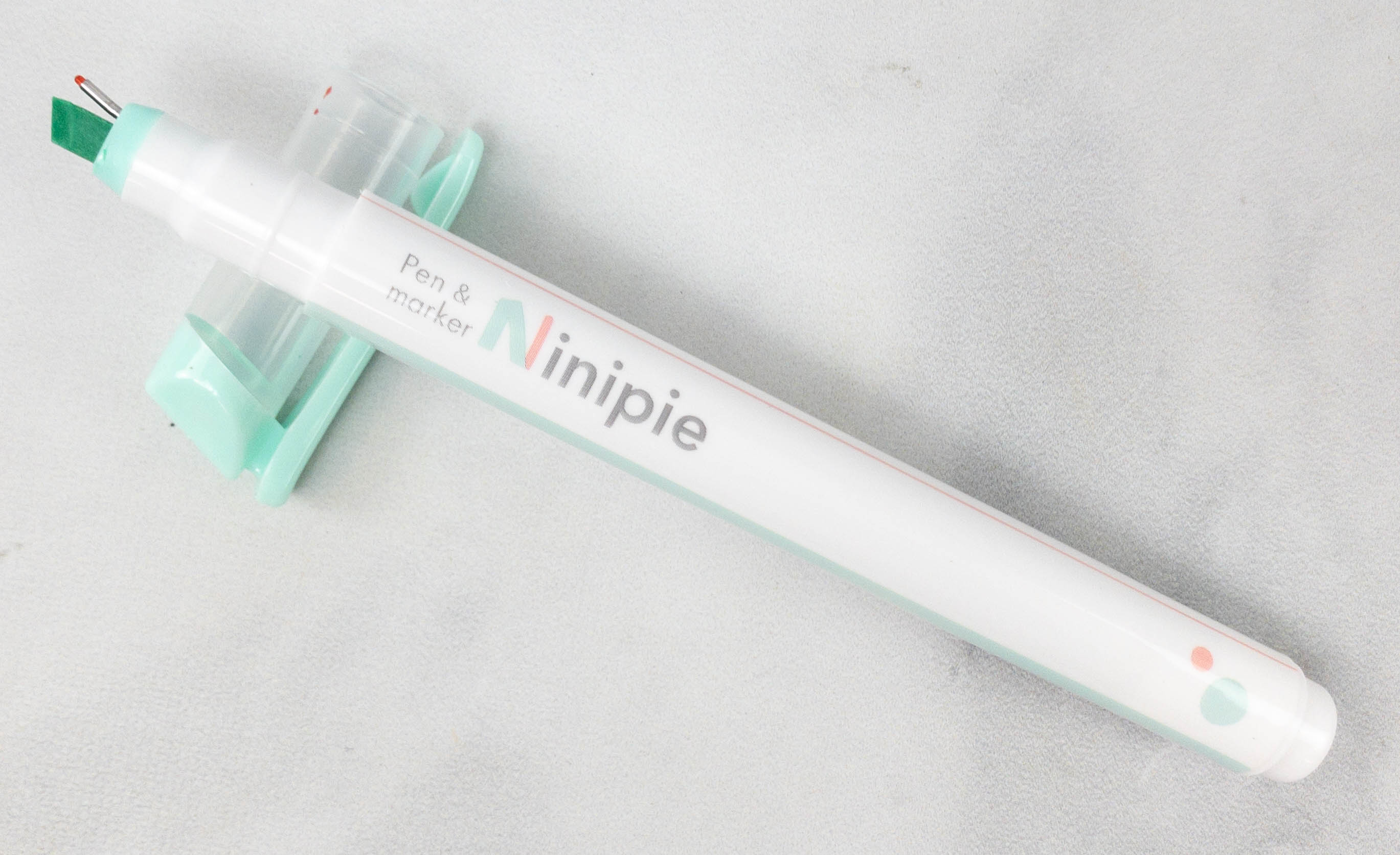 Ninipie 2 Way Pen Marker. This pen is unique. It looks like your average pen, but when you remove the cap, there are two tips inside. One can be used for regular writing or even underlining while the other one can be used for highlighting. This is super convenient and quite easy to use as well! Subscribers will receive 1 out of 5 colors.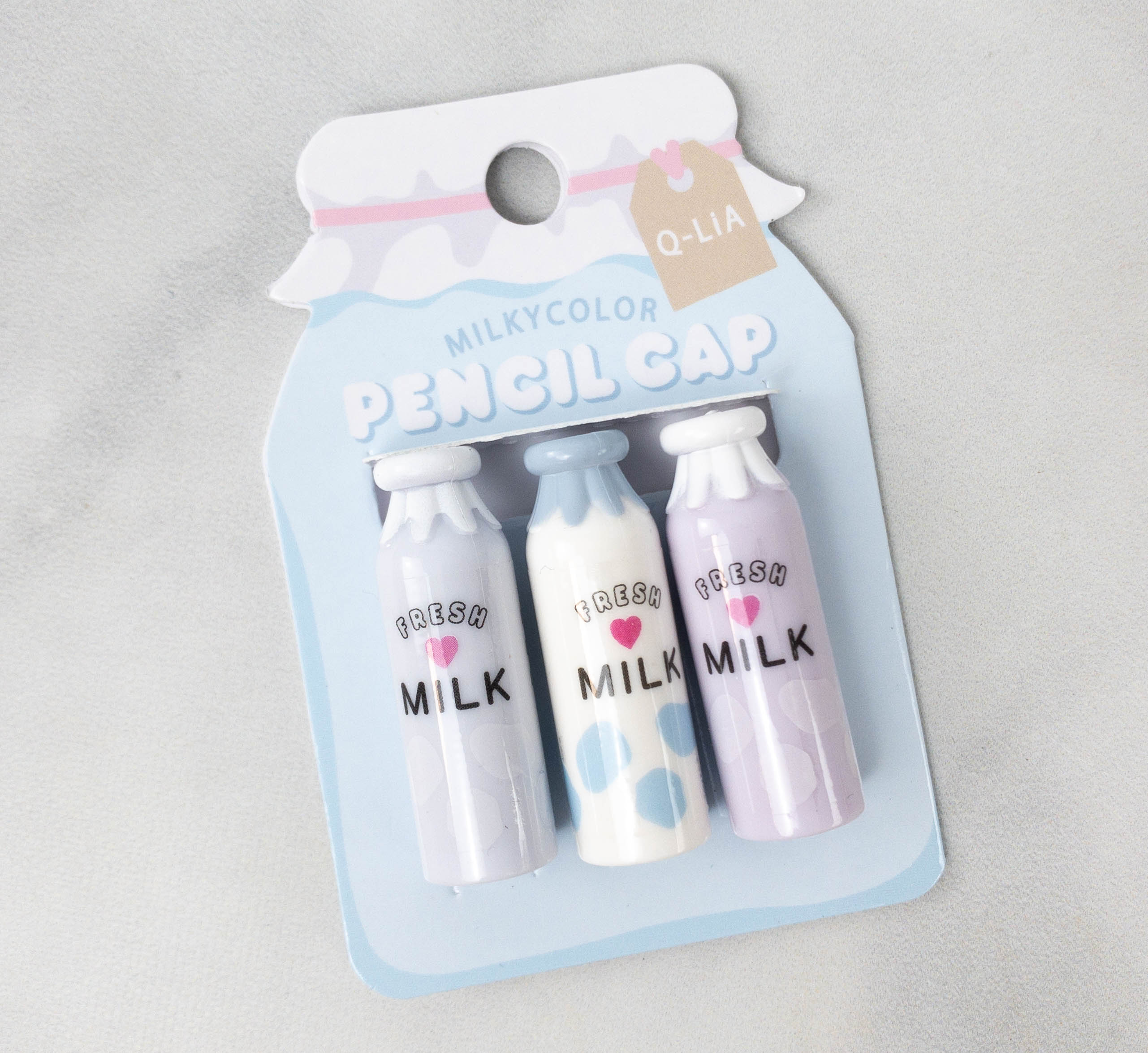 Milk Bottle Pencil Cappers. Next up is this set of pencil caps and it's so cute!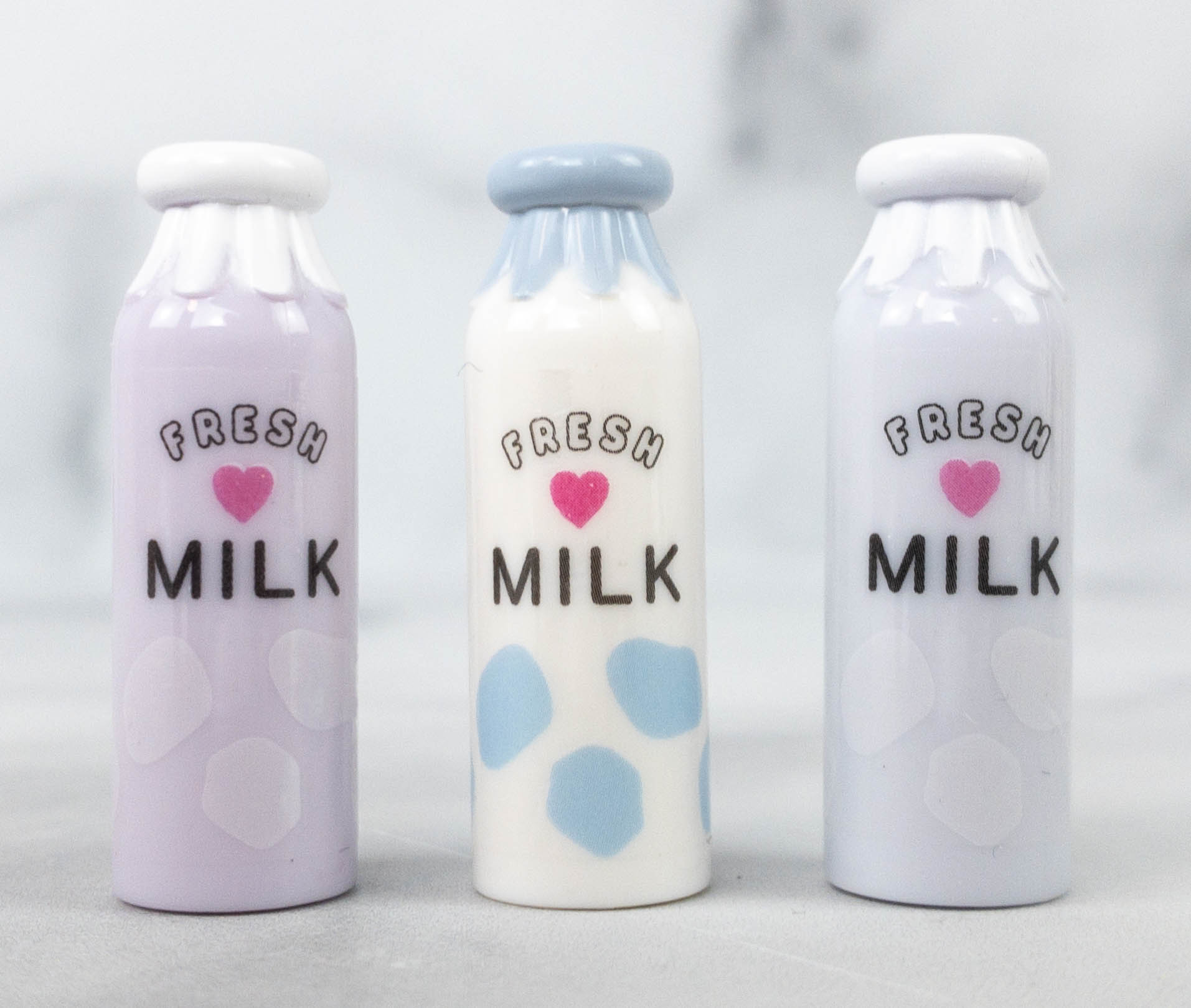 Subscribers will receive 1 of 4 designs. Mine looks like milk bottles and they're even labeled as "Fresh Milk".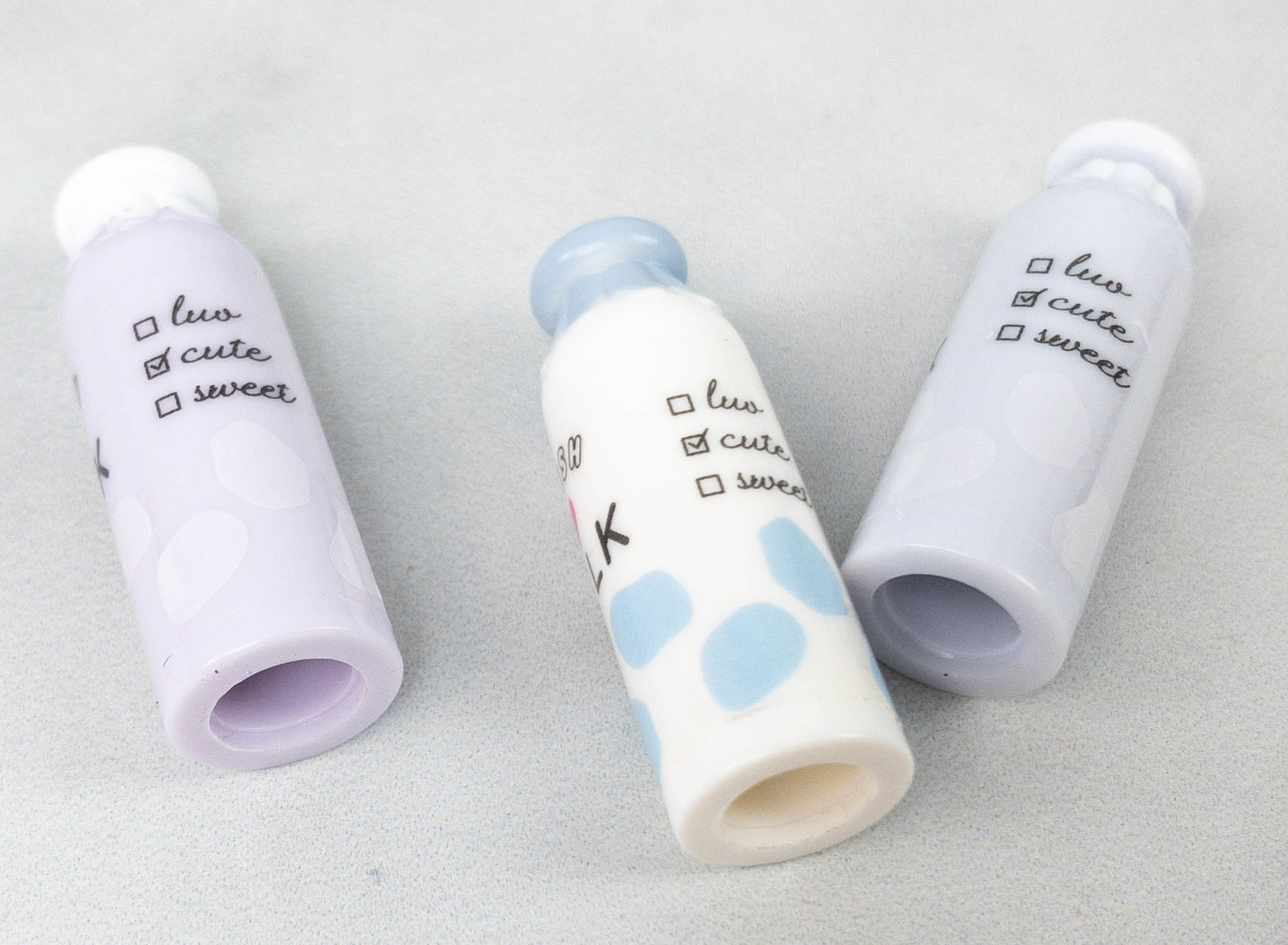 On the other side, there's a checklist where "cute" is ticked and I'm not arguing!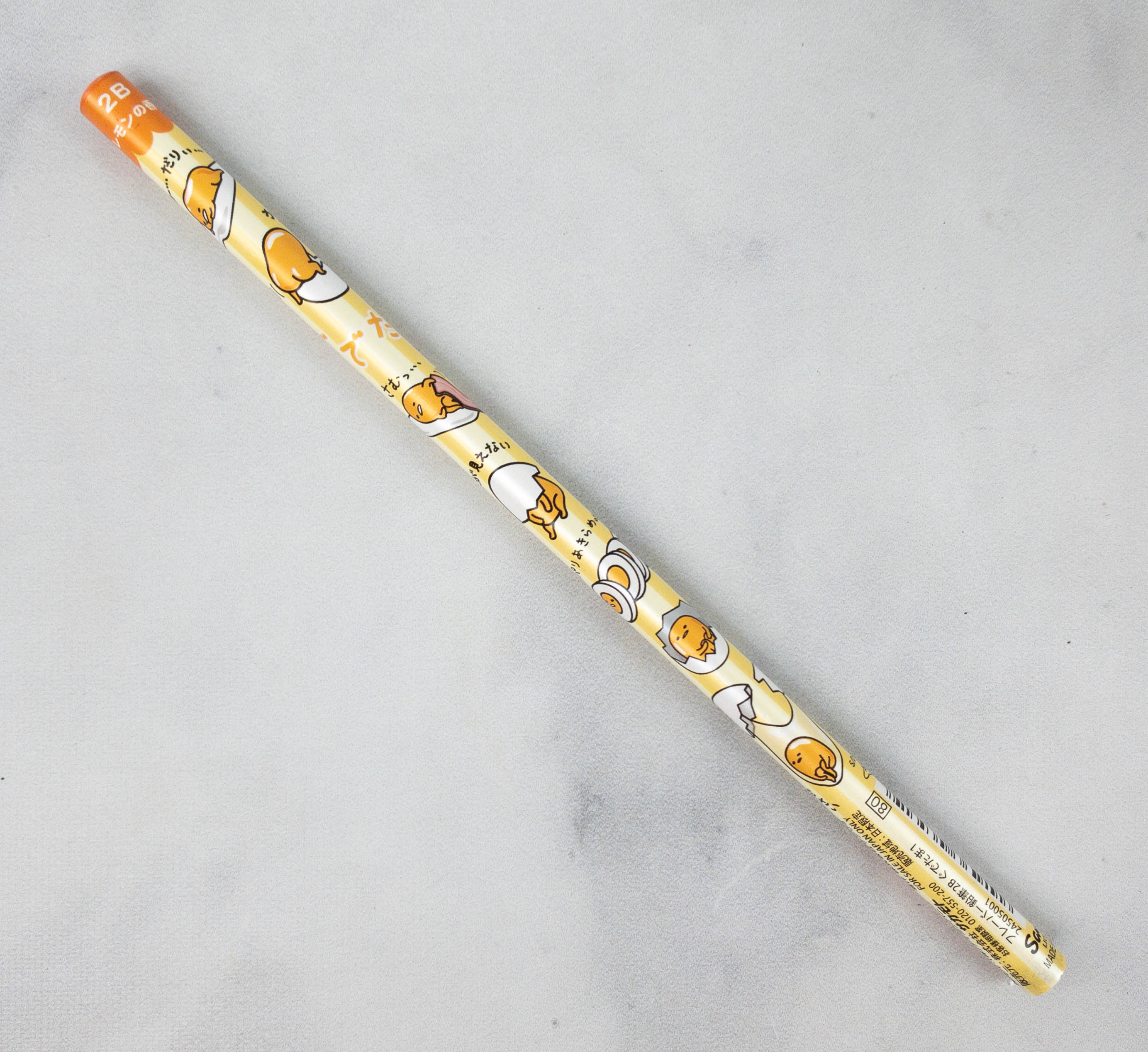 Gudetama Pencil. This pencil has Gudetama printed on it! This pencil is labeled 2B, meaning it is good for drawings and outlines. Subscribers will receive 1 out of 2 designs.
Of course, I tested out the pencil caps and they look great on my new Gudetama pencil!
Shiny Ruler. Subscribers will receive 1 of 2 ruler designs. I received the unicorn one!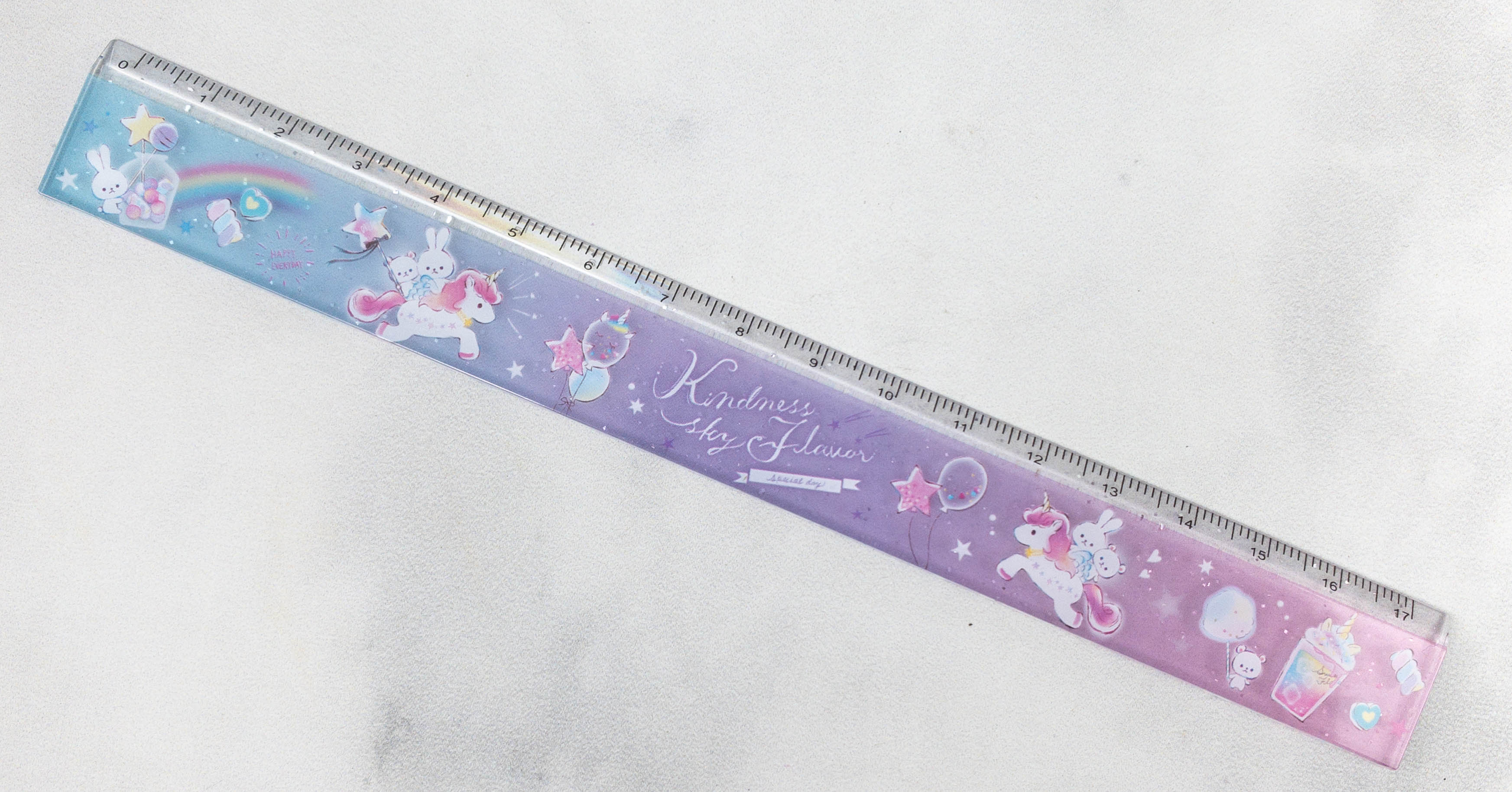 I also like the pastel colors used on this ruler. This will be useful in bullet journaling!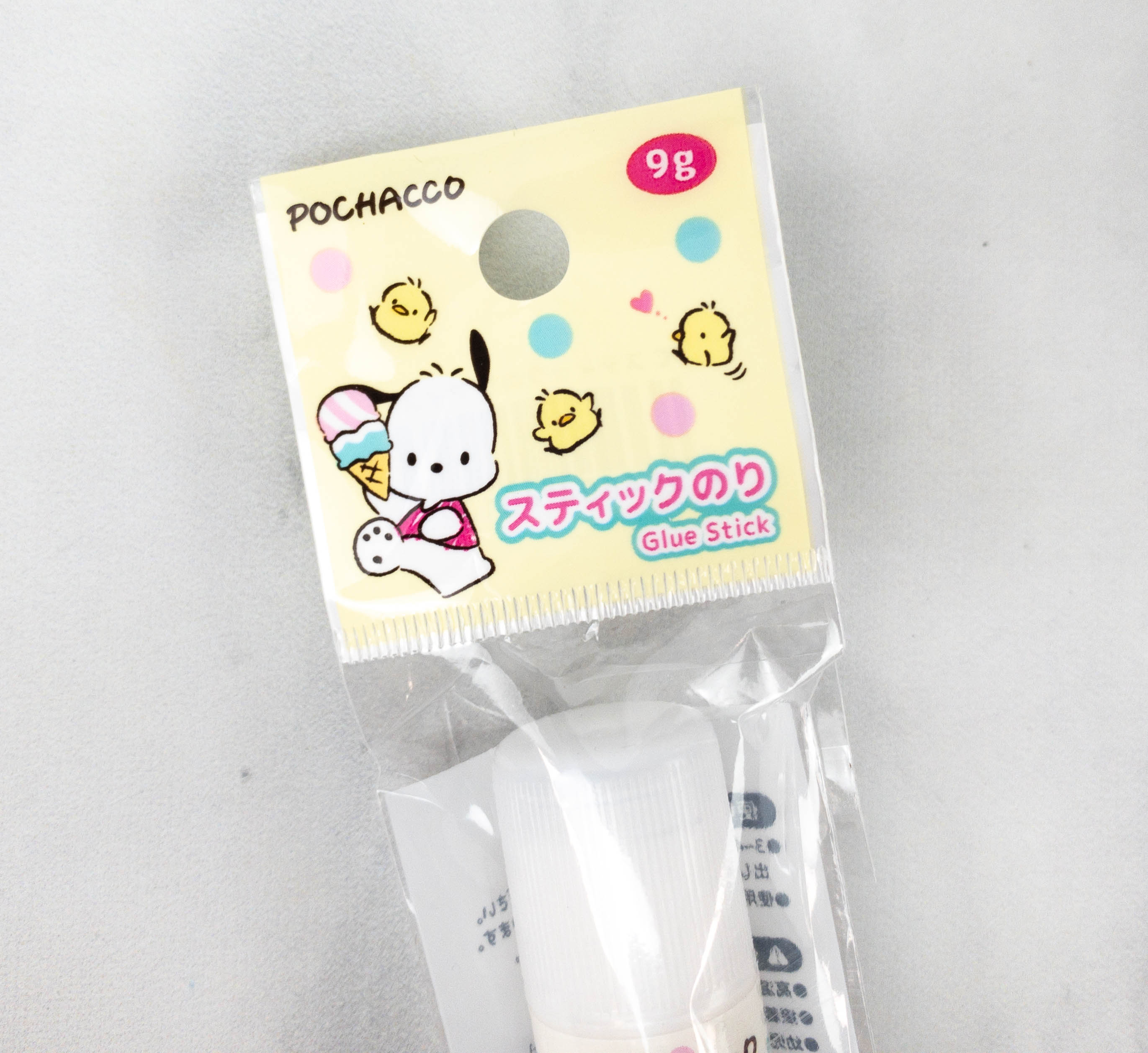 Sanrio Glue Stick. Here's another useful item for journaling and crafting enthusiasts, a glue stick.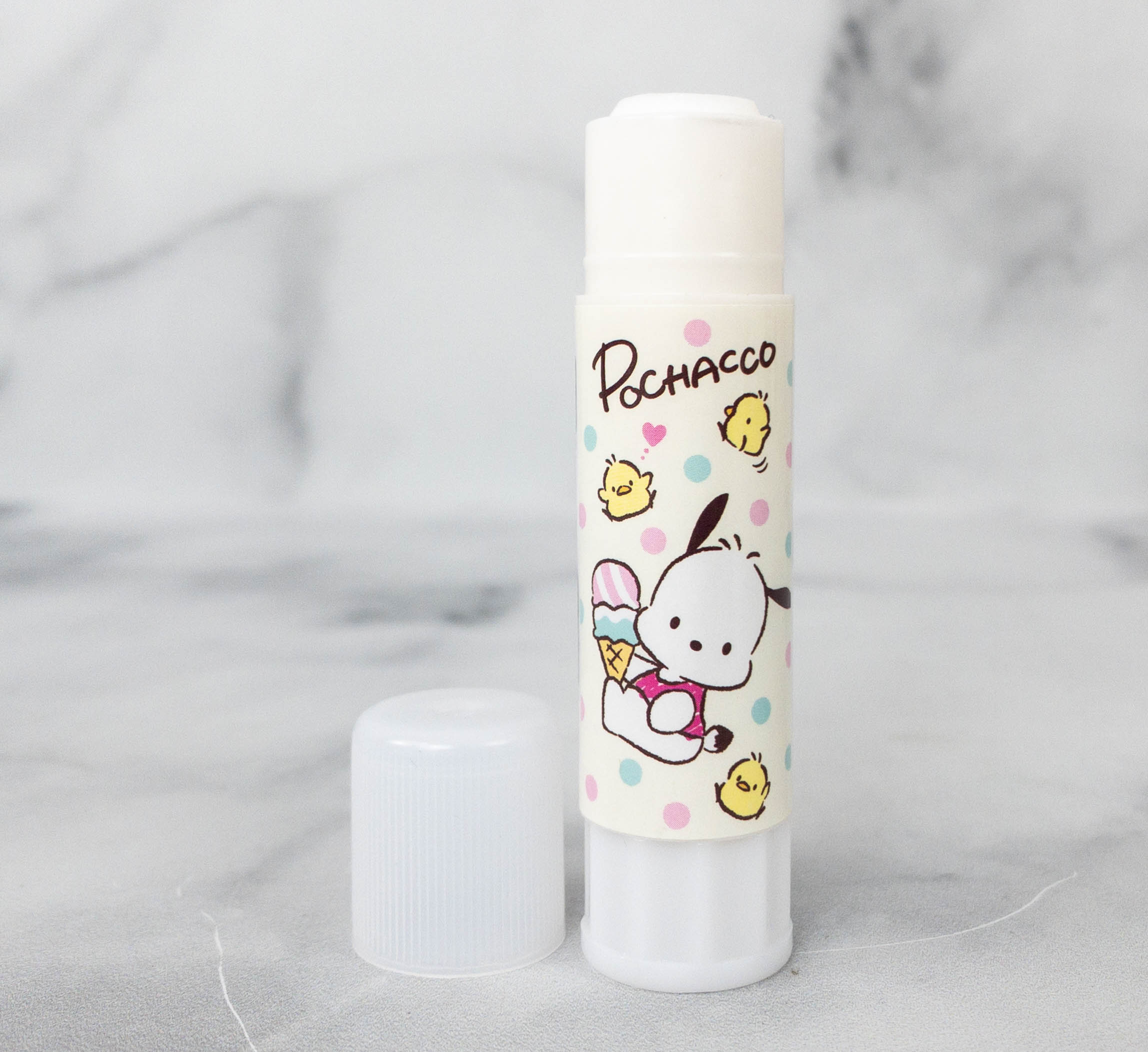 The glue stick features Pochacco and it's so adorable! The packaging is easy to use because you only have to twist the bottom part to get more product out. It's also mess-free! Other subscribers may receive TuxedoSam or Cinnamoroll.
Bread Sticker Flakes. Lastly, I received a set of food-themed stickers in a plastic pack.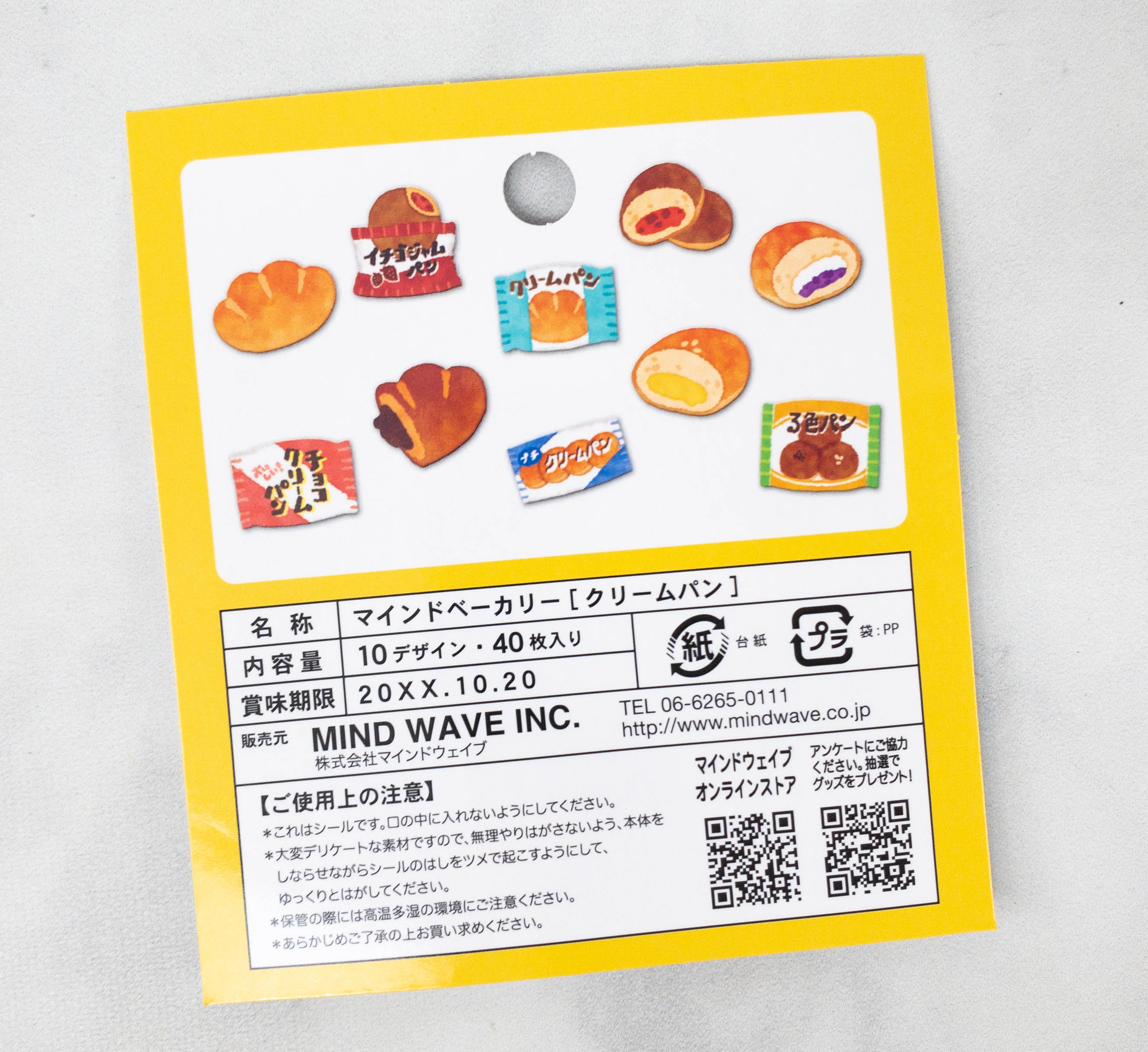 They came in a small plastic packaging with a card stock label. At the back, you'll see all the sticker designs featured in the pack.
The stickers were individually cut. The colors are vibrant as well.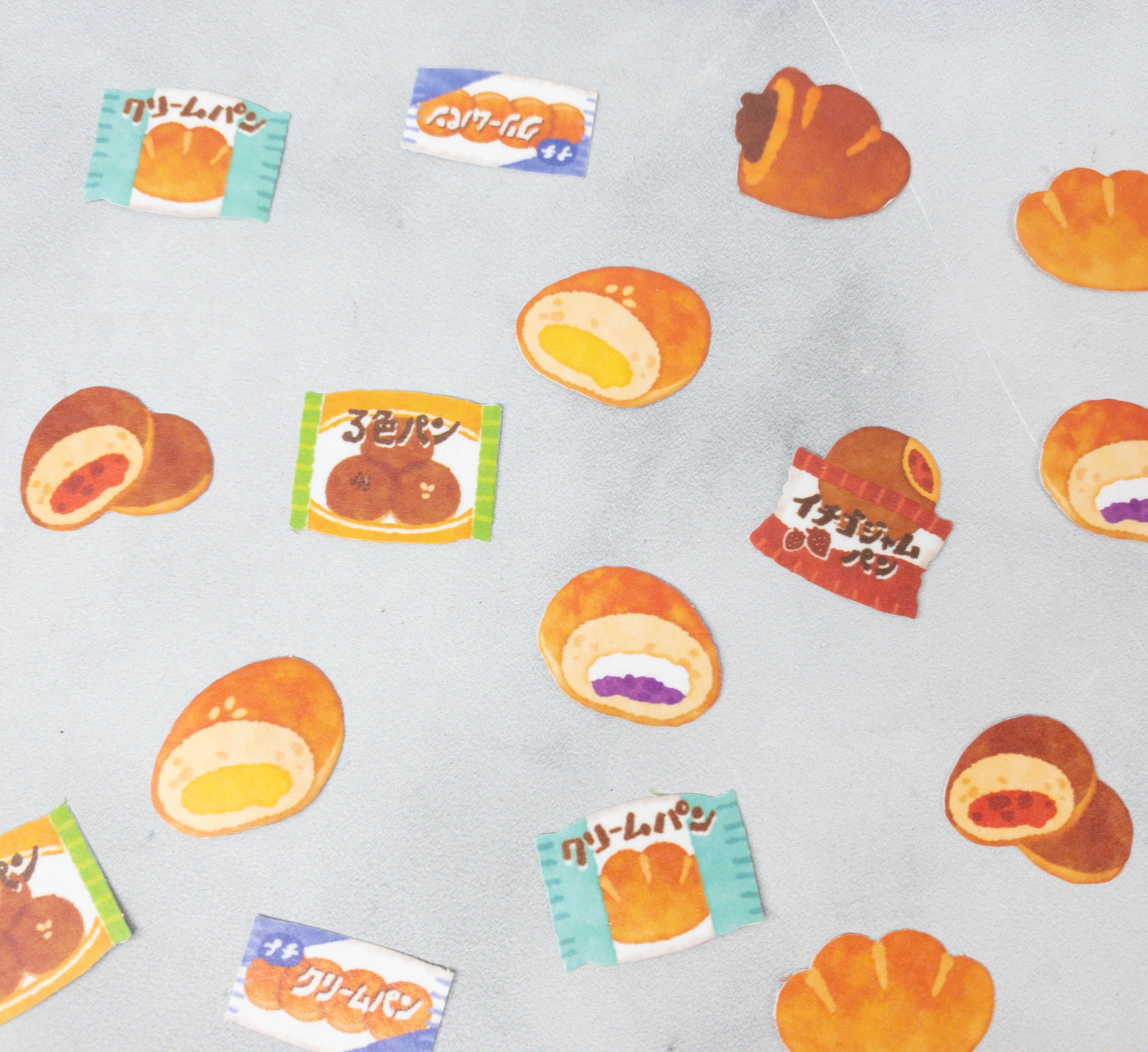 I love the buns with different colors of fillings inside. The cookie packs are cute as well!
I love everything in this month's box! There was a good selection of stationery, from notebooks to writing materials and everything in between. If I have to choose a favorite, it would be the pen marker because it's unique for having 2 kinds of tips. I'm also surprised with how easy it was to use. Another item I like is the pack of stickers. They would be great to use on a food or bread-themed journal spread. The rest of the items are pretty useful as well. Whether you're into journaling or you simply love to collect cute stuff, this subscription would be a fun way to get new stationery items from Japan monthly!
What do you think of Inku Crate?
Visit Inku Crate by Japan Crate to subscribe or find out more!