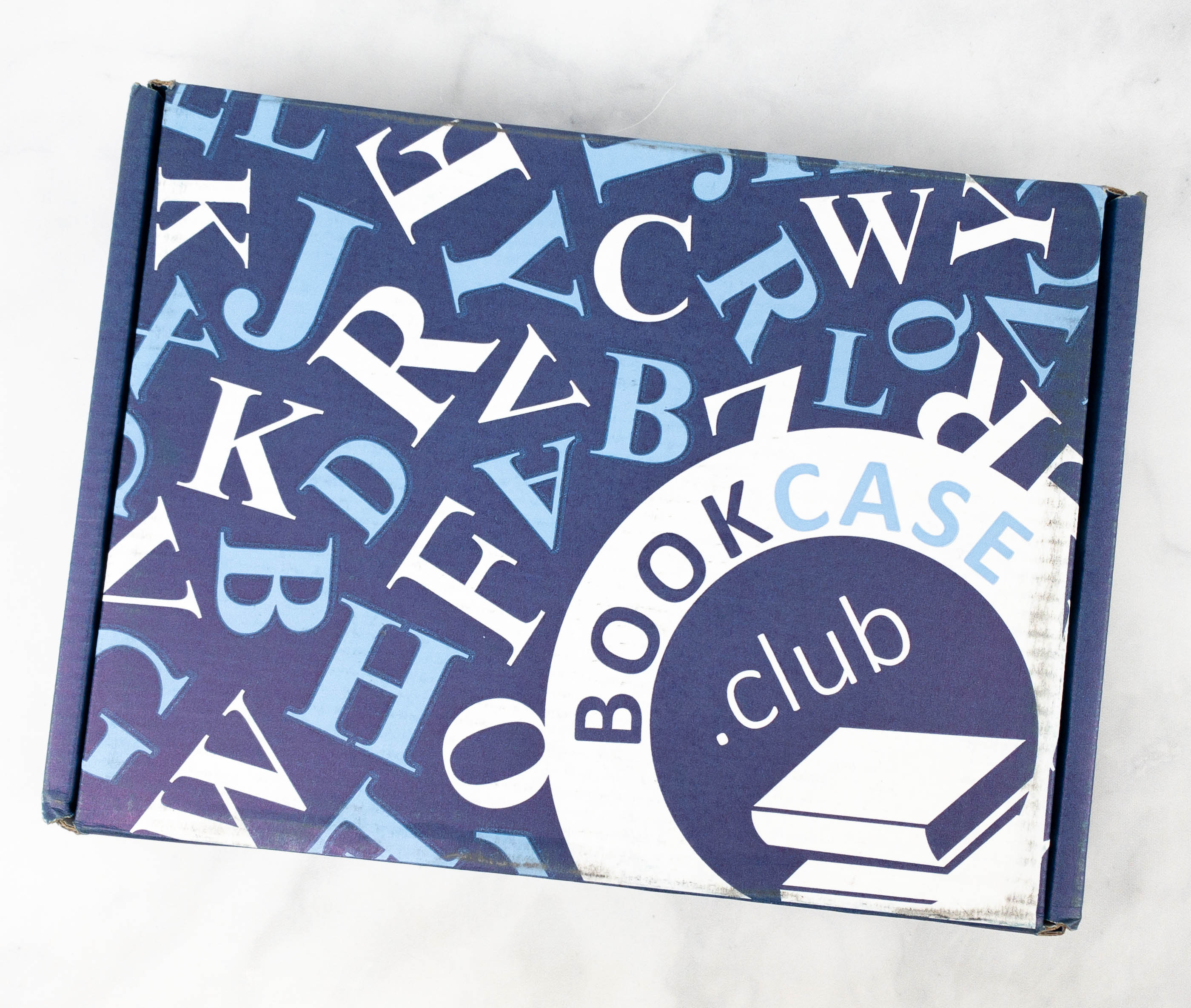 BookCase.Club is a monthly book subscription box offering different genres: Children's, Young Adult, Mystery/Thriller, Sci-Fi/Fantasy, Romance, and Historical/New Age/Contemporary Fiction. Each box contains 2 hand-picked books, except for the Children's box which includes 3 books. It costs $9.99 per month, making it one of the most inexpensive book subscriptions out there.
This is the Teenage Dreams Case, which is all about Young Adult novels.
DEAL: Save 50% on your first month! Use coupon code HELLOSUB501M. OR Get 10% off your entire order! Use coupon code HELLOSUB10.
When you sign up, you'll pick the genre.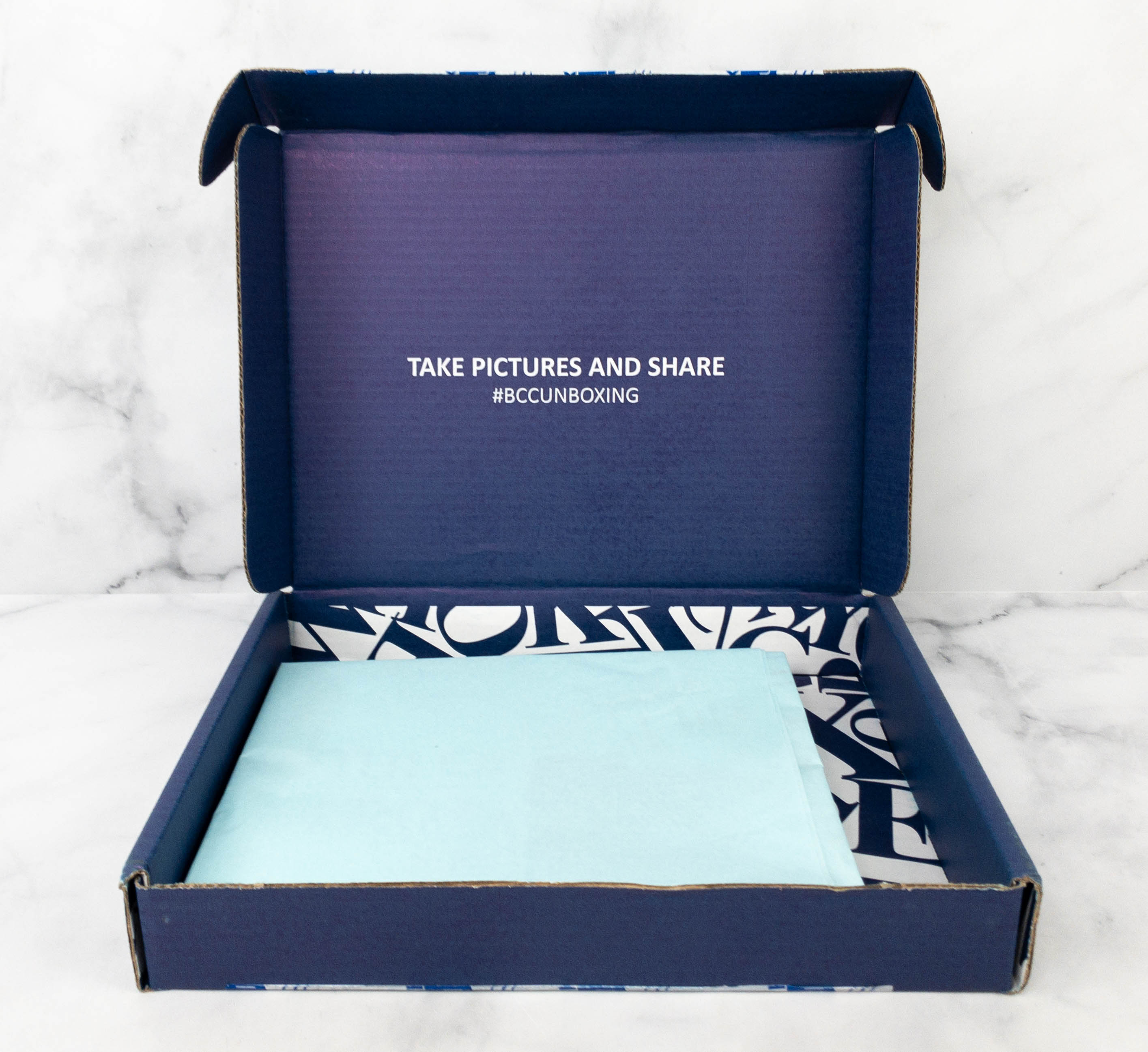 They encourage us to take pictures and share them on social media using #BCCUnboxing.
The books were wrapped with light blue tissue paper.
This month's Teenage Dreams book picks are My Secret To Tell by Natalie D. Richards and Speed Of Life by Carol Weston.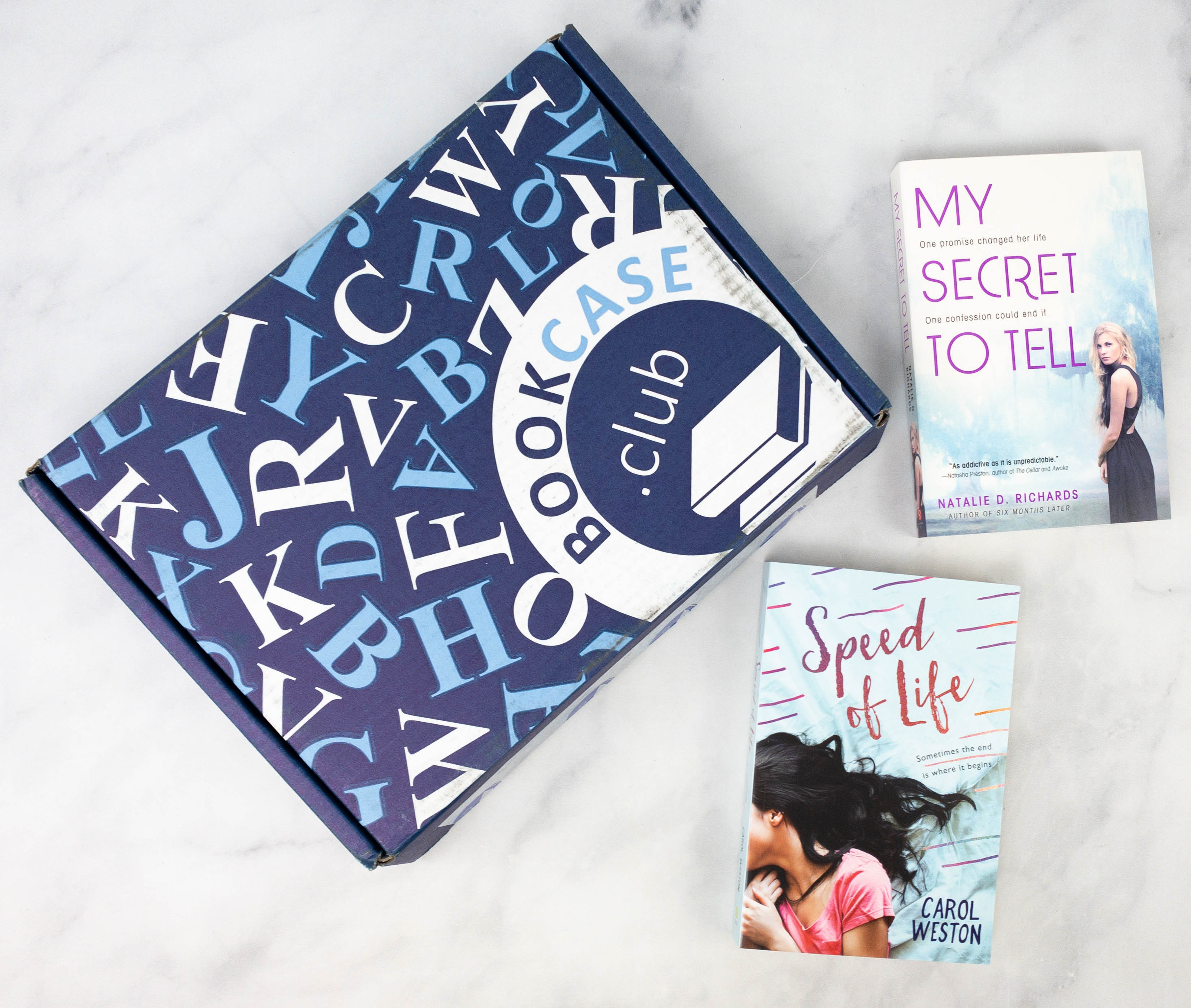 Everything in my box!
Speed of Life by Carol Weston ($8.47)
From award winning author Carol Weston comes an uplifting, heartfelt tale of bravery and strength in the face of loss and grief, perfect for tweens, teens and adults alike.

Sofia lost her mother eight months ago, and her friends were 100% there for her. Now it's a new year and they're ready for Sofia to move on. But being a motherless daughter is hard to get used to, especially when you're only fourteen.

Problem is, Sofia can't bounce back, can't recharge like a cellphone. She decides to write Dear Kate, an advice columnist for Fifteen Magazine, and is surprised to receive a fast reply. Soon the two are exchanging emails, and Sofia opens up and spills all, including a few worries that are totally embarrassing. Turns out even advice columnists don't have all the answers, and one day Sofia learns a secret that flips her world upside down.

2018 Best Fiction for Young Adults – American Library Association
A 2018 Best Children's Book of the Year – Bank Street College of Education
2017 Best Fiction for Older Readers – Chicago Public Library
2019–2020 Young Hoosier Book Award Longlist
Four STARRED Reviews

Read the first page from Speed of Life:

WARNING: This is kind of a sad story.

At least at first. So if you don't like sad stories, maybe you shouldn't read this. I mean, I'd understand if you put it down and watched cat videos instead. I like cat videos too.

Then again, this book is already in your hands. It starts and ends on January 1, and I was thinking of calling it The Year My Whole Life Changed. Or Life, Death, and Kisses. Or maybe even The Year I Grew Up.

For me, being fourteen was hard. Really hard. Childhood was a piece of cake. Being a kid in New York City and spending summers in Spain, that was all pretty perfect, looking back. But being fourteen was like climbing a mountain in the rain. In flip-flops. I hoped I'd wind up in a different place, but I kept tripping and slipping and falling and wishing it weren't way too late to turn around.

This book does have funny parts. And I learned two giant facts:

Number one: everything can change in an instant―for worse, sure, but also for better.

Number two: sometimes, if you just keep climbing, you get an amazing view. You see what's behind you and what's ahead of you and―the big surprise―what's inside you.
If you're looking for a heartfelt YA book, this one fits the bill!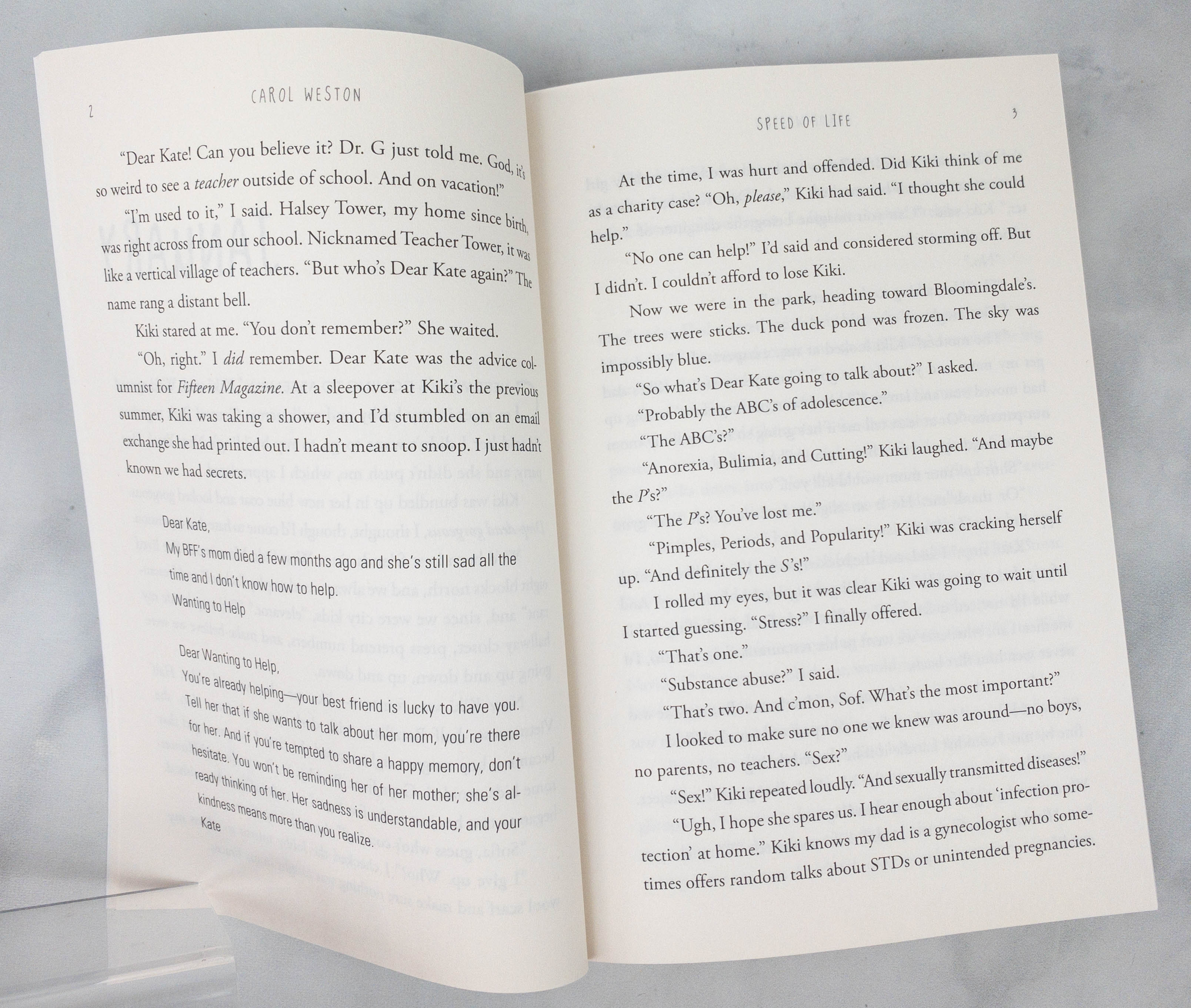 The story follows Sofia, a fourteen year-old girl who recently lost her mother. She was dealing with a huge loss but she was very understanding, and I like how she also took her time and slowly adapted to the changes since the loss of her mother.
This is a touching story that played with my emotions but it also teaches a lot of great life lessons.
My Secret To Tell by Natalie D. Richards ($10.99)
From Natalie D. Richards, the New York Times bestselling author of YA psychological thriller books, comes a romance suspense story about a girl who helps the boy next door—but he might be dangerous, perfect for fans of Megan Miranda and Karen McManus.

Emerson May is "the good girl." She's the perfect daughter, the caring friend, the animal shelter volunteer. But when her best friend's brother breaks into her room, his hands covered in blood, she doesn't scream or call the cops. Because when Deacon smiles at her, Emmie doesn't want to be good…

The whole town believes notorious troublemaker Deacon is guilty of assaulting his father. Only Emmie knows a secret that could set him free. But if she follows her heart, she could be trusting a killer…

You can't always trust the boy next door.

Perfect for readers who want:

Teenage mystery books
Page-turning romance
Edge-of-your-seat twists

Also by Natalie D. Richards:
Five Total Strangers
Six Months Later
Gone Too Far
One Was Lost
We All Fall Down
What You Hide
This one is a mix of YA, romance, and mystery!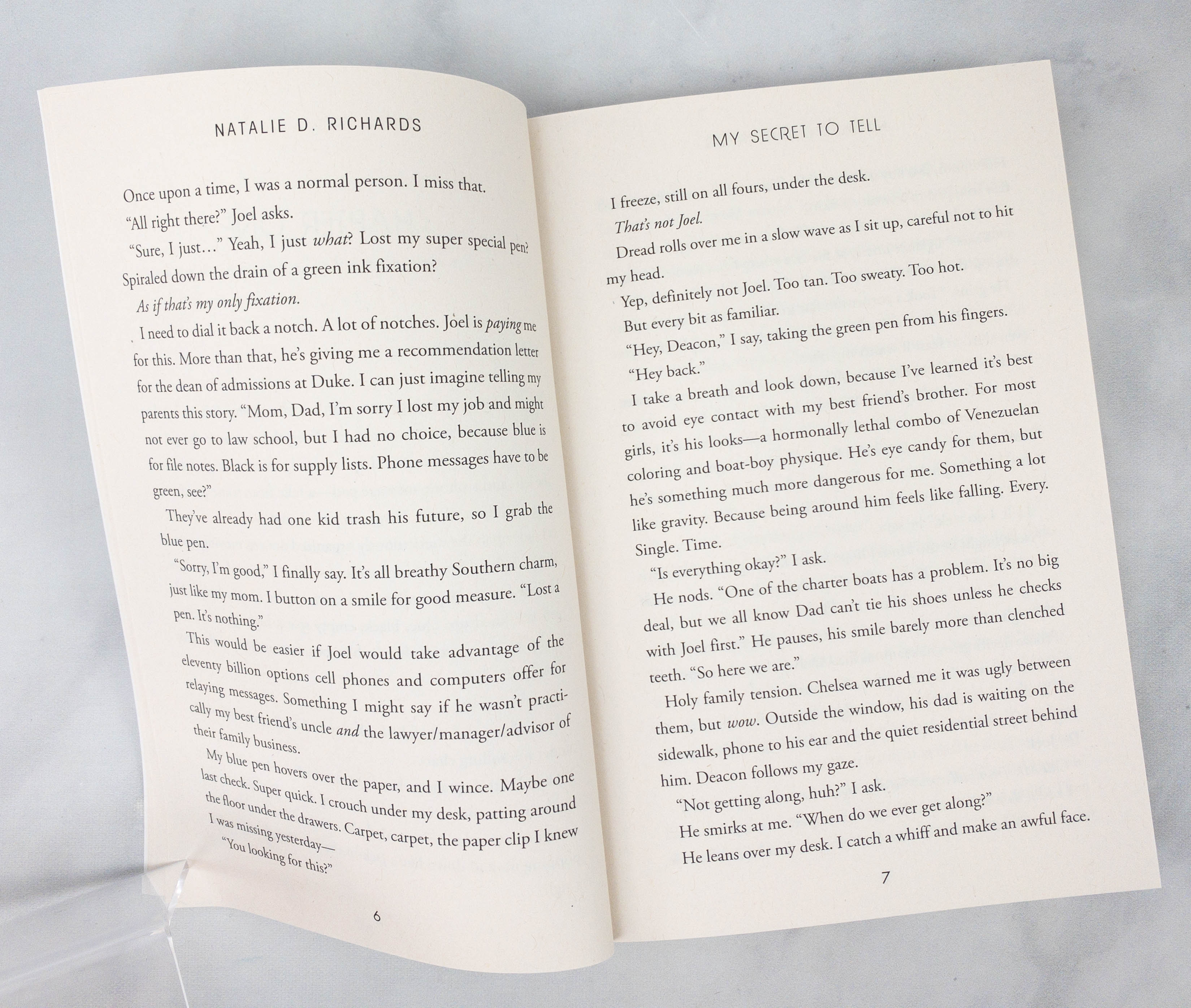 I didn't expect this book to have me on the edge of my seat. This is not your average good-girl-meets-bad-boy story because it's filled with a lot of twists.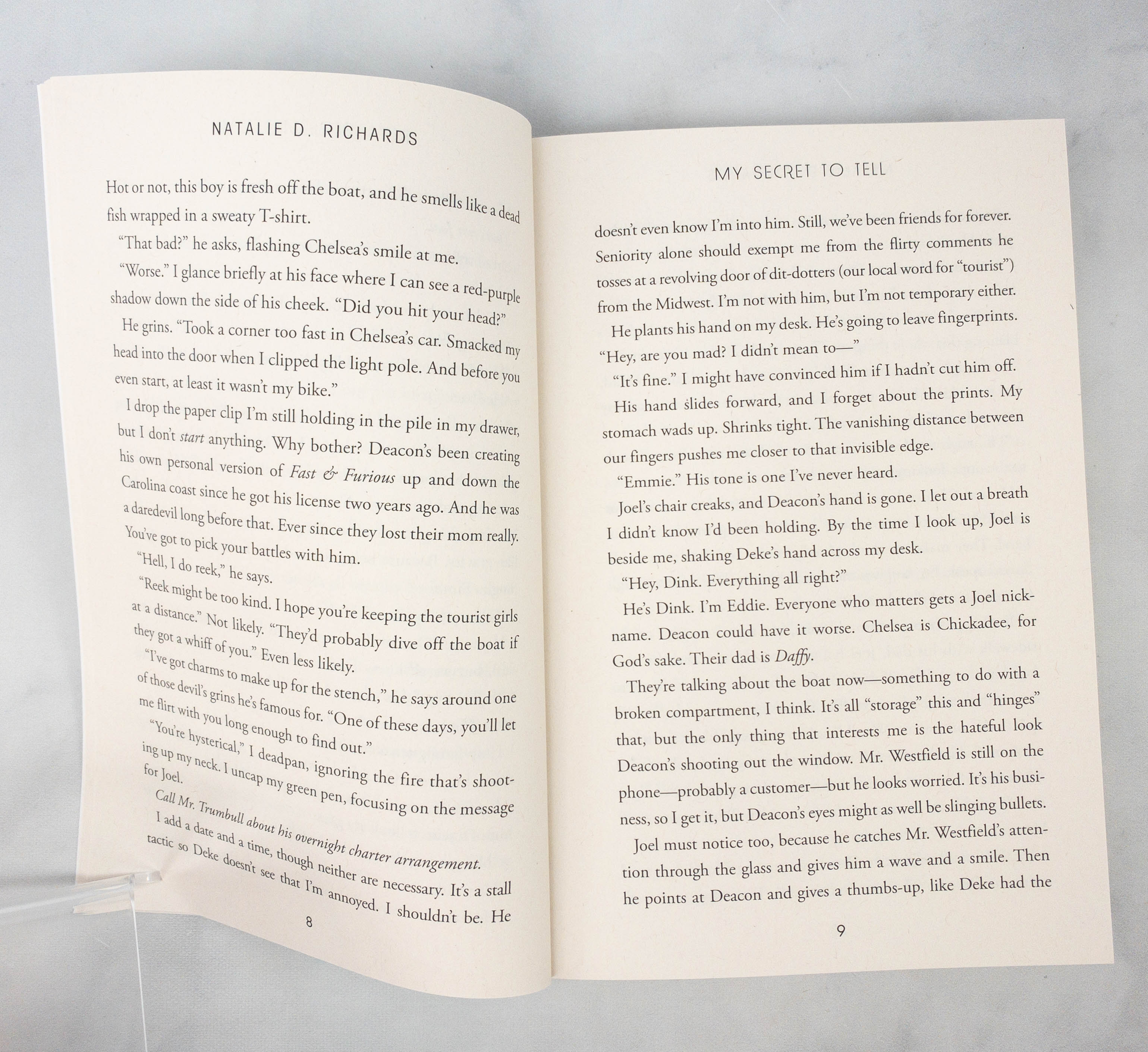 I love the main characters, Emmie and Deacon. I enjoyed reading this book because their opposite personalities held my attention.
This month's Teenage Dreams Case included nice books! The first book deals with loss and grief but it also shows how life still goes on and that our decisions will pave a way for our happiness. The second book made me swoon over the romance and also had me turning the pages because of the thrilling plot. I can't choose a favorite. If you want to get your hands on new books monthly, this subscription is for you. You won't be stuck with one genre as you can change it every month, depending on your preference!
What did you think of this month's choices? Have you tried any of the BookCase.Club subscriptions?