Gainful is a protein blend subscription. Upon sign up, you'd need to answer a short quiz about your goals, diet, and fitness routine that will help them determine the perfect protein blend for you. It starts as $1.50 per serving (30 serving minimum), and comes with FREE US shipping. Plus, you'll get unlimited access to a registered Dietitian! Aside from protein powder, they also offer an personalized electrolyte drink and an energy booster for pre-workout.
This is a review of Gainful's bestselling products, including my Personalized Protein Powder Blend.
DEAL: Get $15 off your order! Use coupon code GAIN15FUL.
The box is full to the brim!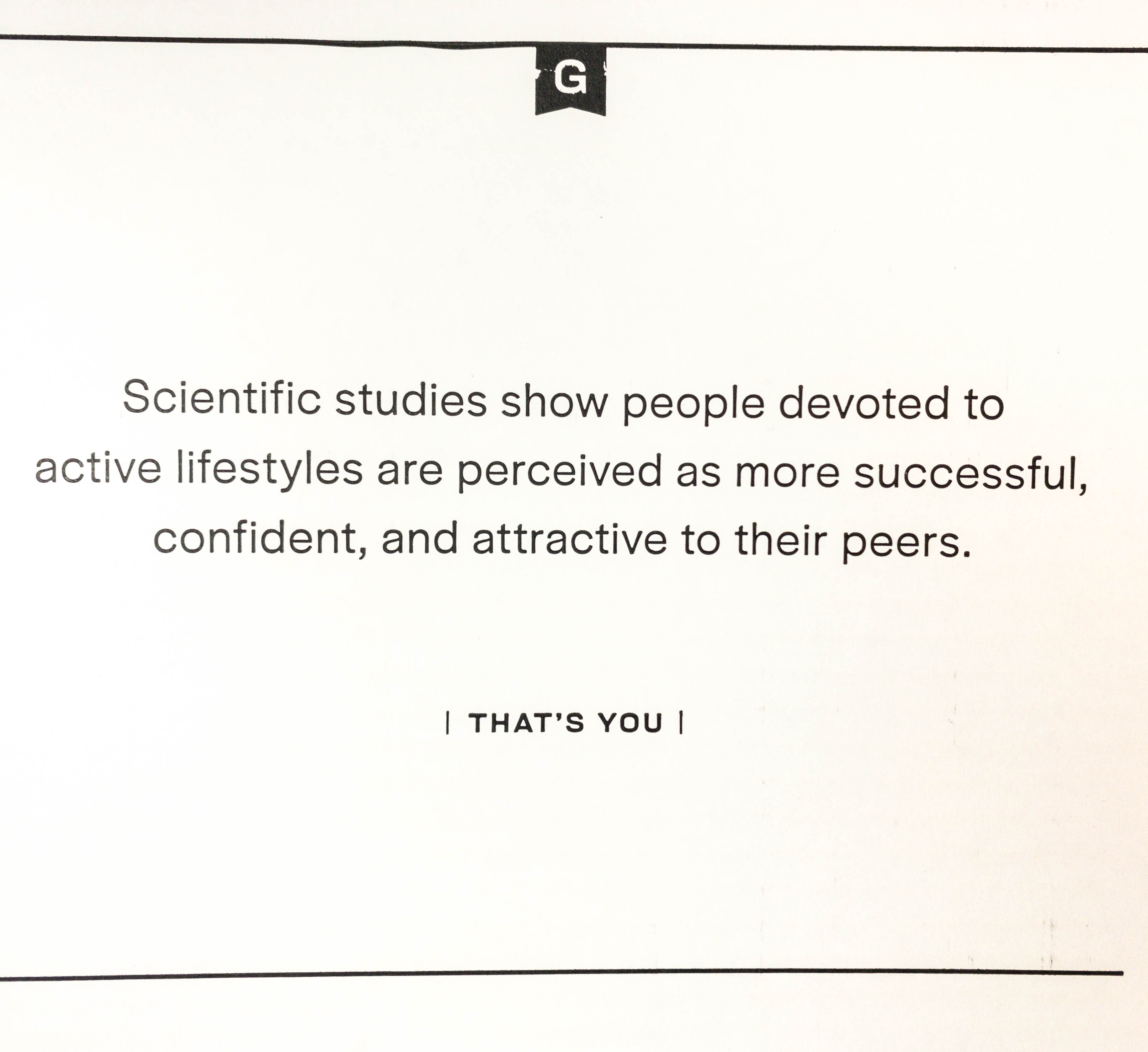 Scientific studies show people devoted to active lifestyles are perceived as more successful, confident, and attractive to their peers.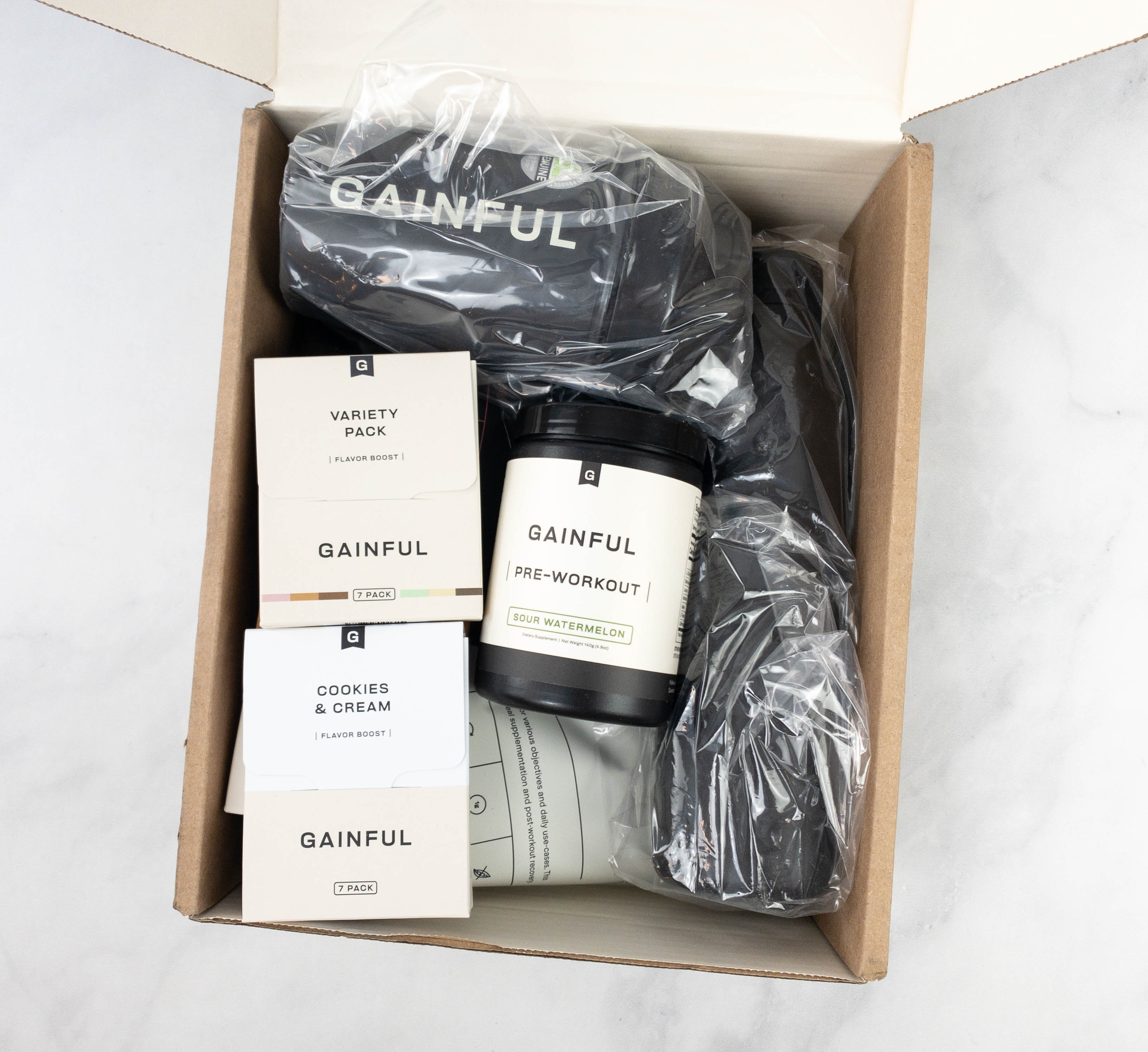 Some of the items in my box were wrapped in plastic.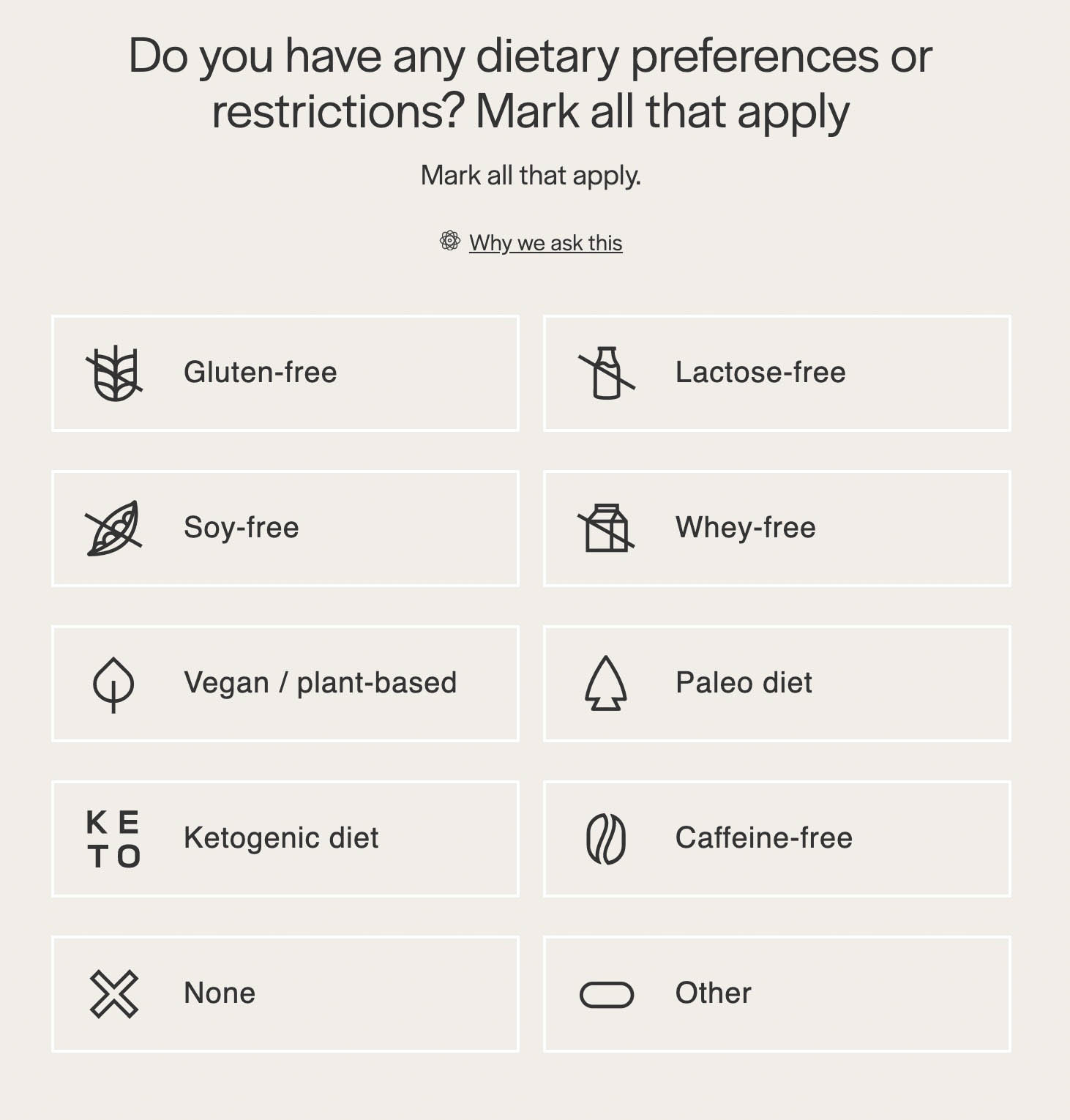 The short quiz looks like this! Aside from personal details, it'll ask you about your diet. They take it into consideration, whether you have a gluten-free, lactose-free, soy-free, whey-free, vegan/plant-based, paleo, ketogenic, or caffeine-free diet. You can choose all that applies to you. You can also choose "none" if any of those doesn't apply, or "other" if you have a specific diet which wasn't mentioned in the list.
Of course, they also need to know your nutrition goals. Choices include build muscle, gain weight, increase calorie intake, lose weight, maintain muscle, recover after workouts, sports/fitness performance, and supplement diet.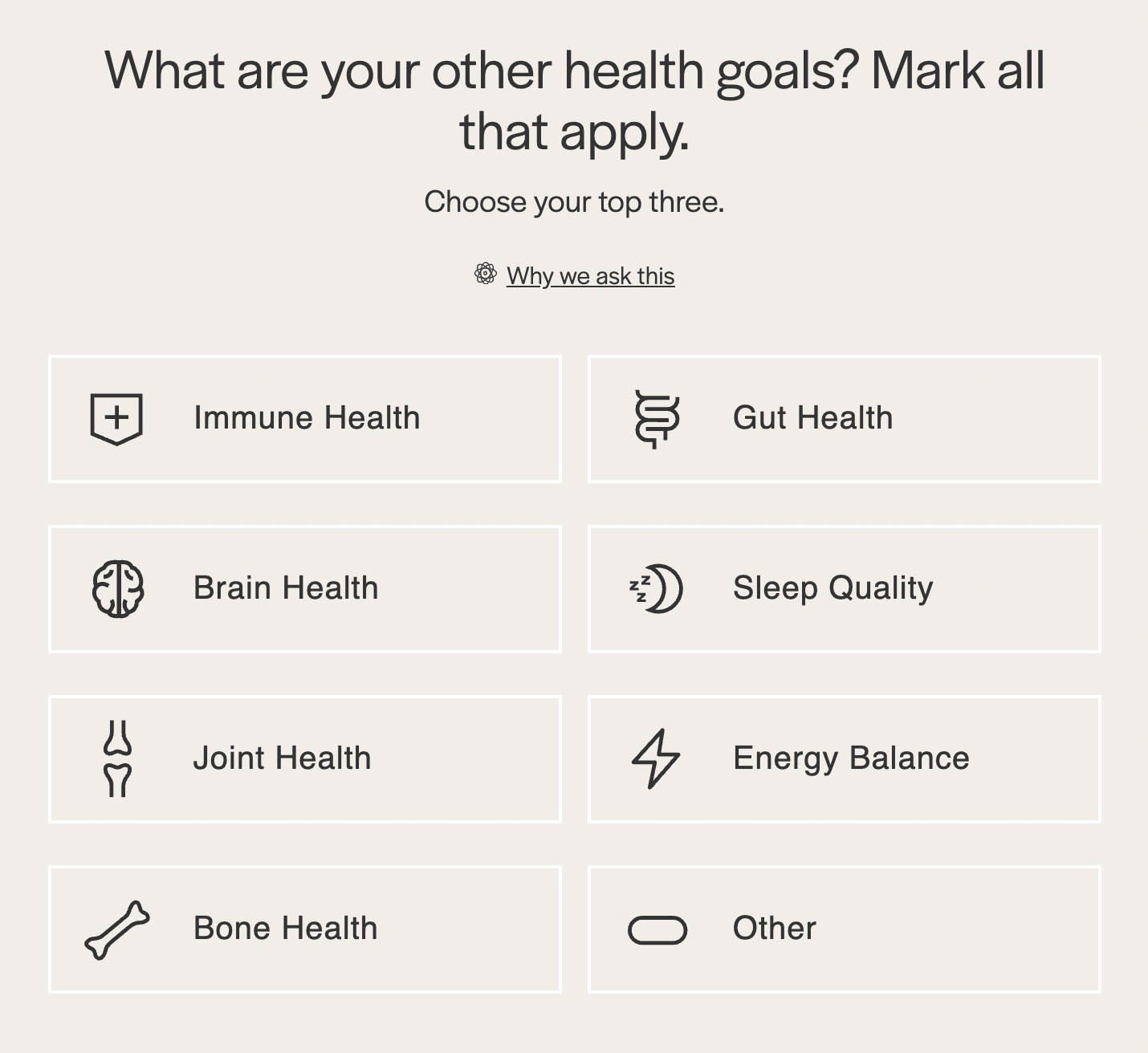 There's also a question about your other health goals and you can choose three among these: immune health, gut health, brain health, sleep quality, joint health, energy balance, and bone health.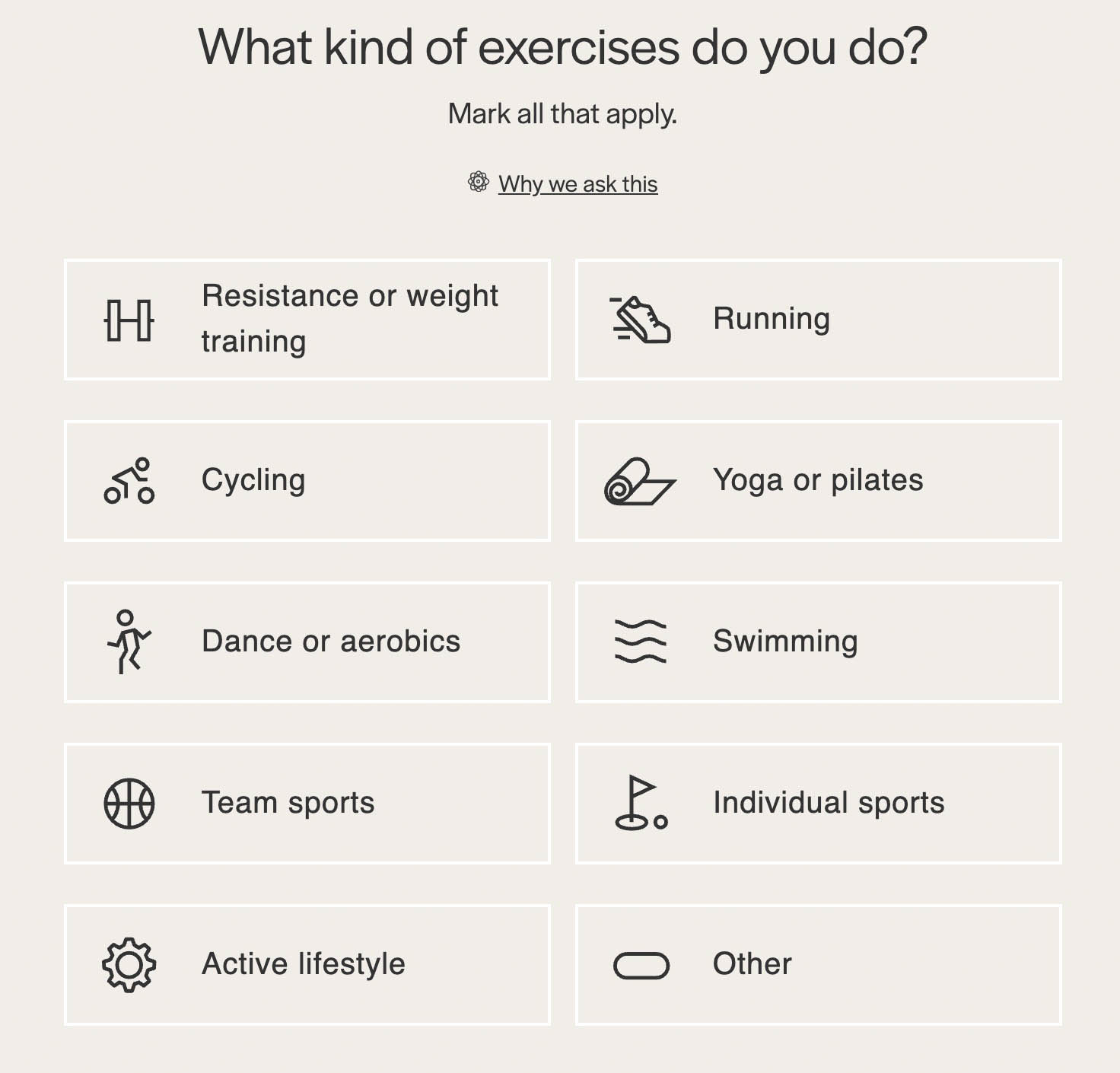 Another question is about the kind of exercises that you do! They provided a lot of common exercises, but if your exercise is not included in the list, you can just choose "other" and type it in!
They also ask about what time of the day you typically exercise, whether it's in the early morning, late morning, midday, early afternoon, late afternoon, or evening. They ask this because this will help them determine whether to include caffeine in your personalized formulations or not.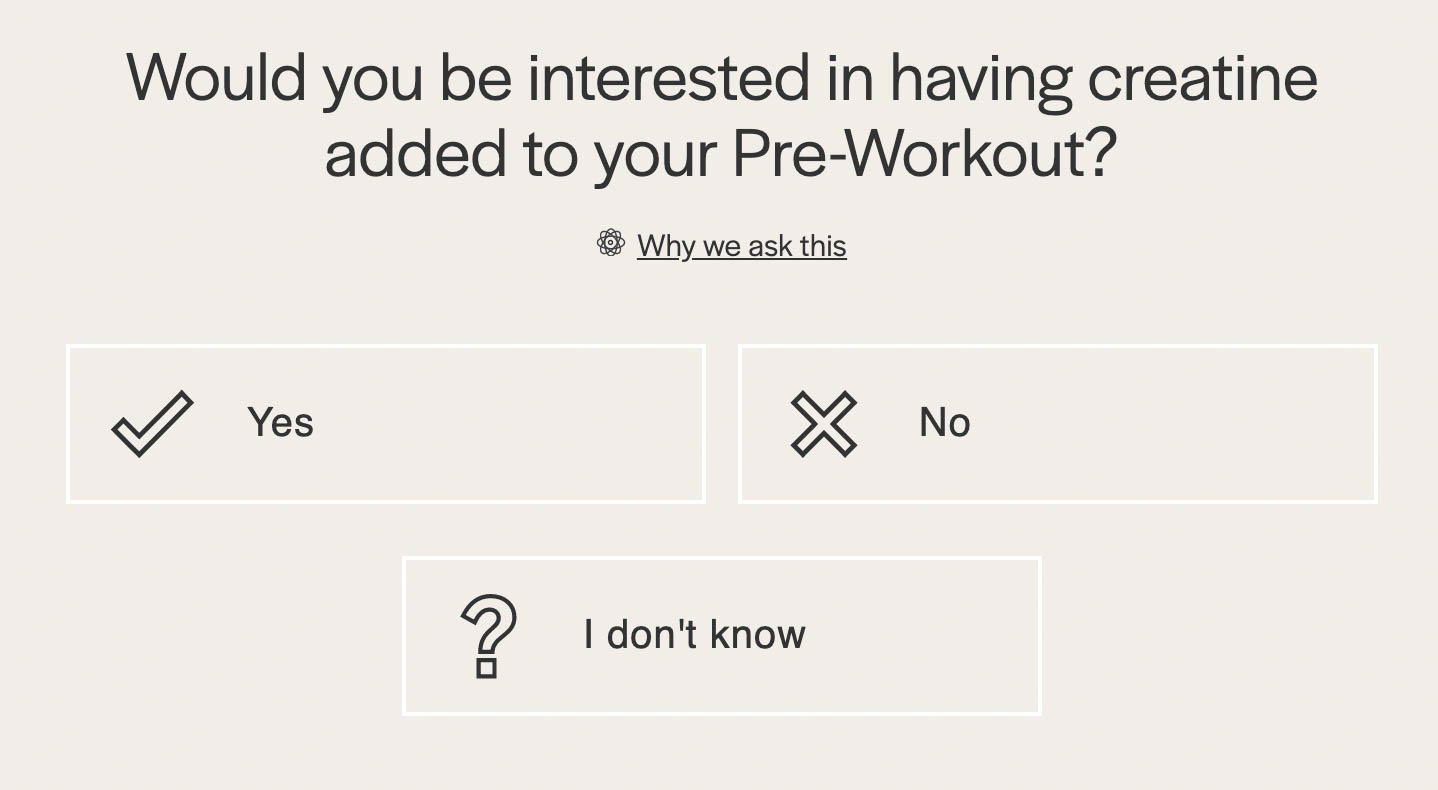 Lastly, they ask if you're interested in having creatine added to your Pre-Workout!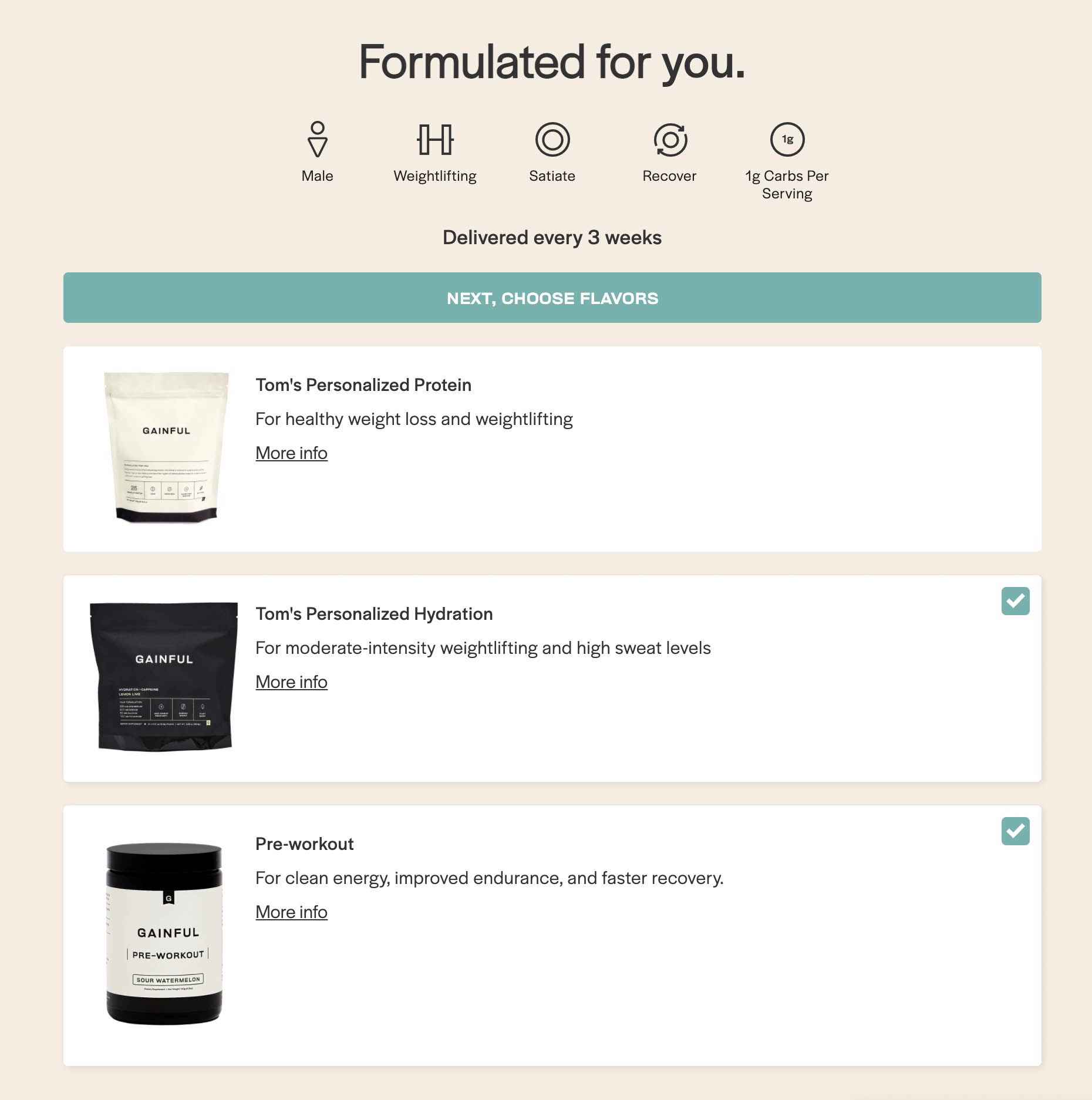 Here are the recommended products for me! It includes a personalized protein blend, a personalized hydration blend, and a pre-workout blend.
Subscribers can choose their preferred flavors! For the hydration blend, there are two: Lemon-Lime and Strawberry Lemonade.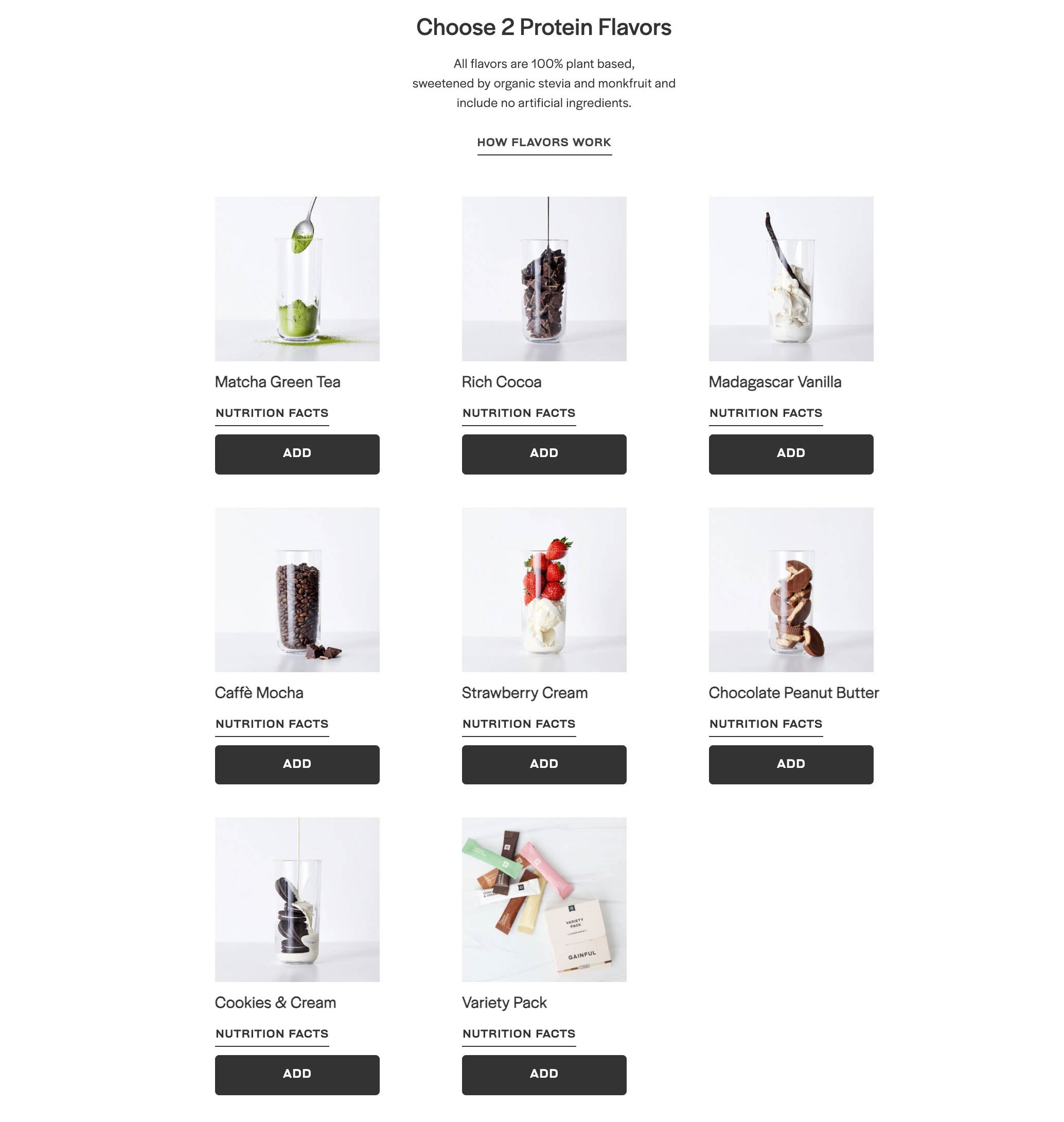 For the protein flavors, you can choose at least two among the 7 choices: Matcha Green Tea, Rich Cocoa, Madagascar Vanilla, Caffe Mocha, Strawberry Cream, Chocolate Peanut Butter, and Cookies and Cream. If you want to try a little bit of everything, you can choose the Variety Pack.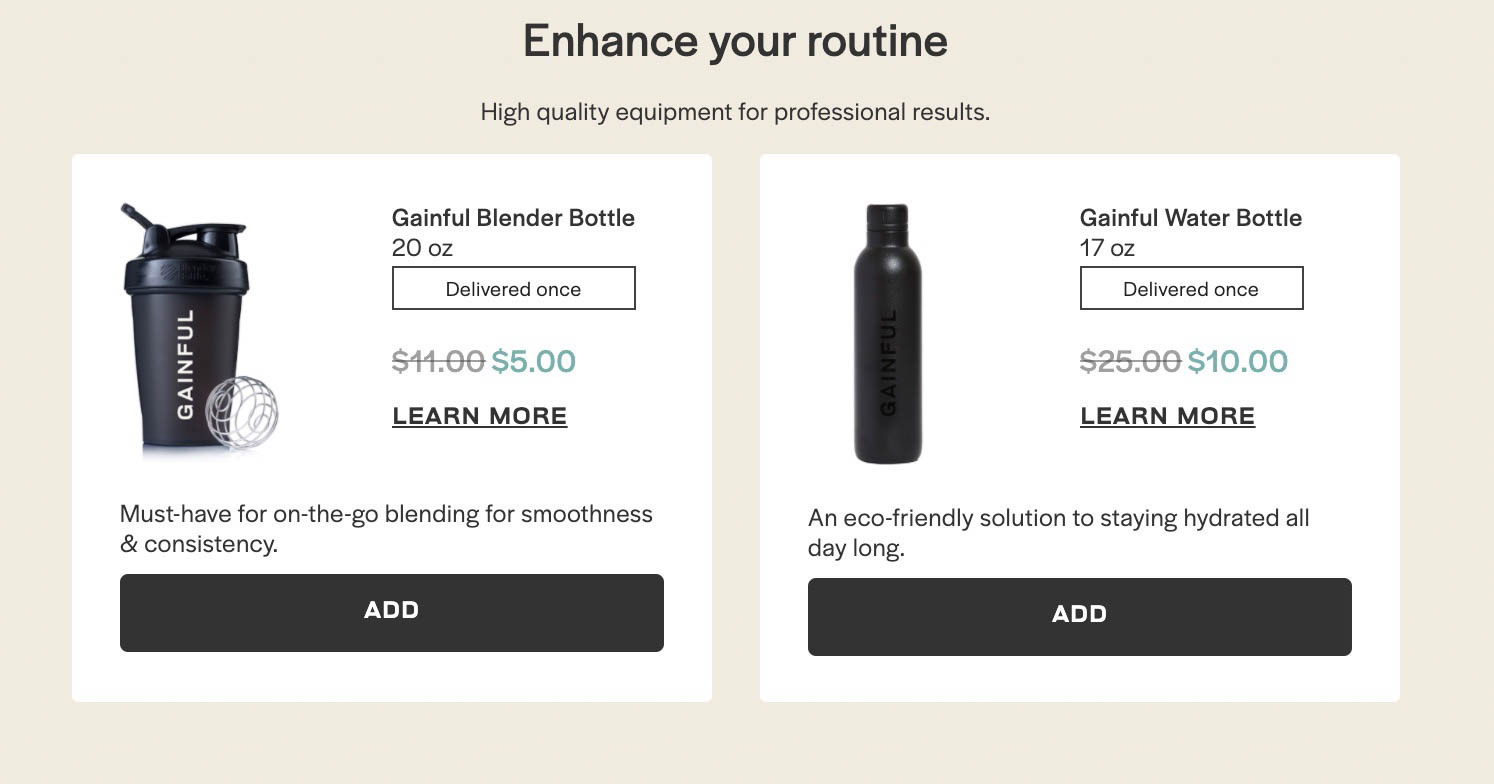 There's also an option for add-ons, which include the Gainful Blender Bottle and the Gainful Water Bottle.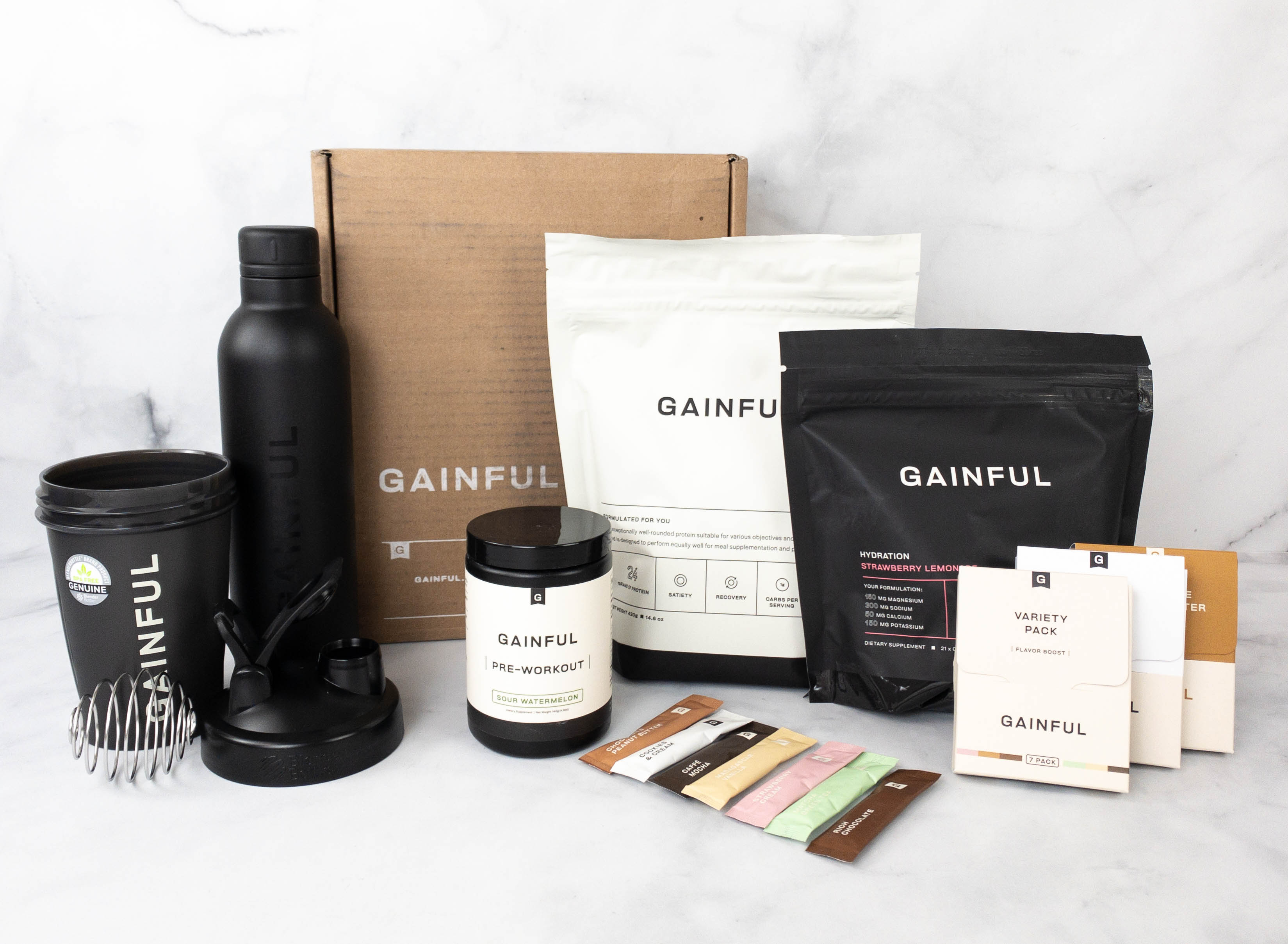 Everything in my box!
Gainful protein powder does not contain any flavors. This way, subscribers will be able to choose their desired taste using the Gainful flavor boosters. Subscribers can choose up to 4 new Flavor Boosts with every order.
Chocolate Peanut Butter Flavor Boosts. The combination of peanut butter and chocolate is simply irresistible! This flavor is a sweet but guilt-free, as it uses organic stevia leaf and organic monk fruit instead of regular sugar.
Variety Pack Flavor Boosts. The variety pack contains all 7 available flavor boosters:  Strawberry Cream, Madagascar Vanilla, Rich Chocolate, Caffè Mocha, Cookies & Cream, Chocolate Peanut Butter, and Matcha Green Tea.
Cookies & Cream Flavor Boosts. Here's a classic flavor I love, cookies & cream! It's creamy, with just the right amount of sweetness.
INGREDIENTS: Natural Flavor, Organic Tapioca, Maltodextrin, Organic Stevia Extract (Leaf), Guar Gum, Monk Fruit Extract.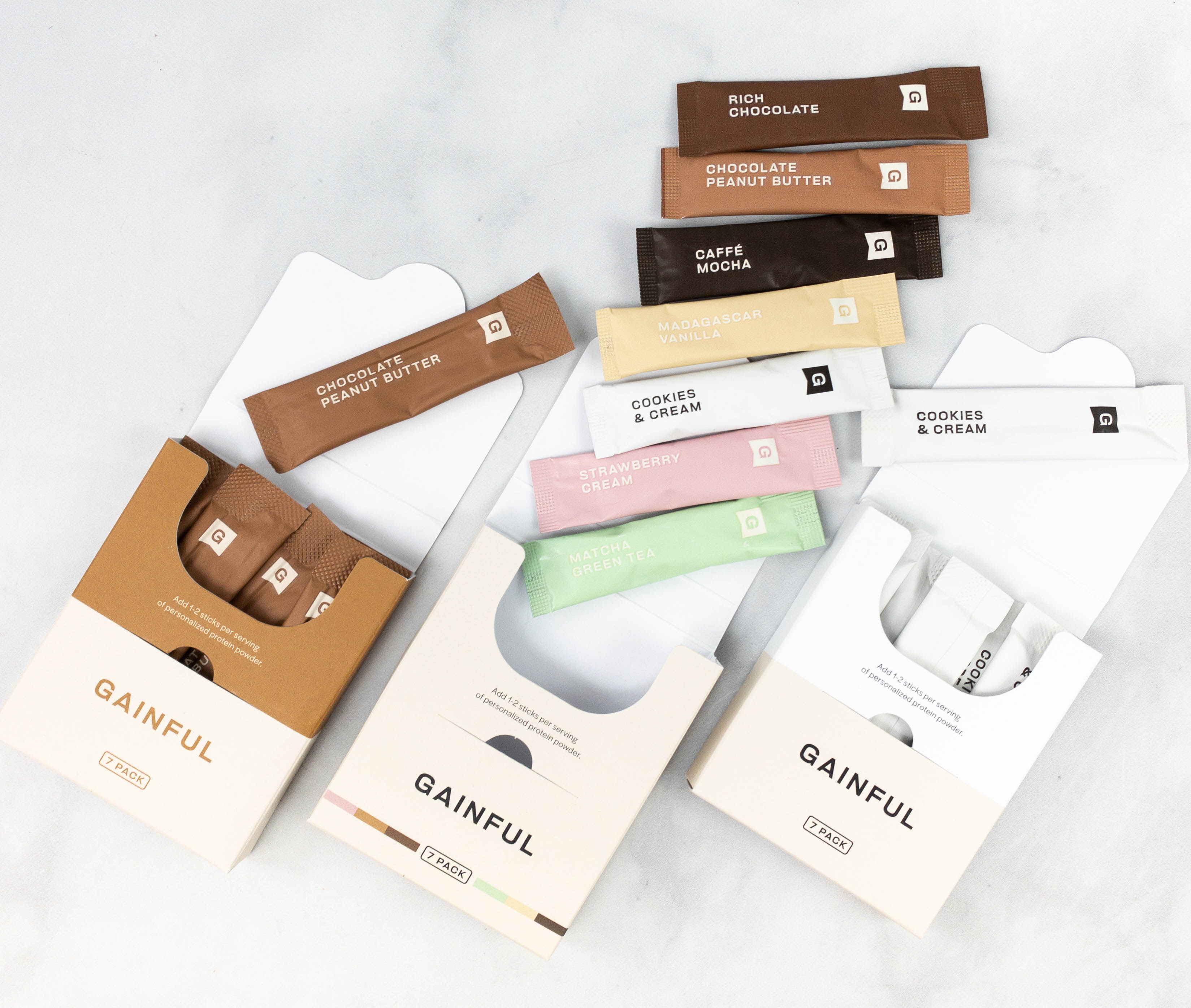 Each box contains 7 single serving flavor boost sticks. They are all plant-based, gluten-free, and soy-free.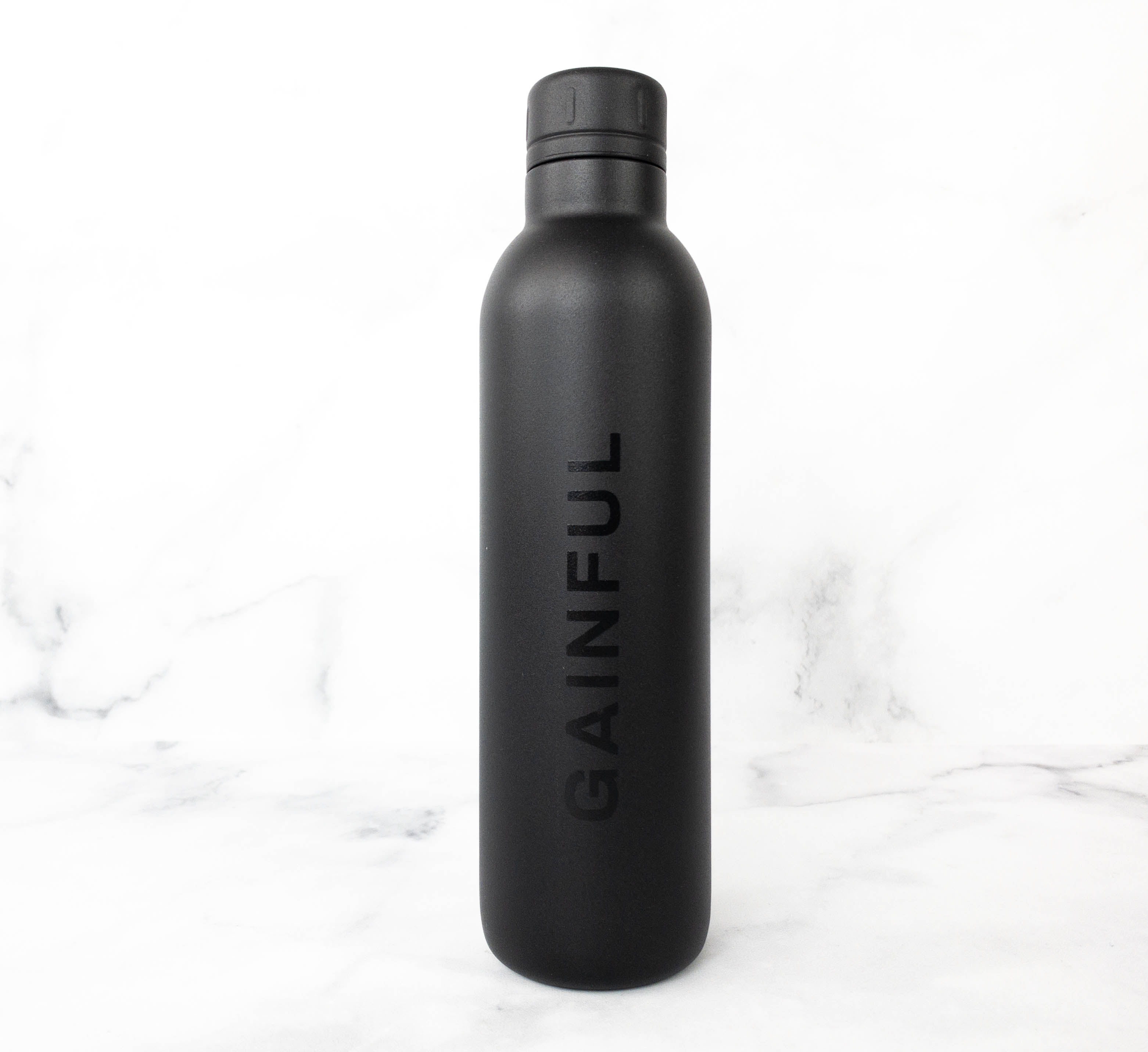 Gainful Water Bottle. This water bottle looks sleek in black, and it also has a subtle Gainful branding on its body. It would be great to bring when working out outdoors or when traveling!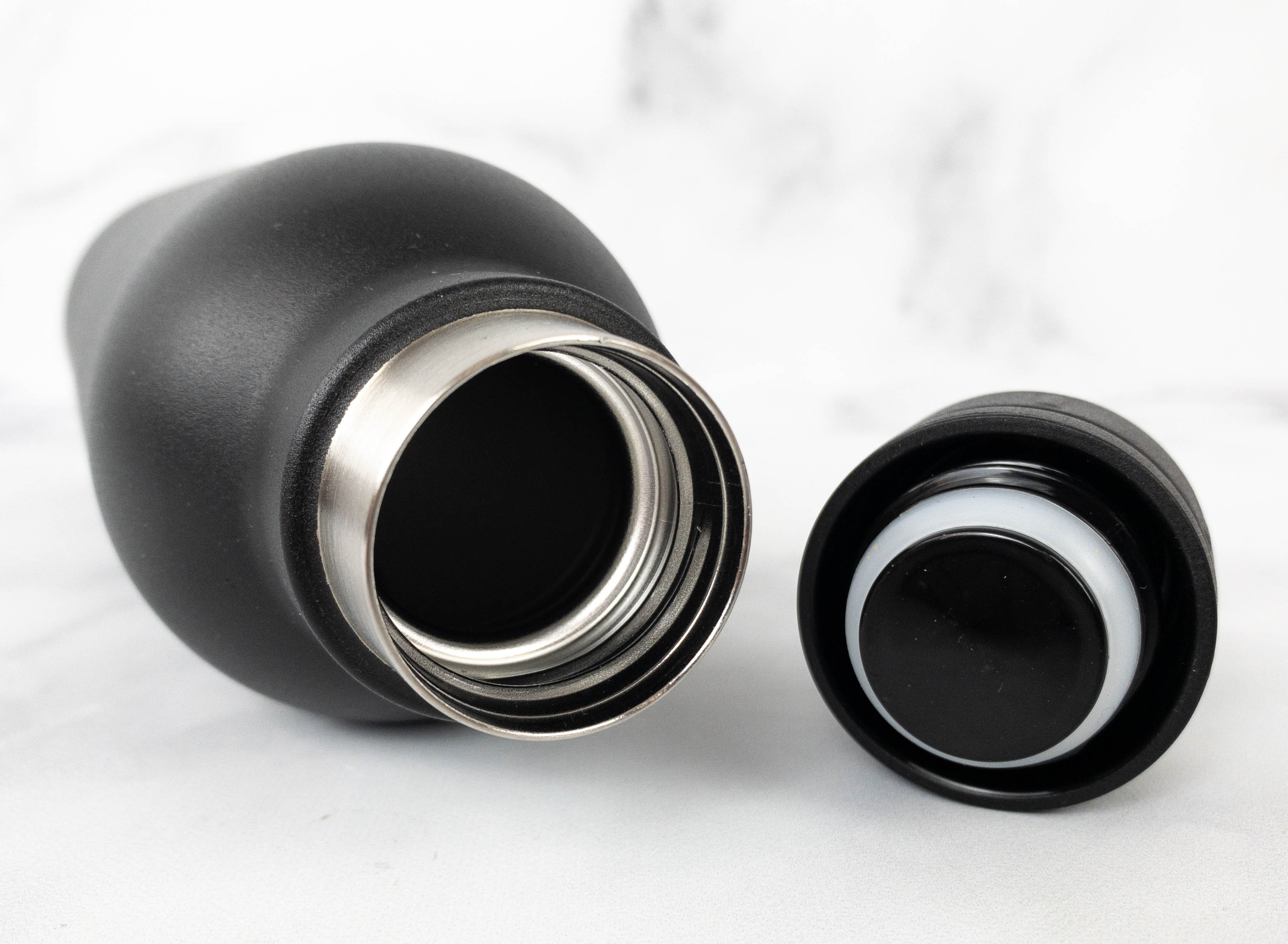 The insulation helps the drink maintain its temperature. It also has a spill proof lid, giving me one less thing to worry about when I'm on the go.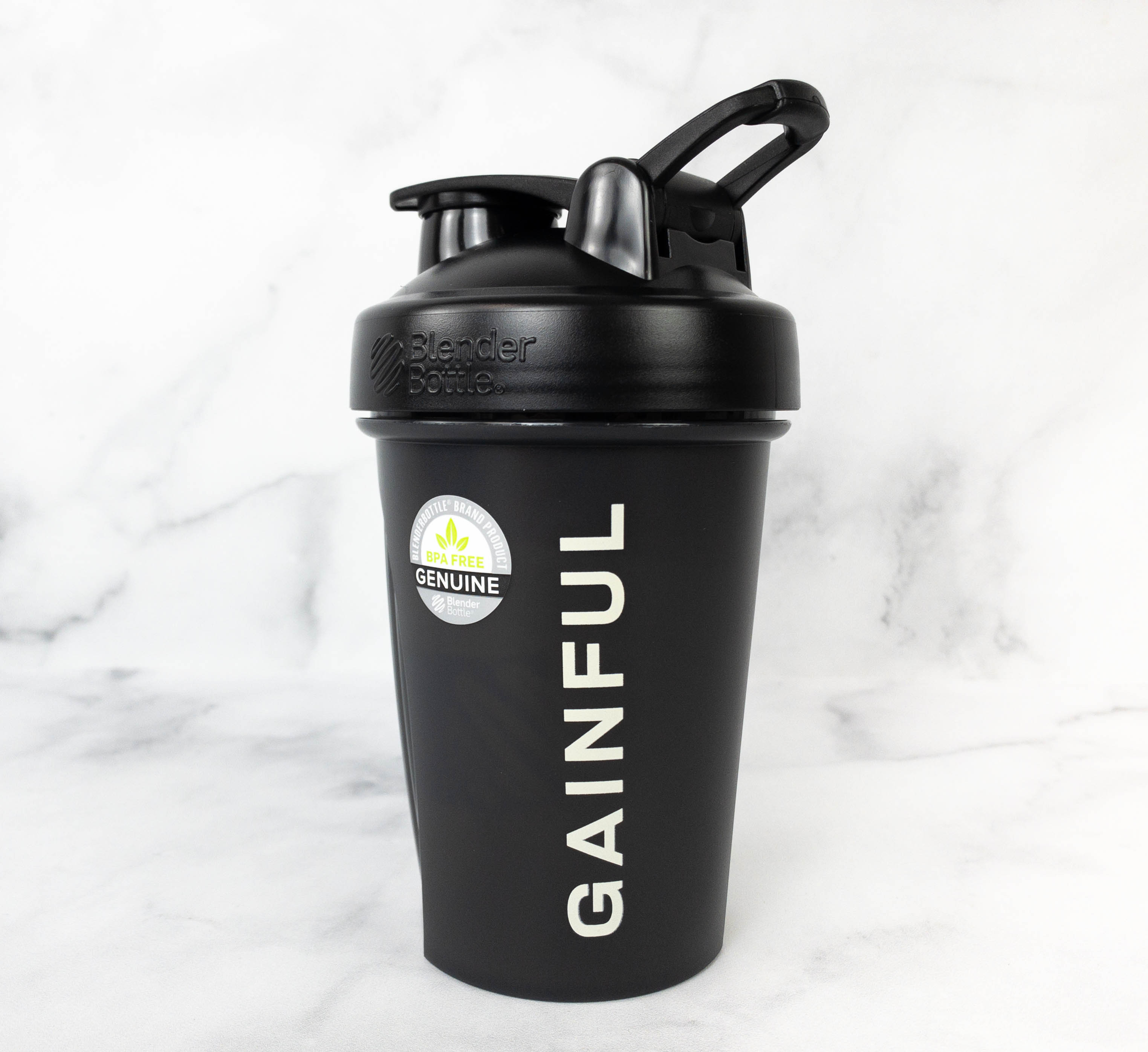 Gainful Blender Bottle. Also included in my box is a blender bottle! It's useful when preparing the smooth protein and nutrition shakes. It also has an ergonomic loop for easy carrying.
The stainless blender ball's size does a perfect job in whisking and mixing every last bit of powder. All the parts of this blender are also dishwasher safe!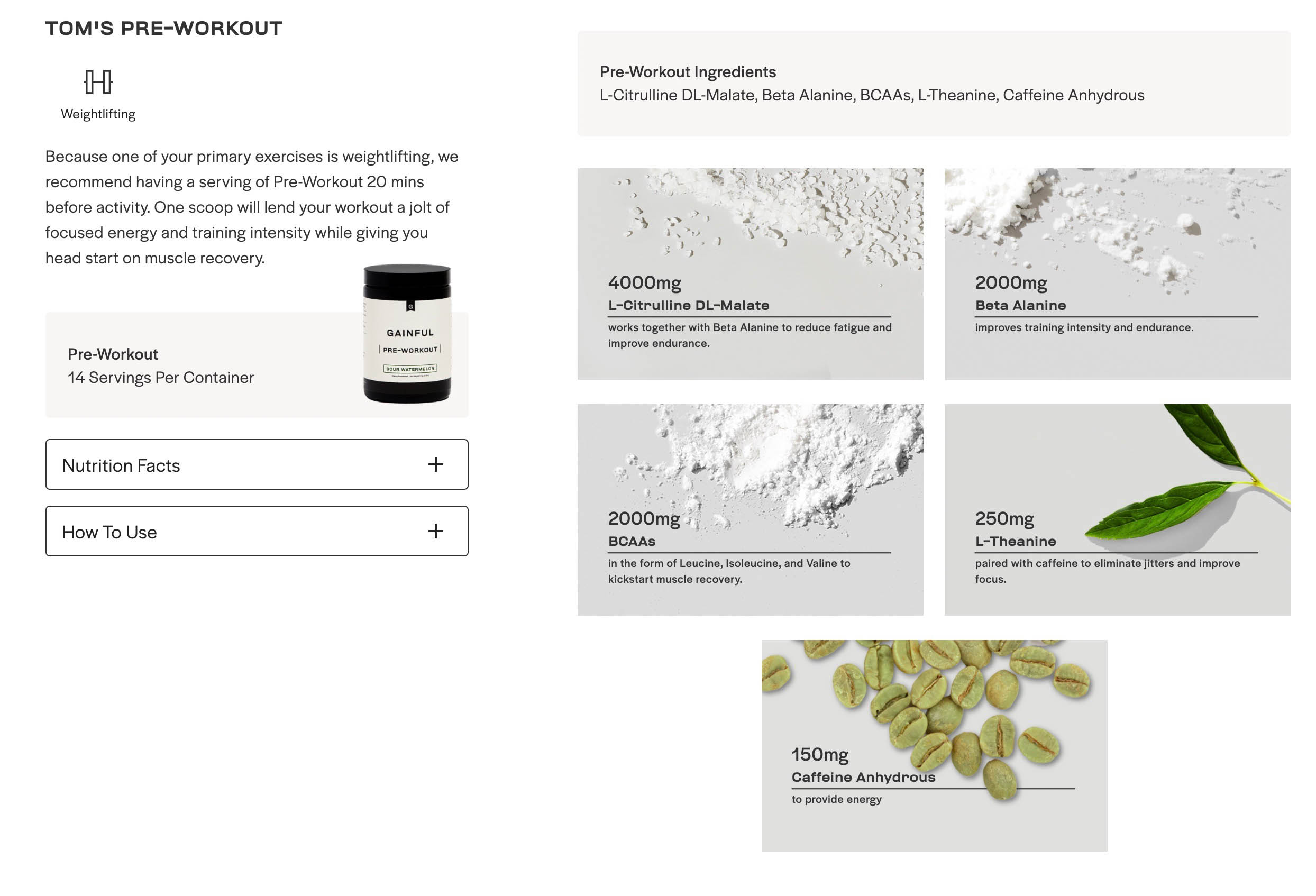 Now, we're onto the personalized blends for me! First up is the pre-workout blend.
Because one of your primary exercises is weightlifting, we recommend having a serving of Pre-Workout 20 mins before activity. One scoop will lend your workout a jolt of focused energy and training intensity while giving you headstart in muscle recovery.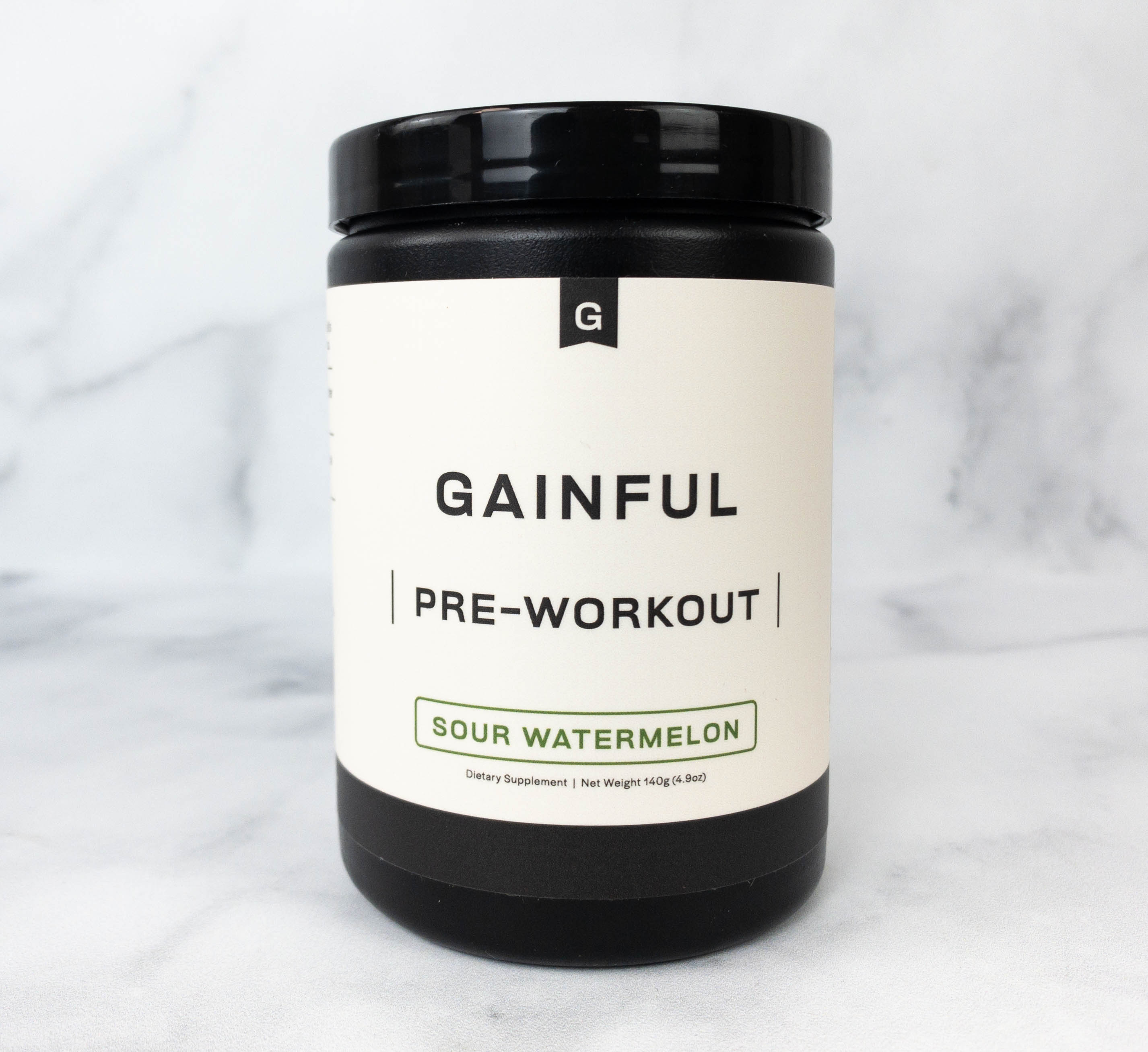 Sour Watermelon Pre-Workout. This pre-workout supplement was created to boost energy, so you can stay active during workouts.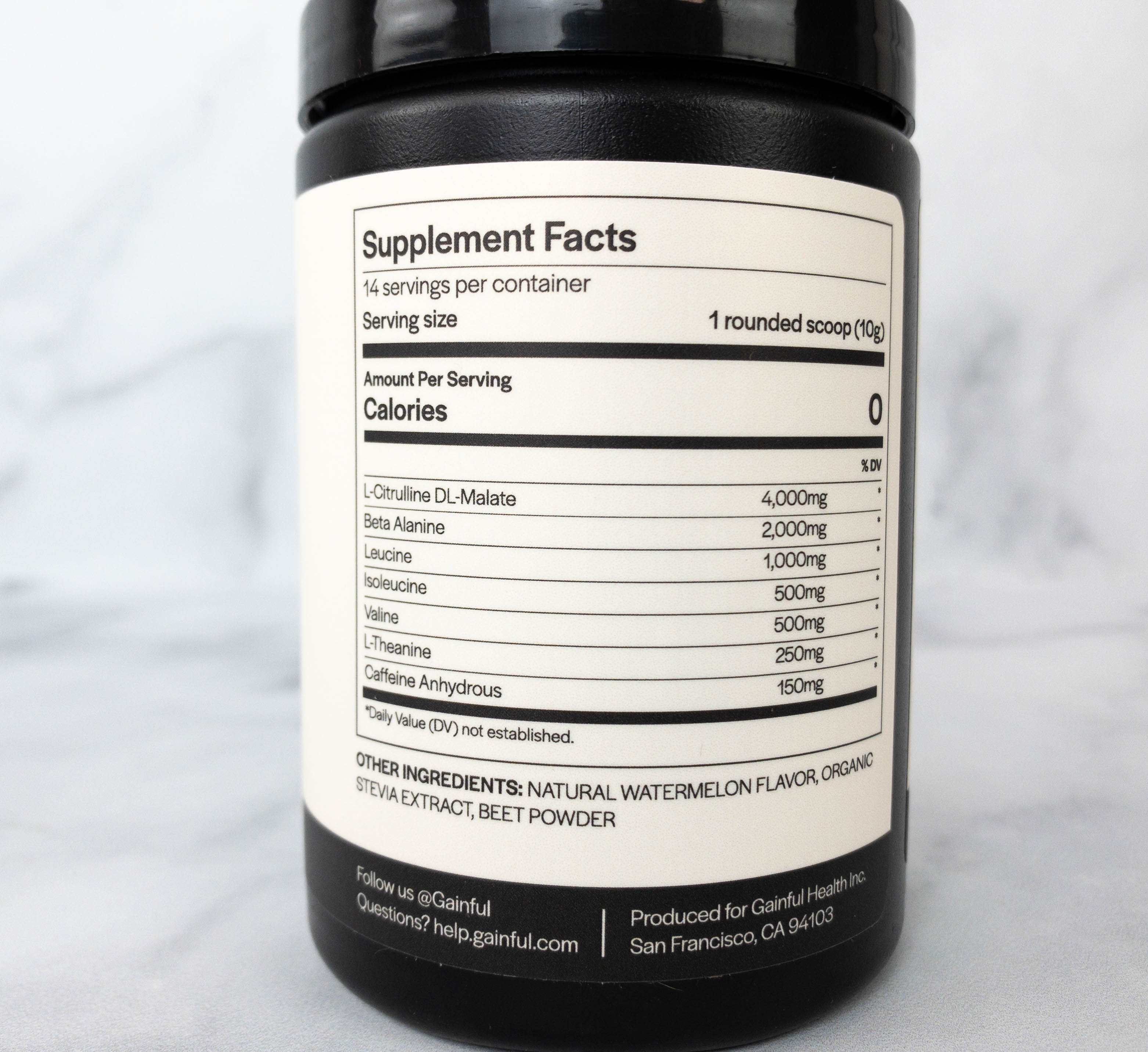 Main ingredients include caffeine, L-Theanine, L-Citrulline, beta alanine, and BCAAs. They work together to fuel you up and help your body recover!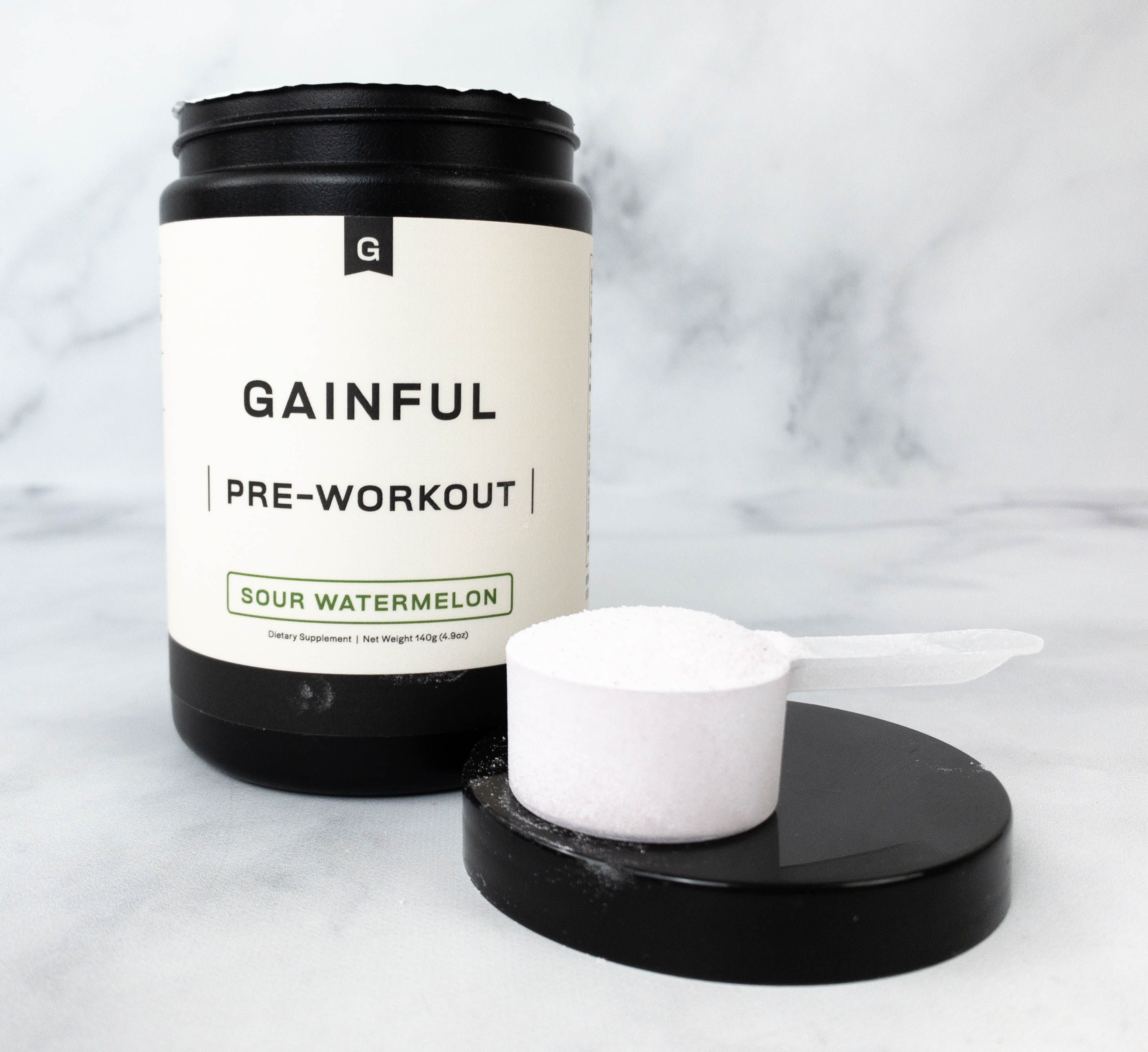 A single scoop per serving is all you need before workout. According to Gainful, this pre-workout supplement contains 150 mg of caffeine per serving (equivalent to 1.5 cups of coffee), which is moderate compared to its regular counterparts.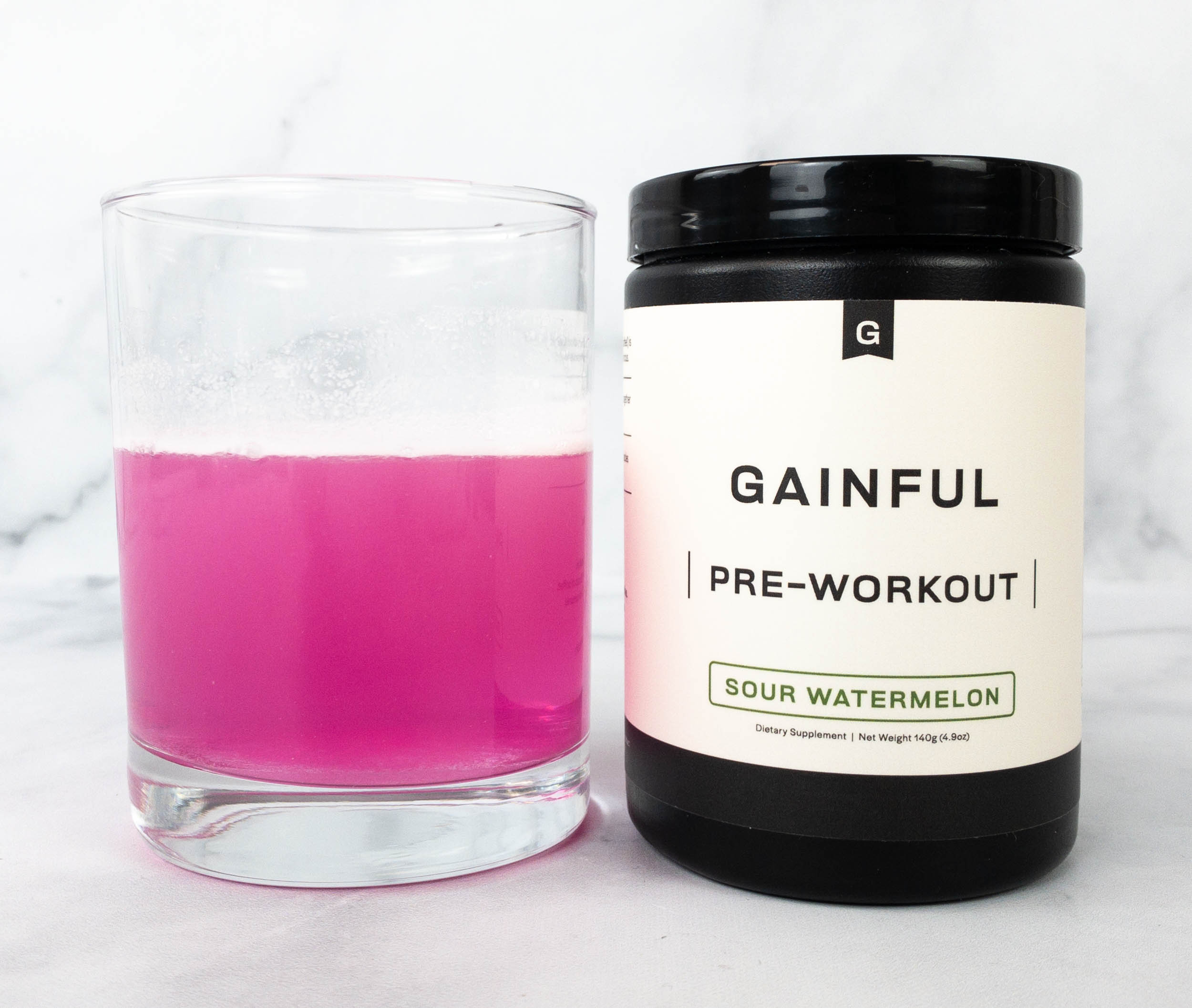 Currently, it's only offered in one flavor, which is sour watermelon. I like it because it's refreshing!
L-theanine helps improve focus, while L-Citrulline helps increase circulation. Aside from the natural flavoring, this also contains organic stevia extract and beet powder to make it tasty!
Next is my personalized hydration blend!
Your formula contains higher levels of two key electrolytes–sodium and magnesium–to support more intense or frequent activity. We've also added just enough sugar to activate sodium-glucose contransport, hydrating you more effectively than plain water.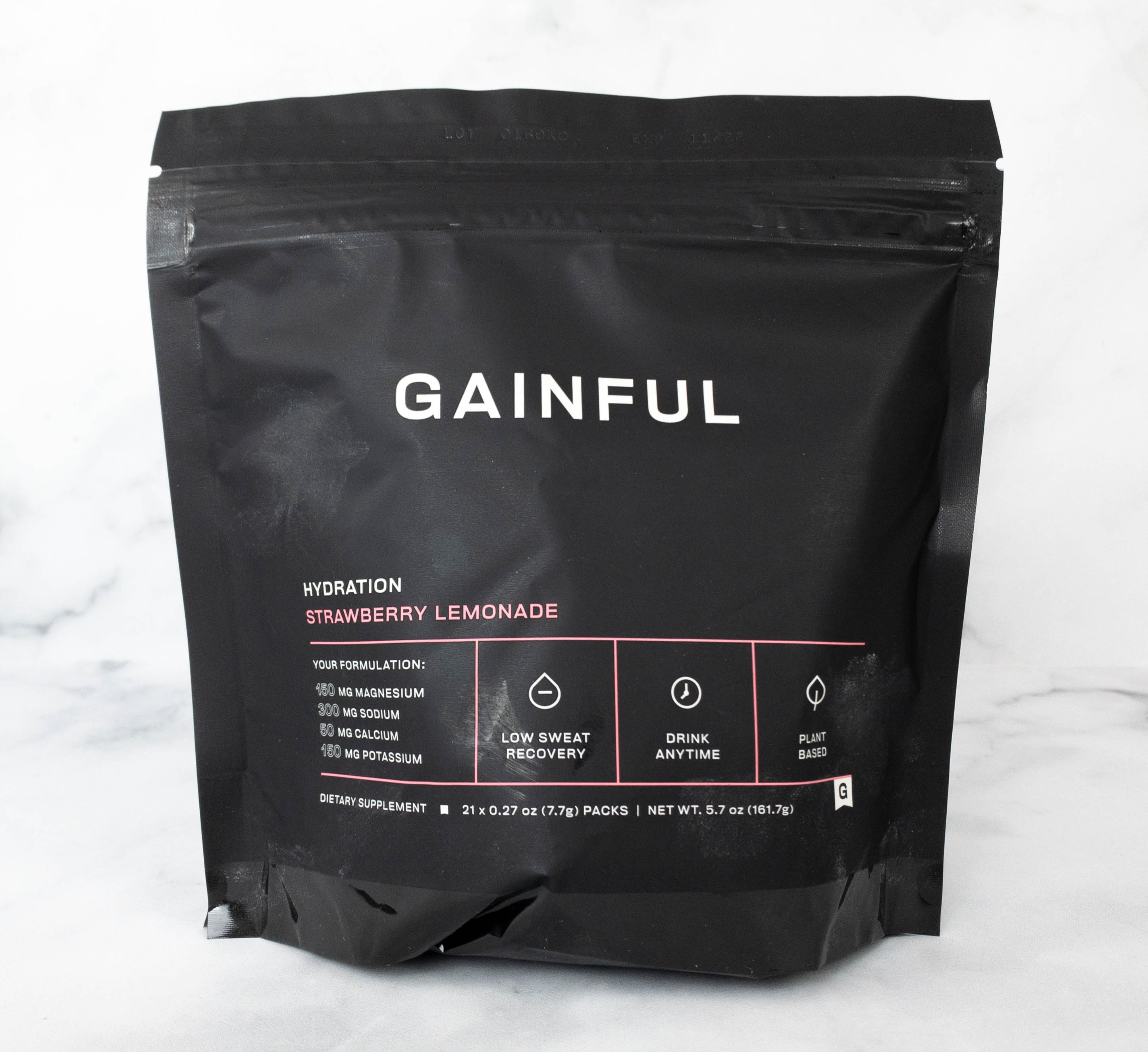 Strawberry Lemonade Hydration. A lot of body liquids are lost during heavy workouts. Gainful Hydration's job is to replenish those liquids by supplying the body with 4 unique electrolytes to keep you hydrated faster than water.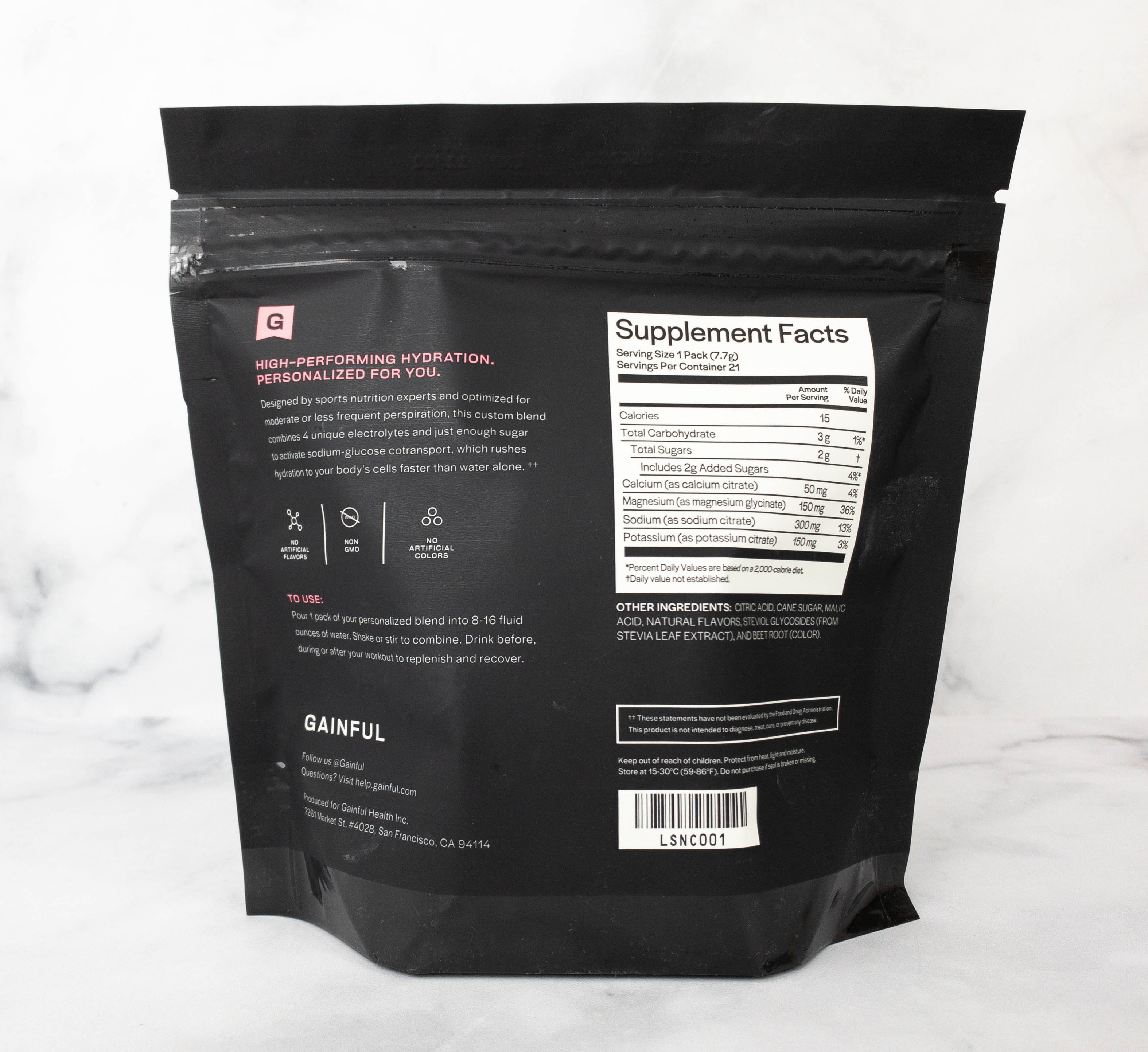 Ingredients include calcium citrate, magnesium glycinate, sodium citrate, potassium citrate, L-Theanine, and natural caffeine.
It's available in two flavors: Lemon-Lime and Strawberry Lemonade. Mine is Strawberry Lemonade, which is tart and sweet.
The pack includes 21 single-serve packs of Hydration.
This hydration formula is easy to prepare. You just have to mix it with water and then stir!
Sodium citrate helps replenish sweat and cane sugar that accelerates hydration. Just like the Gainful pre-workout formula, it also contains stevia leaf extract for added taste.
Lastly, here's my personalized protein blend!
An exceptionally well-rounded protein suitable for various objectives and daily use-cases. This blend is designed to perform equally well both for meal supplementation and post-workout recovery.
Personalized Protein Powder. Gainful's protein powder is personalized based on the subscriber's body composition and lifestyle habits. This helps accomplish fitness and weight loss goals better, compared to one-size-fits-all protein mixes.
It has organic ingredients such as pea protein, brown rice protein, oat powder, sunflower oil, monk fruit tapioca dextrose, and tapioca maltodextrin. Other ingredients are whey protein concentrate that helps build muscles and whey protein isolate which is known as a complete protein. It also contains BCAA blend, micellar casein, and green tea extract.
It's time to prepare my first Gainful protein shake!
I decided to use the chocolate peanut butter flavor stick as flavor for my protein shake.
Using the blender bottle, I added 1 scoop of protein powder, 1 stick of flavor boost, and 8 oz. of milk.
As expected, this flavor is really delicious! The rich chocolate and peanut butter blend well with each other.
The blender bottle is perfect for the job. The powder was easily dissolved and the consistency of the liquid is good.
It's so smooth and easy to drink! Another important ingredient of my personalized blend is the coconut oil, which fuels ketosis. It already tastes great as is, but you can also add nuts/seeds if you wish!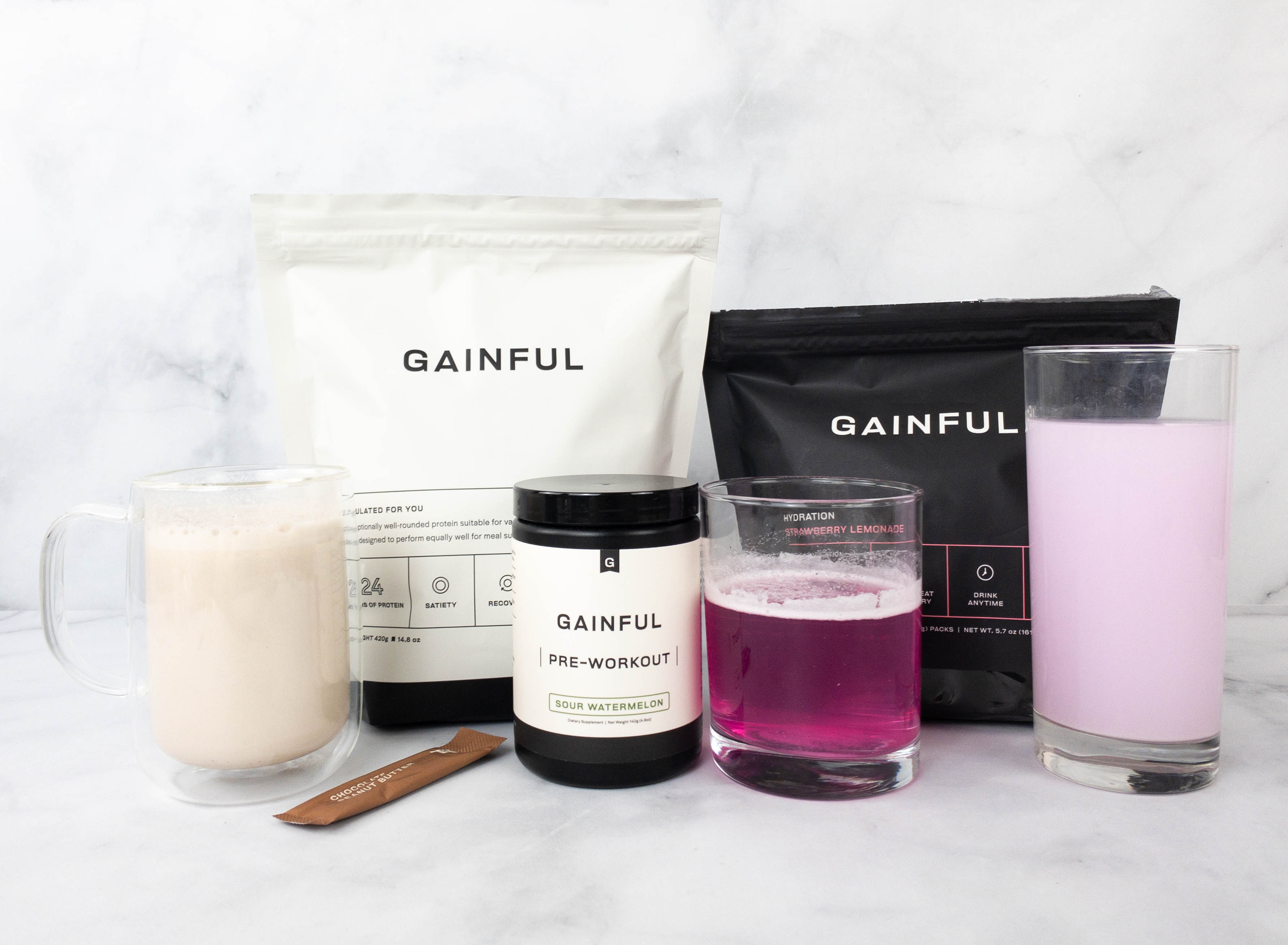 These Gainful supplements would be helpful for anyone who has an active lifestyle!
My first box from Gainful is jampacked! I have my personalized protein powder and different flavor boosts, plus a pre-workout mix and a hydration formula as add-ons. There's also a shaker and a water bottle, which are really useful for preparing my health drinks and bringing them on-the-go. I tried the chocolate peanut butter flavor boost with my protein powder, and it didn't disappoint. It was sweet and tasty, thanks to stevia extracts and a mix of natural flavorings. It made me more excited and curious to try the other flavors I received. Gainful provides everything that I need from pre-workout until recovery period, so I couldn't be happier. This is a good subscription to try if you're looking for supplements to support your active lifestyle!
What do you think of this month's box?