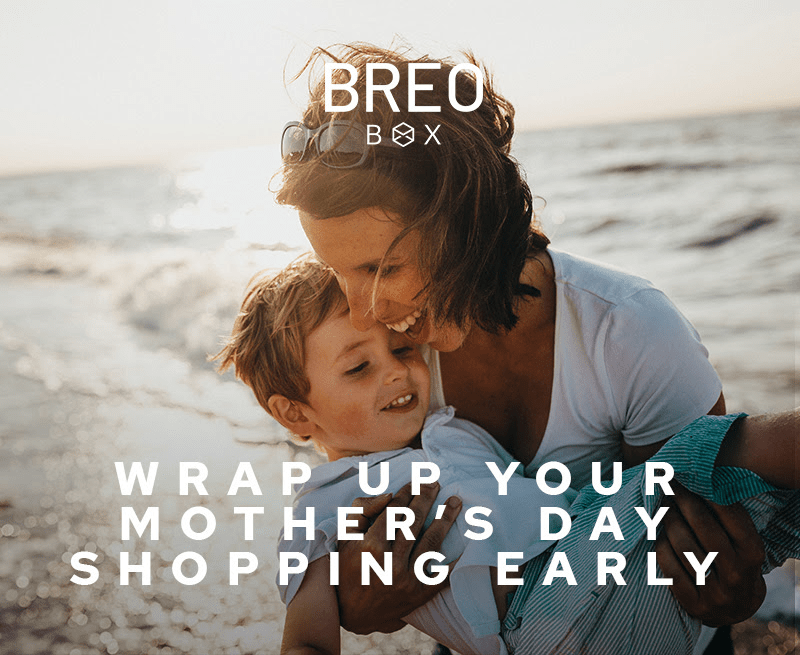 Give a Breo Box subscription or gift box this Mother's Day – because moms deserve to be spoiled! FYI, must order by 5/2 for Mother's Day delivery.
Would Mom wait until the last minute to get you a gift? We doubt it.

Surprise Mom with a Gift Box filled with the best of the best in tools, gadgets, and technology to make her life a little easier and a whole lot more fun. And do it for less!
Save $35 on your first box with any subscription box or gift box purchase!  Use this link and coupon code LOVEMOM at checkout. You can save $35 on ANY gift purchase with this code, too! Ends 5/2. Your first box will be Breo Box Welcome Edition box!
Get the Breo Box Mother's Day deal!
Breo Box is a lifestyle subscription that's a fun surprise of unique tech-savvy products every season of the year!
See all our Breo Box reviews to find out more about this lifestyle subscription box!
We also have the full spoilers for the Welcome Edition box!
Coffee Cookie $20 Retail Value
We know that a tumbler can keep your coffee hotway longer than a paper cup can. But what if we toldyou that the Coffee Cookie can solve this dilemma?The macaron-size, USB rechargeable, warmer fits inmost standard paper cups, keeping your coffee atyour ideal temperature all day long.
Trip Wipes Citrus Gel Soap $10 Retail Value
Detroit-based Trip Wipes delivers their signature – and amazing – citrus scent, in the form of gel soap, perfectly paired with your Sohp Touchless Dispenser
Lume UV Sanitizing Wand $79 Retail Value
Don't let its slim size fool you. The Lume UV Wand packs a punch! It can disinfect just about any item using UVC LED lights, destroying 99% of germs on contact. Also, it has a safety sensor that will turn off the Lume when it's turned over during the disinfection process. Sanitizing can now be fast and mess-free.

With cold and flu season right around the corner, we must be more diligent than ever about protecting ourselves and our families & Lume is one of the easiest ways to do so. $79 retail value
Sohp Touchless Dispenser $49 Retail Value
In a contact-free world, it only makes sense that your hand washing experience was also contactless.With the Sohp Dispenser, you can rely on precise and touchless soap dispensing. Get started by filling up the 350 mL reservoir with your favorite gel soap and start washing those germs away!

Featuring a clean, minimalistic design, built-in rechargeable battery via USB, infrared sensor and splash-proof design. $49 retail value.
LSTN Sound Co. "The Palladium" Wireless Earbuds $129 Retail Value
Big sound, small earbuds. The Palladium by LSTN Sound Co. are some of the best true wireless ear buds on the market.  Using the latest Bluetooth 5.0 technology, these earbuds are IPX4 water resistant, have over a 3 hour battery life per charge, one step pairing, and crystal clear built-in microphone.
Casalink Smart WiFi Plugs (2-pack) $29 Retail Value
A WiFi-enabled, smart plug that'll keep you connectedto the things you use often – lamps, fans, stringlighting and more . Turn on/off via the app, or setschedules to automatically control anything that'splugged into Casalink. Left the house and forgot toturn the lights off? Don't worry. Turn it off remotelyfrom the convenience of your smart phone.
About BreoBox:
BREO BOX is a seasonal subscription service for both men & women, curated with the coolest and most unique products that you never knew you needed.  Discover the latest tech, gadgets, home goods, fitness products, and more, all to enhance your lifestyle.  Hand-packed every 3 months, curated to fit the season and delivered right to your front door.
Are you getting Breo Box?
Find more goodies for mom in our Mother's Day gifts and deals roundup!