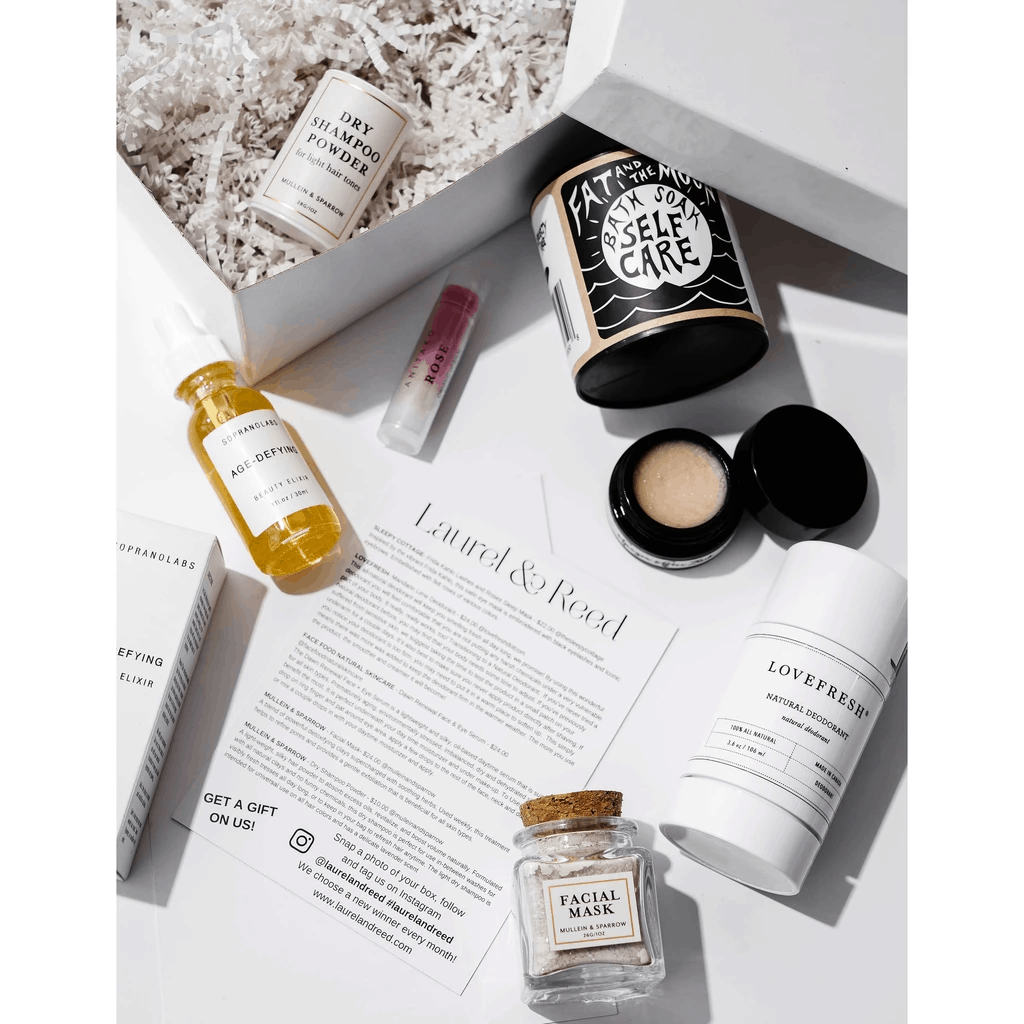 We have full spoilers for the Laurel & Reed March 2021 beauty box!
DEAL: Use coupon code NEW15 at checkout for 15% off!
Elevate your daily routine with a subscription to Laurel & Reed's luxury-curated, cruelty-free and non-toxic beauty box. In need of some selfcare or looking for that perfect GIFT? Every month we will delight your doorstep with a mix of 3+ full-size products with a min. total retail value of $100+. All boxes come gift wrapped.
This month's box contains:
The March 2021 Laurel & Reed Clean Beauty & Skincare Box features (3) full-size products from: Flower And Spice, Pleni Naturals And L&R.  Does not ship until 3.15.

Total value $197.00
More details from Laurel & Reed:
FLOWER AND SPICE Clay Mask Beauty Masquerade – 3.3oz – $139.00
Indulge in a spa-like ritual to honor face and skin and usher it into radiant harmony. With a blend of mild yet highly effective clays, flowers and spices, Beauty Masquerade Customisable Clay Treatment lift the senses with an intoxicating aroma of citrus and spice as it gently removes blackheads and impurities, revealing a complexion aglow with restored balance.

Key ingredients:

Soothing Rhassoul Clay detoxifies pores without drying skin as White Kaolin Clay whisks away dullness, leaving even sensitive skin petal-soft and smooth. Youthful luminosity is reclaimed with Hibiscus—known as the "Botox plant"—which improves skin elasticity, evens the look of skin tone, and delivers powerful antioxidants.
Anti-inflammatory Turmeric Root reduces redness, calming blemishes, and skin upset as it brightens the dark spots that come from sun damage.
The star ingredient Panax Ginseng delivers powerful anti-aging properties to help reduce the appearance of fine lines and wrinkles while balancing and brightening skin.
PLENI NATURALS Day Squad Face Oil – 1oz – $48.00
This vitamin C infused daytime oil and its sidekick tomato fruit extract supports skin when exposed to daily environmental aggressors and helps you glow all day, everyday.

Super stable and lipid soluble form of vitamin C easily absorbs without irritation.
Tomato fruit extract works alongside vitamin C to protect from UV and environmental aggressors.
Turmeric brightens skin and helps keep a clear-looking complexion with its antibacterial and anti-inflammatory properties.
LAUREL & REED Silicone Mask Applicator – $10.00
Use this beautiful, durable silicone face mask spatula to evenly apply cream, gel or clay masks more evenly & with less product waste and less mess. Scoop cream, gel or clay mask out of the container, using the Mask Applicator spatula and apply evenly to face and neck.