Stitch Fix is a personal styling service. Your stylist will send you 5 pieces based on your profile for you to try on at home and hopefully fall in love with. There are no coupons for Stitch Fix but if you hit the jackpot and keep everything, you save 25% on your whole fix (read below for details).
Here's how Stitch Fix works: fill out your style profile! This includes style, budget, what you're looking for, and you can get as detailed as you want with the notes to your stylist. It really really does help to provide notes to what you're seeking, and a Pinterest board if you have one!
The clothing pieces were wrapped in paper, sealed with a sticker.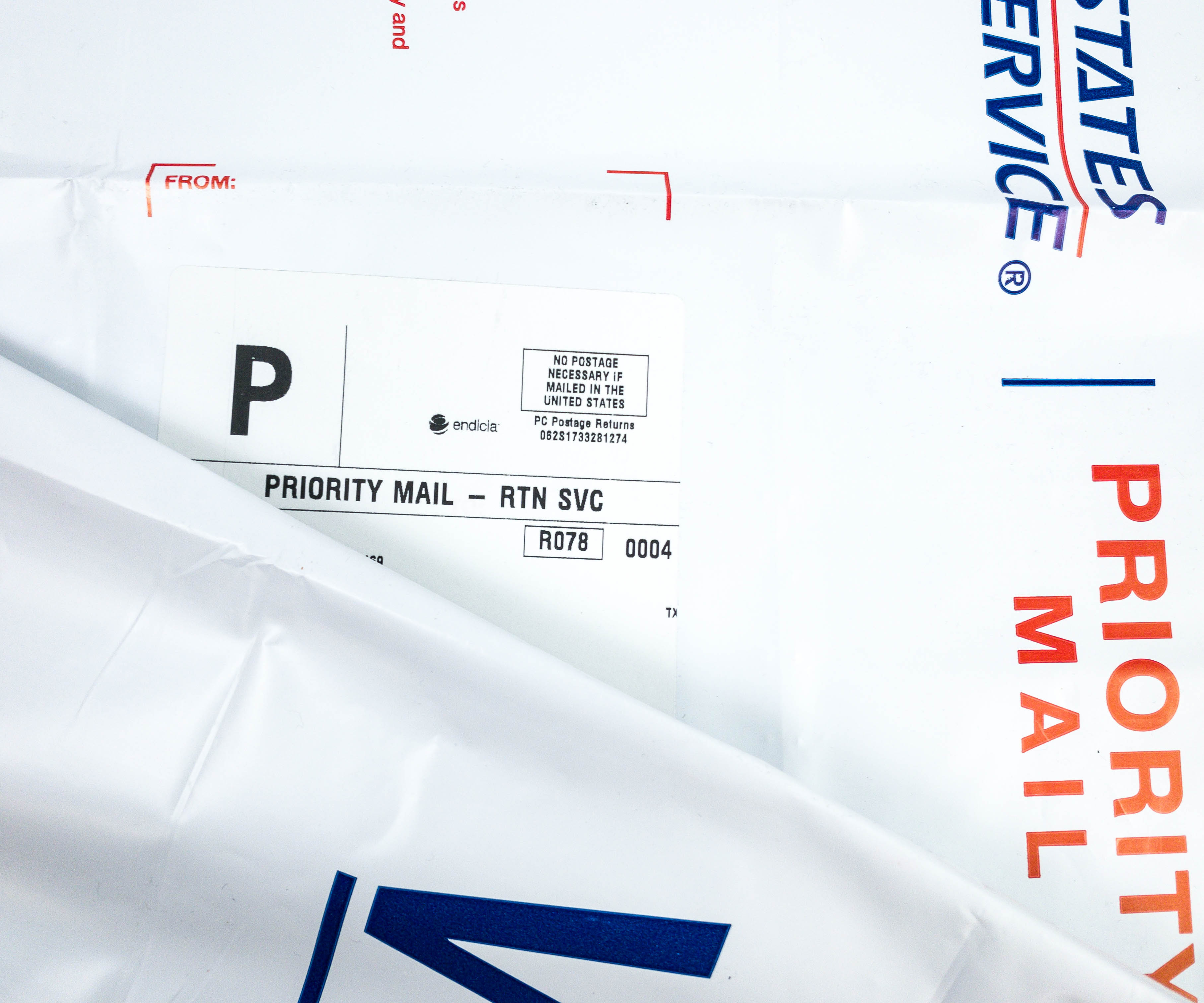 Your return mailer is tucked right into the box. The styling fee for each box is $20, and shipping is free both ways. I put my return items out with the rest of my outgoing mail – couldn't be easier.
Stitch Fix also included an envelope with a greeting card inside!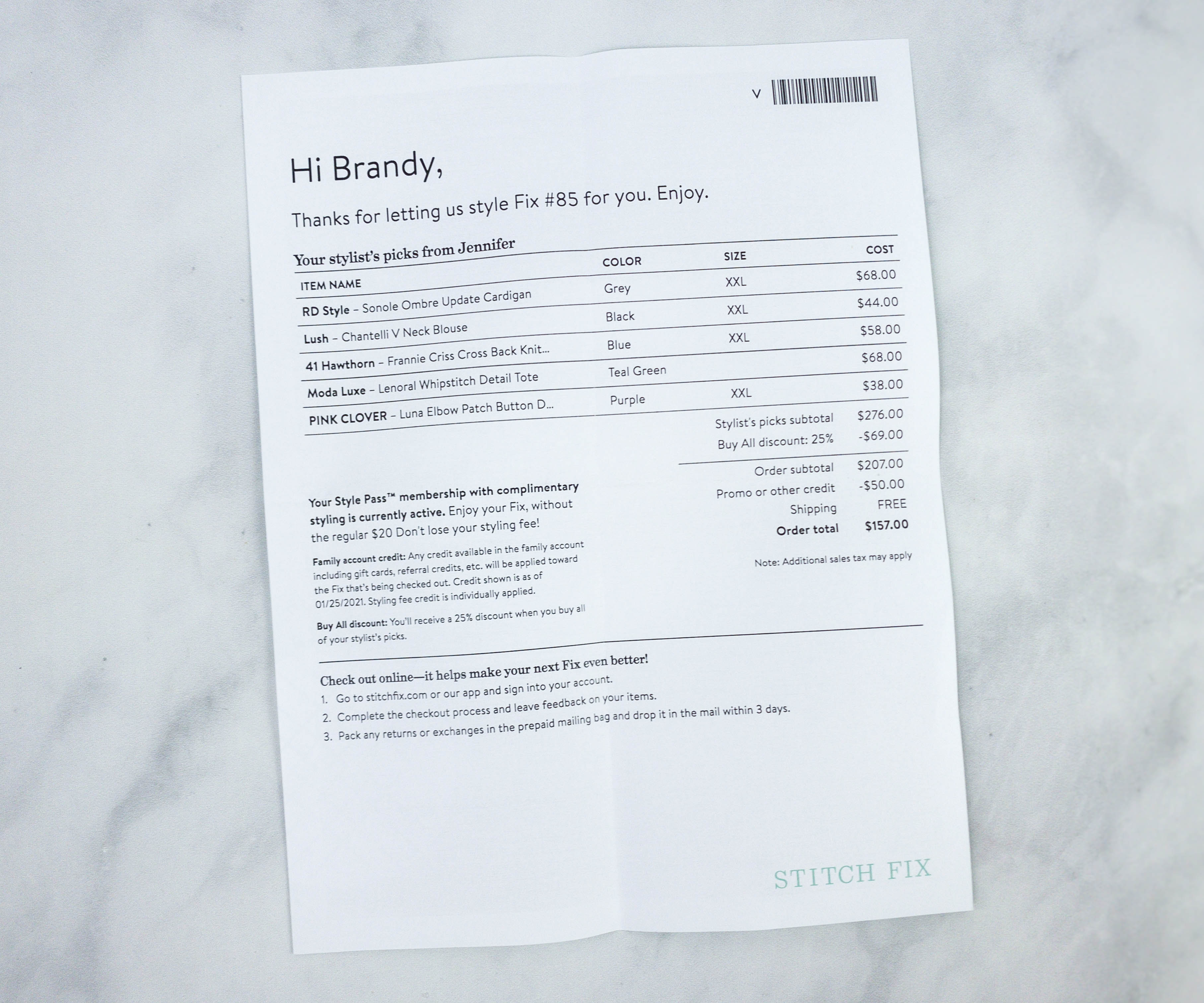 You'll be charged a $20 styling fee and shipped five items to try on at home. If you keep anything your styling fee will be applied to your order, but if you don't, you will pay the $20 fee. We currently have a Style Pass membership, an exclusive Stitch Fix membership where you can enjoy 1 year of unlimited fixes, with no styling fee!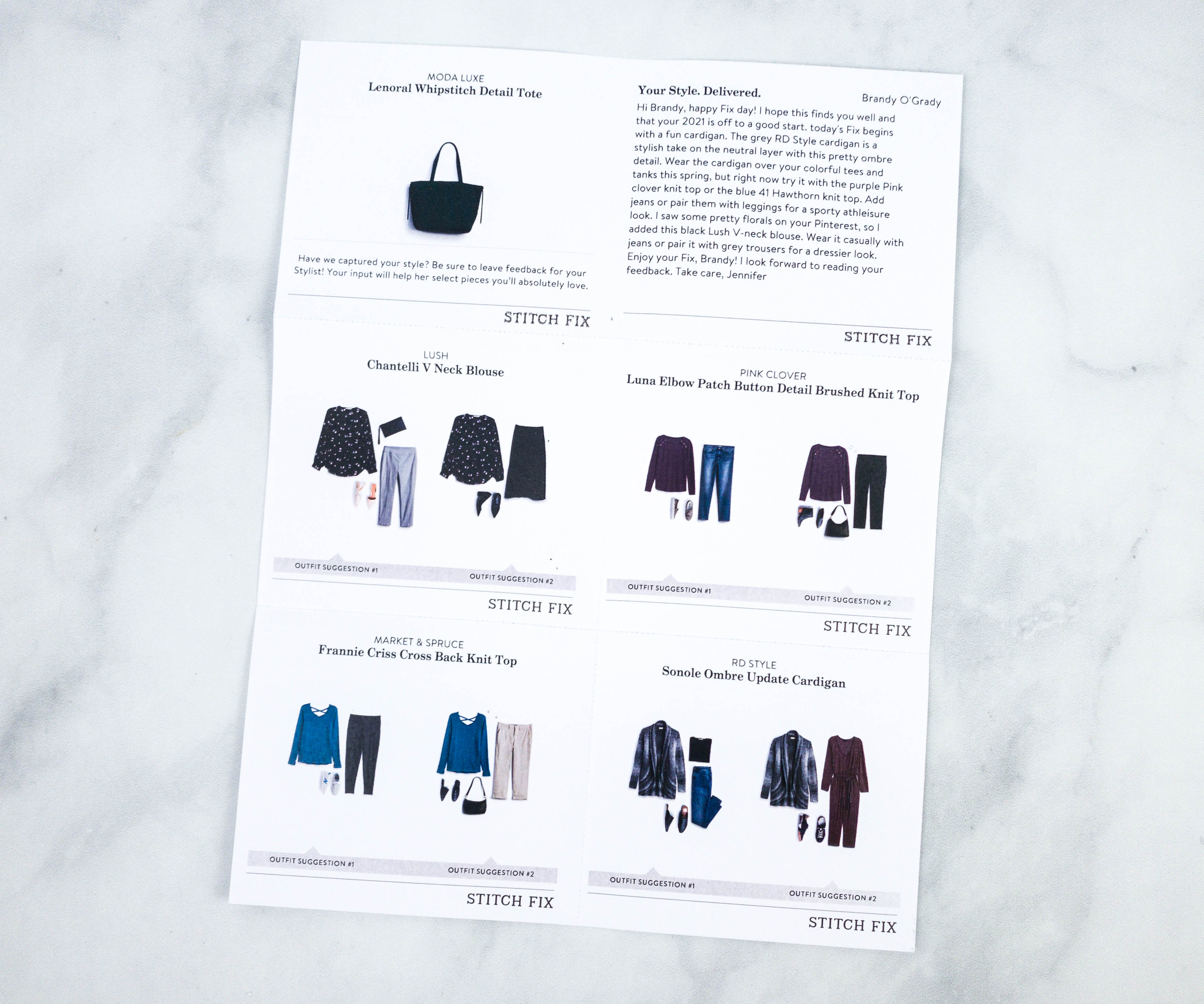 The set of styling cards has suggestions on how to wear a particular item. The styling cards have changed a bit – before they showed a dressier and less dressy version, now they're featuring multiple sets of accessories to pair with the garment, or 2 entirely different looks, but not necessarily dressed up and dressed down.
Everything looks good and they're all properly packed.
I'm excited to check everything out!
Everything in my February 2021 fix!
Moda Luxe Lenoral Whipstitch Detail Tote ($68) I love it when they send a new bag in my fix. This month, it's a forest green tote!
It's quite big and spacious so it's great for whenever I'm on-the-go!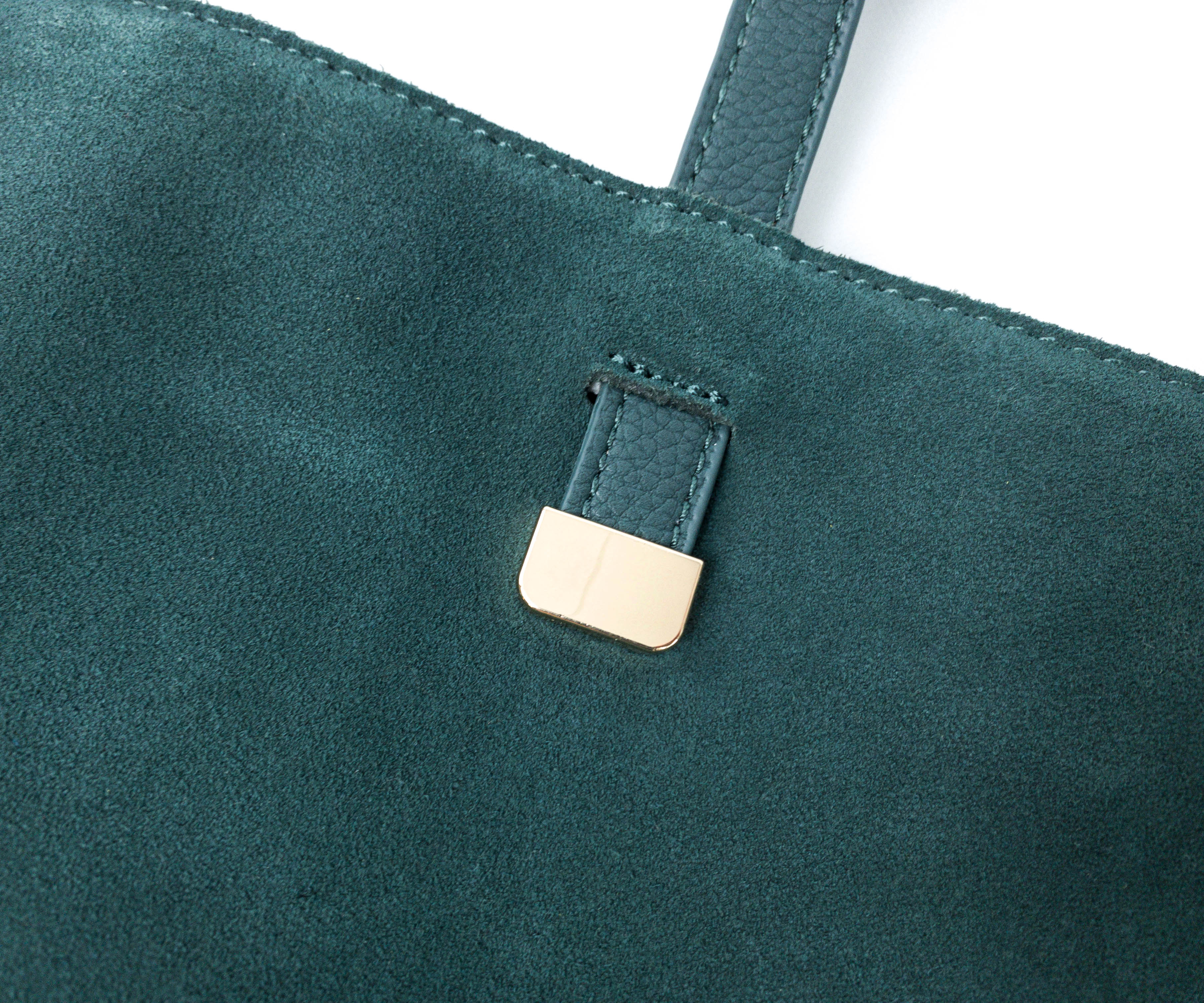 The gold-colored hardware is a nice touch as the color comes out as striking in contrast to the deep green shade of the bag.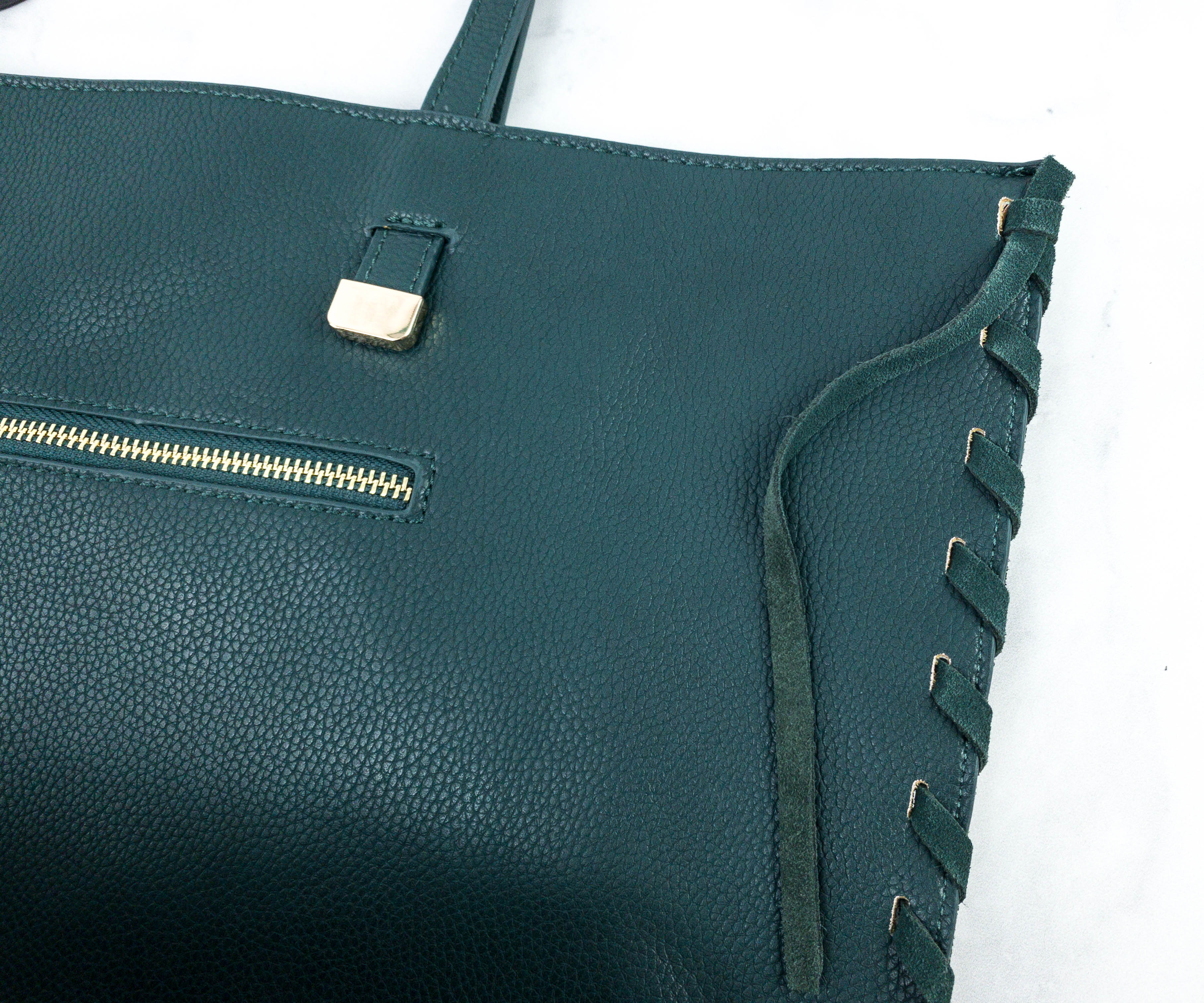 The stitch design on the sides add a edgy touch to the whole look.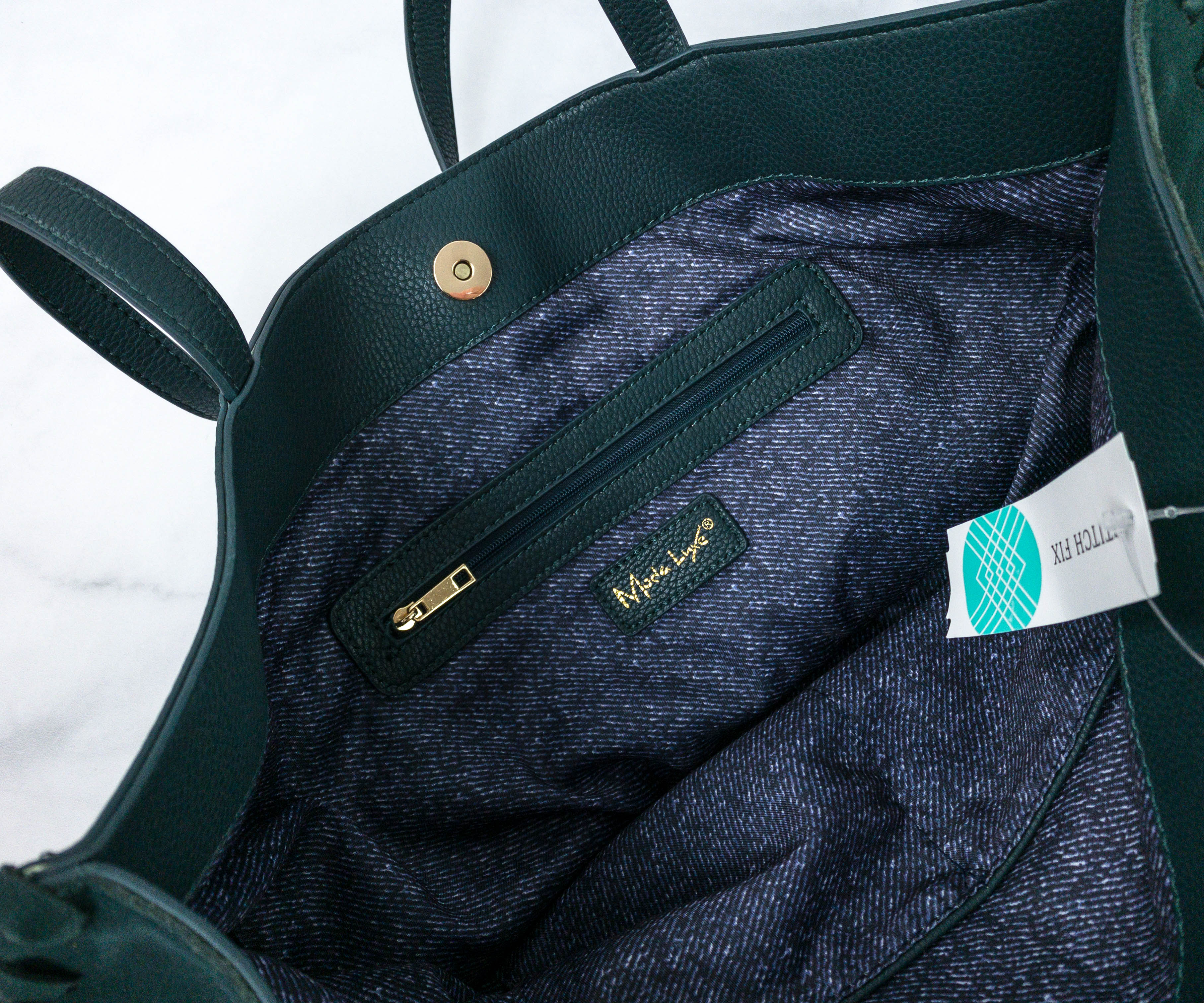 There's also a small zippered pocket inside where you can keep important items.
Market & Spruce Frannie Criss Cross Back Knit Top ($58) Here's a cozy piece for winter, a long-sleeved top! The material used for this piece is light and soft, making it really comfortable to wear.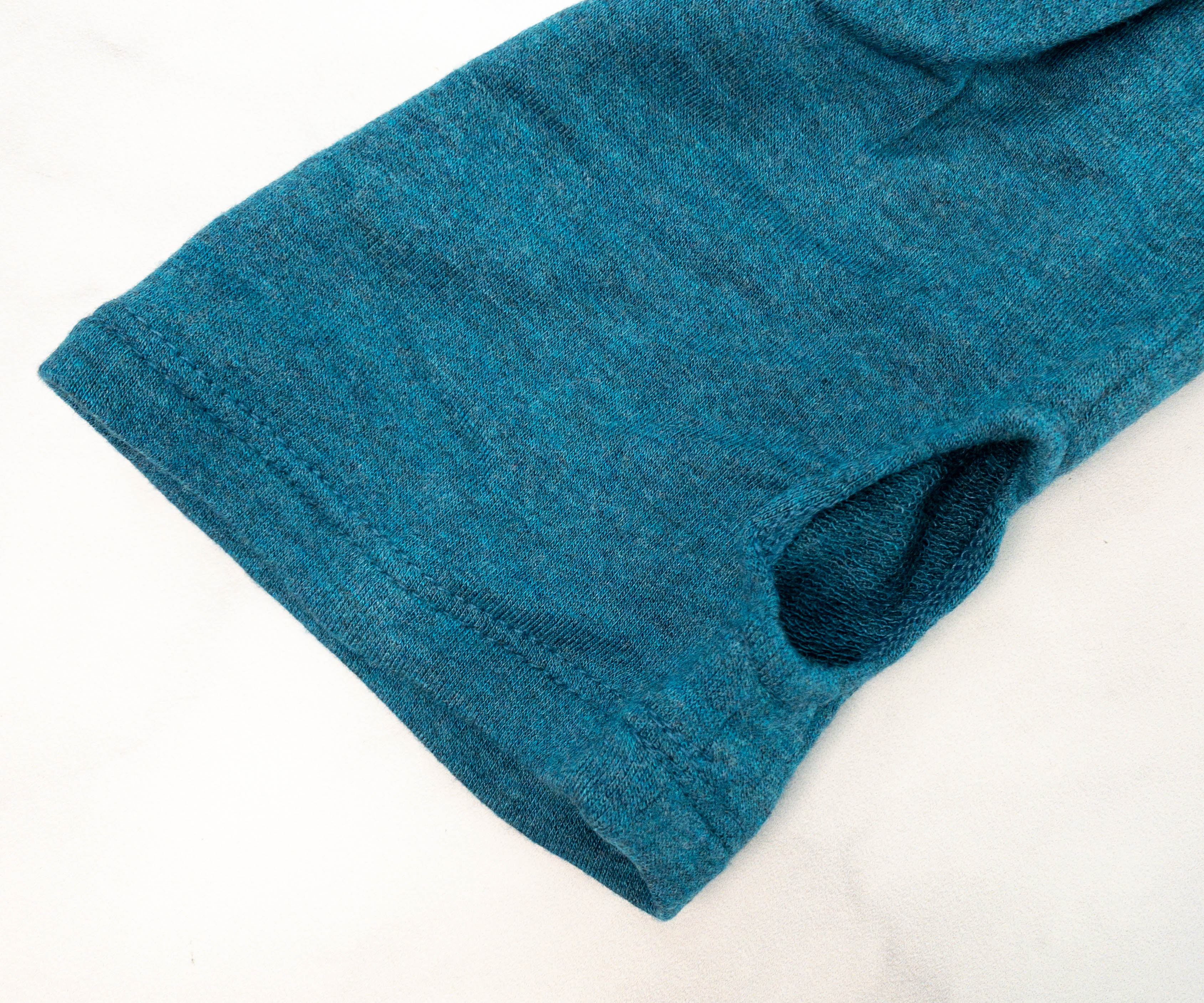 The small details also add a nice touch to the whole look like this small hole in the sleeve that you can use for your thumbs. It will help keep your palm warm on extra chilly days.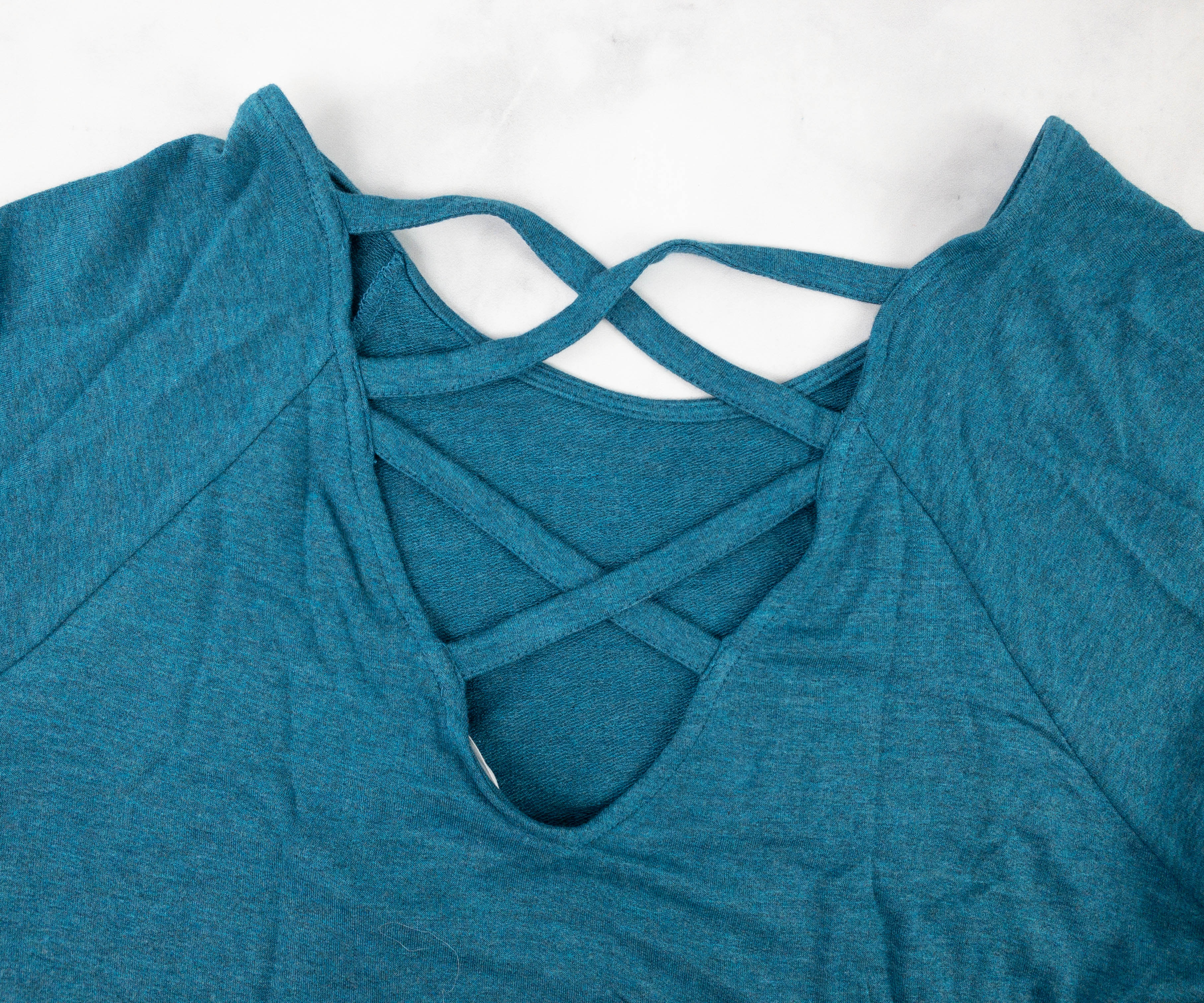 The cross back also adds a dainty detail to the shirt!
I like how flowy it is. It'll look great with leggings for a comfy casual look!
Here's how the back details will look like when worn and I think it's sexy in a sweet way!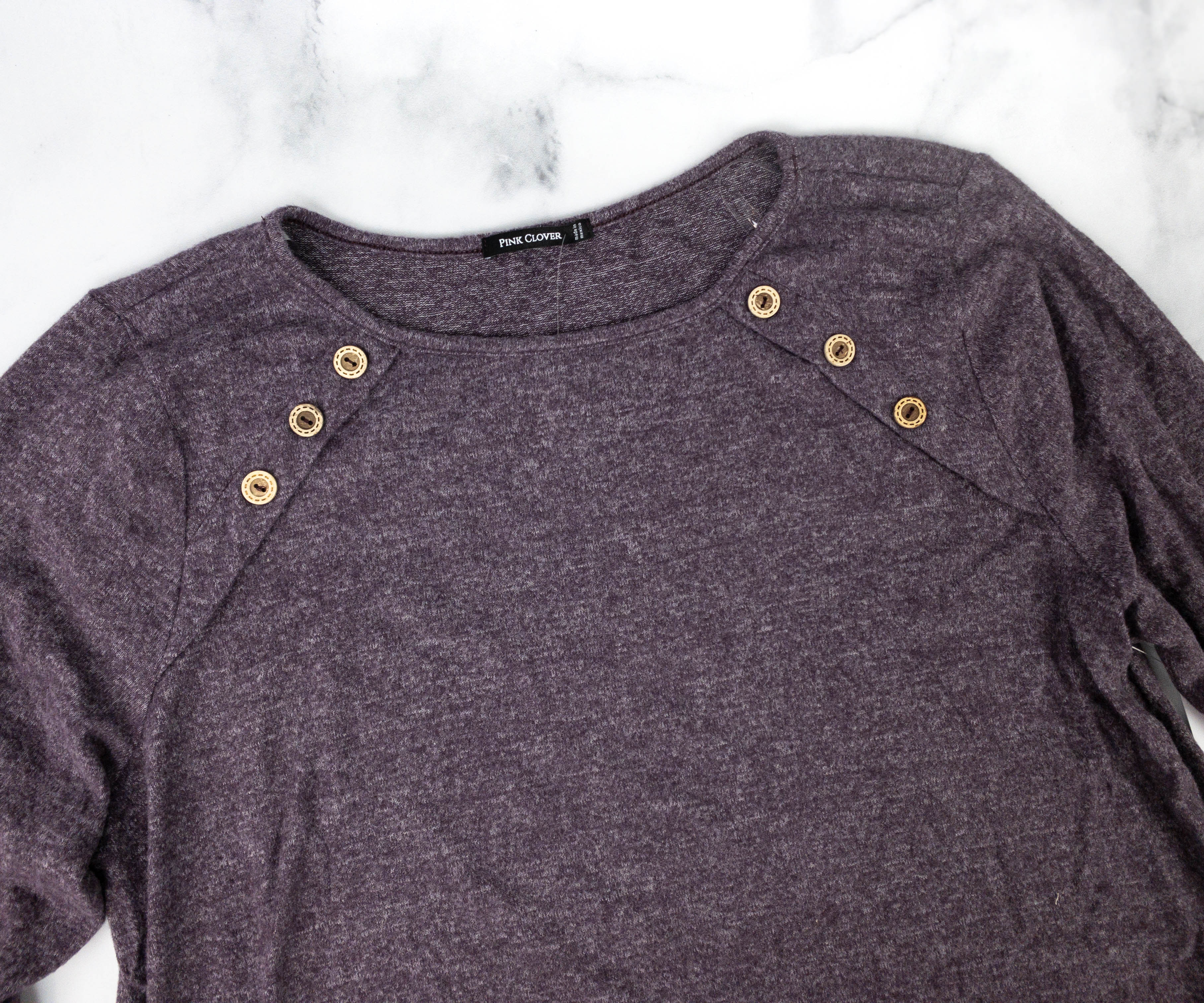 Pink Clover Luna Elbow Patch Button Detail Brushed Knit Top ($38)  Here's another top, and this one comes in a darker color. It gives off a relaxed vibe and it can be paired whether with leggings or jeans!
I love the feel of the fabric, it's so soft! The sleeves also have a brown elbow patch.
I love the button detailing near the collar as well!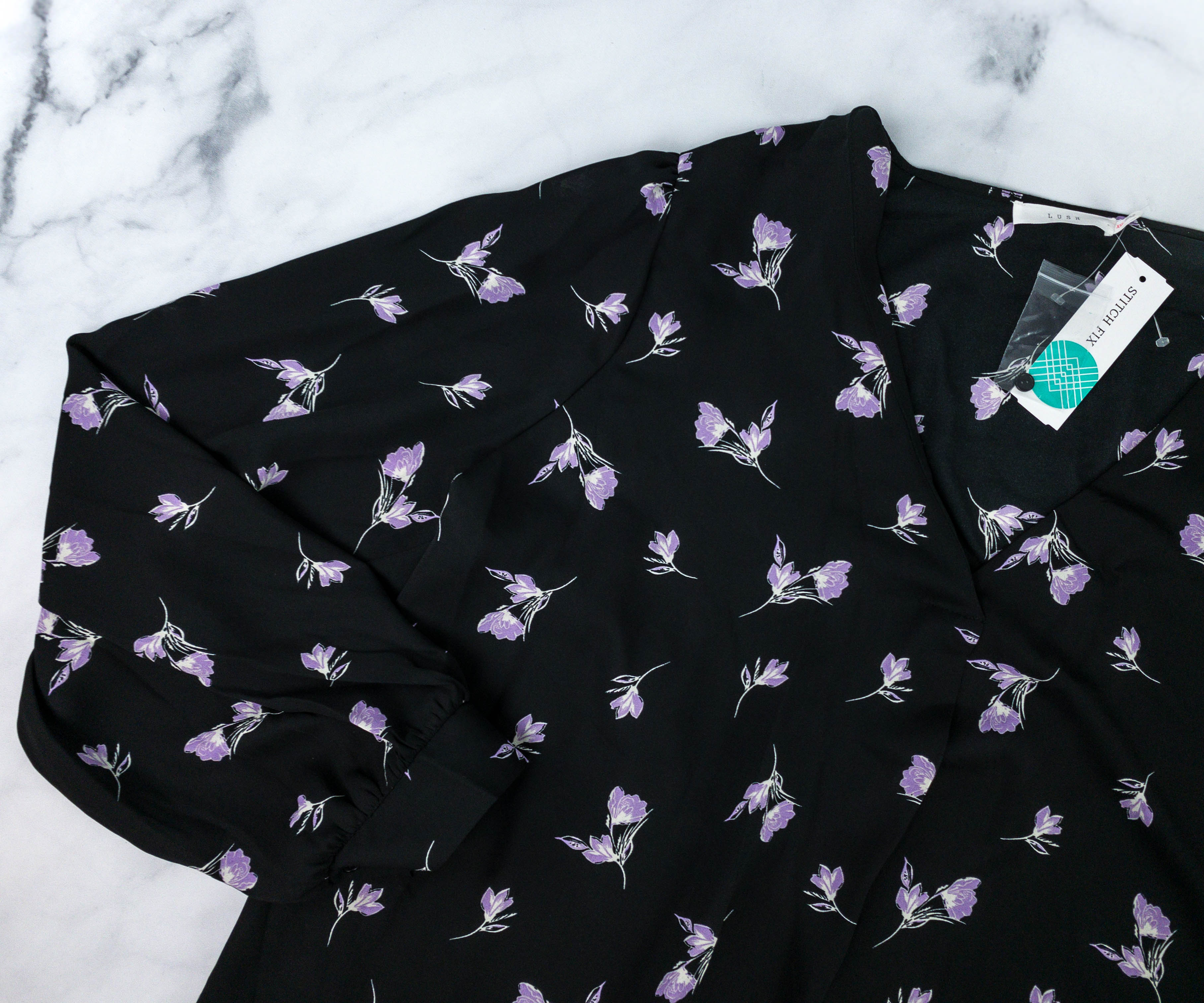 Lush Chantelli V Neck Blouse ($44) It's a floral blouse that stands out among the plain colored tops in my fix this month. I like it because it's cute and the floral design is not over the top!
It has buttoned up, cuffed sleeves that you can adjust according to your preference.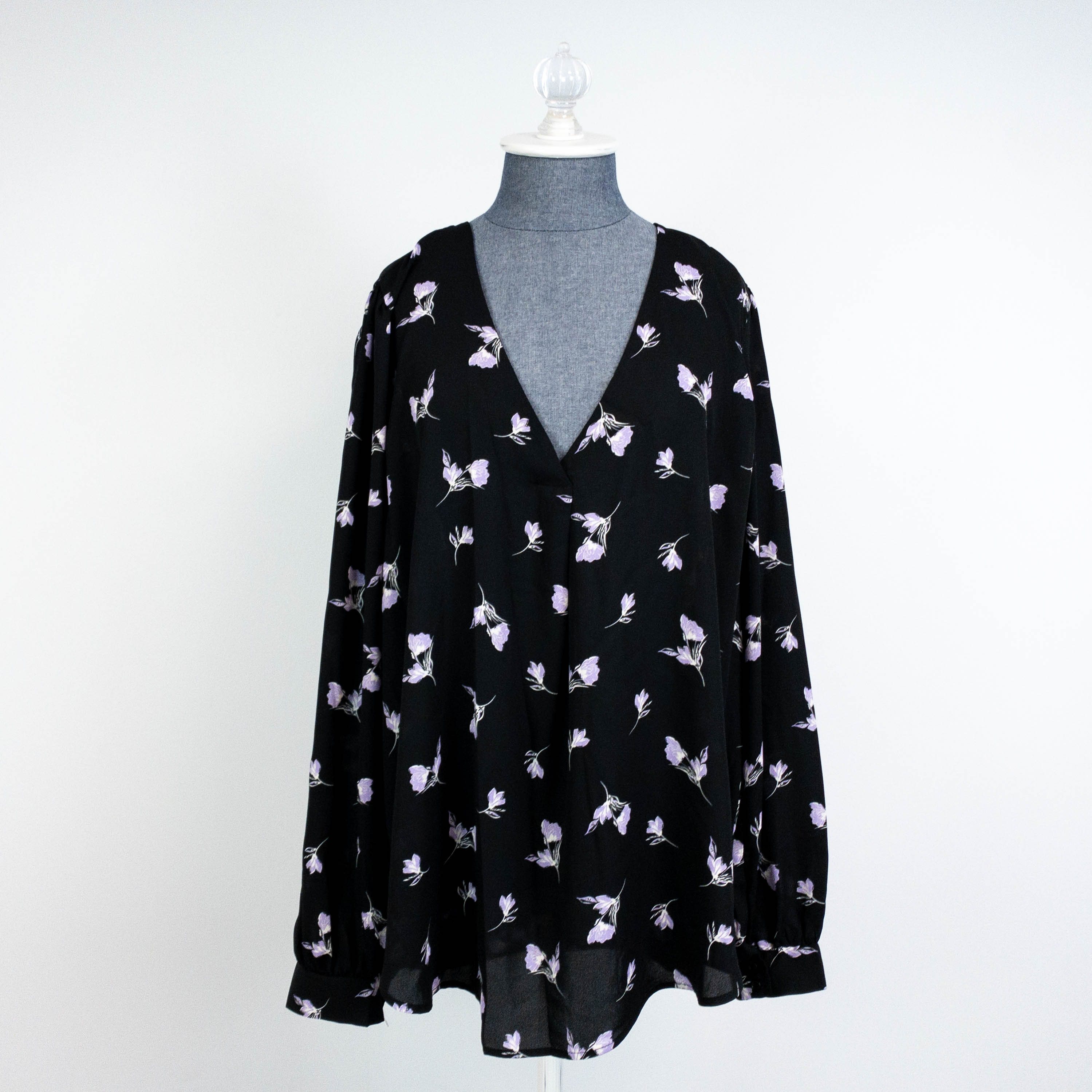 The deep V neckline gives this piece more character. The fit is also loose but not unflattering. Whether for work or for a brunch with friends, this would be such a nice top to wear!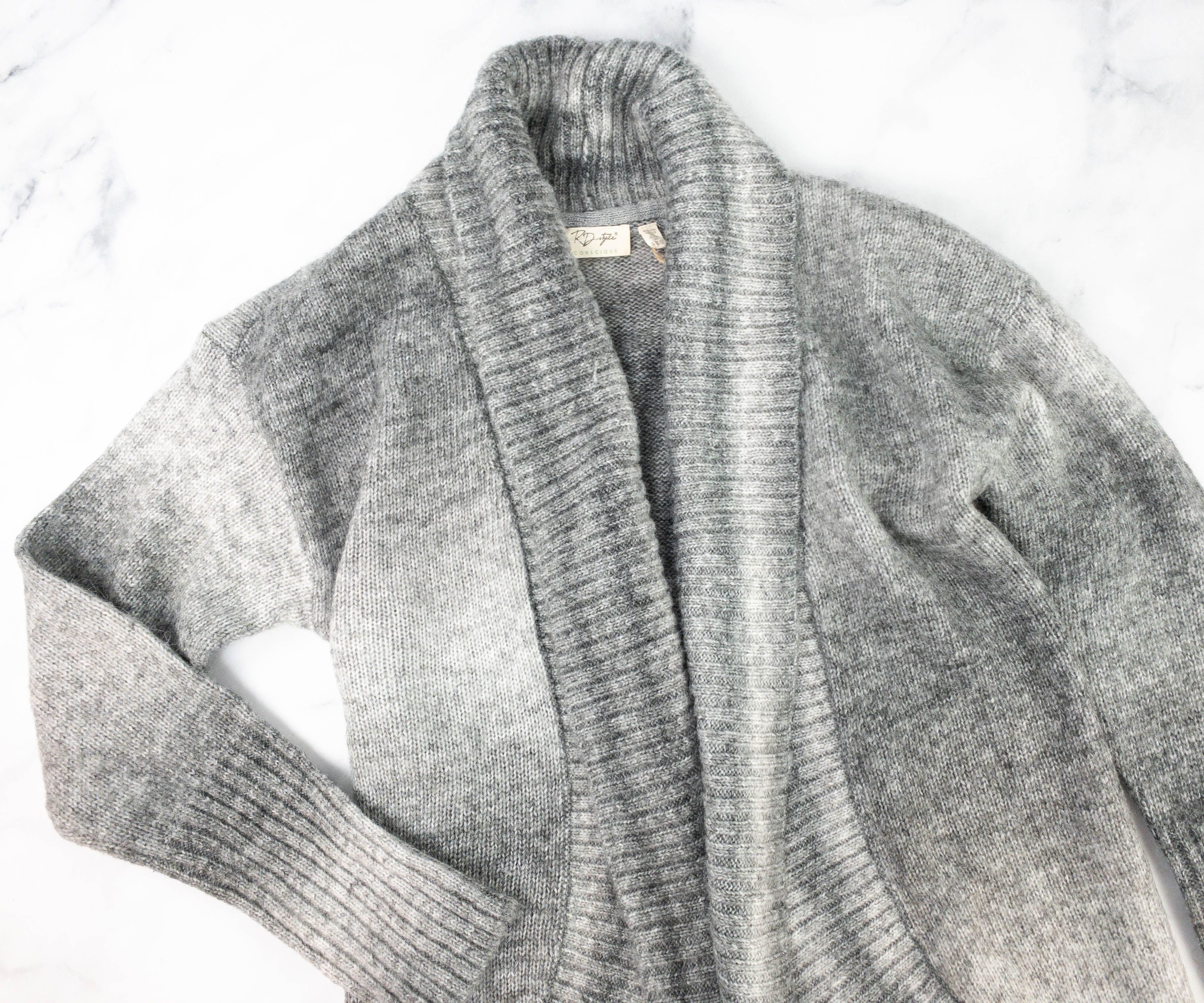 RD Style Sonole Ombre Update Cardigan ($68) Lastly, here's an ombre cardigan that is perfect to layer with cute tees. It's made of a cozy material and I'm in love!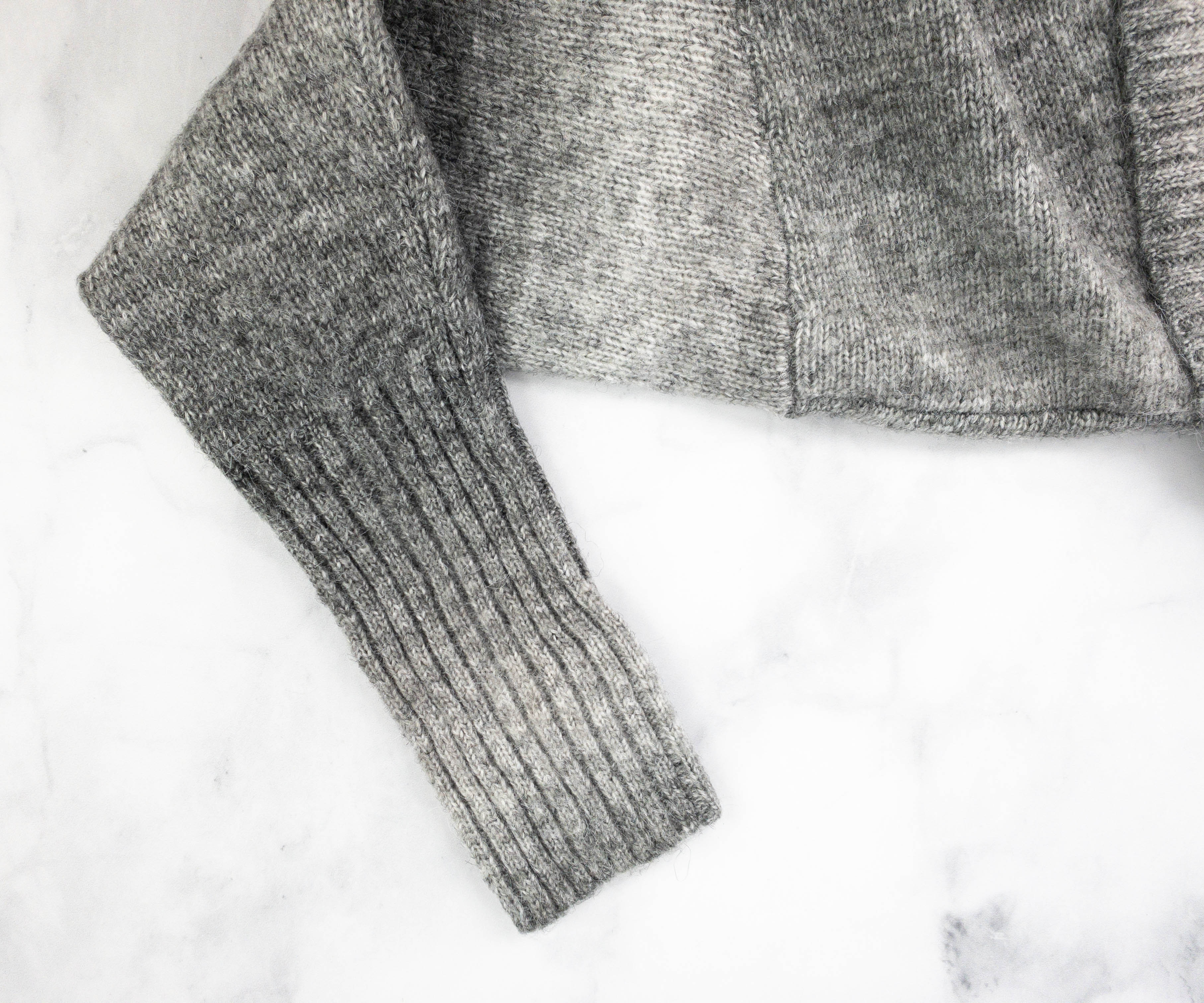 It doesn't have the usual light to dark ombre. Rather, it has faded parts with some darker than the others. I think this design is better as it gives a more striking appeal!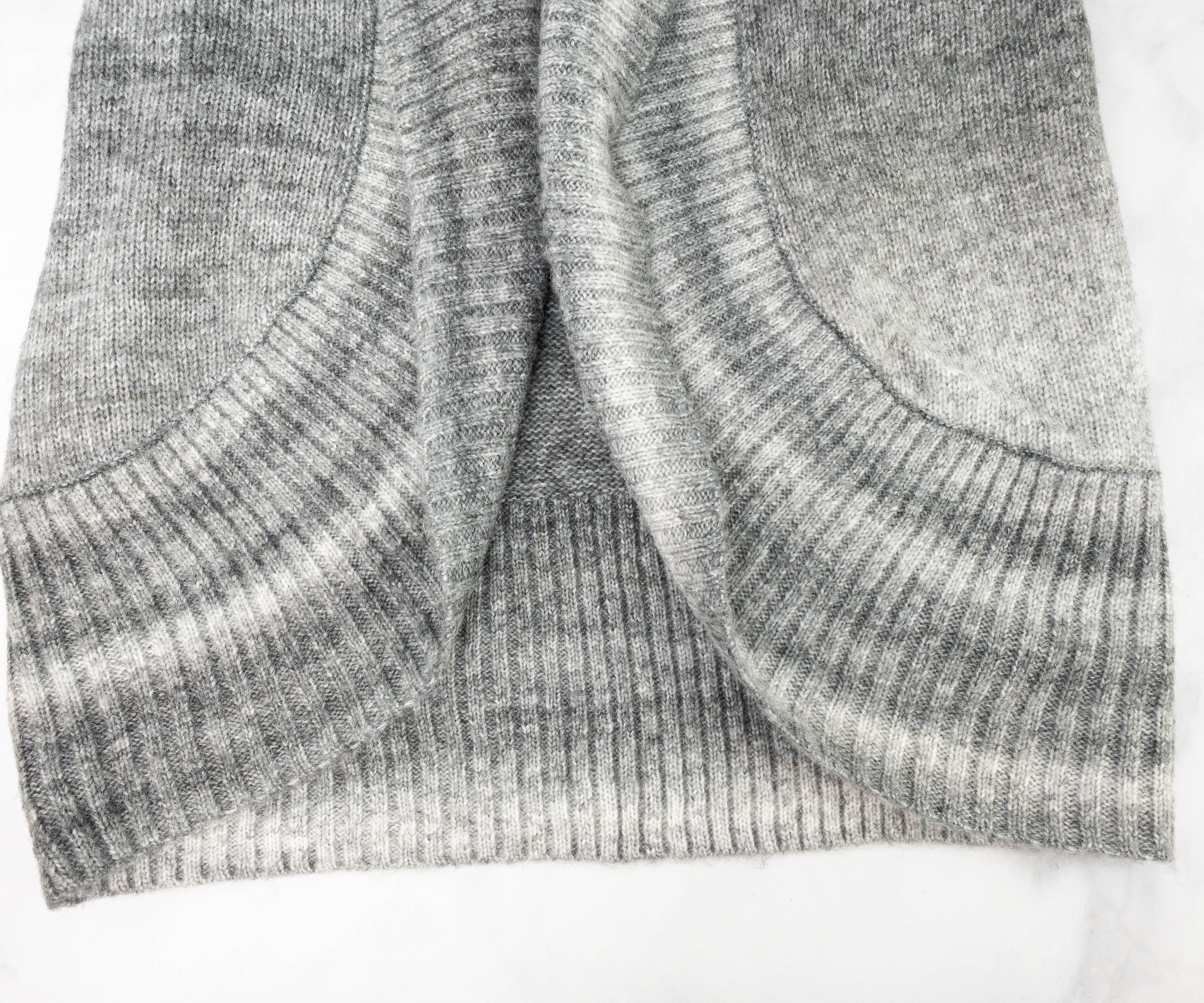 It also features a ribbed design that gives the cardigan a touch of style!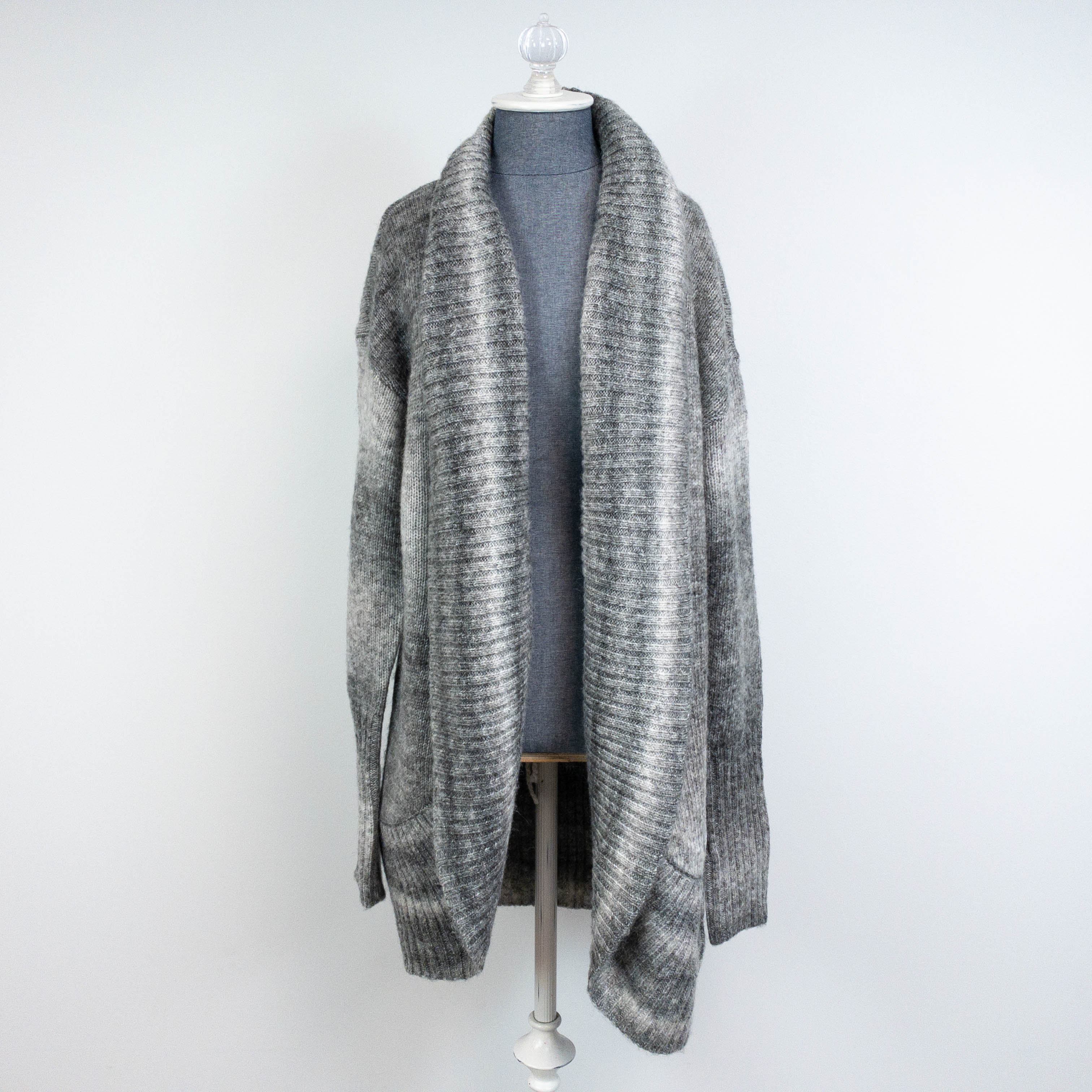 You can style this up with a plain shirt, a pair of jeans, and some boots along with a scarf or you can also dress it down with a simple top and some shorts and it will still look good!
This month's fix includes a bunch of cozy tops, plus a great tote bag that can fit a lot of things because it's so spacious! Among the tops, my favorite is the cardigan because it's easy to style and to layer with other clothing items. The floral top is also cute and a nice alternative to the usual long-sleeved tops for winter. The rest of the season-friendly clothes are right up my alley and I really appreciate that! If you're looking to update your wardrobe but don't have the time to shop, this styling service would be a great help. Your stylist will pick the clothes for you and you can fit them all at home, then send back anything that you don't like using a prepaid mailer. It's so convenient!
What did you get in your Stitch Fix this past month?