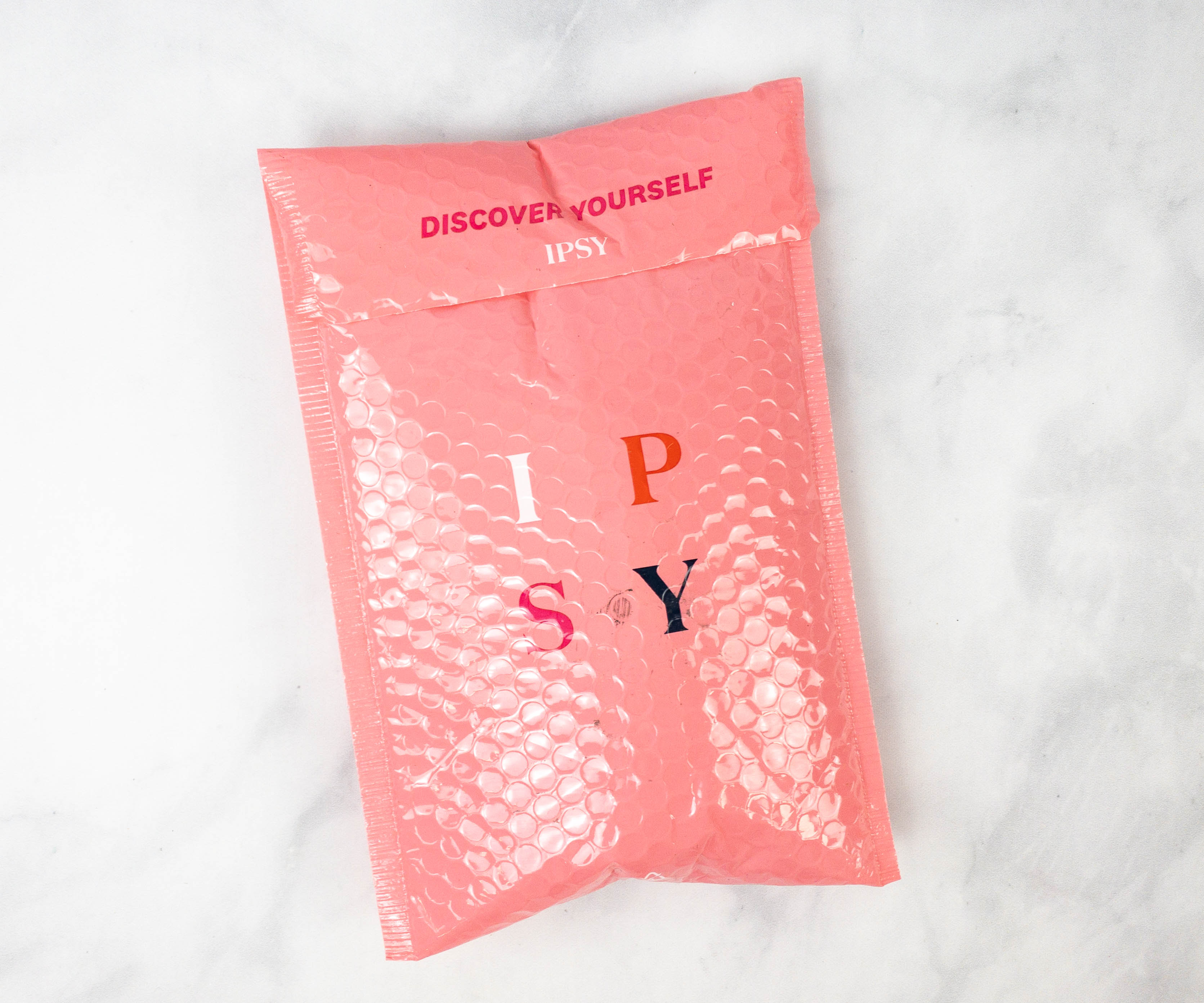 Ipsy is a monthly beauty subscription. You get five makeup, beauty, skincare, and hair care items in a cute bag for $12 a month! It's the most popular subscription box and a great way to sample new colors and beauty brands that you may have never heard of, as well as some of the bigger names. Ipsy also offers a Glam Bag Plus for $25 a month. They have just launched Refreshments and in February they are rolling out the quarterly Glam Bag X.
There are many bag variations every month for Ipsy – log in to your account to check out how-to videos and tips for your products.
IPSY was founded on a singular mission: to inspire individuals around the world to express their unique beauty. Everything we do is to support you on your journey to self-discovery, so you'll feel confident letting your unique beauty shine every day.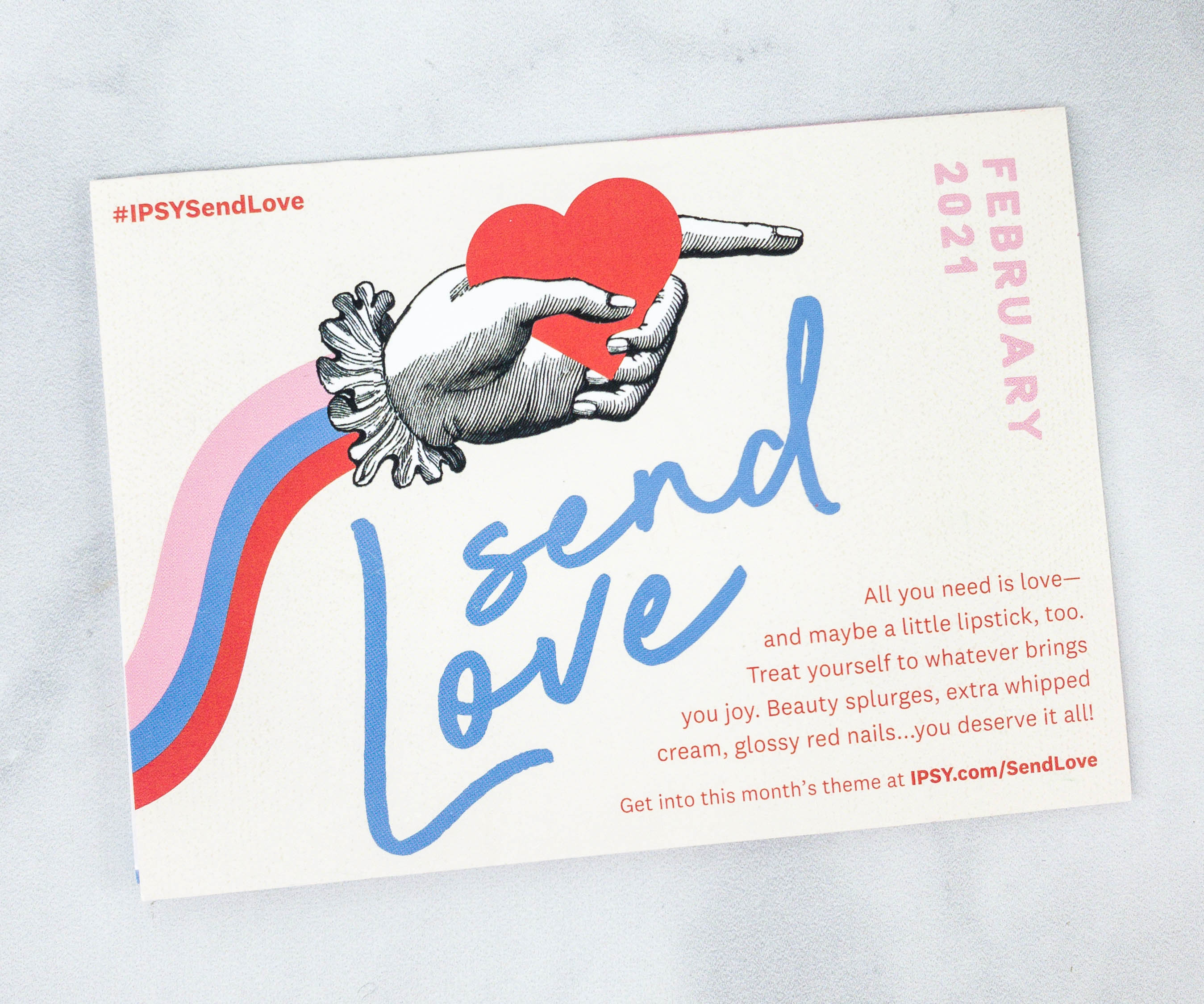 The theme for February is Send Love!
The card encourages us to celebrate Black History Month by supporting Black-owned brands!
Here, Ipsy listed 5 products in my bag, along with a brief description for each of them. It also lists the MSRP for the full sized product.
Ipsy Glam Bag. The pouch this month absolutely stunning! It came in a bright red color with a gold-colored lip accent on the flap!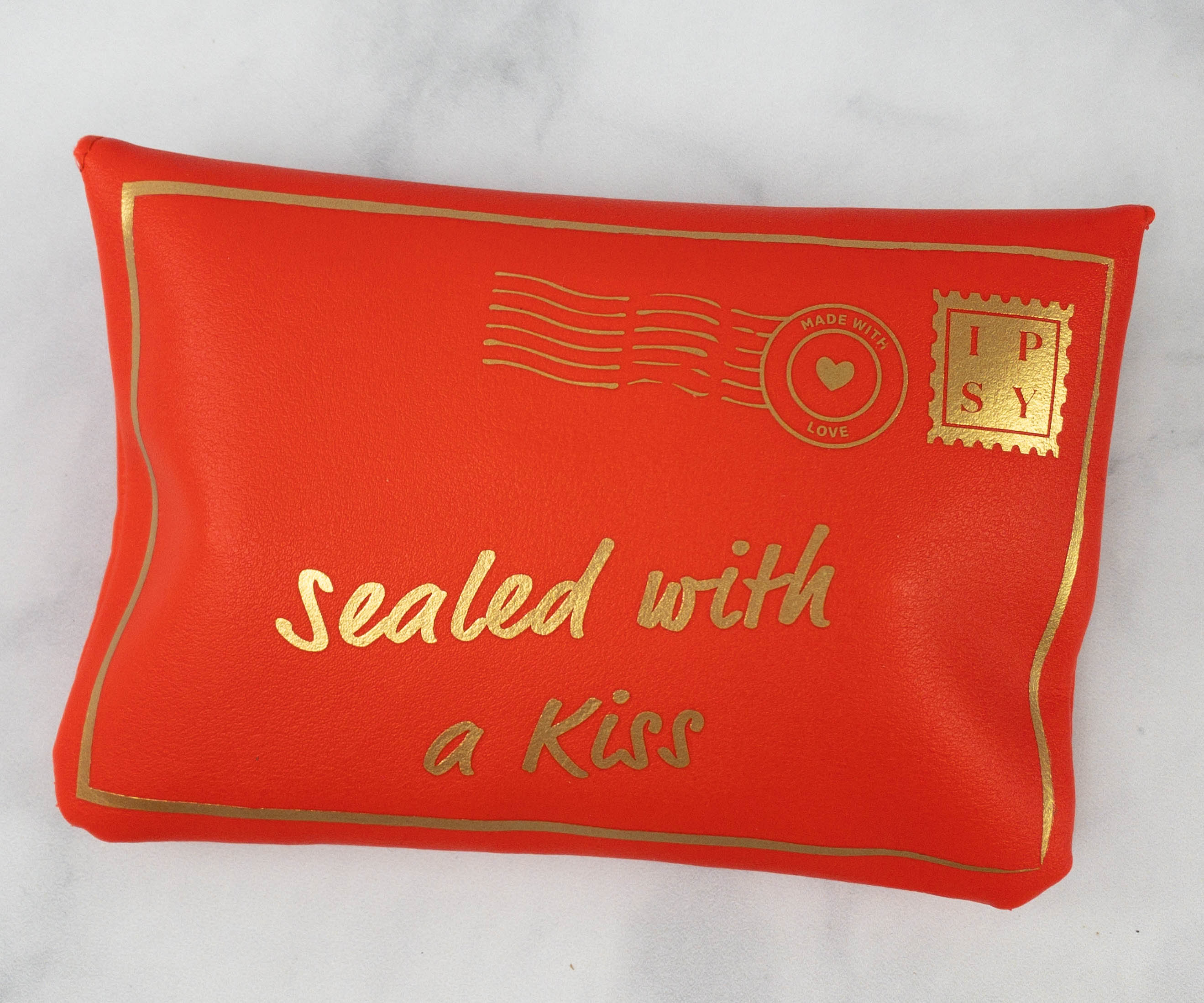 It has a "mail" theme going on, complete with the IPSY Post Stamp. It also says "Sealed With A Kiss" in gold foiled letters!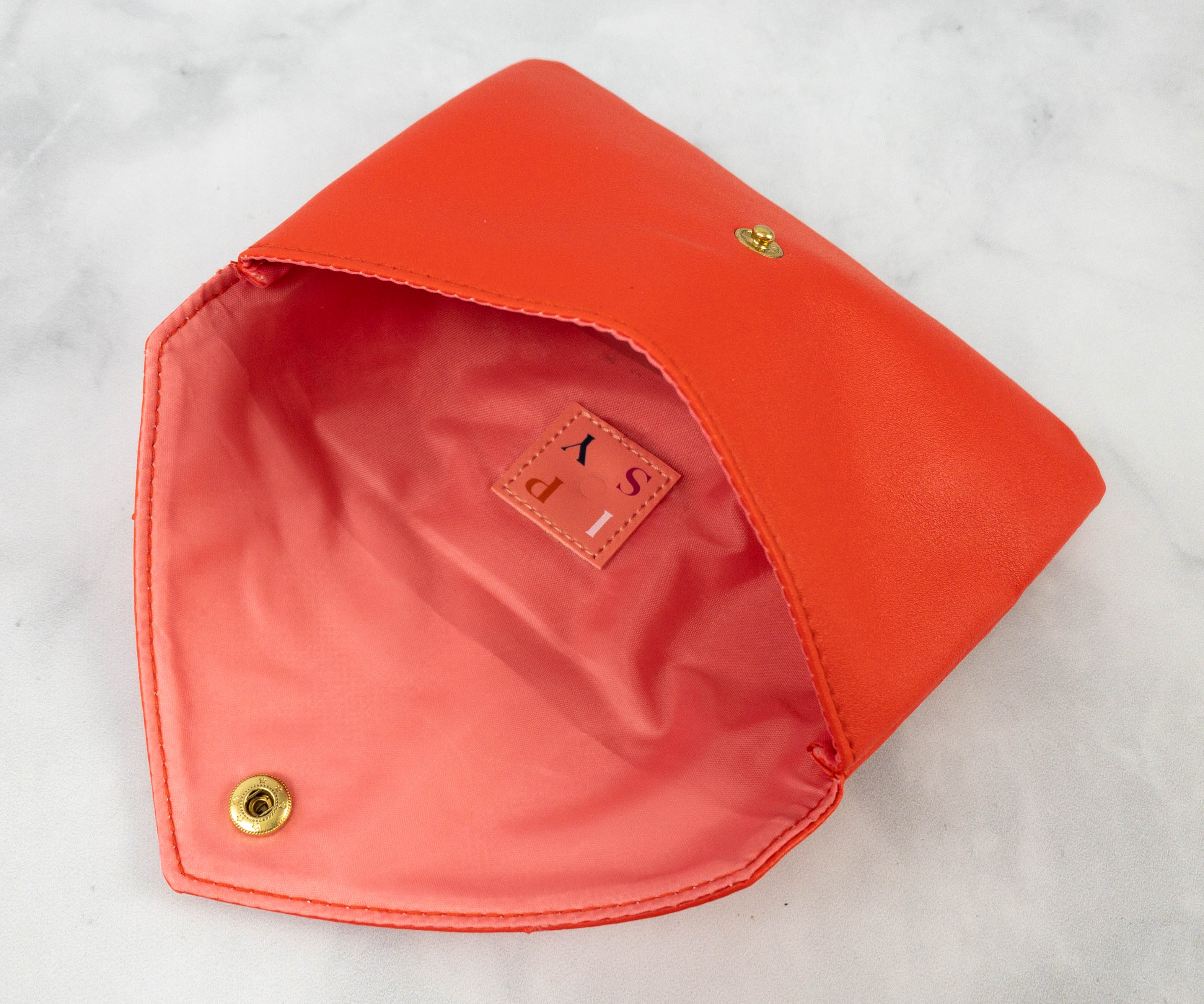 There's also an IPSY logo inside the bag. This pouch can easily be opened and closed through a button snap!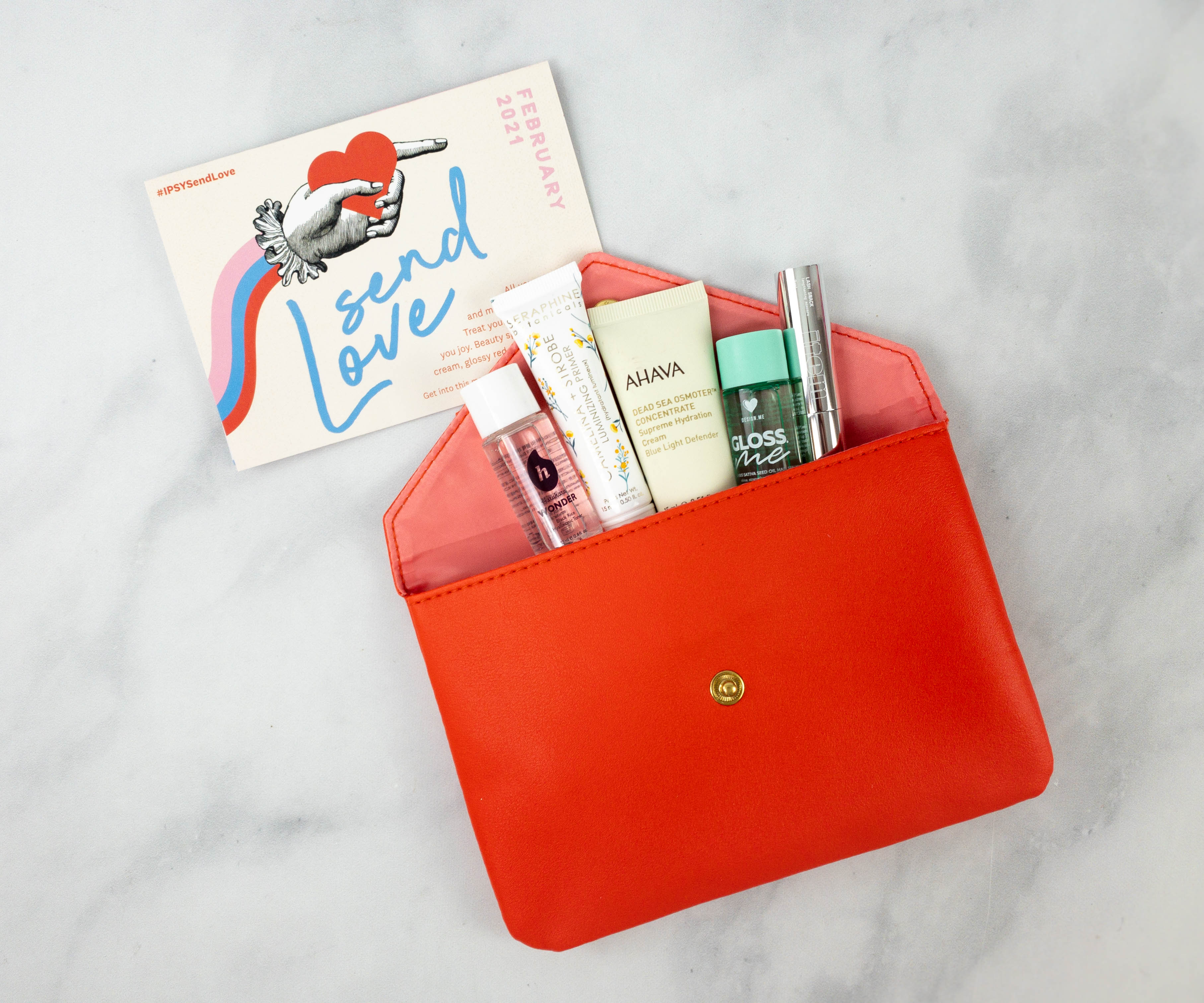 Here's a sneak peek of the items!
Everything in my bag! FYI you can find tips for use and ingredients on the Ipsy app and website.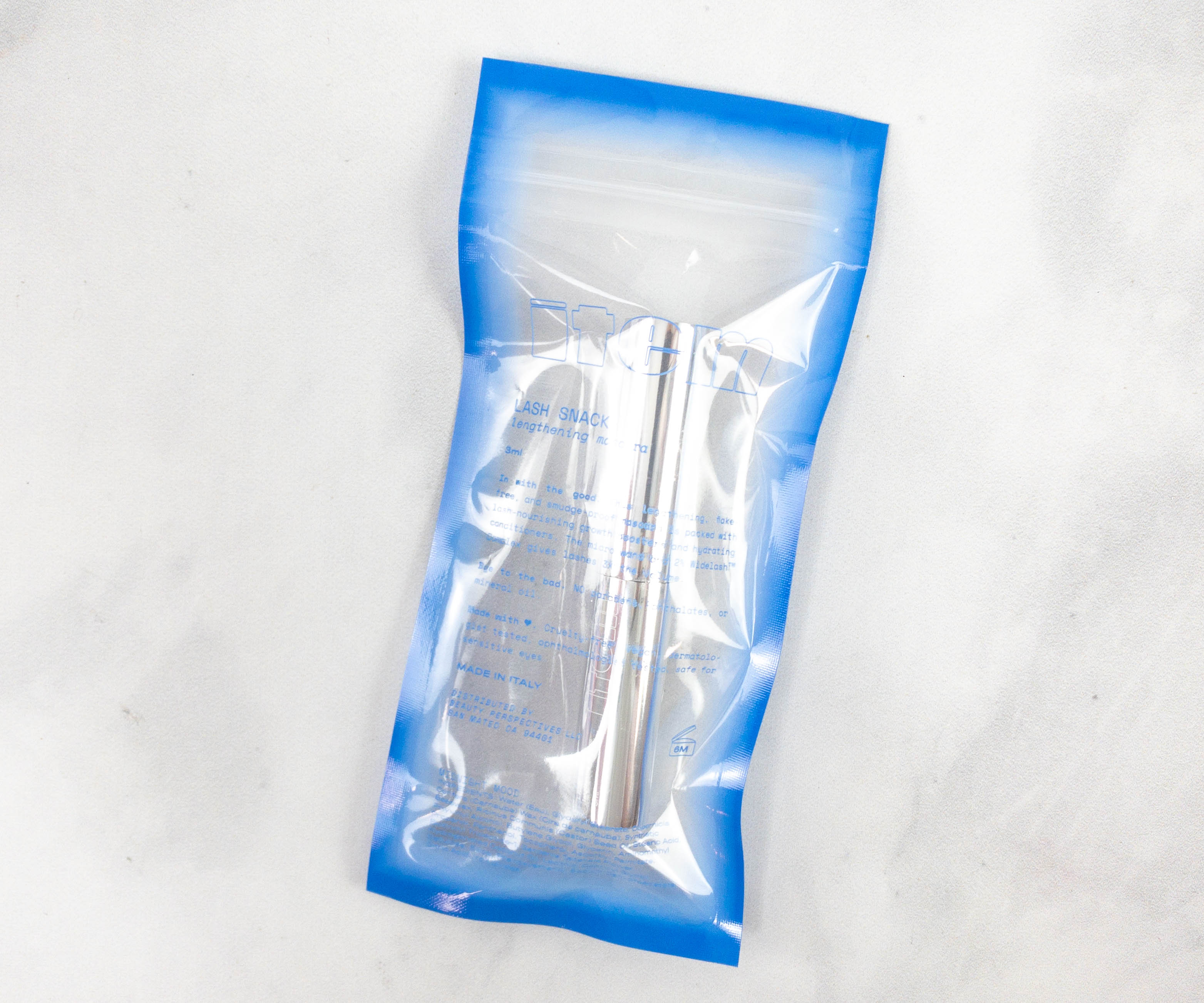 Item Beauty Lash Snack in Midnight Mood ($14) The mascara came in a resealable plastic pouch.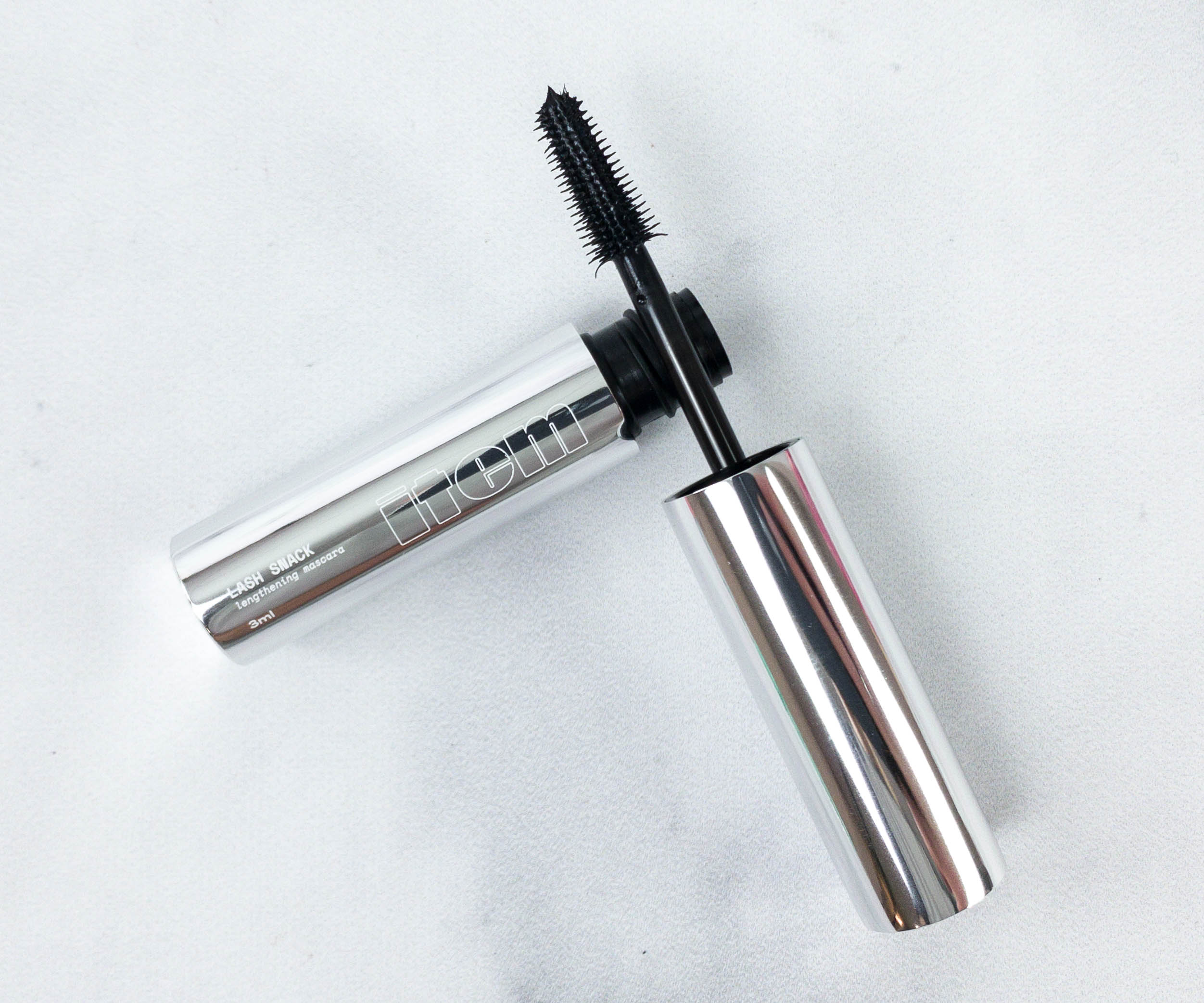 This mascara is good! As promised, it helps lengthen the lashes and also gives it volume. The formula is also smudge proof. Infused with castor seed oil, it even nourishes and hydrates the lash strands!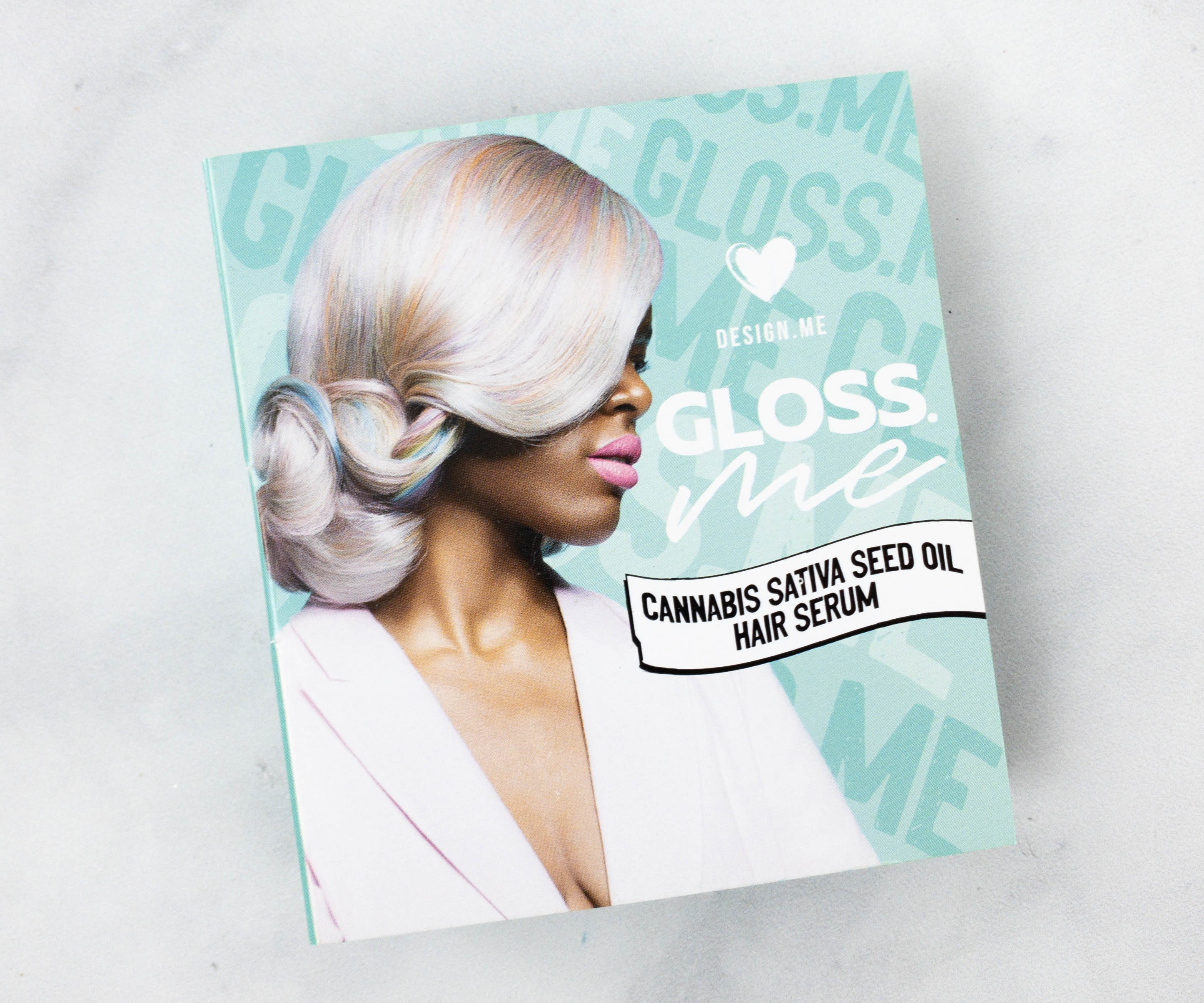 Design.Me Hair Gloss.Me ($3.47) Here's something for the hair, a serum that came in a card stock packaging.
This hair serum is definitely useful for keeping frizz at bay! The formula contains essential fatty acids and vitamins E, A, and C which helps repair dry and damaged hair. It also gives my hair instant shine and moisture. Inside the packaging, they included a 20% off coupon code which can be used for purchases on their website.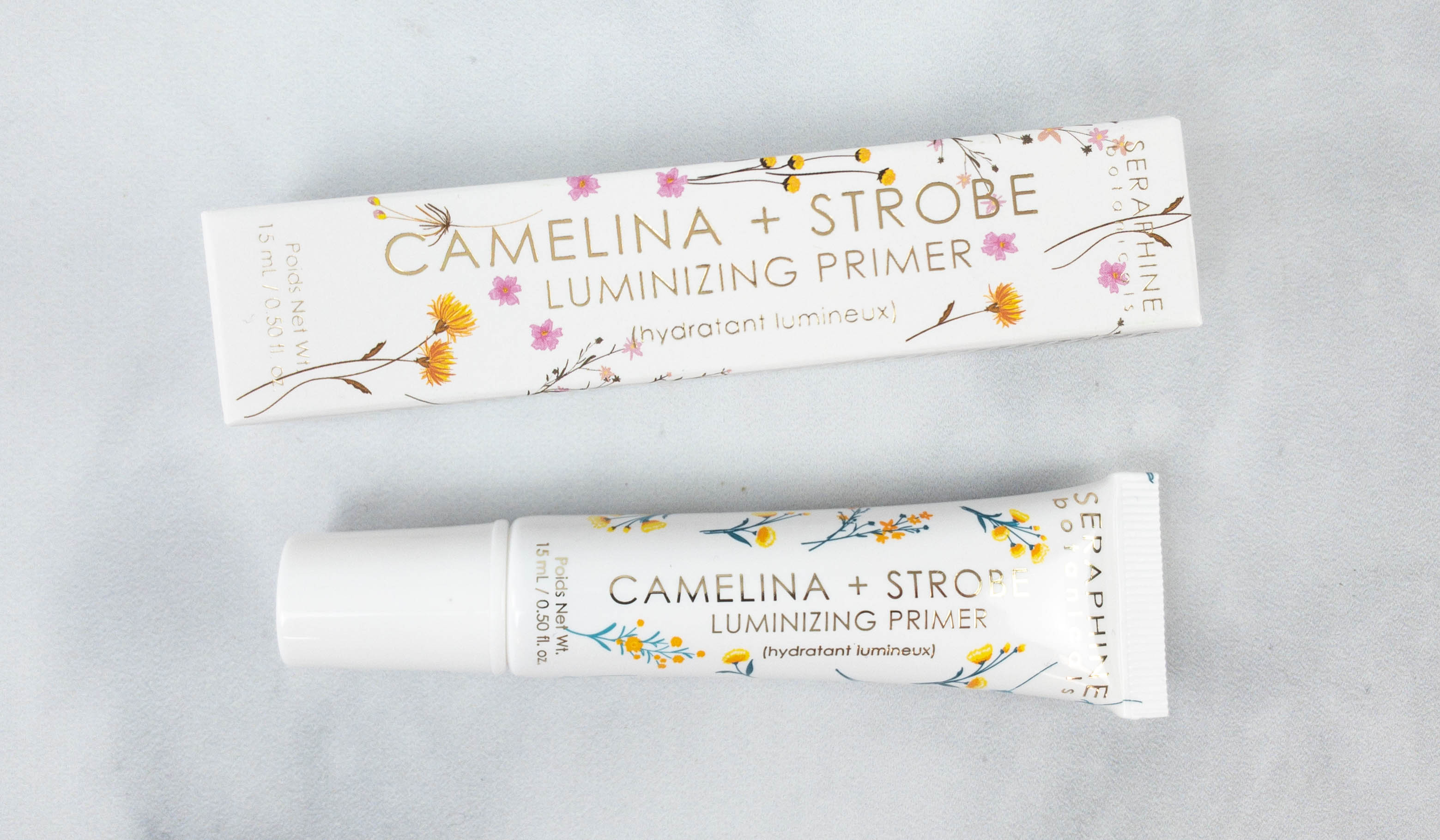 Seraphine Botanicals Camelina + Strobe Luminizing Primer in Peach Glow ($18) I love how this primer instantly makes my skin look fresh! Formulated with camelina seed oil, this primer gives the skin a radiant glow while making sure the make-up you put over it stays in place! A good base is always important when wearing a full face of make-up so having an awesome primer like this one is a must.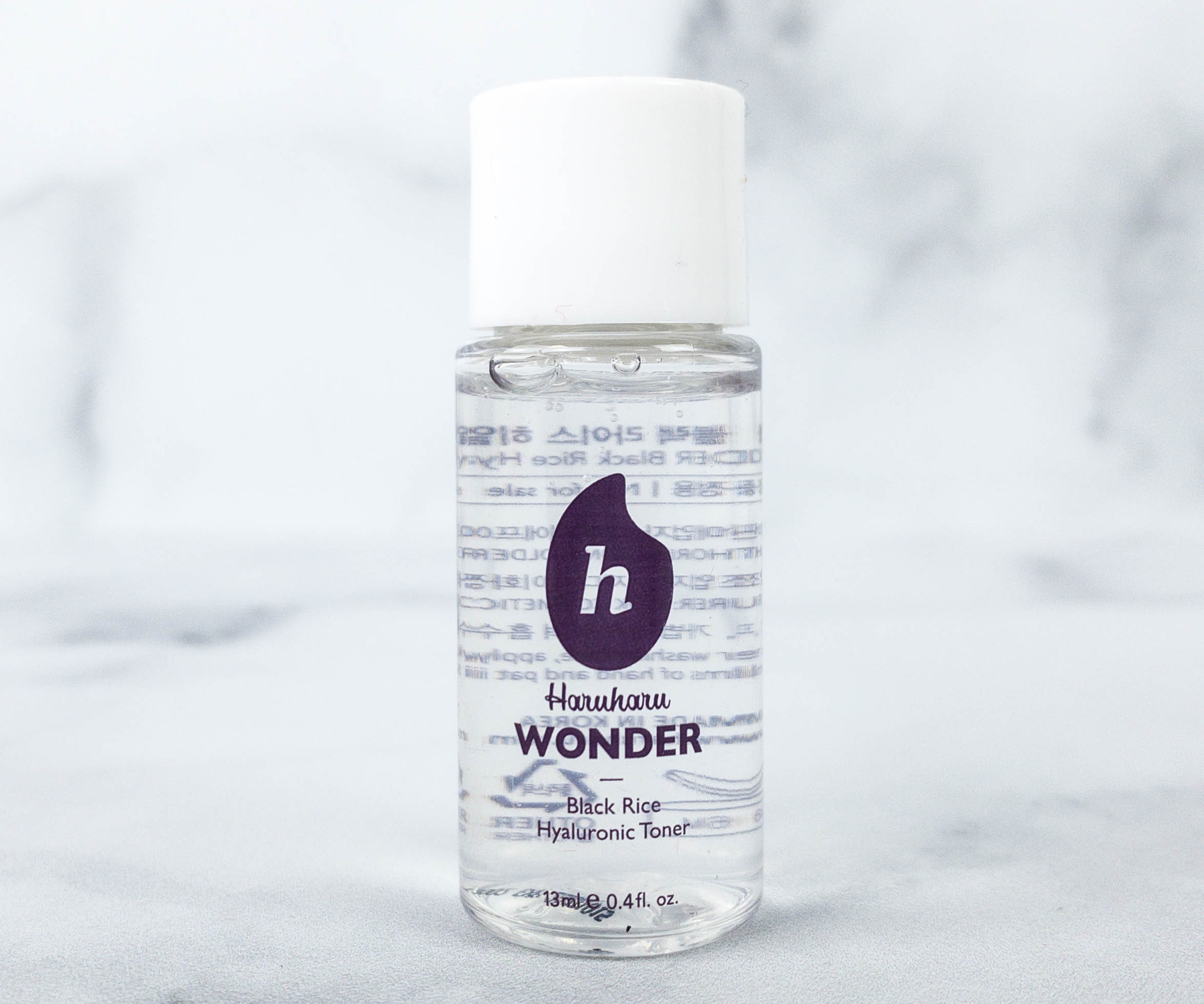 HaruHaru Black Rice Hyaluronic Toner ($1.76) This toner helps cleanse the skin and also provides a boost of hydration at the same time! It contains hyaluronic acid which is known to have hydrating properties, plus a blend of naturally fermented black rice and bamboo shoot extracts that help strengthen the skin's barrier. With consistent use, it promises to keep the skin firm and radiant.
AHAVA Dead Sea Osmoter Concentrate Supreme Hydration Cream Blue Light Defender ($22.5) It's a lightweight moisturizer that delivers intense hydration to the skin, making it smooth and plump! The formula also protects the skin from the effects of blue light and helps minimize signs of aging like fine lines and wrinkles. It's gentle enough to be used day and night!
I love discovering new skincare and makeup items to love through IPSY! This month, I fell in love with the mascara because of how it made my eyes pop by lengthening and volumizing my lashes. I wasn't really expecting much since I'm not a fan of the packaging but the product itself is really good! The primer is also great because it leaves my skin radiant and glowing under makeup. I received over $55 worth of items and I'm happy because it's more than 4 times higher than the price paid for the subscription!
What did you get in your Ipsy this month?