NatureBox is a monthly snack delivery membership. When you sign up, your first 30 days are FREE, then it's $30 per year for membership. Membership perks include 40% off orders, free shipping in the continental U.S. on all orders of $25 or more, credit for snacks you don't like, and a $5 store credit every month.
All of NatureBox snacks do not contain artificial ingredients, high fructose corn syrup, or hydrogenated oils. Except for their beef and turkey jerky, everything else is vegan and vegetarian friendly. NatureBox snack categories include Chips & Crackers, Cookies & Bars, Dried Fruits, Popcorn & Pretzels, Nuts & Clusters, Snack Mixes, Jerky, Breakfast, Coffee, and their newest offering: Wellness Snacks, which includes CBD snacks and Maca snacks.
After a 30-day free trial, if you don't make back your membership fee in savings during your first year, they promise to make up the difference in store credit upon renewal.
DEAL: Get 25% off your first order! Use this link to sign up and coupon code NATUREBOX25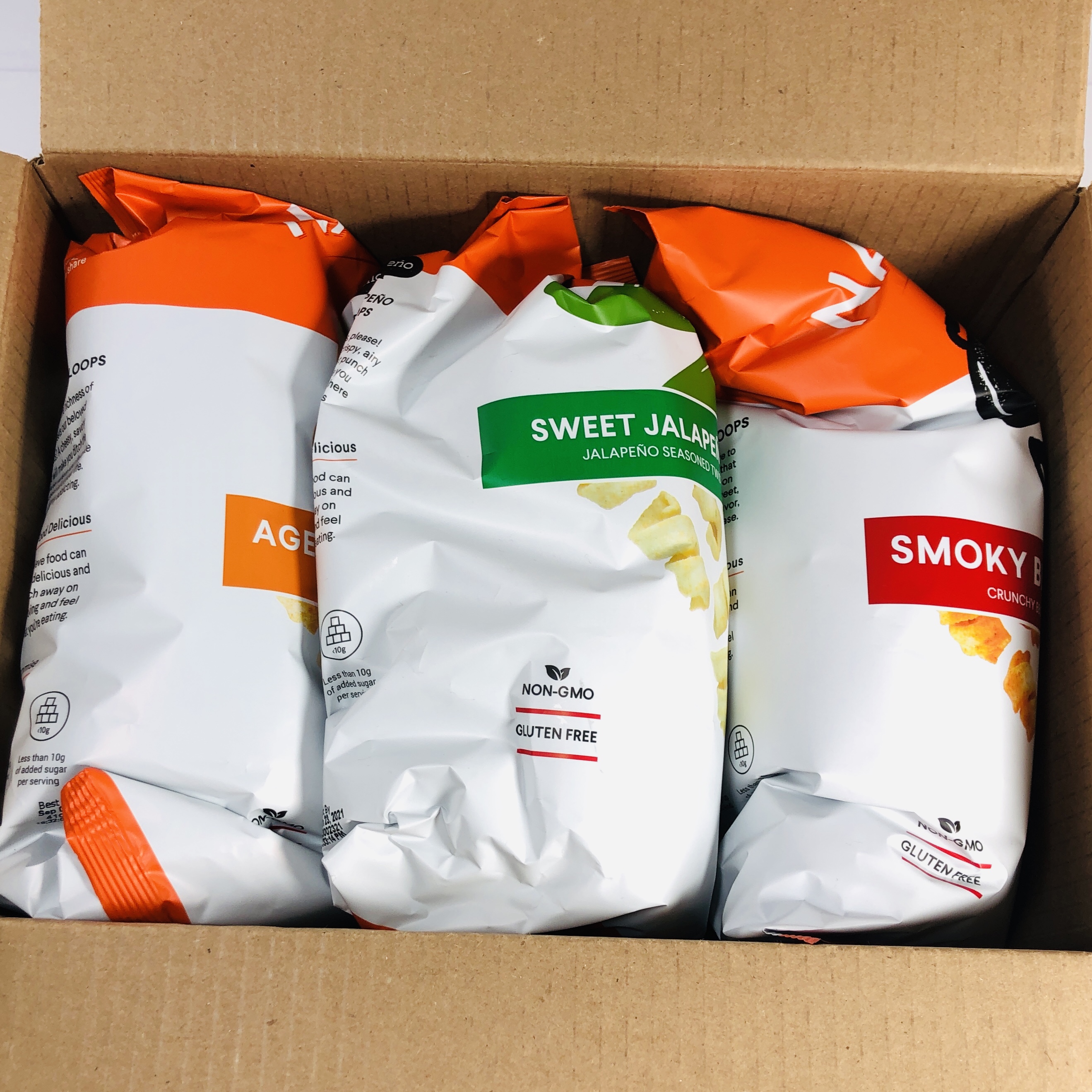 In case you don't like a particular snack, you can contact them within 90 days and they will provide a store credit for the purchase price of the snack (excluding bulk purchases and wellness snacks).
Everything in our box! Remember, you'll be picking out exactly what you want in your box! This is my first time trying snacks from NatureBox, I can't wait to get started!
Naturebox Smoky BBQ Lentil Loops ($7.49; $5.99 if member) I was a little skeptical about this snack. Lentil chips? Hmm.
Lentil flour and potato starch provide the body while spices add the um spice.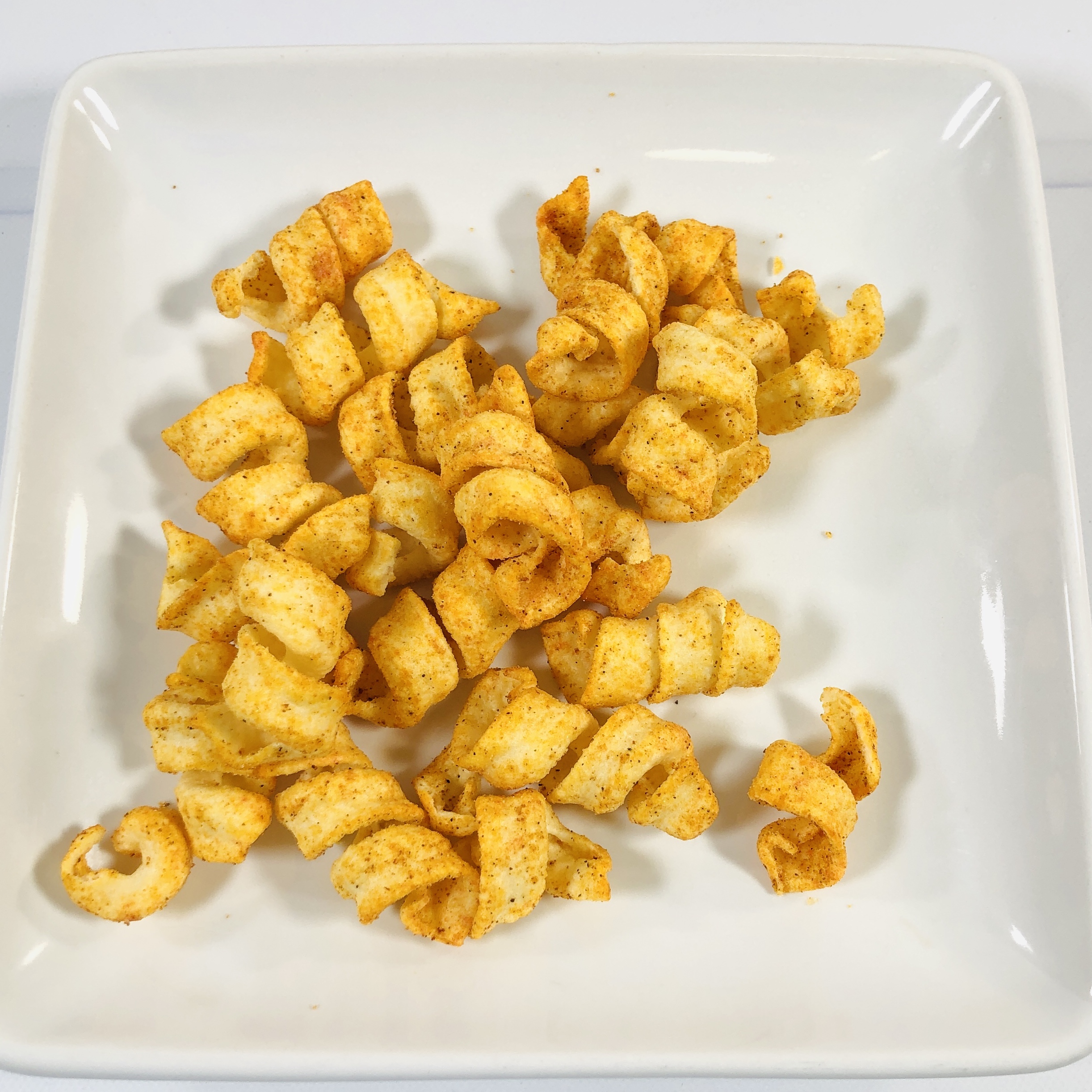 I could eat these all day long. The BBQ flavor is perfect and has that smoky note and a little sweetness too. The texture is interesting and I really like it!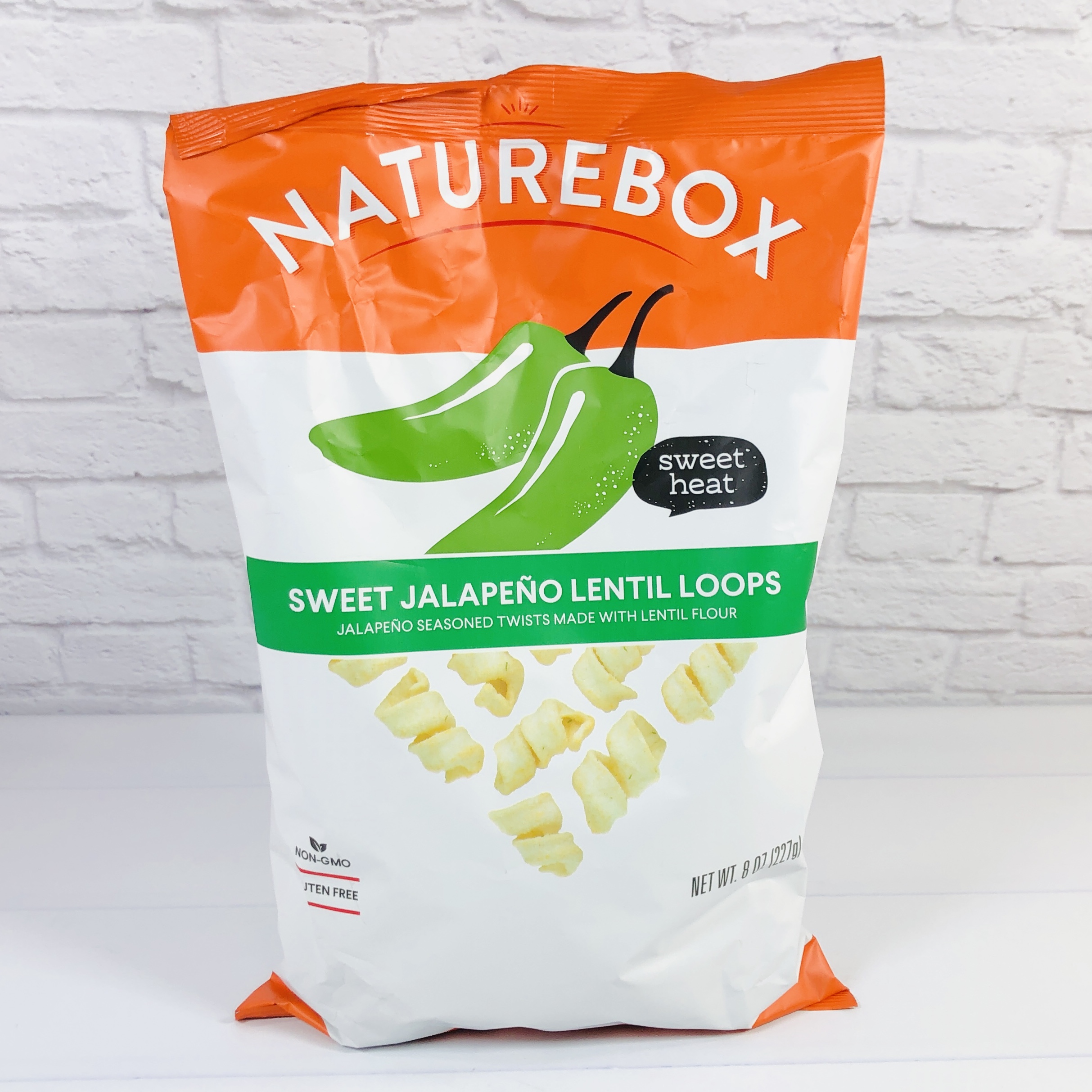 Naturebox Sweet Jalapeño Lentil Loops ($7.49; $5.99 if member) Now that I have been initiated into lentil loops I can't wait to try all the flavors!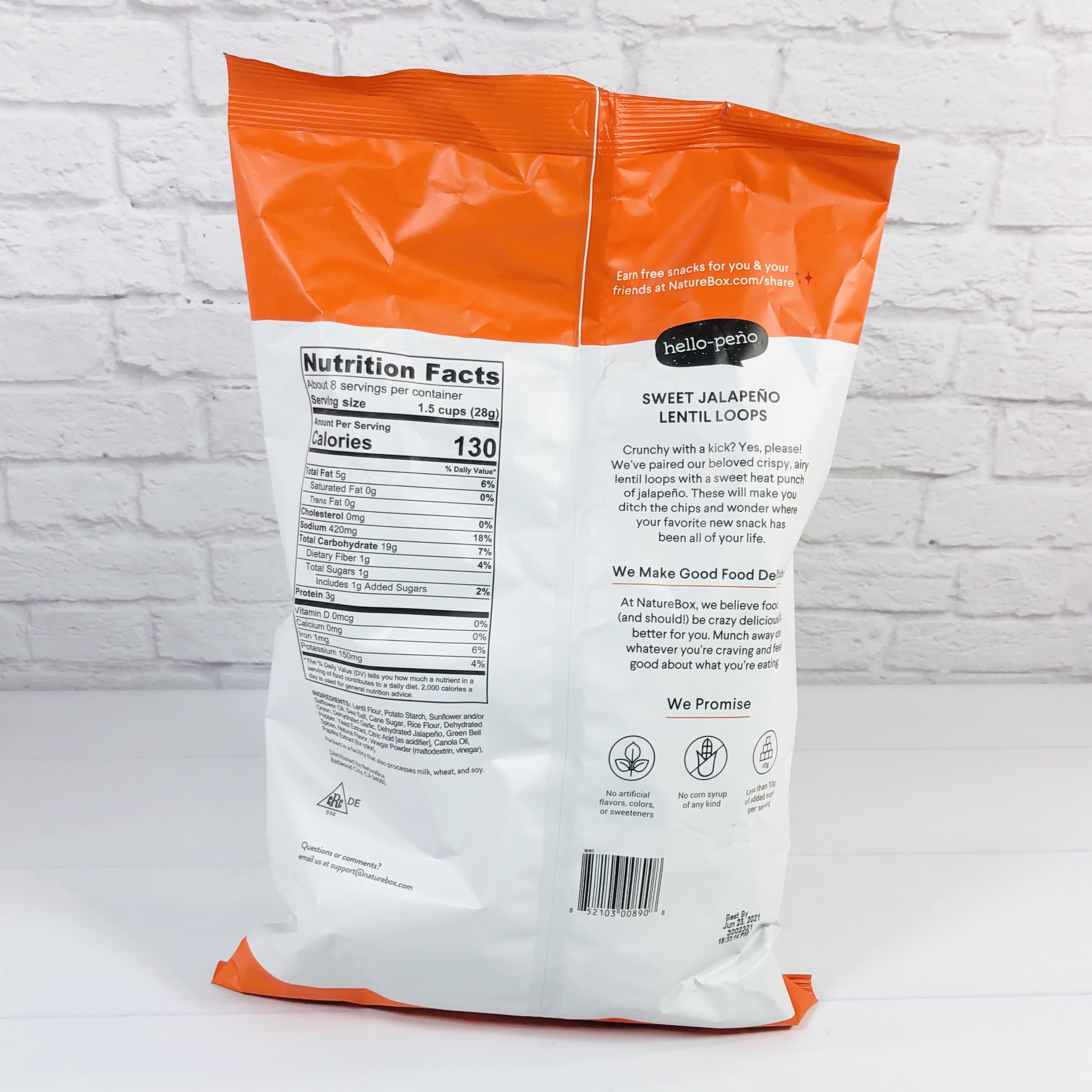 Lentil flour is the first ingredient plus it has potato and rice starch, spices, sugar, and salt.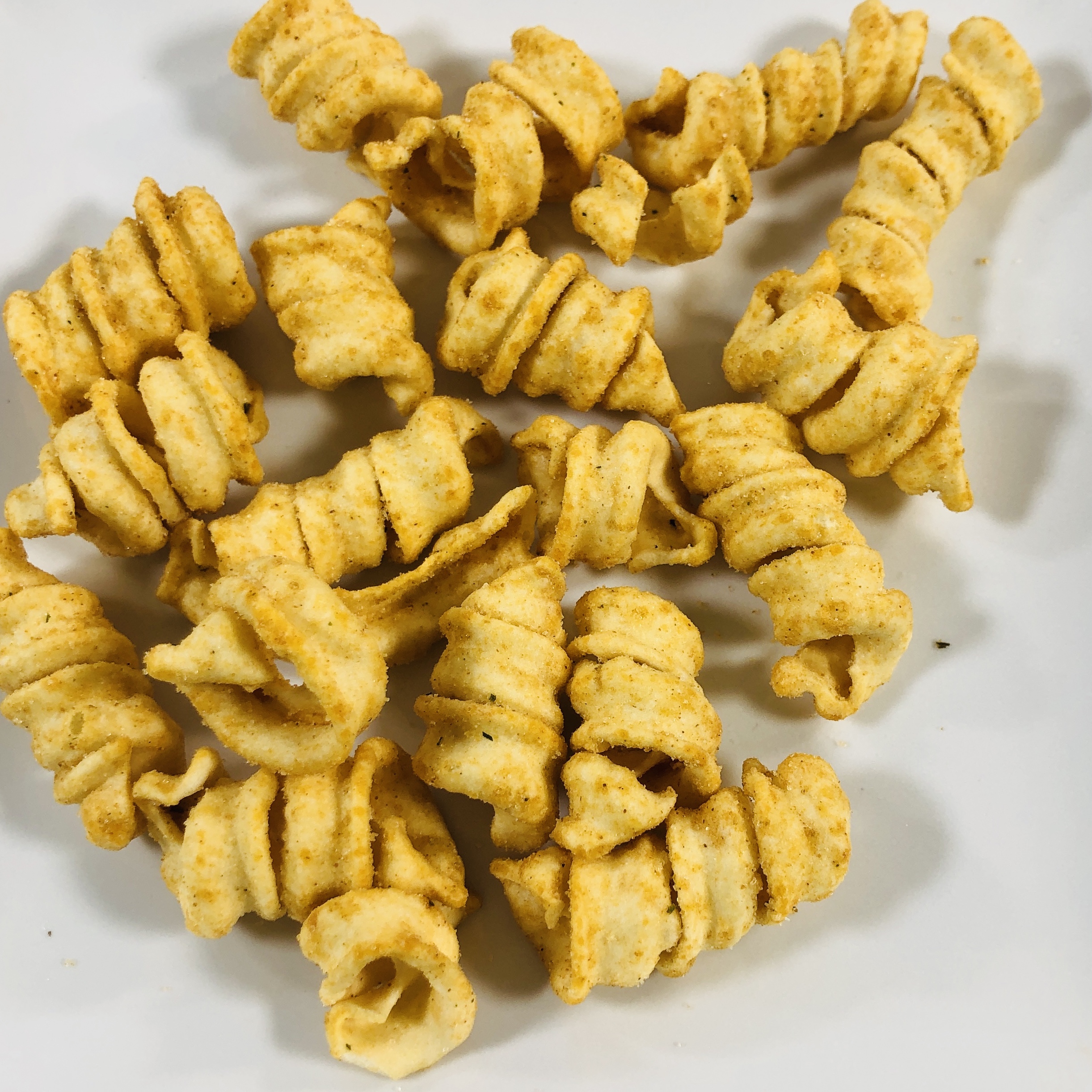 Let me tell you something, the heat is on! These have a texture that reminds me of raw ramen noodles but the flavor is unique and very spicy, just a hint of sweetness. I loved these!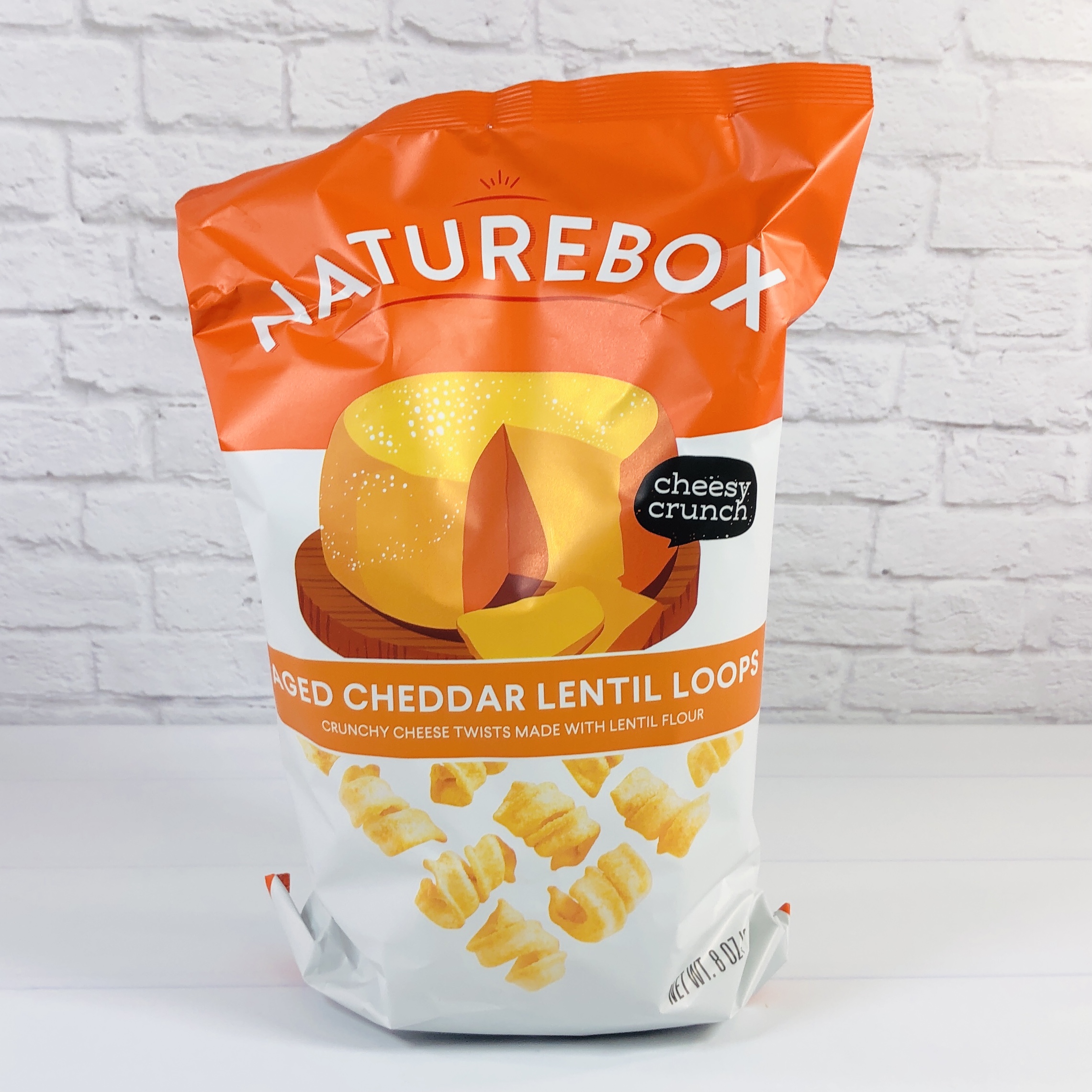 Naturebox Aged Cheddar Lentil Loops ($7.49; $5.99 if member) A third bag of lentil loops really let's me try so many different flavors so I can narrow it down to my favorite.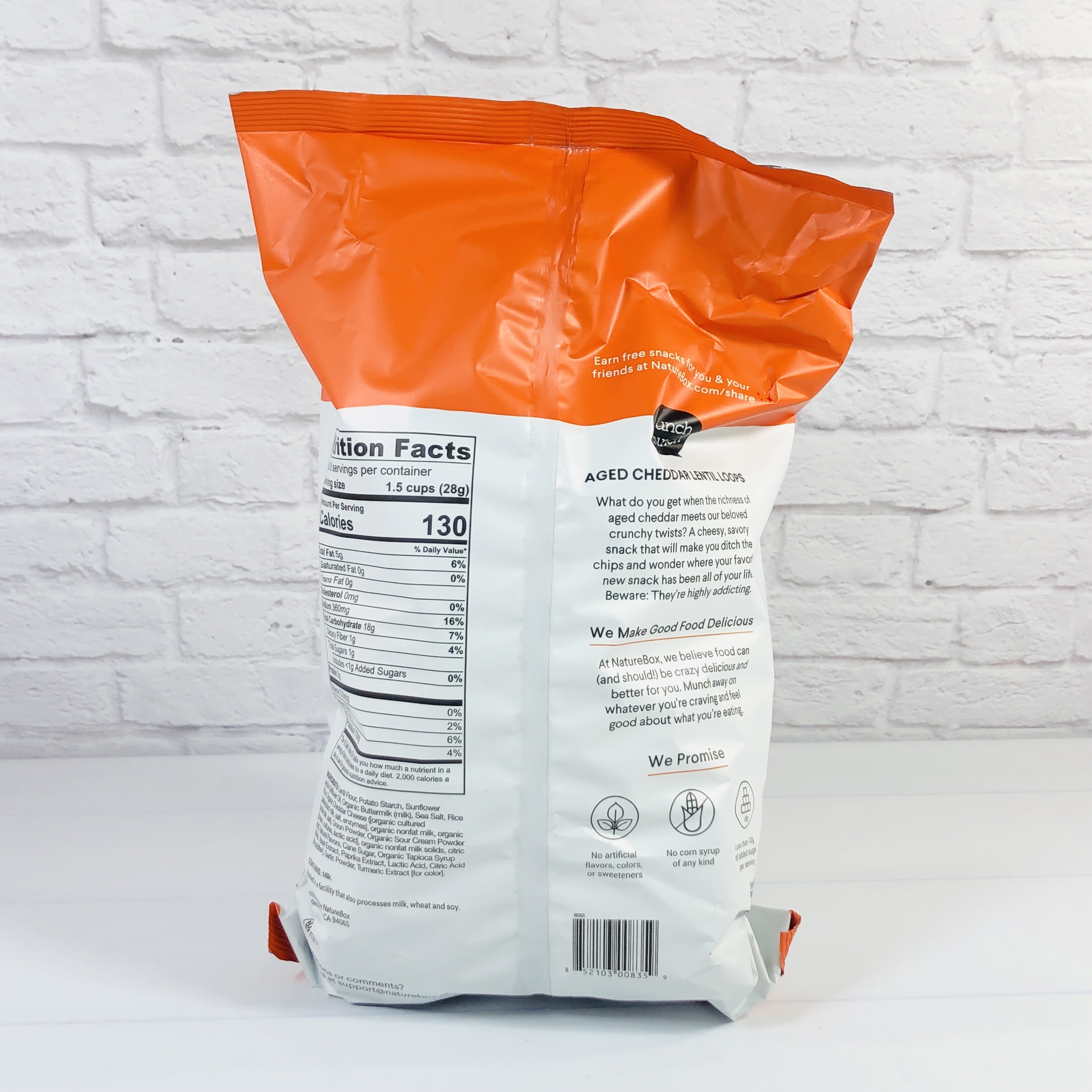 These are also made with lentil flour and potato starch and they are flavored with aged cheddar and spices.
Once again, I am happy with both the texture and flavor! This one is different from other cheesy flavored snacks, more like cheese and sour cream and onion combined. Perfect for a sandwich side or for movie night.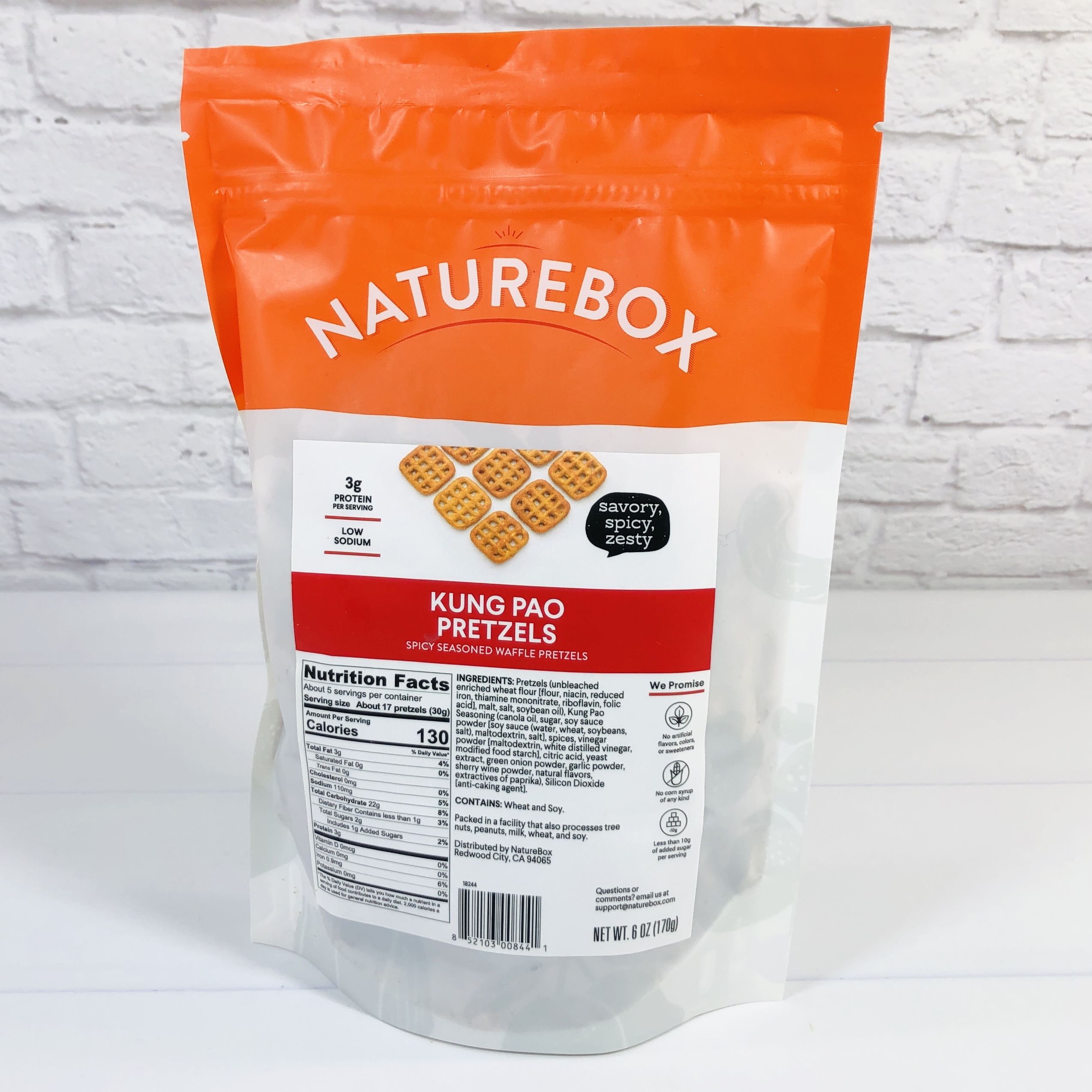 Naturebox Kung Pao Pretzels ($5.99; $4.99 if member) There are 5 servings of 17 pretzels each in this bag, if you can pace yourself that is.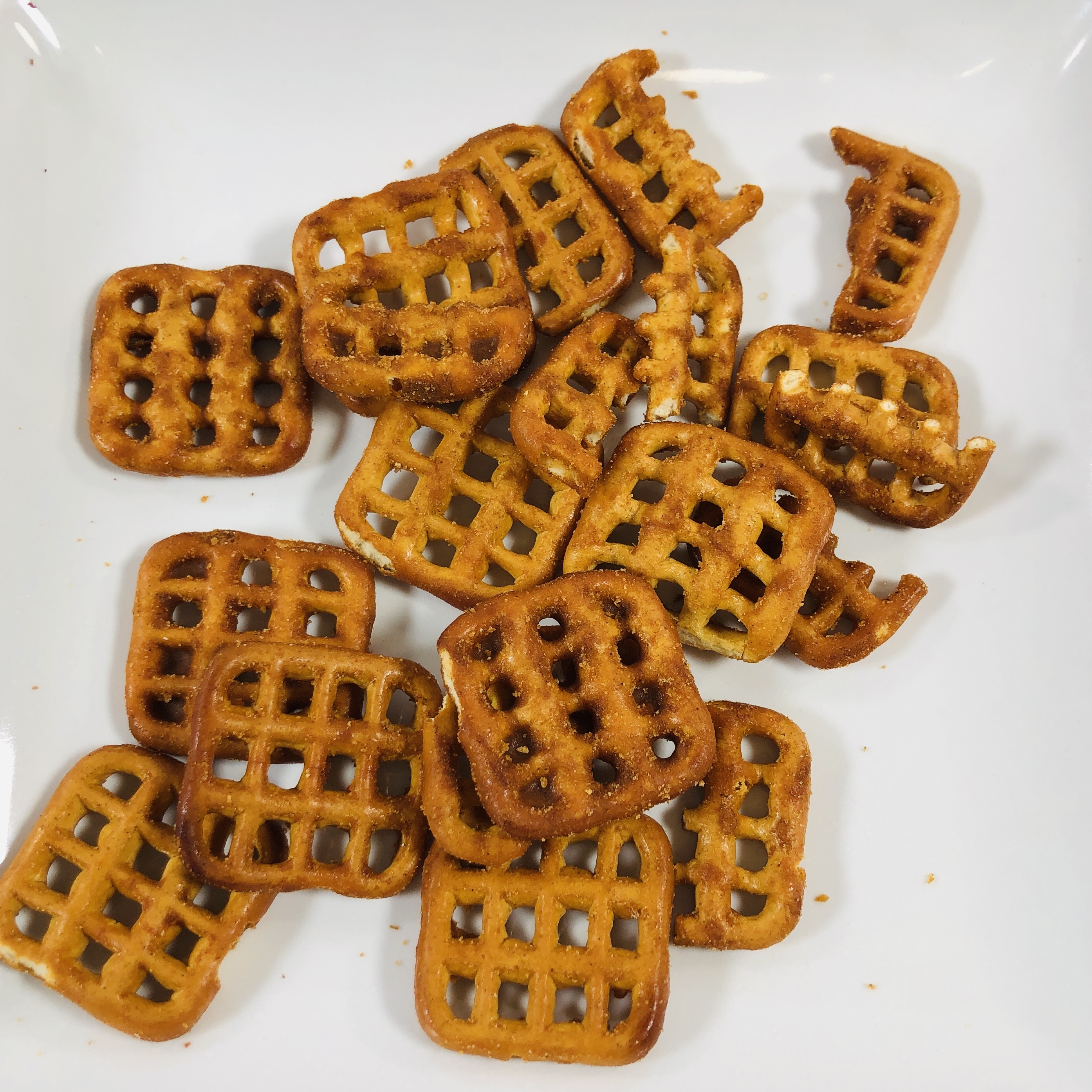 They really put the POW in Kung Pao! These were definitely spicy and with a hint of sweetness plus of course a tanginess was in there too. My daughter eats a handful every night and every single time she tells me how much she loves the flavor.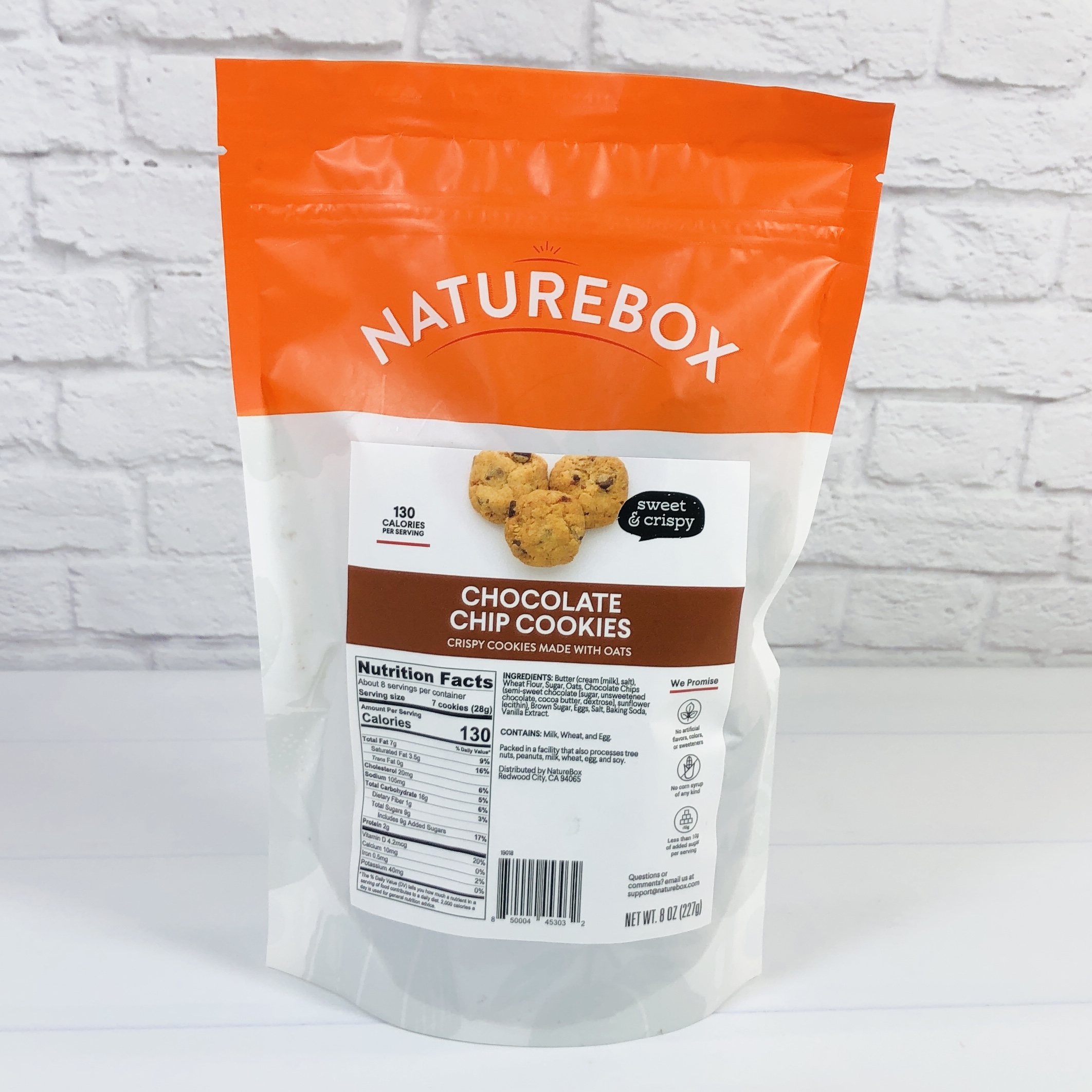 Naturebox Chocolate Chip Cookie ($7.99; $5.99 if member) There are 8 servings of 7 cookies each in this bag.
These are mini cookies and they are crispy, sweet, and caramelized with hints of chocolate. My favorite recipe that I usually bake has oats so this reminded me of my home baked cookies.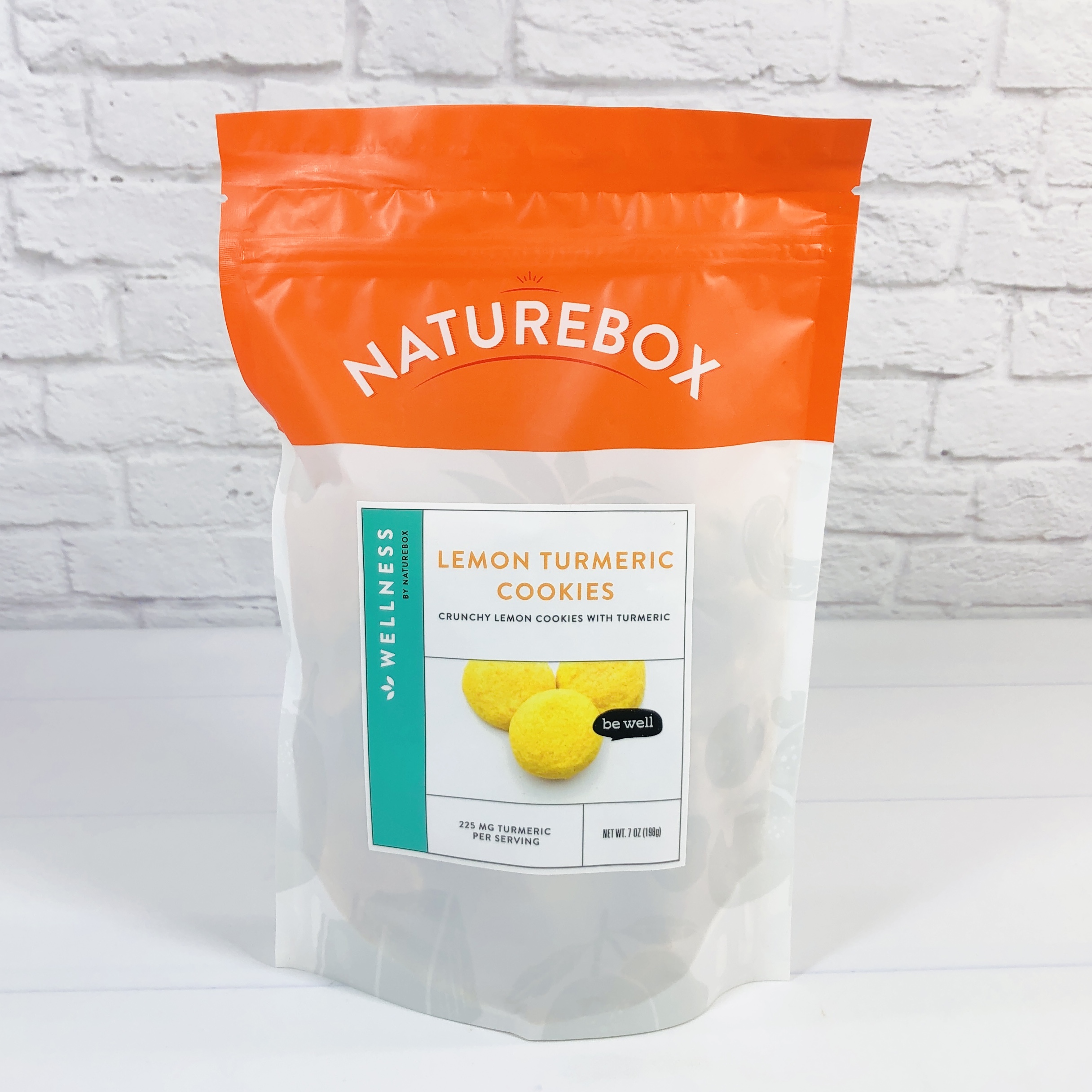 Naturebox Lemon Turmeric Cookies ($9.99; $6.99 if member) These have a short but sweet list of ingredients that make for super tasty cookies.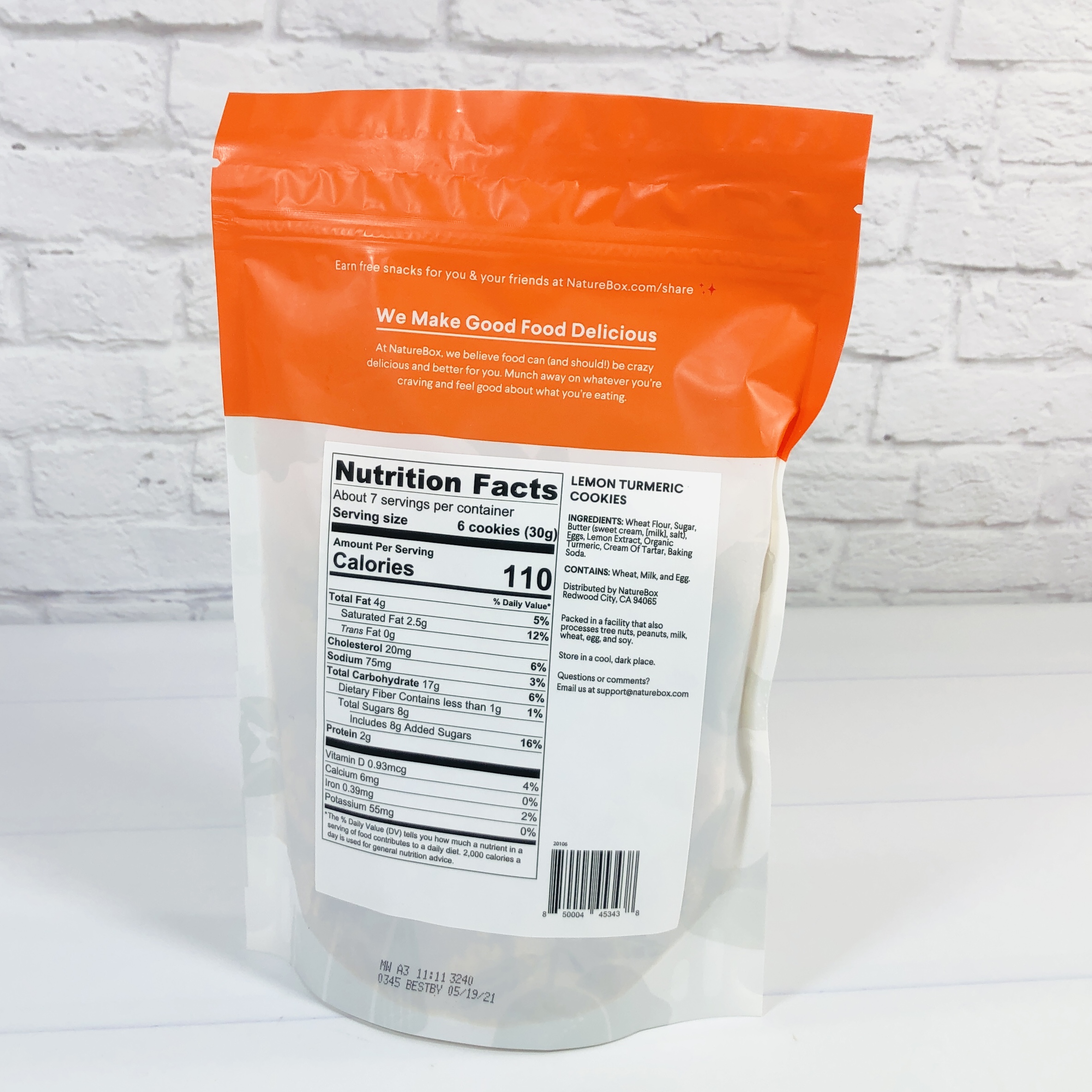 There are 7 servings of 6 cookies each in this bag.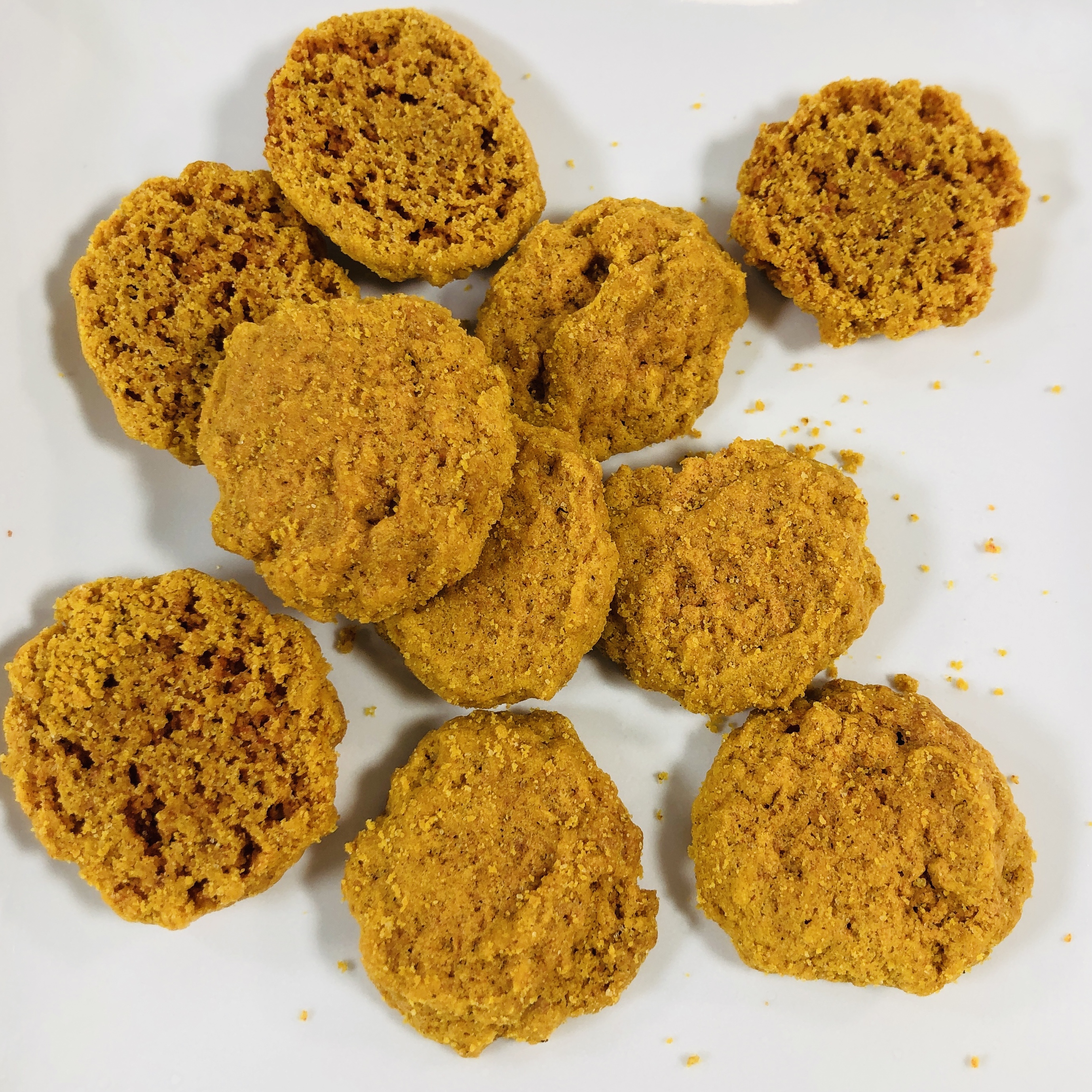 These have a darker orange interior thanks to the turmeric. The cookies are crispy and have a hint of lemon and caramelized sugar.
Naturebox Peanut Butter Maca Cookies ($9.99; $6.99 if member) Peanut butter cookies are so easy to make and yet I never bake them up for some reason or another.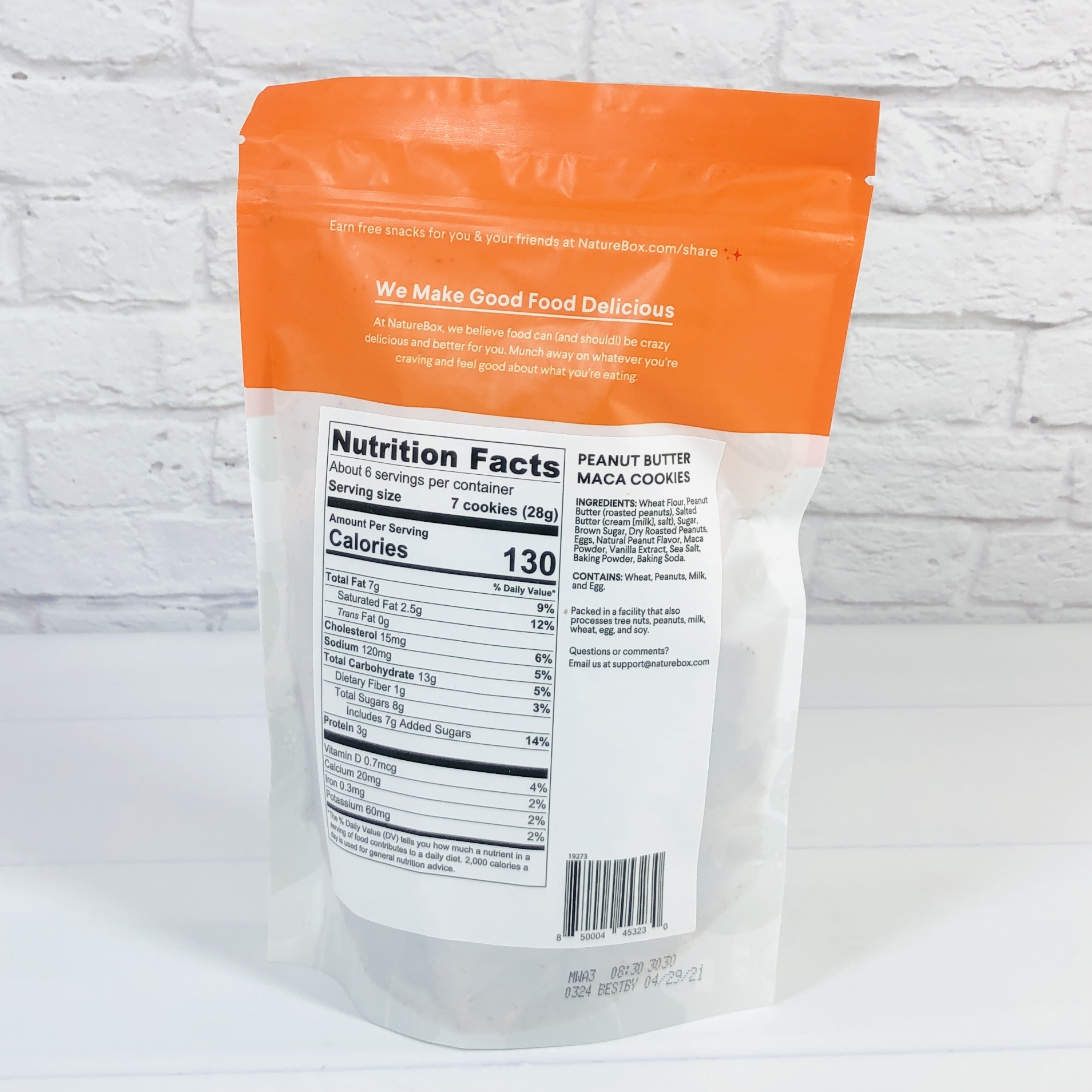 Reading the ingredients is like reading my recipe, it's got all of the same food stuffs with the exception of maca powder, which is an adaptogenic plant. It is believed that maca may give an energy boost and is also said to improve prostate health, relieve menopause symptoms, and increase libido!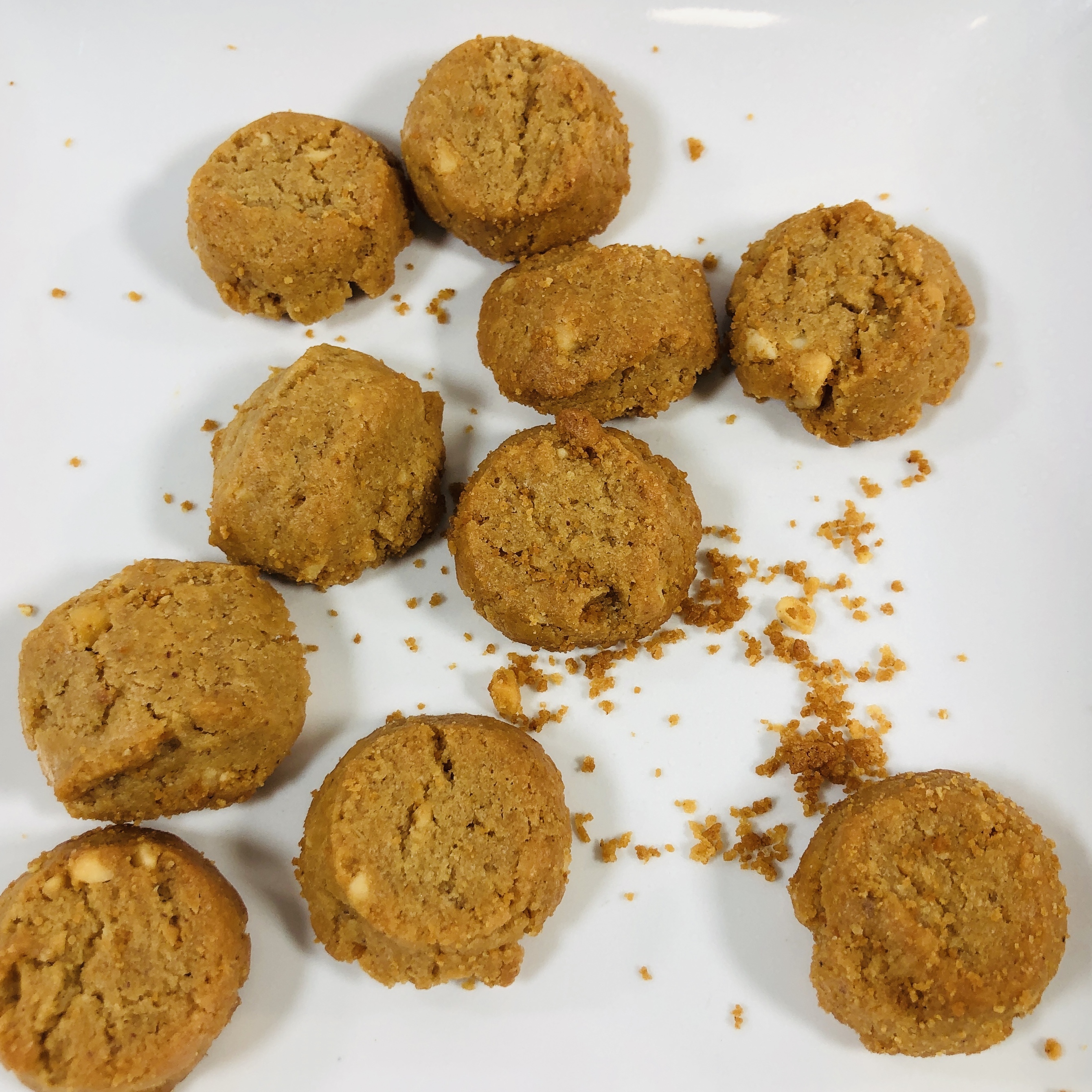 These are not too sweet and would be equally good with milk or alongside tea or coffee. They are crispy and crumbly and I didn't detect any herby nuances, and in fact it wasn't super nutty either.
Naturebox Banana Maca Energy Bites ($11.99; $9.99 if member) is a portable treat that has the flavor of banana bread but with less calories.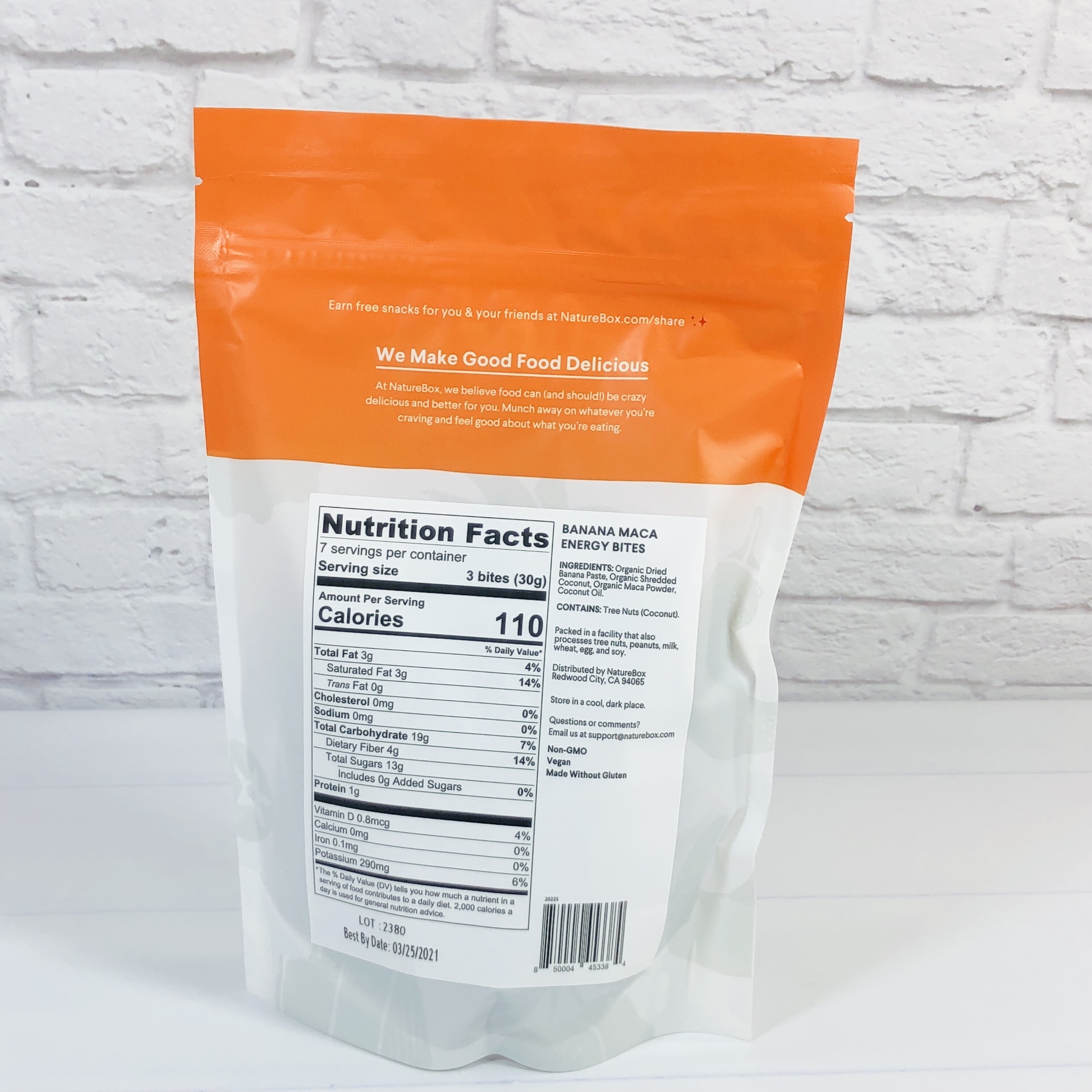 It's made with banana, shredded coconut, maca powder, and coconut oil.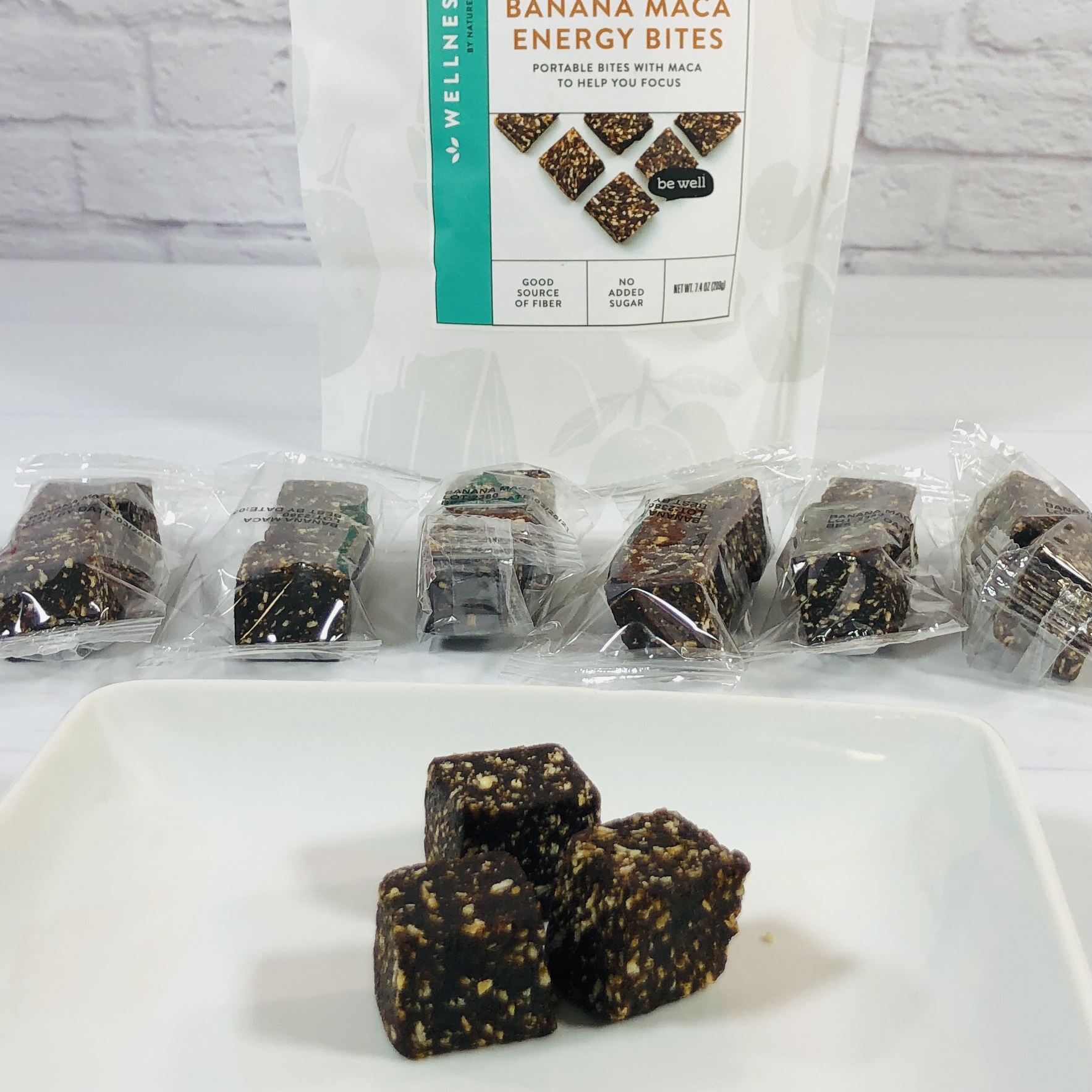 There were 7 individually wrapped trios and they smelled like banana when I opened it up. I liked the flavor, it reminded me of banana baby food, very sweet, and I like coconut, it made it chewy. My daughter disagreed and didn't like it at all. Overall it reminded me of a date bar type of snack.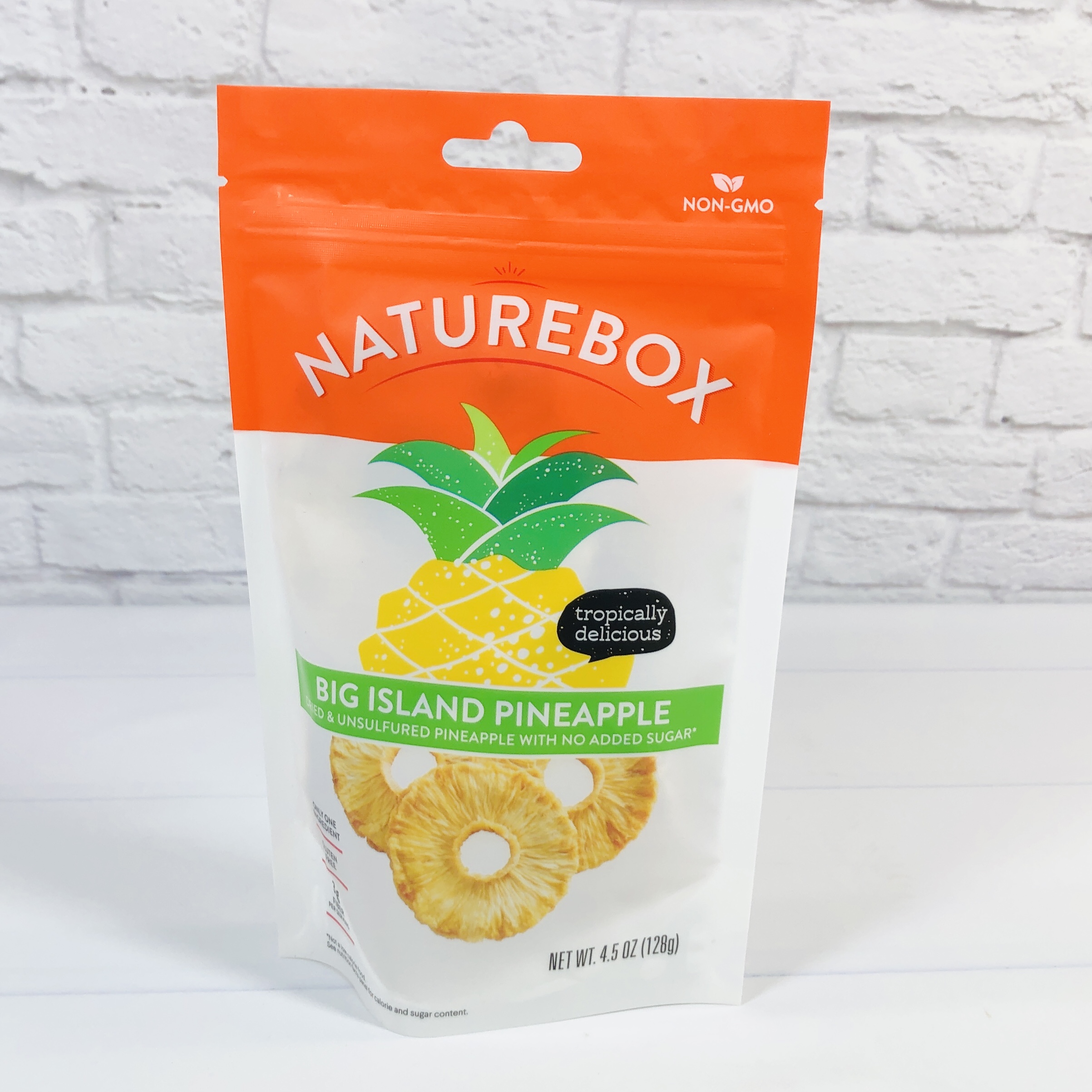 Naturebox Big Island Pineapple 2-pack ($12.99; $6.99 if member) There are about 3 servings of 4 rings each in this bag.
Dried pineapple is the only ingredient. No sugar, no preservatives, just pineapple.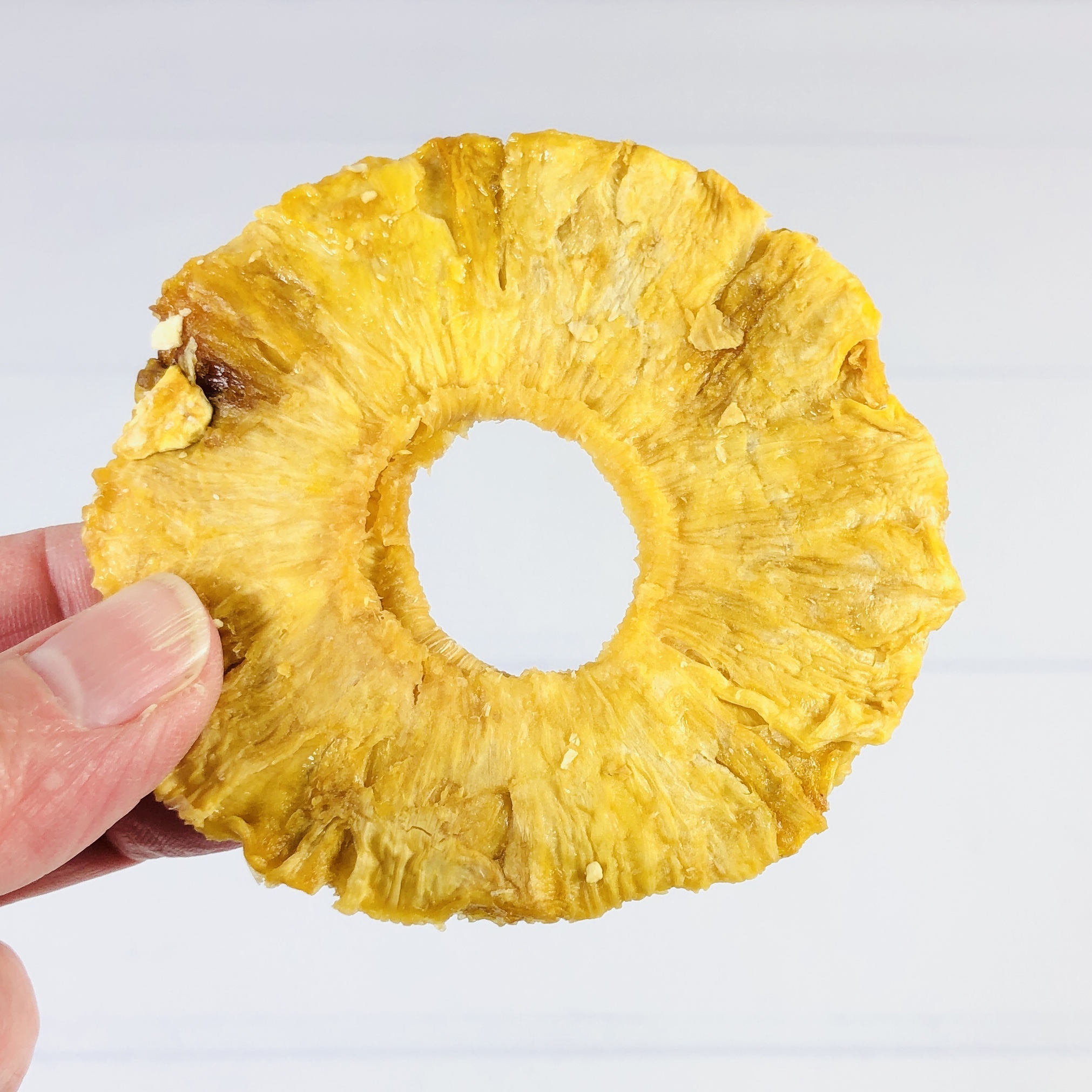 We couldn't get enough of the chewy texture and fresh pineapple flavor! This was the first snack to disappear in this shipment.
Wellness by Naturebox Protein Bar – VARIETY PACK ($10.99; $9.99 if member) I tend to eat this type of snack as a meal replacement, mostly as a breakfast option.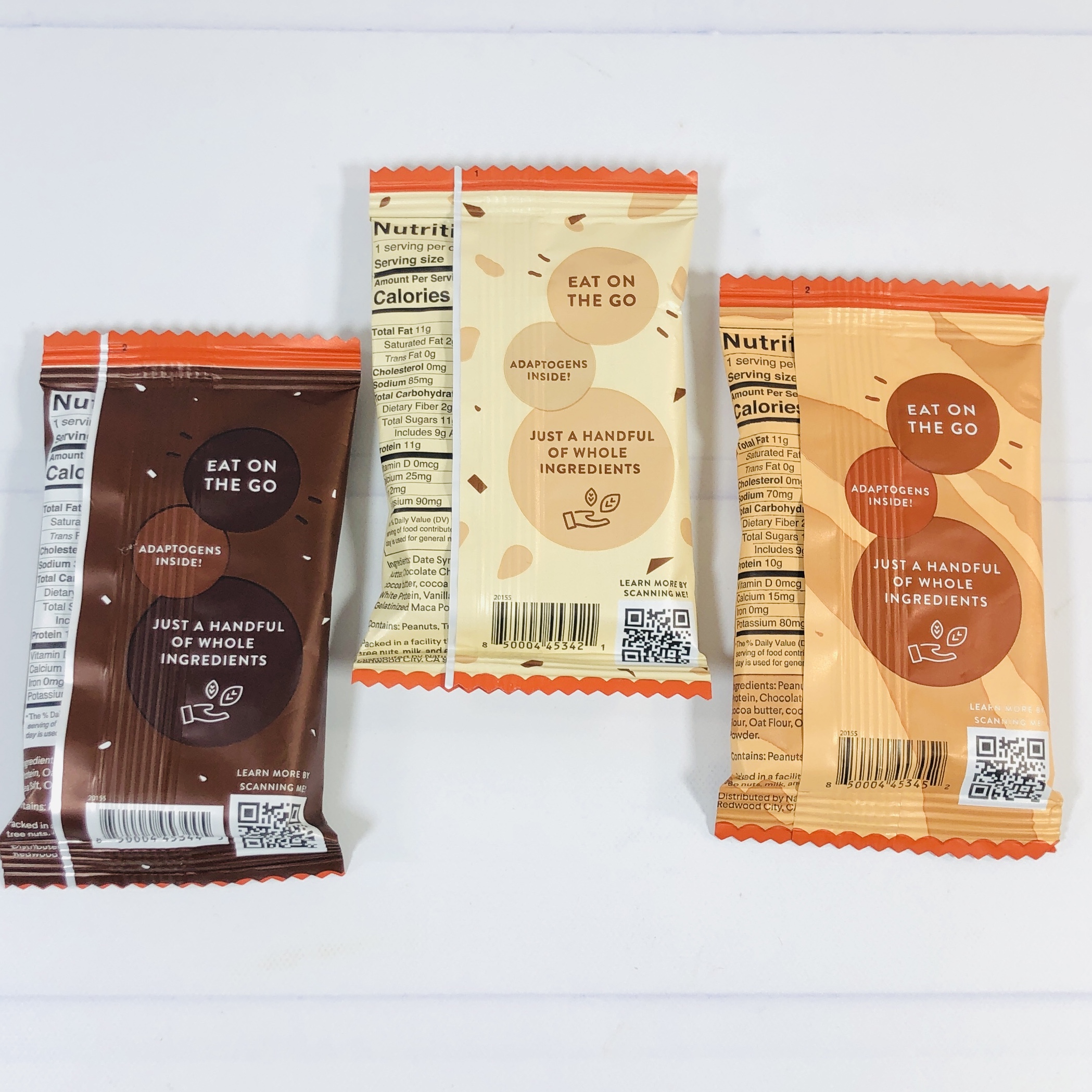 They are made with stuff like peanut butter, date syrup, and egg whites. Some of them also have pea protein and chocolate chips. Each one has an adaptogenic herb, which is supposed to boost wellness and help one deal with issues such as stress and lack of concentration.
Here is the Sea Salt Brownie with Ashwagandha. It was chewy and dense but it wasn't as chewy as that other brand that also has egg whites, I didn't fear for my fillings with this bar. It was saltier than I would have preferred but it felt more like eating dessert than breakfast. It didn't taste odd or like herbs or anything weird.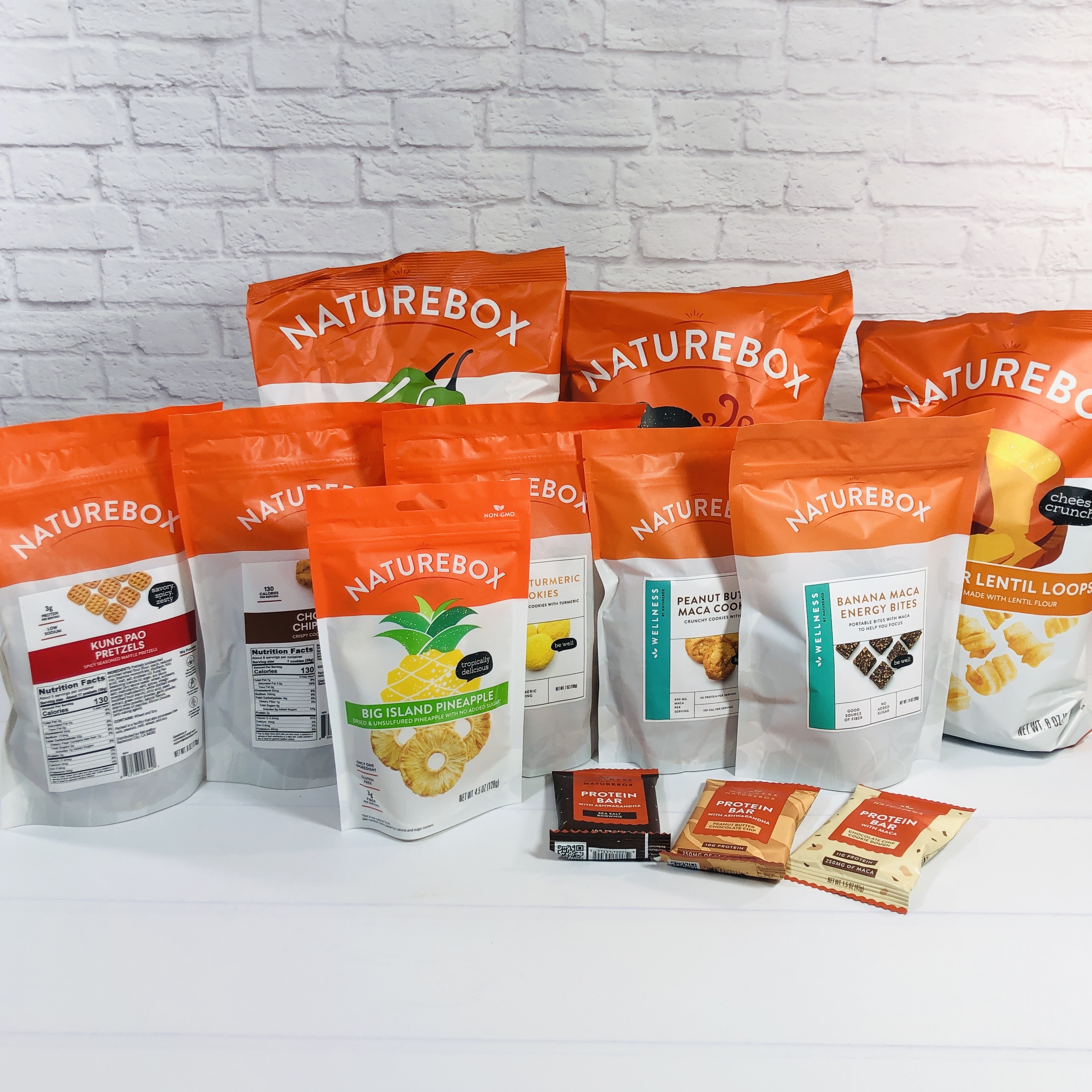 I was delighted with all of the different snacks in my very first NatureBox! It was exciting to try snacks that I can't find at my local store, I have never seen a lentil loop in my life and I love lentils. The bars are perfect as a meal replacement in a pinch and the cookies all had such yummy flavors. The pineapple slices were my family's favorite snack of all, so simple and yet super tasty. My pantry is full of snacks that my family can pack up for lunches (my husband eats at work) or I can sprinkle on a lunch plate (for the rest of us online workers/students). There are so many more choices available on the NatureBox website, including nuts, popcorn, drinks, jerky, and oatmeal that you are bound to find some new favorites and tasty treats!
Which snack is your favorite?